Annata – Not Just Cheese & Charcuterie, Entrees That Are Out of This World!
Annata – Not Just Cheese & Charcuterie, Entrees That Are Out of This World!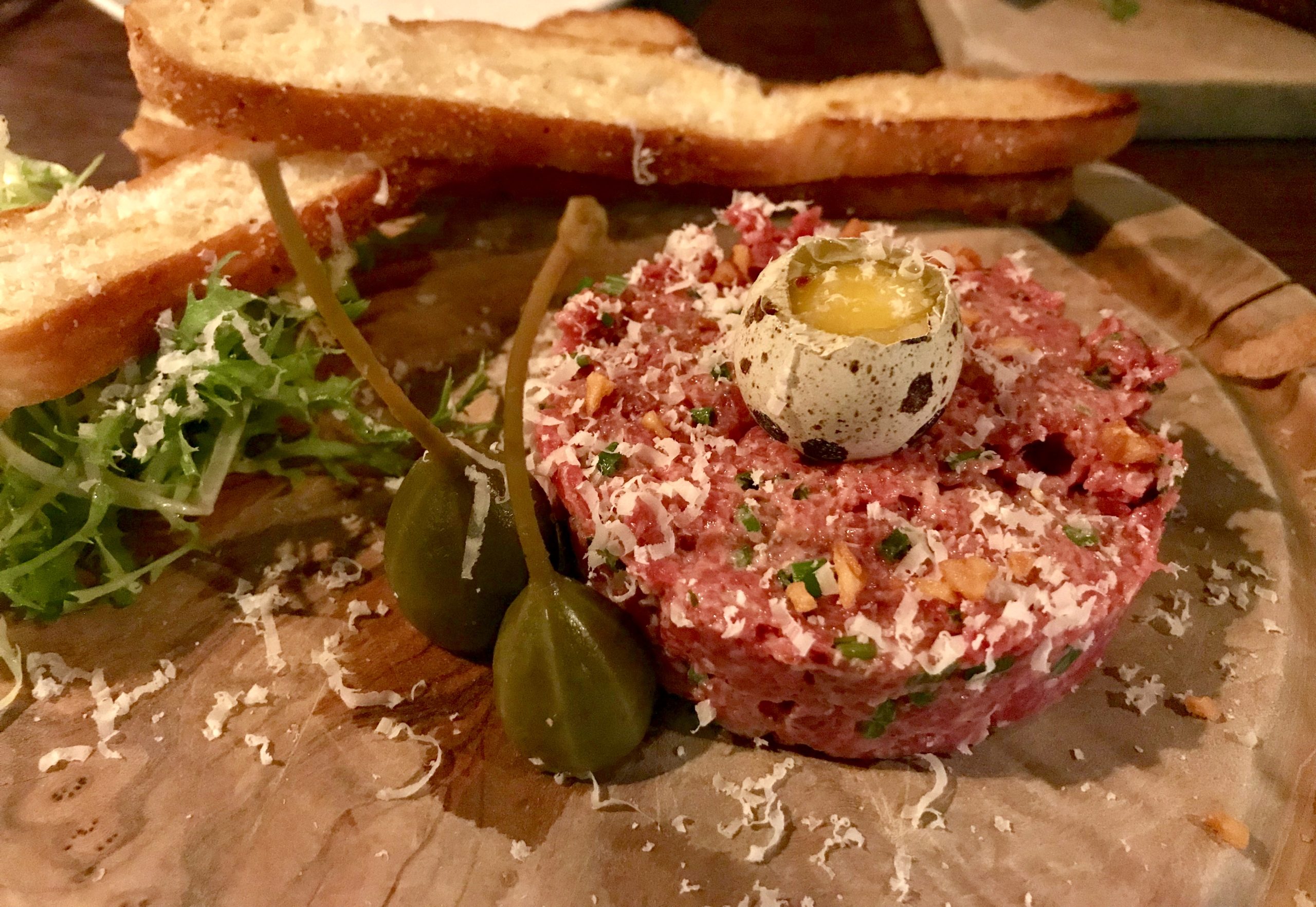 When Annata came onto the scene of downtown St Petersburg's Beach Drive four years ago, it was highly anticipated. The owners of the St Pete beloved staple Mazzaro's Italian Market, Kurt and Mary Cuccaro, were opening Annata, which made its arrival even more exciting for foodies. It was touted as a wine bar which would offer cheese, charcuterie and tapas. Annata was thoughtfully designed with a very warm and inviting interior and also offers outdoor seating when weather permits.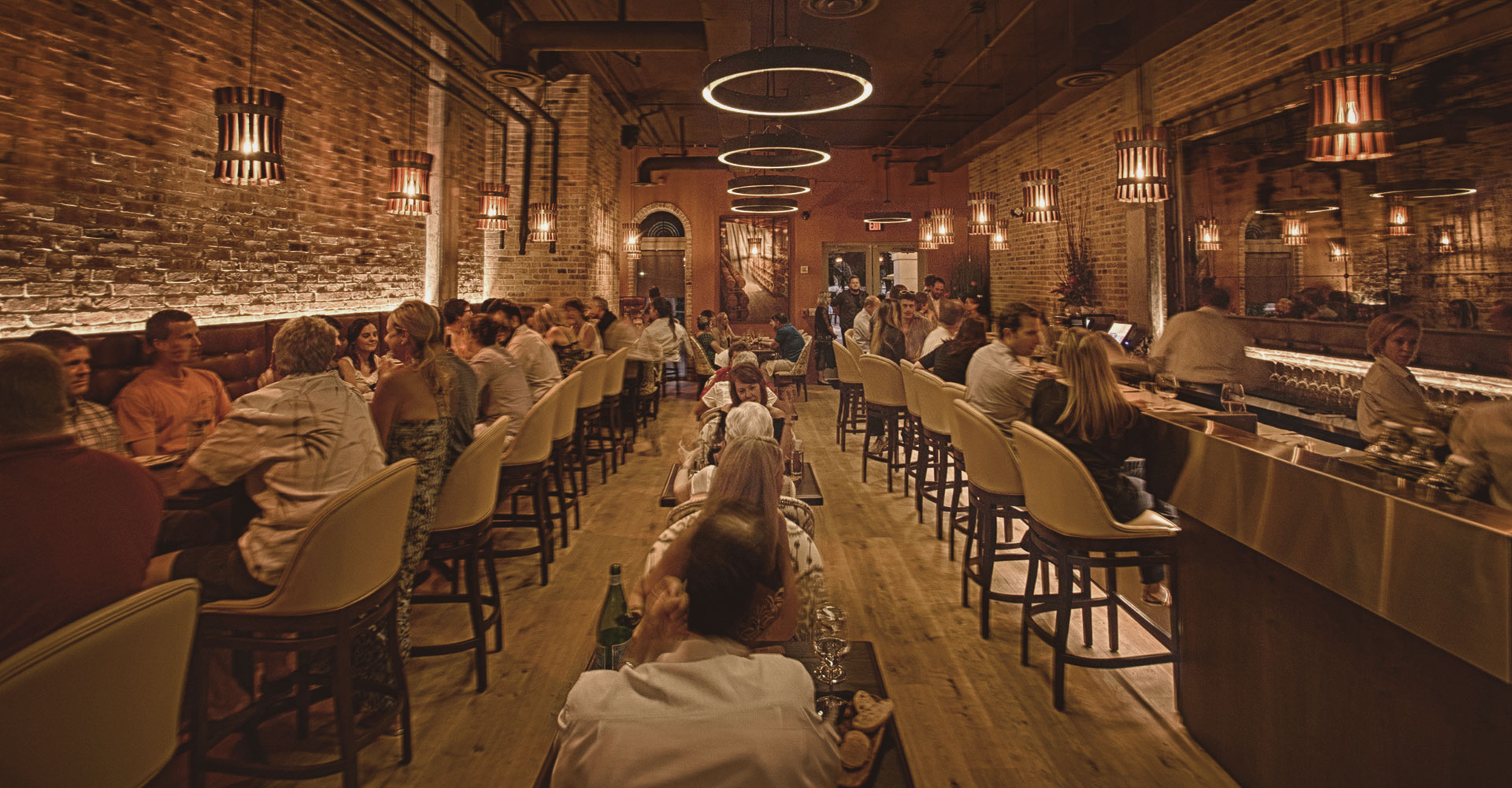 (Photo Courtesy of Annata Wine Bar – all other photos by St. Petersburg Foodies)
Annata quickly became known for its not only tantalizingly delicious Cheese & Charcuterie boards but boards that are also incredibly sexy and gorgeous to the eyes. They are a pure artistic creation that evokes and entices all of the senses.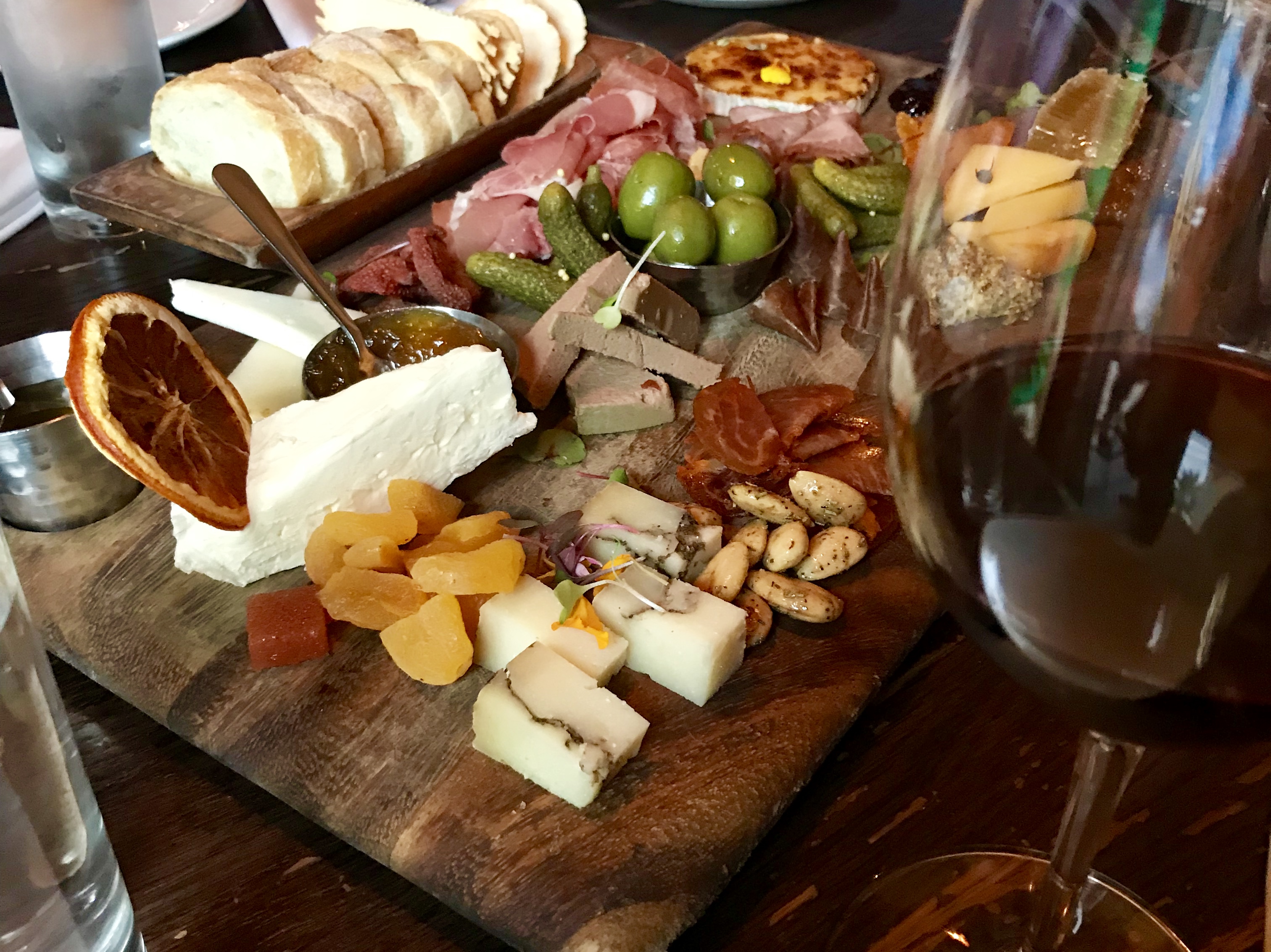 Chef Joshua Breen has been with Annata for three years and has been given the freedom to invoke his passion for his craft in his own way. He says, "they let me be the creative person I like to be and they share the same passion I have. I consider Kurt and Mary family now because of the way they treat me and they love the same things I love. It's hard to find owners with the same drive and passion." Because of this he was given the creativity to evolve the menu away from the tapas that they started with to full blown entrees that will completely blow your mind.
In all honesty, we have not given Annata its just due in the past couple of years. Chef Joshua started posting pictures on Facebook of specials that we could not ignore. You want to just scarf down the pictures of his sexy food with your eyes. Chef Joshua says, "While at Bricco Ristorante in Boston, where I worked under Chefs Marisa Iocco and Victor Paone I was taught more about passion and flavors and how people eat with their eyes first and that has always been in my mind ever since."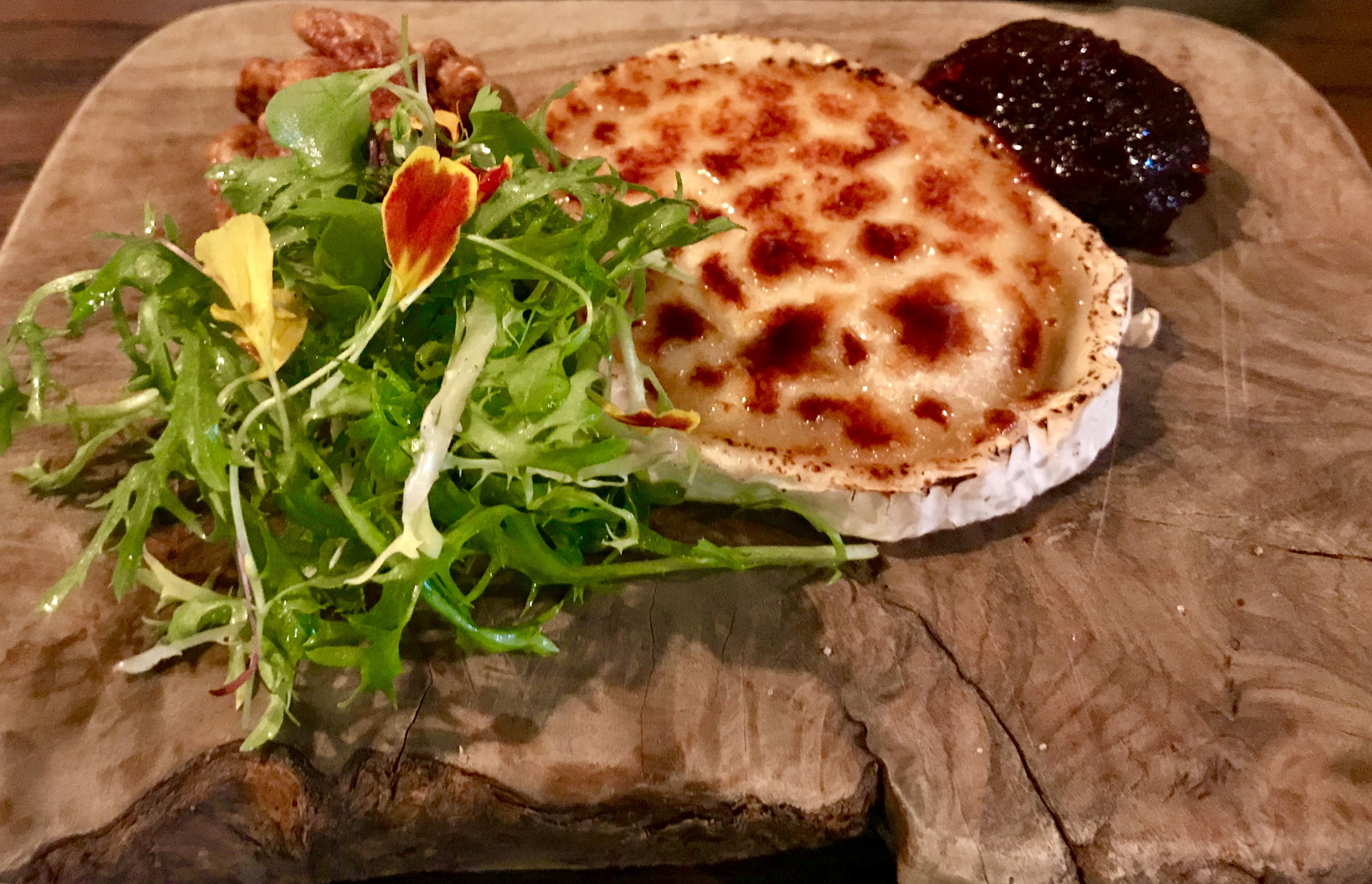 Chef Joshua has a career spanning over 22 years. But his first memories of food and the emotion that it can invoke started while he was very young, "We used to have a clam and oyster stand in the haymarket area of Boston. We would shuck them for quarters and go to the Cape and go clamming, when I was really young, in the summer time. Being able to meet people and be surrounded by my family were the best moments of my life and the smiles my grandfather was putting on peoples' faces is what I want to do with my guests, treat them like family and give them special moments like I had, surrounded by good food and happy faces. That's how my family came together and I try to do the same thru my cooking with more of a restaurant background, of course. I love what I do, not just because it's all I've known, but because it's naturally in my blood."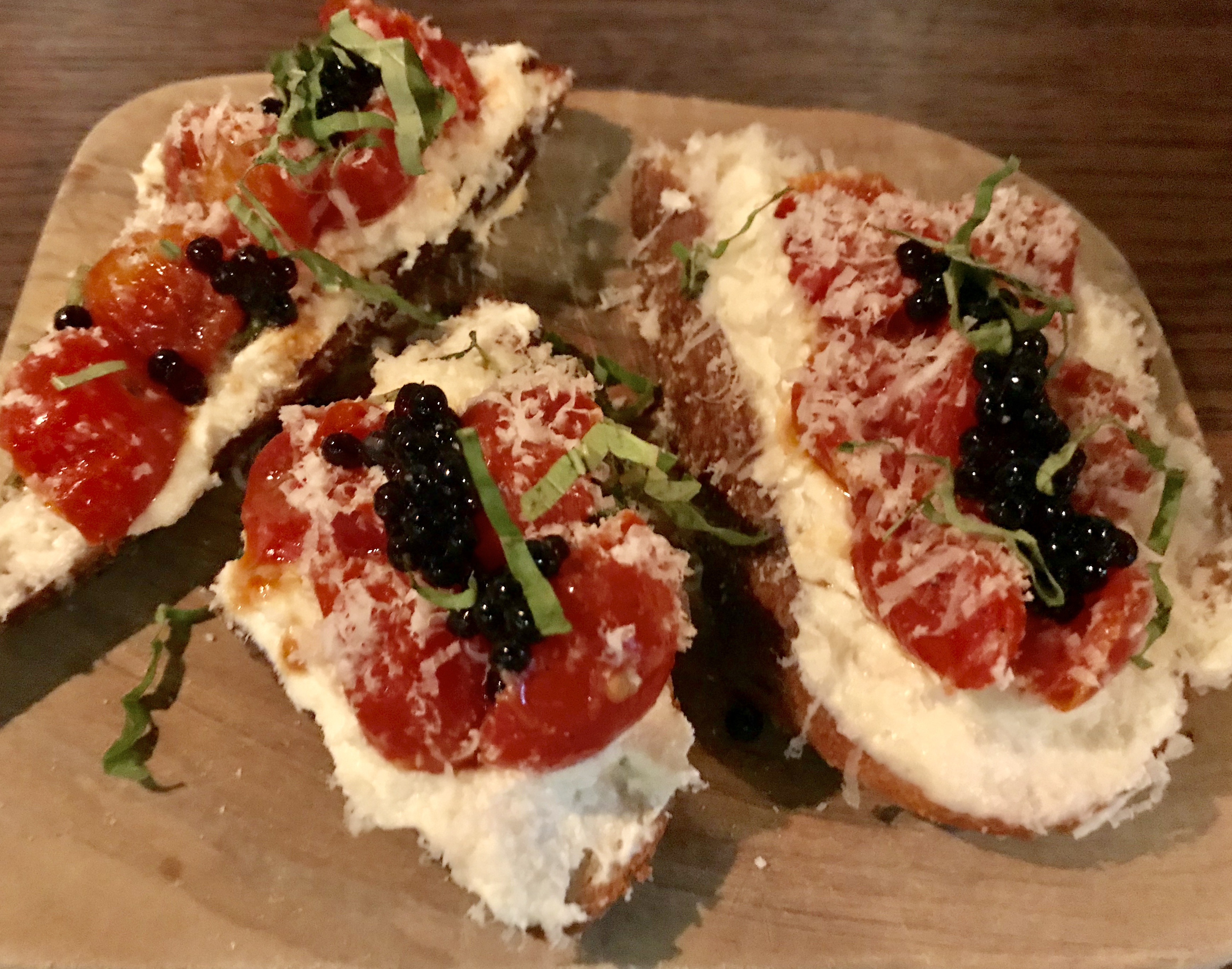 Kevin and I have now been three times in the past two months (the first time we had the cheese & charcuterie board pictured above) and we will return again and again. Chef Joshua is definitely St Petersburg's rising star in our culinary world. And I highly encourage you to get there soon. His specials are always so creative that it's hard to order off of the regular menu which we are also trying to get through. The above photos are of their famous cheese & charcuterie board, the Buche de Chèrvre Brûlèe from the Antipasti section and the House Smoked Ricotta Toast from the Toasts section of the menu.
We had heard fantastic things about the Steak Crudo at Annata so on our second visit we had to have it and it did not disappoint. It consists of "Raw" prime beef, quail egg, gribiche, caper berries, crispy garlic and grana cheese. The way to eat this for the most intense effect is to put some crudo on a toast point with a bit of egg, take a bite of a caper berry and then combine in mouth. Mouthgasmic!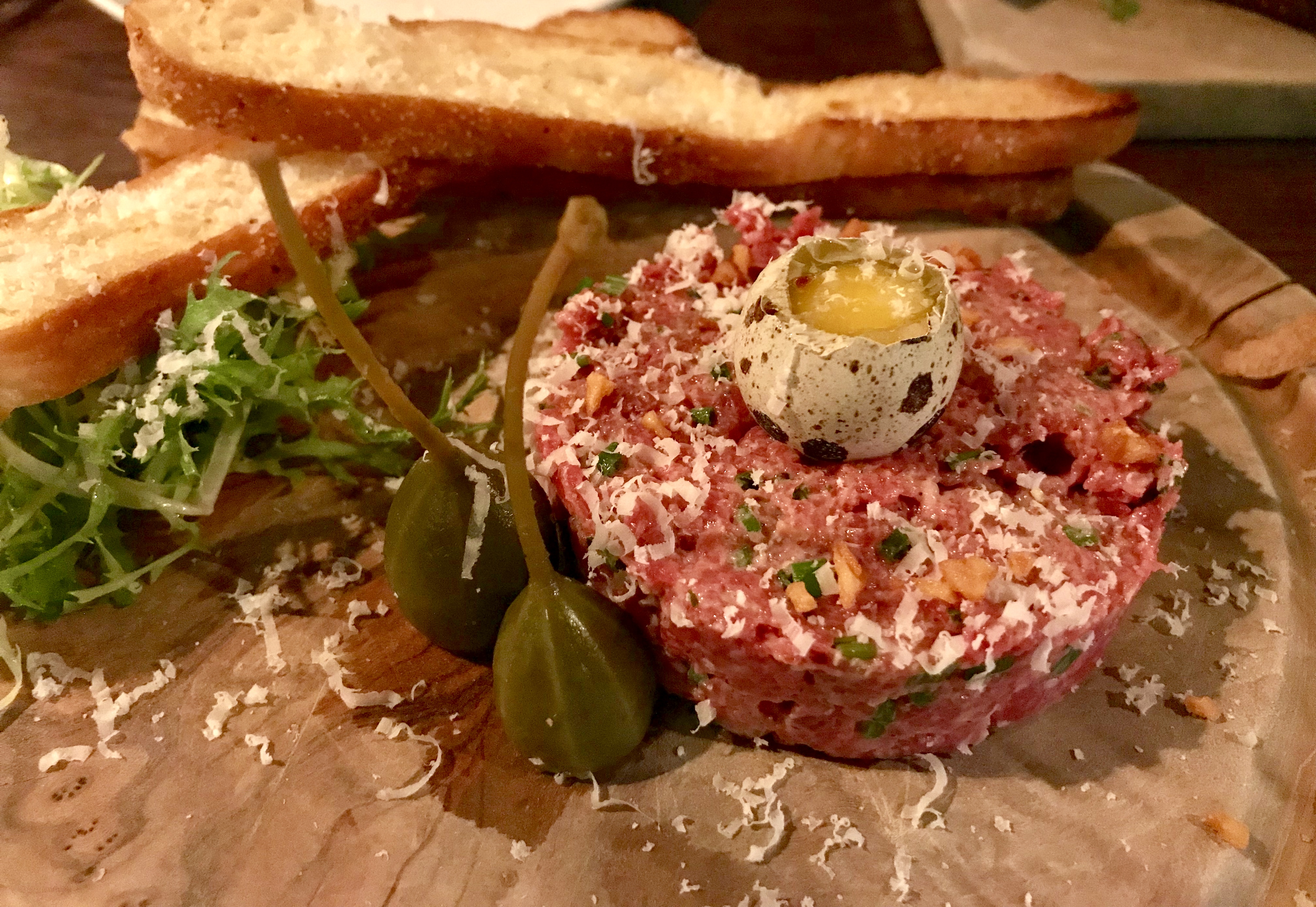 Kevin ordered the Pan Seared Hogfish special – marinated in ginger, lemongrass, ponzu soy served over rice gnocchi with a vegetable stir fry (this is traditionally a Korean dish called Tteok-Bokki-Tteok) including sesame seeds, roasted peanuts and crispy garlic. Kevin describes the hogfish as "lightly crispy on the outside, moist and tender inside with light and buttery asian flavors that tantalize the senses". The roasted peanuts and sesame seeds give the dish a nice crunch addition to the texture with the rice gnocchi and the vegetables.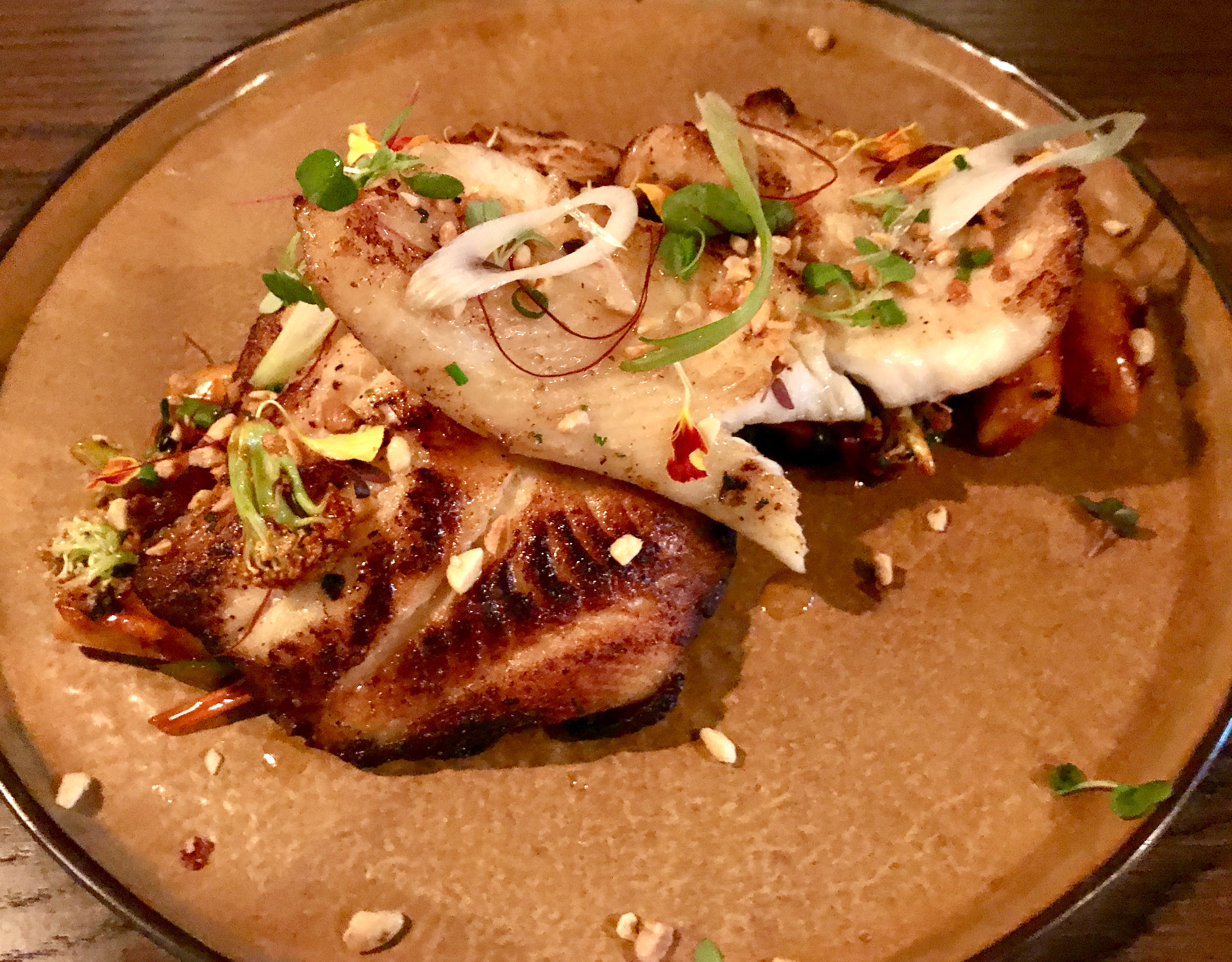 I saw a picture of Chef's Chicken Parmigiana special and had been craving it ever since, so I was praying that they had it still that night. And luckily they did. It is made with Colina Tomato Sauce, Fresh Mozzarella, Bucatini Pasta, Fresh Basil and Grana cheese. This is by far and away the best chicken parmigiana I have had the pleasure of eating. Fantastic Italian comfort food taken to the next level. Scrumptious! It's lunch time and I am so hungry…get in my belly now!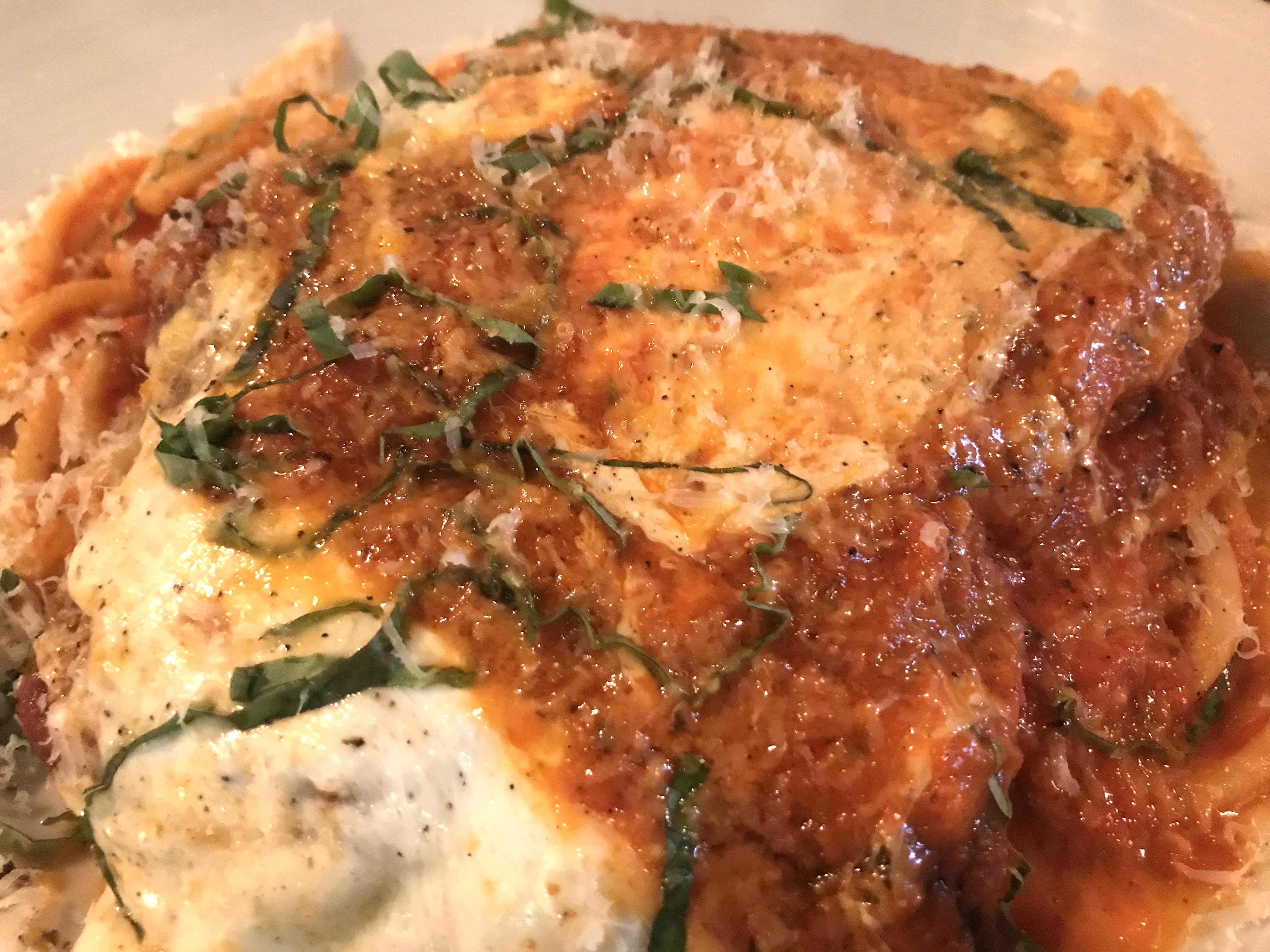 After all of that, who has room for dessert? Our awesome server, Allison, brought us out the house Olive Oil Cake with Pistachio Crème and Honey. We could not resist its light and airy goodness. Not too sweet and melts in your mouth. (It comes plated with just the spoon silhouette in the cocoa powder. Kevin was being goofy and inserted the spoon.)
Full disclosure and we did not know this while ordering nor do we ever expect it, they did comp our entire bill for this evening. So we went back again and we paid our entire bill the next time. Keep on eyeing the food porn below…it gets even better.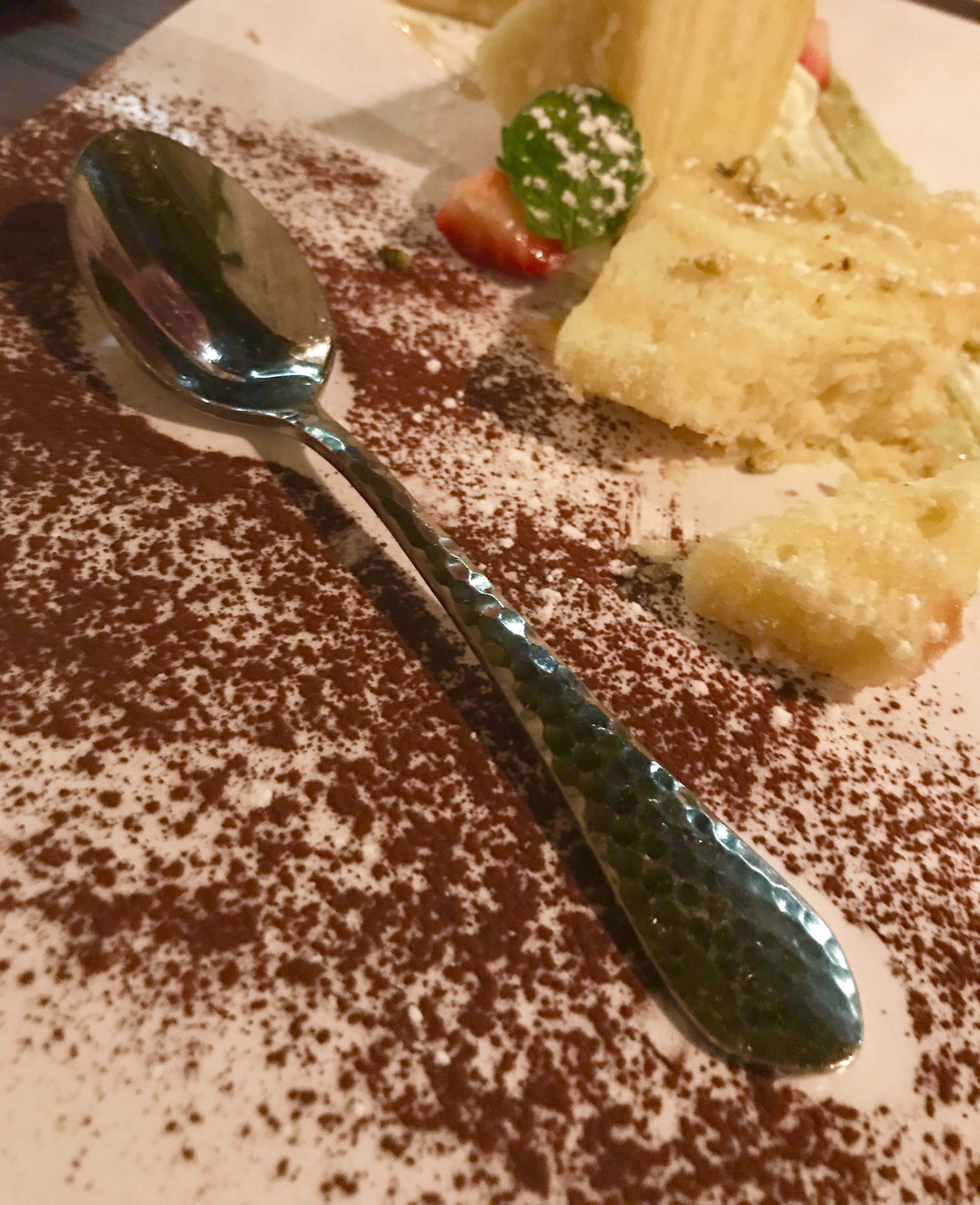 Visit number three: I was eyeing the Tuna Tartare the last time we were there. I know I keep gushing and gushing, but I am swearing to you that this place is the real deal and now amongst our top three favorite restaurants in St Pete alongside IL Ritorno and Brick & Mortar.
So I am going to keep on gushing. This IS the best tuna tartare that I have ever eaten. It is made with Jalapeño citrus vinaigrette, crispy wonton, soy ponzu reduction, avocado and sets atop a seaweed salad. The seaweed salad is ingenious with this dish. The textures and flavors are so well balanced, with a bit of heat, a bit of sweet, richness from the soy and crunch from the wonton. This has ruined me for all other tuna tartare.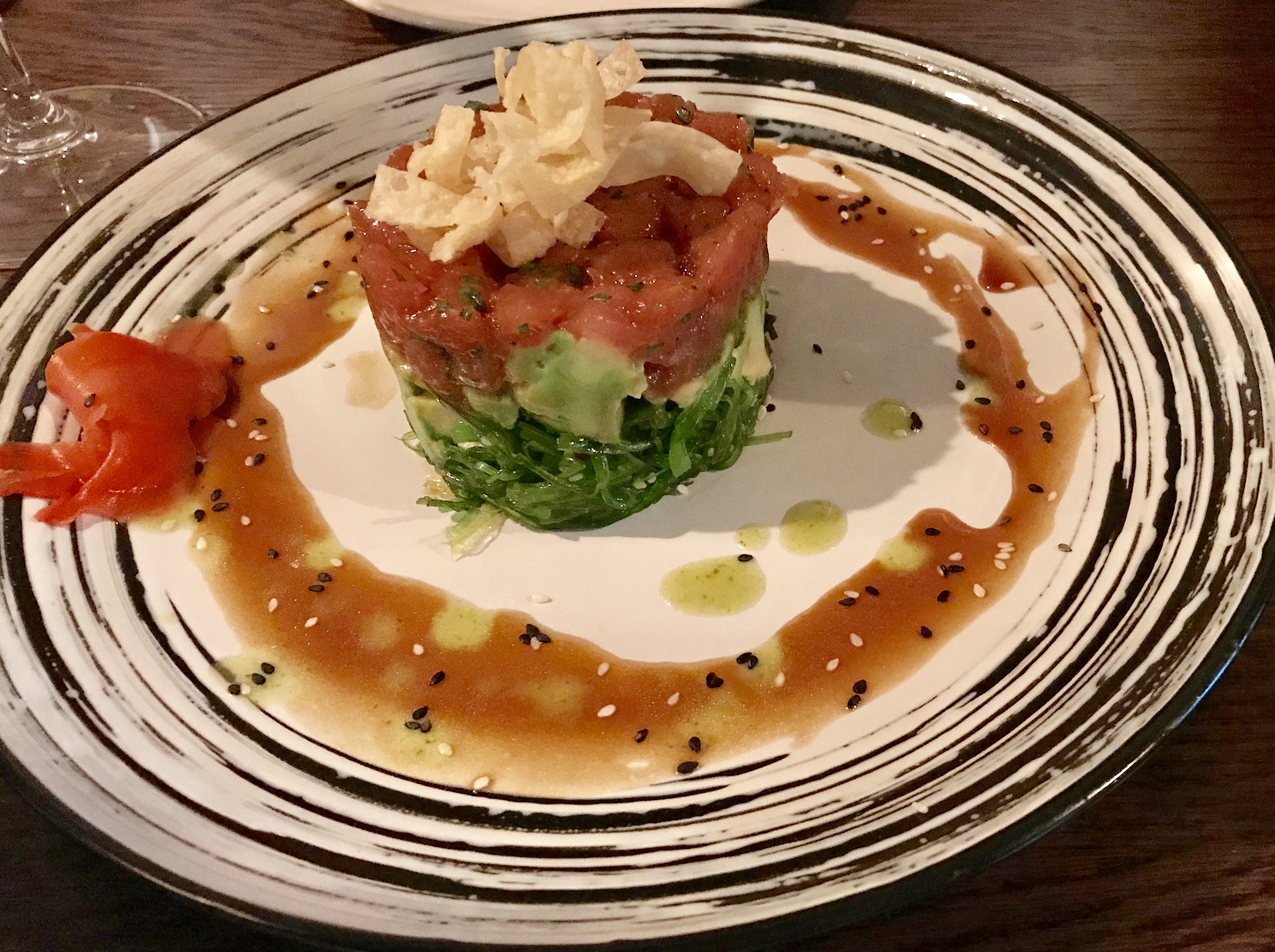 From the main menu we had also been eyeing the Oxtail Tortelloni the last time we were there. This is a dish of Oxtail & ricotta stuffed pasta, guanciale, carrot and bone marrow brodo. This dish has wonderful homey, umami flavors combined with the perfect juicy and tender chewiness of the meat. This dish is just wonderful comfort food that makes you feel like you are enveloped in a warm blanket before a roaring fire on a cold winter night. Something we don't get to feel often in St Petersburg.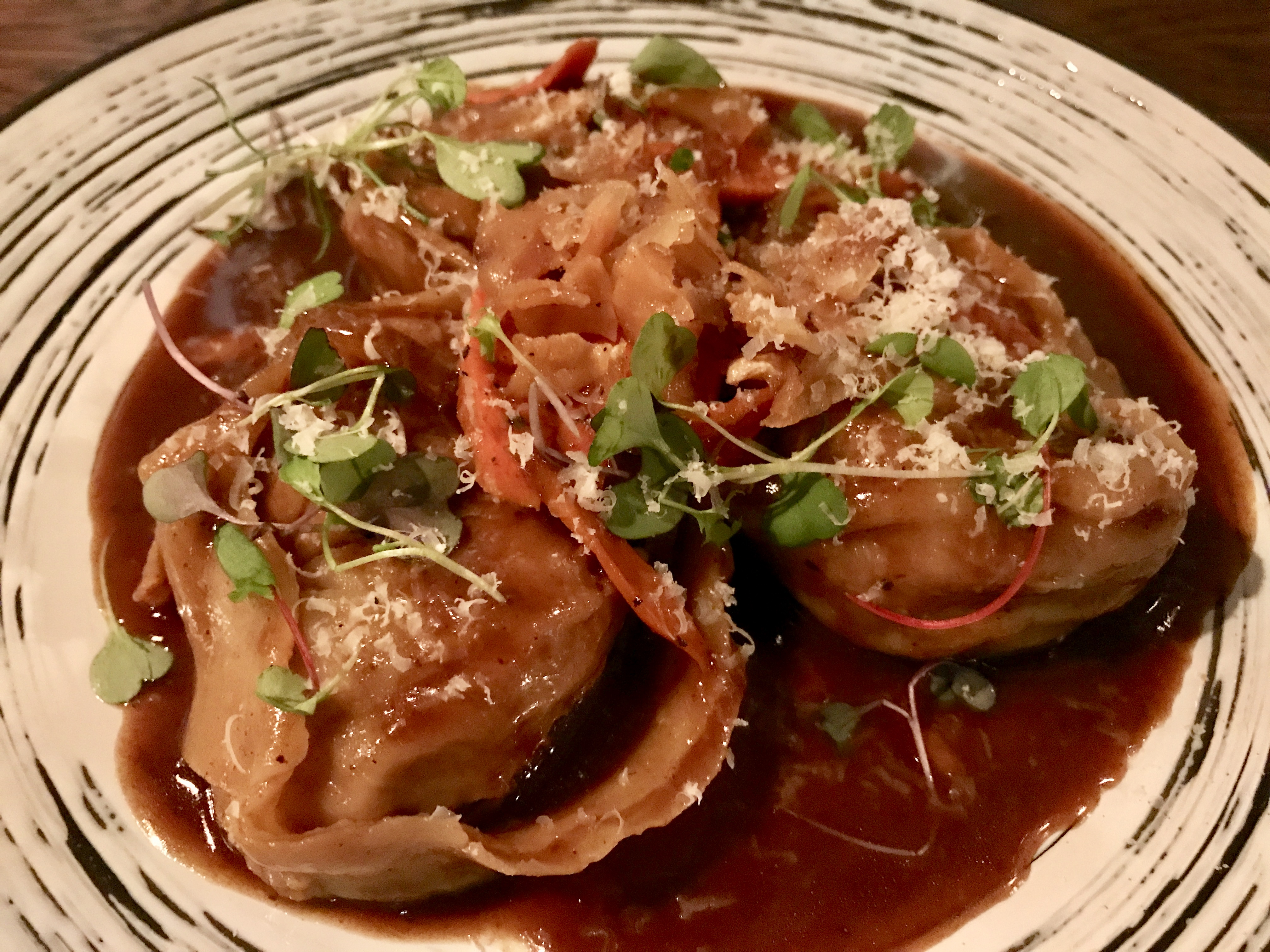 We also shared the Pesci which is the chef's daily inspiration. His inspiration that night was Pan Seared Black-Fin Snapper and Diver Scallops over Sweet Potato Hummus and Gnocchetti with English Pea Chimichurri. Kevin was craving scallops (he gets these cravings – I call them pregnancy cravings) so the night's special fit the bill and over delivered. Look at the glistening sear on the snapper and the scallops. They cut like butter with just a fork. I could go on and on but I will just tell you that this tasted even better than it looks.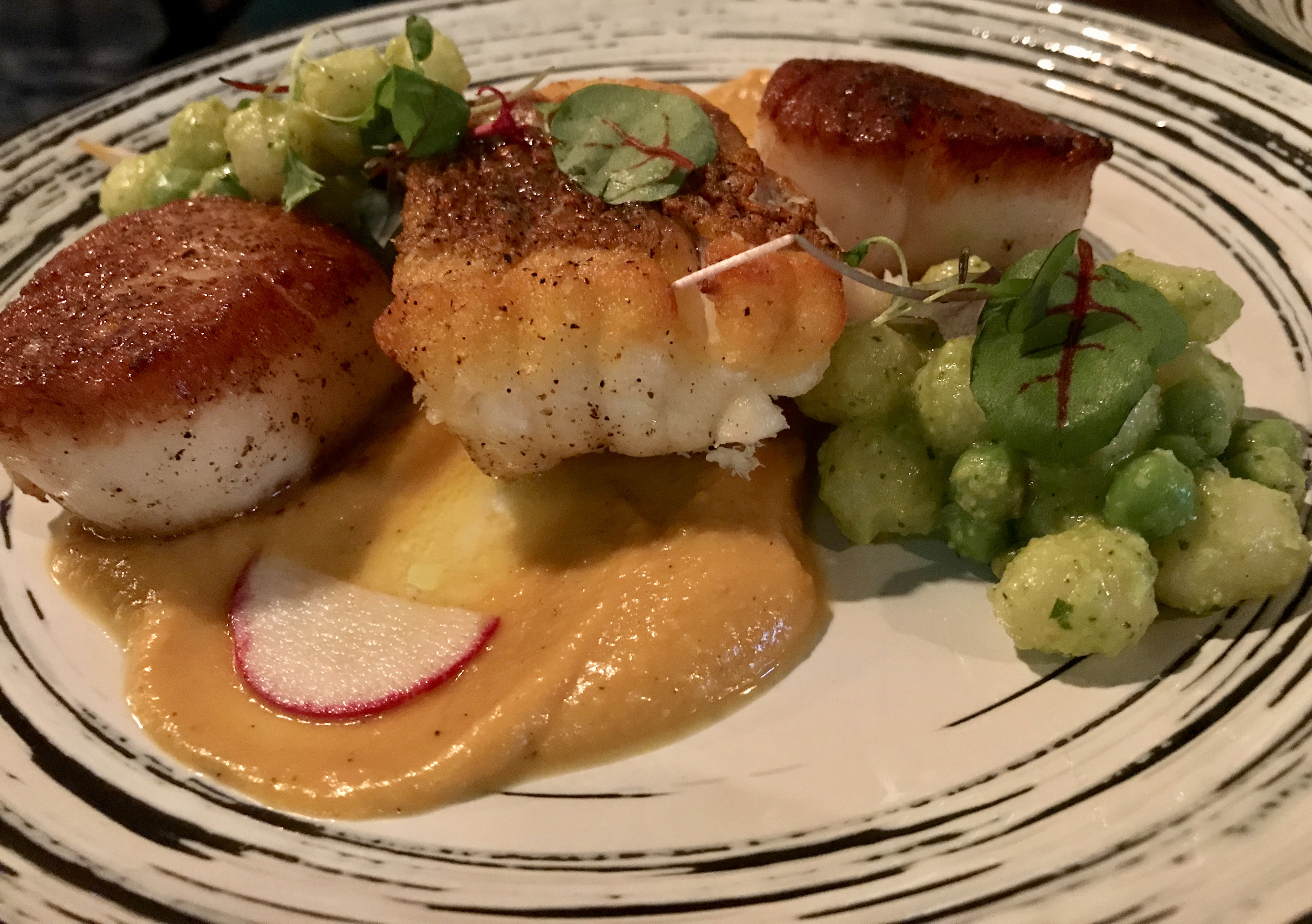 The house olive oil cake of the night I could not have been more delighted with. It came with fresh strawberries and cream and two specialty gelatos made exclusively for Chef Joshua by Mazzaro's (they don't even sell it there). Obviously the back dish is a strawberry gelato and the front is a salted caramel gelato. The strawberry gelato with a fresh strawberry and some cream on top of the cake took me back to the days when my mother used to make strawberry shortcake when I was a kid. I remember how much I loved it. Only back then, it was made with Bisquick and the cream was Cool Whip and the strawberries were bought frozen. So to say this was an elevated strawberry shortcake is a complete understatement! The salted caramel was also delicious but I just couldn't quit eating the strawberry.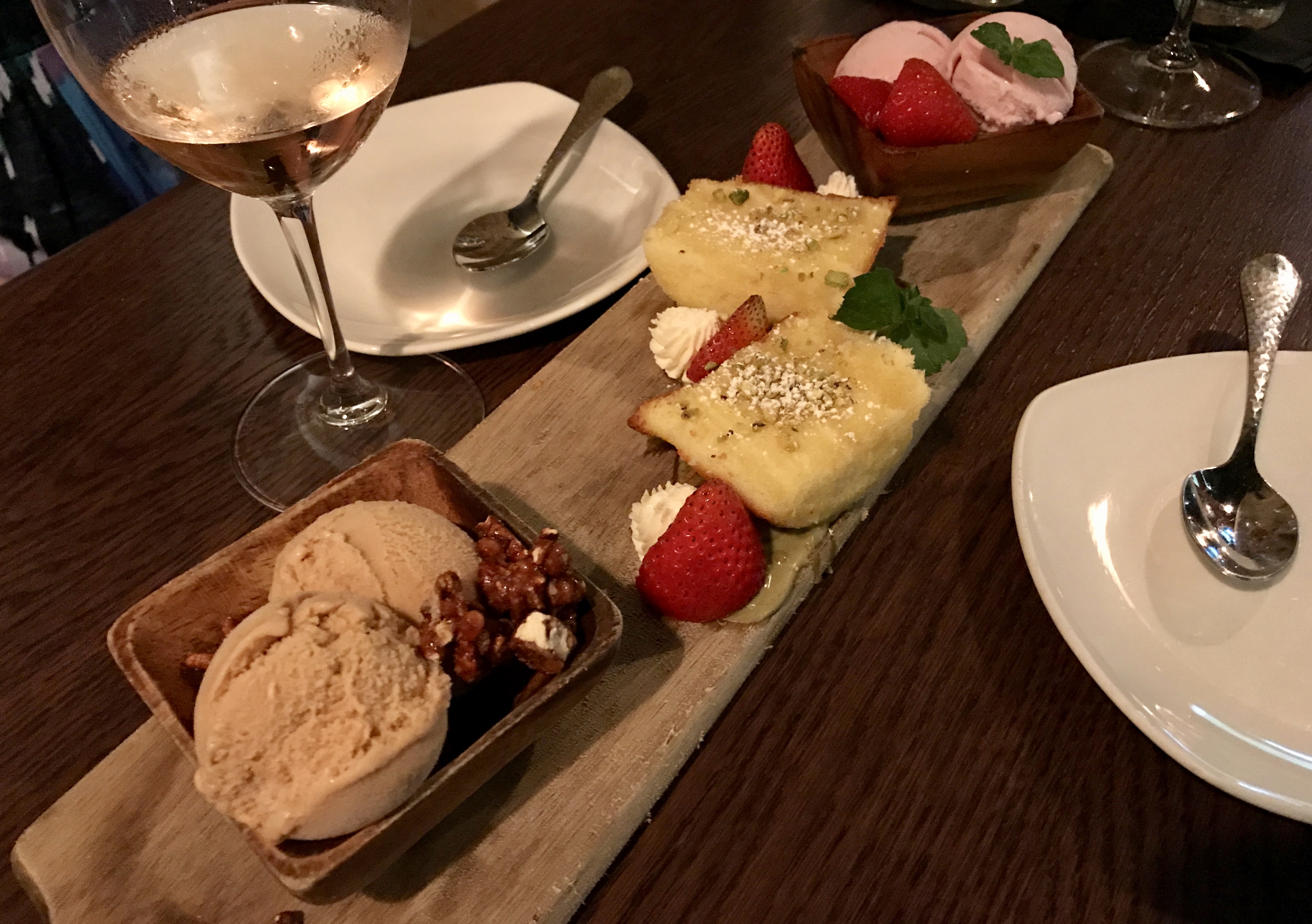 Bottom line is, if you haven't been, go!
If you are already a regular, but tend to just order the cheese & charcuterie, stop! You need to branch out because the rest of the menu is just outstanding! I am not saying never order the cheese & charcuterie, just order less so you can try other things.
Oh and did I mention that they have a superb wine program and have won Wine Spectator's Award of Excellence three years in a row – they were just recently awarded for 2018.
They do not take reservations and are always busy, so go early and prepare for a bit of a wait. They will take your number and call you when your table is ready so that you can go and have a drink next door or wherever nearby while you wait. Or maybe you will get lucky and find a spot at their bar. There is a reason Anatta is always full! Isn't it time you find out why? See the full menu below…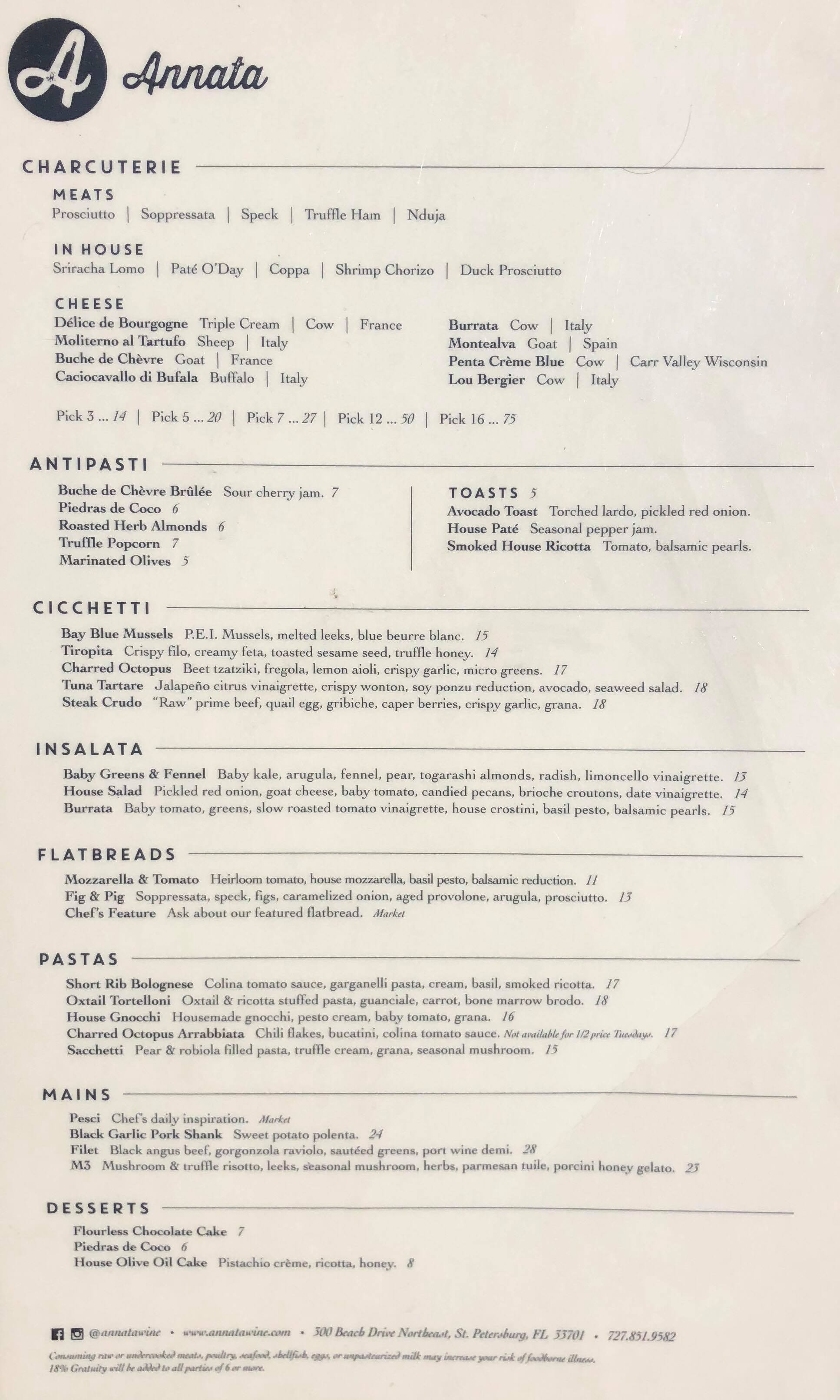 Fine, contemporary dishes from Italy and abroad, with local ingredients sourced from relationships with bay area farms and suppliers.
DISCLAIMER: Kevin, Lori, Abby, Haley, & Lindsey do not dine anonymously (this would be impossible) and we sometimes get free food (though never expected). However, we dine with the locals and we support our own. You will always get honesty in a respectful manner. We do not include any large national or regional chains in our ratings and reviews. We focus on independent locally owned eateries exclusively.

PLEASE NOTE: Reviews reflect a certain moment in time. Some restaurants stay extremely consistent over many years, and some change for the better or worse. Some things that may change are: chefs, recipes, food suppliers, ingredients, philosophies, ownership, etc. We always hope that you have the same good, or great experience we had.
More Foodies News, Reviews & Recipes