Calling All Pizza Foodies! Have You Ever Had Ohio-Style Pizza?
Calling All Pizza Foodies! Have You Ever Had Ohio-Style Pizza?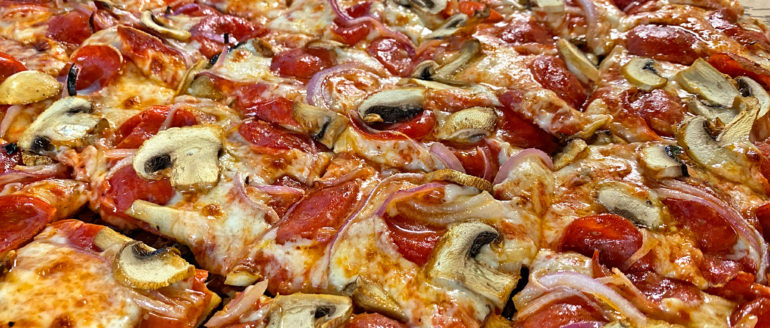 TEMPORARILY CLOSED as of February 10, 2023 – "looking for a new location".
New York, being the largest city in the US, tends to dominate in parts of the culinary world, especially pizza. Many dyed-in-the-wool New York Pizza lovers consider it to be the only "real pizza". However, there's Neapolitan Pizza, Chicago Pizza, Sicilian Pizza, Greek Pizza, California Pizza, Detroit Pizza, St. Louis Pizza and Ohio-style Pizza. Even if NY style pizza is your favorite, (it is mine), but your reading a "foodies" website, perhaps you're also like me in that you want to try everything.
There's a new joint on the western end of St. Pete called The Ohio Pizza Parlor (The OPP for short), and it's brought to you by Scott and Heather Brookey, owners of The Bier Boutique. The Brookey's are originally from Dayton, OH. Their first culinary adventure was to bring their midwestern-style cooking and ingredients to Key West, FL with the original Bier Boutique. In May 2019, The Bier Boutique opened to great acclaim in the Round Lake area of Old Northeast in St. Petersburg. They have great food, and have made a few of our top 10 lists this year.
A couple of weeks ago, The Ohio Pizza Parlor quietly turned on the lights and the vintage pizza ovens, and word started to trickle out. A couple of weeks before that, Lori and I were invited into the kitchen for practice time. Before we get into that, just what the heck is Ohio pizza!?! Its closest relatives would be St. Louis Pizza, and Chicago-thin crust pizza. All of these pizzas have extremely thin crusts, are round in shape, and cut into squares.
FUN (and confusing) FACT: This is not Ohio Valley Pizza. Nope. That one is served partially cold with the cheese not melted, but rather thrown on top cold after the pizza comes out of the oven. (That would really be testing my want-to-try-everything attitude.)
The Ohio Pizza Parlor is at 7224 Central Ave, which makes them next door neighbors to The Wheelhouse.
Josh Miller is a Partner, the GM, and the Pizza Chef / Pizza Expert. He has been specializing in pizza for most of his career, and has "opened more pizza places than you've ever been to".
There are eleven signature pies, plus build your own. Sizes are 12″ and 16″. They all have a cracker-thin crust, edge-to-edge toppings, and are tavern-cut (into squares). All ingredients are of the highest quality with everything made from scratch in house, including the sauce. All four salads use Brick Street Farms specialty lettuces.
Let's get into some pizza!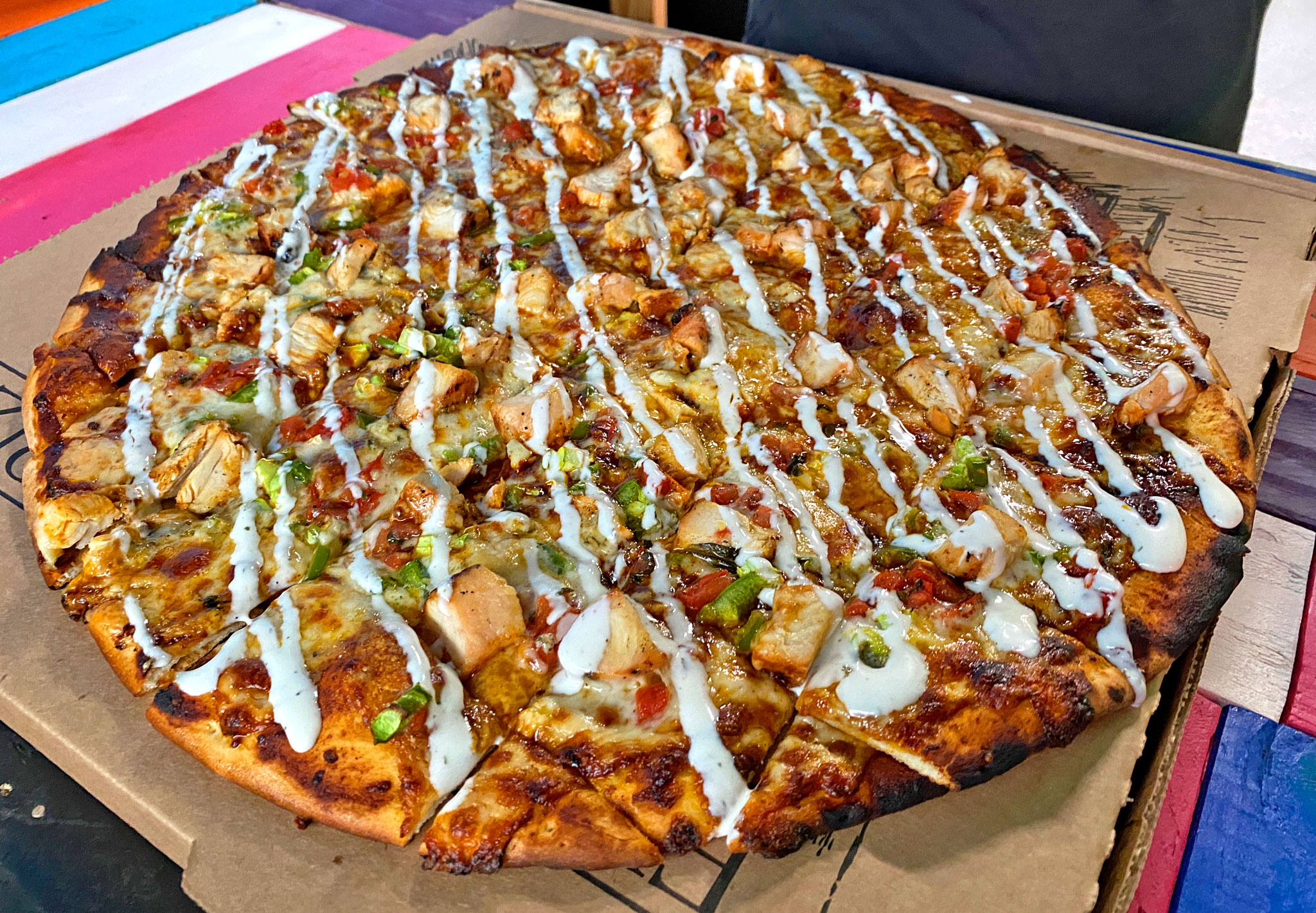 What you see above is the Wing & a Prayer – House made wing sauce, roasted chicken, fresh jalapeño and marinated tomatoes with gorgonzola and house made ranch. If you look closely, you'll see that this only has jalapeños on half because at the time they were still deciding if this one would have them. Good news: they decided that the Wing & a Prayer will have jalapeños. It was unanimous. All of the flavors were spectacular.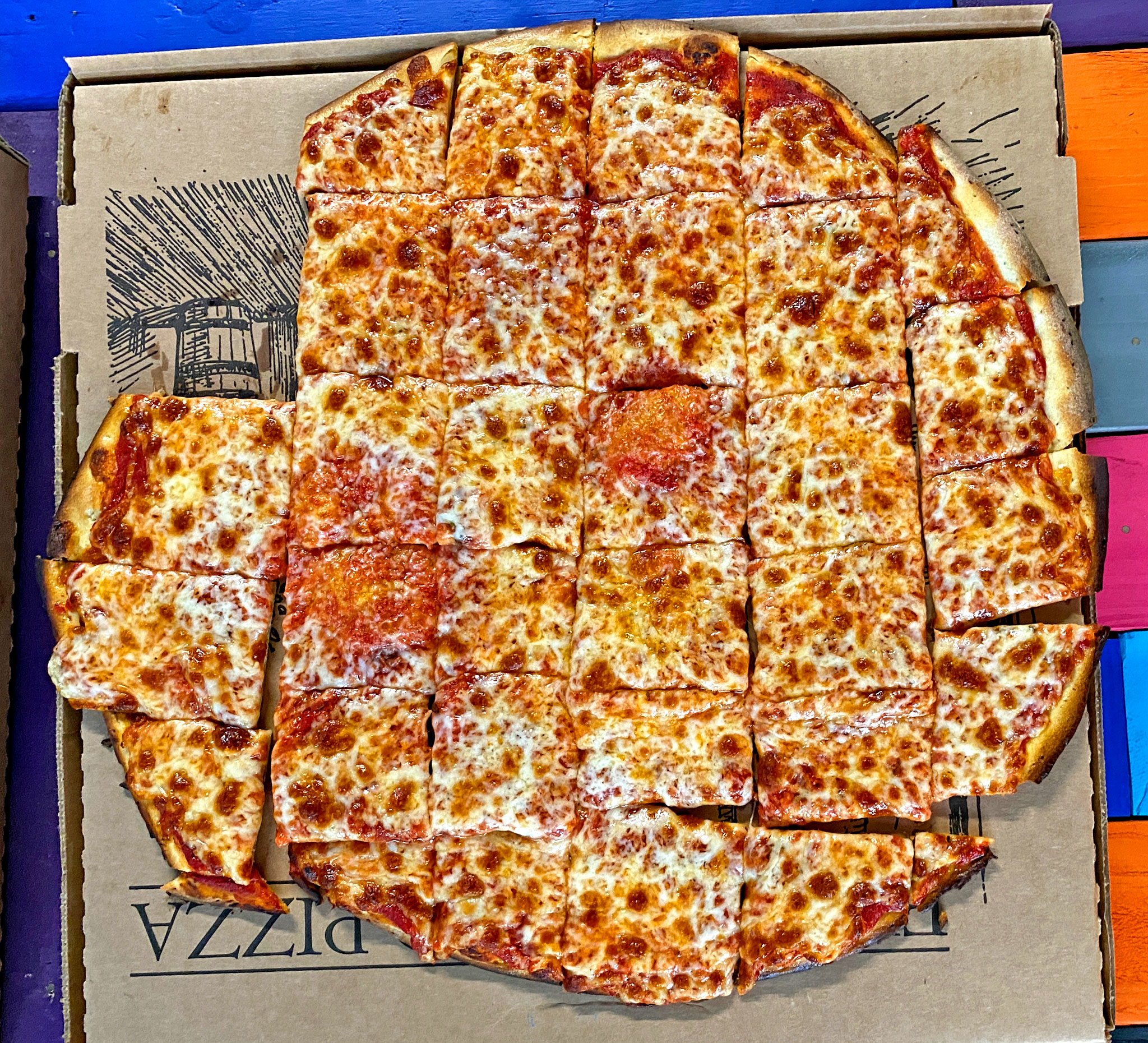 No matter what the style of the pizza, you always have to have plain cheese. You can see what happens when free pizzas are being slinged about – two pieces were gone before I could snap the photo.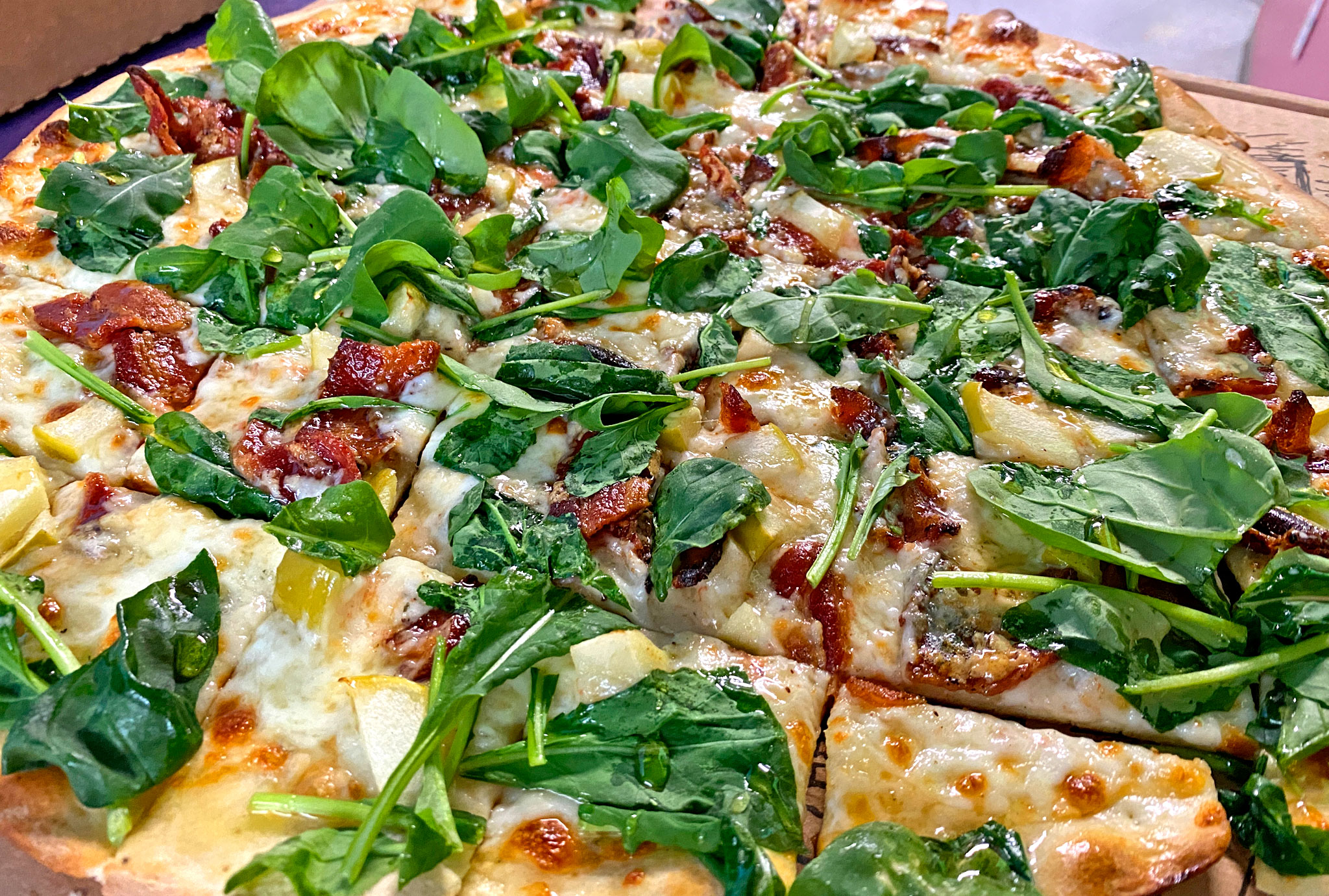 Sweet Tooth – white sauce with thick cut bacon, Granny Smith apples, caramelized onion and gorgonzola topped with Brick Street Farms arugula and hot honey drizzle. This one is sweet and savory, and we loved it.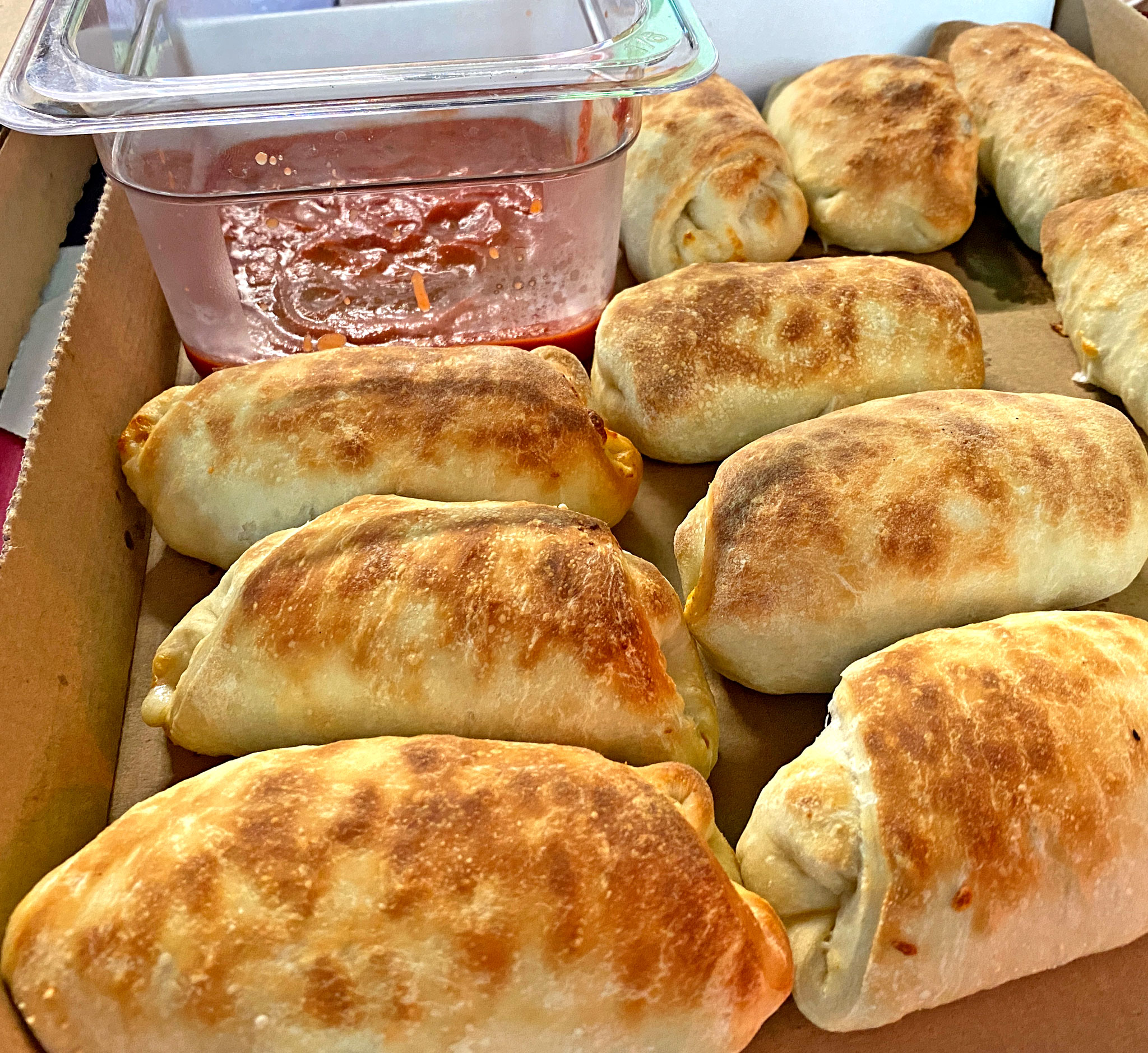 Pepperoni Rolls are a fun, tasty treat, and they are one of Josh's signature creations. They are actually a cross between a Stromboli and a Calzone. Strombolis are rolled, and have the sauce on the inside. Calzones are folded, and have the sauce on the side for dipping. In the case of the Pepperoni Rolls, they are rolled like a Stromboli, but have the sauce on the side like a Calzone. On the inside is pepperoni and mozzarella.
Here's a couple of shots of them being made.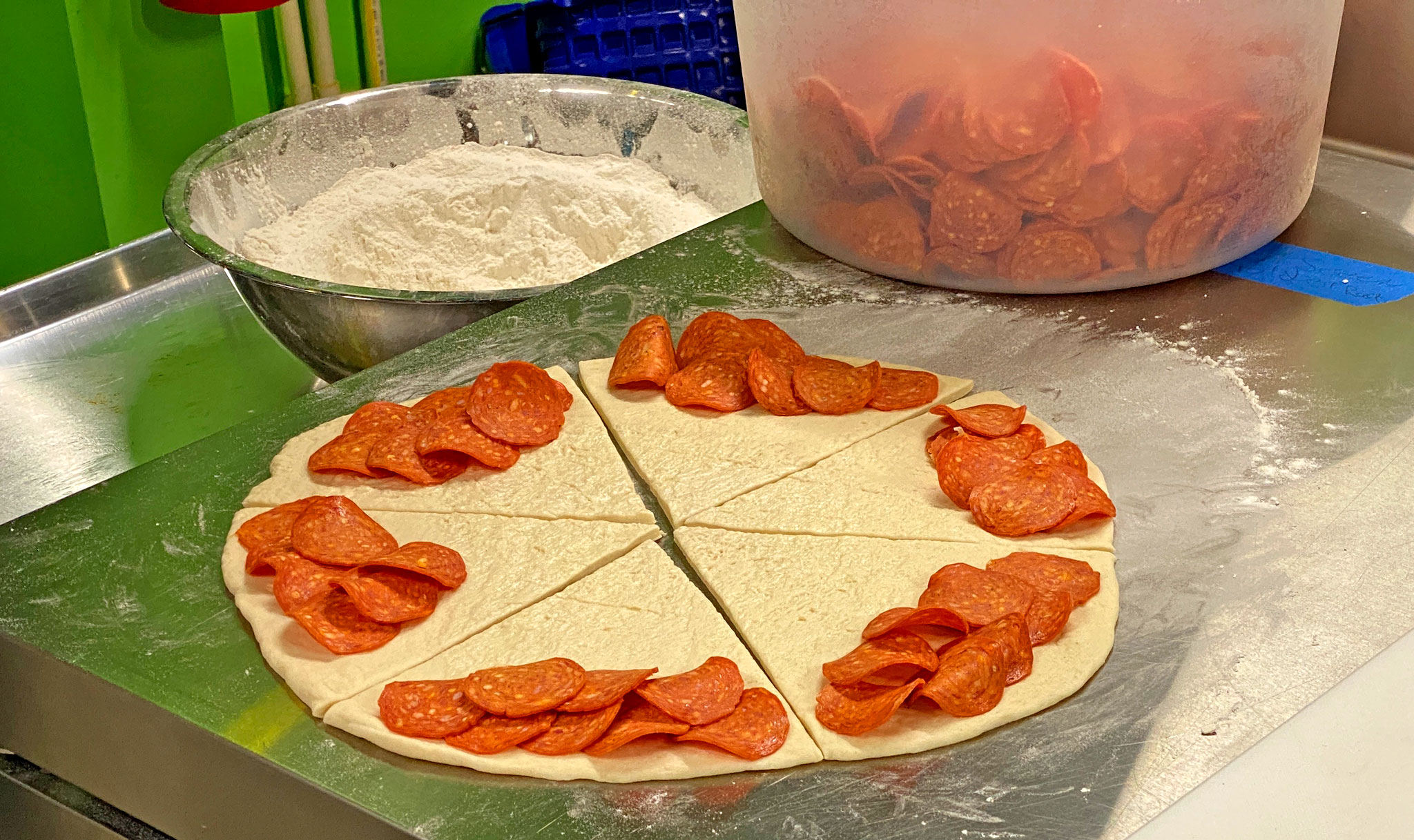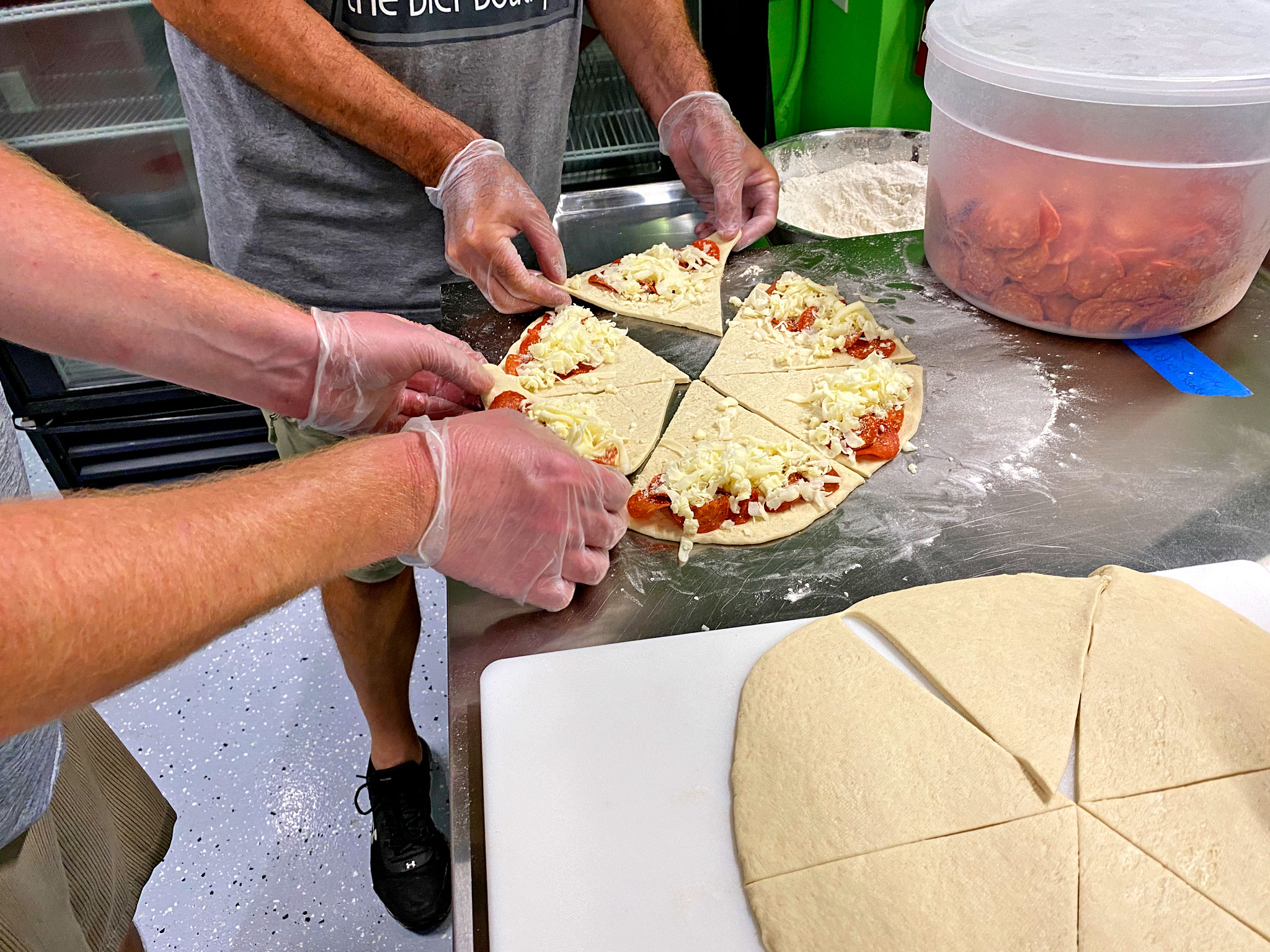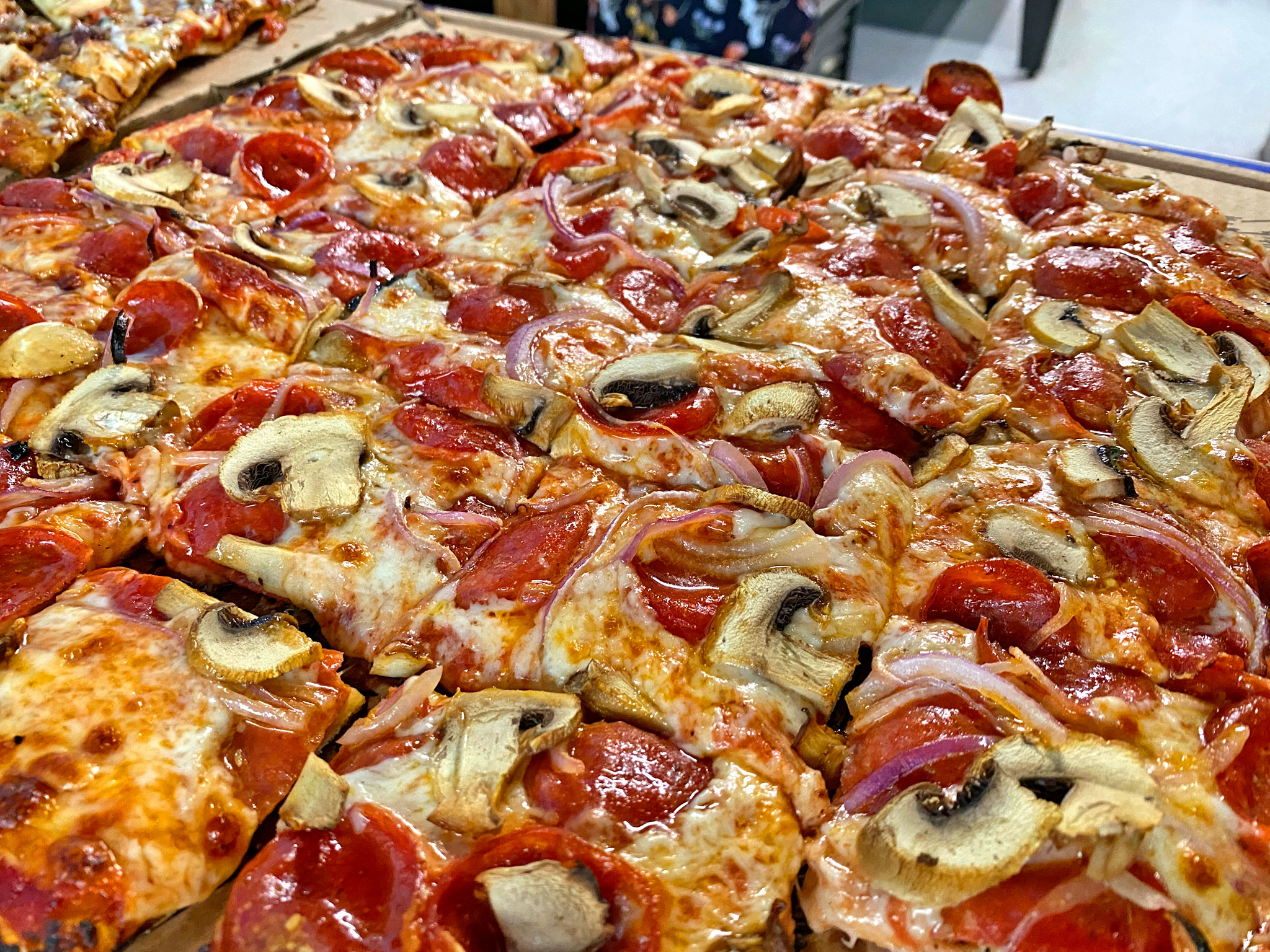 Above is the Pep Cup – red sauce, Italian cheese blend, pepperoni, mushroom and onion. This one's got the 'shrooms and they are fresh, and never out of a can like some other places. This pizza will make your life better.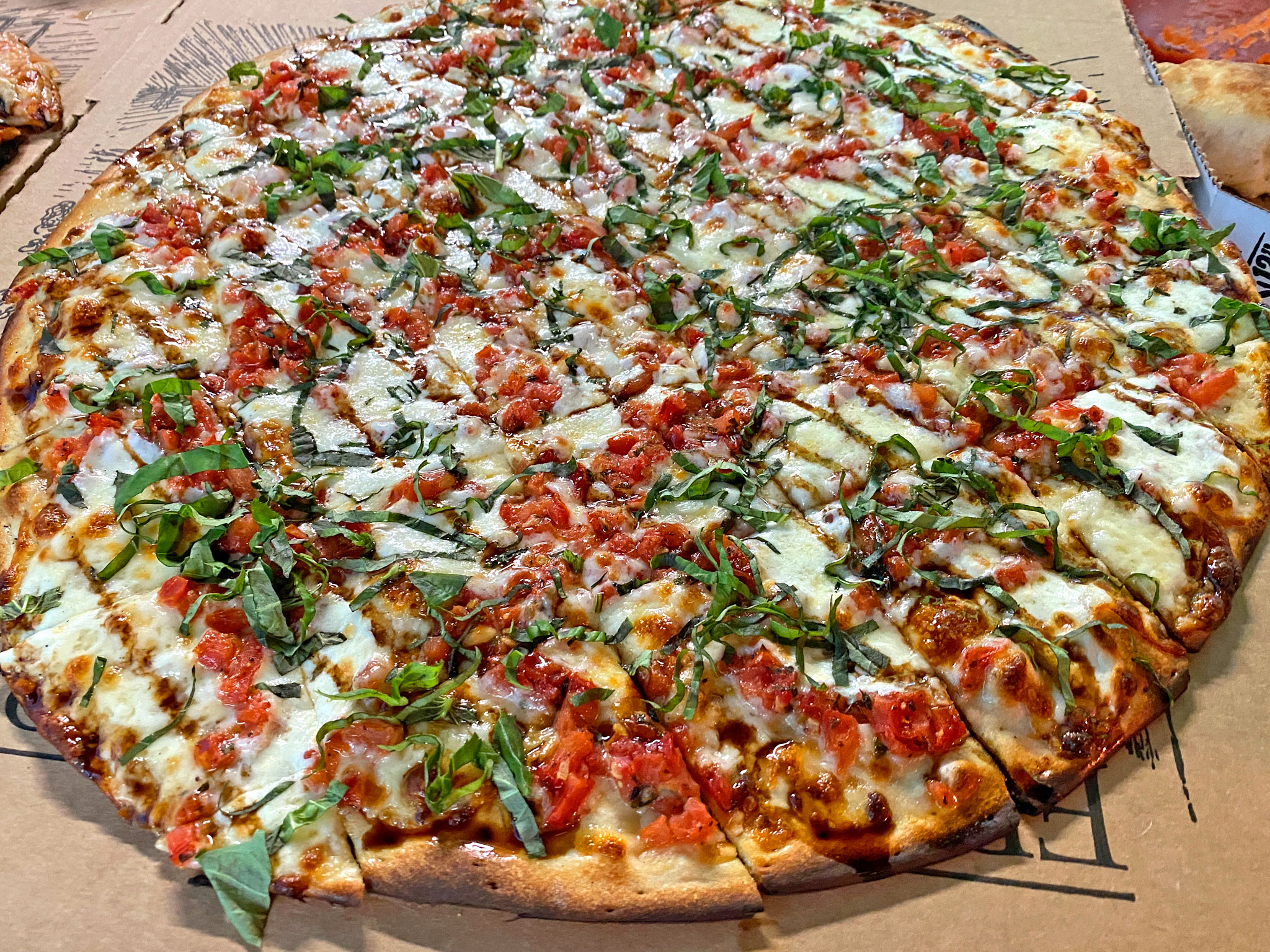 Caprese Train – White sauce with fresh marinated tomatoes, fresh basil and drizzled with balsamic glaze. The white that you see is the cheese. The actual white sauce is more clear and comes from the juice of the marinated tomatoes. It's the best veggie pizza ever.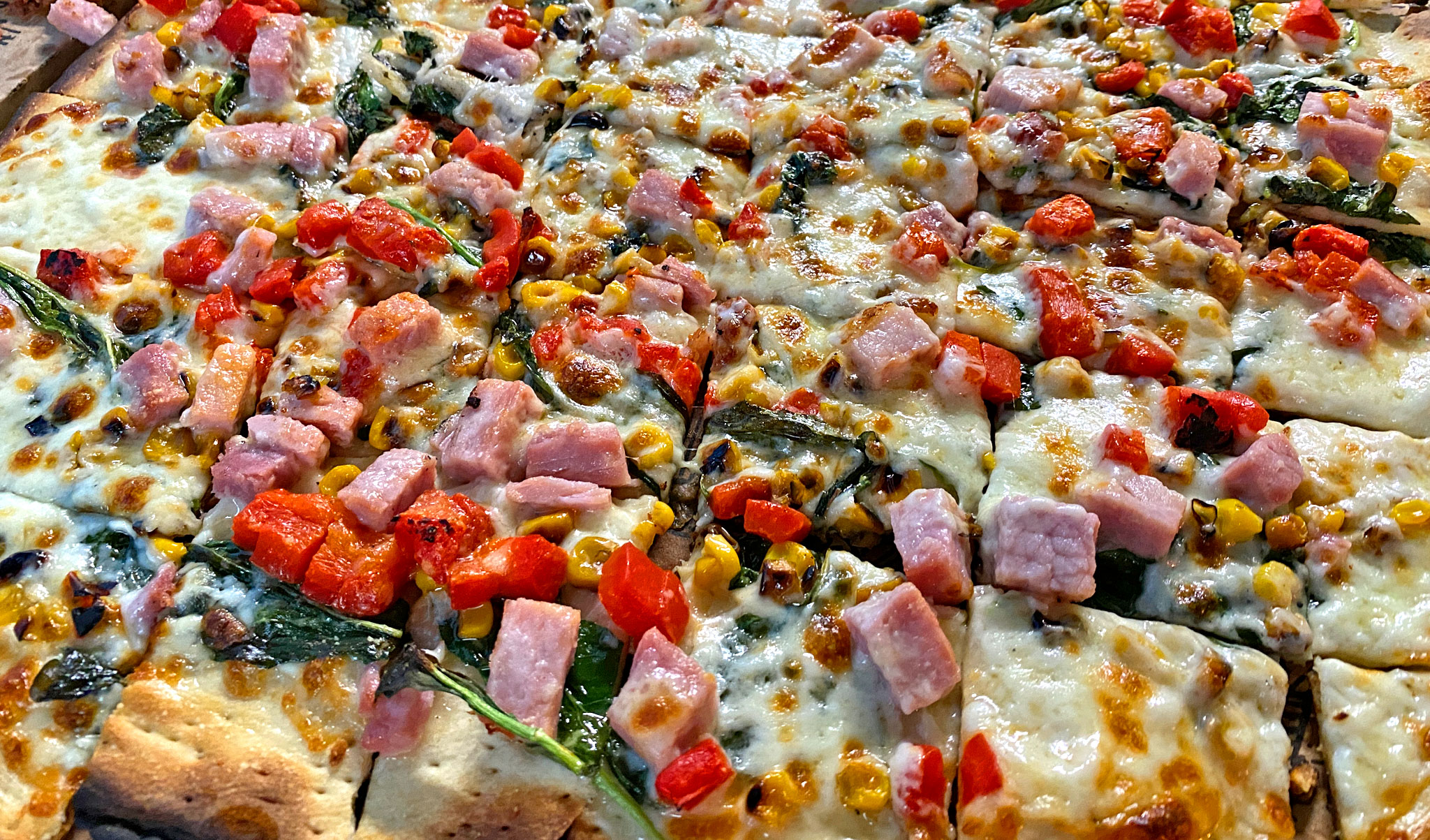 Cornholio – white sauce with Boar's Head bourbon ham, charred sweet corn and roasted red pepper topped with 3 cheese Italian blend & a drizzle of ranch and stout bbq. We love everything about this pizza.
They are using all purpose flour with live yeast. Scott tells us that the live yeast makes a "tremendous difference in the flavor of the dough".
All of the salads feature specialty lettuces from Brick Street Farms.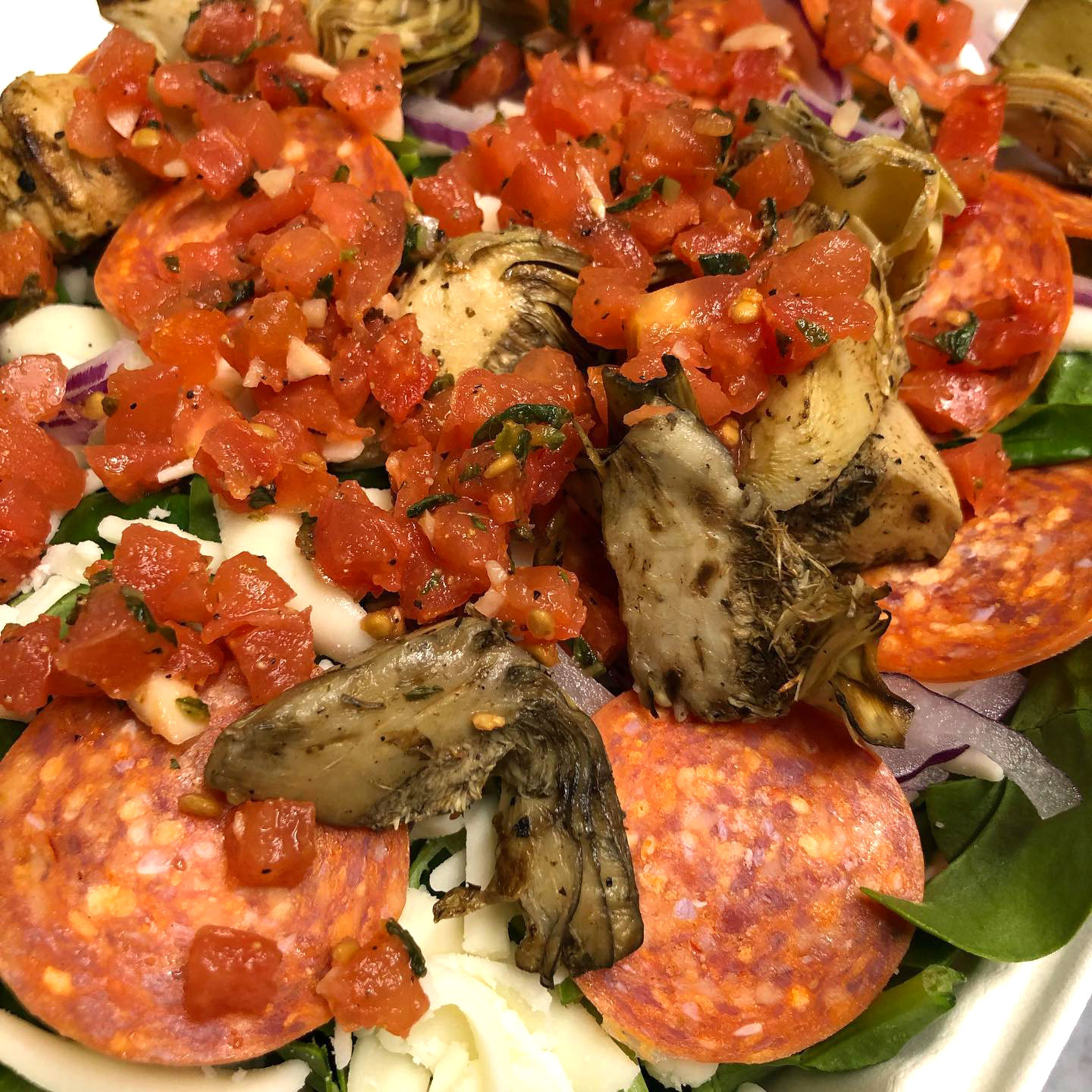 Italian Goods – Brick Street Farms mixed greens loaded with Mozzerella cheese, house marinated tomatoes, roasted red pepper, red onion and artichoke with basil vinaigrette.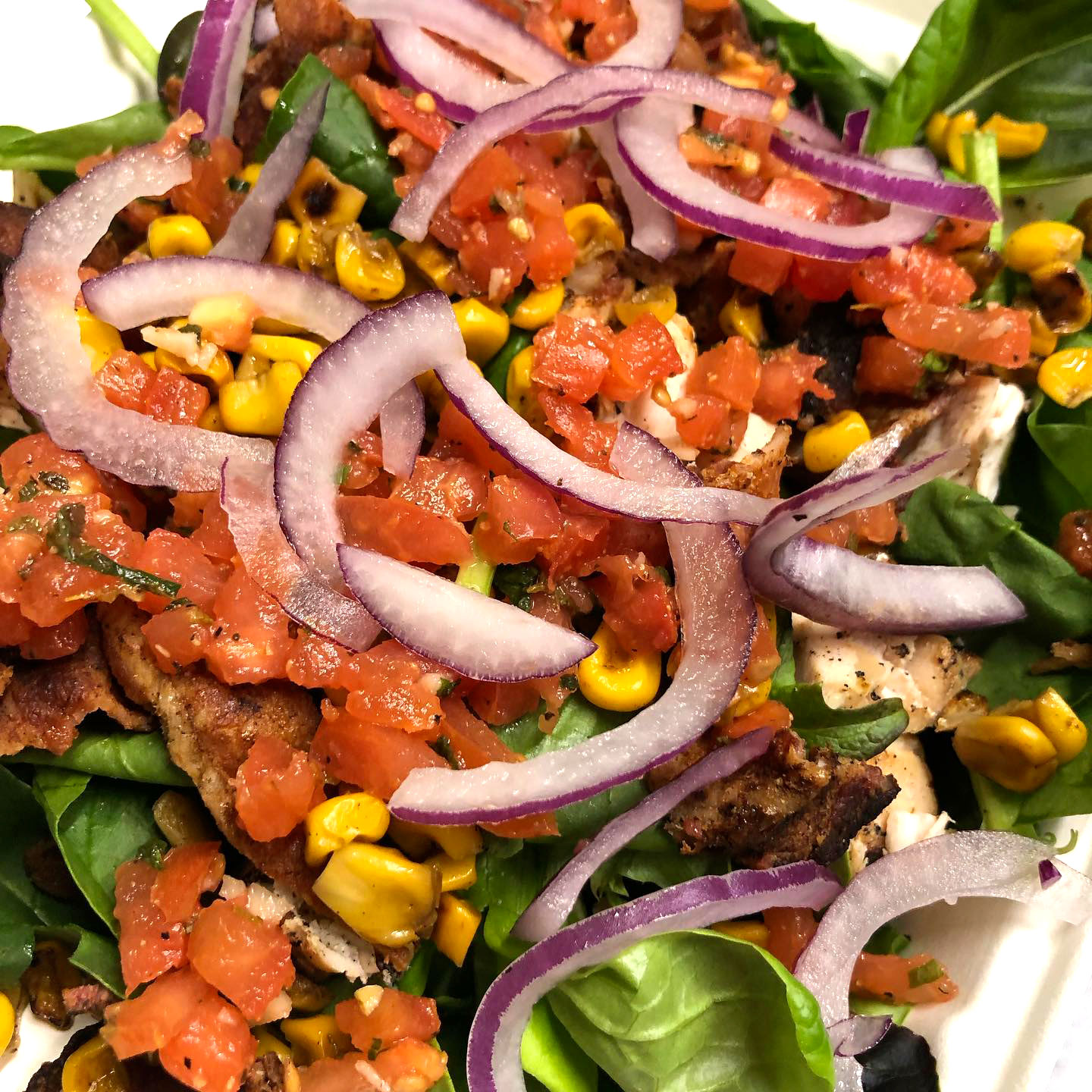 Midwest Greens – Brick Street Farms mixed greens mixed with grilled chicken, bacon, charred corn, marinated tomatoes, gorgonzola and house made ranch.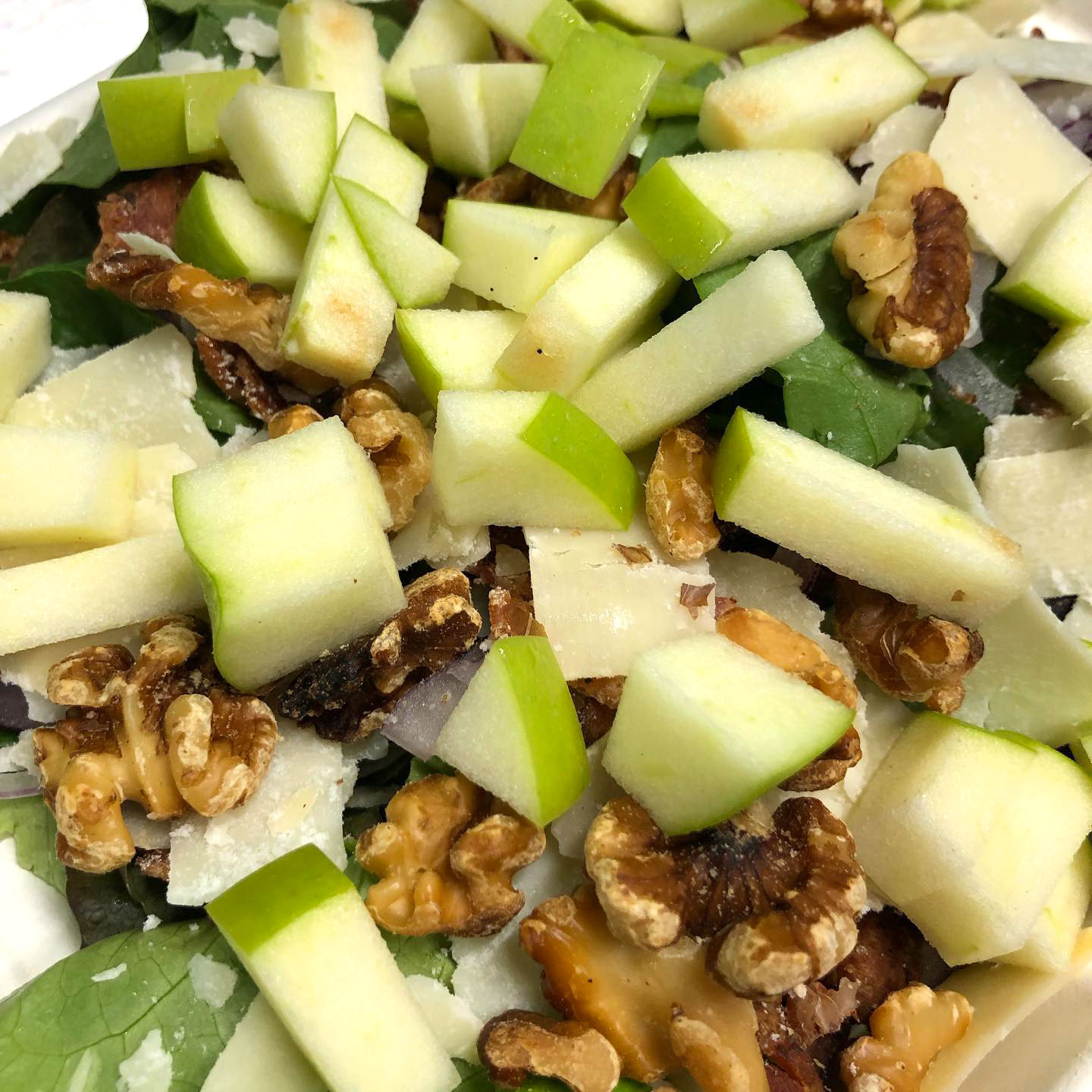 Sweet & Spicy – Brick Street Farms mixed greens topped with 3 cheese Italian blend, Granny Smith apples, red onion, thick cut bacon, candied walnuts and honey peppercorn vinaigrette.
Not shown: The OPP House Salad – mixed greens, onions, marinated tomatoes, bacon, feta cheese, sunflower seeds & chow mein noodles with honey peppercorn vinaigrette.
Beverages include Coca-Cola products and beer and wine in cans. There are a few tables, 8-10 chairs, in a fun, informal environment.
For dessert there are Nutella Twists, and a dessert of the day.
Vintage Equipment
They have acquired some vintage equipment, which actually makes for better tasting pizza, along with some nostalgia.
There are two Blodgett 1000 ovens that hold six 16″ pizzas each, and they are 45-50 years old with the original stones on the inside that are majorly seasoned. (Just the burners were replaced.) They've also acquired a 40-year old, 60-quart Hobart floor mixer that stands about four feet tall.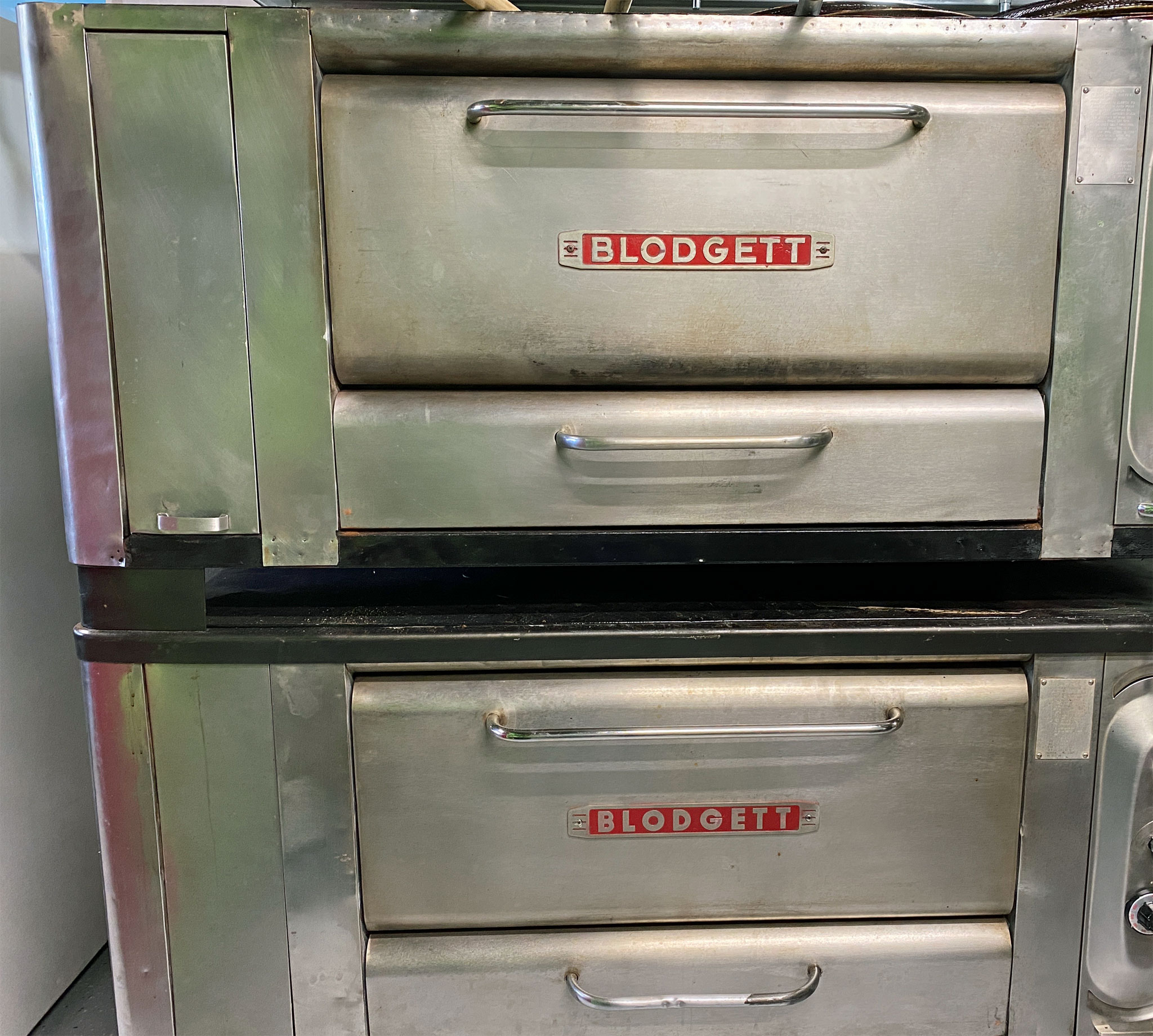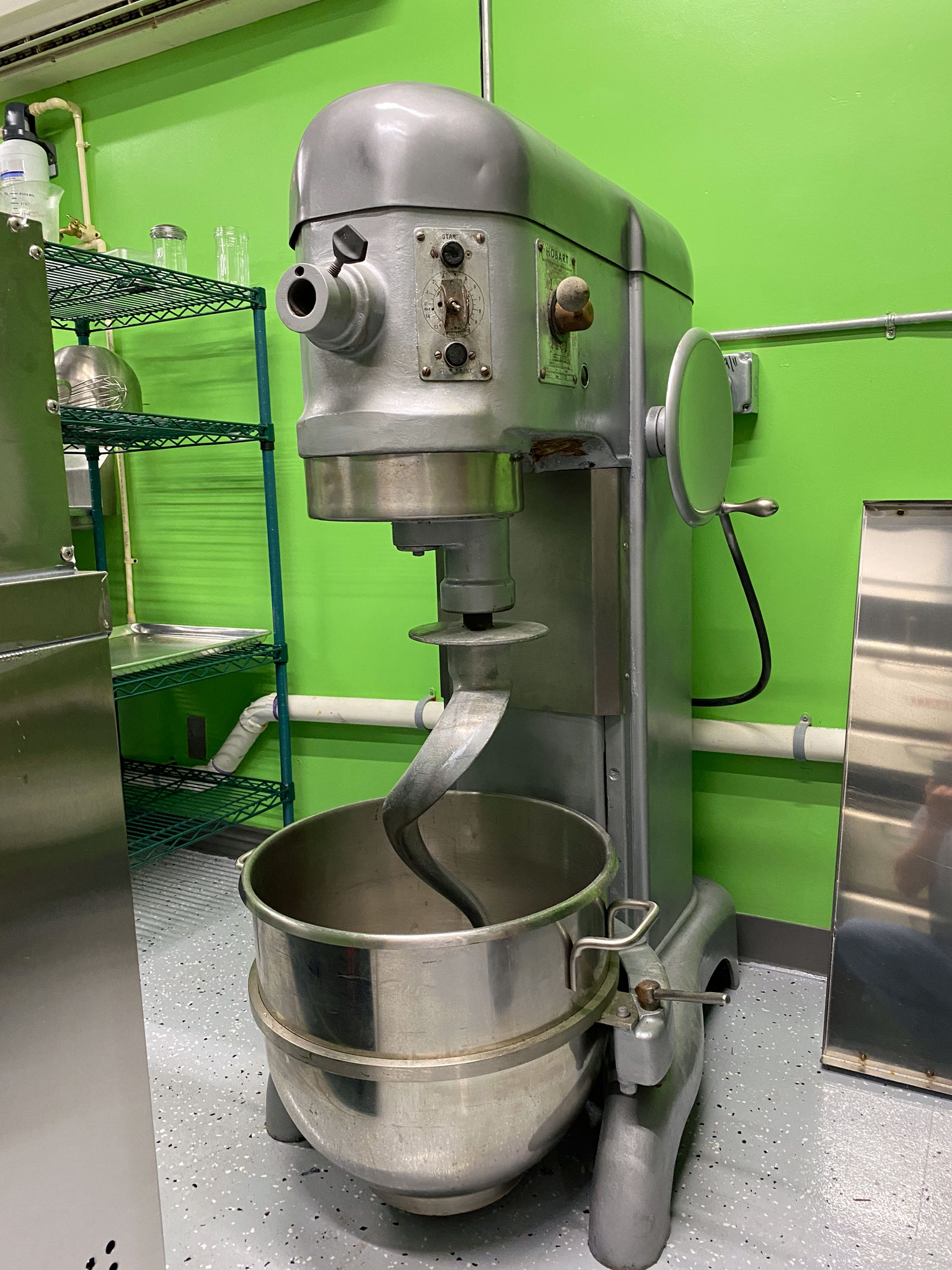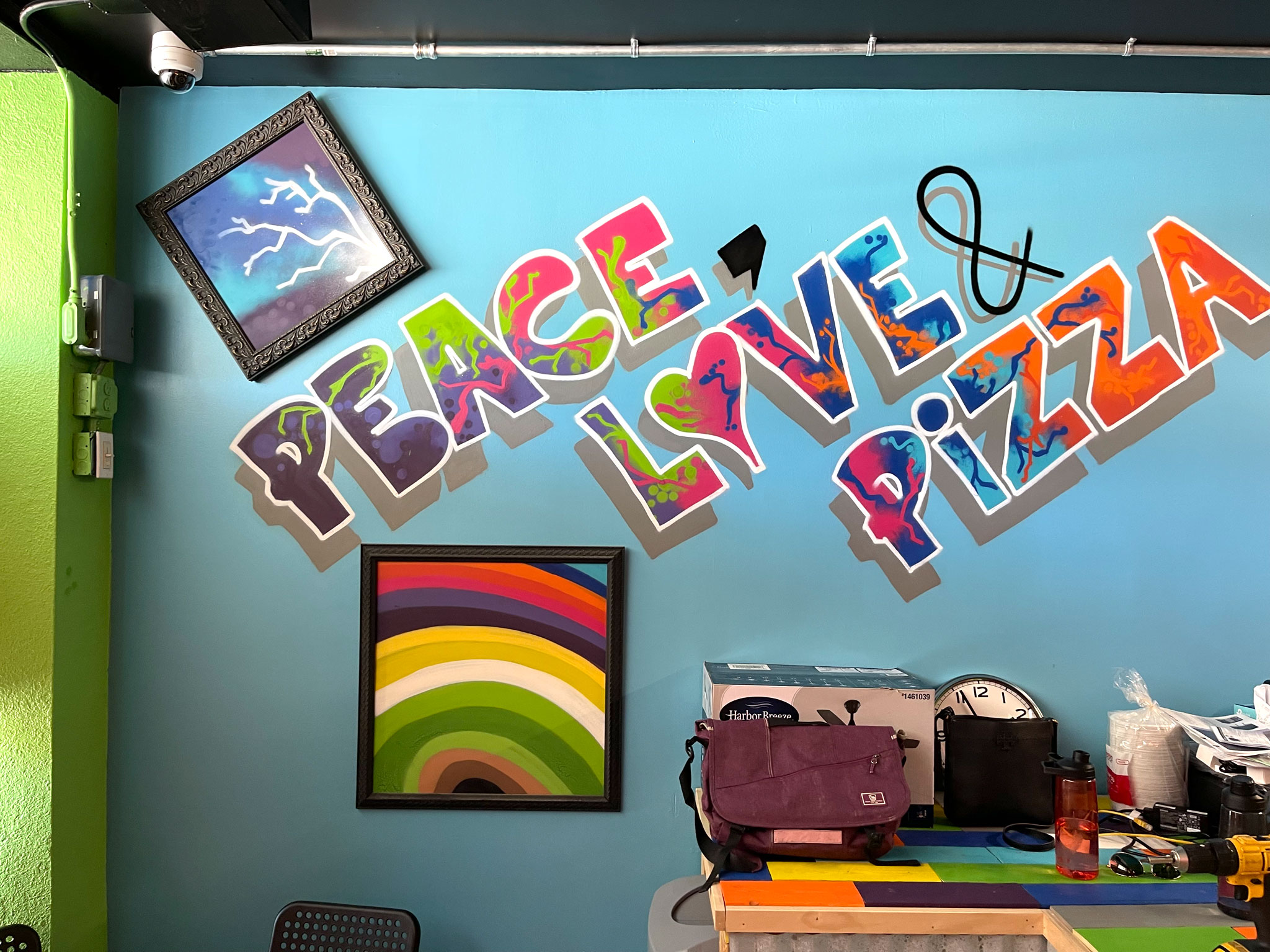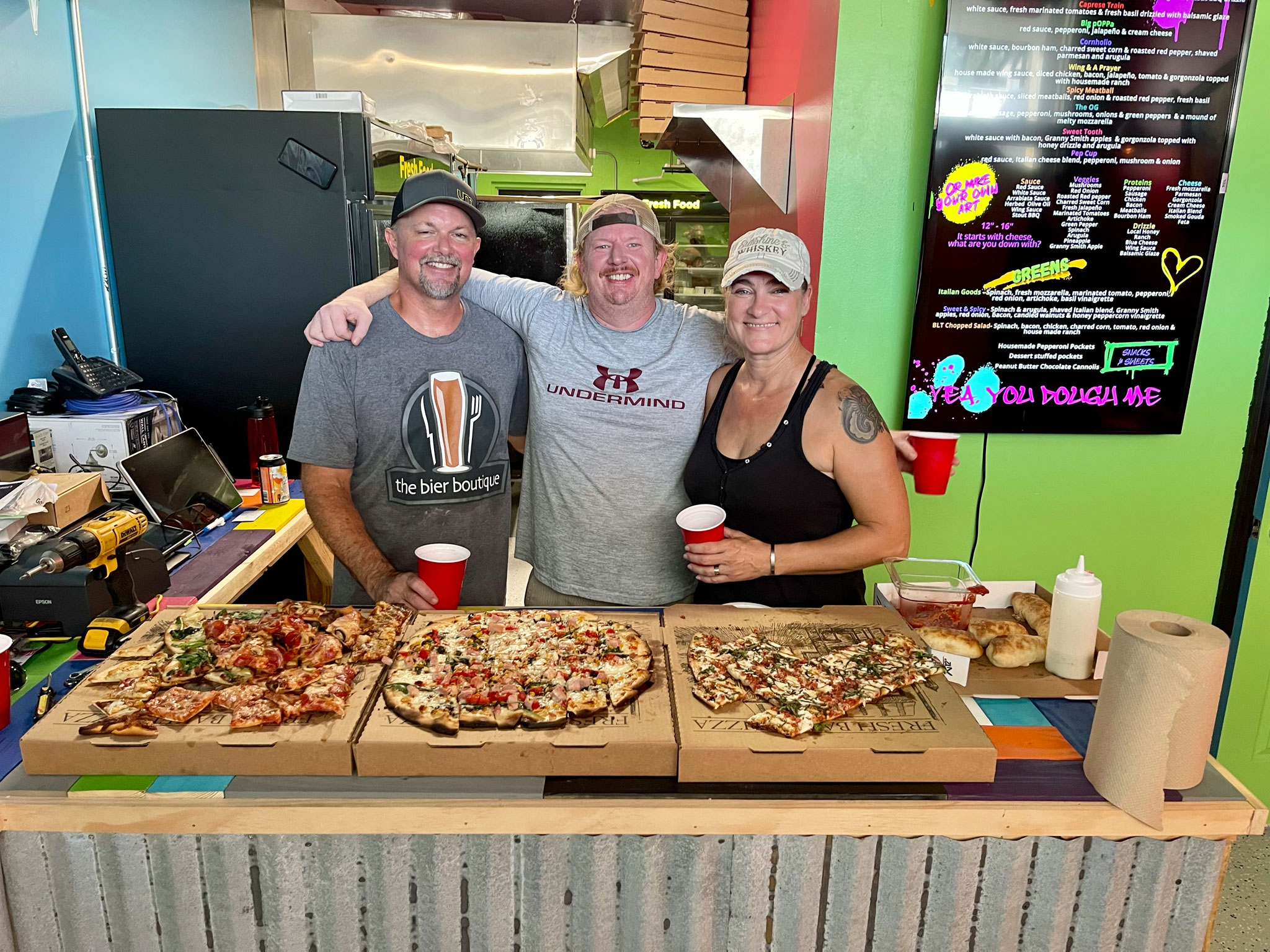 Serving up thin cracker crust pizza, fresh & unique salads and desserts plus beer & wine for delivery, and carryout with a small dine in area.
DISCLAIMER: Kevin, Lori, Abby, Haley, & Lindsey do not dine anonymously (this would be impossible) and we sometimes get free food (though never expected). However, we dine with the locals and we support our own. You will always get honesty in a respectful manner. We do not include any large national or regional chains in our ratings and reviews. We focus on independent locally owned eateries exclusively.

PLEASE NOTE: Reviews reflect a certain moment in time. Some restaurants stay extremely consistent over many years, and some change for the better or worse. Some things that may change are: chefs, recipes, food suppliers, ingredients, philosophies, ownership, etc. We always hope that you have the same good, or great experience we had.
More Foodies News, Reviews & Recipes