Get "Hooked Up" at Swah-rey Dessert Bar
Get "Hooked Up" at Swah-rey Dessert Bar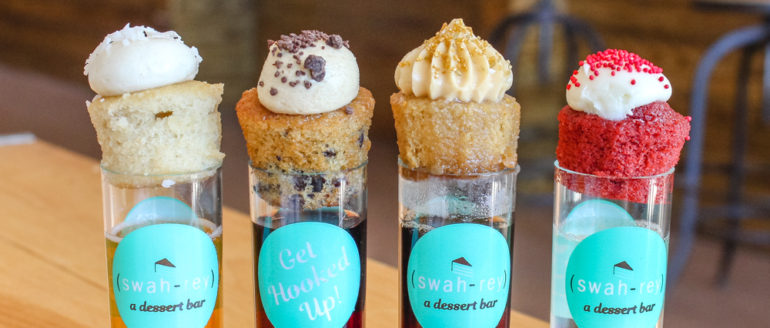 Right away, the name Swah-rey sparks curiosity because it's quite obviously the spelled out pronunciation of the word "soiree", a word associated with a fancy social gathering. That's exactly what you get at Swah-rey except no need to dress up (unless you want to) – the desserts and accompanying beverages will make you feel plenty fancy. It's St. Pete's first and only dessert bar serving mini-sized cupcakes, dessert bars, and an award-winning banana cream pie. Ironically, the cake slices are anything but mini. In fact, they're almost comically large.
Around town, Swah-rey is most famously known for their "Hook Ups". That is, a mini cupcake sitting atop a shooter glass of your beverage of choice. As the menu instructs, Step 1 is to choose a mini flavor (around 13 flavors to choose from at any given time) and Step 2 "Hook it up" with a beverage. Options include non-alcoholic drinks like local Kahwa coffee and espresso or the kid-friendly milk option. Adult-friendly alcoholic options include beer, wine, champagne, and prosecco.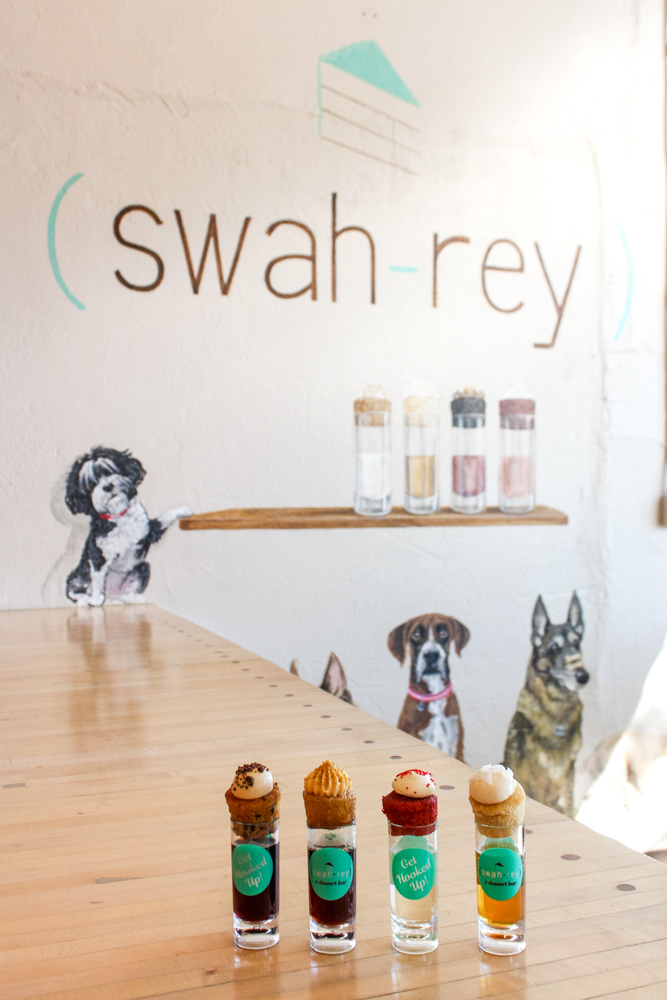 All of the desserts are made in-house regularly. Take some advice from me and at least think about what you may want beforehand. Writing this article led me to Swah-rey for the first time and with so many options some guidance would have been helpful. Rather, I felt pressure from my very attentive, yet not-so-helpful server to order timely. I'm still not exactly sure what Royal Tokaji Wine is despite having asked the server (in her defense, I'm not sure she was old enough to drink) but it's the most expensive alcoholic "hook up" on the menu. Ultimately, I chose to stick with familiar beverages and these are the pairings I ended up with (in order of appearance in photo):
Coconut mini paired with a Cream Ale

Cookie Dough mini paired with Red Wine

Rum Cake paired with Coffee

Red Velvet paired with Prosecco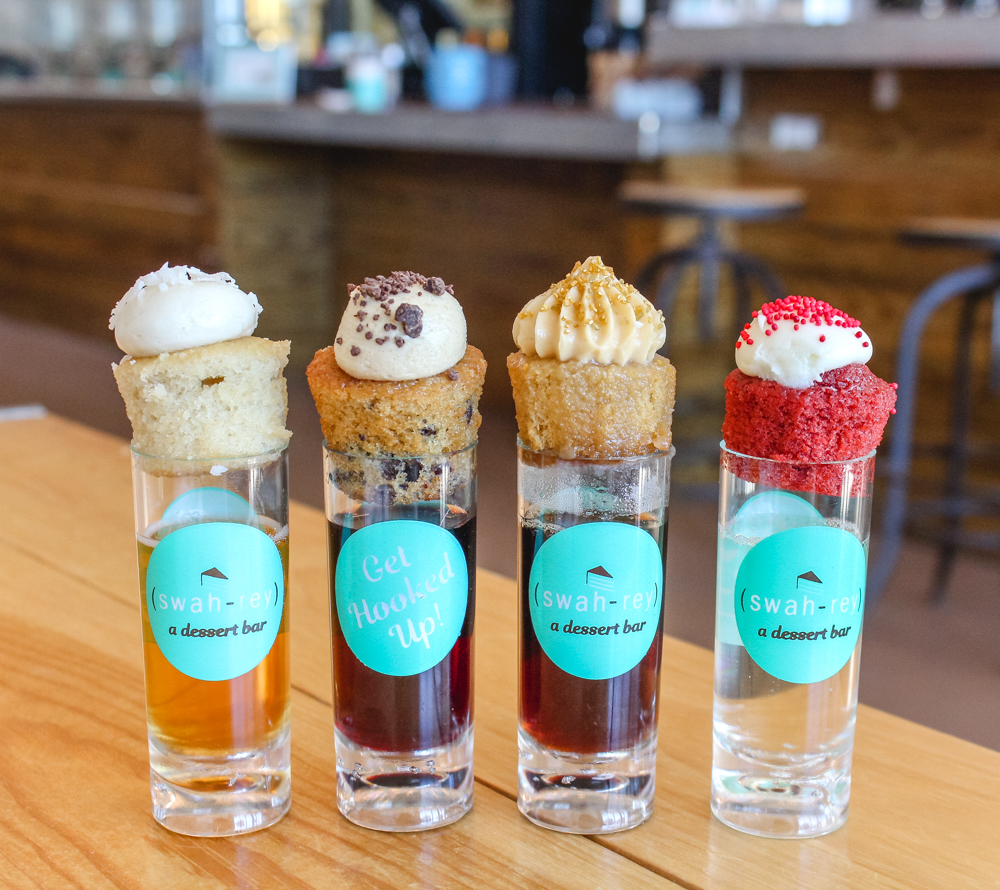 Not one of these did I regret. Though, the most memorable was the rum cake mini. It's hard to convey with words how deliciously rich and creamy the buttercream icing is that they make on-site. It's best you go in and try it for yourself. Drink-wise, the prosecco and cream ale were my favorites. The coffee was too cold by the time I drank it (granted I spent 15 minutes taking photos but you probably will, too!) and the drier red wine didn't do much for my taste buds after a sugary treat. Perhaps, I also preferred the effervescence of the bubbly and beer.
A friend ordered champagne and it was served in a tall glass accompanied by the mini bottle it was poured from. To go with the bubbly, she ordered a single slice of the Blackout cake. The cake slice was huge and very dense like a brownie making it different than most cakes I have had which I liked. We barely put a dent in that thing before having it boxed up, so there was plenty left to enjoy at home.
The original Swah-rey is located in the Grand Central District. Inside you will find ample seating with a number of tables and a good-sized bar that seats around 10 people. In October 2017, Swah-rey 2 opened its doors on the 600 block after a well-supported Kickstarter campaign was a success. The second location is more of to-go style establishment with the majority of the seating outside. It's open 7 days a week, unlike the original, which is only open Thursday through Saturday. Swah-rey 2 serves all of the desserts except for the cakes. The only exception is on Sundays when they regularly feature a "Sunday Slice Sale" with $4 slices of cake (half off) when there are leftovers from the other location. If this is the case, they alert eagerly awaiting locals via Instagram in the morning before they open with details of which slices and how many of each are available. Pro tip: go early as they go quick!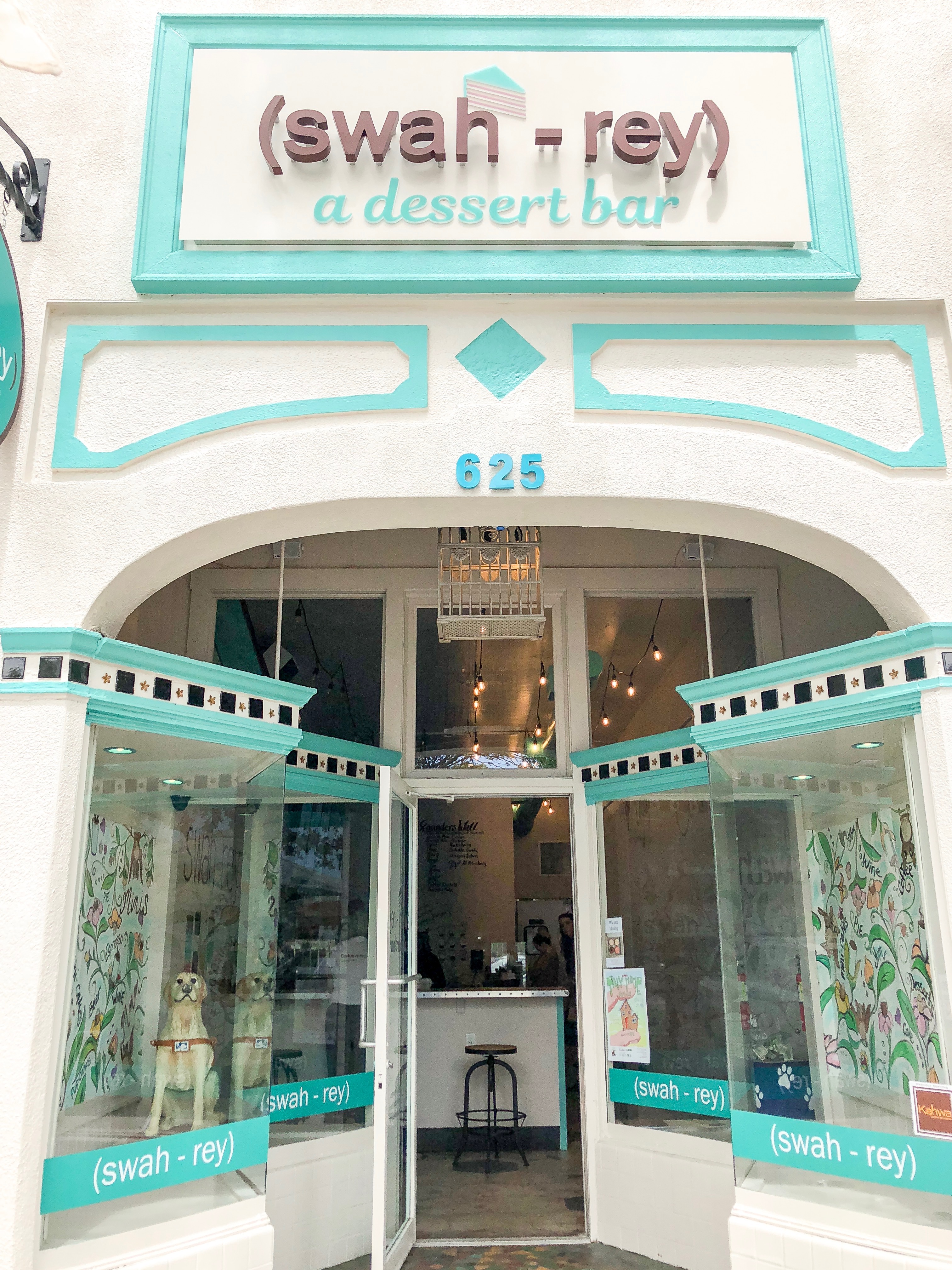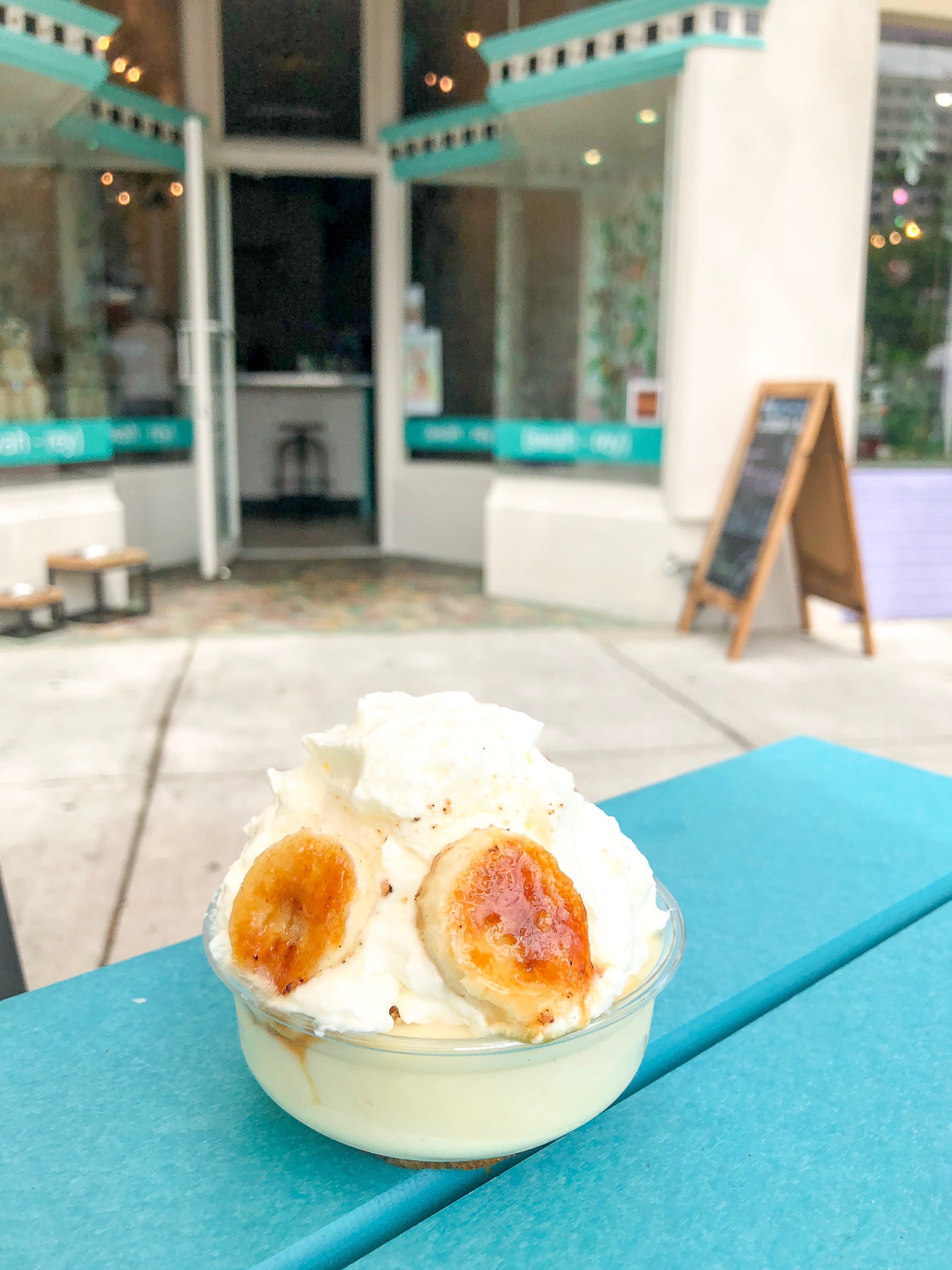 On a separate occasion, I paid a visit to Swah-rey 2 where I grabbed a couple more minis (sans the "hook up") and the S'mores dessert bar and the banana cream pie-in-a-glass. Although, at Swah-rey 2 it comes in something more like a mini sundae cup because of the to-go nature of the place. In 2017, the Insider called this banana cream pie one of the "Best 25 Pies in America" and for good reason. The layered pie "crust" and banana filling is topped with a generous portion of cream and a few caramelized bananas that add a crunchy texture to the pie. As my fiancé put it, "I don't even like dessert, but this is really good."
Swah-rey also makes treats for your furry companions and is dog-friendly both inside and out. Their adoration for dogs is also evident by the number of dog murals that decorate the walls. As part of the Kickstarter campaign for Swahrey 2, people could pledge money to get their dog painted on the "wall of smalls" inside the original Swah-rey. In fact, all of the dog portraits painted on the wall are of actual dogs; their owners are those in the area that support the dessert bar through sponsorships. Swah-rey also gives back by donating a portion of their sales to the Southeastern Guide Dogs. It's hard not to love a place that's creating excellent desserts and has a soft spot for pups – at least in my book.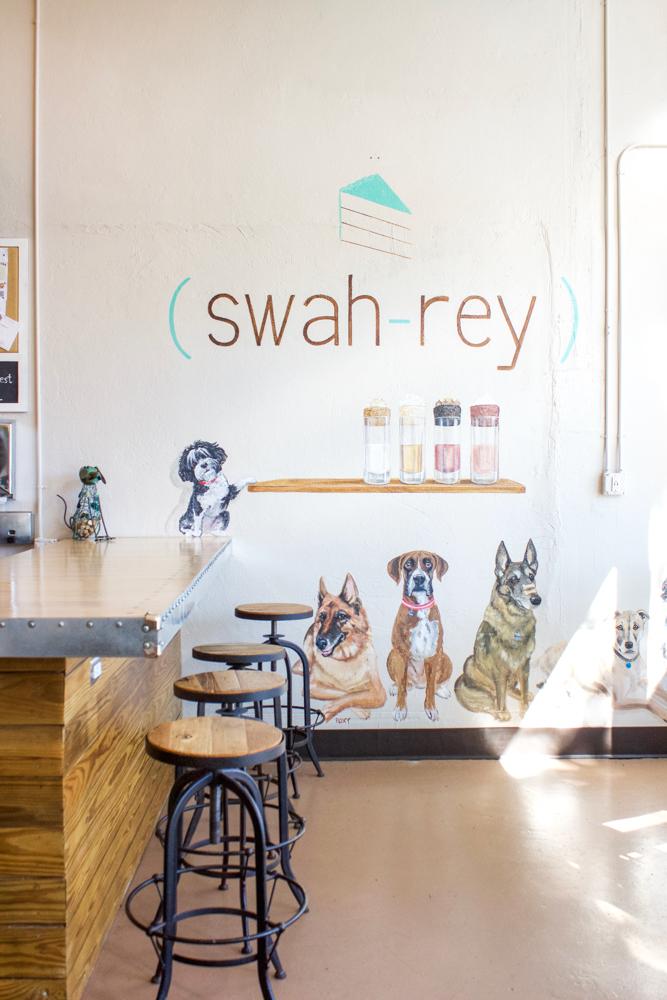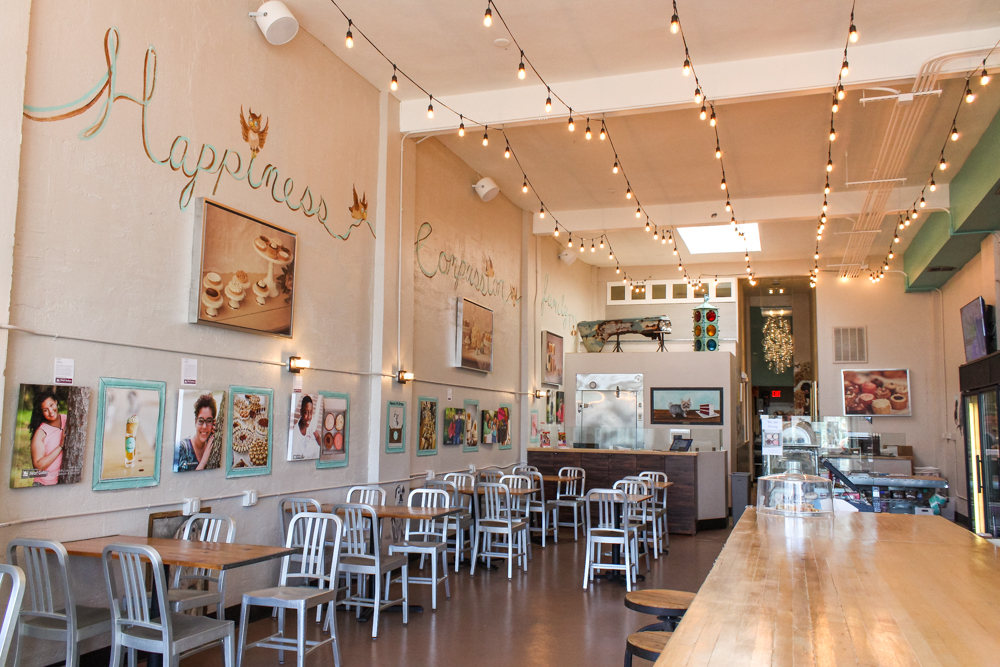 If you've never had the pleasure of visiting Swah-rey, I urge you to go check them out the next time you're looking to indulge. The original Grand Central location is charmingly cute with stringed-lights both on the interior and exterior, photos of their minis hanging on the walls as art, and plenty of hints of their signature color, teal. Alongside the cupcake art, you will find photos of adoptable children from the Heart Gallery, an organization that helps kids in foster care find their forever families.
Swah-rey is a great place to stop in when you find yourself in the Grand Central district on a weekend night – perfect for couples, ladies night out, or any other group looking to wind down post-dinner over dessert and drinks. And now, with the addition of the location on the 600 block, you can get your Swah-rey fix any day of the week.
A dessert bar with mini desserts, cupcake shooters, and giant slices of cake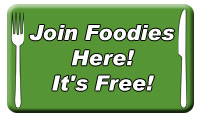 More Foodies News, Reviews & Recipes