New Rococo Style Fabulous Sunday Brunch
New Rococo Style Fabulous Sunday Brunch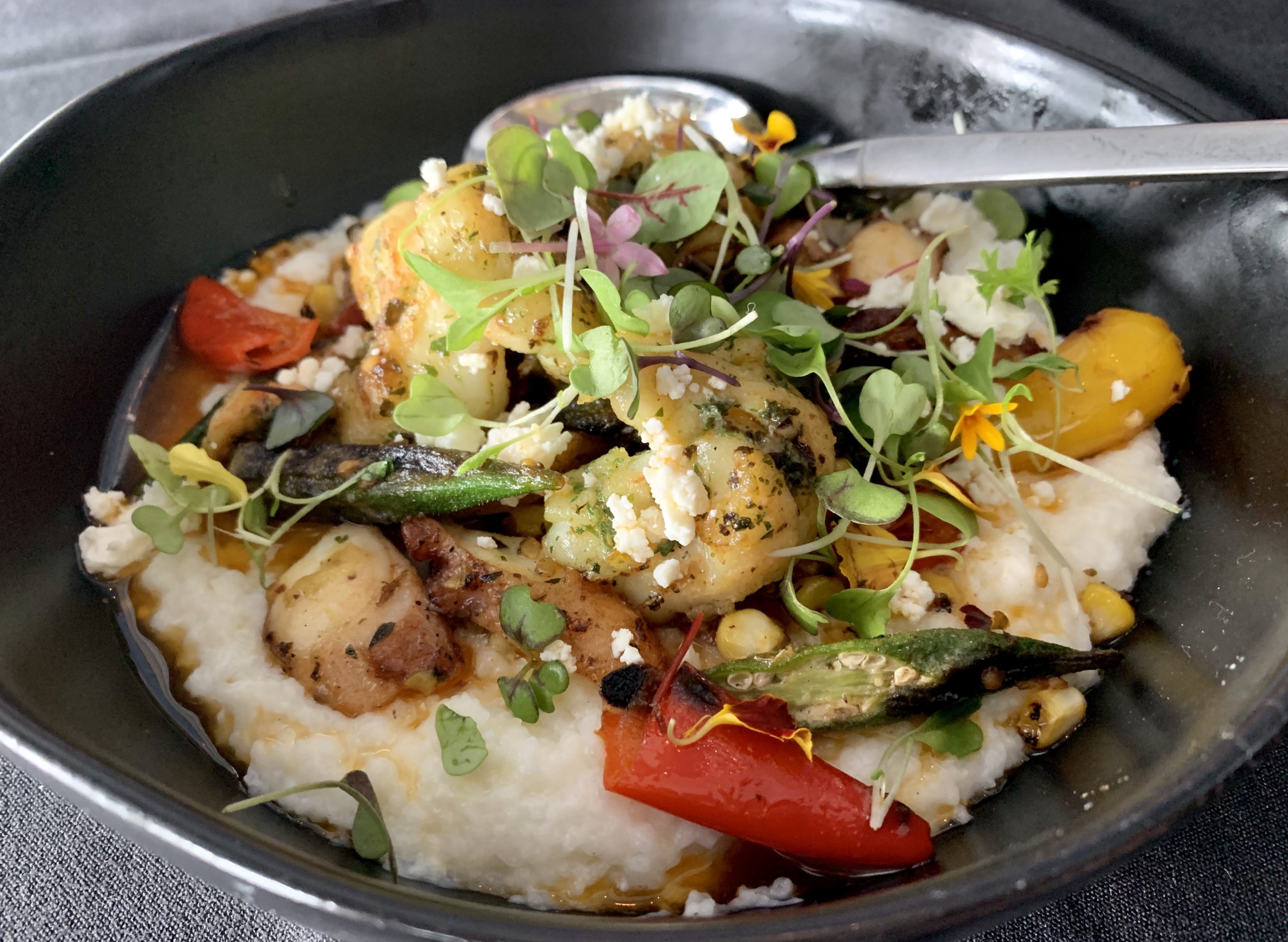 A couple of months ago Rococo Steak started opening at 11am for Sunday brunch. Kevin and I were invited in to photograph and taste a few of the brunch items. Brunch is done a lot downtown and we have covered quite a few of them, so I was really not quite sure what to expect. That thought should have never crossed my mind. With Rococo's usual class and elegance, they have created a top notch experience from beginning to end. It was a brunch to remember and repeat…again and again.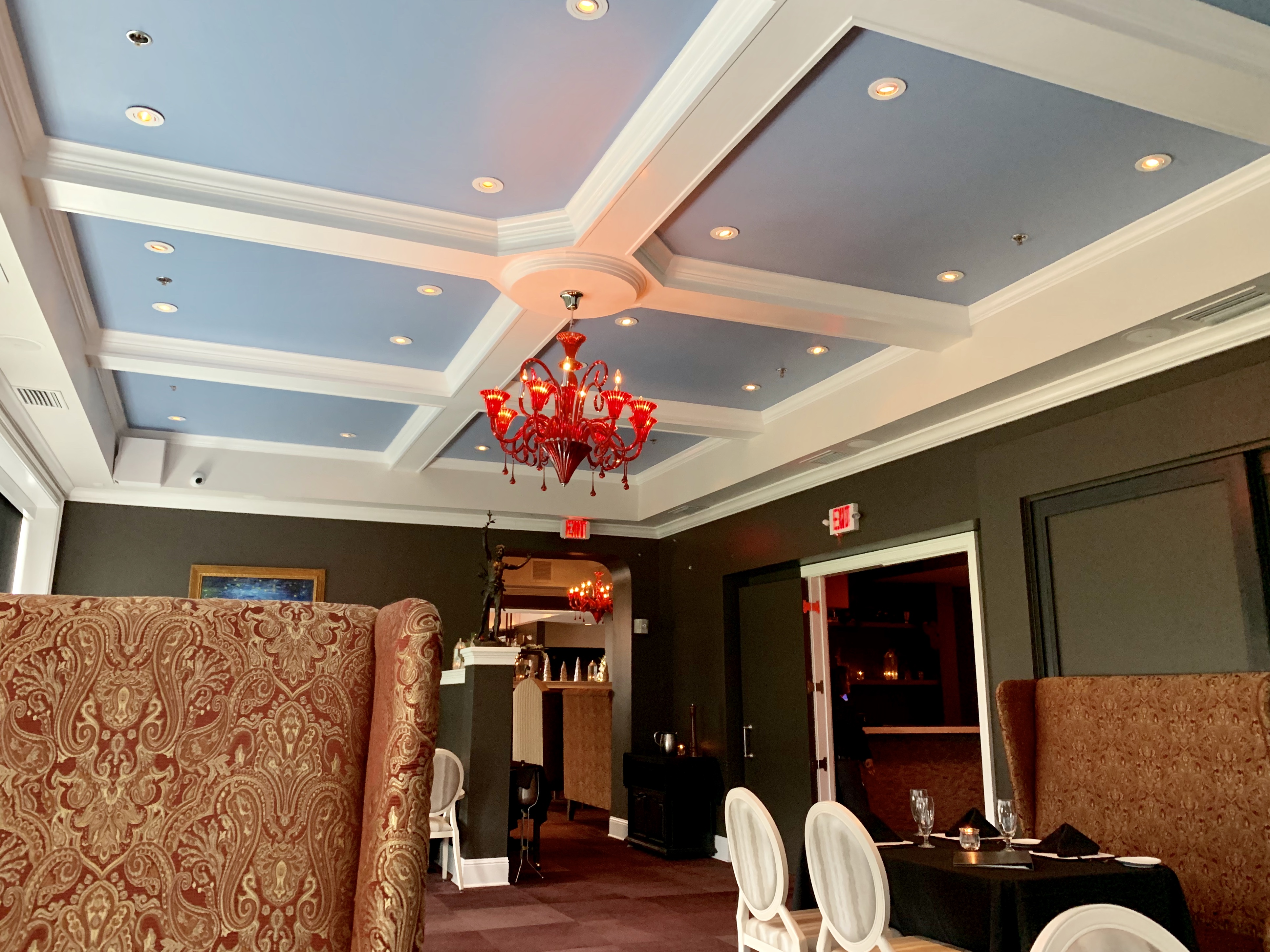 To begin with, Rococo is always a treat from its elegant interior to its high end service to its superb food, you can almost never go wrong. We started with drinks. A Bloody Mary for Kevin and I opted for the unlimited mimosas. With the mimosas, for $20 you can choose OJ, Peach Nectar or Ruby Red Grapefruit. The juice comes out in its own little carafe so you can add as much or as little as you like. And you can change up and switch to a different juice, if you so decide. THIS! This I love. There is nothing worse than pre-mixed unlimited mimosas which are more juice than they are bubbles. But the carafe just takes it to a whole new level. You keep the same glass and they just keep topping you off. As you can see, Kevin's Bloody Mary has bacon in it. I am not the aficionado on Bloody Mary's but this house made one, certainly impressed Kevin.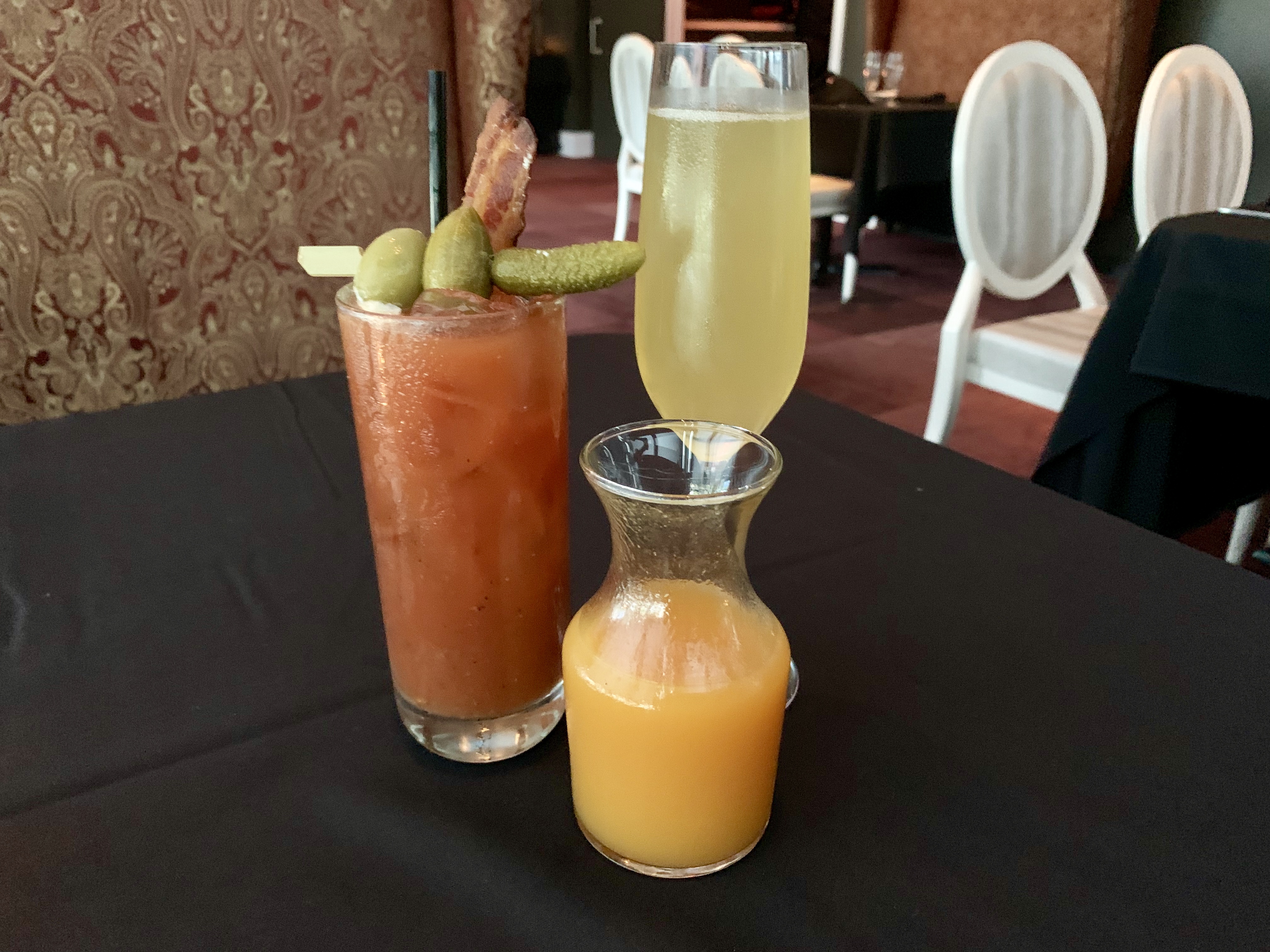 Bacon, bacon and more bacon. We had to try the bacon flight which consists of three different types of bacon – Nueske, Duck & Boar. It is served with a house made Jalapeño Maple Syrup and toasted Baguettes. All three of them were good but the Nueske and the Boar were definitely my favorites. The duck was a bit chewy, but had good flavor. Dipping them in the Jalapeño maple syrup makes this a decadent delight.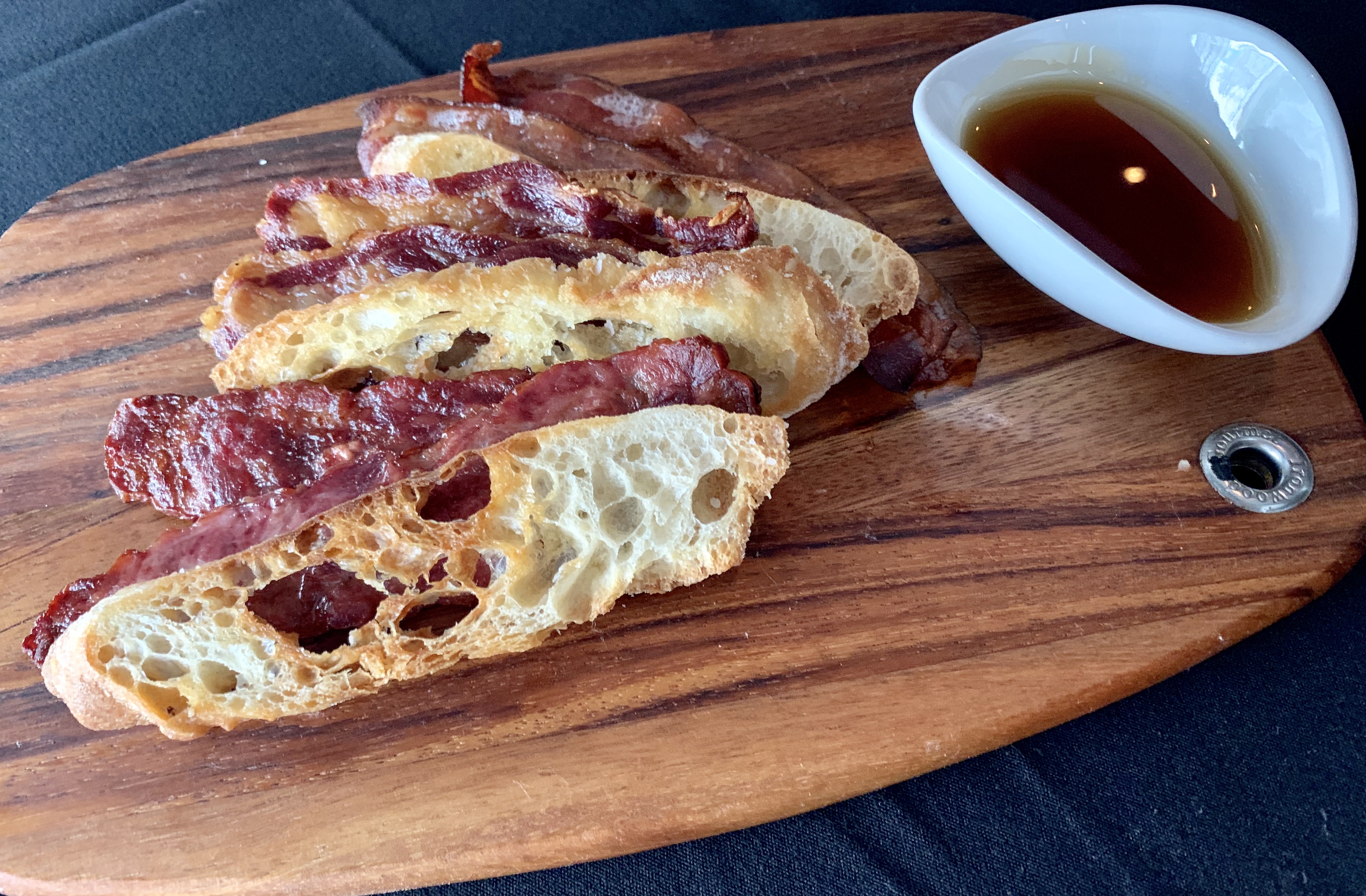 I love gazpacho soup, when I can find it made without cilantro, which is rare, but a white gazpacho soup? What is that? This soup is a total bowl of refreshing goodness, especially for our hot climate. It is made with green grapes, cucumber, scallions, mint and toasted almonds. Try finding that on another menu. This was a treat of not too sweet, a tad of nutty and with just a bit of salt added, a light amount of savory.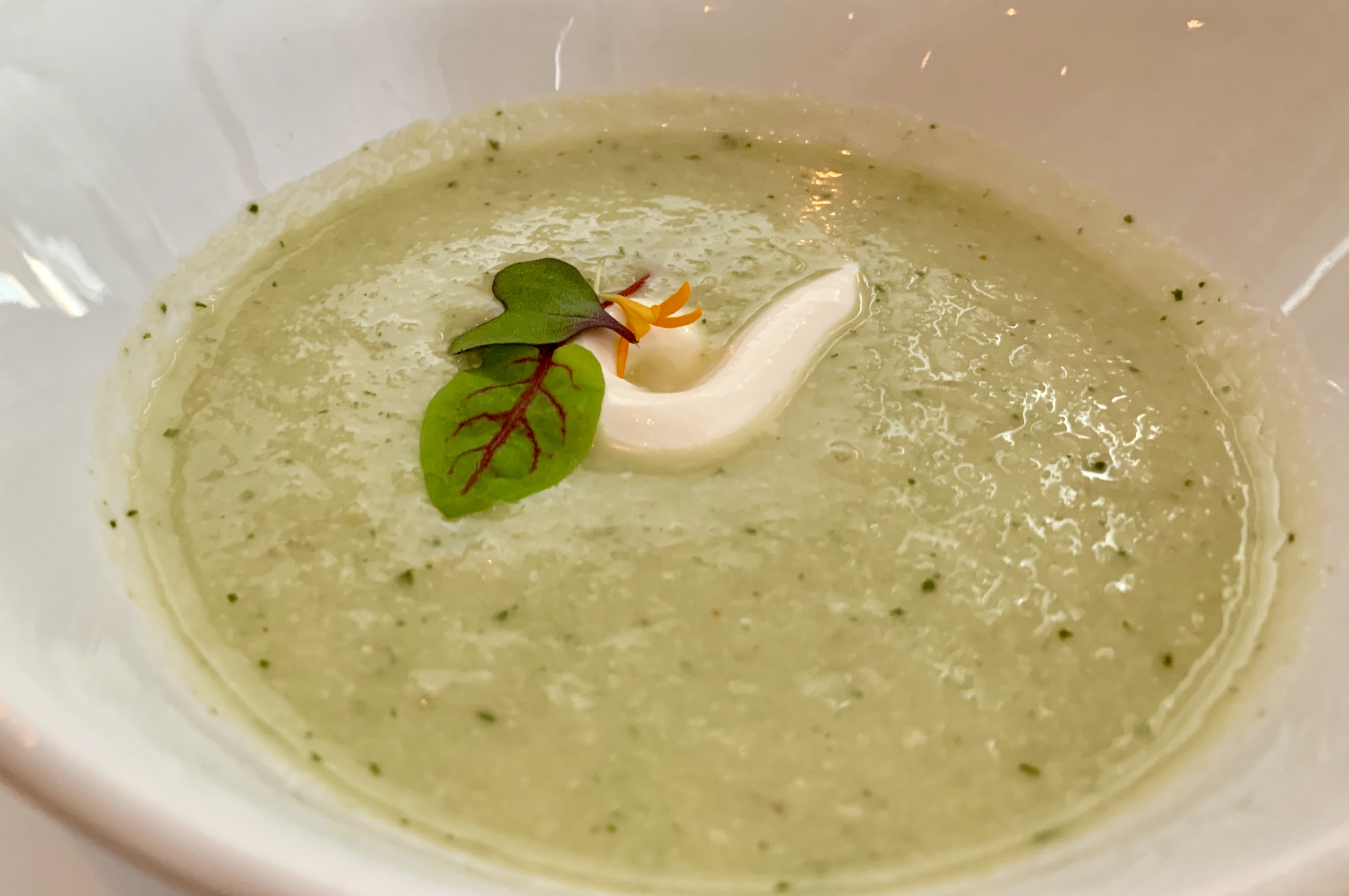 Over the last few years, poutine has popped up on several menus throughout St Pete. I have honestly never ordered it. It just never appealed to me to order a dish of french fries topped with a bunch of stuff on top. In perfect Rococo style, they have taken poutine and elevated it to the next level by making it with fingerling potatoes as opposed to french fries. For some reason, this fits much better in my mind. They make it with pork belly, fingerlings, Wisconsin cheese curds and it is topped with a Nueske bacon gravy. Talk about a plate full of gluttonous, delicious, savoriness! Wow! Just wow! I had to stop myself to save room to taste a few more items.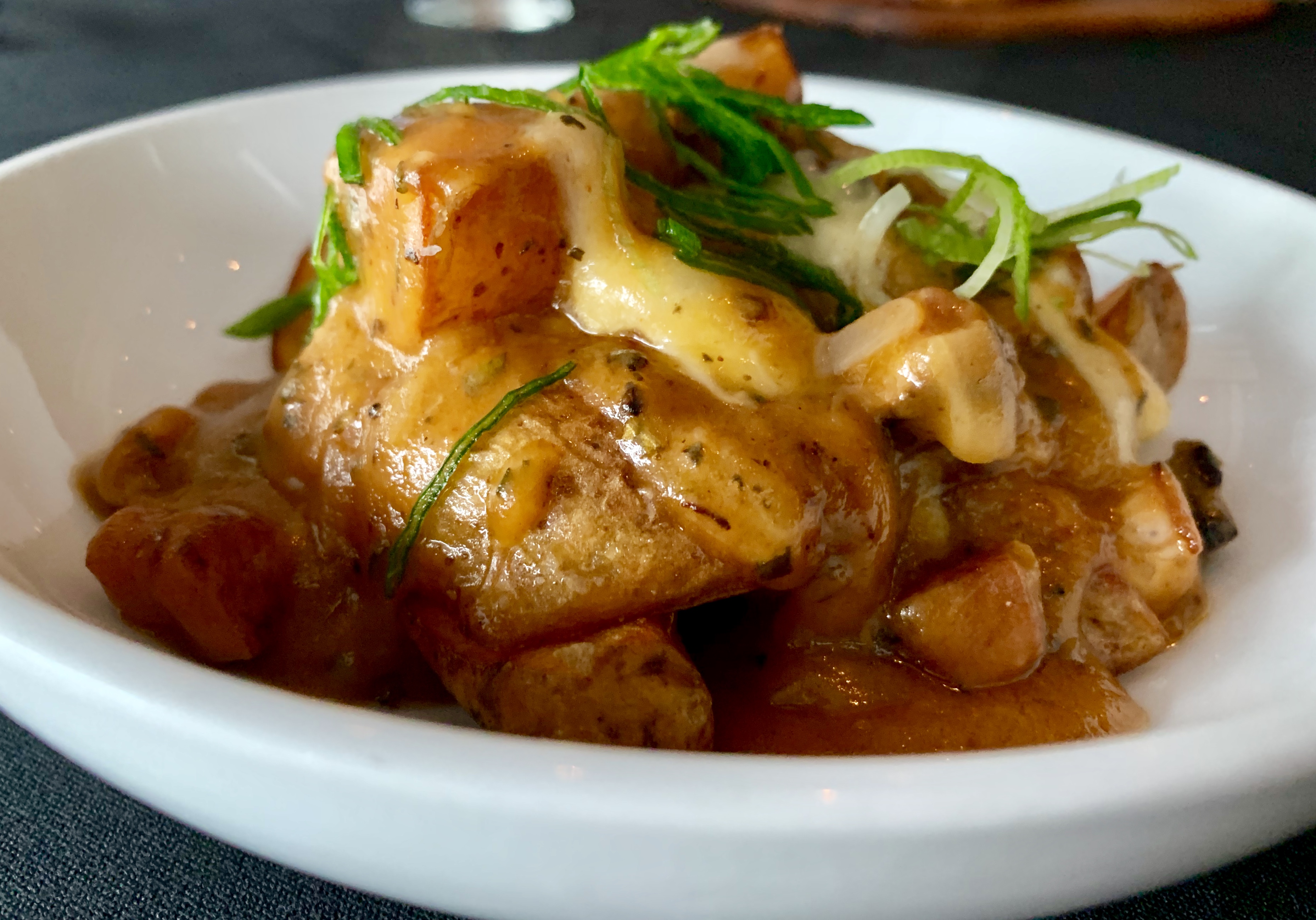 I can't recall having the lobster bisque (made with cognac cream) in the past, though it is on their regular menu, so we shared a bowl of this. While it was very good, it was missing something.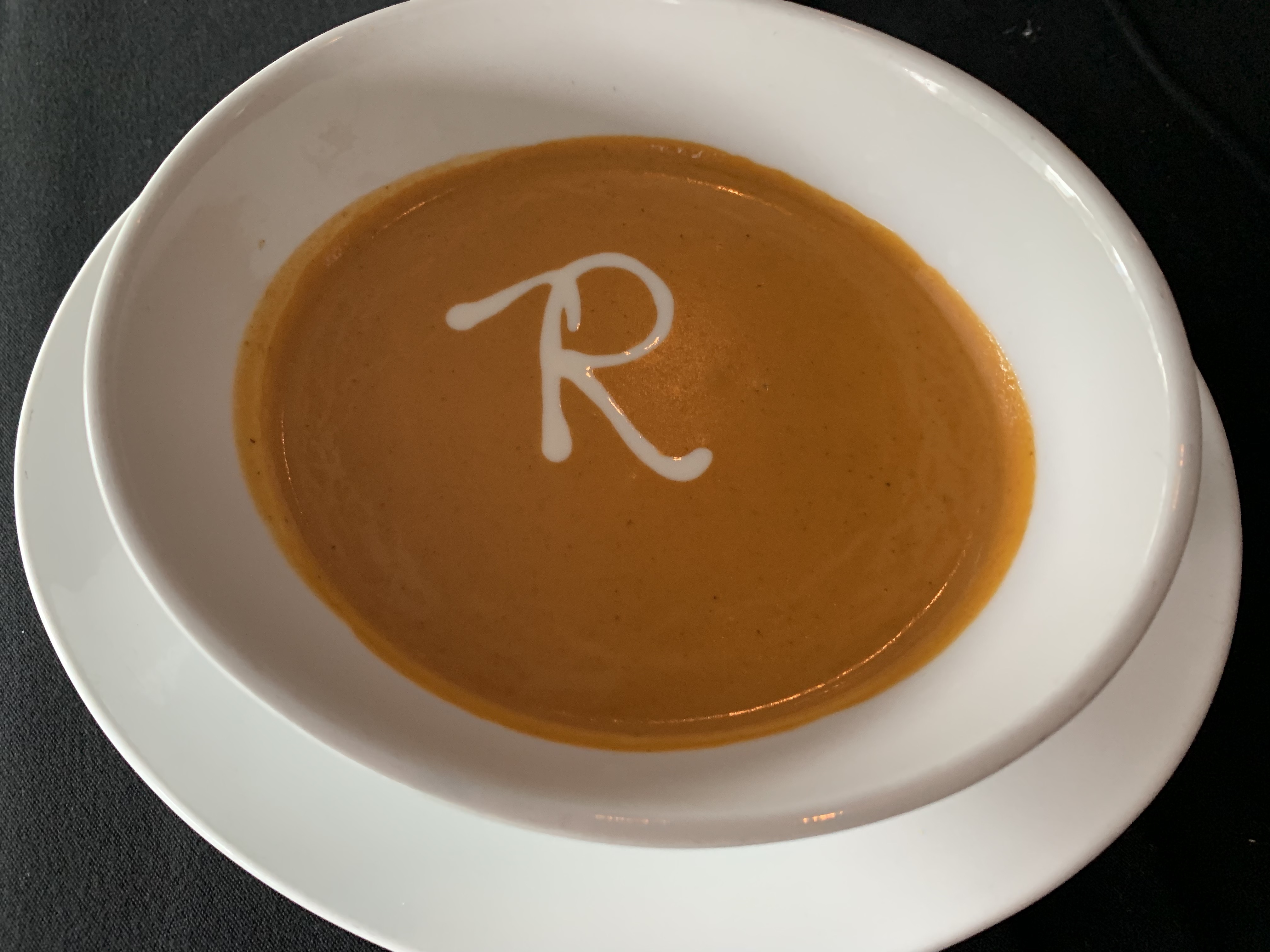 We still had the baguettes on our table from the bacon flight which were buttery and crunchy so I dipped one in and there you go! It added that perfect touch of texture and savory that made this fantastic. We even recommended that they always serve it with baguettes.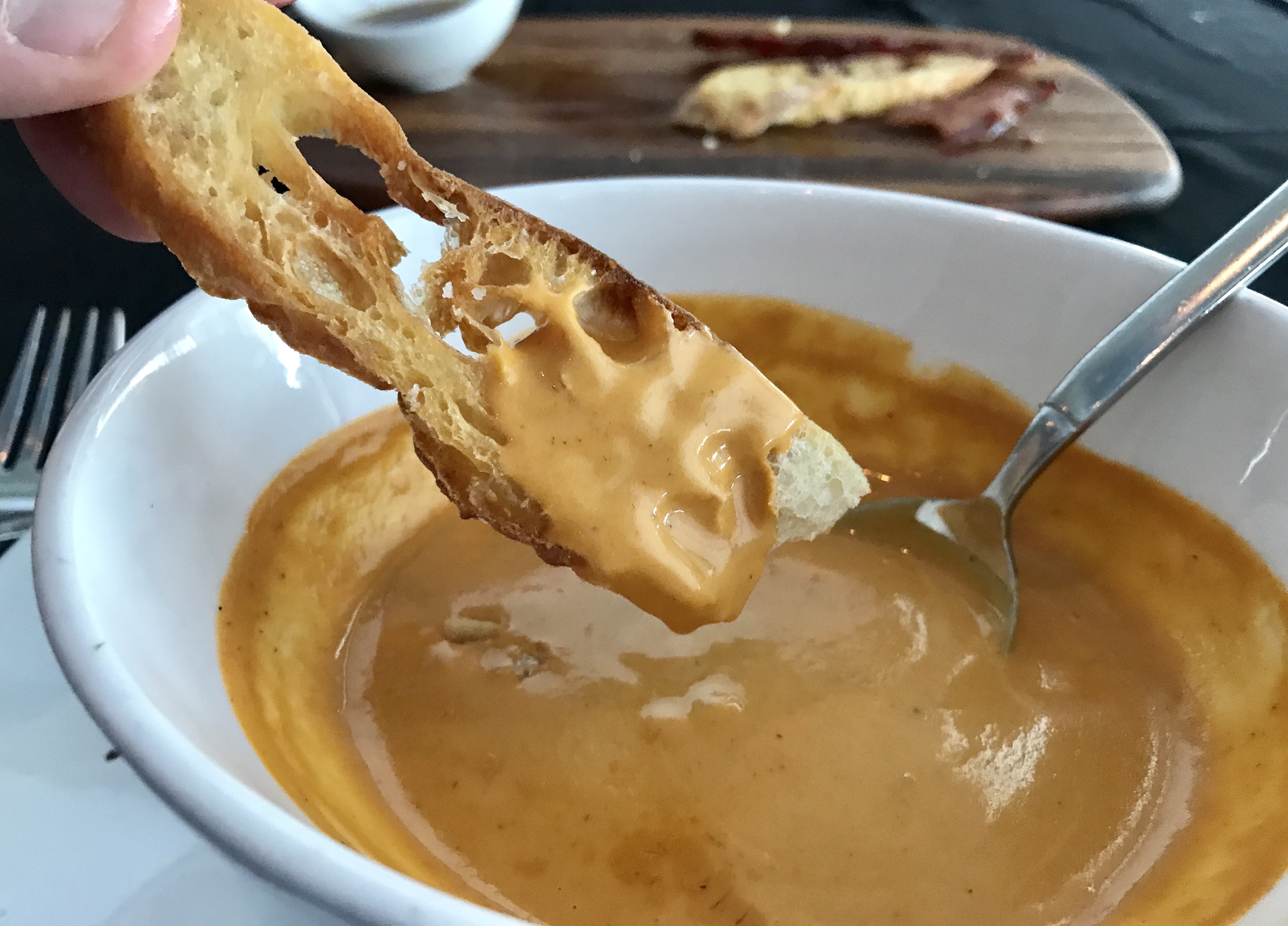 I was still enjoying my mimosas, but Kevin decided to try another cocktail and opted for the Cucumber Roe  – Damrak gin, lime, basil, cucumber caviar and black sea salt. He found it refreshing and just mildly sweet and sour.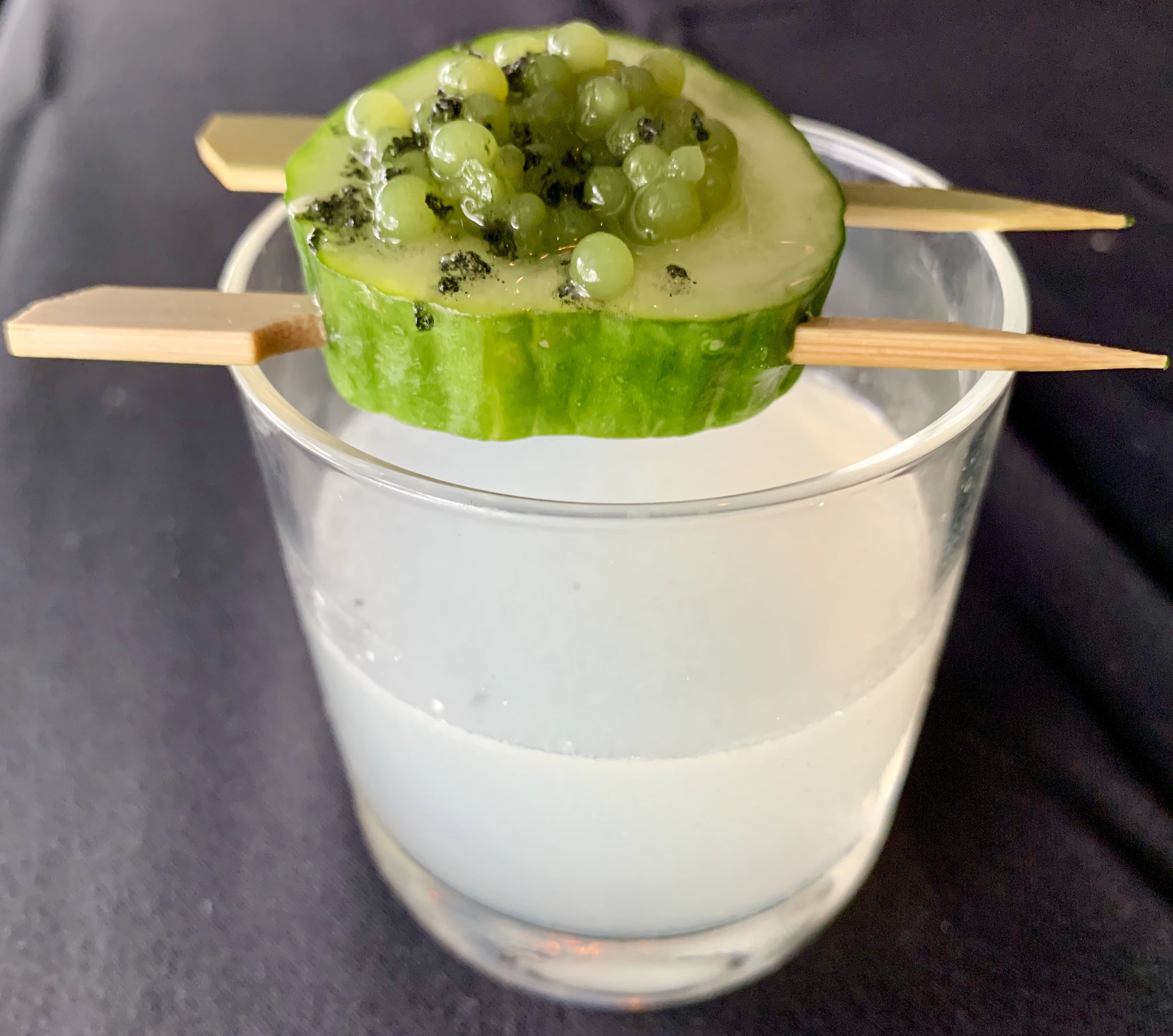 Watermelon is definitely one of my favorite fruits. Not only is it refreshing, it just has that perfect amount of sweetness and crunchy texture, that it is just perfect for hot climates. Rococo has created a work of art with their watermelon salad. It is made with watermelon, pork belly, arugula, radish, pickled watermelon rind and is topped with feta cheese and a pomegranate vinaigrette dressing. Salt, Fat, Acid, Heat with a touch of sweet. All of the components are there and this salad was amazing! I wanted to lick the plate.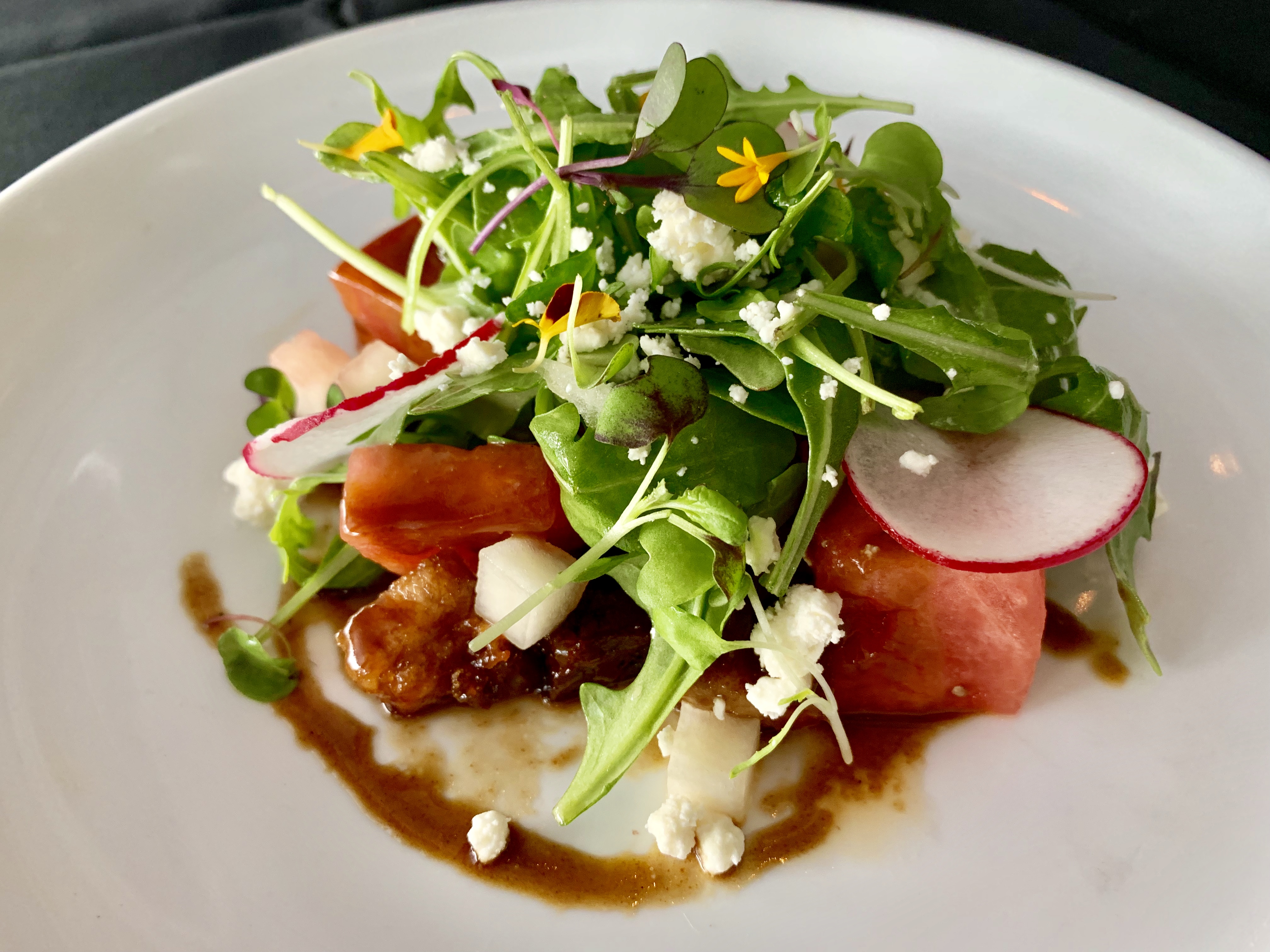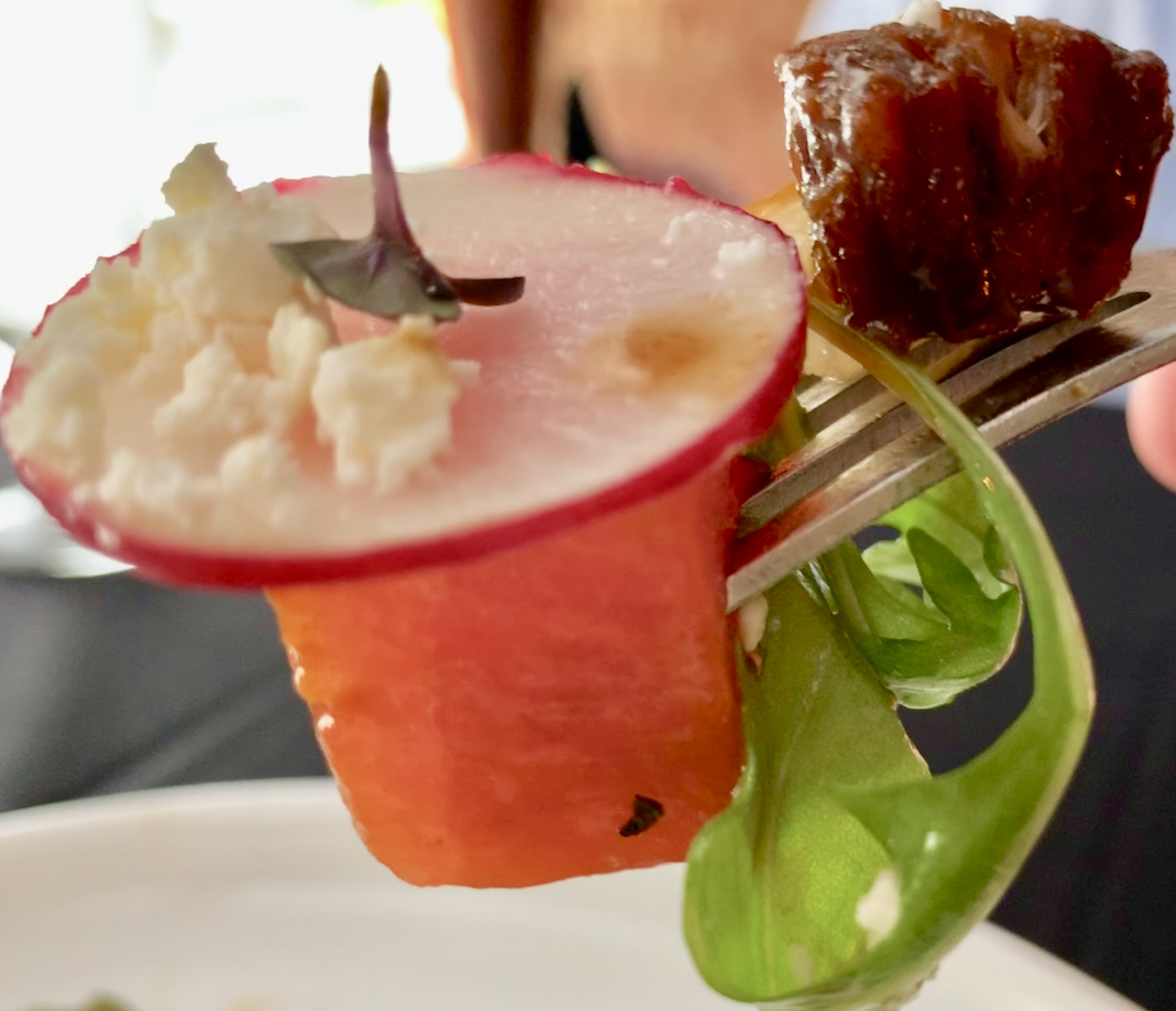 They have homemade biscuits made in house that are to die for. Typically they use them for the base of their benedicts, but we had one by itself to really be able to taste it. Flaky, savory and hey it's a biscuit. It was better than most biscuits that we had in Charleston.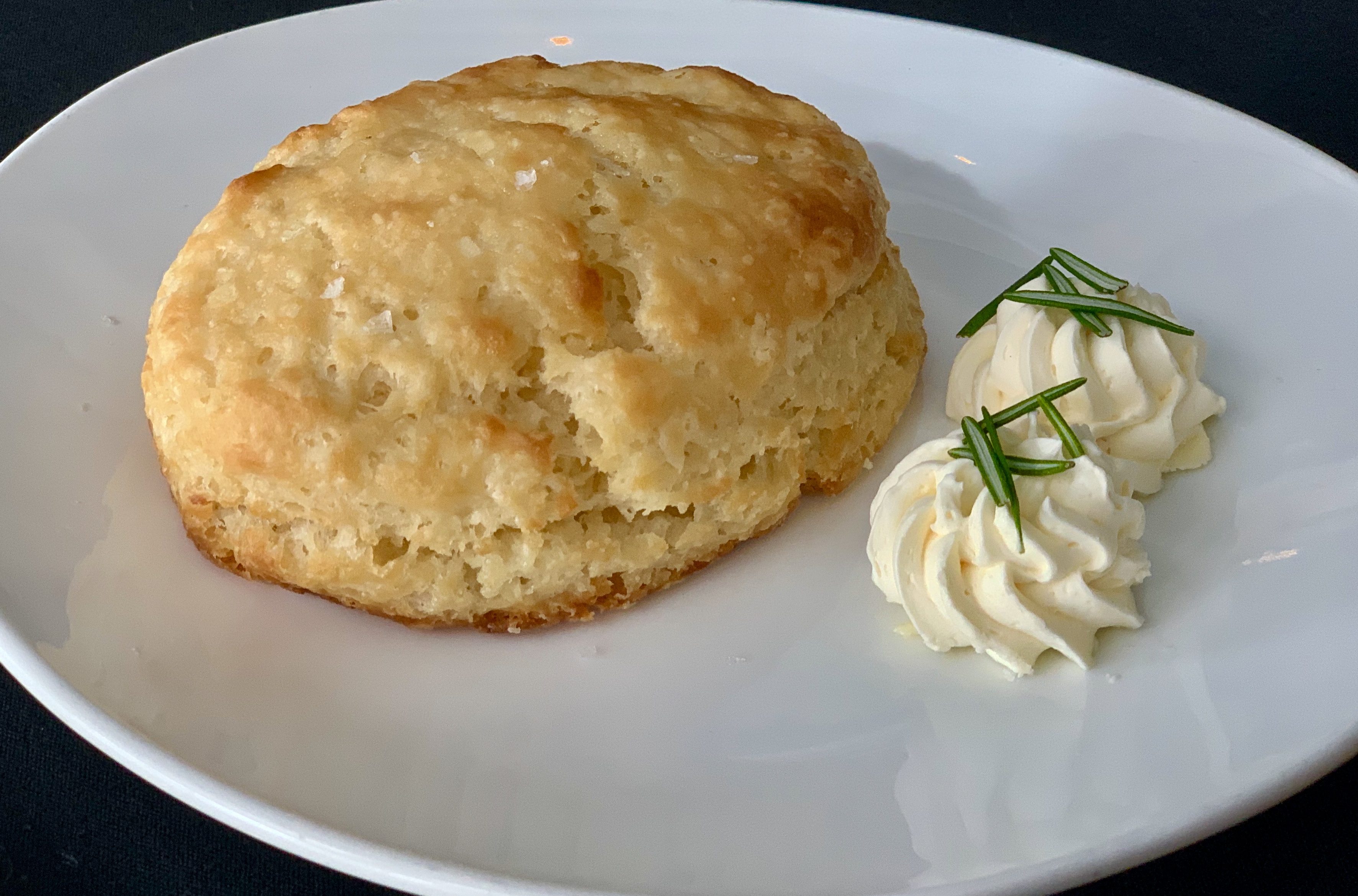 Next up was the goat cheese pie. This just sounded intriguing to me, because it was so different from the other items. It is made with fresh chevre and served with poached pears, arugula and a balsamic reduction. This one was good but was my least favorite. It had very tough competition. It was just missing some balance in the pie. It was the most one dimensional dish we tasted.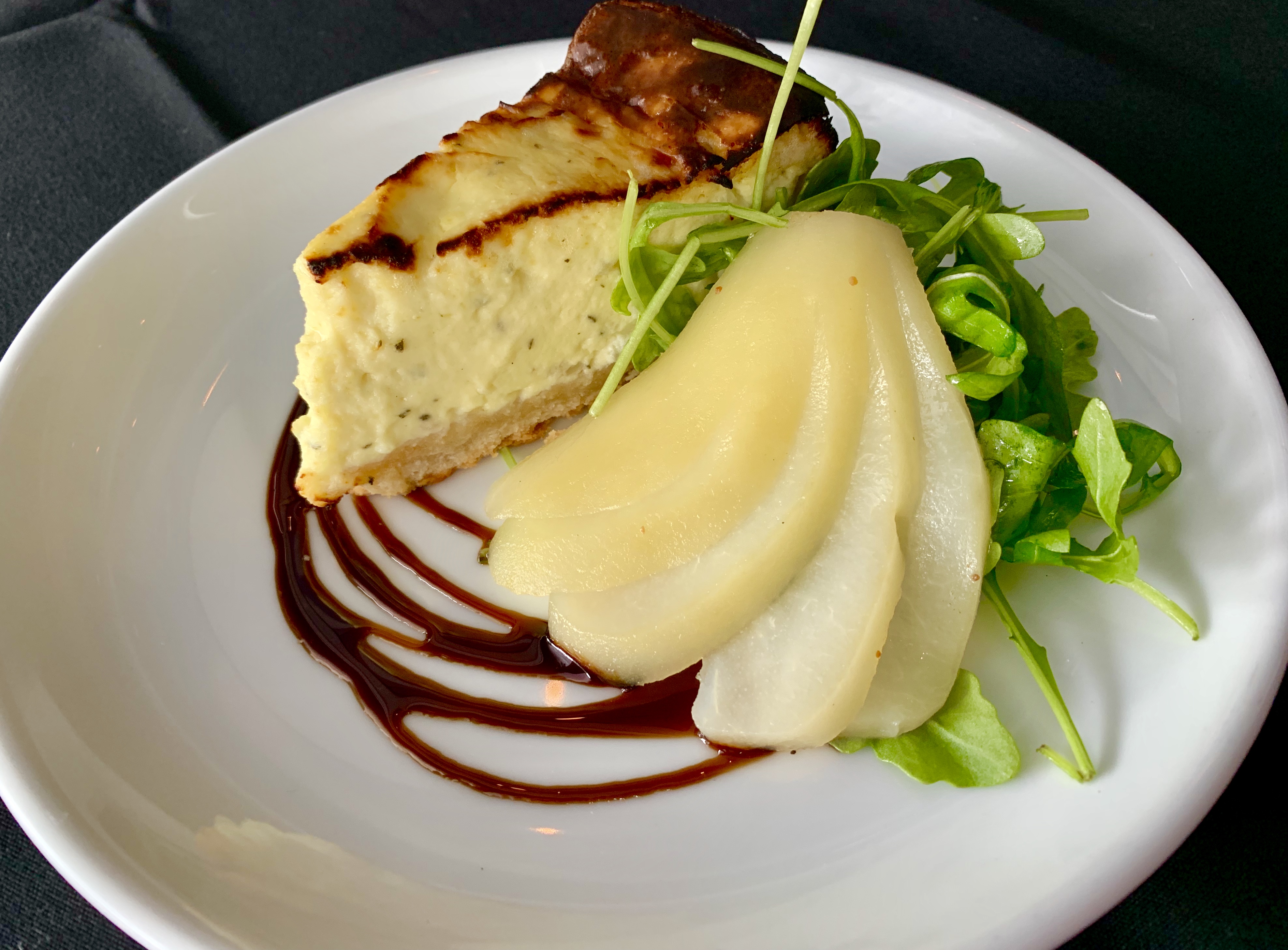 Kevin couldn't wait for the shrimp and octopus grits. He ate shrimp and grits nearly every day when we were in Charleston this past year. I am not as big of a fan, but as soon as I saw the other ingredients, I was anticipating it as much as he was. It has charred corn, okra, roasted peppers, tomatoes, feta and lobster butter. Corn, okra, tomatoes and butter?? I am in! It did not disappoint. This was definitely our absolute favorite dish. Wow! The octopus was cooked perfectly, no rubbery texture here. As was the shrimp, but for me the stars were the other ingredients which all just played off of each other and created a symphony of harmonious textures and flavors that made you want to just keep taking bite after bite. After having shrimp & grits in Savannah and Charleston at six different places, Kevin said that Rococo's beat all of them.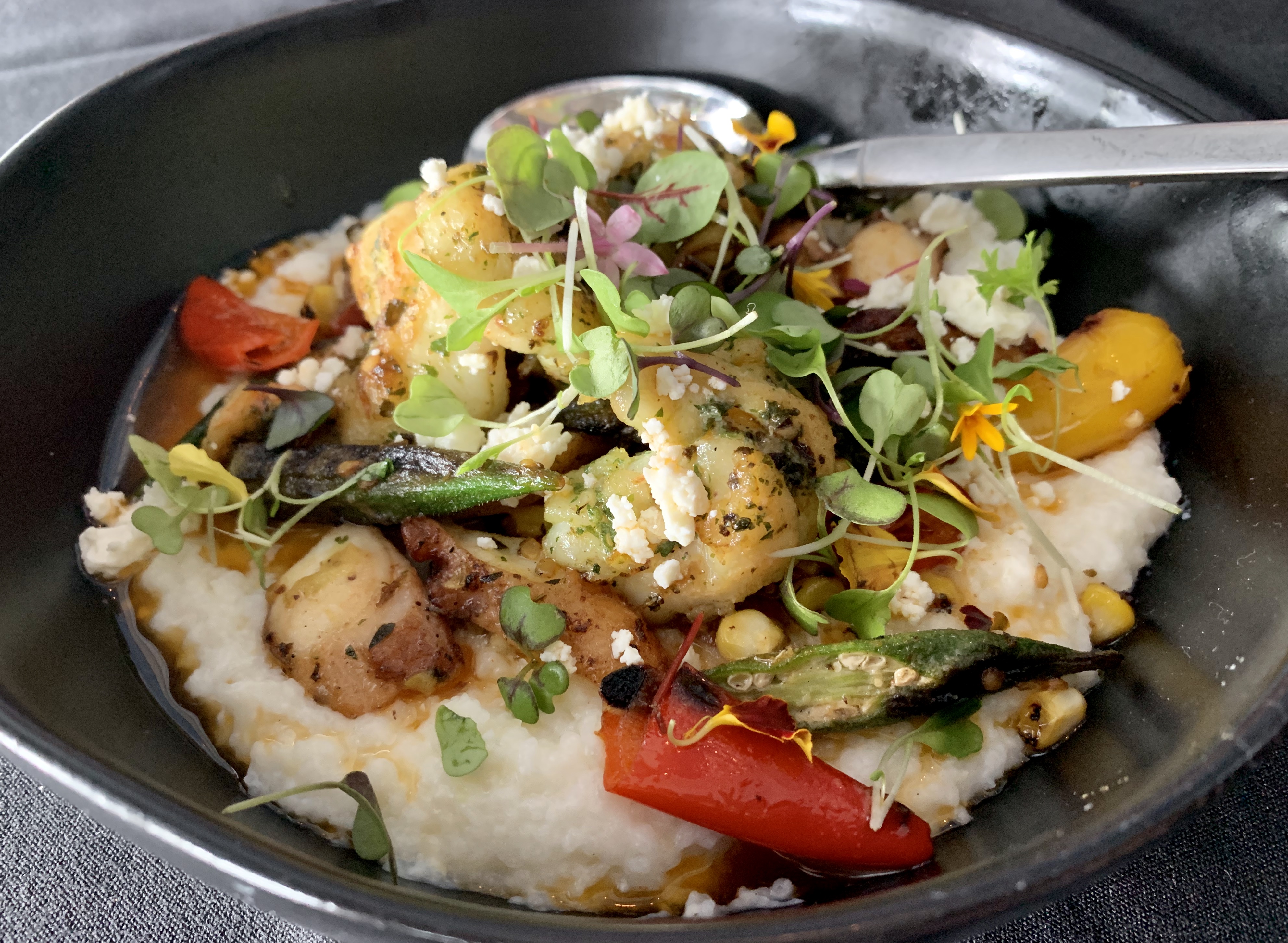 After the last dish, it was going to be hard to measure up. We next tasted the pork belly benedict made with pulled pork belly, soft eggs, hollandaise and crispy shallots atop a homemade biscuit and served with a side of fresh fruit. This was quite good, but still not a favorite. Loved the crispy shallots and the biscuit, it was just missing an element to make it pop.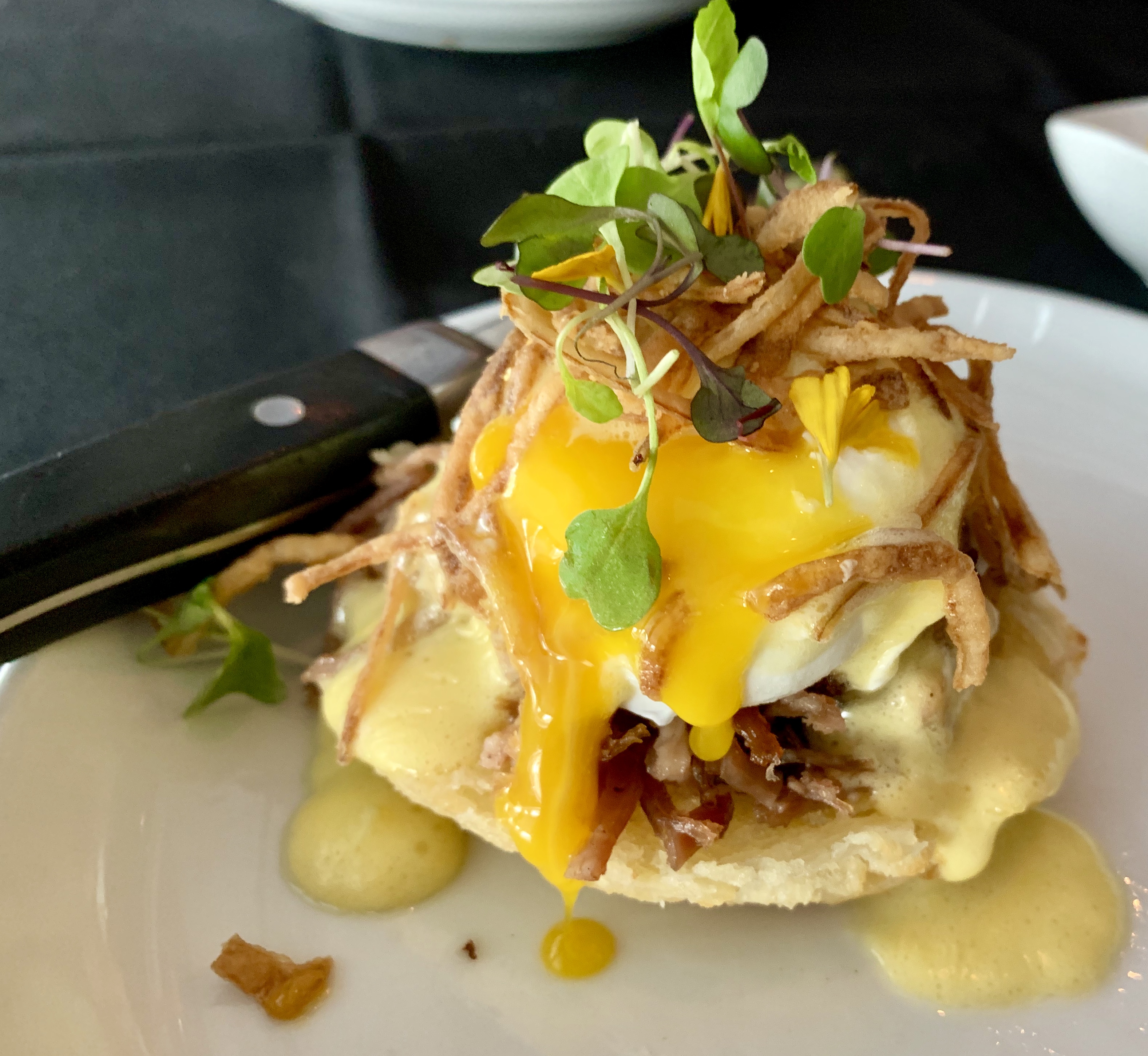 All in all, depending on what you are looking for for Sunday brunch, Rococo has the best menu I have seen both in offerings and in execution. Plus if you want to order a steak, you can. The menu offers several of the regular dinner menu items. Add in the atmosphere, which is always relaxing because of the sound insulation meaning you don't have to yell at each other to have a conversation, the relaxing music and the gorgeous ambiance, I believe Rococo is extremely hard to beat. It is the best brunch experience that I have had in downtown St Petersburg.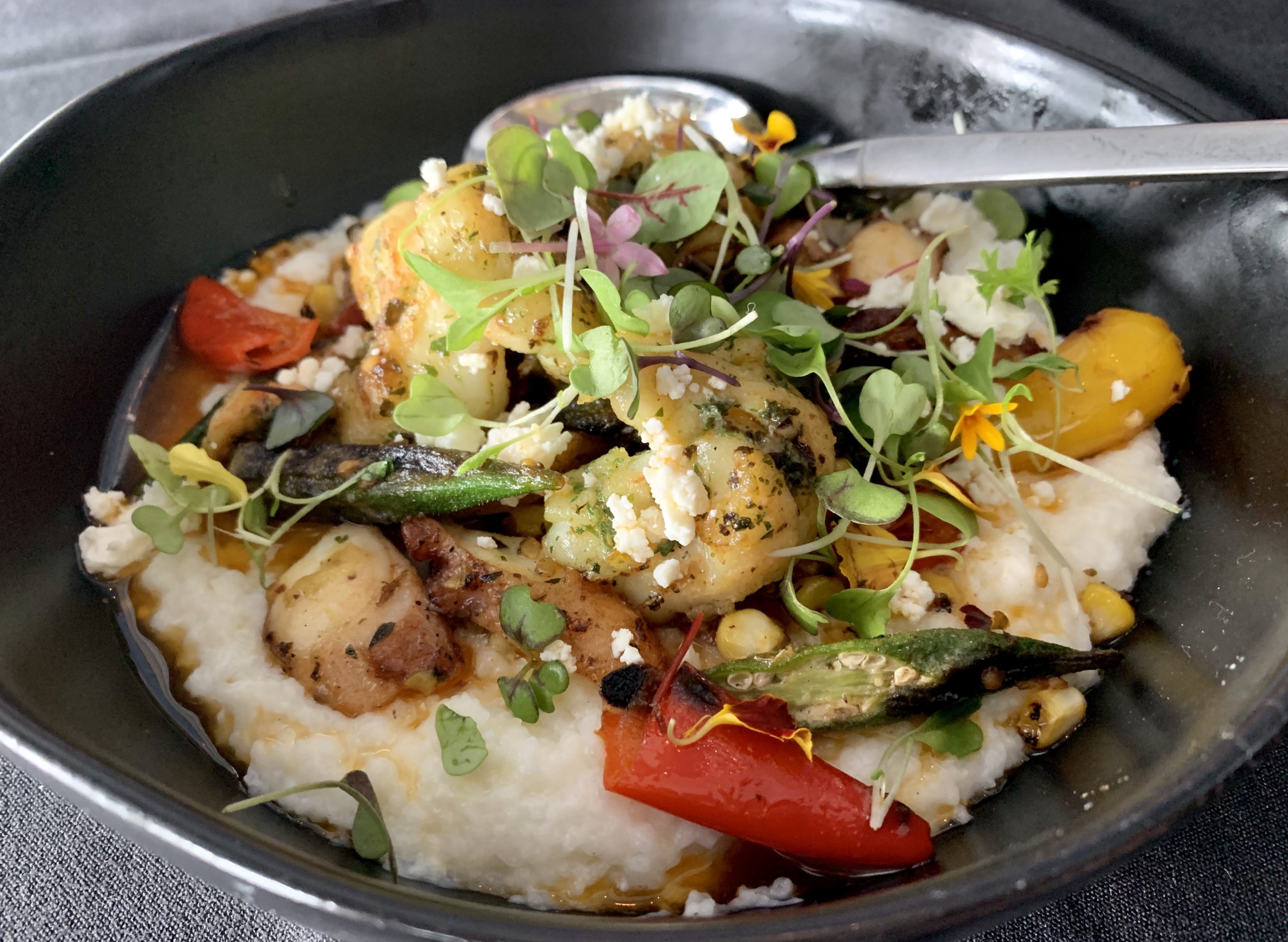 Readers Rating

Rated 5 stars




5

/ 5 (

Reviewers

)

Spectacular
---
Rococo Steak

727-822-0999

Mon - Thu

4:00pm - 10:00pm

Fri - Sat

4:00pm - 11:00pm

Sun -

11:00am - 9:00pm
655 2nd Ave S

,

St Petersburg

,

FL

33701

,

USA
---
A reimagined interpretation of the traditional steakhouse.
DISCLAIMER: Kevin, Lori, Abby, Haley, & Lindsey do not dine anonymously (this would be impossible) and we sometimes get free food (though never expected). However, we dine with the locals and we support our own. You will always get honesty in a respectful manner. We do not include any large national or regional chains in our ratings and reviews. We focus on independent locally owned eateries exclusively.

PLEASE NOTE: Reviews reflect a certain moment in time. Some restaurants stay extremely consistent over many years, and some change for the better or worse. Some things that may change are: chefs, recipes, food suppliers, ingredients, philosophies, ownership, etc. We always hope that you have the same good, or great experience we had.
More Foodies News, Reviews & Recipes