Red Mesa Mercado is Takin' it to the Streets
Red Mesa Mercado is Takin' it to the Streets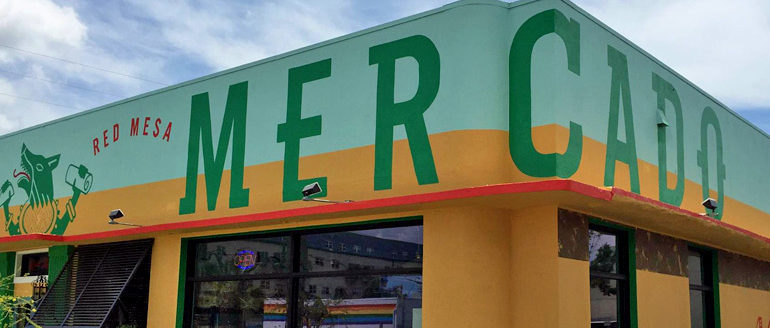 Mexican Street Food: Tacos, Burritos, & Empanadas Oh My!
Mexican Street food, some are fried and many are hand held items, is what most Americans think of as Mexican food.
Street food in Mexico, called antojitos (literally "little cravings"), is prepared by street vendors and at small traditional markets in that country. Most of them include corn as an ingredient. Street foods include tacos, tamales, gorditas, quesadillas, empalmes, tostadas, chalupa, elote, tlayudas, and tortas, as well as fresh fruit, vegetables, beverages and soups (menudo, pozole and pancita). Most are available in the morning and the evening, as mid-afternoon is the time for the main formal meal of the day.

Mexico has one of the most extensive street food cultures in Latin America, and Forbes named Mexico City as one of the foremost cities in the world in which to eat in the street. – Wikipedia
Red Mesa Mercado presents a combination of Mexican Street Food, Tex-Mex, and Cali-Mex, which is what Shawn Veytia (one of the founders and recipe creators of Red Mesa) grew up with in Southern California. In LA, there is a taco or burrito stand on every corner. Walking to school as a little girl, Shawn would stop on the corner and get her breakfast burrito or taco. That's the inspiration for Red Mesa Mercado.
St. Petersburg Foodies, along with our unstoppable photographer, Barry Lively, recently spent the day with Edgar Veytia (who heads up marketing and PR) and Executive Chef Chris Fernandez exploring all three Red Mesa locations. This was our second stop after visiting Red Mesa Restaurant on 4th St.
Red Mesa Mercado just recently turned 2 years old, and is the youngest in the trio of Red Mesa locations. It was originally planned to be three things in one; 1) a street counter for Mexican street food, 2) a tortilla factory, and 3) a little Mexican grocery store, or "market", hence it's name "Mercado".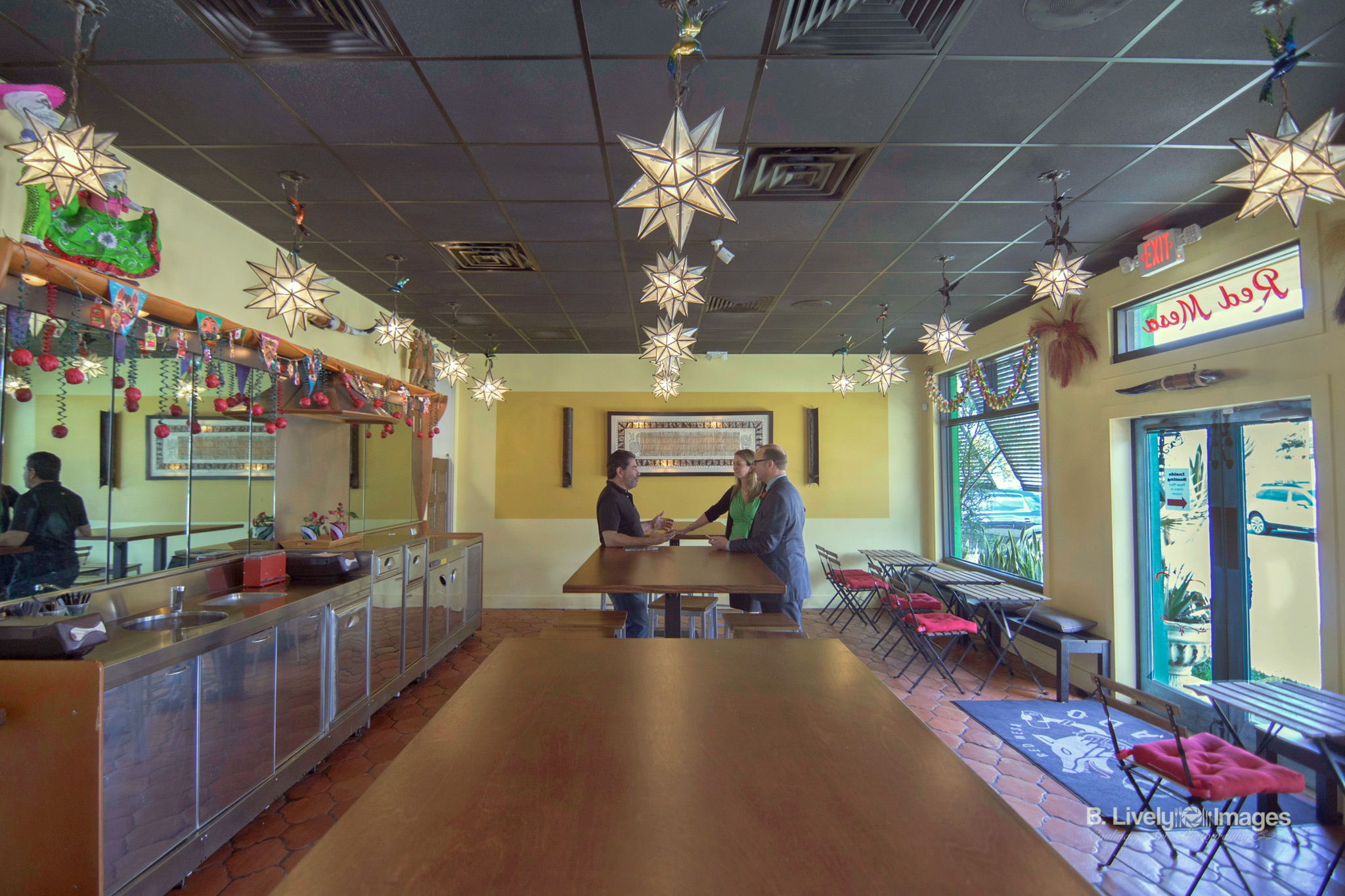 Ironically, the market part is no more. Personally, I loved picking up various ingredients and finished foods to go, but in the end, there wasn't enough space to carry a wide enough selection to please everyone and get the volume needed to make it worth managing. That indoor space is now reserved for parties or other special events, and they will soon open it in the summer for cooler indoor seating.
The tortilla factory makes fresh tortillas from scratch every day to supply all three Red Mesa locations. The Mercado kitchen makes different commissary items, different sauces and such that are used by all three locations.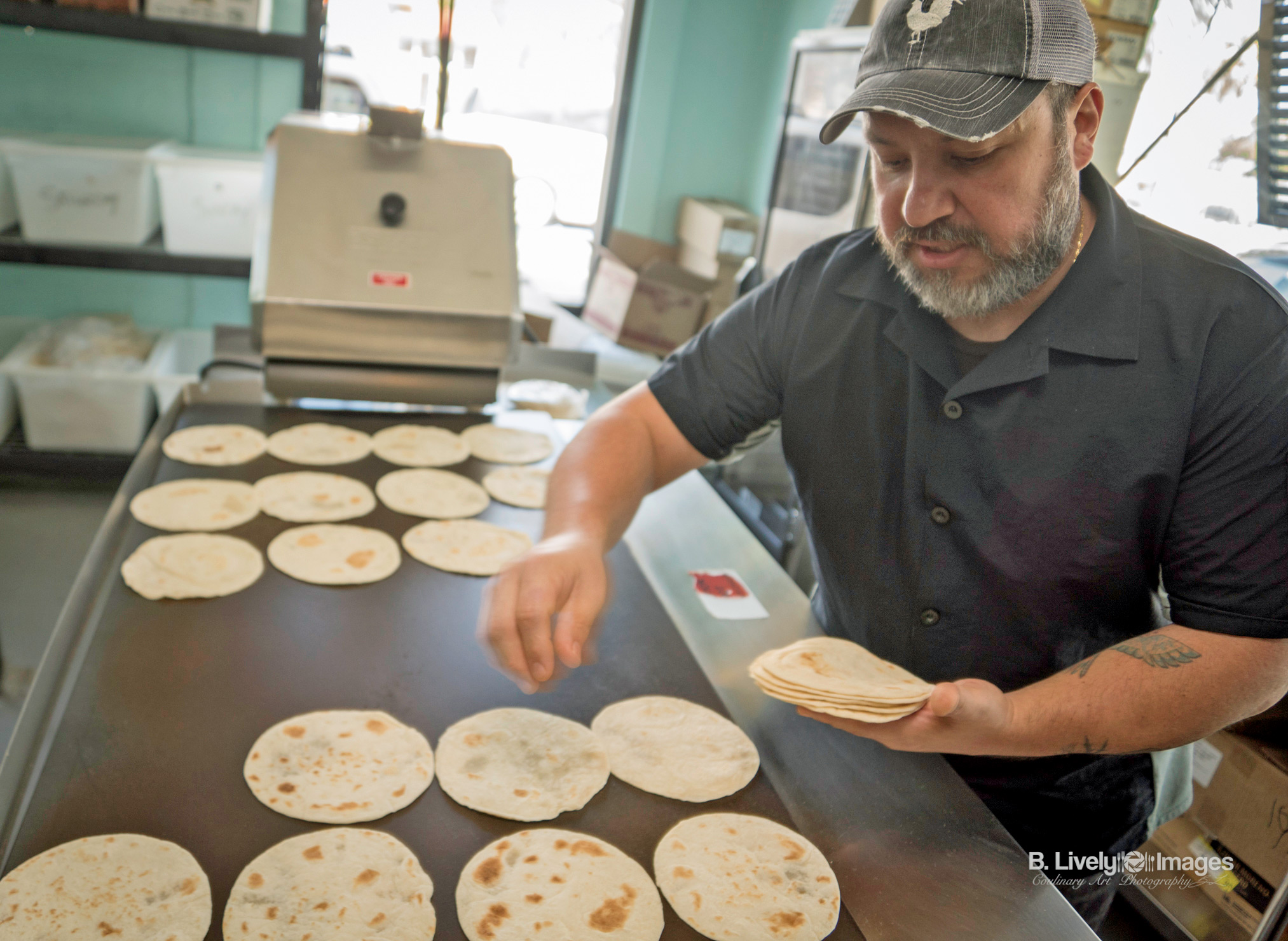 Edgar tells us; "The tortilla factory has been one of the key things. A good fresh made tortilla is this buttery, wonderful, floury experience with a special texture and flavor, it's even got a little bounce to it."
He continues; "Most people are used to eating big factory type of tortillas—they're basically a stack of paper plates that are edible. They're dry and thin …barf…"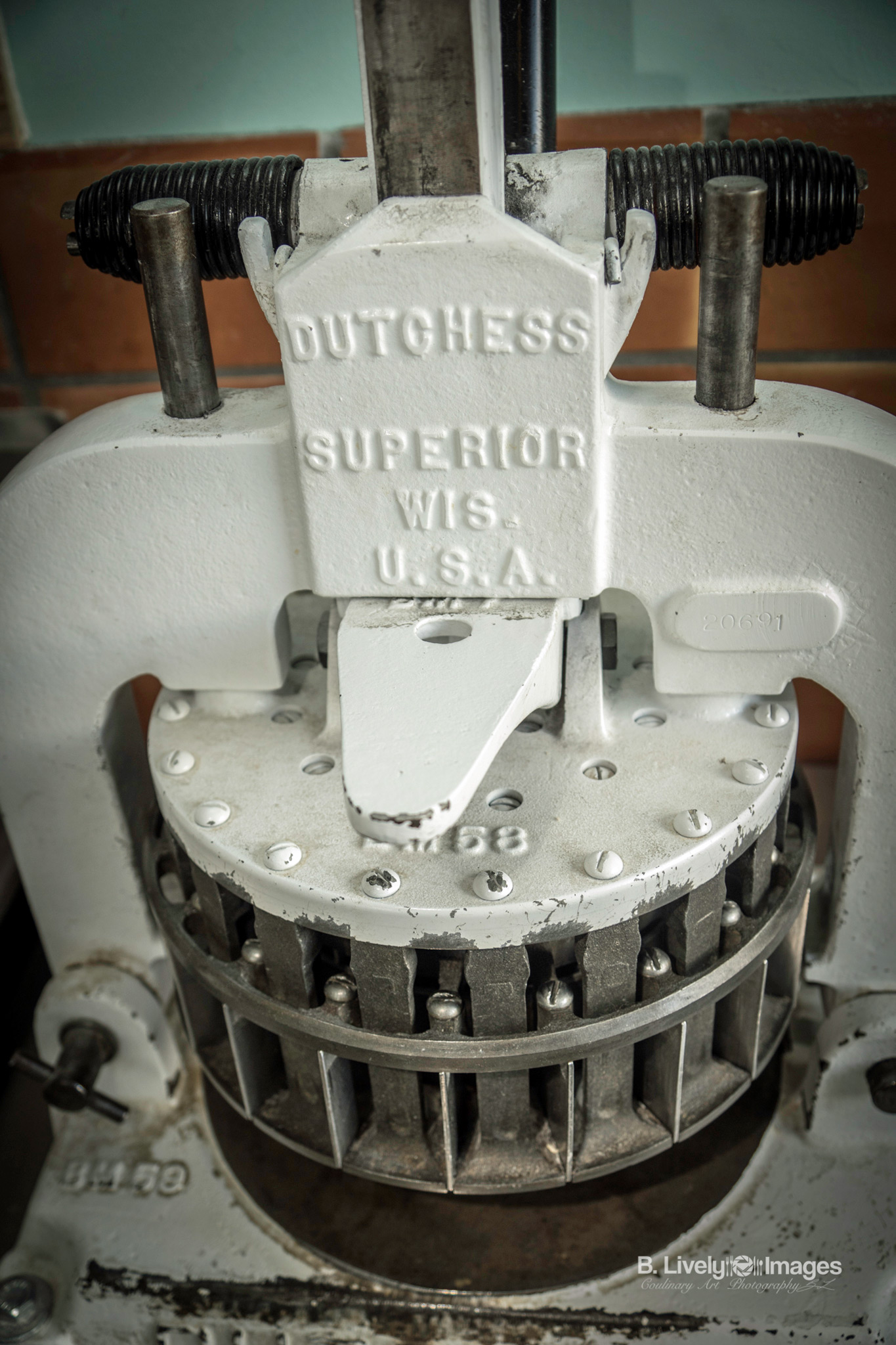 Red Mesa's flour tortillas are made fresh every day at Mercado for all three of their own locations, as well as supplying The Birch & Vine and ZGrille restaurants. (Any other restaurants looking for great fresh tortillas, give them a call.) The corn tortillas are made by hand at each separate location as needed for the day. Mercado makes around 2,000 tortillas each day, and even though the market section is now closed, you can still come to the window counter and buy the best fresh made tortillas for home enjoyment. They are so much better than what you will find at the supermarket.
Window service for both breakfast and buying tortillas, opens at 7:30 am Monday – Friday, and 9:00 am on the weekends.
Speaking of breakfast, the breakfast burritos are excellent, and they are HUGE. If you're not used to a big breakfast, you could probably get breakfast and lunch out of it.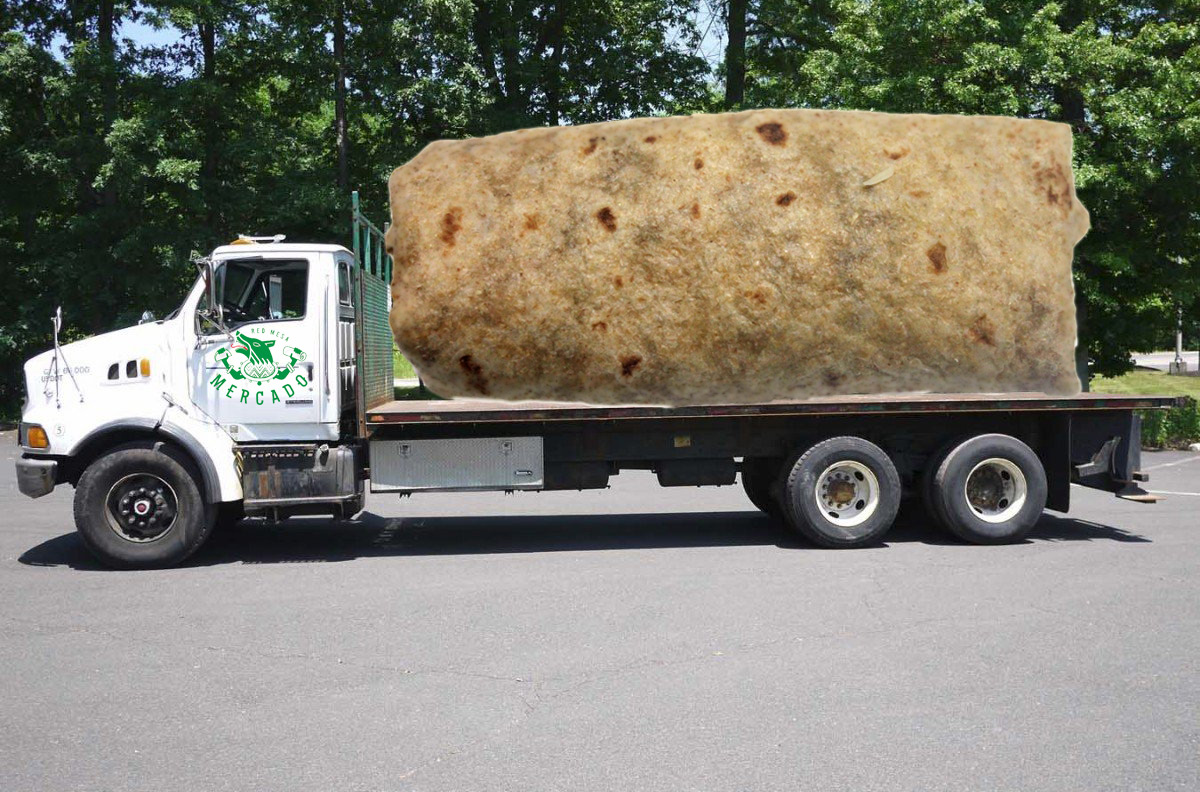 We've had the breakfast burritos on past occasions and we have learned to share one.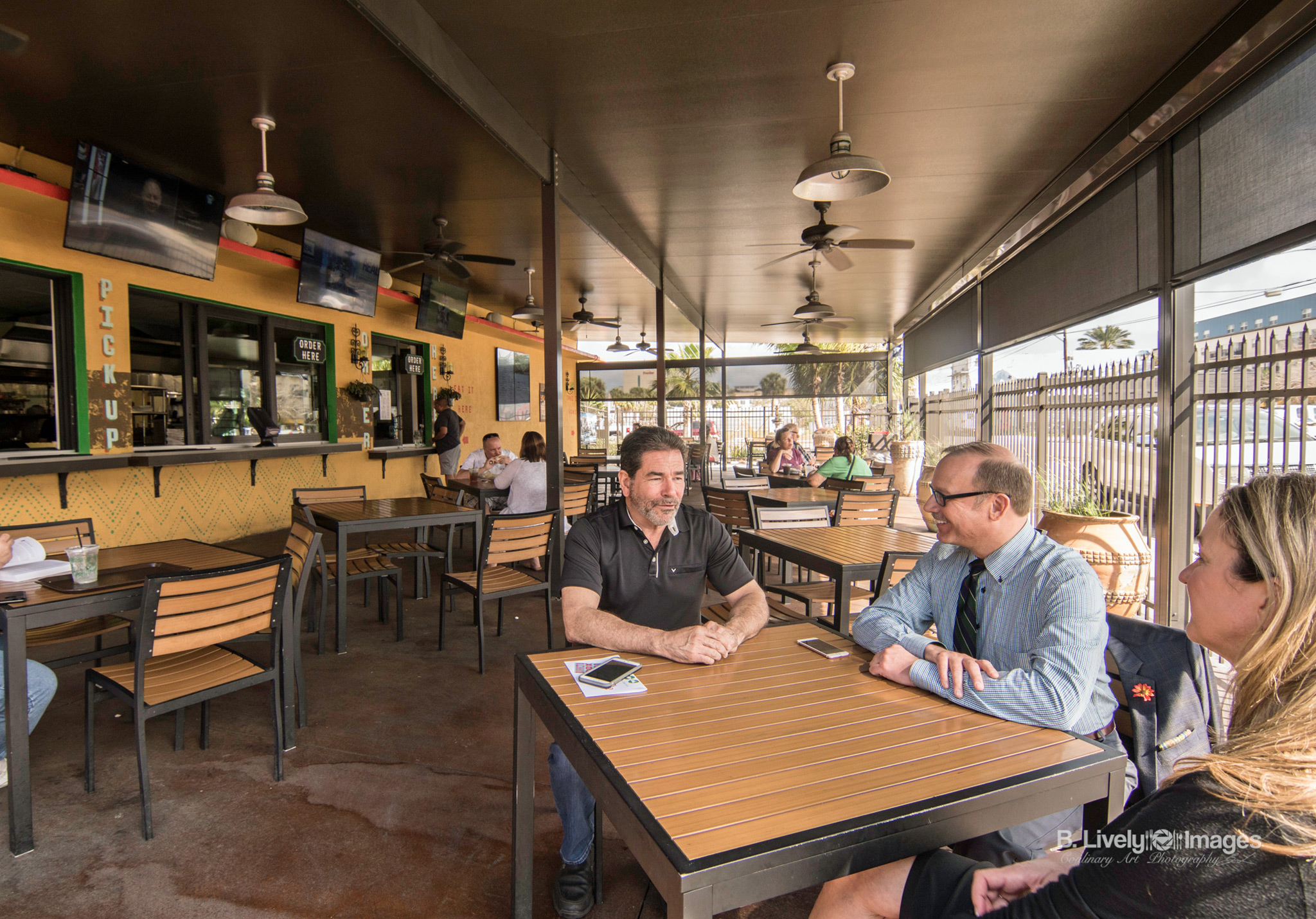 Other breakfast items include: Huevos Rancheros, Avocado Toast, Breakfast Bowl, Mercado French Toast, Breakfast Tacos, and several other items. We decided to start with the Breakfast Tacos.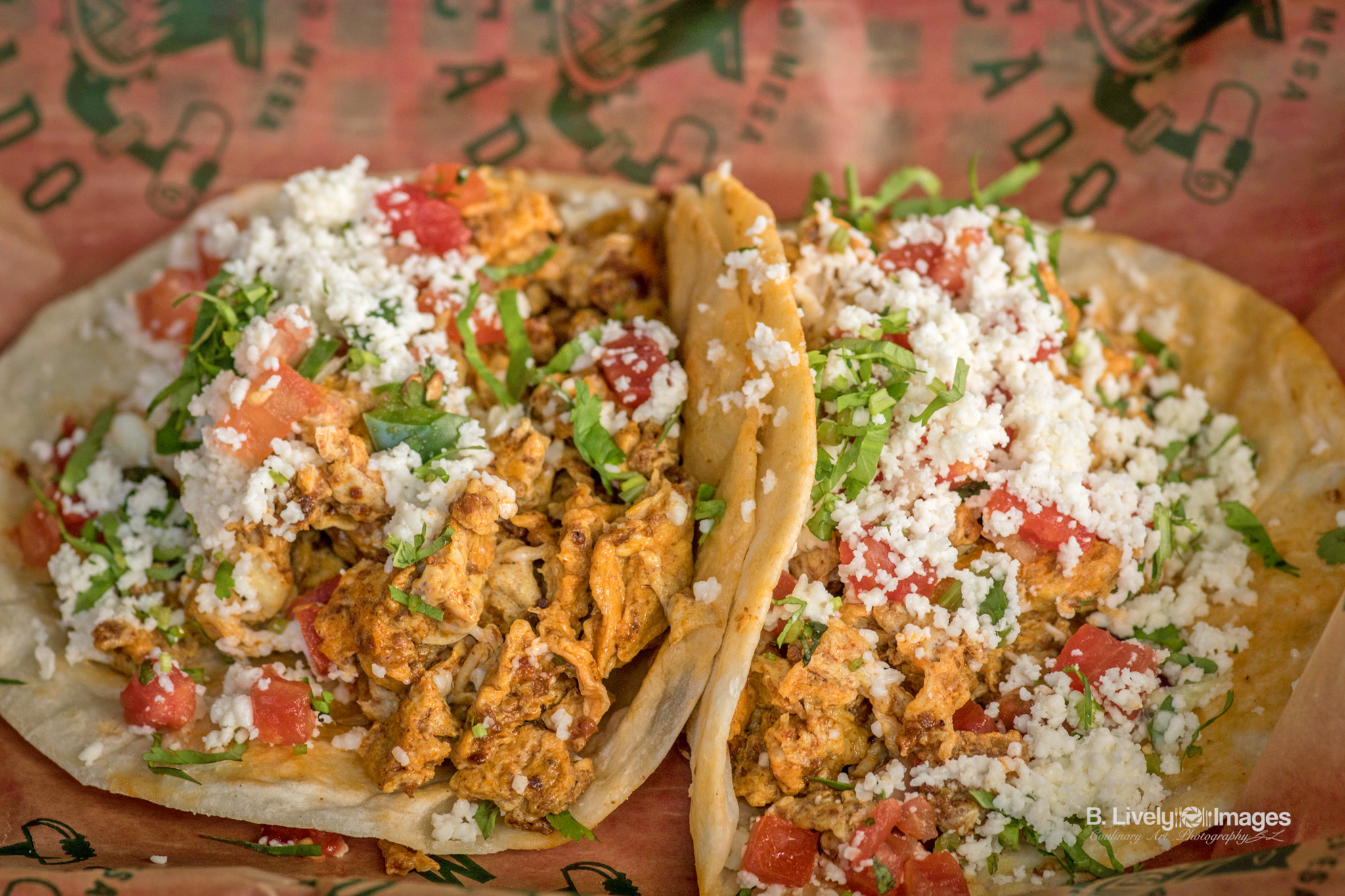 The Breakfast Tacos were tasty, and even better with some Red Mesa Rojo hot sauce added.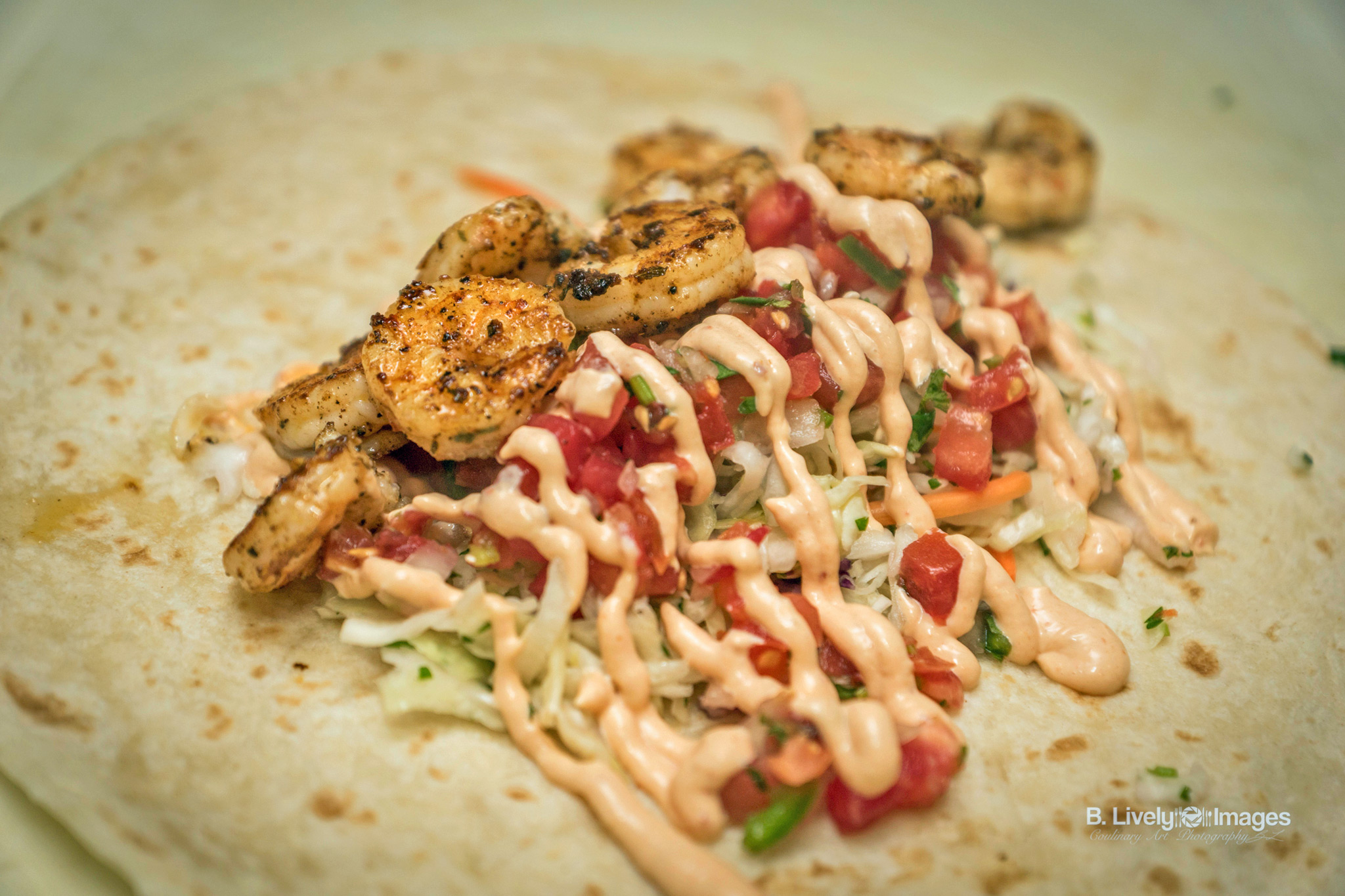 The shrimp tacos were succulent, plump, tangy, crunchy and chewy deliciousness.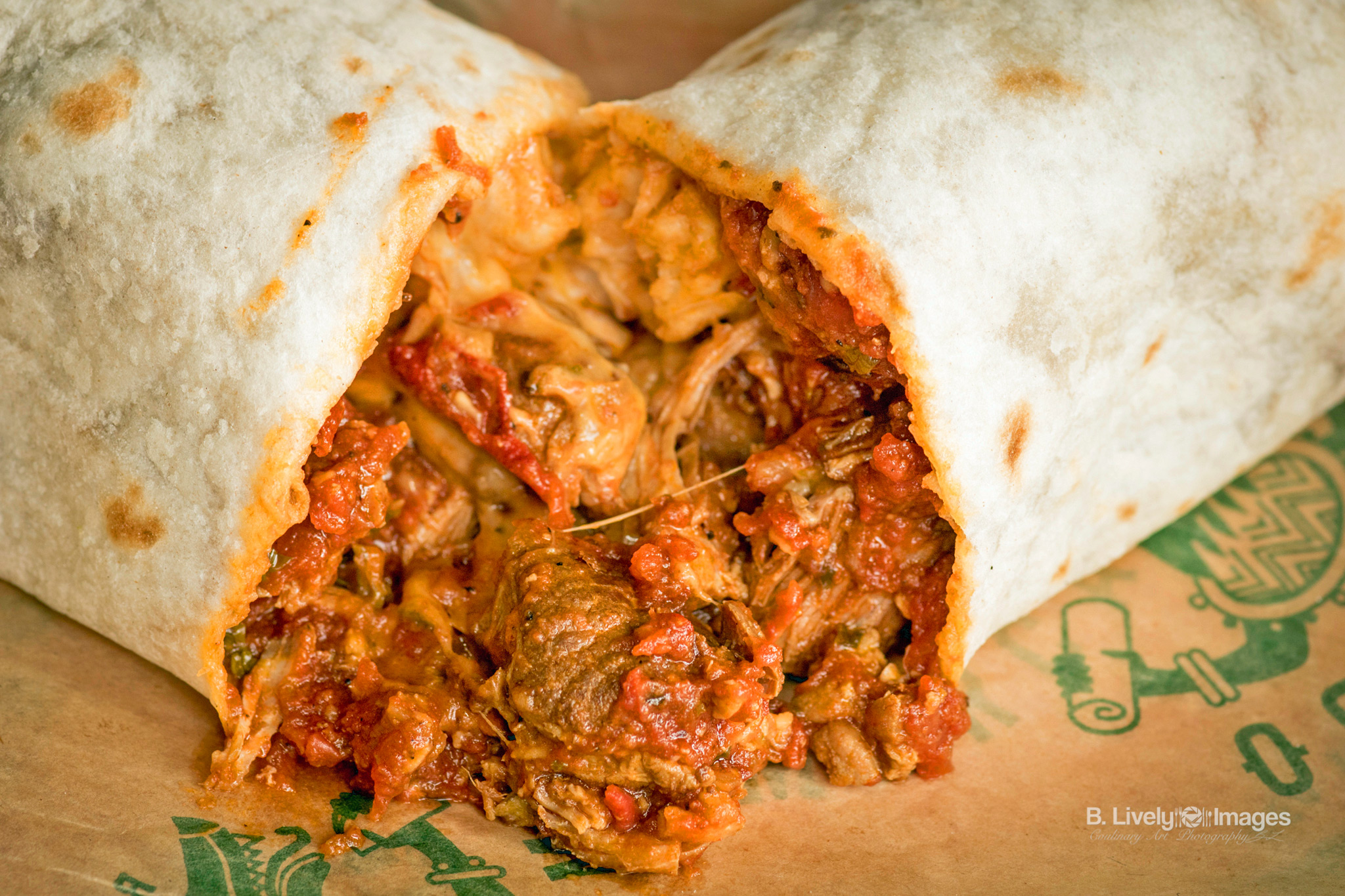 The Pork Colorado is to die for. I think Cinco de Mayo should celebrate this. It's so good that it deserves its own holiday.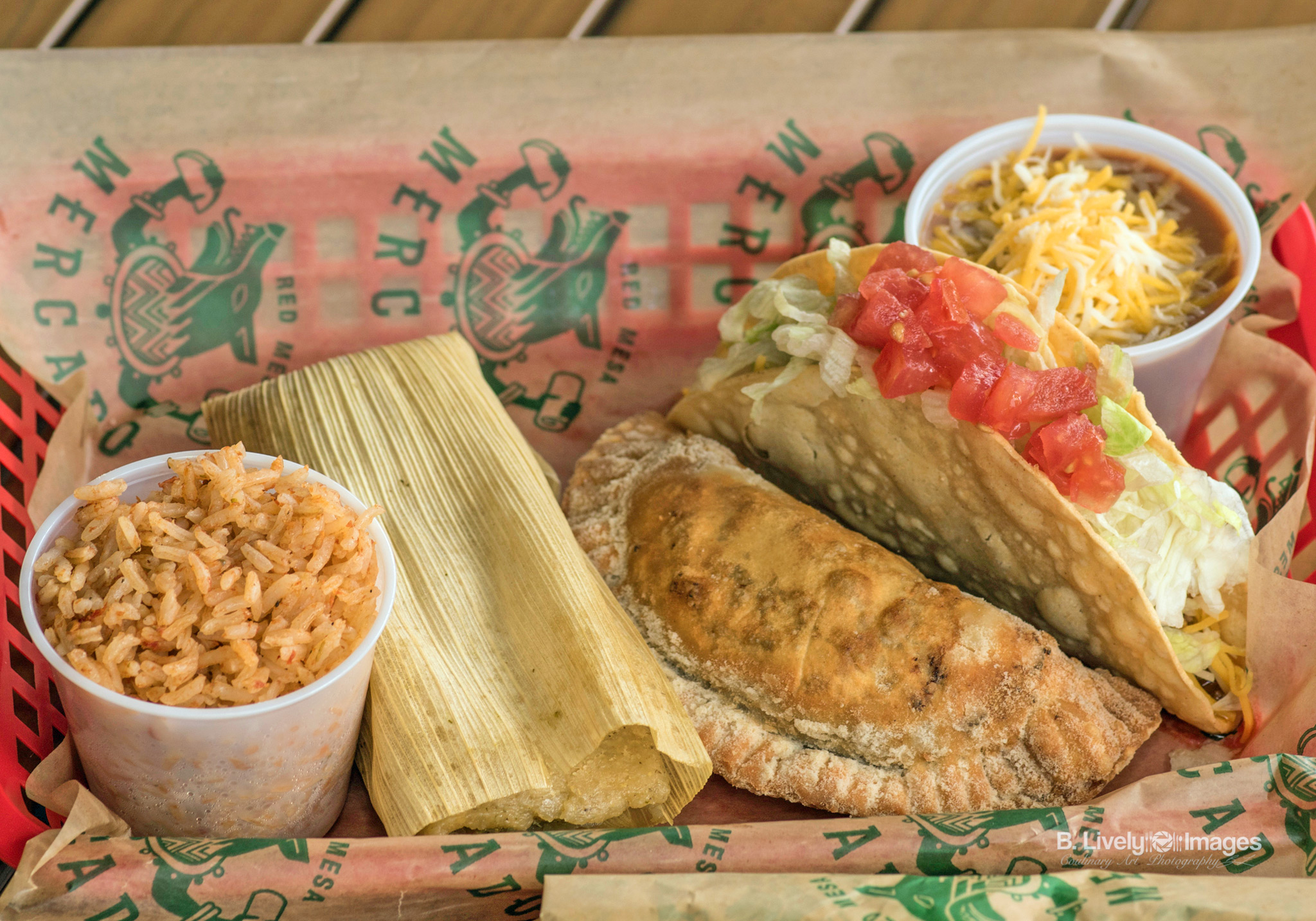 When you have a craving for good ole Cali-Mex, and you can't decide, get a combo platter with three things – actually 5 since it comes with rice and refried beans.
Everything on this platter was extremely tasty and satisfying … but the taco … I thought about this taco for days.
I'm walking around town and people are like, "Why are you drooling? Are you a dog?" And I'm like, "No man! It's the beef taco from Mercado. I can't stop thinking about it!"
It's really just a simple taco, but that's what's so awesome about it.
It's that good, homestyle, crunchy corn tortilla with the savory taco-seasoned, juicy ground beef, chewy cheese, crunchy lettuce, and cool acidic chopped tomatoes that makes this taco absolute deliciousness. We were supposed to share everything. I had a hard time doing that with this one.
Red Mesa Mercado has something for everyone's Mexican craving.
(Photos by Barry Lively)
Red Mesa Mercado brings to St Pete the urban drive-by dining style unique to the streets of Southern California and Mexico – places where secret recipes rich with flavors and the freshest ingredients get served up quick in a no-nonsense, take-out style. The best meal you can eat without breaking your stride.
Restaurant: An Order Window, a Pick-Up Window. Simple and quick: Burritos, tacos and more. Beer and wine, too.
DISCLAIMER: Kevin, Lori, Abby, Haley, & Lindsey do not dine anonymously (this would be impossible) and we sometimes get free food (though never expected). However, we dine with the locals and we support our own. You will always get honesty in a respectful manner. We do not include any large national or regional chains in our ratings and reviews. We focus on independent locally owned eateries exclusively.

PLEASE NOTE: Reviews reflect a certain moment in time. Some restaurants stay extremely consistent over many years, and some change for the better or worse. Some things that may change are: chefs, recipes, food suppliers, ingredients, philosophies, ownership, etc. We always hope that you have the same good, or great experience we had.
More Foodies News, Reviews & Recipes