Review: VIP Mexican Restaurant & Lounge
Review: VIP Mexican Restaurant & Lounge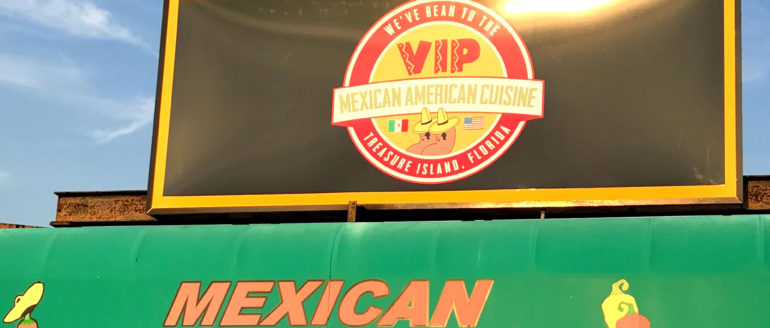 We finally went to VIP Mexican Restaurant & Lounge on Thursday, September 28. Months ago, we had crossed them off of our list when a chef friend of ours, whom we greatly respect, said some unflattering things about the place—I'll leave the details out—and we believed him. As the months went by, we kept seeing more and more people recommending them, over and over again in our Facebook Group. Then, we looked at their Yelp, Google, and Trip Advisor reviews, most of which are 4 or 5 stars. After reading 18 reviews, I just started scrolling to try to find a bad review. I had to scroll for a long time just to find one 3 star review. Lori and I looked at each other and said, "let's go to VIP!"
One of the things many of the reviews advise is that they don't take reservations, and there is usually a wait, even on off days and times. We left Downtown St. Pete at 4:30, and arrived at VIP at 5:05 to be told there was a 35-minute wait. That's not too bad, except that you can't wait inside as it's a really small place. They don't actually have a separate dining room. Inside, it's a small bar with three or four high-tops, and three or four tables. Outside has a few tables and a small margarita bar. Although there were several people eating, and waiting outside, we're just disgusted with sitting in 90° heat and blazing sun. They had what looked to be a canopy (in the waiting area outside) that got it's cover blown off by Hurricane Irma. There were tables with umbrellas, but they are for people being served … and it's still 90°! We don't know how people do it. (And no. I wasn't in a suit.)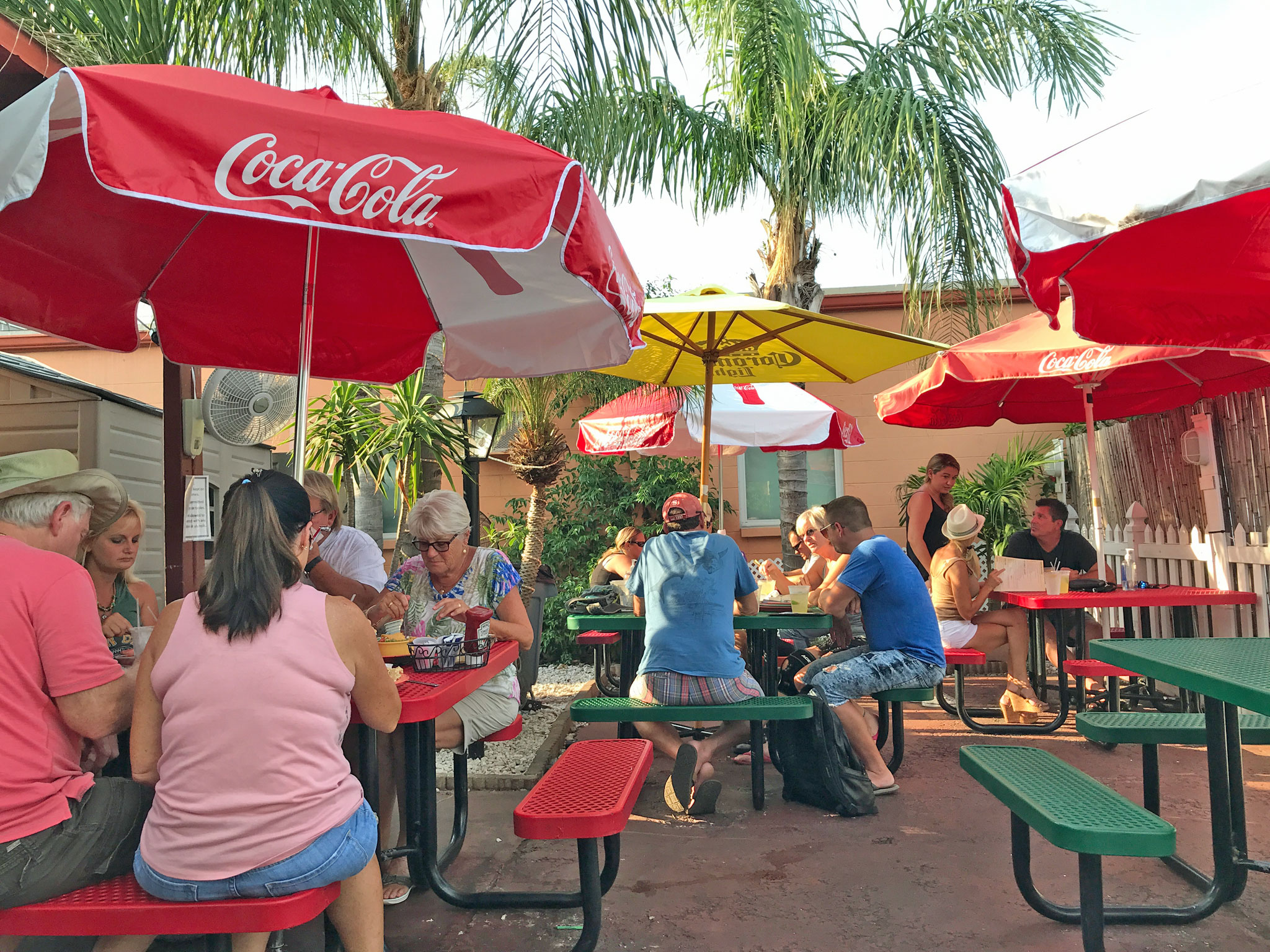 We went next door to Ricky T's to have a drink inside the air-conditioned bar. It was a little frustrating that the hostess wouldn't take down a cell number to text us, and further warned that if we weren't there when called, they would skip over us—and all in your party needed to be present. She did advise to check back in 15-minutes, which we did. She said it would be a couple of minutes at that point, and was pushing the outside bar's pre-made margaritas. After ten more minutes, this time sitting in 90° heat, we finally were lead to our table where she threw the menus down in front of us, and walked away without saying a word.
Our server, on the other hand, was extremely nice, accommodating, and jovial. We liked Pat.
Here's another thing you need to be prepared for at VIP Mexican Restaurant. As previously mentioned it is small. The space is also quite tight, almost claustrophobic. We sat along the wall across from the bar. I could have reached out and touched the person to my side sitting at the bar, and the walkway is only wide enough for a single file going in one direction at a time.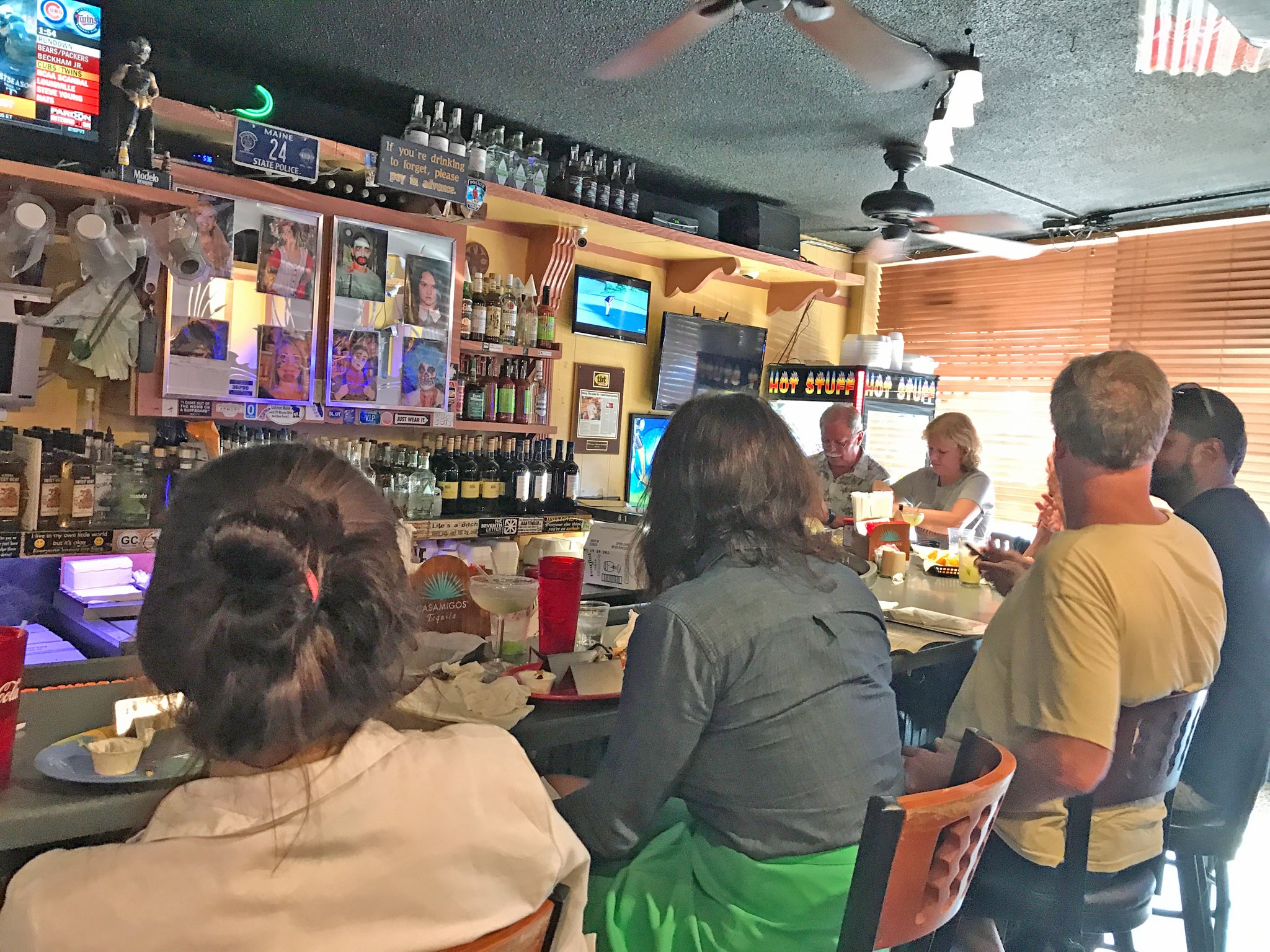 ¡A comer! (Let's eat!)
We started with the Millionaire Margaritas, which are made with Casamigos Añejo, which makes it a little sweet, and velvety. They were awesome and priced at $12. (The house Margarita is only $3.) Our app to go with the drinks was the Three Amigos – Freshly fried corn tortilla chips served with a trio of dips – salsa, guacamole, and queso. We ordered this so we could try all three. It comes on a large platter that took up most of the table. We ate some and boxed the rest to reinvent breakfast over the weekend.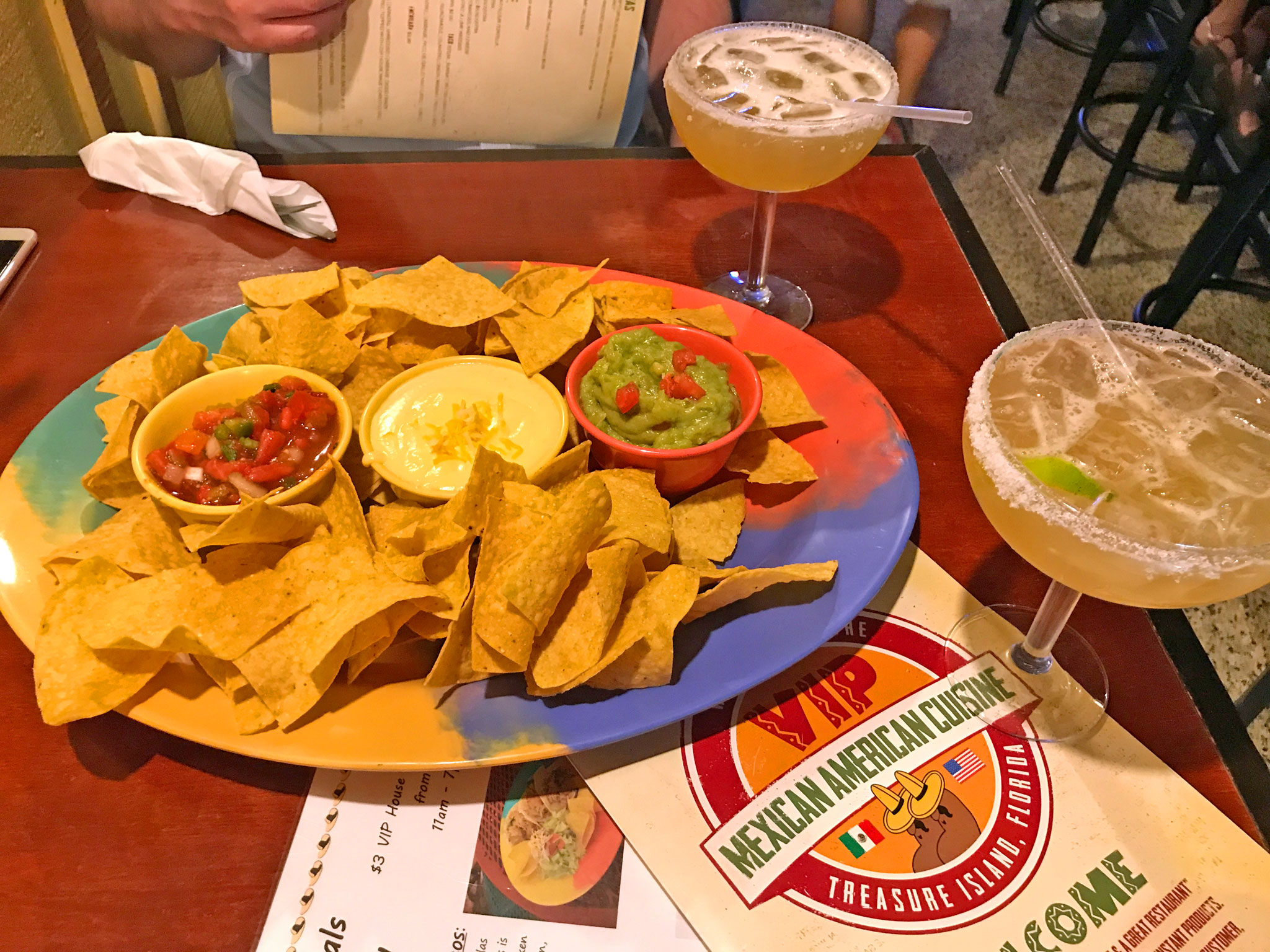 The salsa was impressive and definitely fresh and house-made. The queso was grainy instead of velvety, and a little bland. The guac was also bland, and seemed like it had been sitting around awhile as it was green-brown. The ironic thing is that Lori liked it. It had so little cilantro that she couldn't taste the soap flavor she usually does, and she was happy she could eat the guacamole. The VIP website says that they make the chips fresh in-house every day, but they didn't seem that way to me. They weren't bad though.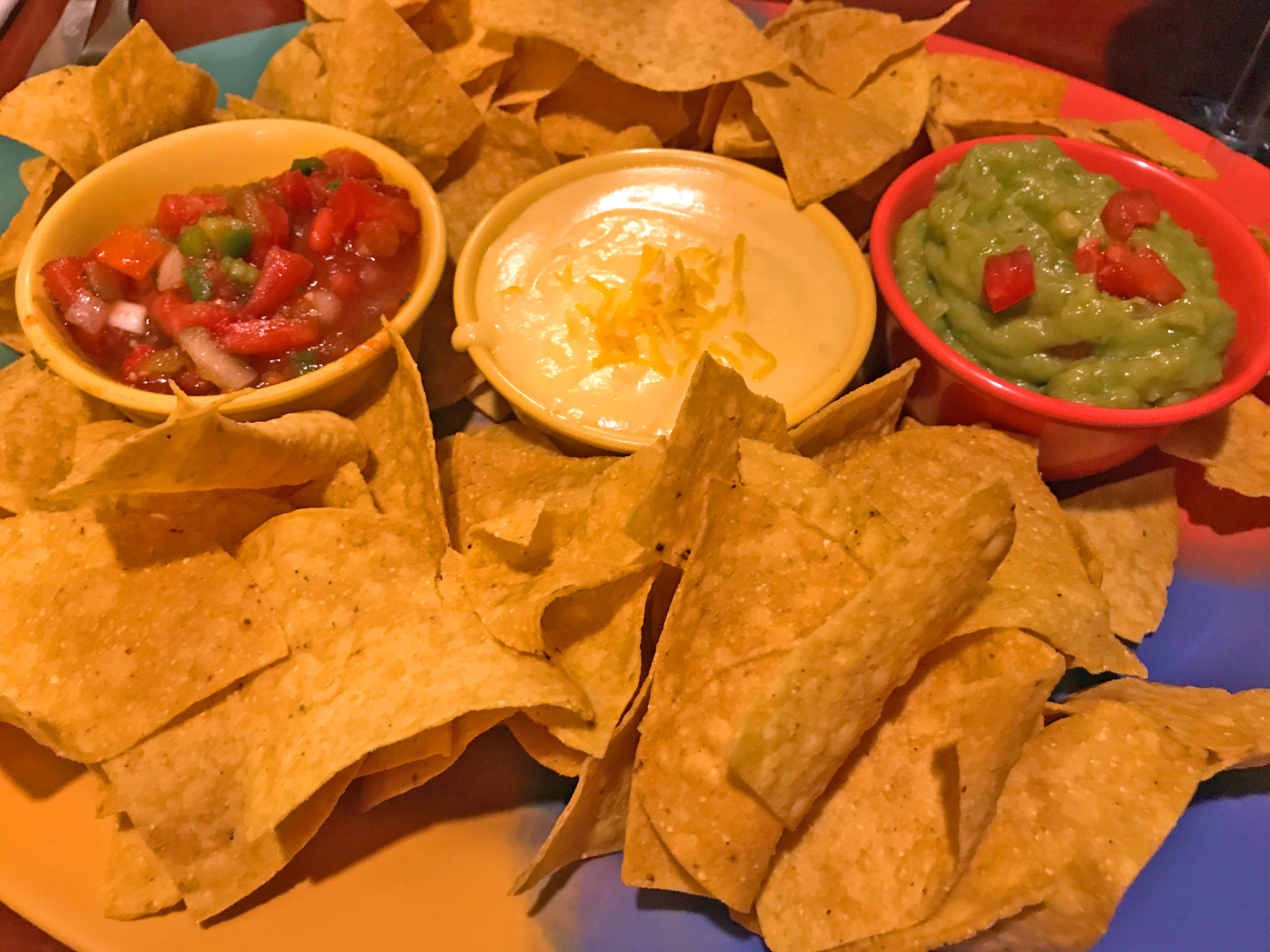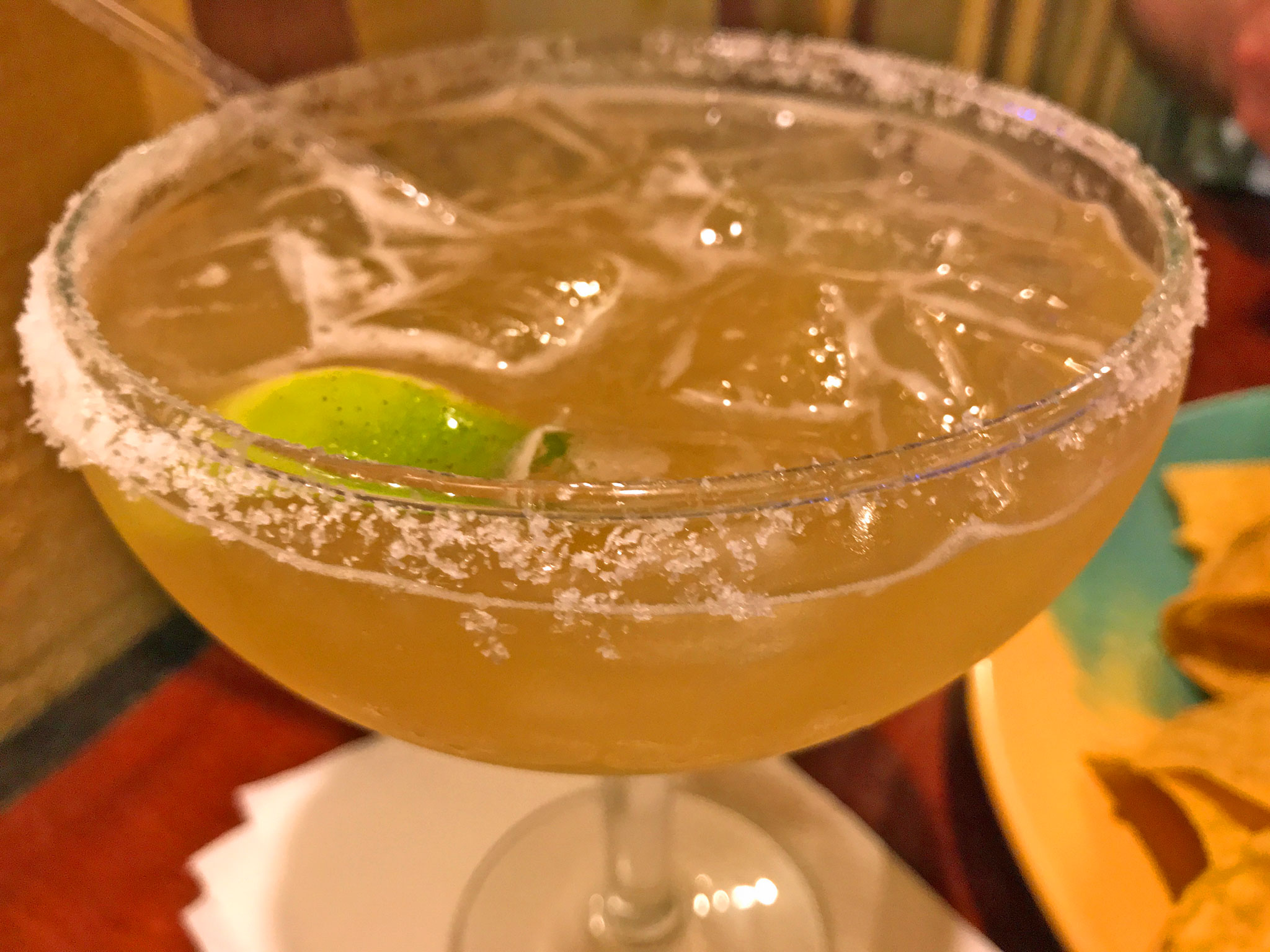 Lori's go-to when trying a new Mexican place is always Beef Fajitas. In this case it was grilled skirt steak, and they hit it out of the park. She said they were the best fajitas she ever had.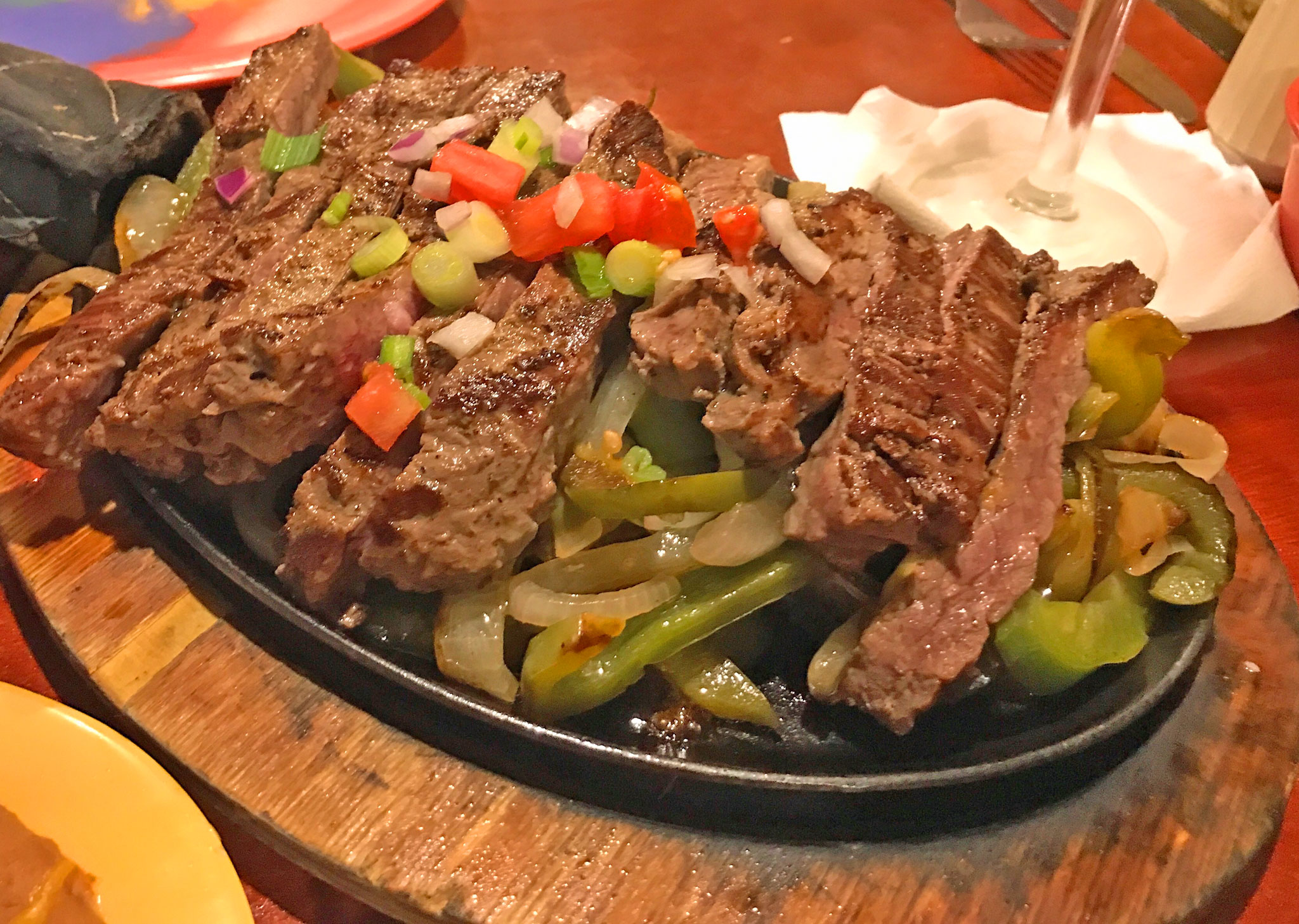 The meat was fantastically seasoned and grilled, and super tender, juicy, and delicious. The funny thing was that they came with the small size tortillas that are usually used for tacos, so it was like a Fajita-Taco. (Some of these are going into breakfast this weekend too.)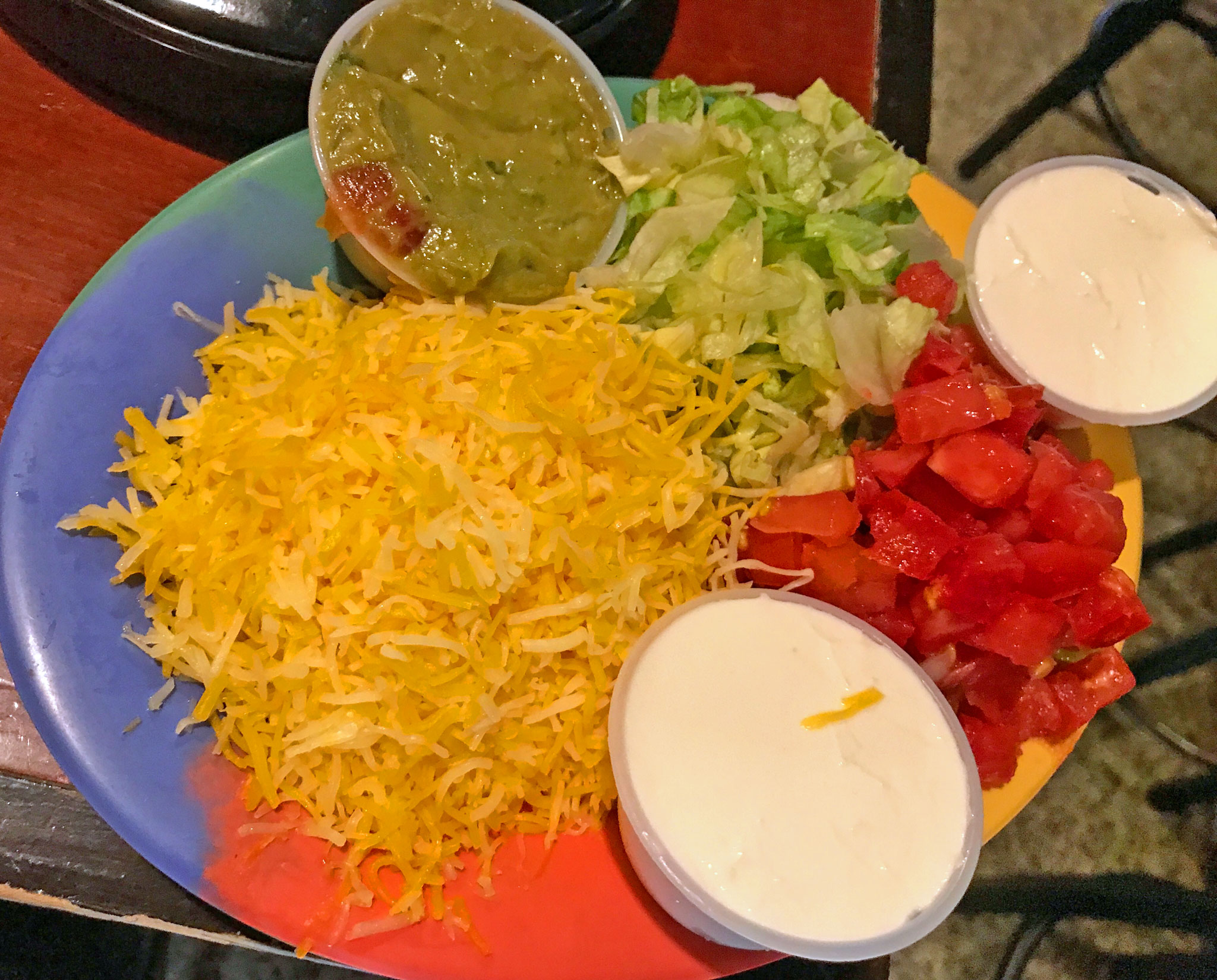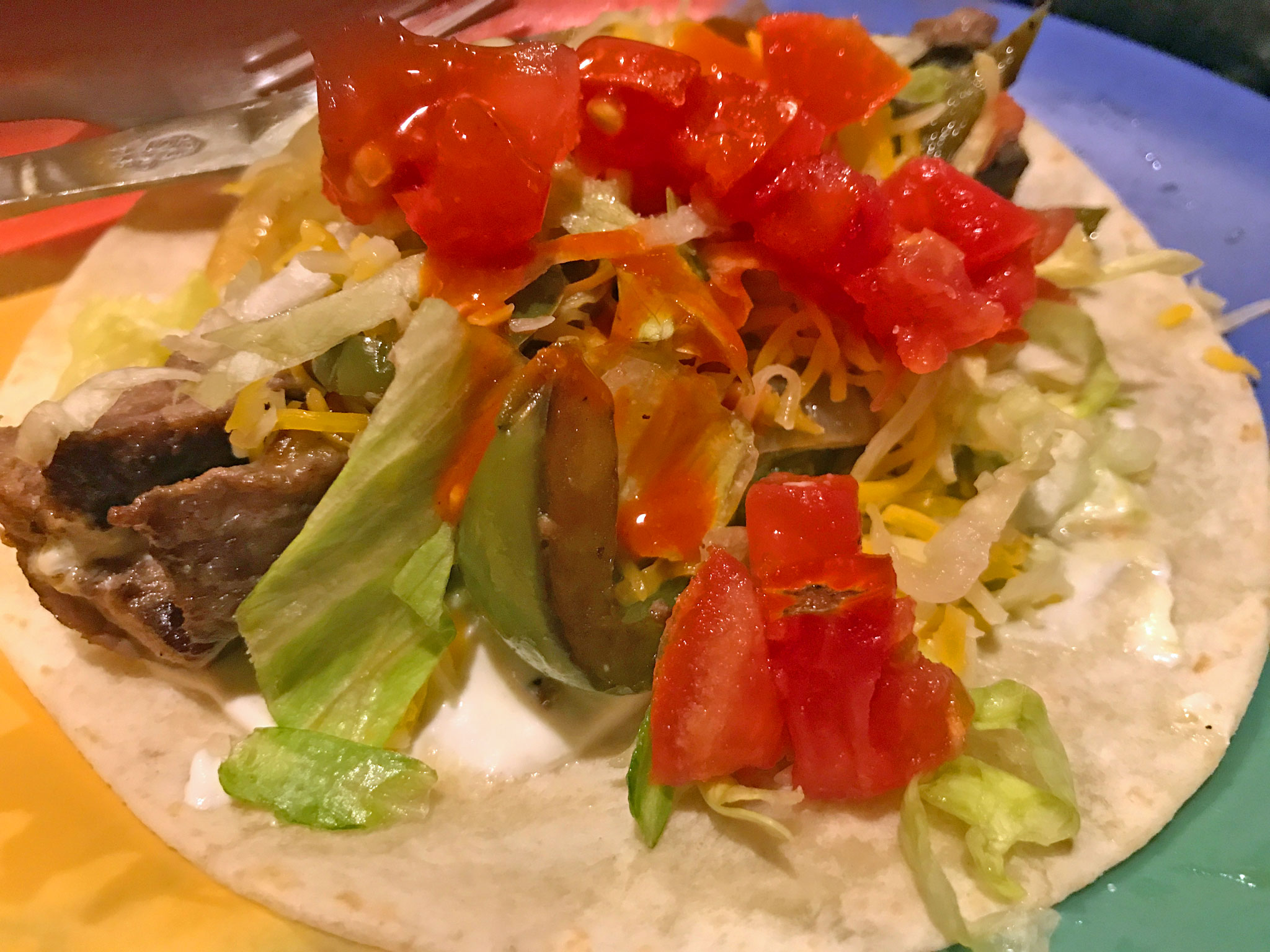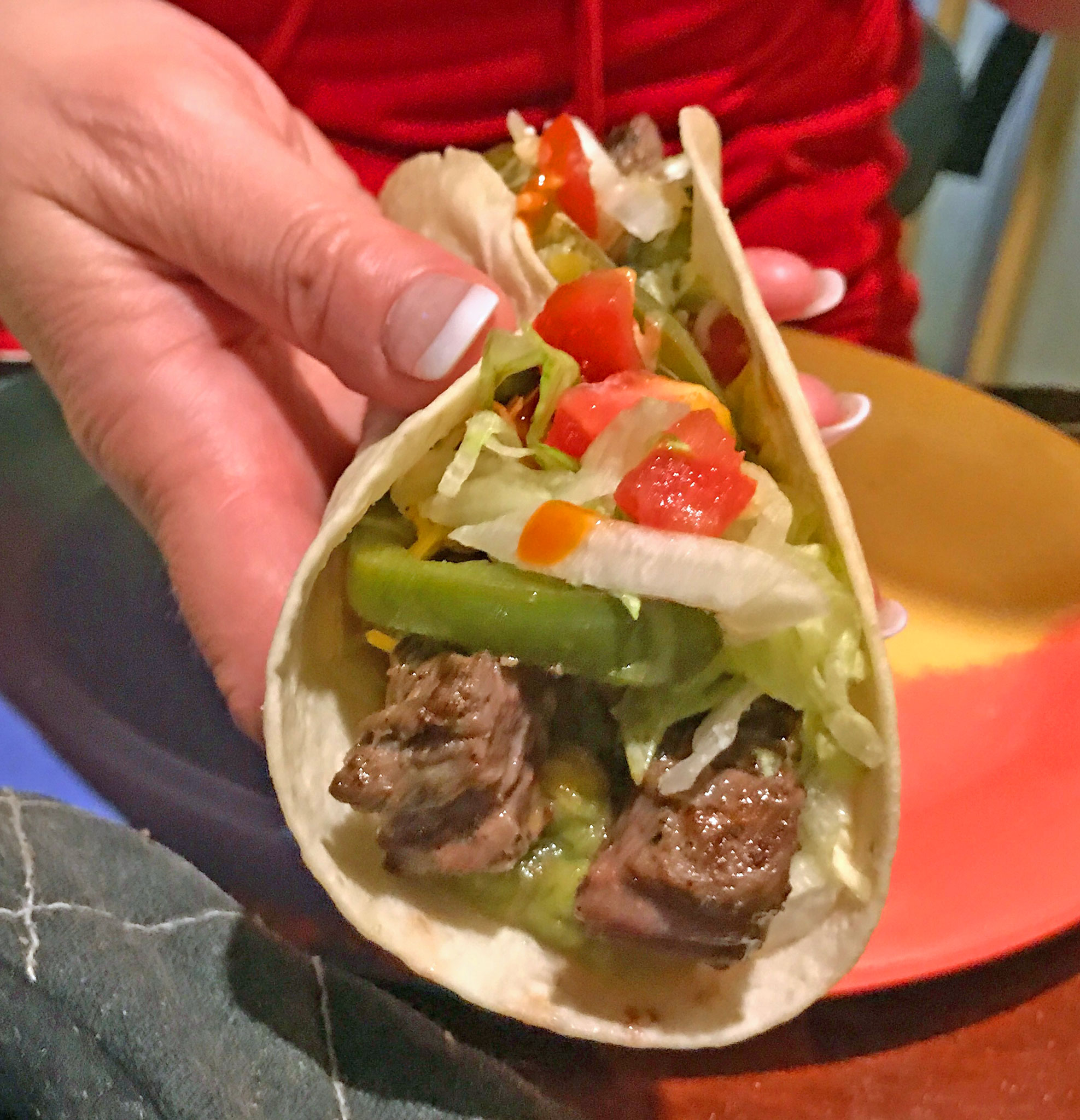 My go-to items when trying a new Mexican eatery are the first things I had as a kid—tacos, tamales, Mexican rice, and refried beans.
The Cajun Fish Taco – Blackened Mahi-Mahi, Creole Mayo, Cilantro, and Queso Fresco served with a lime wedge – succulent! I devoured this one. It was spicy, tangy, salty and sweet, and the fish was moist and tender. The shredded beef taco was very good, although the hard corn shell, like the nacho chips seemed like a purchased item rather than house-made. That doesn't mean it was bad. I would order it again.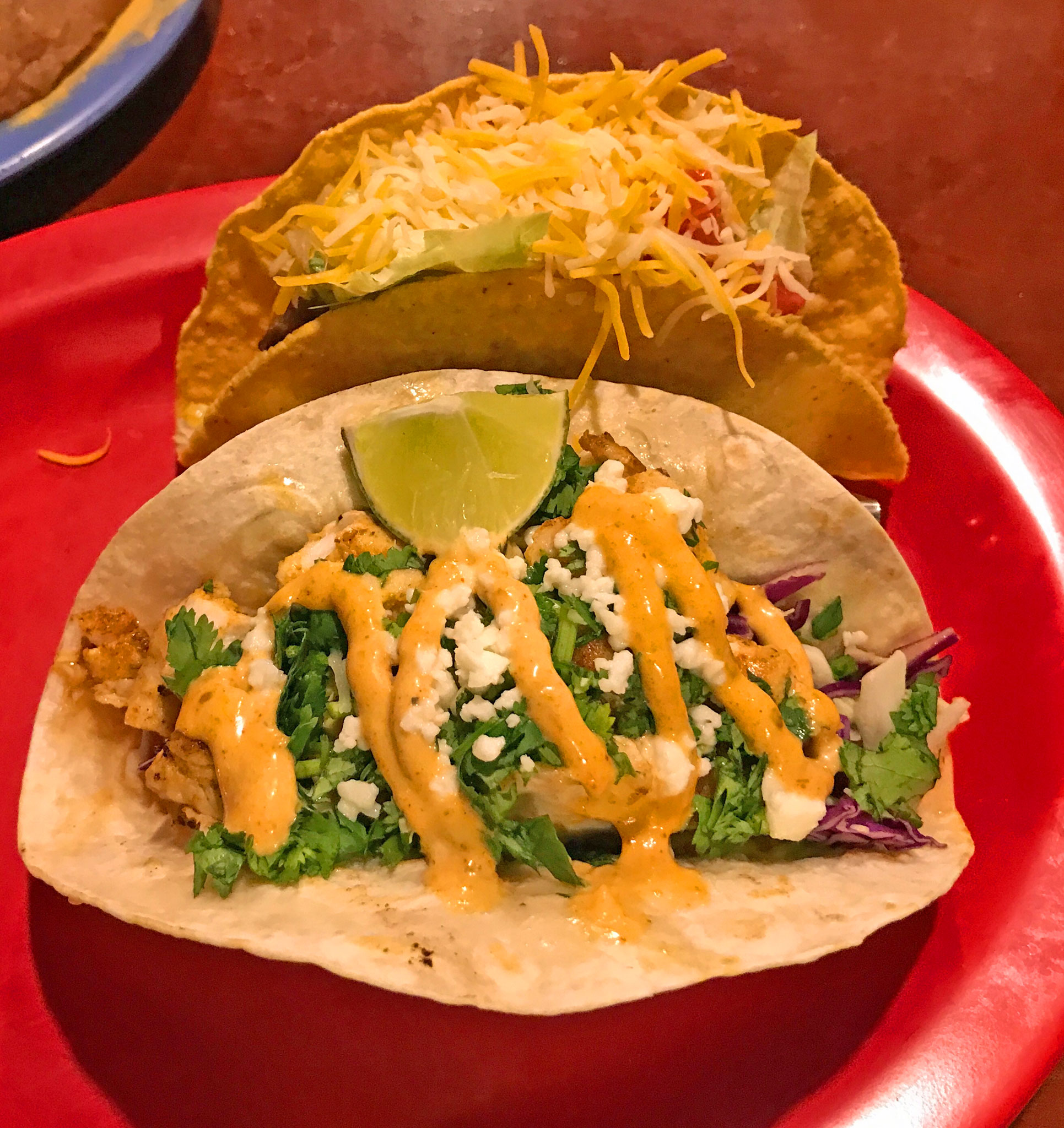 The refried beans were ok. Not bad, just nothing outstanding. They could have come from a dozen different restaurants, or from Old El Paso. The rice was also just good, but better than many other Mexican restaurants that just have average rice. I did like that it was a little spicy.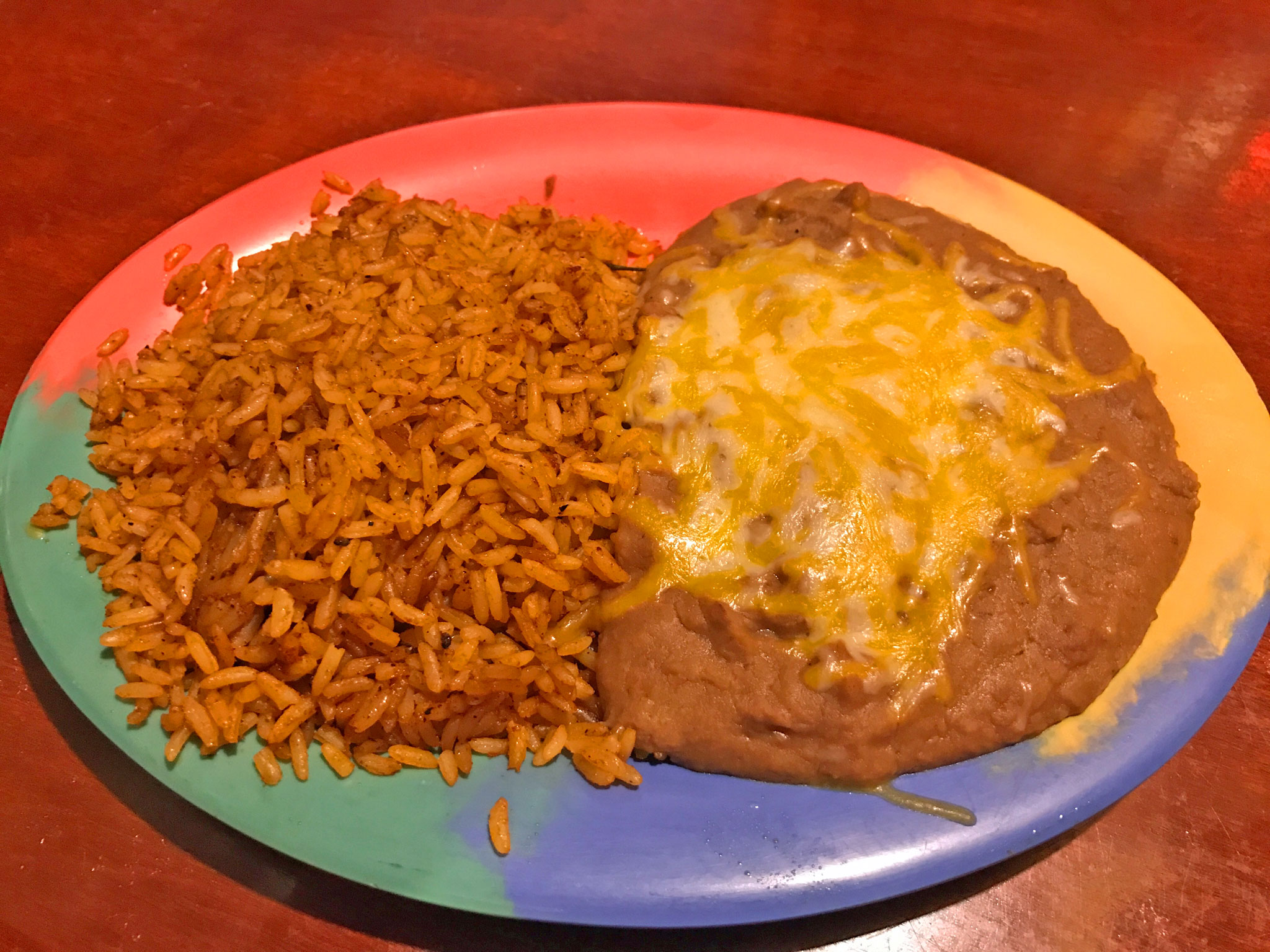 For my food, the Beef Tamale was the star of the show. It was just bursting with flavor. It was a perfect mixture of a great masa flour, with spicy, highly seasoned juicy beef, and the melted cheese topped it off nicely.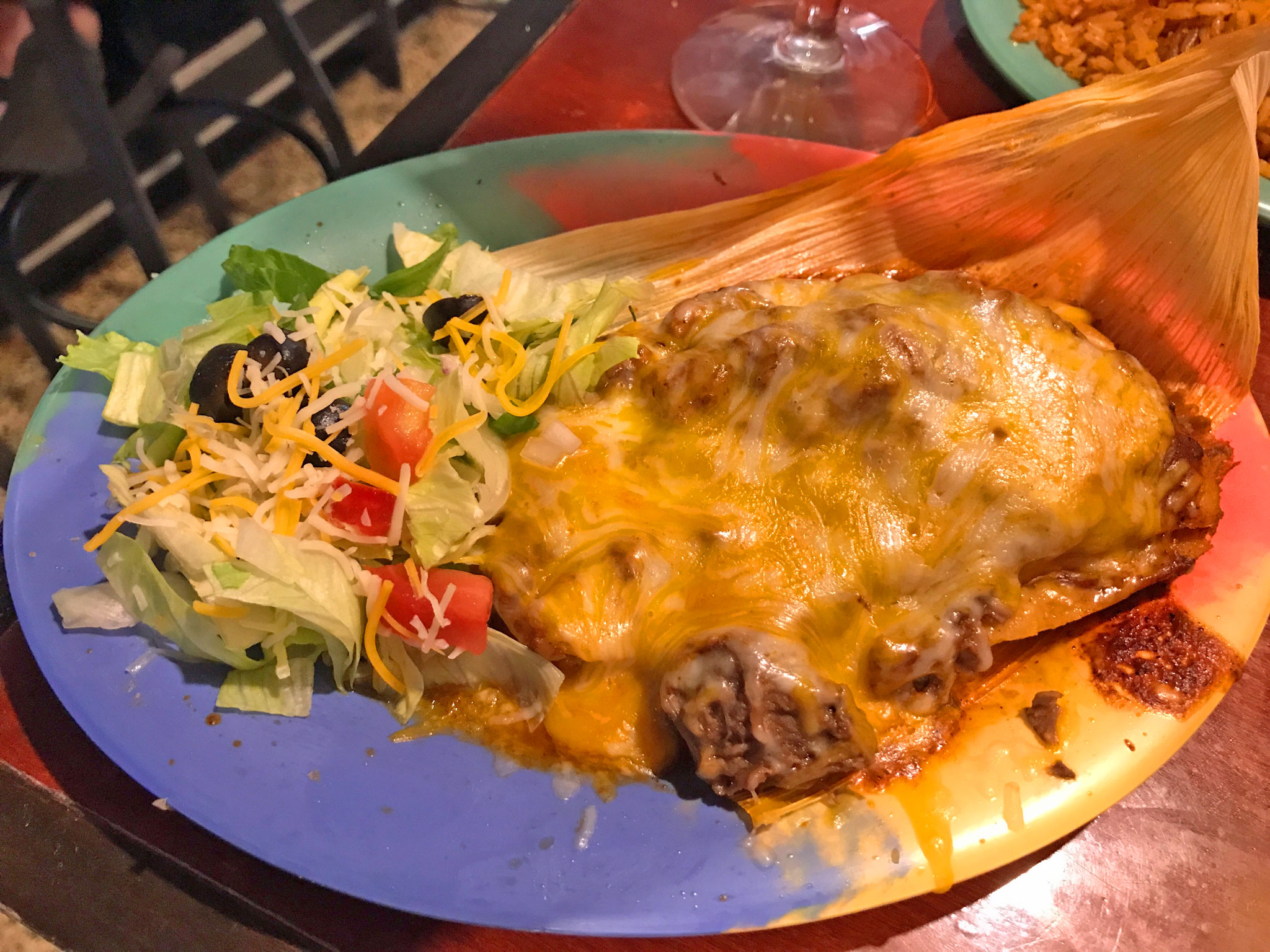 VIP gets bonus points for strong drinks, and quite reasonable prices for the quality and amount of food you get. Now we know why they have thousands of great reviews.
Over 40-years old, a local and tourist favorite with the best Mexican food in the St. Pete Beach area on Treasure Island. It's small, popular, and doesn't take reservations, but worth the wait. However, you might want to try to avoid popular days and times.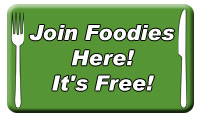 More Foodies News, Reviews & Recipes
2 Responses