It's time to booze up your weekend brunch plans with the top 10 Bloody Marys in St. Pete! Bloody Marys that are done right are so good. Spicy, mild, with a hint of citrus, the toppings and more; they are all different and can be customized to your liking by adding hot sauce, pepper or whatever makes you happy.
It's funny… When you ask someone if they like Bloody Marys you'll get one of two reactions. A simple "Yes! They're great" or "HELL NO" with a gag and head shake and a look of disgust. With that, depending on your personal tastebuds you may agree or disagree with my list since bloodys are a hit or miss for people.
I went around the burg to find the best Bloody Marys (in my opinion) for you to enjoy on your next brunch outing. I have to say, the Bloody Mary scene is pretty impressive and each restaurant throws in its own twist.
Surprisingly, a lot of the bloodys on this list use ZingZang Bloody Mary mix. The reason is that they have the highest quality ingredients and provide a delicious, fresh and simple mix. Though a lot of these are made with this mix, no two drinks tasted the same to me.
[Editor's note: While we certainly appreciate from-scratch house-made bloody mixes, we decided to not exclude any Bloody Marys that used ZingZang. ZingZang is made from the finest ingredients including brand name Lea & Perrins Worcestershire Sauce, and it does not include high fructose corn syrup as many other mass distributed, off the shelf brands do. Lastly, most places use ZingZang as their starting point and then add to it.]
The order is alphabetical by restaurant name.
Best Bloody Marys in St. Pete
1. 2nd & Second
201 2nd Ave N
St. Petersburg, FL 33701
(727) 440-4700
2nd & Second Website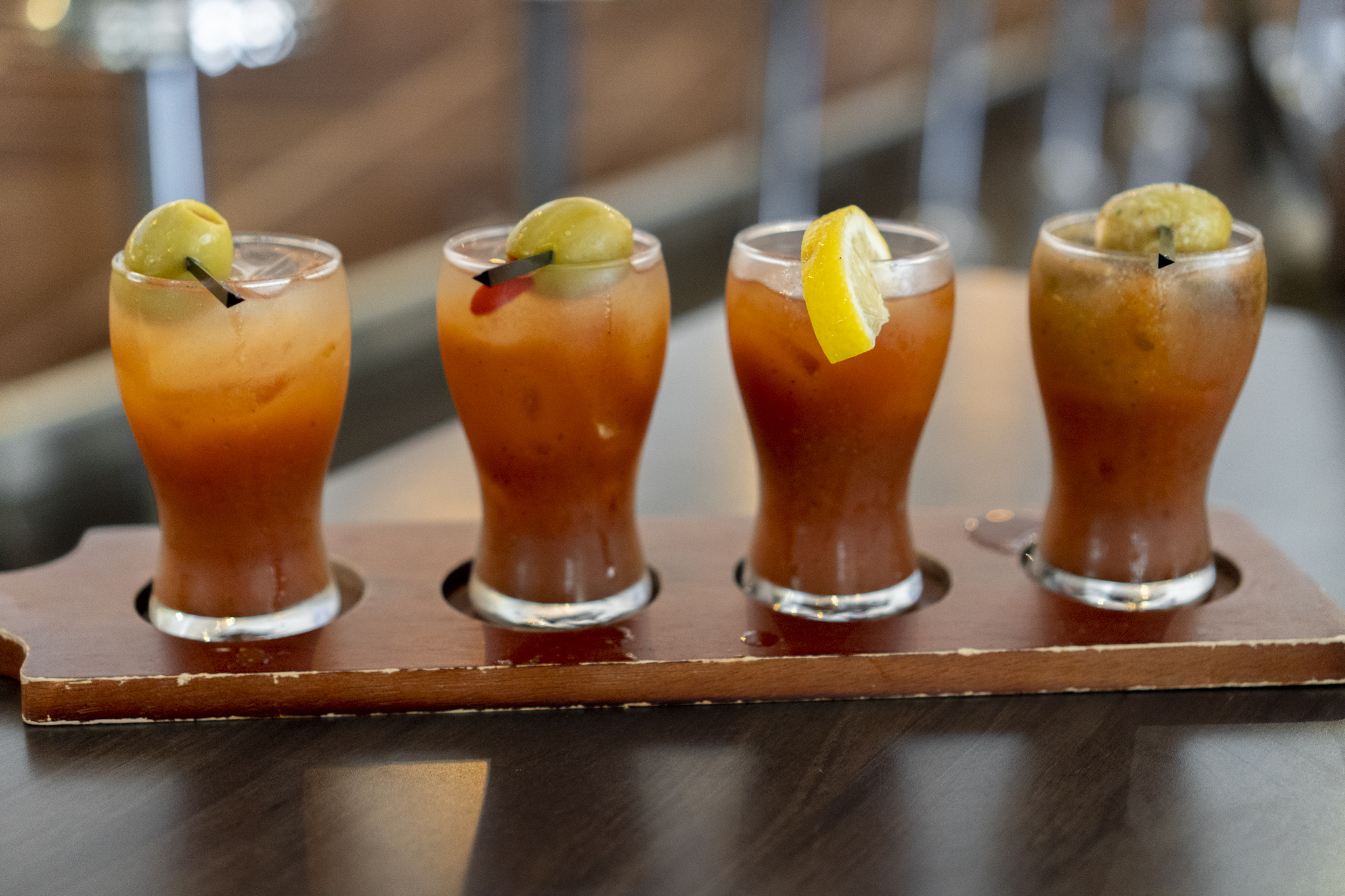 Why limit yourself to one Bloody Mary, when you can get a flight of them at 2nd & Second? The cool thing here is that they are arranged from sweet to spicy and have a variety of liquors. From left to right it goes vodka, vodka, moonshine, gin. They were all good in their own way but my favorite was the 3rd one with the lemon. The spicy kick was a medium heat that paired great with the citrus from the lemon. I'm a sucker for a flight of any sort, they're fun and give you a chance to try out a variety of flavors.
2. The Avenue Eat + Drink
330 1st Ave S
St. Petersburg, FL 33701
(727) 851-9531
The Avenue Eat + Drink Website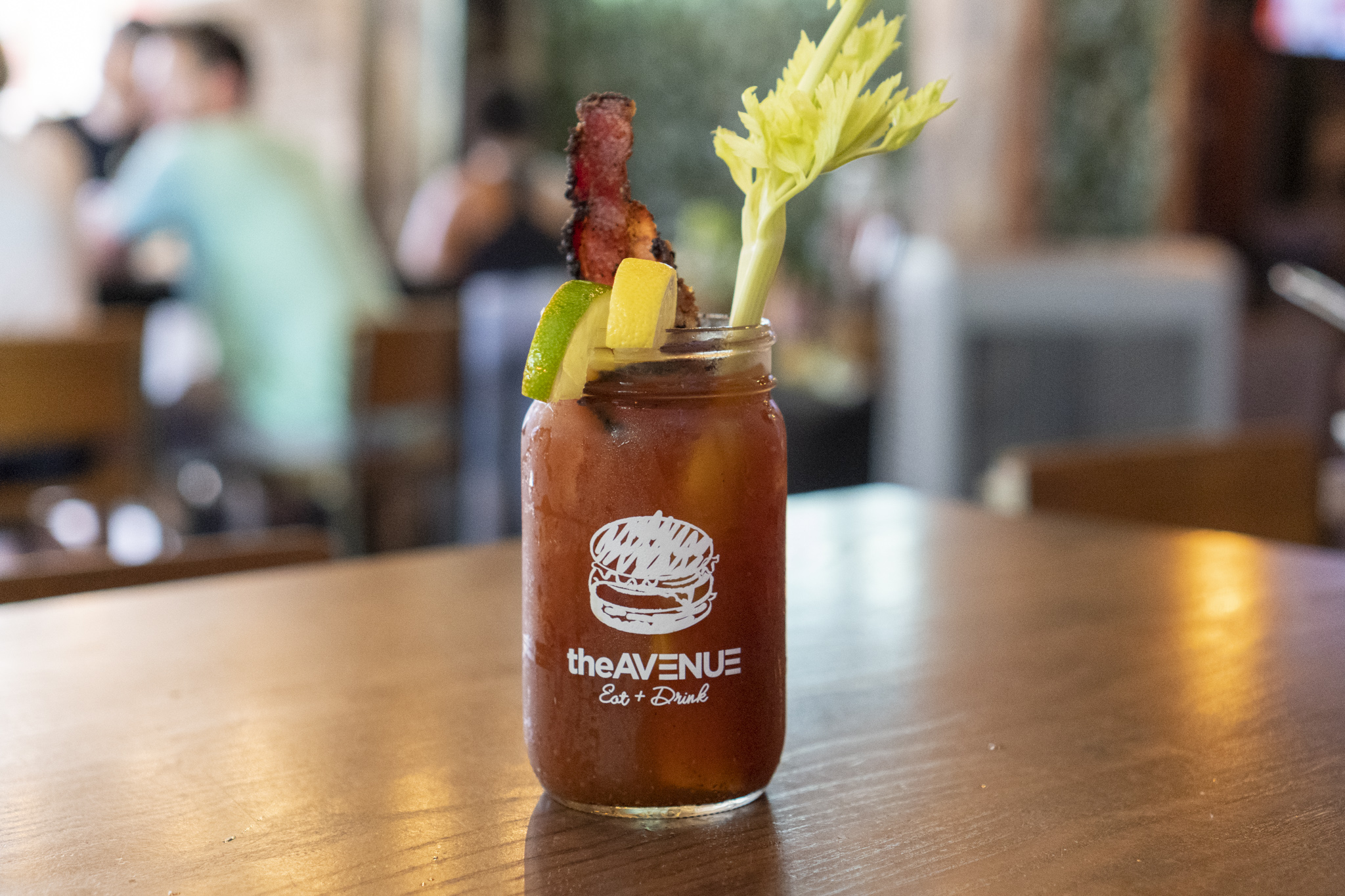 The Avenue throws a damn good brunch on the weekends. With a DJ, an unlimited and build-your-own Bloody Mary & Mimosa bar, and an overall fun time if you're looking to continue the party from the night before. Their Bloody Mary is pretty simple with vodka, ZingZang Bloody Mary Mix, topped with crispy bacon and celery. I really like ZingZang Bloody Mary mix and could probably drink 2-3 of these with no problem.
3. Cassis
170 Beach Dr NE
St. Petersburg, FL 33701
(727) 827-2927
Cassis Website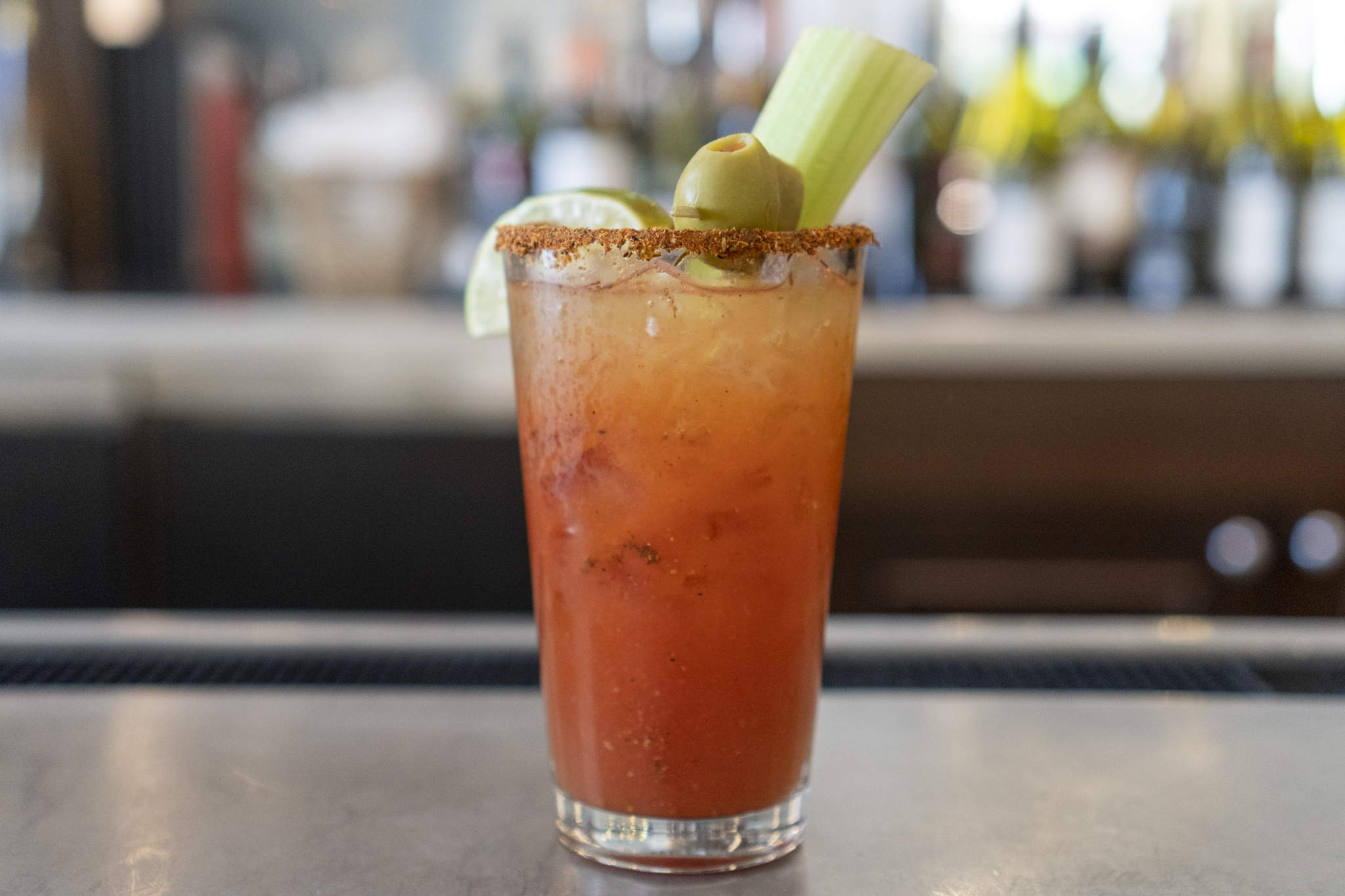 Spicy and delicious! Cassis has a modern and strong Bloody Mary. They use orange juice, "a lot of seasonings", A1 sauce, and more. If you're looking for a sophisticated brunch menu, and a place to people watch on Beach drive while sipping a bloody, this is your spot.
4. Datz
180 Central Ave
St. Petersburg, FL 33701
(727) 202-1182
Datz Website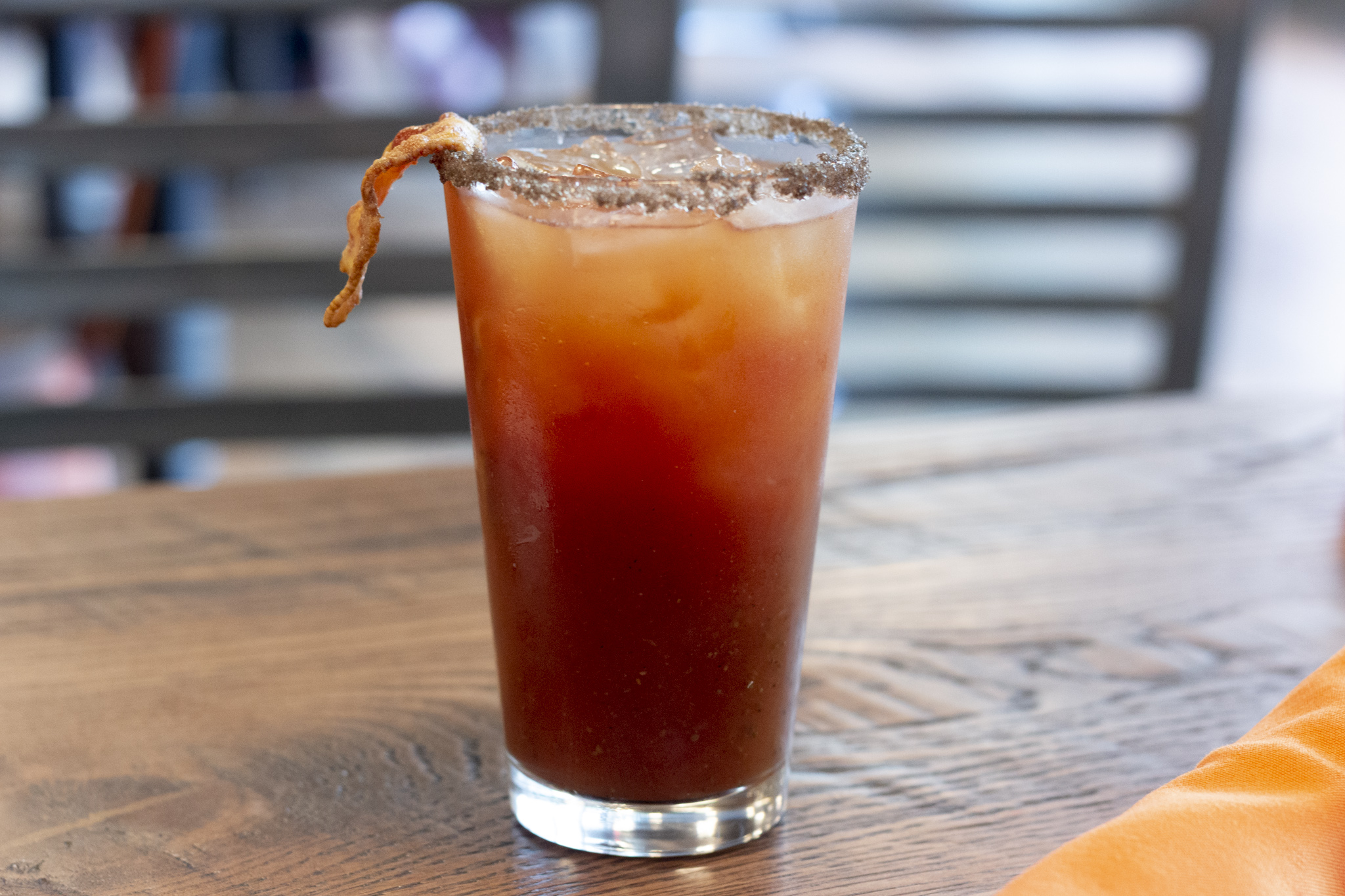 Can I be honest? I was hesitant to post this only because the piece of bacon didn't look appealing, in my opinion. It's gluten-free bacon by the way. But, I'm looking past that because the actual Bloody Mary was great! The Datz-A-Mary is Wodka Vodka, Jones Bacon, Nina's Natural Bloody Mary Mix, (which you can buy there), and Salish Alder Smoked Sea Salt. You can add a mezcal floater for $1 more if you're feeling frisky.
[Editor's note: I loved the Datz Bloody Mary, but caution against the spicy version of Nina's Natural. It was so vinegar-strong that I nearly choked, and could barely speak for a couple of minutes. Perhaps try a half and half, or just go for it, and see if you can handle all of that vinegar.]
5. The Galley: A St. Pete Tavern
27 4th St N
St. Petersburg, FL 33701
(727) 575-7071
The Galley Website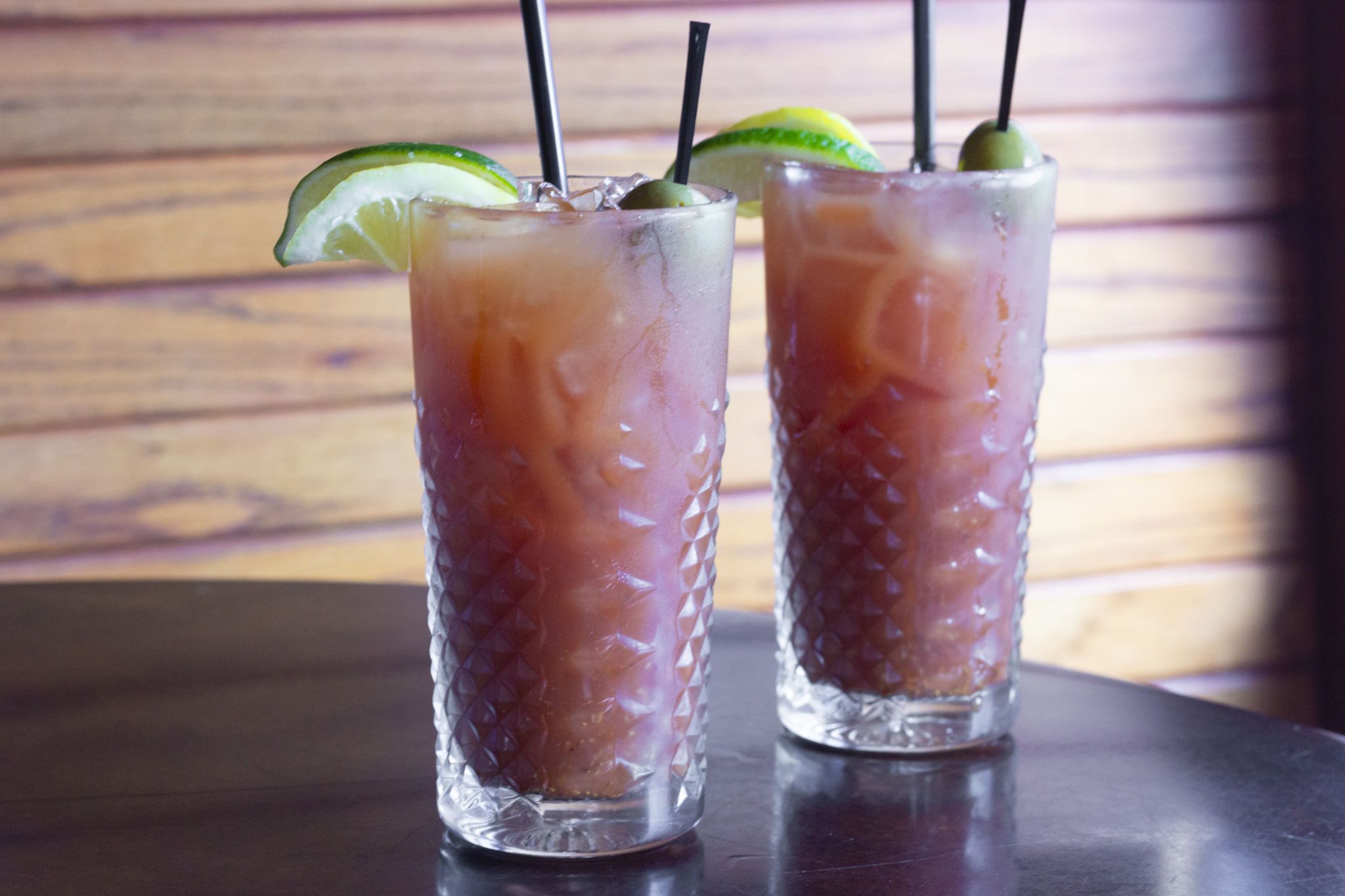 The Galley secretly has the best Bloody Marys in St. Pete with a bold and unique flavor! What's their secret? ZingZang Bloody Mary Mix, Guinness, and "a few other things". That doesn't help, but trust me on this one and ask any local. This is the bloody that you want in the morning or afternoon, that you can easily gulp down. They also have Bloody Caesars which can be hard to find around the area. Ask any local where their favorite bloody is, and I guarantee the majority will say The Galley!
6. The Library
600 5th St S
St. Petersburg, FL 33701
(727) 369-9969
The Library Website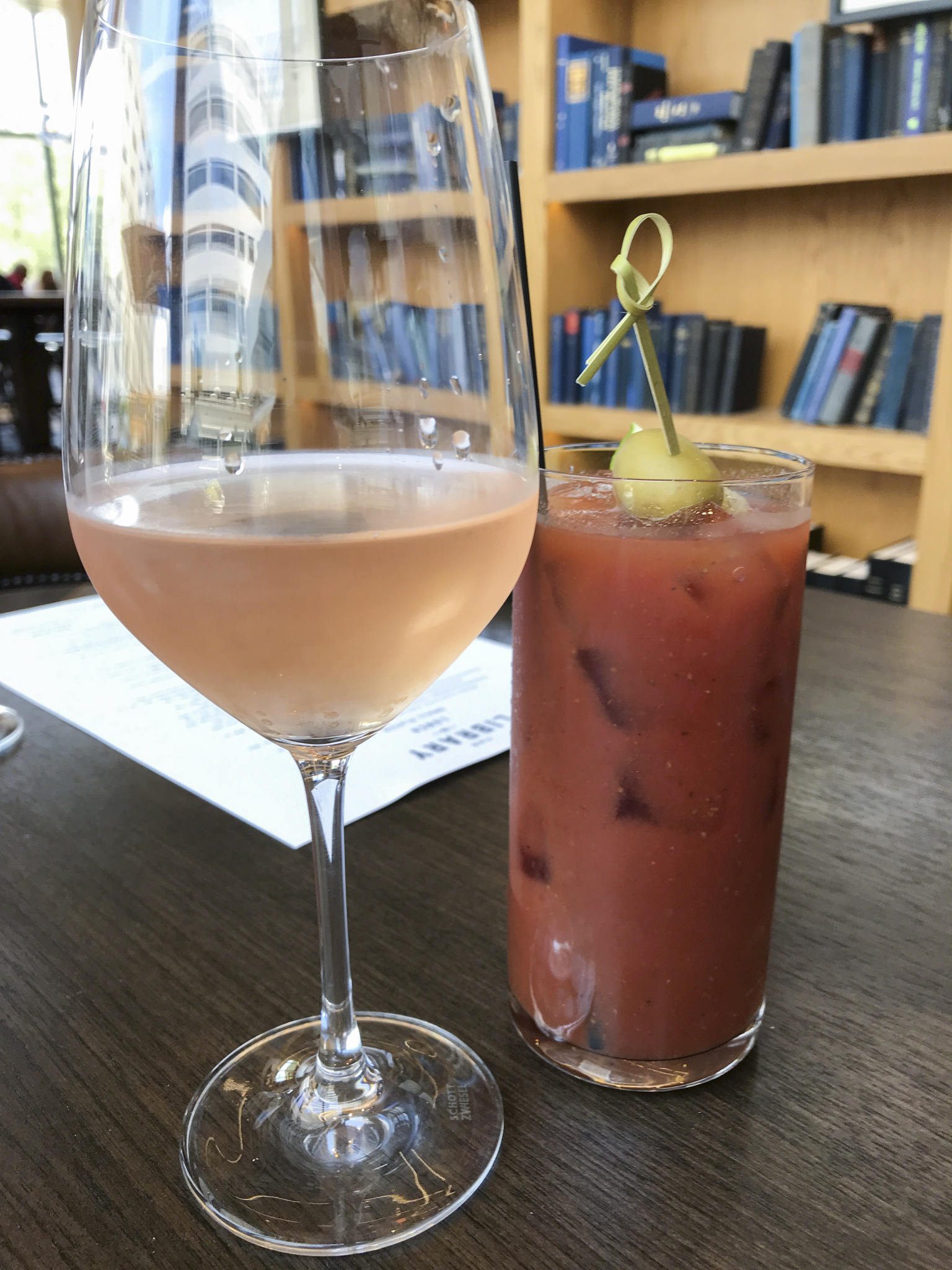 A Spicy Bloody Mary for lunch? Yes, please. The Library makes theirs with ZingZang mix as well, but to add some heat they use St. George Green Chile Vodka which is made with a "variety of California-grown hot and sweet peppers (jalapeños, Serranos, habaneros, red and yellow bell peppers) that build layers of sweet, savory heat. Lime peel and fresh cilantro add even more vibrancy and depth of flavor". Kevin described it as a crowd-pleaser for giving a little bite without blowing out your taste buds.
7. The Mill Restaurant
200 Central Ave #100
St. Petersburg, FL 33701
(727) 317-3930
The Mill Website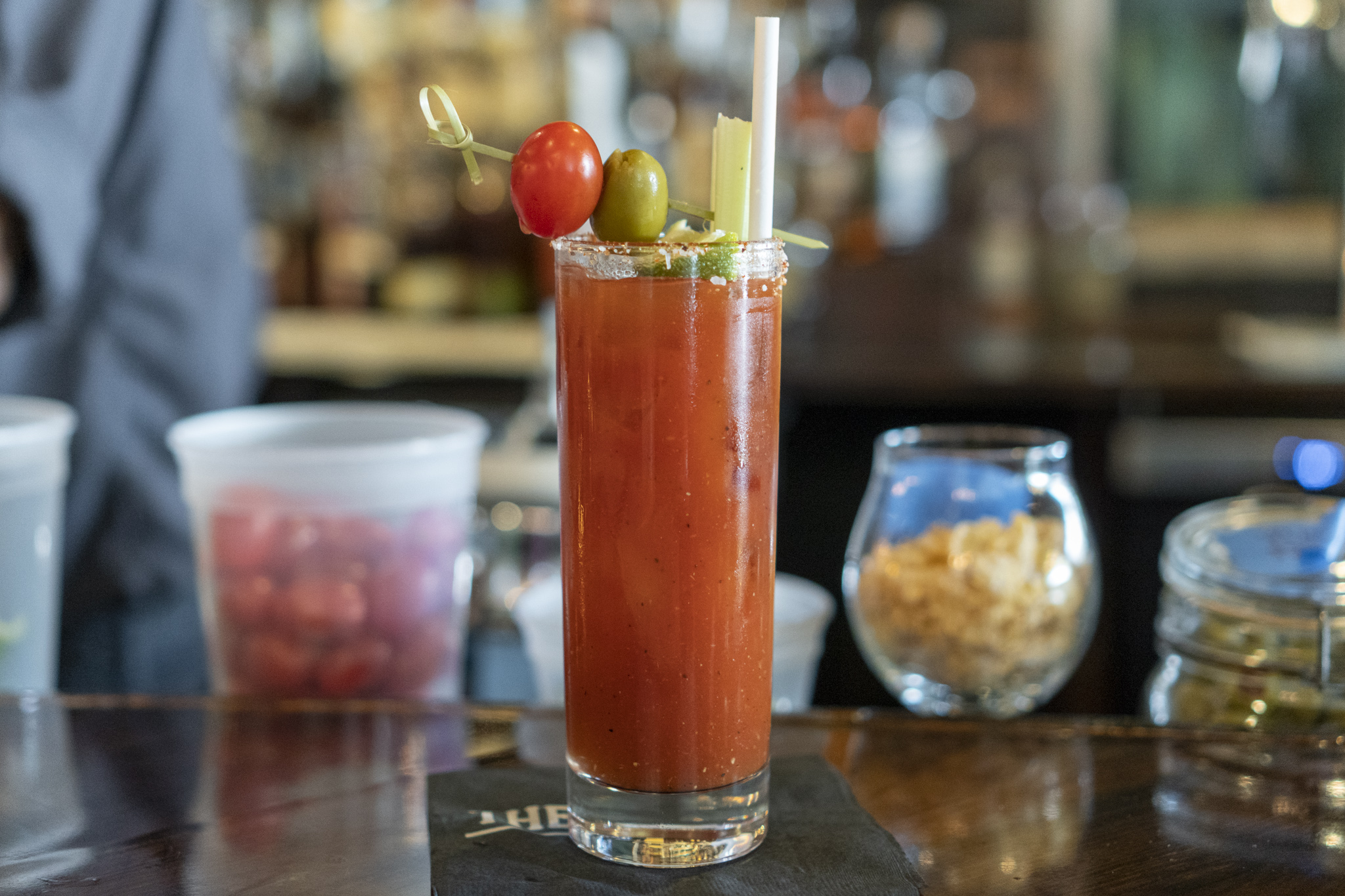 Ooooh, The Mill. One of my favorites on this list. They make their own fresh Bloody Mary house mix and a really good one at that. With just a little spice, I would have added a little more for an extra kick, but I think this would be a go-to for anyone looking for a delicious and refreshing bloody. The flavors were bursting and really hit the spot.
8. Noble Crust
8300 4th St N
St. Petersburg, FL 33702
(727) 329-6041
Noble Crust Website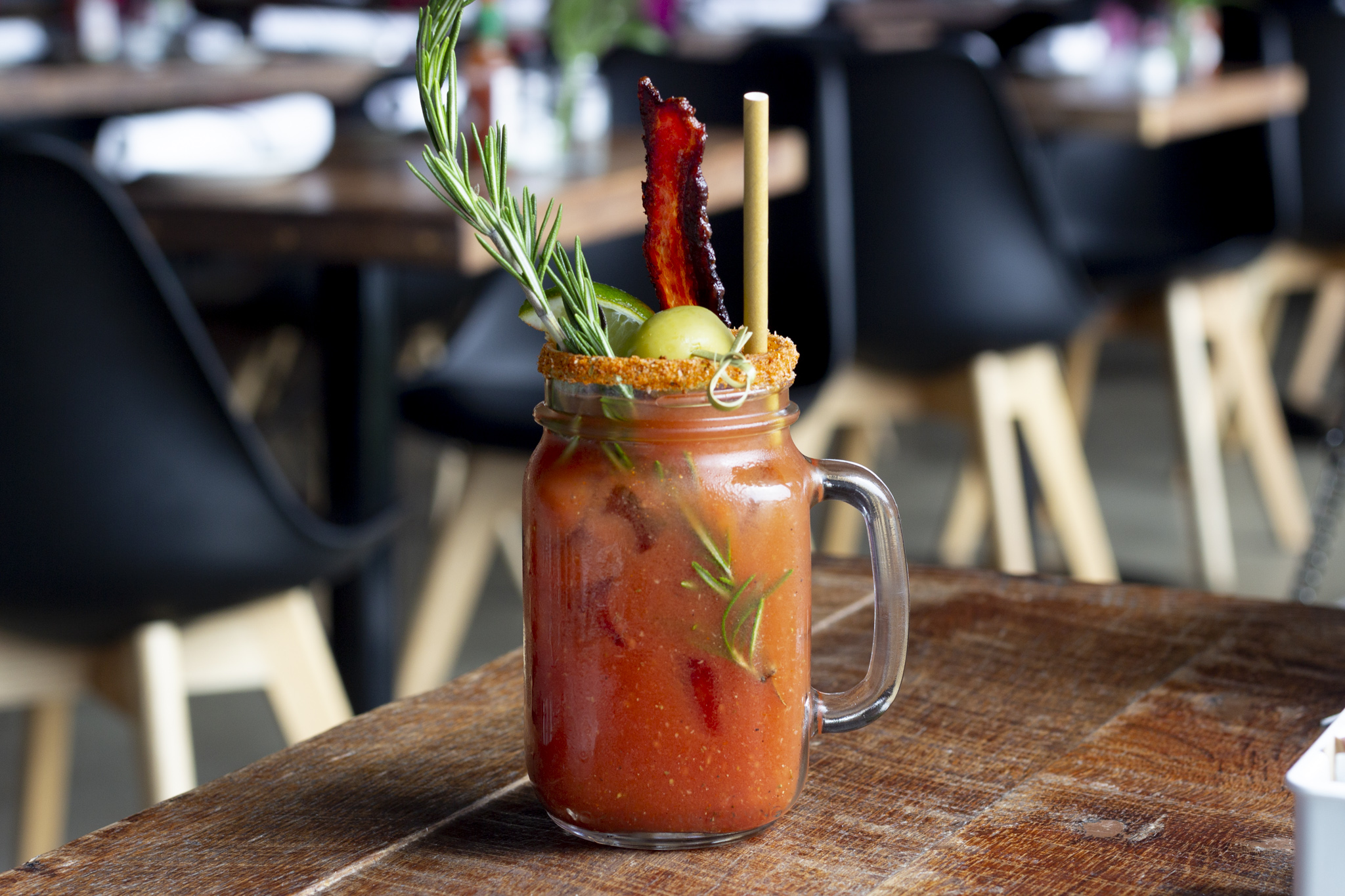 Talk about the place to be for brunch on the weekend! Noble Crust is an exceptional restaurant with an impressive menu of both cocktails and food. Their Zesty Bloody Mary has Skyy Vodka, a house spice mix, bacon, and Old Bay salt rim. Heavier than most on the list, but packed with flavors and everything you're looking for in a Bloody Mary.
9. Stillwaters Tavern
224 Beach Dr NE
St. Petersburg, FL 33701
(727) 350-1019
Stillwaters Tavern Website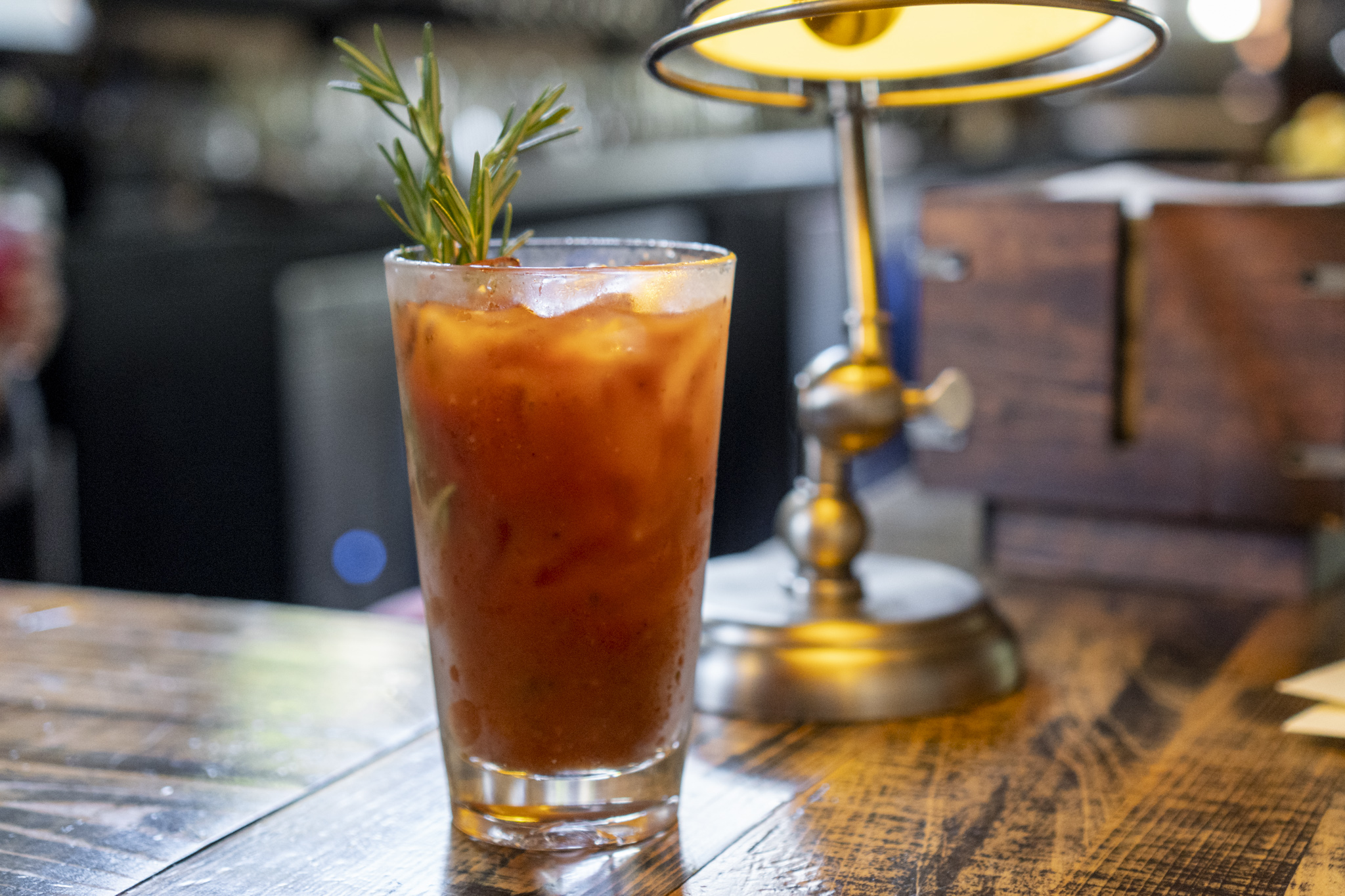 After a long Sunday Funday of drinking, Stillwaters was our last stop before calling it a day. They have a "Liquid Brunch" menu with four Bloody Marys. The Rosemary, The Smoked Pepper, The Tavern and The Citrus. They make their own house bloody mix which ultimately makes the best difference when comparing bloodys. Their Rosemary Bloody caught my attention because it was Vodka with a Rosemary Infused Mix. The mint-like and earthy taste of the rosemary really gave this drink a unique taste. I liked that it wasn't a typical spicy tomato-tasting bloody. Try this if you're looking for something different.
10. Tryst Gastro Lounge
240 Beach Dr NE
St. Petersburg, FL 33701
(727) 821-4567
Tryst Gastro Lounge Website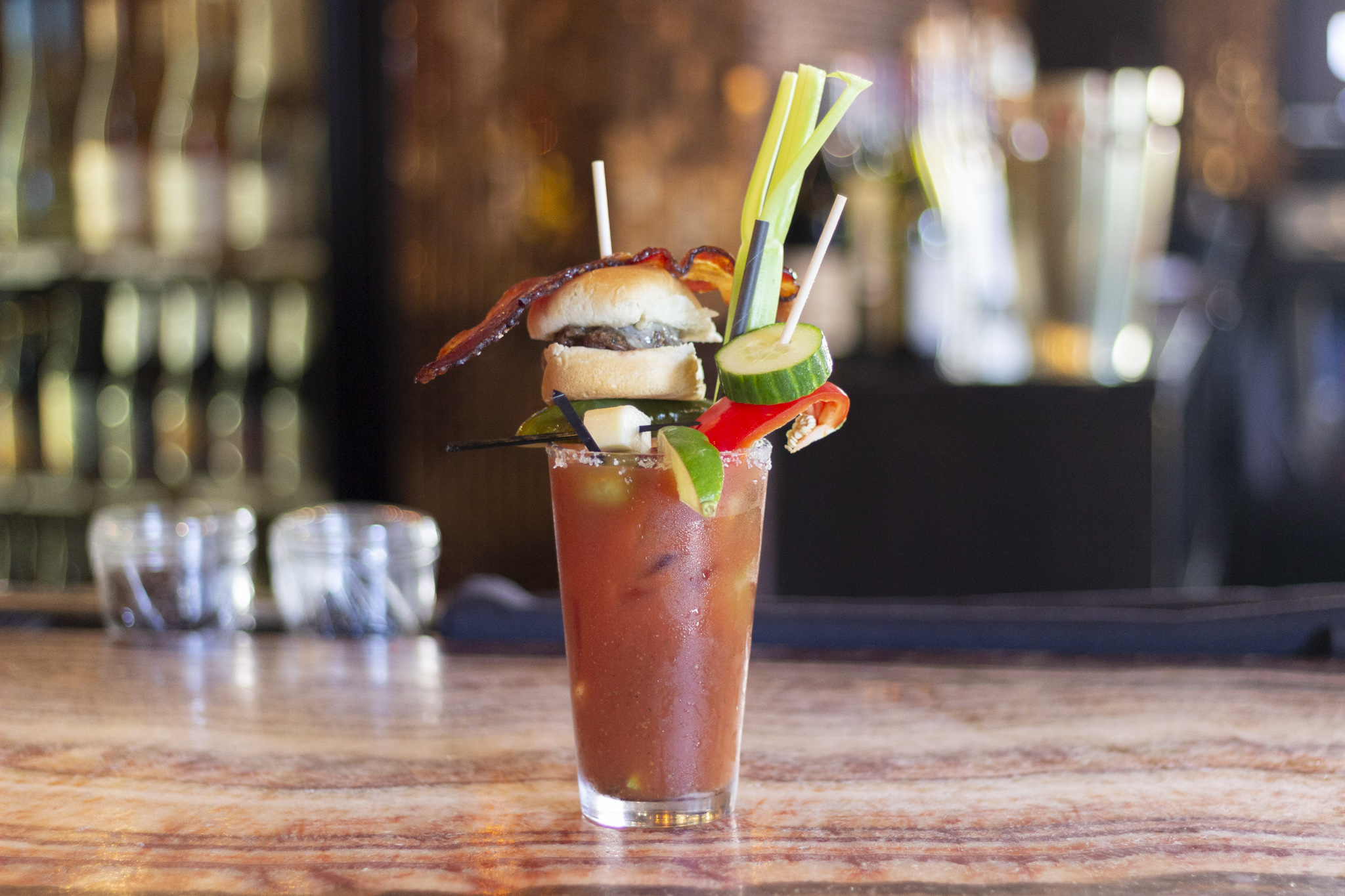 The Hangover Bloody Mary from Tryst gets a 10/10 for presentation and taste. Made with Deep Eddy Vodka, ZingZang Bloody Mary Mix, and topped with a black Angus slider, cheddar, applewood smoked bacon, house-made pickled pepper, and celery. Tryst also has a Bloody Morty and Bloody Maria on their brunch cocktail list that are great too. I have to mention that the service here was amazing and everyone was so nice!
I hope this list encourages you to spice up your brunch plans next week with a great bloody. Feel free to comment your favorite one in St. Pete. Cheers!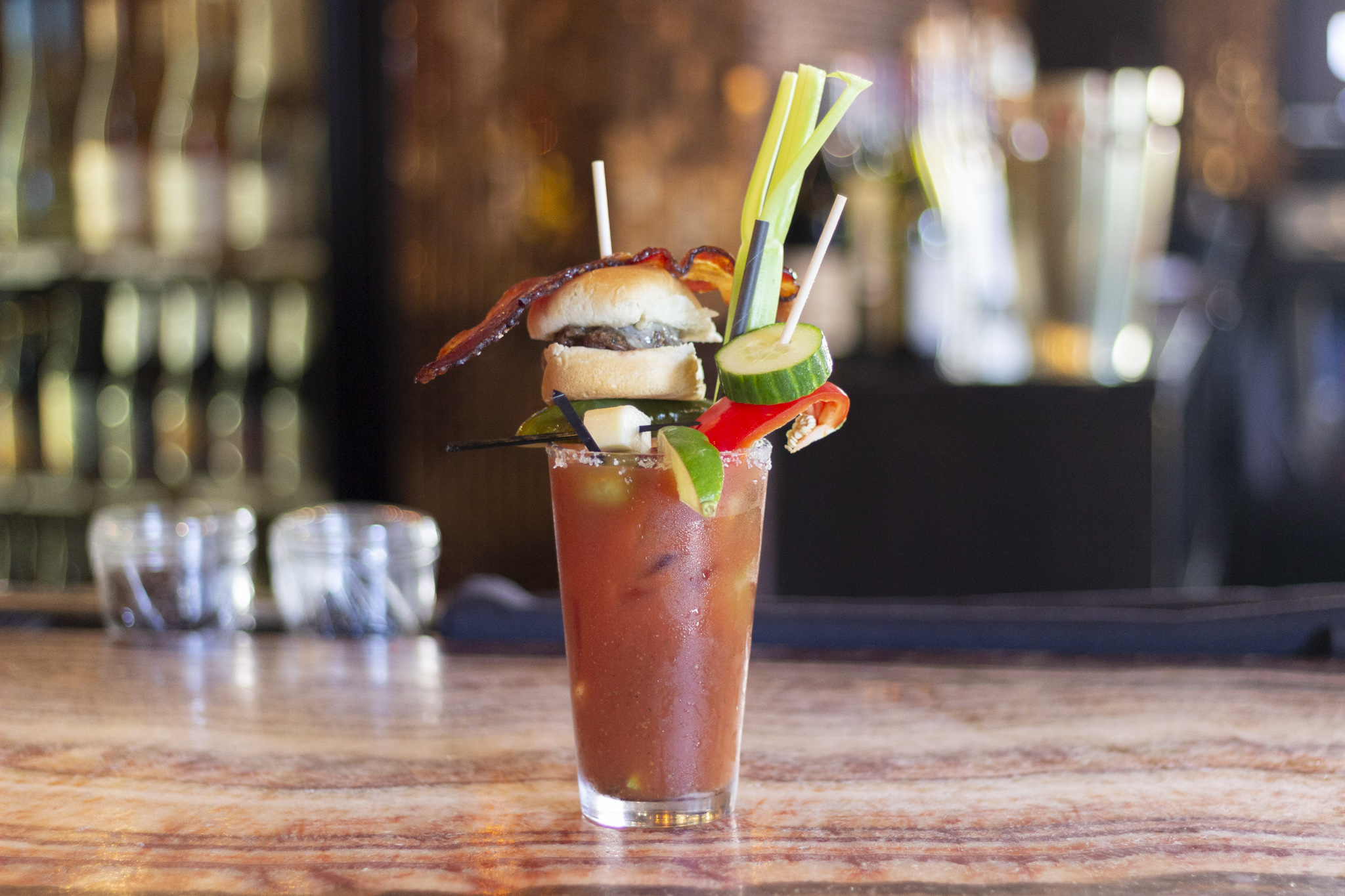 Readers Rating

Rated 4.3 stars




4.3

/ 5 (

Reviewers

)

Outstanding
---
Brunch isn't complete without a Bloody Mary. Here are the best Bloody Marys in St. Pete for 2019