"When the World Seems to Shine Like You've Had Too Much Wine"…That's Sophia's
"When the World Seems to Shine Like You've Had Too Much Wine"…That's Sophia's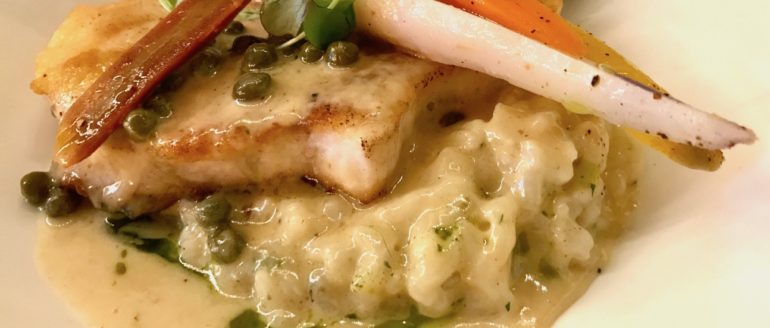 The highly anticipated opening of Sophia's Cucina + Enoteca, brought to you by the owners of Lolita's Wine Market, Chef Alex and Kelly Rodriguez, is Thursday, May 23rd at 5:00pm. Yes, that's tomorrow.
I would say run don't walk to Sophia's! You can make your reservations on Opentable.
Read the original article we wrote about the planned opening here
We were thrilled to have been included in two separate friends and family events this past weekend and we have lots of photos and thoughts to share with you.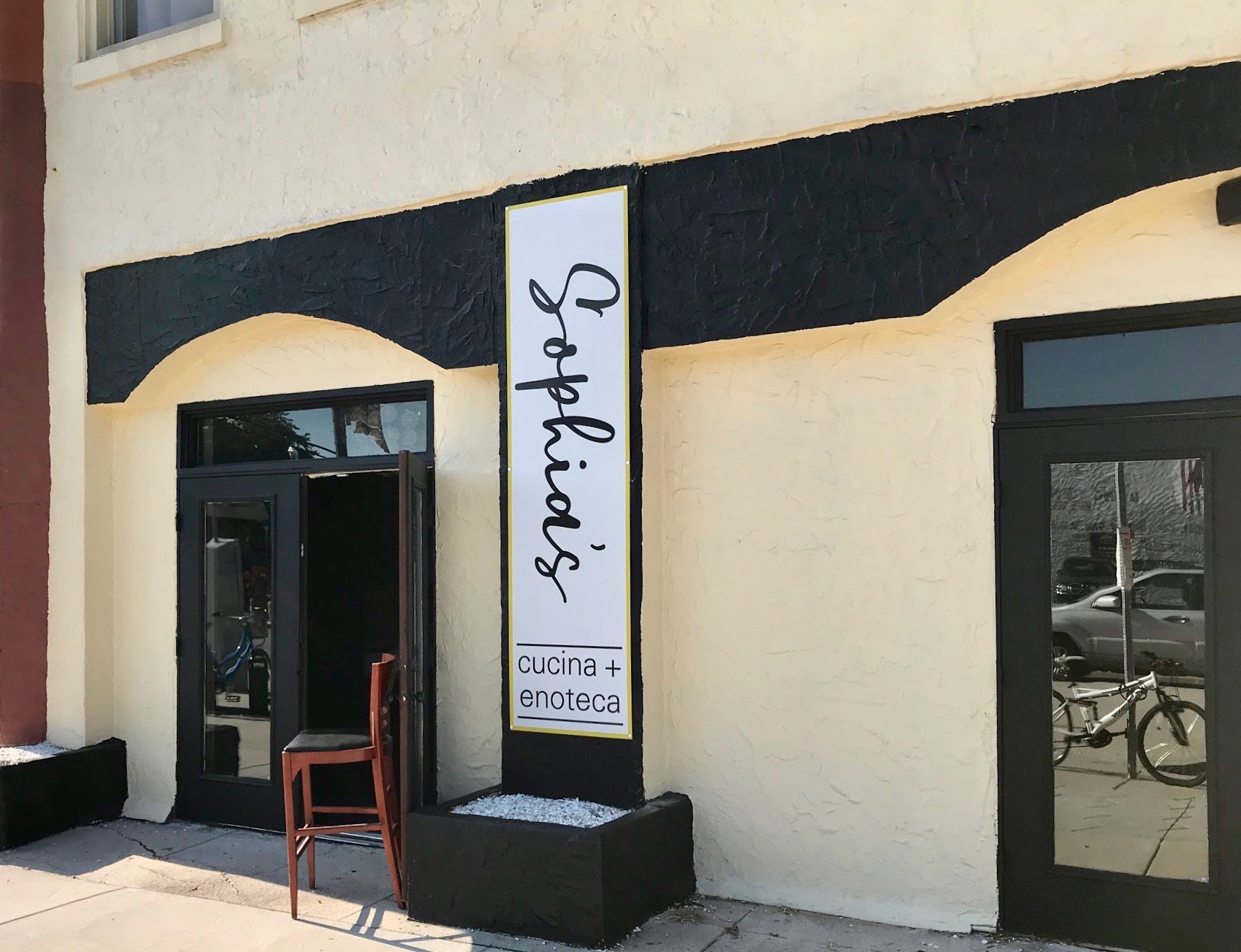 When you first enter, you will notice the bright, airy and friendly decor. The room delights with exuberance and welcome.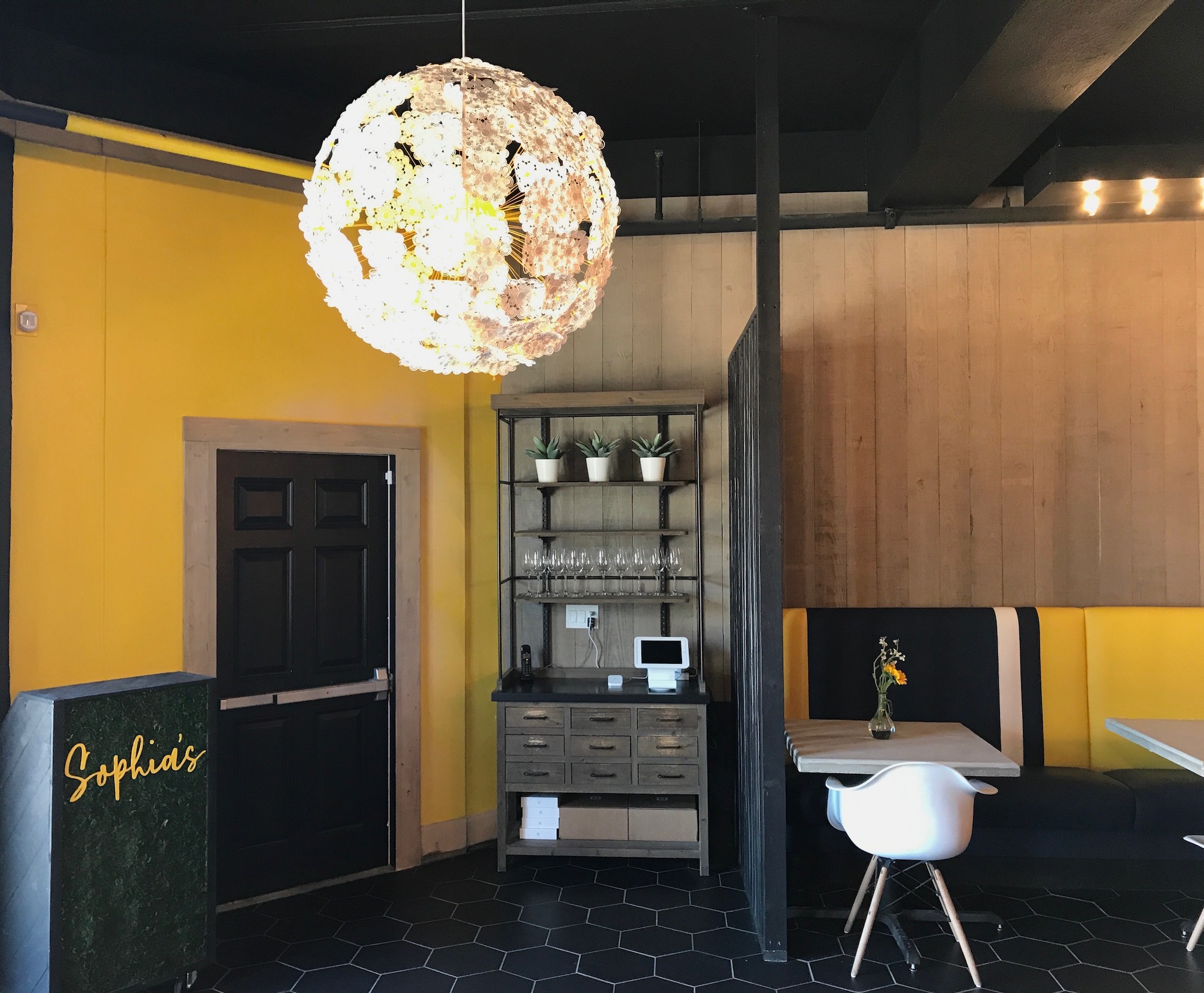 The main dining area has separate half booth tables that can be shifted to accommodate different size parties.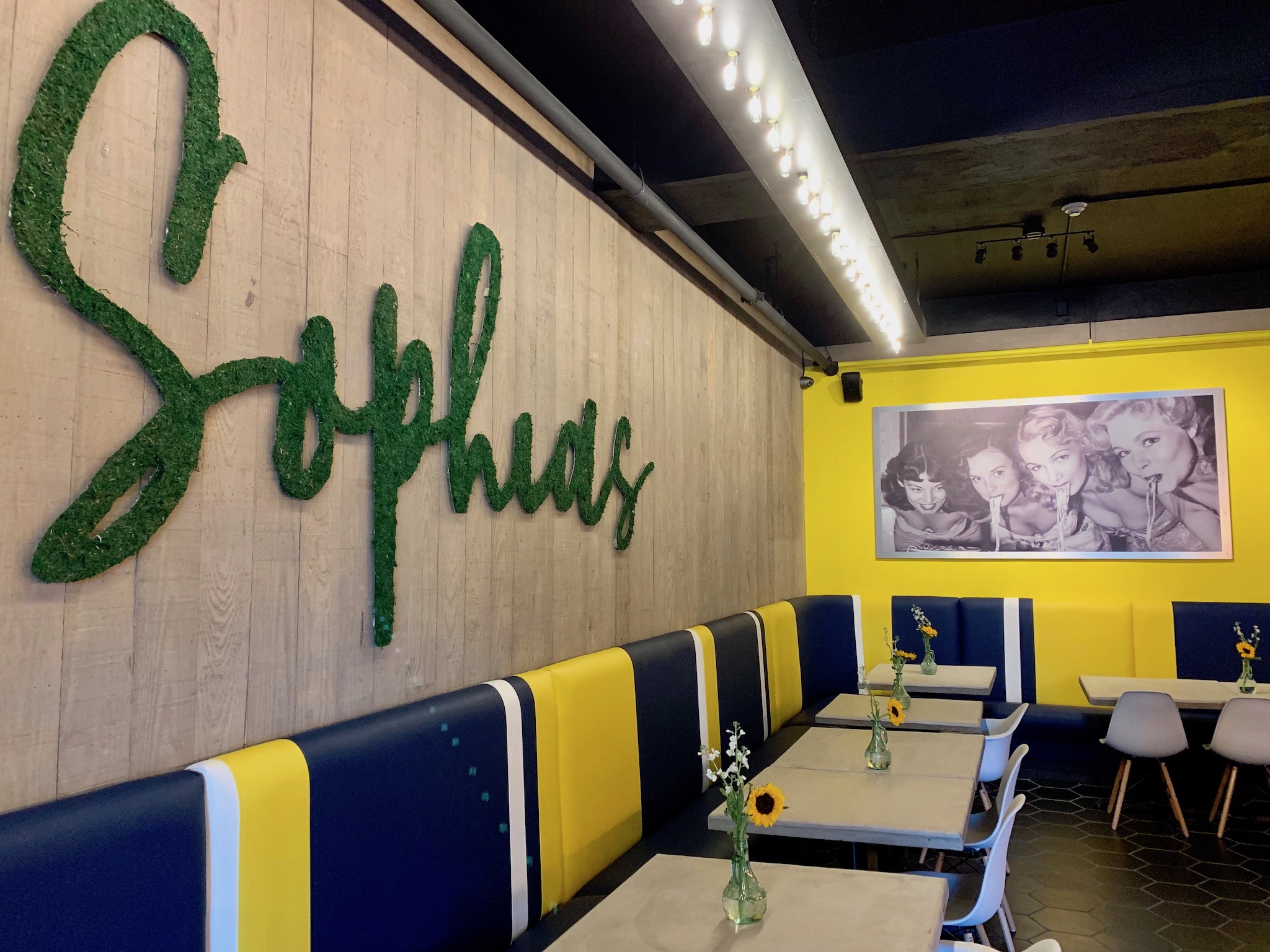 It also features a long communal table which promotes making new friends and sharing of plates, a very European inspired idea.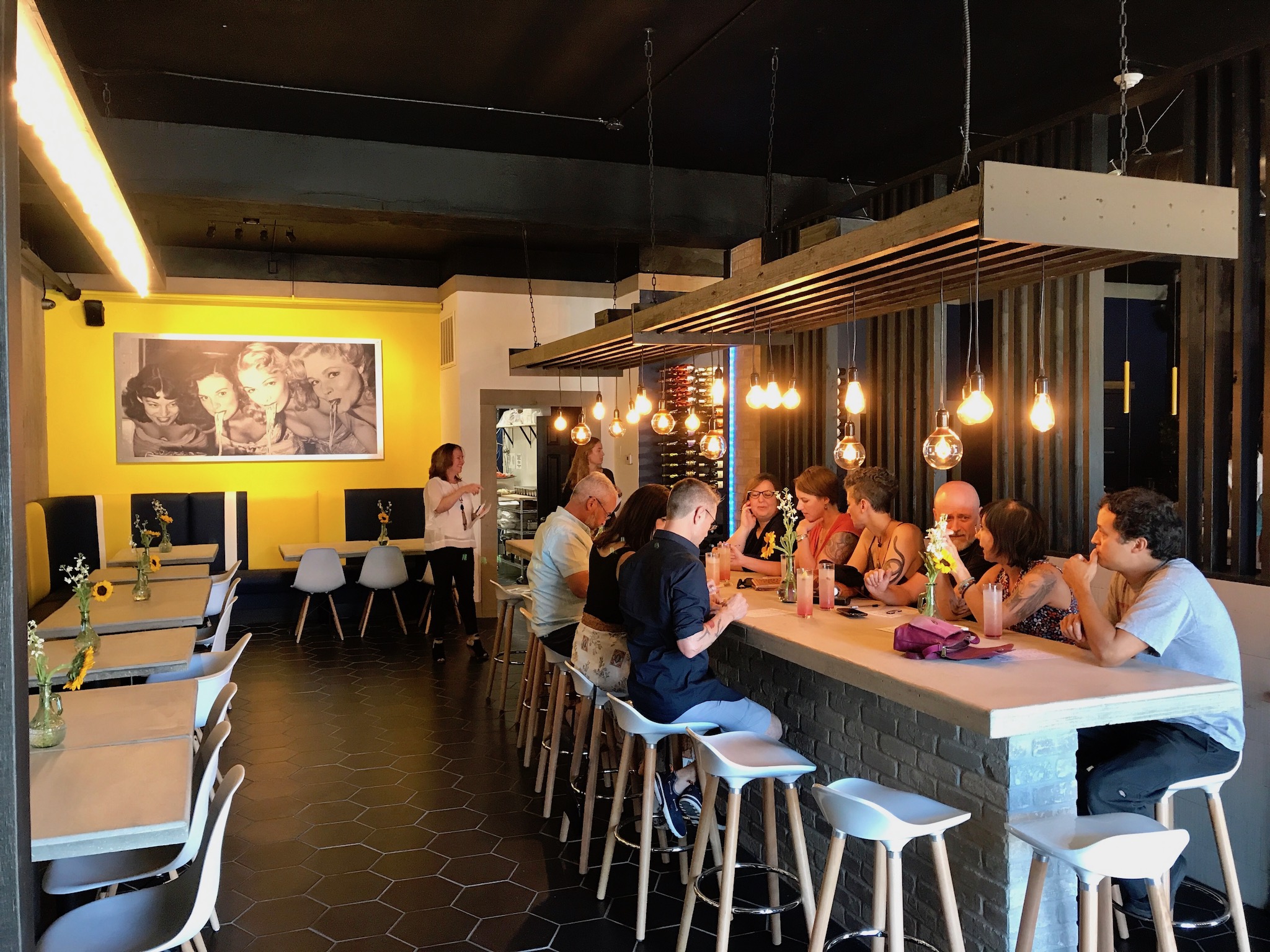 The bar area features a few more tables and ample bar seating. The bar is where we sat on Friday night for the first friends and family event which was focused on the Sophia's cocktails. We paid a price per person which included four drinks each from a menu of eight drinks. It also included some lovely cheese and charcuterie to snack on.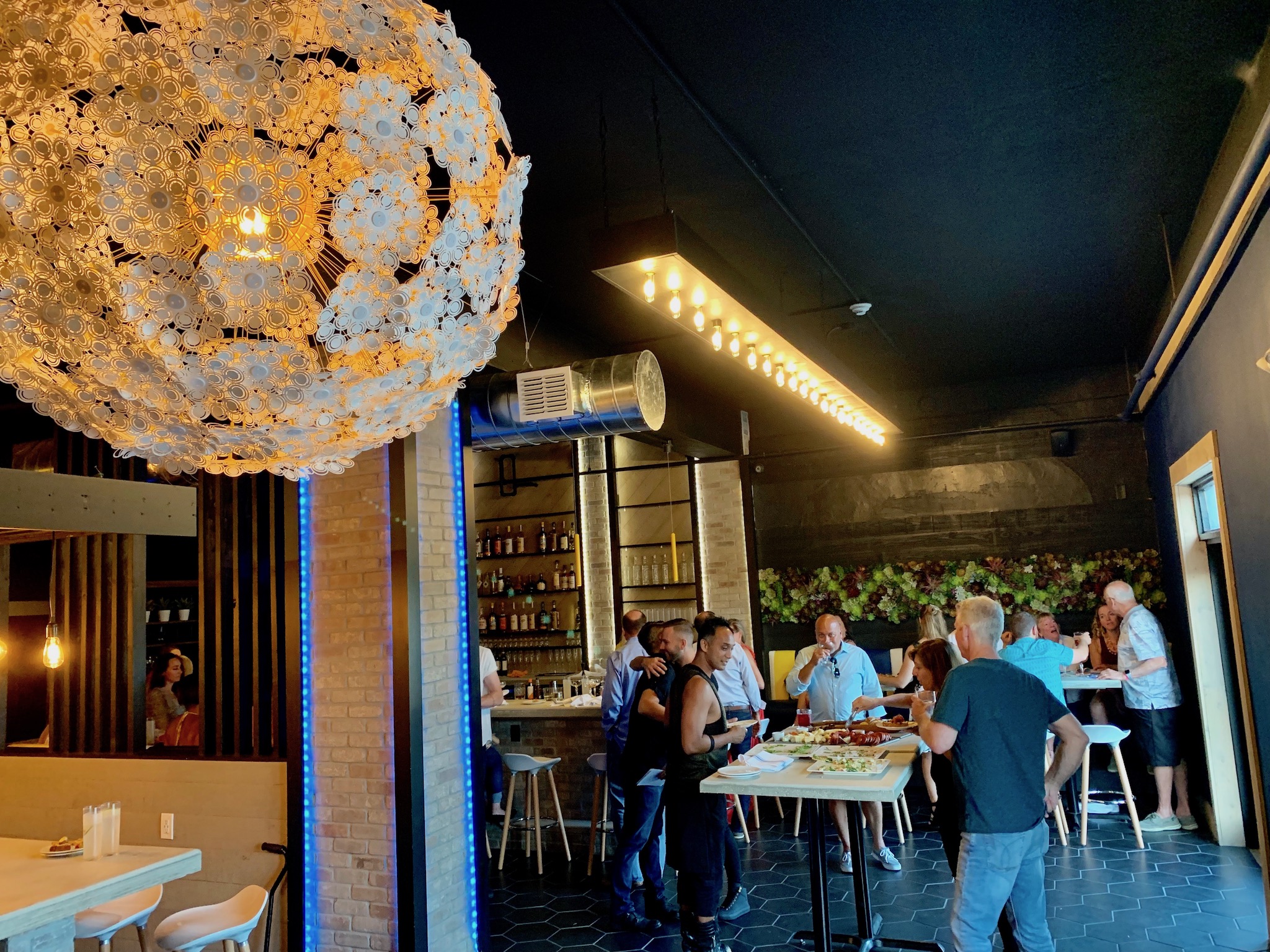 We decided to share each drink so that we could both try them all. I will tell you up front that we only made it through six of them, but enjoyed ourselves immensely in the process.
Kelly so smartly passed out a card to each person with the eight drink choices and they made a different drink every 15 minutes, so if you missed the first one, you were SOL. You had to be on time and pay attention. And then you would put your feedback on each drink rating from 1 – 10 for presentation and taste and then whether you would order the drink again or not.
We started with The Bella Rosa Spritzer. This drink is comprised of cucumber+rose house infused gin, hibiscus, prosecco and rhubarb bitters. What a truly delightful drink! Refreshing, not too sweet. Just perfect for a Florida summer (spring and fall too…and usually winter. Who are we kidding?). My rating was a 7 on presentation, a 10 on taste and yes, I would order it again.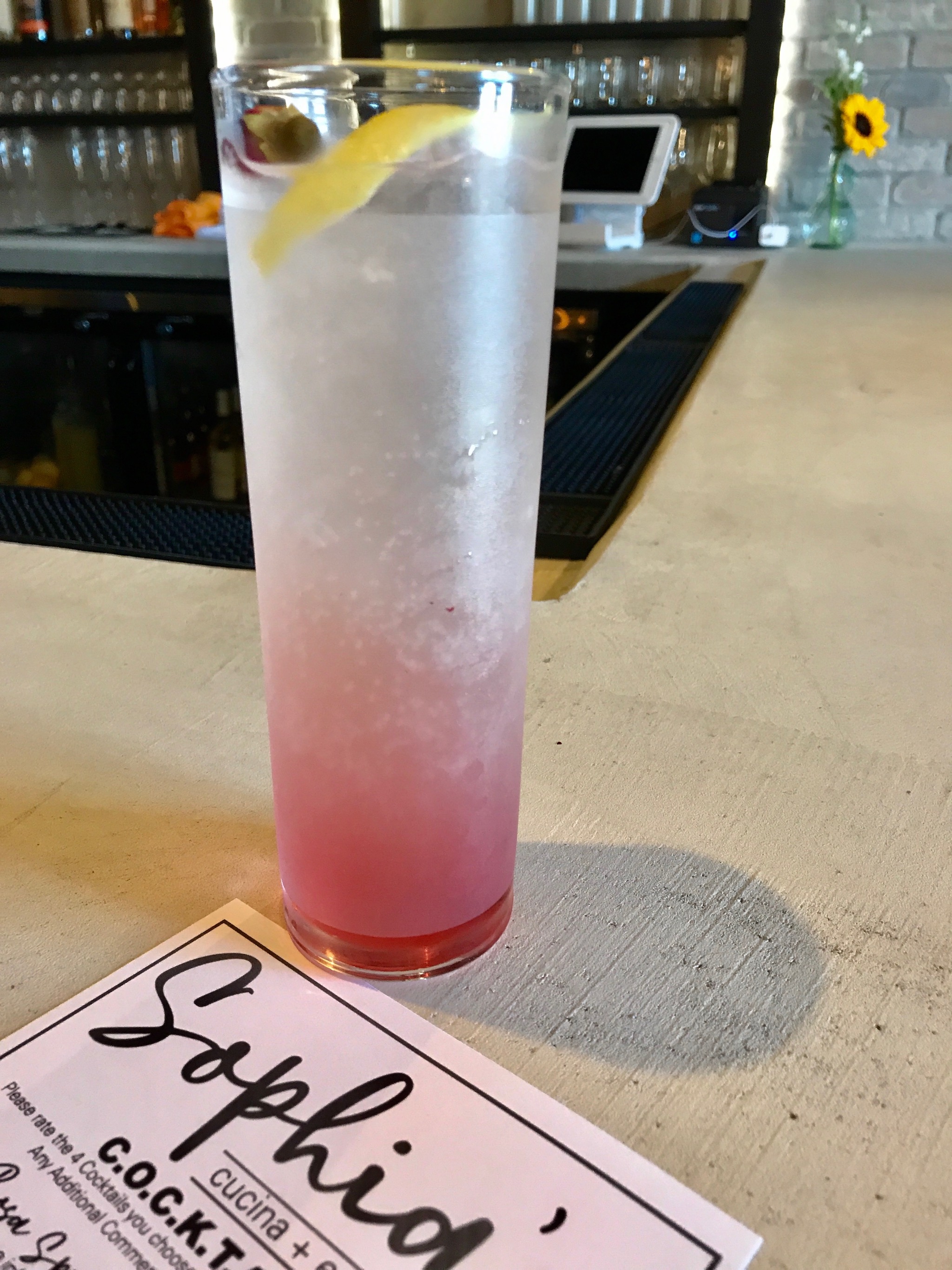 Next up was The Sophie which consists of vodka, dry vermouth, peruvian pepper juice and olive juice. You would think with that line-up this would be a strong, pungent, salty drink, but you would be wrong, as were we. It is much softer than expected and much more refreshing than expected. I am not sure how all of that works so well together, but it does. For me, this one got a 7 for presentation, a 9 for taste and a definite yes that I would order it again.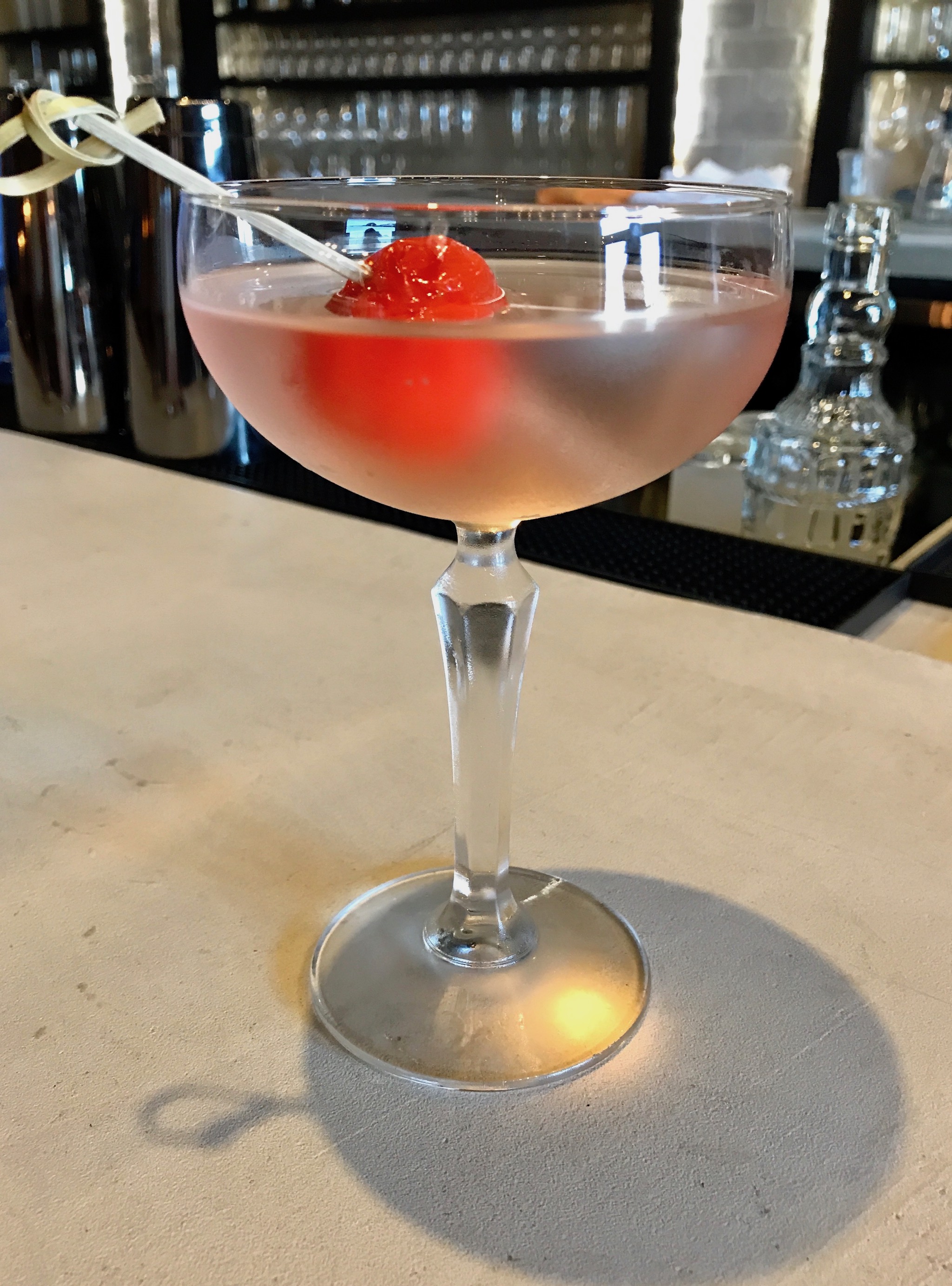 Another winner was The Paloma Piccante – Calabrian infused tequila, lime juice, pamplemousse liqueur (grapefruit liqueur) and soda. The grapefruit works very well with the tequila. Who would have thought? Again, another light and refreshing, not too sweet and quite unique cocktail. This one I gave a 7 for presentation, an 8 for taste and a yes that I would order again.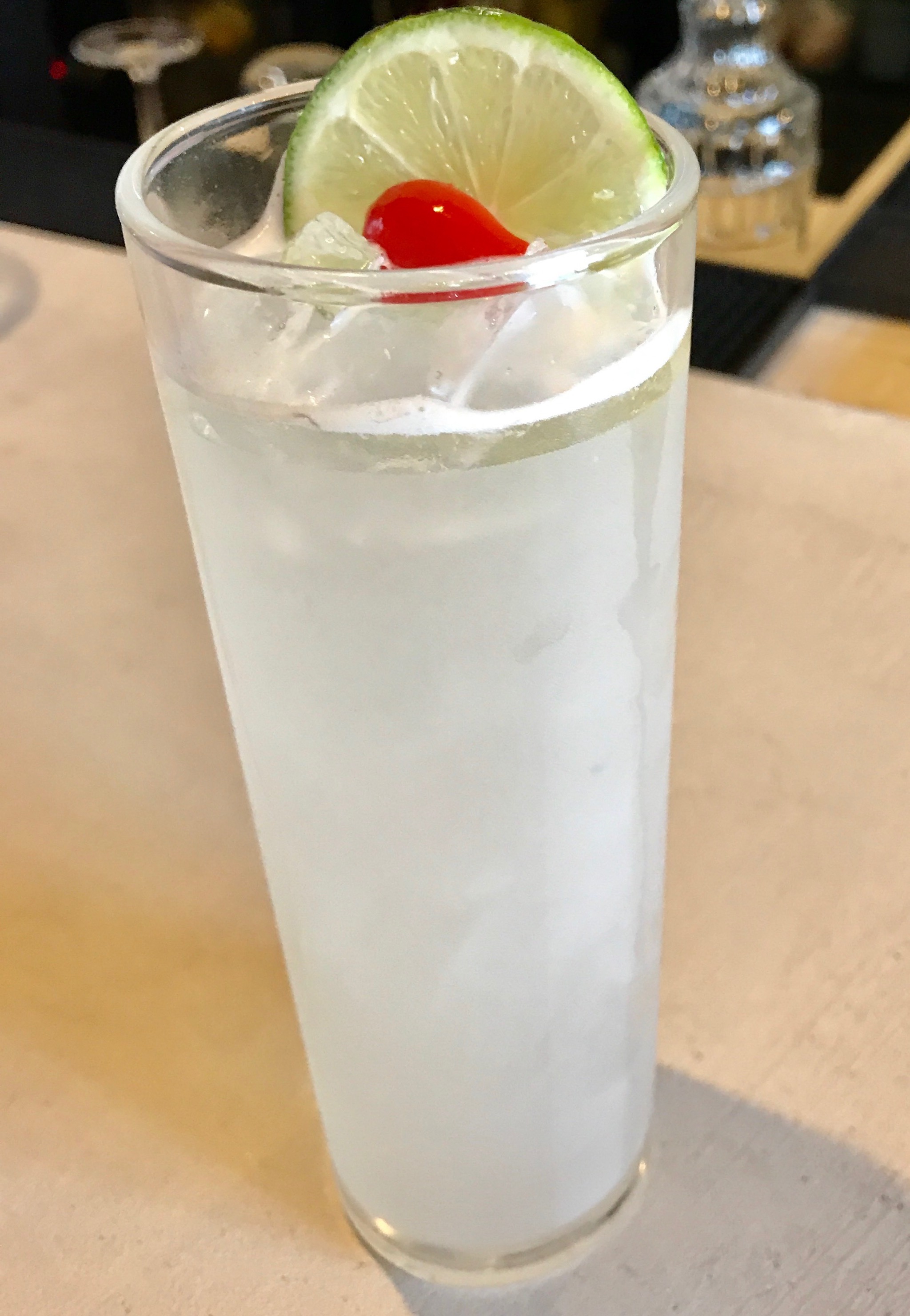 The Sour Mandorla was next on the list. It is made of Nardini Mandoria, lemon, Valpolicella and an egg white. This one is delicious but very much on the sweet side as opposed to the sour side. And it is a bit more heavy than the previous three. It is a pretty drink but would look stunning with a tiny yellow micro flower on top, don't you think? It got a 7 for presentation and a 7 for taste. I would order it again but after dinner, like for dessert.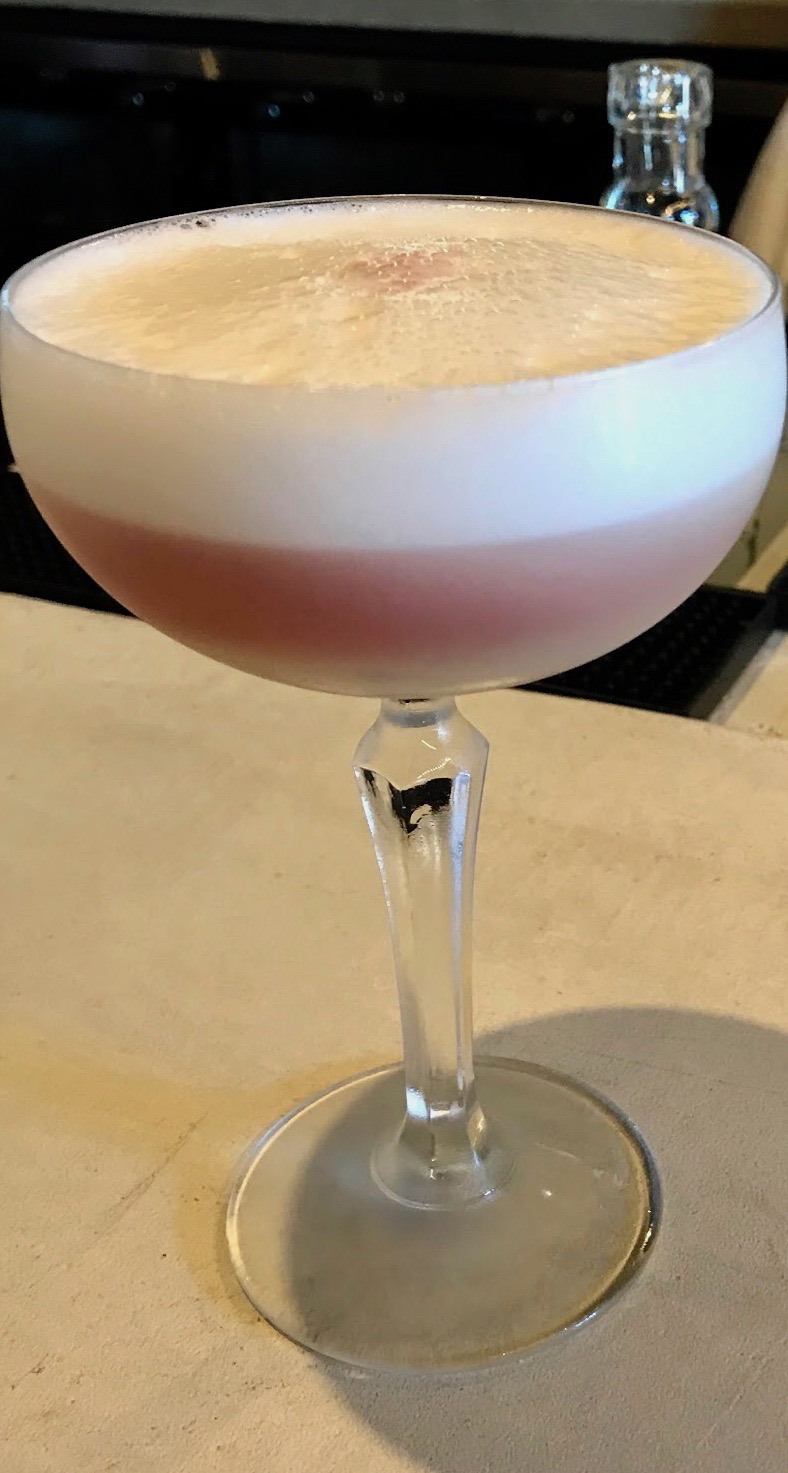 Now we enter into the drinks that are not in my wheelhouse of flavors that I like, but I started with an open mind. The Beet My Ash has mezcal, tequila, beet shrub, lemon, orange and curaço. To me, mezcal, rye and scotch all taste like bandaids. Perhaps it's the cilantro gene type of thing with me. I can't get past it. So for me the next two drinks were not winners. But they were with many others. Kevin very much enjoyed this one and it is beautiful. It actually got a 9 for presentation, but it's not fair for me to rate the taste.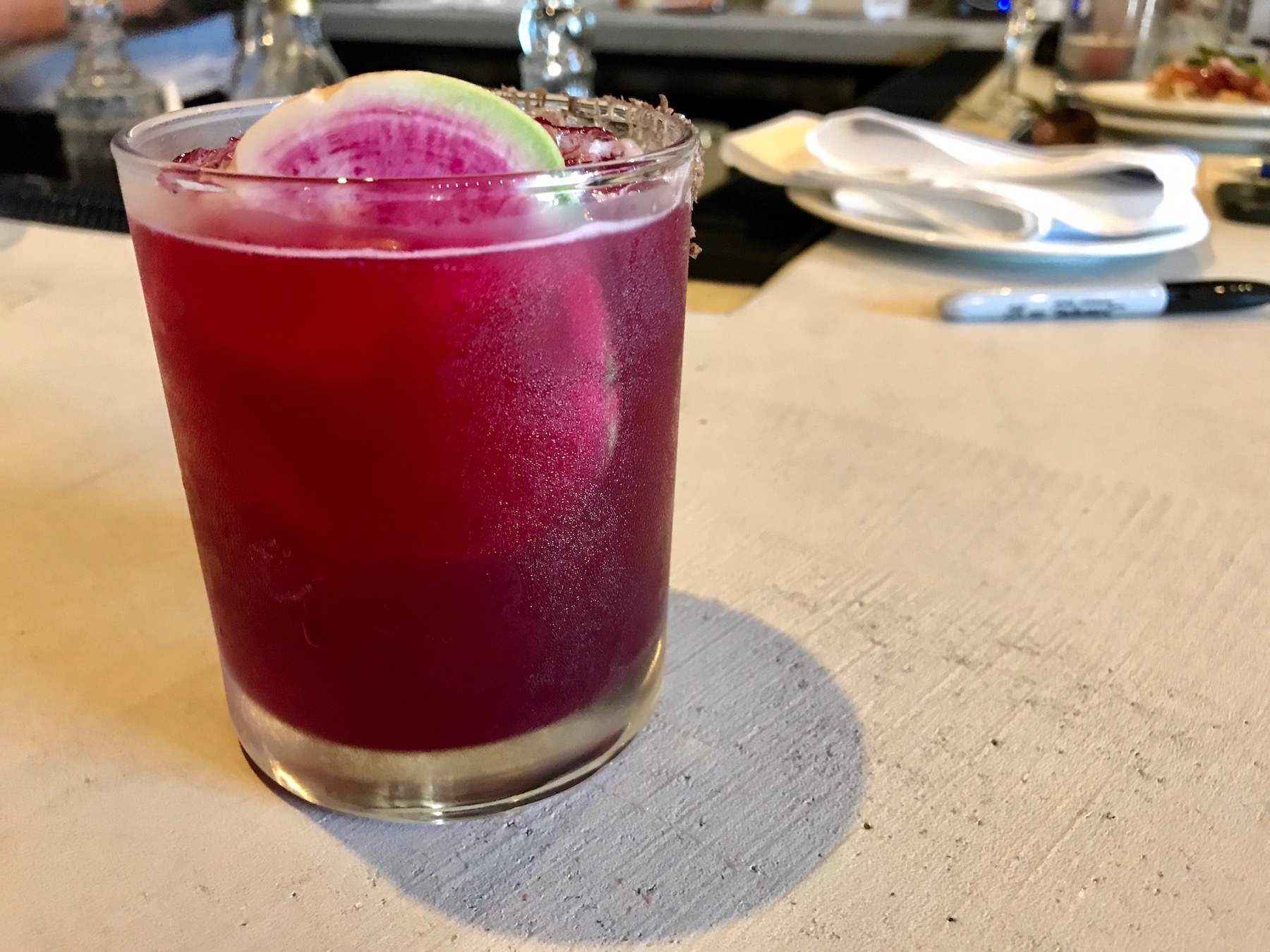 The Lola, named after Kelly and Alex's dog and ours too, has James E Pepper rye, earl grey house infused Dolin Blanc and orange bitters. Again, not a winner with me. But again, Kevin loved it.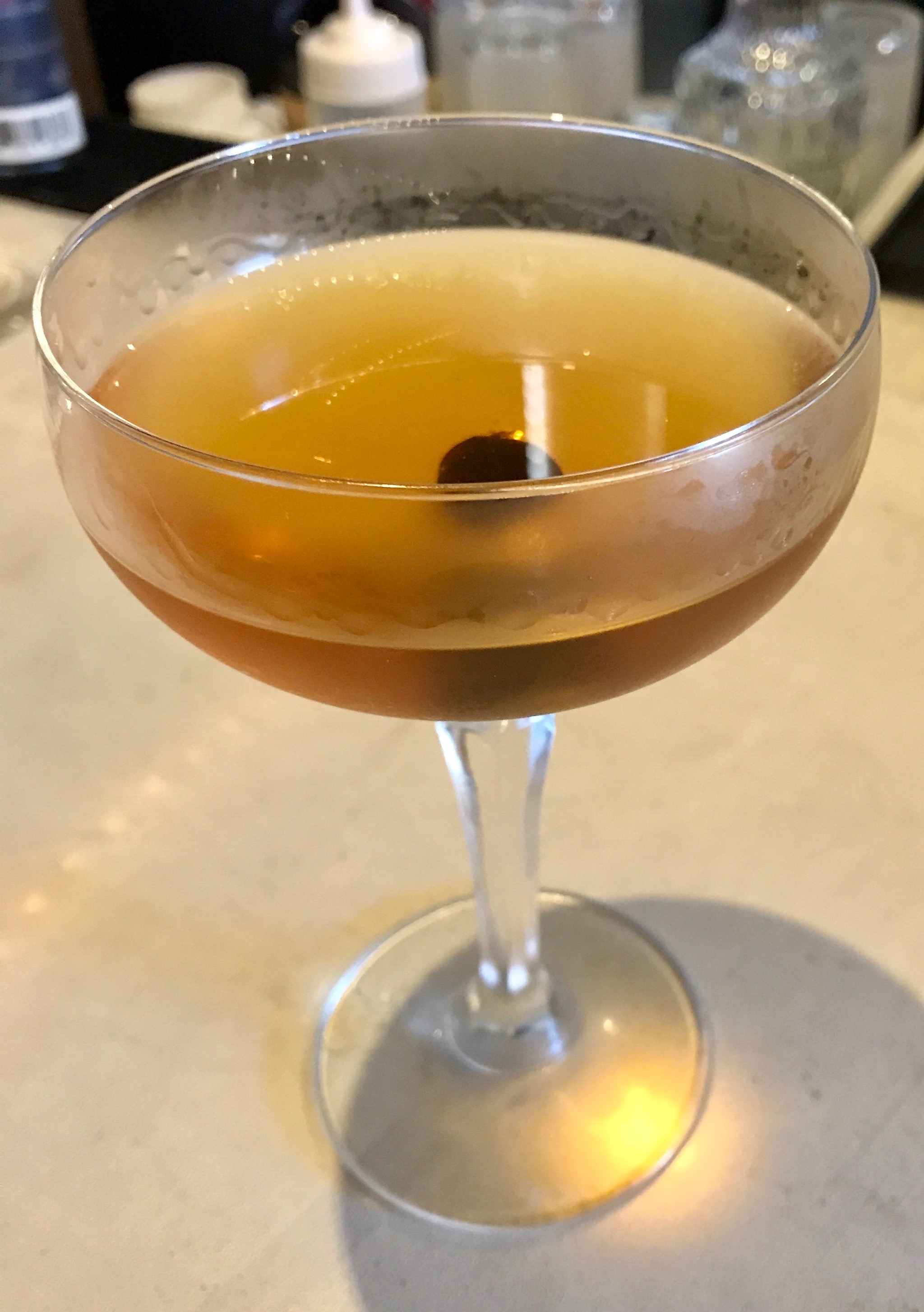 Some lovely cheese and charcuterie was provided for us to snack on. We all know Chef Alex makes the most amazing platters!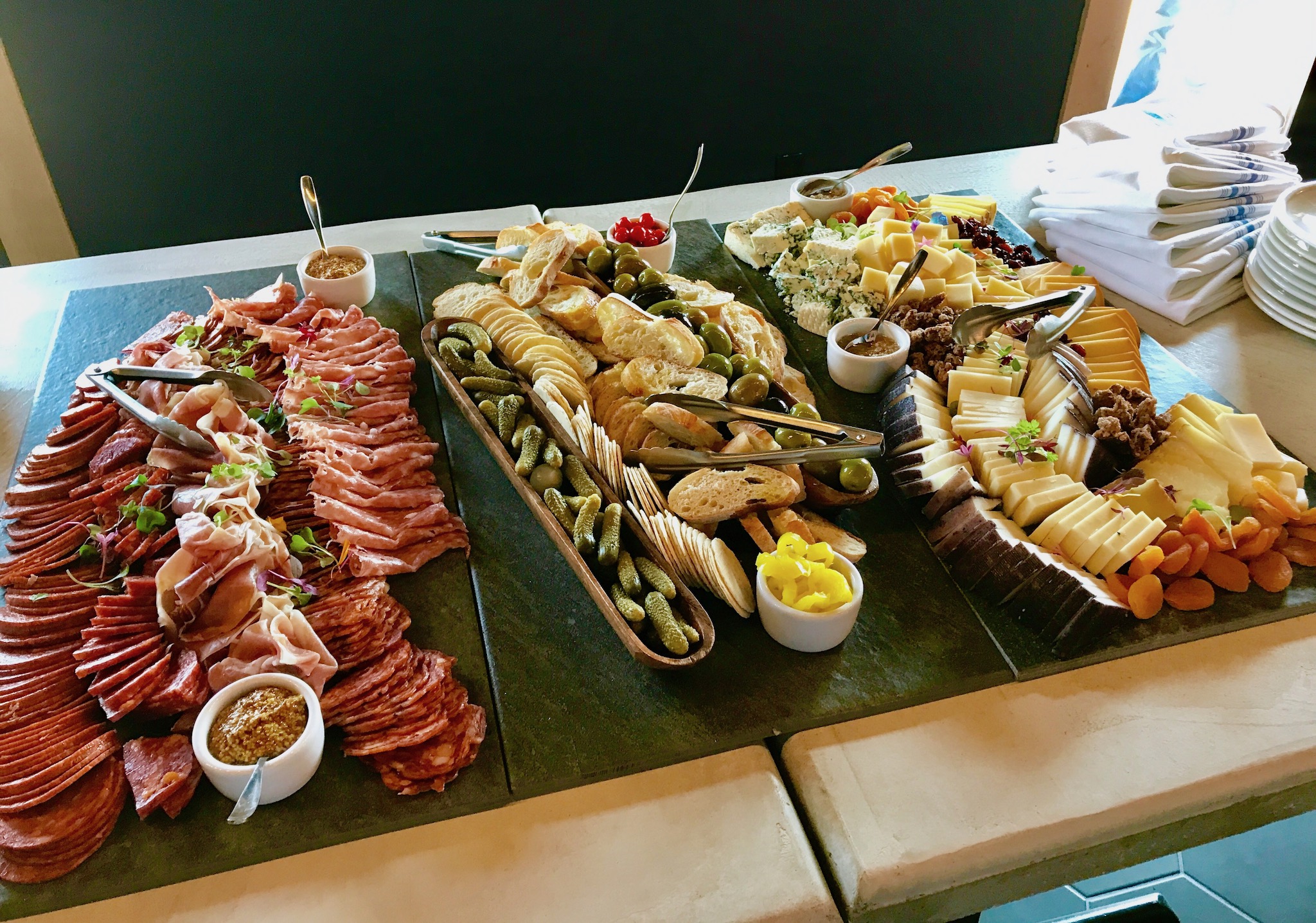 We are missing one glass, but as you can see we did drink all of the dranks and had a blast doing it!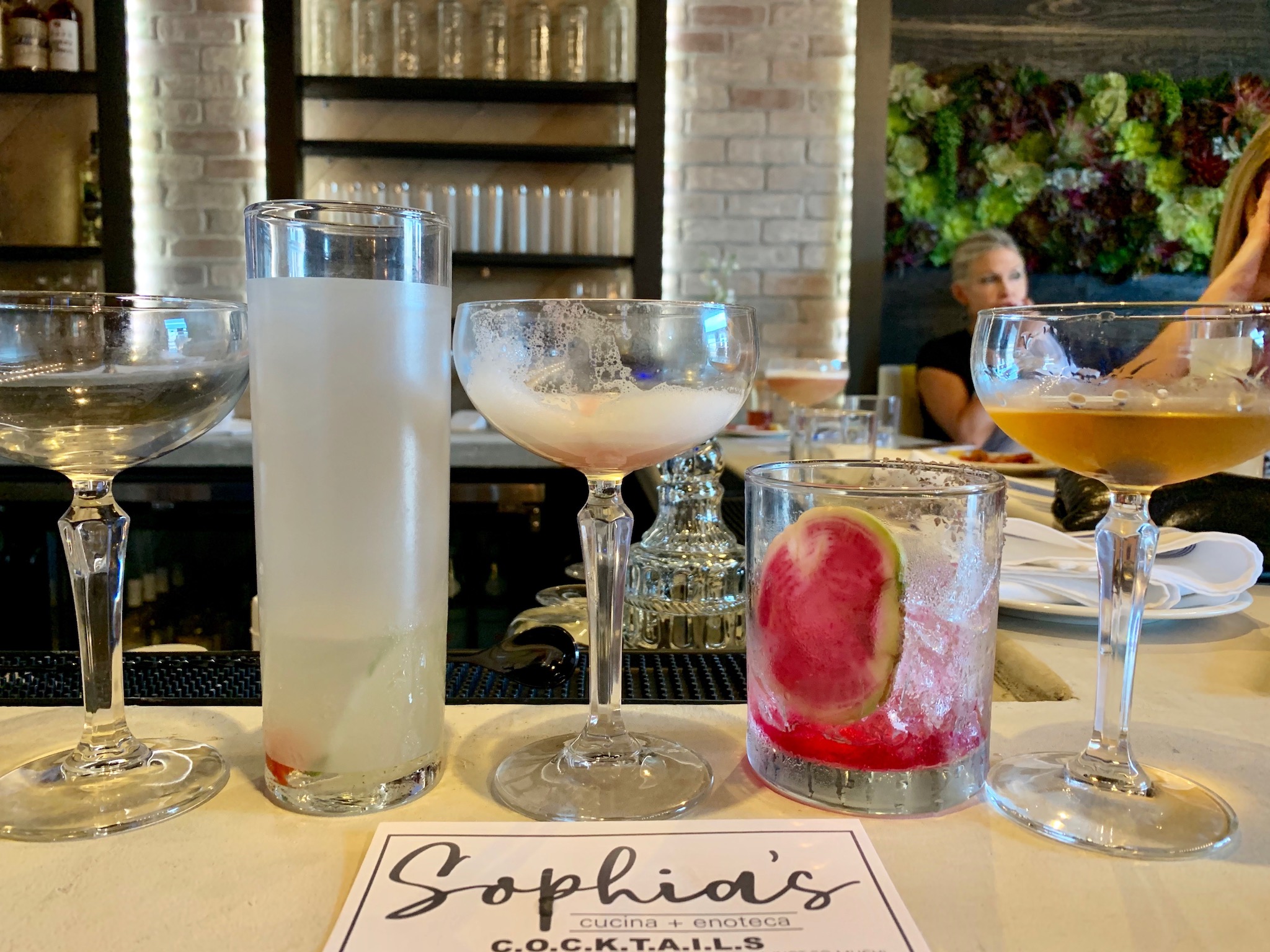 Sunday, we returned for a friends and family food event. At this one, every table was given a different menu with three apps, three soups/salads and three entrees. Between two people we got to choose one of the apps, one soup or salad and two entrees. Feedback was asked for again on the back of the menu in somewhat the same manner. We rated from 1 – 10 based on appearance, taste and value and also whether we would order it again.
We were seated at a two top in the main dining area. Next to us on my left was one of our Facebook group members, Lari Johnson and her husband Charlie. We had never met before so it was delightful and we talked the whole way through sharing our thoughts and I even shared some bites of our food. They had a different menu than us and they had a different experience than us. So to be fair, I am mentioning that some of their items they felt needed a little more work and they shared all of their feedback. I let Lari taste both of our entrees and she verified that they are as good as I am about to tell you. We must have had the 5 star menu (Kelly didn't give it to us, it was randomly given to us by someone we didn't know) because we were blown away by most all that we had.
Our mayor and his wife, Kerri, were also there and he came over to exuberantly express to us how much he loved everything from their menu and he specifically mentioned the pork chop, and the mussels.
We started with drinks. I ordered The Bella Rosa Spritzer that I so enjoyed from Friday night. Kevin ordered his signature martini but with a different gin than normal. Both were very much enjoyed.
Now onto the food…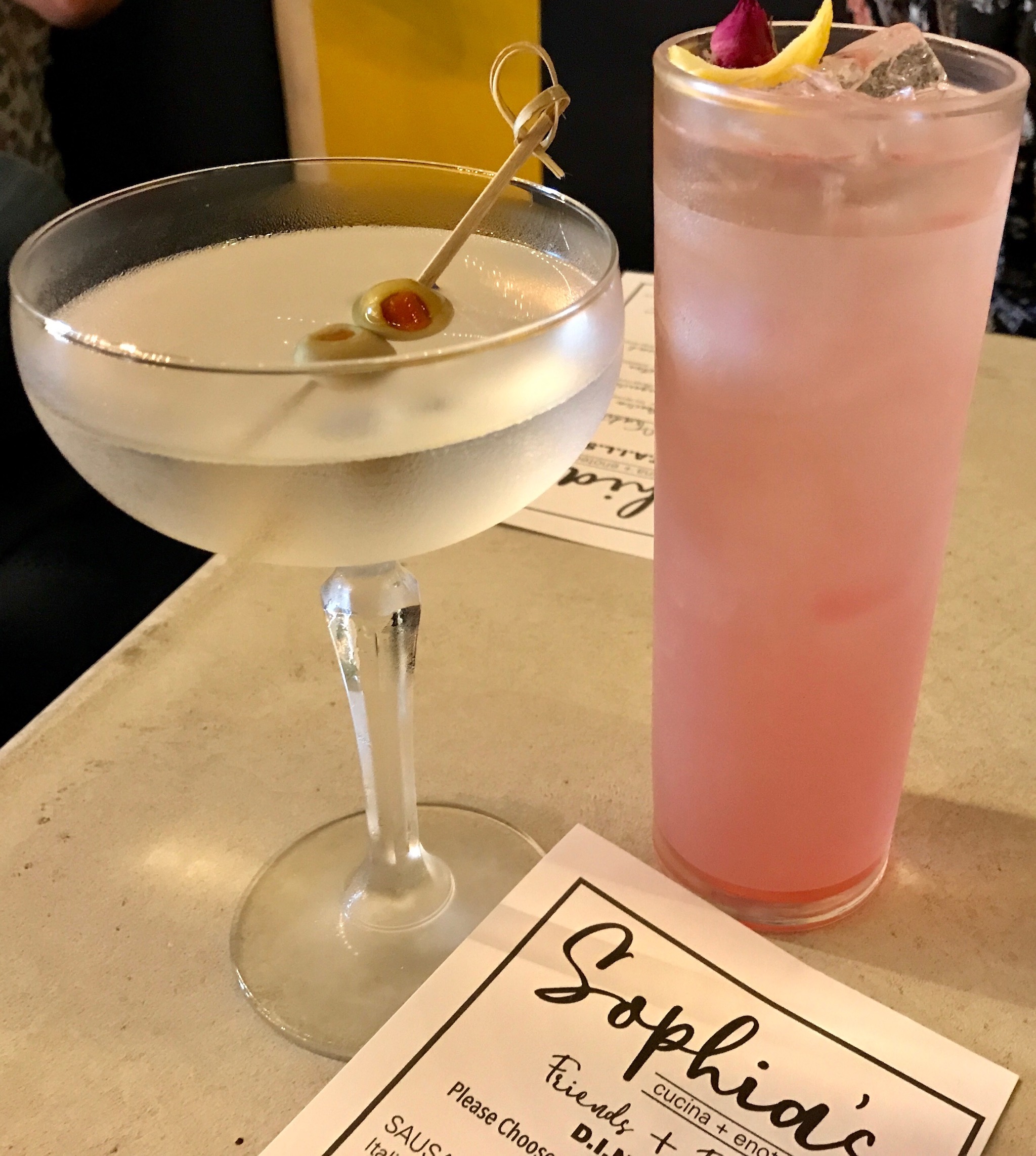 We started with the Romaine Wedge Salad – grilled prosciutto wrapped baby romaine, heirloom cherry tomatoes, pickled watermelon radish and corn, topped with blue cheese-buttermilk dressing. Kevin rated and wrote all of the comments and here is what he said on this: Would have liked it to be a little more rustic. A bit tricky to cut, slipped around on the plate a little. Appearance: 10 Taste: 8 Value: Good Get again: Yes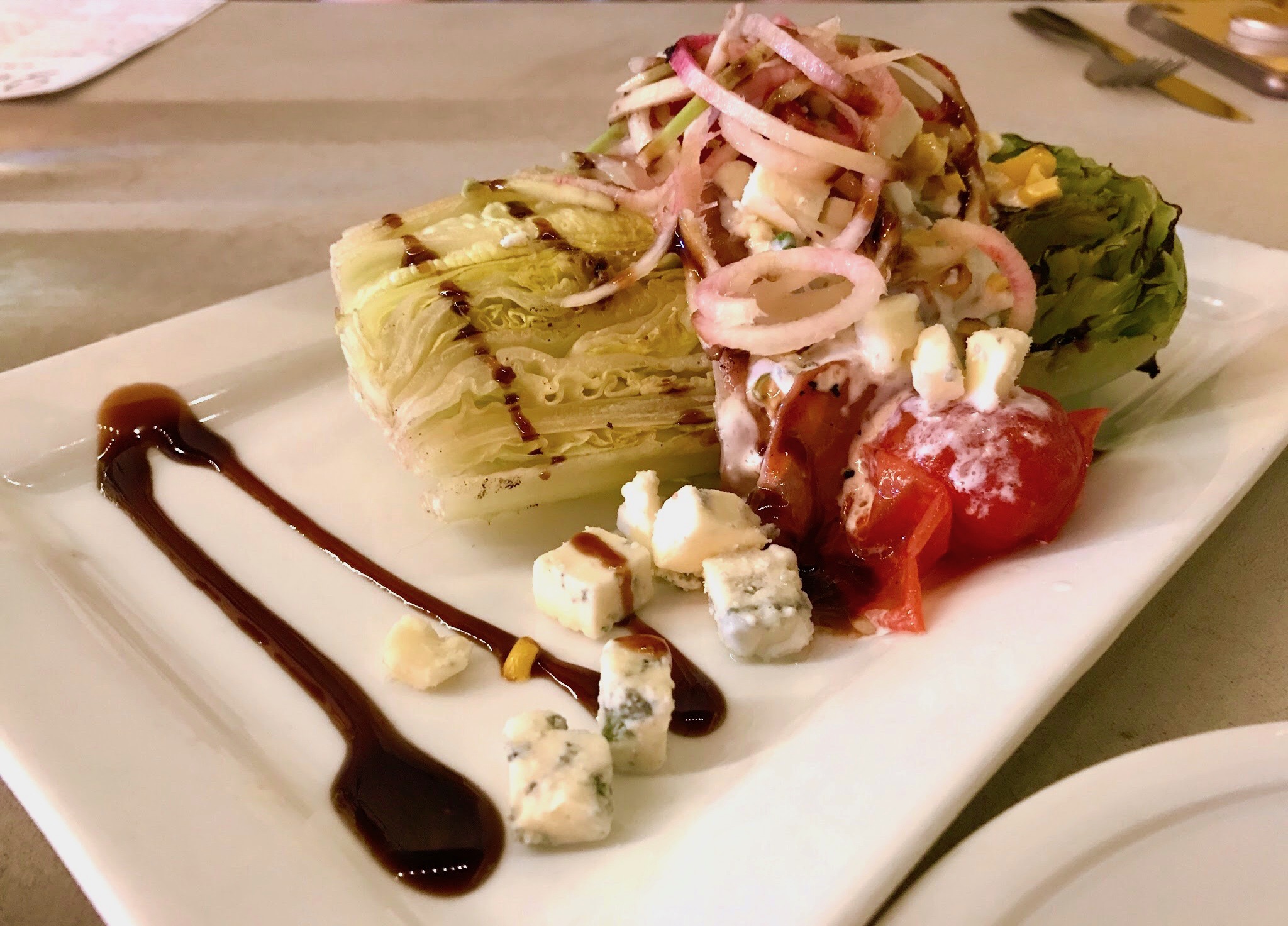 Red sauce, red sauce, red sauce!!! I have yet to find one that I absolutely love in St Pete. Well, not anymore. I am truly in love! We ordered the sausage + peppers as an appetizer and it was truly to die for! It is made with italian sausage, pepperonata, pearl onions, pomodoro and basil. I didn't want to let the bowl go. I really wanted to lick it clean. Here are Kevin's notes: Amazing red sauce! Interesting twist with the peppers (Italian peperoncini instead of green bell), liked the red ones better. The stems were a little bothersome. Appearance: 10 Taste: 10 Value: Great Order again: Yes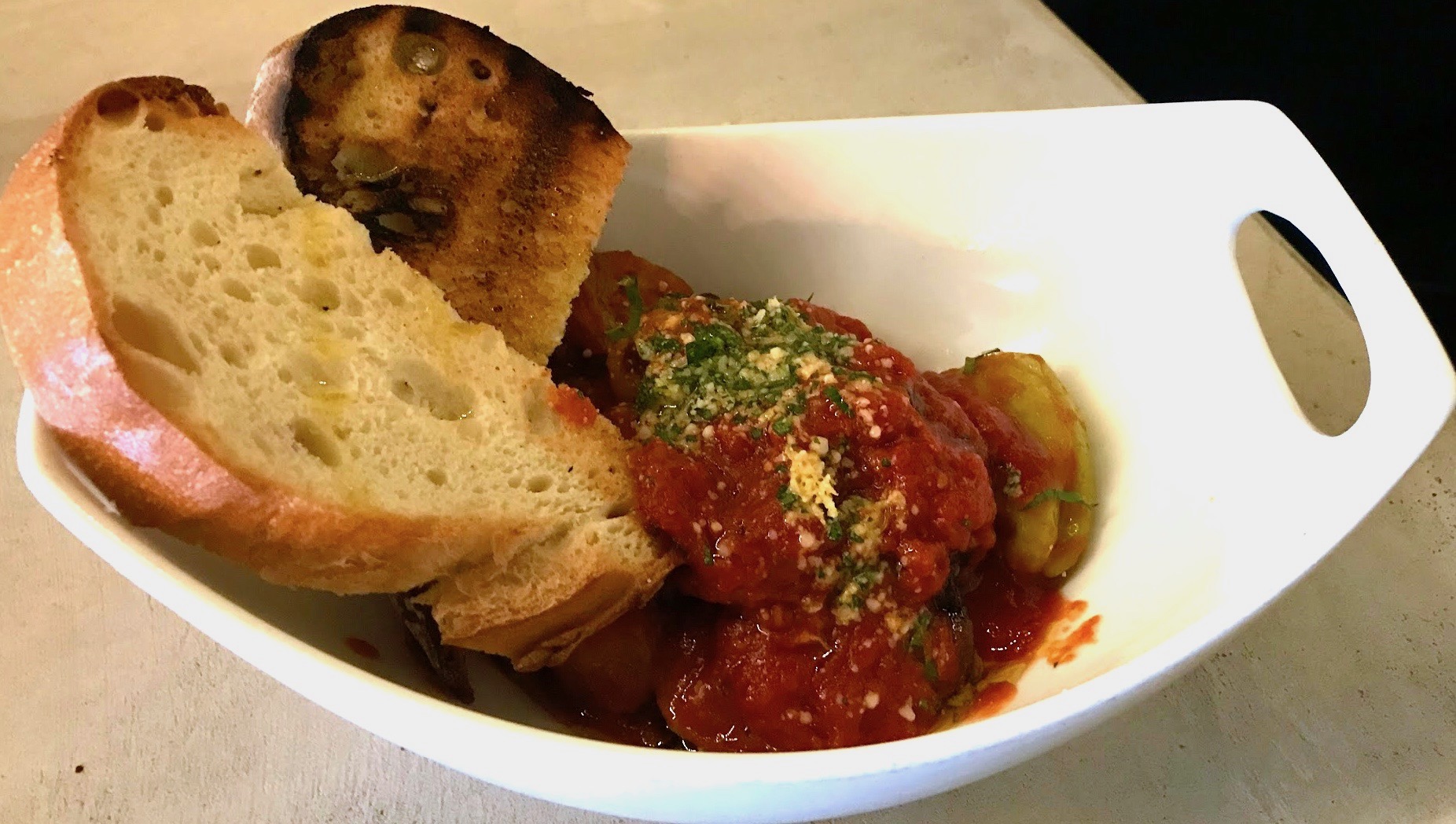 Just when I thought it couldn't get any better, I tasted the best lasagna (bolognese, mozzarella, ricotta and basil) I have ever had in St Petersburg. Portion size was perfect. It was delicate with house made pasta and the mix of meats was delightful. That red sauce!!!!
We let both tables on each side of us taste it and both were equally delighted. We had made friends on Friday night with the couple to my right, John Barkett and his lovely girlfriend Julie Featherston. It was quite the communal night of sharing plates, fun and laughter amongst everyone.
Kevin's notes: Best lasagna that I have had in St Pete! Only my Sicilian grandmother's was better. Appearance: 10 Taste: 10 Value: Great Order again: Yes.
Additionally, Kevin said, "The red sauce is amazing, the bolognese, and cheese perfect, and finally what makes it better than the rest is that the texture and mouthfeel are perfect between the pasta and all the other ingredients." Others are mushy.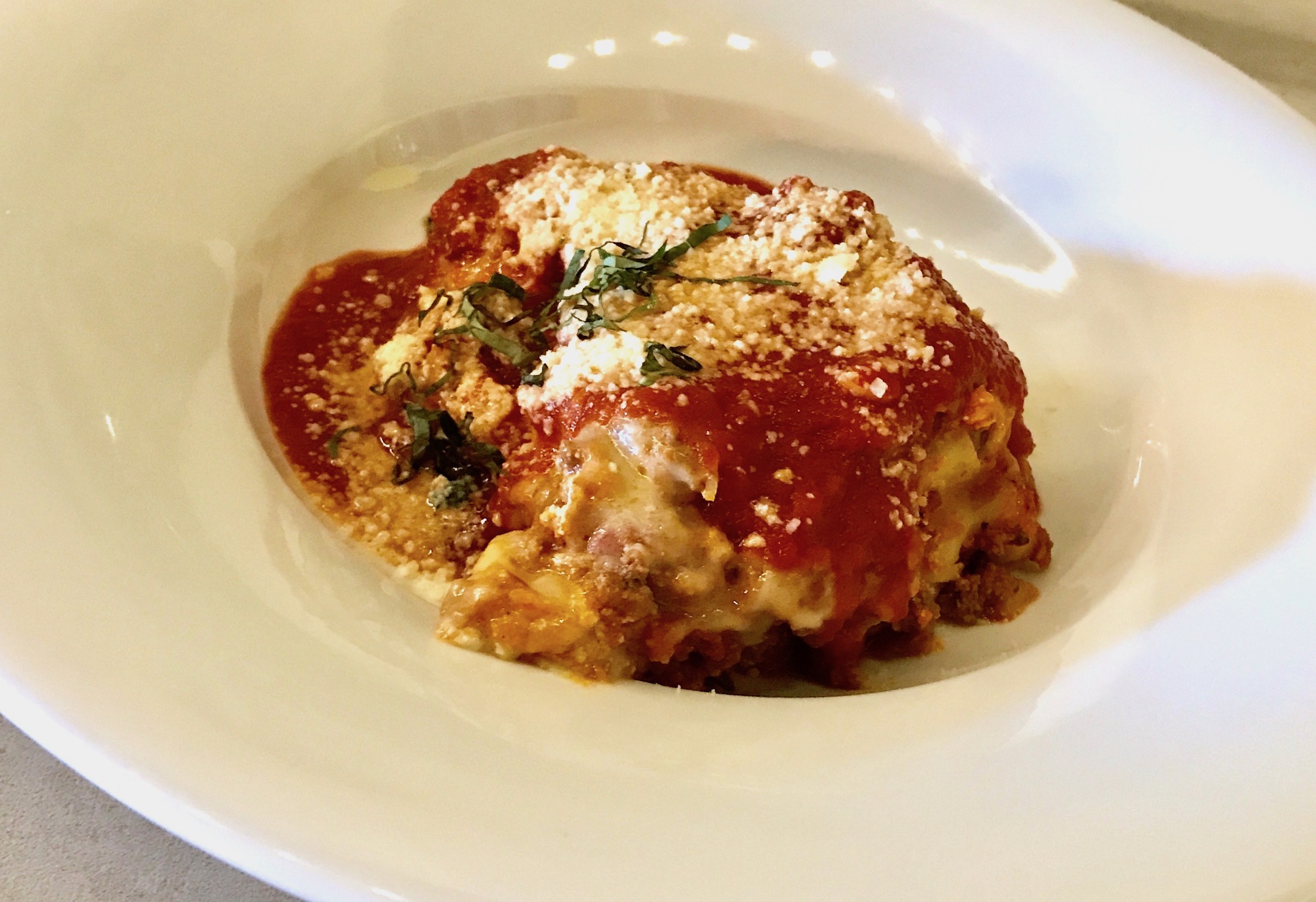 Finally our last entree arrived. We ordered the Swordfish Piccata – pecorino risotto, heirloom baby carrots, caper berries topped with lemon butter-white wine sauce. I had no expectations for this dish and I couldn't believe how good it was. Swordfish can be dry and thick, however this one was delicate and extremely moist. We were completely delighted with this dish. I would order it again and again. The flavors were perfect! I make piccata at home all of the time, but never one as good as this. Again, both tables next to us tried it too and loved it. Julie, who was extremely skeptical because she had had a fishy tasting swordfish before, had a bite and her eyes lit up. She loved it.
Kevin's notes: Best swordfish ever in our lives! Appearance: 10 Taste: 10 Value: Great Order again: Yes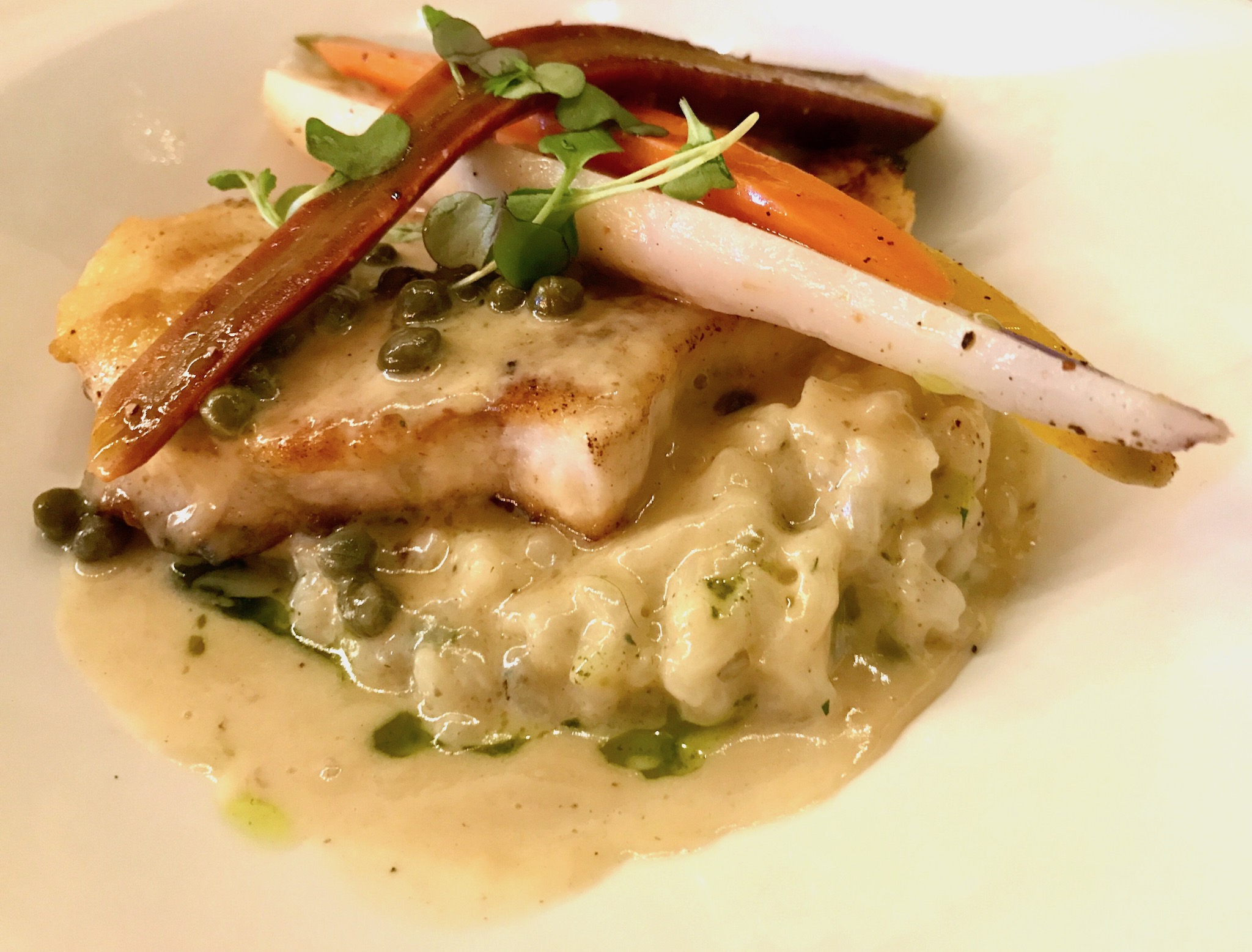 No good Italian will ever let you leave the table without something sweet. Every table was presented with a bite of tiramisu and limoncello. Both were delicious but we were so full. Very light and delicate.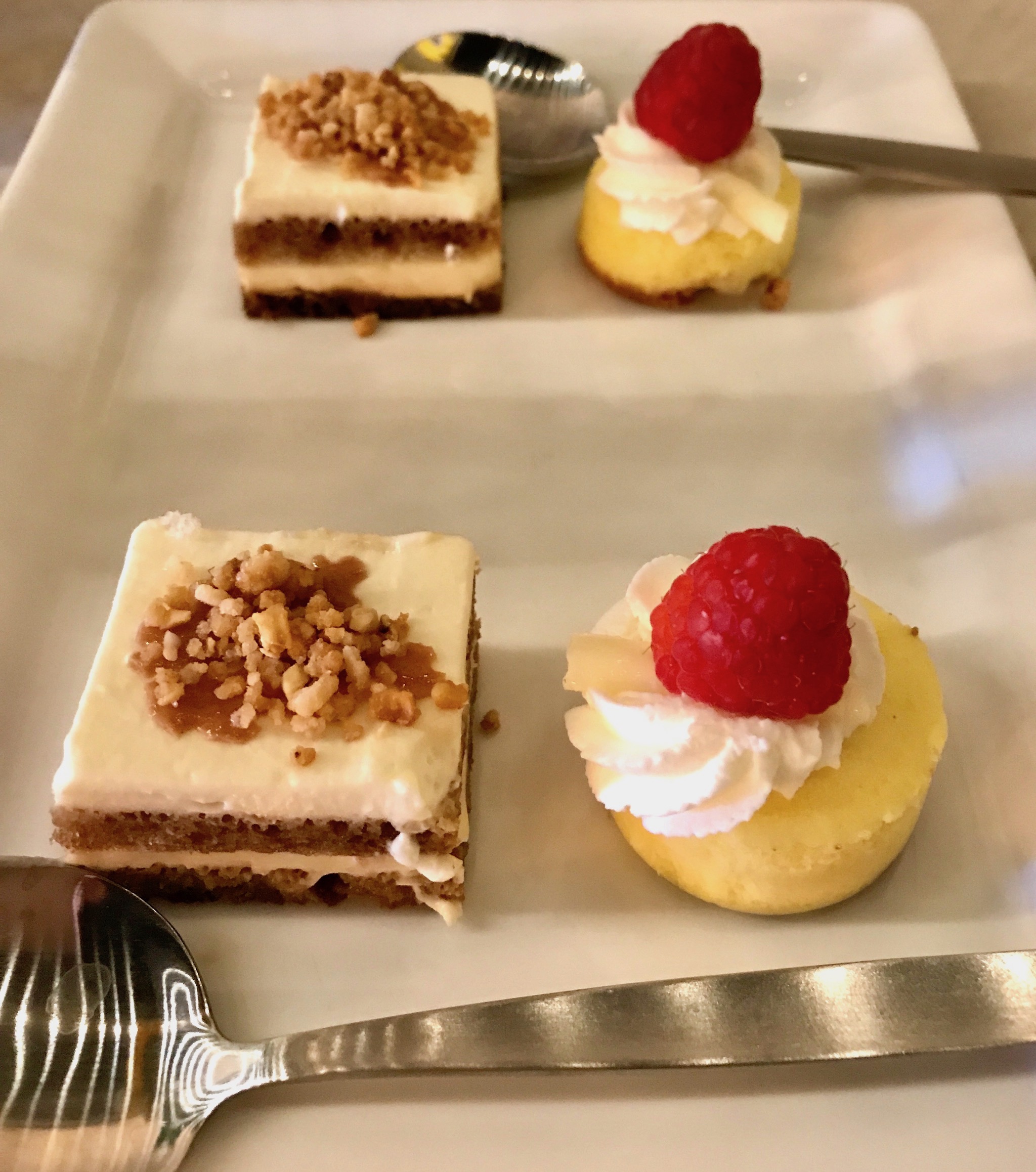 So as I said in the beginning, run don't walk! You will not be sorry. Sophia's Cucina and Enoteca will definitely be a huge winner!! That's Amore!
See the full menu below: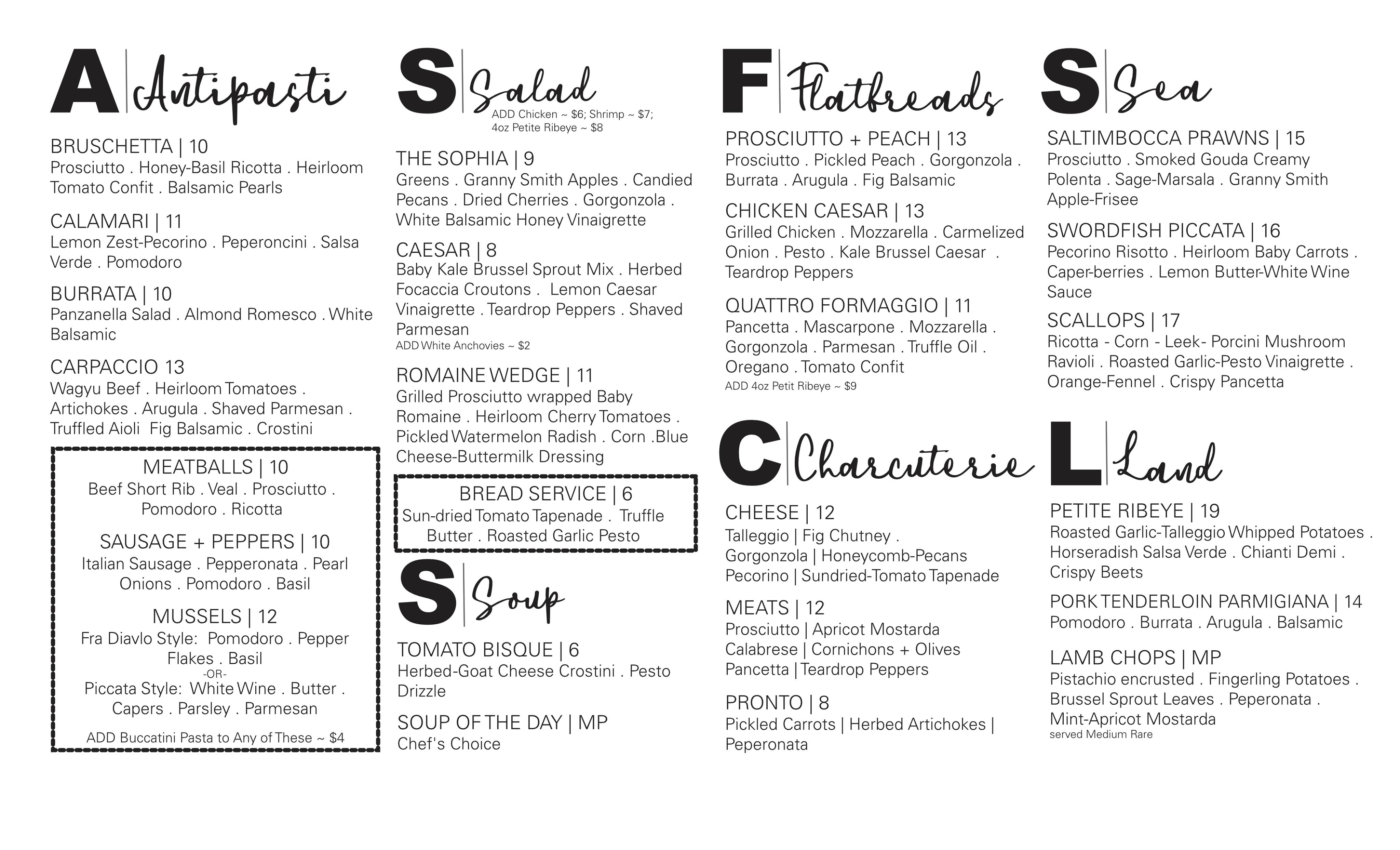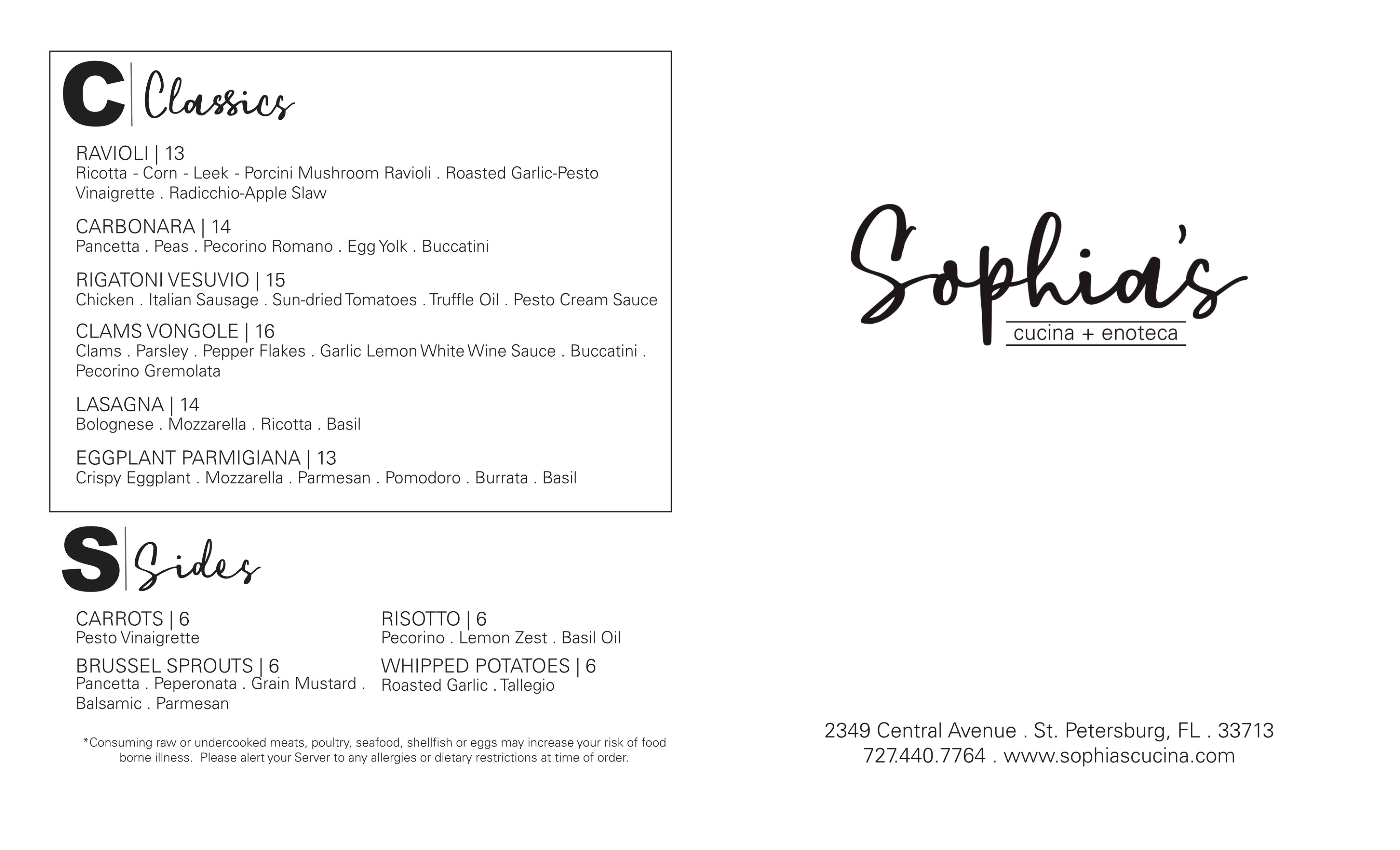 Italian with a modern twist offering both traditional and modern options. Smaller plates rather than huge portions.
DISCLAIMER: Kevin, Lori, Abby, Haley, & Lindsey do not dine anonymously (this would be impossible) and we sometimes get free food (though never expected). However, we dine with the locals and we support our own. You will always get honesty in a respectful manner. We do not include any large national or regional chains in our ratings and reviews. We focus on independent locally owned eateries exclusively.

PLEASE NOTE: Reviews reflect a certain moment in time. Some restaurants stay extremely consistent over many years, and some change for the better or worse. Some things that may change are: chefs, recipes, food suppliers, ingredients, philosophies, ownership, etc. We always hope that you have the same good, or great experience we had.
More Foodies News, Reviews & Recipes