Grab a Dose of Vibrant Puerto Rican Fare from the Latin Lunchbox
Grab a Dose of Vibrant Puerto Rican Fare from the Latin Lunchbox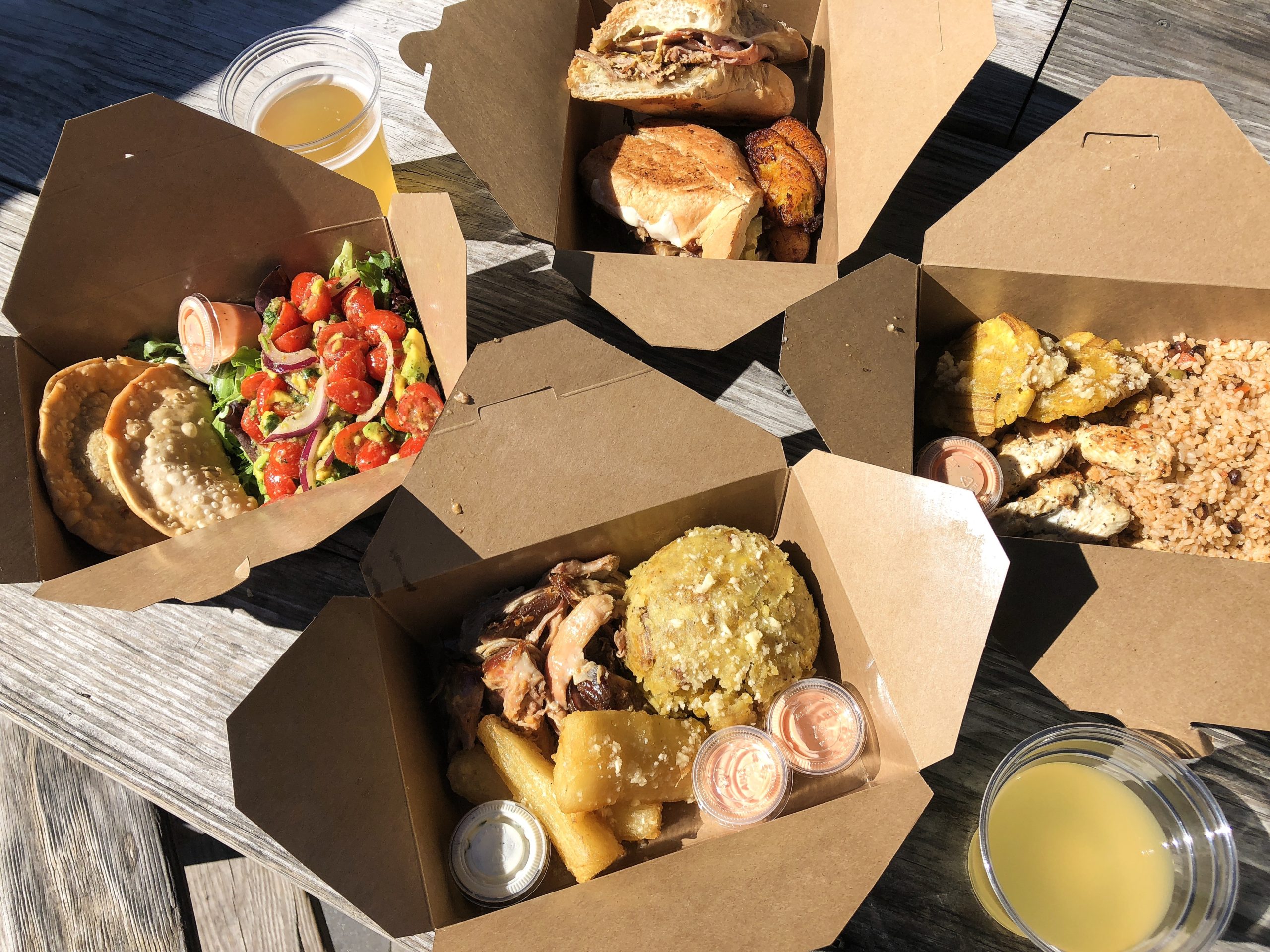 When I think of Latin food, my brain wanders to distinctive flavor marriages, the freshest ingredients and a wide array of unique dishes that appease the stomachs and taste buds of folks all over the planet. Empanadas, Asado and Ceviche are popular creations that stem from Latin cuisine, just to name a few.
When you find yourself out and about in St Pete with a hankering for Latin, and more specifically, Puerto Rican eats, run, don't walk, to the Latin Lunch Box food truck.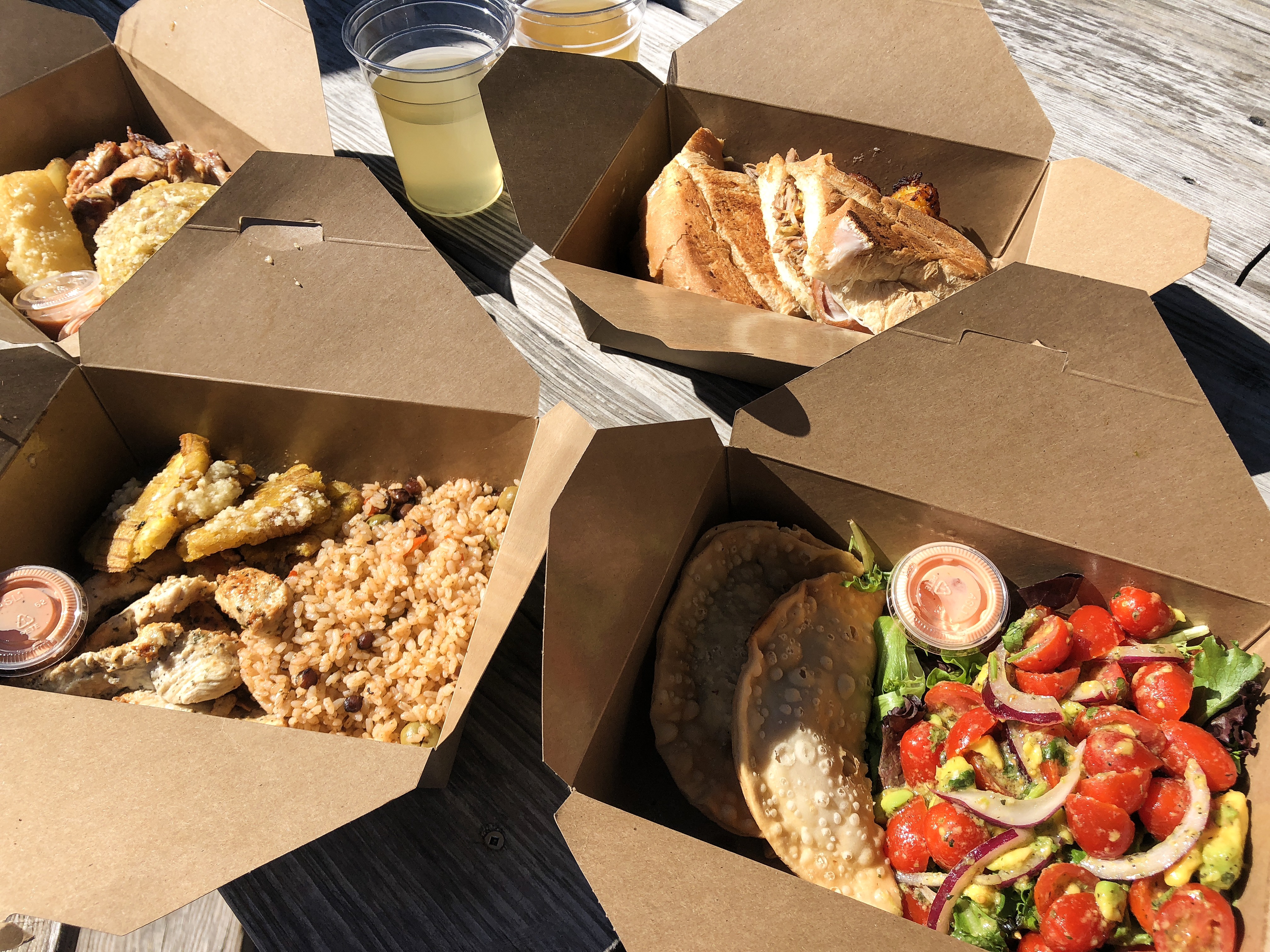 The majority of the chefs and food truck owners that I encounter have spent a large percentage of their lives working in the kitchen or hospitality industry as a profession. However, before Wendy Gonzales got the Latin Lunch Box food truck up and running over 5 years ago, she spent her days as a Pharmaceutical Rep in New York. When she moved to St Pete, she worked with her cousin, who had a Puerto Rican food truck in Tampa. Wendy learned the ropes, and then decided to open her own food truck on this side of the bridge.
Spirited, upbeat, adept and passionate are only a few words that I would use to describe Wendy. The heart and soul that I watched her pour into her creations and each customer interaction was so authentic and graceful. With every bite of her food, you can taste the affection that she has for cooking.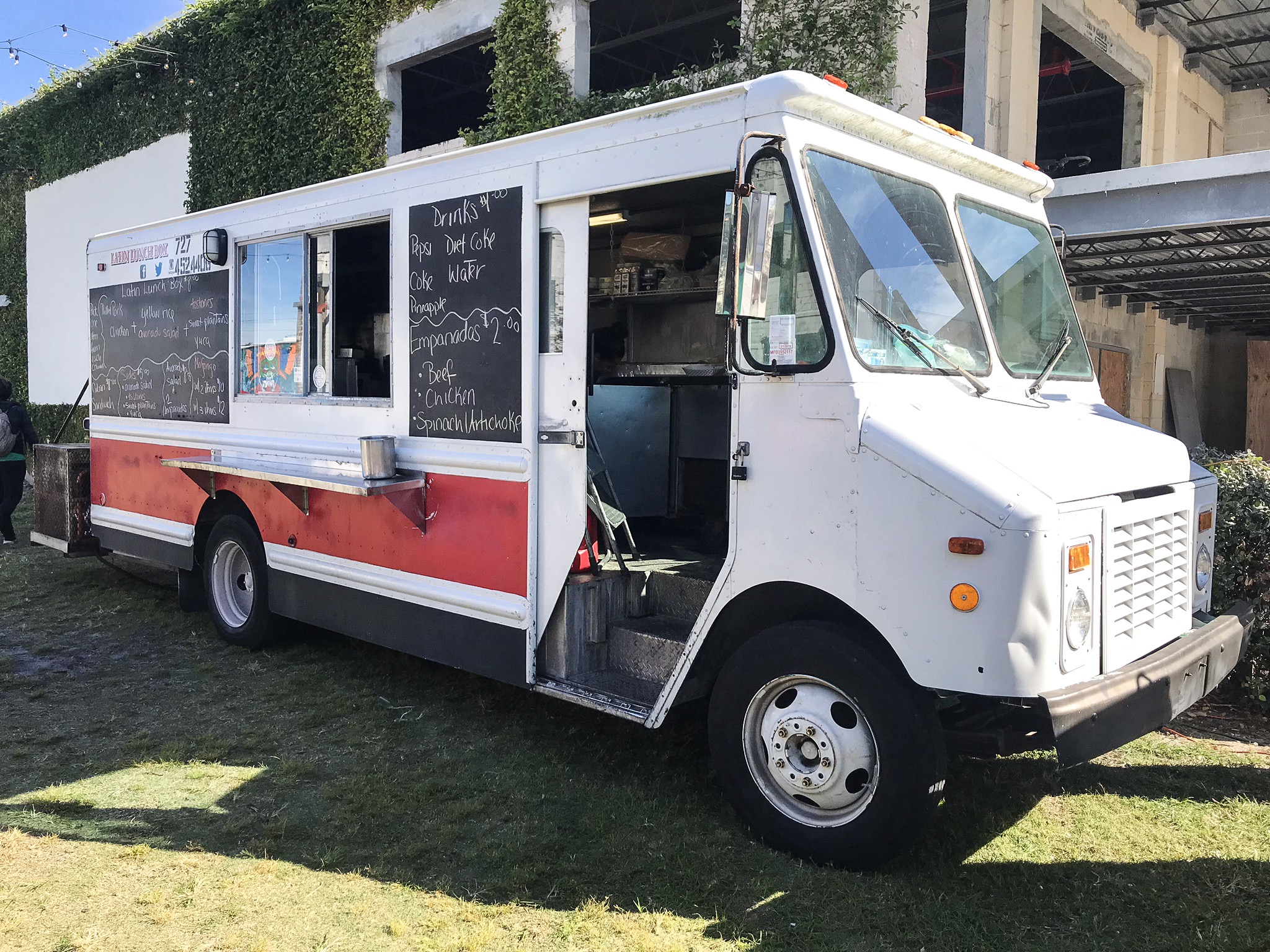 On the Latin Lunch Box, you won't find complicated, or artificial ingredients and seasonings. Wendy only uses fresh Herbs, Garlic, Oil, Salt and Pepper to bring the items on her menu to life. In essence, she creates more with less by elegantly combining simple ingredients. Preparation for a scheduled appearance begins approximately 2-3 days prior to the event and everything is made fresh on the truck.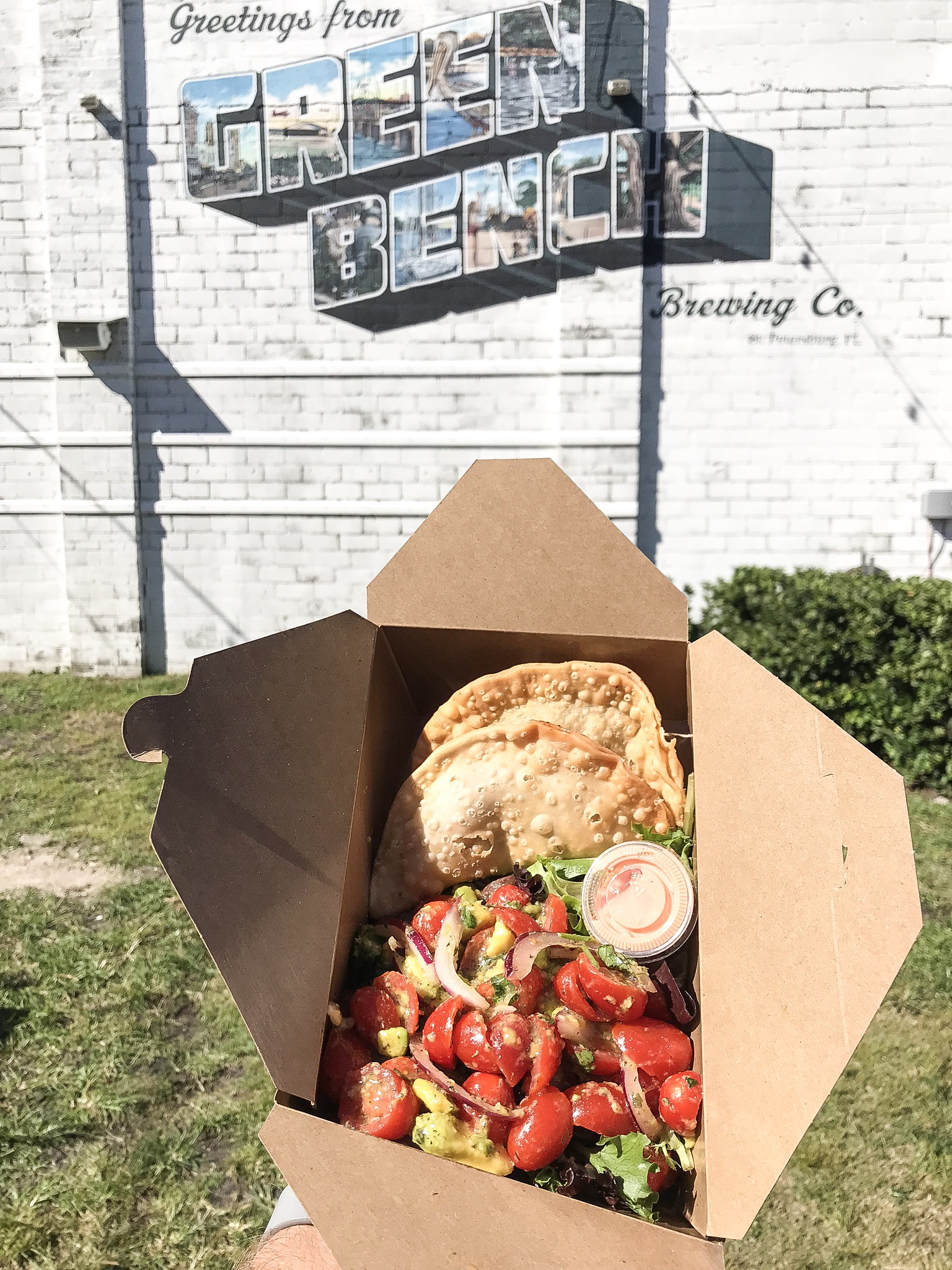 The menu has items to suit most everyone, from Vegans and Vegetarians, to children and Carnivores. As for the most popular item on the menu, Wendy said that it's a toss-up between the Empanadas, Avocado Salad and the Pulled Pork- all three are incredibly satisfying. In fact, the Pork is so popular, that when the Latin Lunch Box visits All Childrens Hospital on Fridays, they sell out of the nearly 90 pounds of Pork that they bring with them.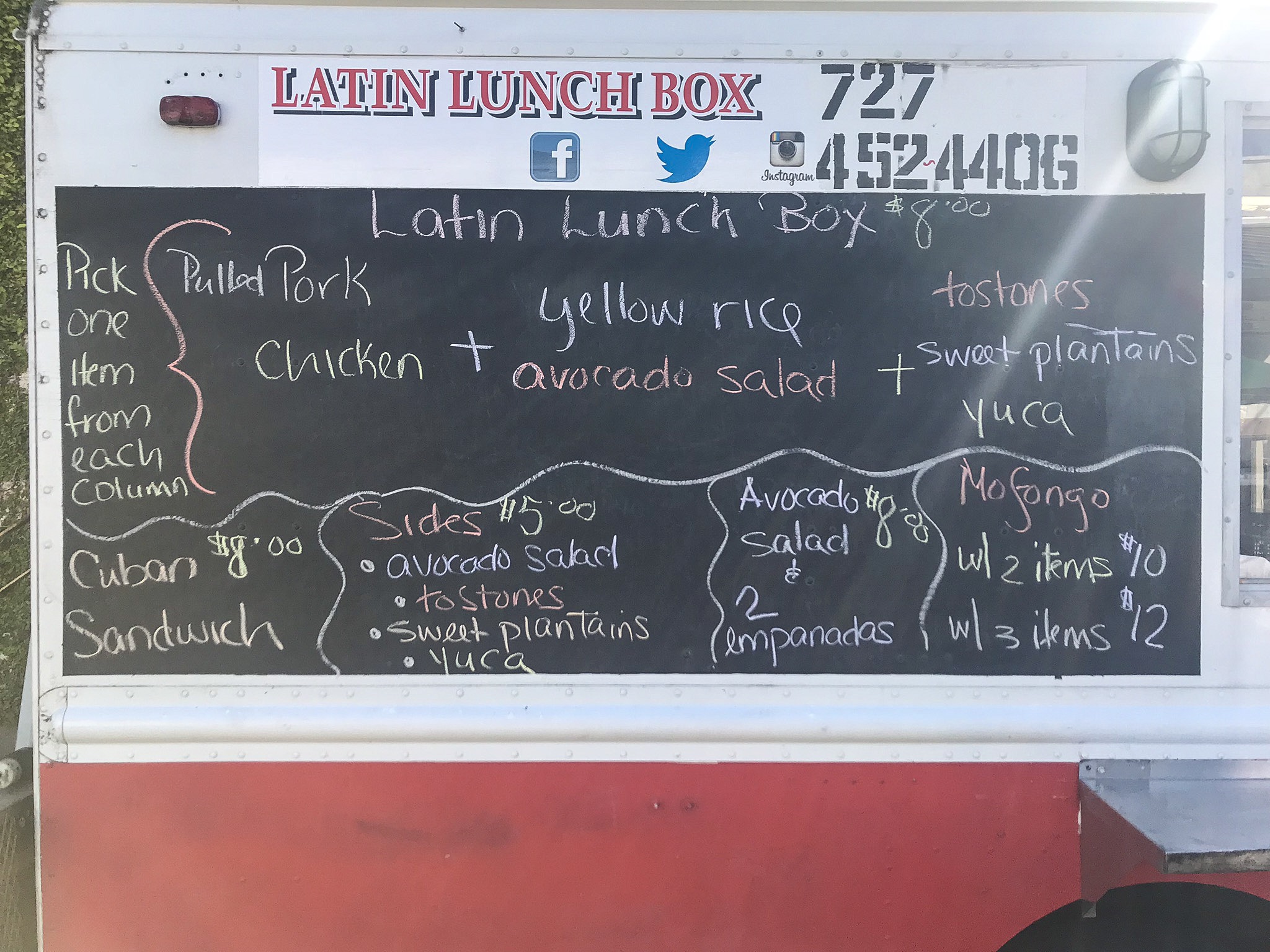 During a recent Saturday Indie Flea at Green Bench, we caught up with Wendy and the Latin Lunch Box. Of course, we had a tough time ordering, as everything sounded (and smelled) enticing, so, we tried…everything.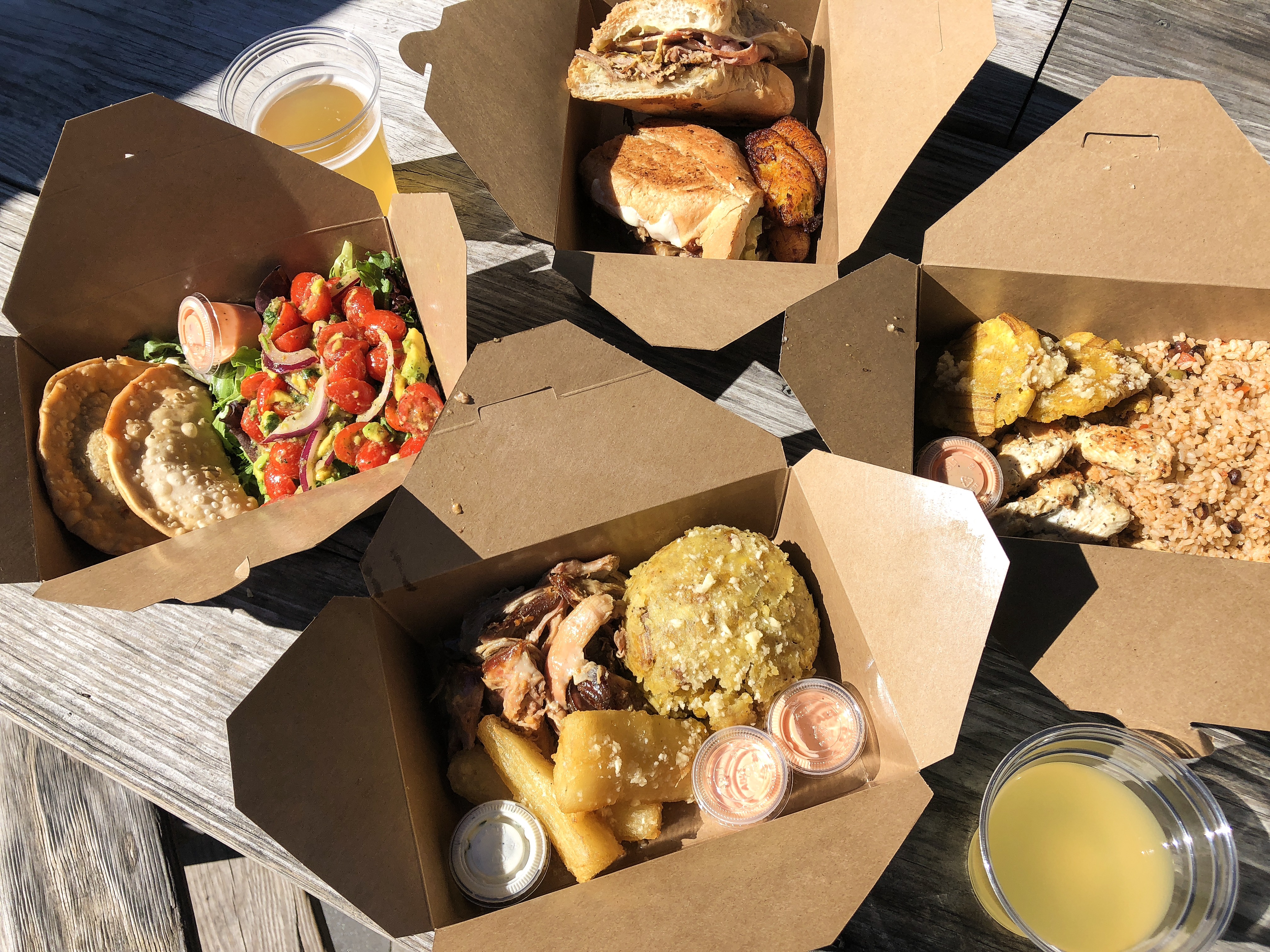 The Mofongo was a must-try from Wendy. Mofongo is a traditional Puerto Rican plate. After Plantains have been fried twice, they are put into a mortar and pestle with Garlic, Salt and Pepper and mashed, then formed. It's delicious all on its own, but even better with a touch of Wendy's Garlic Cilantro Sauce. Typically in Puerto Rico, Chicharrons are used, but Wendy does not utilize them in her Mofongo to cater to the large Vegan population in St Pete. When ordering the Mofongo, you have the option to choose either 2, or 3 side items, and the sides include: Avocado Salad, Sweet Plantains, Tostones and Yuca.
Our Mofongo was served with the Pulled Pork and Yuca, as Wendy really wanted us to have a taste of the highly sought-after Pork. The Pork is prepared low and slow and takes approximately 12 hours to cook. It's tender, succulent and shreds immediately upon contact. In other words, it lives up to the hype, and then some. The Yuca is boiled and then fried, which creates a crunchy exterior and a soft, warm and luscious interior. Dip the Yuca in the Cilantro-Garlic Sauce, or the Mayo-Ketchup (mixture of Ketchup, Garlic and Mayo) and you'll forget that French Fries exist.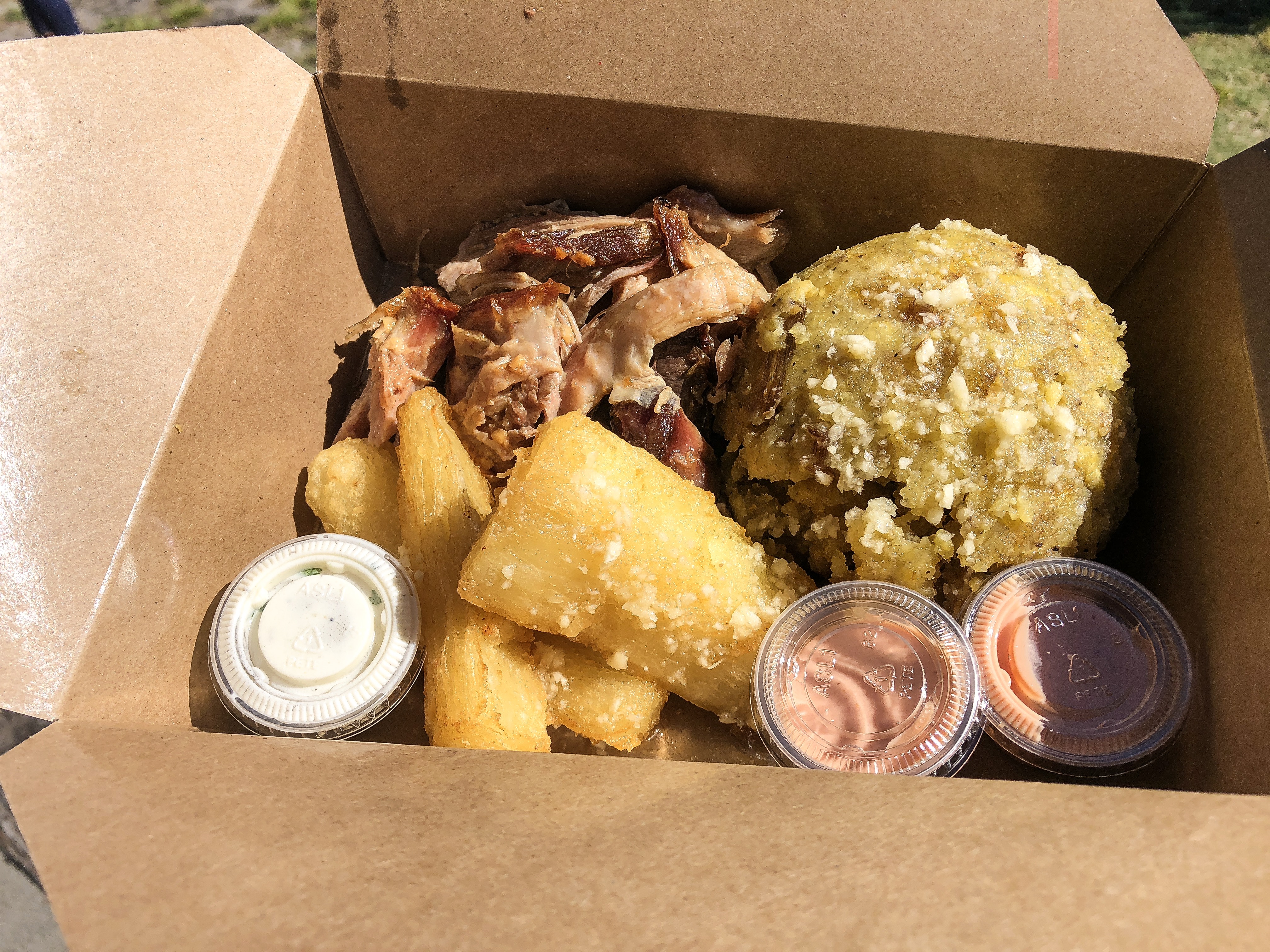 Additionally, we were able to try the Pork in another form: piled high on the Cuban. The Cuban is the only item on the menu that is not of Puerto Rican descent. However, Wendy decided to serve the Cuban, because she felt that her customers could identify with it if they found themselves unfamiliar with other items on the menu.
The Cuban is loaded with Pulled Pork, Serrano Ham, gooey Swiss Cheese, Pickles, Mustard and Garlic Cilantro sauce and is served with Sweet Plantains. The Plantains balance out the whole act by adding a side of sweetness. Everything about this sandwich is sinfully delicious and well worth indulging in. When you bite into it, you're greeted with a hint of crunch from the bread (which means that it's toasted to perfection) ample amounts of delicate pork, tangy notes which bellow from the Mustard and Pickles and a warm hint of Cheese, to mellow it all out.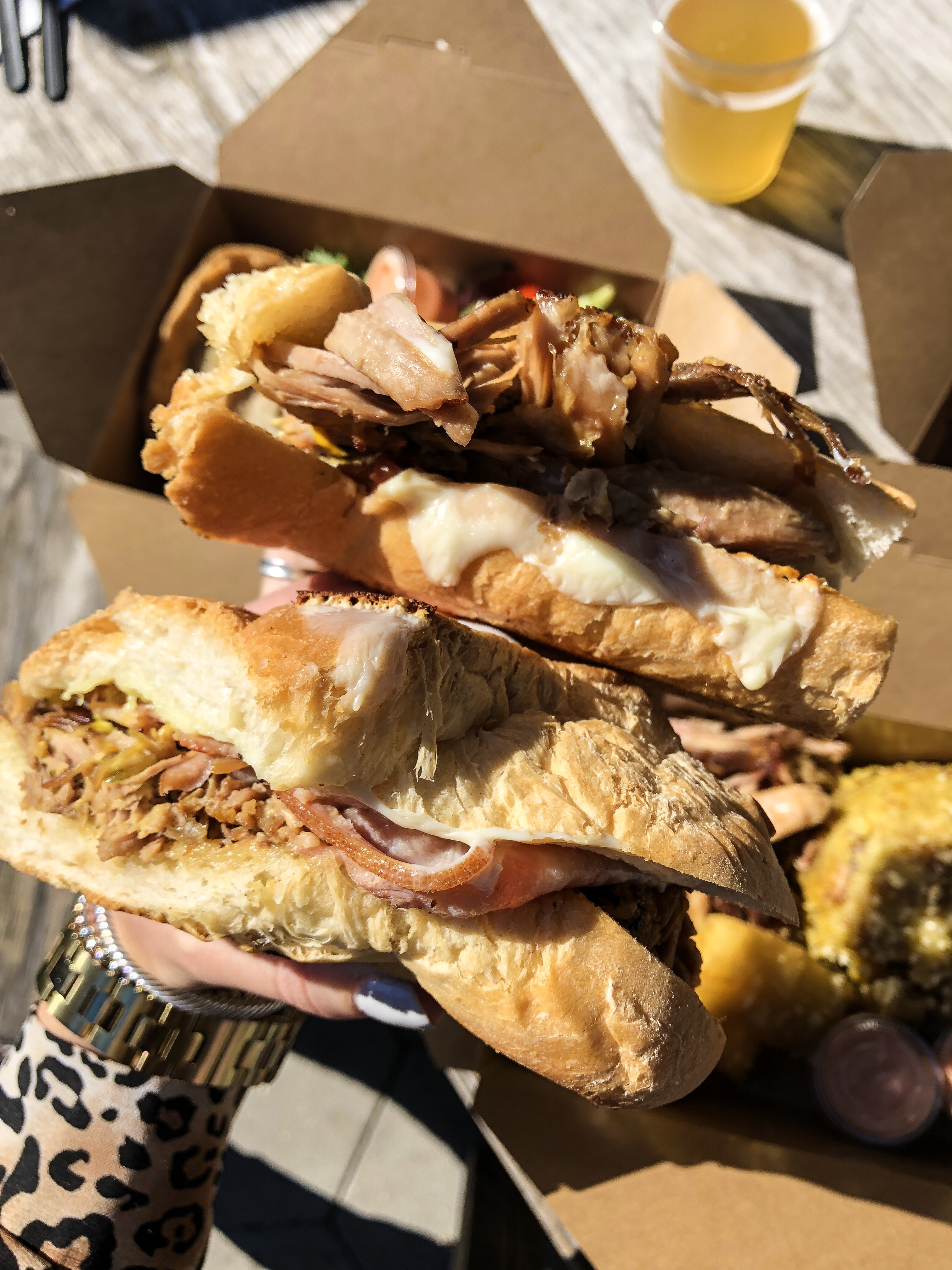 It wouldn't have been a complete visit to the Latin Lunch Box without trying a Latin Lunch Box! The Lunch Box is served with your choice of Pulled Pork or Chicken, Yellow Rice or Avocado Salad, and Yuca, Tostones or Sweet Plantains. This gives customers the chance to completely customize their meal with a wide array of options. An Empanada can also be added for an additional $1.00.
Our box consisted of Chicken, Yellow Rice and Tostones. The Chicken was unbelievably flavorful. When I asked Wendy what it is seasoned with, I expected a much more dynamic answer than Garlic and Fresh Herbs. It's amazing what you can create with minimal ingredients when you use them to their optimum potential! The Yellow Rice is made with Pigeon Peas, Olives and homemade seasoning. It has just enough flavor, without stealing the show from the Chicken. If you've never tried Tostones, you need to find Wendy ASAP. Tostones are savory and crispy twice-fried Green Plantains. Pro tip: enjoy them with the Mayo-Ketchup.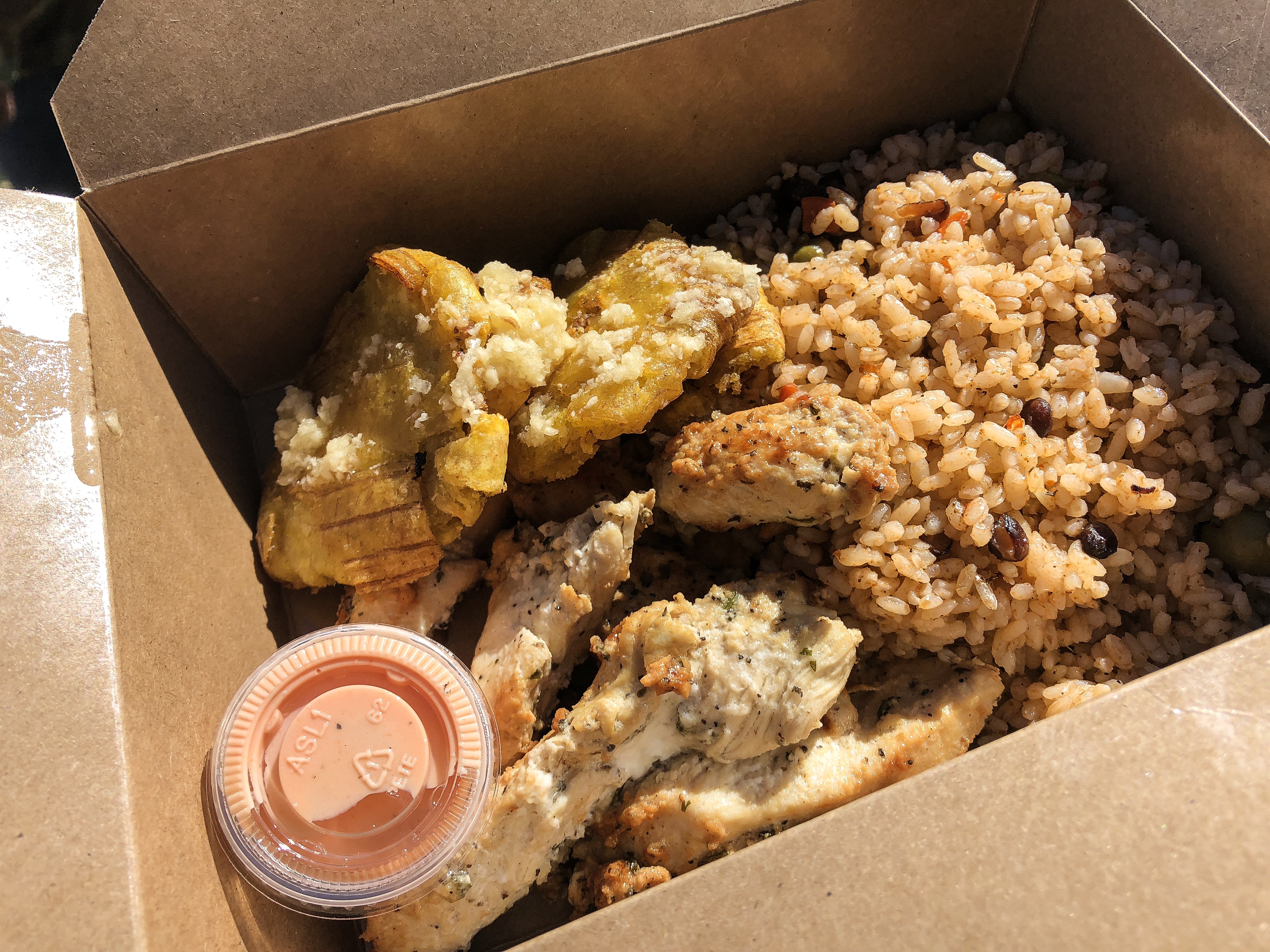 I'm an advocate for making salads exciting. More often than not, Salads aren't all that exciting. Rarely does anyone say, "If I could eat one thing for the rest of my life, it would be Salad!" Well friends, I'm here to tell you that you might be whistling a different tune after consuming Wendy's Avocado Salad. And the best part? It's so simple. Avocado, Cherry Tomatoes, Red Onion, Cilantro and a homemade Vinaigrette. It's a combination so good, that my mouth is watering as I type this.
Along with the Salad, we ordered two Empanadas: Beef and the Spinach and Artichoke. If you asked me to choose a favorite, I couldn't. Both were delicious in their own right. The Beef contains slow-cooked savory Ground Beef and Potato and the Spinach/Artichoke is stuffed with none other than creamy Spinach and Artichoke Filling. If you visit the Latin Lunch Box, you cannot leave without trying at least 1 Empanada.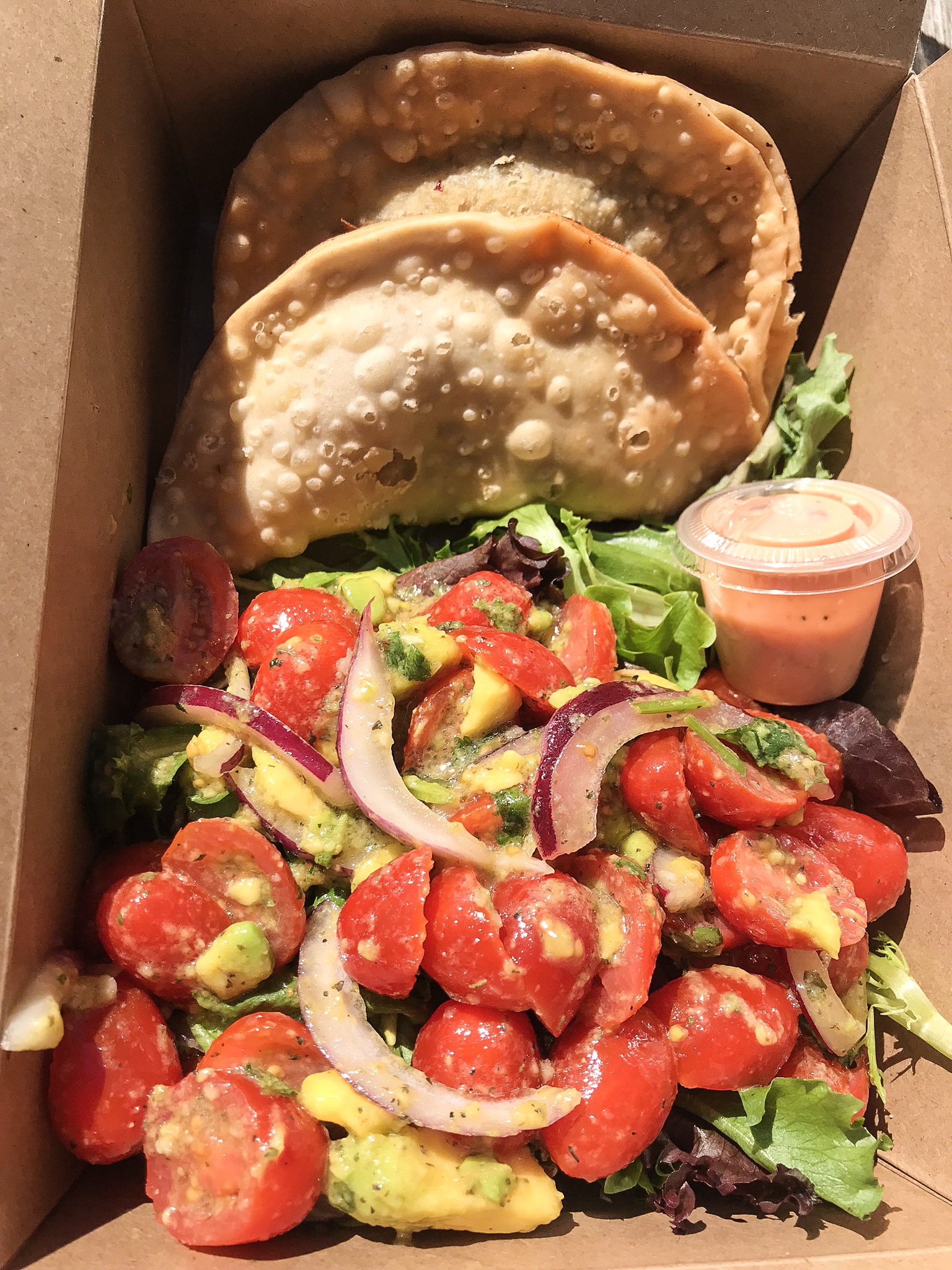 The Latin Lunch Box has two regular locations. On Fridays, you can find the truck at All Childrens Hospital and on Saturdays, at Wild Roots. You can also catch their locations on the Latin Lunch Box Facebook and Instagram page. Furthermore, the Latin Lunch Box is excited to begin a Saturday delivery service soon! That's phenomenal news for all. Keep an eye out for Wendy and her truck around St Pete and pay her a visit- you won't be disappointed.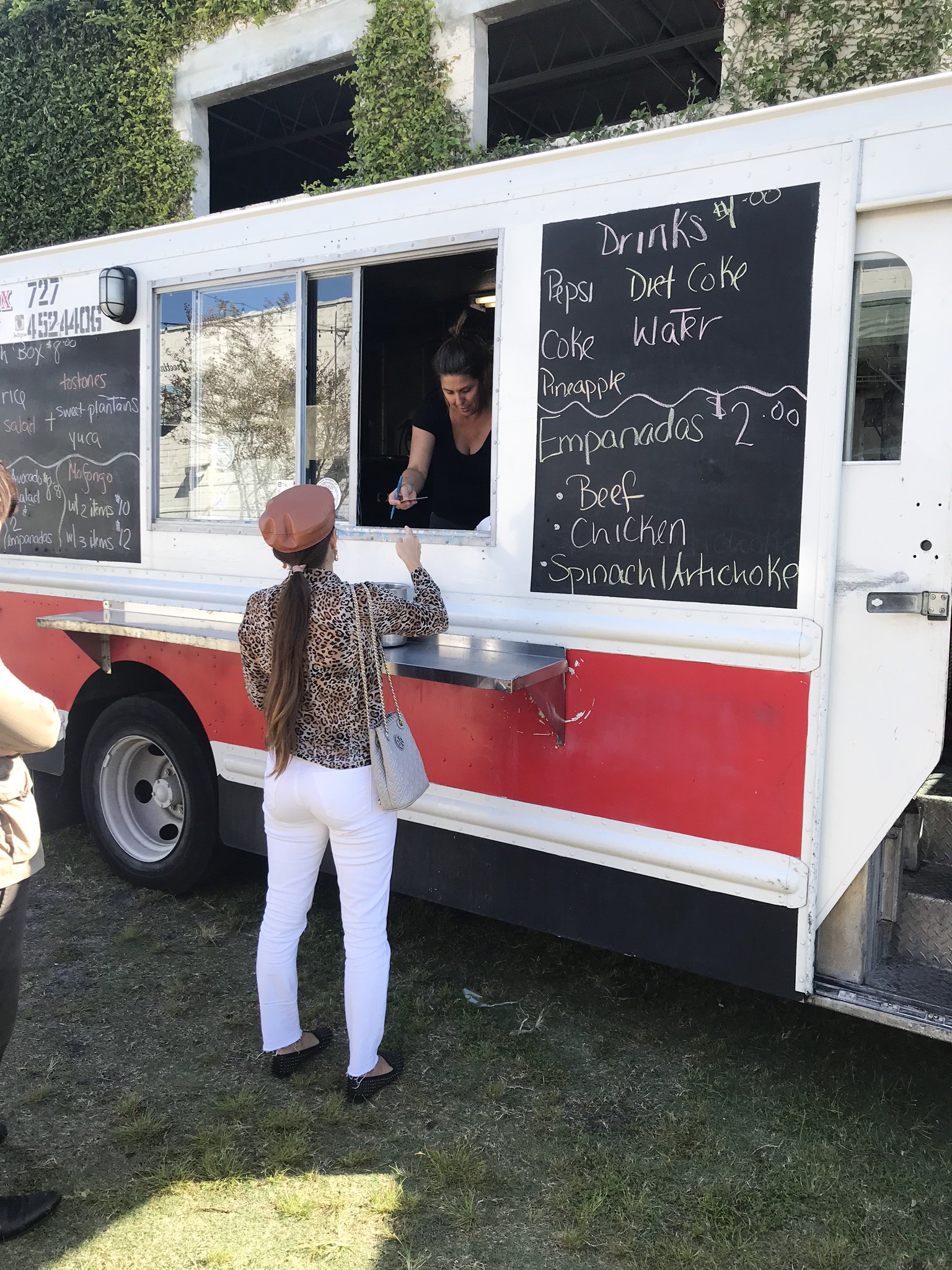 Latin Lunch Box specializes in delicious spanish food. Our specialties are Pina Coladas, a variety of empanadas, sandwiches and our Latin Lunch Box!
DISCLAIMER: Kevin, Lori, Abby, Haley, & Lindsey do not dine anonymously (this would be impossible) and we sometimes get free food (though never expected). However, we dine with the locals and we support our own. You will always get honesty in a respectful manner. We do not include any large national or regional chains in our ratings and reviews. We focus on independent locally owned eateries exclusively.

PLEASE NOTE: Reviews reflect a certain moment in time. Some restaurants stay extremely consistent over many years, and some change for the better or worse. Some things that may change are: chefs, recipes, food suppliers, ingredients, philosophies, ownership, etc. We always hope that you have the same good, or great experience we had.
More Foodies News, Reviews & Recipes