It's More Than Just a Sandwich at the PB and Jelly Deli
It's More Than Just a Sandwich at the PB and Jelly Deli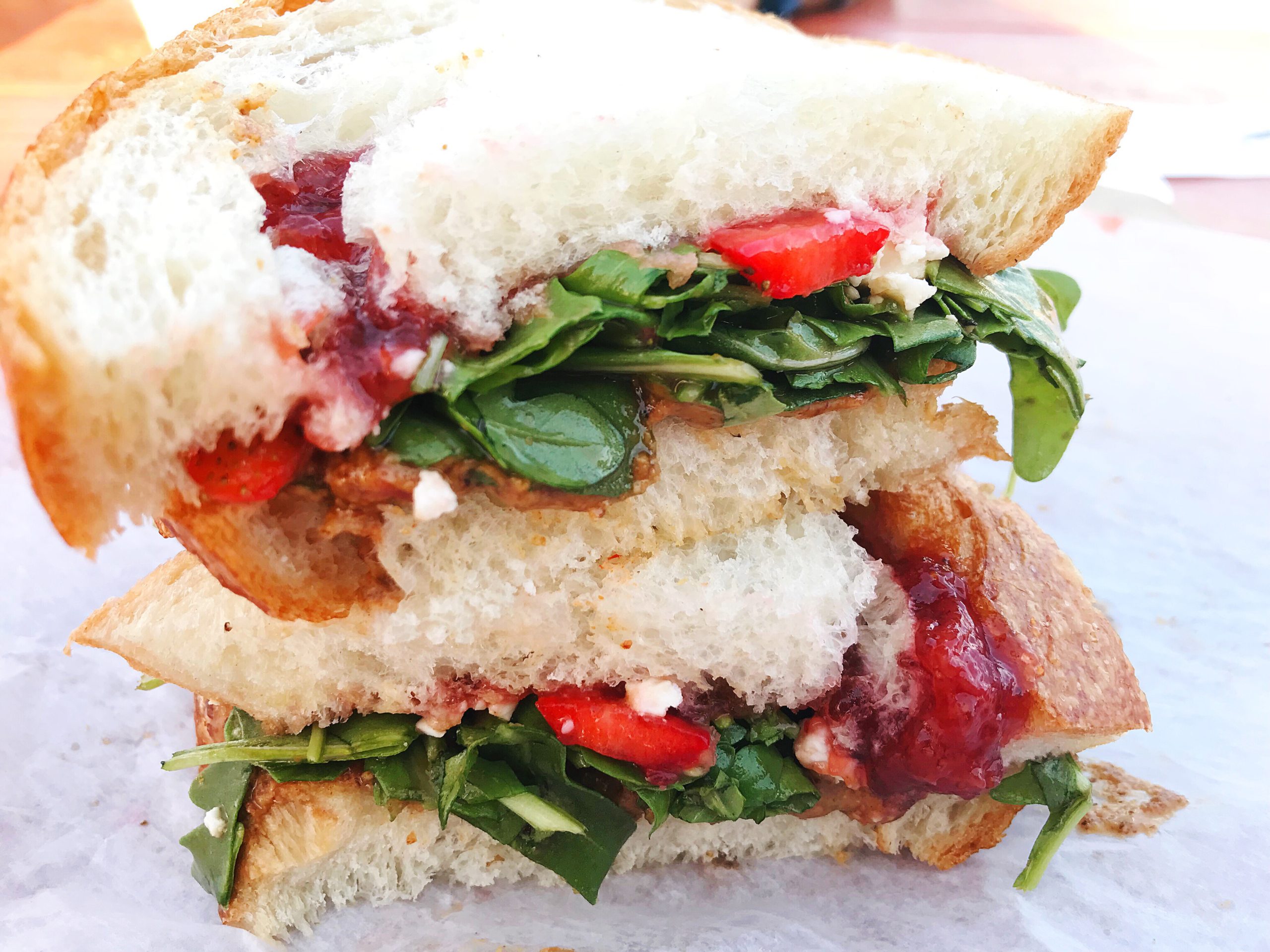 It is impossible to make a simple, harmonious combination of creamy Peanut Butter, gooey Jelly and fresh Bread any better, right? Guess again. The PB & Jelly Deli is taking their sandwiches up a notch with innovative twists and turns that amplify the Peanut Butter and Jelly experience. Unexpected ingredients, such as Frank's Red Hot, Arugula and Avocado (just to name a few), are used in combination with different Nut Butters and Fruit Jellies to turn a grade school lunch favorite into a mature, gourmet and avant-garde sandwich.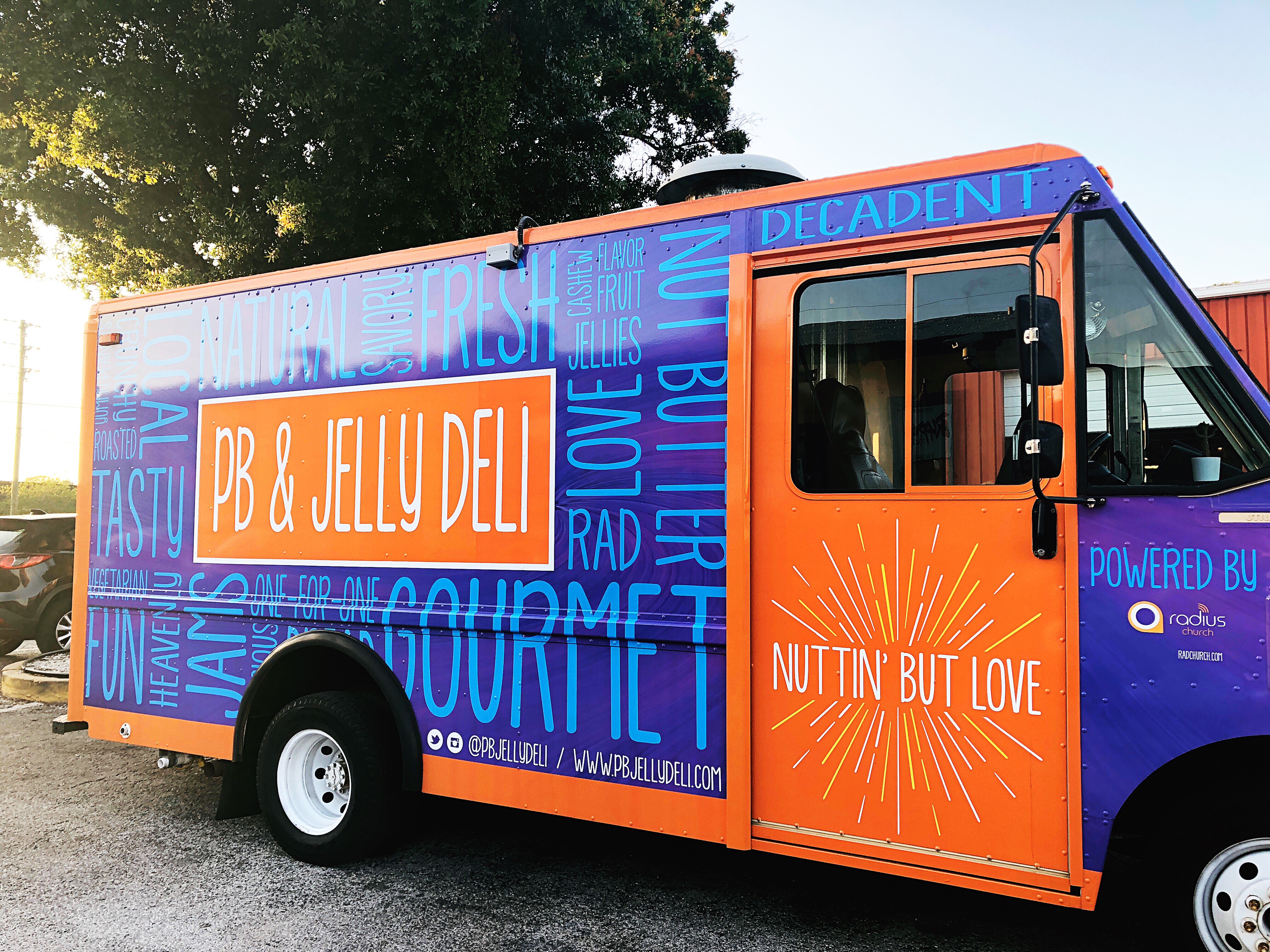 The first event for the PB & Jelly Deli was last year's Localtopia (a crazy way to get their feet wet!), which turned out to be the largest event that they attended in their entire first year of existence. Since then, the operations of the truck have been continuously improving.
Roughly 8 months ago, Noah Neagles joined the PB & Jelly Deli team and took the Truck to a whole new level. Not only is Noah the leader of the truck, but he makes each sandwich at events in the truck, he prepares all of the Nut Butters by hand, and is one of the creative minds behind each sandwich on the menu.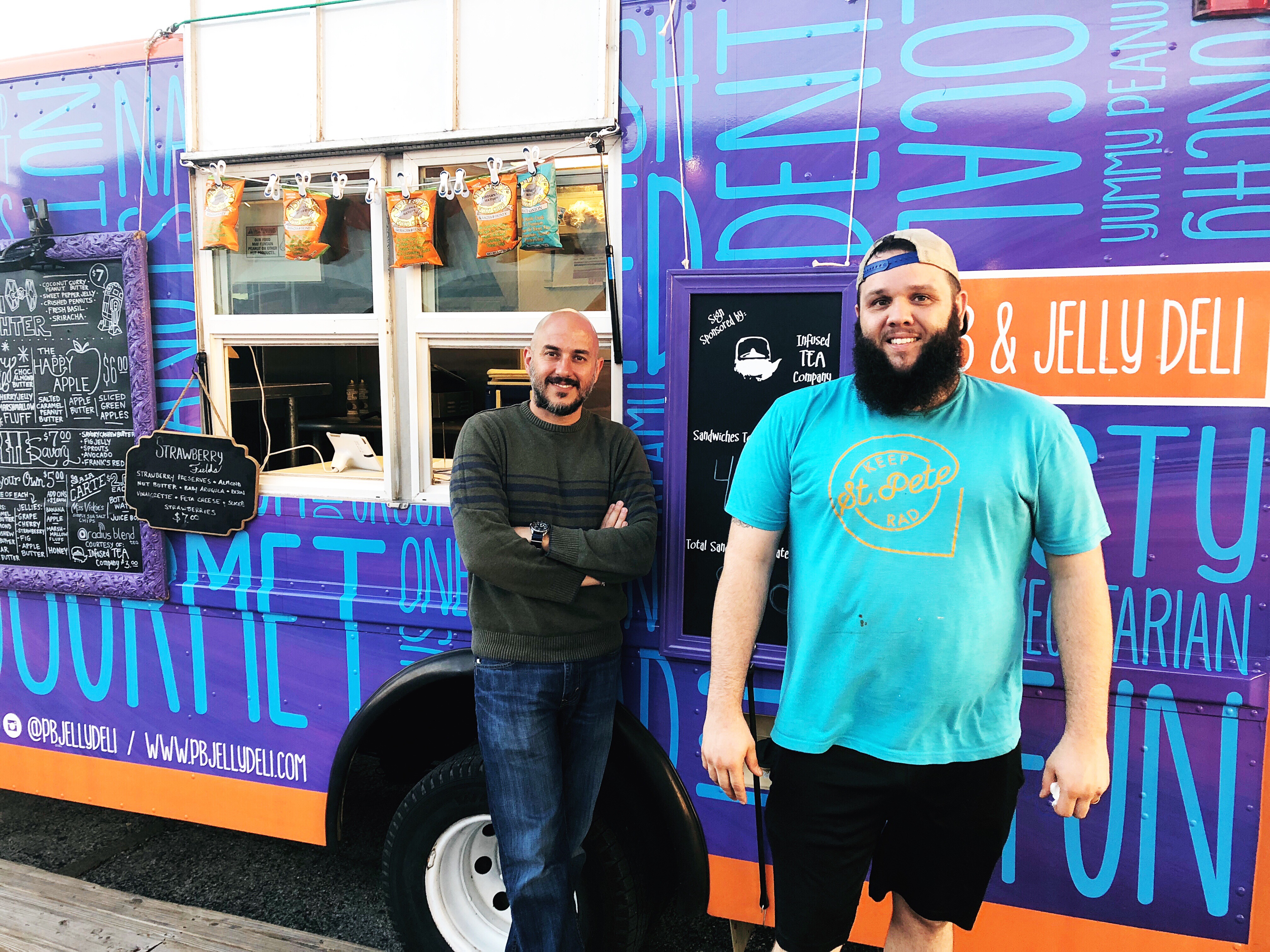 It is the hope of the PB & Jelly Deli that with each bite of an upgraded childhood classic, they can mentally take their customers back to a simpler time in life. To make the experience even more nostalgic, each sandwich is served in a brown paper bag with a handwritten note. This kind of personalized touch is enough to bring a smile to anyone's face.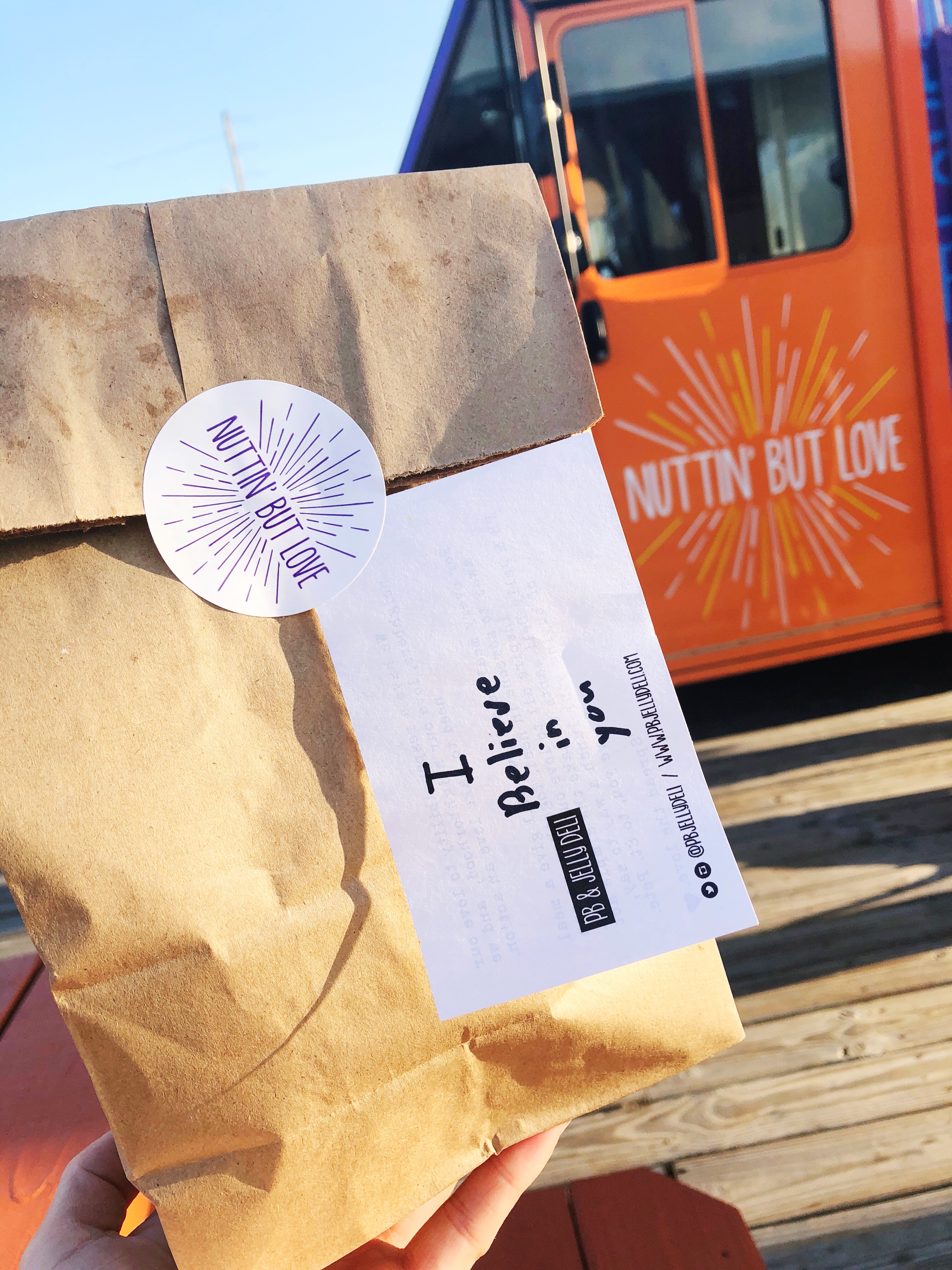 The PB & Jelly Deli is much more than just sandwiches- the operation is built on a foundation of love. For every single meal that is sold, they give a meal away to someone in need in the community. By giving in this way, it allows for everyone, from the customers buying the sandwiches, to the volunteers who create the sandwiches, to the leaders of the PB & Jelly Deli, the opportunity to partake in something incredible for St. Petersburg.
As of early April, the Deli had donated well over 800 sandwiches throughout the streets of our beautiful city. The sandwiches are thoughtfully constructed by volunteers and members of the local Radius Church. Not only is the PB & Jelly Deli a source of food for hungry customers, but it is also a blessing to our beloved city, and everyone in it.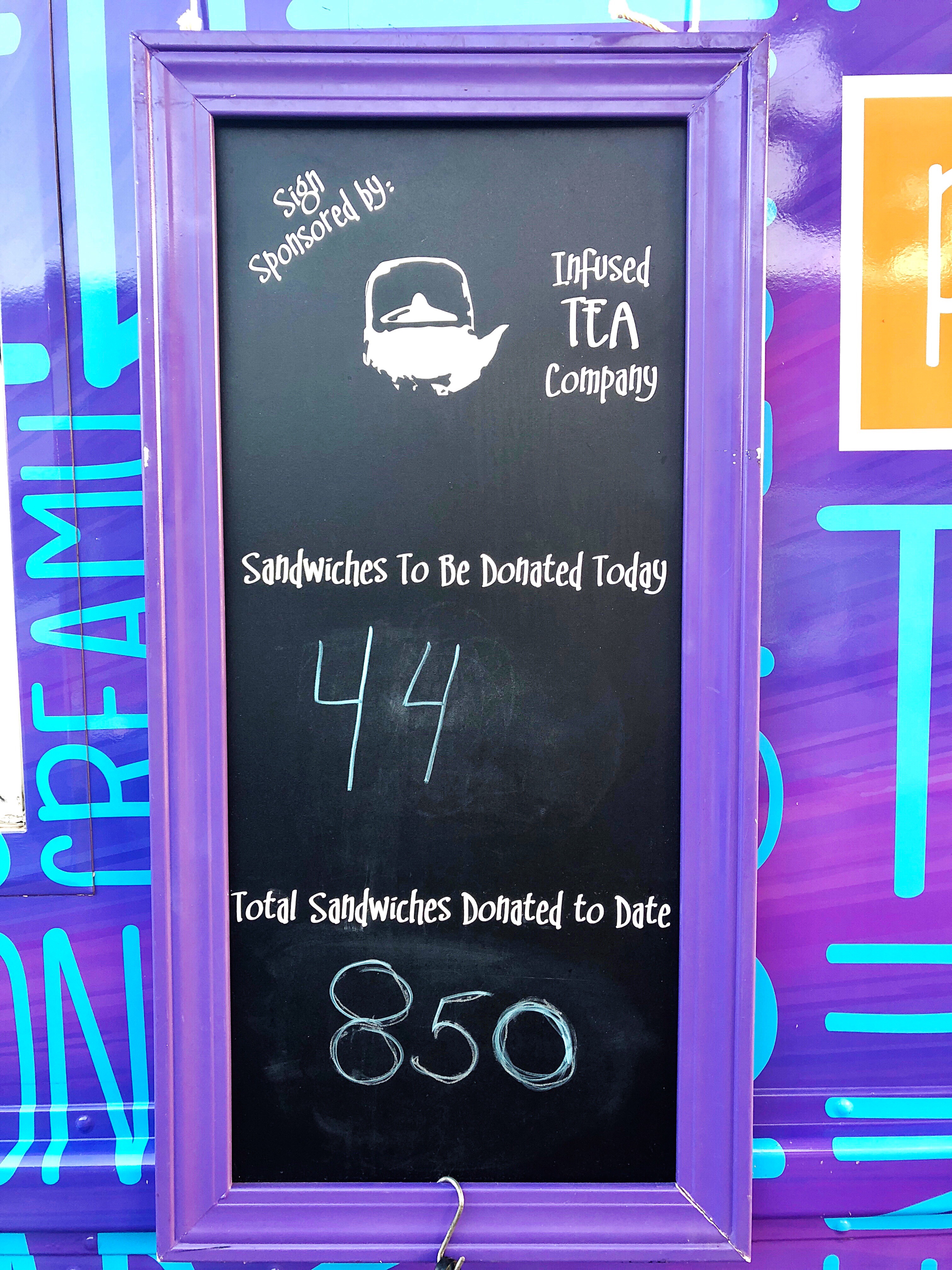 During our visit to the PB & Jelly Deli truck, we sampled a few of their most popular sandwiches (they typically offer 5-6 sandwiches on their menu at a time). The first sandwich that we had the pleasure of tasting was the current seasonal selection, Strawberry Fields. This sandwich is comprised of Strawberry Preserves, Almond Nut Butter, Baby Arugula, Dijon Vinaigrette, Feta Cheese and Sliced Strawberries.
This congenial array of ingredients makes for a perfect marriage between sweet and savory. The flavors that initially shine through are those of the traditional PB&J that we all know and love. Arugula adds a mature, textured bite, while the Feta and Dijon contribute a tasty tang.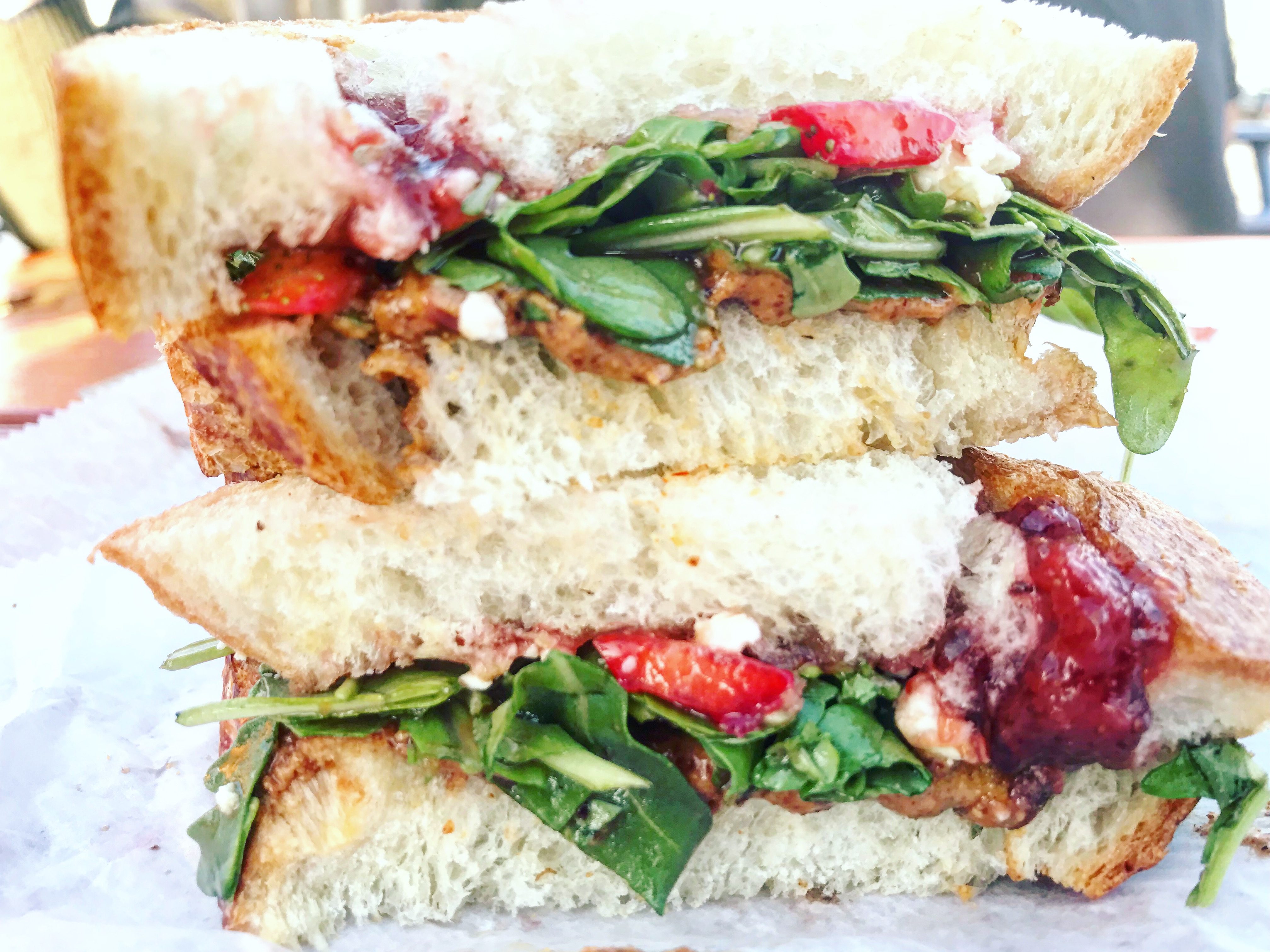 Our second sampling was the extraordinary St. Pete Savory. I am a firm believer that Avocado can make just about anything  better, and that undoubtedly holds true here. This baby is stacked high with Savory Cashew Butter, Fig Jelly, Sprouts, Avocado and Frank's Red Hot sauce.
Where are my adventurous, fearless eaters? This one is for you. The ingredient lineup sounds quite off the wall, but, keep an open mind, and I promise you will not be disappointed. In fact, this sandwich was my favorite. The sweetness of the Fig Jelly balances out ideally with the heat of the hot sauce, and makes for an amicable finish. The sprouts provide structure, while the Avocado and Cashew Butter help to smooth the whole production out with subtle hints of their flavors and creamy textures.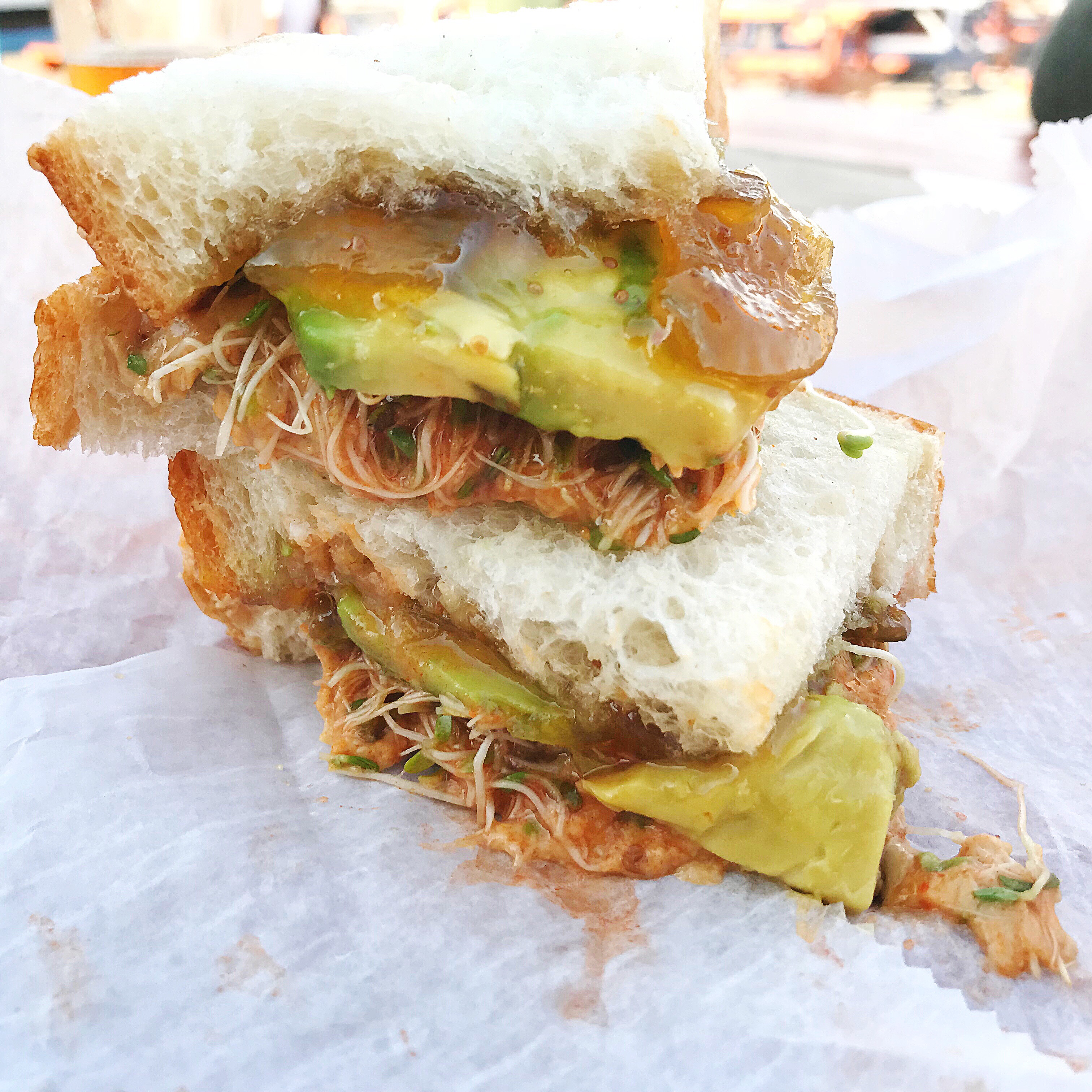 Last, but assuredly not least, on our must-try list: the fan-favorite Thai Fighter. We were the utmost excited about such a unique medley of offbeat components. This kooky, distinctive and heavenly sandwich quite literally brings the heat with Coconut Curry Peanut Butter (which, I'm sure I would enjoy slathering on most anything), Sweet Pepper Jelly, crushed Peanuts, Fresh Basil and Sriracha. This little number completely redefines all that is Peanut Butter & Jelly Sandwiches- and in the best possible way.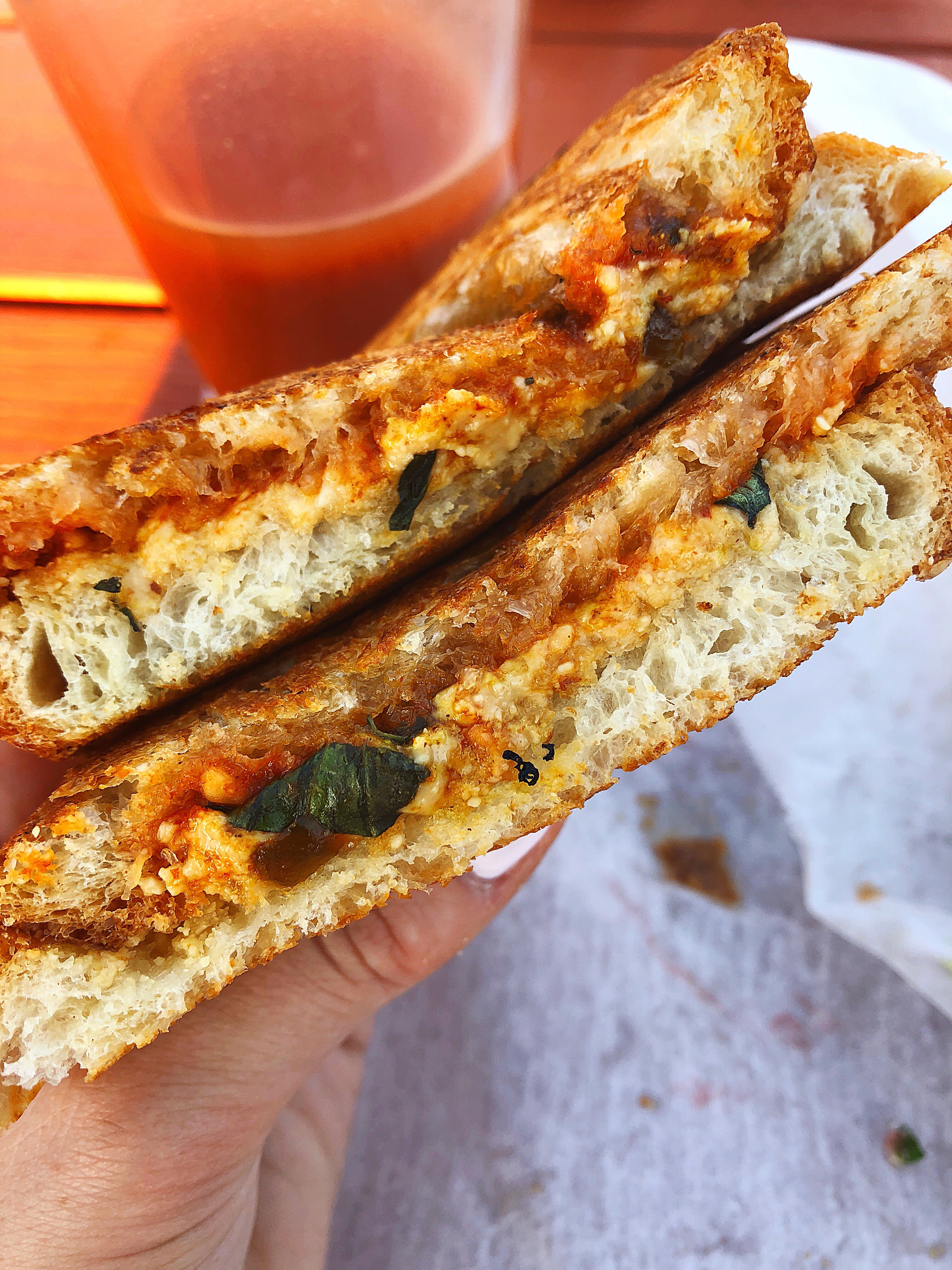 All of the delectable ingredients listed are toasted between two pieces of bread, much like a Panini. Each bite of this sandwich is crunchy, fiery, robust, aromatic and faintly luscious. If spice is your thing, the Thai Fighter is unquestionably for you.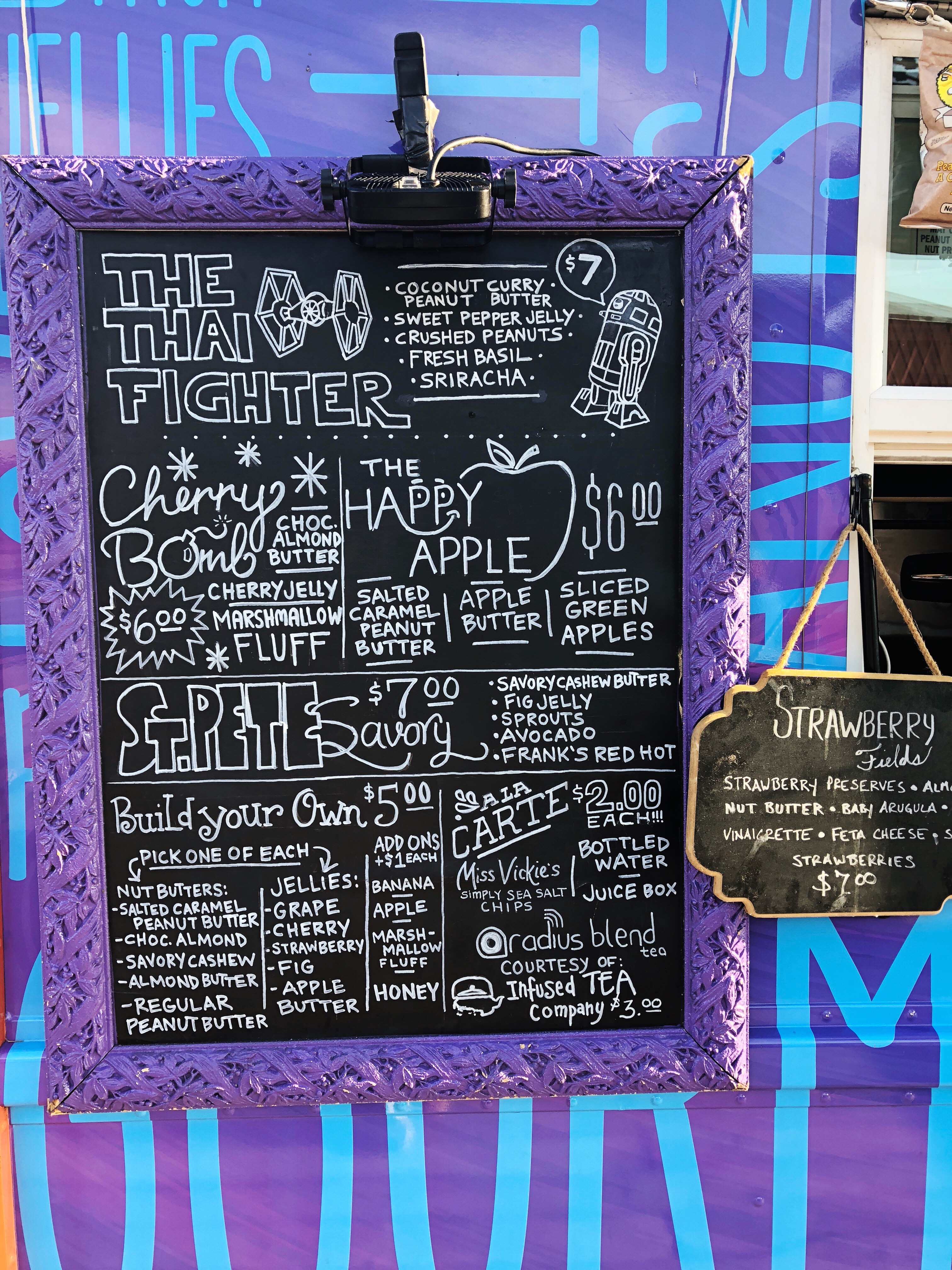 While every item on the menu is exquisite and full of surprises, the PB & Jelly Deli also offers a "Build Your Own" Option. This allows customers to bring their own perfect versions of a PB&J to life and is also suitable to less adventurous eaters, kids, and anyone simply longing for a traditional sandwich.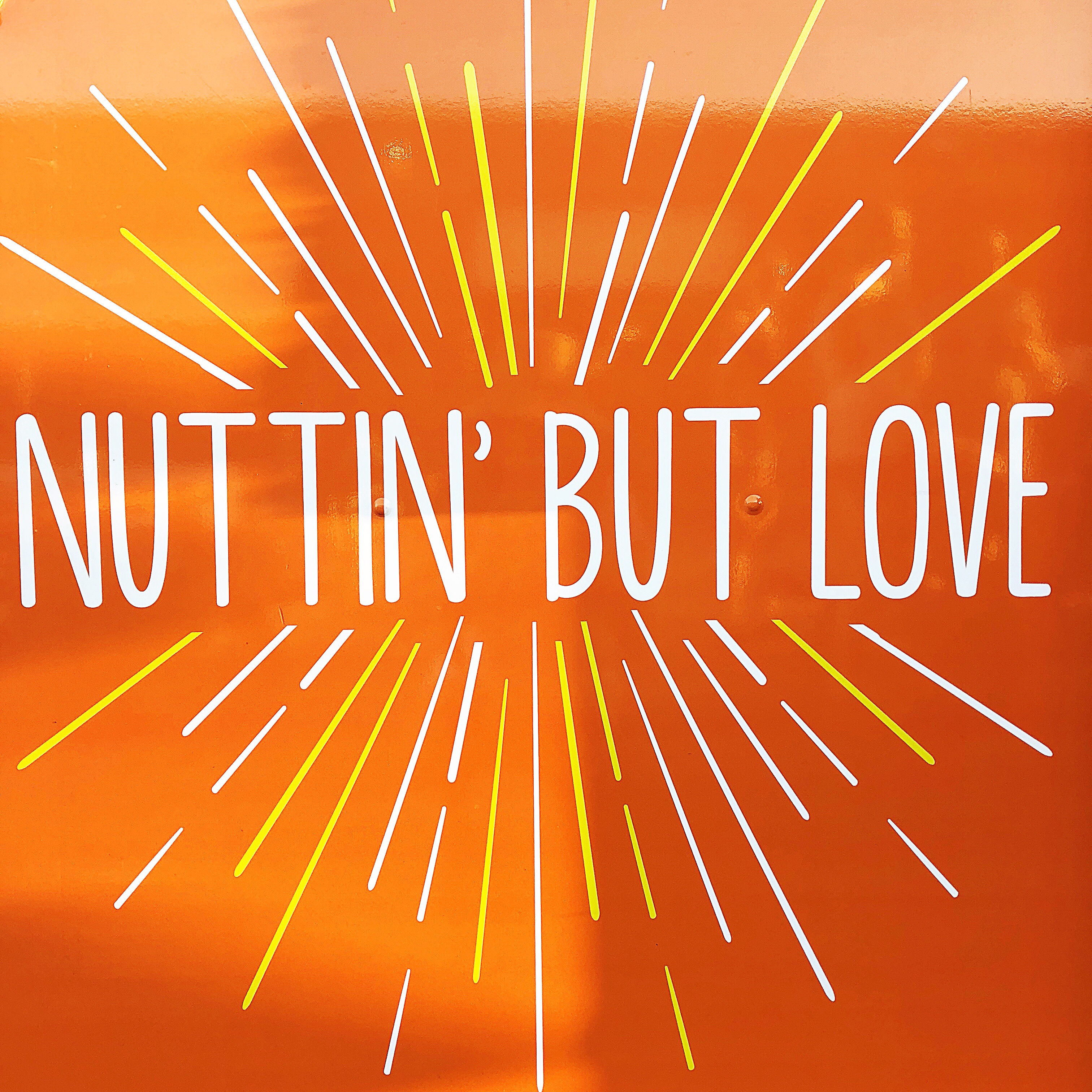 The Deli has a list of upcoming events that they will be attending on their website here, and they also are available for private events. Whether you are in search of an audacious sandwich, craving a childhood staple, or want to give back some love to our admirable community, the PB & Jelly Deli has your name written all over it!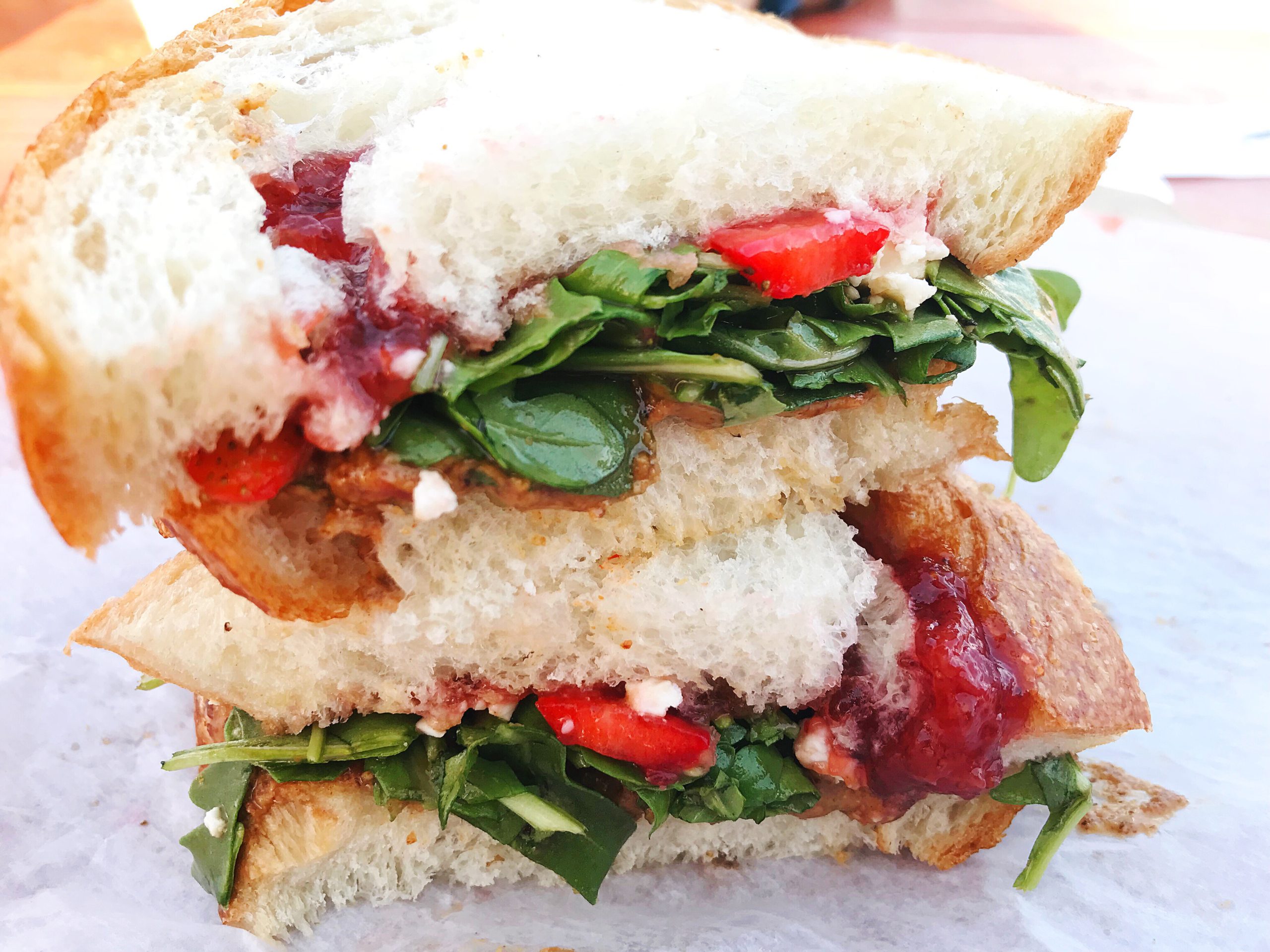 Readers Rating

Rated 4.7 stars




4.7

/ 5 (

Reviewers

)

Outstanding
---
It's More Than Just a Sandwich at the PB and Jelly Deli

7274909378

Sandwiches

,

American

,

Peanutbutter and Jelly
---
The PB& Jelly Deli loves St. Pete. This is their home and this is where they want to be. They also love peanut butter and jelly. It reminds them of a simpler time in life when a sandwich, a bag of chips, and a note from someone who loves them could put a smile on their face.
DISCLAIMER: Kevin, Lori, Abby, Haley, & Lindsey do not dine anonymously (this would be impossible) and we sometimes get free food (though never expected). However, we dine with the locals and we support our own. You will always get honesty in a respectful manner.

PLEASE NOTE: Reviews reflect a certain moment in time. Some restaurants stay extremely consistent over many years, and some change for the better or worse. Some things that may change are: chefs, recipes, food suppliers, ingredients, philosophies, ownership, etc. We always hope that you have the same good, or great experience we had.
More Foodies News, Reviews & Recipes