PAWS-itively Delicious Lands a Full-Time spot at Pinellas Ale Works
PAWS-itively Delicious Lands a Full-Time spot at Pinellas Ale Works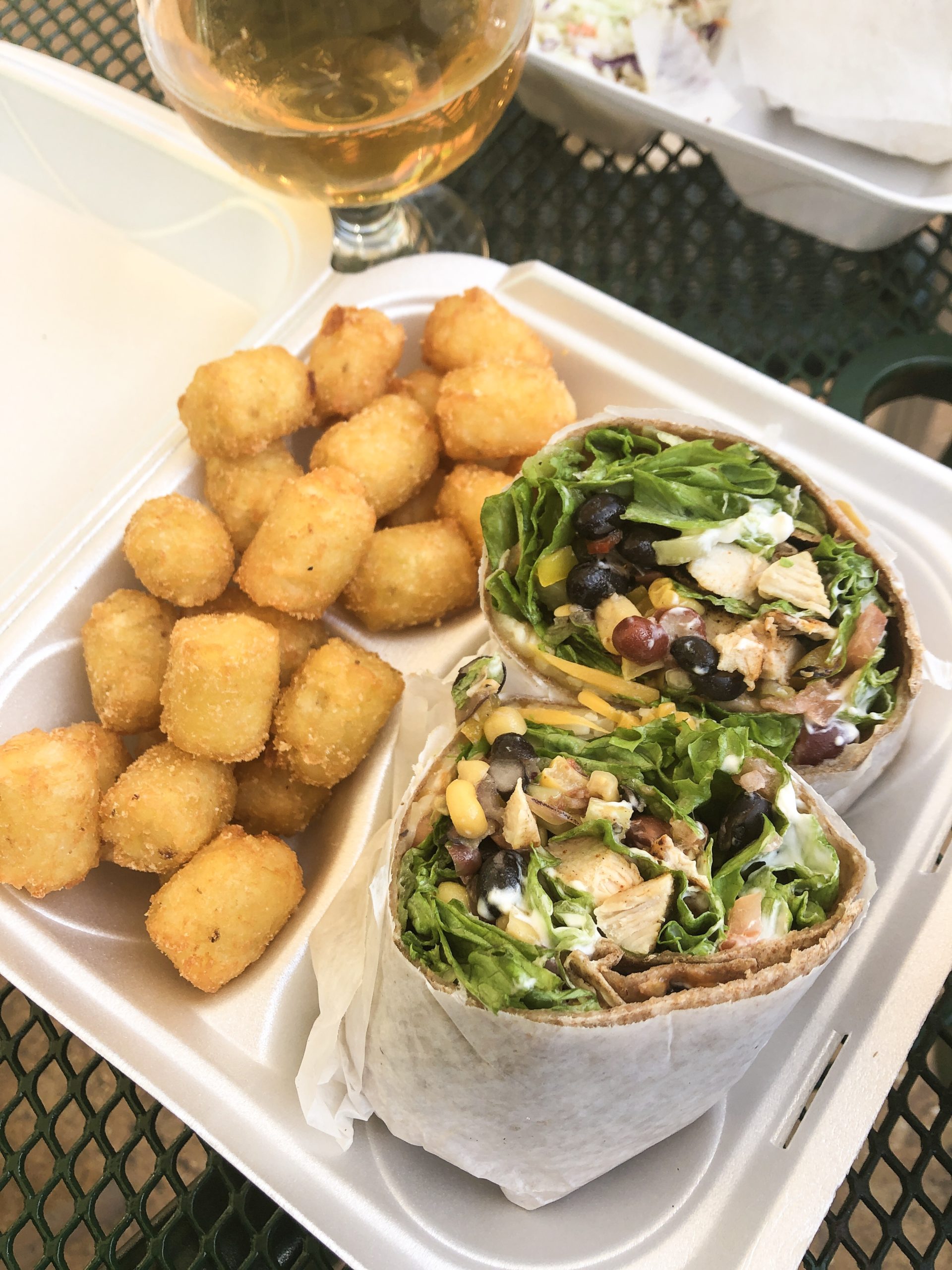 Pinellas Ale Works (PAW) and the PAWS-itively Delish food truck have joined forces in the name of great brews, delicious food, and best of all, dogs! This ultimately means, the PAWS-itively Delish food truck now has a spot at Pinellas Ale Works every Wednesday-Sunday evening!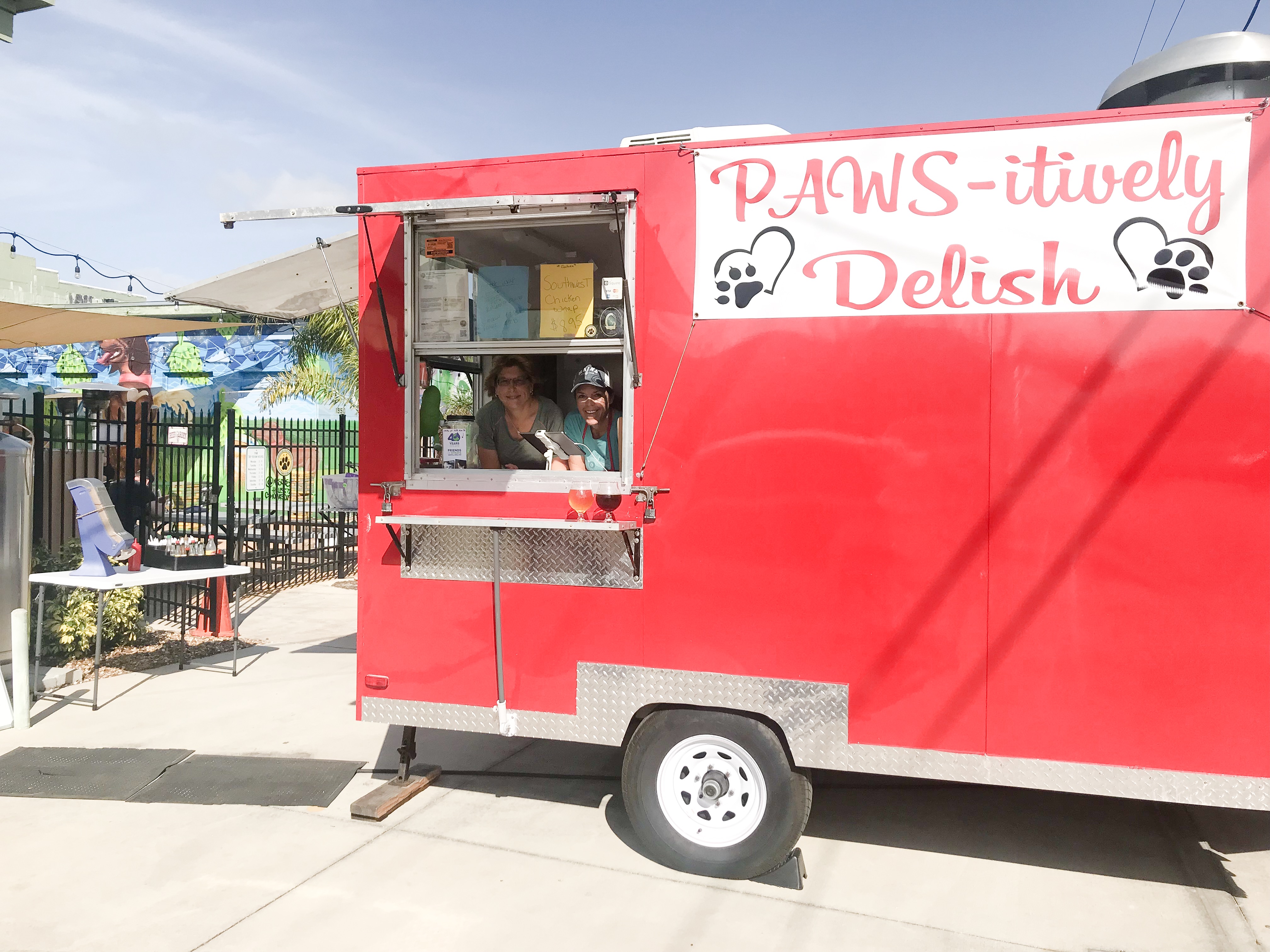 While yes, the names of the two businesses sound as though they were intentionally created to pair with one another, they actually operate under separate ownership and were created at different times. Great minds do, in fact, think alike, especially in this case. We learned about PAWS-itively Delish coming to Pinellas Ale Works during our visit with Dennis Decker of PAW last month when we interviewed him for the February craft beer feature.
Lisa and Alicia stumbled into Pinellas Ale Works by chance whilst on a Peddle Pub tour. They made contact with the brewery, and decided that the fit could not be more perfect. March 1st was the debut date for PAWS-itively Delish at PAW and it has been extremely well received.
PAWS-itively Delish hit the streets of St. Pete in November of 2018. Owners Lisa and Alica gave their food truck the name that they did for two reasons: to exclaim their passion for dogs and to also place an emphasis on positivity. Their affection for the rescue community, love for placing smiles on their customers' faces and bright personas are what make their operation such a success, along with delectable food, of course. Like Pinellas Ale Works, PAWS-itively Delish does their best to support, promote, and give back to local dog shelters. For example, 100% of their tips collected are donated to different shelters in Pinellas County.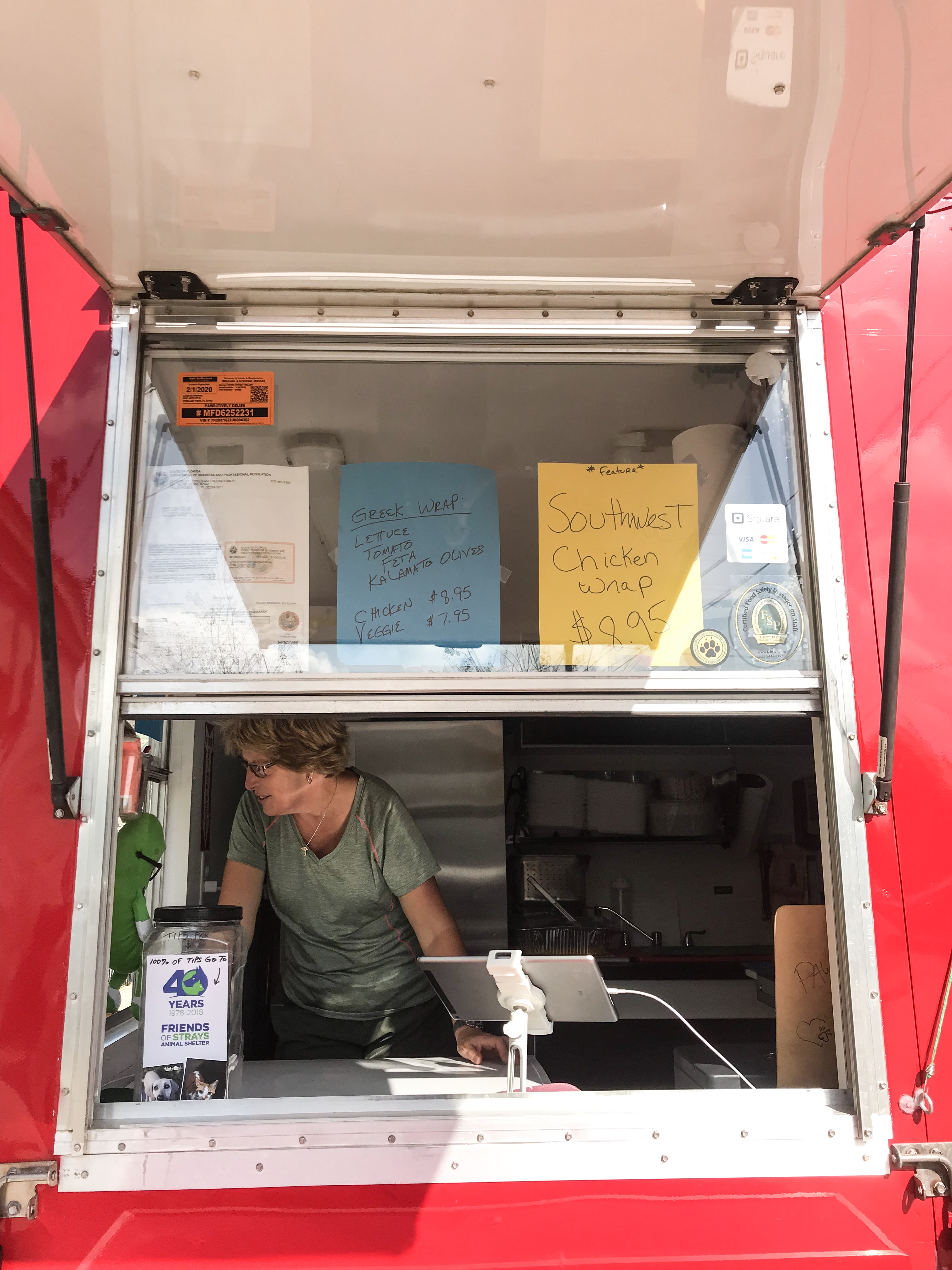 You'll come to realize that the food that PAWS-itively Delish has to offer is the perfect cure for the beer munchies that are certain to come about after having a brew or two from PAW. Items on the menu include wraps, such as the ever-popular Steakinator (Steak and Cheese), the Southwest Wrap, as well as Vegetarian and Vegan options, such as the Veggie Wrap. Additionally, they offer sides and featured items that include: Nachos, Cheese Sticks, Tator Tots and Cole Slaw, just to name a few.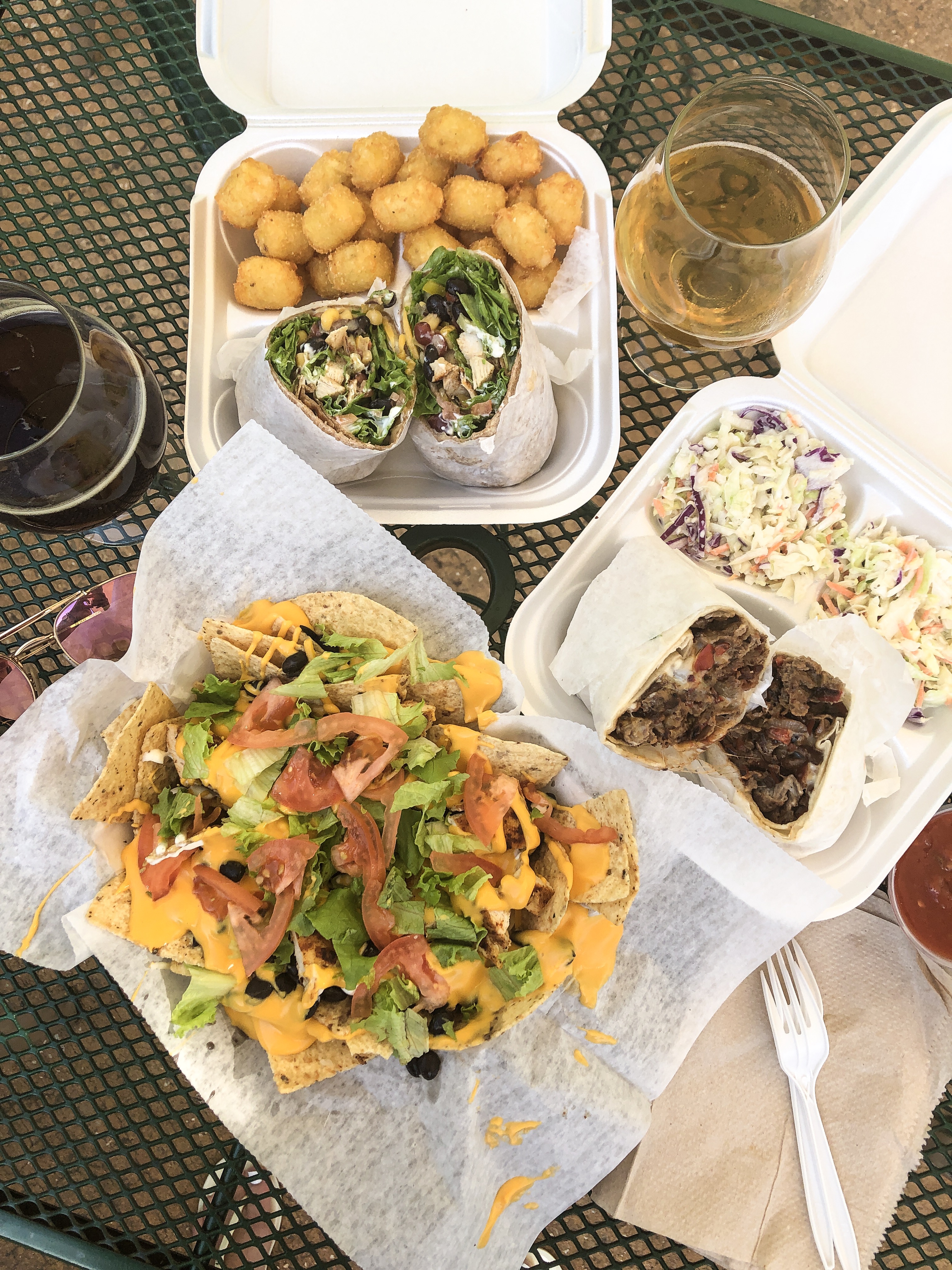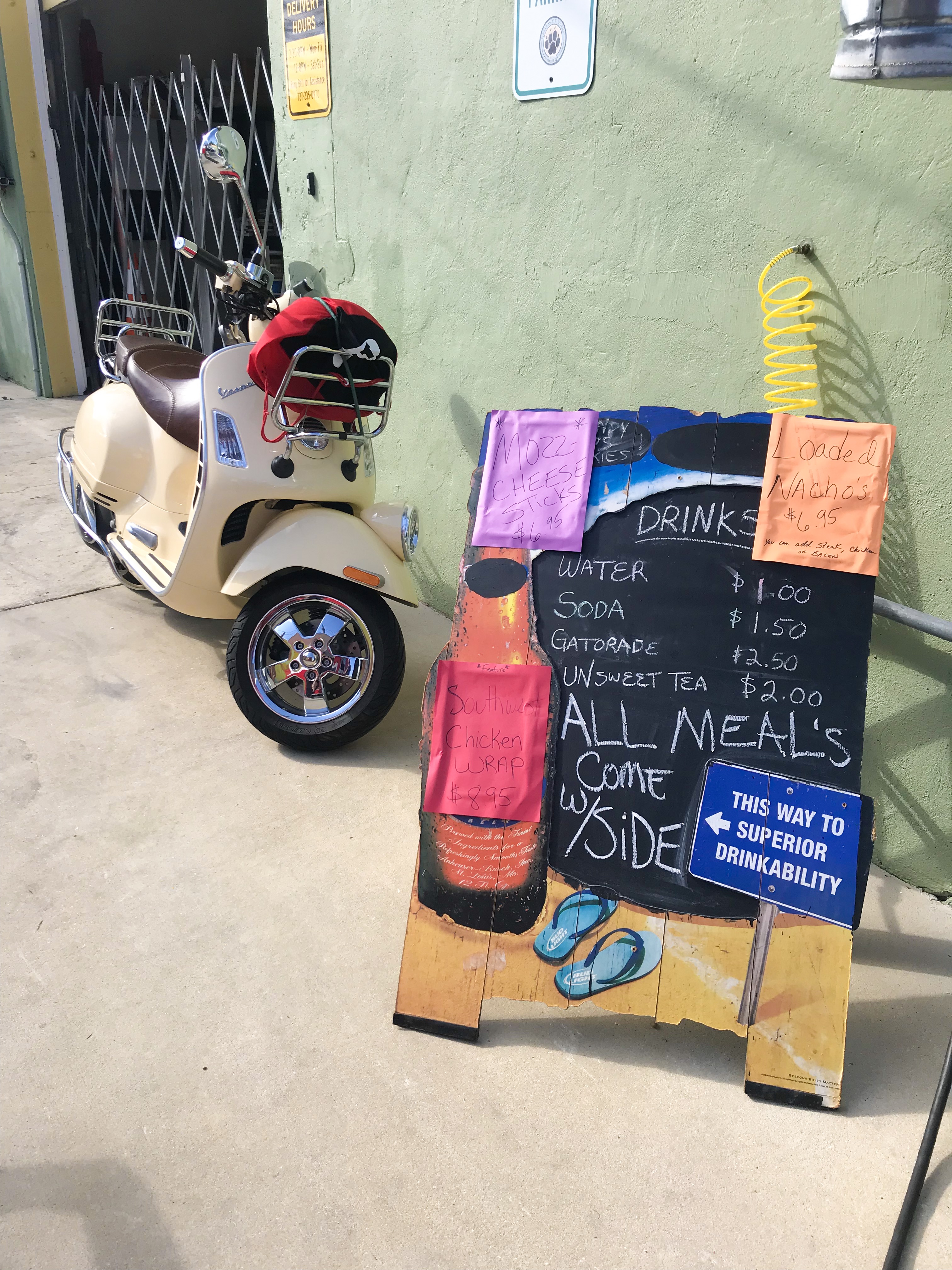 The idea for a food truck came to fruition for Alicia long before food trucks became popular. She worked in an office a handful of years back, where lunches were a bit of an inconvenience and only 30-60 minutes long, which didn't leave much time to grab a bite outside of the office. Additionally, she comes from a family who has spent a number of years in the food industry, so, you could say that it's in her blood.
Alicia said that they began to put their vision into motion first by researching trucks, versus trailers, and for them, a trailer made much more sense. They purchased a trailer and tailored it to fit their wants and needs. The decision to serve wraps came from a perspective of convenience and health-consciousness. In today's day and age, our society is in search of anything to make life easier- a wrap leaves behind little mess and is quite easy to handle. From a health standpoint, wraps, versus a sandwich, are less carb-dense, which many consumers are much more conscious of in 2019.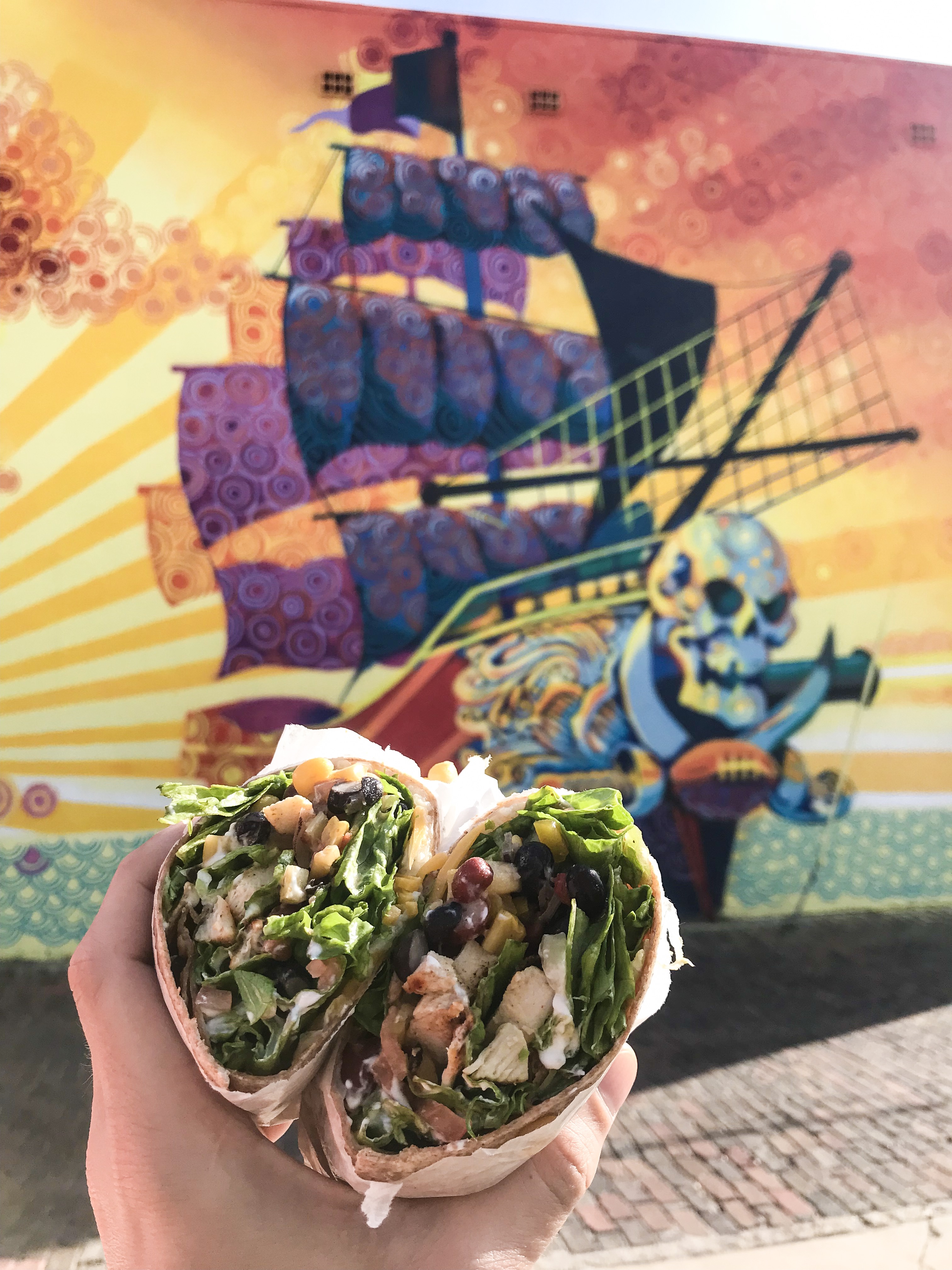 Speaking of food, let's talk about the good stuff- what we ate! We had the Steak and Cheese Wrap with Coleslaw, the Southwest Wrap with Tater Tots and the Loaded Nachos with Chicken. So much YES!
Hands down, without a question, the Steak and Cheese was our favorite! Picture a really good Philly Cheesesteak, but better, because, BACON. That's right, this baby is loaded with  Steak, Cheese, Onions, Sweet Peppers, Mushrooms and (optional) Bacon. It's sinfully delicious and quite easy to see why it's the crowd-favorite from the menu. Ooey and gooey, with a flavor blast from the bacon which we highly recommend adding. The coleslaw was the perfect bite to calm the party that the tastebuds were having and cleanse the palate in anticipation for the next wrap.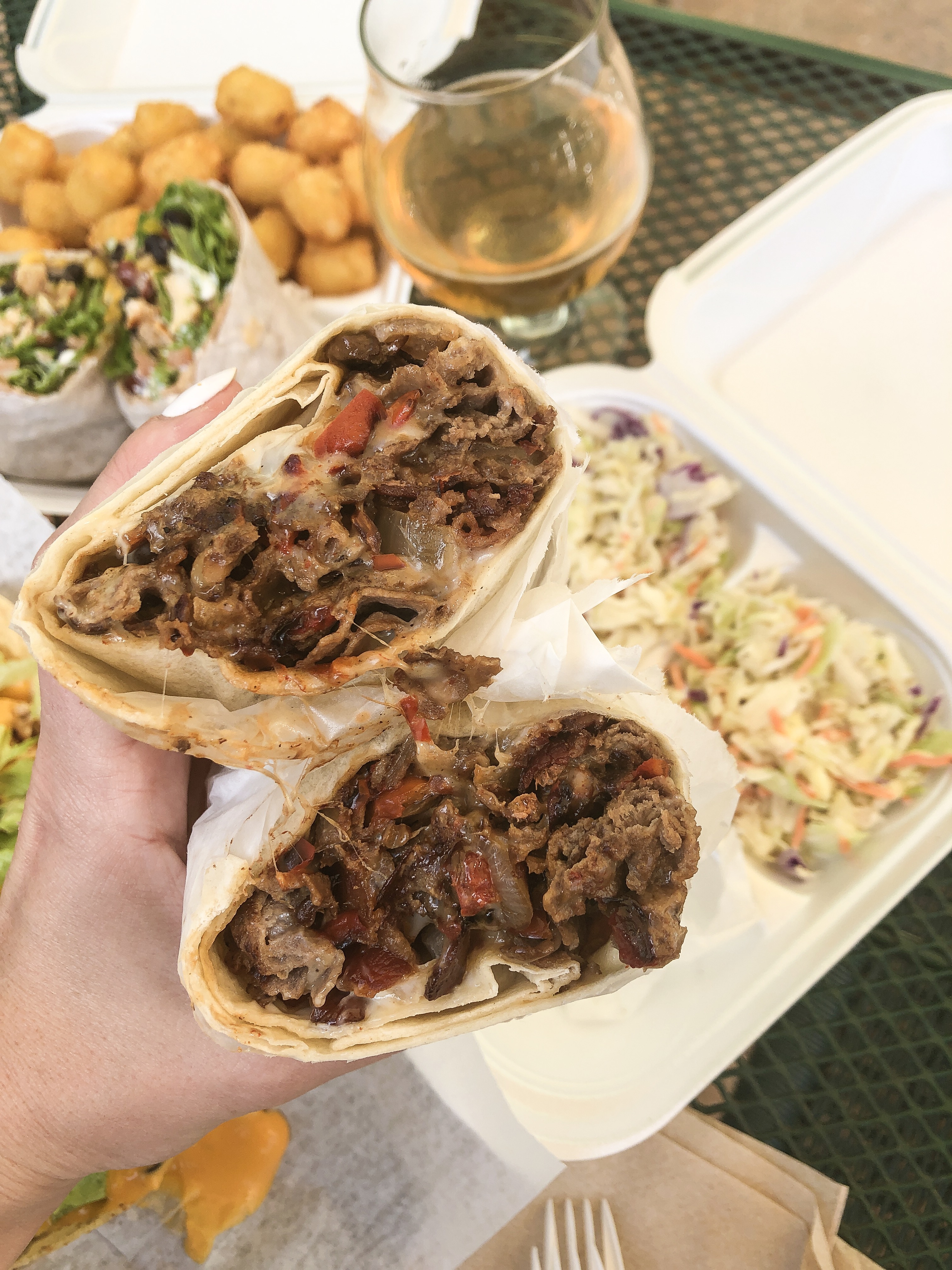 Now don't get me wrong, the Southwest Chicken wrap was a very, very close second. It's comprised of grilled Chicken, Alicia's homemade Texas Caviar, Lettuce, Tomato, a blend of Cheese, Salsa and Sour Cream. This wrap, in essence, is the handheld version of the Southwest Salad of your dreams. It's fresh and crisp and each bite keeps you wanting more. I greatly appreciate that the Sour Cream and Cheese do not overwhelm the whole wrap, as they tend to do in a lot of dishes. Here, the organic flavors of the combination of veggies and the smoky notes of the grilled chicken take center stage. I'd also like to mention that these Tots have it going on. Perfectly crisp and crunchy on the outside, and warm and soft on the inside. Don't make the mistake of leaving these off of your order!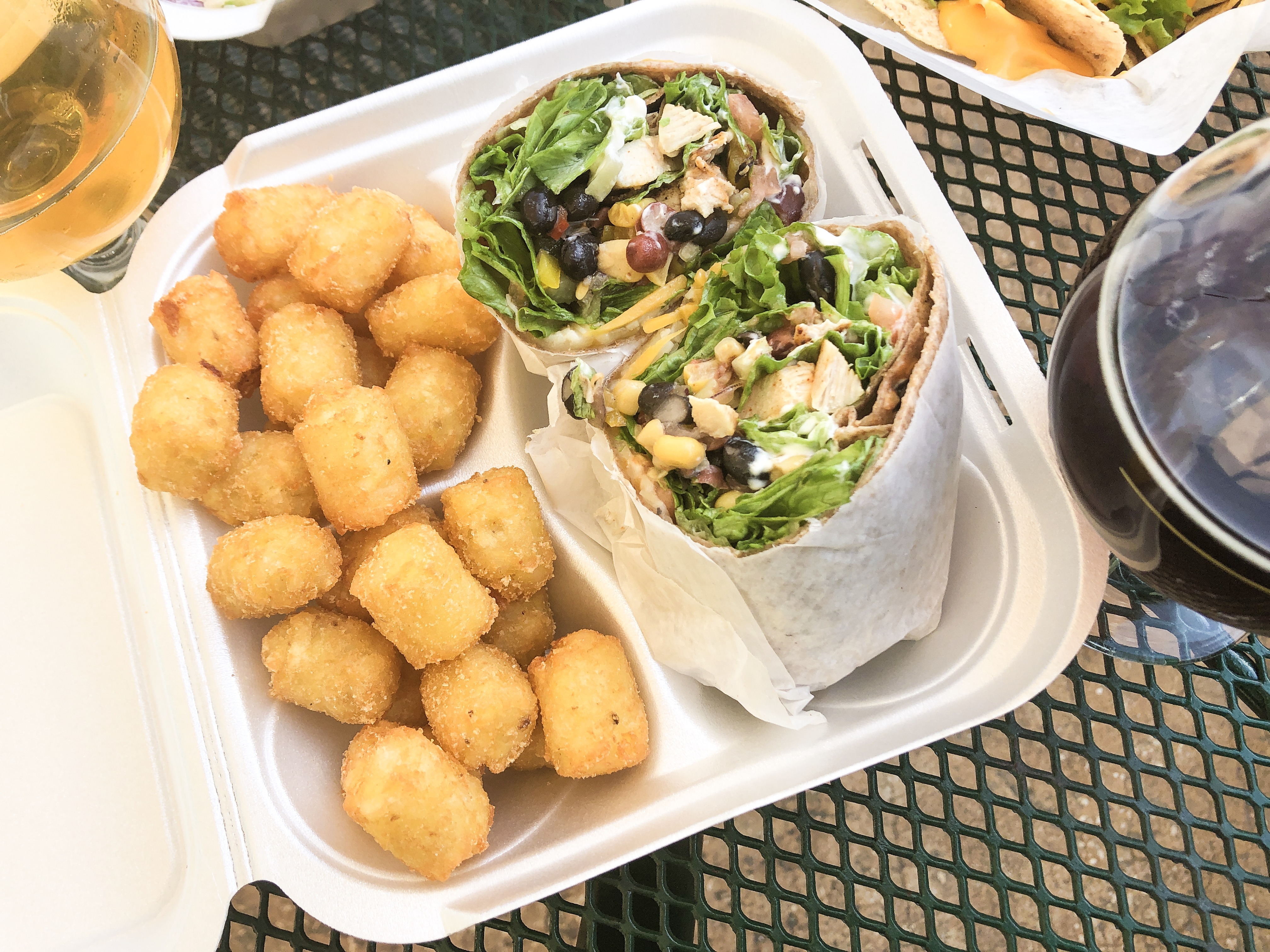 If Nachos are on the menu, there's a 99.9% chance that we're ordering them, so, we couldn't pass these up! You have the options to top your Nachos with Chicken, Bacon or Steak and they come with a side of Salsa. In this instance, we opted for Chicken. In addition to Chicken, you'll also find Black Beans, Lettuce, Tomato, Cheese and a side of Salsa- Mmm. When it comes to Nachos, I like to send out a round of applause to those who properly layer them (thank you, thank you, Alicia and Lisa!). There are few things worse than when a big ol' plate of Nachos arrives and they're 80% chips, which only have the fixings on the top layer. Come on, man. These particular Nachos were perfectly layered, which allowed for a taste of all of the good stuff during each bite.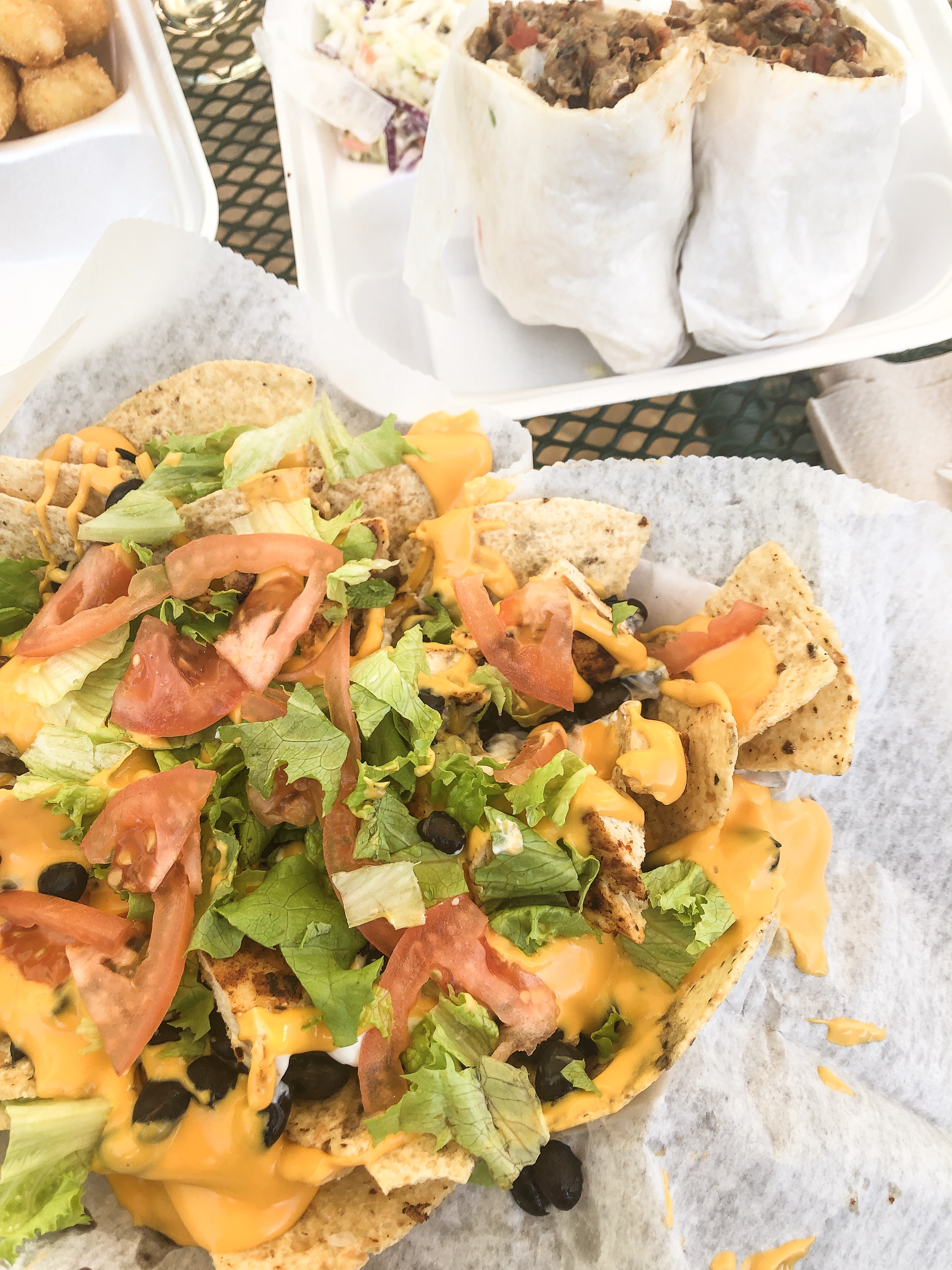 The PAWS-itively Delish menu stays the same from week-to-week, with the exception of the special, which changes each week. You can find the truck parked out back of Pinellas Ale Works Wed-Sat 5:00PM- 10:00PM and Sunday from 1:00PM- 6:00PM. What're you waiting for? Get to PAW for some yummy eats and thirst-quenching beers to support our local business owners and dog shelters!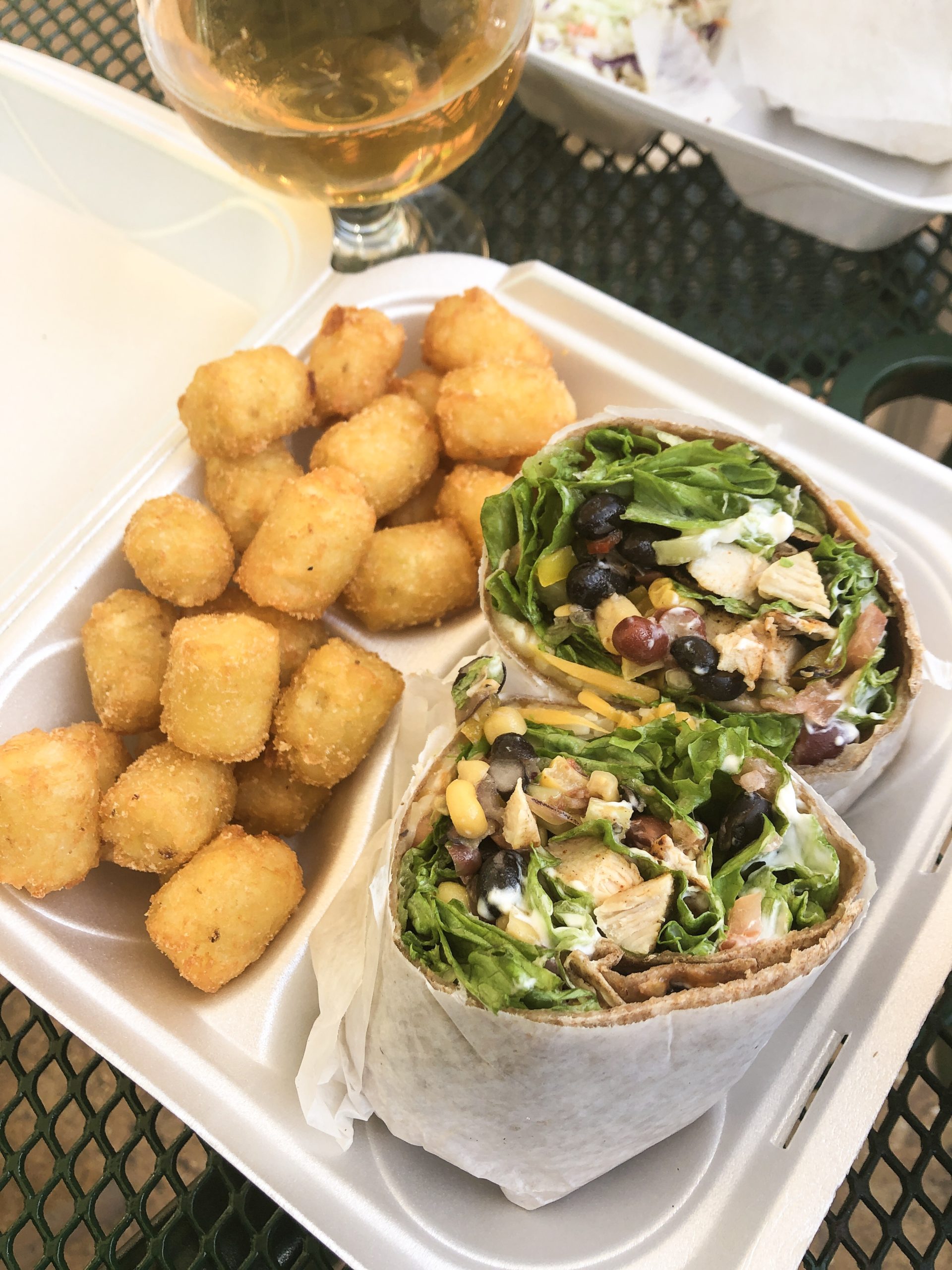 Readers Rating

Rated 4.5 stars




4.5

/ 5 (

Reviewers

)

Outstanding
---
PAWS-itively Delish Food Truck Review 2019

Wraps

,

Made To Order

,

American Food

Wed - Sat

5:00pm - 10:00pm

Sun -

1:00pm - 6:00pm
1962 1st Ave S

,

St Petersburg

,

Florida

33712

,

USA
---
Food trucking specializing in fresh made-to-order wraps in St Petersburg, Florida.
DISCLAIMER: Kevin, Lori, Abby, Haley, & Lindsey do not dine anonymously (this would be impossible) and we sometimes get free food (though never expected). However, we dine with the locals and we support our own. You will always get honesty in a respectful manner.

PLEASE NOTE: Reviews reflect a certain moment in time. Some restaurants stay extremely consistent over many years, and some change for the better or worse. Some things that may change are: chefs, recipes, food suppliers, ingredients, philosophies, ownership, etc. We always hope that you have the same good, or great experience we had.
More Foodies News, Reviews & Recipes