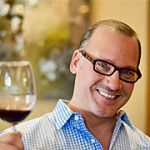 Kevin Godbee · Jul 16, 2018 · 4 min read
There's more than meets the eye when you first walk into Beans & Barlour, the new alcohol-infused ice cream and gourmet coffee joint, opening next week in downtown St. Pete.
The small bar, stools, and quite impressive large brass and copper espresso machine imported from Italy, immediately steal the show. You may notice the nice little couch and chairs near the window too, and it seems like a cozy little place ... but wait, there's more!
There are actually three rooms. The cozy little space in front is "the action room", as owner, Story Stuart describes it. "Where you can watch the baristas and bartenders making the coffees and alcoholic ice cream cocktails."
The next room back, which seems to be about 4 times larger, is the "more formal dining area". There's a small stage for solo or duo live acts with lots of tables and chairs. It has Victorian patterned wallpaper, and a high ceiling with chandeliers.
"We want it to be a sexy, fun place for people to come after dinner. There are so many great restaurants in this area, and then you can come here for beautiful alcoholic ice cream cocktails, wine, and coffee, in a nice place to lounge."
There's a red velvet couch where it has "you're my person" painted on the wall above it, which Story calls "The Instagram Couch". How's that for smart social marketing?
The third, closed off back room is the "Library Room", which was not quite photo-ready when I paid a visit the other day.
This area can be used as a work space, conference room, and even a presentation space for company or business meetings. It has its own separate sound system so the music can be turned off. There's a conference table and small stage for private presentations.
Their neighbor and landlord, St. Pete Brewing Co., will be supplying the beer, which back in the good ole days in the 90s, when I had a corporate job, we actually did have at offsite meetings.
The soft opening is on July 23rd, when they will be open in the evening only for that week. Friday, July 27th is the grand opening party, and the days after is when they start their full schedule. (Hours are below near the Google Map.)
Here's a preview of a few items starting with a Champagne Strawberry Sorbet. The sorbet is 50/50 strawberries and champagne, and then added to a glass of champagne. "It's an elevated experience to a mimosa–not only is your mixer alcoholic, but delicious, fresh sorbet" ... made from fresh strawberries on premises.
The next tasty treat was B&B's version of tiramisu. There's layered ice cream, parfait style layered with warm espresso soaked lady fingers, and amaretto mascarpone alcohol-infused ice cream, which provides a scrumptious treat that is both hot and cold. It has an ABV of about 7%.
All of the ice cream is made from scratch in-house. Story says that some shops that make their own ice cream start with a pre-made base, and then add other ingredients to it. That's not what they do here. They do it the old fashioned way starting with cream and egg yolks.
The Piña Colada Dole Whip Float is inspired by the Dole Whip that is only available at Disney and the Dole factory tour.
This one has light rum, coconut rum, with cream of coconut and pineapple juice, along with the soft serve. You can eat it or drink, but be sure to give it a stir for all the flavors to be mixed together as it is layered.
The vertical copper espresso machine is a classic Elektra, made-to-order from Italy. Story says, "it's very iconic, and a good representation of our brand because we like a mix of old and new, something that is cutting edge, and interesting, but also true to a classic product.
Beans & Barlour has their own roasting machine as well, and they use only certified organic fair trade beans.
Kozuba & Sons Distillery is providing their rye whiskey barrels for Beans & Barlour to age coffee beans to infuse them with the rye flavor and aroma. There will be cold brews and coffee cocktails from this, and the beans will be available for sale as well. Sign me up!
When they are done with the barrels, then they will go next door to St. Pete Brewing Co. where they will be used to make barrel aged imperial stout. What a tasty cooperation that is!
Craft Coffee Bar and Dessert Lounge with Alcohol Infused Ice Cream