I have been Facebook friends of Brian and Lindsay Rosegger for sometime now. They have also been active members of our Facebook group, St Petersburg Foodies Restaurant Reviews. I initially saw Lindsay's post about finally receiving approval for their two acre lease from the state in the Terra Ceia Aquatic Preserve on February 26th, 2019. After five applications and two years the state finally determined that they could lease this two acre area of the bay that contains no sea grass or anything that could cause another application rejection. Governor Desantis himself actually had to sign off on it. Now nothing can stop them from using their space to farm and promote sustainable oyster aquaculture in Tampa Bay.
Lindsay wrote on Facebook that day, "February 26th: Never give up! After 5 failed applications and 2 years of hard work the state has finally awarded us our submerged land lease. We will be farming oysters in Lower Tampa Bay!"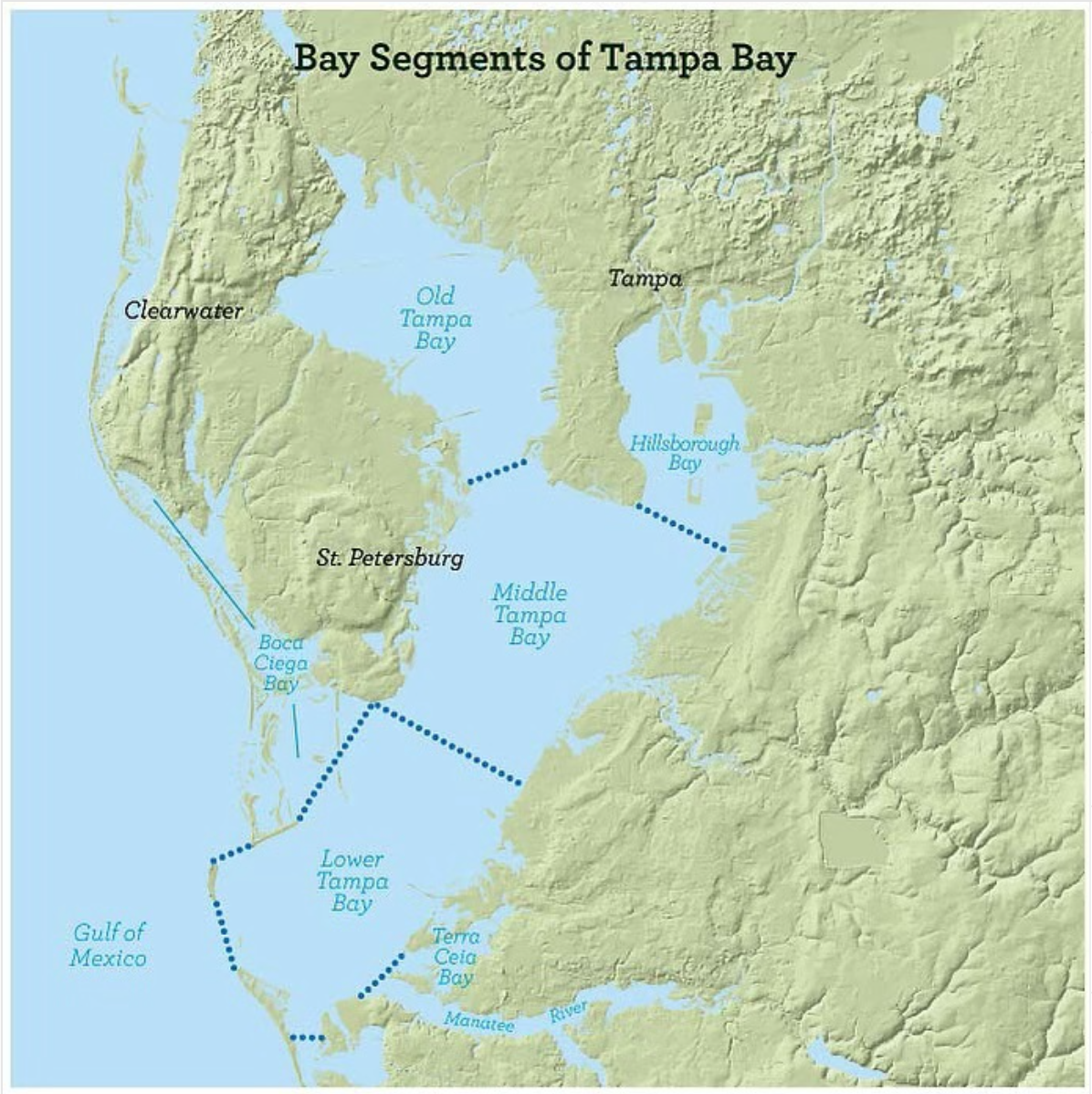 I contacted Lindsay directly with congratulations and inquiries. She shared a lot of information with me and offered to take us out on the boat after they finally got their seedlings or juveniles called Spat into place in their floating mesh grow out bags and had something to show us. That day finally came this past Saturday, October 26th. It was a gorgeous day.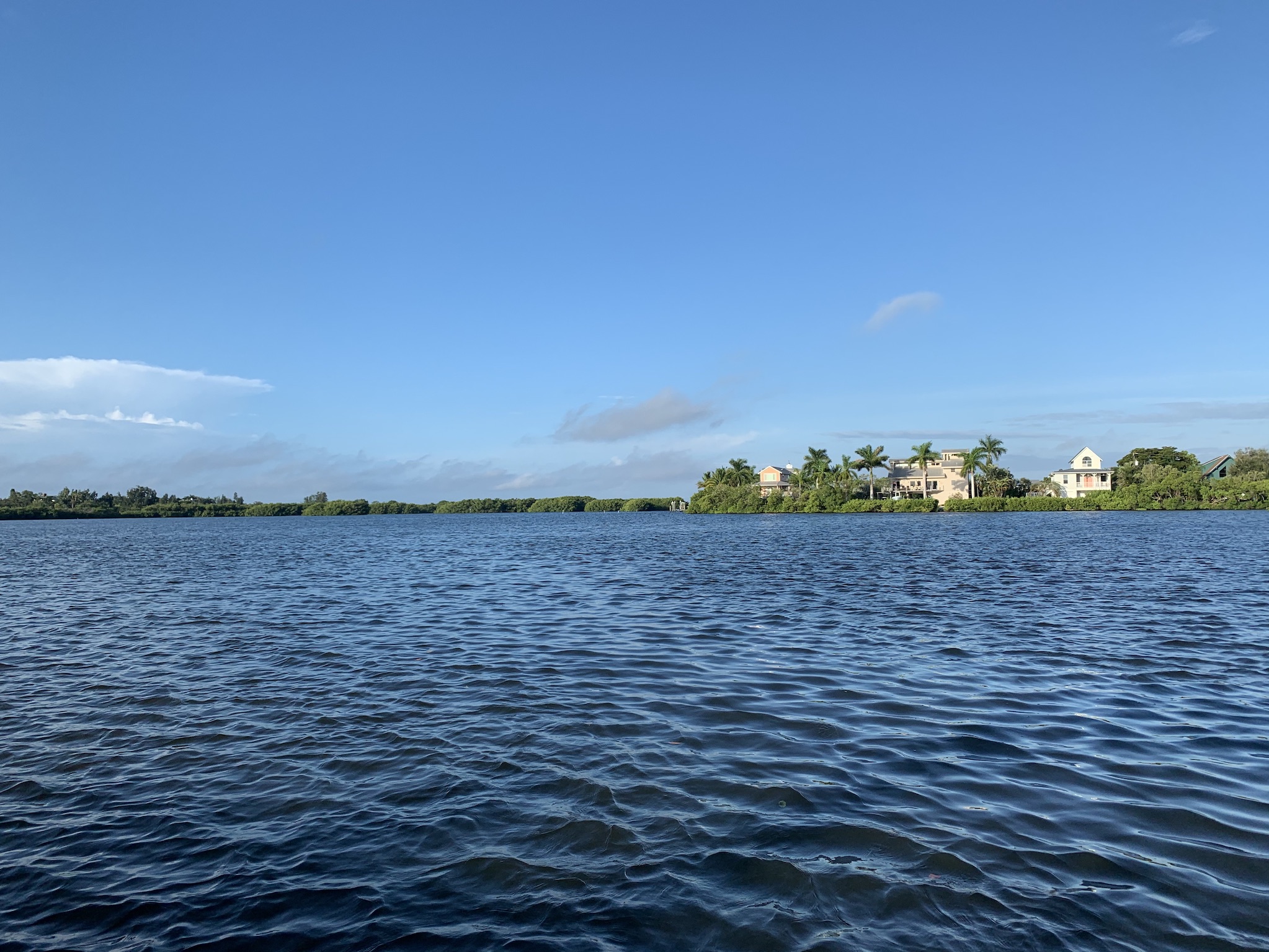 We started off at Curt Hemmel's home and dock in Terra Ceia. Curt is the founder and managing director of Bay Shellfish Co. and where Brian and Lindsay obtained their Spat to grow their farm. You can read more about Curt and his accomplishments here. We used Curt's boat that day. Brian and Lindsay agreed to let Curt use part of their lease area for an experimental scallop project he is undertaking. You will see his scallop farm go into the water in later pictures.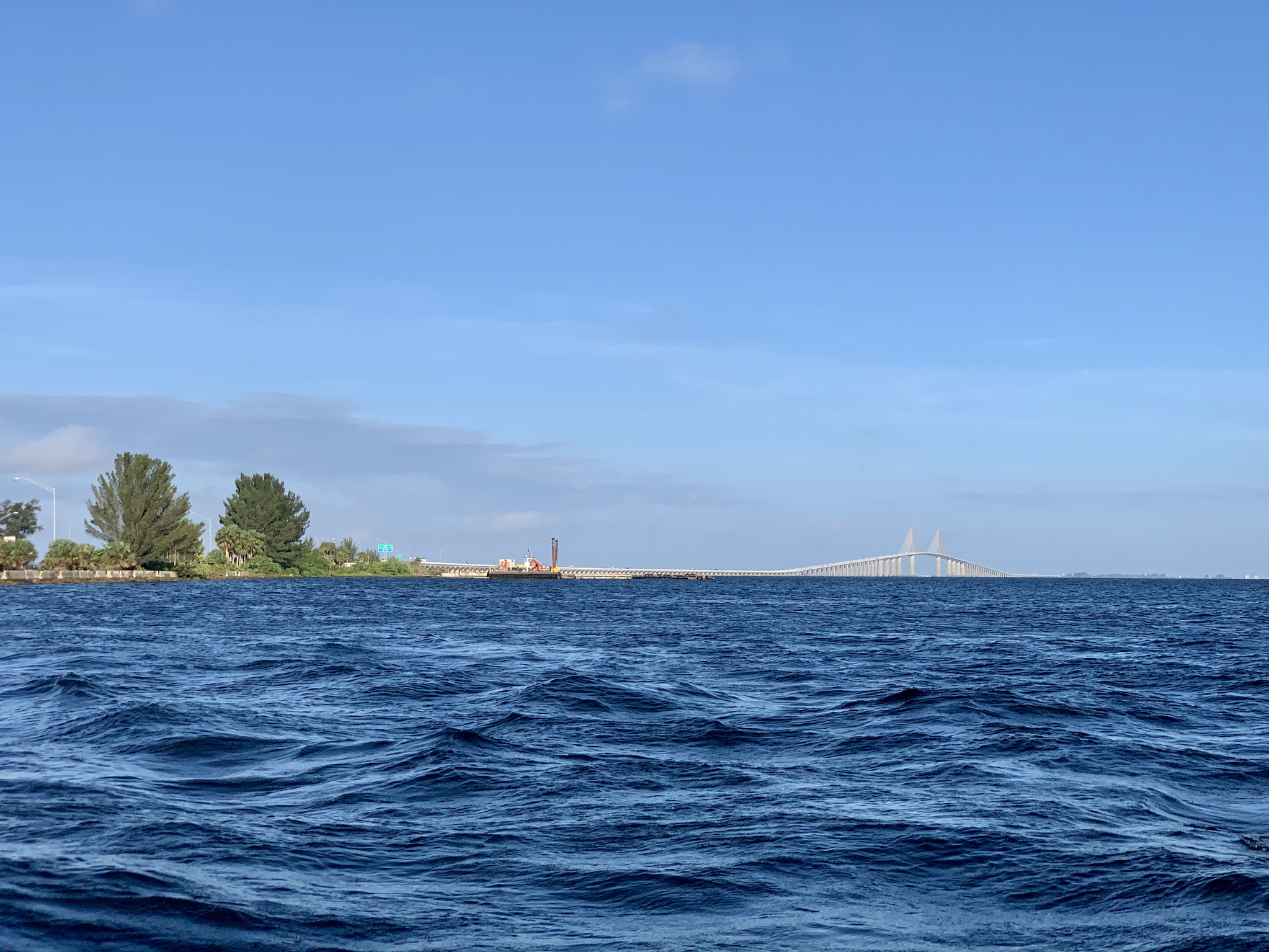 According to the Lost Coast Oyster Company's website, "The Lost Coast Oyster Company was founded in response to the widespread failure of the wild-harvest oyster fishery throughout the state of Florida. Saltwater intrusion, nutrient deposition, the BP oil spill, and other environmental factors left a significant shortage of oysters throughout the state. Several trips to Cedar Key, one of Florida's last working waterfront commmunities, kindled an interest in innovative off-bottom farming techniques being applied along the Gulf Coast. By applying the latest research and technologies, the Lost Coast Oyster Company aims to become an industry leader in sustainable aquaculture along Florida's Gulf Coast, providing a fresh product from our farm delivered straight to your table."
The below picture you can see the first view (a black line with a bouy to the right) of the first oysters that they put in place two weeks prior.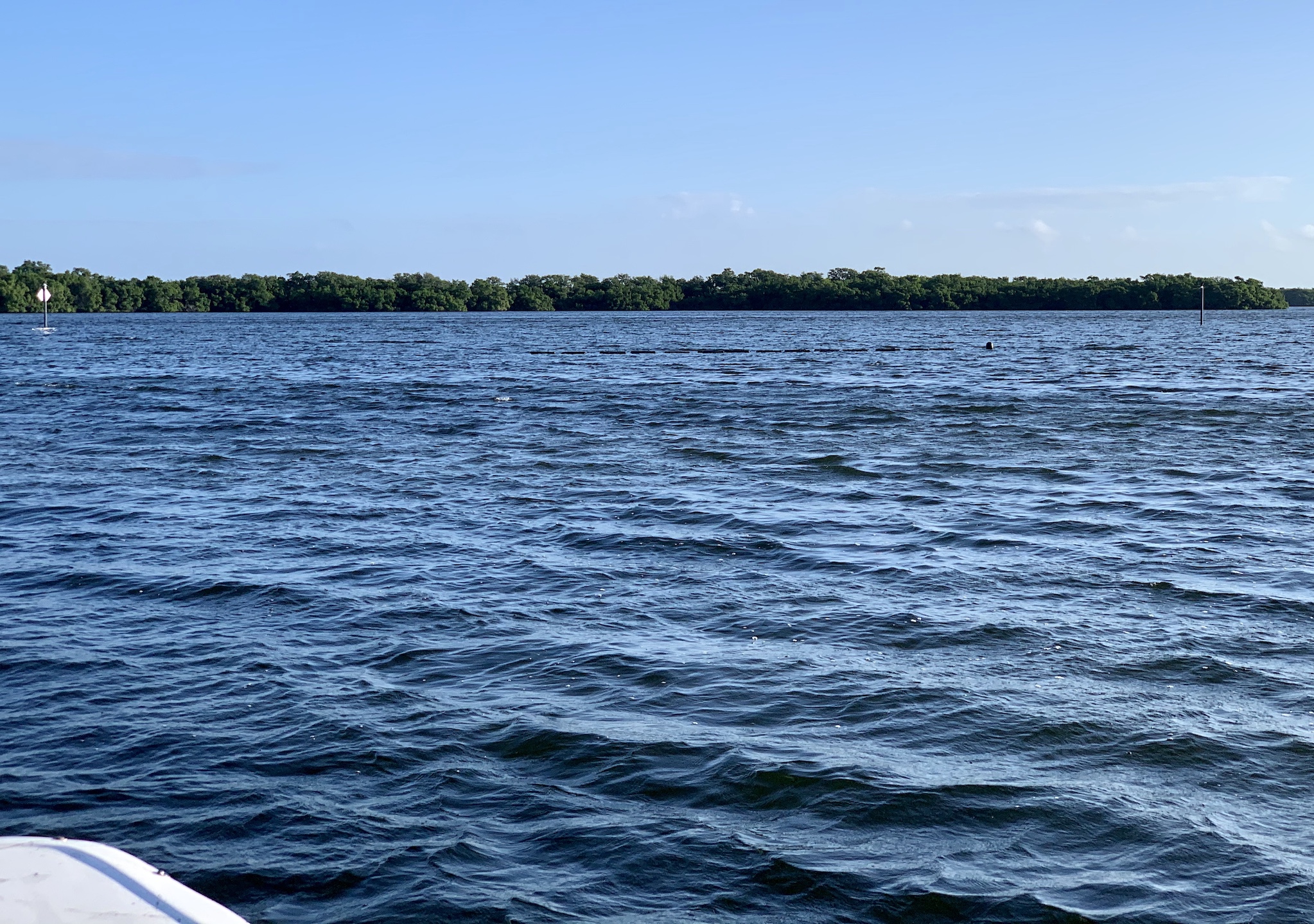 I am going to use these pictures of the experimental scallop farm going in to explain how the oyster farm was devised. Below is a picture of Juvenile scallops or Spat. Spat is, "hatchery reared juveniles that are spawned at a nursery before they are stocked at the farm."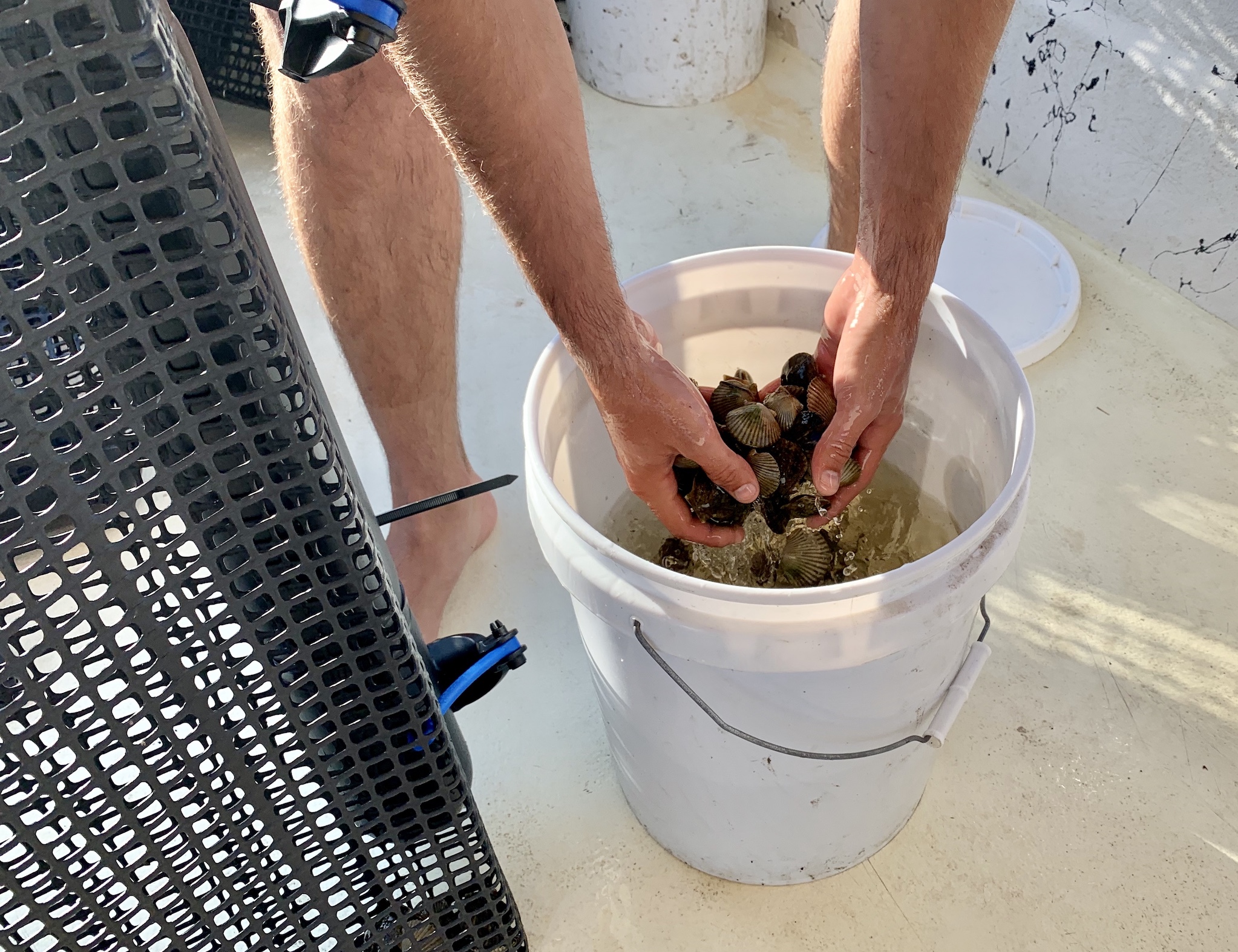 Next they are loaded into floating mesh grow out bags. Brian and Lindsay make these by hand currently in their home. According to their website they call this the Floating Bag System, "The Lost Coast Oyster Company employs the floating bag system to culture our oysters. This growing method allows for ultimate control and crop management."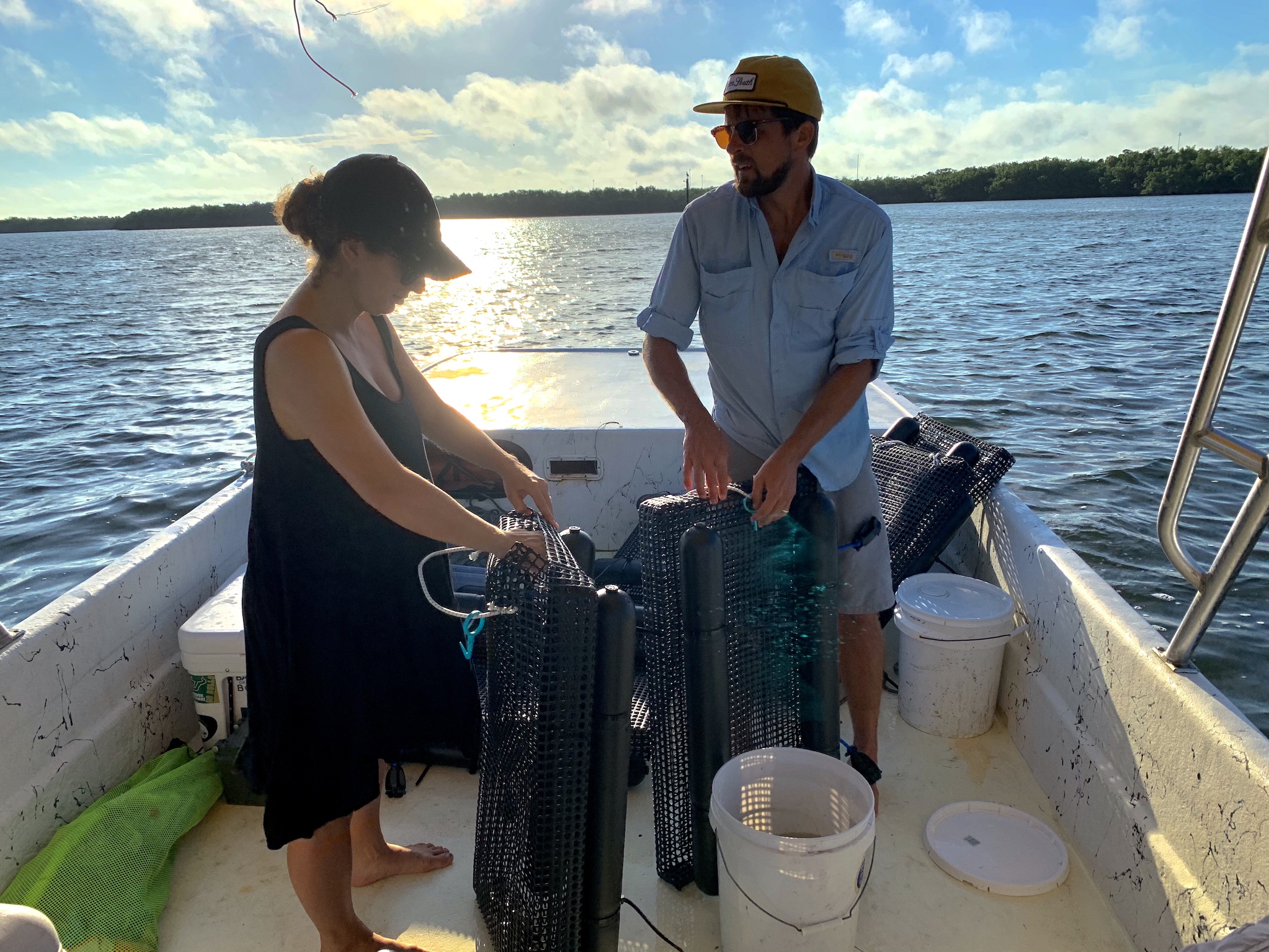 Still using the scallops as a visual, imagine hundreds of thousands of fingernail-sized oyster babies stocked in these same floating bags, only with smaller holes, providing them with an ideal growing environment. As you can see below they employ the top of the water for the growing. This allows for tumbling, "Wind and wave action naturally tumbles the oysters, encouraging a deep cup and firmly textured meat."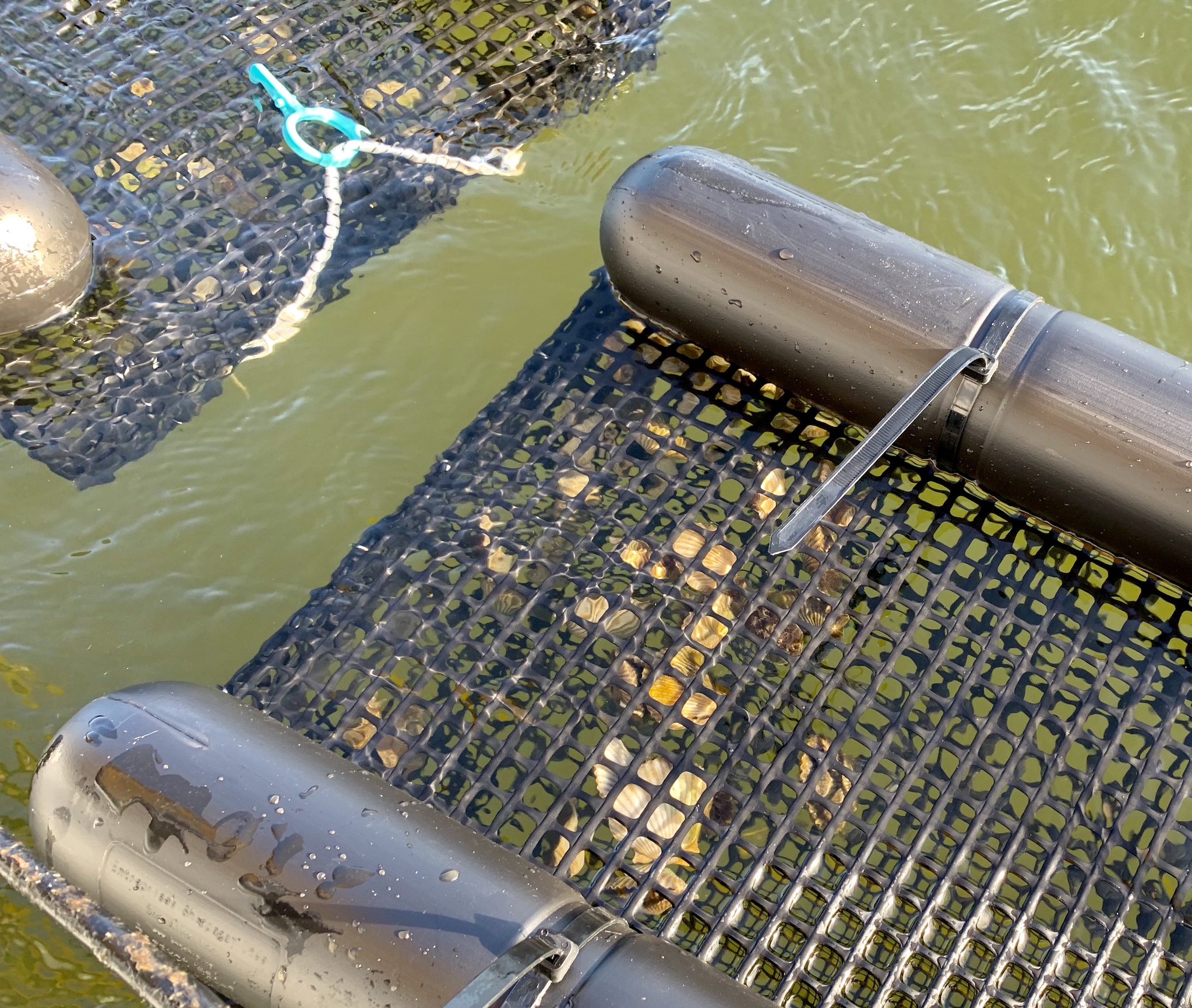 Below is what Curt's new experimental scallop farm looked like when they were through.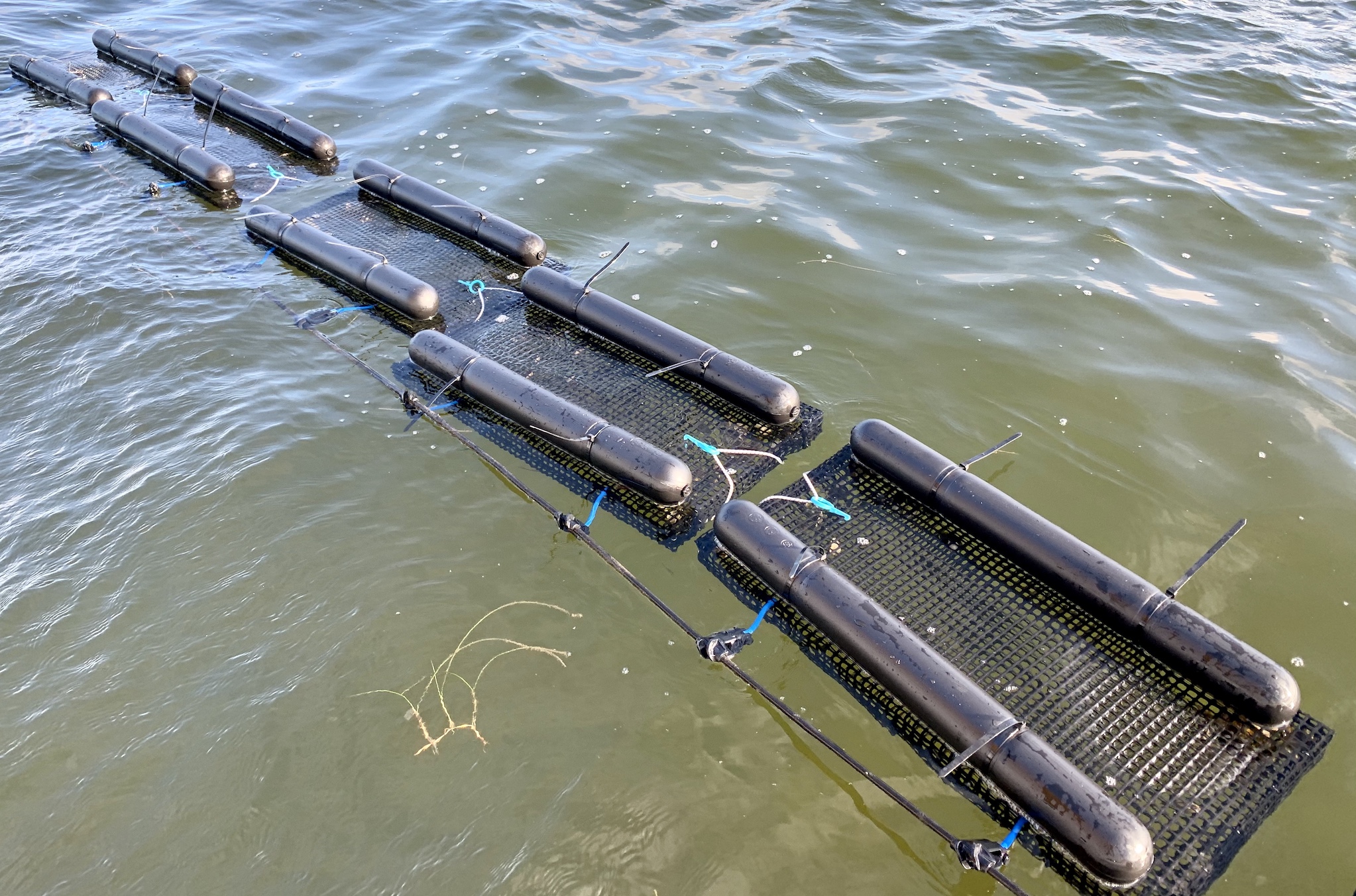 Below, Brian is checking on the two week old Spat oysters.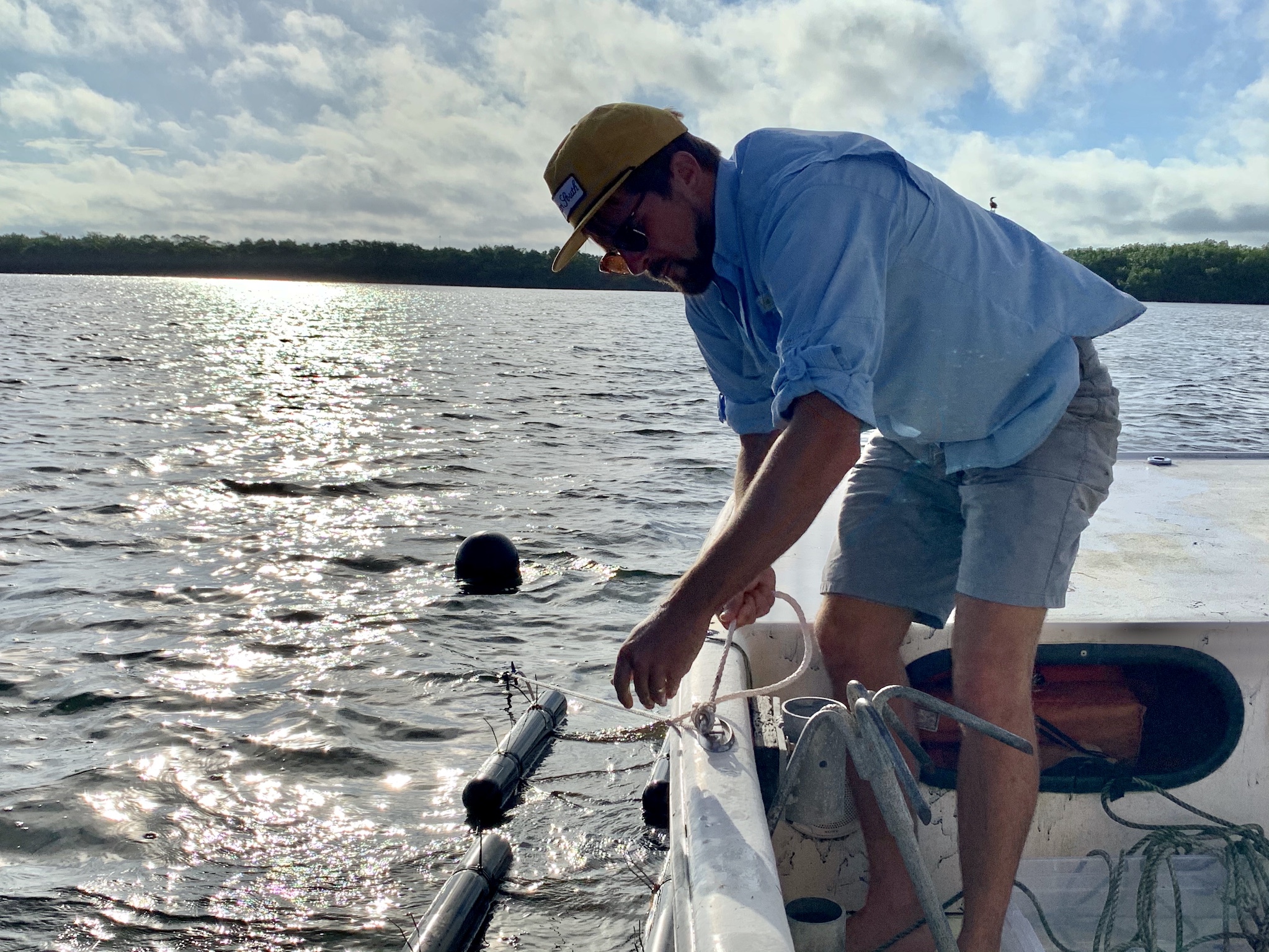 Seaweed and ocean growth has made its way on top of the oyster's mesh bags, so they clean it off, wipe off some of the algae and shake the bags to encourage a better growing environment.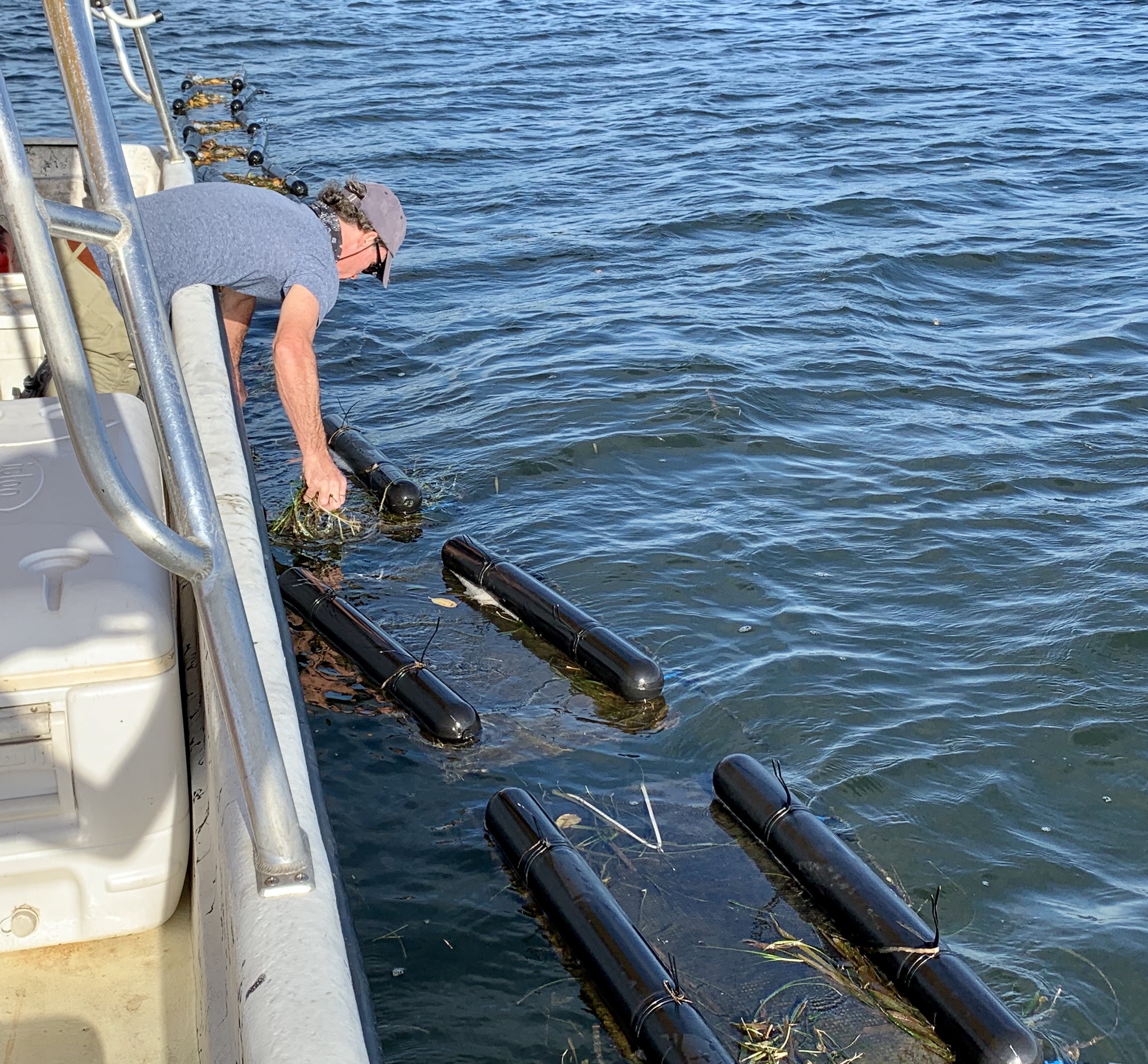 Brian and Lindsay were thrilled with the growth after just two weeks. The website explains, "with each oyster filtering upwards of 50 gallons of water per day, these little guys consume microscopic algae, causing an explosion of growth."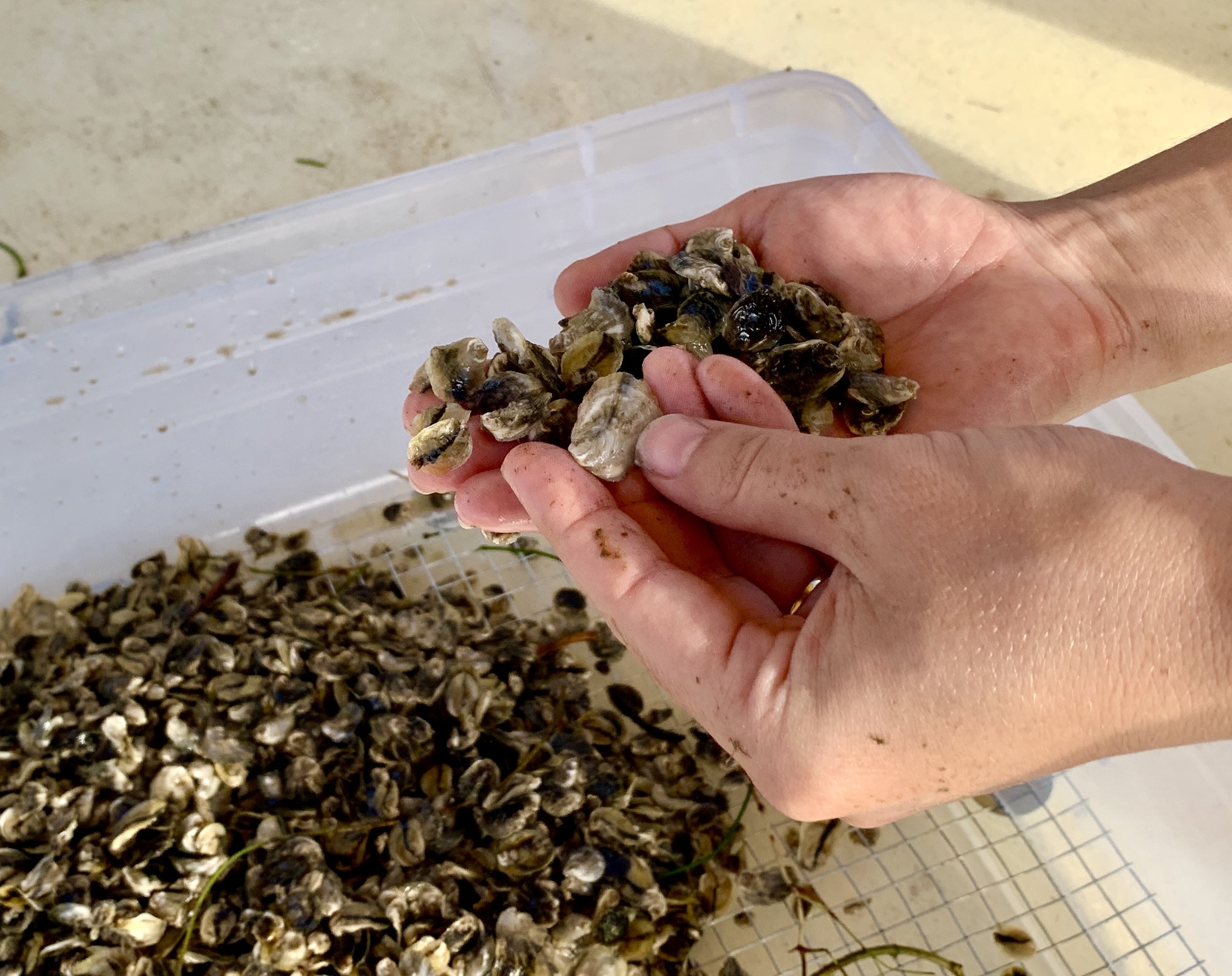 Below is a homemade sorting container that helps to weed out the larger oysters that are ready for the next size floating mesh bag with larger openings. The sorting process is explained as, "to eliminate crowding and provide adequate space for growth, the growing babies are gradually sorted into larger bags."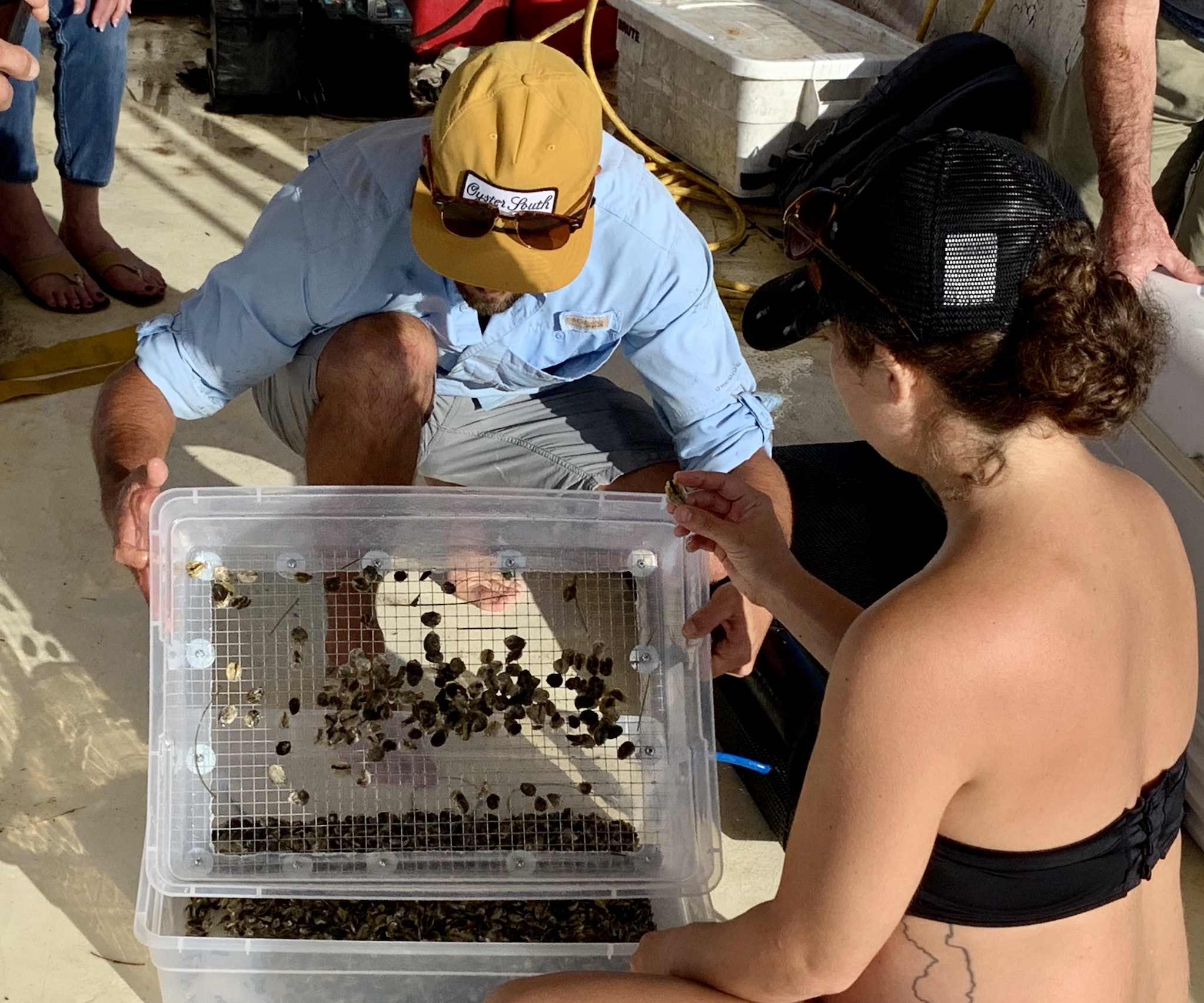 I noticed this bird standing on this pole drying his wings and I had to get the picture. When I did this, it made Brian notice that the sign is missing from the post. They installed four posts in the water to mark off their lease space and attached large yellow metal signs with A, B, C & D to them. This was D and it had obviously blown off into the water. There had been a major storm the weekend before. It's always something!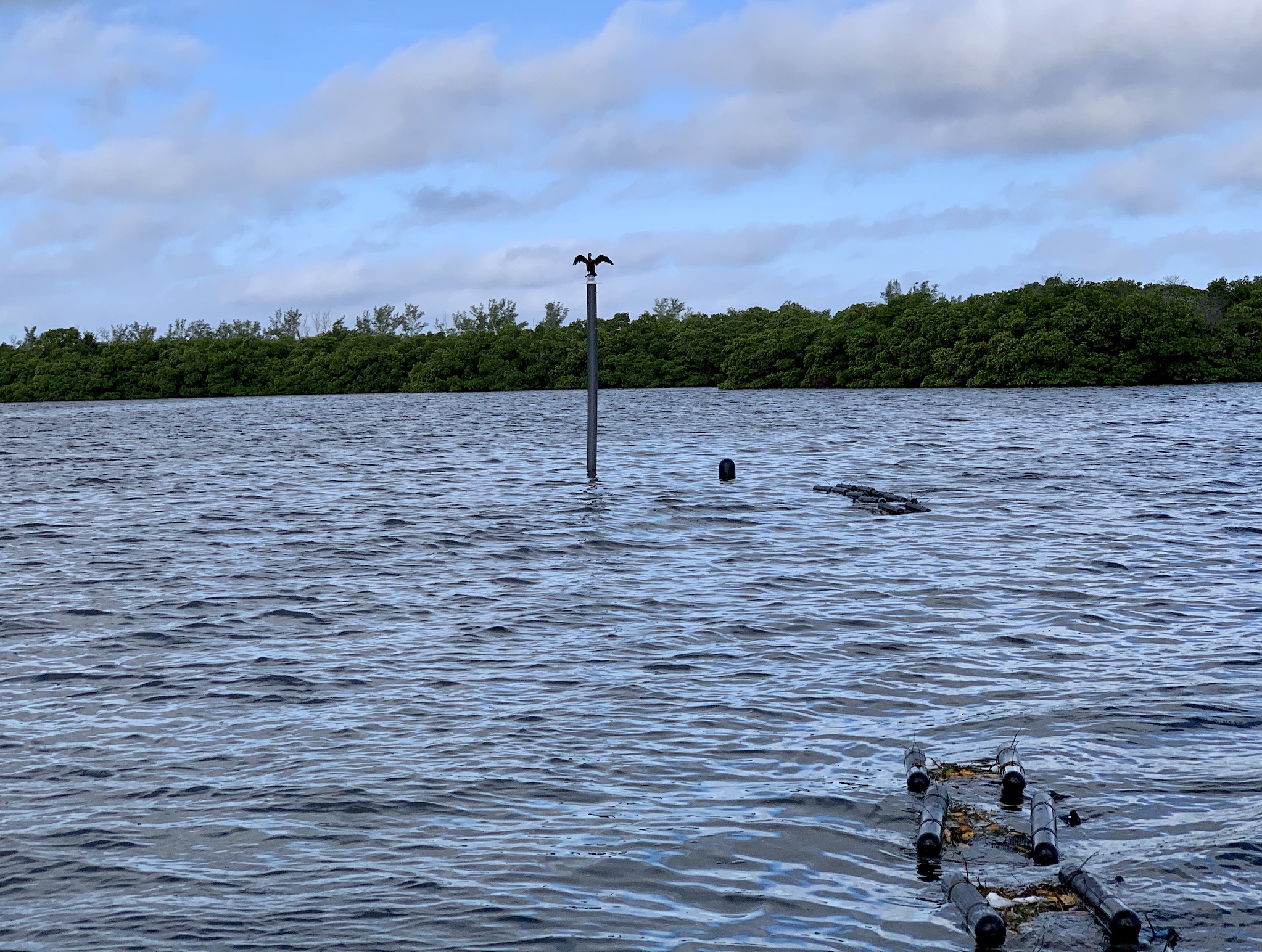 Speaking of storms, I caught one blowing in. Luckily it blew right over us with no incident.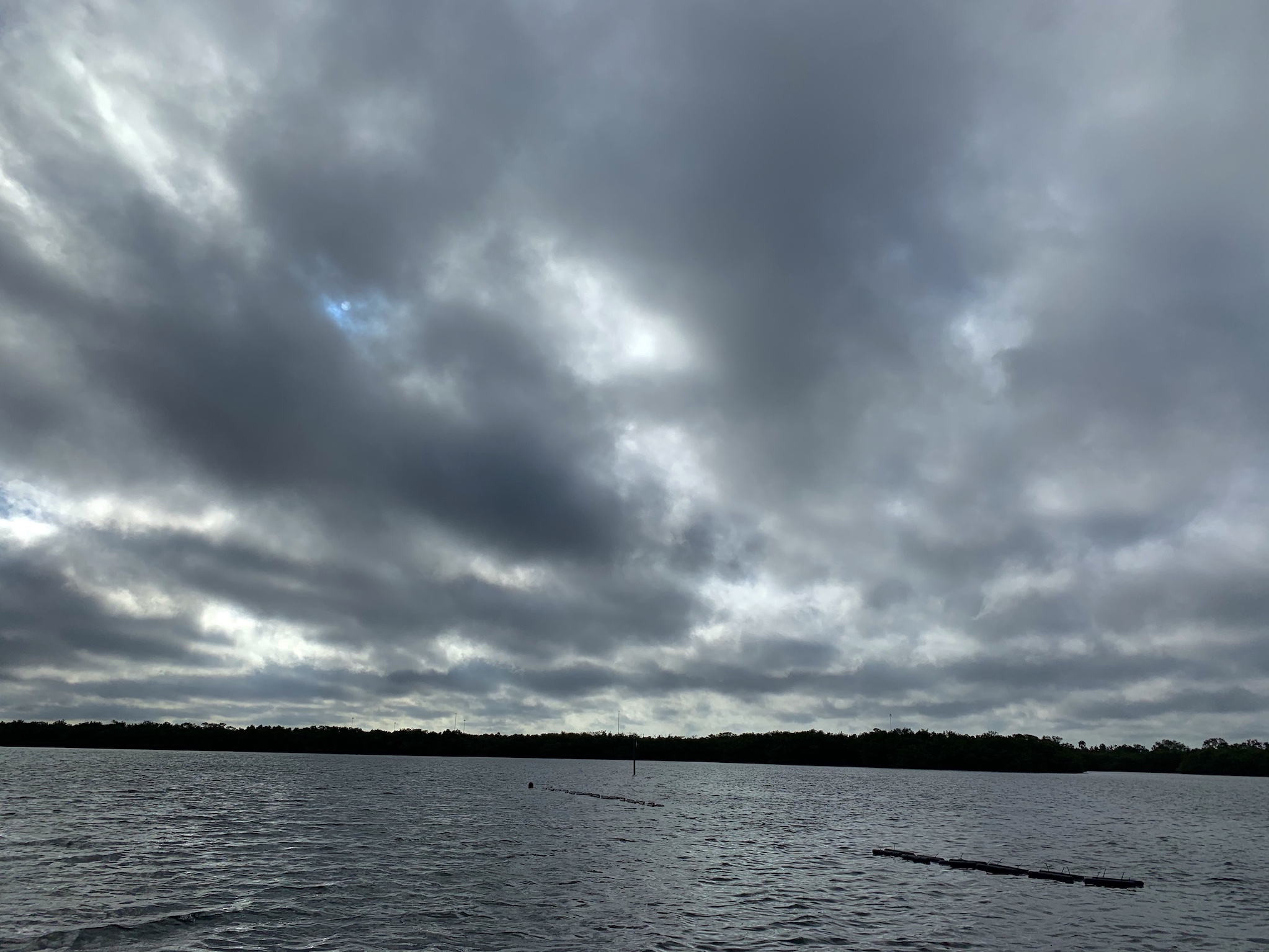 Storm overhead and all, Brian dove into the water and retrieved the D sign from where the bird had been standing.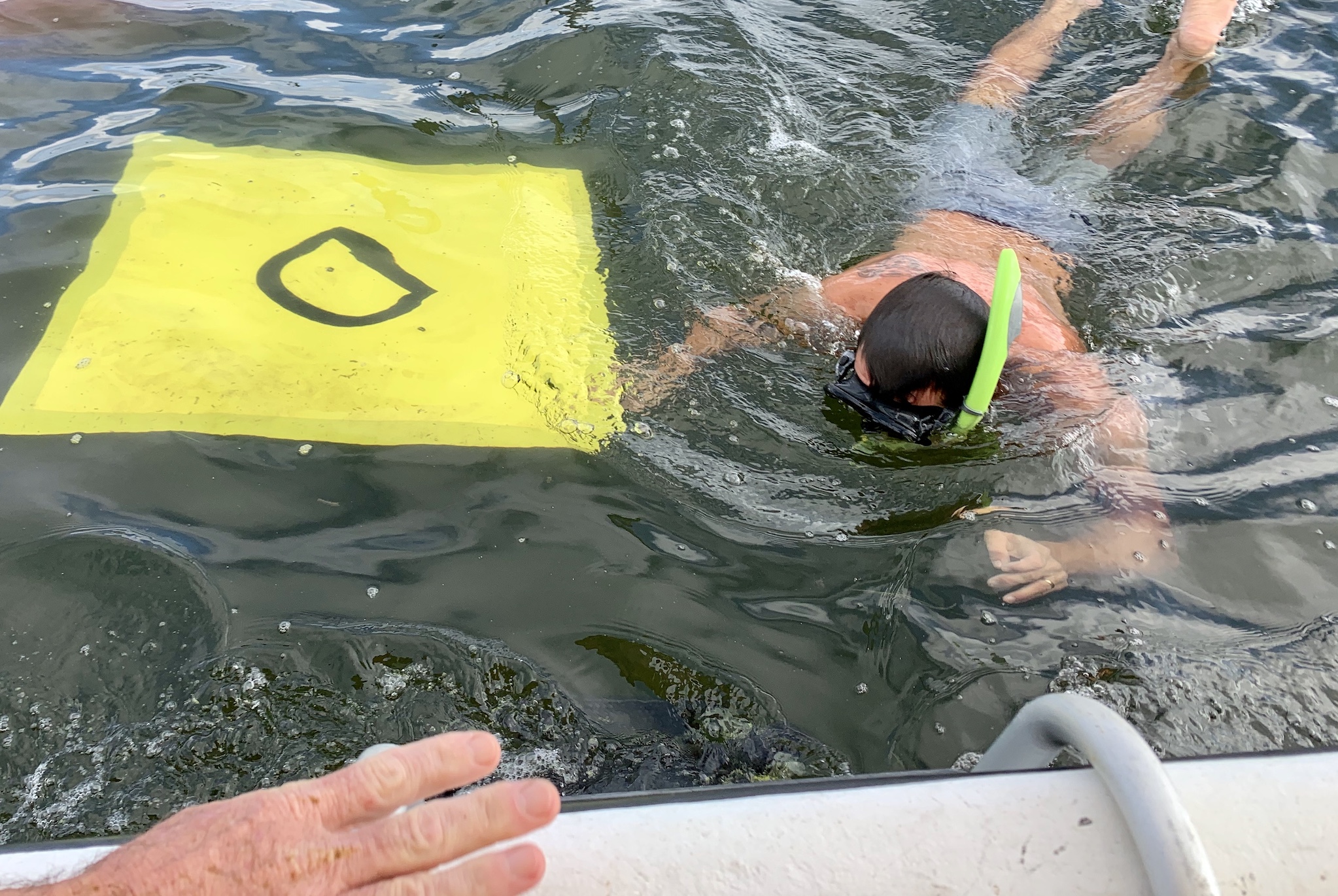 And in he goes again to find missing sign number two. Success on that one as well.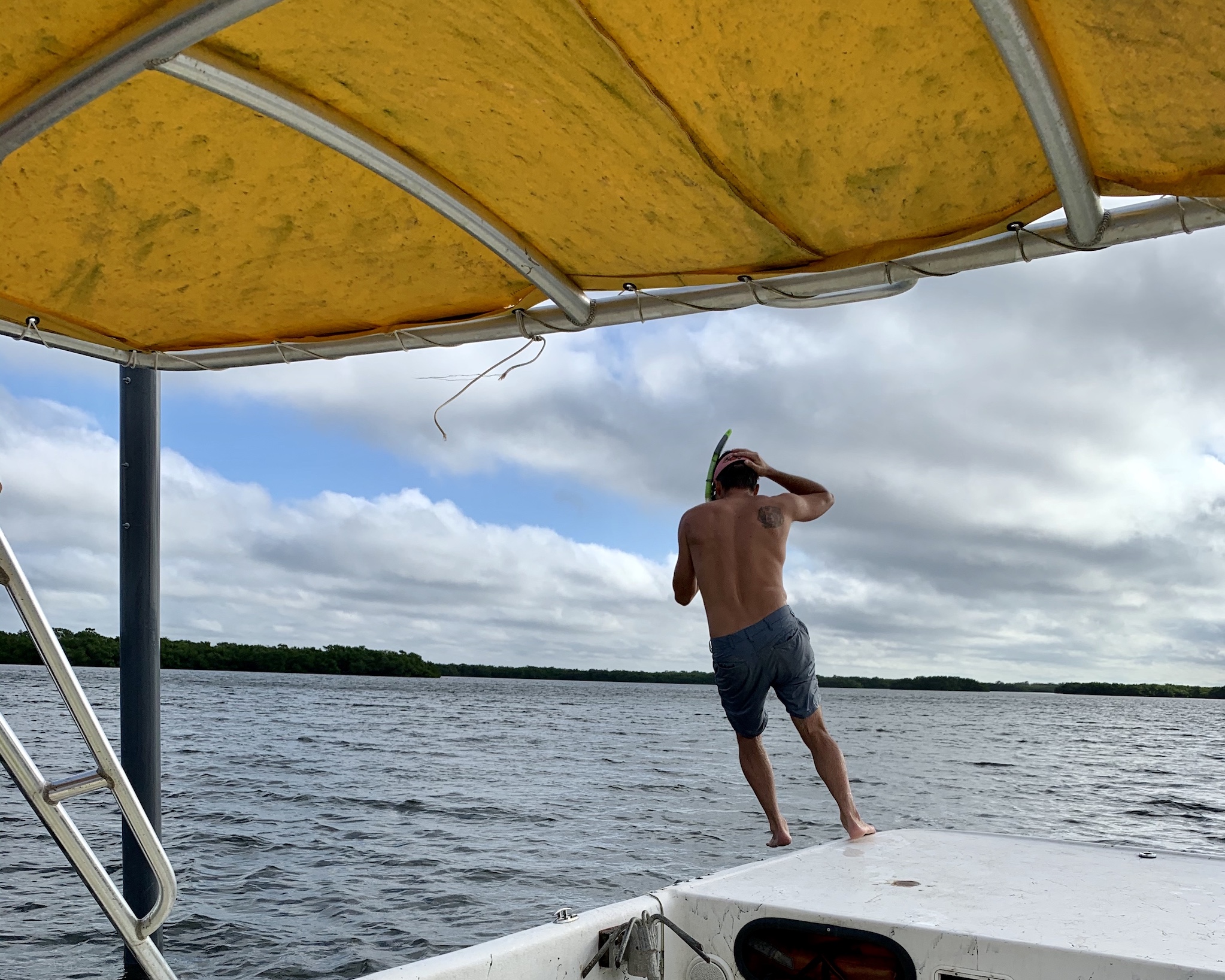 They decide to remove the other two remaining signs until they can find the right reinforcements to attach to the back of them so that they will not break off again.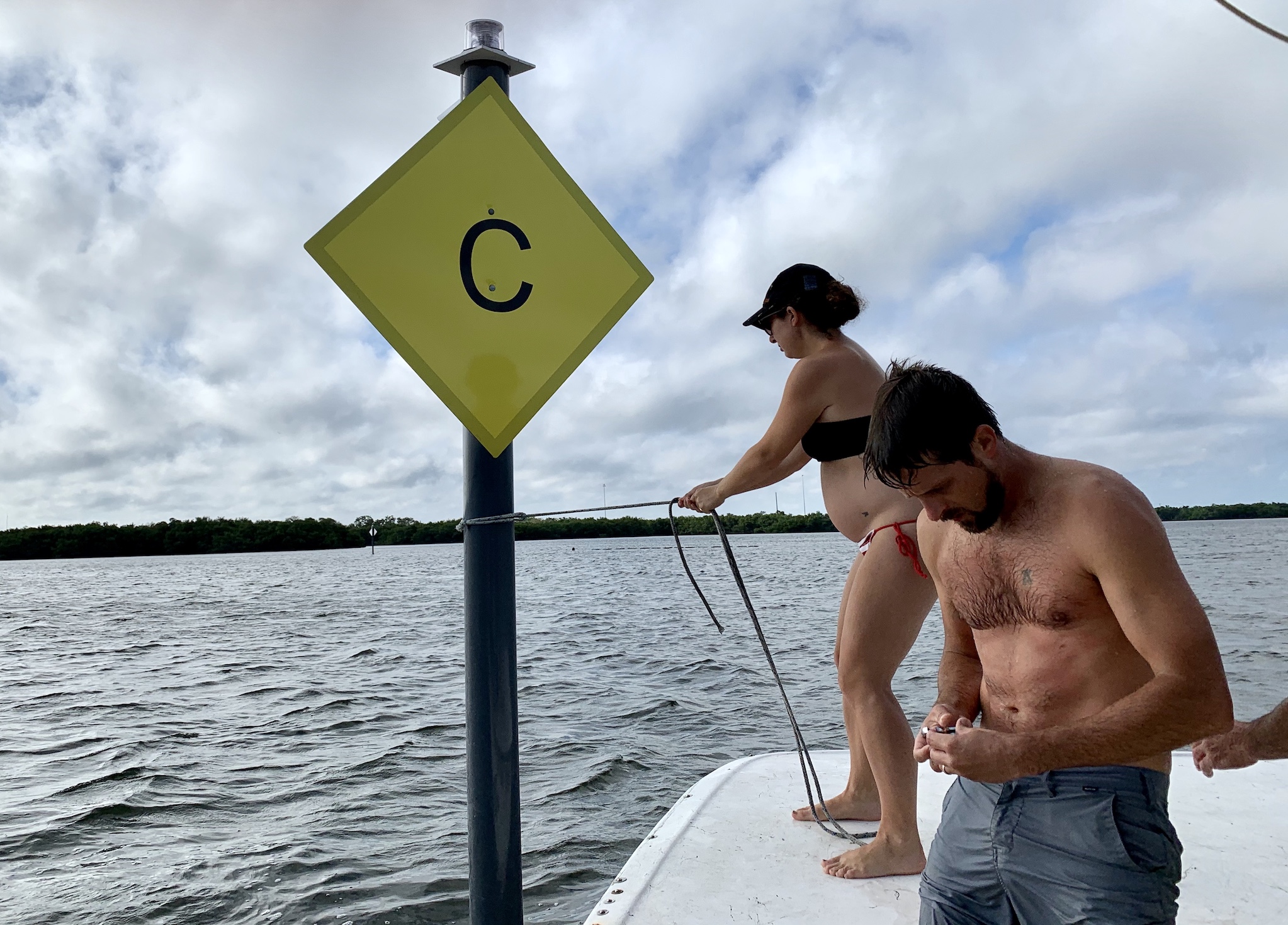 On the way back, we discussed when the juveniles would be ready. They are hoping by spring, with the growth they have seen thus far, and the warm temperatures that are continuing. Another quote regarding harvest says, "when they reach the magical 3:2:1 size ratio our oysters are ready to harvest for your enjoyment." And we are excited for that magical moment!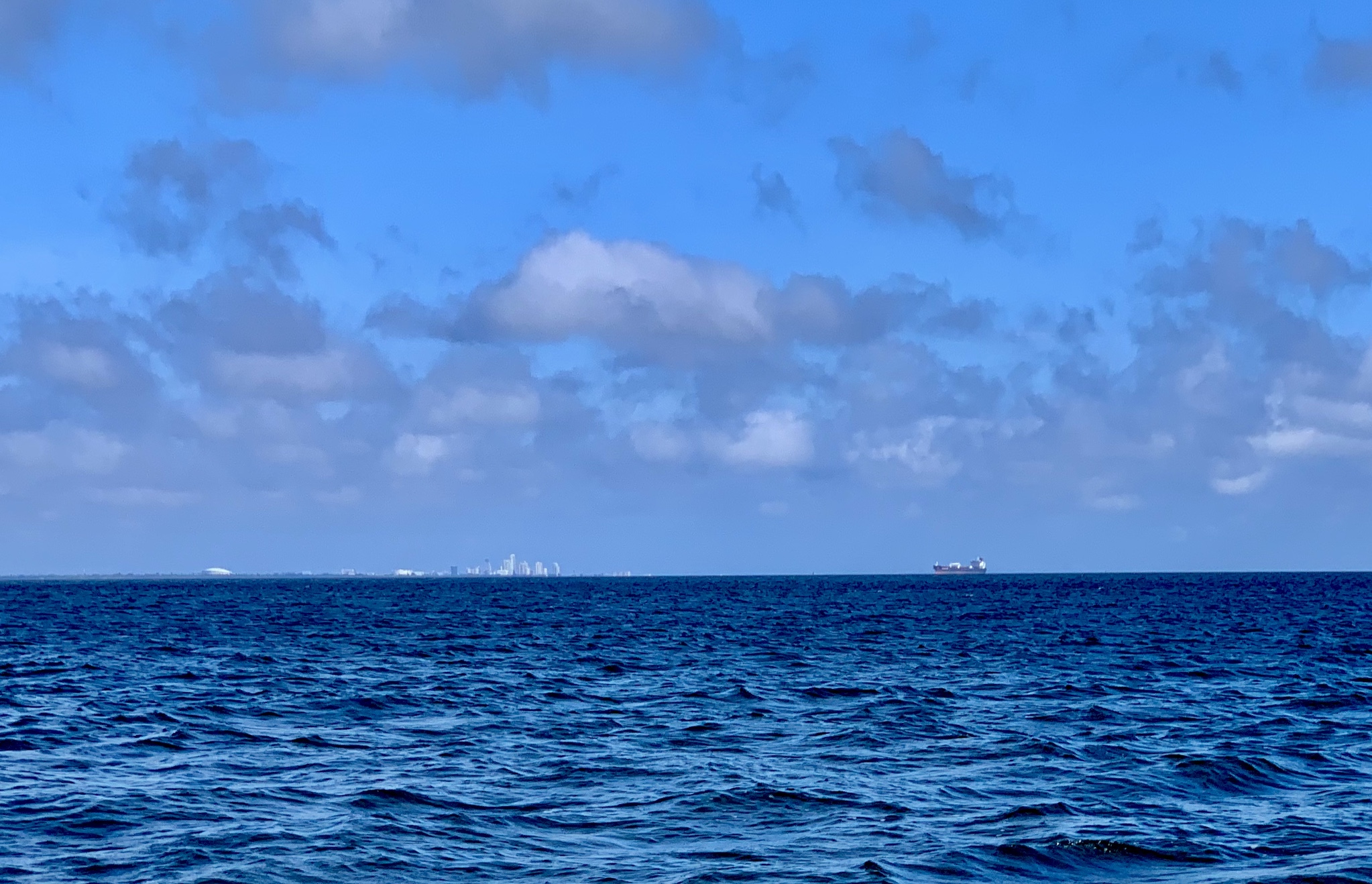 It was a truly magical morning with so much education and visual learning. We were so impressed with what they are pushing to accomplish.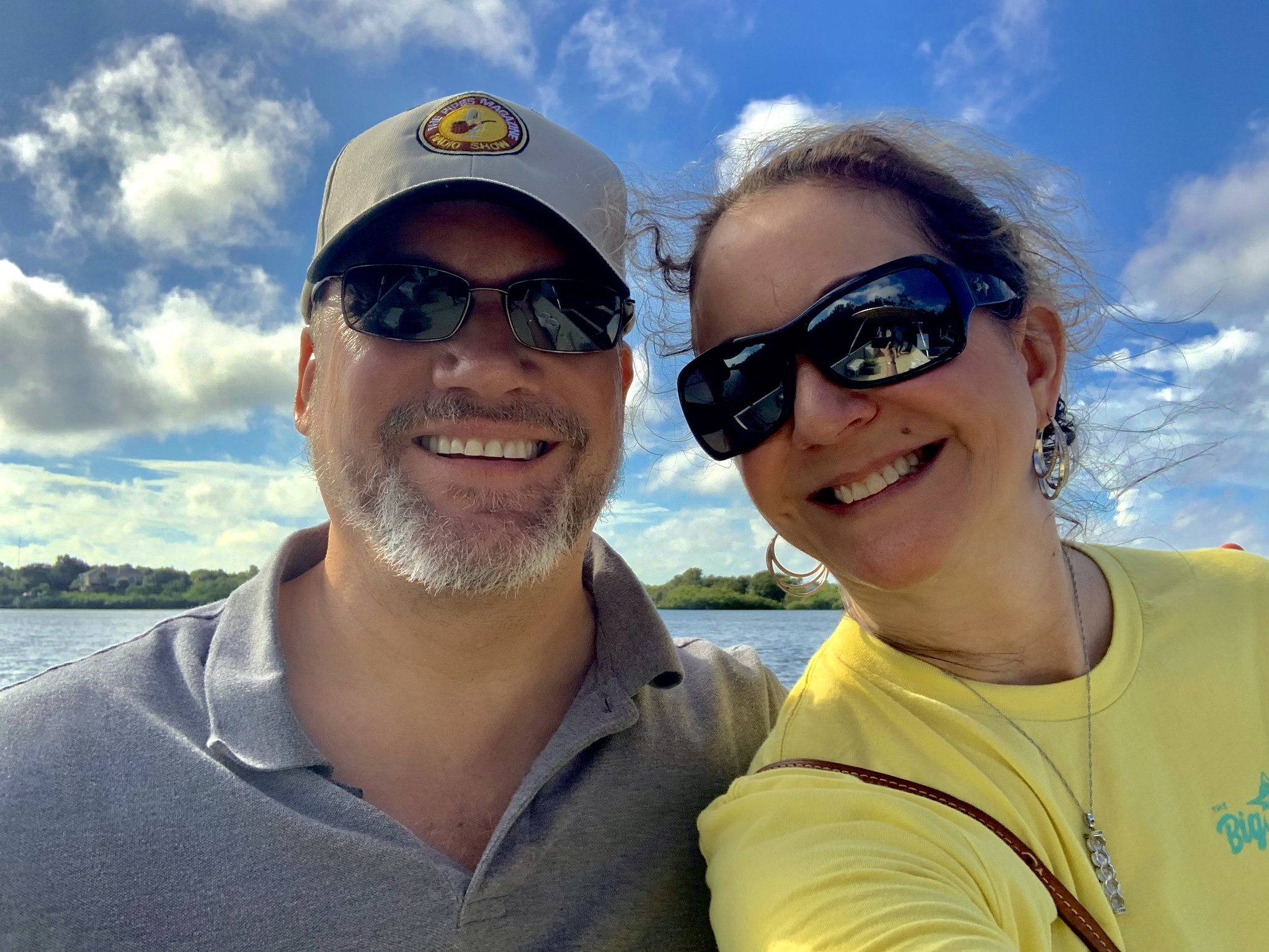 Their website says it best, "We recognized that there was a significant deficit in the availability of locally sourced oysters throughout the state, a curious conundrum given the sheer abundance of habitat available for oyster culture. Decades of over-harvesting, habitat loss, saltwater intrusion, and the BP oil spill have nearly rendered the wild-harvest oyster fishery in the state of Florida extinct. The Lost Coast Oyster Company aims to revitalize the lost industry along Florida's Gulf Coast and become a leader in sustainable aquaculture practices. By utilizing innovative off-bottom farming techniques we produce high-quality boutique oysters destined for the premium half-shell market. The Lost Coast Oyster Company's ultimate goal is to create a locally-sourced sustainable product that preserves Florida's unique environments while reinvigorating and promoting the restoration and enhancement of our natural estuarine systems."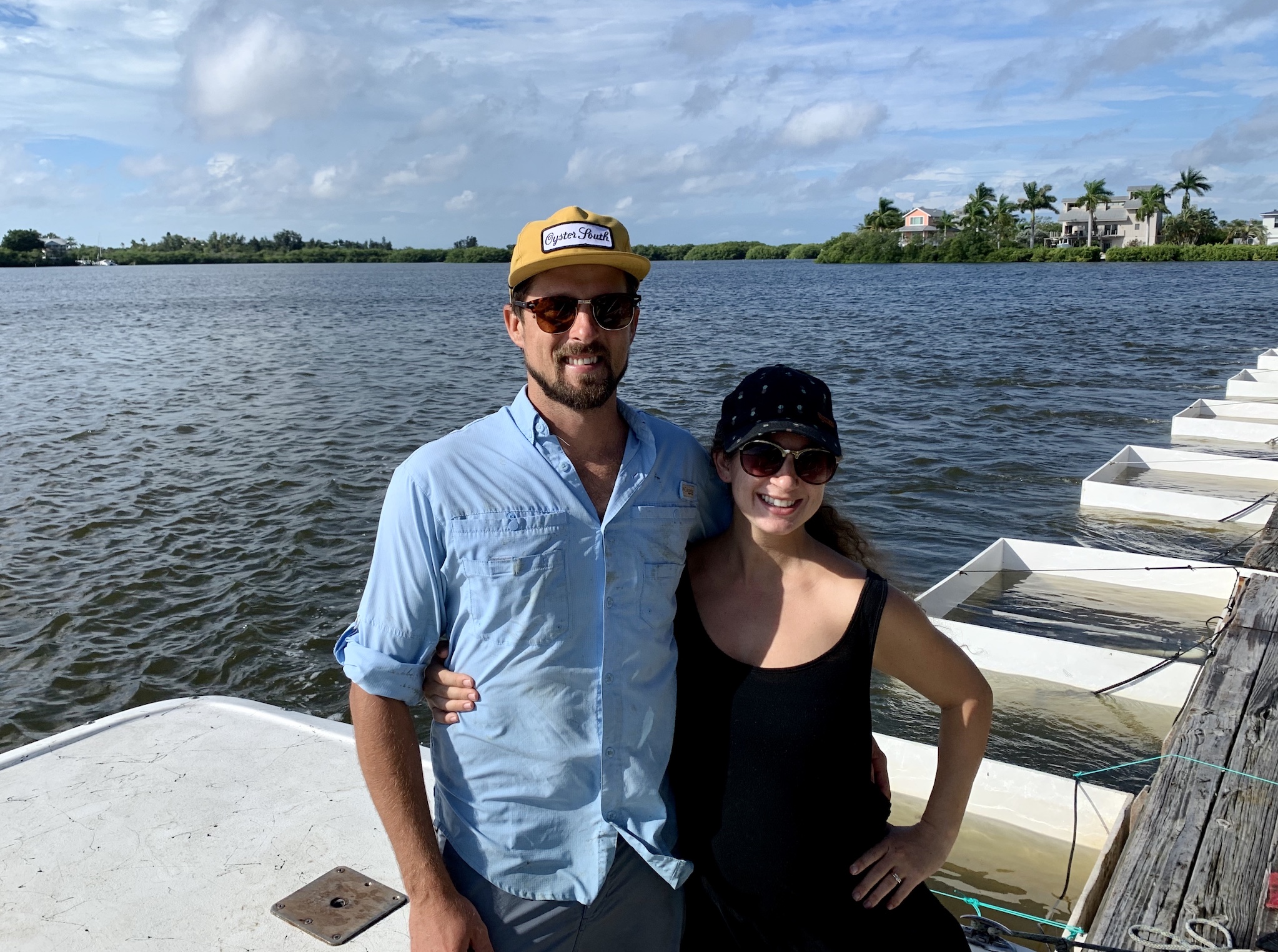 We are so excited for them and I dubbed them the Brick Street Farms of the oyster farming industry! I predict great success!! Can't wait to see more, oh and to taste those oysters! They are planning a large oyster tasting party at one of the breweries after they are harvested.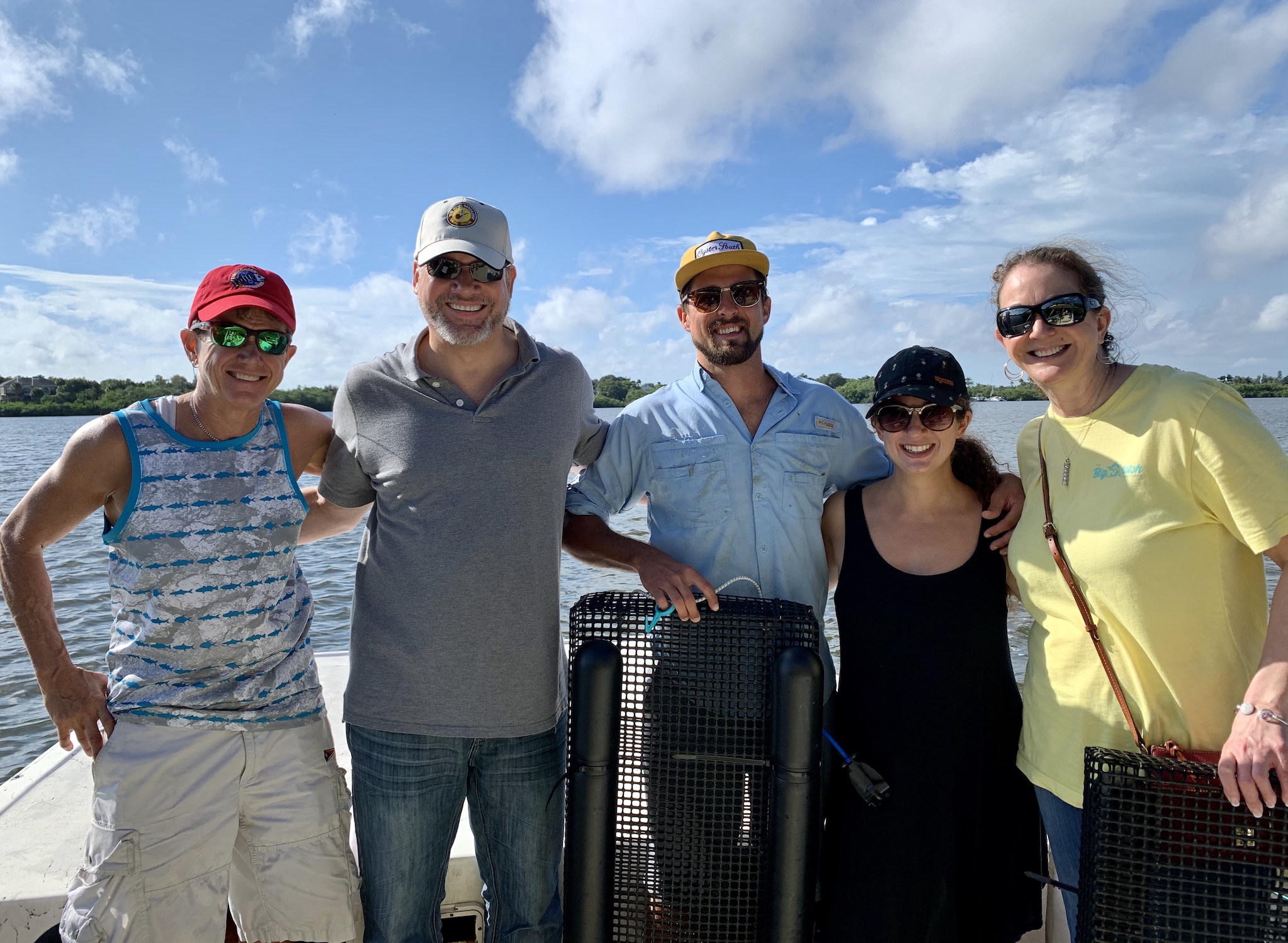 Margaret Covello of Fishmonger Approved and former owner of the Maximo Seafood Shack and partner with St Petersburg Foodies, joined us on our adventure and took this great video: