It's the weekend and time to treat yourself to a terrific brunch, but where should you go? We have compiled a list of the best downtown brunches to help with your decision.
THE LIST IS IN ALPHABETICAL ORDER

<— LOOK
Best Brunch Spots in St. Pete Chosen by Locals 2021
1. Cassis
Brunch is served everyday from 8am – 3pm
170 Beach Dr NE,
St. Petersburg, FL 33701
(727) 827-2927
Cassis Brunch Menu
Cassis offers American classics with subtle French influences for brunch, lunch, and dinner. They serve simple, hearty food and drinks at affordable prices right on Beach Drive. Cassis has lots of outdoor seating offering a great view and is ideal for people watching. Samplings from the brunch menu include Andouille Sausage and Shrimp Ragout, Blueberry Pancakes with poppy seed and lemon Ricotta or a Smoked Salmon Benedict. By the way, they have the best sausage links I have ever had and they offer fresh squeezed orange juice.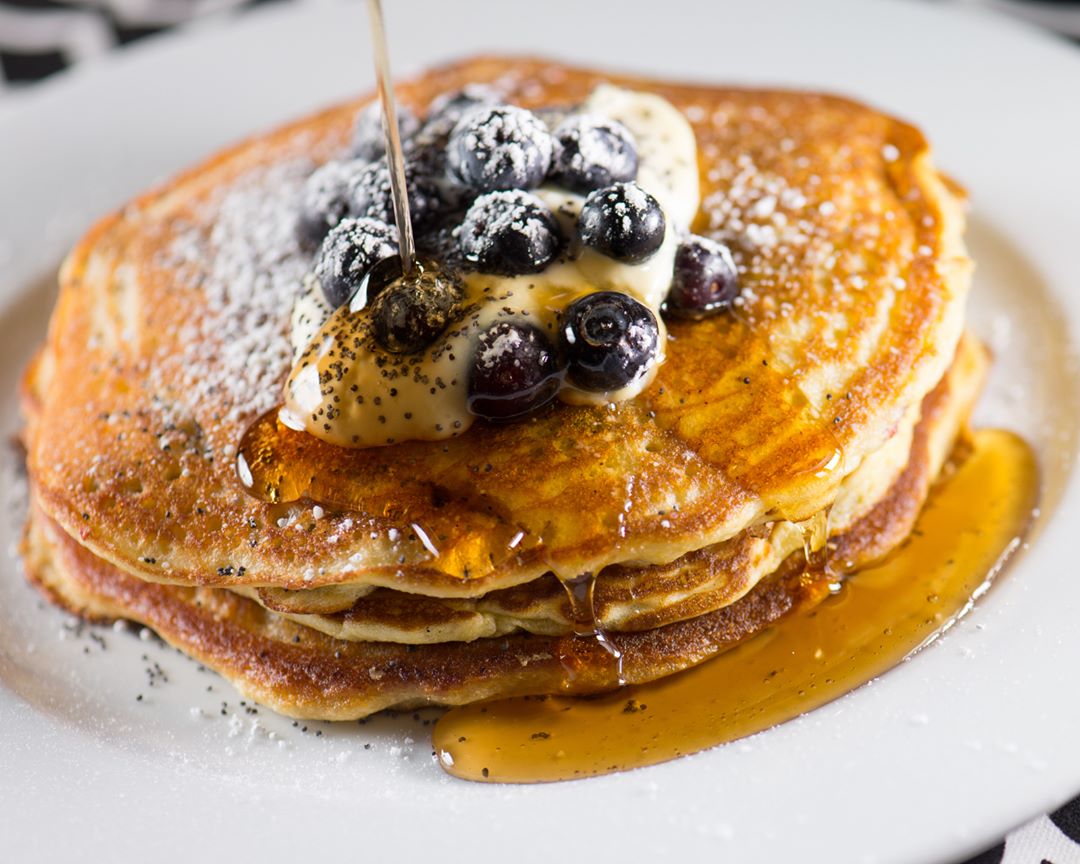 2. Datz
180 Central Ave
St. Petersburg, FL 33701
(727) 202-1182
Datz Website
Datz is certainly the place for a hearty brunch. They are the home of comfort food with flair, a foodie wonderland filled with bacon, cheese, and house-made breads. The Shrimp & Grits have cream cheese and an Indian Makhani sauce that is delicious.
They have a bunch of great burgers that use Certified Angus Beef, and two that they're famous for are The Cheesy Todd, where instead of a bun, you have two bacon-jalapeño mac n' cheese "buns." And there's the Double D where you have two whole glazed doughnuts instead of a hamburger bun.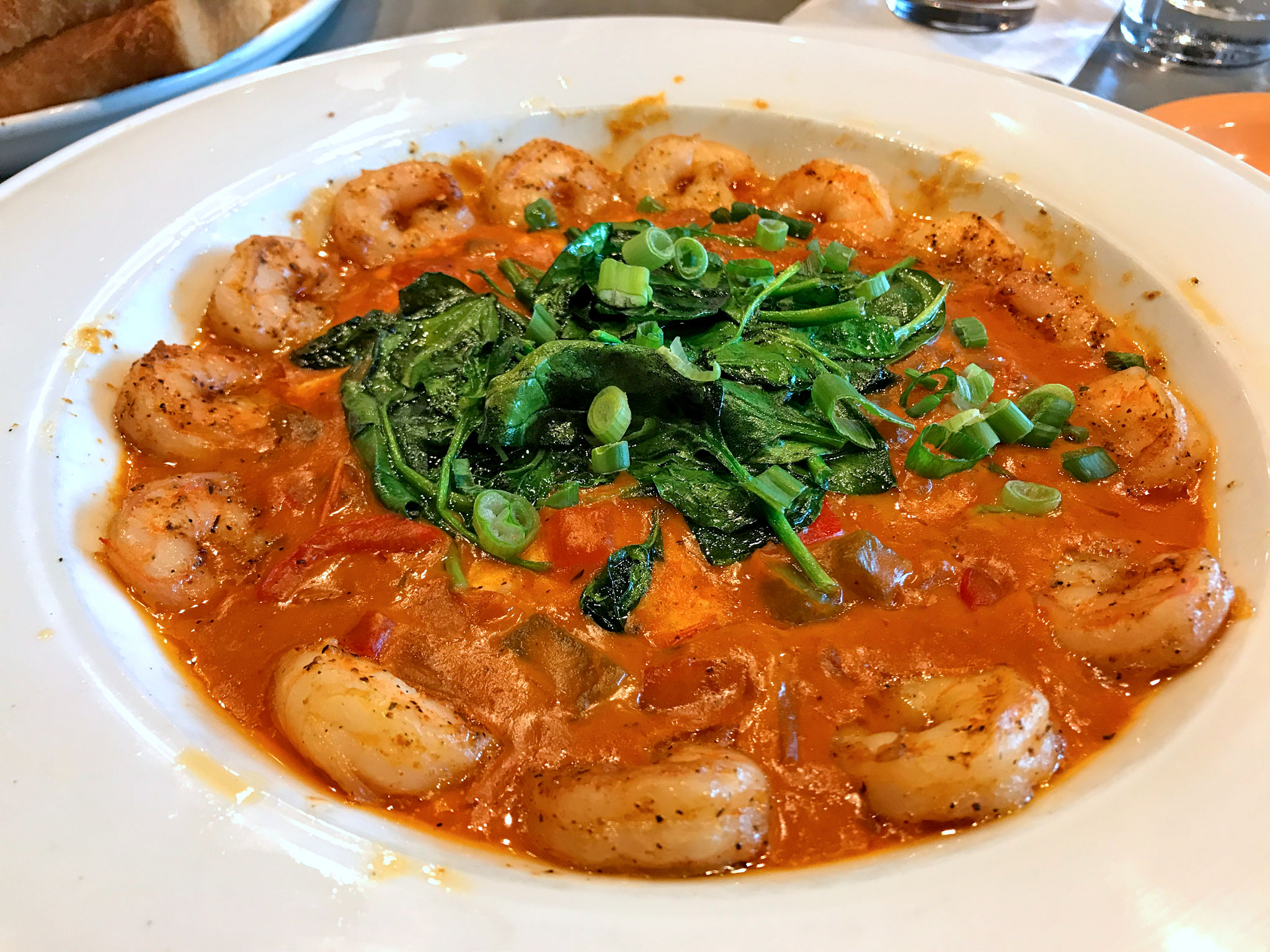 3. Dr. BBQ
1101 1st Ave S
St. Petersburg, FL 33705
(727) 443-7227
Dr. BBQ Website
Dr. BBQ has some delectable twists on brunch. One is a take on french toast transformed into a donut french toast casserole infused with cinnamon and topped with Jim Bean bourbon-infused peaches and whipped cream. Eggs Benedict has also been given a makeover with Compart Duroc smoked pulled pork, two poached eggs, and BBQ hollandaise over a buttermilk biscuit. There's no such thing as too much of Dani D's famous gravy on Dr. BBQ's Biscuits and Gravy.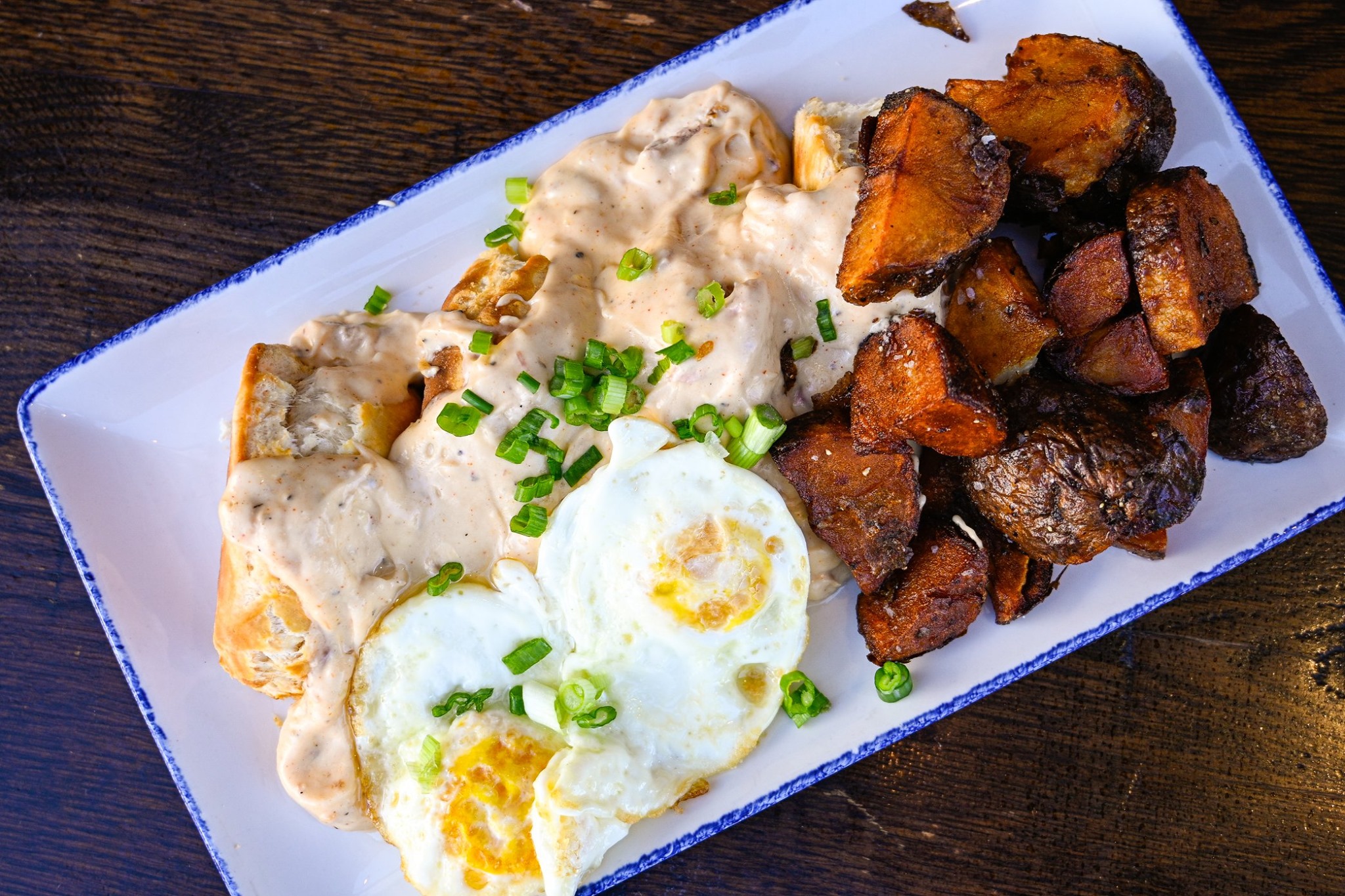 4. The Galley
27 4th St N
St. Petersburg, FL 33701
(727) 575-7071
Brunch Hours: 11:30am – 4pm Sat & Sun & Holiday Mondays
The Galley St. Pete Brunch Review
The Galley Website · Brunch Menu
The Galley has $5 Bloody Marys and $3 Mimosas / Poinsettias. It's nice that they don't pre-make the mimosas so you can get a decent pour, and can go with cranberry juice instead of orange.
A couple of our favorites are the Crab Cakes Benedict and the Breakfast Poutine. Here's the full review.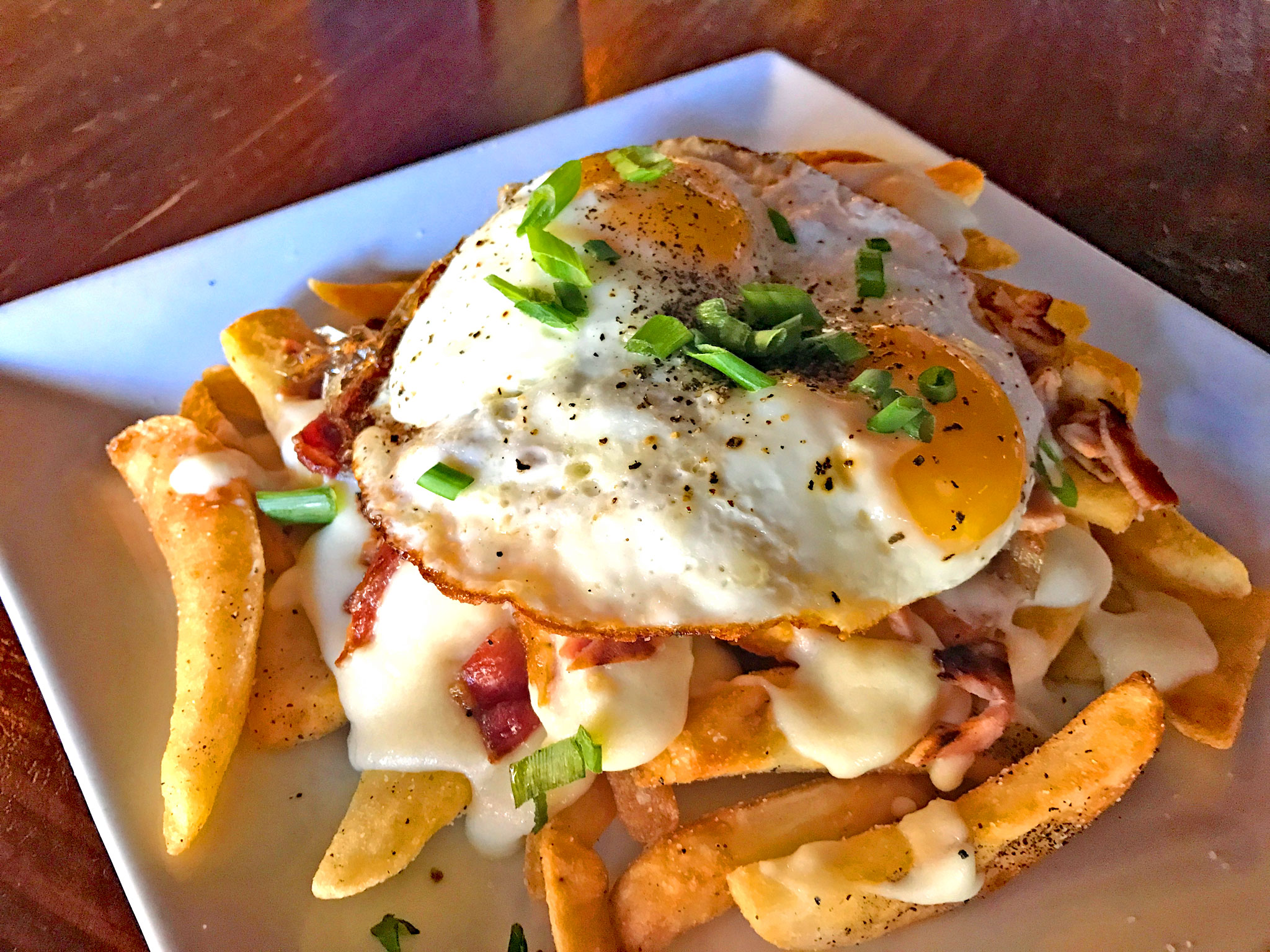 5. The Lure
661 Central Ave
St Petersburg, FL 33701
(727) 914-8000
Brunch Hours: 11-2 Sat & Sun
The Lure St. Pete Brunch Review
The Lure Website · Brunch Menu
The Lure offers Limitless Mimosas for $12, and Perpetual Bloody Mary's for $16. During brunch hours, you can still order from the regular lunch and dinner menu, which is great since they have excellent sushi and tapas.
On the brunch menu, a couple of favorites are Aunt Rosie's Country Benedict and the Emerald Isle Bowl. Here's the full review.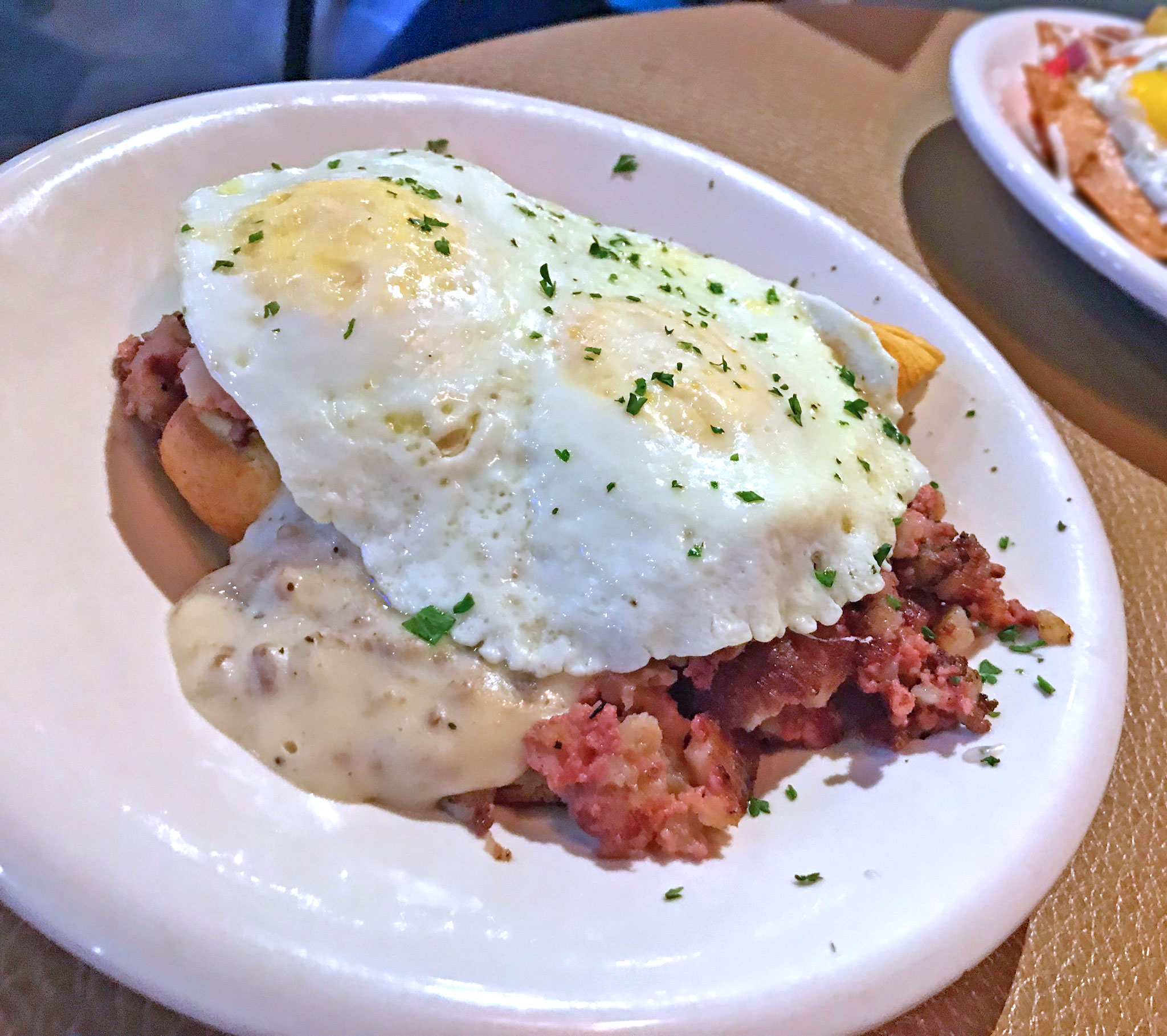 6. The Mill
Saturday & Sunday 10am – 4pm
200 Central Ave
St Petersburg, FL 33701
(727) 317-3930
The Mill Brunch Menu
Located in the heart of the action, The Mill serves up spectacular New American Cuisine. The Mill is designed to be an all-around sensory delight. From the unique decor and top-notch libations, to Chef's delectable creations. Their motto is "Amazing food, without the Attitude!" From their Sausage & Waffle Benny, Pork Belly Baguette or one of my personal favorites The Mill Burger, you can't go wrong at The Mill.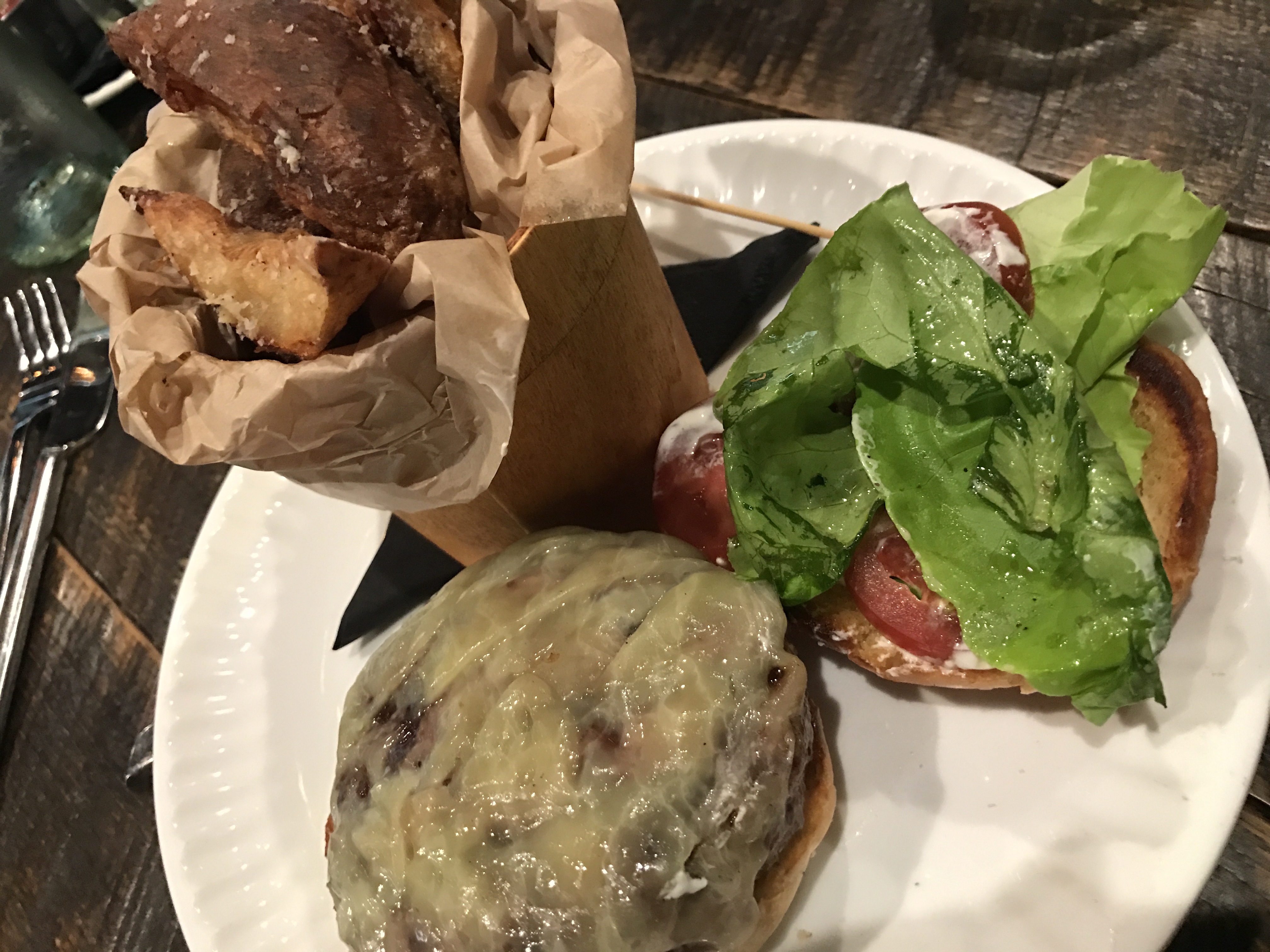 7. Red Mesa Cantina
Saturday & Sunday 11am – 3pm
128 3rd St S
St Petersburg, FL 33701
(727) 896-8226
Red Mesa Cantina Brunch Menu
With two bars, an indoor and outdoor, an elaborate fountain with outside courtyard dining and the most extensive selection of tequilas and Mezcals in the South, Red Mesa Cantina is nothing short of a lively Mexican brunch with a menu that delivers bold, fresh flavors. You will find on their brunch menu one of my favorite burgers in St Pete – The Sirloin Chorizo Burger. They also serve breakfast tacos, burritos, ceviches and quesadillas along with many other scrumptious offerings. They also offer Mimosas and Bloody Mary's for $4.50.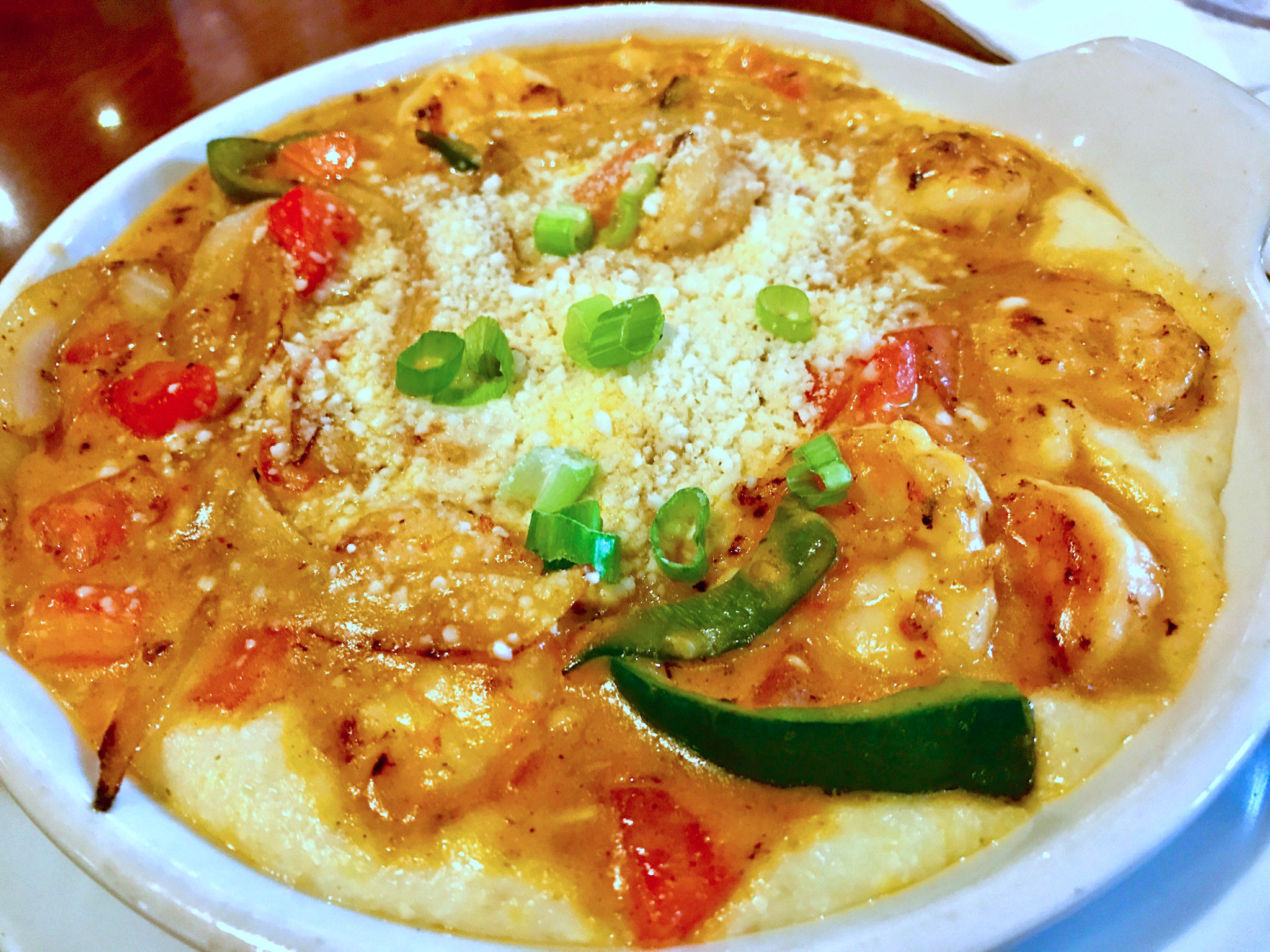 On the menu for over 10 years and served Saturday and Sunday 11:00-3:00. It is a unique, robust, delectable dish that is quite satisfying.
Sautéed Shrimp and Rajas (roasted poblano chile strips) in Chipotle Cream Sauce Over Grits, Topped With Cotija Cheese. Mexican shrimp & grits Oaxacan-style is sooo good!
Scroll with your mouse to go forwards and backwards. On a mobile device or tablet, use your finger to move around the courtyard. This is an entire tour of Red Mesa Cantina's Courtyard and bar.
8. Social Roost
150 1st Ave N
St. Petersburg, FL 33701
(727) 202-6113
Social Roost Website
Social Roost opened right around New Year's 2021, and they launched their brunch in April. It's definitely one of the best in St. Pete. Lori said, "
Brunch today at Social Roost Kitchen and Bar was beyond phenomenal! I must say that they have the most inventive and incredible menu for brunch that I have ever seen. So much more to go back for. We didn't get it this time but they have shakshuka…wow!
We started with bubbles and three hours later we finished with bubbles. But in between you will see the most incredible food!"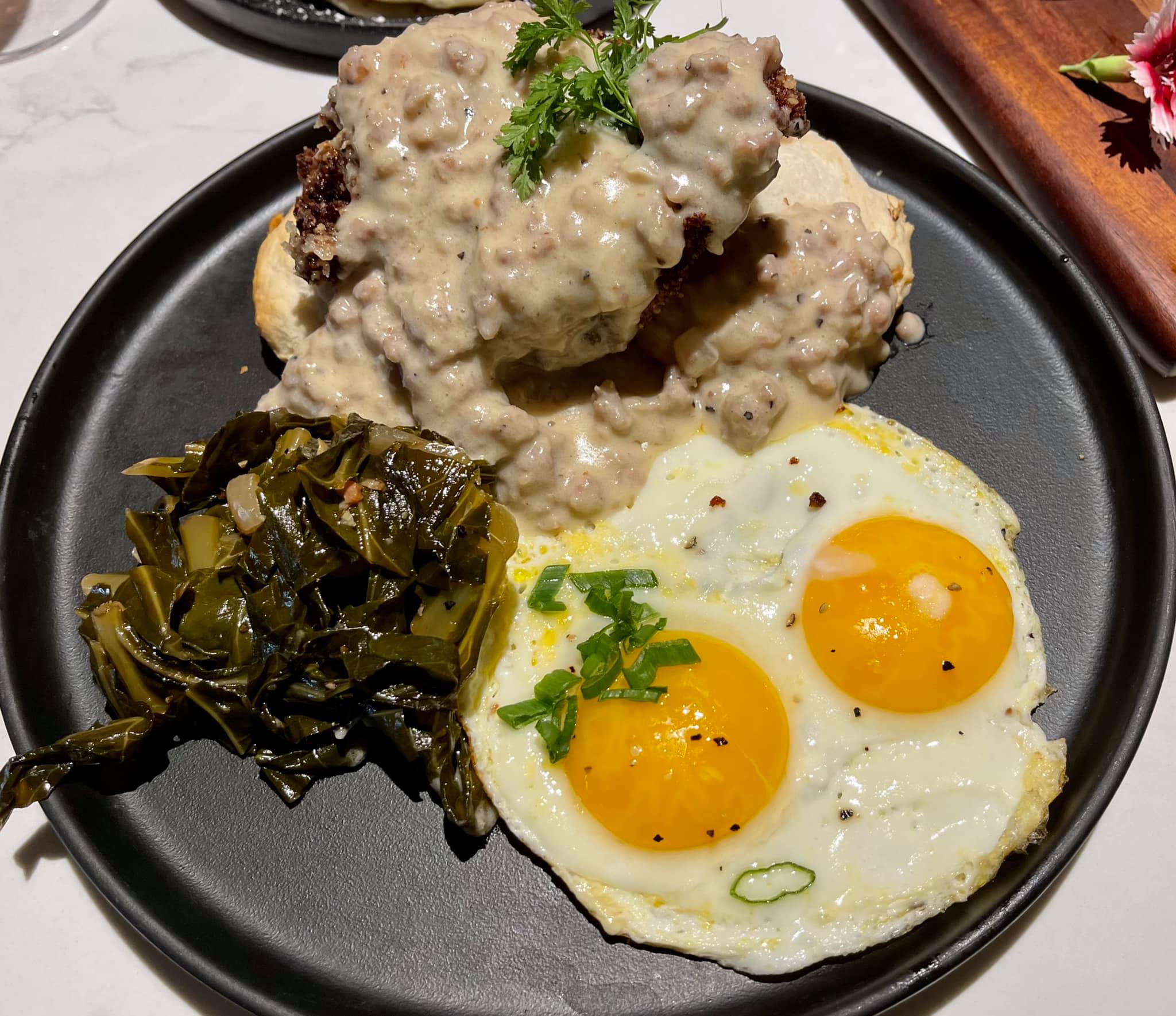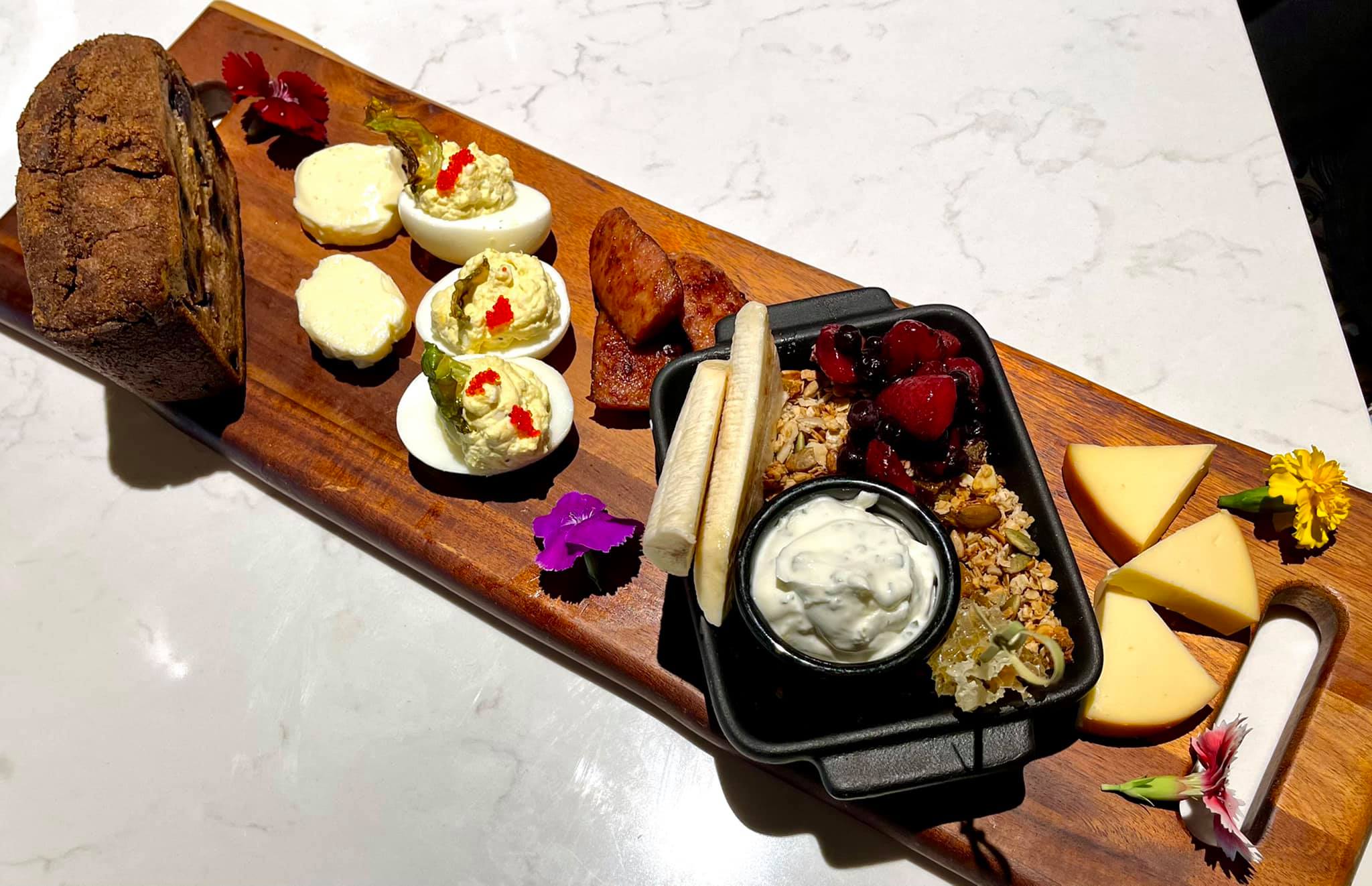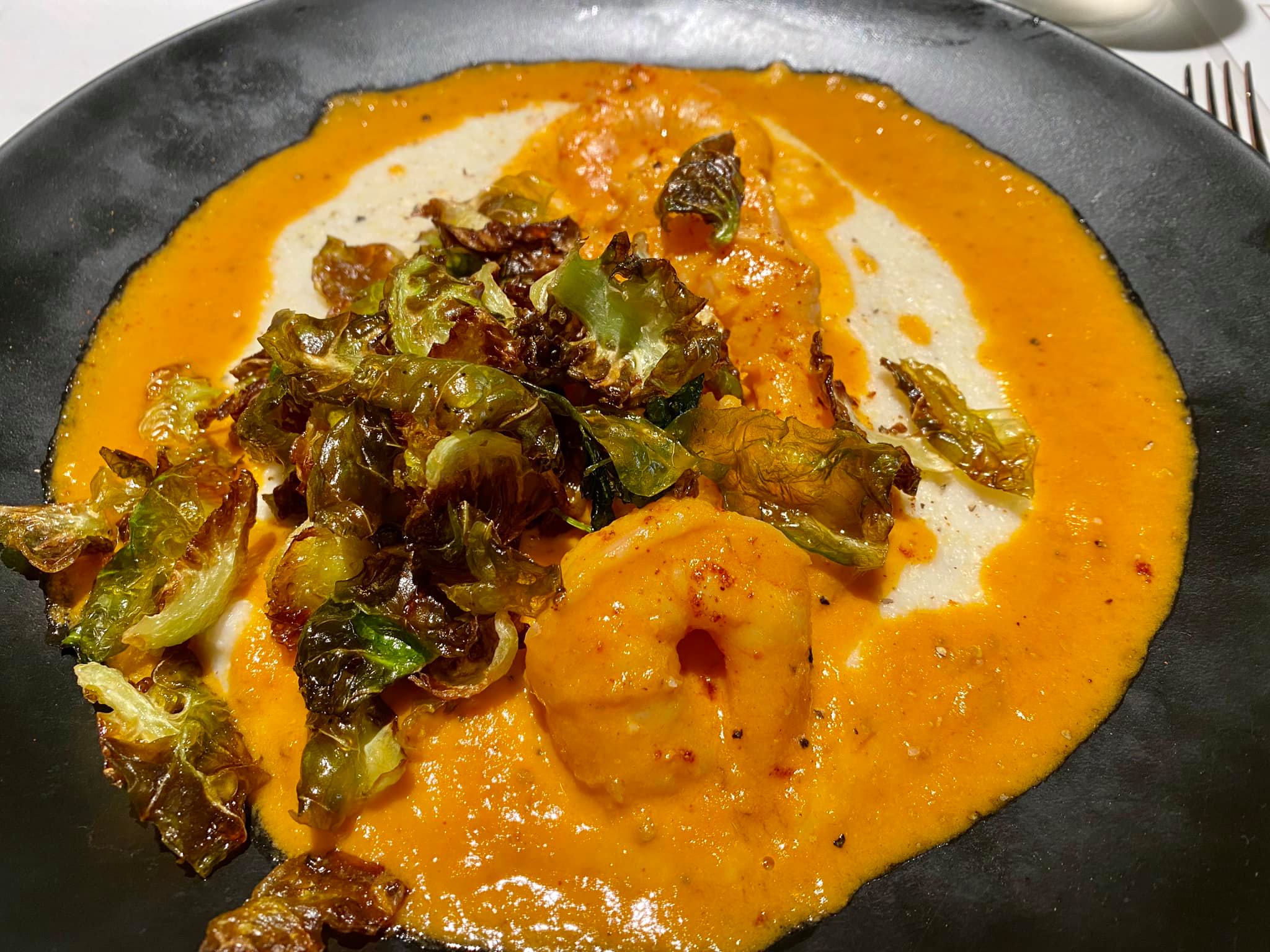 9. Trophy Fish
2060 Central Ave
St. Petersburg, FL 33712
(727) 258-7883
Trophy Fish Website
Trophy Fish, although being in the trendy upcoming Grand Central District, feels like you're at the beach. It's all outdoors with sand and shells, and they only serve fish that's been caught that day. Brunch is Sundays only from 12 noon to 3pm.
A staple brunch cocktail here is the Claw Daddy served with jalapeño, pickled veggies, grilled shrimp and a stone crab claw. They also have $15 bottles of bubbles all day on Sundays.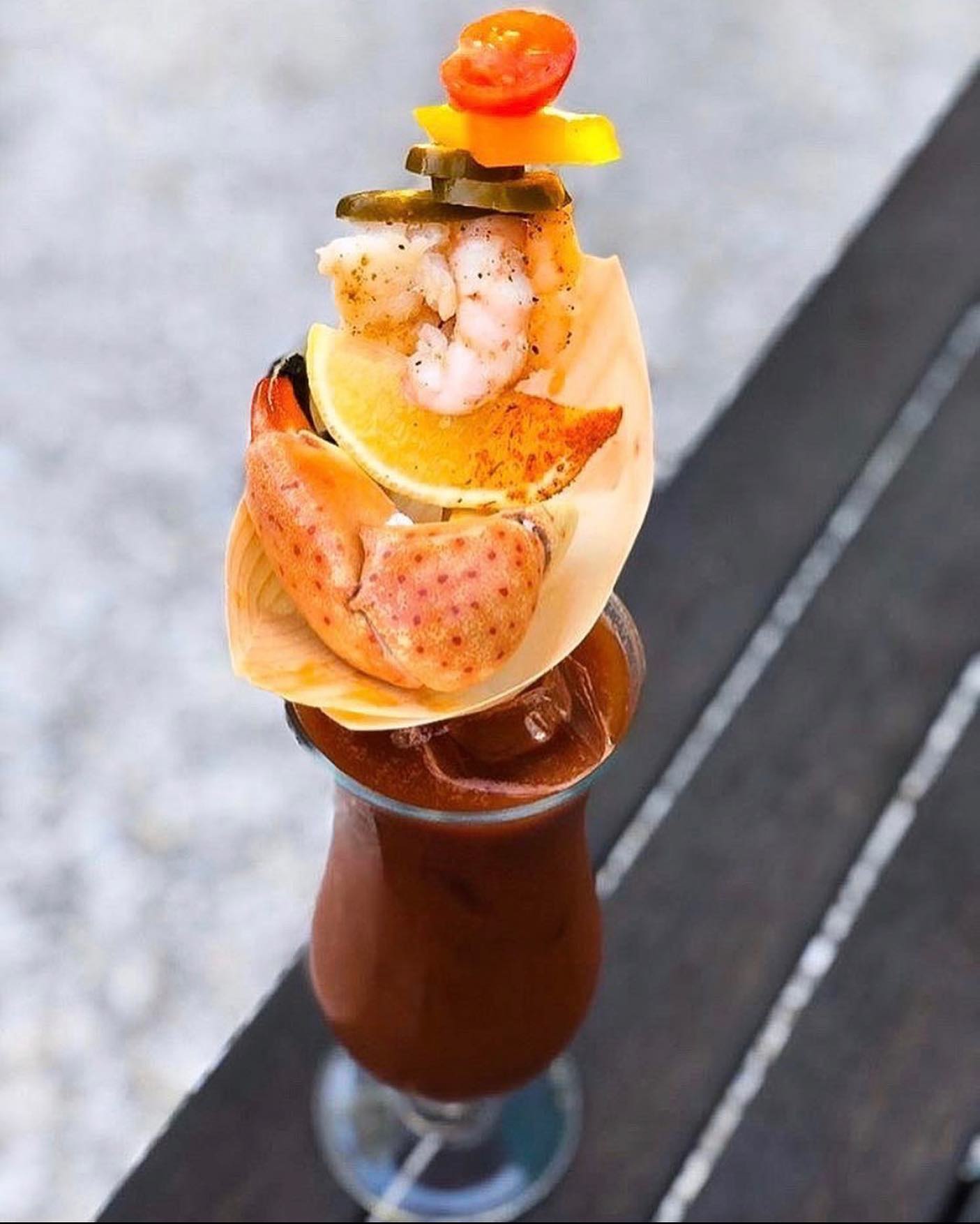 10. The Urban Stillhouse
2232 5th Ave S
St. Petersburg, FL 33712
(727) 440-8040
The Urban Stillhouse Website
For an ultimate, all-American, gustatory experience, visit The Urban Stillhouse in the Warehouse Arts District in St. Pete. The Urban Stillhouse offers a completely immersive adventure for your tastebuds and senses.
This extraordinary restaurant is influenced by the history of Horse Soldier Bourbon and offers a wonderful space to enjoy great food by Chef Kenny Tufo. The 16,000 sq. ft restaurant houses an extensive restaurant on two levels, two stunning bars, intimate private event spaces and more. The atmosphere is charming with a rustic and modern twist from the leather couches, bourbon barrels, a beautiful fireplace and striking decor every which way you look.
Pretty much anytime I go out for breakfast or brunch, my eyes immediately look for the eggs benedict. The Stillhouse Eggs Benedict is now my favorite in all of St. Pete with biscuits, fried green tomato, porchetta, chive and hollandaise served with home fried potatoes.
Steak and Eggs with two sunny side up eggs, a medium-rare steak, and home fried potatoes.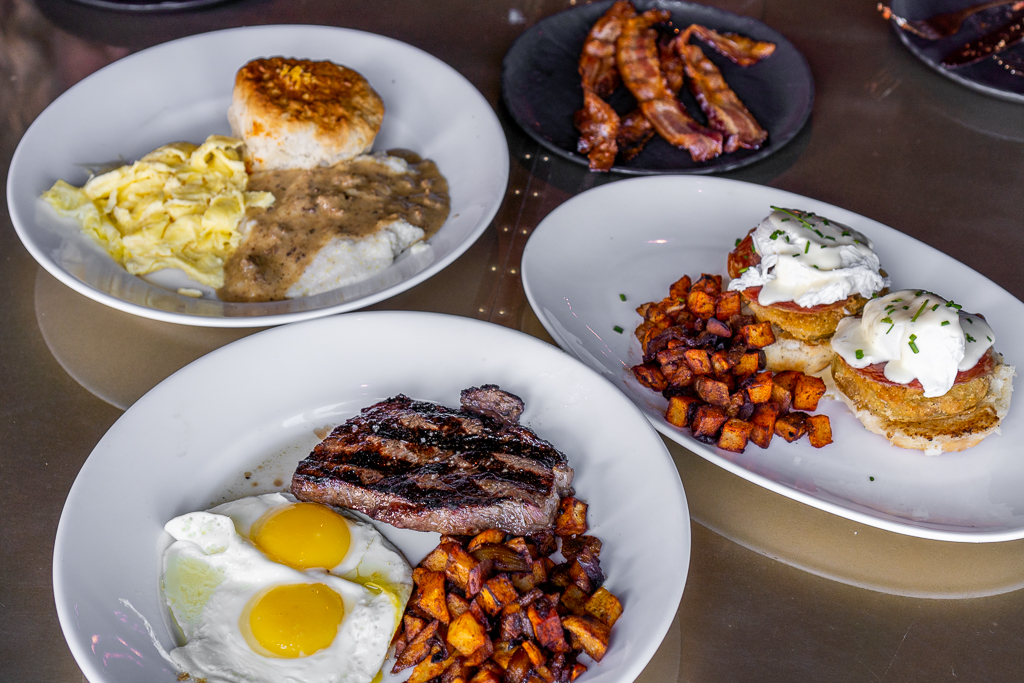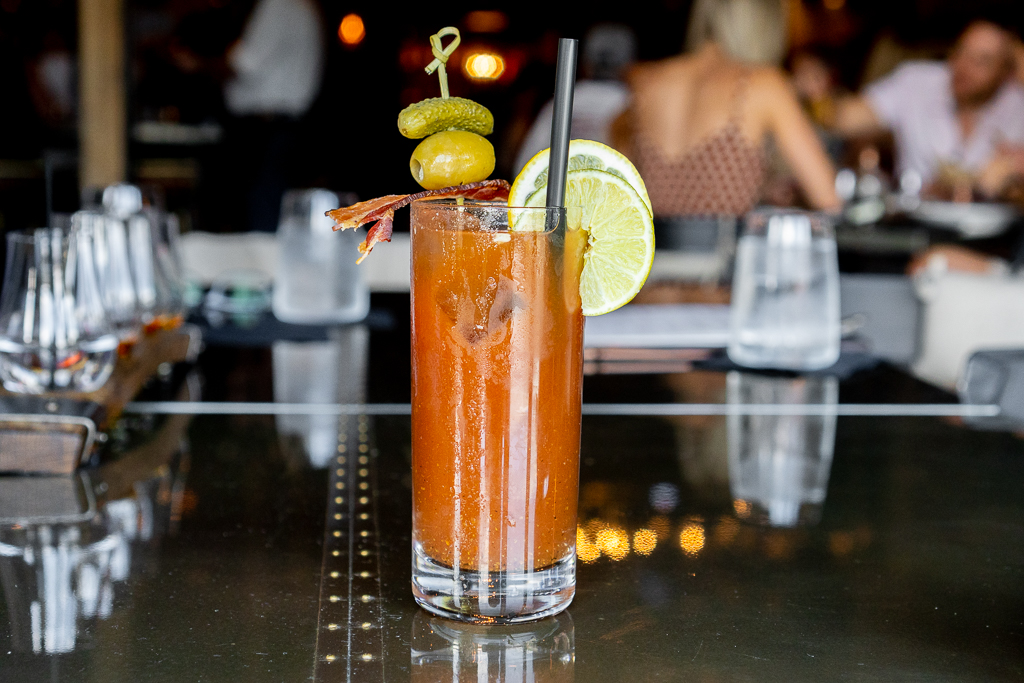 The Urban Stillhouse Hair of the Dog with Bacon Fat-Washed Horse Soldier Bourbon, House Blended Bloody Mix, Topped with Bacon. We never knew a Bloody Mary could be so good made with bourbon. This one is amazing.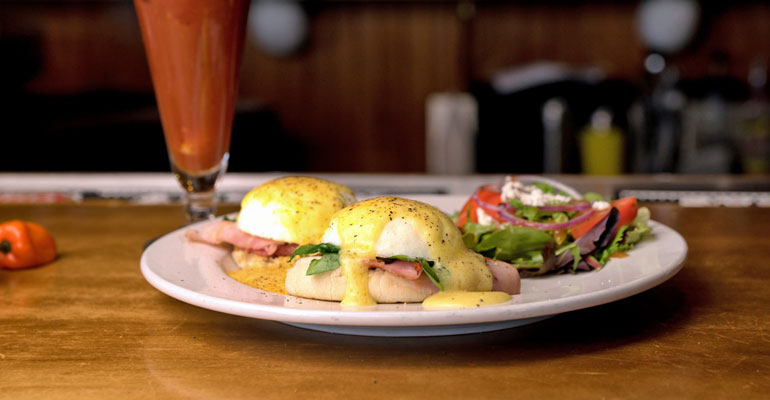 Readers Rating

Rated 5 stars




5

/ 5 (

Reviewers

)

Spectacular
---
A list of the best St. Petersburg, FL brunches.