It's the weekend and time to treat yourself to a terrific brunch, but where should you go? We have compiled a list of the best brunches in St. Pete to help with your decision. The difference in this year's list is that The Mill came off as they closed, and Good Fortune has been added as we absolutely love their Asian twist on brunch.
Before we get into the list, an important thing you should be aware of is that there are other publishers of "best of lists" that do not actually go to the establishments, or actually eat the food.
We absolutely DO. (How can anyone recommend something they never experienced?)
Unfortunately, we've seen it a lot—from national and local publishers. We are also aware of a local publisher that offers paid placement in best-of-lists. There is no paid placement here.
WE PERSONALLY ATE ALL OF THIS FOOD, AND WENT TO ALL OF THESE PLACES, AND THESE ARE ALL OUR PHOTOS.
Best Brunch Spots in St. Pete Chosen by Locals 2023
First, we'd like to give you our top four best brunches.
1. Allelo
300 Beach Dr NE #128
St. Petersburg, FL 33701
(727) 851-9582
Allelo Website
The latest brunch making quite a splash in town is at Allelo on Beach Drive. Allelo has lots of outdoor seating offering a great view and is ideal for people watching. So many brunches are all the same, but not at Allelo. The menu here is more eclectic and the food very tasty. Plus, they offer 1/2 off bottles of bubbles ($150 and under) until 2:30. Brunch starts at 11:30 on Saturday and Sunday.
We started with the #SPRITZLIFE 2.0 – Prosecco, Amaro, Apricot, Ginger, Basil. This was a very different take on an Aperol spritz. The extra ingredients gave it some sweet and sour play together. We also had the SUMAC THAT – Vodka, Strawberry, Lemon, Sumac, French Sparkling and really loved the little punch from the sumac. Very refreshing.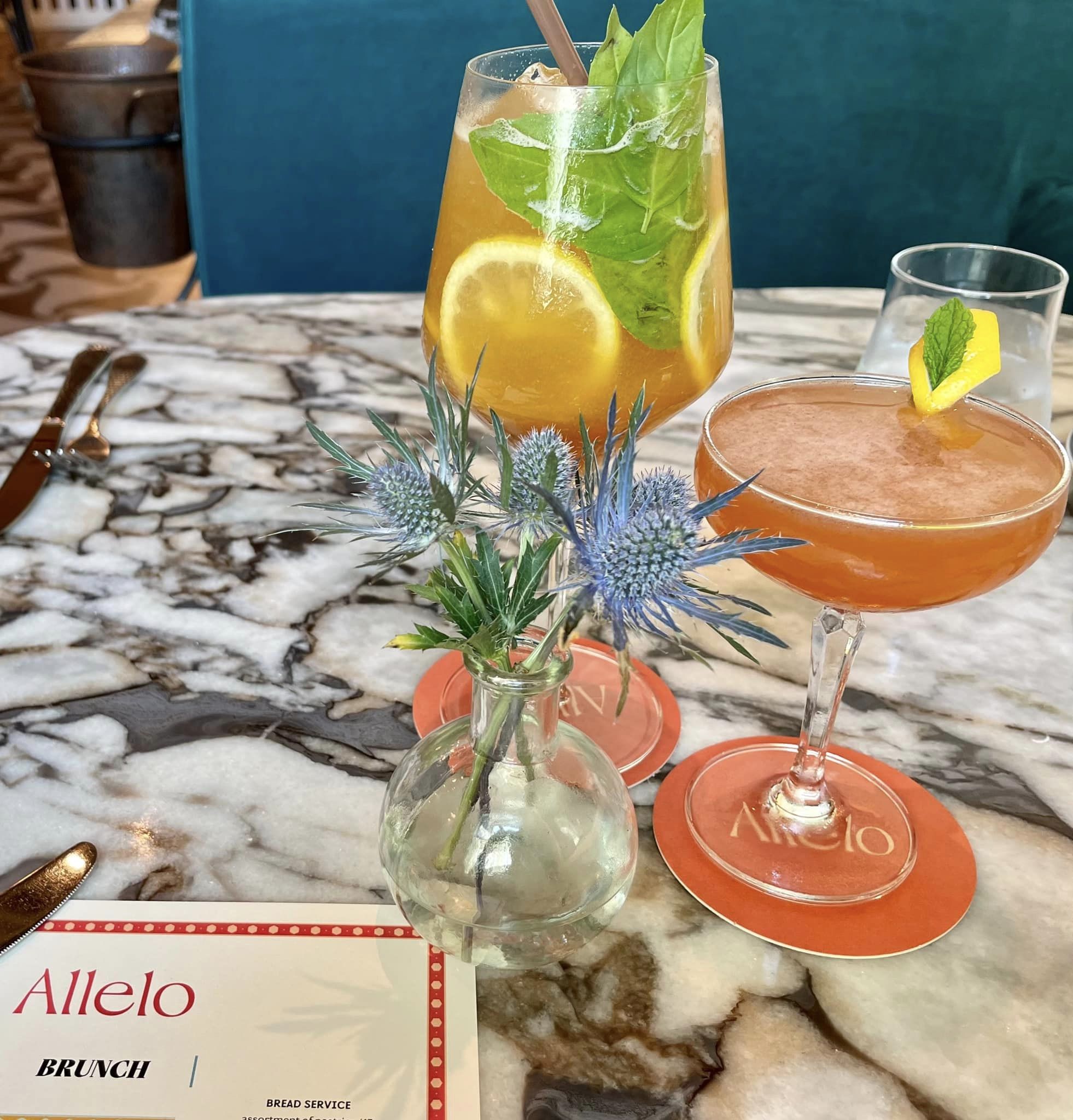 We started with the Dips – babaganoush • labneh • hummus and pita. We enjoyed all three but the babaganoush was incredible. We both agreed it was our favorite.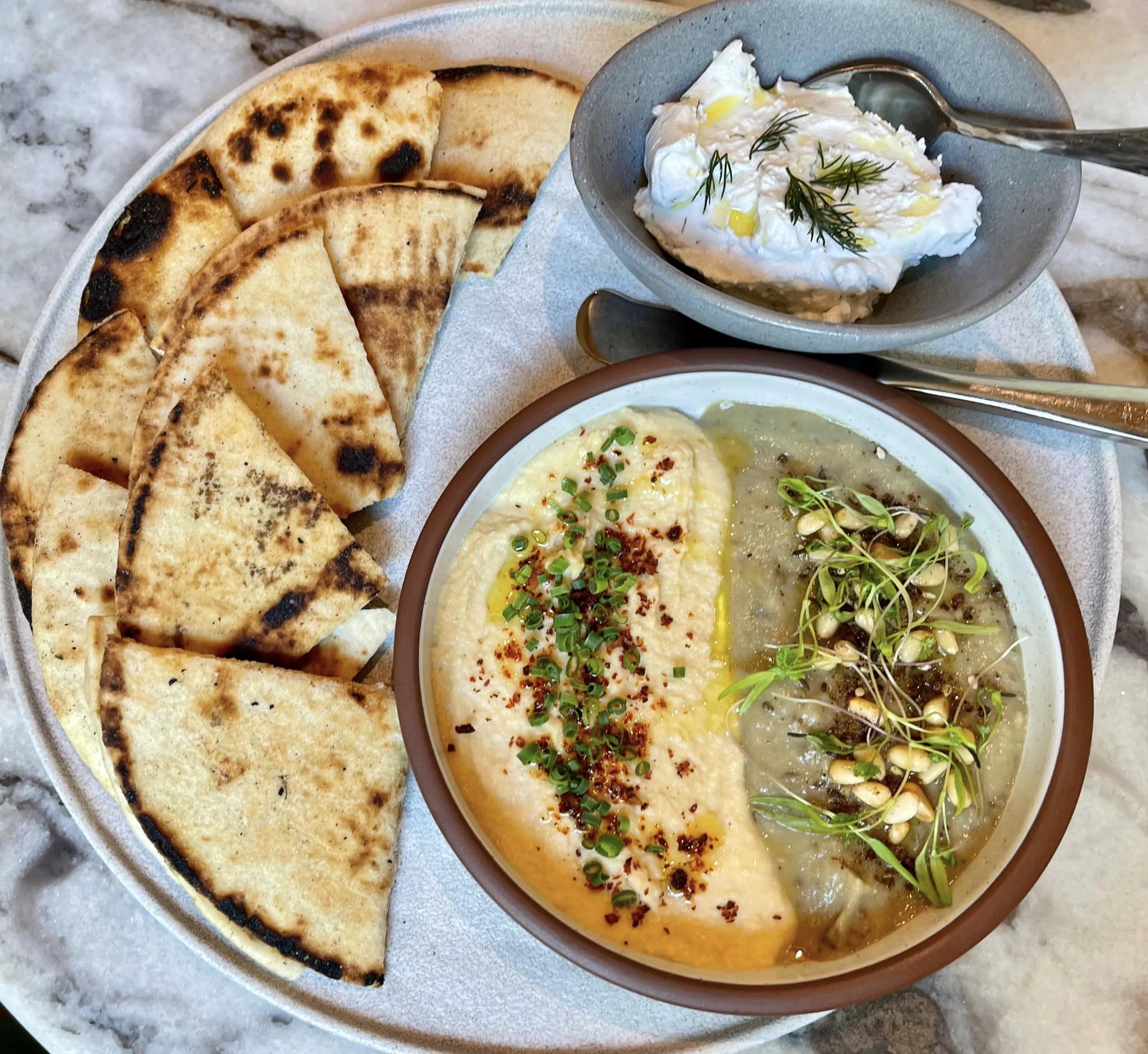 Deviled Eggs – pickled mustard seeds, nduja, chives. Kevin is the deviled egg lover in the house, but these are super good. Really enjoyed the mustard seeds and the nduja flavors with the egg.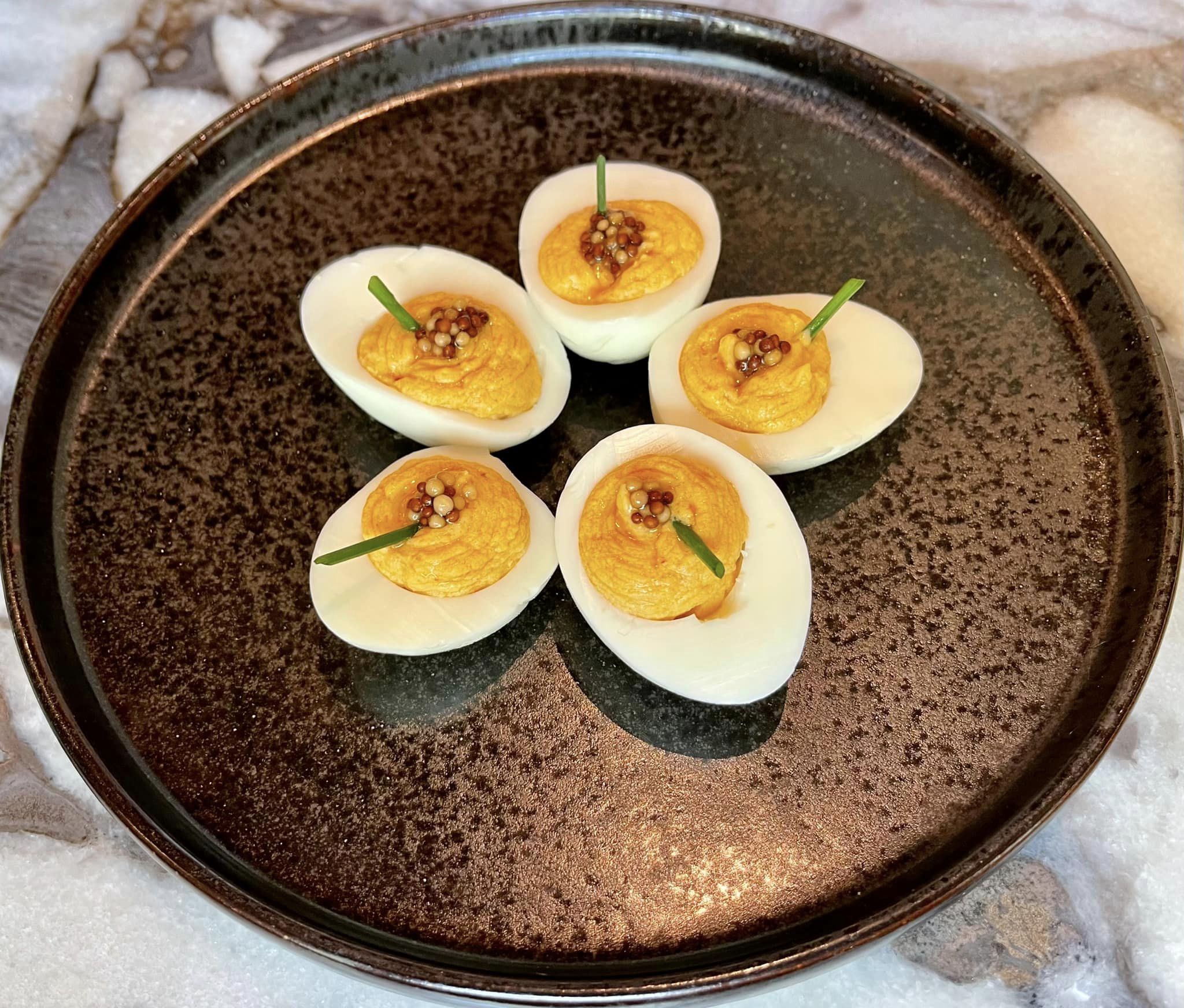 We had to order a 1/2 price bottle of bubbles. This Cava was quite refreshing.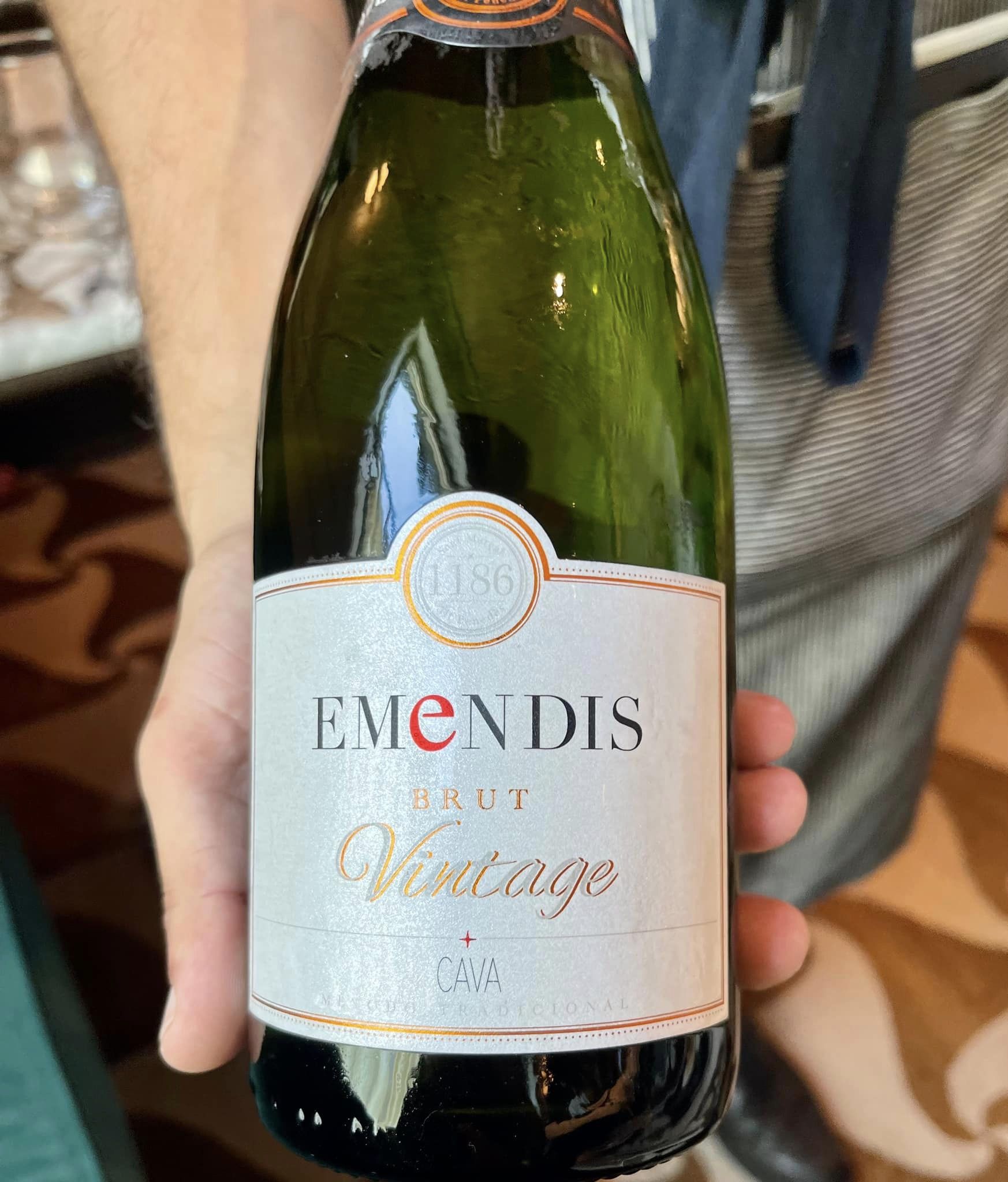 We have had the Meatballs before with pomodoro and parmesan. But they are so craveable we had to order them again.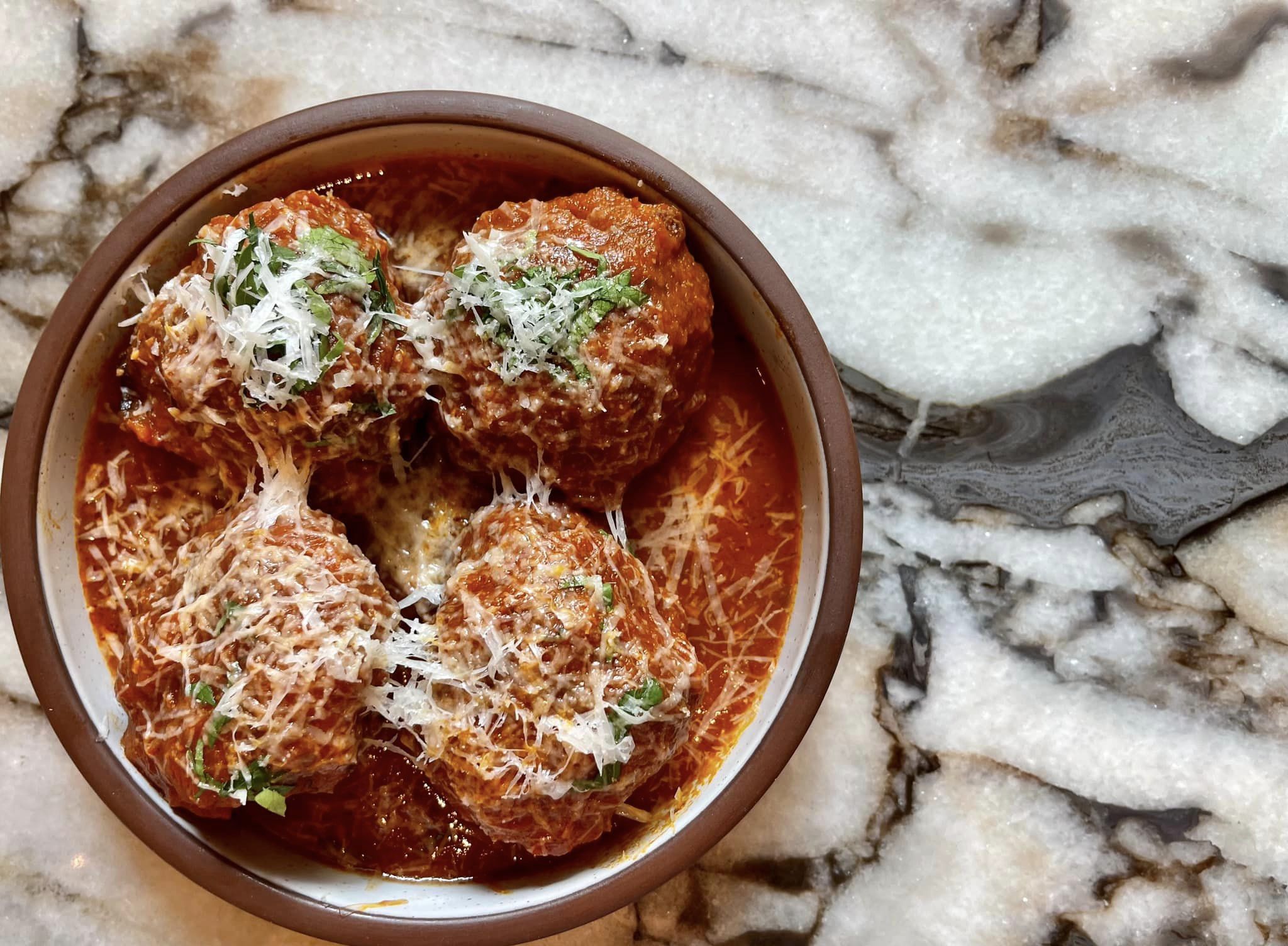 Papas Bravas – crispy potatoes, lemon-garlic aioli, chives. These are outstanding. Just the right crispy outside with the perfect tender inside.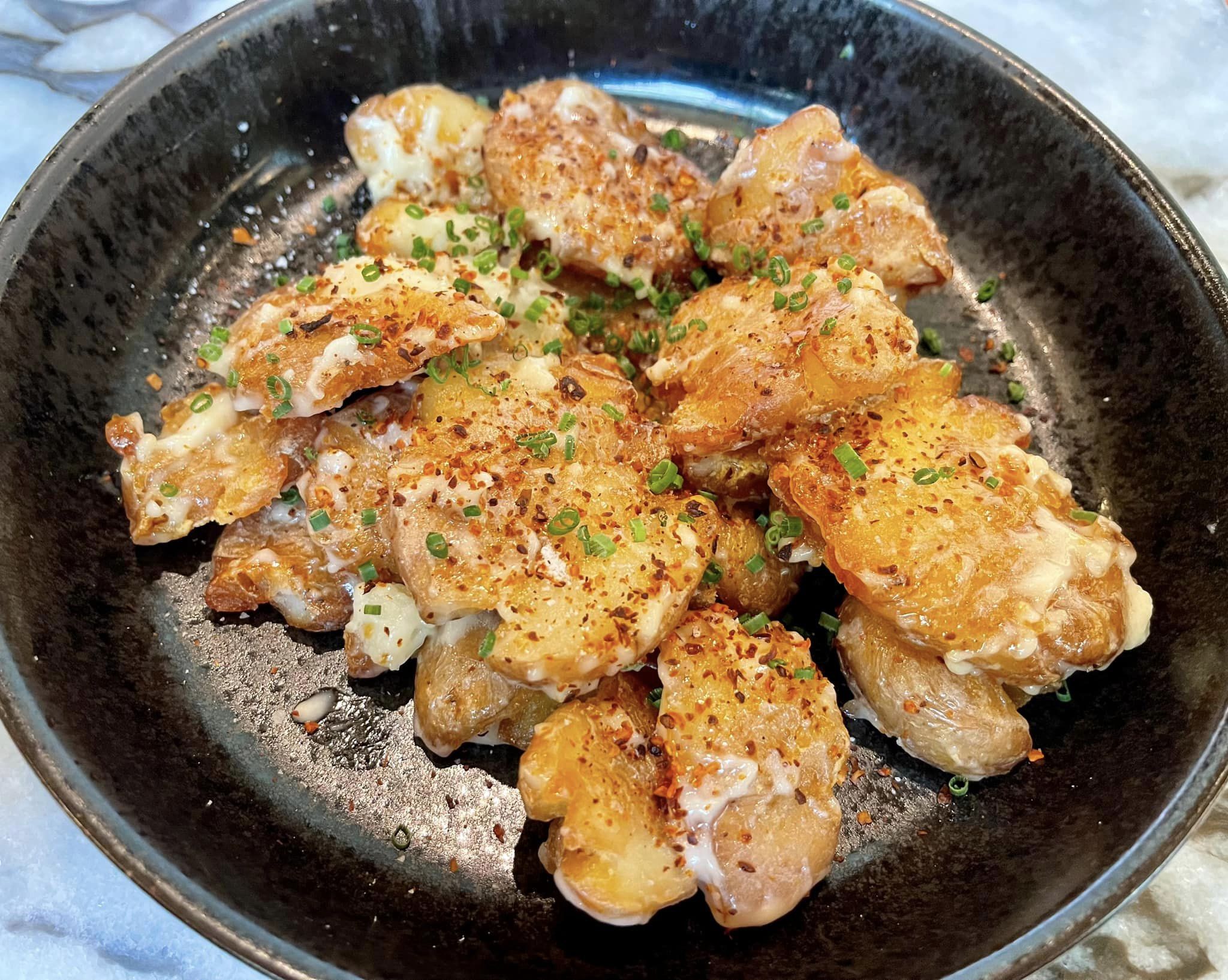 Turkish Eggs – poached eggs, dill, yogurt, Chile butter. Talk about a different dish. Never have I seen them on a menu or had anything like them. The mixture of the Chile butter with the yogurt and dill on bottom was so creamy with great flavor.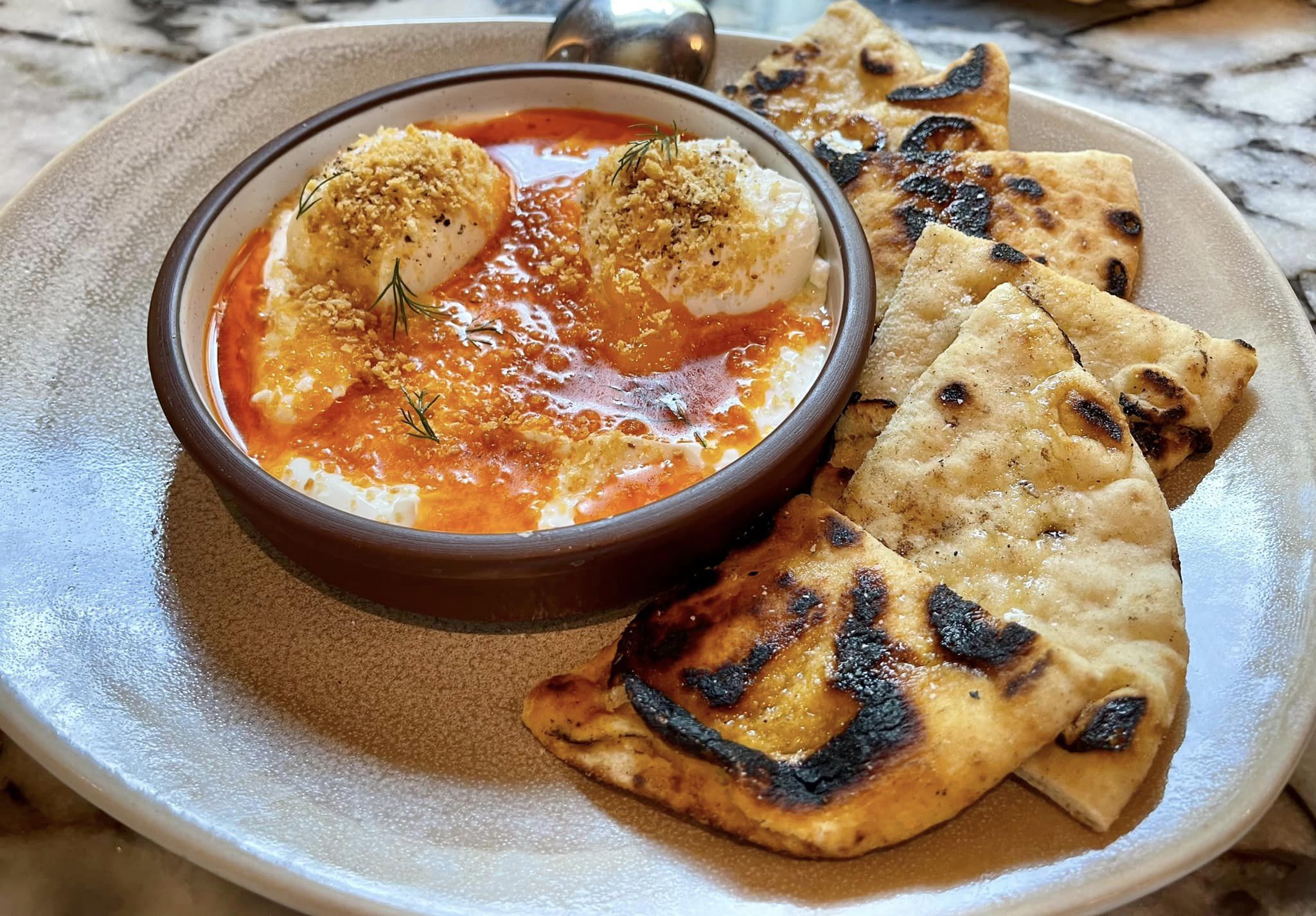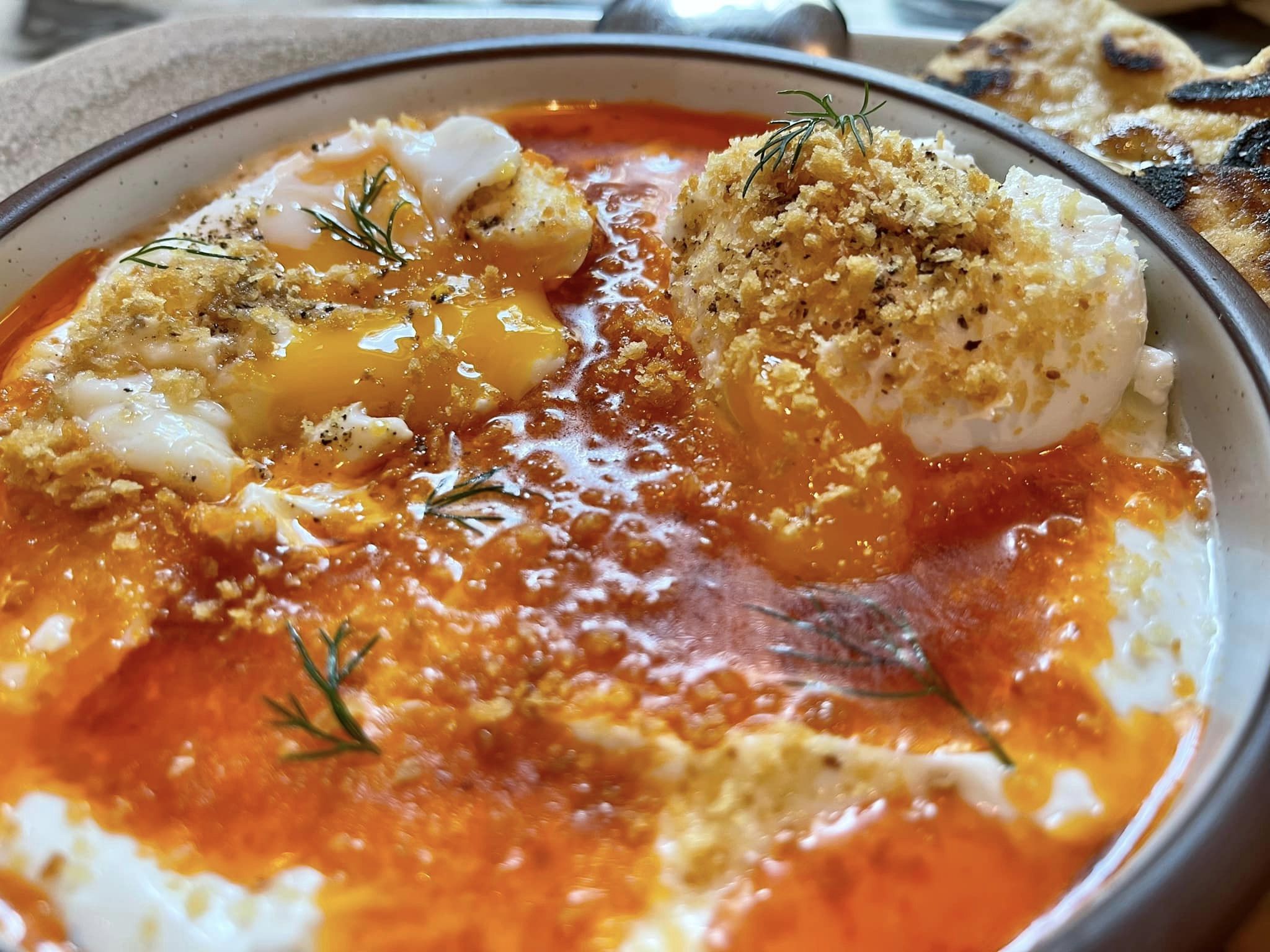 Ricotta Soft Scramble – fresh ricotta, chives, pita. I thought I made great soft scrambled eggs but these are something else with the ricotta. We practically licked the bowl clean.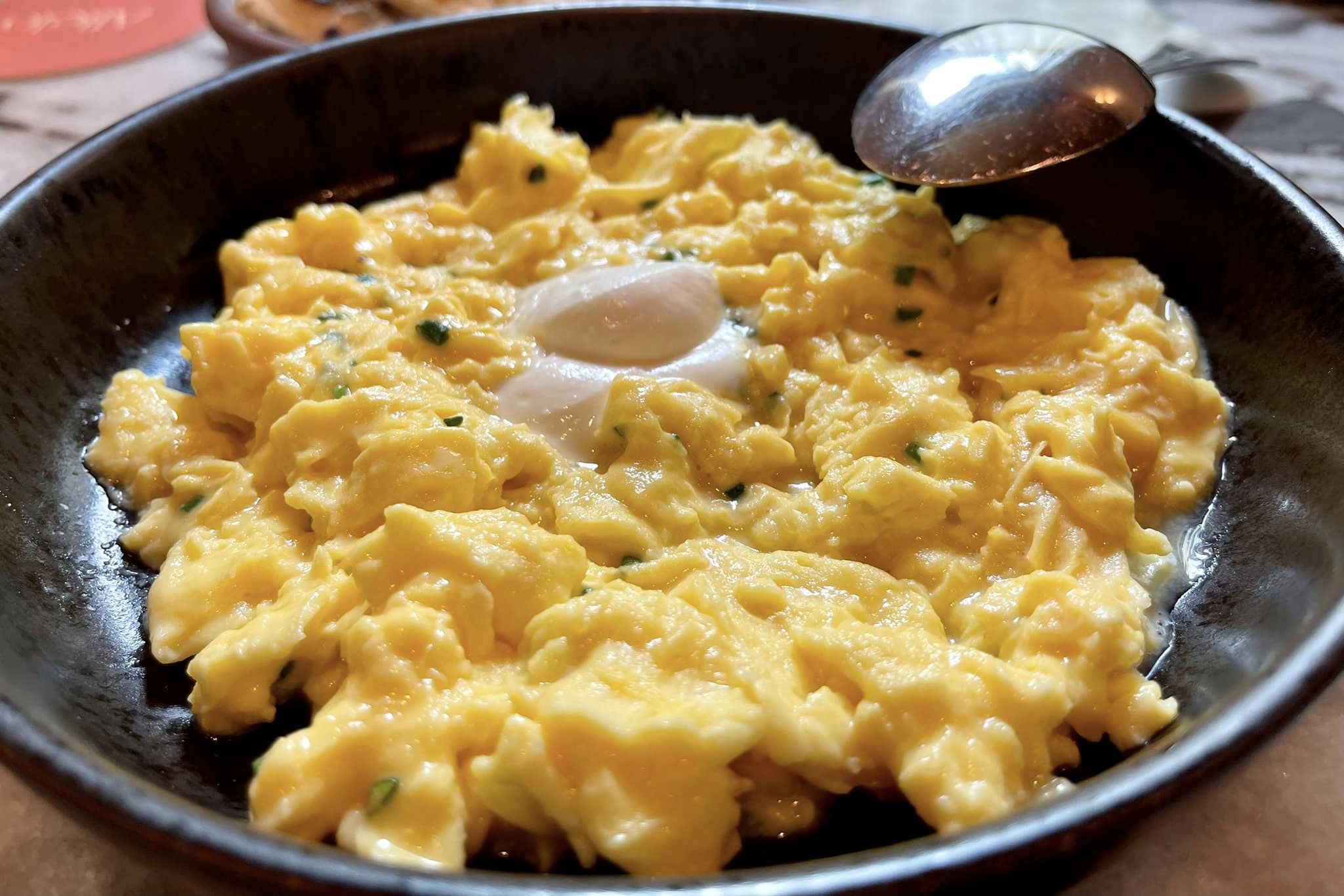 Our brunch cap. Lori had the Mia & Lucia – Blanco Tequila, Lime, Cucumber, black pepper. She liked this even better than the first drink. It is well balanced and the black pepper does not overwhelm but enhances well. I had the Lost in a Daydream – Mezcal, Ginger, Lime, Mint, Peychaud Bitters, French Sparkling. I loved this libation.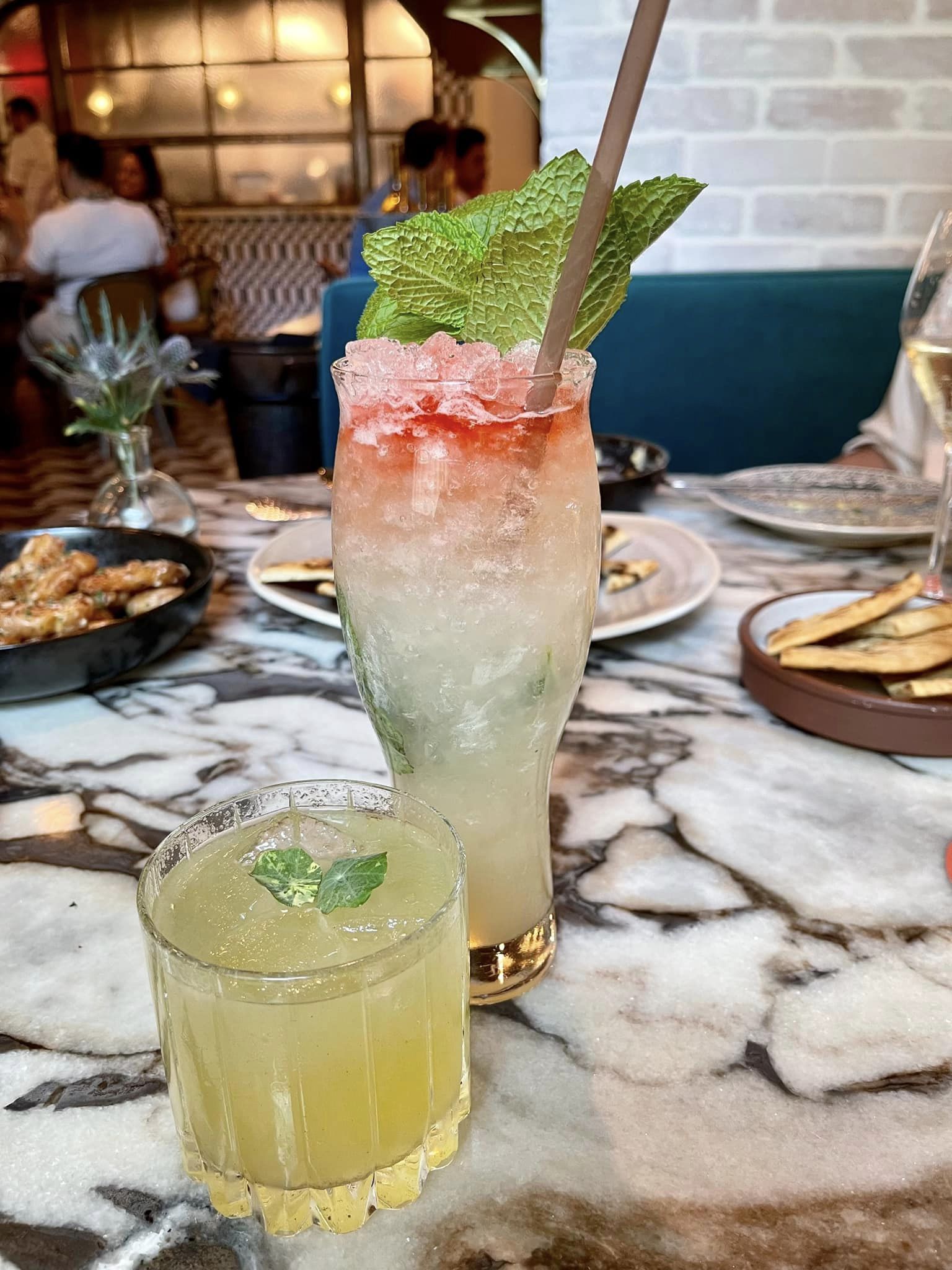 Note in the top middle of the menu they offer a family style option for $34/pp. Everyone at the table must select the option and it includes all of the dishes on the left hand side of the menu but you select either the French toast or the pancakes.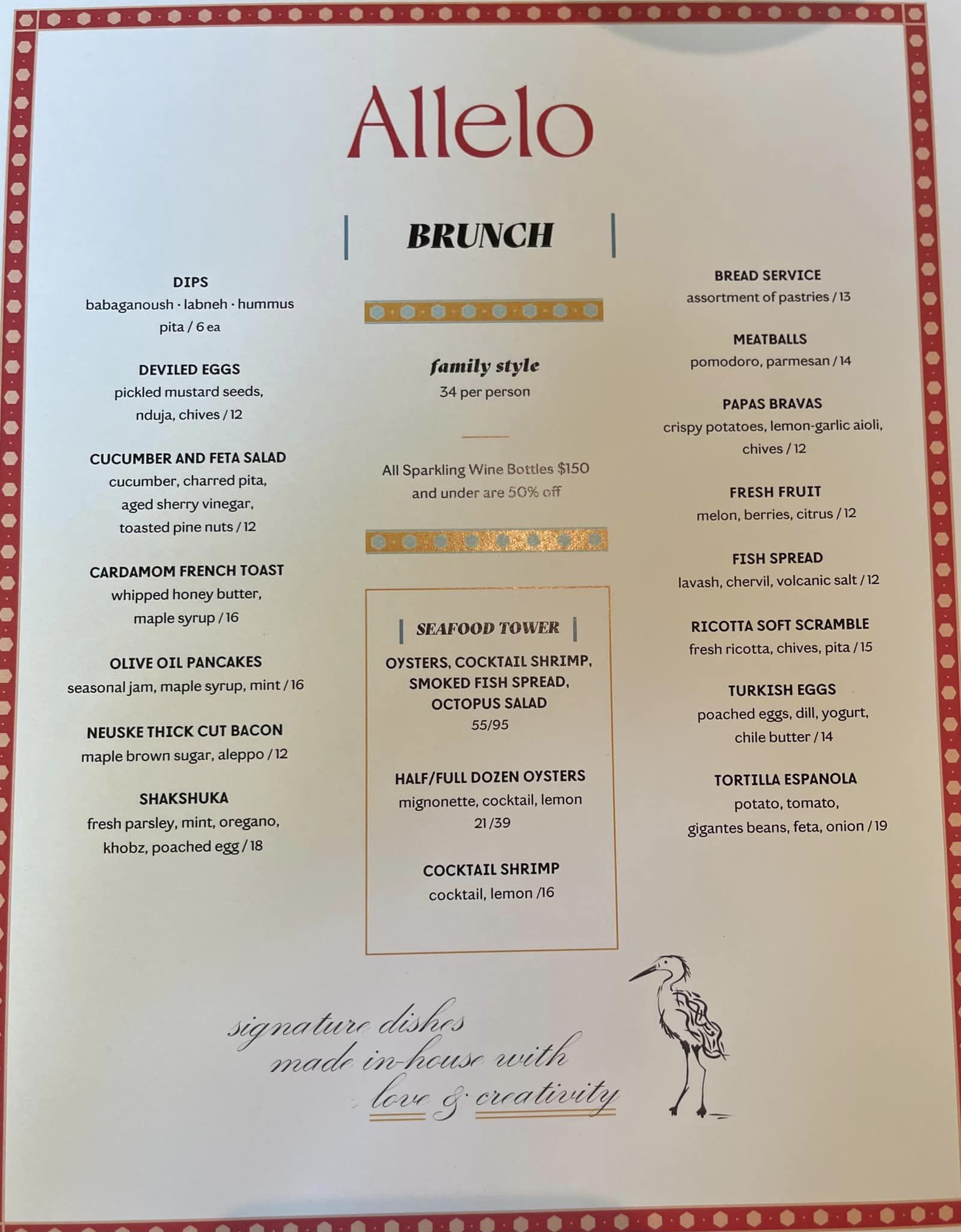 2.Wild Child
2710 Central Ave
St. Petersburg, FL 33712
(727) 954-7425
Wild Child Website
Wild Child was overwhelmingly recommended in our Facebook Group, and now we know why. All of the food was so astoundingly delicious that it seems like they are working with some type of special magic over there.
The Potato Latkes with crema, dill, chives and an added caviar bump was incredible. The crunchiness and texture along with the flavor, and contrast with the crema made this an experience in eating.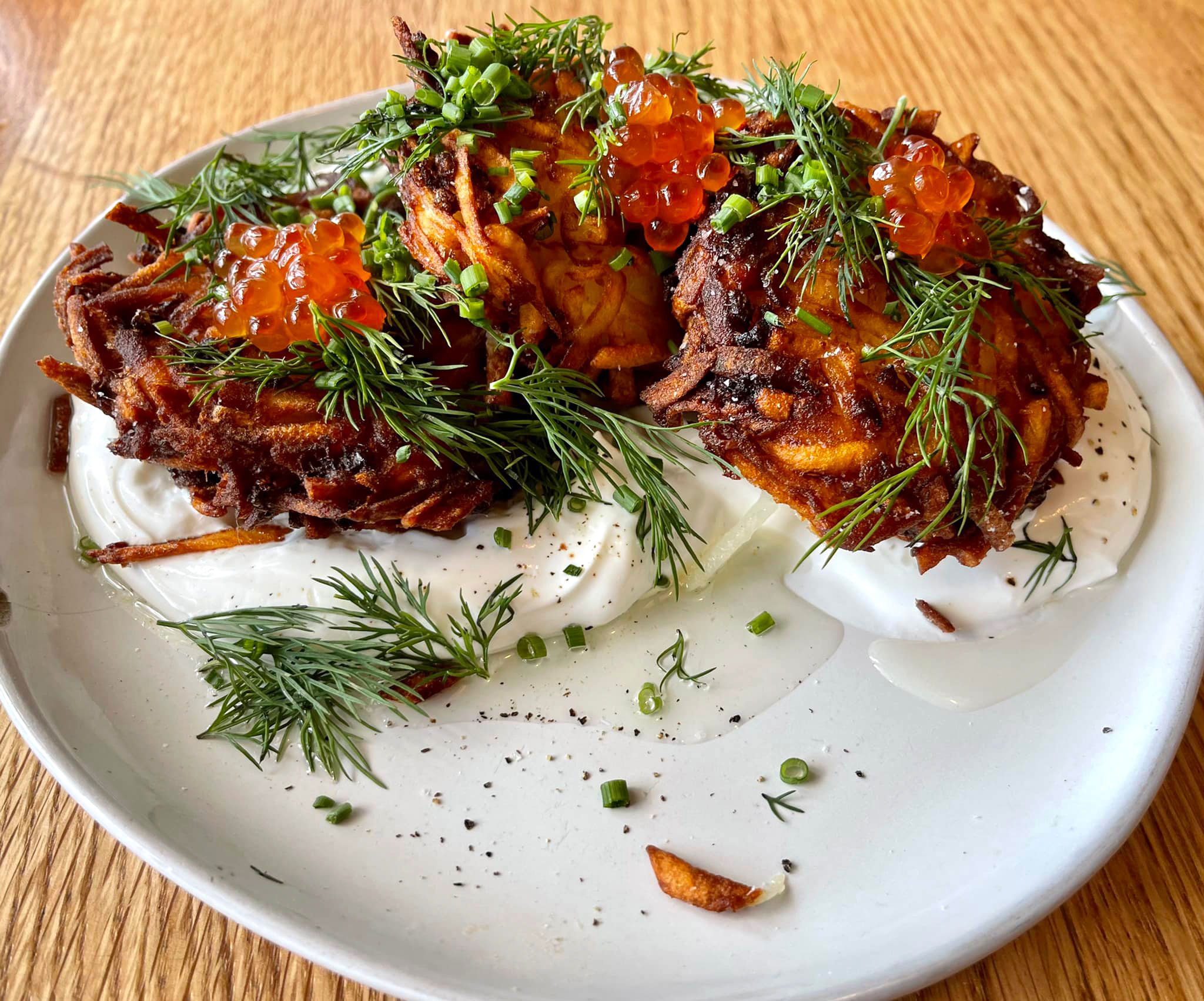 The Korean Fried Chicken Sandwich is one of the stars of the show at Wild Child. It consists of kimchi mayo, shredded cabbage, house dill pickles, and comes with fries. Note that the photo has a brioche bun, but it is actually a Martin's potato roll that it comes on now.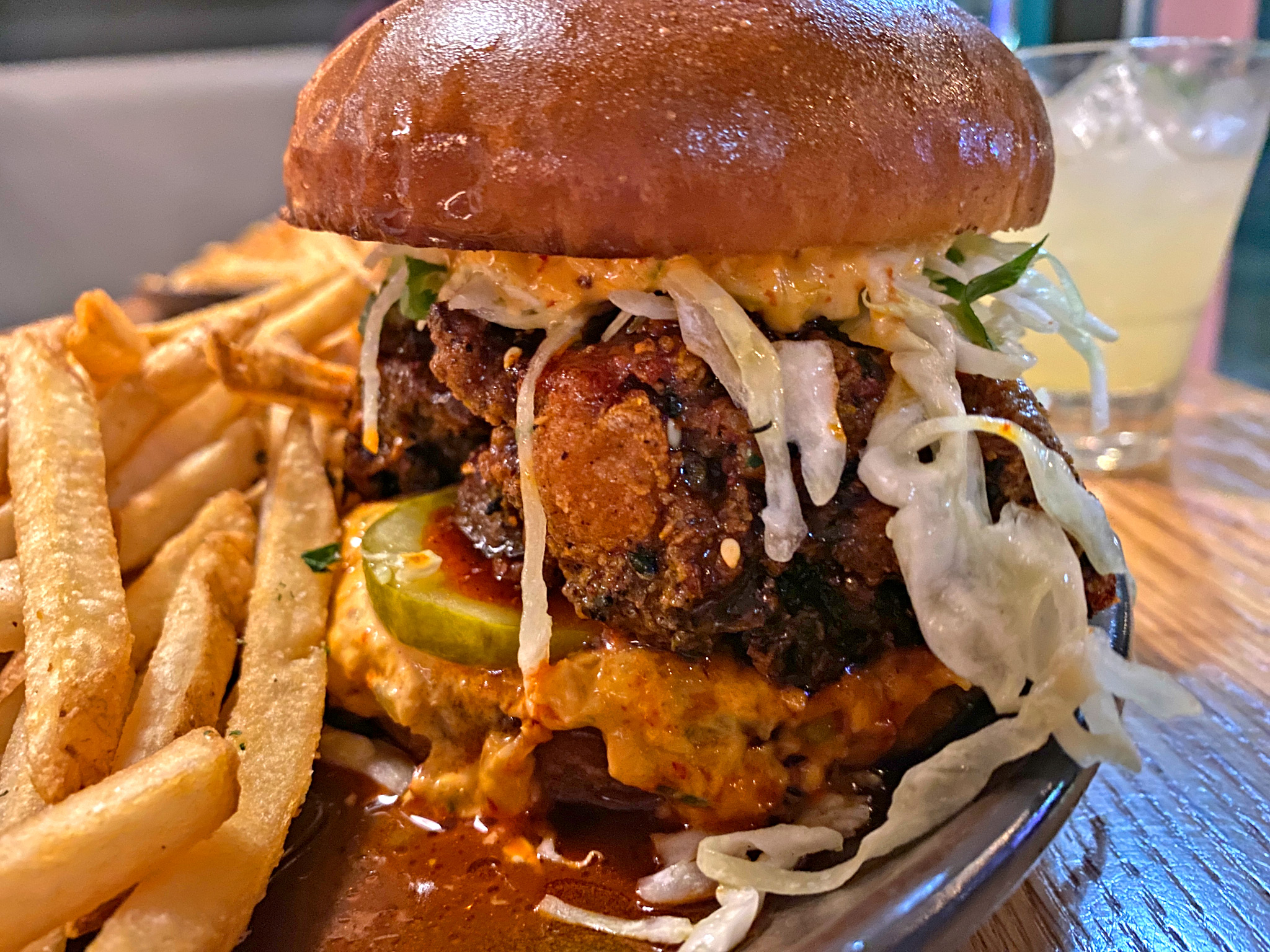 At this point we were so full, but we had to try the BEC – bacon, egg, American cheese, English muffin, chili lime crema and home fries, and we couldn't stop eating it.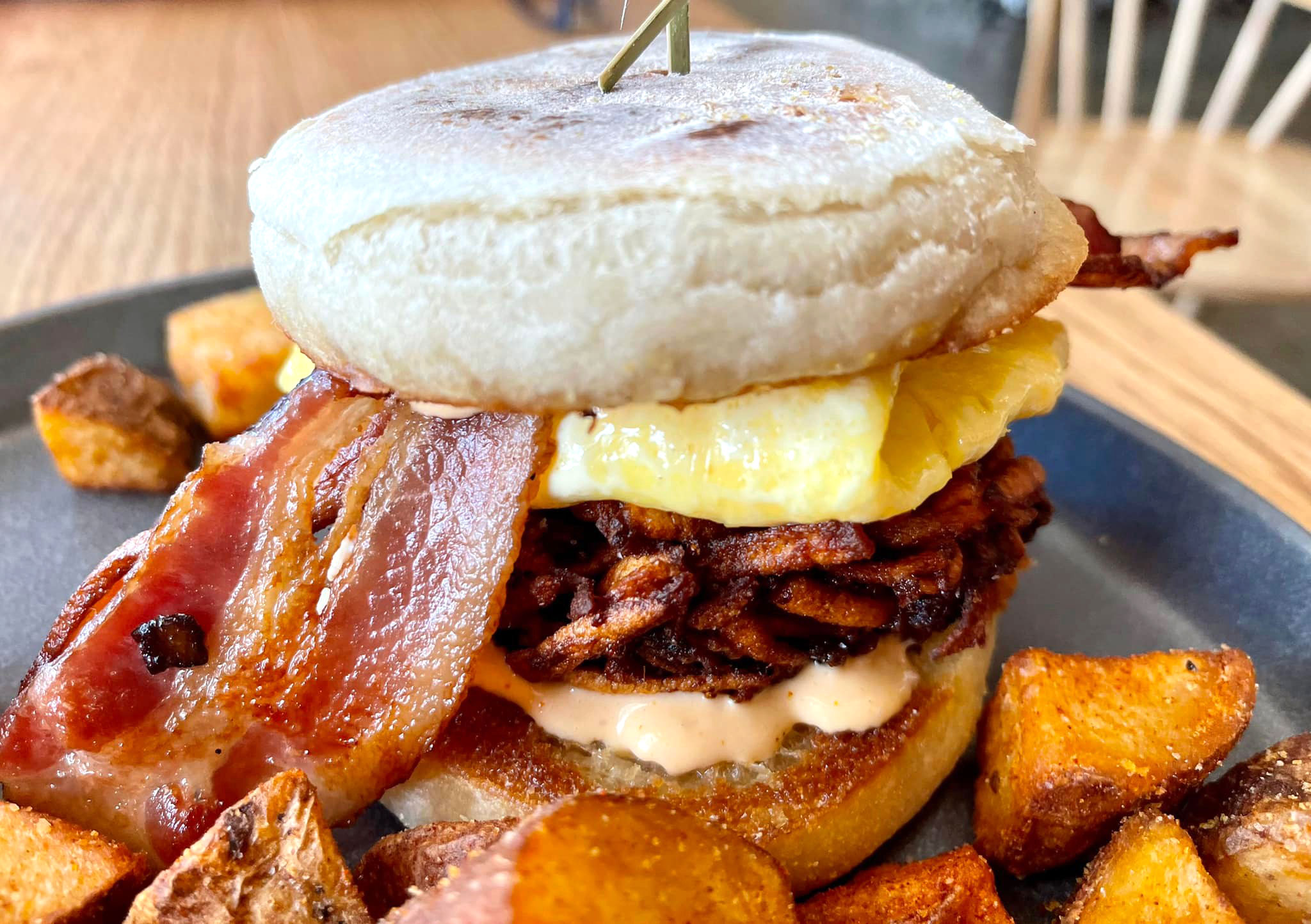 3. Social Roost
150 1st Ave N
St. Petersburg, FL 33701
(727) 202-6113
Social Roost Website
Social Roost is one of our top three favorite brunches in St. Pete. Lori said, "Brunch today at Social Roost Kitchen and Bar was beyond phenomenal! I must say that they have the most inventive and incredible menu for brunch that I have ever seen. So much more to go back for. We didn't get it this time but they have shakshuka…wow! We started with bubbles and three hours later we finished with bubbles. But in between you will see the most incredible food!"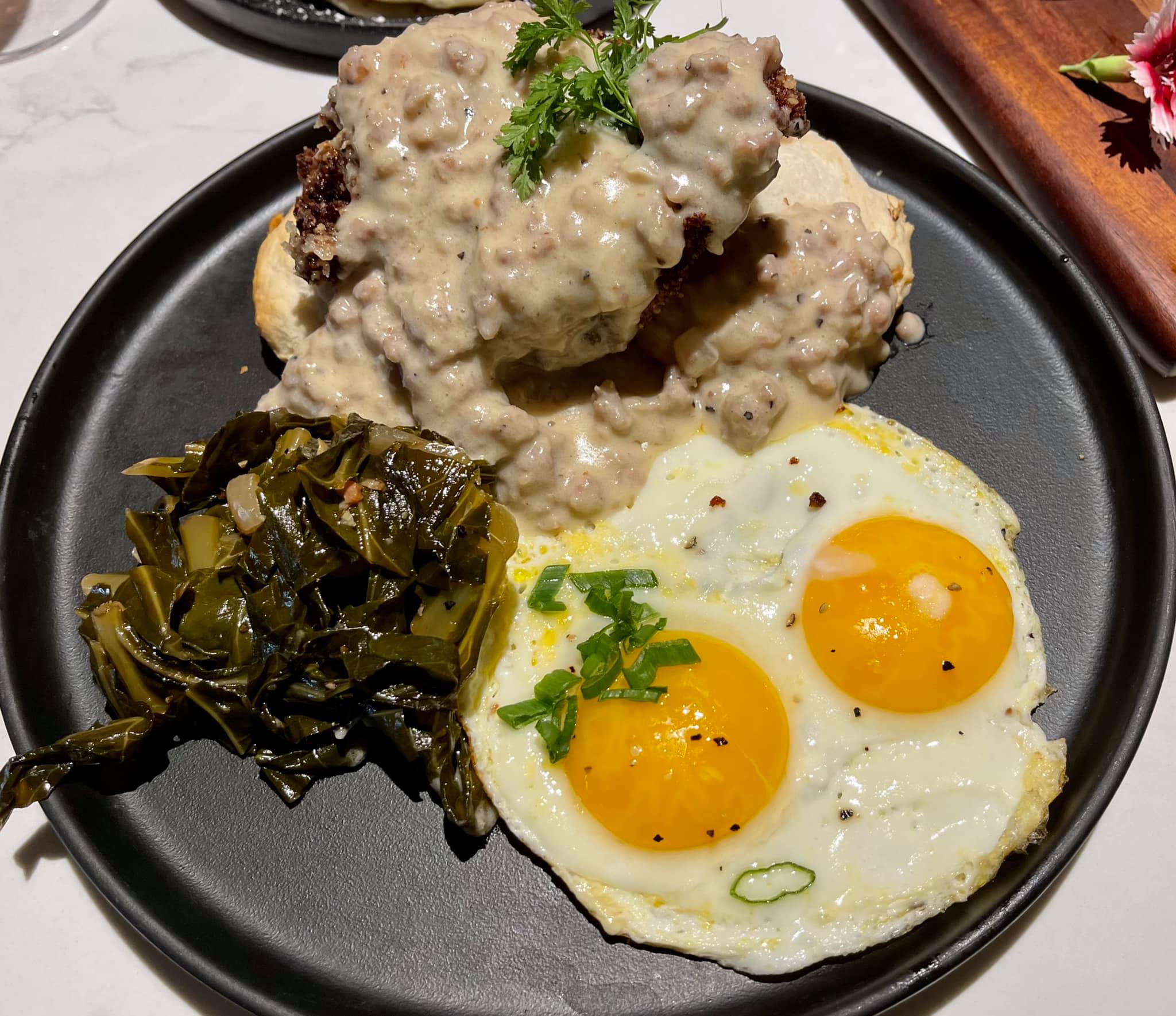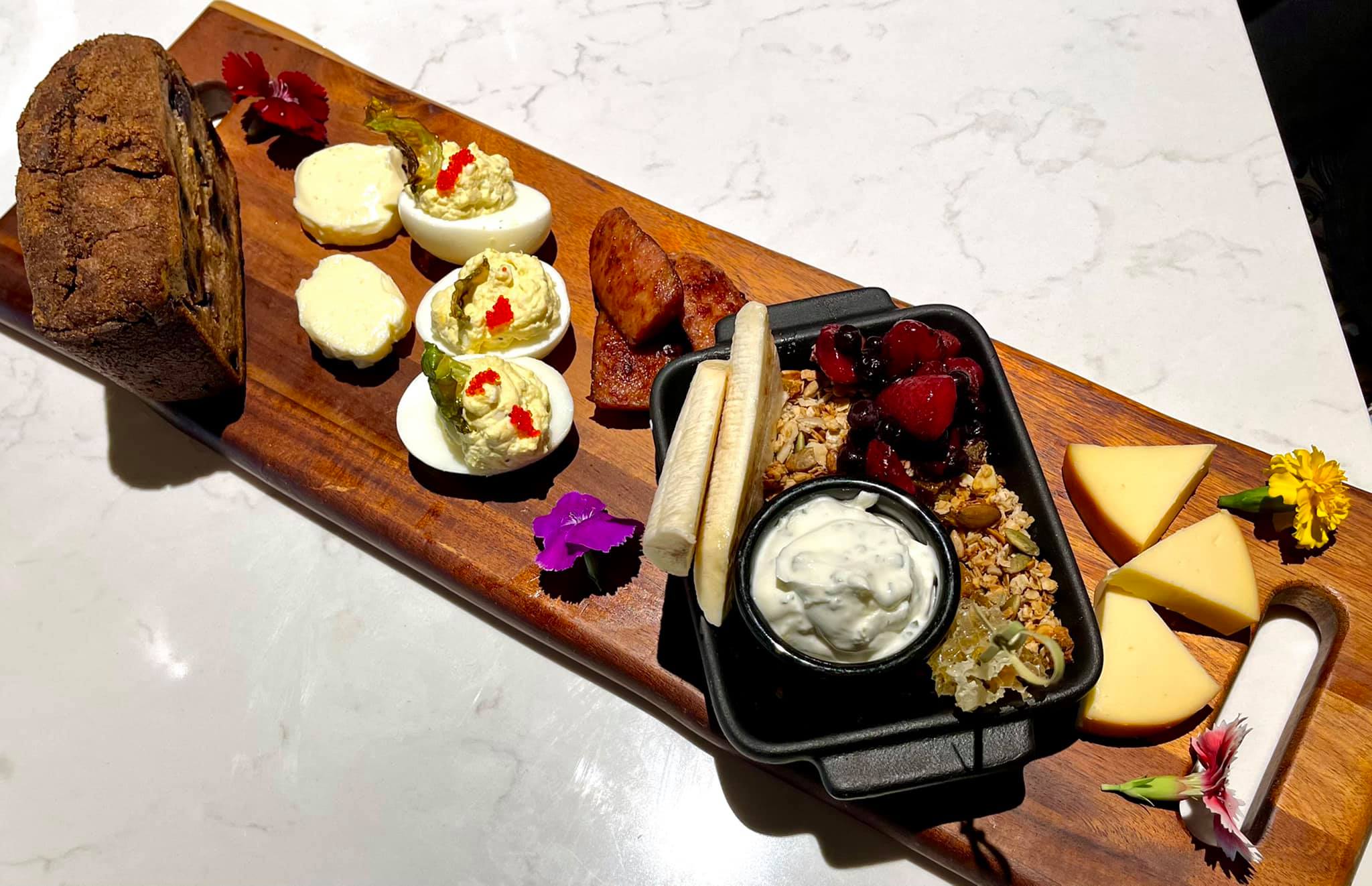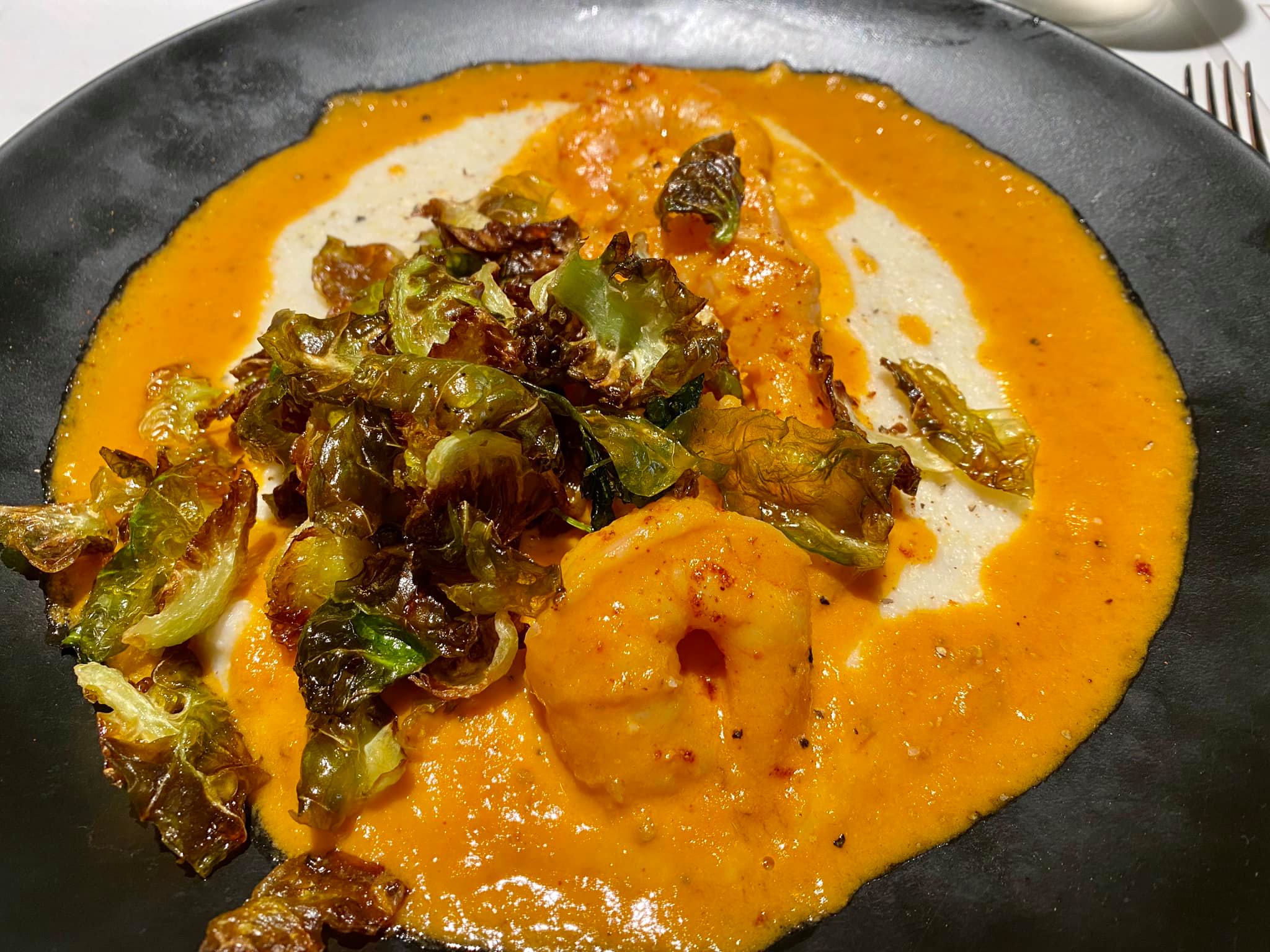 4. Sauvignon Wine Locker & Trattoria
241 Central Ave
St. Petersburg, FL 33701
(727) 827-7896
Sauvignon Website
Sauvignon Wine Locker opens for brunch on Sundays at 10:30. They have some spectacular Italian and American dishes on the regular menu that can be ordered during brunch, and the brunch items will blow you away as well. Two of my favorites are the Biscuits & Sausage Gravy and the Oxtail Hash.
Biscuits & Sausage Gravy –  house made pork sausage, creamy sausage gravy poured over flaky biscuits. If I was making biscuits and gravy, this is how I would do it, though I'm not sure I could do it this well. So many times when I order biscuits & gravy at other places, I'm reminded of the old Wendy's ad with the old lady shouting, "Where's the beef!?!?!" – except it would be "where's the sausage?". That's not the case at Sauvignon. This is packed with delicious chunks of sausage, and the biscuits are to die for.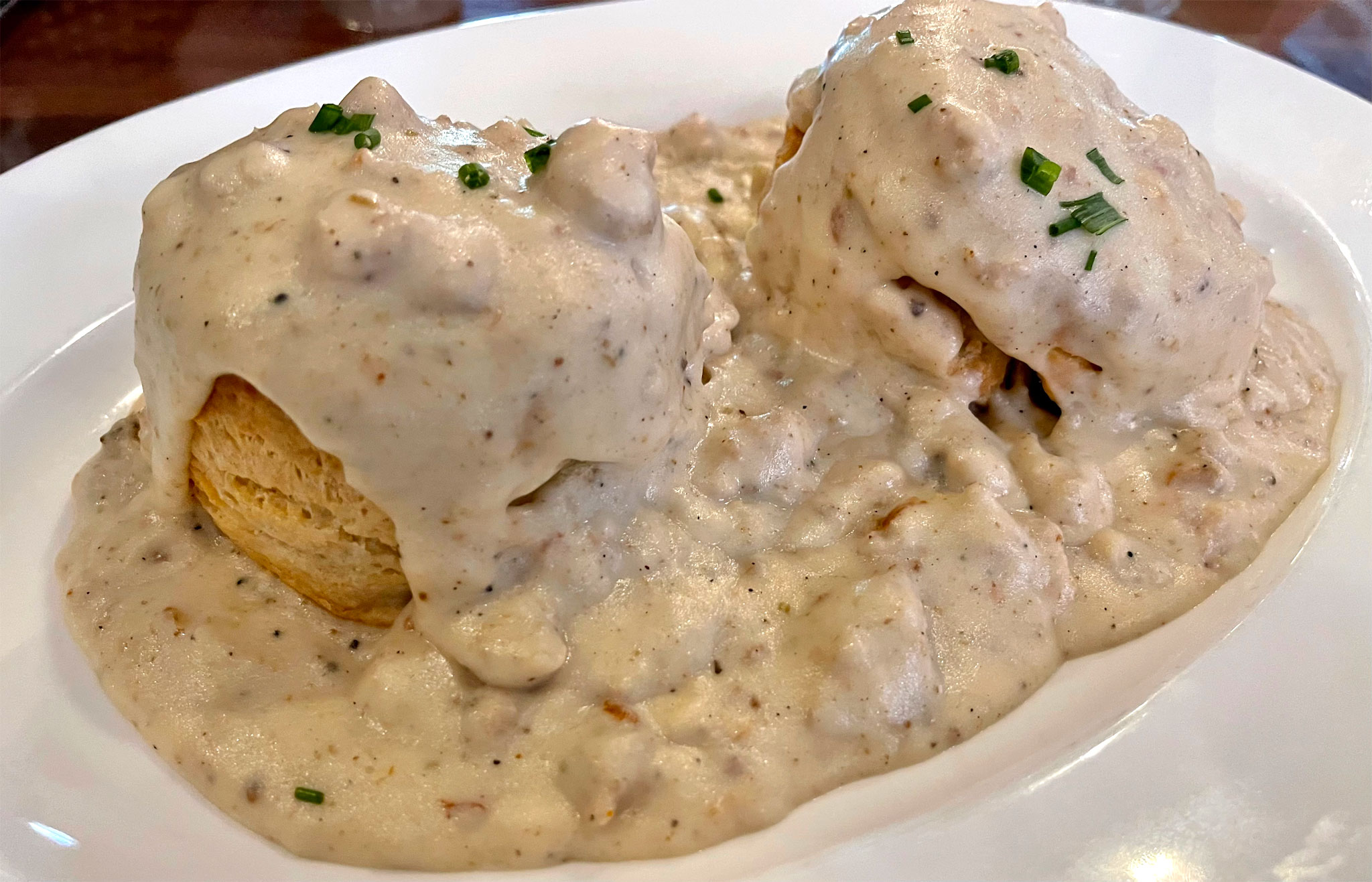 Oxtail Hash – braised oxtail, pan fried with potatoes, onions & sweet peppers.
This one is one of the real stars of the show. We were told it has become a crowd favorite and we know why. It has everything going for it – deep, rich flavors of slow-cooked meat – crispy, crunchy and unctuous at the same time – and then you mix in the runny egg yolk. It's eyes roll back in your head foodie heaven.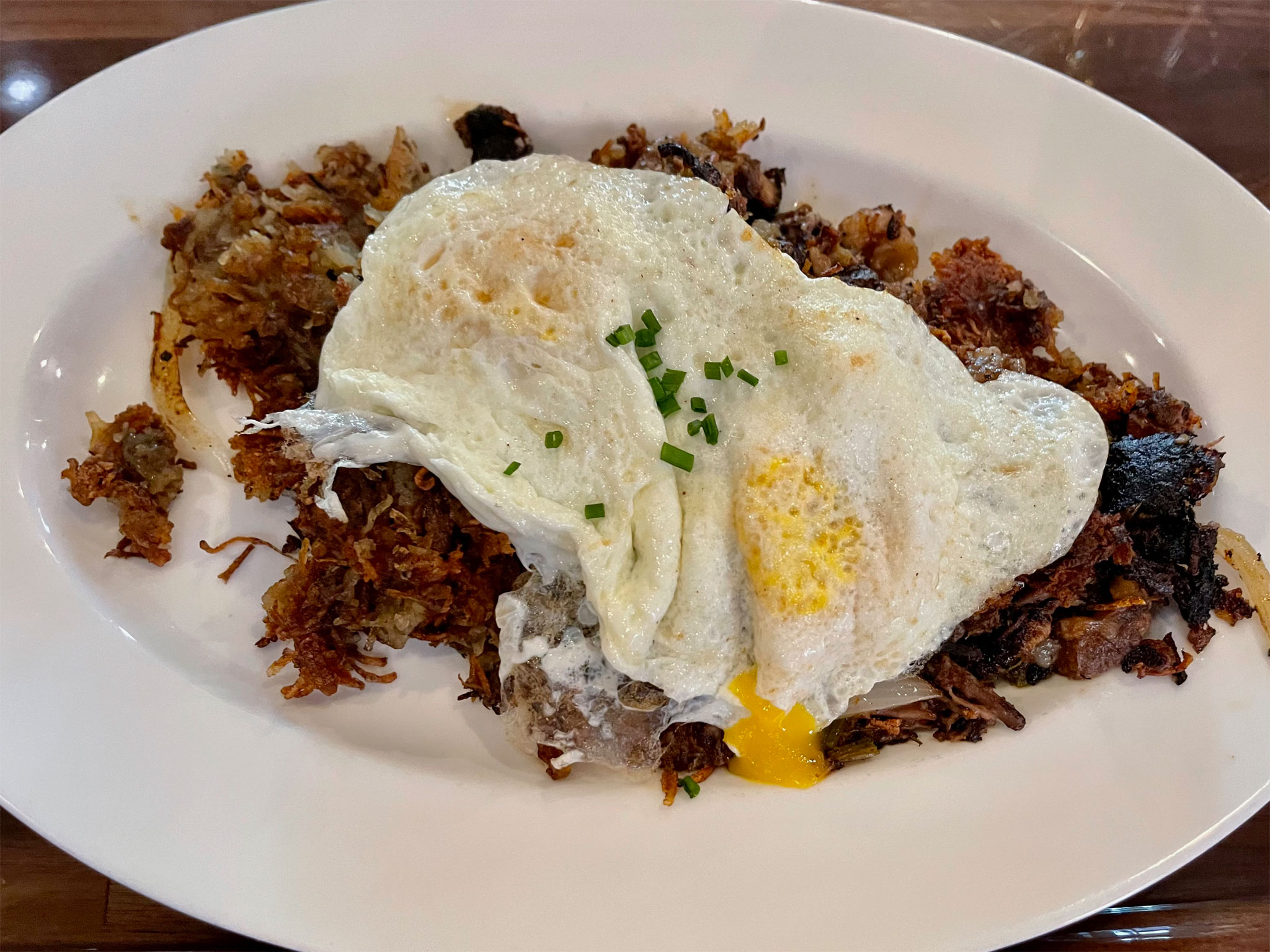 Sauvignon Full Review of Brunch
Good Fortune
260 1st Ave S #100
St. Petersburg, FL 33701
(727) 287-3881
Good Fortune Website
Good Fortune is just a couple of weeks shy of one year old, and we have been loving them since day one. If you know me, you know I LOVE all Asian food, and I can certainly eat it for breakfast, or brunch in this case. There is a specific Sunday brunch menu for Seoul Sunday with a festive atmosphere provided by a live DJ, and a Tigress dancer. They also offer the entire regular menu as well. I went with a couple of brunch items and Lori was feeling like sushi and sashimi.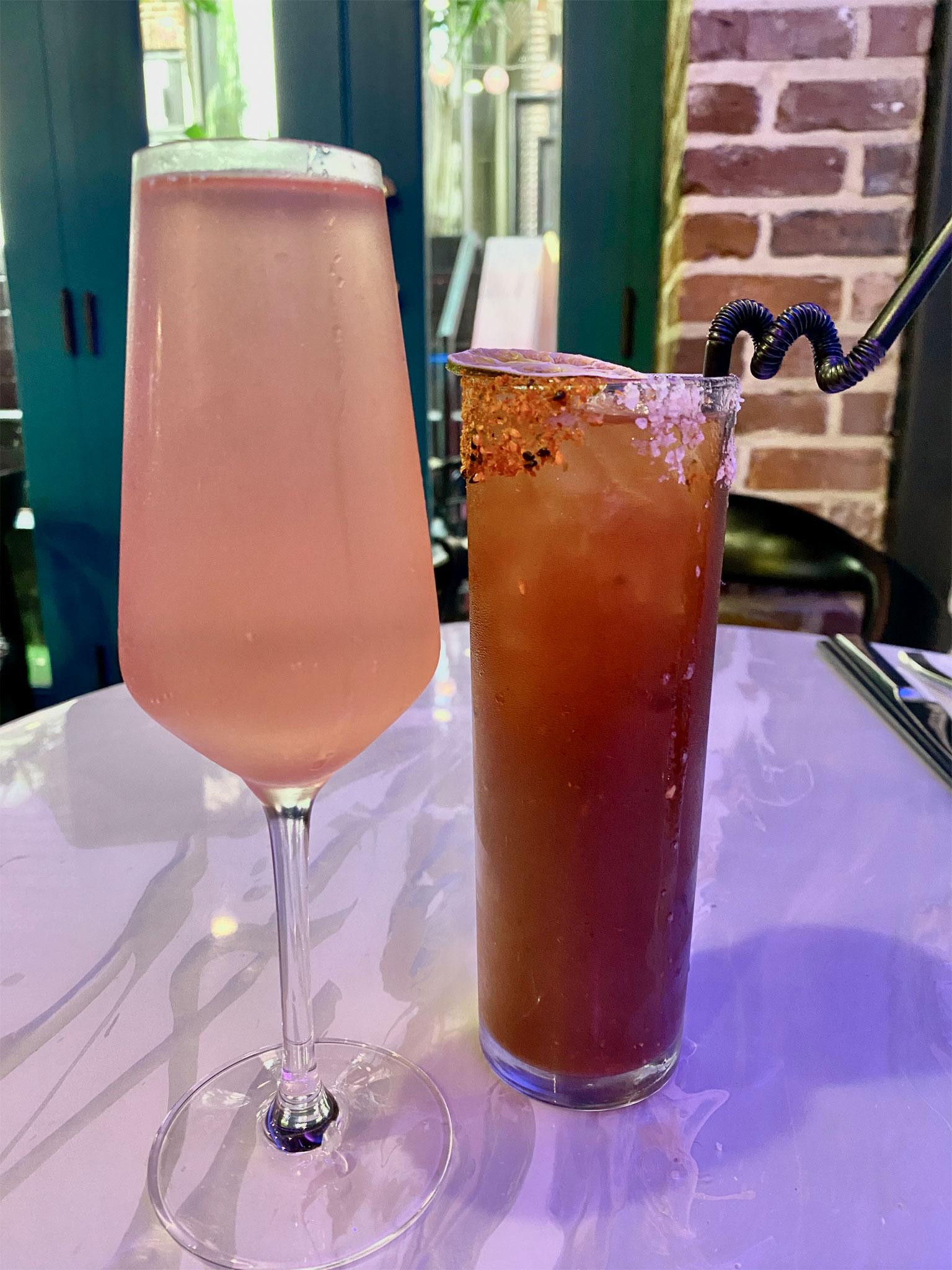 For me and Lori, every brunch starts with a Mimosa and a Bloody Mary. It's obvious that the Bloody Mary recipe is a house creation, as it tastes great, and unlike any other Bloody Mary I've ever had. The Prickly Pear Mimosa is quite sweet, so if you like candy-coated drinks, this one is for you. It was too sweet for Lori, but she soldiered on, drank some out and had the bartender add more bubbles to lighten it up.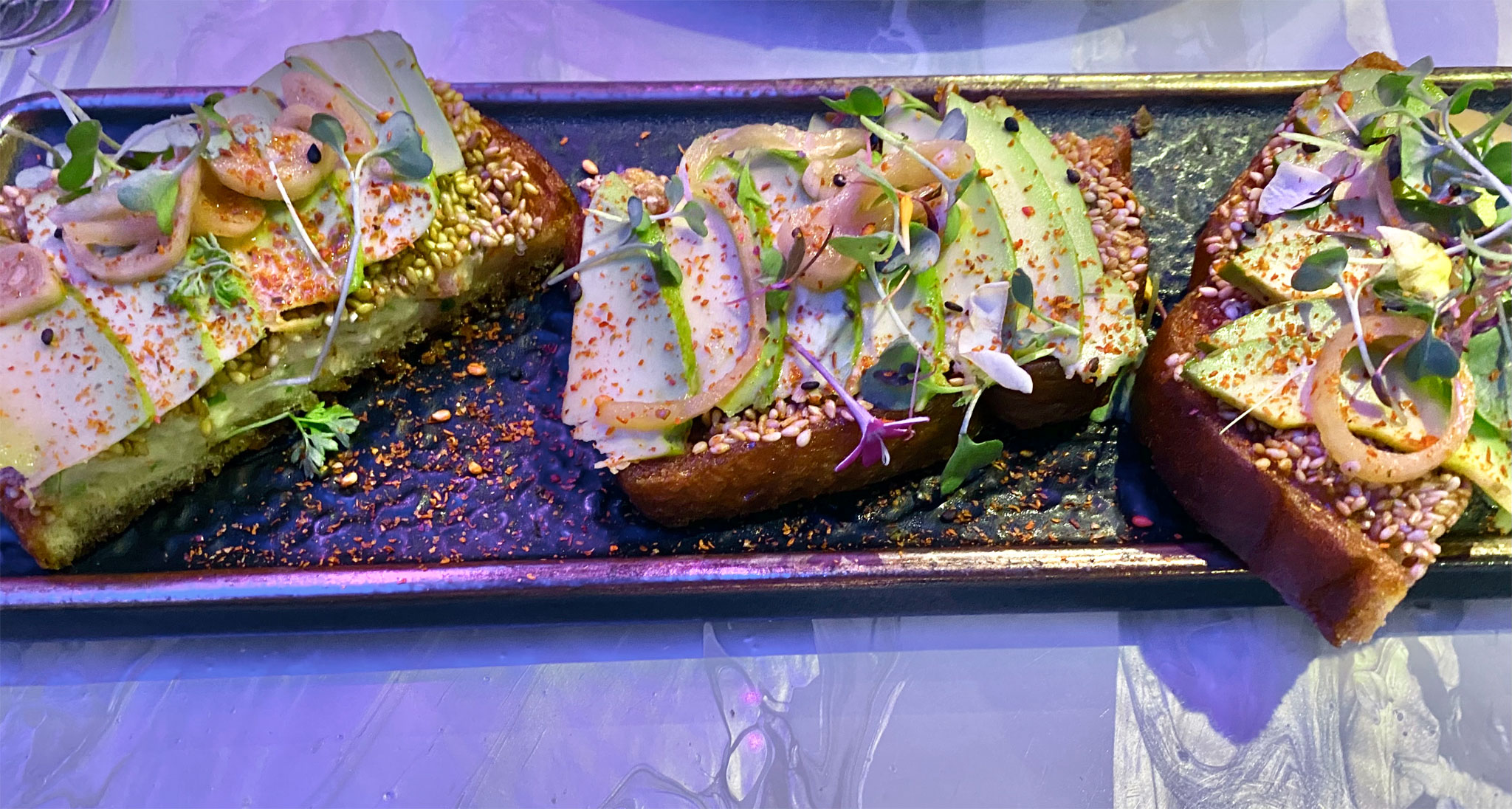 I started off with Shrimp Toast with Avocado – classic shrimp toast topped with avocado, togarashi, pickled shallots, and micro greens. This one is pure comfort food for me as I grew up eating it at the sit-down Chinese restaurants I frequented as a kid in New Jersey in the 1970s. Good Fortune has elevated it and updated it by marrying it with avocado toast, which is brilliant. It was some of the best shrimp toast I have ever had.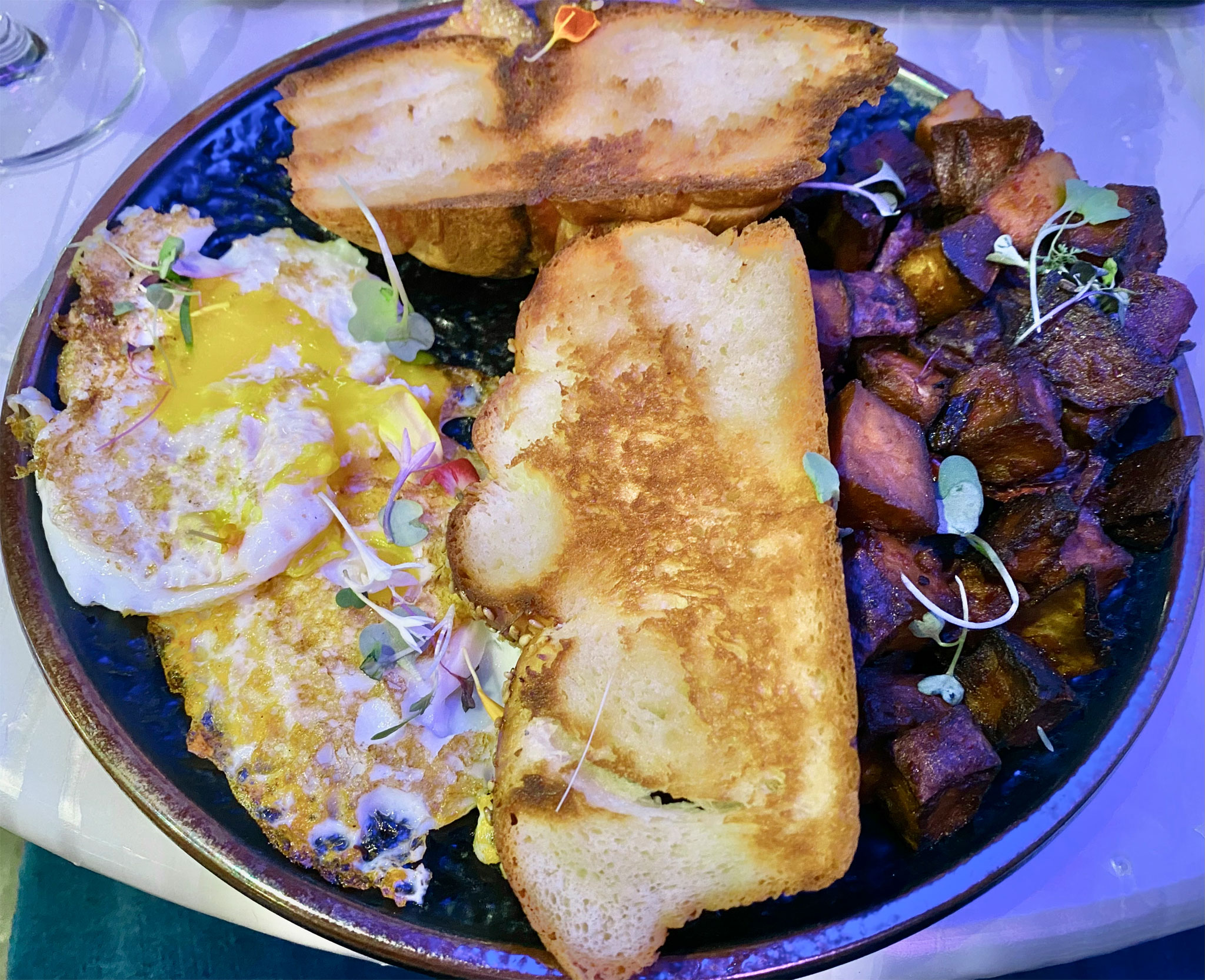 I wasn't done yet. Next up was Bacon and Eggs – glazed pork belly, chili crisp eggs, Japanese sweet potato hash, milk bread toast. This dish was spectacular. The "bacon" as you see from the description was glazed pork belly. Unfortunately, they are hidden under the milk bread in the photo. I wish I had thought to get a shot of them. There were three pieces about 2½ inches long and about ³⁄₁₆ of an inch thick.
At first, I was confused by the description of the chili crisp eggs. I was thinking of the Chinese condiment chili crisp that has fermented soy beans, chili, garlic, scallions and other spicy and crunchy bits. This is what Good Fortune's dumplings come with.
[tangent start] Chili crisp has a different meaning for the eggs, and I think the name should be changed to "Chili Oil Crispy Fried Egg". It is common in Asian cuisine to make fried eggs with crispy edges and whites. This is done by cooking them on high and in oil. In this case, the oil is chili oil. It was not a problem, and I loved them, but it did take some figuring out because of the menu description. [/end tangent]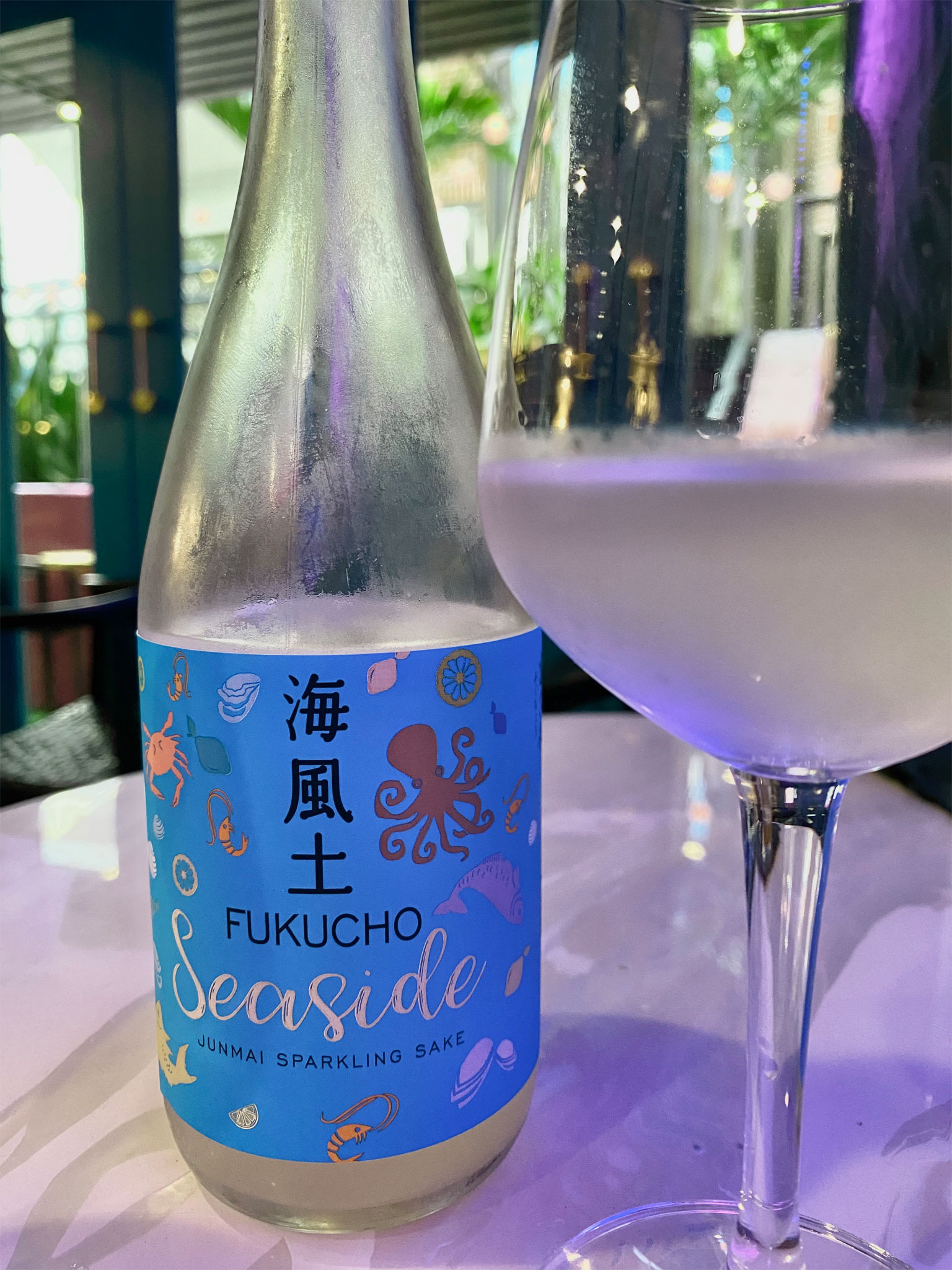 Who knew there was sparkling sake? Not me, until yesterday. We loved it so much that when I got home, I ordered a case from TippsySake.com, which blew out their stock. The description from their site says, "This is a sparkling sake made through an in-bottle secondary fermentation process. Each sip delivers an effervescent sensation that fizzles the citrus flavor across your palate. When it fades you're left with a refreshing finish. In order to achieve the citrus notes, brewmaster Miho Imada uses some white koji in the sake. As the name implies, this sake pairs best with all types of seafood."
White koji. Nice.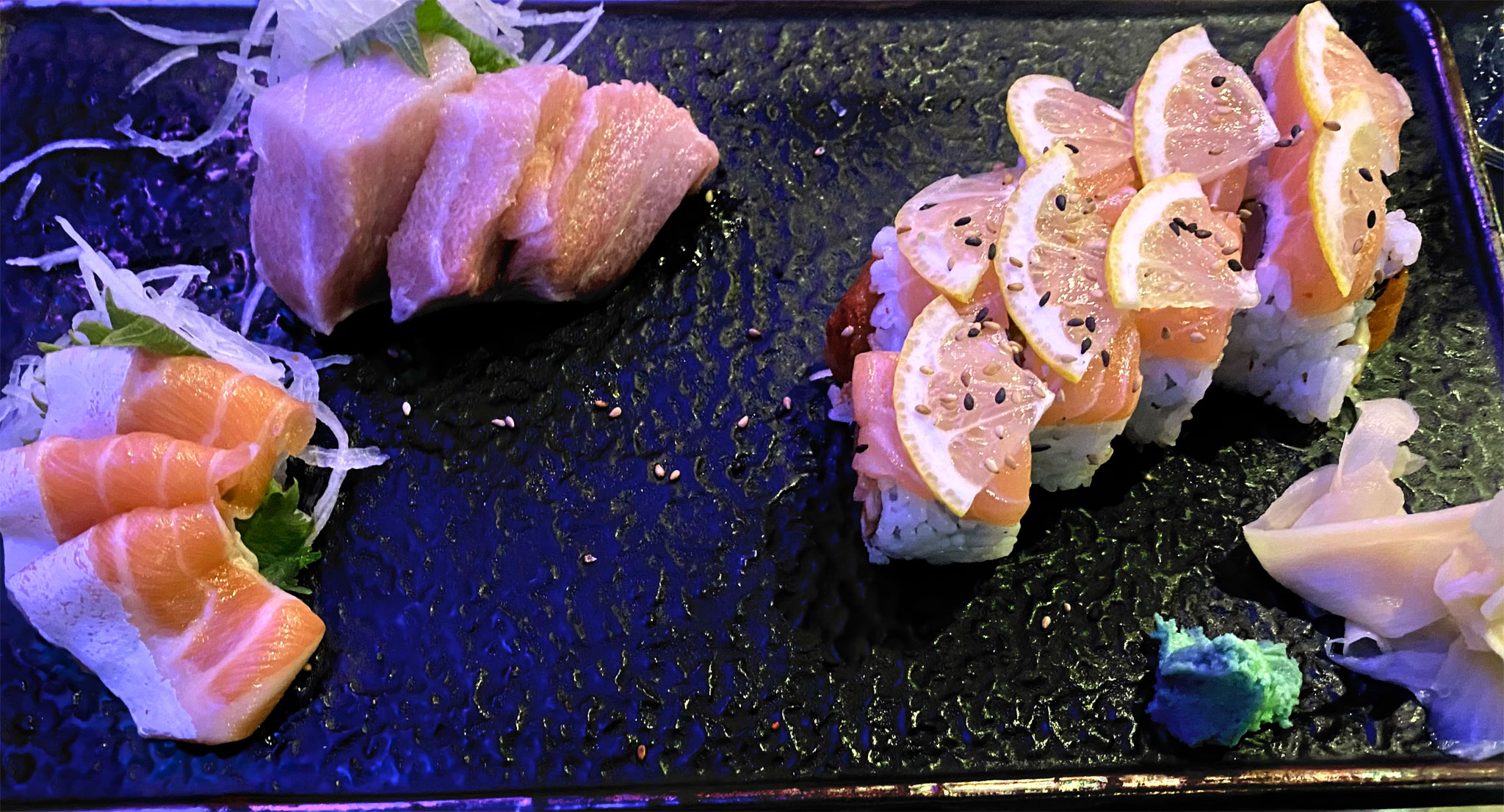 Ok, here's an endorsement for you. Good Fortune has the best, and most authentic Japanese-American sushi in St. Petersburg, FL.
I recently completed the Sushi Masterclass from the Master of Japanese Cuisine Academy with Chief Chef mentor Hideyuki Takahashi, so that's where I'm coming from with this declaration.
Lori ordered the Salmon Belly and the Fatty Tuna sashimi, and the Sunshine City Roll, which is spicy salmon and cucumber topped with more salmon, lemon slices, and sesame seeds. The fatty tuna, or toro is not easy to come by as it is highly prized and considered "the wagyu of tuna". It melts in your mouth as does the salmon belly, which is the fattiest cut of salmon just as the toro is for tuna.
You'll notice that the Sunshine City Roll has slices of lemon that include the pith and peel. This is intended to be eaten as it is sliced super thin. Lori asked to be sure. She enjoyed it with the lemon, but I preferred it without.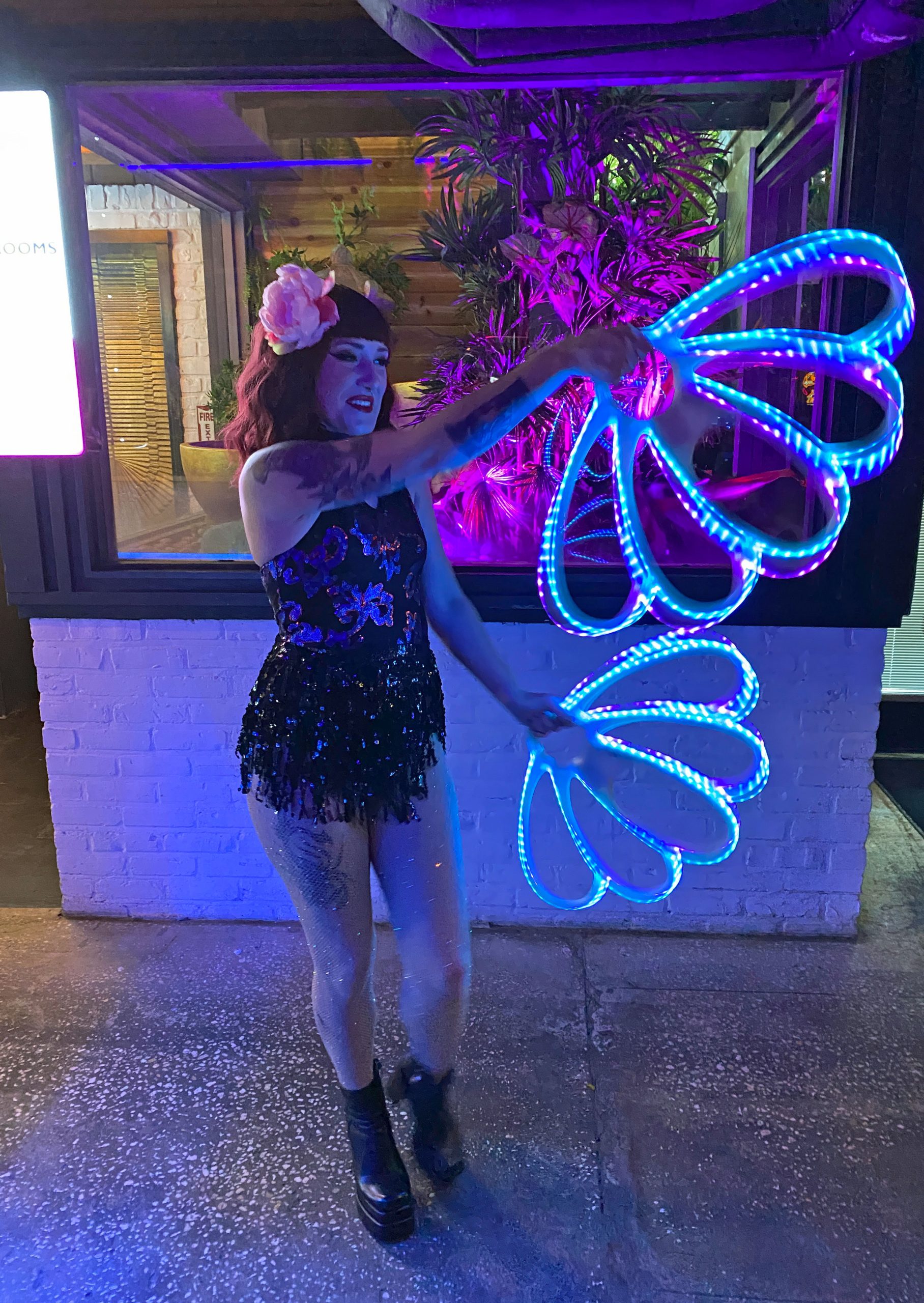 Datz
8:30AM – 3PM • SAT || 8:30AM – 9PM • SUN
180 Central Ave
St. Petersburg, FL 33701
(727) 202-1182
Datz Website
Datz is certainly the place for a hearty brunch. They are the home of comfort food with flair, a foodie wonderland filled with bacon, cheese, and house-made breads. The Shrimp & Grits have cream cheese and an Indian Makhani sauce that is delicious.
They have a bunch of great burgers that use Certified Angus Beef, and two that they're famous for are The Cheesy Todd, where instead of a bun, you have two bacon-jalapeño mac n' cheese "buns." And there's the Double D where you have two whole glazed doughnuts instead of a hamburger bun.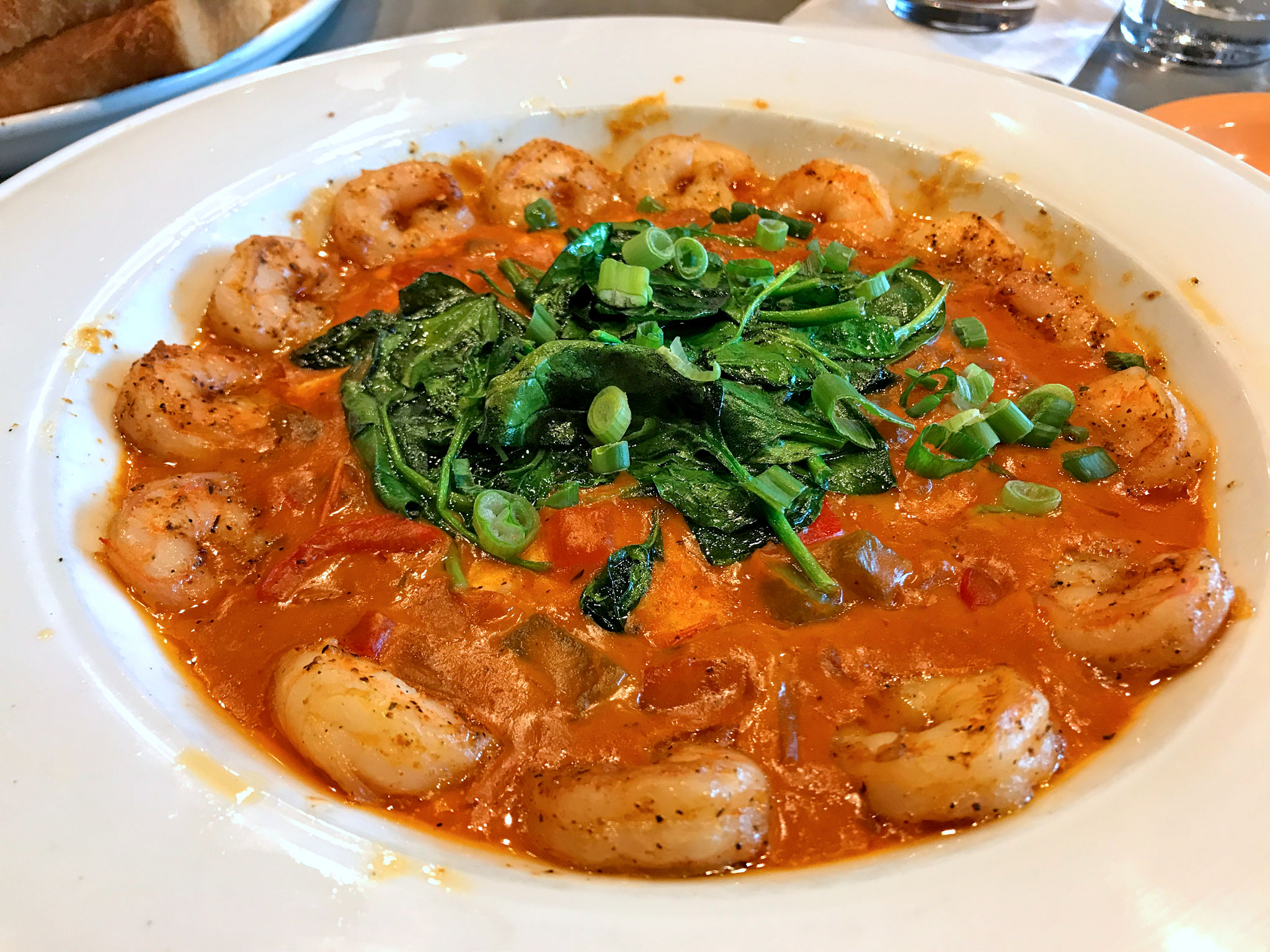 Noble Crust
8300 4th St N
St. Petersburg, FL 33702
(727) 329-6041
Noble Crust Website
Noble Crust has been famous for their brunch since day one, when they opened in 2015. People rave about the Lemon Ricotta Pancakes, Fried Chicken Biscuit, Fried Chicken + Waffle, and Bananas Foster French Toast.
We love the F.G.B.L.T. – fried green tomatoes, Tabasco-honey glazed pork belly with pimento cheese.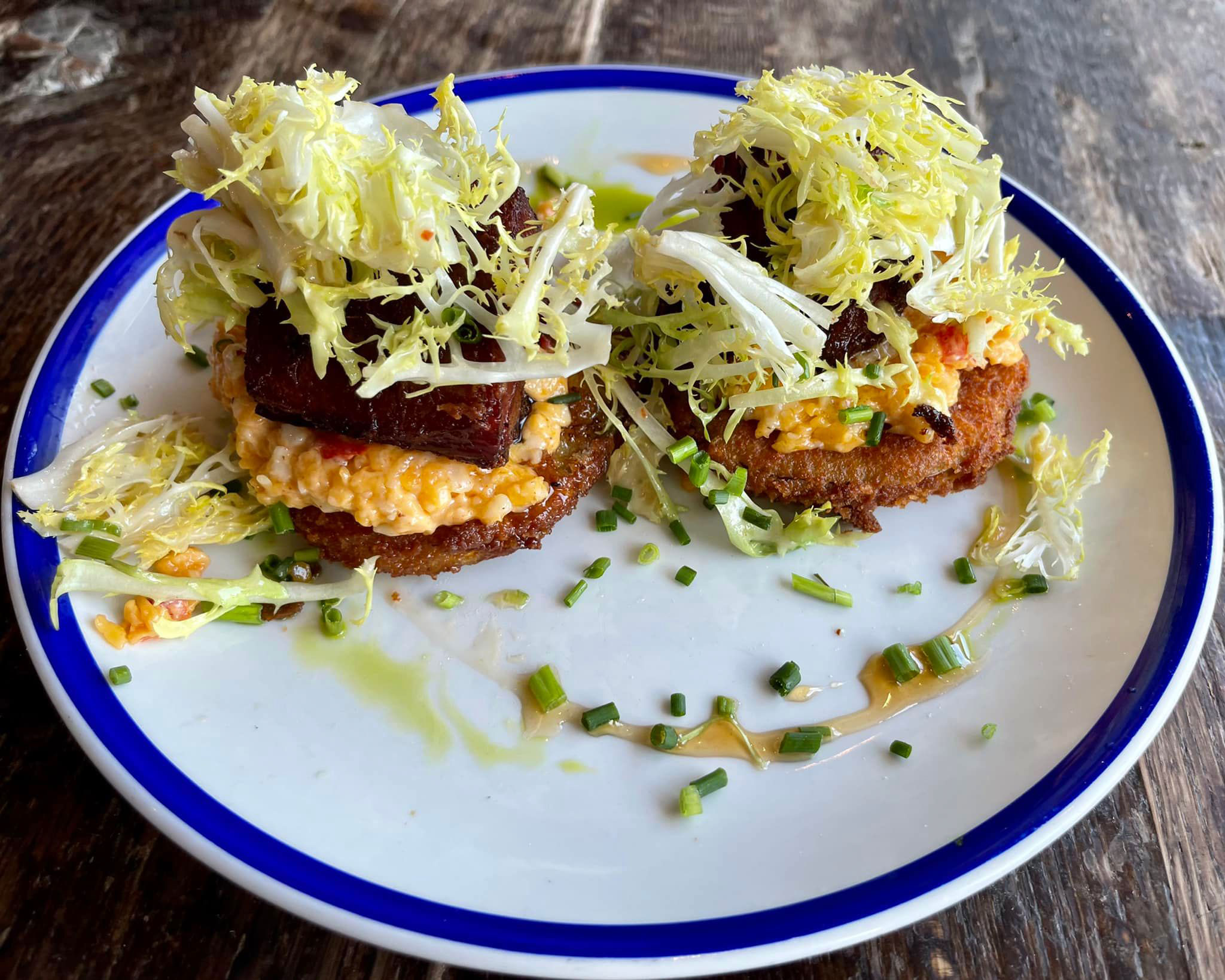 The Bier Boutique
465 7th Ave N
St. Petersburg, FL 33701
(727) 827-2691
The Bier Boutique Website
The Bier Boutique uniquely does brunch on Mondays from 11-3. This makes for a fun crowd of service industry folks, tourists, and anyone that doesn't have a 9-5 Mon-Fri gig, (which is more and more people these days). We love the Breakfast Tots – A pile of housemade tater tots loaded up with cheddar cheese, bacon croutons, a fried egg & chives with a side of sour cream. Also, the Tots & Gravy and the Brunch Burger are excellent choices.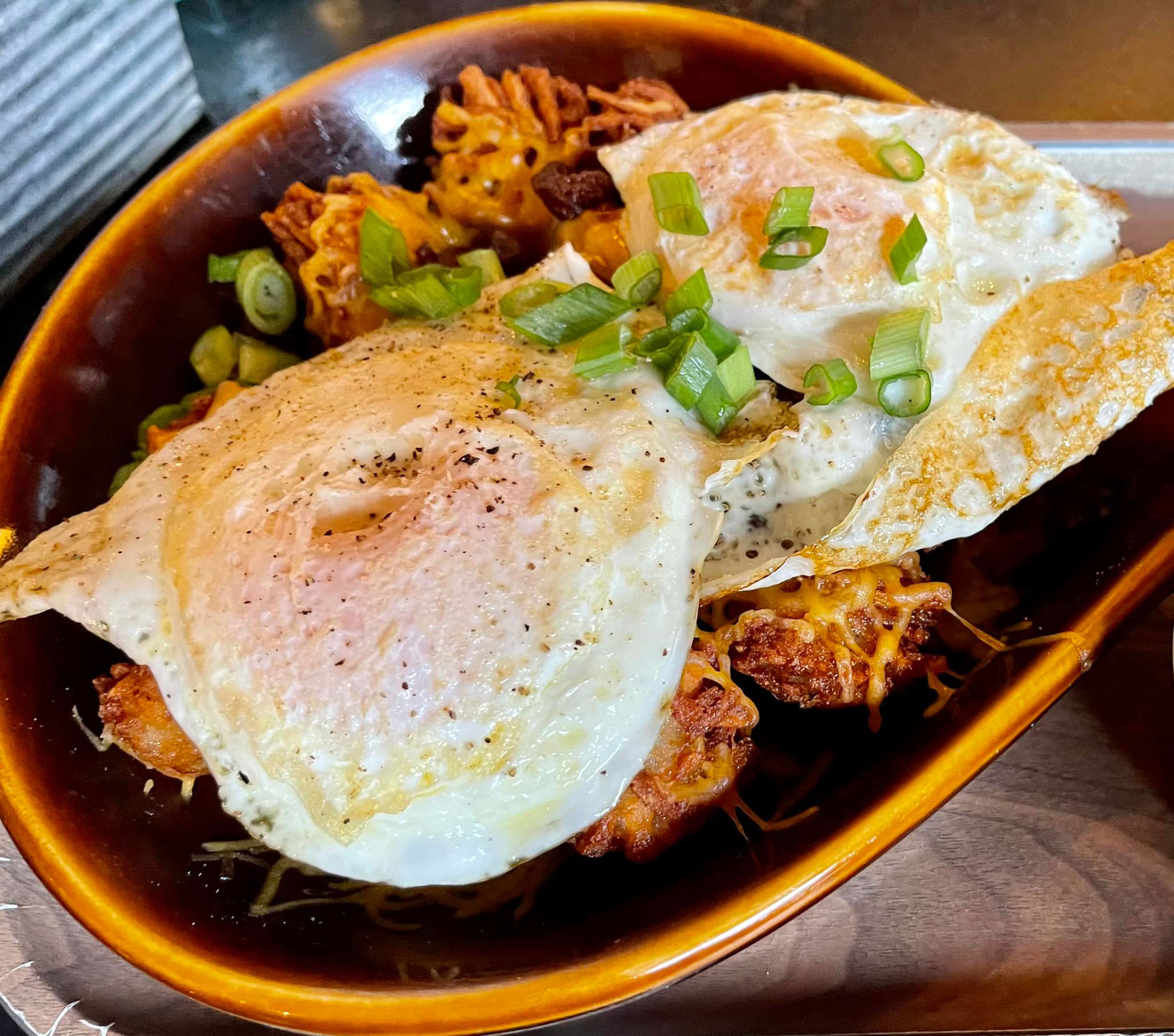 Red Mesa Cantina
Saturday & Sunday 11am – 3pm
128 3rd St S
St Petersburg, FL 33701
(727) 896-8226
Red Mesa Cantina Brunch Menu
With two bars, an indoor and outdoor, an elaborate fountain with outside courtyard dining and the most extensive selection of tequilas and Mezcals in the South, Red Mesa Cantina is nothing short of a lively Mexican brunch with a menu that delivers bold, fresh flavors. I love the Steak & Eggs – 6oz. grilled steak, chile arbol sauce, queso fresco, fried potato hash and two eggs any style.  They also serve breakfast tacos, burritos, ceviches and quesadillas along with many other scrumptious offerings.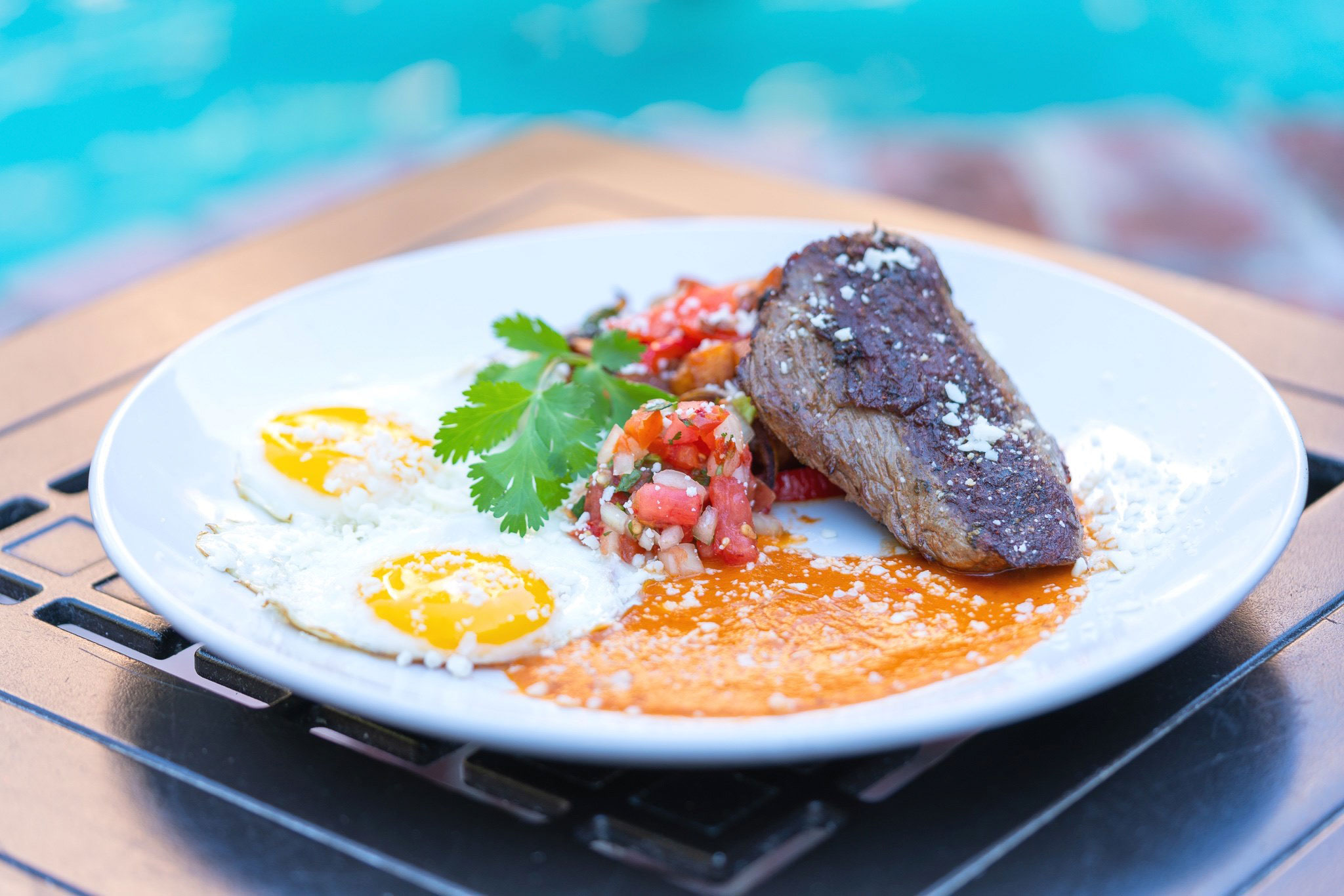 Scroll with your mouse to go forwards and backwards. On a mobile device or tablet, use your finger to move around the courtyard. This is an entire tour of Red Mesa Cantina's Courtyard and bar.
The Urban Stillhouse
2232 5th Ave S
St. Petersburg, FL 33712
(727) 440-8040
The Urban Stillhouse Website
For an ultimate, all-American, gustatory experience, visit The Urban Stillhouse in the Warehouse Arts District in St. Pete. The Urban Stillhouse offers a completely immersive adventure for your tastebuds and senses.
This extraordinary restaurant is influenced by the history of Horse Soldier Bourbon and offers a wonderful space to enjoy great food. The 16,000 sq. ft restaurant houses an extensive restaurant on two levels, two stunning bars, intimate private event spaces and more. The atmosphere is charming with a rustic and modern twist from the leather couches, bourbon barrels, a beautiful fireplace and striking decor every which way you look.
Pretty much anytime I go out for breakfast or brunch, my eyes immediately look for the eggs benedict. The Stillhouse Eggs Benedict is now my favorite in all of St. Pete with biscuits, fried green tomato, porchetta, chive and hollandaise served with home fried potatoes.
Steak and Eggs with two sunny side up eggs, a medium-rare steak, and home fried potatoes.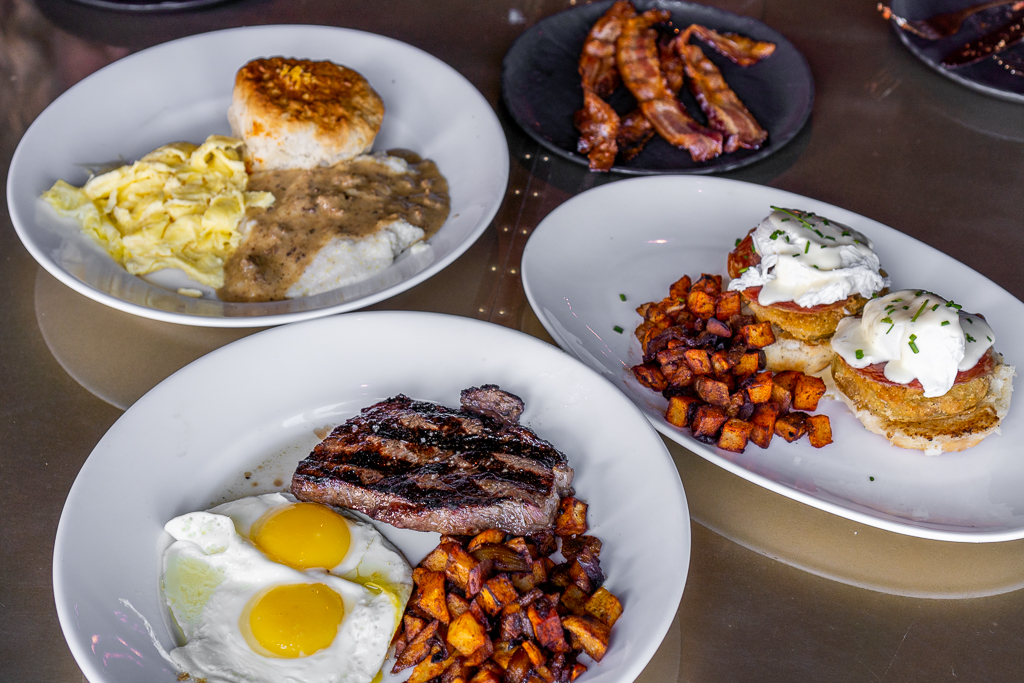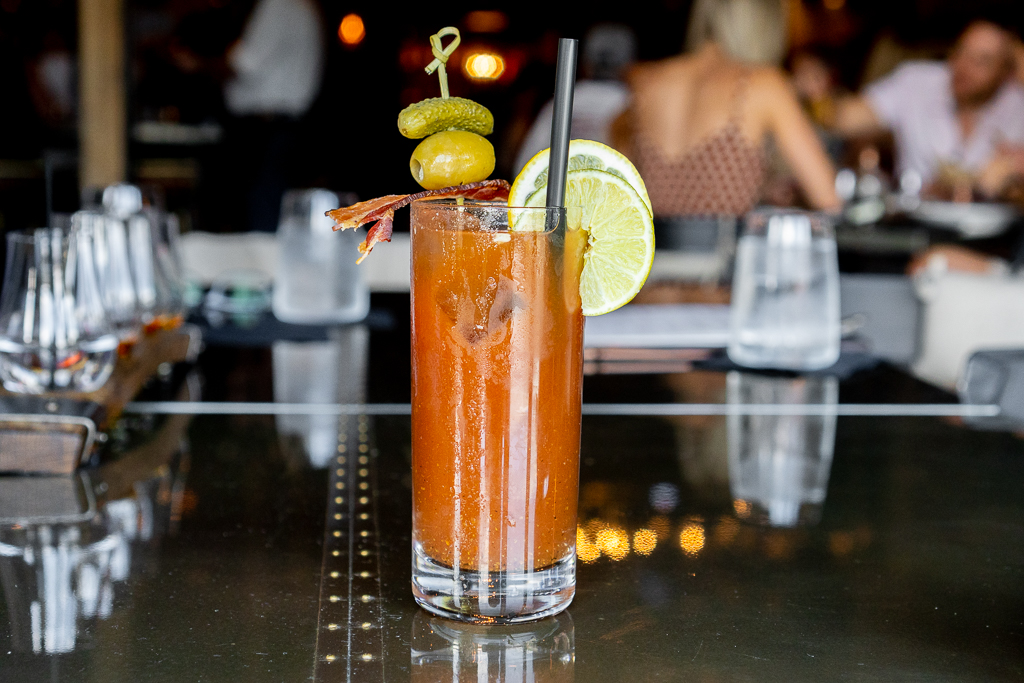 The Urban Stillhouse Hair of the Dog with Bacon Fat-Washed Horse Soldier Bourbon, House Blended Bloody Mix, Topped with Bacon. We never knew a Bloody Mary could be so good made with bourbon. This one is amazing.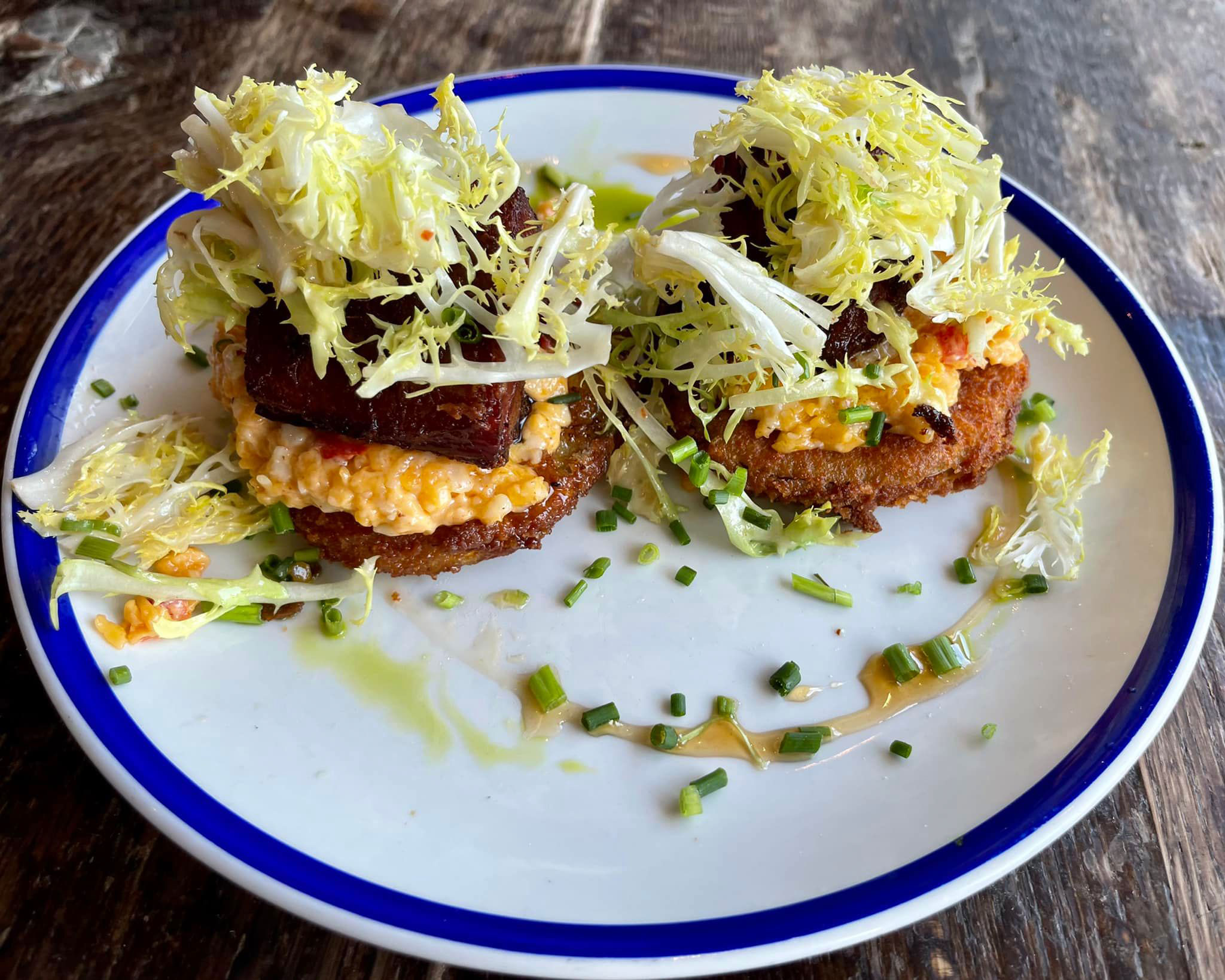 Readers Rating

Rated 4.5 stars




4.5

/ 5 (

Reviewers

)

Outstanding
---
A list of the best St. Petersburg, FL brunches.