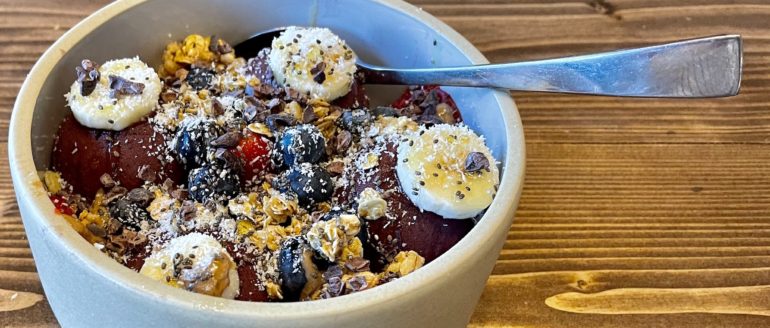 Driftwood Kava and Coffee Roastery opened quietly in downtown St. Pete in January of this year, in the space of the former Rawk Star Cafe. The owners of Rawk Star Cafe, Mike and Arielle Collins, are still behind Driftwood so you will still see the same smiling faces when you visit. Arielle is involved as manager and sister, Savanna, is Mike's business partner. This is the second location for Driftwood as they opened the first location in Seminole last year. Having great success with the first location, they decided that Driftwood would make a great addition to St. Petersburg and changed the concept of the space.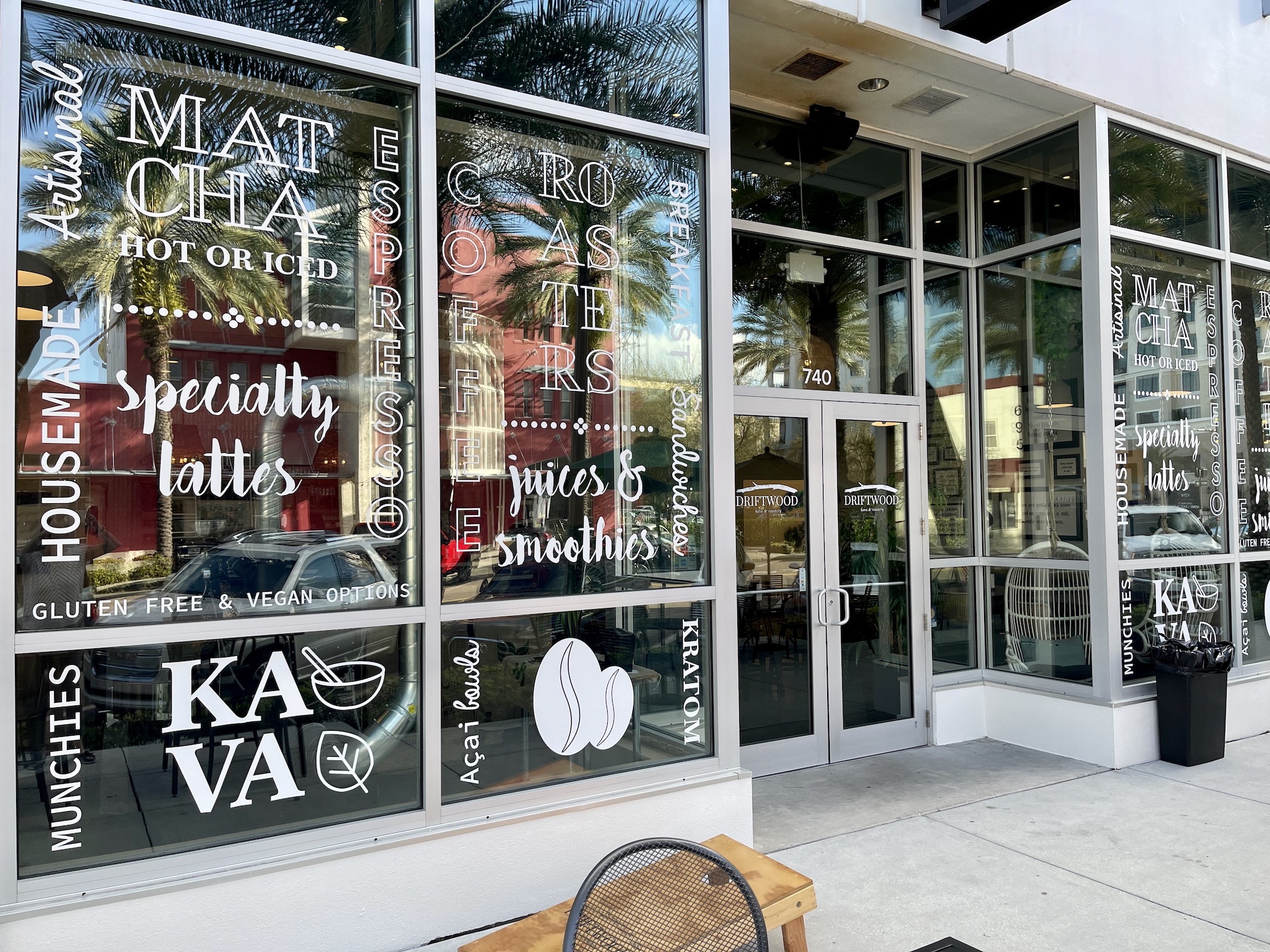 The interior of Driftwood has been transformed into a modern, rustic, warm space that you will surely want to spend time in while sipping and noshing on their wonderful creations.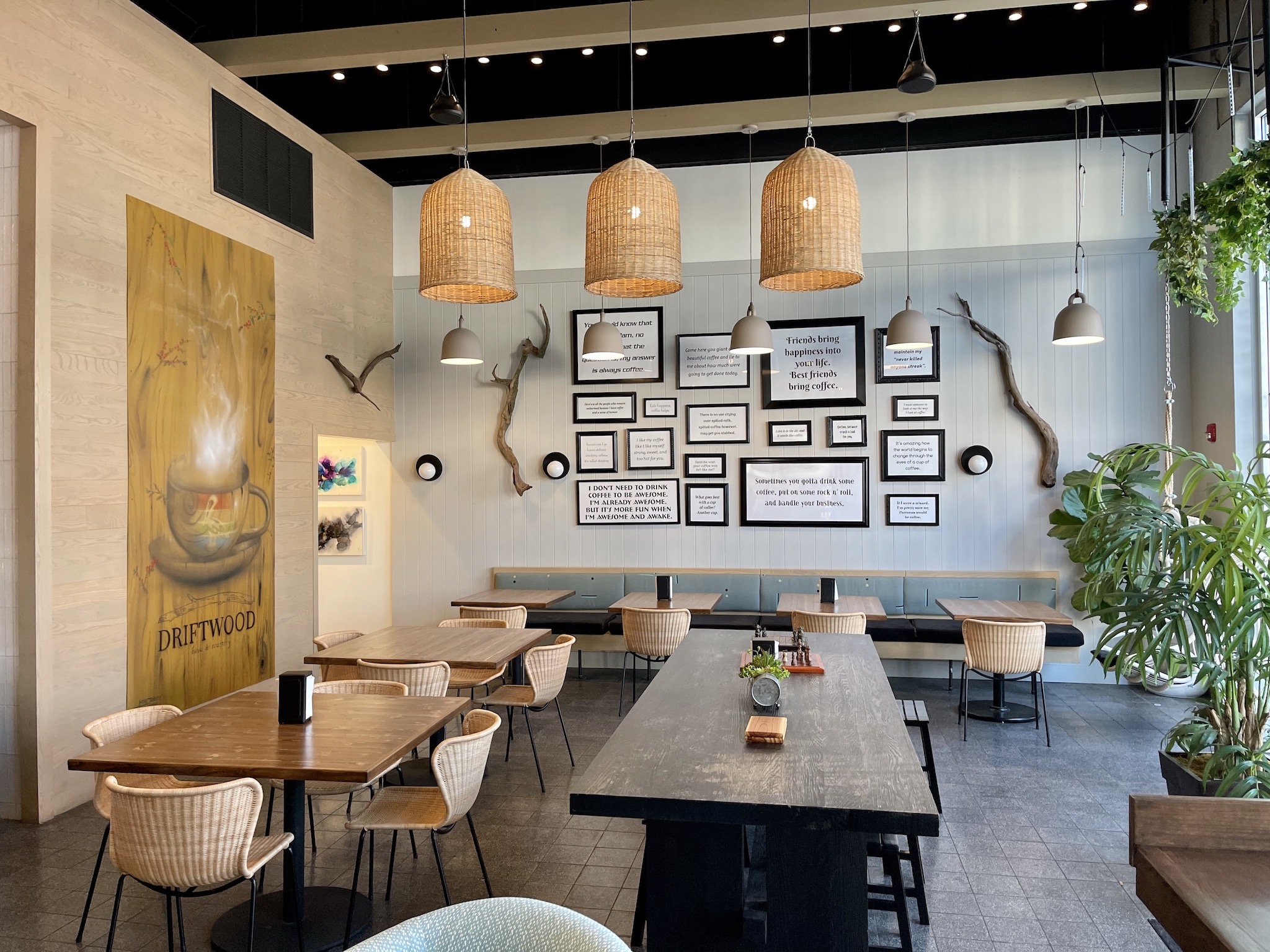 They added a couch and two chairs to the interior as well to add to the cozy, relaxed feel.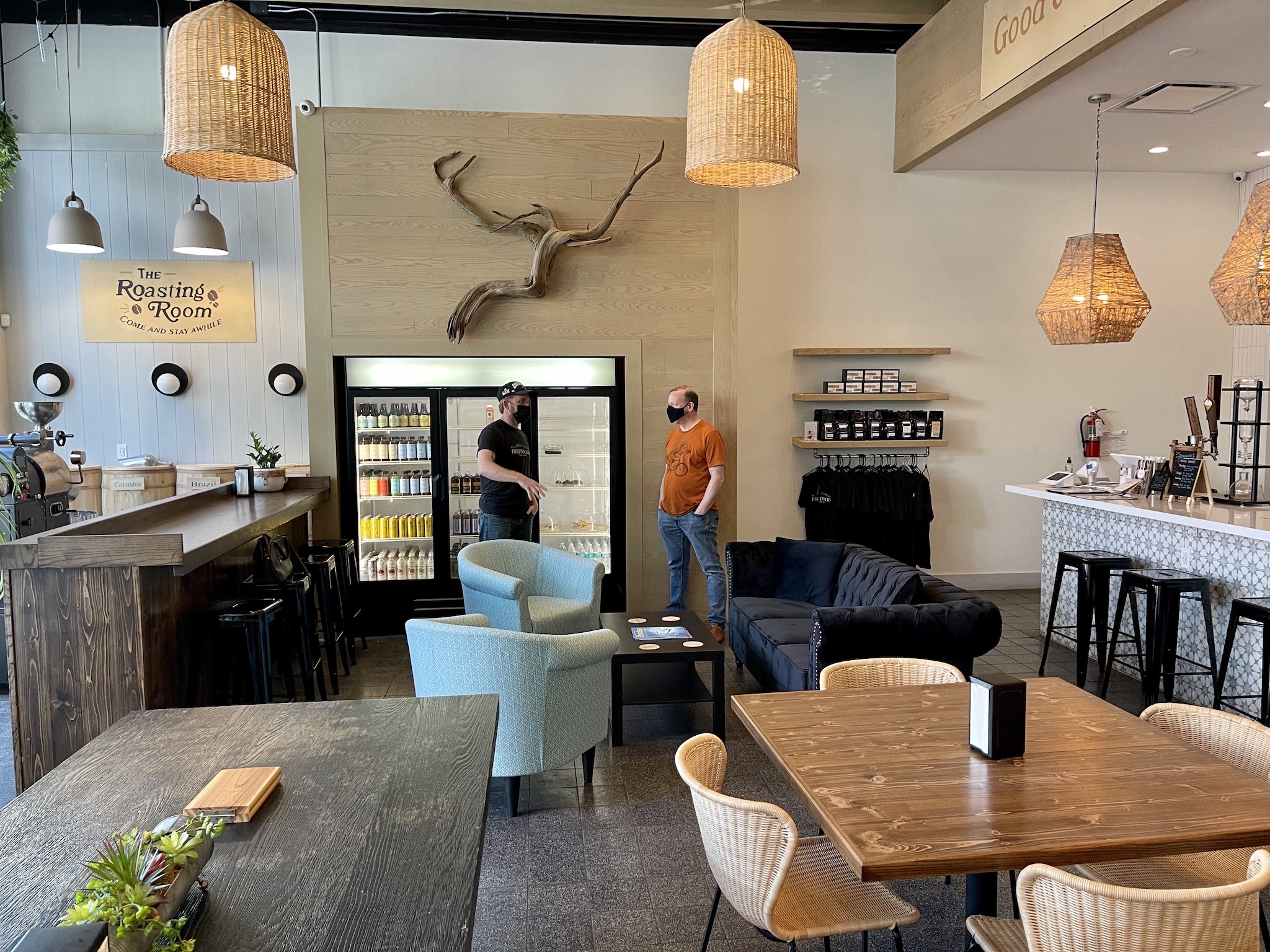 As you walk thru the front door, you are greeted by color, warmth and the smell of freshly roasted and brewed coffee.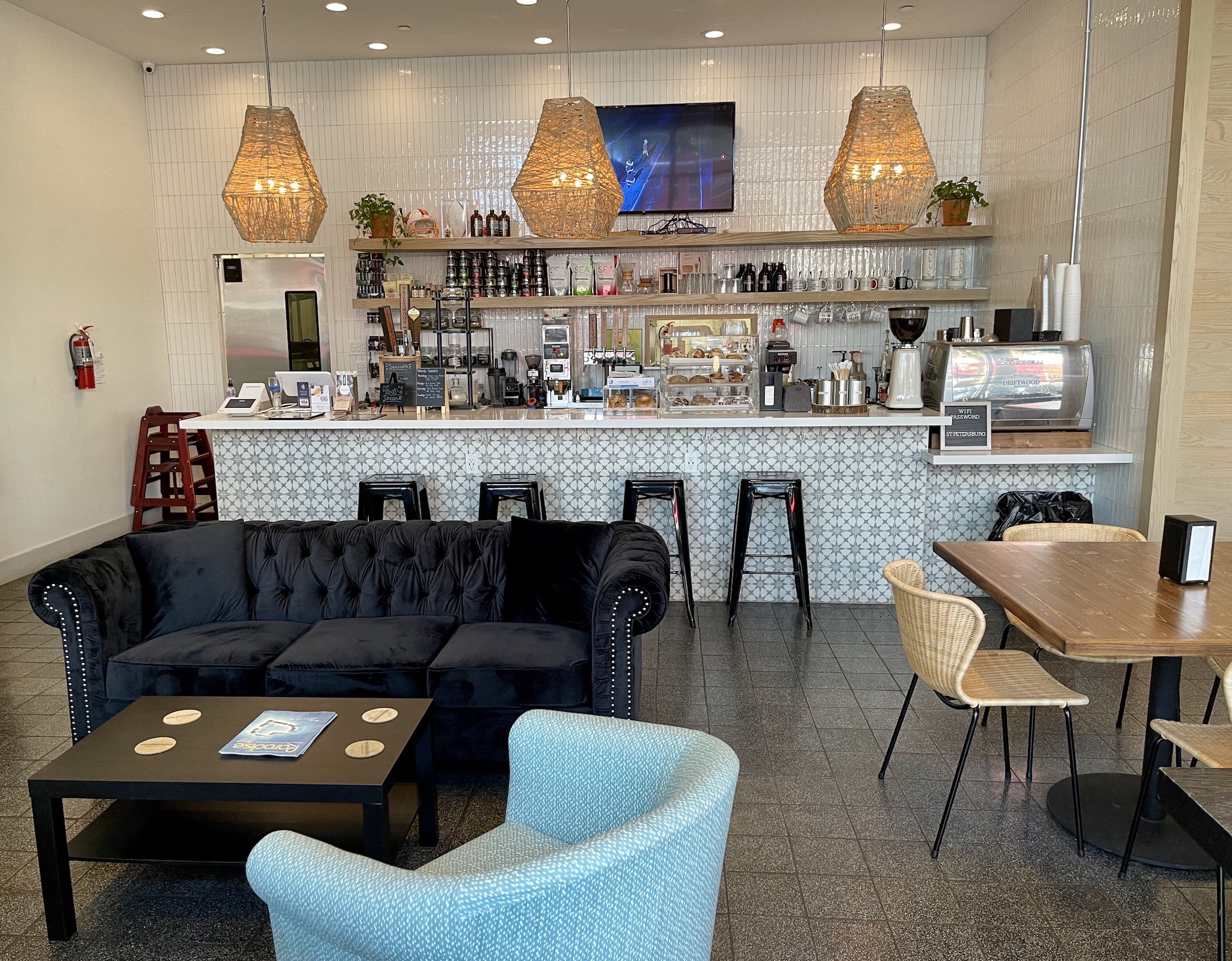 They roast all of their coffee beans in-house which means you have the freshest coffee around. The green coffee beans are sourced from many regions around the globe including Colombia, Guatemala, Ethiopia and Brazil. They also give back to the communities where they source their beans which helps to provide running water, food and shelter to these areas which desperately need it.
When they are roasting the beans you can smell nothing but goodness on the sidewalk of Central Avenue.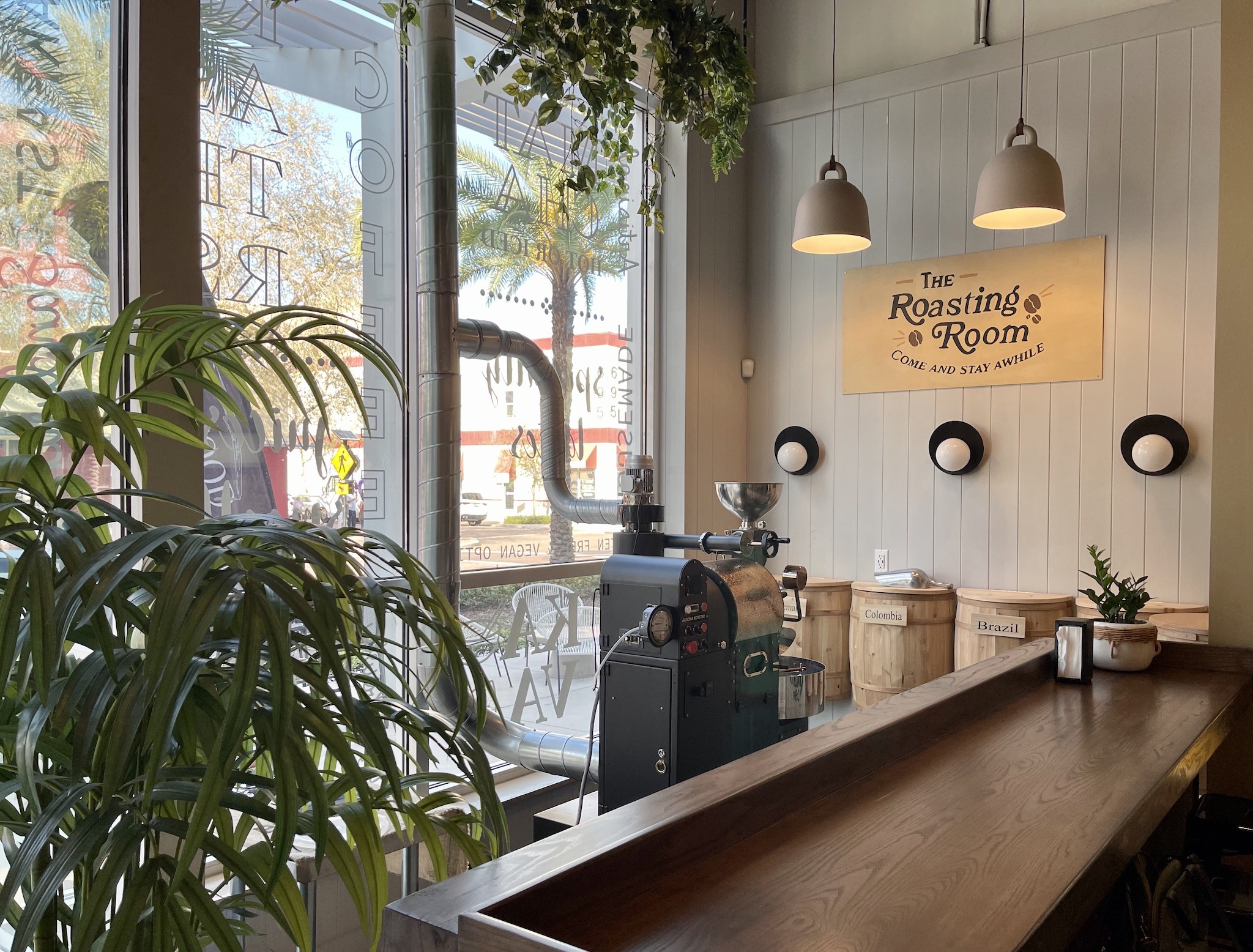 You can buy Driftwood Coffee to brew at home either ground for you or whole bean. We bought a bag of the Costa Rica specialty blend (far right) and a bag of the Guatemala whole bean. So far I have tried the Costa Rica blend and it is delicious. It is a lighter flavor, with a slight bit of fruit and dark chocolate flavoring. Absolutely delicious. I can't wait to try the Guatemala blend which the tasting notes say is like dark chocolate, brown sugar and plum. Love that we can support local roasters by buying our coffee here.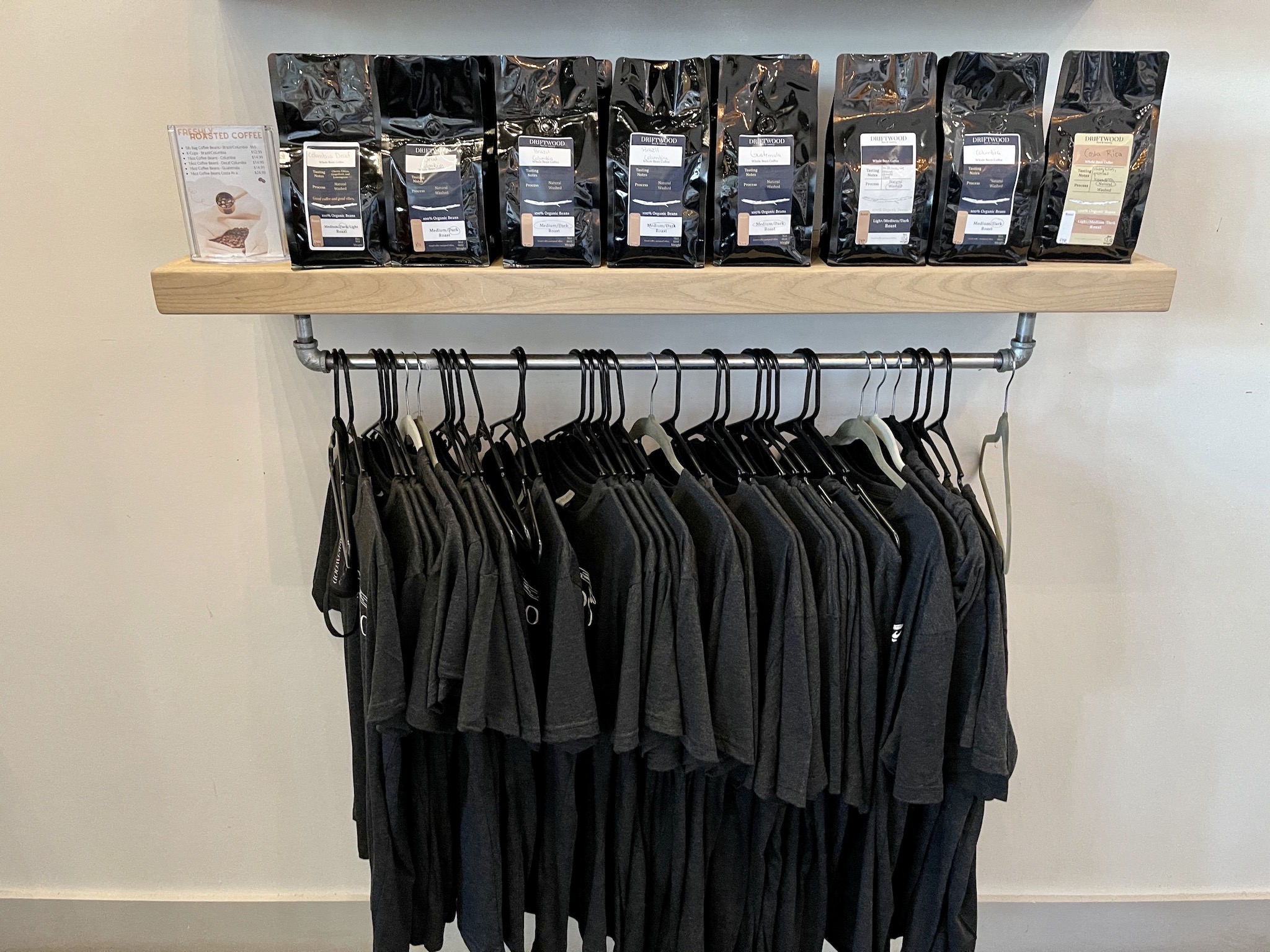 They first brought out a sampling of two specialty cappuccinos and a Cinnamon Toast Crunch latte. I don't recall the names of the cappuccinos but they were both delicious. It was the afternoon so we didn't want to have too much caffeine, so we each just took a quick sip. I can't say as much for the Cinnamon Toast Crunch latte. I wanted to just take one sip, but that drink is so good, Kevin and I were fighting each other for another sip. Wow.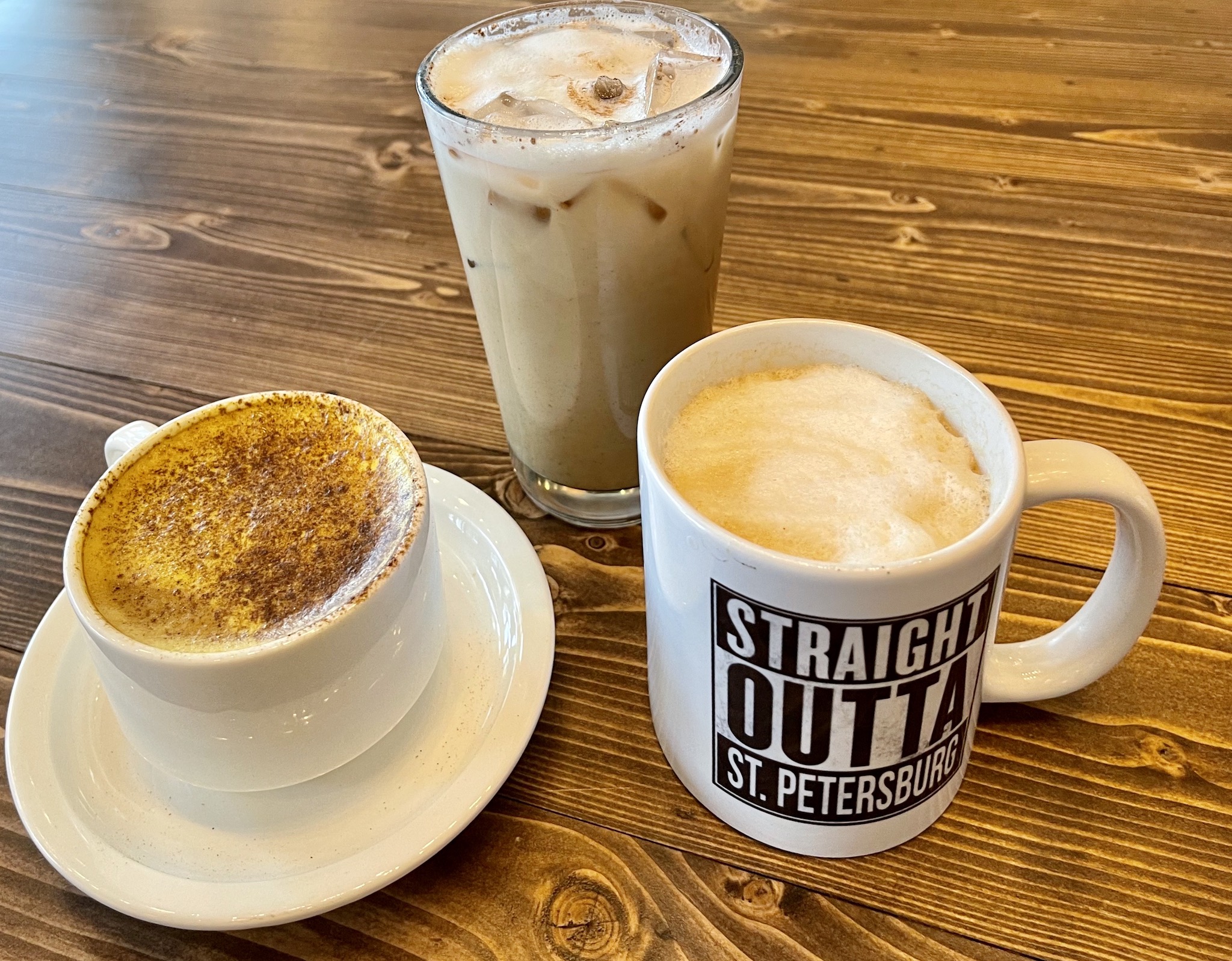 They have a cooler in the front left of the store which houses different samplings of bottled Kombucha, water and other drinks, along with some grab and go food items and sweets.
I love the Mother Kombucha Blue Rose and then they also brought us out this delectable Island Breeze smoothie. I could not stop sipping that. I thought it might be too sweet but this was not the case. It was an amazing concoction of fruit flavors that worked so well together- mango, pineapple, banana, and strawberry.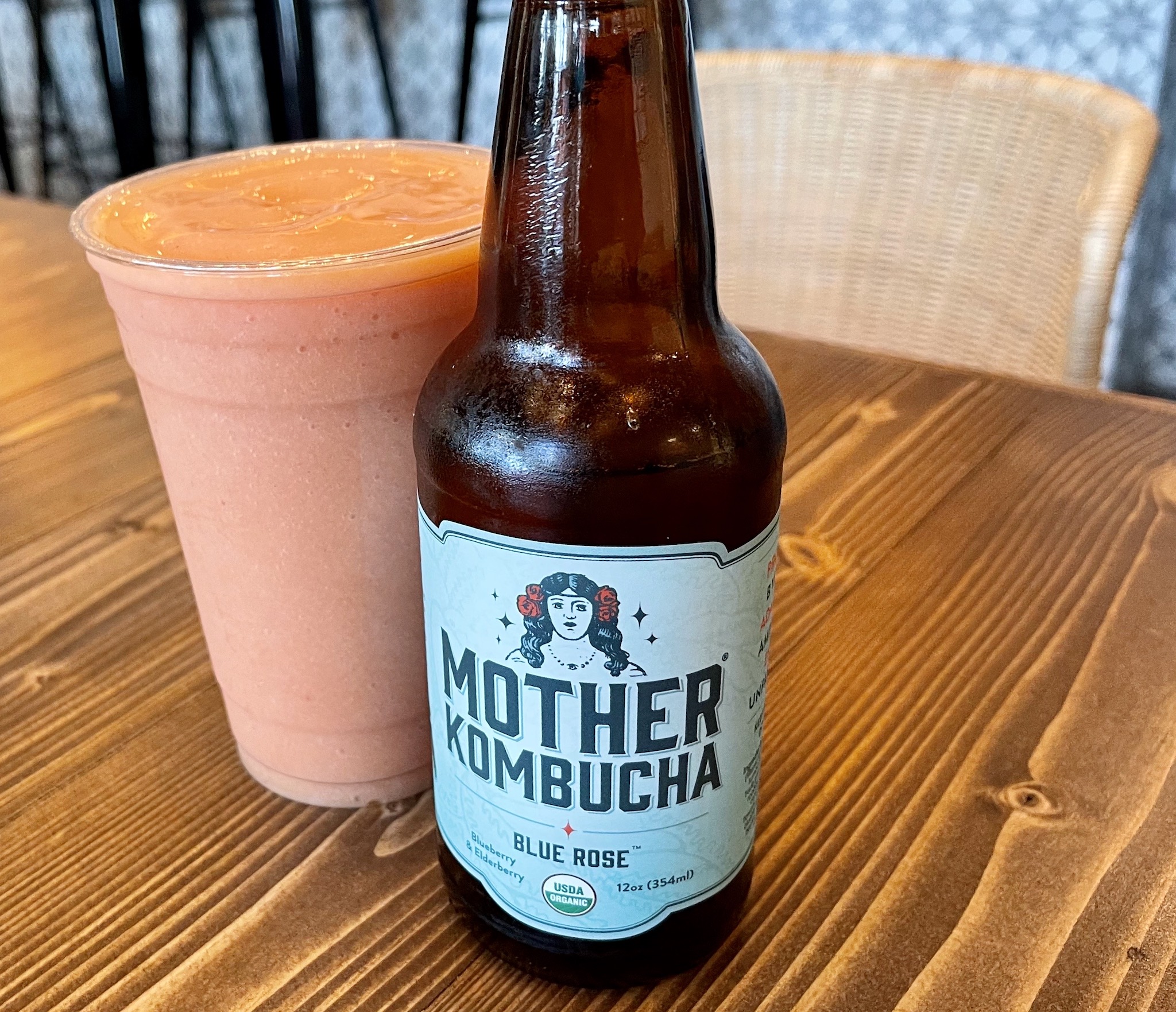 From their food section they offer a few breakfast options and then some other lighter daytime fare. One of those is an Açai Bowl which you could either have for breakfast or whenever. This was definitely one of the best I have ever eaten. And if I am honest, I really haven't had many. It had great texture and flavor with some cocoa nibs. Just all around yumminess.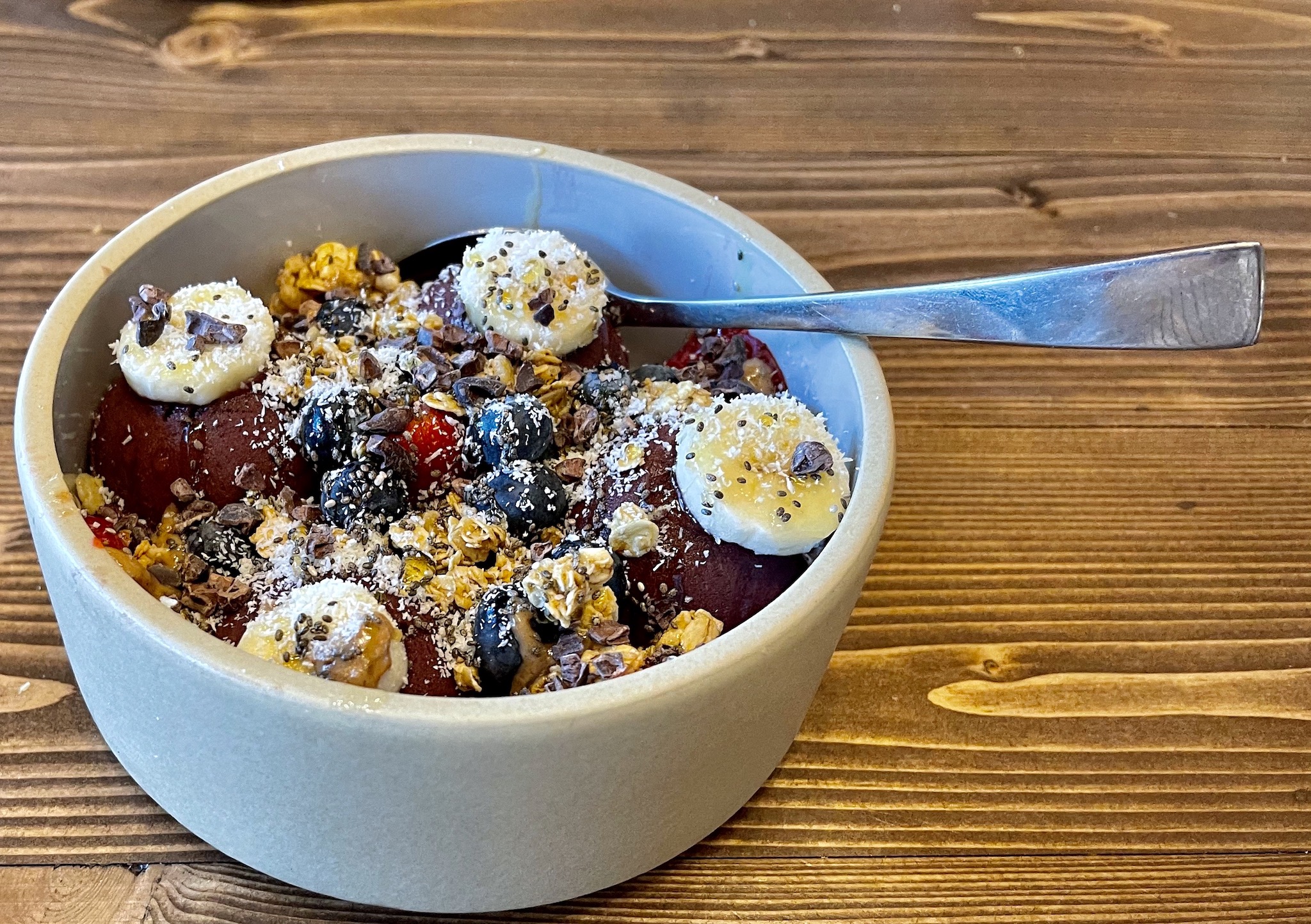 Below is a smattering of some of the breakfast options available at any time of day.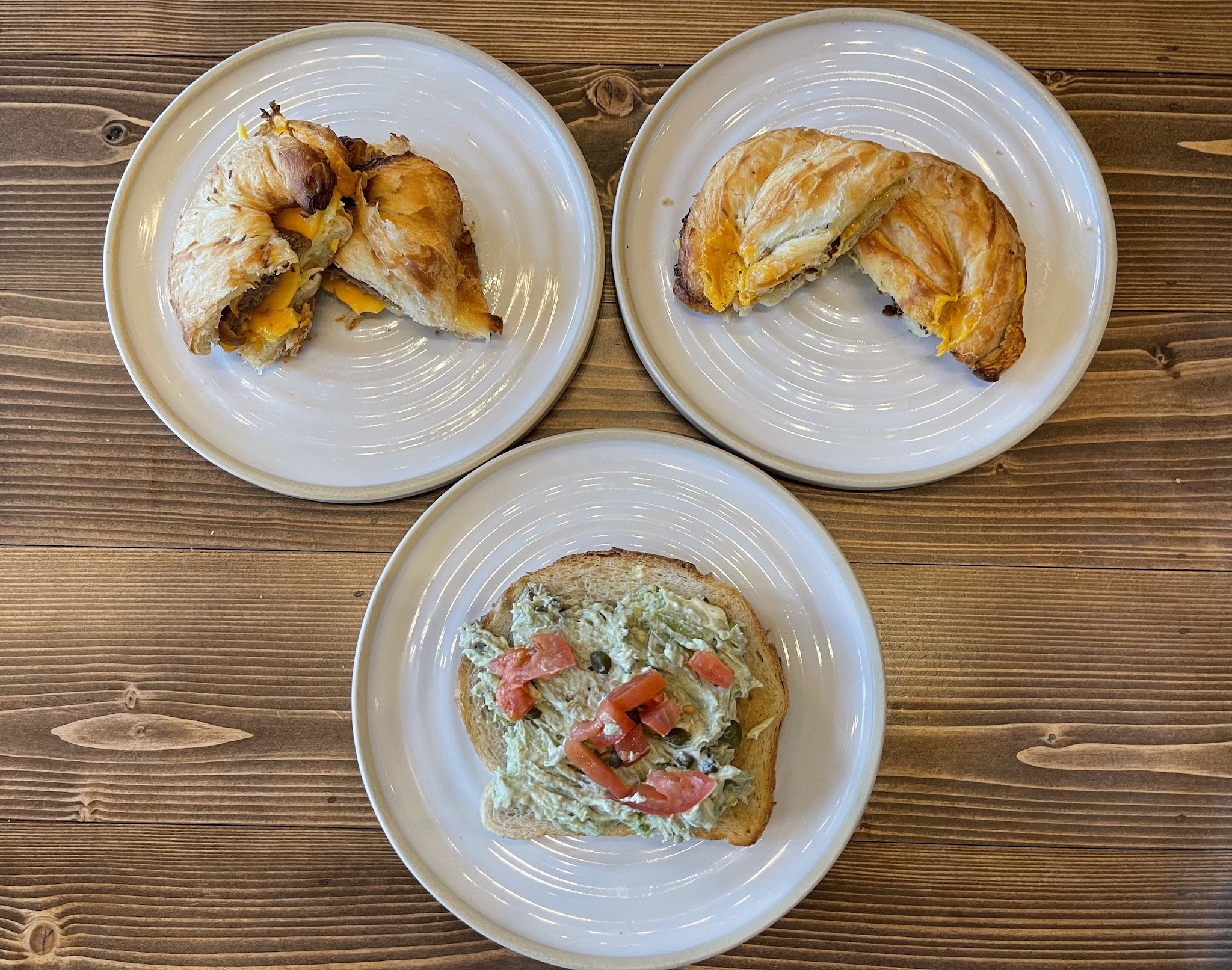 We started with the Avocado Toast which was quite nice with fresh avocado, capers and tomatoes. The topping definitely needed seasoning though. It was lacking a bit in flavor.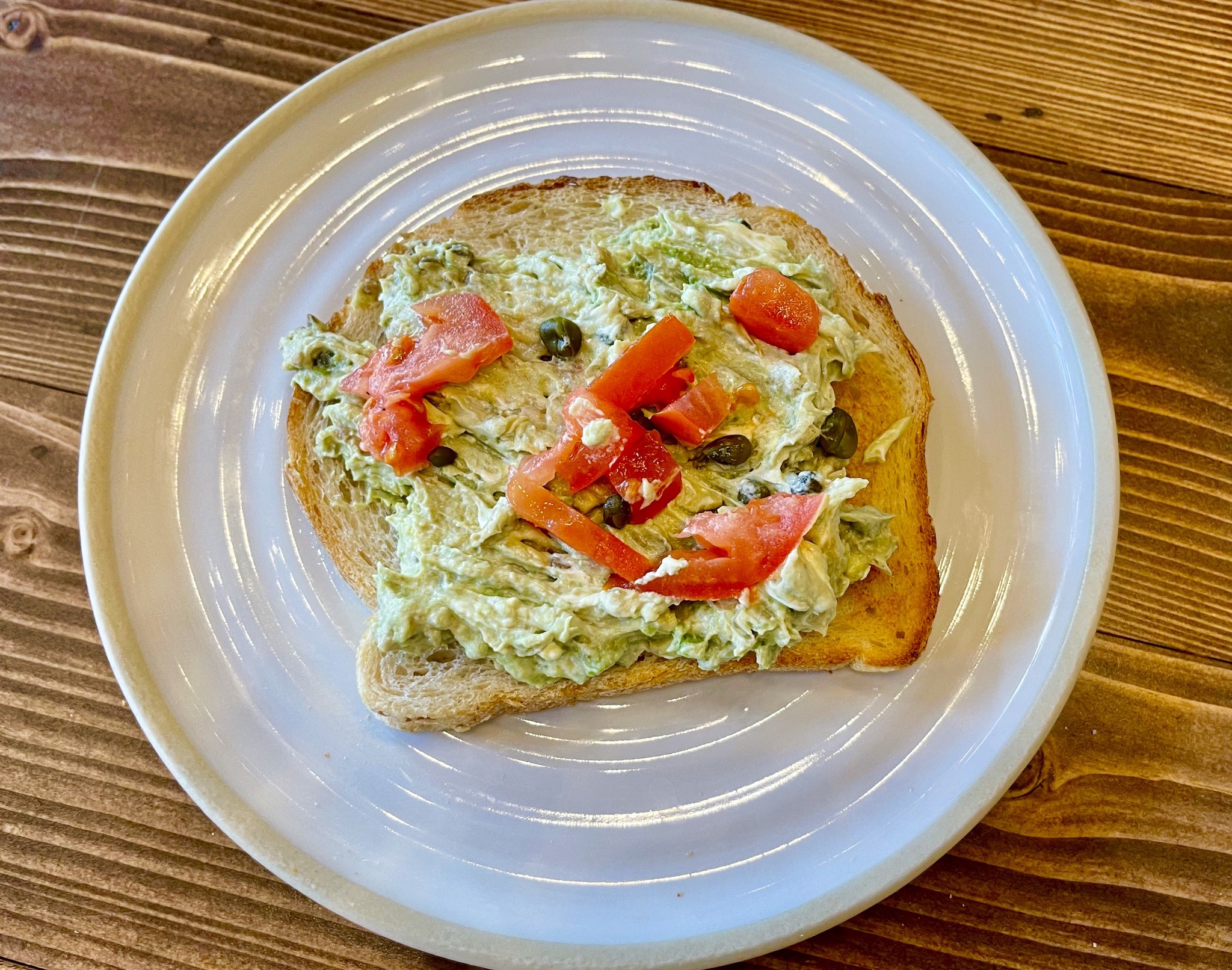 They also offer a few breakfast croissants. First we had the Bacon, Egg and Cheese Croissant. These croissants are baked flaky, airy and light just as they should be. Overall the sandwich was quite tasty, but I felt lacking a bit in filling. Maybe just a bit more egg would have rounded it out better.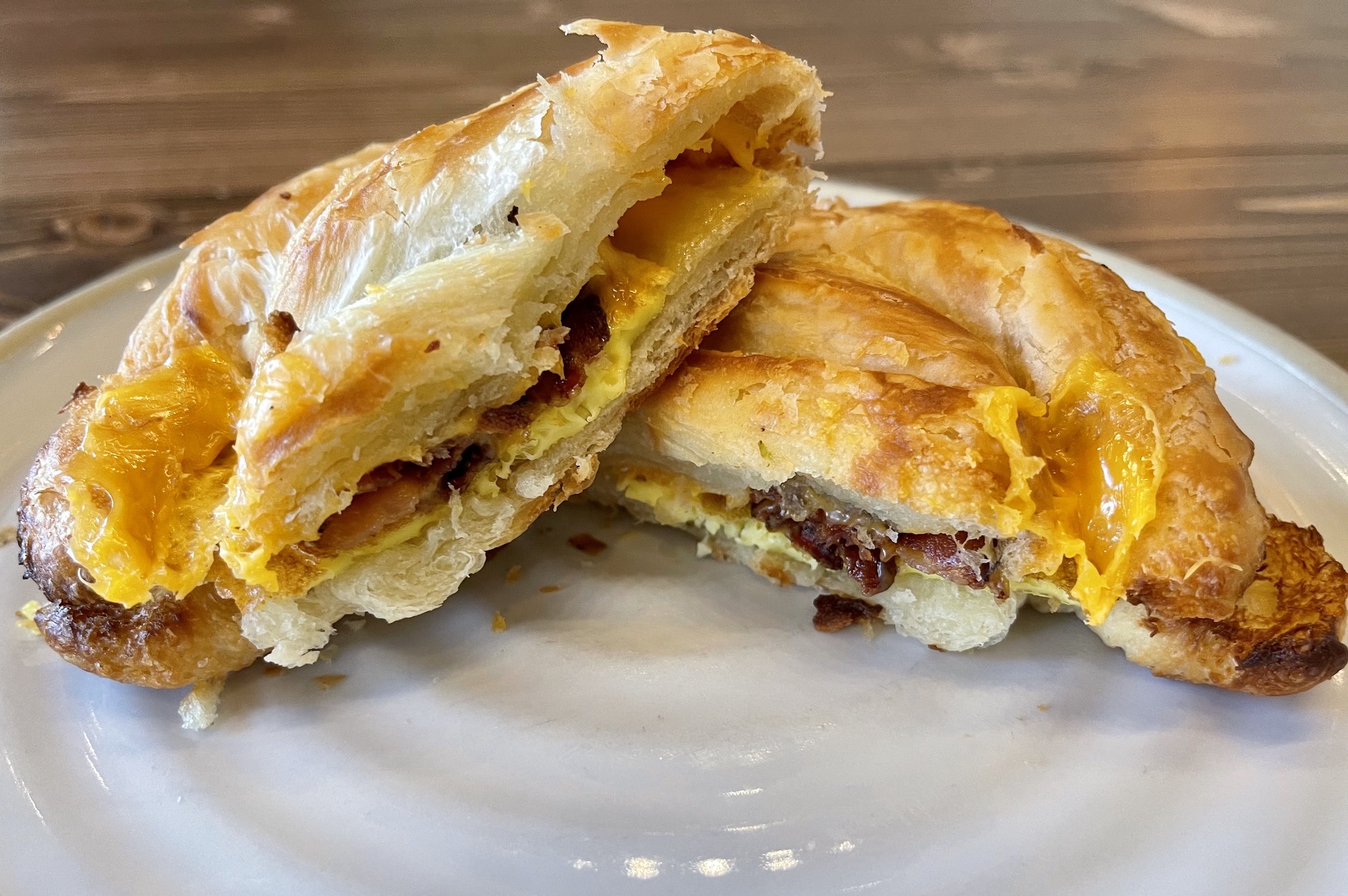 The next croissant was filled with Beyond Sausage, Egg and Cheese. I must say that I was very reluctant to eat the Beyond sausage as I love the real stuff, but I was quite surprised. It is definitely filled with great flavor and I honestly could hardly tell the difference. Another tasty option. Also the same comment about more egg for the filling. But I would definitely order this again, and that's saying a lot.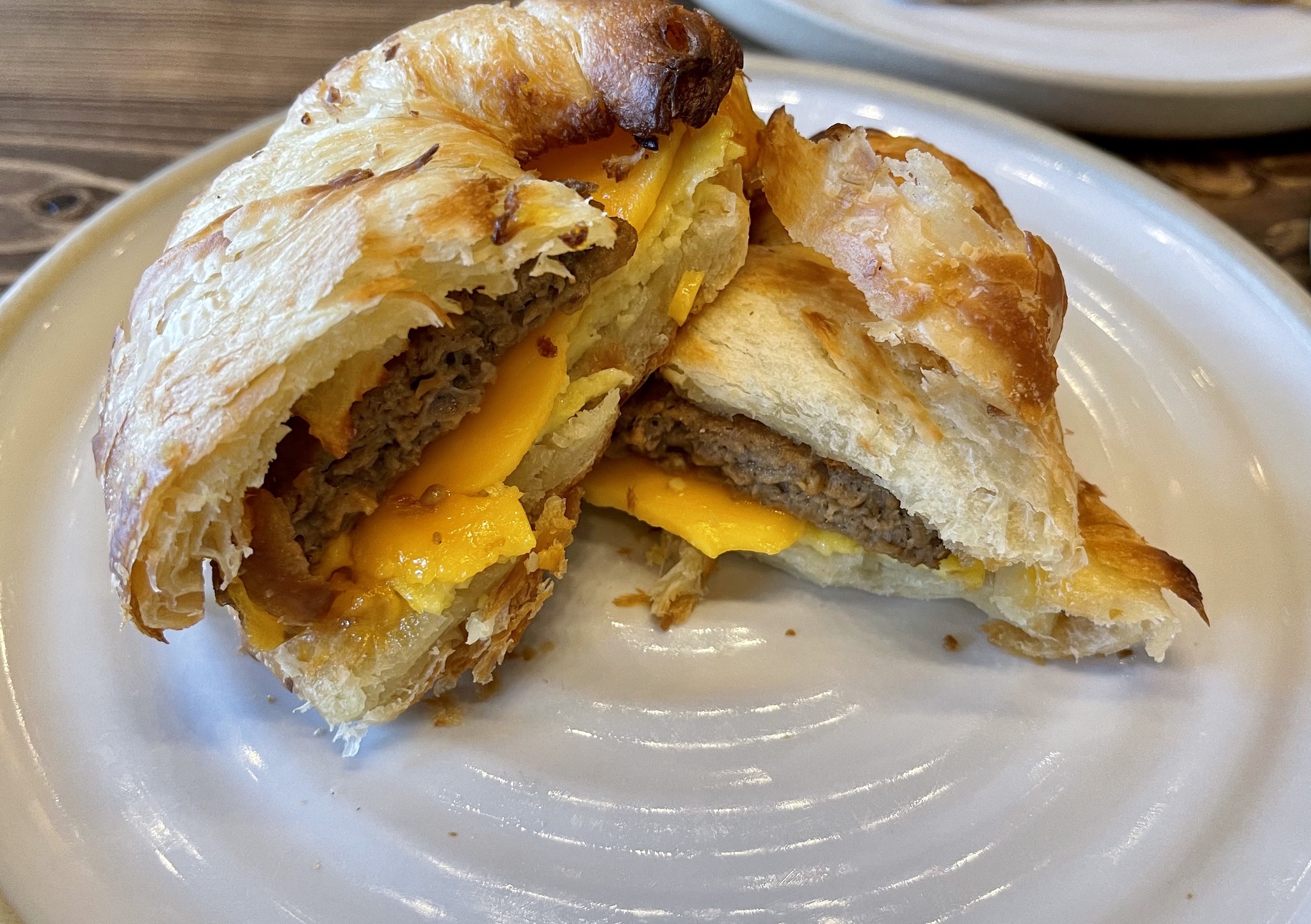 Driftwood Kava & Roastery is a great experience from beginning to end. Come hang out and drink some local fresh roasted coffee, kava, kratom, smoothies, cappuccinos, lattes and more while noshing on some good eats. Play some chess at the community table or just read a book or if you must, get some work done. You will love the atmosphere and home goodness found here.
Not in St Petersurg? They also have their Seminole location which you will find at 10767 Park Blvd N, Seminole, FL 33772. They are open Mon – Thurs 7am – 10pm, Fri – Sun 7am – midnight.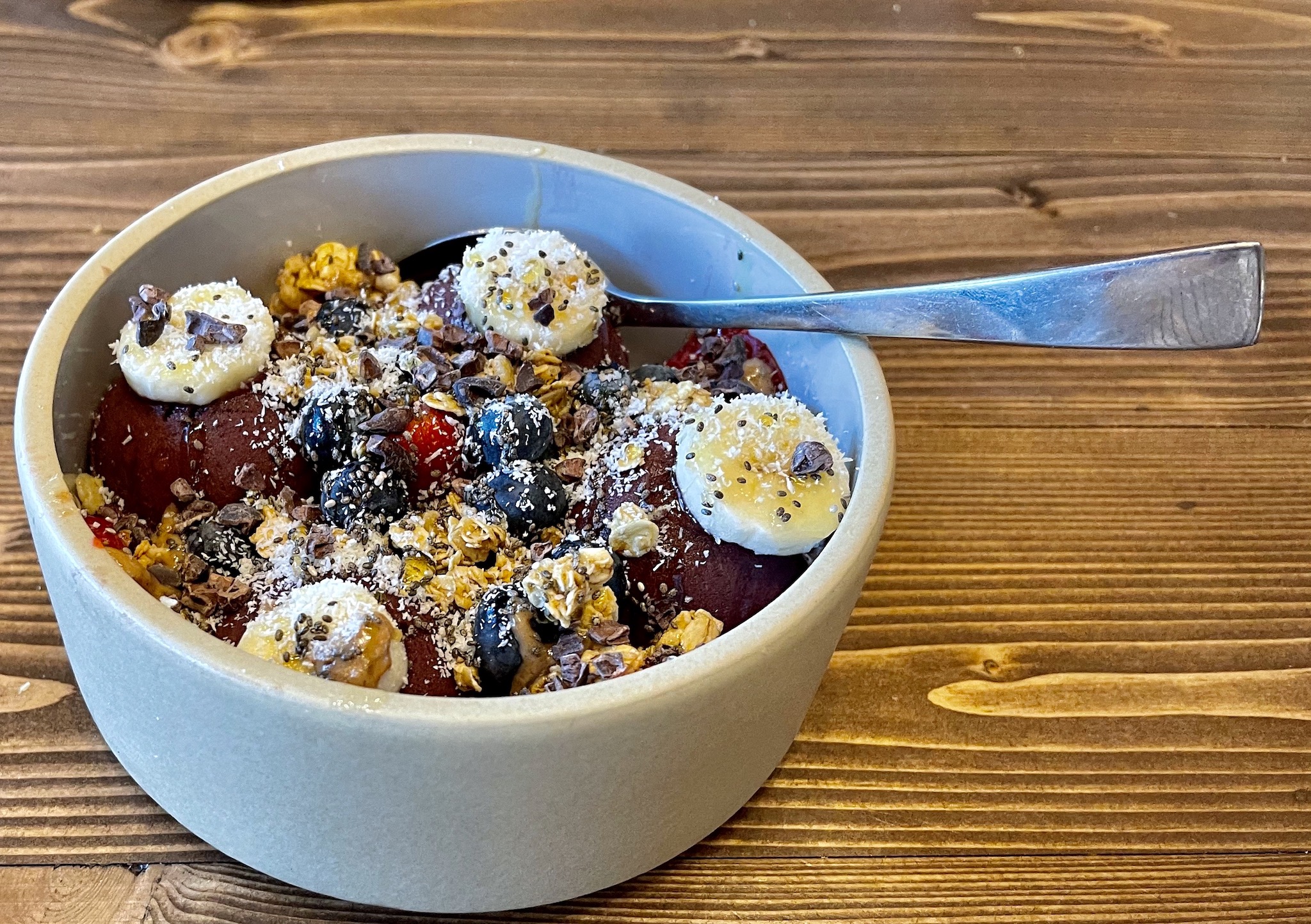 Readers Rating

Rated 4.2 stars




4.2

/ 5 (

13

Reviewers

)

Excellent
---
Driftwood Kava & Coffee Roastery

727-440-6026

Kava Kratom

,

Coffee

,

Small Bites

Mon - Thu

7:00am - 8:00pm

Fri - Sat

7:00am - 10:00pm

Sun -

8:00am - 8:00pm
740 Central Ave

,

St Petersburg

,

FL

33701

,

US
---
Fresh locally roasted coffees, cappuccinos, lattes, smoothies, kava, kratom and light food to nosh on.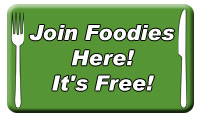 Written by Lori Brown
Co-Founder of St. Petersburg Foodies.
Founder of The Largest St. Petersburg Happy Hour List Ever.
Culinary Institute of America "DISH" Member.
World Food Championships Certified Food Judge.
Certified Pizza Judge #13 by the Pizza Cookoff Association.
I have lived in the Tampa Bay area for most of my life. I would never want to live anywhere else besides St Petersburg. What an amazing thriving city we have!
I have owned my own businesses, and in my past careers I have set sales records in Pharmaceutical Sales and I'm a top performer in Real Estate.
I am a University of Florida graduate with a degree in Business Finance and love living in the Grand Central District of St. Petersburg. I am mom to a son in college (Noah), long-haired female chihuahua (Lola), and a leopard gecko (Leo).... I think he's a boy. (Kevin kind of stole my dog though. He calls her his "Puppy".)
I'm also a foodie that loves to cook, and eat out at great restaurants. Years ago, I even had my own food store (with my friend Lisa) in the location where Jimmy John's currently resides on 4th Street North just south of 9th Avenue North called Weekday Gourmet. I've also been to Napa and Sonoma on wine vacations eight times.
Kevin and I used to go out 4 - 5 nights a week and write reviews on our own timelines. Because of this, I am always asked by people where they should go, what they should order, etc. When we created the group it just seemed natural since we were already doing that. I love to write and take photos, so it just all works.
Life couldn't be better!
View all posts by: Lori Brown
More Foodies News, Reviews & Recipes
Comments are closed
#stpetersburgfoodies #stpetefoodies
Sponsors
Recent Posts
February 1, 2023

15 Hour Potatoes & Steak Recipe

Steak is great, but when it comes to this meat and potatoes duo, it's all about the potatoes baby. I've been itching to recreate this recipe with my own spin for a long time now. I actually had plans to make it for our Christmas dinner this year, but realized I was already fighting a losing battle when it was already Christmas morning and I hadn't started the 15 hour process – oops. Yes, you read that right – a 15 hour process. Is it worth it? Yep. Was I skeptical initially? Sure was. All you need to properly execute this recipe is some potatoes, a mandolin slicer (crucial), a good amount of fat (duck fat, butter or olive oil), some flakey salt and a bit of patience. This two-day method does not disappoint and is actually quite simple. The process begins by slicing peeled potatoes ultra thin with a mandolin slicer. Then, toss them in fat and salt, stack them in a loaf pan and pop them into the oven at a super low temperature for a few hours. I used Olive Oil this time around because I had a lot on hand but I also highly recommend duck fat oil. At Rollin' Oats, you can find EPIC brand cage-free duck fat oil and that would work quite well. Remove the potatoes, cover and weigh them down and then refrigerate for 12 hours (I prep the potatoes in the evening and let them hang in the fridge overnight). After the waiting period, slice, fry and eat with dipping sauce of choice. You *can* fry the potatoes in the air fryer as an alternative; however, it does not yield quite the same product. The potatoes do not get as crisp, but if you'd like to make them this way, heat your air fryer to 400F and cook the potatoes for about 8-10 minutes. If you're going to fry them the way that I suggest – in oil – definitely use an oil with a high smoke point. A lot of recipes recommend peanut oil but I prefer to use avocado oil. Rollin' Oats sells Primal Kitchen's avocado oil and that's what I utilized for this recipe. I turned my potatoes into a steak frites type of moment by pairing them with a lovely filet from Rollin' Oats. They offer lots of quality grass-fed steak cuts from Thousand Hills that are sure to satisfy. You don't have to have these potatoes with a steak though. They make for a great side dish for most any main and would be idyllic as a snack for the upcoming super bowl with a dipping sauce of choice. 15 Hour Potatoes and Steak Don't let the 15 hours scare you – the majority of that is either cook or rest time. These are going to become your new favorite potatoes. MandolinCandy ThermometerDutch OvenLoaf Pan 2-3 Yukon Gold Potatoes (Medium to large in size)1/4 cup Olive Oil (Or other fat like duck fat or butter)2 cups Avocado Oil (Other oil with a high smoke point will work as well)1 1/2 tsp Salt (Plus more as needed)Steak (This is optional, but it makes for a great dinner. I recommend a filet or a strip.)Dipping Sauce (Also optional, but an aioli or other dip makes for a great accessory to the potatoes)Flakey Salt (Like Maldon, to hit the potatoes with post-fry. This is optional – you can use whatever salt you have to finish.) Preheat oven to 250F. Peel potatoes and slice very thin with a mandolin slicer. Toss in a bowl with 1/2 cup olive oil (or fat of choice) and 1 1/2 tsp salt (plus more, as needed).Layer potatoes in a tight stack in a parchment-lined loaf pan. Cover with another sheet of parchment and bake for 3 hours.Remove from oven, weigh down the top of the parchment-topped potatoes evenly with cans or other heavy kitchen objects. Refrigerate for 12 hours (I allow this part to take place overnight). Remove weights and parchment and carefully invert potatoes onto a cutting board. Cut the potatoes into even 1" stacks and then cut all of those evenly in half.Heat oil in a dutch oven or pot with high walls over medium high heat. When the heat reaches about 375F, carefully drop in potatoes one at a time until a few are in the pot. Fry, turning occasionally, until potatoes are golden all over but not burnt – 3-5 minutes (keep an eye on them!). Remove from oil, hit them with a good sprinkle of salt and allow them to cool on a rack set over a baking sheet. Repeat process with remaining potatoes.While your potatoes are frying, prepare your steak of choice. I chose a filet and salted it all over and allowed it to sit at room temperature for 40 minutes before cooking it. I season with pepper and then sear it off for about 6-7 minutes, flipping occasionally, until I've reached a nice medium rare. Slice up and serve the steak along side the potato stacks with dipping sauce of choice and perhaps a drizzle of chili crisp, herbed butter or chimichurri on your steak. Appetizer, Side DishAmerican15 Hour Potato Recipe, Appetizer Recipe, Potato Recipe
Recipes
February 1, 2023

15 Hour Potatoes & Steak Recipe

Steak is great, but when it comes to this meat and potatoes duo, it's all about the potatoes baby. I've been itching to recreate this recipe with my own spin for a long time now. I actually had plans to make it for our Christmas dinner this year, but realized I was already fighting a losing battle when it was already Christmas morning and I hadn't started the 15 hour process – oops. Yes, you read that right – a 15 hour process. Is it worth it? Yep. Was I skeptical initially? Sure was. All you need to properly execute this recipe is some potatoes, a mandolin slicer (crucial), a good amount of fat (duck fat, butter or olive oil), some flakey salt and a bit of patience. This two-day method does not disappoint and is actually quite simple. The process begins by slicing peeled potatoes ultra thin with a mandolin slicer. Then, toss them in fat and salt, stack them in a loaf pan and pop them into the oven at a super low temperature for a few hours. I used Olive Oil this time around because I had a lot on hand but I also highly recommend duck fat oil. At Rollin' Oats, you can find EPIC brand cage-free duck fat oil and that would work quite well. Remove the potatoes, cover and weigh them down and then refrigerate for 12 hours (I prep the potatoes in the evening and let them hang in the fridge overnight). After the waiting period, slice, fry and eat with dipping sauce of choice. You *can* fry the potatoes in the air fryer as an alternative; however, it does not yield quite the same product. The potatoes do not get as crisp, but if you'd like to make them this way, heat your air fryer to 400F and cook the potatoes for about 8-10 minutes. If you're going to fry them the way that I suggest – in oil – definitely use an oil with a high smoke point. A lot of recipes recommend peanut oil but I prefer to use avocado oil. Rollin' Oats sells Primal Kitchen's avocado oil and that's what I utilized for this recipe. I turned my potatoes into a steak frites type of moment by pairing them with a lovely filet from Rollin' Oats. They offer lots of quality grass-fed steak cuts from Thousand Hills that are sure to satisfy. You don't have to have these potatoes with a steak though. They make for a great side dish for most any main and would be idyllic as a snack for the upcoming super bowl with a dipping sauce of choice. 15 Hour Potatoes and Steak Don't let the 15 hours scare you – the majority of that is either cook or rest time. These are going to become your new favorite potatoes. MandolinCandy ThermometerDutch OvenLoaf Pan 2-3 Yukon Gold Potatoes (Medium to large in size)1/4 cup Olive Oil (Or other fat like duck fat or butter)2 cups Avocado Oil (Other oil with a high smoke point will work as well)1 1/2 tsp Salt (Plus more as needed)Steak (This is optional, but it makes for a great dinner. I recommend a filet or a strip.)Dipping Sauce (Also optional, but an aioli or other dip makes for a great accessory to the potatoes)Flakey Salt (Like Maldon, to hit the potatoes with post-fry. This is optional – you can use whatever salt you have to finish.) Preheat oven to 250F. Peel potatoes and slice very thin with a mandolin slicer. Toss in a bowl with 1/2 cup olive oil (or fat of choice) and 1 1/2 tsp salt (plus more, as needed).Layer potatoes in a tight stack in a parchment-lined loaf pan. Cover with another sheet of parchment and bake for 3 hours.Remove from oven, weigh down the top of the parchment-topped potatoes evenly with cans or other heavy kitchen objects. Refrigerate for 12 hours (I allow this part to take place overnight). Remove weights and parchment and carefully invert potatoes onto a cutting board. Cut the potatoes into even 1" stacks and then cut all of those evenly in half.Heat oil in a dutch oven or pot with high walls over medium high heat. When the heat reaches about 375F, carefully drop in potatoes one at a time until a few are in the pot. Fry, turning occasionally, until potatoes are golden all over but not burnt – 3-5 minutes (keep an eye on them!). Remove from oil, hit them with a good sprinkle of salt and allow them to cool on a rack set over a baking sheet. Repeat process with remaining potatoes.While your potatoes are frying, prepare your steak of choice. I chose a filet and salted it all over and allowed it to sit at room temperature for 40 minutes before cooking it. I season with pepper and then sear it off for about 6-7 minutes, flipping occasionally, until I've reached a nice medium rare. Slice up and serve the steak along side the potato stacks with dipping sauce of choice and perhaps a drizzle of chili crisp, herbed butter or chimichurri on your steak. Appetizer, Side DishAmerican15 Hour Potato Recipe, Appetizer Recipe, Potato Recipe