Enjoy Craft Beer and Local Eats at Gulfport Brewery and Eatery
Enjoy Craft Beer and Local Eats at Gulfport Brewery and Eatery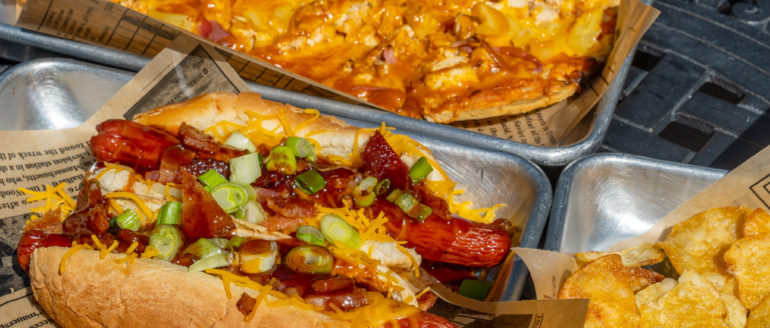 Next time you're getting an itch for that Sunday Funday buzz, trust a local's approach and head to Gulfport Brewery and Eatery. If you're thinking, hmmm why Gulfport? Take a close look at the location, vibe, and overall friendliness here. Gulfport is a beautiful gem of a town that I've been lucky to explore lately with my previous review at Salty's Sandwich Bar and now Gulfport Brewery and Eatery. To say I've come to love this quaint town is an understatement. It's near the water, the people are so generous and the local shops make you feel like you're on a vacay and a local all at the same time.
Gulfport Brewery and Eatery is an outdoor enthusiast's dream. First, you arrive on Beach Blvd that draws you into this little house turned brewery. Once you order at the bar, then you can meander through the brewery's outdoor area hidden amongst palm trees, until you find the perfect spot to hang out. Cool off by sipping the popular Gulfport Gold Ale under a shaded area while waiting for your lunch to arrive. Gulfport Brewery and Eatery reminds me of a summer day in the suburbs of Chicago where I grew up, just hanging out in a friend's backyard with nothing but good conversations and not a worry in the world.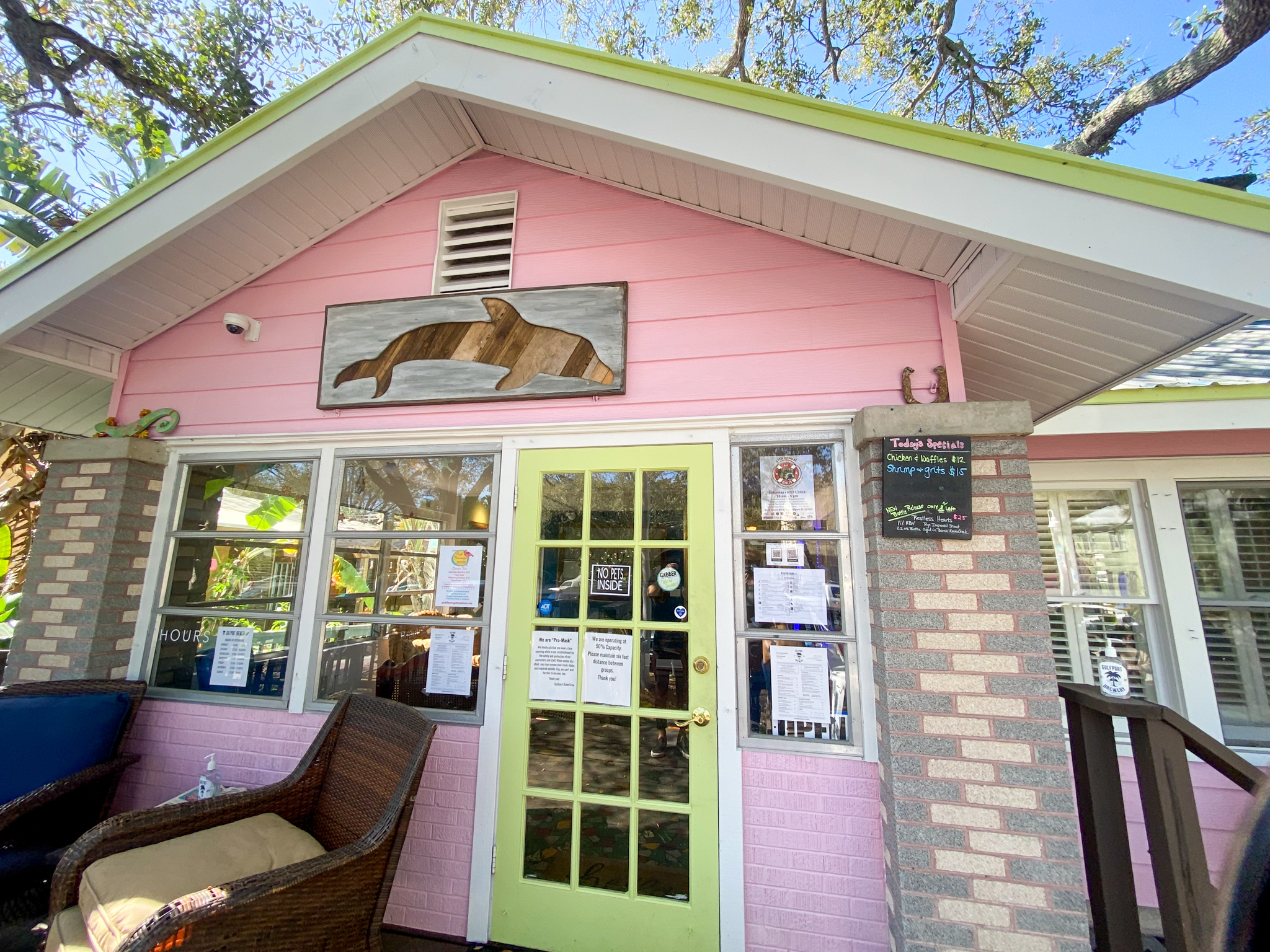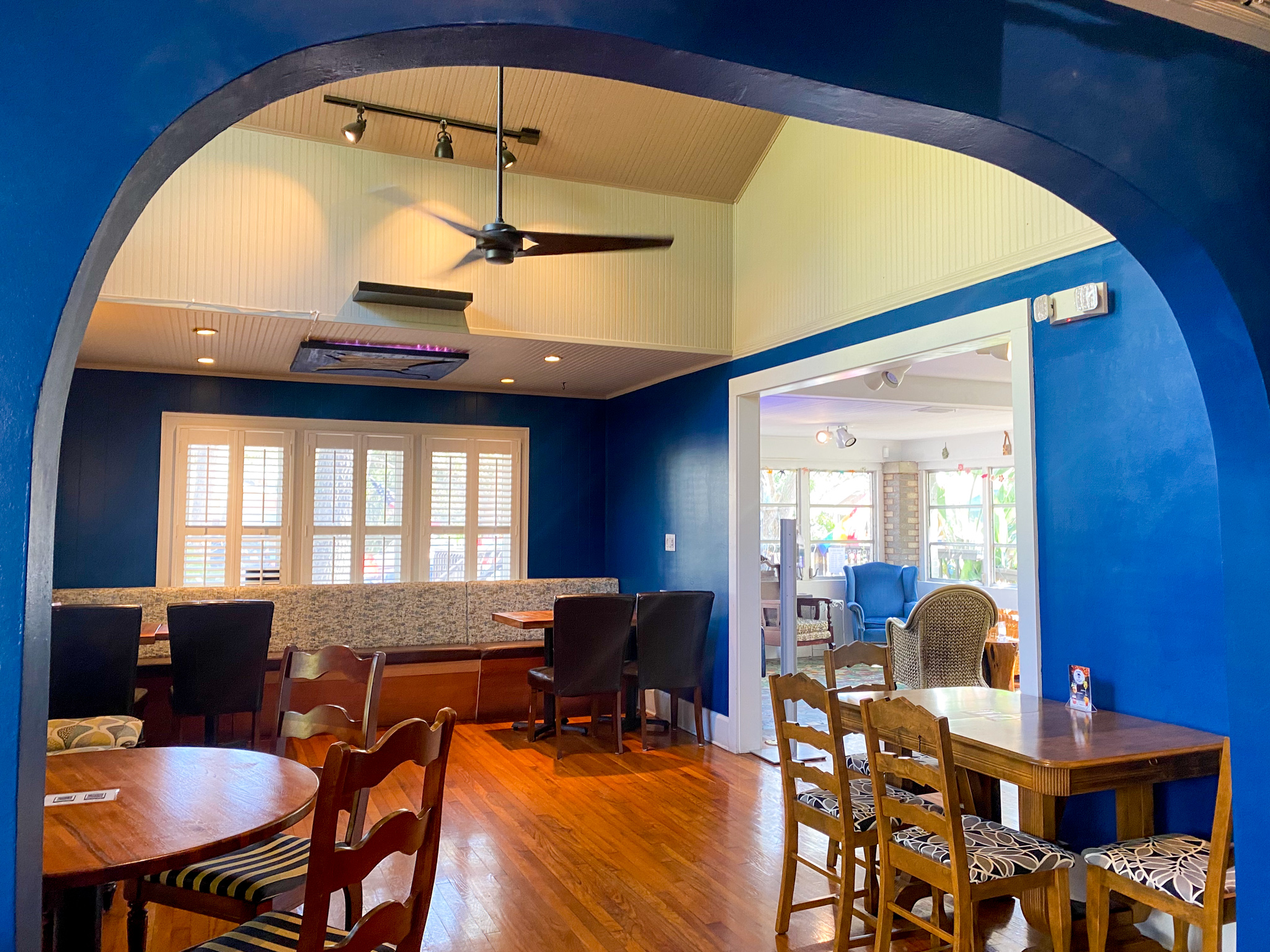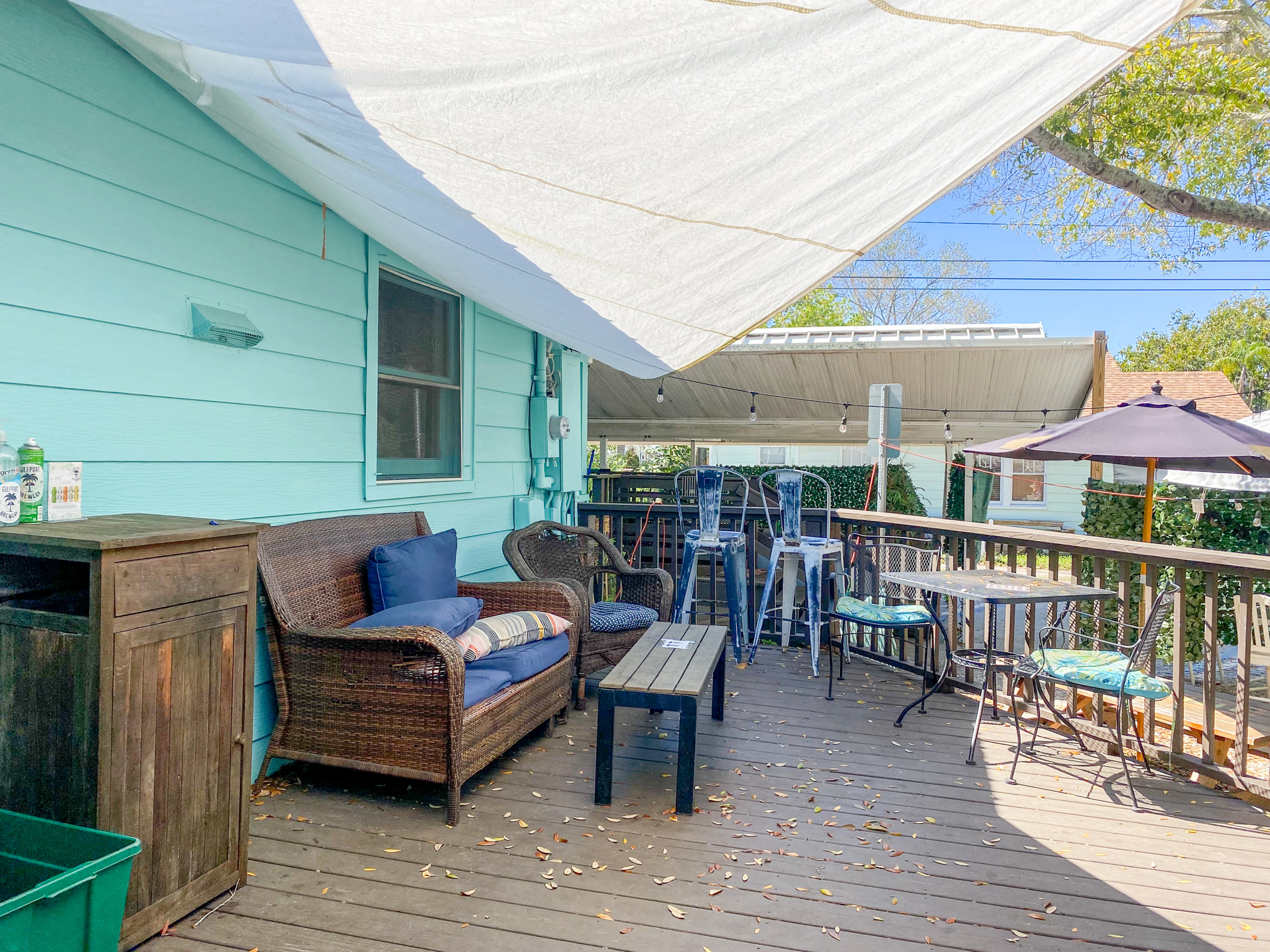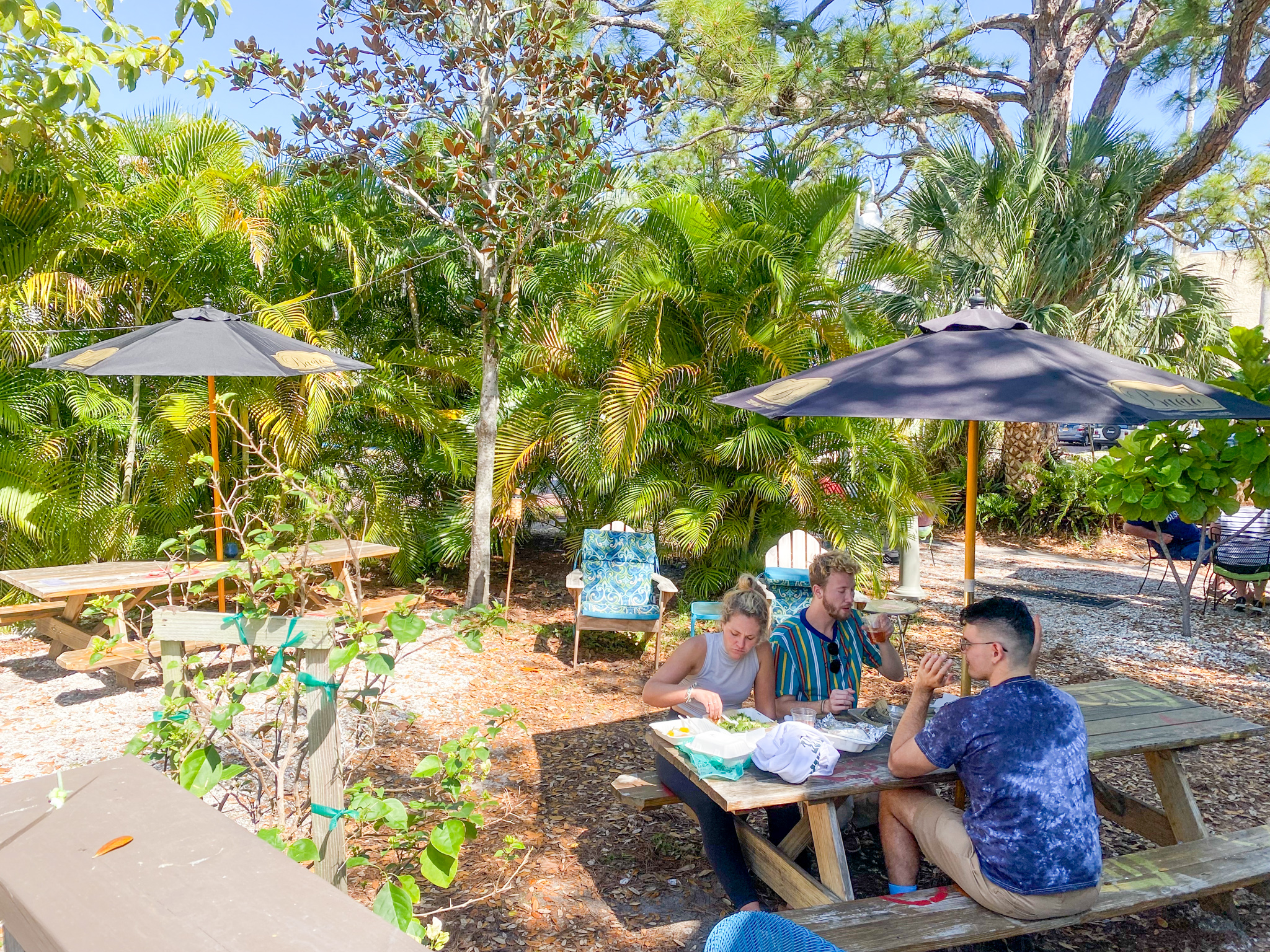 The locally brewed beers from Gulfport Brewery are all winners, but if you're looking for something else, they also have other taps of local and regional craft beers, meads and ciders. Their menu has great little descriptions or you can chat with the bartender if you're looking for a recommendation. They serve either by the pint, a half pour, or a 5 oz flight.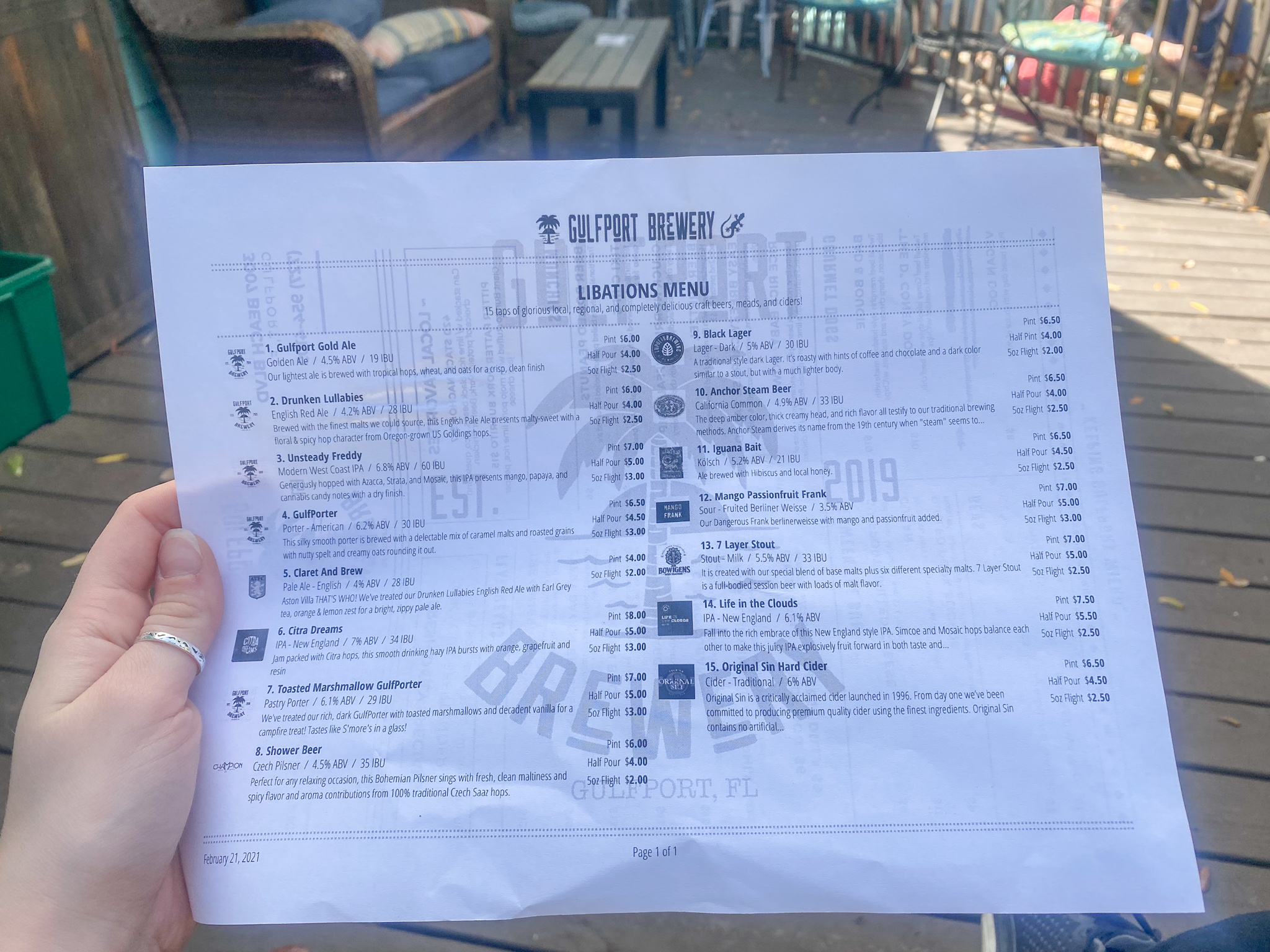 My friend, Koji, and I opted to try the Gulfport Brewery beers and both loved how crisp and refreshing they were.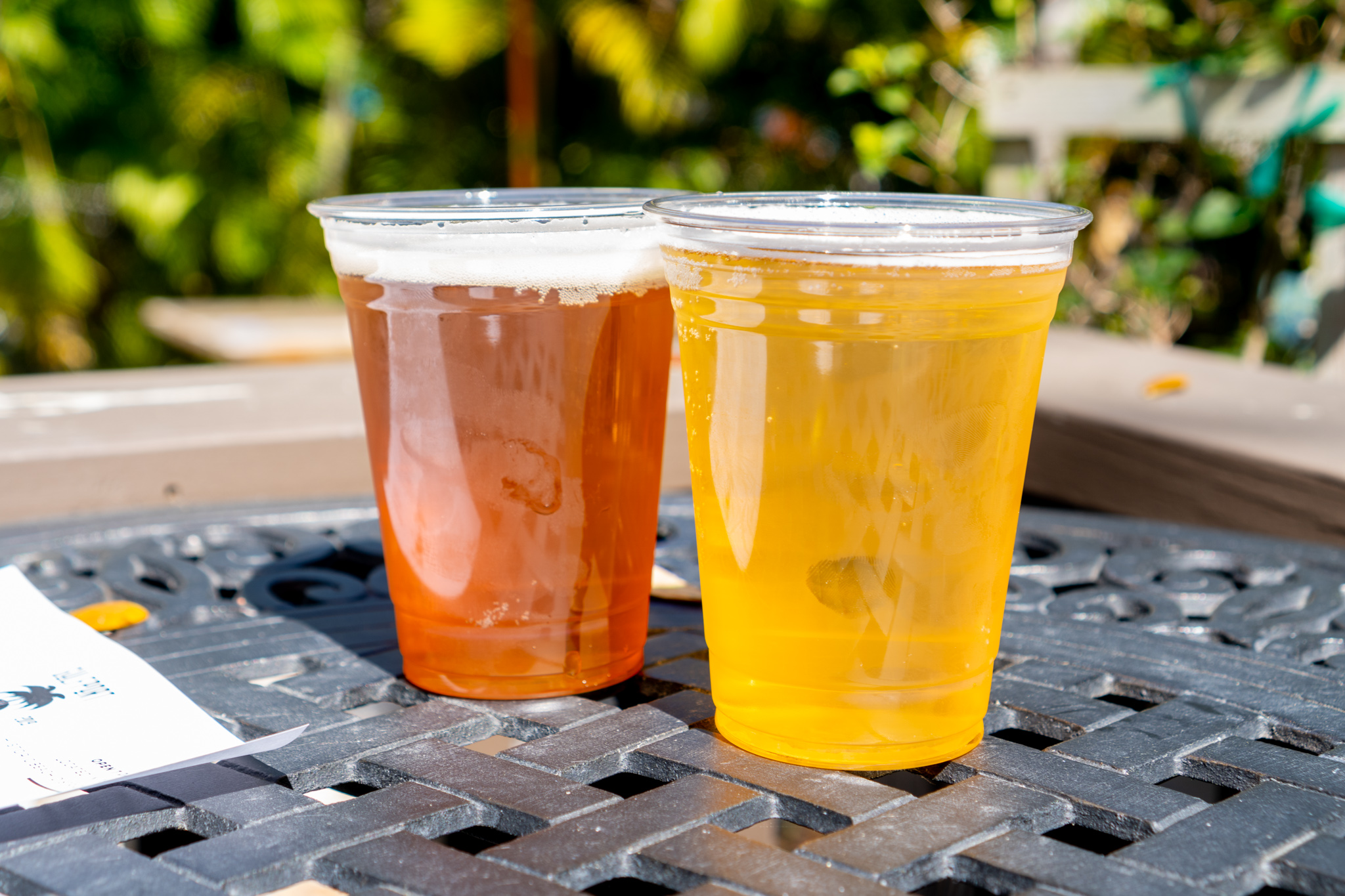 The Unsteady Freddy is a tasty and hop-forward West Coast IPA with notes of mango, papaya and cannabis candy, with a dry finish. This is the beer that makes you a hipster and you know it. It's a great choice if you like IPAs. The Gulfport Gold Ale is a local's favorite. This golden ale is their lightest ale brewed with tropical hops, wheat, and oats for a crisp and clean finish. If you're looking for a cold, summer brew that's an easy sip, The Gulfport Gold Ale is your new best friend.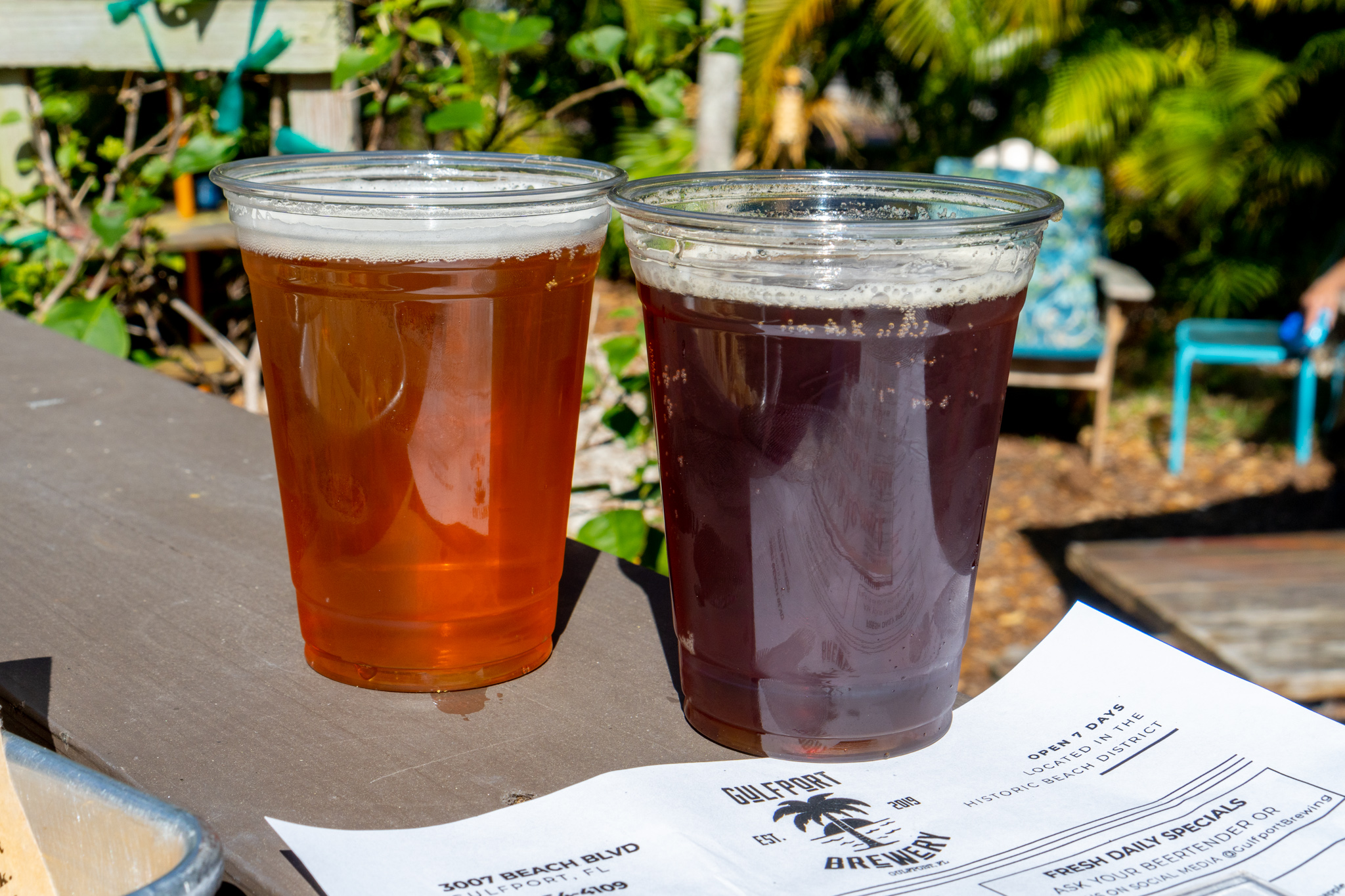 Hey, that's the same beer. Yes, my friend stuck with the Unsteady Freddy. I guess you can say he's a true hipster. I, on the other hand, went for the Drunken Lullabies which is an English red ale brewed with the finest malts. Although it was dark, this malty-sweet craft beer surprised me with its floral and hoppy characteristics. I slurped it down and would highly recommend this one if you're looking for a fuller body brew that you can sip on during a hot day.
I know you must be wondering about the Eatery part of the name, Gulfport Brewery and Eatery, so let's chat. They offer the best selections of munchies for a beer drinking day from nachos to pretzels, flatbreads and hot dogs, and more.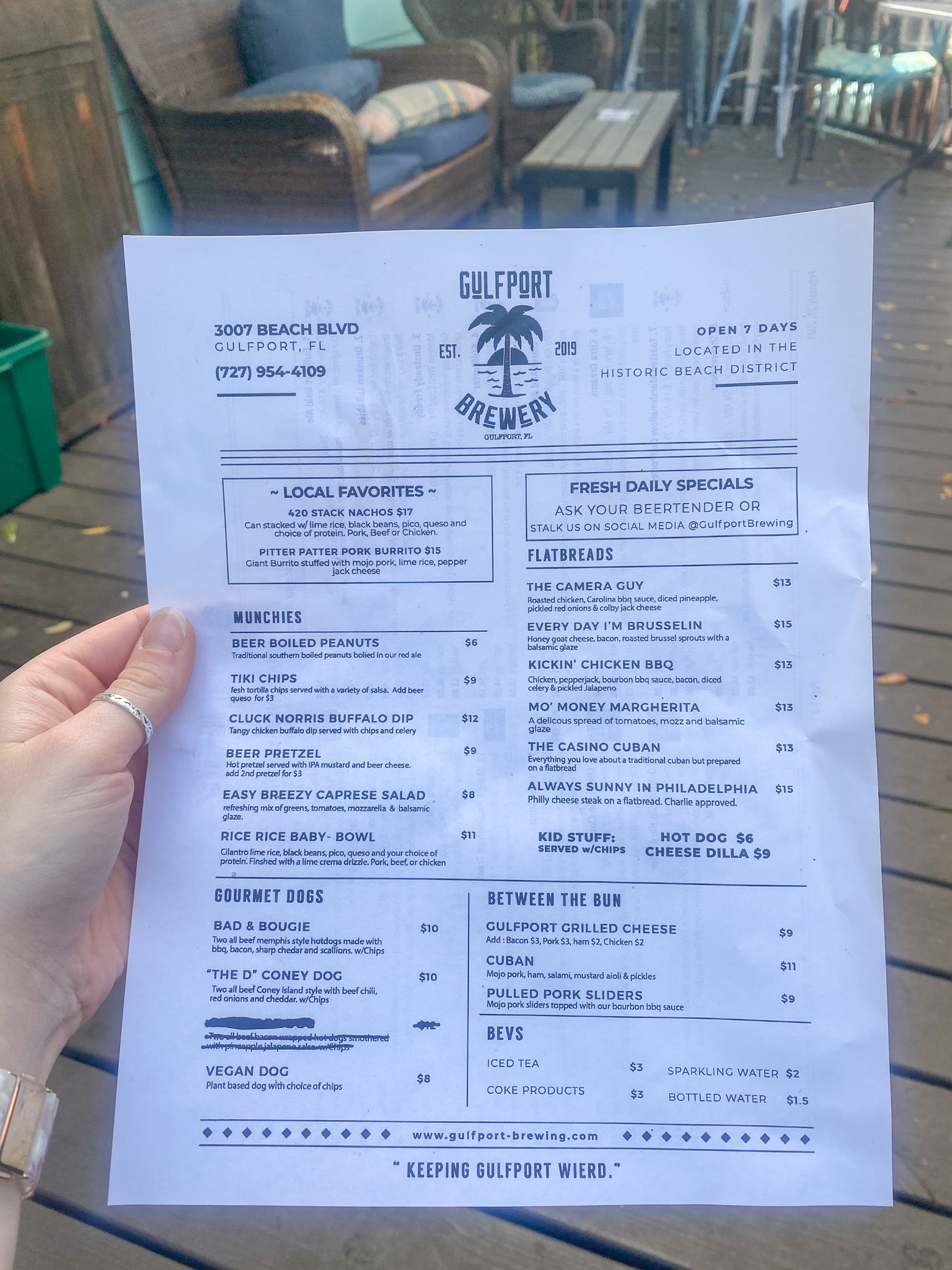 We really went for it with a few things that caught our eye right away. Starting with their Munchies, the Beer Pretzel was just too fitting not to order after a few pours.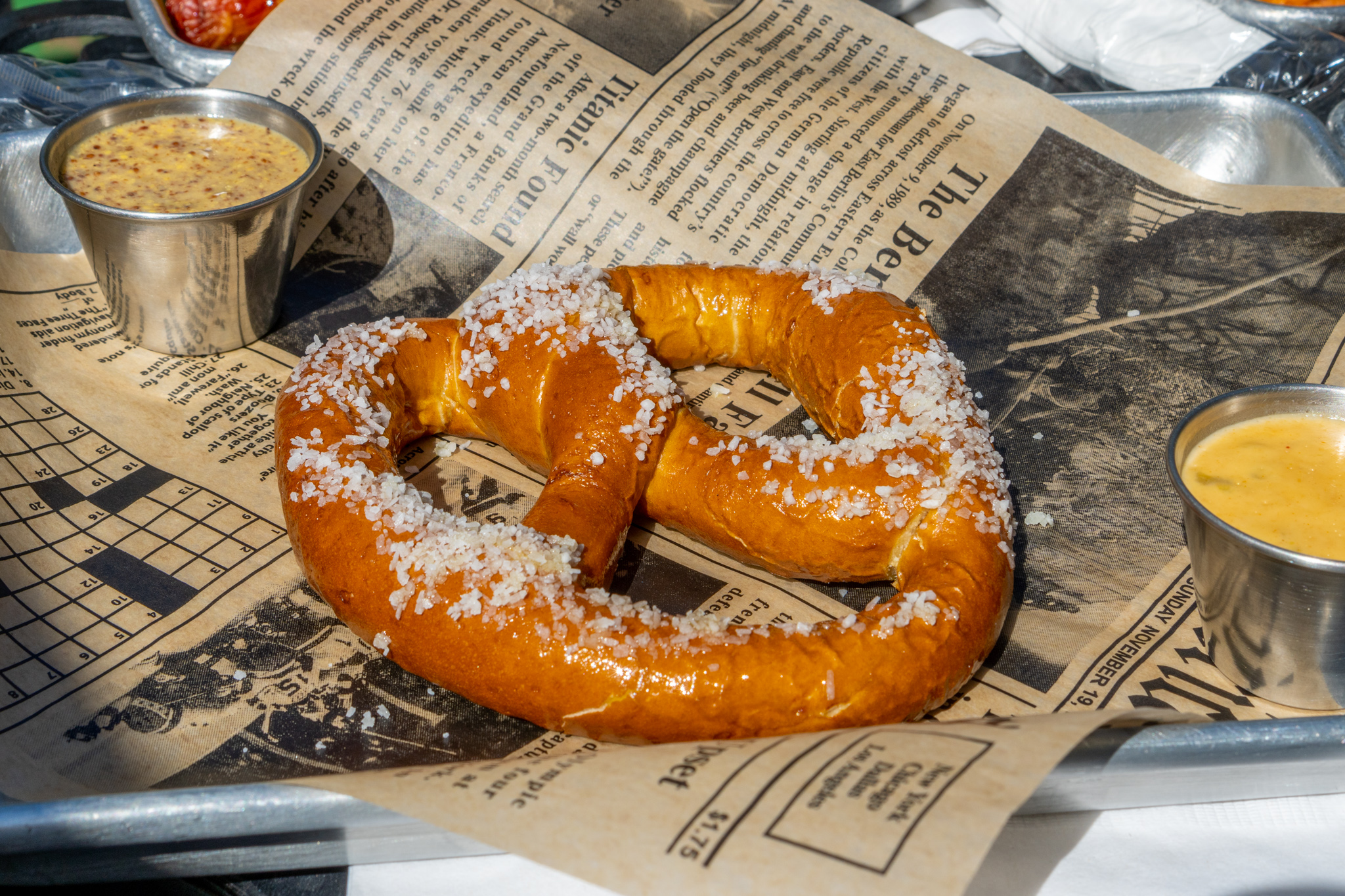 Maybe it's my 50% German side, but I have a hard time passing up a salted pretzel anytime I see it on a menu. (My Dad is probably so proud.) The Beer Pretzel at Gulfport Brewery and Eatery is a great snack to devour in between sips of beer. The saltiness paired with the crispy and warm pretzel alone was terrific, but dunking it into the beer cheese and IPA mustard was next level.
Onto the flatbreads, in which they have six to choose from.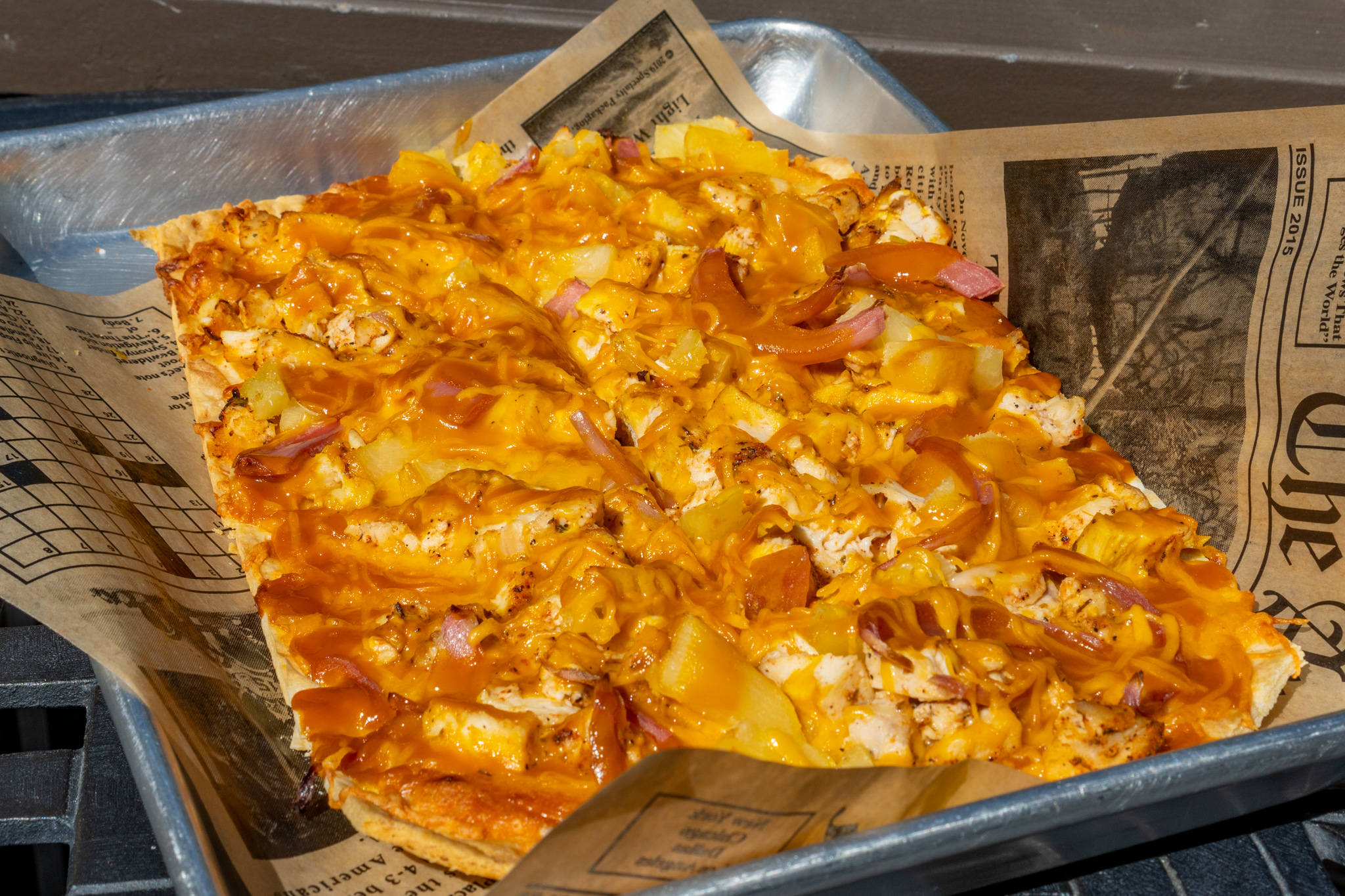 The Camera Guy flatbread comes with roasted chicken, Carolina BBQ sauce, diced pineapples, pickled red onions and Colby Jack cheese. We picked this one because it caught our attention with its fresh pineapples and bbq sauce – an intriguing combination. I personally loved this hefty flatbread. The amount of ingredients on each bite was ideal and the sweetness from the pineapple and BBQ sauce was a uniquely tangy taste. Plus, the roasted chicken was generously portioned. The crispy flatbread itself was impressively strong enough to hold all of the toppings and provide a nice crunch.
I'd love to try another one of their flatbreads next time, especially the Every Day I'm Brusselin' with honey goat cheese, bacon, roasted Brussels sprouts and a balsamic glaze. Oof!
They have a Between the Buns section on their menu with a Gulfport Grilled Cheese, a Cuban sandwich, and Pulled Pork Sliders. These all come with a side of chips or you can substitute a side salad, tots, loaded tots or coleslaw.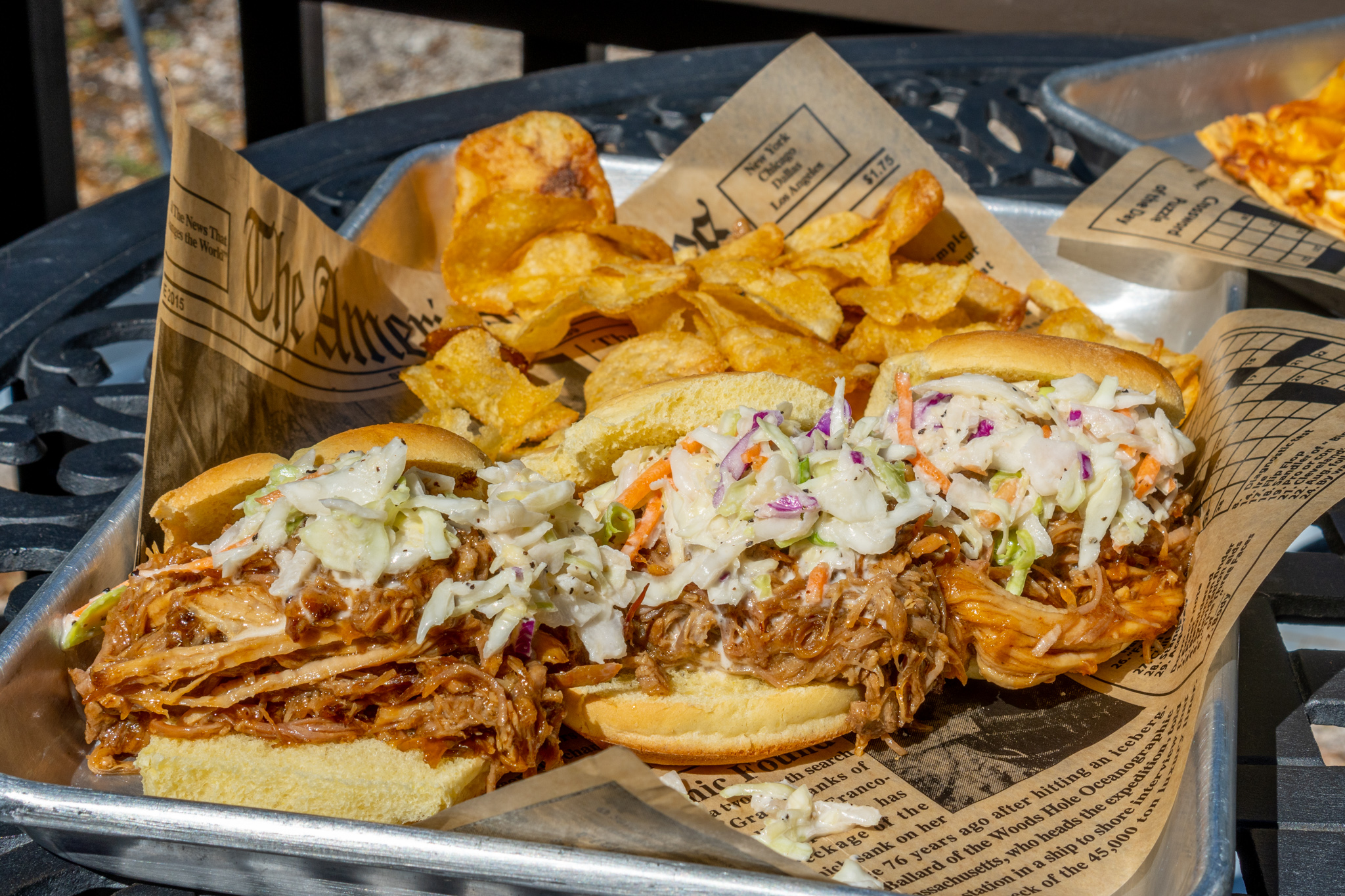 The Pulled Pork Sliders were outstanding. Some of the best pulled pork sliders I've had in a while. To start, the pulled pork was packed onto each slider, giving you enough to scoop up afterwards too. The bourbon BBQ sauce was smothered on them perfectly. The coleslaw on top added a lovely crunch and a ton of flavor. It was super fresh. The buns were great too, with a little toast on the outside but still nice and soft on the inside, holding everything together nicely. The chips were nice and crunchy, but at this point I was nearing the fullest I've been in a while and had to skip out on them.
The last section on the menu was the Gourmet Dogs. Listen, I'm from Chicago and know a good hot dog thanks to Wrigley Field. I don't get hot dogs often down here in Florida, but as the beers were hitting the spot, the idea of a packed hot dog sounded almost heavenly.
They have a Bad & Bougie (what we ordered), "The D" Coney Dog with two all beef Coney Island style with beef chili, red onions and cheddar, and a Vegan Dog.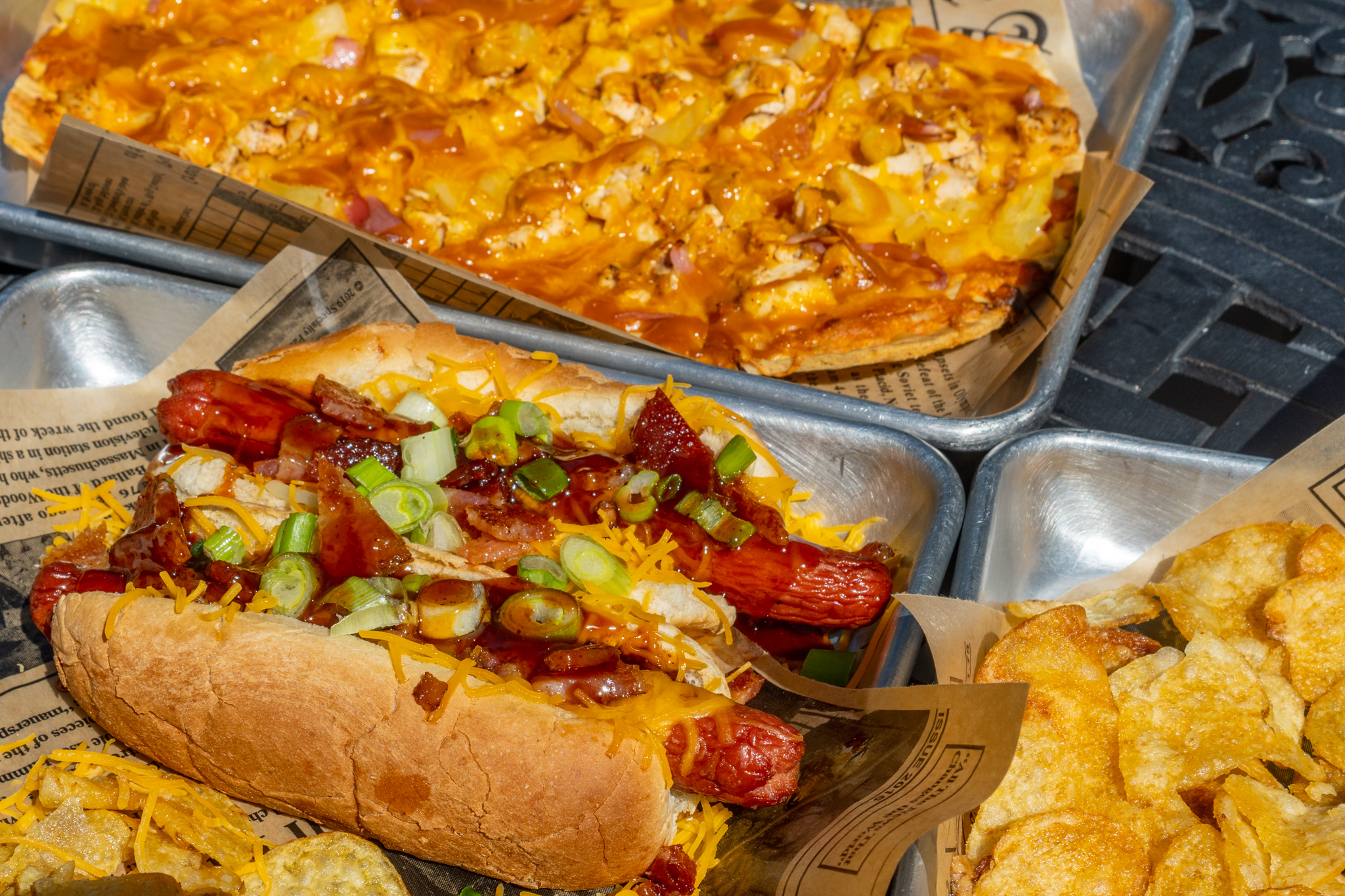 The Bad & Bougie comes with two all beef Memphis style hotdogs made with bbq, bacon, sharp cheddar and scallions. The hot dog was perfectly grilled and placed in a toasted bun, topped with melted cheese and sizzling bacon. The bbq sauce brought this to the next-level but I could have done without it. I think I'd rather have my condiment of choice on this hot dog, which would be mustard. Overall, it was pretty good, but I'm not sure that I would order this same one again. All gourmet dogs are served with chips, and if you love a crunch, then you'll be happy with them. 
Gulfport Brewery and Eatery also has daily specials that you should ask about as well. They were serving Chicken and Waffles on Sunday and I'm a little bummed out that I didn't order them. Next time I will.
This is your one stop shop for tasty beers and outstanding food to snack on. Gulfport Brewery and Eatery is a wonderful spot to meet up with friends or family all while enjoying all that this quaint town has to offer.
"Where Gulfport Gathers."
DISCLAIMER: Kevin, Lori, Abby, Haley, & Lindsey do not dine anonymously (this would be impossible) and we sometimes get free food (though never expected). However, we dine with the locals and we support our own. You will always get honesty in a respectful manner. We do not include any large national or regional chains in our ratings and reviews. We focus on independent locally owned eateries exclusively.

PLEASE NOTE: Reviews reflect a certain moment in time. Some restaurants stay extremely consistent over many years, and some change for the better or worse. Some things that may change are: chefs, recipes, food suppliers, ingredients, philosophies, ownership, etc. We always hope that you have the same good, or great experience we had.
More Foodies News, Reviews & Recipes