Get Your Boston Fix At Beantown Pub South
Get Your Boston Fix At Beantown Pub South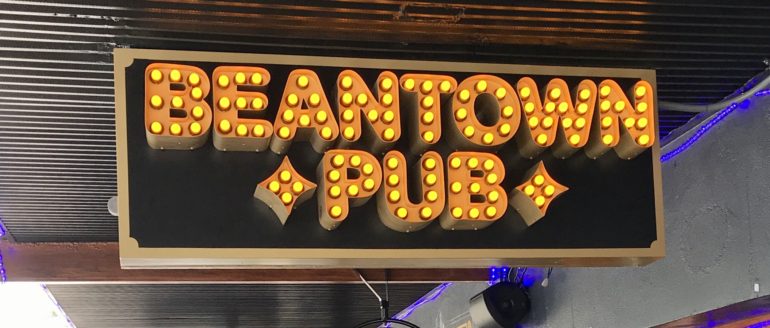 PERMANENTLY CLOSED
When we first learned about Beantown Pub opening we were very excited to have something different opening downtown. Here's our original write up about Beantown Pub opening. It's nice to have a pub with pub food that's true to its roots. Beantown has been an institution in Boston for over 20 years and they brought the exact concept to their second location here in St Petersburg. Lucky us!
We first went last Thursday, August 30th and we ordered way too much food so that we could have lots of pictures for this piece. I said to Kevin that the ambiance almost feels like we are in another town. It's very laid back, comfy & homey. Even the clientele is vastly different than what we are used to seeing in any other place we frequent. We enjoyed ourselves so much that we stayed after we were done eating, sidled up to the bar and had a couple of more drinks.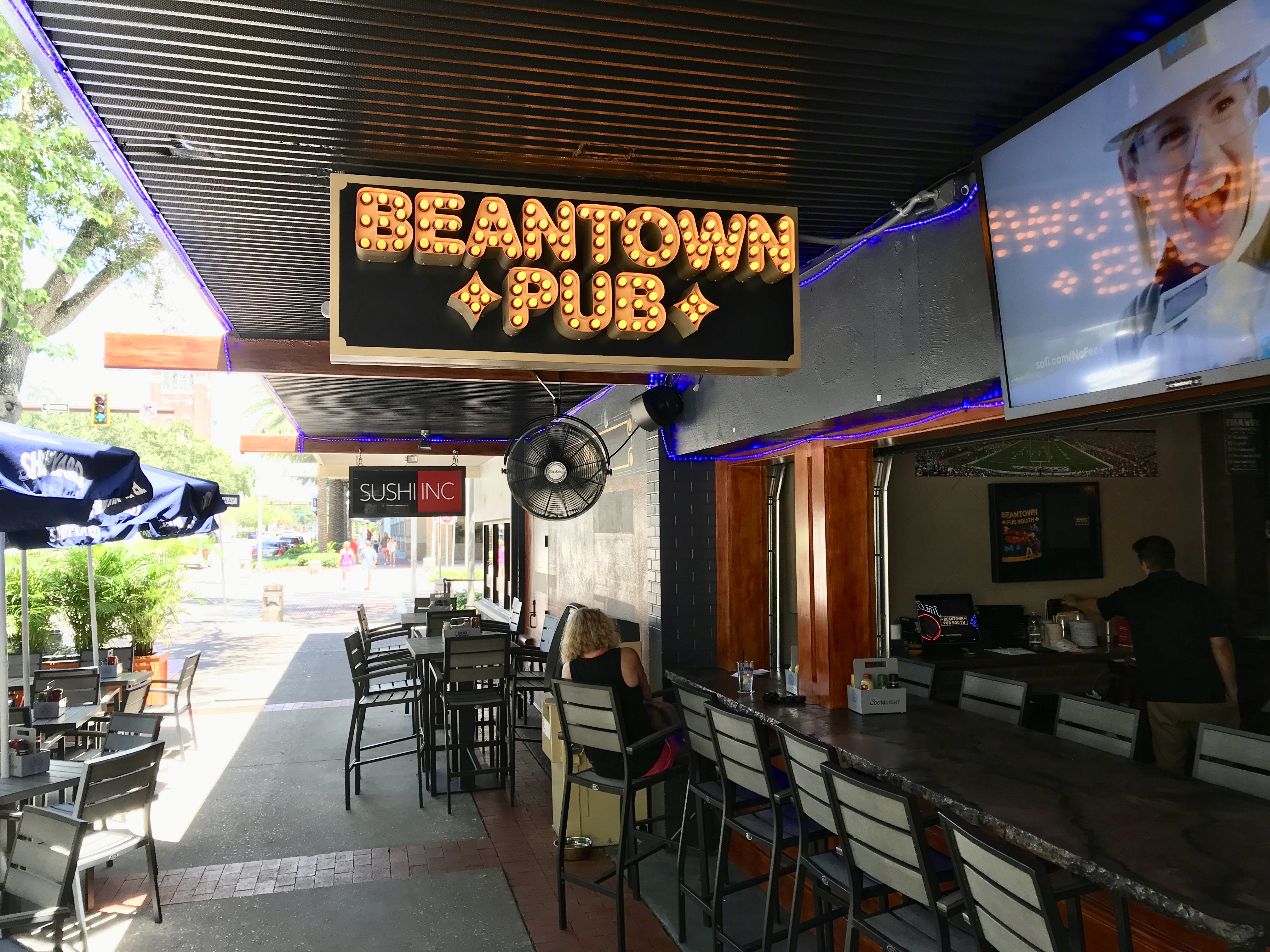 Even with the amount of food we ordered that night, there were still many more items on the menu that we were excited to try so we made a few more visits before writing this. Friday night, we were out downtown and we were working our way back home after we ate at Pacific Counter. For our last stop Kevin wanted to go back to Beantown. For this visit, we just had a night cap, but again, enjoyed the atmosphere.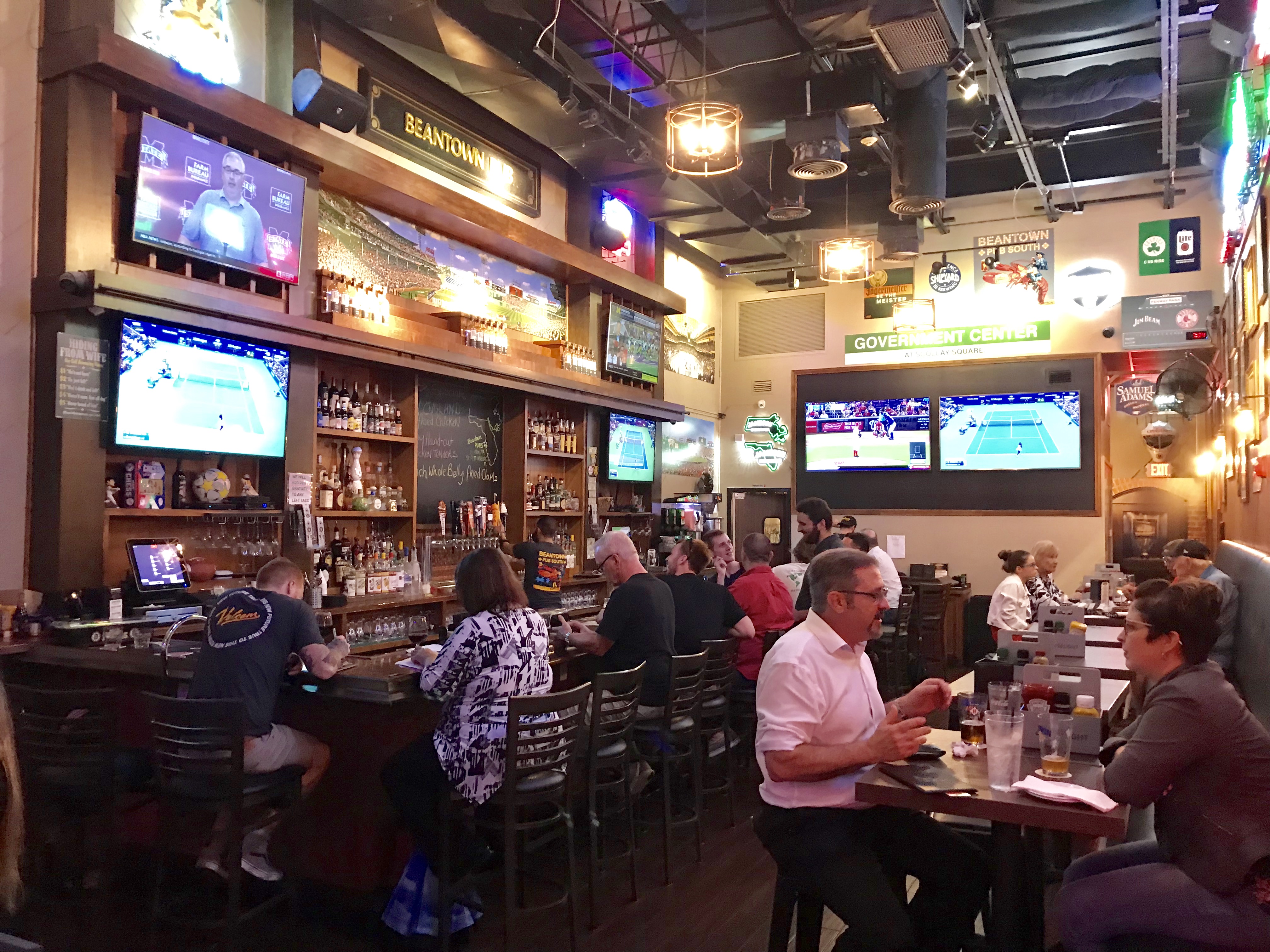 On that first Thursday night, we had to start with some Boston Baked Beans because so many people rave about them. They were good, but I wouldn't say that they were anything extra special. They are a little sweeter than what you normally find with the molasses and brown sugar more prevalent. They come with what they just call brown bread, which looks like pumpernickel but it's not. It has a heavy, deep flavor with almost a raisin flavor. Very unique.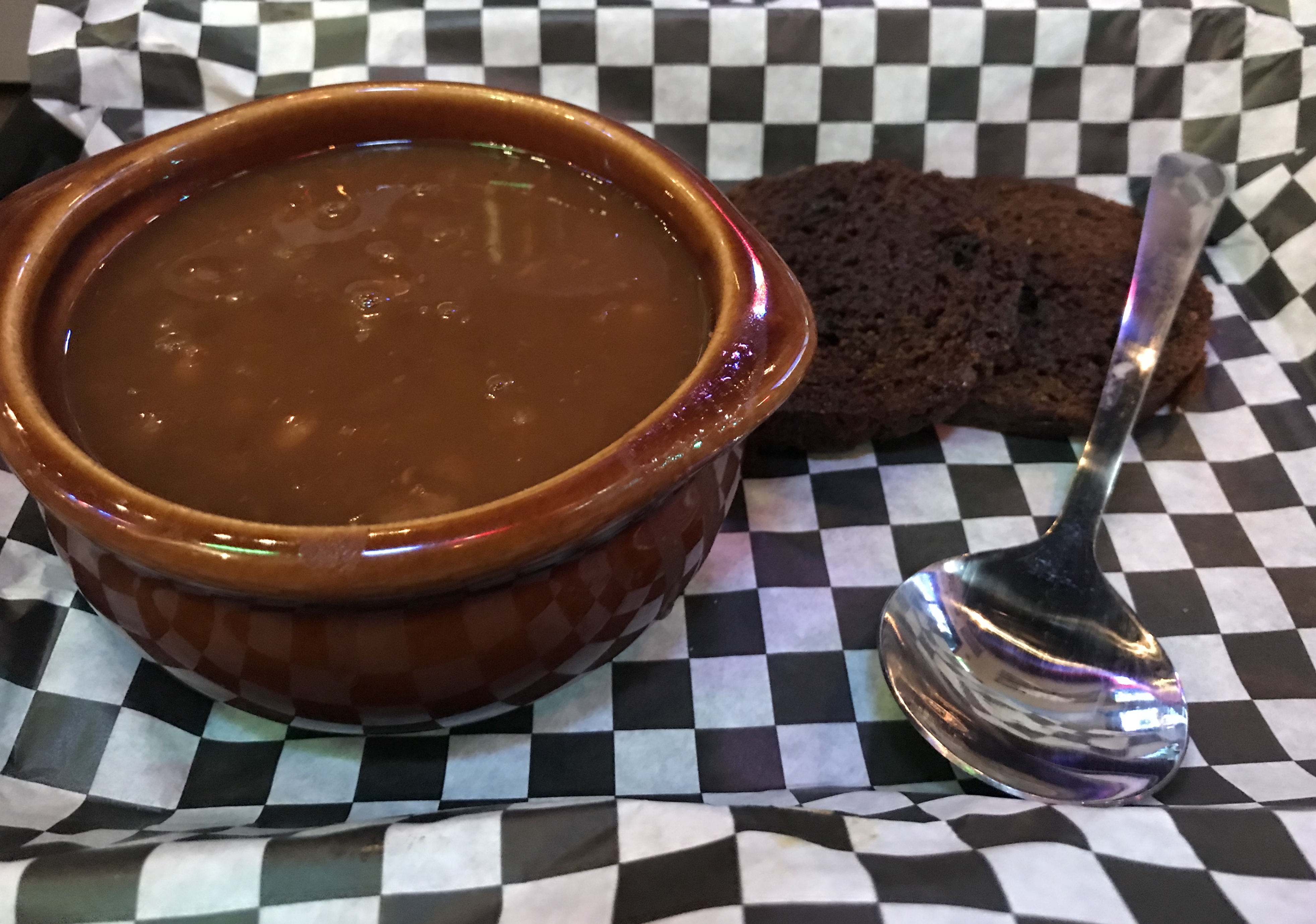 And of course, we had to try the Beantown Clam Chowder. We both really loved the "chowdah". It was rich, silky and creamy with a base that tasted a little like chicken and dumplings. Full of chunks of potatoes, carrots and of course clams.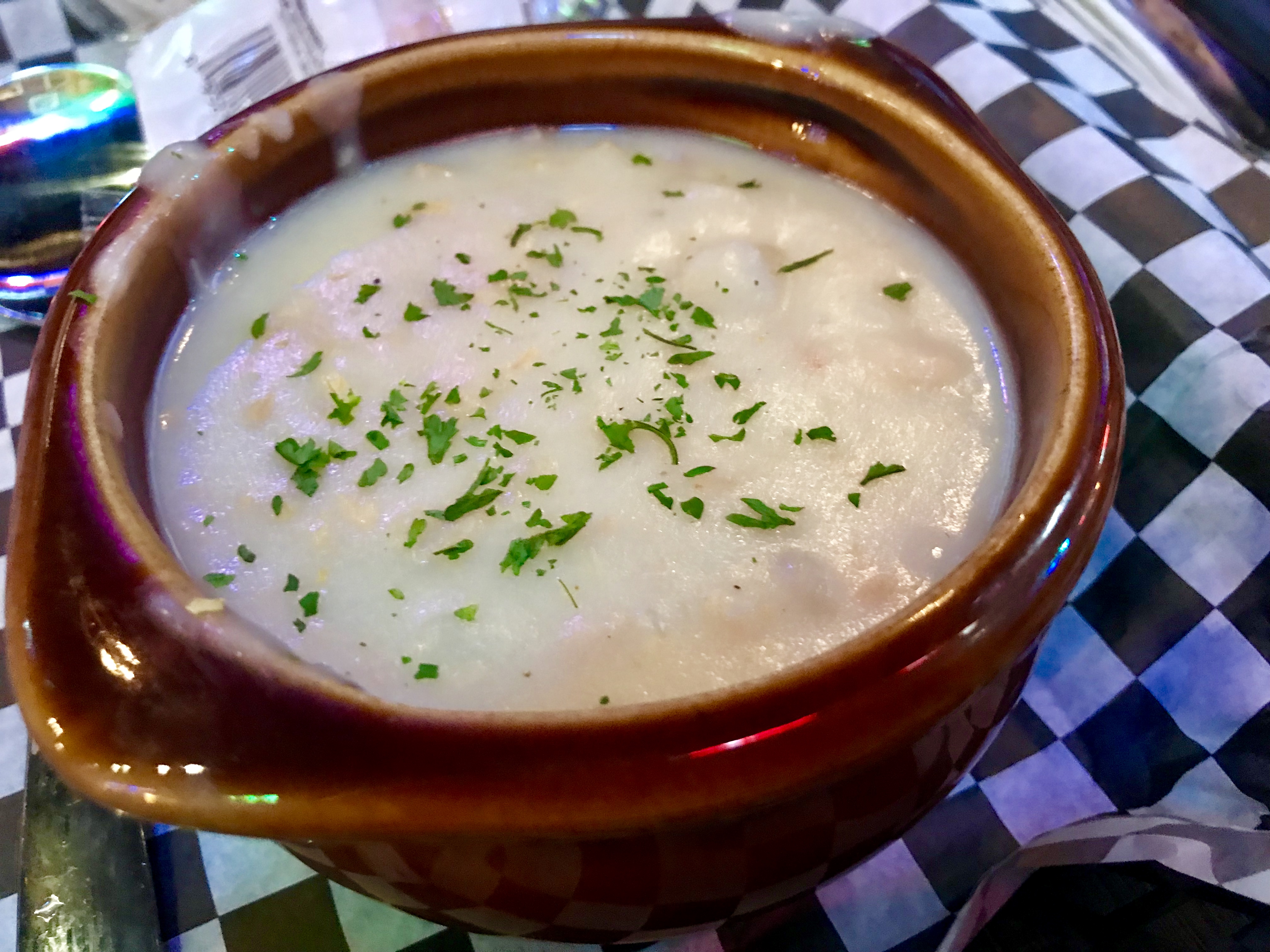 The star of the show for sure is Beantown's Jumbo Lobster Roll Plate. The roll is chock full of hunks of fresh Maine lobster, mixed with their sauce, served cold, a top a piece of romaine lettuce nestled inside a perfect buttery, grilled roll. The roll is absolutely sublime with this dish. A roll can make it or break it. It is served with their signature crinkle cut fries and a side of homemade coleslaw. We were in Maine a couple of years ago and I swear that we did not have a lobster roll nearly this good. It is the best I have ever had and Kevin said the same. In all honesty, I have not eaten a lot of lobster rolls but I could definitely eat this one over and over again. Obviously the crinkle cut fries are not made fresh in house, but as owner, Roger Zeghibe, said, "Our patrons just love the fries. It's an homage to being a kid again. It's how we serve them in Boston and how we will serve them here." They are definitely not my favorite fries but they are fine and they serve their purpose. The coleslaw is very fresh and crunchy and you can tell made in house.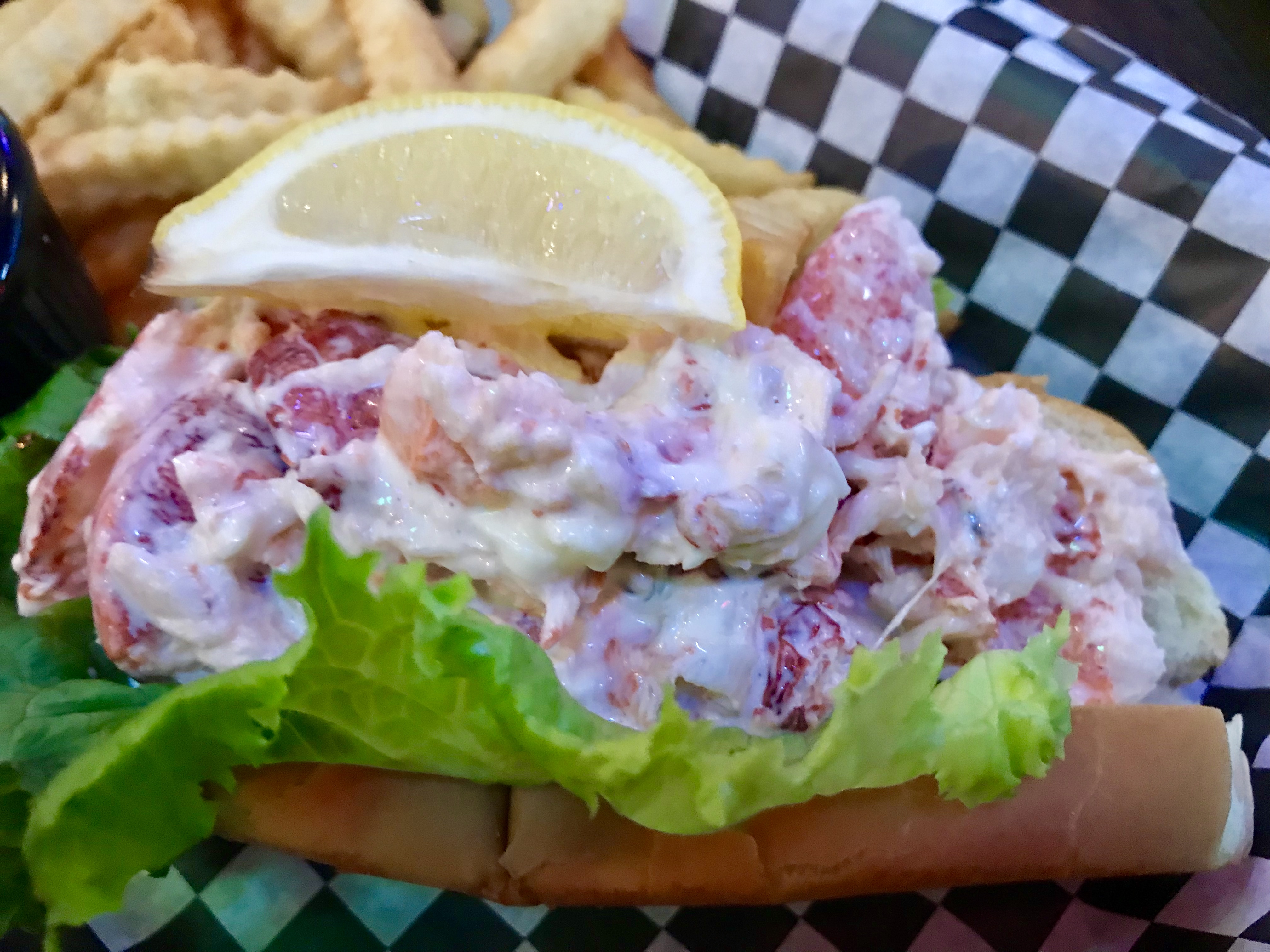 I love fish & chips so, of course, I had to try Beantown's version. They use haddock instead of the normal cod that you will find elsewhere. The fish had good flavor, but the breading we found to actually be a bit too dry for us and kind of cakey. There are many people that may enjoy this version because it is so not greasy. So I encourage you to try this dish if you don't like a bit of grease in the batter.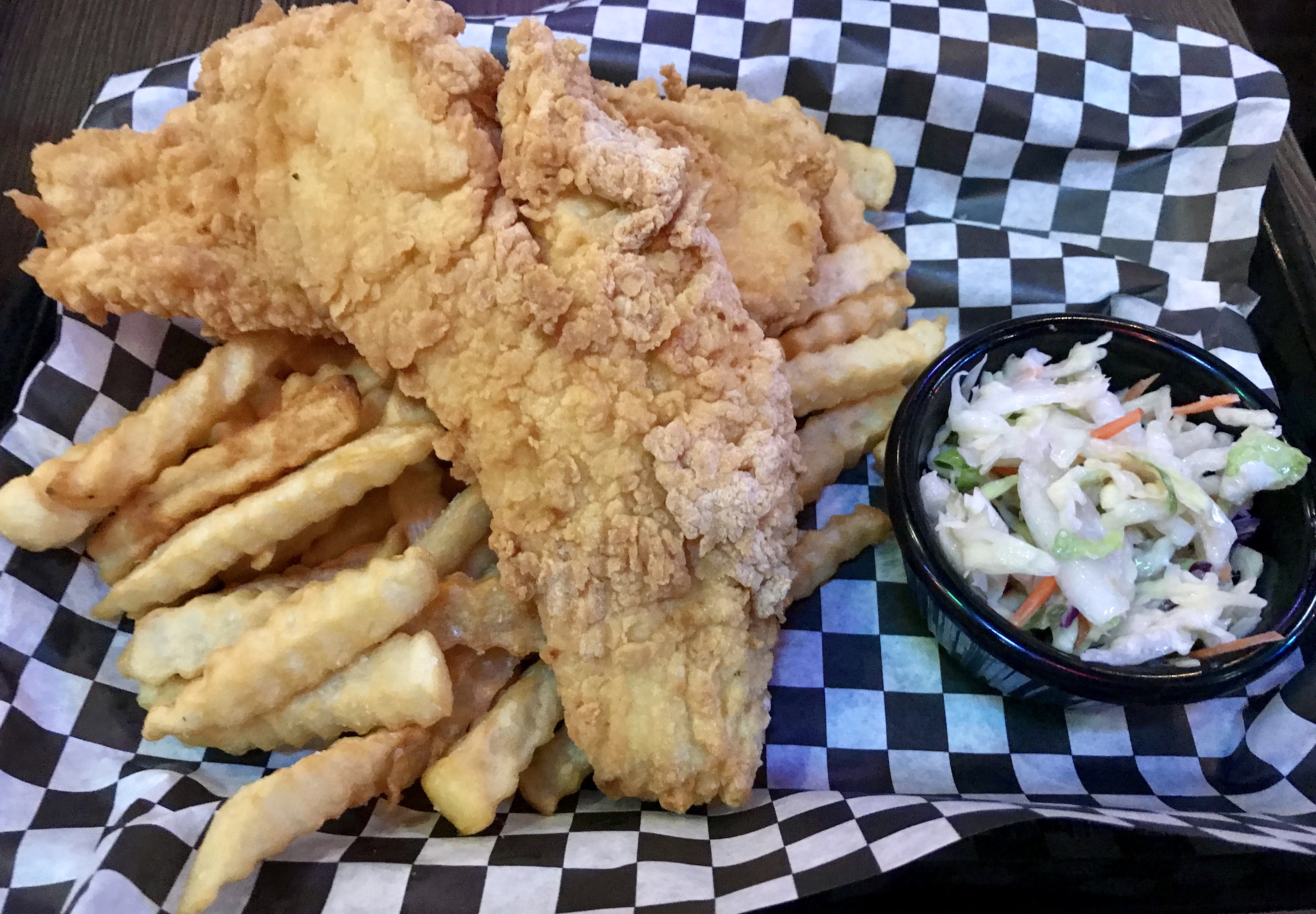 We were encouraged to try the Ipswich Fried Clams special on the board that evening. It was a last minute order but I am glad that we did. The clams had great flavor and the breading, though the same as the fish & chips, worked much better with the clams. Not a clam was left on that platter. It's a healthy portion.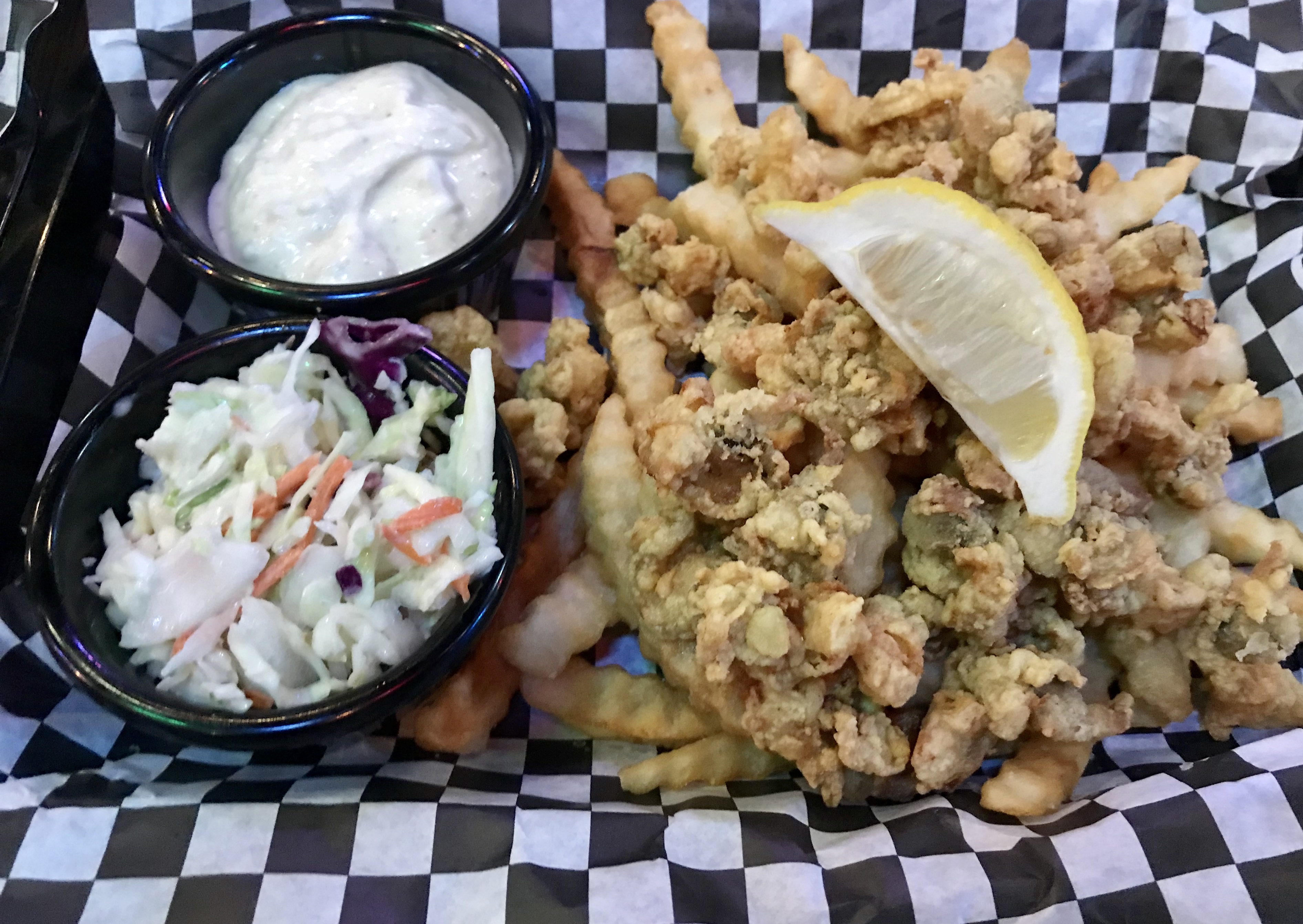 One of the managers, Jami, would not let us leave without a piece of the Boston Cream Pie. Having never had Boston Cream Pie, I really have nothing to compare this to, but it was quite tasty. Kevin said it was just like a Boston cream doughnut, but in pie form. Needless to say at this point we were stuffed.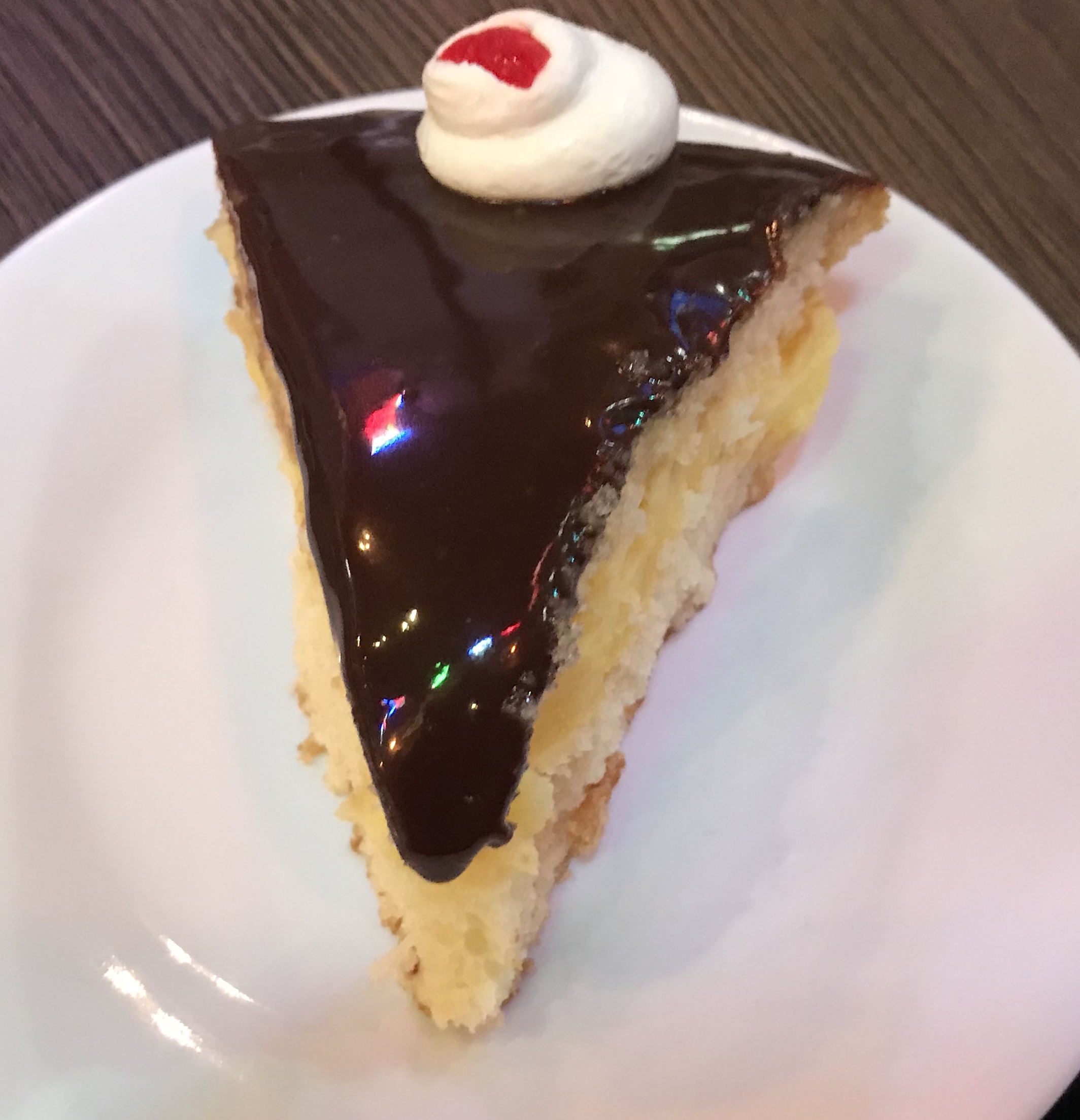 Now we are on our third trip to Beantown Pub on Saturday afternoon after having just been there again on Friday night for drinks. I couldn't stop thinking about the Lobster Roll and how others had suggested getting it with just drawn butter and no mayo and Kevin really wanted to try their burger.
We sat at the bar and started with cocktails. I had the Lobstah and Kevin ordered a bloody mary. I was worried that my drink would be too sweet but it so wasn't. It was light and refreshing, perfect on a summer day. They include a lobster gummy in the drink which is quite fun. Kevin very much enjoyed his bloody mary. It is a house made mix that is heavy on the horseradish, which Kevin loves. It was less tomato heavy as some mixes.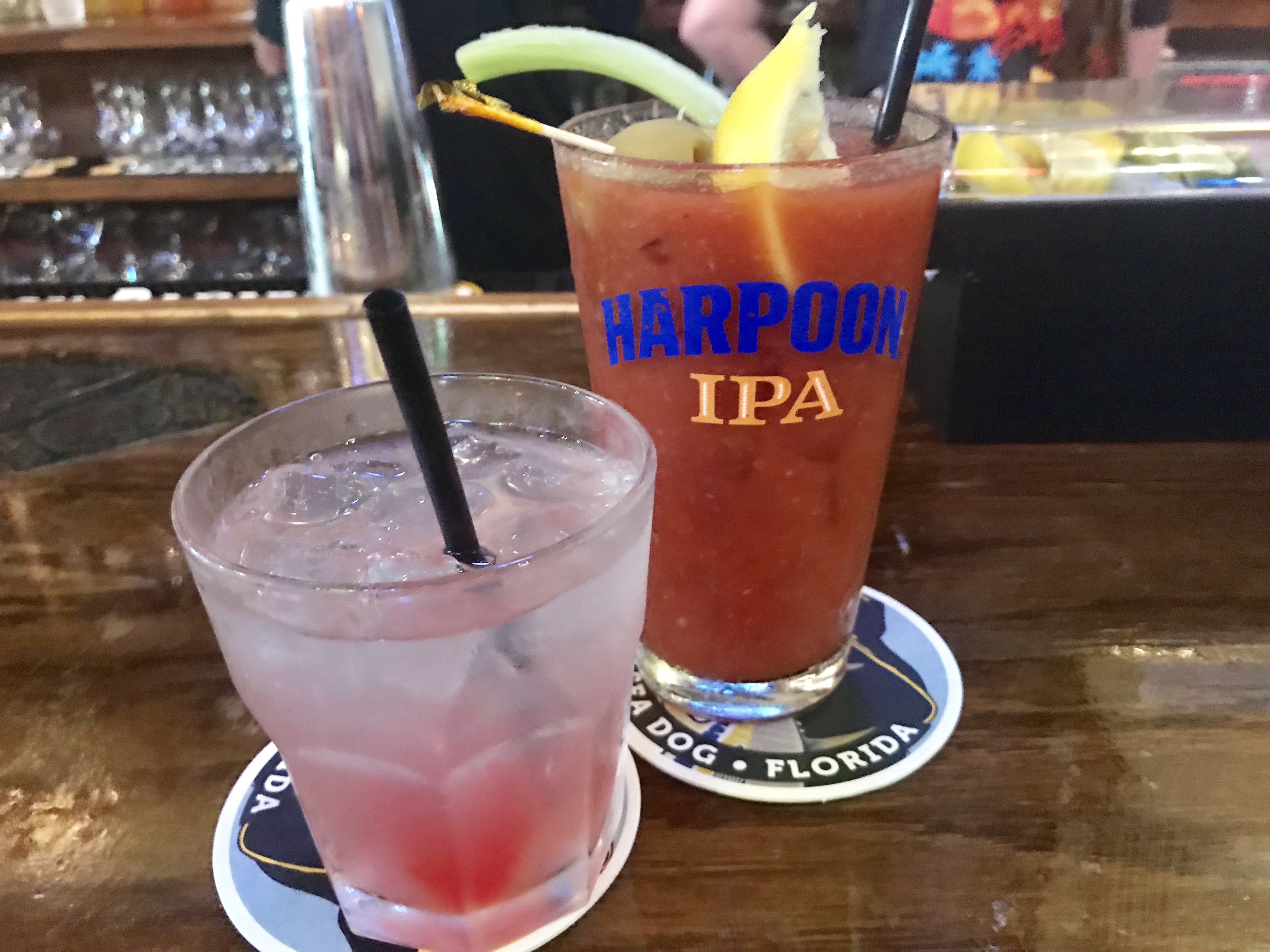 Kevin ordered the Beantown Burger which consists of a 1/2 pound of fresh ground choice USDA beef, topped with bacon, American cheese, lettuce, tomato, onion, handmade fried pickle chips and their signature sauce on a garlic buttered roll. Kevin likes his burger close to rare and it came out closer to medium well, but he said it was still delicious because all of the ingredients together were so good.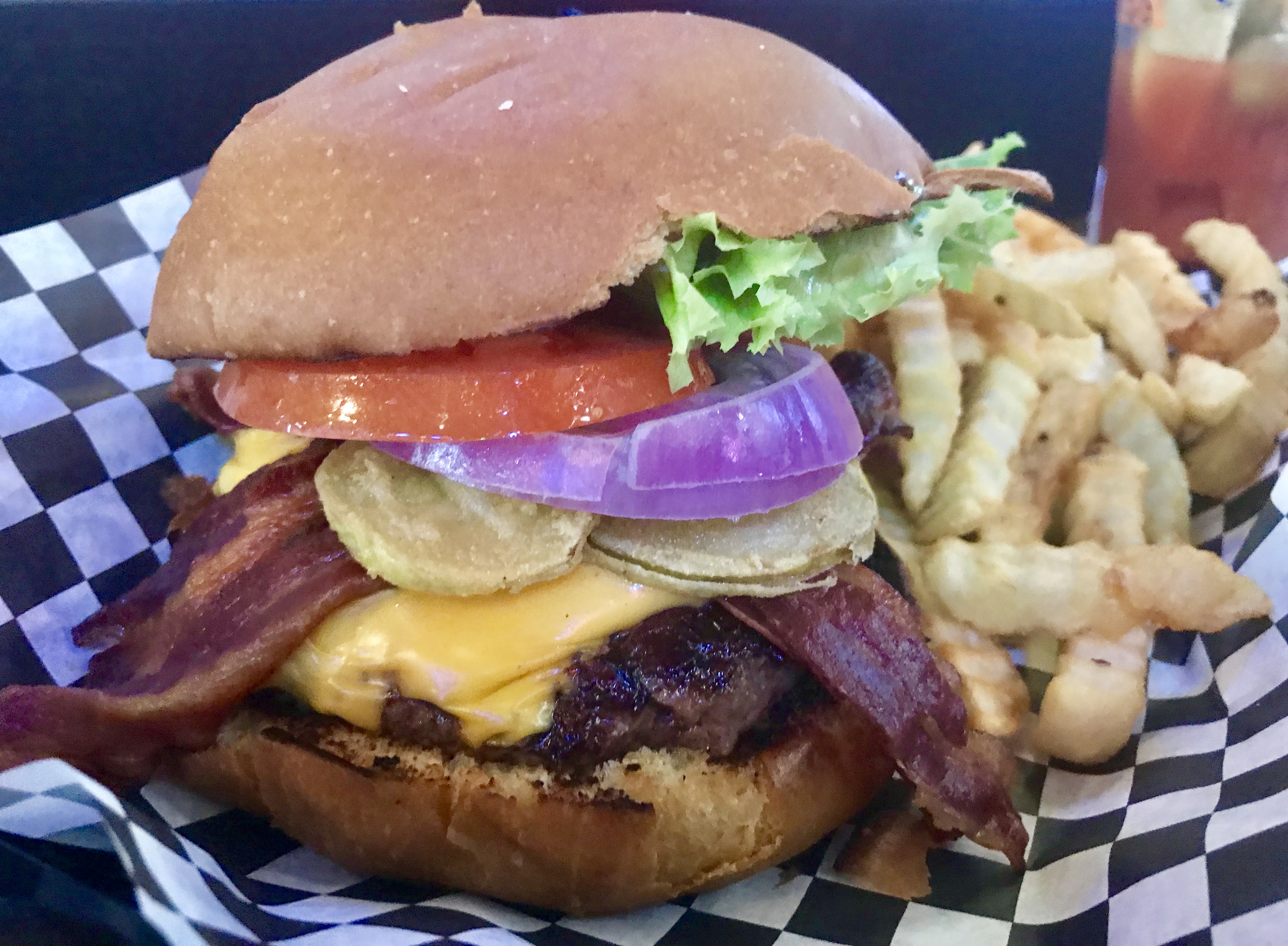 So I just had to try that warm lobster roll with drawn butter only. The lobster was still sweet and delicious but I definitely prefer it the original way. It is just so tasty, delicious and refreshing served cold with their sauce on that delicious buttery bun. But to each his own…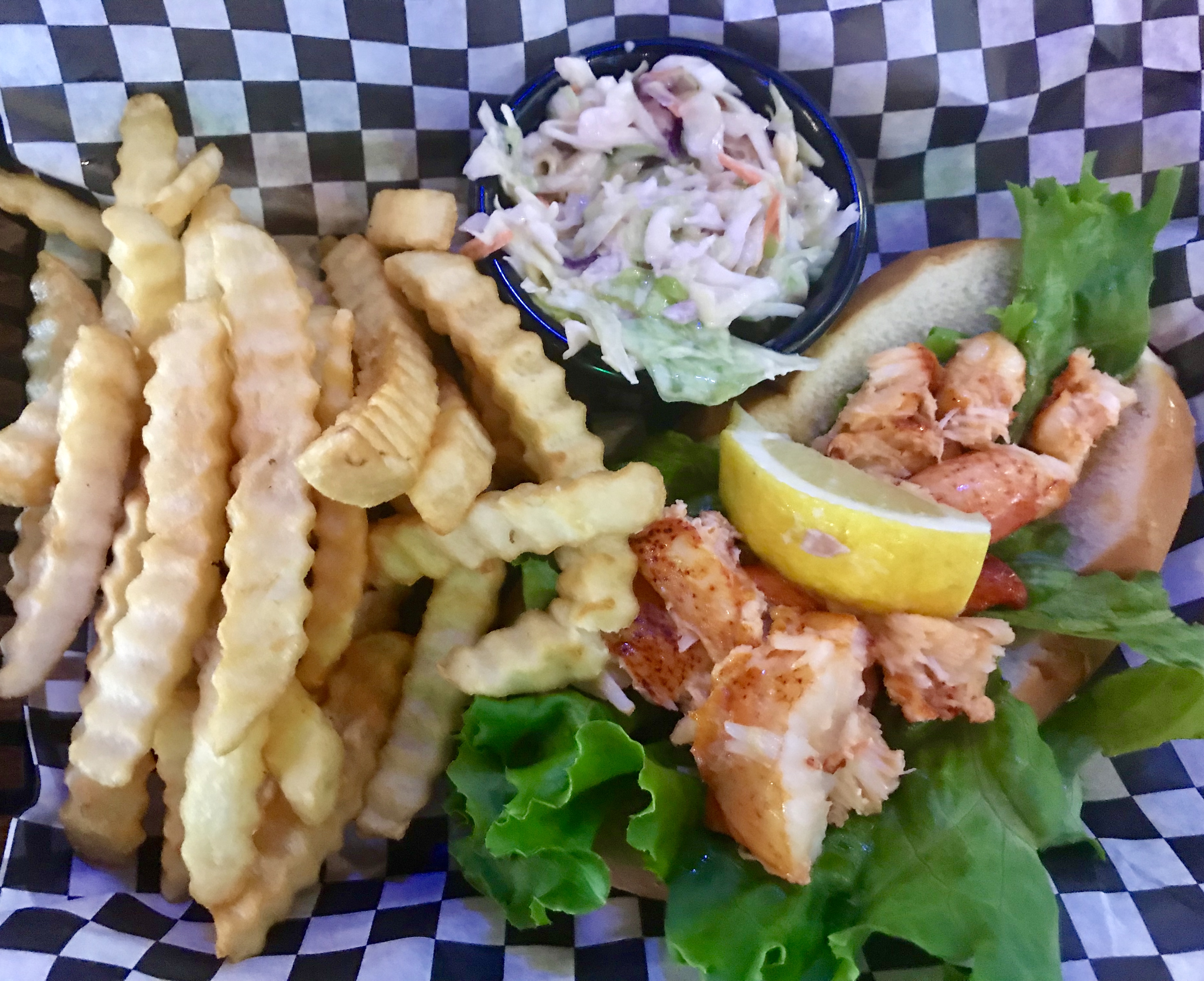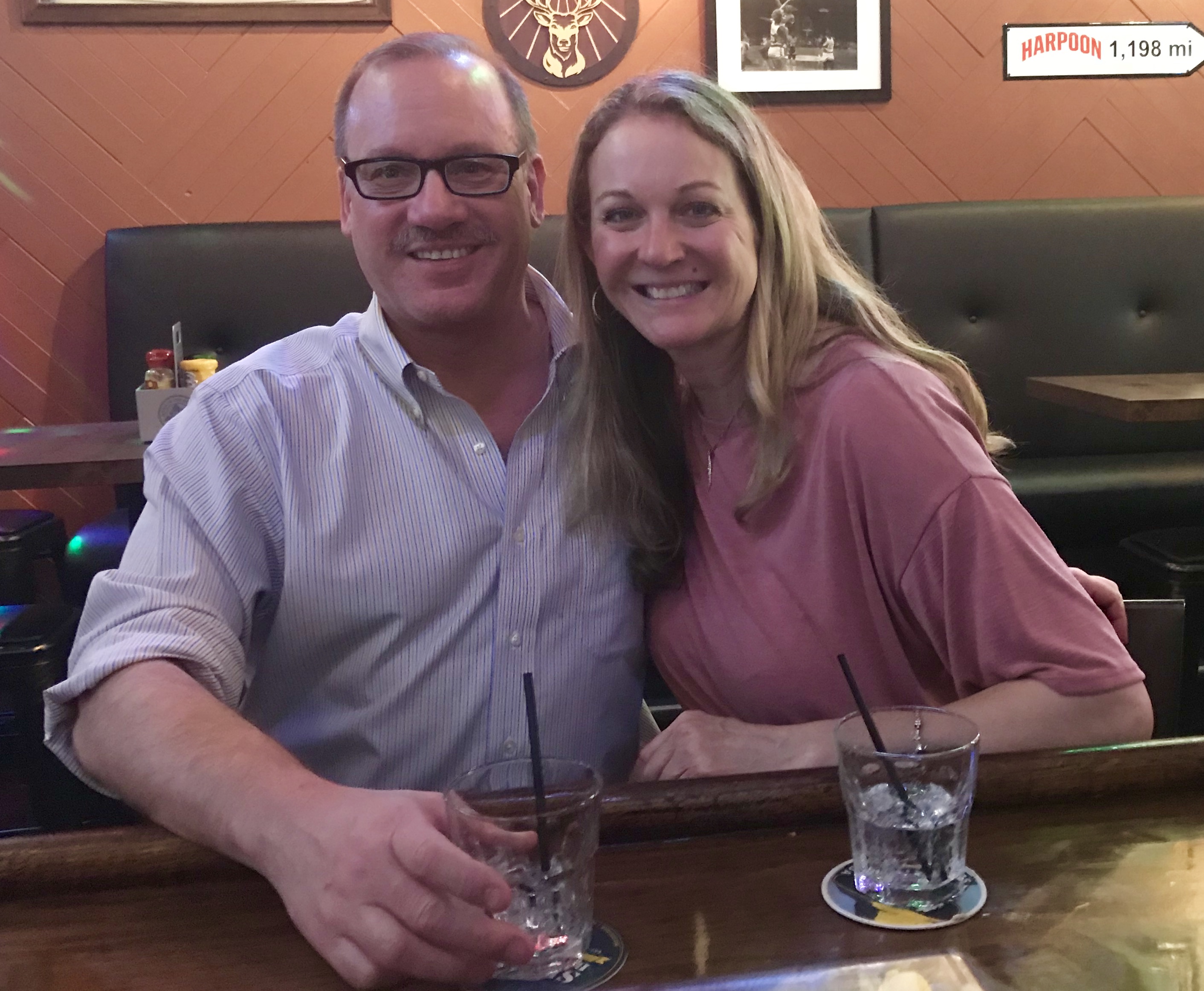 Still wanting to try the Marinated Steak Tips with mashed potatoes and veggies and also the Title Town Wings, we went back for our fourth visit last night.
We started with the Title Town Wings. They come eight to an order and can be ordered house battered or naked. You can choose up to two flavors per order: plain, buffalo, honey buffalo, xxx hot, teriyaki, bbq, sweet chili, garlic parmesan or coffee dry rub. We ordered two orders. I knew I wanted to definitely try the buffalo and I also knew Kevin would want the xxx hot. Jami suggested that we order the coffee dry rub and the honey buffalo too. Our bartender, Vinnie, also suggested the honey buffalo. I figured we would eat about half and take the rest home, but no, we devoured all sixteen wings. They were plump, juicy and the flavors were great. We ordered them dry with sauces on the side. They were great dry, and Kevin liked them even better dipped in the sauce to make them a little spicier. My favorite was the buffalo but I did really like the honey buffalo, it wasn't too sweet and added a savoriness to the flavor. The xxx hot is really not that hot. I figured I would not be trying that one but Kevin said that it wasn't really xxx so I did and he was right. The coffee dry rub is very different and very good it had more of a smoky and savory flavor. Kevin's least favorite was the honey buffalo but he really loved the other three equally. All in all we liked them all very much and think that they are up there as some of the best wings in town. Hence they were all gone.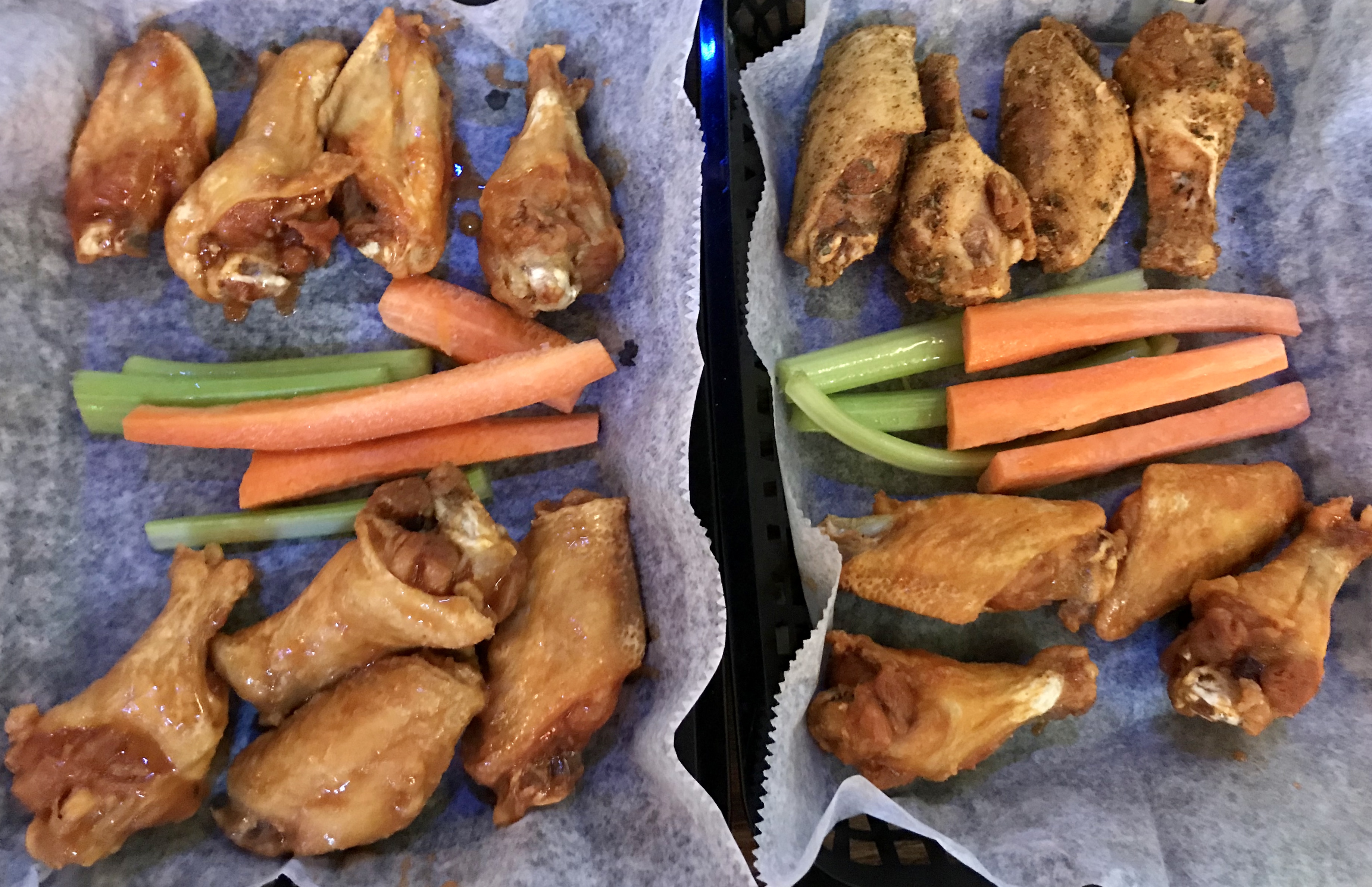 After devouring the wings we set for a bit before our next order. A friend of ours wandered in and ordered the nachos. They are described as a mountain of crisp tortilla chips piled high with salsa, melted cheese, sour cream, onions, jalapeños and scallions. You can add a scoop of chili or chicken for $3.00. I didn't actually eat them but they were definitely photo worthy. There was noting left in this basket after ten minutes. So apparently they were very good.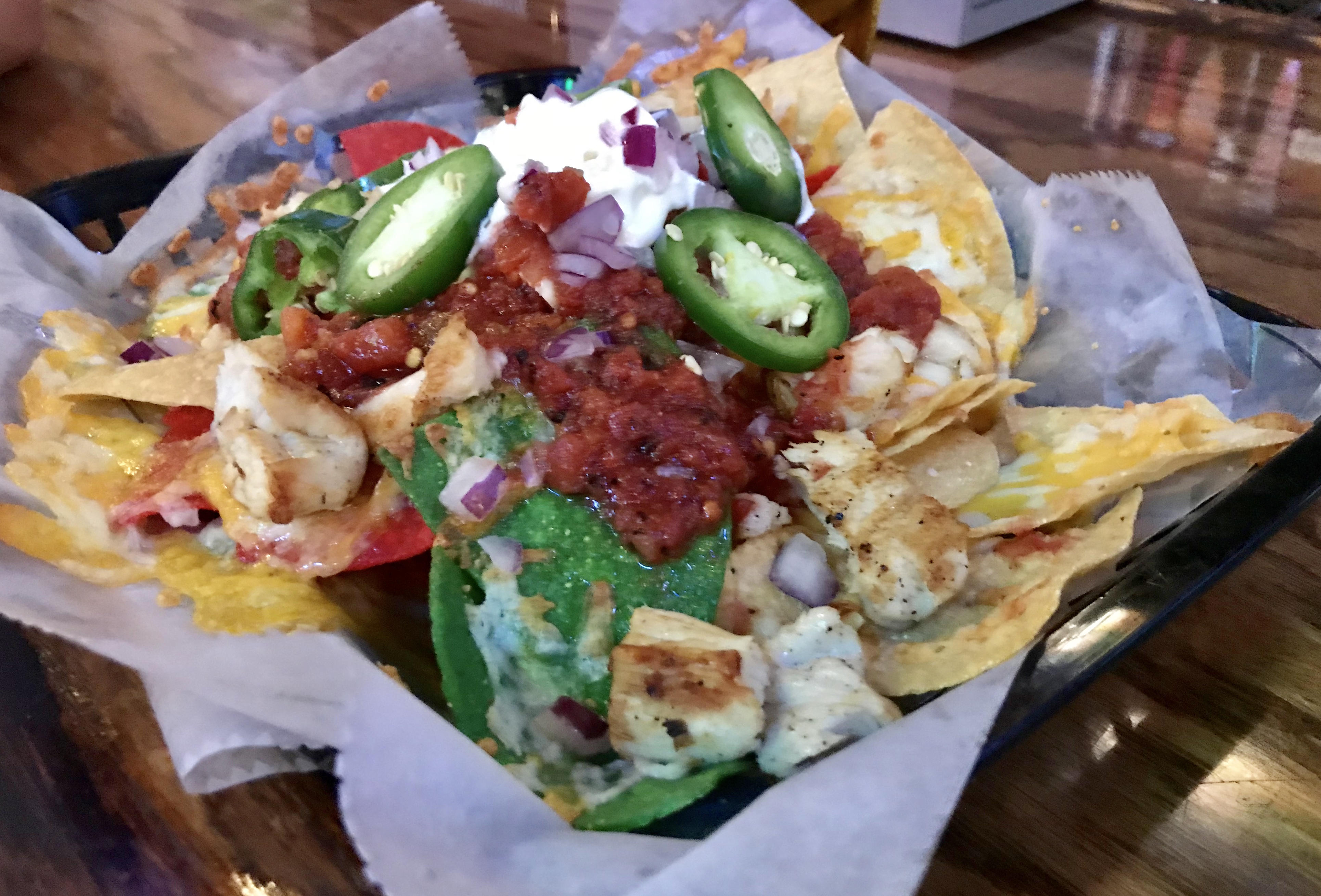 Next up was the Marinated Steak Tips with mashed potatoes and broccoli. We order our steak rare to mid rare. They actually came out medium to medium well, and though they still tasted good, we showed the manager, Ryan, who promptly took them back. When they came out next, they were absolutely perfect. And they also adjusted our bill for a portion of the cost, which we did not even ask for. That's great service! I thought they were juicy and the steak itself was very good, but it tastes like they use some sort of fennel or anise in the marinade which I am not a fan of. Kevin loved them!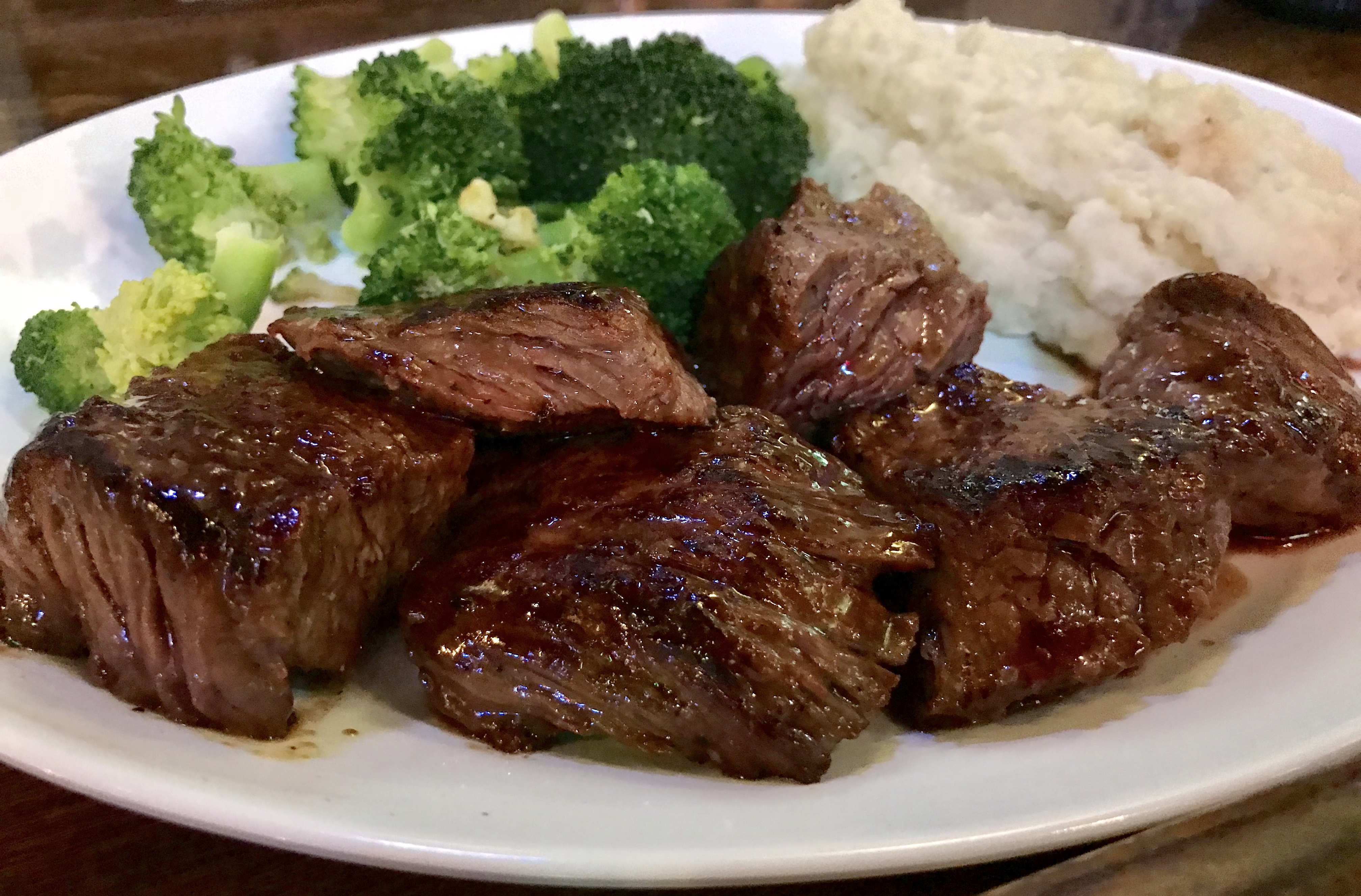 So again, on this our fourth trip in eight days, we arrived at 5:00, soaked up the atmosphere and enjoyed ourselves for several hours. I just really enjoy this place all around. We think you will too! Give it a try and judge for yourself.
A downtown Boston mainstay for over 20-years opens in downtown St. Petersburg in July 2018. A classic American pub offering fine pub dining and a casual drinking atmosphere.
DISCLAIMER: Kevin, Lori, Abby, Haley, & Lindsey do not dine anonymously (this would be impossible) and we sometimes get free food (though never expected). However, we dine with the locals and we support our own. You will always get honesty in a respectful manner. We do not include any large national or regional chains in our ratings and reviews. We focus on independent locally owned eateries exclusively.

PLEASE NOTE: Reviews reflect a certain moment in time. Some restaurants stay extremely consistent over many years, and some change for the better or worse. Some things that may change are: chefs, recipes, food suppliers, ingredients, philosophies, ownership, etc. We always hope that you have the same good, or great experience we had.
More Foodies News, Reviews & Recipes