¡Red Mesa Cantina's New Menu Items are Sabroso y Delicioso!
¡Red Mesa Cantina's New Menu Items are Sabroso y Delicioso!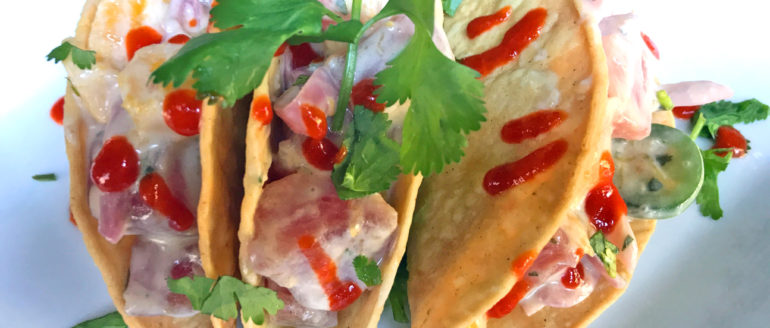 Red Mesa Cantina New Menu Items – May 2017
I've been going to Red Mesa Cantina on a regular basis for over 8-years. Most of the time, when being handed a menu, I say, "No thank you, I don't need it", as I pretty much have it memorized and know what I want. Not anymore. There are several new (10 to be exact) drool-worthy favorites that came out just recently.
When Cantina creates off-the-menu specials, the most popular items win an official spot on the menu. Chef Chris Fernandez never ceases to amaze, and he really came up with some super delicious concoctions again.
General Manager, Andy Jay, suggested that we start with two of his favorites; Crispy Tuna Tacos and Sweet Potato & Chorizo Tacos …. Sweet Potatoes!?!?! What!?!?! Did Chef Chris channel his inner gringo? We would have never ordered this, but decided to humor Andy, and we're really glad we did.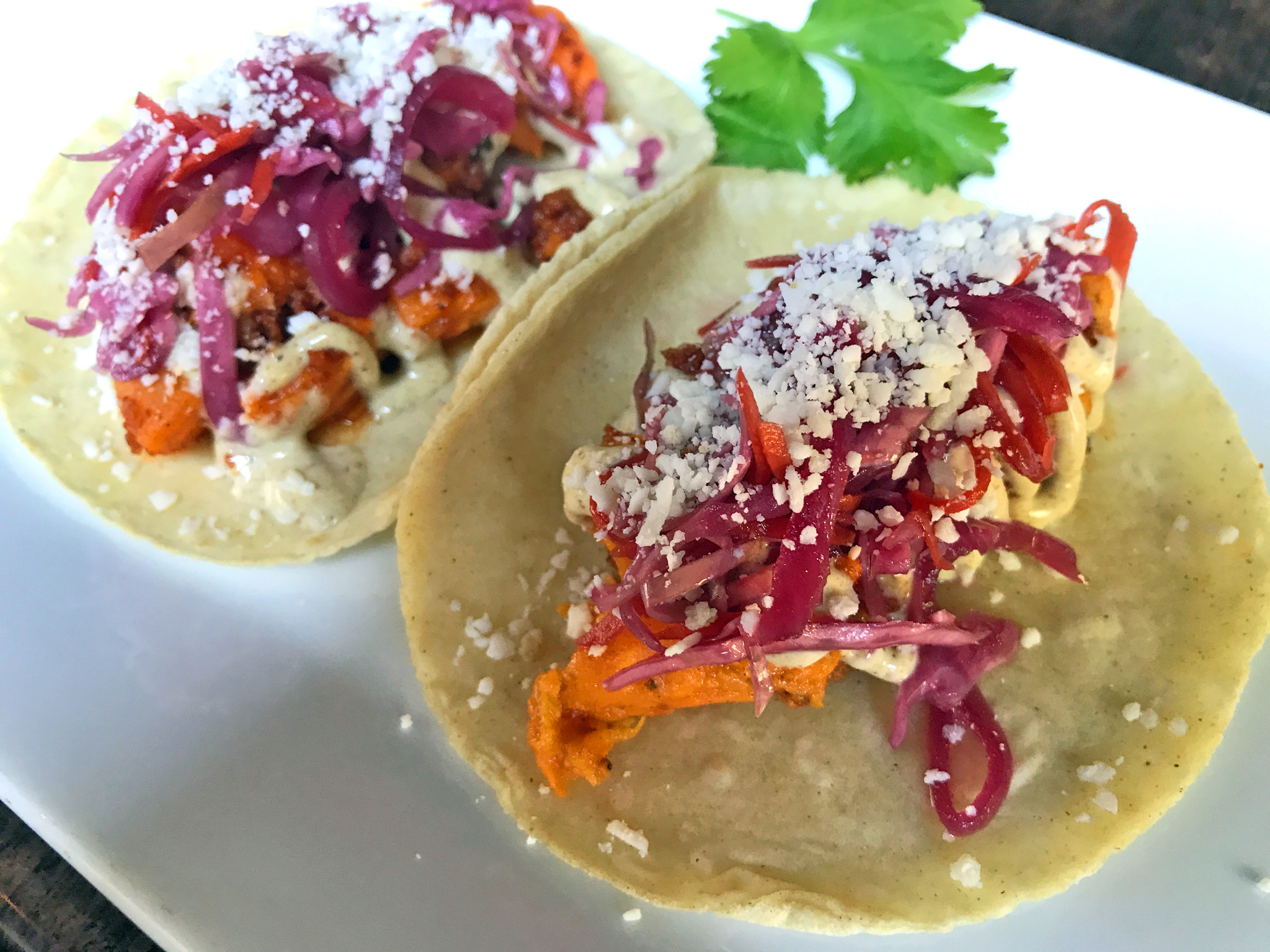 Sweet Potato & Chorizo Tacos – Roasted sweet potato, chorizo, cotija cheese, pickled red onion and cumin crema. These just melt in your mouth. I usually like my starches more savory, and less sweet, which is why I'm not usually a big fan of sweet potatoes. However, the way this was prepared with roasted potatoes and adding the pickled red onions and cumin crema made it absolutely delicious. It was a pleasant surprise, and we definitely recommend them. It wasn't light, but not heavy either. (These are two to an order.)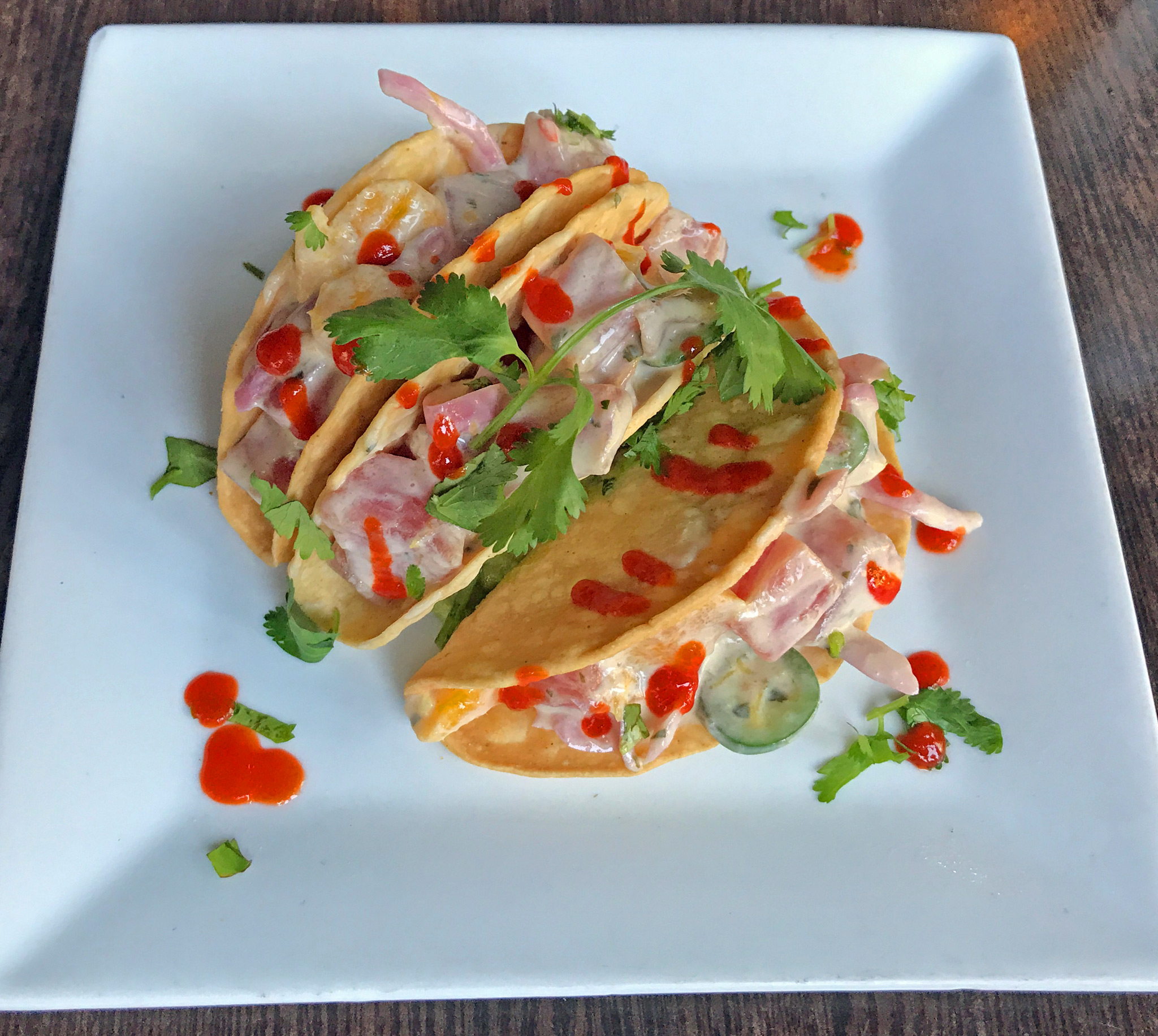 In contrast to the Sweet Potato & Chorizo Tacos, the Crispy Tuna Tacos were light, bright, tingly, tangy, tasty—a perfect Spring / Summer treat. They are nice and spicy as well.
Crispy Tuna Tacos– Three mini tacos, sashimi-style tuna, coconut lime mojito, pickled red onions, mango and serrano chile. Check out the flavor sensations here: sweet (coconut & mangos), sour (lime & pickled red onions), salty (crispy taco shell), and piquance / heat (serrano & sriracha). It is the only item on the menu with serrano chiles. This is a perfect lunch that will energize you and not put you to sleep.
Next up were the Gorditas. Pardon me for paraphrasing an obscure Frank Zappa lyric, but I'll be happy if just one person gets it … "Is that a real gordita, I mean is that like a Mexican gordita, or is that a Taco Bell gordita?"
Folks, this is NOT a gordita … unless you are at Taco Bell.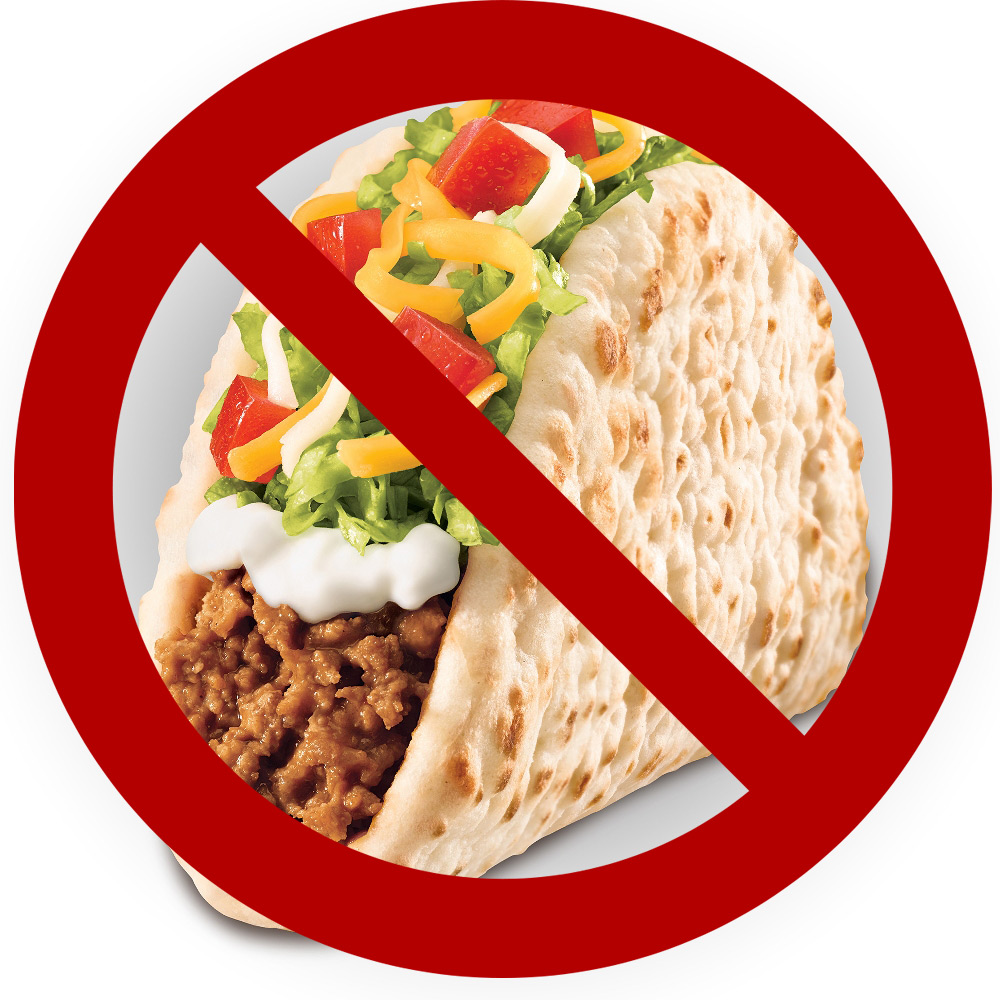 If you want to see what a real gordita is, check out this Wikipedia entry, or this recipe, or just read on.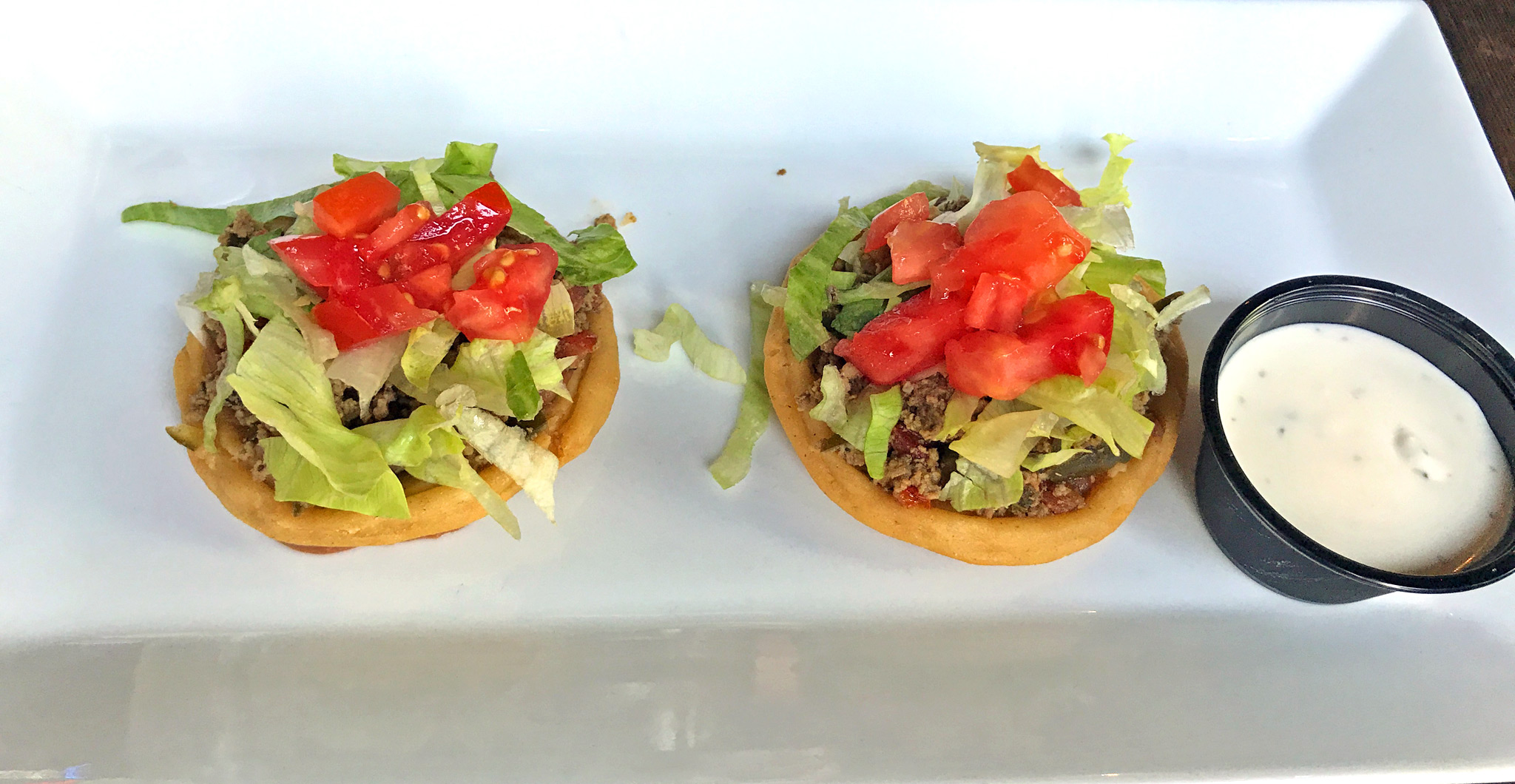 Gorditas– Two fried masa cups – topped with ground sirloin picadillo, lettuce, tomato, jack cheese and cilantro crema. (We had the crema on the side, as you can see, since Lori detests cilantro as it tastes like soap to her. [Soap tastes like cilantro to her too.] )
You had me at "sirloin picadillo"!
As you can see, you get two of these, and although they are described as "cups", they are shallow, mostly flat with a turned up edge, and are about 3½ inches in diameter. The base is a corn dough, but they reminded me of tostones, which are smashed fried plantains. Chef did confirm that they are corn though. (The masa cups are also used on the brunch menu for the benedicts.)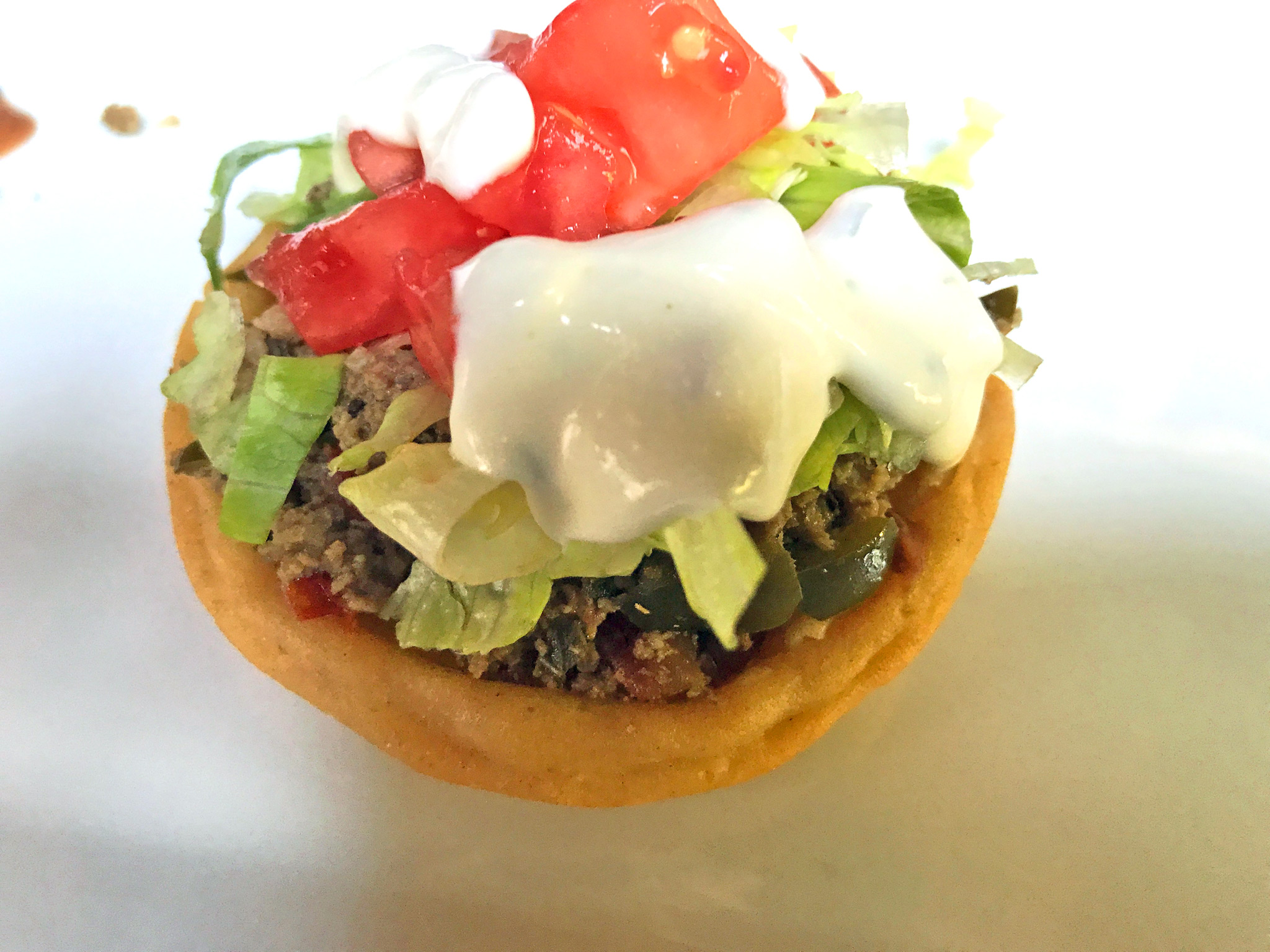 If you're craving typical Mexican street fare with the crunchy, salty, savory seasoned meat, lettuce and tomato—the Gorditas are the ticket. They are a perfect substitute for a crunchy beef taco when you don't want to eat as much. (Insider scoop: This is one of Pete's [one of the owners and founders] favorite dishes.)
Being the total carnivores that we are, we could not pass up the Palomilla.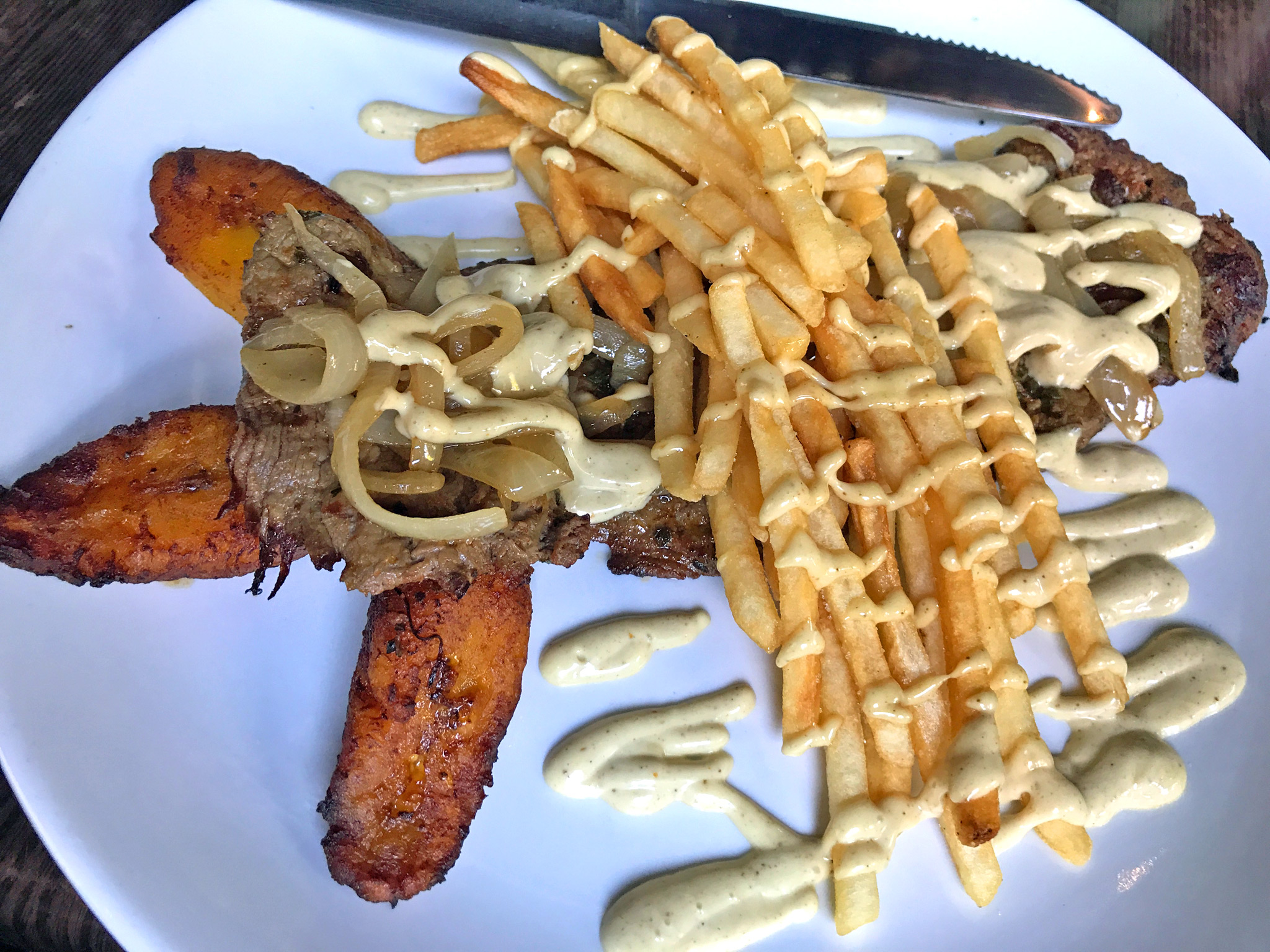 Palomilla – Thin-cut grilled steak (a shoulder steak, thinly pounded) – topped with caramelized onions, shoestring french fries and tamarind aioli – served with sweet plantains.
Everything here creates a perfect symphony. The caramelized onions and tamarind aioli on top of the steak make this a flavor sensation. The fries were great, and it made Lori quite happy as she is not a fan of the Yuca fries that come with the Sirloin Chorizo burger—so she's hoping she can substitute the "real fries" next time she orders the burger.
The last item we had was so addictive! This is what happens when you take a classic American comfort food and hand it off to a Mexican.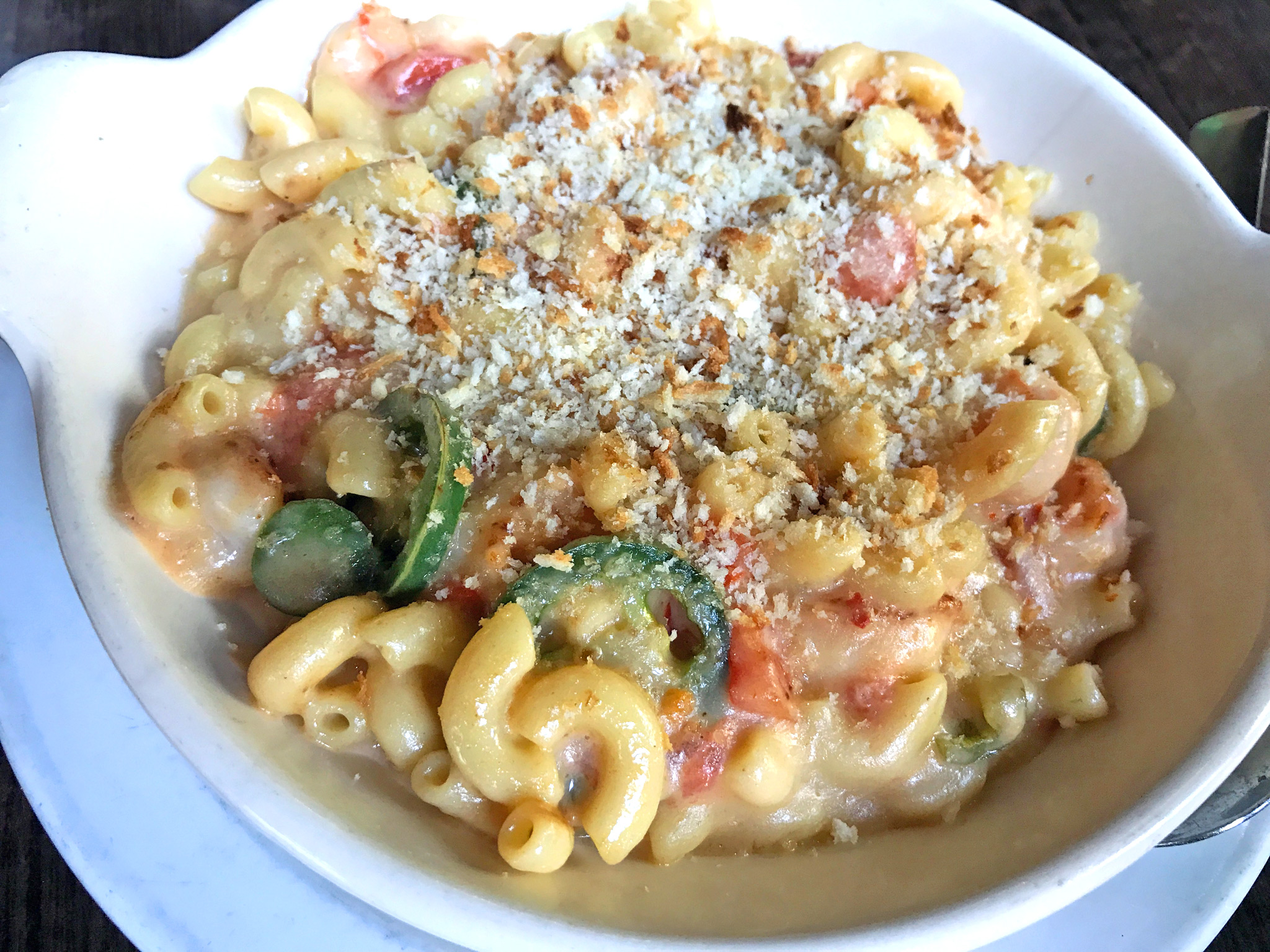 Cantina Mac & Cheese – Sautéed shrimp, white queso, macaroni, jalapeño, tomato and garlic bread crumbs.
Lori and I usually share everything. She only got two bites of the Mac & Cheese. I LOVE spicy, so next time, I am going to ask for extra jalapeños. I liked getting a bite where everything was on the fork at the same time: jalapeño, shrimp, mac & cheese–SO DELECTABLE!
Another new item that I had previously as a special before it earned a spot is the Jibarito – Fried green plantain, shredded roast pork, chimichurri, lettuce, tomato, avocado, jack cheese, pickled onion and tomato garlic aioli. (This is huge. Make sure you are really hungry.)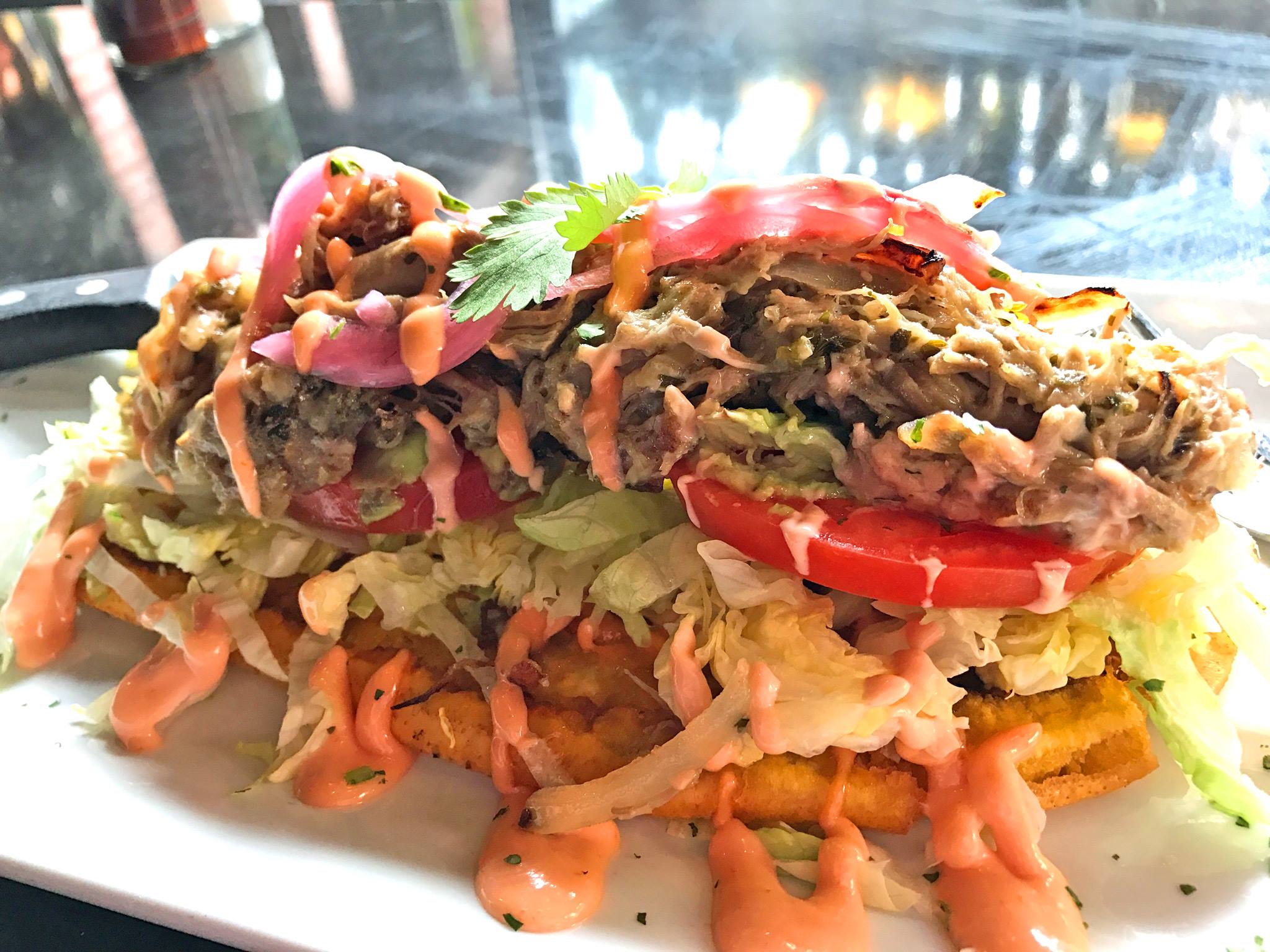 Other new food items on the menu that we didn't get a chance to taste are:
Chimichanga– Fried burrito stuffed with shredded brisket or chicken, jack cheese – served with lettuce and pico de galllo – topped with ancho tomatillo sauce and crema.
Queso Blanco– American and jack cheese, tomato and jalapeño – served with chips.
Portobello Mushroom Tacos – Grilled Portobellos, red onion, poblano chile, feta cheese, cilantro and avocado sauce (Courtney Cline [Cantina bartender & Chef Jason Cline's wife], said this is one of her favorites.)
Cuban Bread Pudding – House made Cuban bread pudding with bananas, raisins and vanilla, fried – served with tres leches dipping sauce and vanilla ice cream.
All of the food items are available now. Here are three new drinks coming in the next week or so.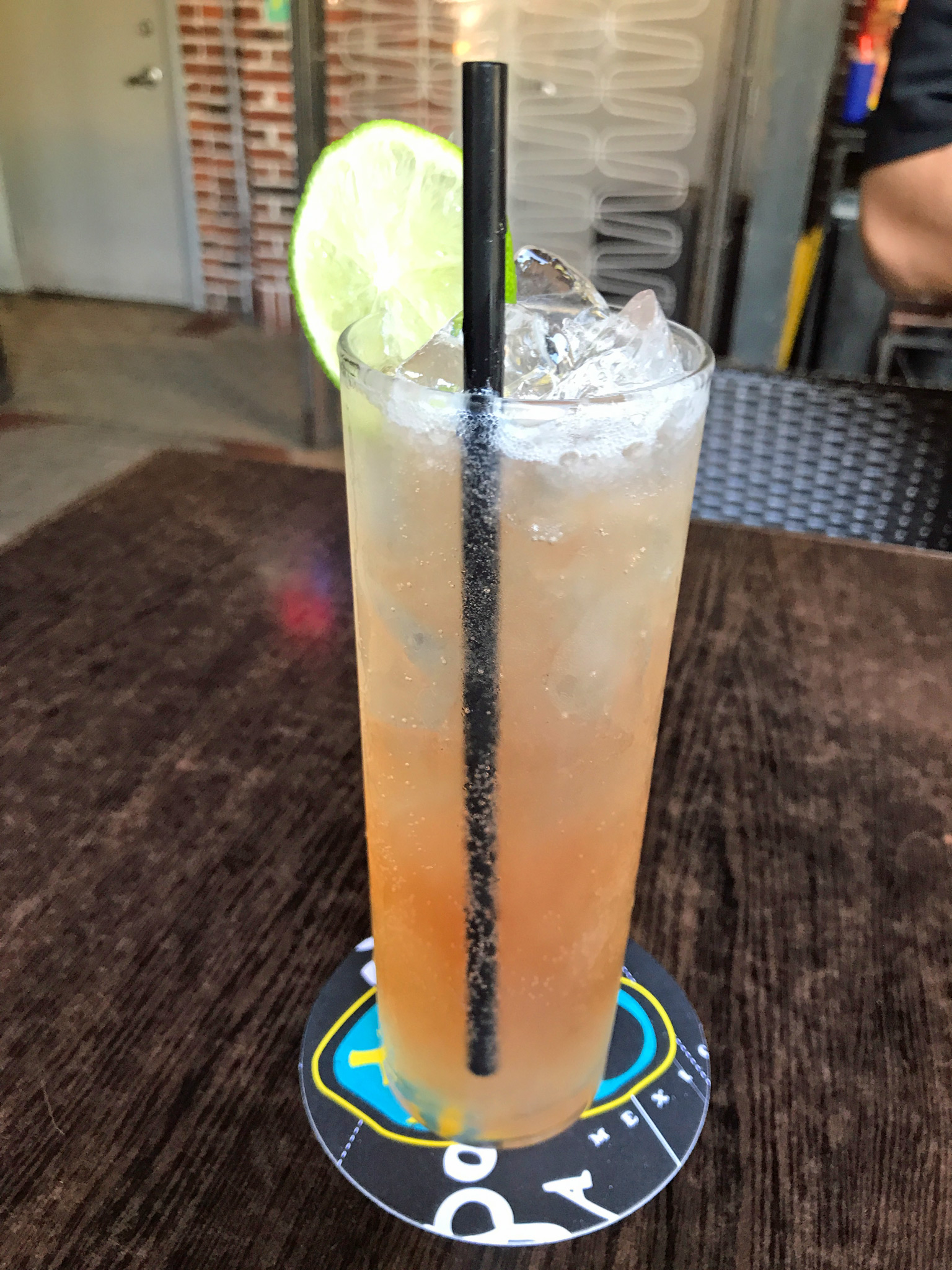 Lucky Devil – "It's a riff on a Diablo Cocktail, which is a classic", Andy tells us. The Diablo has ginger beer, lime, tequila, and crème de cassis. For the Lucky Devil, they use Suerte Tequila (suerte means "luck" in Spanish), and instead of the crème de cassis, they use La Pinta, a Mexican pomegranate liqueur. It is dry, bitter with a touch of sweetness.
Lori said this was light, refreshing, tangy, and tart. The ginger beer gives it a nice carbonated, fizzy freshness.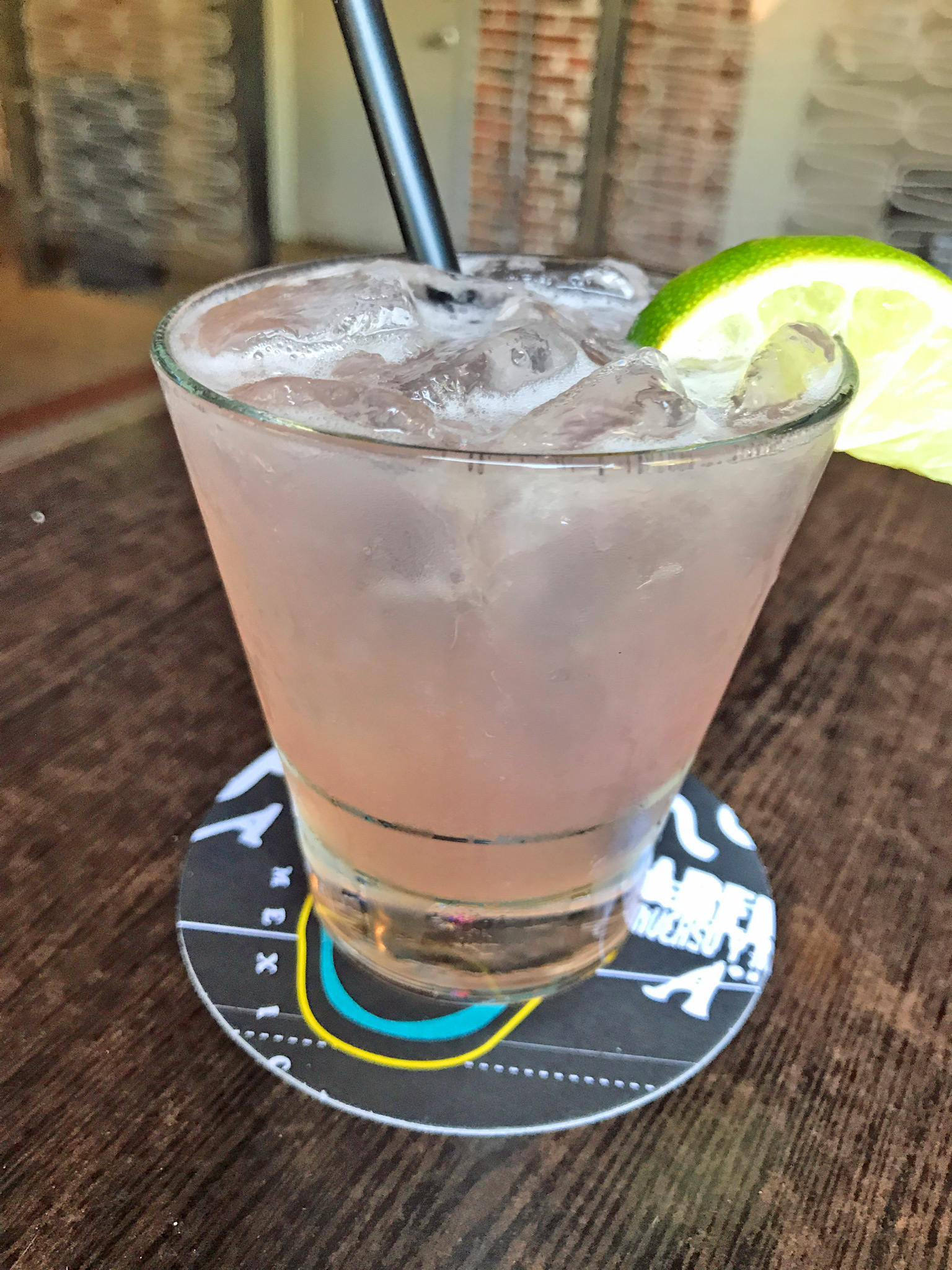 Don Julio Margarita made with a house-infused hibiscus agave. It takes three weeks to make the agave. There is some hibiscus water on top as well. It's another nice refreshing summer drink.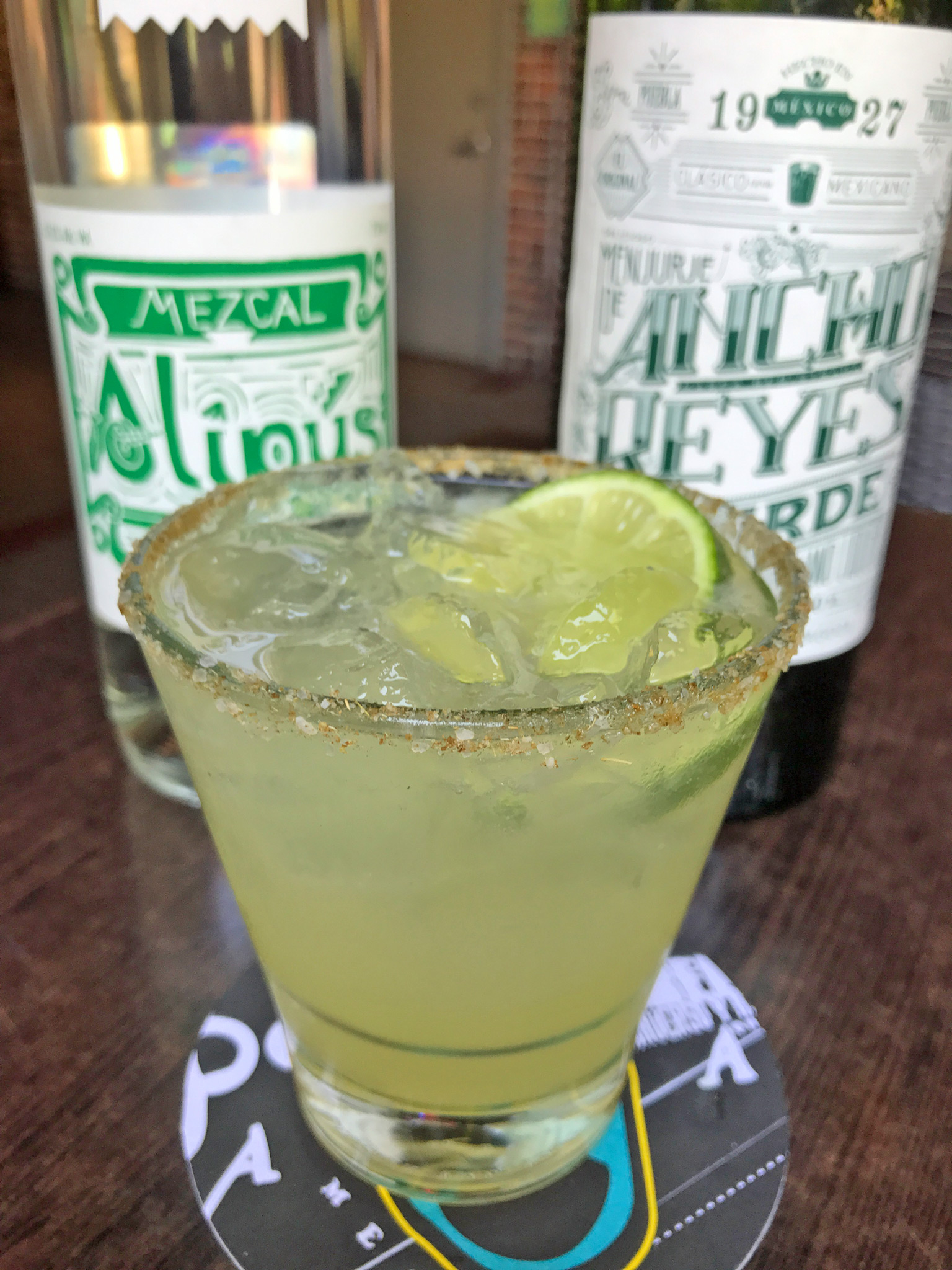 Floridita – Instead of tequila, mezcal from the espadin agave is used. It is from the village of Santa Ana del Rio in Oaxaca, where Chef Chris is from. (Just like wines, mezcal has unique terroirs.) This one is clean, vegetal, with a green pepper note. Ancho Reyes Verde is a new product on the market, made from raw poblano chilis, (as opposed to roasted), that is made into a liqueur. Organic agave, fresh lime, and a cumin salt rim complete the bebida.
Lori said this was similar to the Don Julio margarita, but not as sweet, which she liked better. Sometimes margaritas are too heavy for her, but this one was lighter and more enjoyable. "It was nice and refreshing, and a great summer drink." This was Lori's favorite. (I couldn't drink because of antibiotics I was taking at the time.)
Get over to Red Mesa Cantina for some eyes-roll-back-in-your-head, belt loosening treats, and tell them you're part of the St. Petersburg Foodies Family!
¡Buen Provecho!
A MODERN MEXICAN TAQUERIA - Upscale decor and a celebratory vibe abound in the main Dining Room. Cool evenings and lazy weekend brunches in our garden courtyard. Fast paced weekday lunch great for office parties and entertaining clients.
TWO FULL BARS Relax inside for a handcrafted cocktail or venture outside to the lucha bar. Largest tequila and mezcal selection in the Southern USA.
DISCLAIMER: Kevin, Lori, Abby, Haley, & Lindsey do not dine anonymously (this would be impossible) and we sometimes get free food (though never expected). However, we dine with the locals and we support our own. You will always get honesty in a respectful manner. We do not include any large national or regional chains in our ratings and reviews. We focus on independent locally owned eateries exclusively.

PLEASE NOTE: Reviews reflect a certain moment in time. Some restaurants stay extremely consistent over many years, and some change for the better or worse. Some things that may change are: chefs, recipes, food suppliers, ingredients, philosophies, ownership, etc. We always hope that you have the same good, or great experience we had.
More Foodies News, Reviews & Recipes