Taste Your Way Through Italy at Italian Touch
Taste Your Way Through Italy at Italian Touch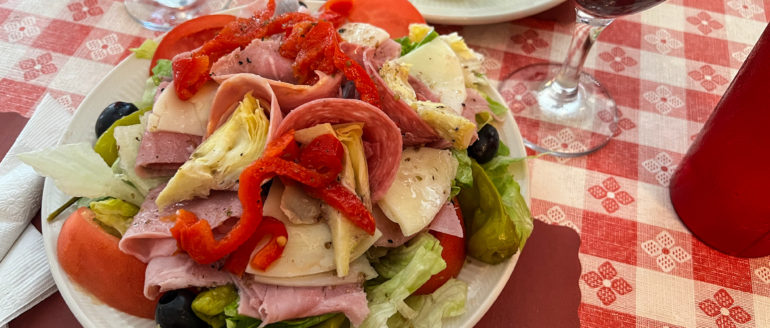 One of the most important lessons that I learned from the great Anthony Bourdain was that a restaurant does not have to mimic establishments like Alinea or Le Bernadin to be considered noteworthy. In fact, the less frill, the more Bourdain tended to enjoy a place. Extraordinary food, genuine service, idyllic ambiance and enjoyable company – that's what he was after.
All of that and more is precisely what you can expect at Momma Rosa's Italian Touch. The restaurant is tucked away in the back corner of the plaza on the corner of Park St. N. and 46th Ave N. As soon as you make your way into Italian Touch, you know that you've entered somewhere special. The interior of Italian Touch is almost exactly how I had imagined it after first reading about it. The tables of the quaint dining room are draped with red and white checkered table clothes, soft Italian music can be heard through the speakers overhead and artistic scenes of Italy, etc. adorn the walls.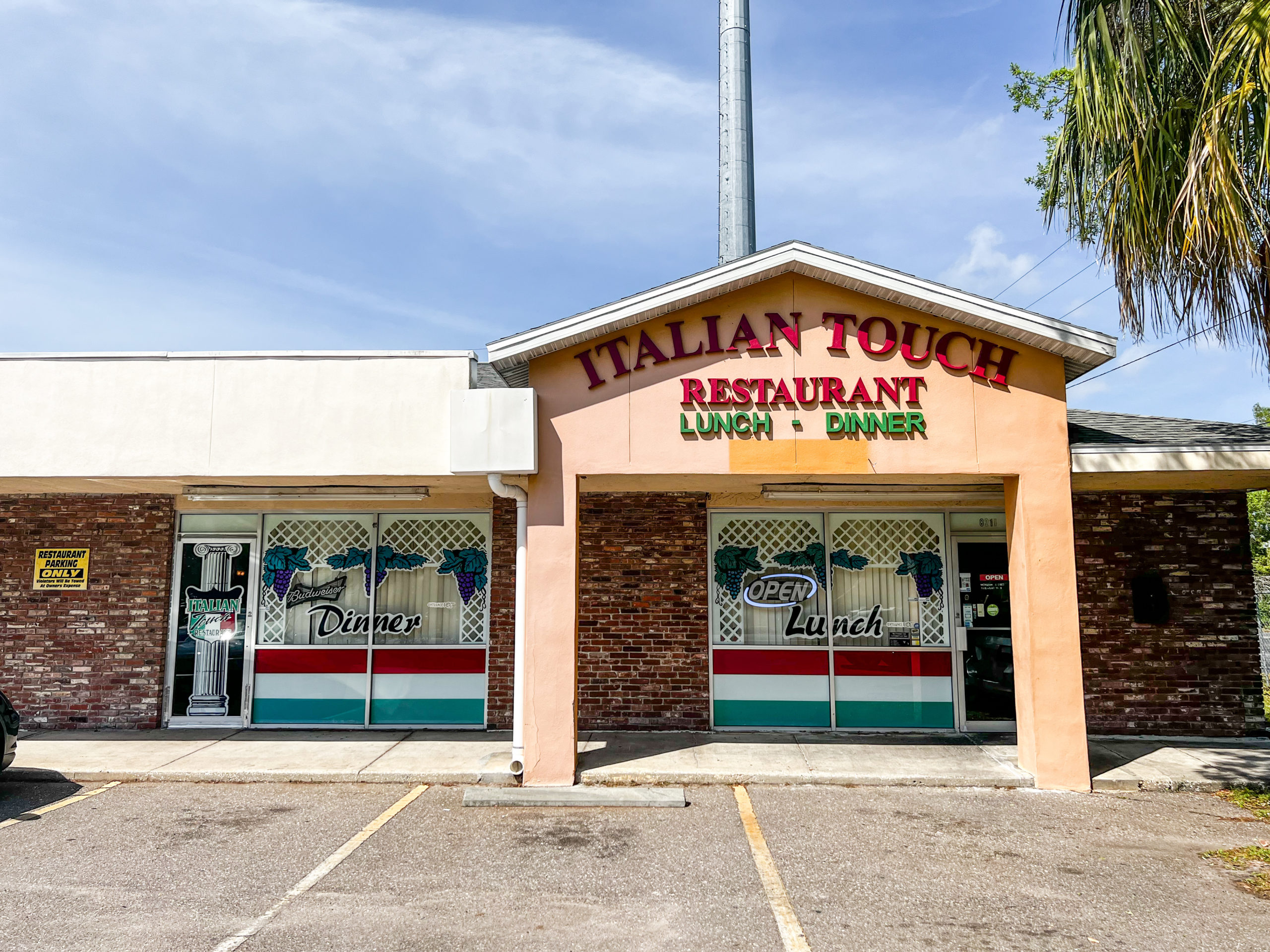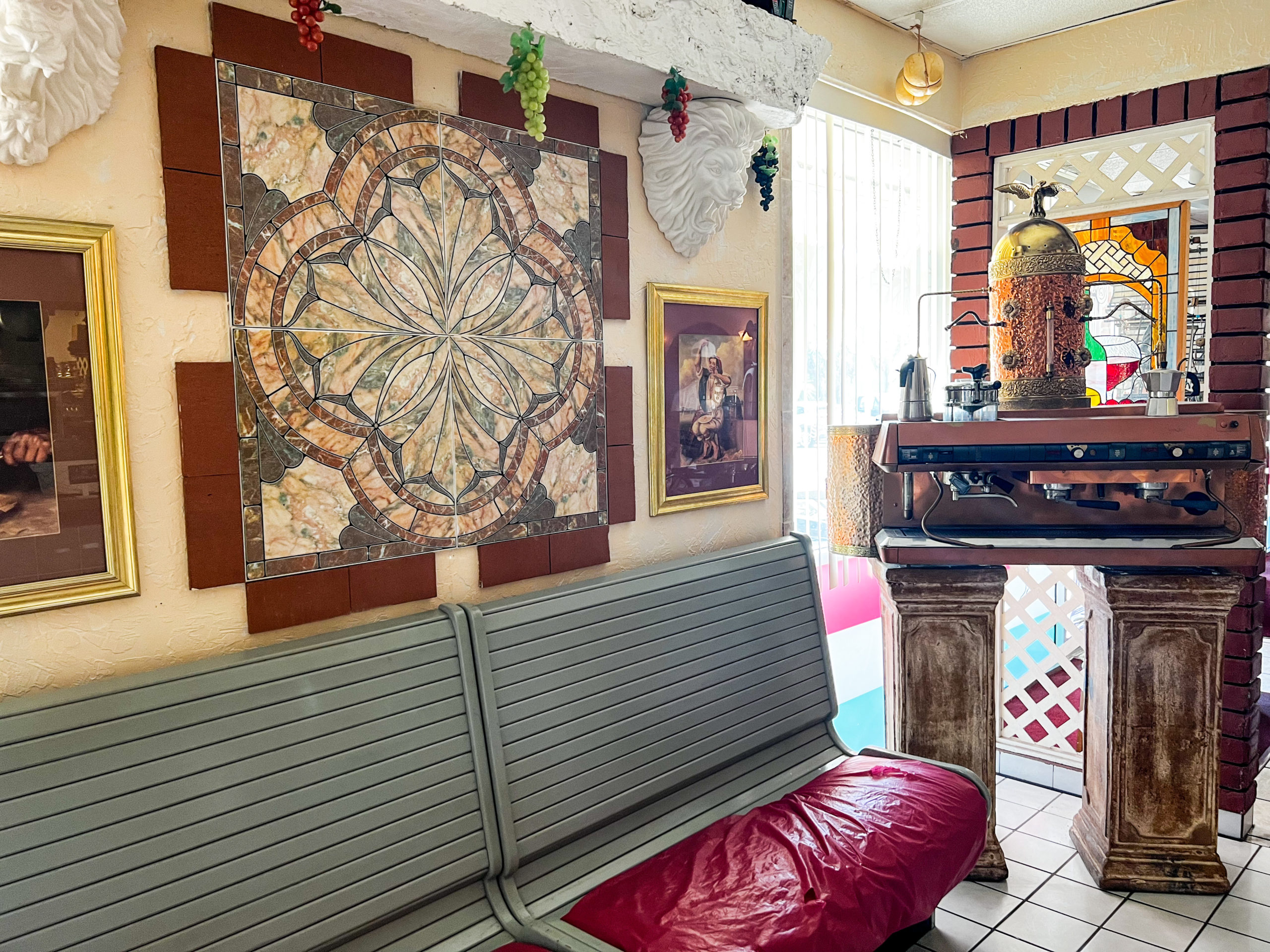 The restaurant is family owned and operated. Though the staff is very small, the service is top notch. Patrons are informed that food may take a bit longer due to staffing shortages, etc. However, the family runs their operation like a well oiled machine. The service is fantastic and genuine.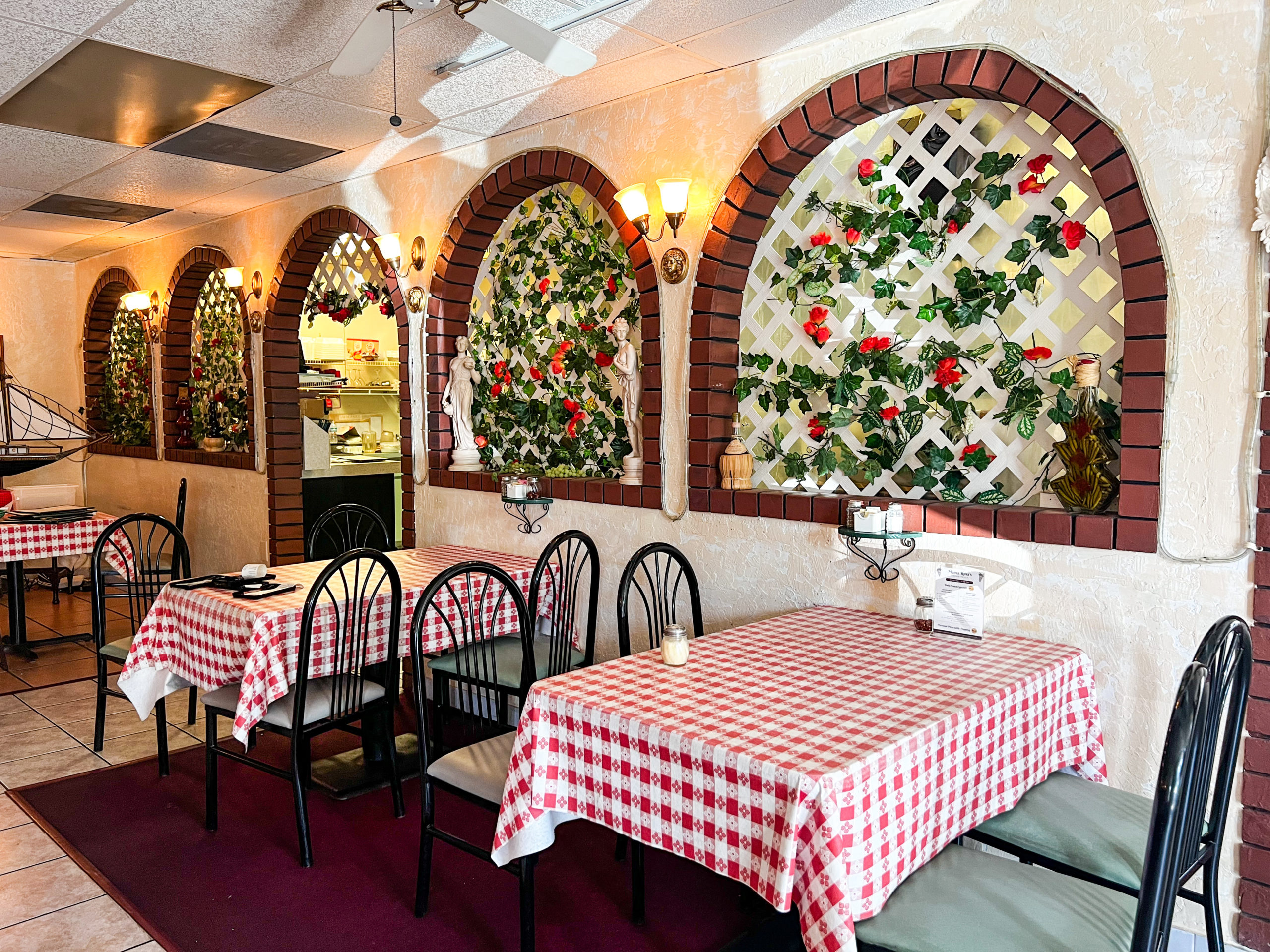 Our first visit to Italian Touch was on a Saturday afternoon around 3:30PM. We started out by ordering a couple of glasses of Chianti (it just feels so right at a restaurant like this) – they also have their wine by the 1/2 liter and 1 liter. The pours were generous and we were happy.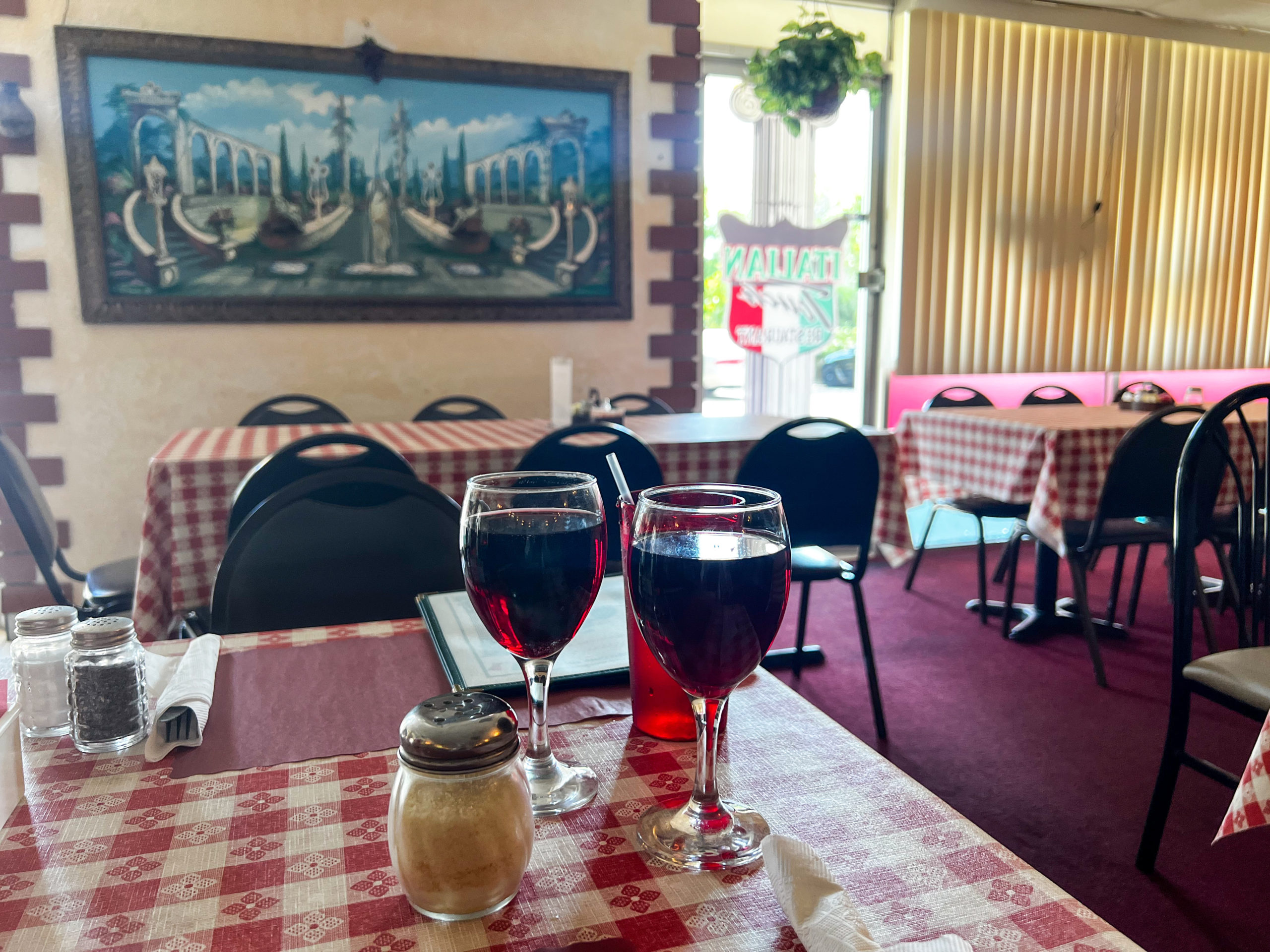 Upon arrival, there was just one other table of women at the restaurant. They received their food shortly after we sat down and it was then I knew that we were in for a treat. They would not stop raving amongst themselves about how delicious the pizza was. I even heard the words "best pizza that I've ever had," and when you hear something like that you certainly cannot ignore it. We had not originally planned on ordering a pizza but suddenly my interests were piqued.
Italian Touch has a number of Sicilian and thin crust pizza options to choose from on their menu. The Sicilian style pizza has a thick, dense, doughy, focaccia-like crust and is often cut into rectangles and squares. The kitchen at Italian Touch makes their doughs and sauces from scratch every day and the difference is undoubtedly detectable. Their thin crust pizza is what we opted for. When it comes to toppings, we are typically pizza purists – pepperoni and cheese only, please. The thin crust isn't cracker thin and crispy, yet it's definitely much thinner than Sicilian style. The dough and the sauce were incredible and bursting with savory flavor. If the pizza would've only been comprised of those two components we would've still been totally satisfied. We didn't finish all of our pizza so we took it home. The next day we popped the leftover slices into the oven for lunch and it was just as good.
All of the pizzas are topped with cheese and tomato, unless otherwise stated. Feel free to add and subtract items as you'd like. Personal (10″), small (14″) and large (16″) sizes are available for the pizzas. We ordered a small but definitely could've gotten away with the personal to share between the two of us.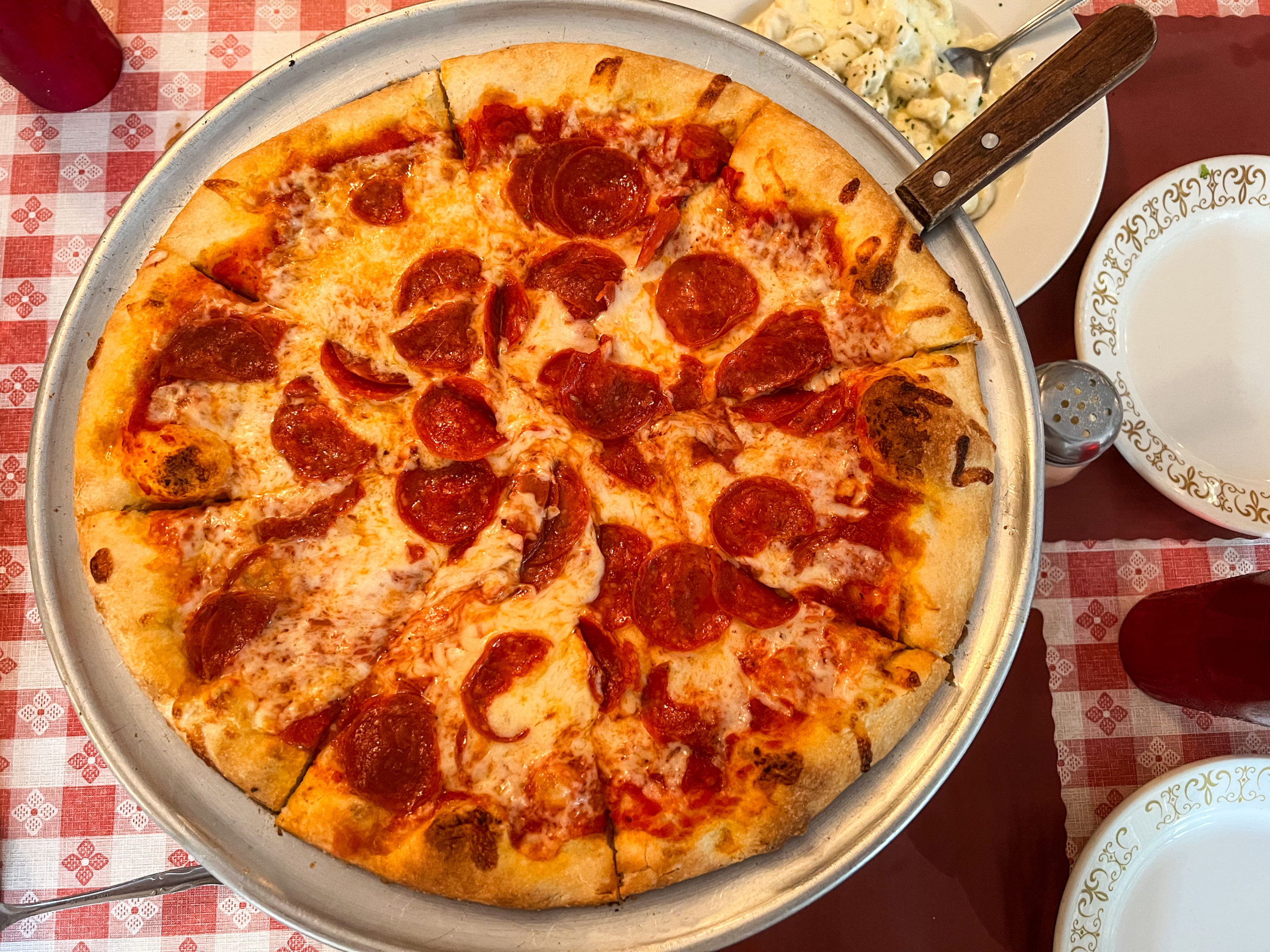 While we were waiting for our food we were treated to a tasting of the Pasta Fagioli which is a soup made up of beans, pasta and spices. It was fantastic and easily some of the best that I have ever had.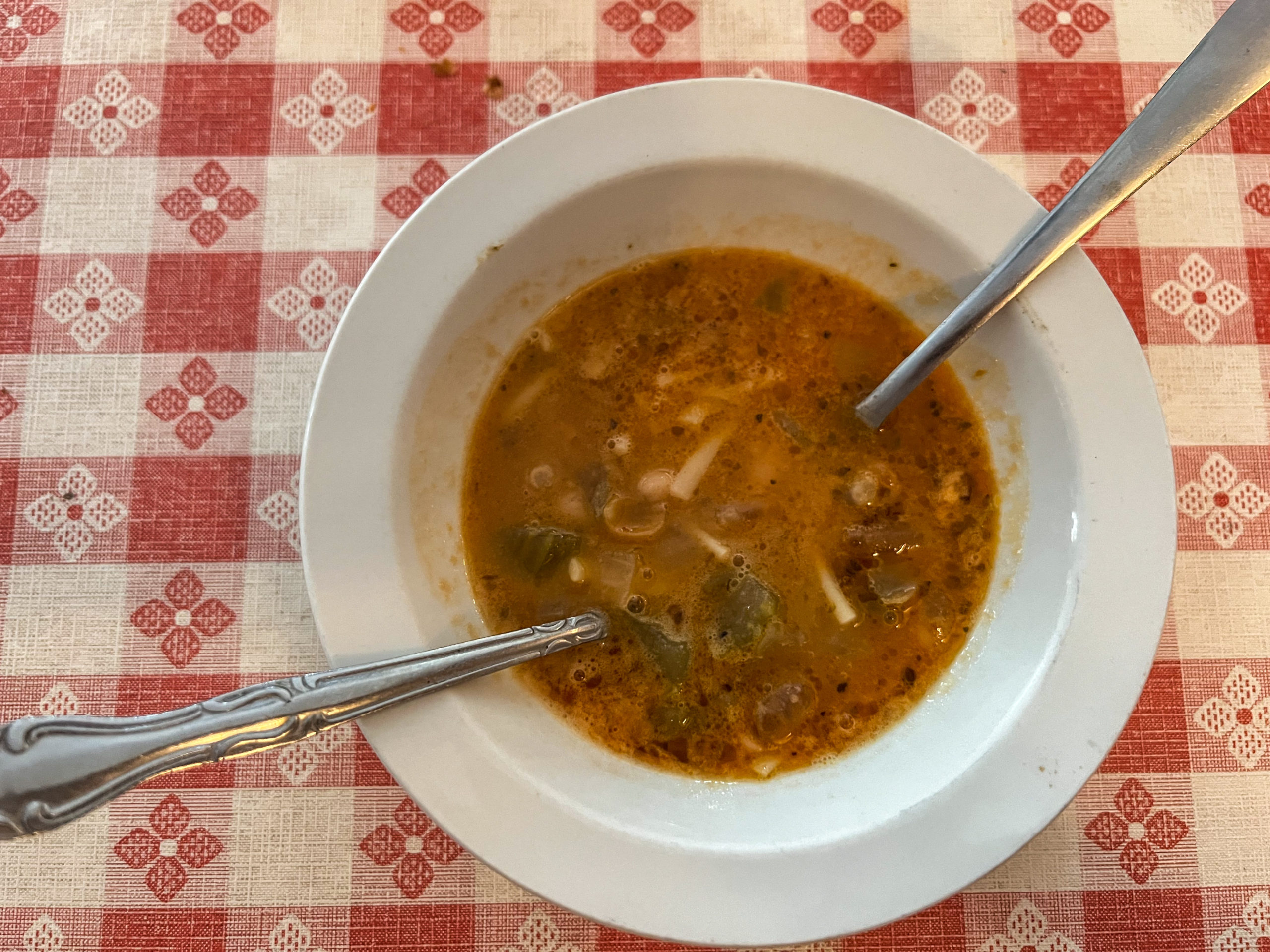 Most of the entrees on the menu at Italian Touch come with fresh bread and a house salad. It's tough to resist filling up on those two things alone but you gotta pace yourself – this is a marathon, not a sprint. I subbed out the house salad for the Antipasto since we had another house salad on the way for my husband. Boy did I make a solid decision there. The Antipasto is a beautiful and lightly dressed arrangement of lettuce, tomato, olives, peppers, cheese, salami, ham and pepperoncinis. The house salad is almost an abbreviated version of the antipasto minus any meat or cheese – still delicious nonetheless. We enjoyed the Antipasto so much so, that I bought all of the ingredients last weekend to recreate it for us at home.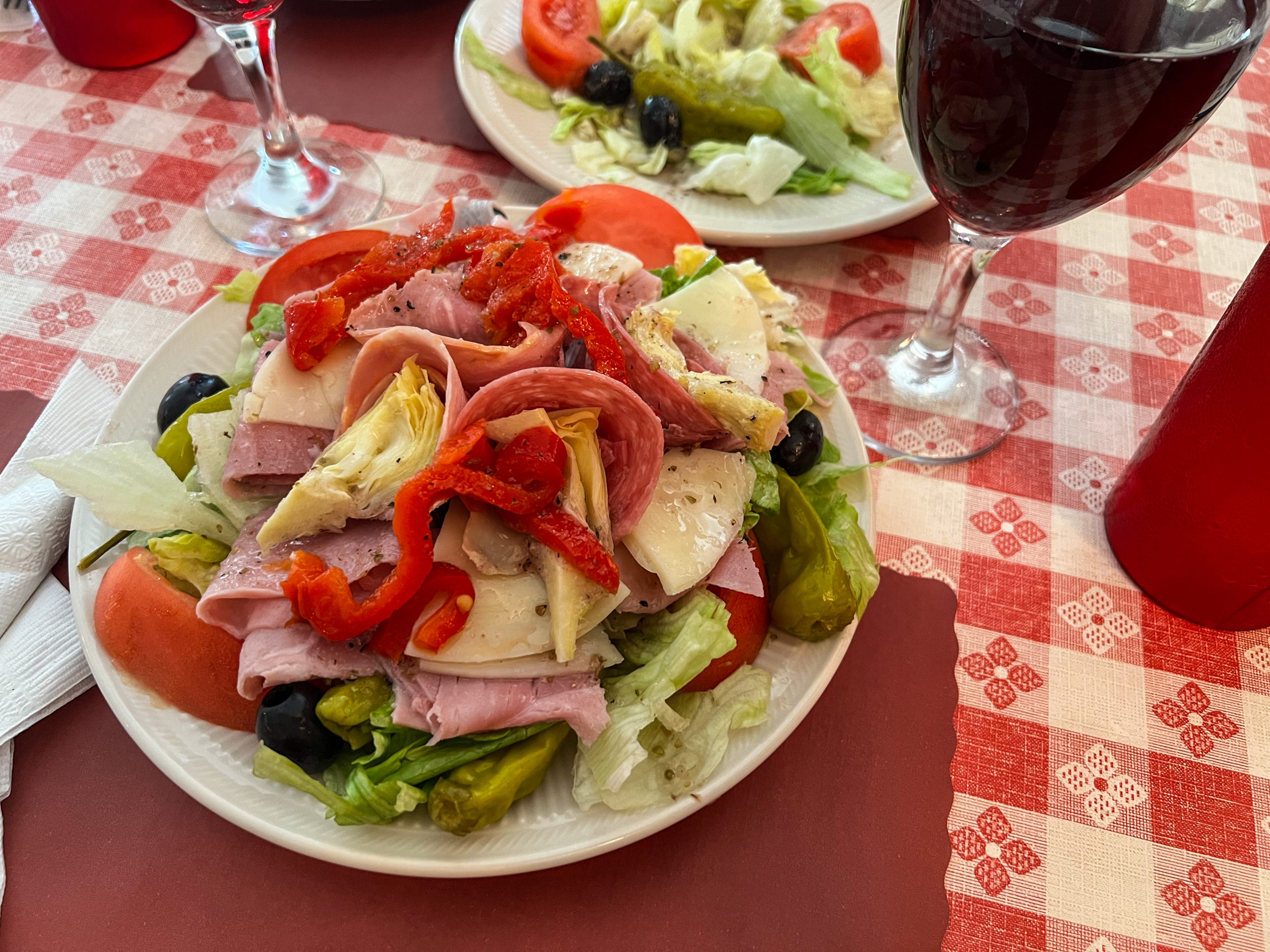 It isn't very often that I order Chicken Parmigiana while out to eat but at Italian Touch, it just felt right. I'm definitely biased, but I love the Chicken Parmigiana that I make in my own kitchen. I put years and multiple attempts into practically getting it down to a science. The rendition at Italian Touch is ultra thin, extra cheesey and just really damn good. It's served with spaghetti which I did without because we ordered other pasta dishes. I would order this dish again and again.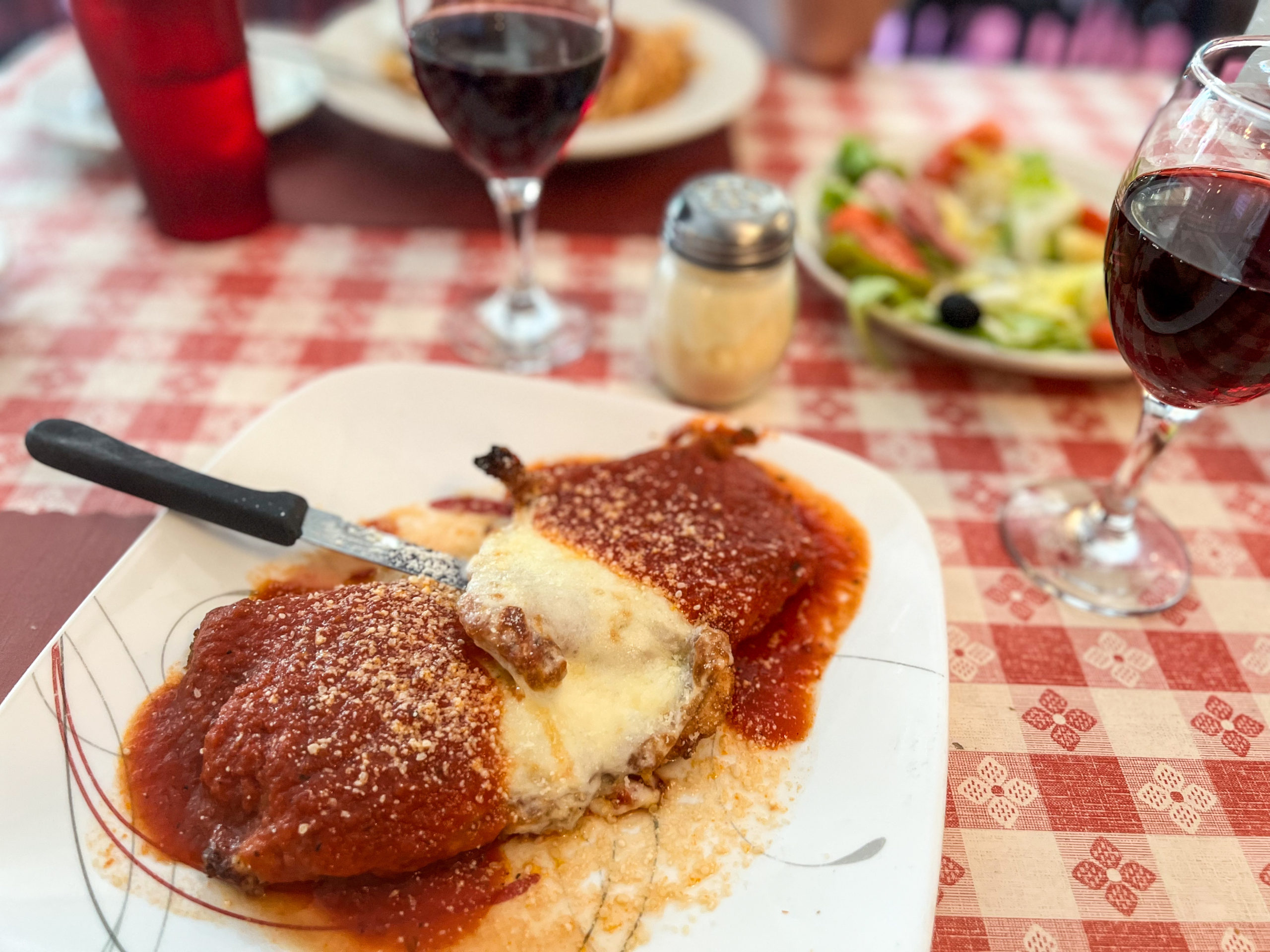 Everyone has that one ultimate meal – you know, that one that you'd totally be okay with eating every day? For me, that meal is Spaghetti and Meatballs. There's just something about it that's ultra comforting and perfect…especially when it's done well. At Italian Touch, it's done extremely well. A heaping bowl of spaghetti, extra ladles of sauce and exceptionally tender meatballs. That's sheer luxury to me.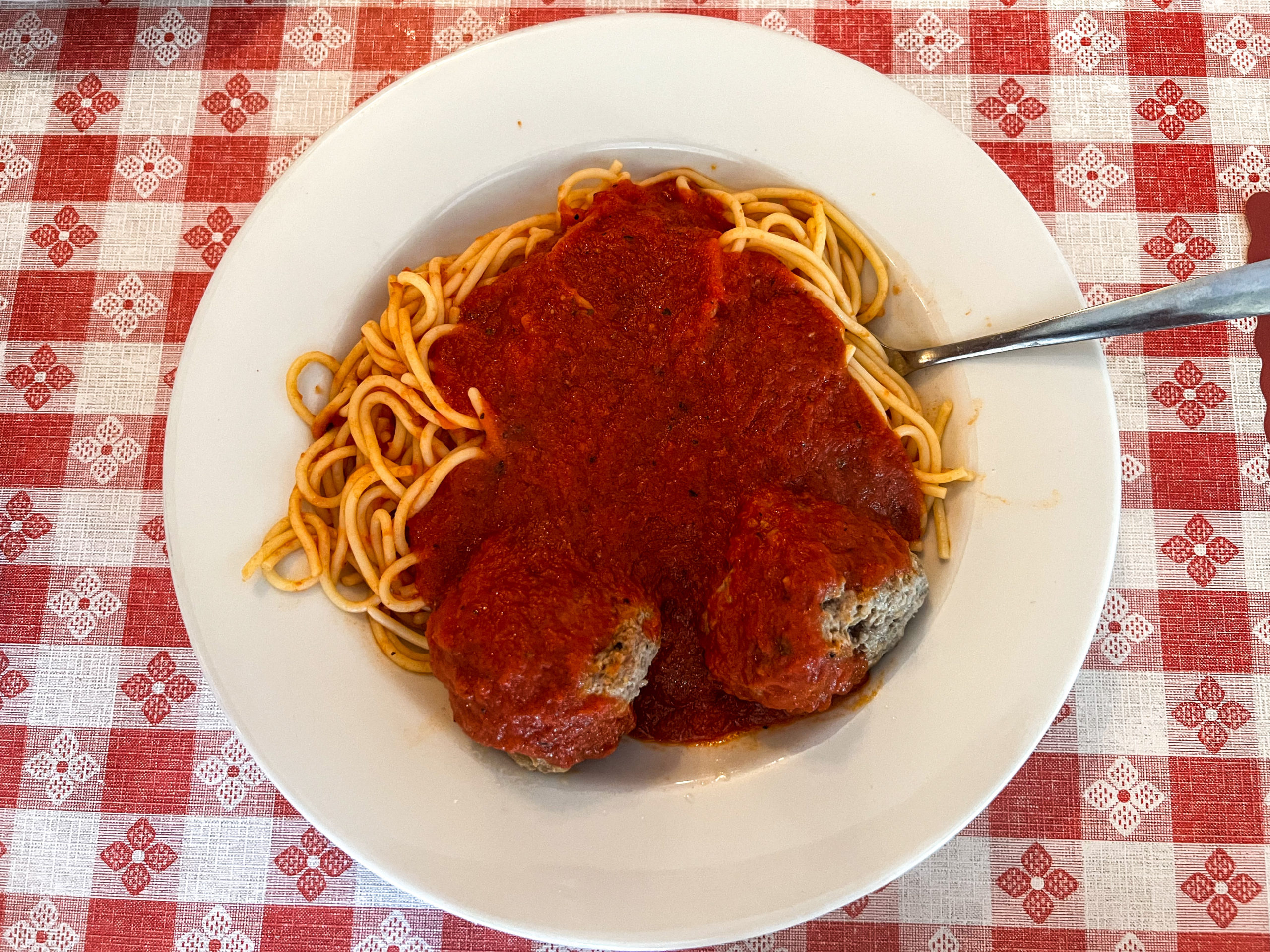 After tasting our way through a few dishes with red sauce we wanted to see what the Alfredo sauce was all about as it was recommended. We ordered the Gnocchi and subbed out the Tomato Sauce for the Alfredo Sauce. Their Alfredo sauce is composed of parsley, Romano cheese, white cream sauce and egg and is seasoned to perfection. The sauce is an uncommon yet attractive pairing with the pillowy soft Gnocchi. At this point in the meal though, we were too full to eat much of it so we happily took that home to enjoy the next day as well.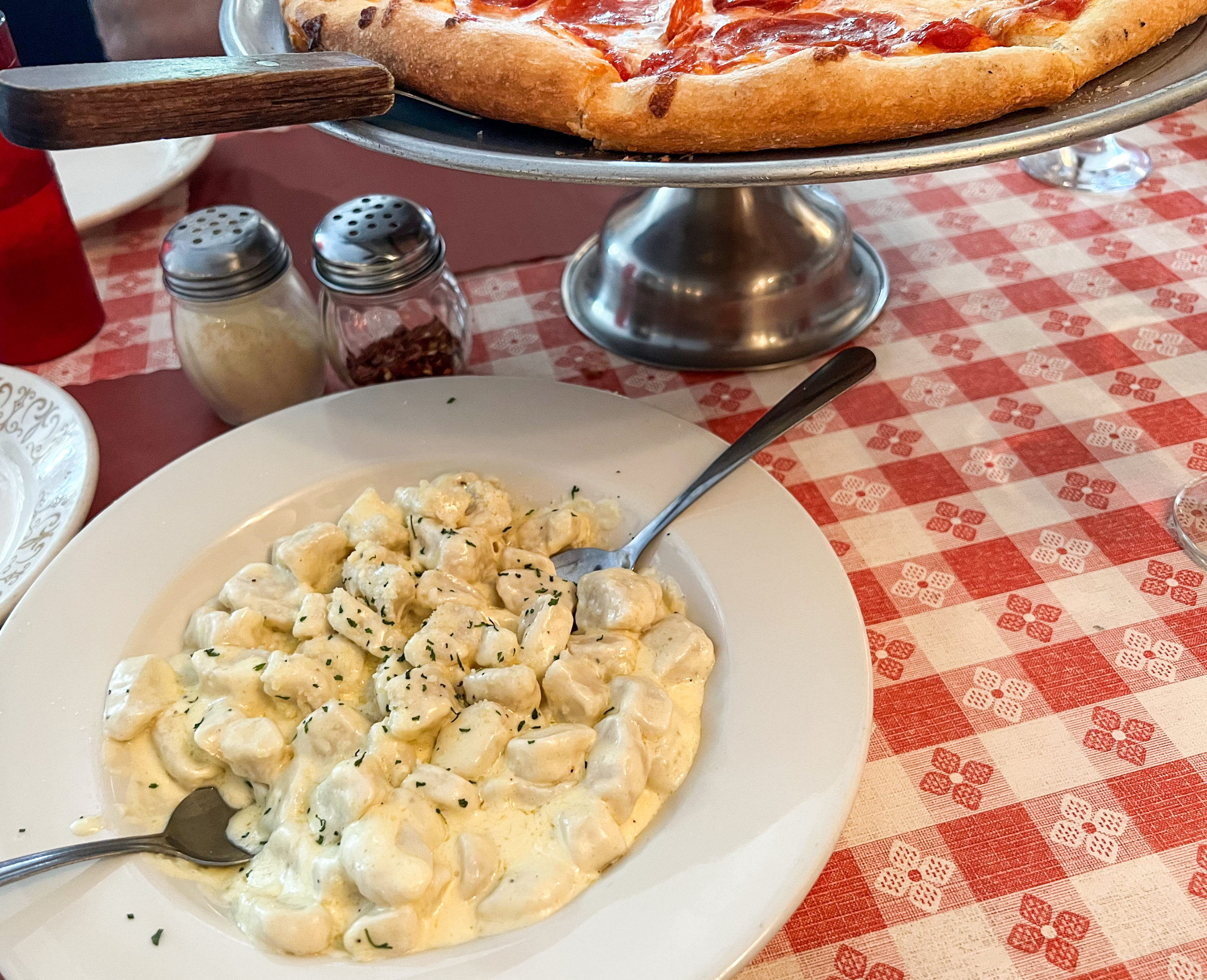 Italian Touch also has an array of dessert offerings like Cannoli, Cheese Cake, Spumoni and Tiramisu on the menu (their availability may vary).
By the time we were about to leave we looked around and could not believe how packed the place had gotten. In a matter of one hour, the restaurant went from two occupied tables to completely full. Folks were also flocking through the door left and right to retrieve their to-go orders too. You could easily tell that this happens all of the time for them and after the wonderful experience we had, it's easy to see why. If you're looking for just plain good classic Italian in St. Petersburg, Italian Touch is it.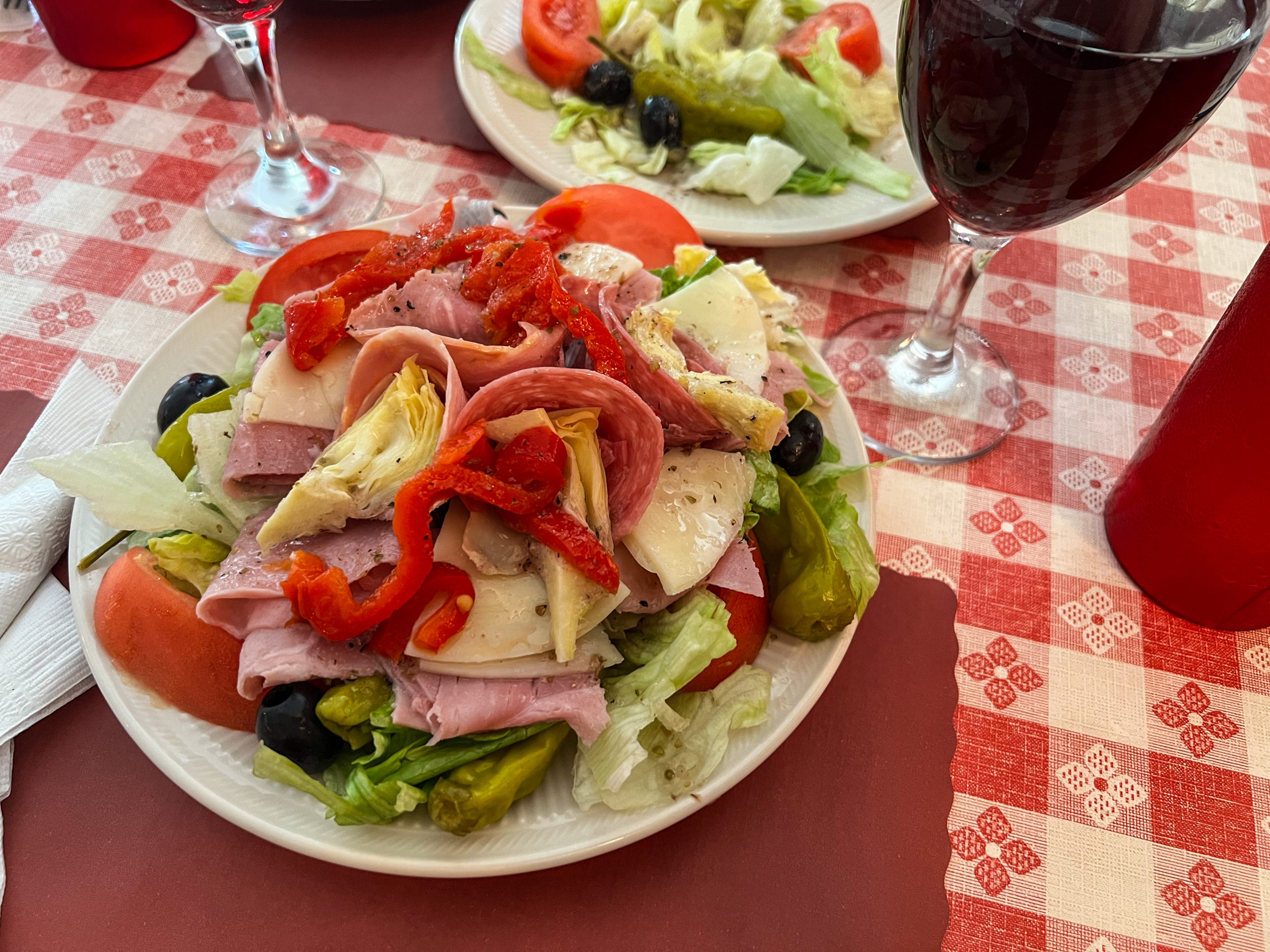 Readers Rating

Rated 4.6 stars




4.6

/ 5 (

Reviewers

)

Outstanding
---
Italian Touch

727-545-2778

Tue - Sat

11:00am - 9:00pm
8211 46th Ave N

,

St. Petersburg

,

Florida

33709

,

United States
---
Family owned and operated. Classic, home made Italian food made by people who care.
DISCLAIMER: Kevin, Lori, Abby, Haley, & Lindsey do not dine anonymously (this would be impossible) and we sometimes get free food (though never expected). However, we dine with the locals and we support our own. You will always get honesty in a respectful manner. We do not include any large national or regional chains in our ratings and reviews. We focus on independent locally owned eateries exclusively.

PLEASE NOTE: Reviews reflect a certain moment in time. Some restaurants stay extremely consistent over many years, and some change for the better or worse. Some things that may change are: chefs, recipes, food suppliers, ingredients, philosophies, ownership, etc. We always hope that you have the same good, or great experience we had.
More Foodies News, Reviews & Recipes
4 Responses