Ramen and Waffles: Unique and Alluring Eats That Deserve Your Attention
Ramen and Waffles: Unique and Alluring Eats That Deserve Your Attention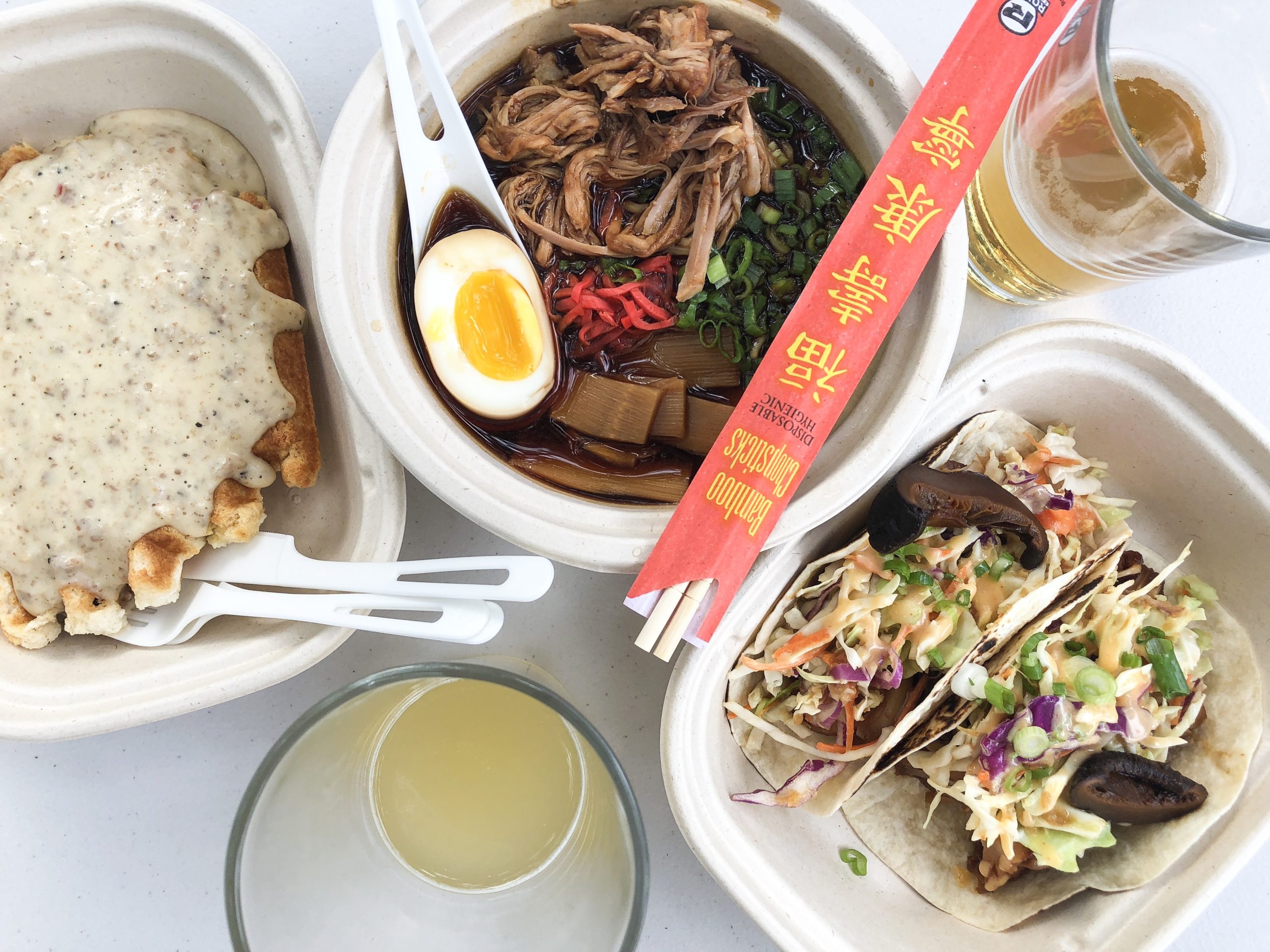 When you take a moment to think about standard food truck cuisine, the first handful of items that come to mind are probably Tacos, Pizza, French Fries, Burgers and Sandwiches (or something along those lines). However, a handful of food trucks today are leaping away from the norm. We're now seeing an array of food genres, fusion specialties, and attention-grabbing menus with avant garde line-ups that intrigue us. Cue, Ramen and Waffles.
I know, you probably have so many questions right now. Ramen and Waffles, served under the same roof, from the same kitchen. How? Why? It all unfolded after Jon Plichta, the owner of Ramen and Waffles, had the idea to serve Waffles after a trip to Brussels, Belgium. While in Brussels, he happened upon a plethora of different waffles, both sweet and savory. He found some inspiration in this and realized that waffles can be made into a number of variations. The idea to add Ramen into the mix manifested after some research. Jon wanted to serve something a bit more offbeat than other trucks in the area. Lo and behold, he could not find any other truck in the area that was serving up bowls of Ramen.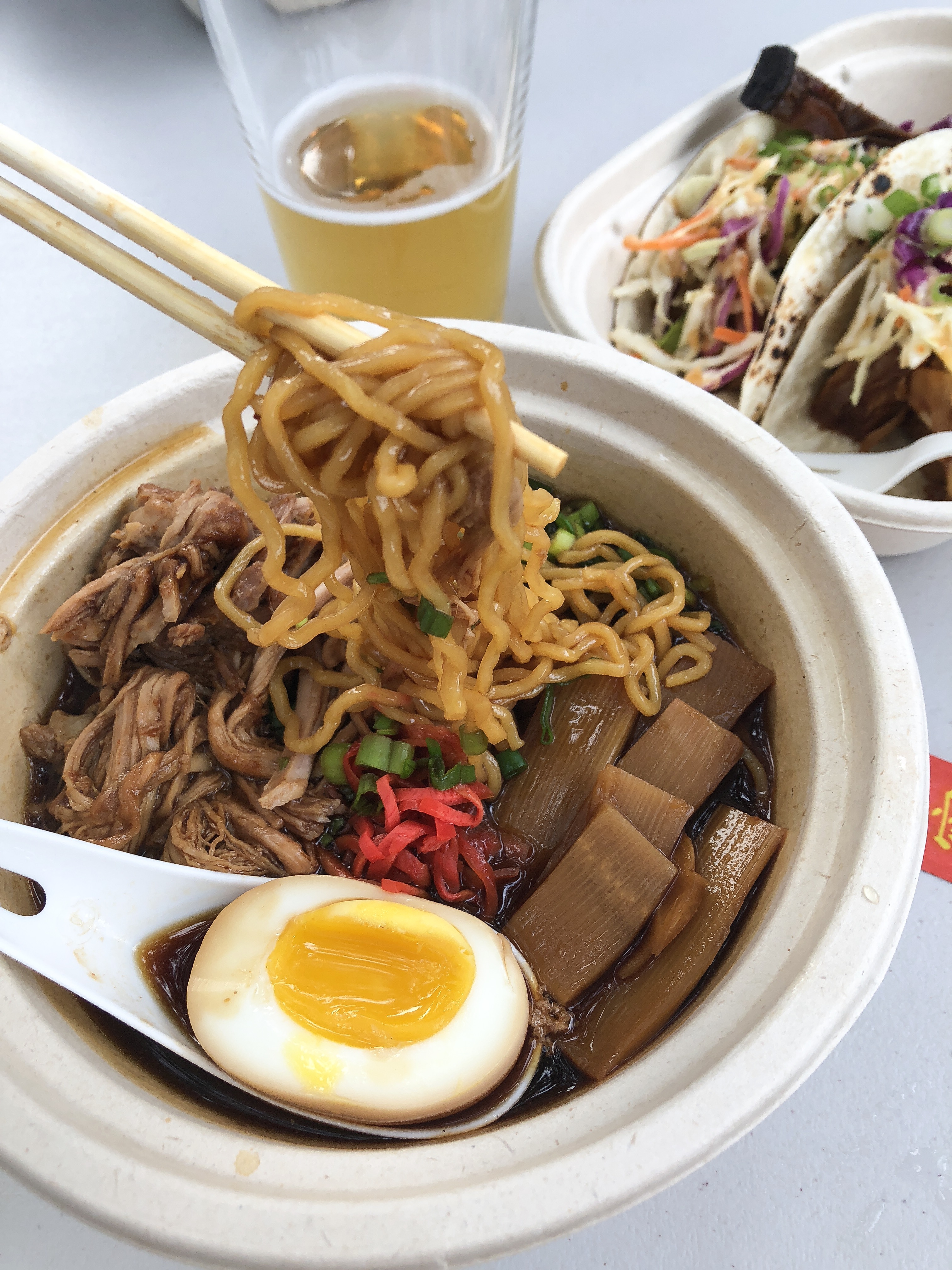 The idea of Waffles and Ramen existing on the same menu is brilliant, imaginative and 100% original. Not only is Jon serving this original pairing to the masses, but we believe that he's preparing both dishes superior to most anyone around. While on the truck, Jon does it all. From the prep work and all of the cooking, to manning the register, 9 times out of 10, he's usually flying solo and he does it exceptionally well.
The debut for Ramen and Waffles was just a short while ago in March of 2017, but Jon has been in the kitchen the past 18 years of his life. 12 of those 18 years, he spent in a management role. For Jon, opening a successful food truck was the next adventurous step in his journey.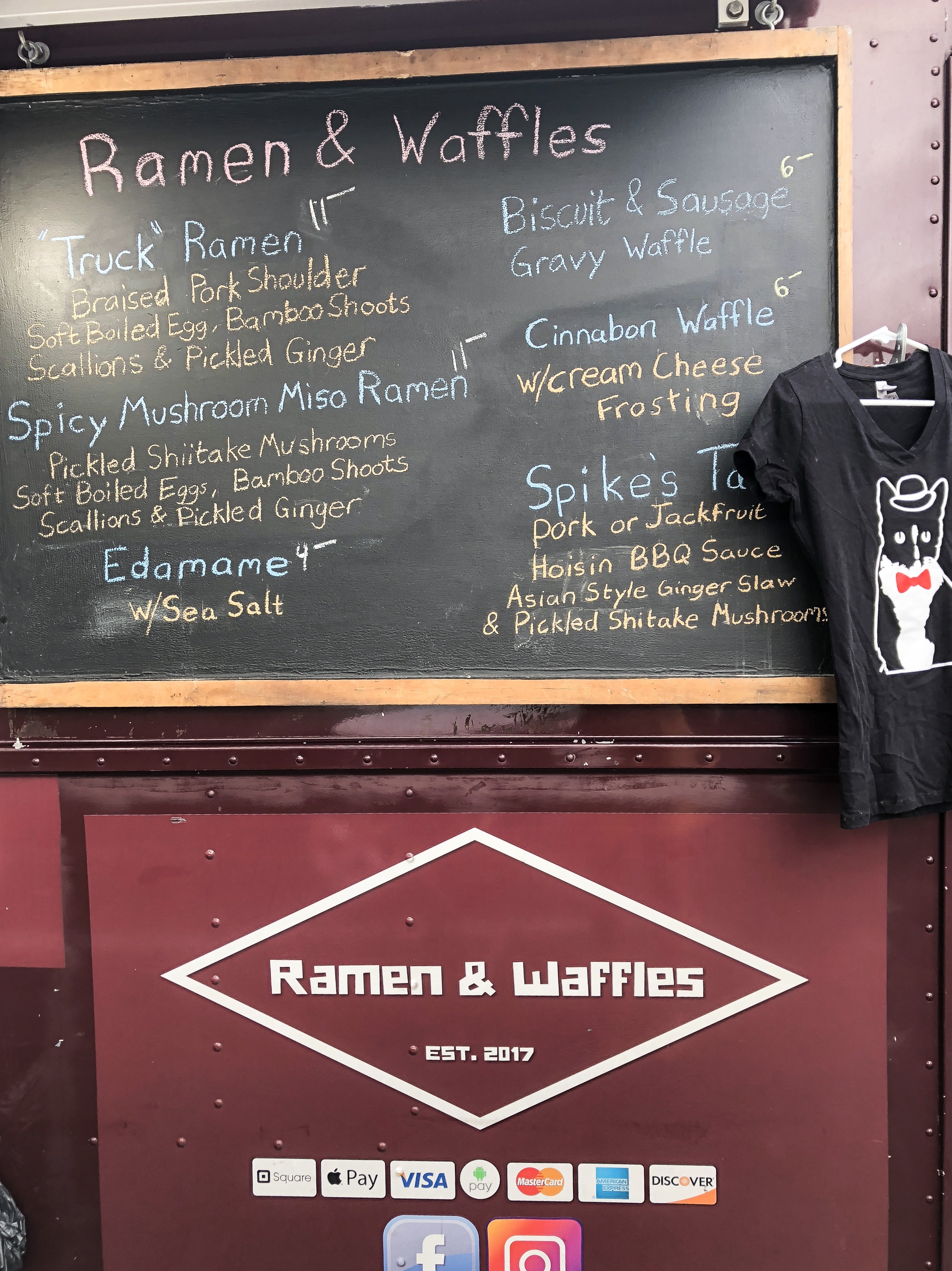 On the menu, you can find: two types of Ramen- The "Truck" Ramen and Spicy Mushroom Miso Ramen, two Waffle selections- Biscuit and Sausage Gravy and the Cinnabon Waffle, Spike's Tacos, served with Jackfruit or Pork, and Edamame as a stand alone dish. For the most part, the menu does remain the same from event-to-event. If it's not broke, why try to fix it?
In the menu pictured above, you may have noted "Spike's Tacos." Who is Spike, you ask? Spike is none other than Jon's feline companion of 11 years. In fact, the menu is not the only place where you can find Spike. On the exterior of Ramen and Waffles is a large painting of him- he's the face of the truck, if you will.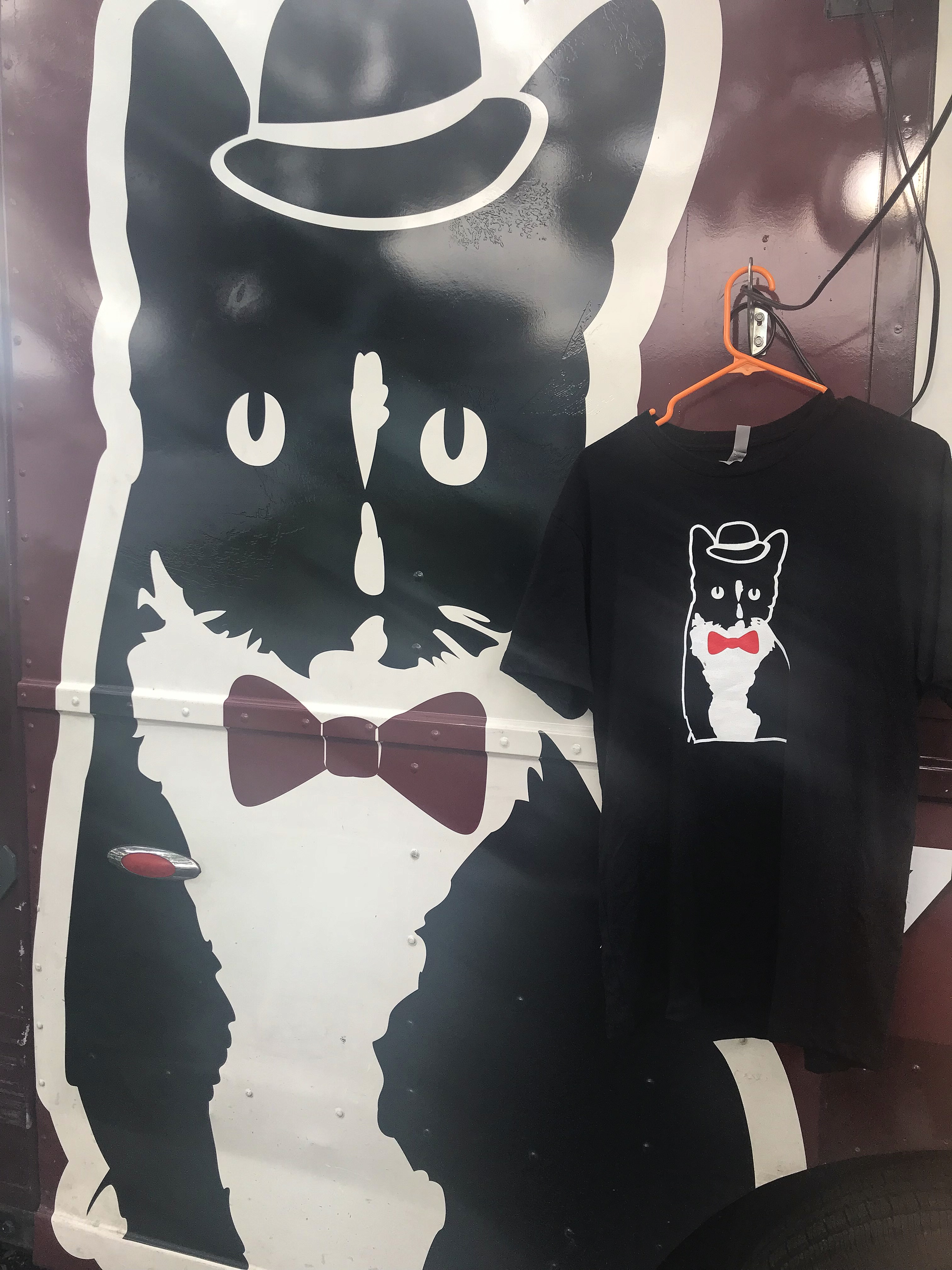 During our catch up with Ramen and Waffles, we ordered the "Truck" Ramen (because, duh…and Jon said we had to), Biscuit and Sausage Gravy Waffle and Spike's Tacos with Jackfruit. All 3 dishes possess an identity that is unlike the others. Who doesn't love a menu with diversity?
If you have ever taken the time to make Ramen (and no, packaged Maruchan does not count), you know that it is a true multi-hour labor of love. The "Truck" Ramen is comprised of a hearty broth that takes roughly 12 hours to make, braised Pork Shoulder, Soft Boiled Egg, Bamboo Shoots, Scallion and Pickled Ginger.
One bite is all it takes to fall head over heels for this Ramen- one bite. I could sip on the broth alone and still be completely fulfilled. The whole bowl dances with an array of robust flavors, while also remaining balanced. One of the most ideal aspects of the dish is that the accompaniments and garnishes do not take away from the tender, succulent Pork and the broth. Rather, they compliment them perfectly. The "Truck" Ramen is the unanimous customer favorite, and if you visit Ramen and Waffles, it is a must-order.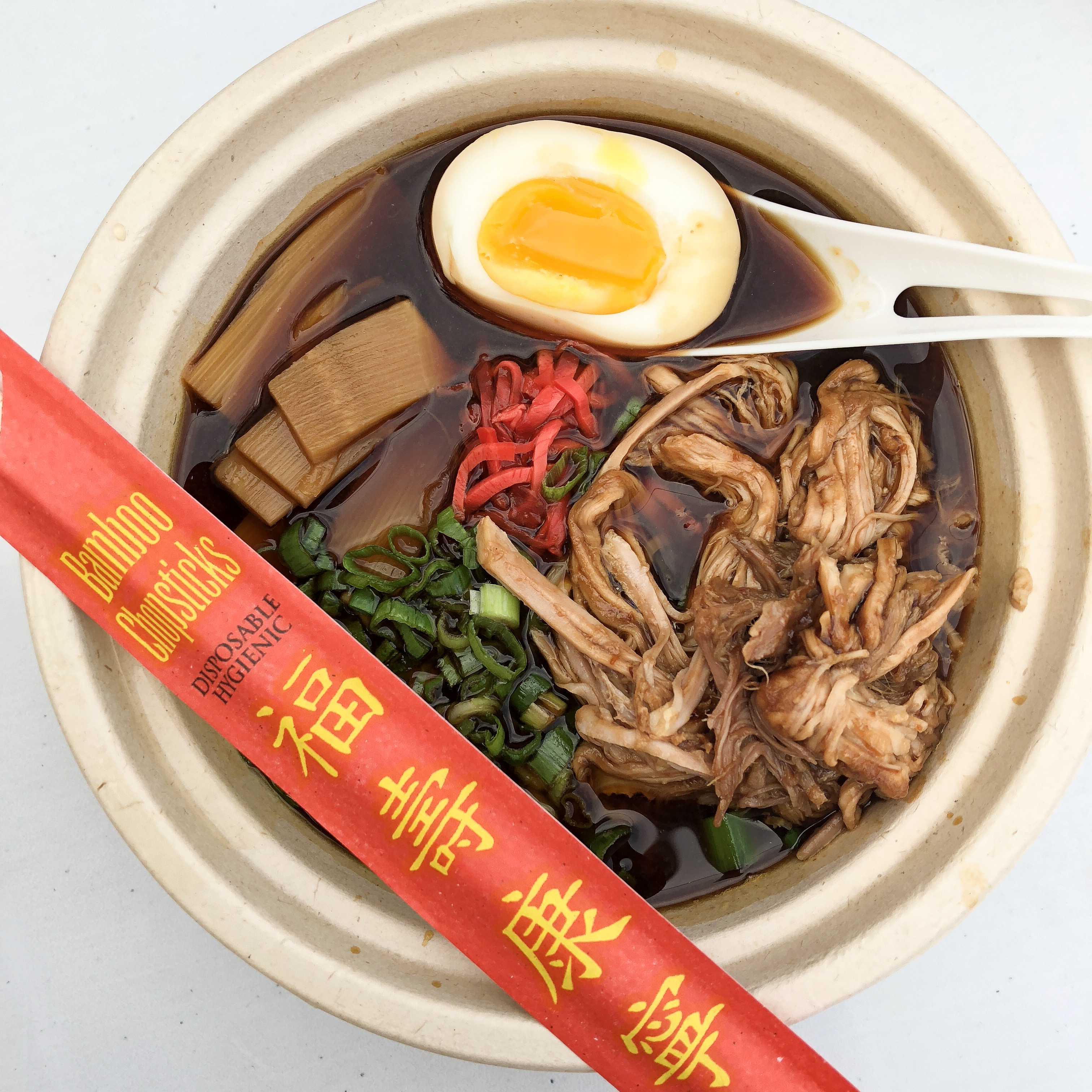 For most of us, when we think Waffle, we think of a luscious, buttery, syrupy delight. However, Ramen and Waffles has diverted from what we know and provided us with what we never knew we needed- a savory Waffle. Not just any Waffle, might I add, but one to mimic another breakfast favorite we all know and love, Biscuit and Sausage Gravy.
Being that it is still a Waffle, we did expect the slightest hint of sweetness; however, on the contrary, it tastes precisely like the name suggests. The gravy has a superb consistency with a subtle touch of bite and spice. As for the waffle, it maintains that bit of texture, without becoming too spongy. To be quite honest, we wish we would have had an additional order of this!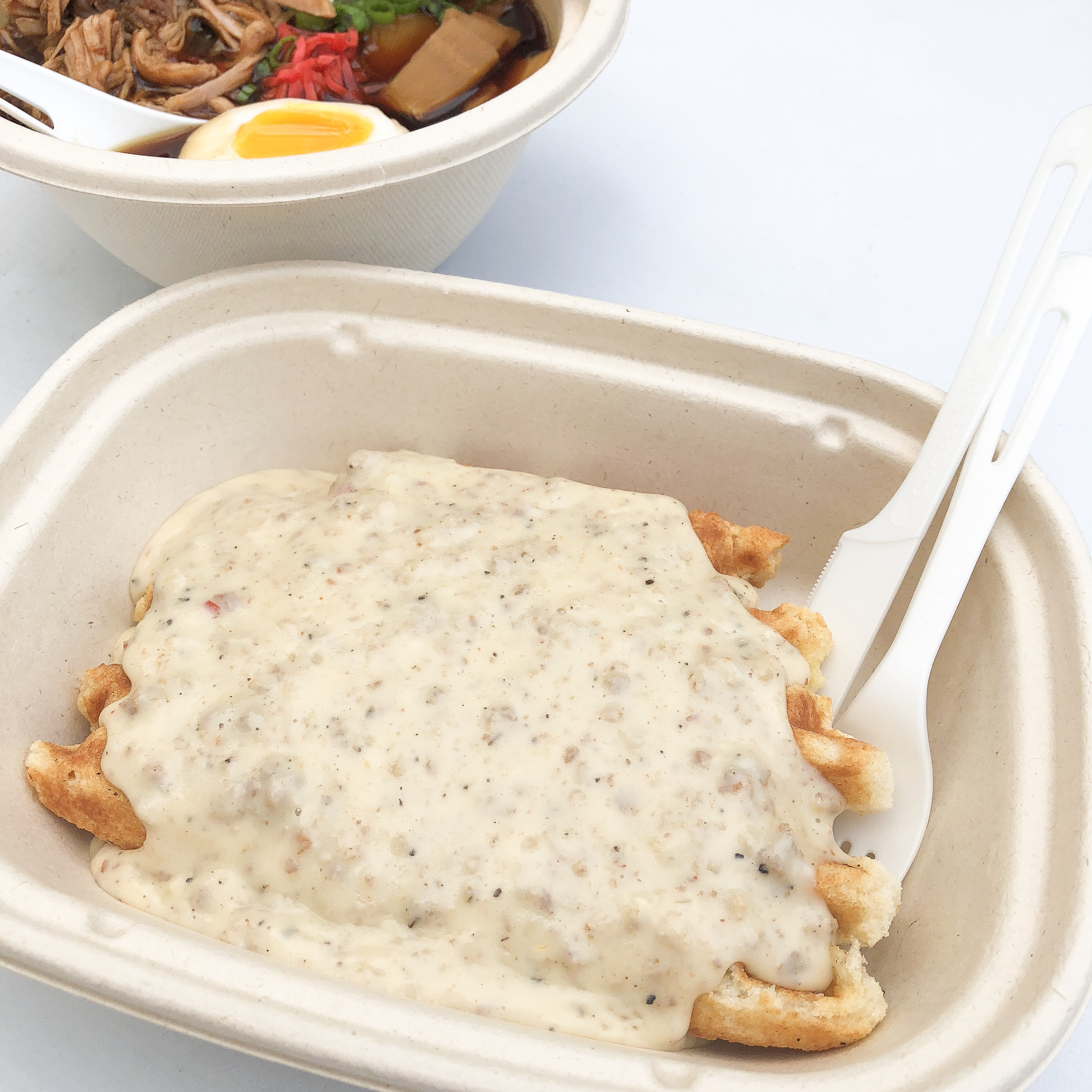 Spike's Taco's have made their way on to the menu as another staple item. This dish is served with two tacos, choice of Pork or Jackfruit, Hoisin BBQ sauce, Asian Style Ginger Slaw and Pickled Shiitake.
Since we opted for Pork in the Ramen, we chose the Jackfruit route. If you are familiar with Jackfruit, you know that it is frequently utilized as a meat substitute. When cooked, it can have meat-like similarities, and it did. These tacos are not for the weak (I mean this in a good way), as they are loaded full with all of the necessary accessories. The Jackfruit is prepared to perfection, the slaw adds a tangy bite, rich flavor comes into play from the Shiitakes and the Hoisin BBQ Sauce rounds out the whole taco.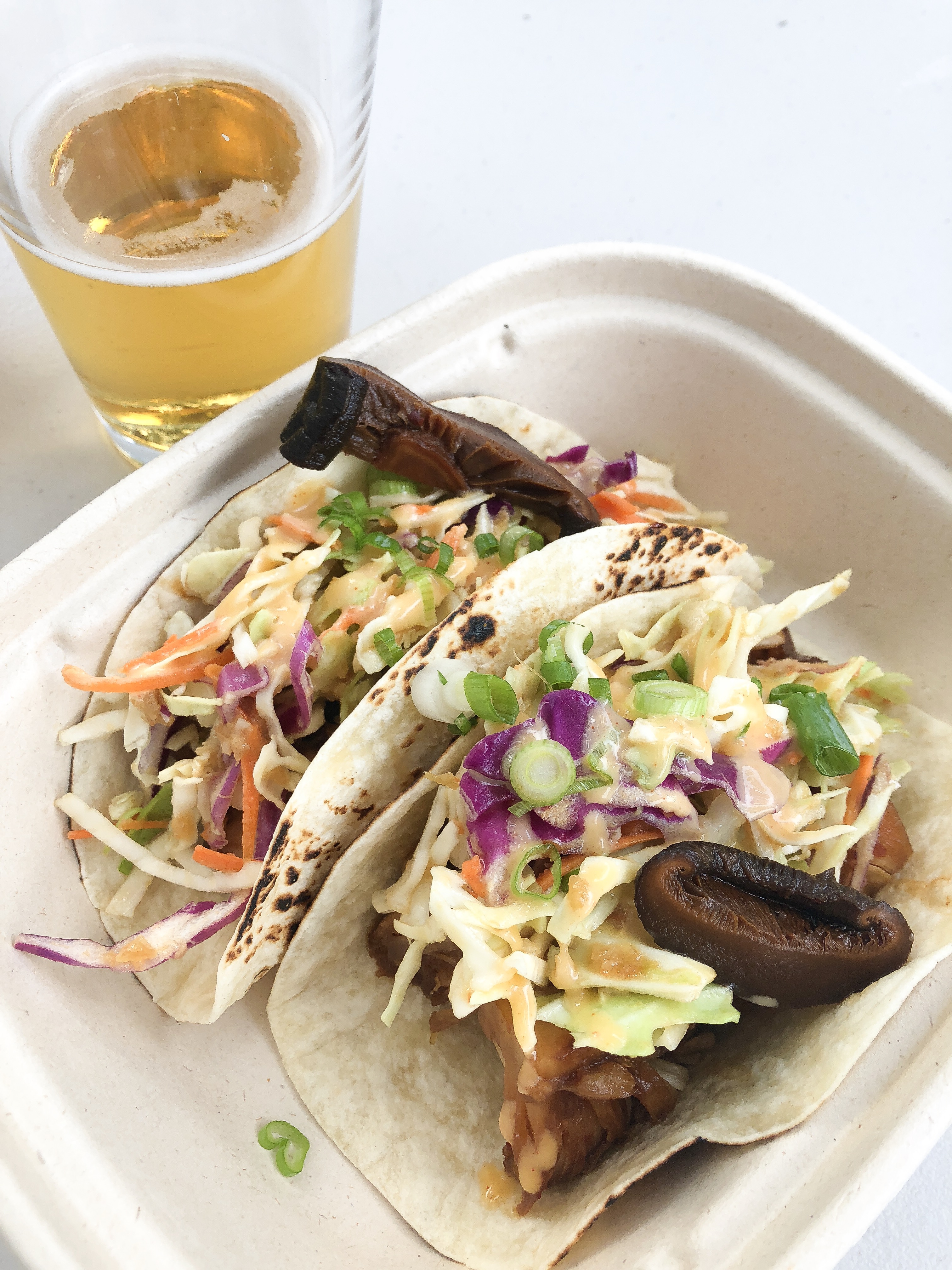 You can find the Ramen and Waffles schedule on their Facebook page, which is posted at the beginning of each week. In need of catering? You're in luck- Ramen and Waffles offers that, too.
Be sure to add Jon and his truck to the top of your "must try" list, if you already have not!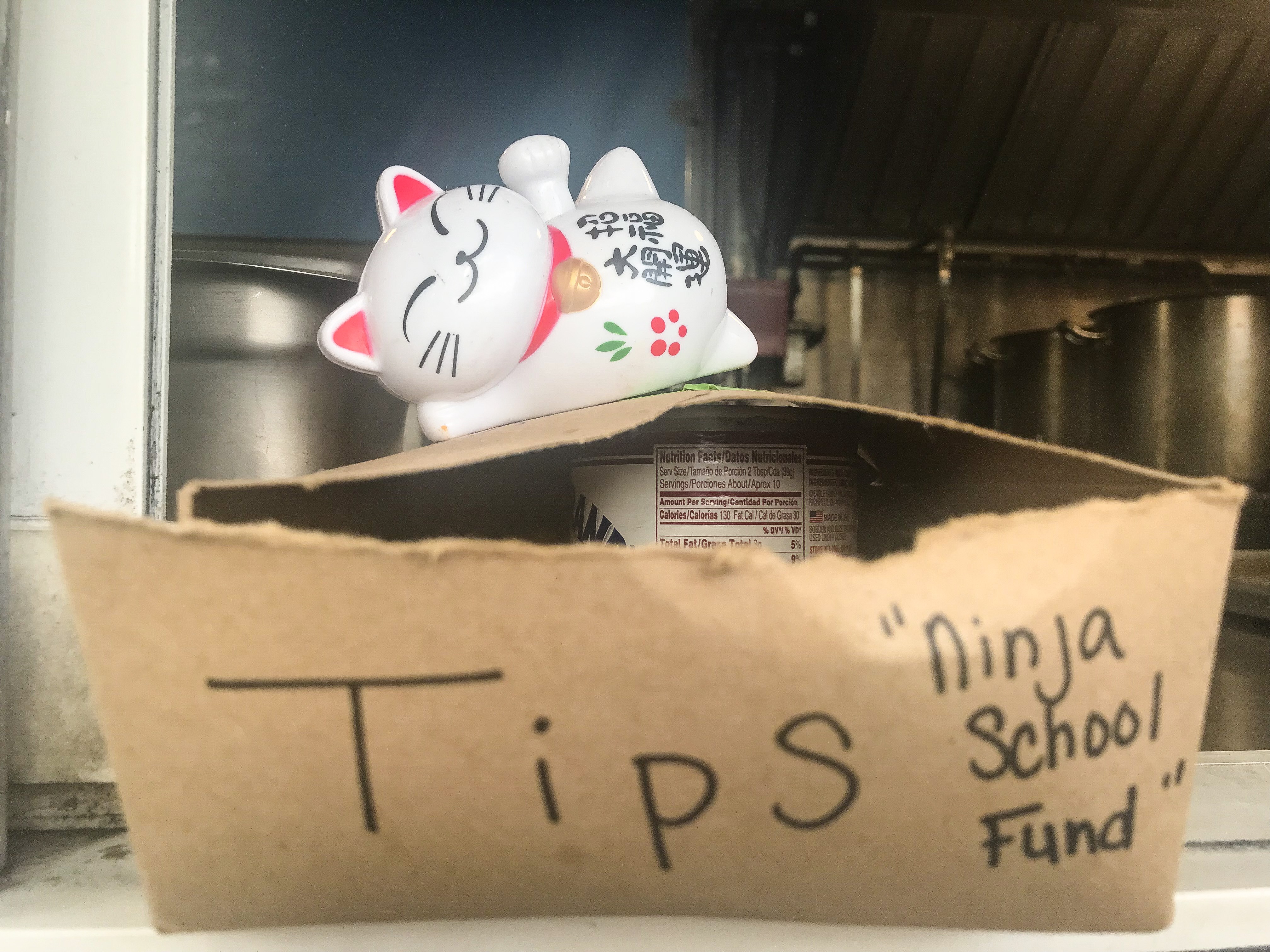 Ramen & Waffles opened in March of 2017 and is based out of Dunedin, Fl. Ramen and Waffles serves a fun mix of made to order Ramen and Unique Waffles.
DISCLAIMER: Kevin, Lori, Abby, Haley, & Lindsey do not dine anonymously (this would be impossible) and we sometimes get free food (though never expected). However, we dine with the locals and we support our own. You will always get honesty in a respectful manner.

PLEASE NOTE: Reviews reflect a certain moment in time. Some restaurants stay extremely consistent over many years, and some change for the better or worse. Some things that may change are: chefs, recipes, food suppliers, ingredients, philosophies, ownership, etc. We always hope that you have the same good, or great experience we had.
More Foodies News, Reviews & Recipes