IL Ritorno Ramps Up Their Spring Menu
IL Ritorno Ramps Up Their Spring Menu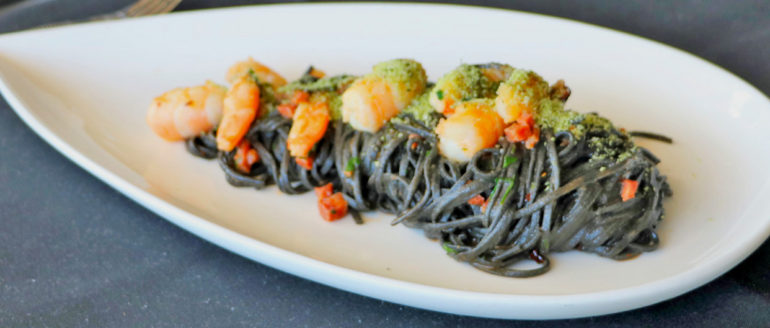 It's no secret that since the first time we went to IL Ritorno in the summer of 2014 that I fell in love and that has never changed. Here is the first review I ever wrote about IL Ritorno. The quality of the ingredients and Chef David Benstock's ingenuity with those ingredients keeps the ever evolving menu fresh and exciting.
On April 6th, 2017 we were invited in to try the new Spring menu. What a treat! In the spring, Ramps, which only have a growing season of a month and a half, and Wild Mushrooms become available and Chef Dave comes up with new menu items to incorporate these coveted fresh ingredients into new and exciting dishes. While they try to use mainly local ingredients the Ramps mostly come from Oregon, Seattle and upstate California. Chef Dave said, "What we do here is we get in about 200lbs and pickle all of the whites, the greens we use for pasta and that way we have them all year. And this year, with the expansion, as we move into our full liquor license, we are going to try to incorporate the Pickled Ramps into a drink."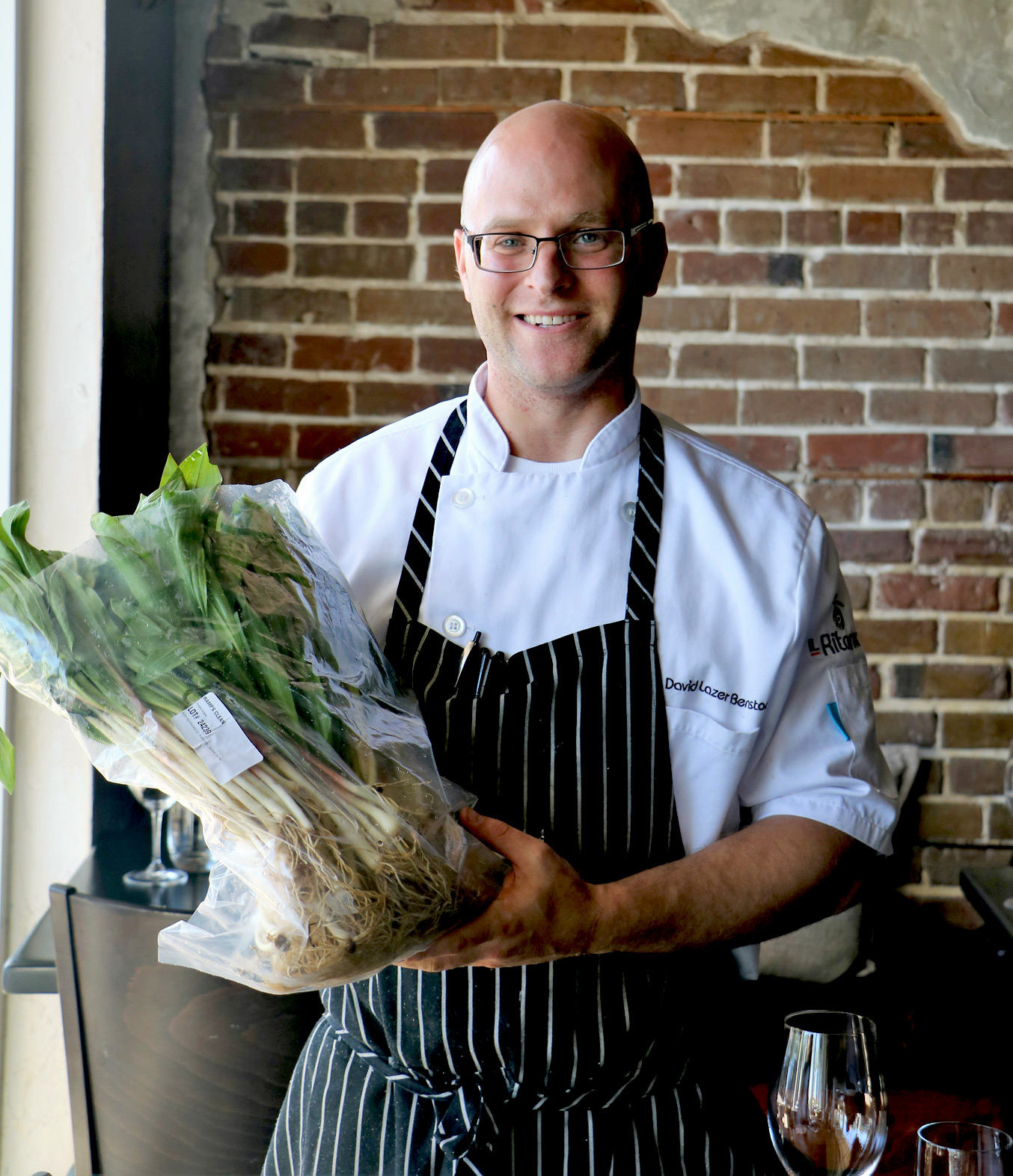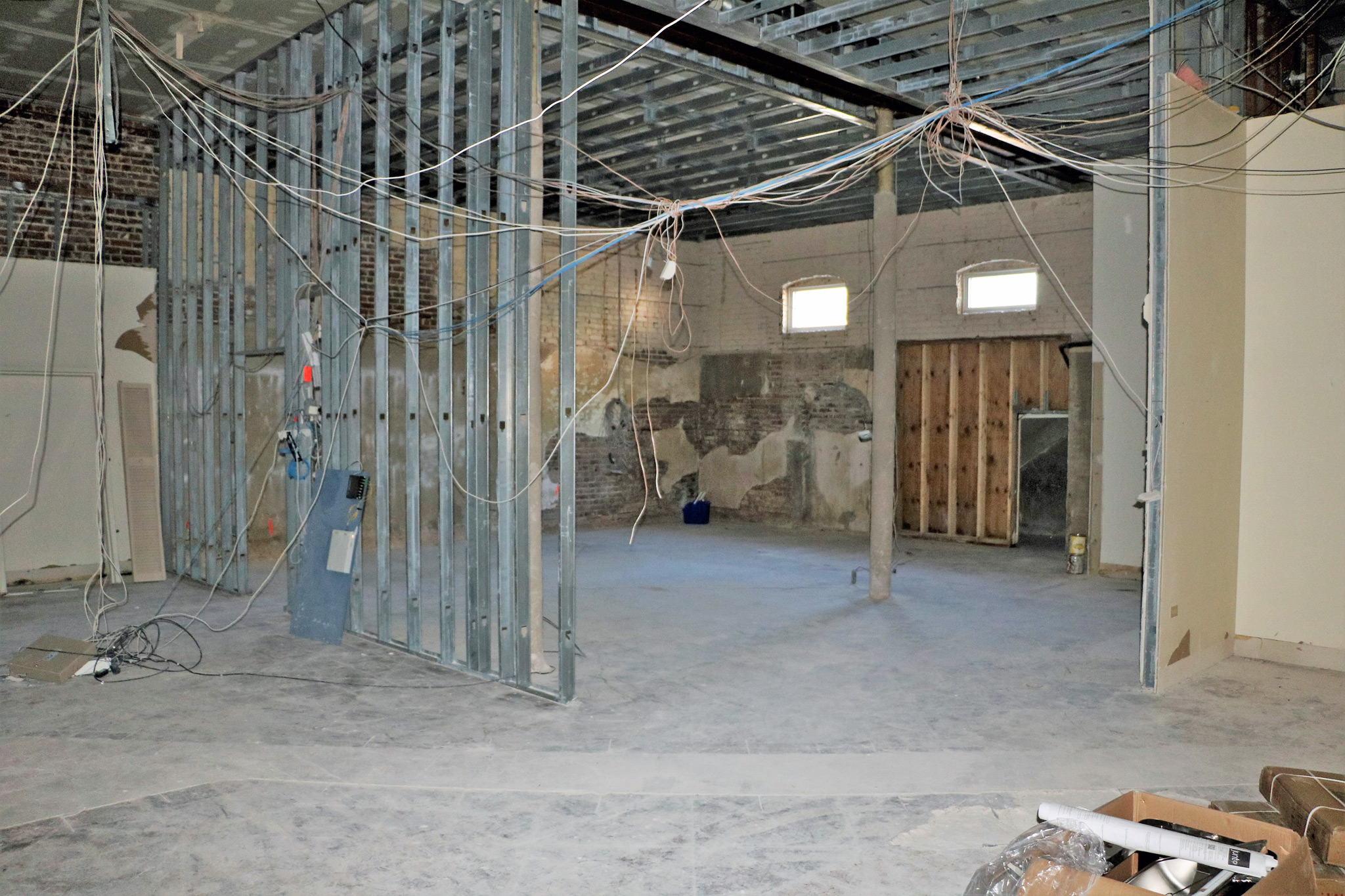 In 2016, IL Ritorno was in the Top Ten Italian Restaurants by St Petersburg Foodies
The first dish we were presented with was the Cappelini Nero – Calabese Sopressata, Key West Pink Shrimp, Pernod and Tarragon Crumbs. Chef is well aware of my aversion to both cilantro and fennel and when he brought this dish out he said, "It doesn't have fennel in it but it has Pernod in it. Pernod has star anise flavors, so it's not fennel but it has all of those flavors. Sorry, but, not sorry." Am I ever glad he cooked it the way the dish was intended because I was not overwhelmed by the flavor of fennel and thoroughly enjoyed all of it, much to my surprise! The shrimp were cooked to perfection, delicate and savory. The Calabrese Sopressata gives it just the right amount of heat and the tarragon crumbs add a great balance of texture and flavor. We both loved it!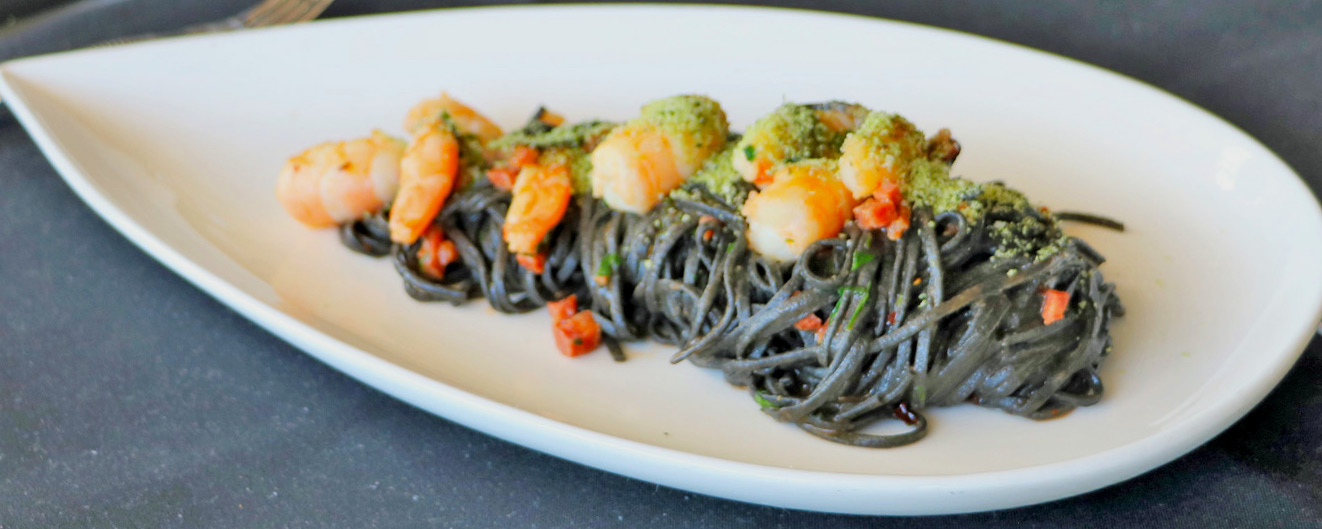 Next we tried the Ramp Tagliatelle and this is where those coveted Ramps and Wild Mushrooms come into play. Chef Dave uses the Ramps to infuse flavor into the pasta dough by extracting the juice from them (this is what gives the pasta its color) and then he sautées them with the Wild Mushrooms. The Mushroom stock is then used to create the sauce. He tops it off with some Fava Beans, Ricotta Salata Pecorino and Lemon Thyme.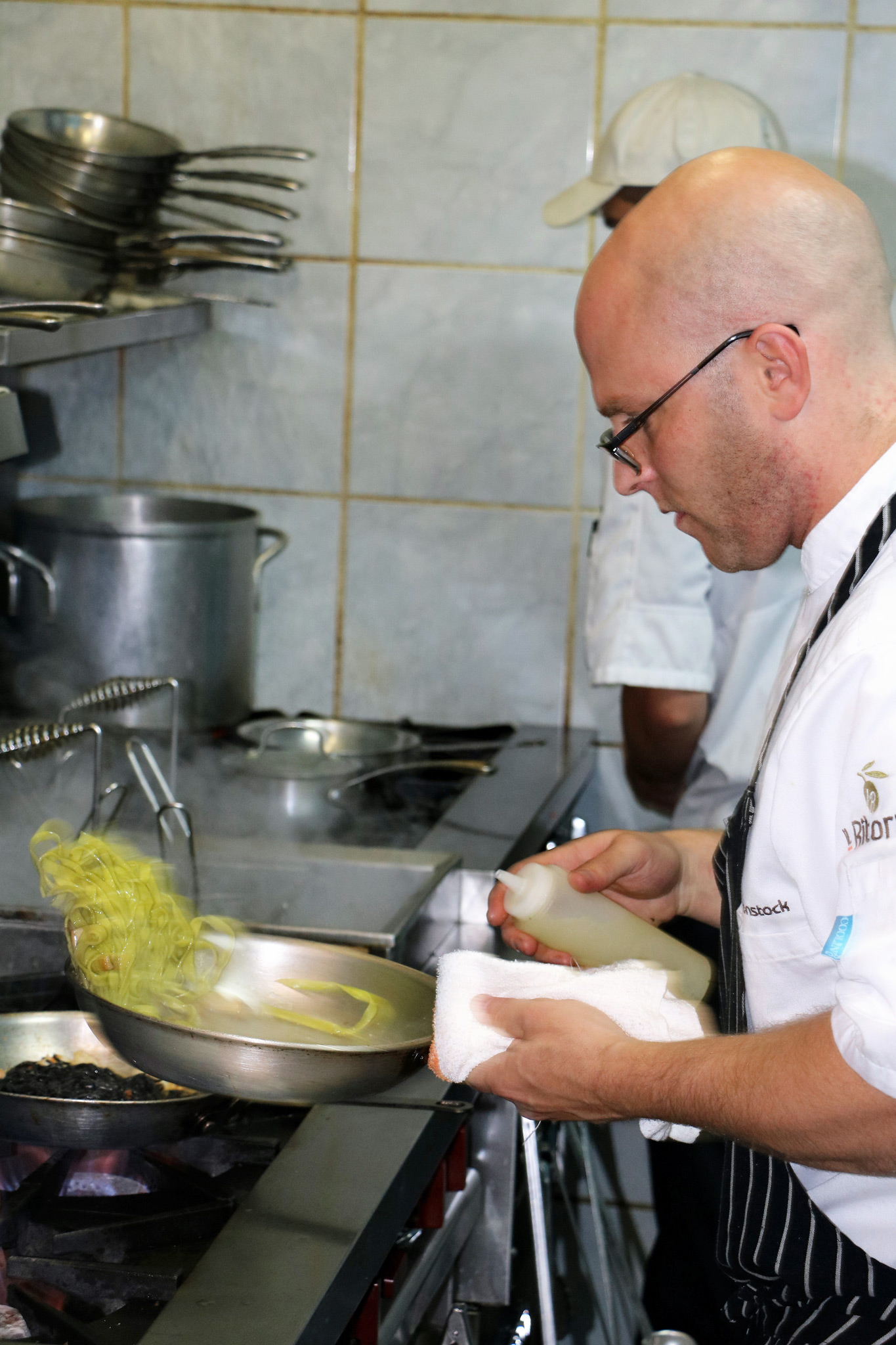 Words can't begin to describe how delicious this dish is! It was Kevin and my favorite pasta dish of the tasting. Fresh, light and Springy…the Fava Beans add great texture and flavor.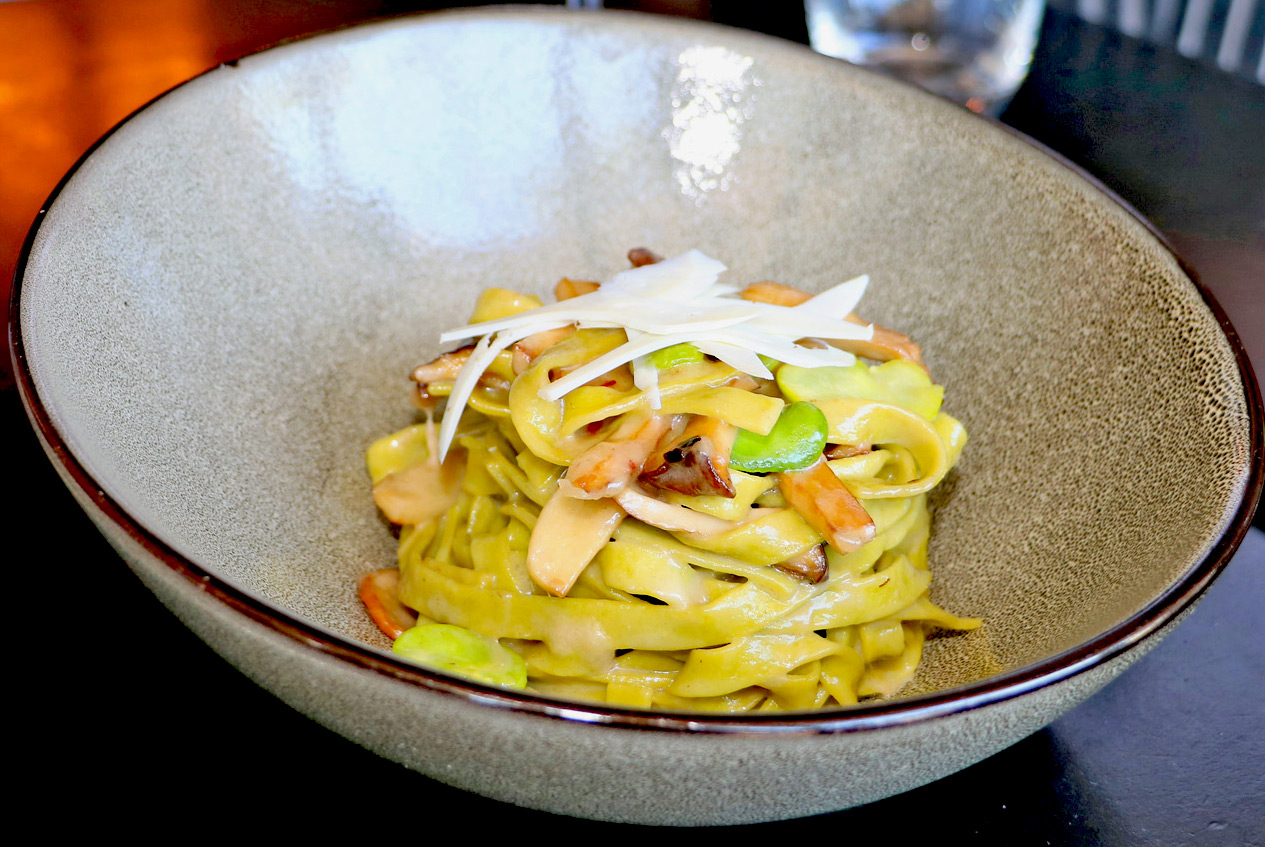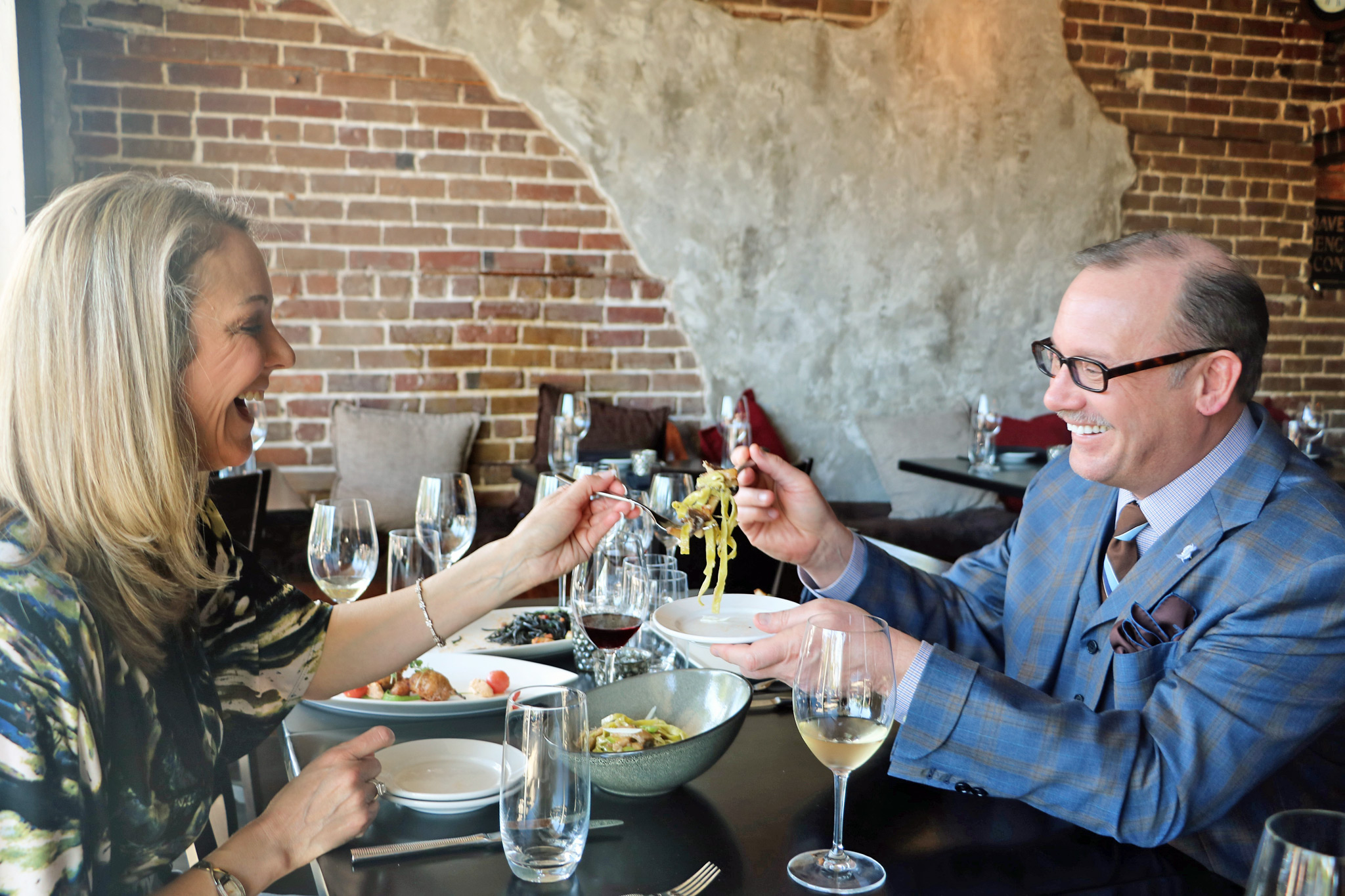 Our next treat was Stuffed Squash Blossoms. Neither Kevin nor I had ever had these before, but we have heard them talked about in our Facebook group and had always wondered. They are stuffed with a Shrimp Mousse (lemon zest, shrimp and egg whites) and then served with a fresh Garbanzo puree (fresh green garbanzos, lemon zest, garlic and olive oil), smoked whipped Ricotta, confit Tomatoes and topped with Espelette (a sweet, salty, smoky pepper). Very tasty! I was surprised by the texture of the mousse. It was almost a bit firm, I say almost because the egg whites give it some fluffy textures as well. These are only in season for a very short time so get them while you can.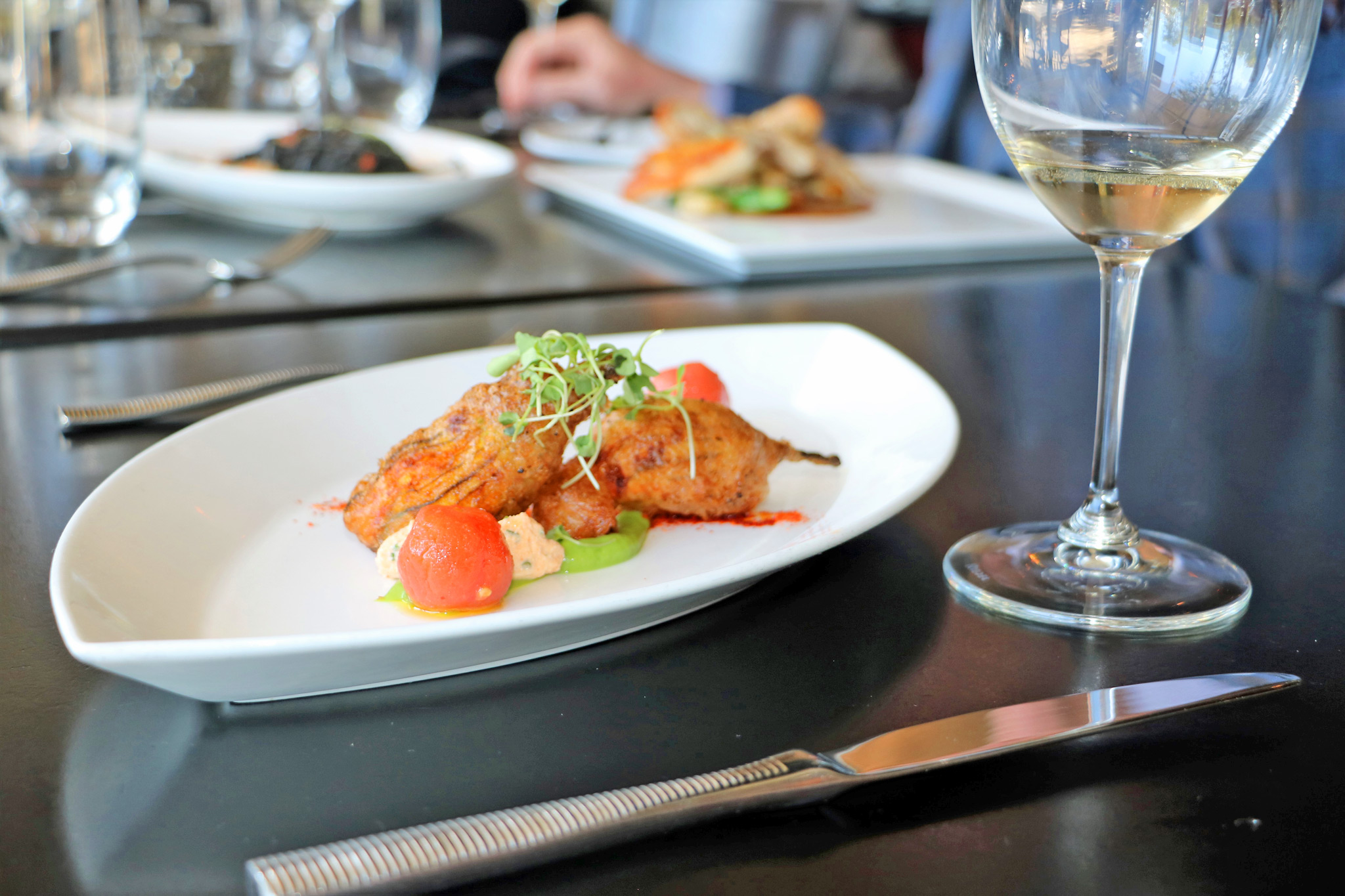 Much to my delight, our next dish was the Spring version of the Pan Seared Chicken, which is pretty much a staple menu item. The chicken was the first dish that I ever had at IL Ritorno in 2014 and I never order chicken at restaurants. I ordered it because our server extraordinaire, Christiane (who is still with IL Ritorno), recommended that I order the dish that had the best sounding sides to me. To this day, this is my favorite chicken dish! In order to create the spring version, they made the sides lighter by serving it with a Smoked Gnocchi (smoked Ricotta, smoked flour and a slight char on the bottom which makes them very delicate) and then topped it off with a charred Broccoli Rabe, Green Almonds and Preserved Lemon Jus. Chef Dave describes what a Green Almond is, "See those little slices right there? That's Green Almonds. They are fuzzy looking young almonds, before the almond forms the shell. They have a little bit of earthiness and tartness, almost like a Sorel which has that natural acidity to it. This is the best Pan Seared Chicken dish that we have ever put on a plate." Well Chef Dave, I have to agree! Delicious, doesn't begin to describe it! Also, the Broccoli Rabe was some of the best I have had. Sometimes it can be very bitter but it was not at all. Chef Dave has a secret trick when cooking Broccoli Rabe. Terrific!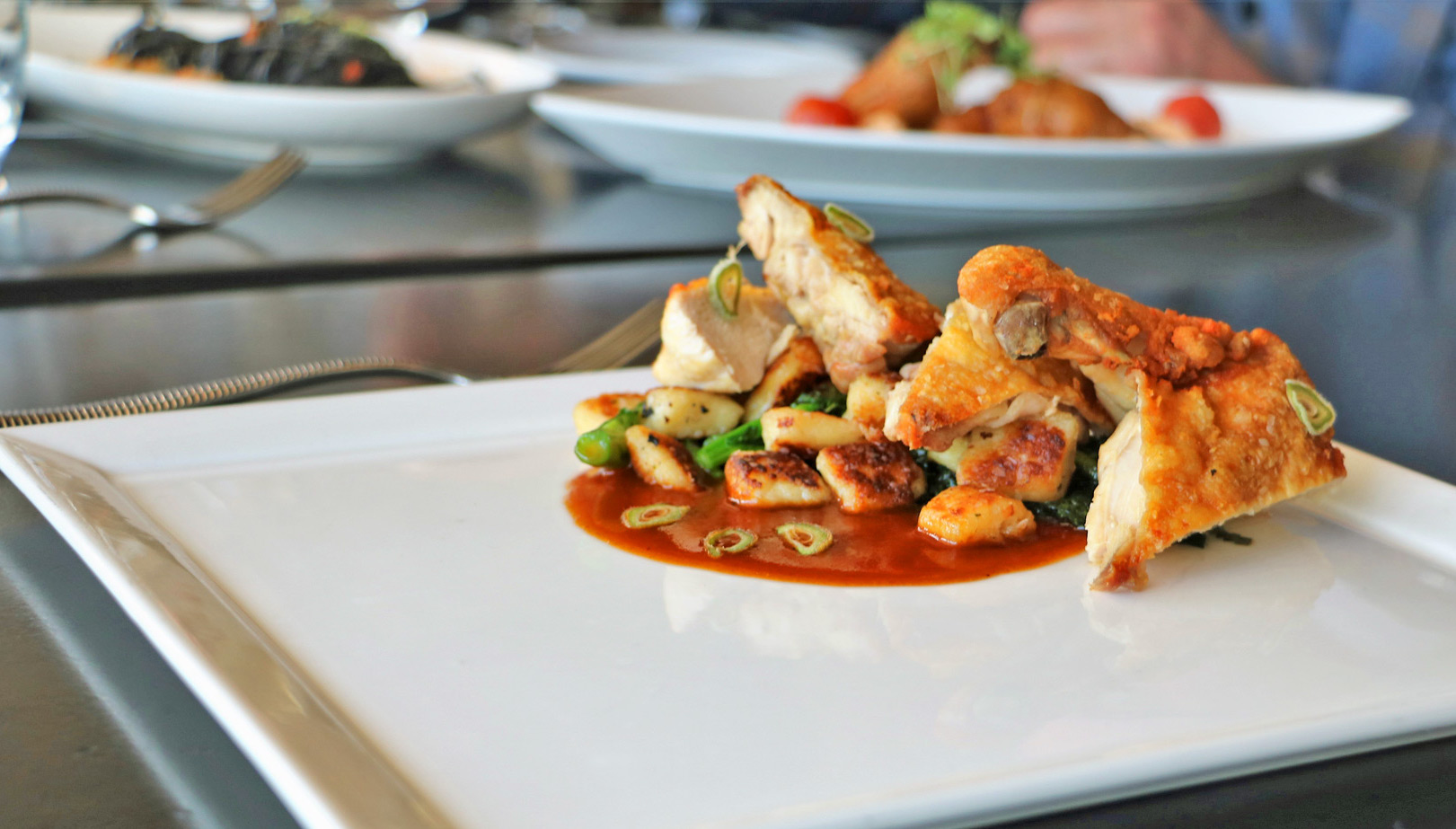 Next came out the gorgeous and sexy Seafood Brodetto. Everyday the type of seafood incorporated into this dish changes according to what is fresh. On this evening, the seafood was Clams, Mussels and charred Octopus accompanied by Preserved Tangerine, Celery Hearts and a dash of Chili. Poured table side over the dish was the sauce which Chef Dave describes as, "almost like a creamless, flourless chowder, but we've thickened it with some Sunchokes and Parsnips." This dish tasted just as delicious as it looks – a bit sweet and very savory. Very well balanced! Absolutely spectacular with the char grilled bread!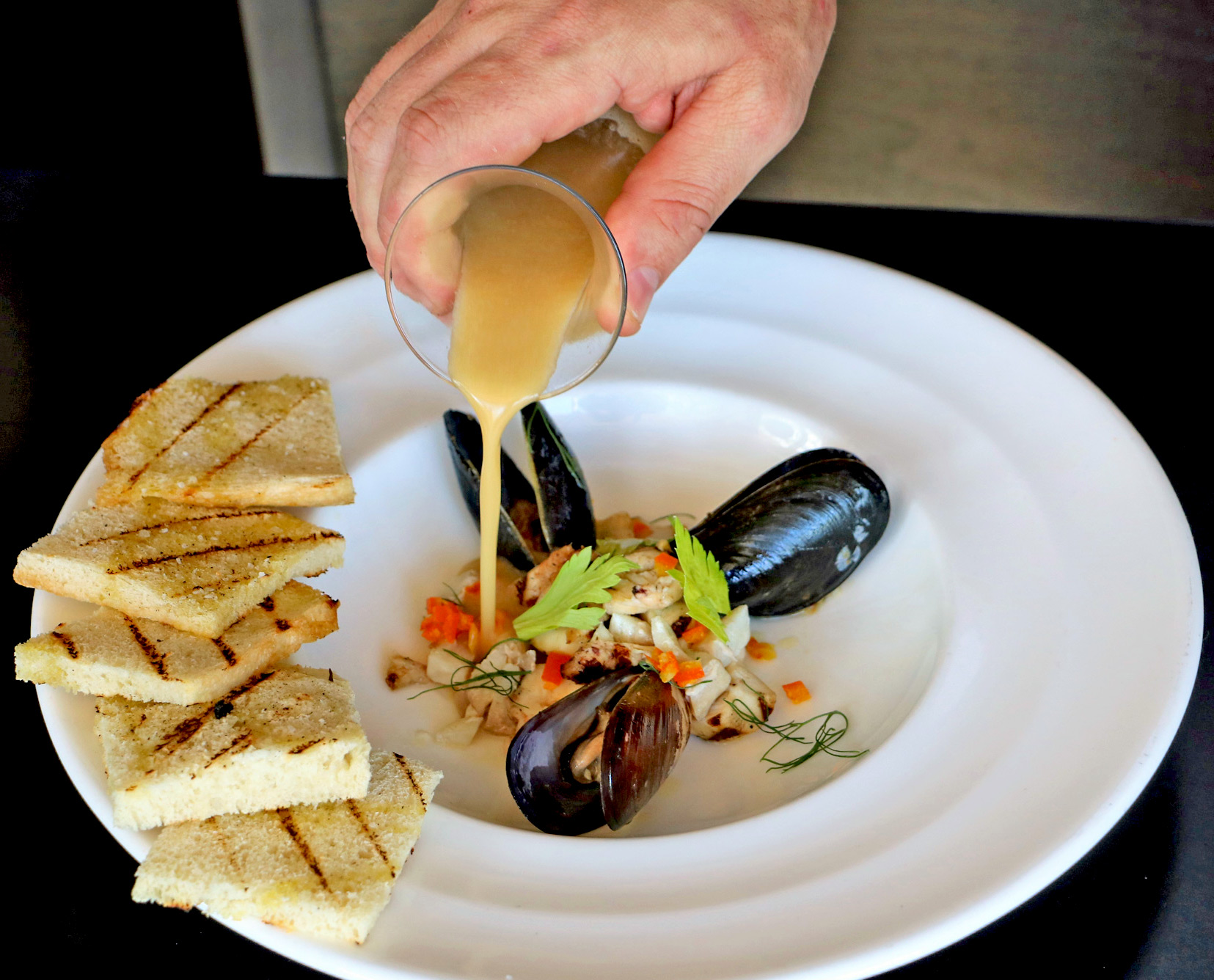 Each menu item was paired, by new General Manager Ronald Randall, with delicious wines. IL Ritorno has a very unique wine list with many wines you won't find anywhere else. Make sure to ask for these exquisite pairings with your meal.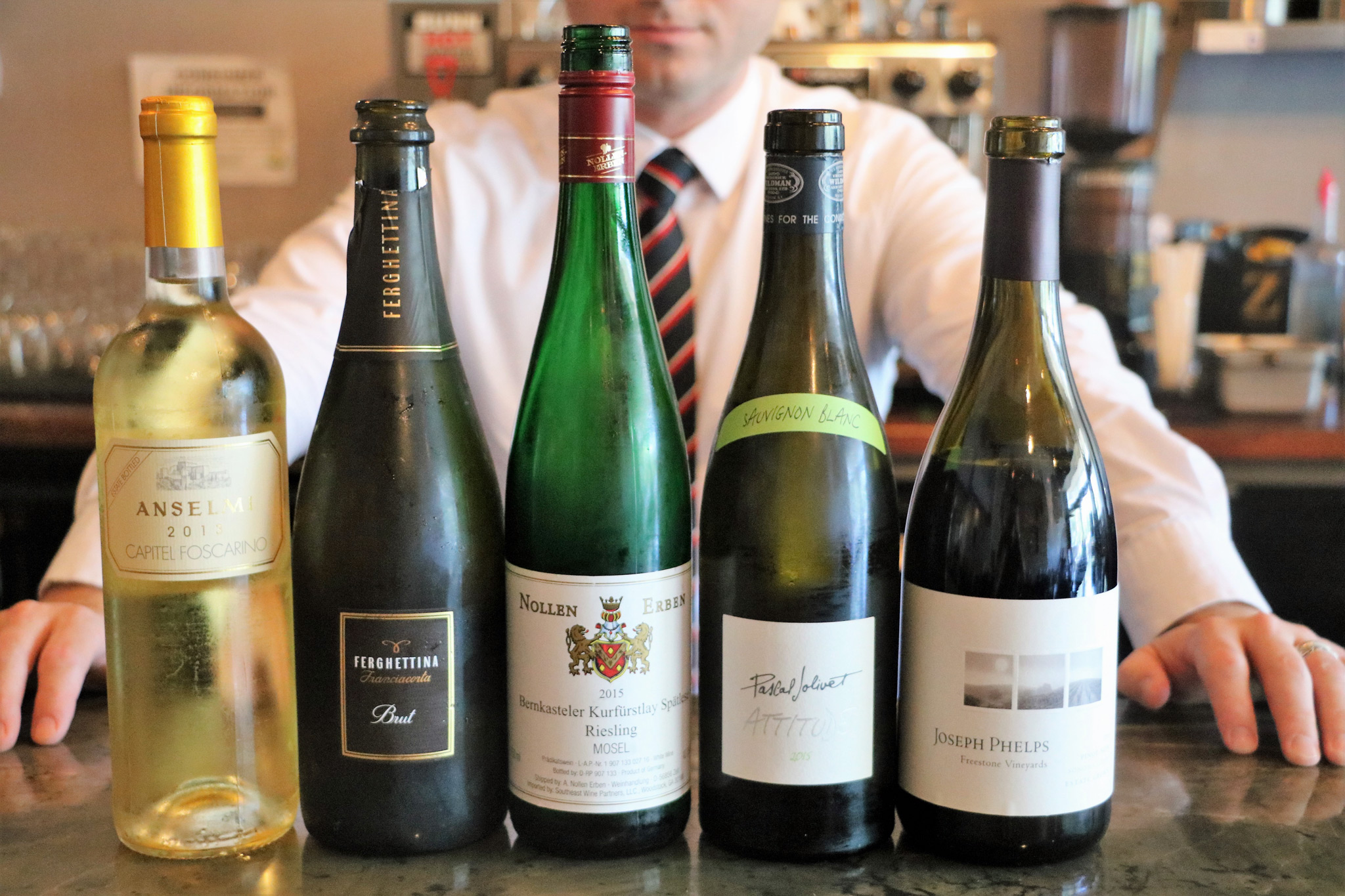 Last but not least, for dessert, we had the new Tiramasu which is a Kahlua Espresso Cheesecake, house made Finger Lady Cookies, Espresso Bark (ground up espresso beans and port chocolate with a pop rock type of texture) and a Salted Caramel Ice Creme with some Nutella. Hands down the richest, creamiest, best ice cream that I have ever tasted. Wow! We are not big sweets eaters but we couldn't stop ourselves. Whatever Chef Dave makes with Nutella, I am up for!
Overall, the new Spring menu is fantastic! In fact, so good that I chose to celebrate my Birthday there for dinner last night! And they have also added a new signature Steak to the menu, which we did not try, which is called the Creek Stone Natural Cowgirl. It is technically a 14 oz Bone In Ribeye with all of the outside fat cut off. Chef Dave said, "so you get just that pure meat flavor inside. With the bone in, you get all of the flavor from the bone. You get all the great aspects of a Ribeye. There is still a little bit of fat in there but not as much. About 75% less fat, so in my opinion, that's really the best cut of meat there is. We're getting it from Creek Stone so it's all natural. It's like butter. It just melts in your mouth." I know what I will be having very soon!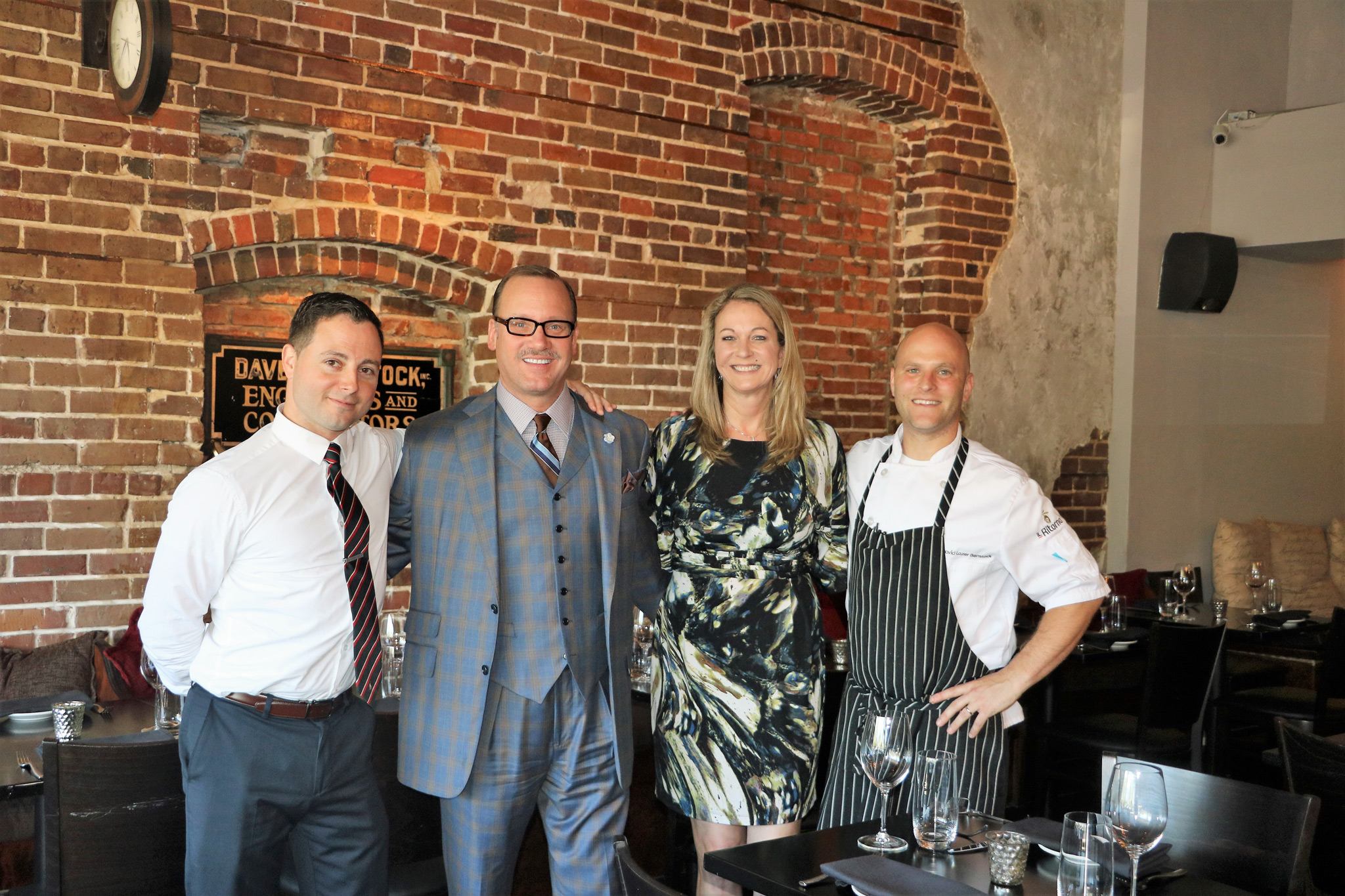 All photos by Davis Jasmin
Italian for the discerning palate. Il Ritorno brings a new taste of fresh Italian cuisine to the community by introducing new, interesting flavors and combinations that add elegance to a traditionally rustic genre.
DISCLAIMER: Kevin, Lori, Abby, Haley, & Lindsey do not dine anonymously (this would be impossible) and we sometimes get free food (though never expected). However, we dine with the locals and we support our own. You will always get honesty in a respectful manner. We do not include any large national or regional chains in our ratings and reviews. We focus on independent locally owned eateries exclusively.

PLEASE NOTE: Reviews reflect a certain moment in time. Some restaurants stay extremely consistent over many years, and some change for the better or worse. Some things that may change are: chefs, recipes, food suppliers, ingredients, philosophies, ownership, etc. We always hope that you have the same good, or great experience we had.
More Foodies News, Reviews & Recipes