Having recently completed my Foundations of Sushi Masterclass with the Master of Japanese Cuisine Academy, I thought it would be a good time to create the list for the best sushi in St. Pete. Technically, sushi means sour rice that is served with raw fish. Even though this is a sushi list, we also took sashimi into consideration. Sashimi is the raw fish without the rice.
Most people know what sushi and sashimi are, but what most do not know is that the majority of the restaurants offering sushi in the U.S. are offering Japanese-American sushi, and only a small number offer Japanese sushi. Only one in St. Petersburg does.
Japanese vs. Japanese-American Sushi
Japanese Sushi
No menu. Maybe a list of fish. (Unless it's a place catering to tourists.)
Sit at a sushi bar and interact with the sushi chef.
Sashimi, nigiri, and hand rolls are served. Never multi-ingredient sushi rolls.
Rice is always on the inside of a roll, and it has only one ingredient rolled inside – fish or vegetable.
In Japan, you will never find sushi rolls that are fried, spicy, or filled with avocado.
Japanese-American Sushi
There is a menu, and it is often large.
More likely to be seated at a table, and no interaction with the sushi chef.
Multi-ingredient rolls that are often much larger and sometimes hard to fit in your mouth, or to be eaten in one bite.
Rice is more often on the outside of the roll.
Rolls that are spicy, fried and sometimes include cooked ingredients, like tempura.
If you want tempura in Japan, you have to go to a tempura bar. Unlike American restaurants that offer multiple types of Japanese and other Asian cuisines in one establishment, they have specialty shops such as sushi bars, tempura bars, ramen shops, yakitori joints, and so on. Japanese sushi bars usually have miso soup if you want something hot.
These aren't the only differences. There are entire articles on the subject. Another big one is the amount of soy sauce and wasabi that are used by Americans. I won't even get into the "wasabi" we are typically served. (Maybe later.)
We kick off the list with the only place that has the authentic Japanese experience, which is Sushi Sho Rexley. It's not for everybody, and it is likely out of budget for some. We follow with what I think is the best Japanese-American sushi place in St. Pete, which is Good Fortune. The rest of the list is in random order.
As with all of our lists, and unlike most other publishers, we personally went to all of these places, and ate all of this sushi, and took all of these photos.
Here's our 10 Best Places (in no particular order, except the first two) to Get Sushi in St. Petersburg Florida for 2023.
Sushi Sho Rexley
214 2nd St N.
St. Petersburg, FL 33701
(727) 835-8478
Sushi Sho Rexley Website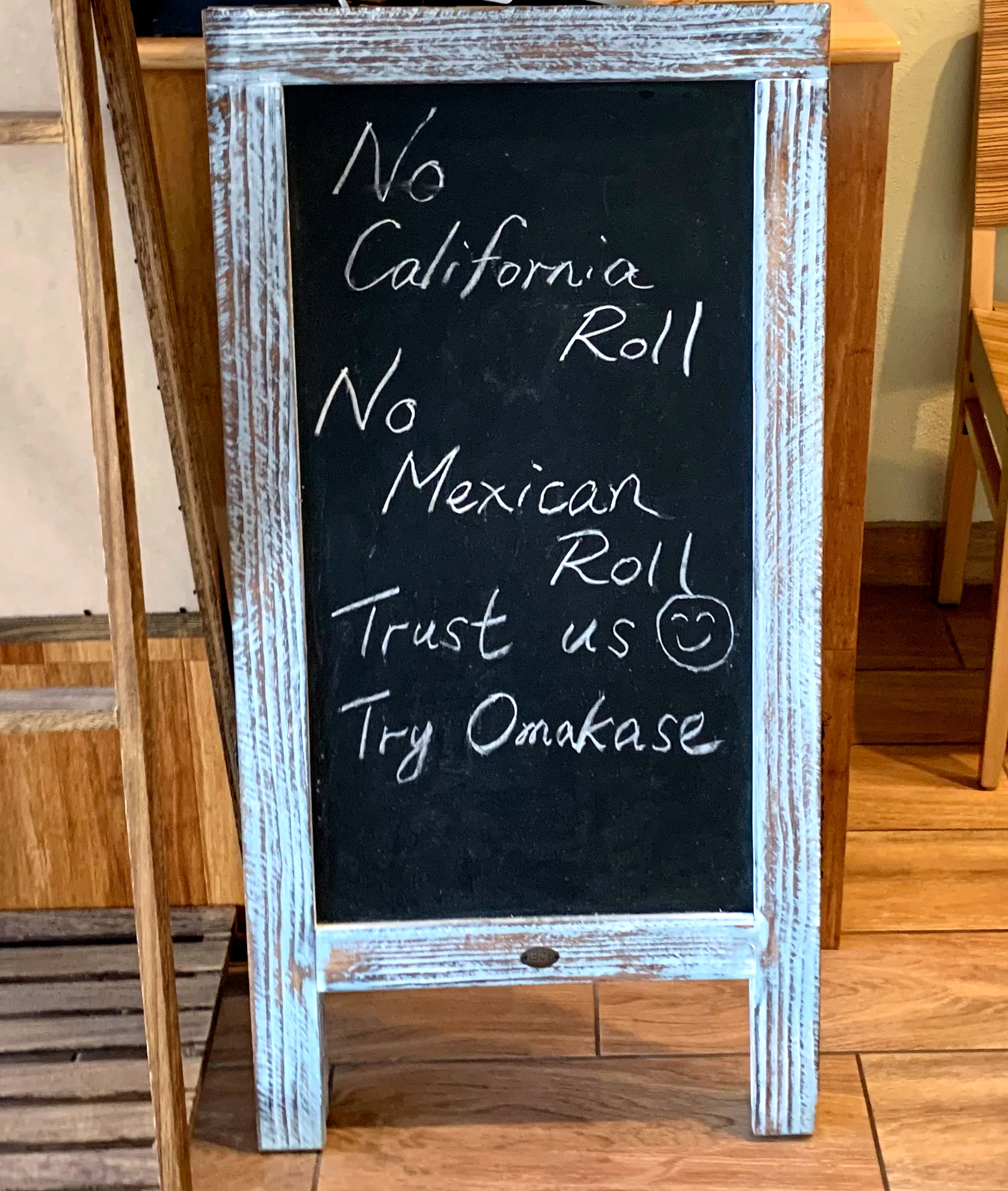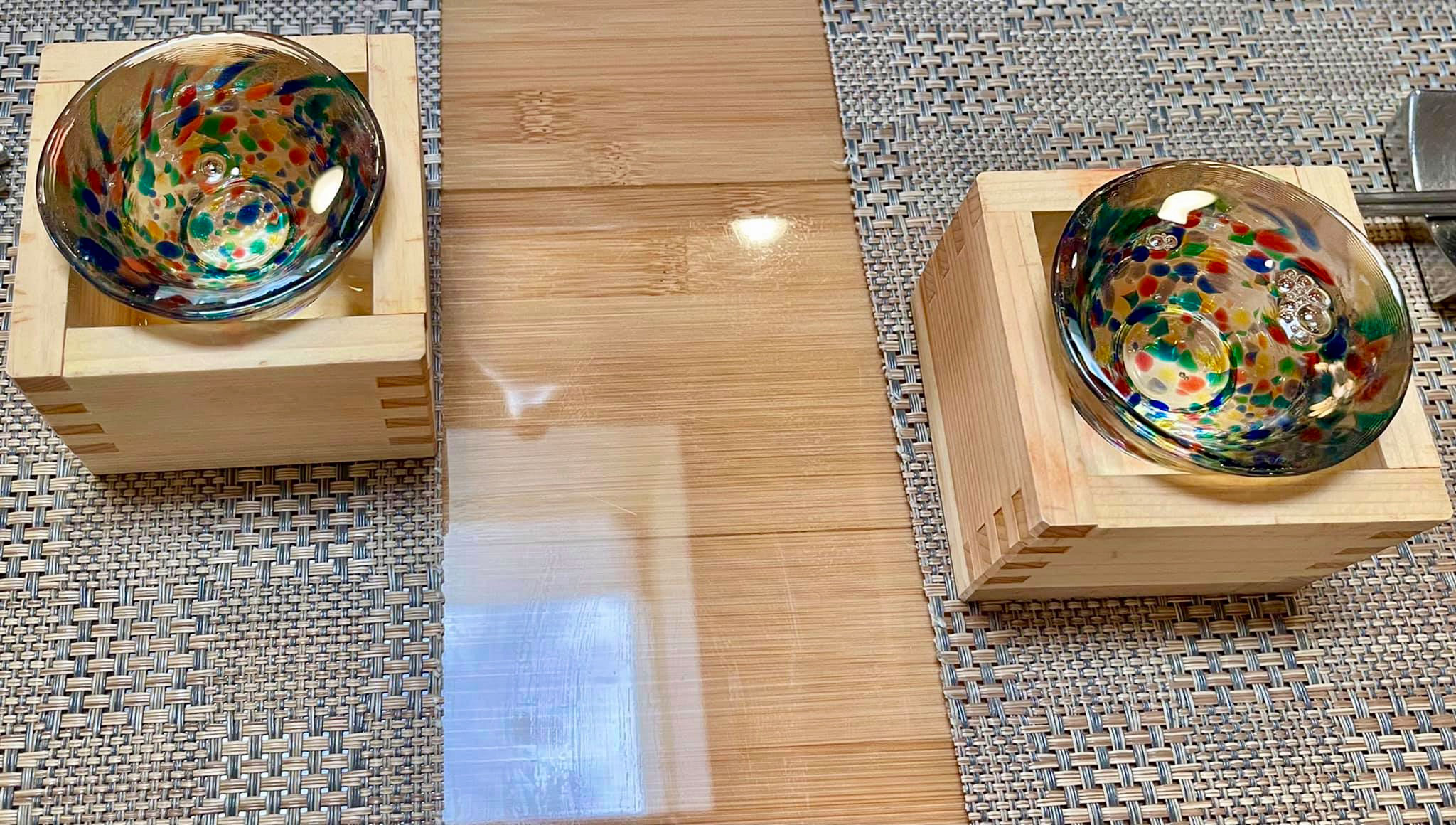 "I will leave it up to you" is the english translation of the Japanese word Omakase. As I said earlier, there is usually no menu in Japan, and with Omakase, you don't order the sushi. The chef chooses it for you, and you are served one thing at a time.
A masu (pictured above) was originally a square wooden box used to measure rice in Japan, and it has now evolved into a vessel to hold a sake glass where you overflow the glass into the masu, and drink out of both the glass and the masu. If you look closely, you'll see that they fill the glass to the rim, and let you be the one that spills it into the masu. You won't find this in the Japanese-American places. It's another sign of Japanese authenticity at Sushi Sho Rexley.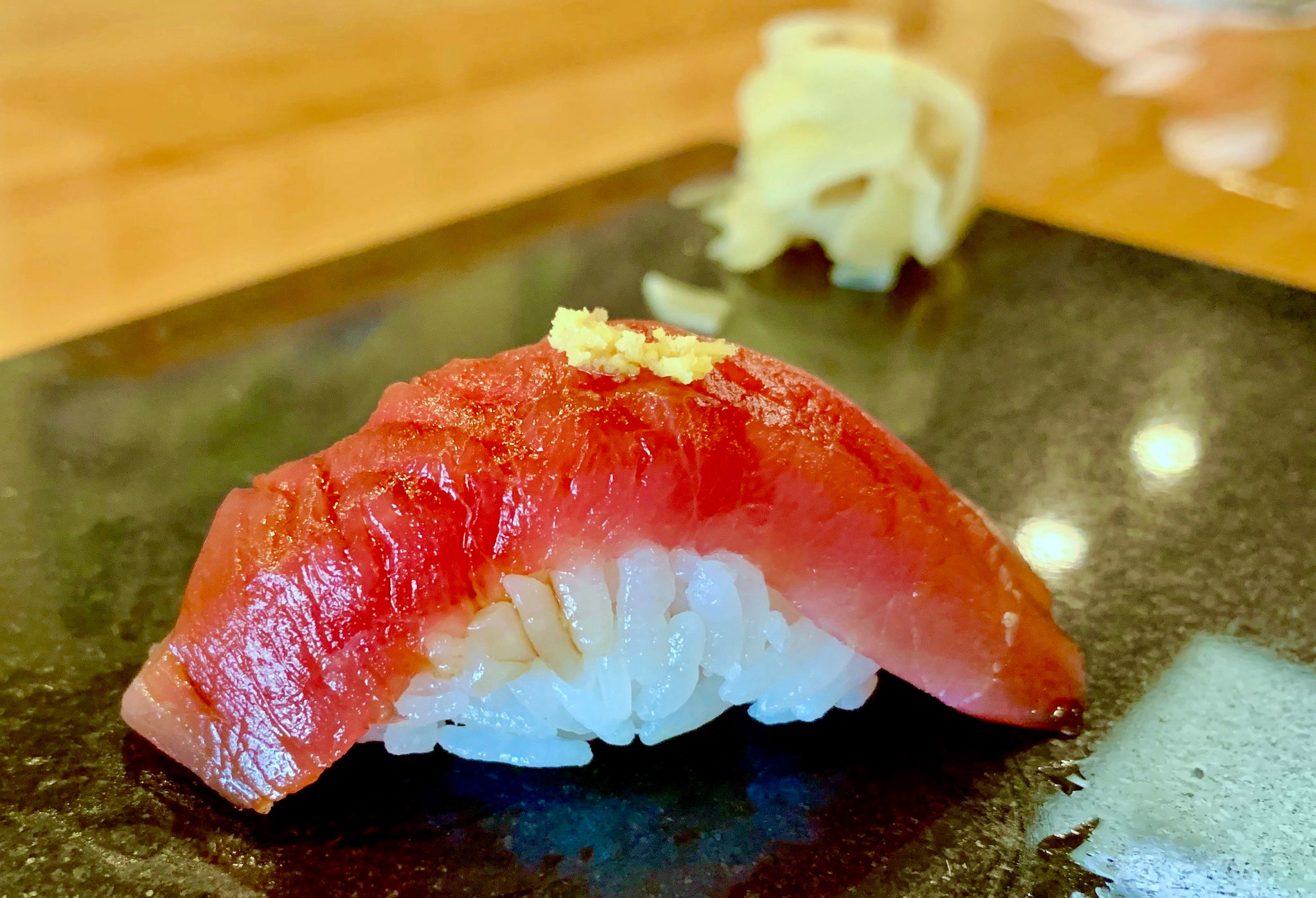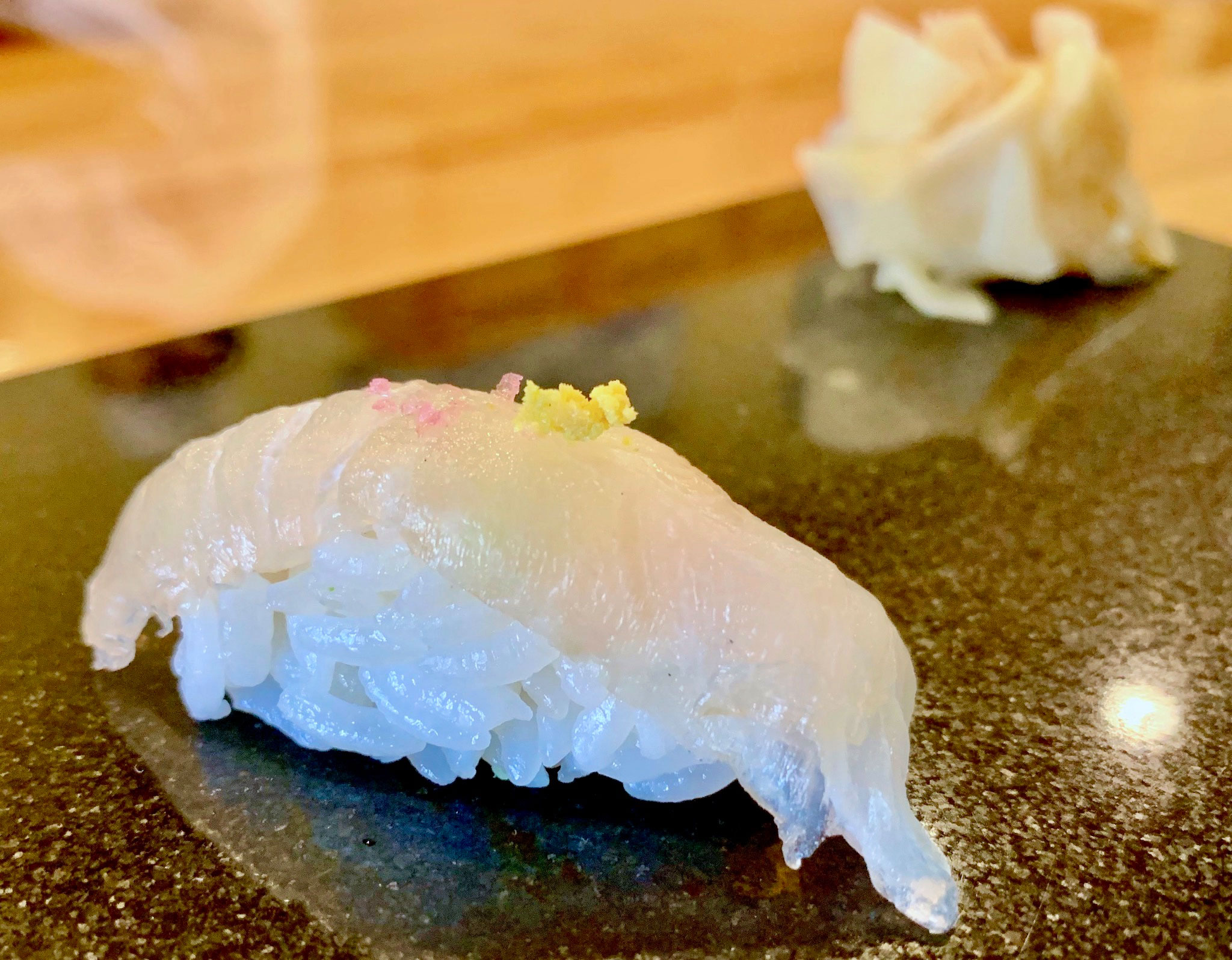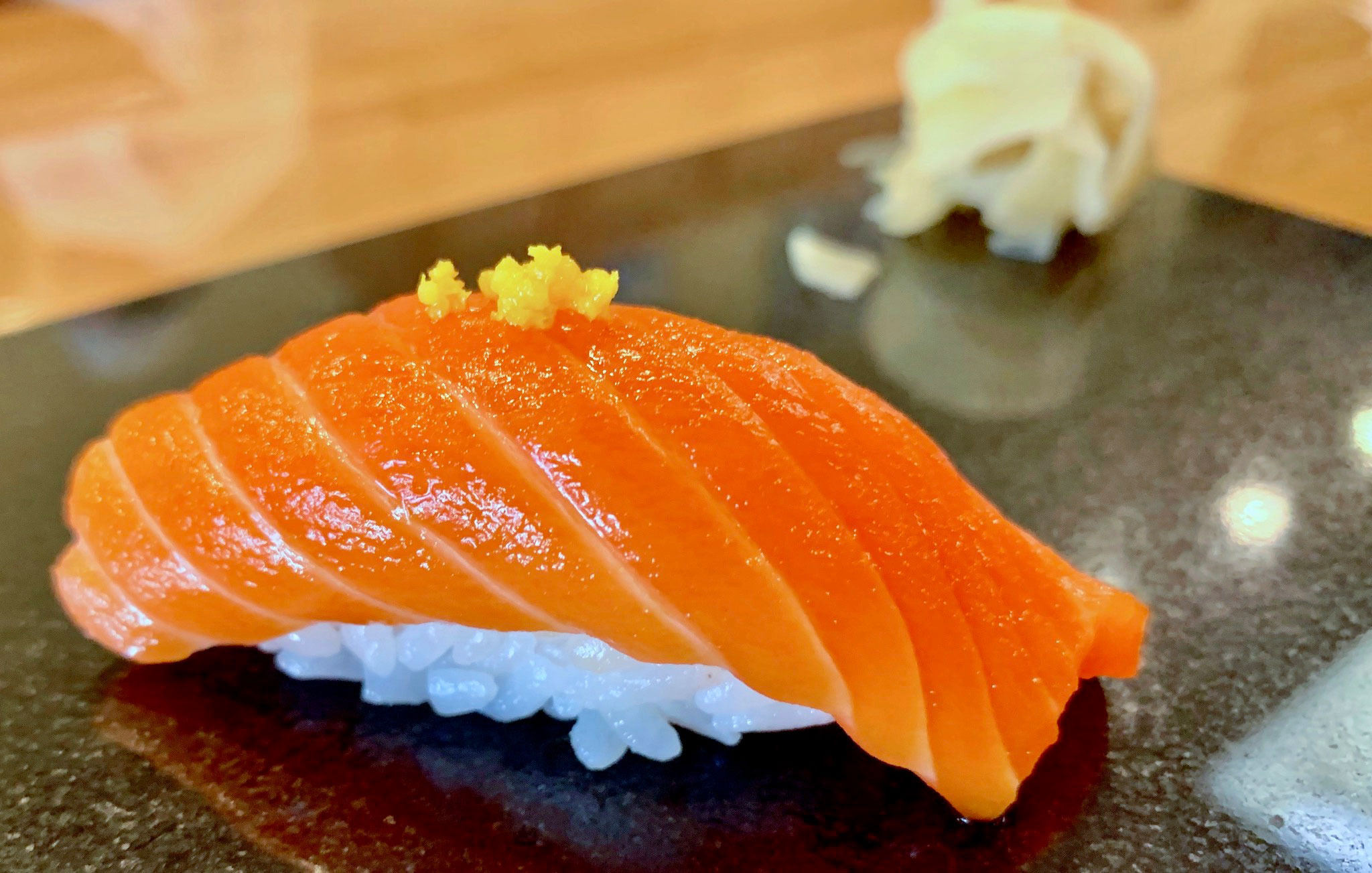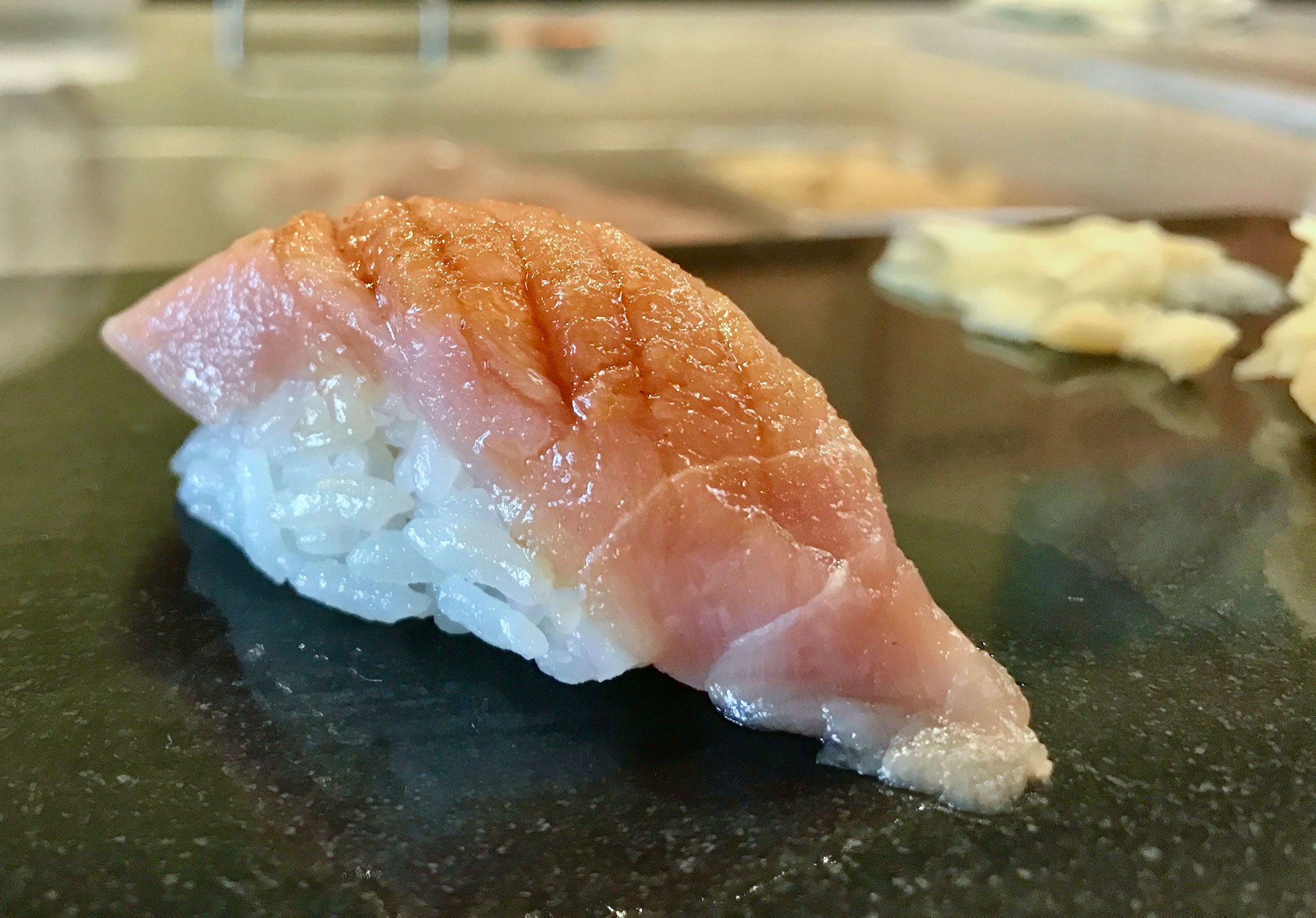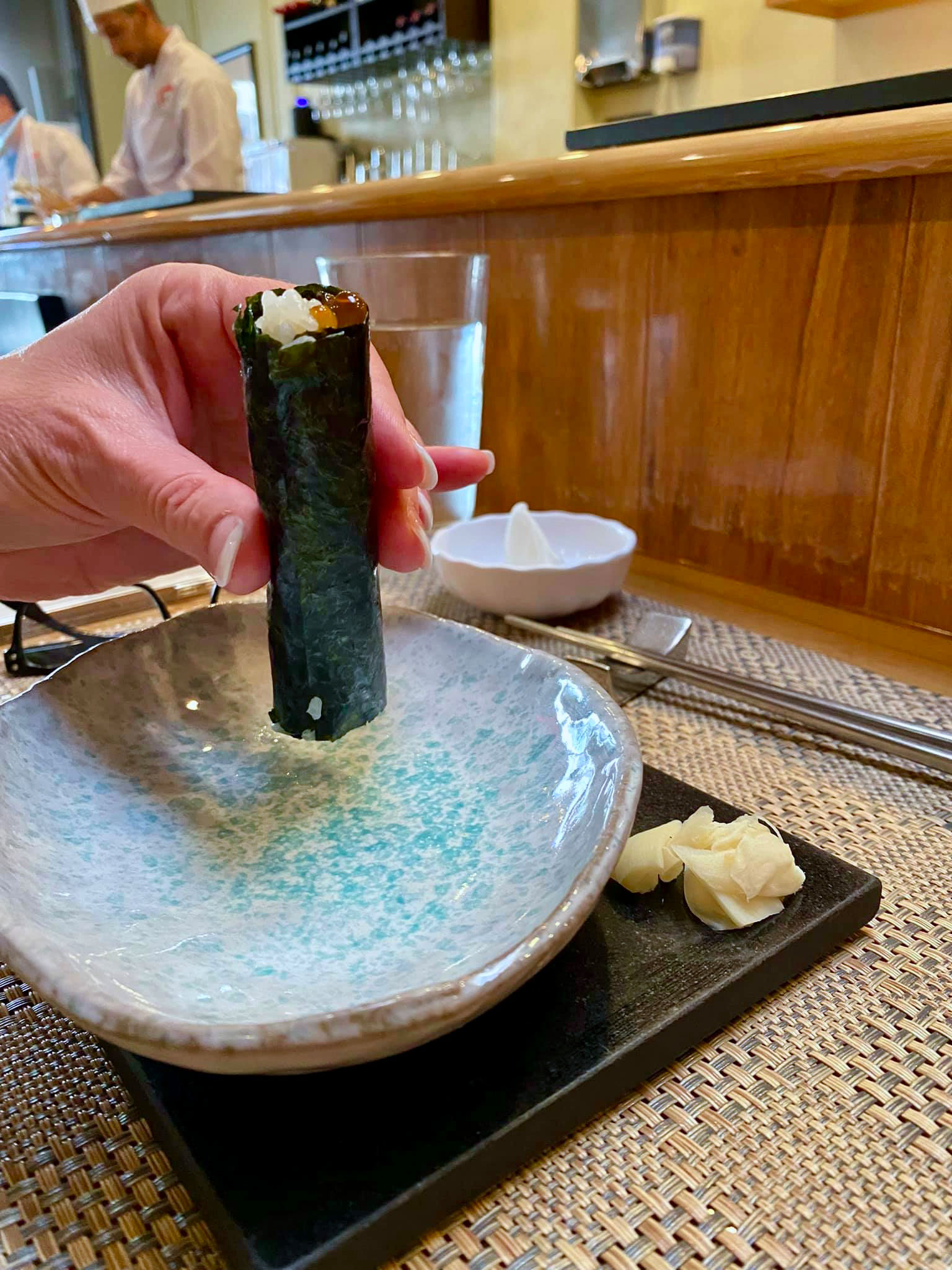 You can see that the fish looks super fresh and delicious in the above photos, but look at the rice too. Americans typically think that white rice is boring, but in Japan the rice is more important than the fish. Koshihikari is the strain of rice used in Japan, and it is here at Sushi Sho Rexley too. It's the good stuff.
At Sushi Sho Rexley they also use real wasabi, meaning the actual root that is hand grated with nothing added. The wasabi we typically get is mixed with horseradish and other ingredients.
Notice that the hand roll has the nori on the outside, and aside from that and the rice, there is only one ingredient – salmon roe.
Sushi Sho Rexley is reservations only, paid in advance, and they have two seatings each night. There is an optional sake pairing.
(Sushi Sho Rexley photos by Lori Brown)
Good Fortune St. Pete
260 1st Ave S #100
St. Petersburg, FL 33701
(727) 287-3881
Good Fortune Website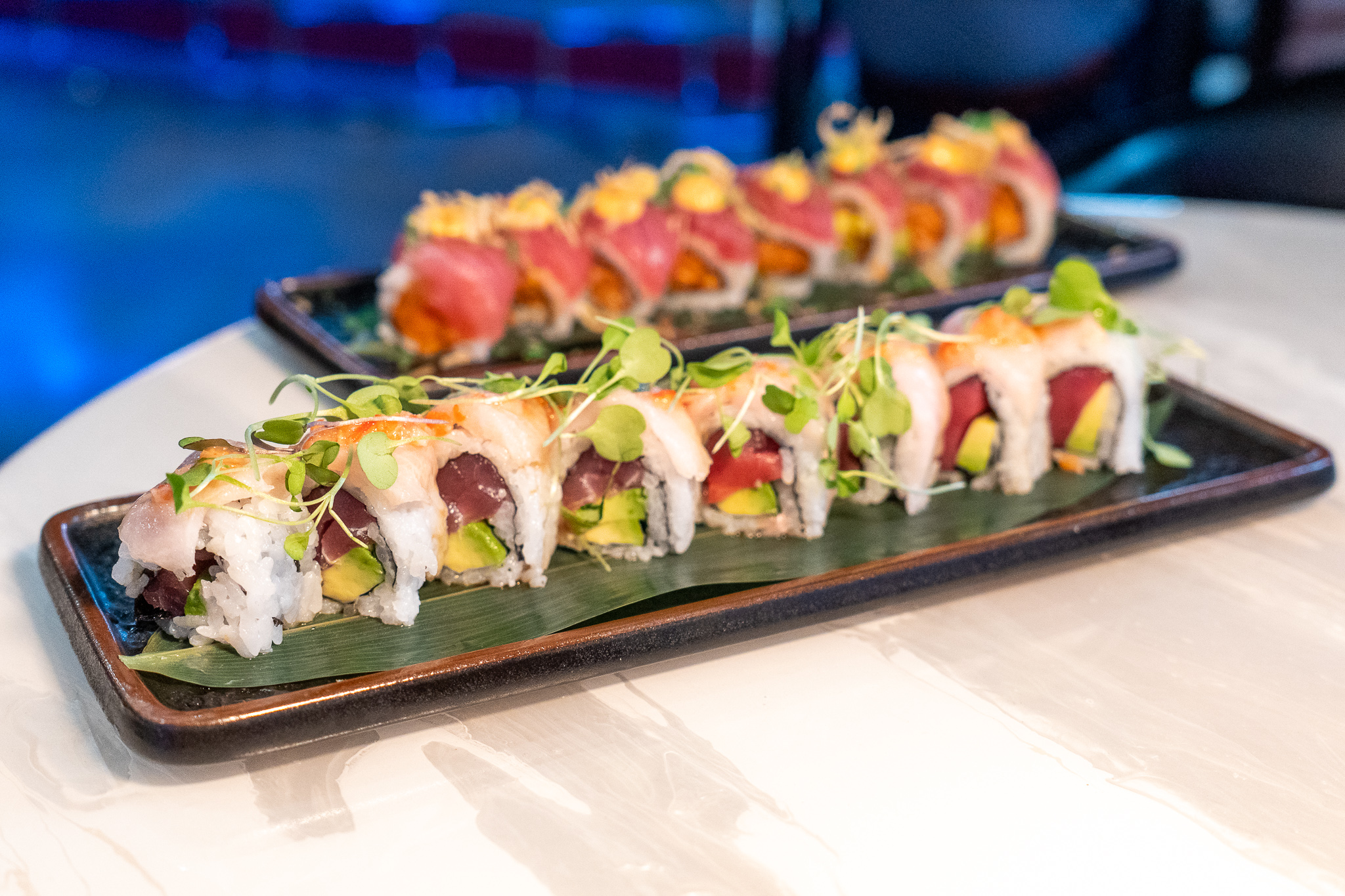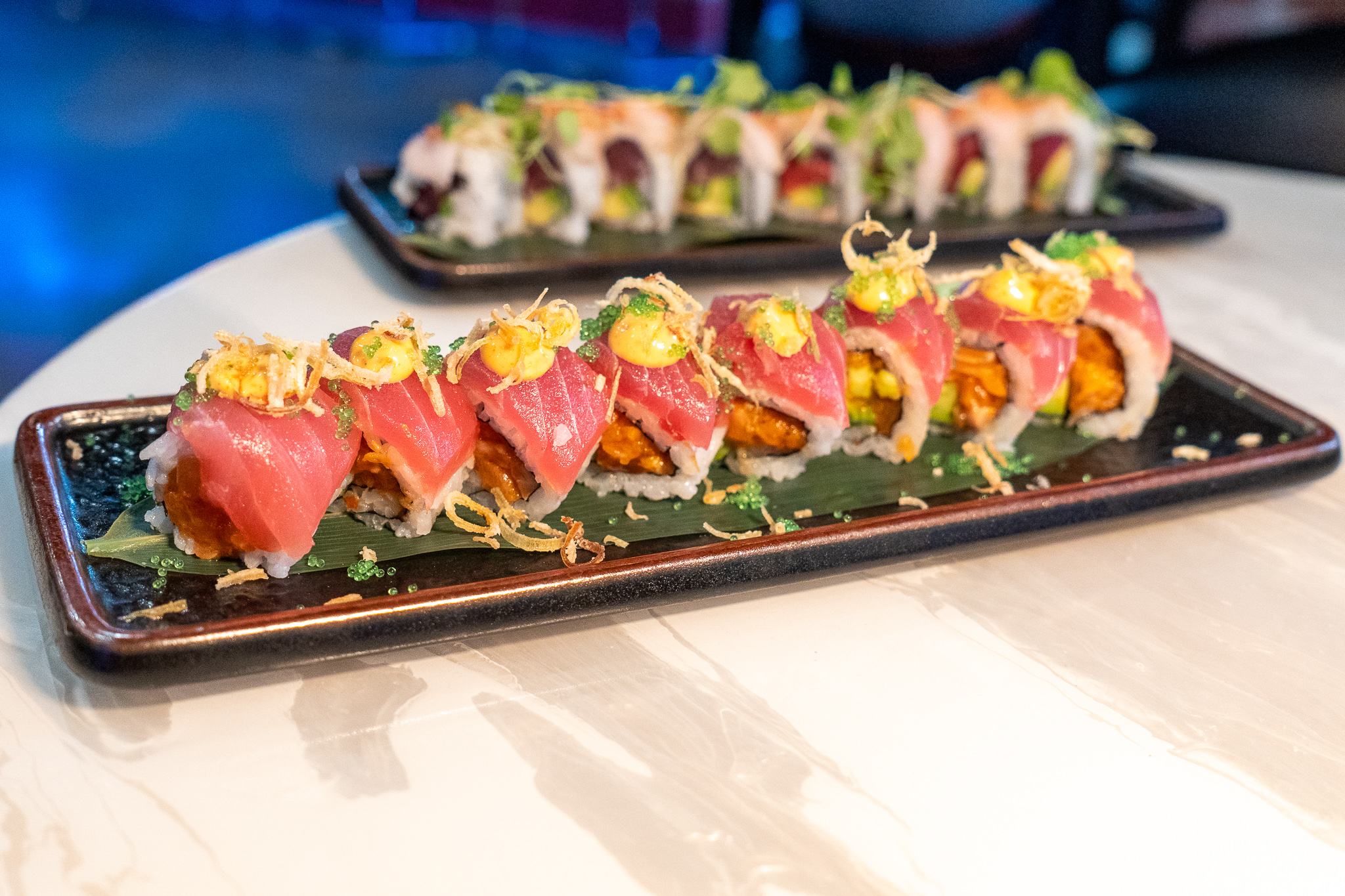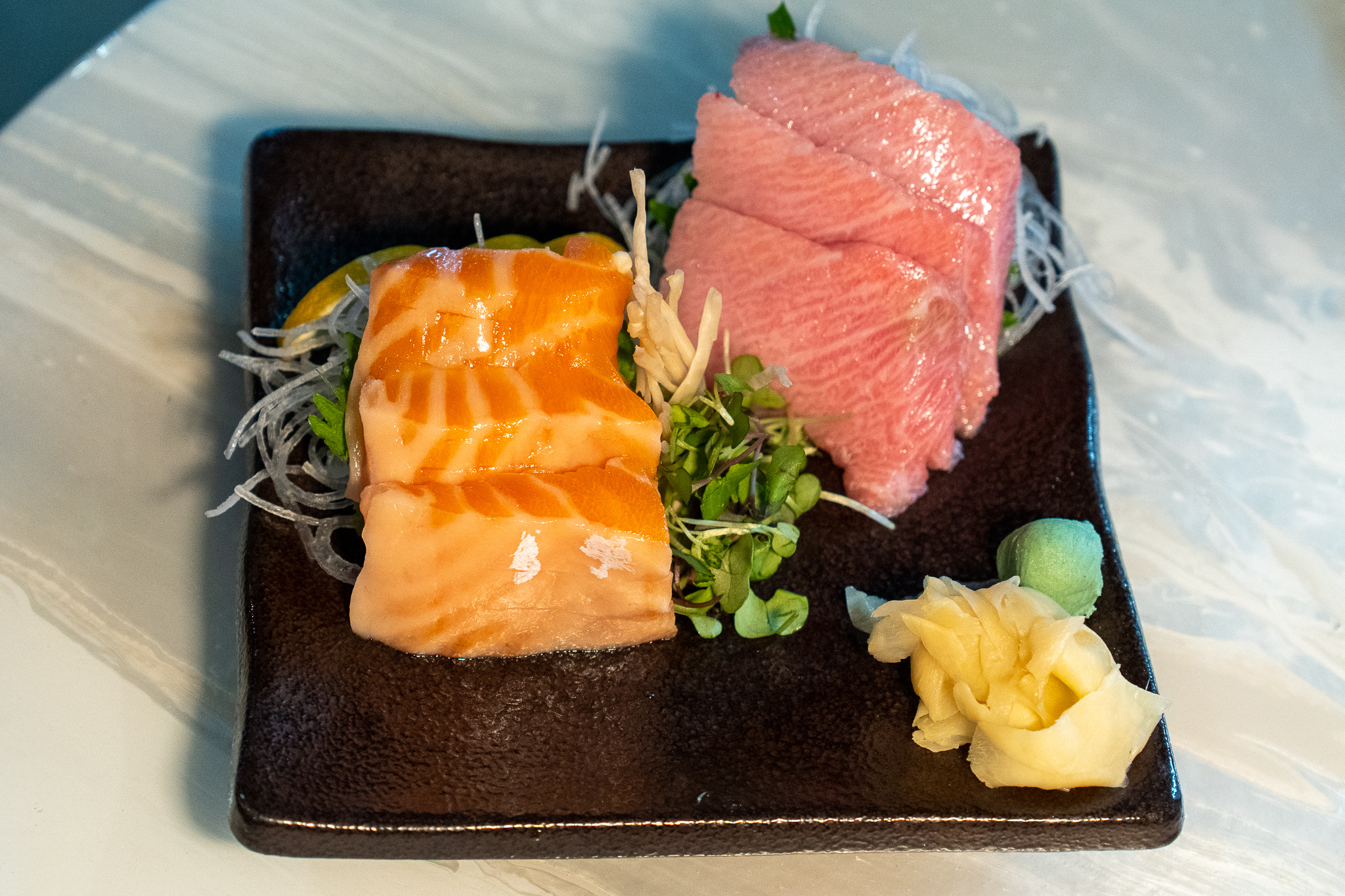 Good Fortune has the best, and most authentic Japanese-American sushi and sashimi in St. Petersburg, FL.
From Haley's review:
"Good Fortune is situated where Ichicoro Ane used to be, right under Station House. The menu is Asian fusion with small plates, bowls, sushi rolls, nigiri and sashimi, desserts, and a heavy drink menu with cocktails, Japanese Whisky, sake, shochu, beer and wine.
Once inside, you'll find a vibey bar, a sushi bar, a lounge, a restaurant and a private karaoke room. Around the rooms you will see kitschy fun nods to Tokyo with neon signs, beautiful greenery and flowers, extraordinary murals, and even more to see the longer you look around. It's so much more than just going for dinner and drinks, at Good Fortune, it's an experience that all of your senses will encounter.
The Double Dragon is simple and seriously delicious with tuna, and avocado, topped with Yellowtail, habanero relish and yuzu ponzu. It's earthy, simple, and so fresh.
The Cash Money signature roll has spicy salmon and avocado, topped with tuna, spicy mayo, crispy leeks, and green masago. Compared to the Double Dragon roll, this is more elevated in flavor with a slight kick to it. If you like simple, get the Double Dragon, if you like spice and a little more oomph, get the Cash Money. Both were excellent.
Good Fortune should be famed for its fatty tuna. It's the melt-in-your-mouth quality that separates the best from the rest. I also loved the exquisite salmon belly, as salmon is always my go-to, but the salmon belly really kicks it up a notch. They both melt in your mouth, have a smooth aftertaste, are satisfyingly thick, and made us realize the true freshness."
(Good Fortune Photos by Haley Haman)
Rain Japanese Sushi Bar & Thai
5267 Park St N.
St. Petersburg, FL 33709
(727) 545-1781
Rain Website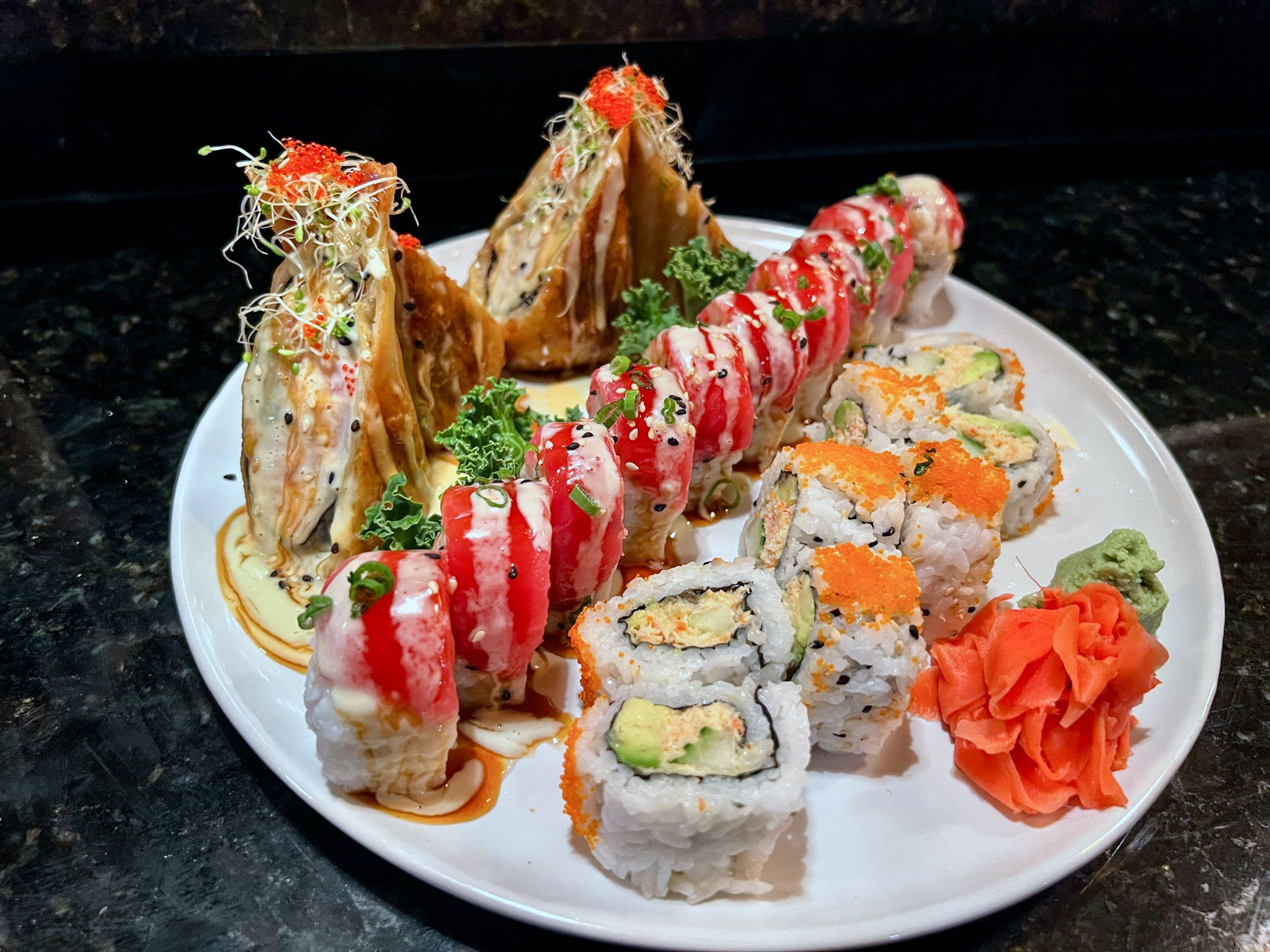 From Abby's review:
"The Sassy Amiga roll (pictured above on the left) was listed second on the menu and immediately grabbed our attention with components of spicy tuna, krab stick, avocado, cheese and a tortilla wrapping. I typically don't gravitate towards specialty rolls like this, but it was a unique choice that I'm glad we made. The roll, of course, had heavy savory notes, but it also carried a nice sweetness due to the marriage of ingredients.
Hangover roll. This specialty roll has that whole less is more thing going for it as it is only comprised of spicy tuna, cucumber, scallions, lime and a yummy little special hangover sauce. It's incredibly fresh tasting with just the right amount of spicy subtle tuna flavor. This is one of those rolls that I would order time and time again.
The Snow Crab is a basic roll with snow crab, cucumber, mayo, avocado and smelt roe. The crab is very good and definitely stands out to make a statement. So if you're a lover of crab, this one is undoubtedly for you if you want a roll without the fuss."
Blue Fugu Japanese Steakhouse
4615 Gulf Blvd
St Pete Beach, FL 33706
(727) 367-6762
Blue Fugu Website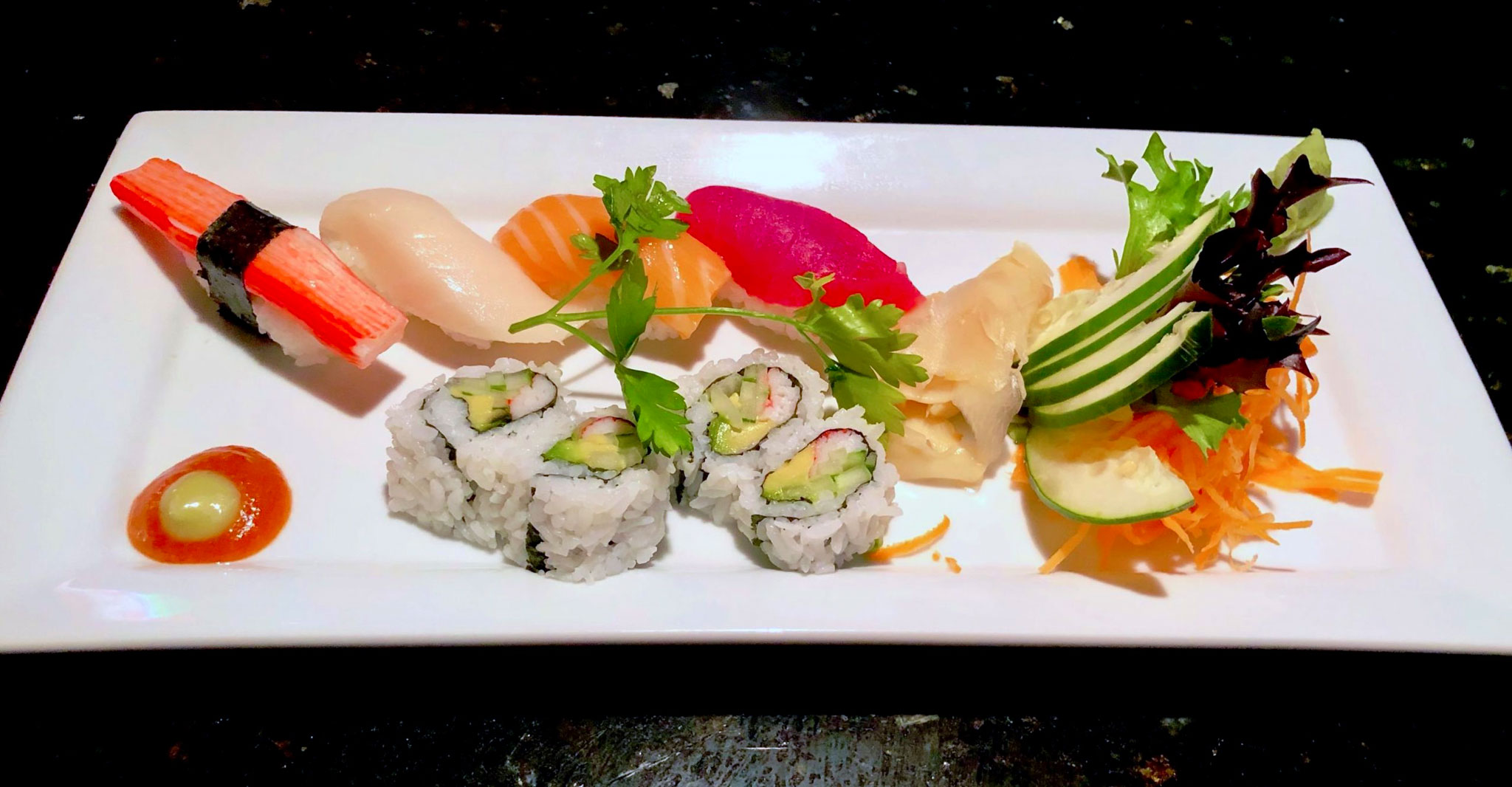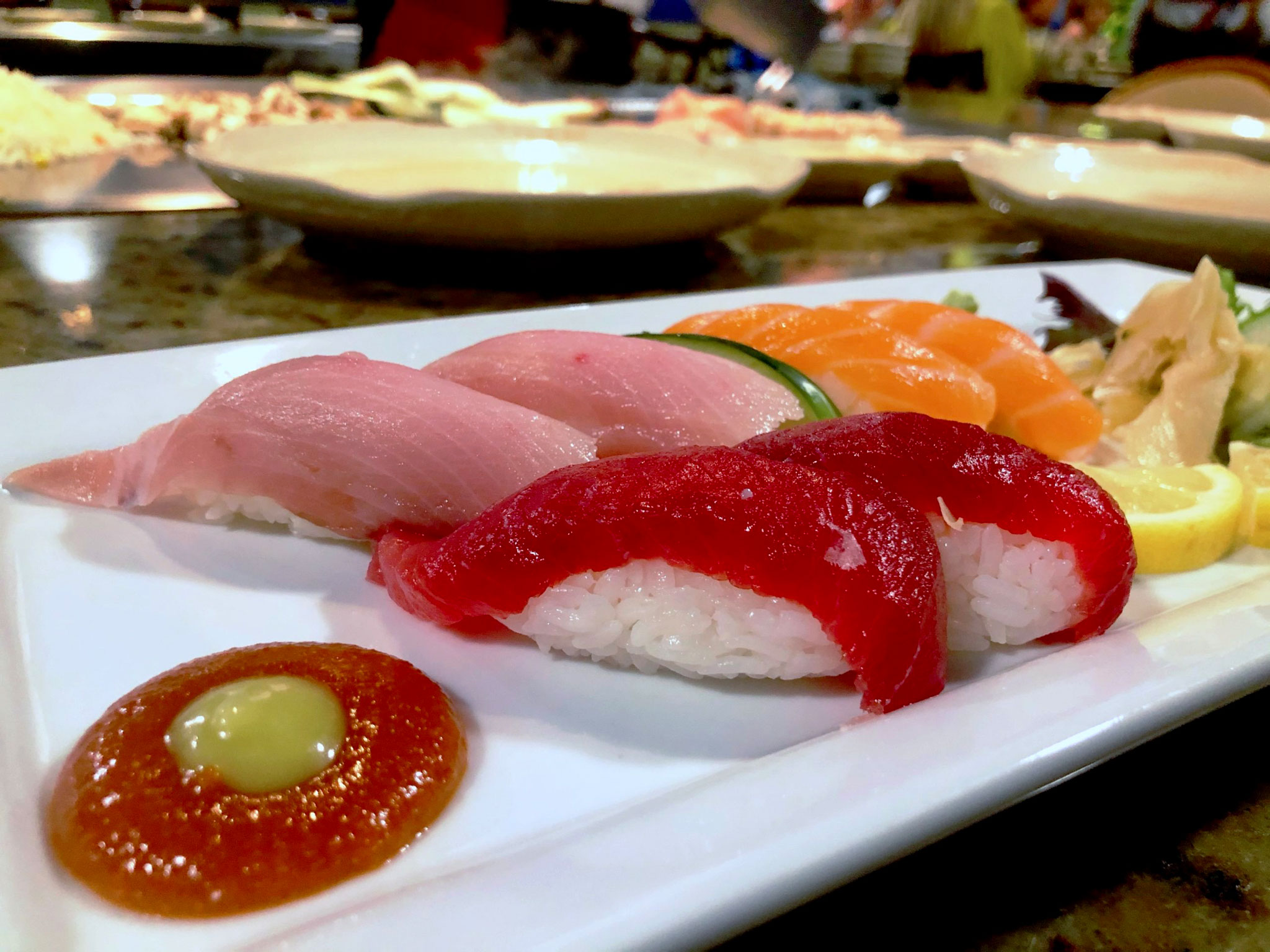 Blue Fugu uses the highest quality fish and rice, and they have all of the most popular nigiri, sashimi and rolls which are beautifully plated. They have comfortable seating and friendly service. Parking is easy, which isn't always the case at the beach.
(Blue Fugu Photos by Lindsey Harris)
Green Pagoda
7900 4th St N.
St. Petersburg, FL 33702
(727) 827-2133
Green Pagoda Facebook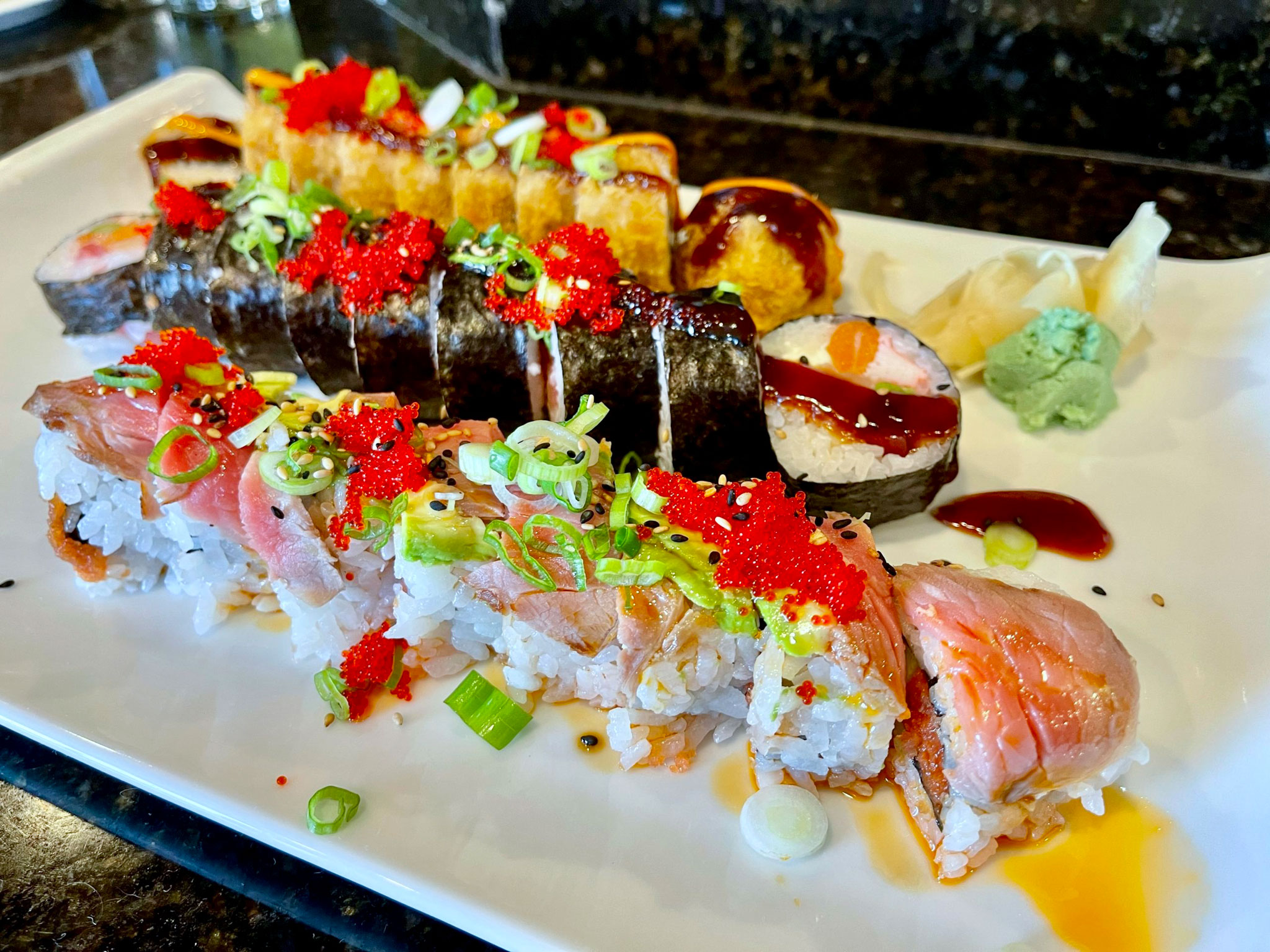 From Lindsey's review: "If you're not familiar with the location, Green Pagoda serves north St. Pete along 4th Street at 80thAvenue. If you know the area, you are likely aware of the void of quality restaurants. You basically only have Noble Crust. While Noble Crust is always a good go-to, there is definitely a need for more quality, and thankfully Green Pagoda has filled that void.
We were told by Patrick that their sushi chef has over 20 years of experience and pays extra close attention to detail, especially when it comes to cooking the rice just right.
From top to bottom, we ordered the crispy salmon roll, Pagoda roll and the seared beef roll.
While my friend and I typically don't prefer tempura fried rolls, we decided to try the crispy salmon roll at Patrick's suggestion. The roll comes filled with salmon, eel, asparagus, cream cheese, masago, sesame seeds, and scallion then tempura fried and topped with sriracha, shrimp sauce and teriyaki. And while that might sound like a lot of flavors that could overwhelm one another, it was a delicious, well balanced (big) bite.
The Pagoda roll is a seaweed outside, tightly wrapped roll with tuna, salmon, escolar, snapper, crab, asparagus and cream cheese then topped with tobiko, scallion and teriyaki. The combination of all the raw fishes made this roll refreshing, with the teriyaki adding a slight tang on top.
The seared beef roll was the simplest of the three rolls with spicy tuna, avocado and cucumber inside then topped with seared beef, tobiko, peppercorn, sesame seeds and chili oil. The chili oil added a good spice while the beef added a bit of earthiness.
All of the rolls were well sized and I enjoyed the unique sauces that were used, as opposed to your typical spicy mayo or eel sauce."
Mangosteen
656 Central Ave
St. Petersburg, FL 33701
(727) 954-3381
Mangosteen Website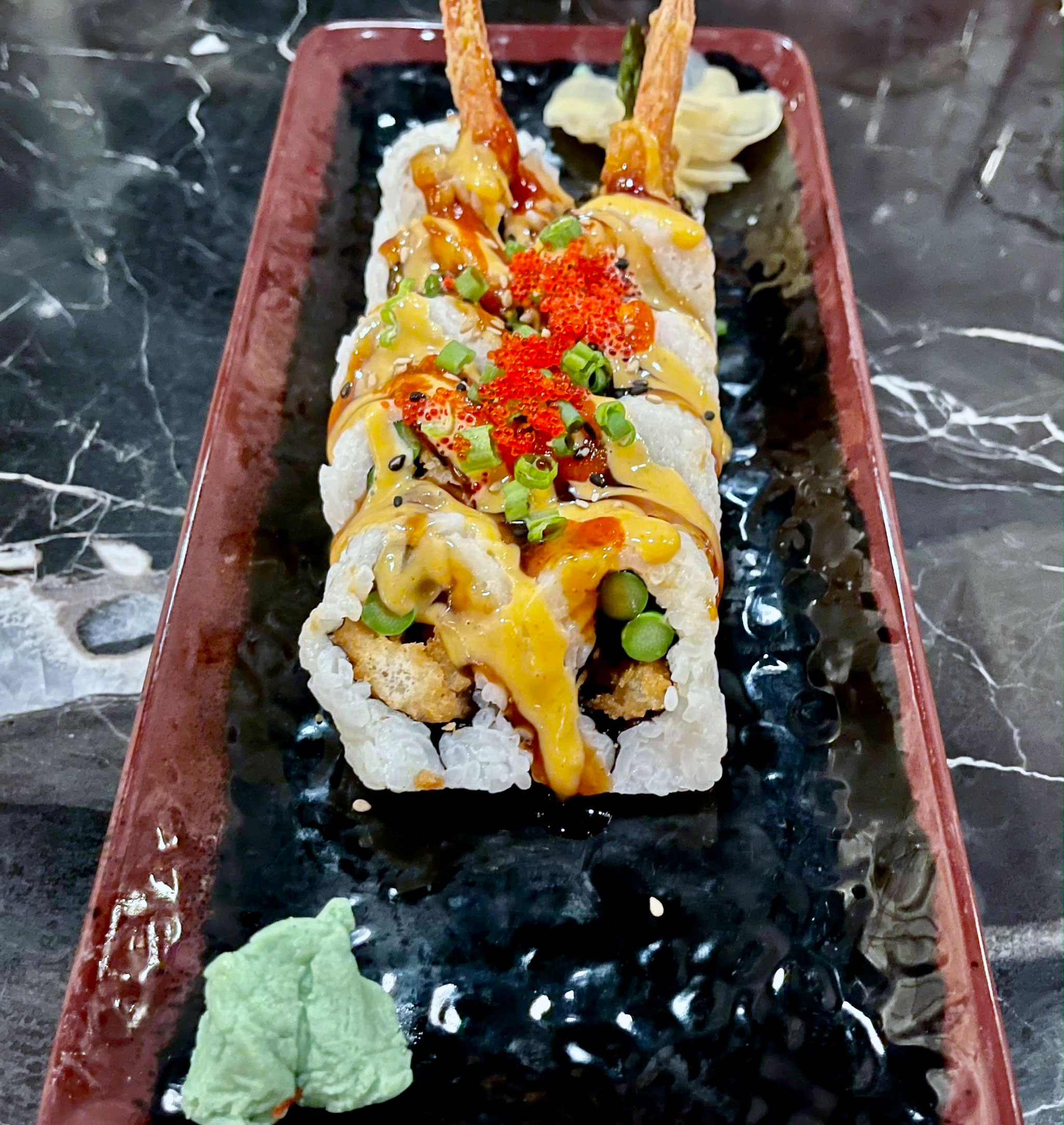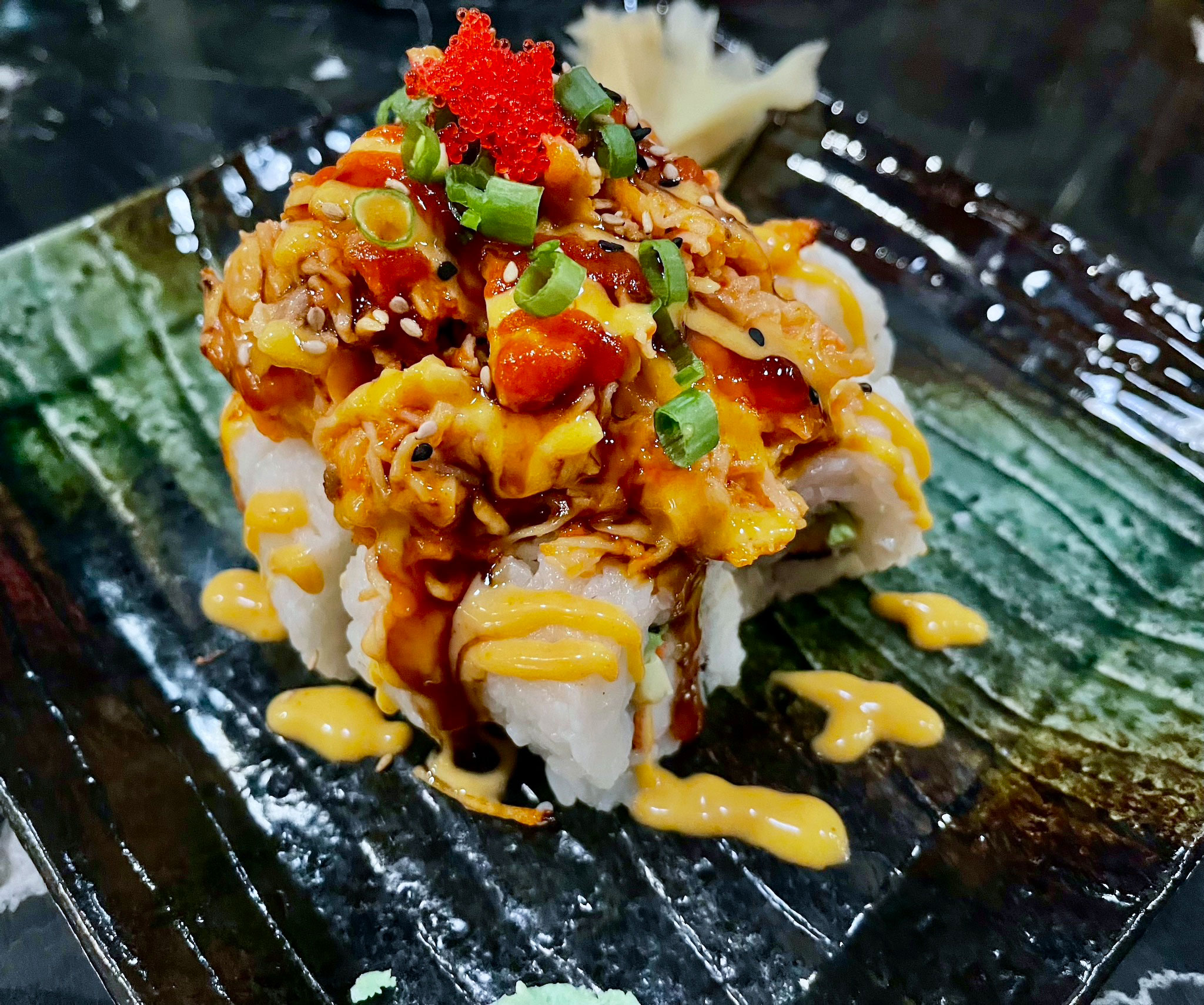 From Lori's review: "Mangosteen rolled onto the St Pete restaurant scene in early November 2021 with it's trendy, hip vibe and eclectic asian inspired menu which features yakitori, tapas, tacos, sushi, stir-fry and very creative tropical cocktail concoctions.
We all shared two orders of rolls. First up was the Spider Roll – tempura soft shell crab, asparagus, sriracha, masago, shrimp sauce, teriyaki. So different, fresh and flavorful. Definitely recommend.
I love volcano rolls so I had to try their version – California roll, baked spicy salmon, sesame seeds, masago, shrimp sauce, teriyaki."
(Mangosteen Photos by Lori Brown)
The Lure
661 Central Ave N
St. Petersburg, FL 33701
(727) 914-8000
The Lure Website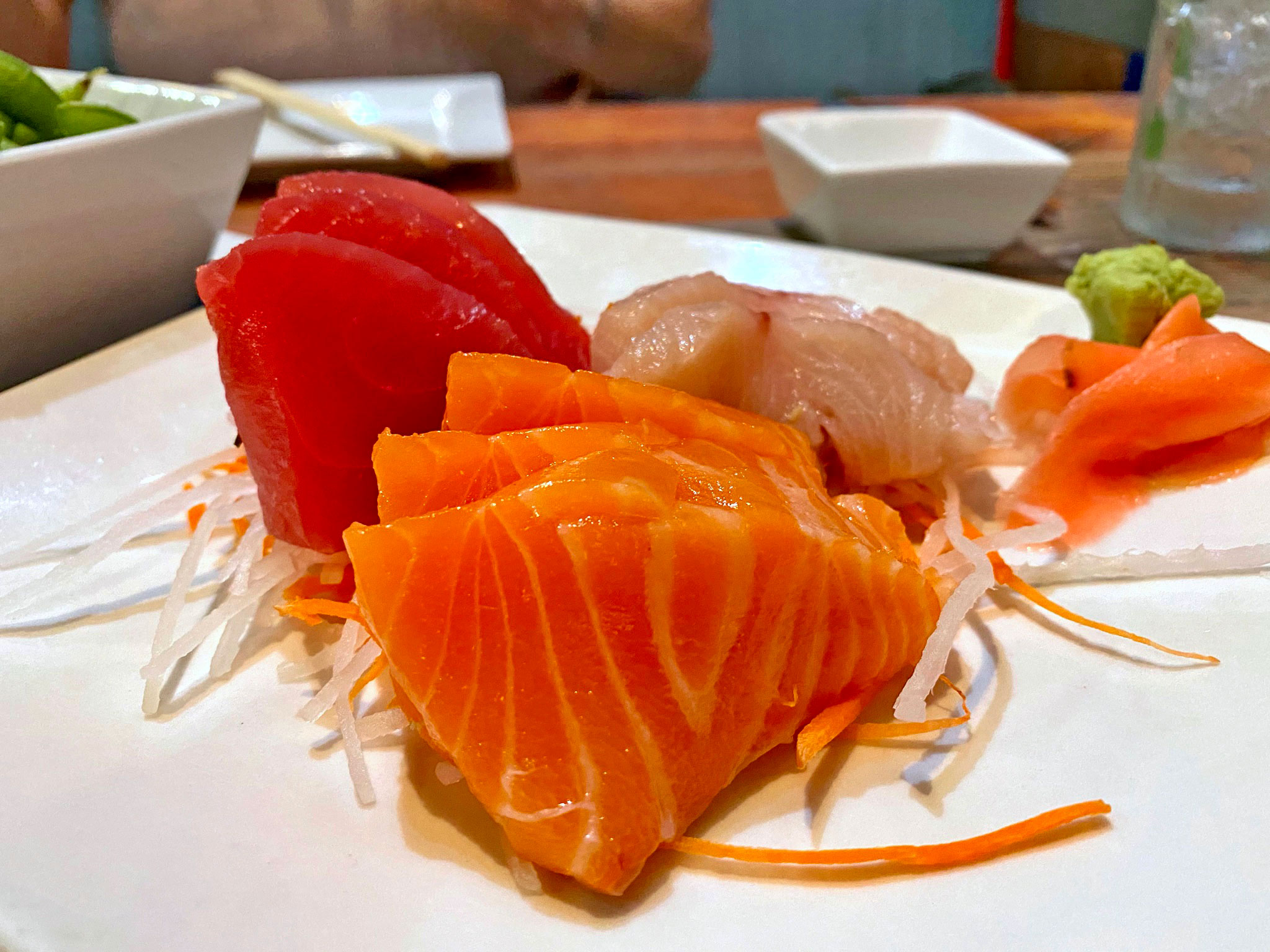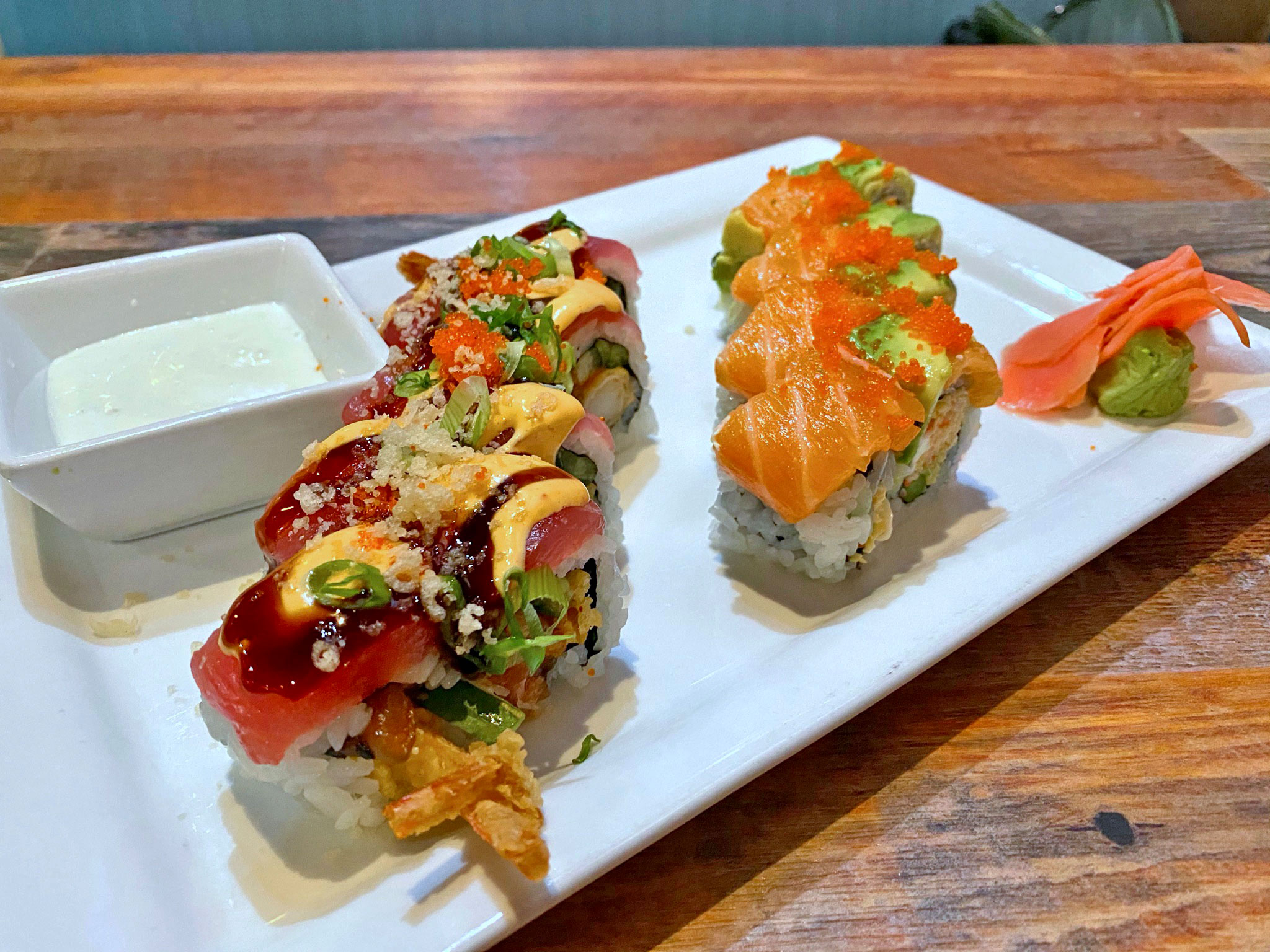 The Lure, that cool, brick-walled open great room concept place on Central with funky wall murals, birch art and pool tables.
Our favorite items to get at The Lure are: Sashimi appetizer – Tuna, Salmon and Yellowtail. Red Dragon Roll (L) – Shrimp Tempura, spicy tuna, and cucumber rolled in seaweed and rice, topped with more tuna, eel sauce, and spicy mayo. The Lure Roll (R) – Spicy kani, asparagus, cream cheese roll topped with salmon, avocado, and masago, drizzled with jalapeño cilantro lime aoli (on the side here).
(The Lure Photos by Lori Brown)
Pin Wok & Bowl
445 Central Ave
St. Petersburg, FL 33701
(727) 575-7167
Pin Wok & Bowl Website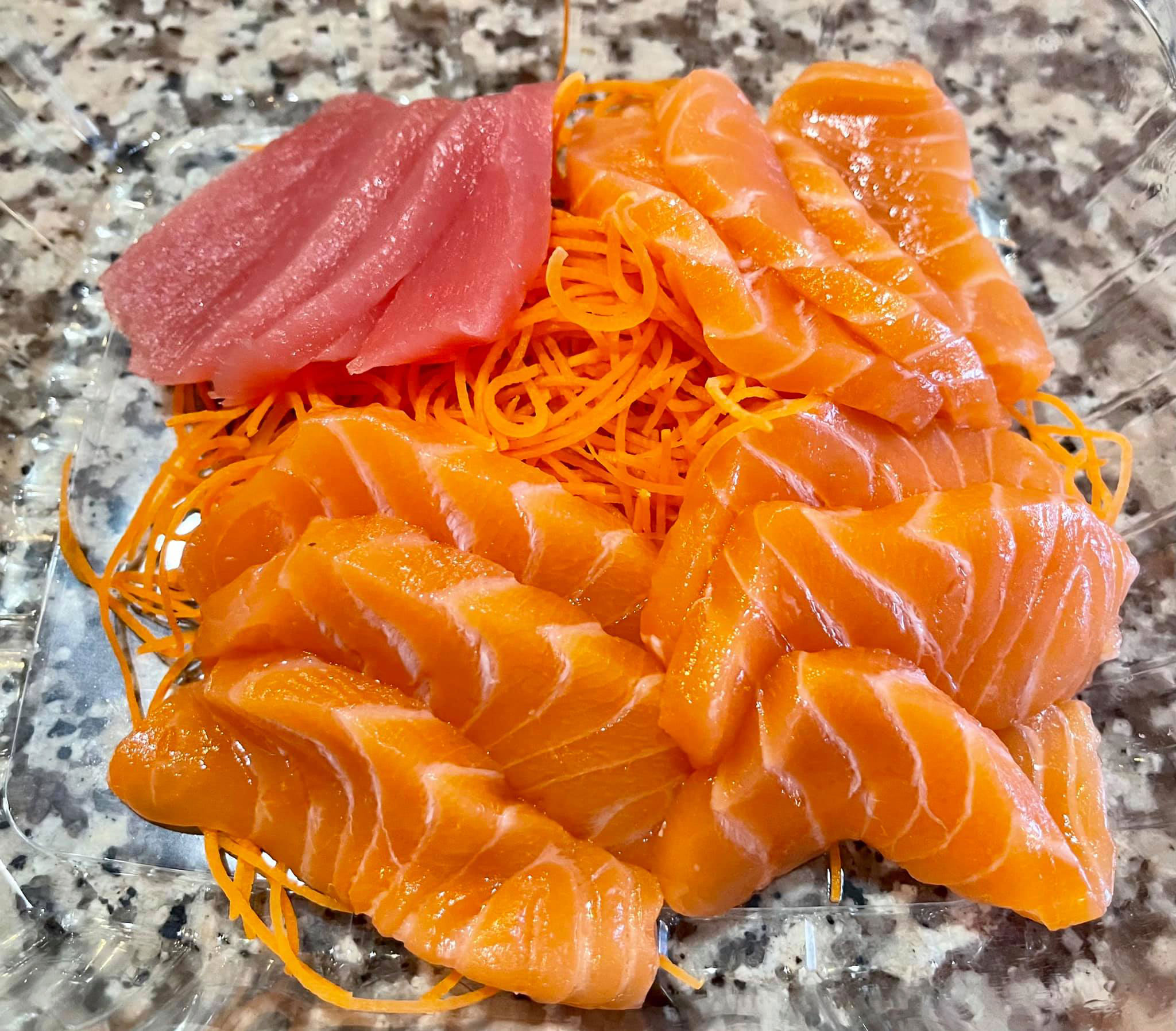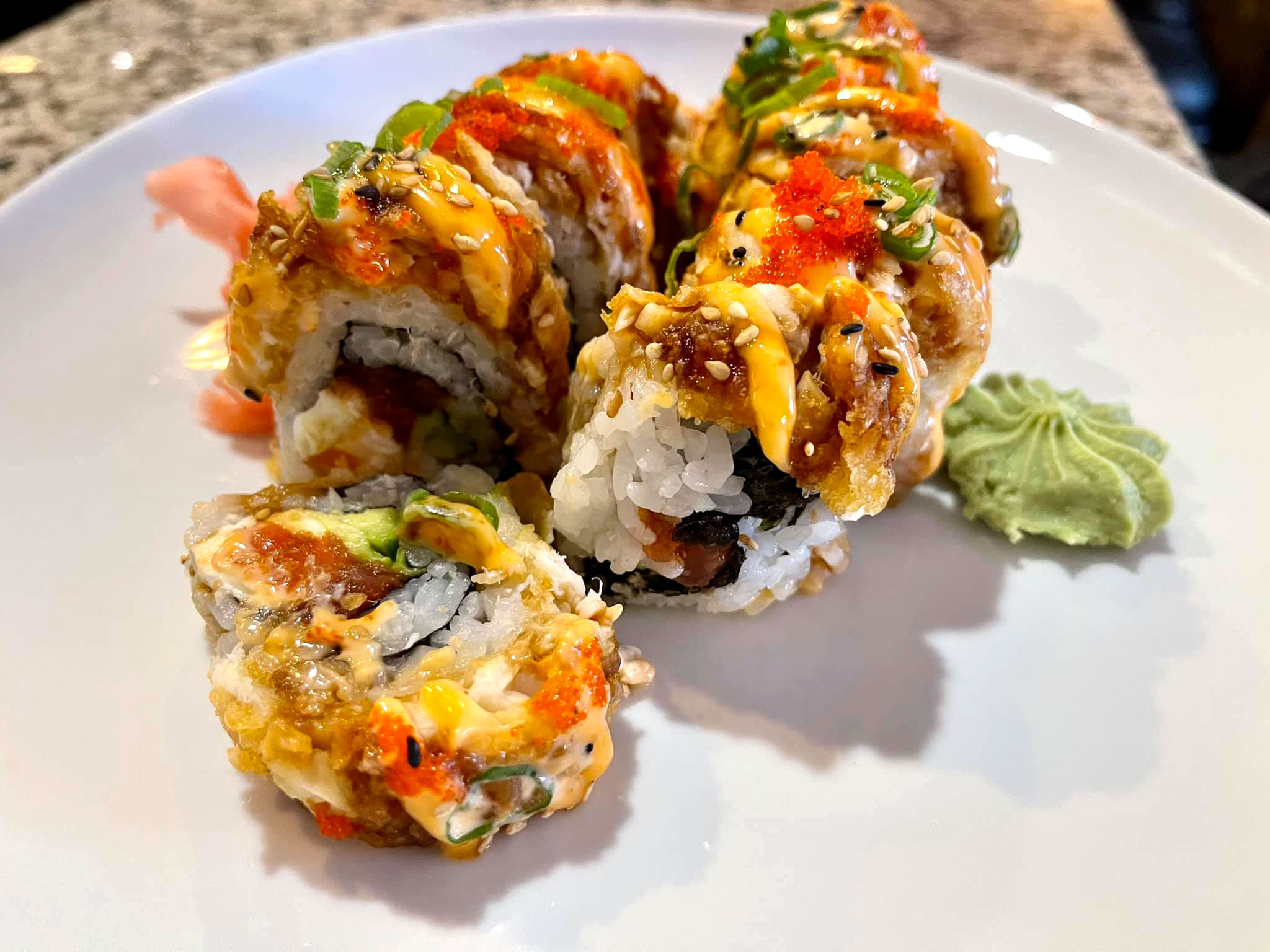 Ever since they opened in 2017, Pin Wok & Bowl is one of our favorite places to get sashimi. Their tuna, and especially the salmon just has an elevated texture, mouthfeel and flavor. There are 11 different types of salmon, six of which are used for sushi. Based on my recent experience studying and making sushi, I suspect that Pin Wok & Bowl is using Ōra King Salmon, and they may even be giving it a 15 minute soak in liquid shio koji. It's a home run.
A fun roll to try is the P.B.J. Roll. It has spicy tuna, avocado, smelt roe, mayo, and cream cheese, and is topped with crispy snapper. This was  an interesting one to say the least. It actually did taste like a peanut butter and jelly sandwich. We ordered these for delivery and the photos were taken at home rather than at the restaurant.
(Pin Wok & Bowl Photos by Lori Brown)
Sushi Inc
270 1st Ave N
St. Petersburg, FL 33701
(727) 800-9977
Sushi Inc Website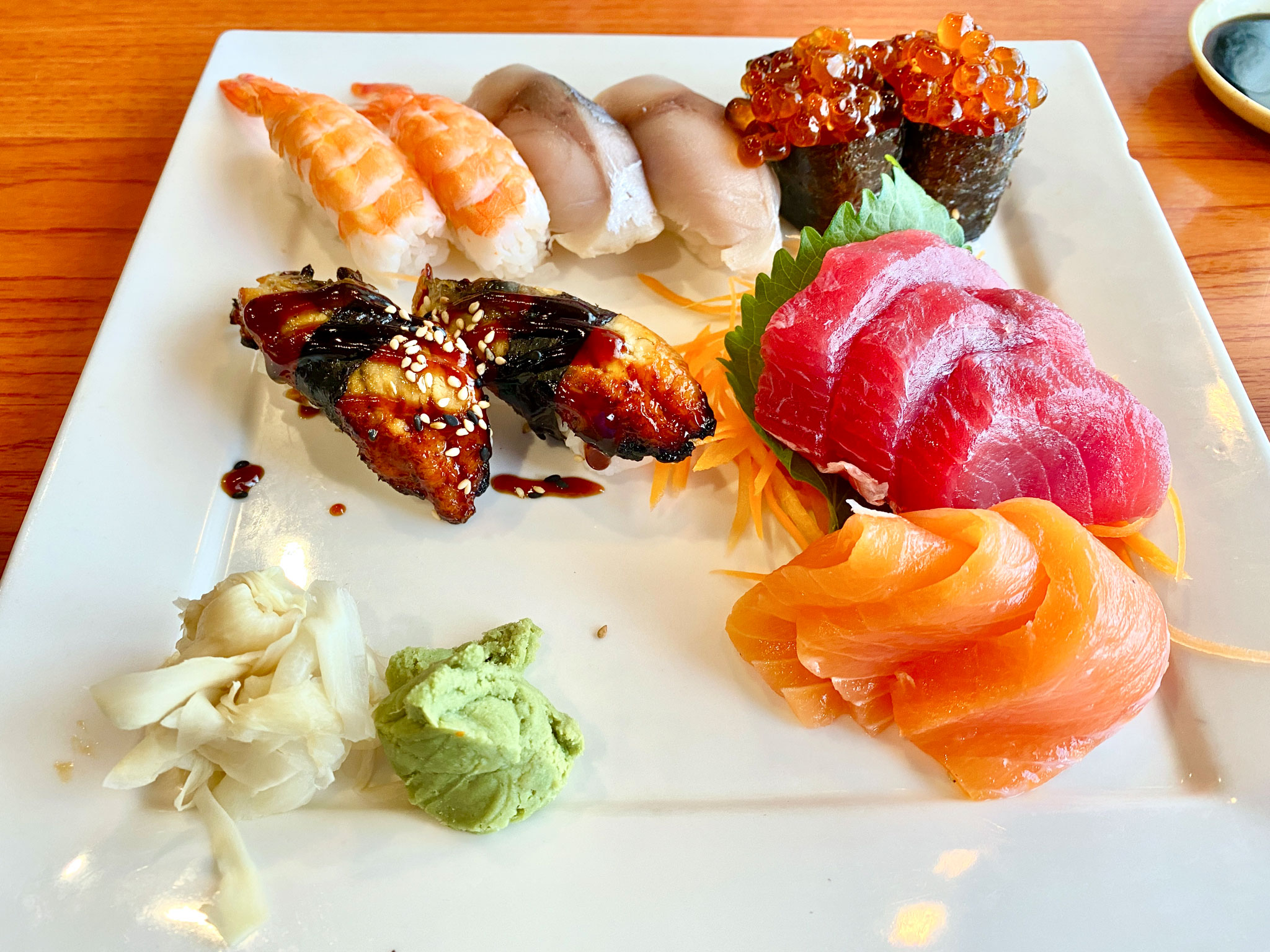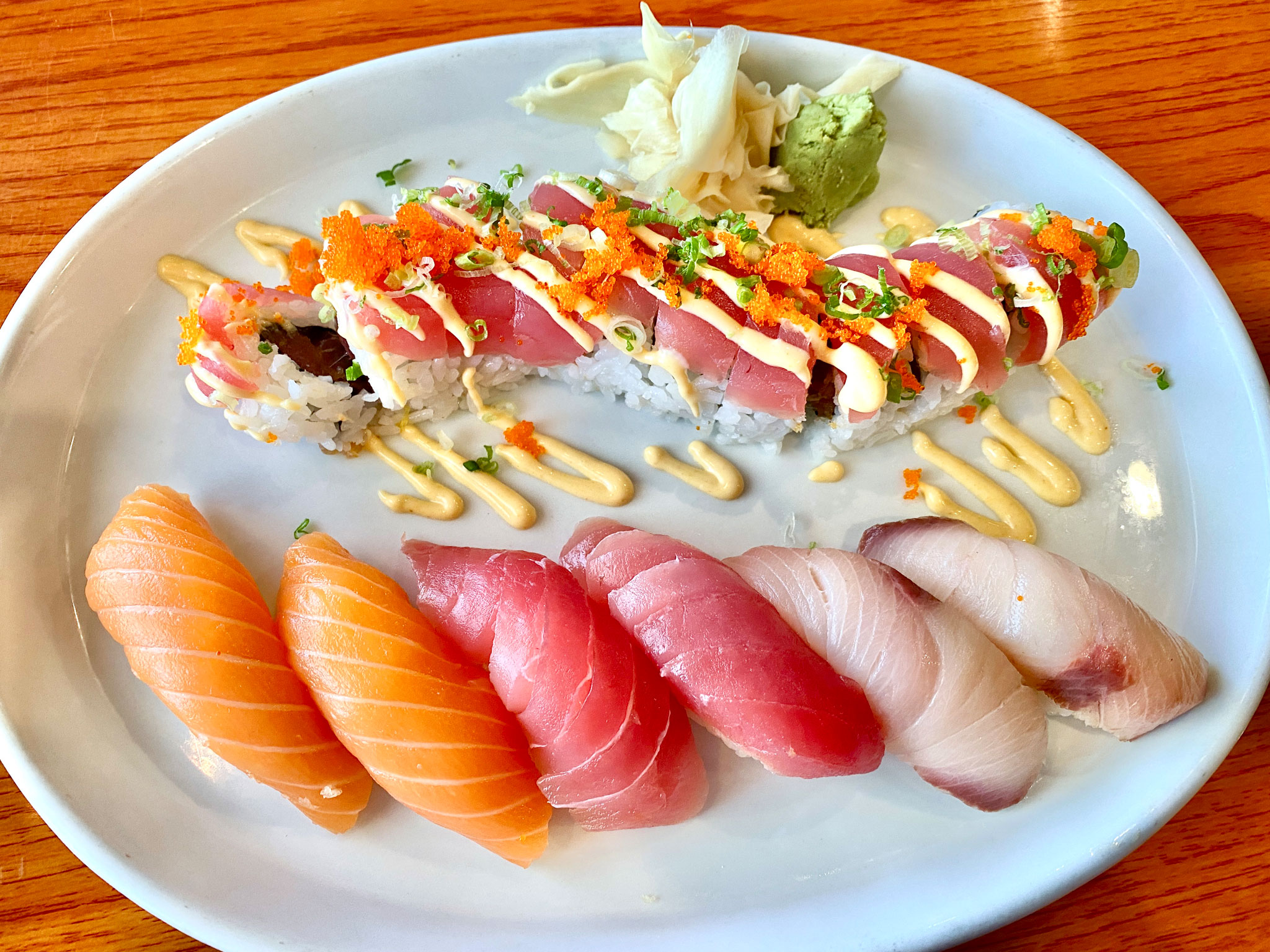 Sushi Inc. has really good sushi for the everyday sushi eater. There's no over the top fancy items, like Toro cuts of tuna, salmon, or yellowtail. They do have everything a casual sushi fan is looking for.
Since I mentioned casual, let me also mention that it is definitely casual and doesn't have the ambience it had in its earlier years. There's two rooms – one on the left and one on the right of the host stand when you walk in. The one on the left still has flooring, but they use it to park somebody's motorcycle, chairs up on all of the tables and the lights are all out.
The open side on the right had the floors ripped out and not replaced, leaving dirty-looking, unfinished cement. The music was loud for lunchtime. We asked for it to be turned down, and they did. Don't look for fancy sakes to drink either. There's a few on the list, but they're mostly for the same crowd that drinks overly sweet frozen drinks while on vacation at the beach. Apple, peach, raspberry, hazelnut sake? No thanks.
The actual sushi saves them though. The fish is fresh and delicious, and the rice is good. It could use a little more seasoning for sushi rice, but the quality is there, and most people won't even notice.
The top photo is my order which consisted of – From top left clockwise: Shrimp, Mackerel, Salmon Roe, Tuna, Salmon, Wasabi, Pickled Ginger, BBQ Eel – all executed quite nicely.
The bottom photo is Lori's order of – Top: Red Dragon Roll (spicy crunchy tuna topped with tuna and finished with spicy mayo, scallion and roe). Bottom: Salmon, Tuna, Yellowtail – all Nigiri.
We were both pleased with the food, and would likely keep this a lunch spot. In the evening, we prefer a better ambience and sake list.
Ichiban Japanese Restaurant
2050 16th St N
St. Petersburg, FL 33704
(727) 896-1101
Ichiban Website
Ichiban has a lot of fans, including me and Lori. We hadn't been since 2016, and knew we had to go back for a new dining experience to refresh our tastebuds. Their website has a pop-up stating "due to COVID-19 we are only doing takeout".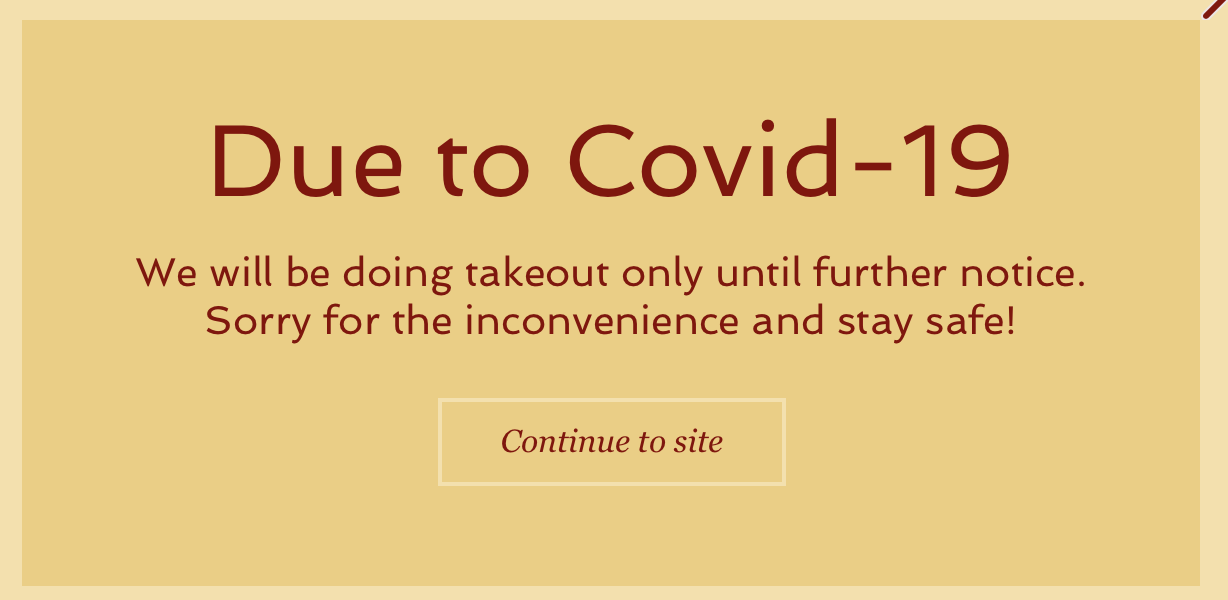 I just figured the website was never updated. (I know of many outdated restaurant websites.) We arrange to meet Lori's son there for lunch. (He came all the way from Tampa.)
Upon arrival, we see dog-eared, yellowed signs in the windows saying things like, "Mask required to enter" "No Dine-in. Takeout only". I'm still in disbelief thinking, "jeez they never took these signs down". We walk in and there are no customers. We are told due to COVID-19 that they are only doing takeout. (Cue the theme to the "The Twilight Zone".) Next, the lady tells us that they don't have a sushi chef. At that point, it was "Cya!"
We were just so flabbergasted. If we were to do takeout, I would have wanted to have my cooler to put the sushi in as we have a 15-20 minute drive home and this is too long to leave raw fish sitting at room temperature from a food safety point of view.
On the not having a sushi chef, as I thought about it later, I think she must have meant that there is nobody to run the sushi bar and interact with customers, and perhaps there's someone in the back making sushi as there was fish in the counter.
Afterwards we went to another place to get sushi that we had never been to and will never being going back to again. I apologized twice to Lori's son. I'm done eating bad sushi.
Many current Yelp and Google reviews say that Ichiban is still good. I suggest that if you are going to get takeout from them that you bring a cooler to put the sushi in for the ride home, unless you live very close.
Lastly, if you're going to be in Gainesville, FL – checkout Dragonfly Sushi & Sake Company, 201 SE 2nd Ave #104, Gainesville, FL 32601 – It's some of the best sushi, sashimi and the sake selection is quite good, as well as the service.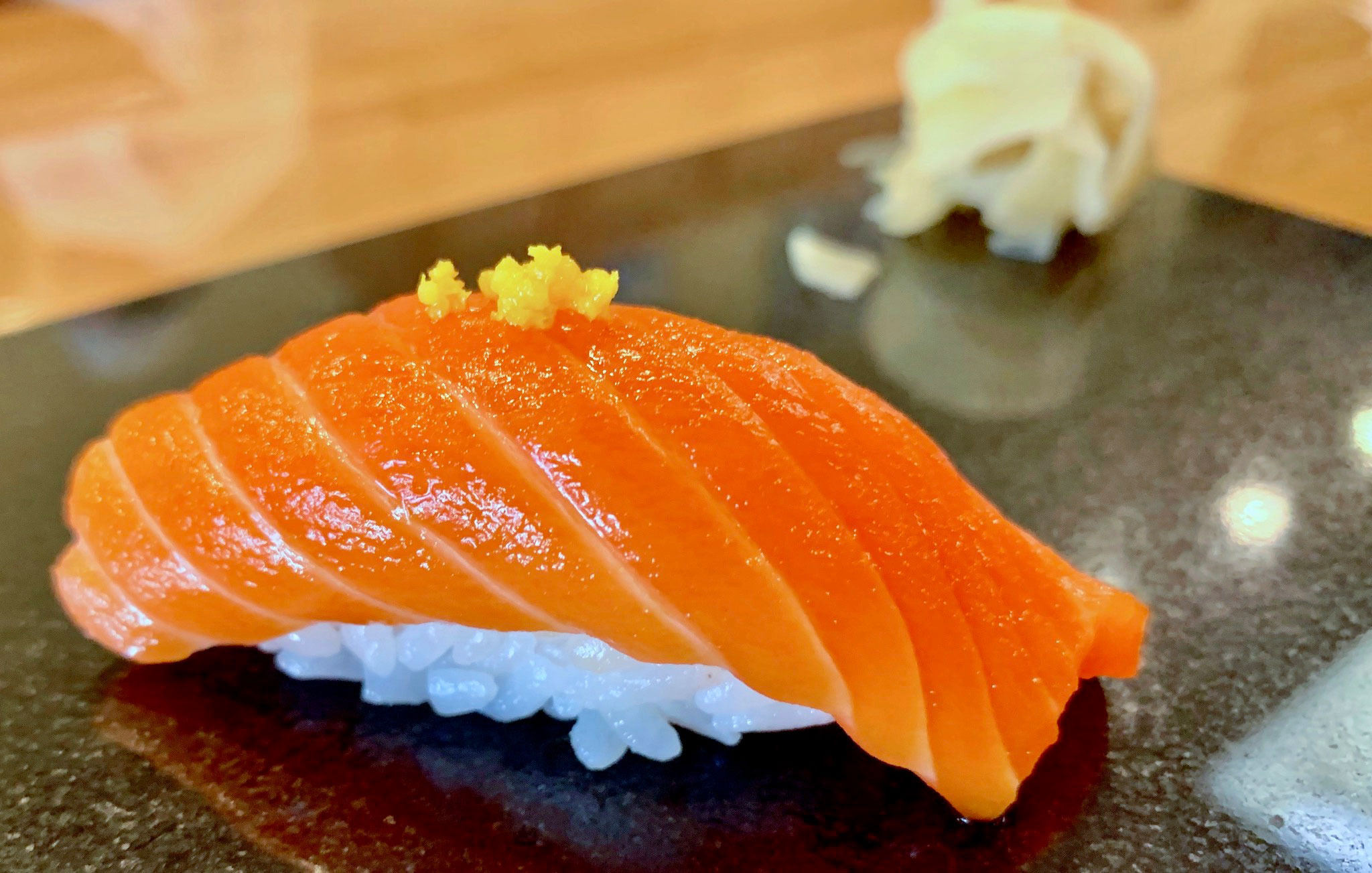 Readers Rating

Rated 4.9 stars




4.9

/ 5 (

Reviewers

)

Spectacular
---
A list of the best sushi in St. Petersburg, Florida chosen by locals in 2023