I don't make fried chicken at home, but as a child my mother did, and from what I recall it was finger licking good. My mother is from Georgia so she knows southern cooking. Did she way over cook vegetables? Definitely, but I think most moms in her era did.
So when I see fried chicken on a menu, it is difficult for me to resist. I am not talking chicken wings or tenders, but real honest to goodness fried chicken. I am also not a huge fan of the whole chicken and waffles craze though there is one dish that made this list based on the chicken alone.
This list is locally owned restaurants not fast food chains, though if I were to be honest, I can definitely go for some Popeye's every now and then. For me it's all about the crispy skin and juicy inside – for any piece of fried chicken and my favorite piece is a thigh.
The list order is by zip code starting with 33701 (downtown). Each restaurant is actually in a different zip code this time.
I am not going to say that this chicken is better than that one because taste and preference are so subjective. There is no "apples-to-apples" comparison here. These are all excellent fried chicken dishes, and you should try them all.
To another point, there are other publishers of "best of lists" that do not actually go to the establishment and eat the food. They just surf the web collecting information, and downloading photos, or emailing the restaurant for them. We think those types of lists are bogus and misleading to readers.
Unfortunately, we've seen it a lot—from national and local publishers. We are also aware of a local publisher that offers paid placement in best-of-lists. There is no paid placement here.
It's ridiculous that I need to say this, but yes … I TRIED ALL OF THIS FRIED CHICKEN, AND WENT TO ALL OF THESE PLACES AND LICKED MY FINGERS, AND THESE ARE ALL MY PHOTOS (except for one borrowed from Callaloo because since we ate the chicken there last, the sides have changed).
St Petersburg Foodies List of Best Fried Chicken 
Again, the order is by zip code starting with 33701.
1. The Mill Restaurant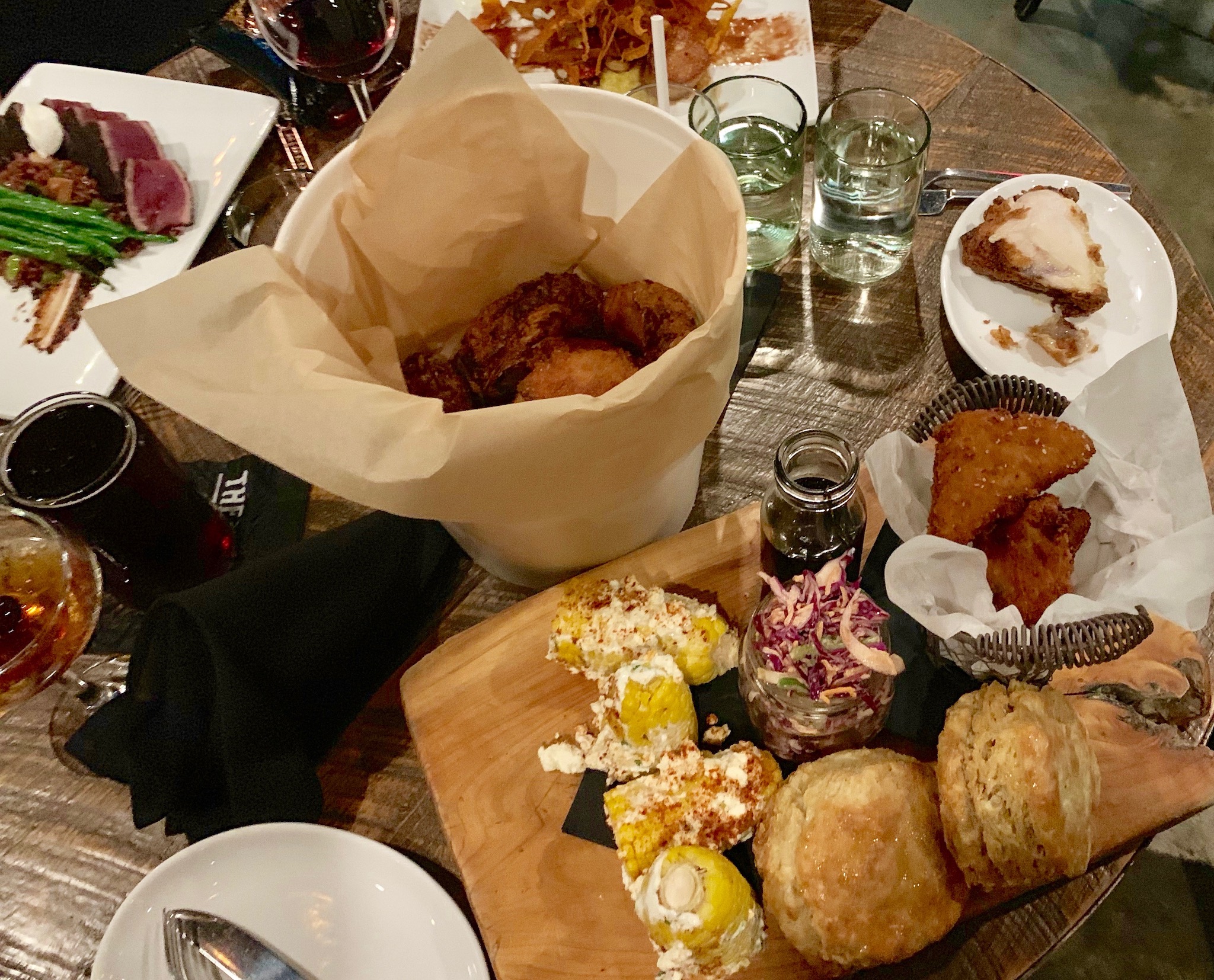 Chef Ted Dorsey 's Sunday Supper Special starring a Sweet Pickle Brined, Crispy Golden Fried Bucket of Chicken, served with Boxty Bites (fried mashed potatoes), Street Corn, Honey Glazed Biscuits, Creamy Ranch Cole Slaw and a Praline Soda Gastrique. Sunday evenings only (5pm – 10pm). When they run out, they are out!
I was so excited to try this. We had guests in from out of town and ended our Sunday Funday at The Mill. I believe there were eight pieces of fried chicken and I did a not so perfect job of capturing the bucket full but they were there. It was delicious! The skin coating was thin, not too greasy, but extremely flavorful and crunchy and the chicken was so juicy. The sides were all fantastic and seasoned well too. At $40 to feed four people, this is my latest favorite option at The Mill.
The Mill Restaurant
200 Central Ave #100
St. Petersburg, FL 33701
(727) 317-3930
The Mill Restaurants Website

2. Munch's Restaurant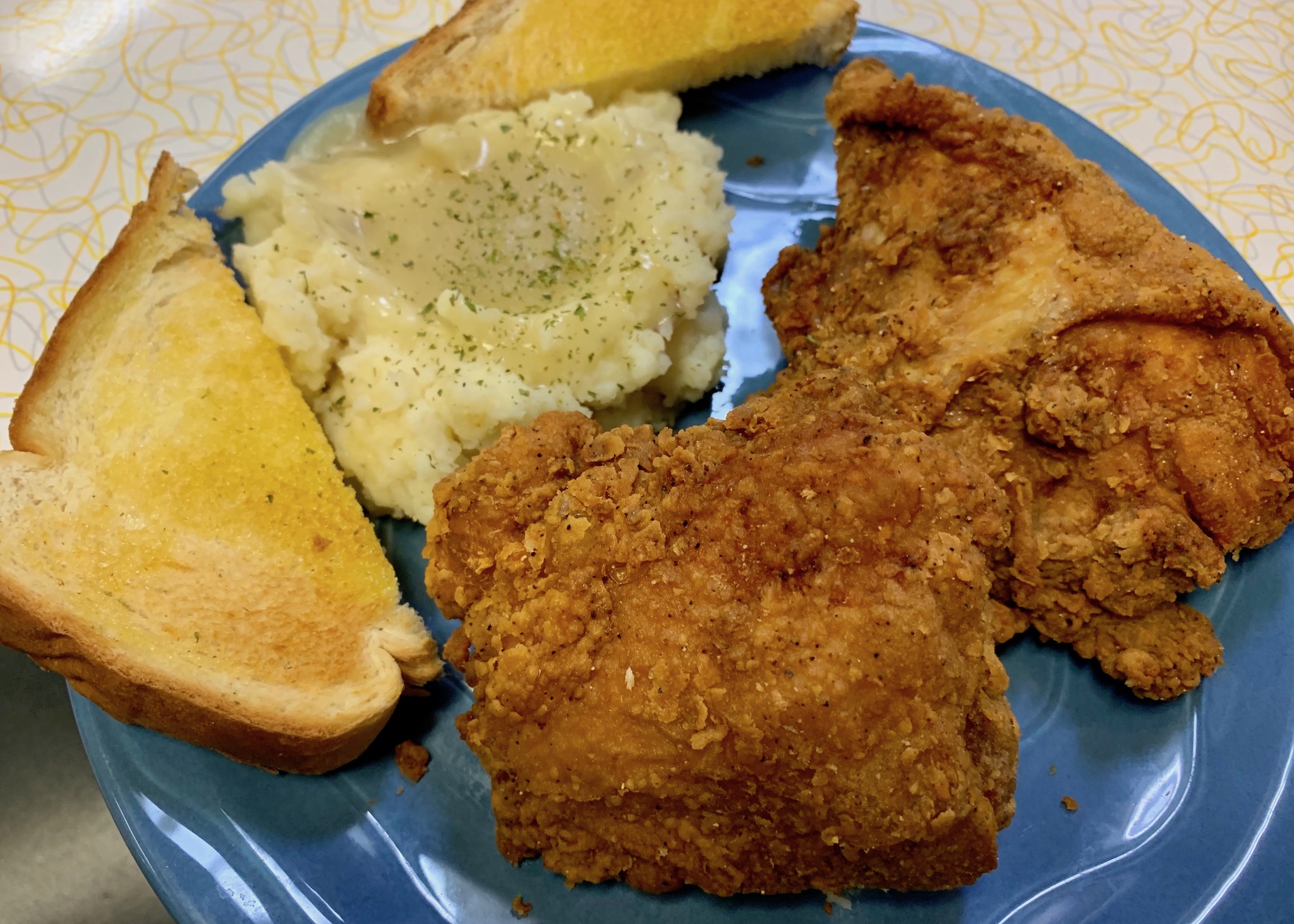 They call it their Award Winning Fried Chicken. It is not a regular menu item. You can only get their fried chicken on Tuesdays and Saturdays and it is available until they run out and they are only open for breakfast and lunch until 3pm. You get a choice of one side.
I held out to write this piece until we got to Munch's because of all that we have heard. I am sure glad that I did. We got the last two orders and it was only 12:20pm. The first thing I said was that it reminded me of my mother's fried chicken. I did get a thigh – they only had one left. But also tasted a delicious and juicy breast. Crunchy, delicious, juiciness and a tad greasy, but I don't mind that at all. AND the mashed potatoes were real. I only ordered them to see if they were. As you can see, the bread was just toast, so nothing special, but I didn't care about that.
Munch's Restaurant
3920 6th St S
St. Petersburg, FL 33705
(727) 896-5972
Munch's Restaurant Website
3. Kings Fried Chicken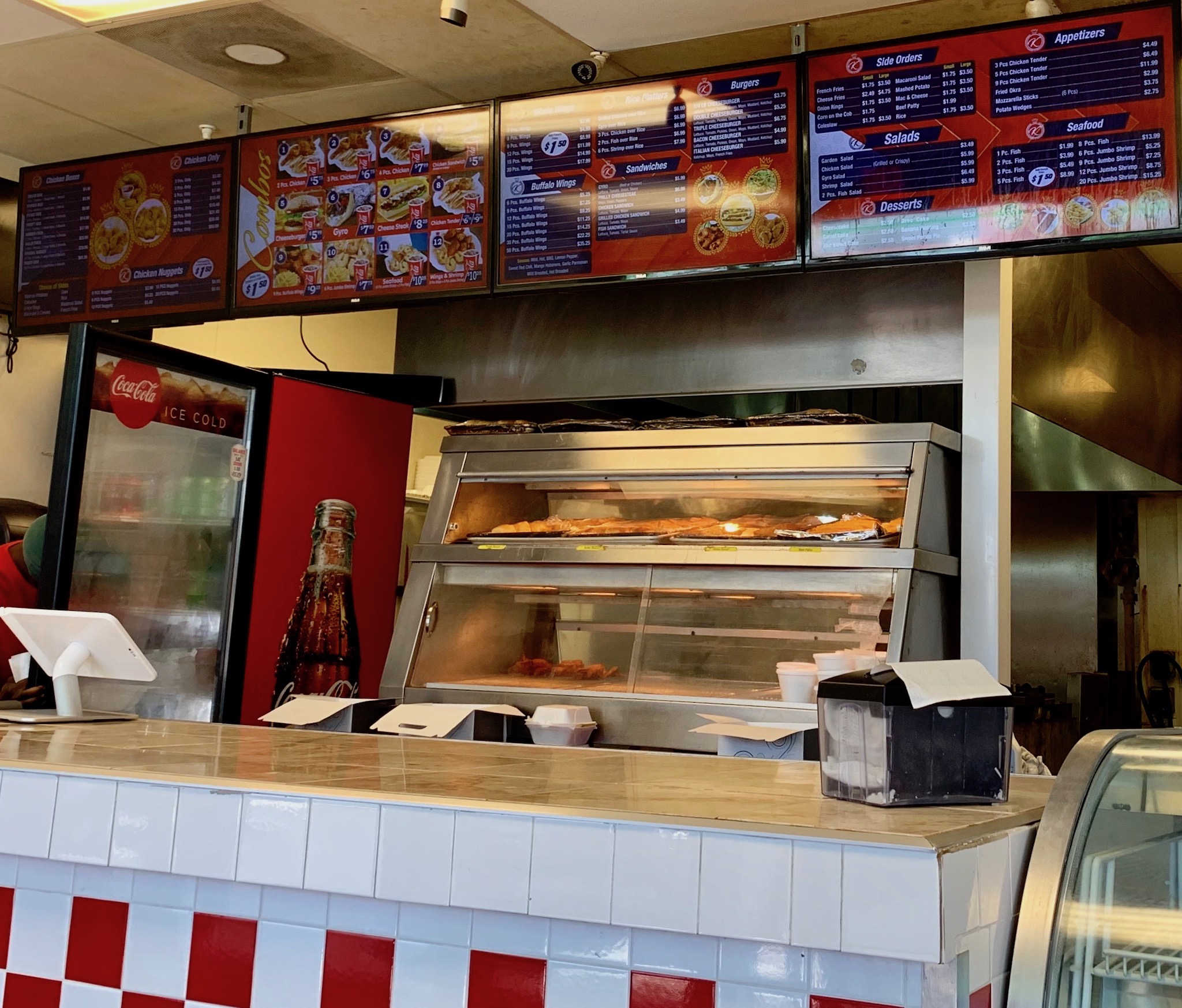 This is not a sit down restaurant and looks like a fast food joint. You order at the counter and you wait. And on our visit, we waited and waited and waited…at least thirty minutes. We were going to eat it there as they do have tables, but after being there so long, we decided to take it home. If you're in a hurry, you can call ahead, but I am not really sure if they are slammed that it helps much. So just fair warning.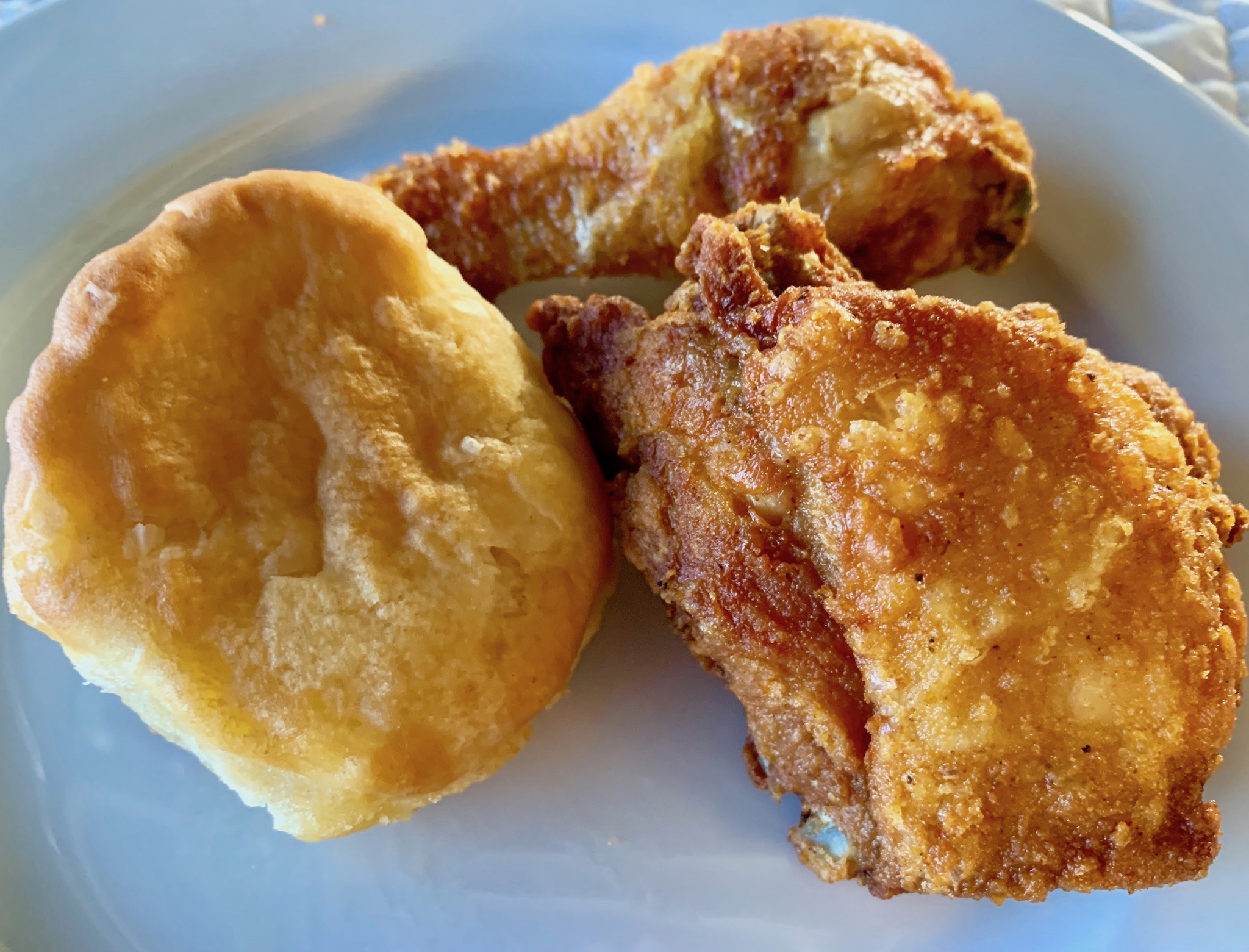 I had ordered from Kings one time before and at that time I did try some sides. I had corn on the cob and mashed potatoes. The corn on the cob was mushy and just not good and the mashed potatoes completely bland.
So this time we just ordered a two piece with a biscuit. The pieces of chicken are a tad small so three pieces would have been perfect. The chicken has delicious flavor and is quite juicy and the skin crunchy but the biscuit is pure heaven! Some people swear on the honey biscuits, but you have your choice of plain buttered too. The buttered is my preference.
Kings Fried Chicken
2216 34th St S
St. Petersburg, FL 33711
(727) 201-9659
Kings Fried Chicken Facebook Page
4. Callaloo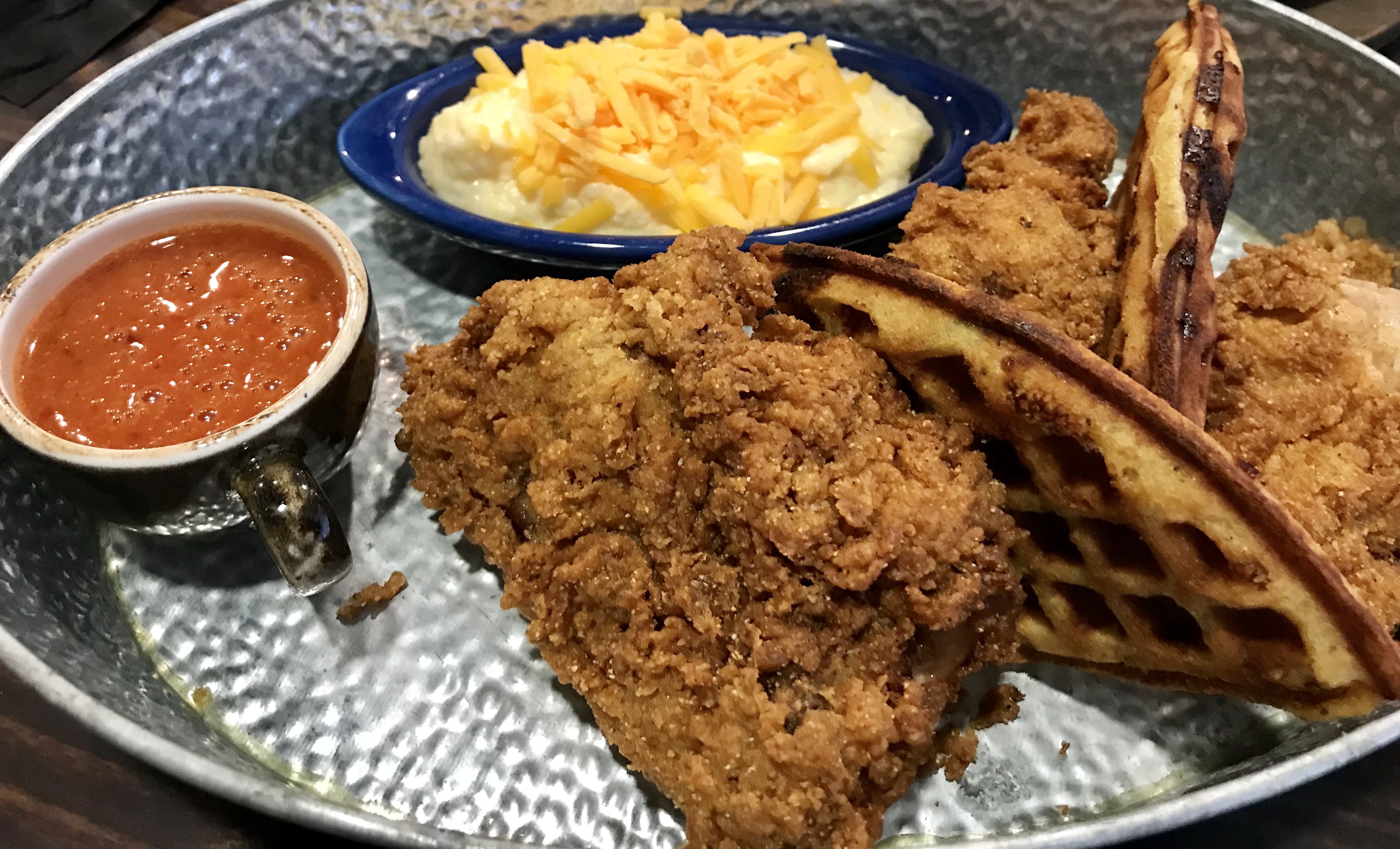 The first time we had the fried chicken at Callaloo was last March. It was delicious and tasty. Less greasy than other establishments. See it pictured above. Since then, they have changed the sides. See below.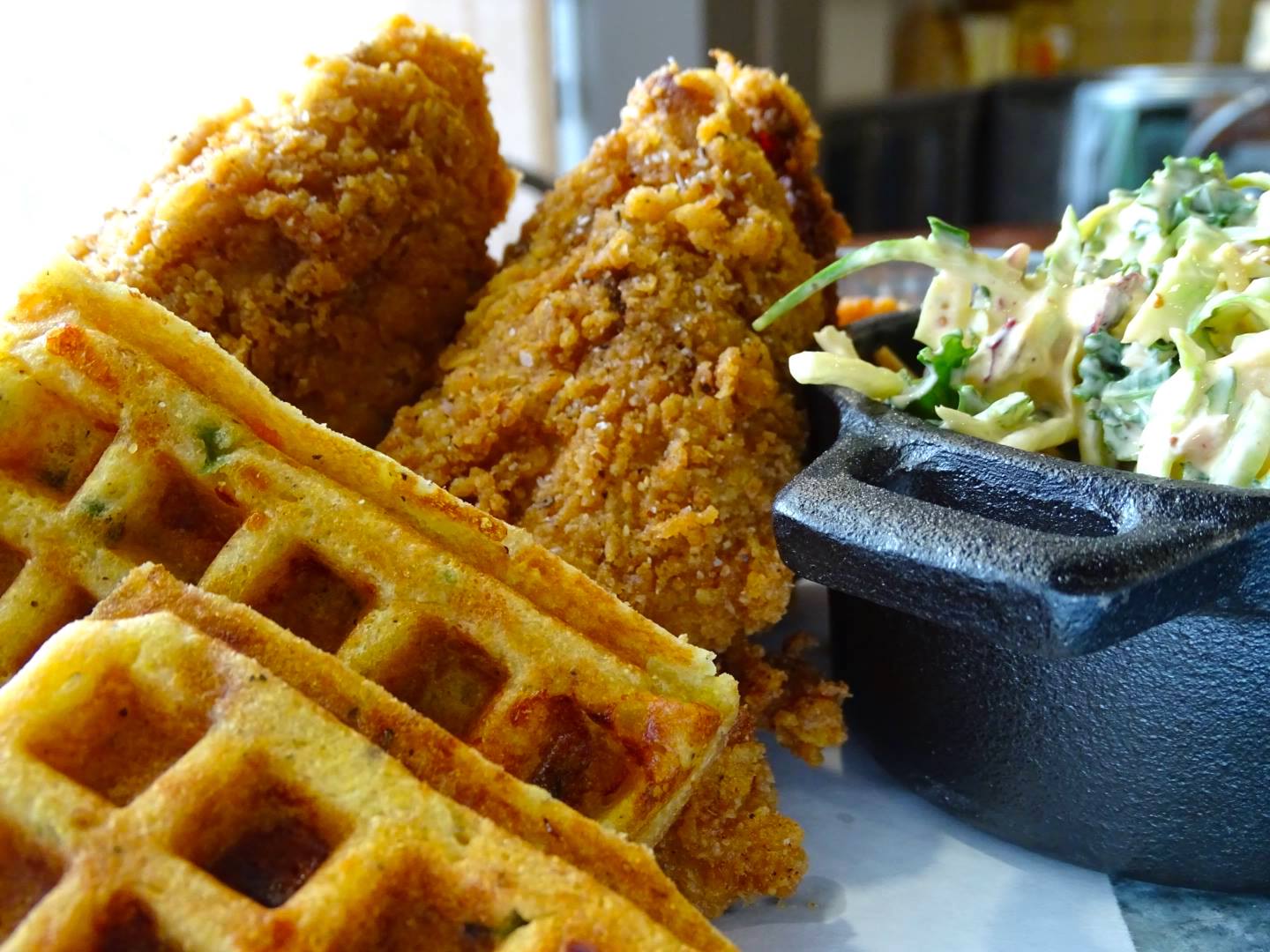 Traditional Fried Chicken & Waffles served with maple syrup, sweet potato fries and superslaw. The chicken stayed the same but since the sides changed, I can't really comment except to say that I would have ordered it with regular fries or mashed potatoes and they can keep the waffles, but I will definitely be back again, for my memory of this delicious fried chicken is very strong.
Callaloo
642 22nd St S
St. Petersburg, FL 33712
(727) 256-1806
Callaloo Website
5. Urban Brew & BBQ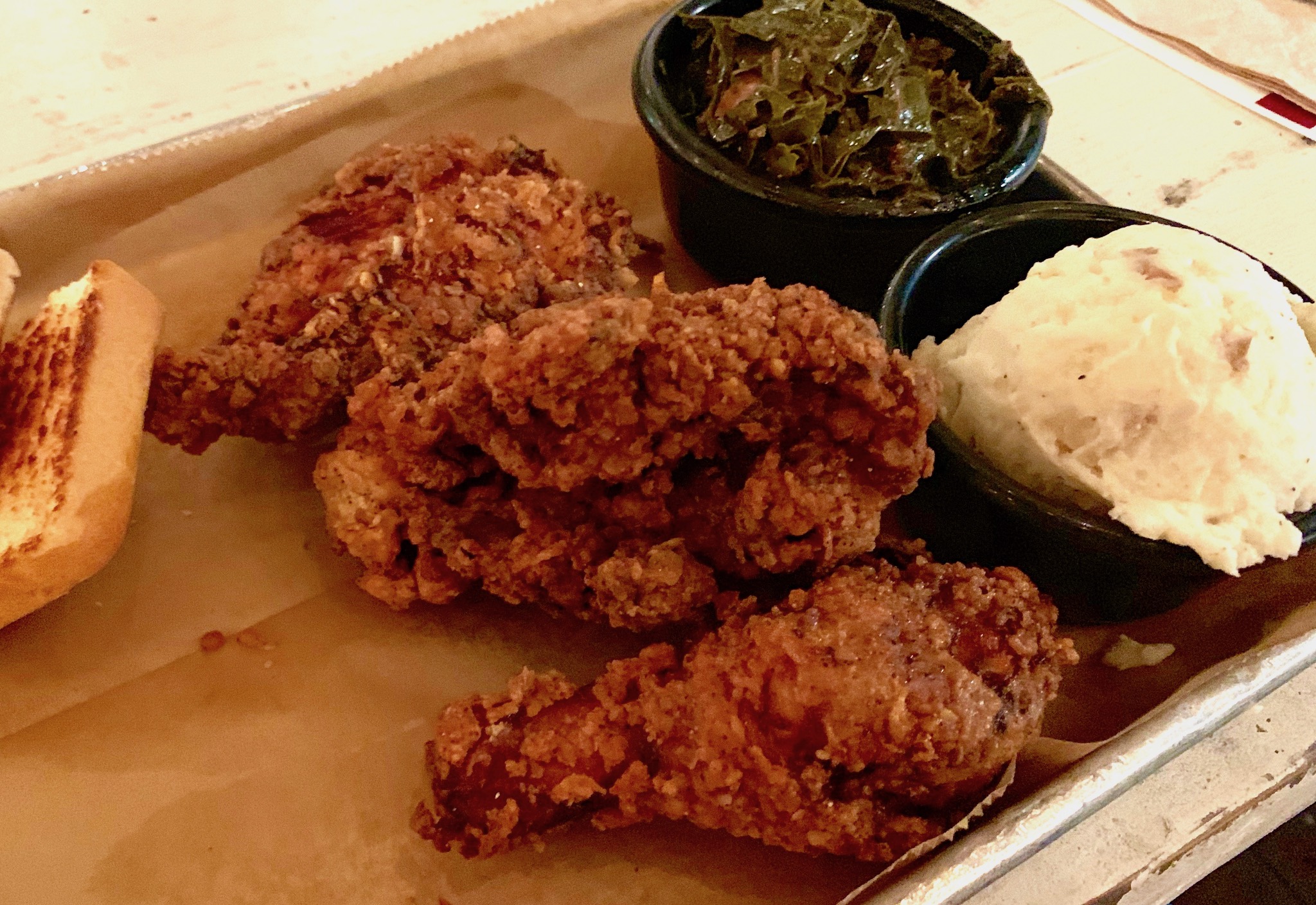 The Holy Mother Clucker is fresh chicken brined in their signature herb blend then hand breaded and fried to a golden brown. It includes a breast, leg, and thigh and your choice of two sides.
When I bit into my first piece of this chicken my eyes lit up as my mouth exploded with flavor, whatever they brine and rub it with gives it just this little bit of tangy that makes you just want to keep eating it. The coating is also a bit different than others as it seemed more like a corn meal than flour. Overall delicious. The collards had a great tangy flavor but definitely needed more seasoning during cooking, as did the mashed potatoes. The sides lacked any complexity. Luckily the chicken made up for that.
Urban Brew & BBQ
2601 Central Ave
St. Petersburg, FL 33713
(727) 623-9823
Urban Brew & BBQ Website
Tell us what your favorites are in the comments below!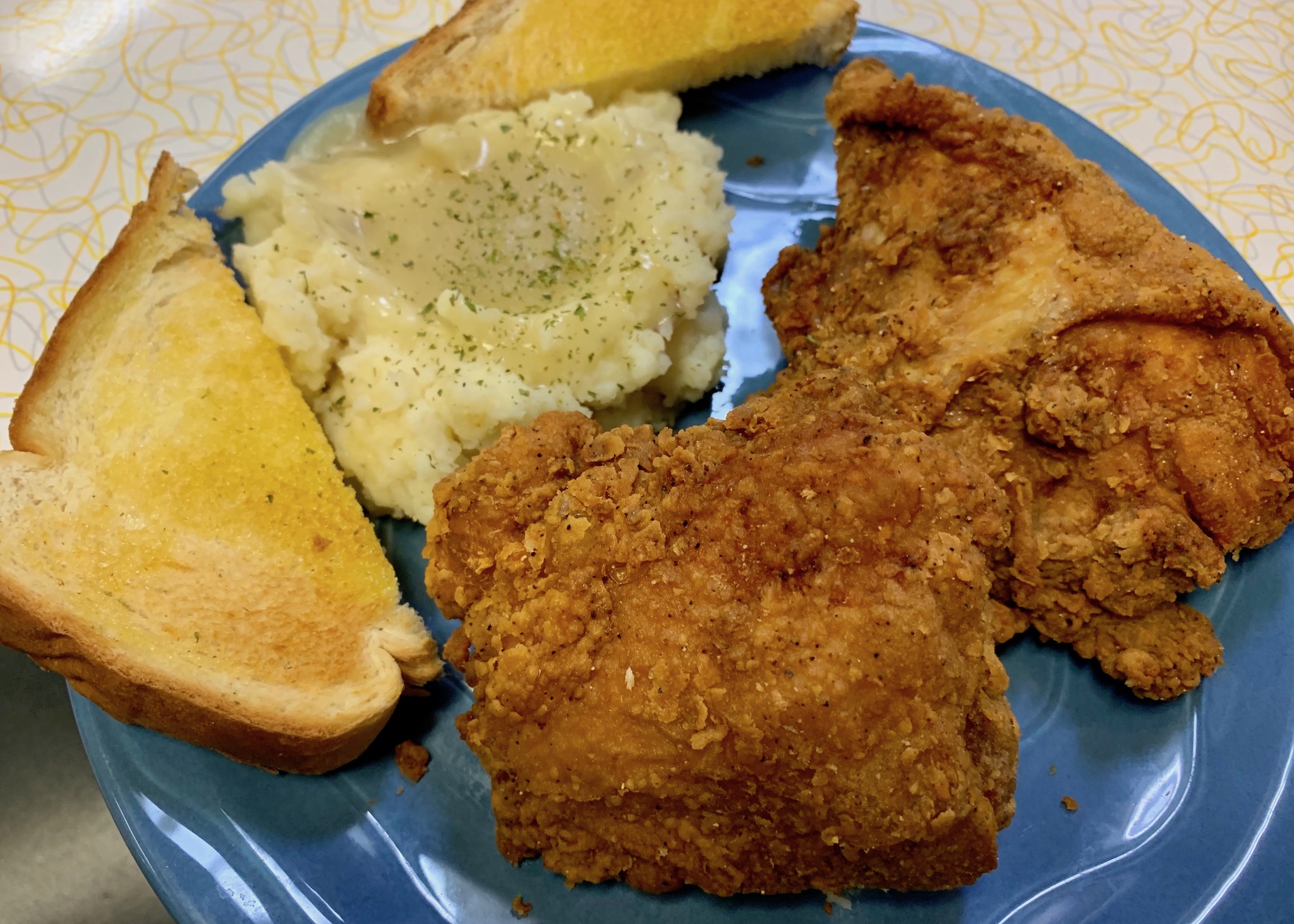 Readers Rating

Rated 5 stars




5

/ 5 (

Reviewers

)

Spectacular
---
A list of the best fried chicken in downtown St. Petersburg FL. Includes descriptions and photos from real people that went to all of the places and ate all of the food, and even took their own photos.