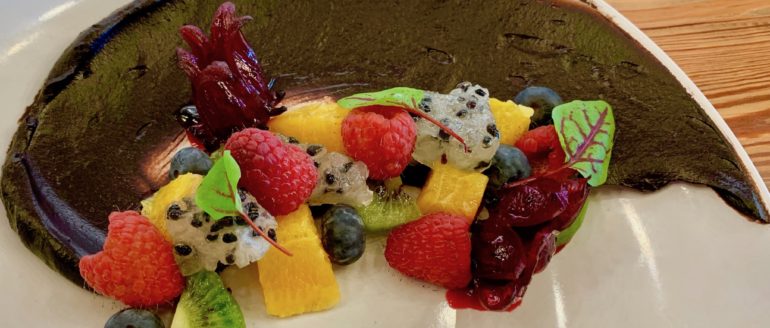 World Fusion Gourmet Meets Fast Casual
Brass Bowl Kitchen & Juicery is set to open April 1st…finally. We have all watched and waited. Unfortunately, they encountered some of the same set backs most new restaurants do during build out, which pushed their hopeful opening date of August 2018 back to now. Beginning March 27th, Brass Bowl will start with a few private friends & family events leading up to its opening on April 1st.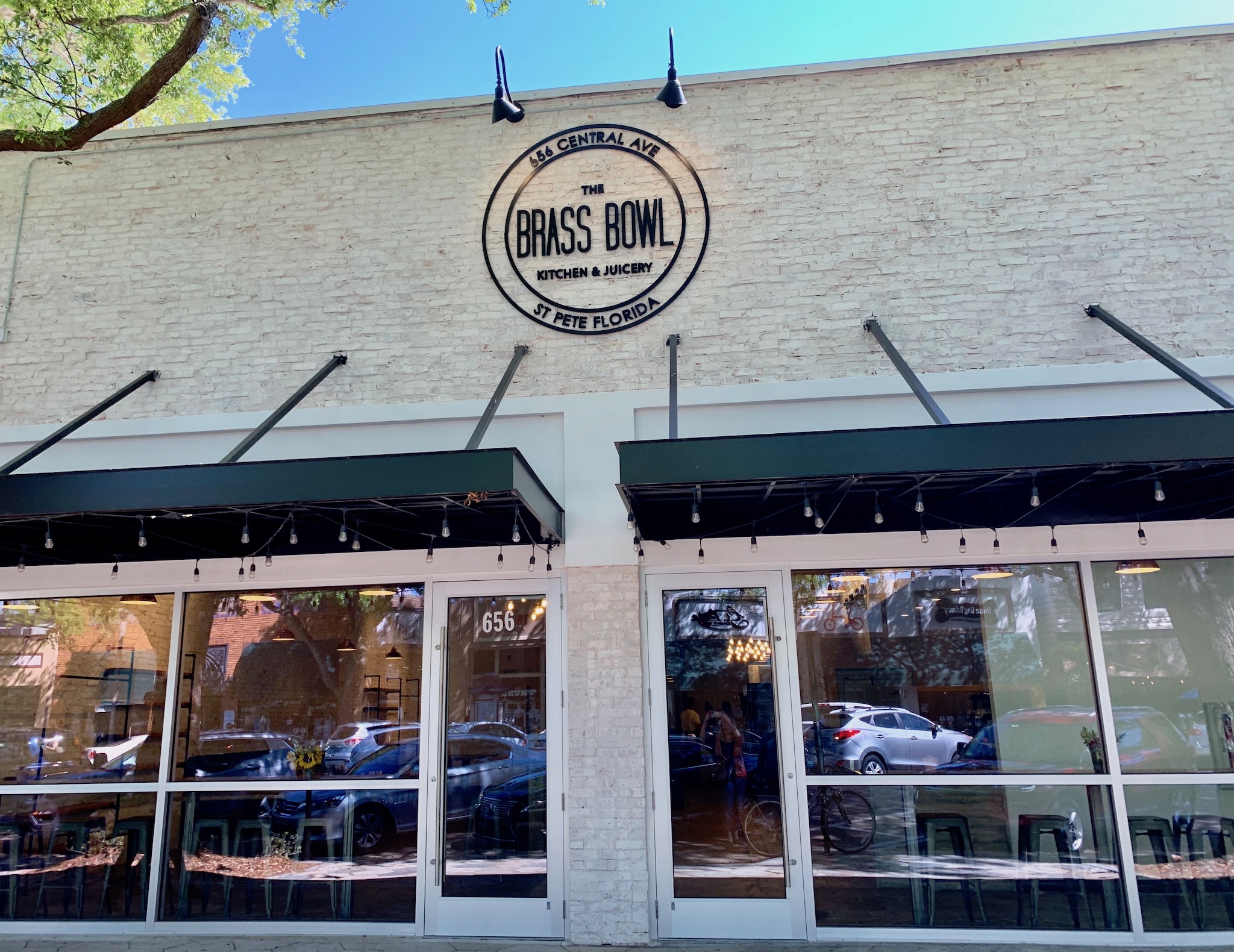 If you're like me, you might have wondered how Brass Bowl and Pacific Counter were going to work operating so close to one another. Well, all of my concern was laid to rest after the preview we enjoyed on Saturday.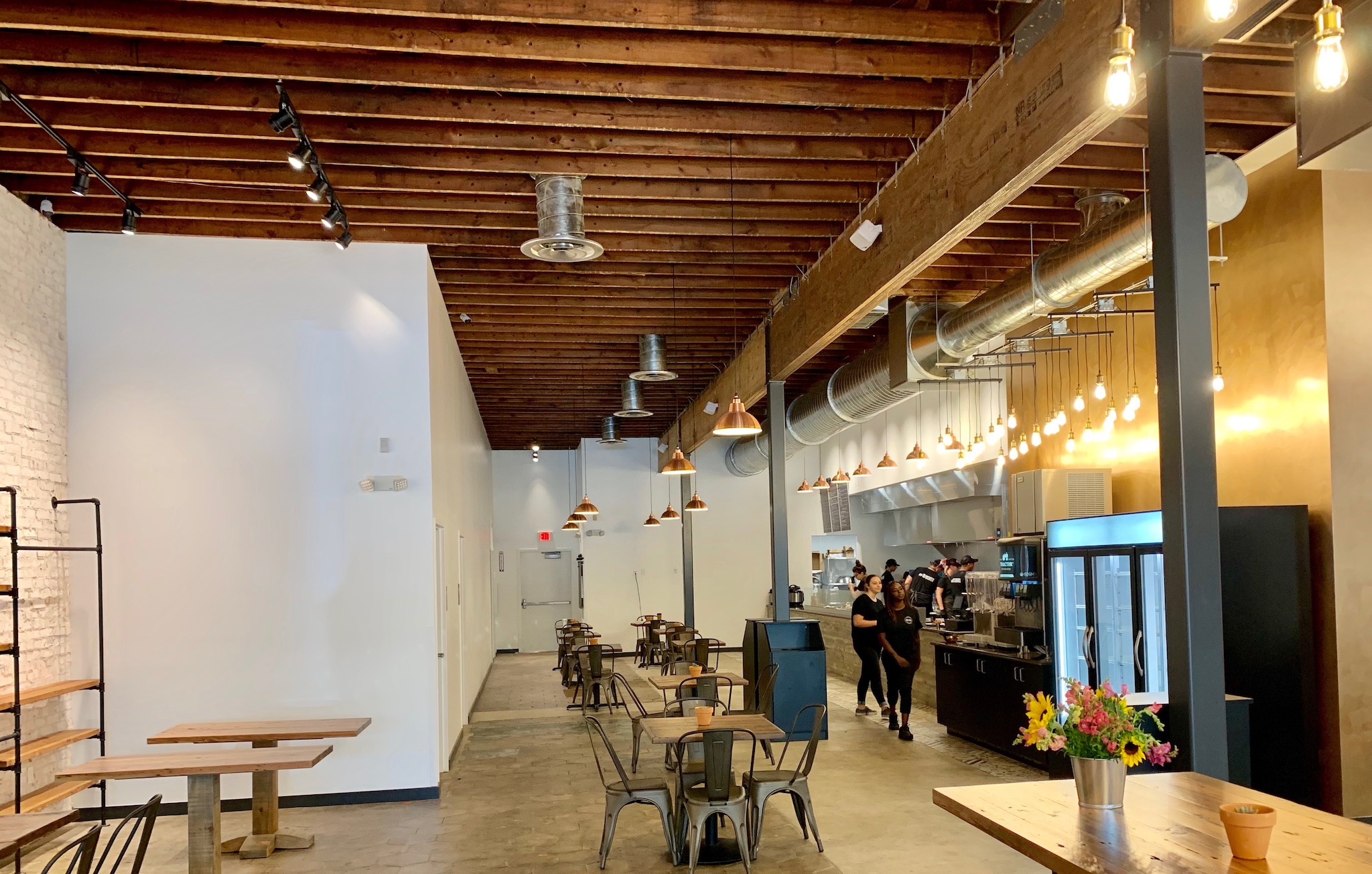 Executive Chef Jason Gordon invited us in this past Saturday, March 23rd, to be some of the first to sample a few of the menu offerings. To say we were bowled over would be an understatement. Like Pacific Counter, Brass Bowl's operations is a fast casual setting, but the food takes it to a different level. As owner, Robert Newhart, said to us, "it is world fusion gourmet meets fast casual."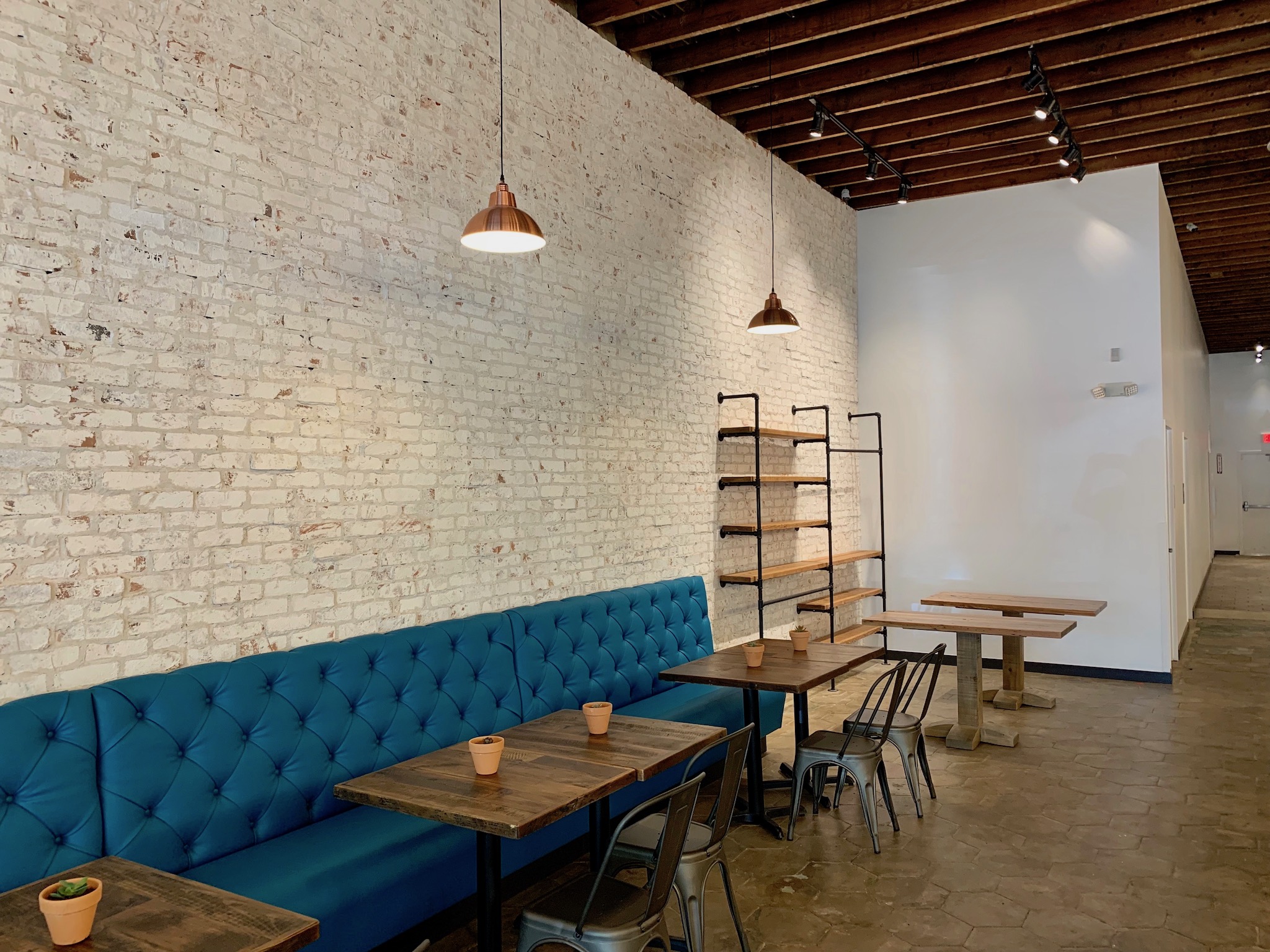 Newhart, who owns Sunset Grill in Ruskin, FL, told us that this concept started to build when his weight was threatening his health. His son, who is vegan, pointed him in the direction of healthier options and he eventually lost 40 pounds.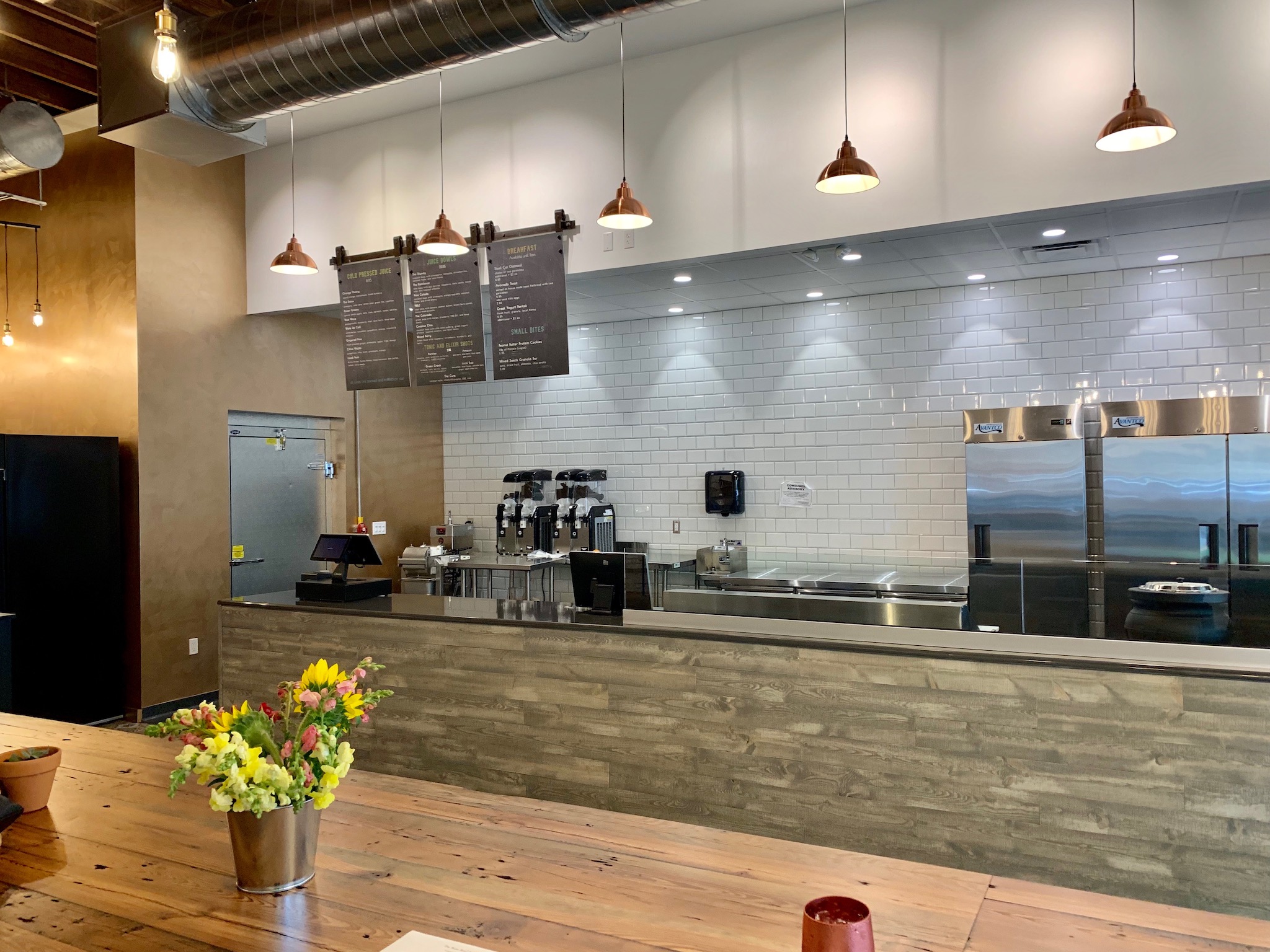 Chef Gordon, who was the chef at Sunset Grill at the time, took notice too and they began brainstorming on how to introduce healthier food options that not only have scrumptious flavor but are plated as if you are in an upscale, four star, fine dining establishment.
The have a very clear mission at Brass Bowl Kitchen & Juicery as stated on their website, "Our vision from the very beginning was to provide an excellent dining experience. We believe this starts with our Chef driven menu, the cornerstone of which is an organic ingredients list and responsibly sourced line-caught seafood. We knew from the start that this would be the first non-negotiable point as we developed our concept. We wanted to show that eating great doesn't have to be a flavorless punishment. It is for this reason our culinary team has prepared some of the most compelling flavor profiles in the area using only fresh and organic ingredients. The challenge was simple, make eating great, taste great, look great, all the while keeping the price approachable."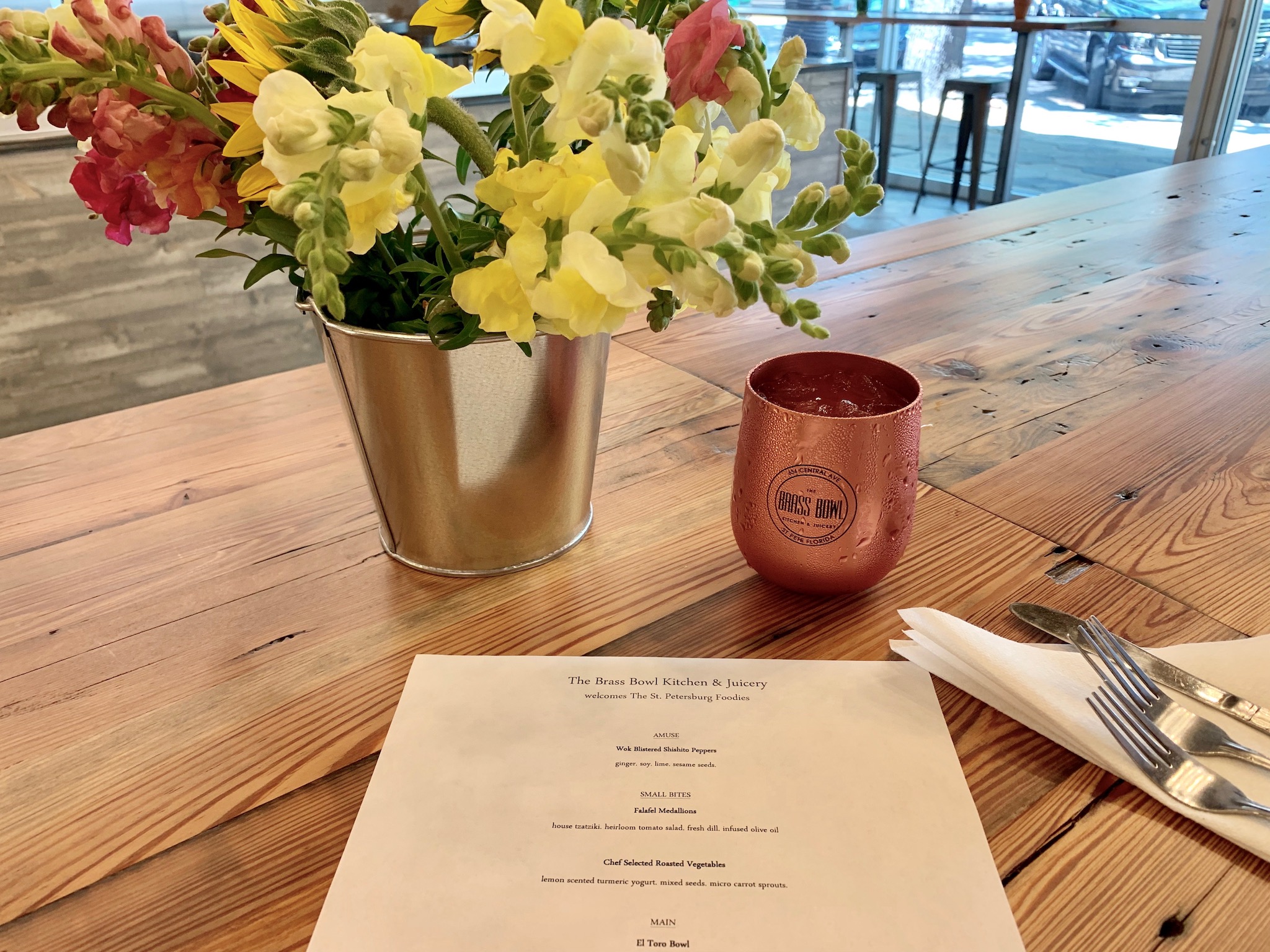 So let's get to it. Chef used this day to meticulously train his staff and to look for honest feedback. No detail went unnoticed as we were seated, from the place settings to the fresh flowers on the table to the menu they printed just for us. This will not be a restaurant with sit down service, so yes, we were spoiled a bit on this day. However, what you will see below, will be the high caliber of food that will be served to everyone, everyday.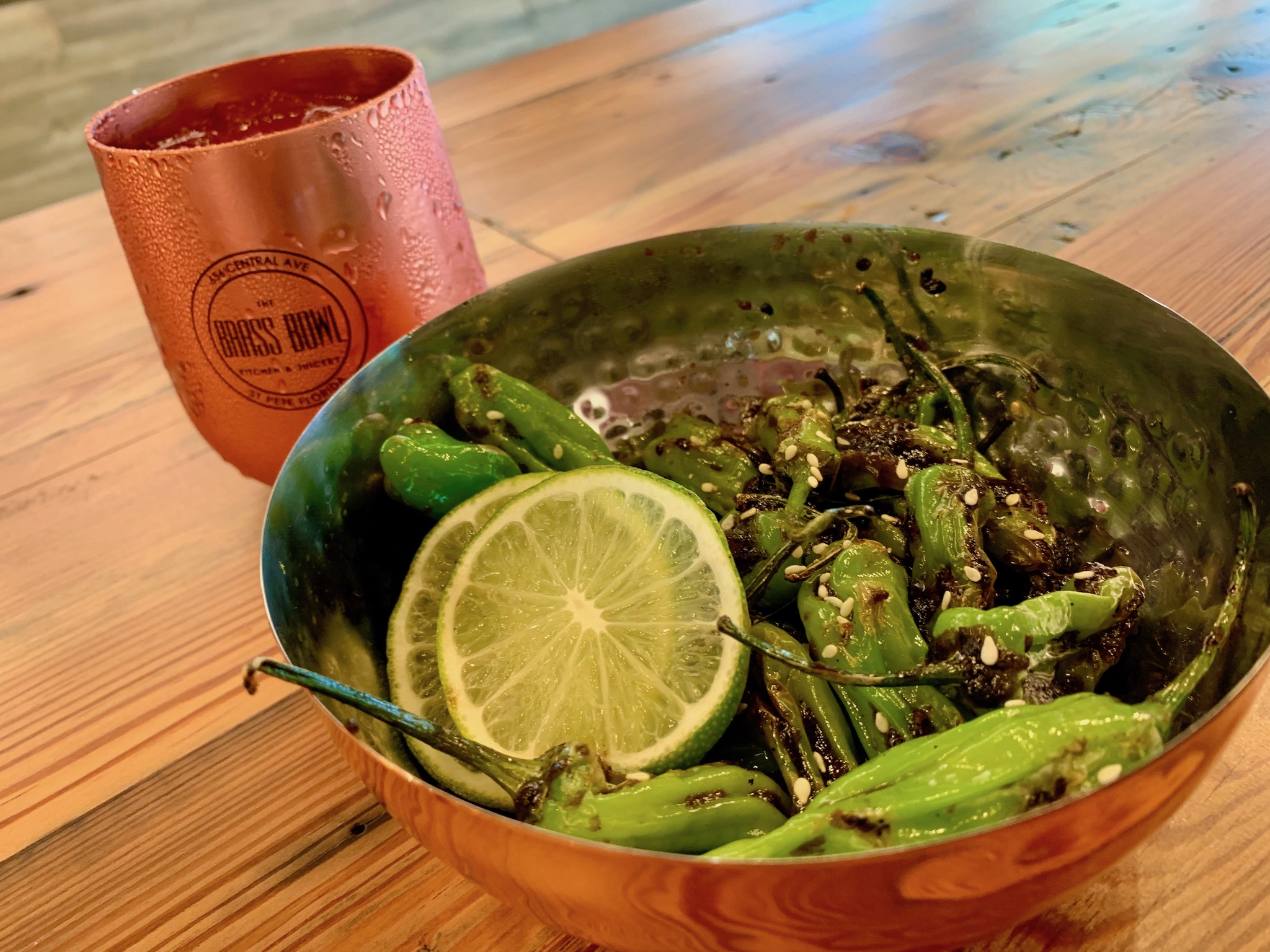 We started with the Blistered Shishito Peppers cooked with sesame, ginger and soy and topped with fresh lime. In the past few years, several restaurants have put shishito's on their menu, and I do enjoy them everywhere. However, these contain a brightness, which shines through when you squeeze on that fresh lime. Mixed with the sesame, ginger and soy it is a delightful flavor explosion.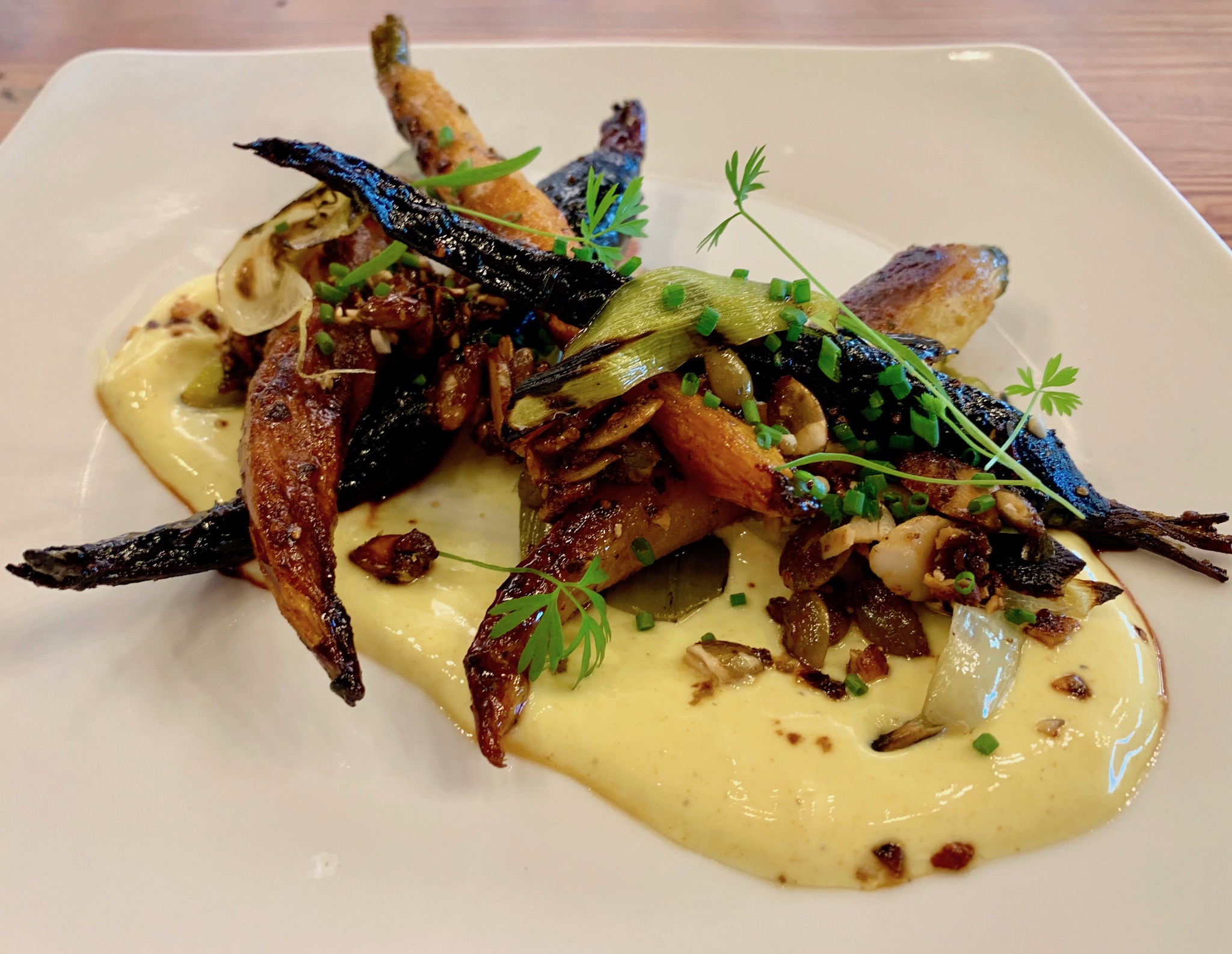 The Roasted Seasonal Vegetables will change, as the name says, seasonally. The dish we had Saturday was composed of carrots, lemon scented turmeric yogurt, mixed seeds and topped with micro carrot sprouts. Wow! I can't say enough about this dish. We have had roasted vegetables at many of the finest restaurants in St Pete and this one is right up there with them. The lemon turmeric yogurt was vibrant, fresh and just plain a perfectly delicious accompaniment to the earthiness of the vegetables. This was my favorite of the day!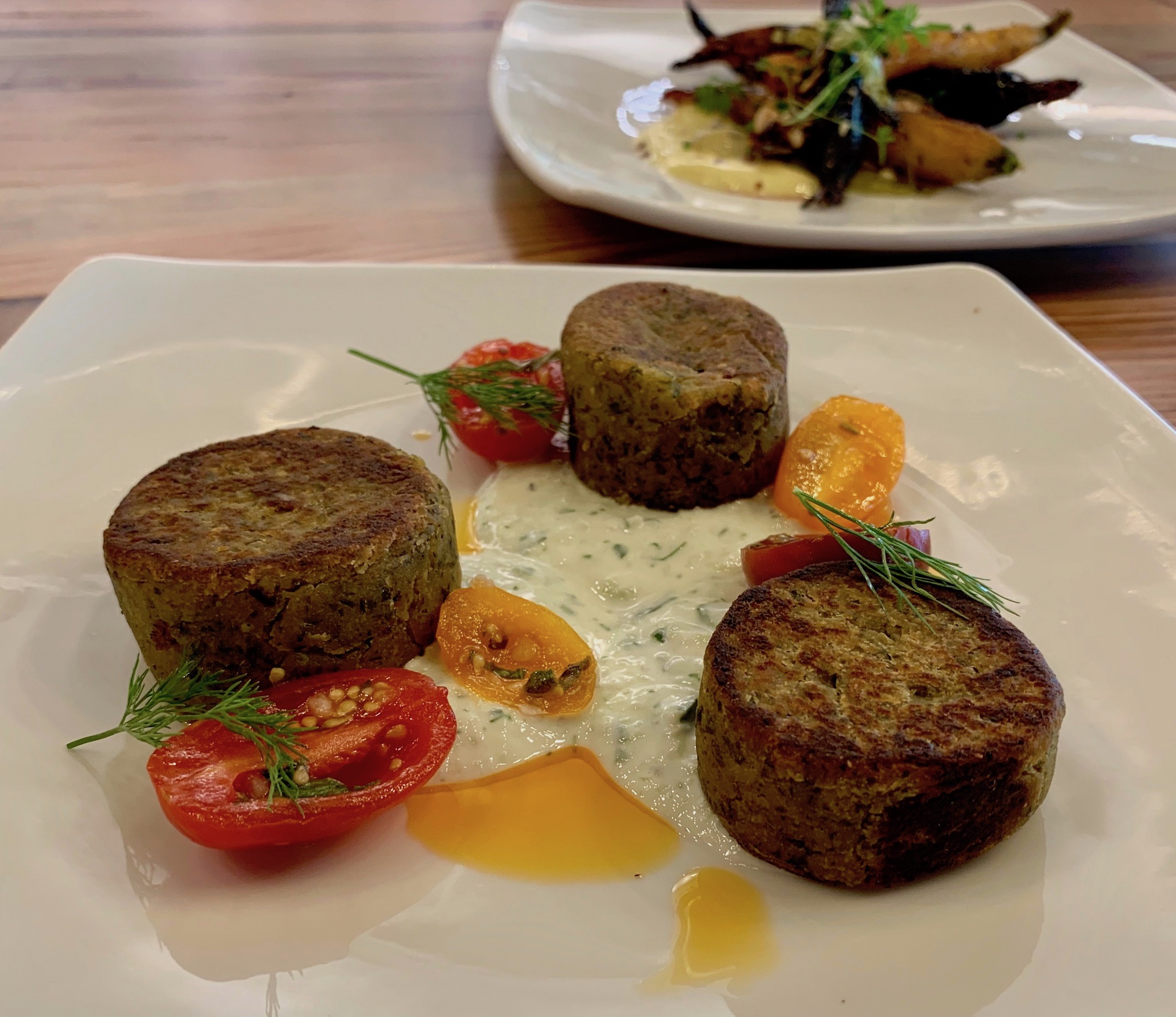 Chef Gordon says that he will have rotating specials, besides the set menu, and the Falafel Medallions are just a taste of one of these creations. This dish had house tzatziki, heirloom tomato salad, fresh dill and infused olive oil as accompaniments. It is very hard to follow those vegetables. We felt this dish was good and the tzatziki excellent, but could use a bit more seasoning for my taste.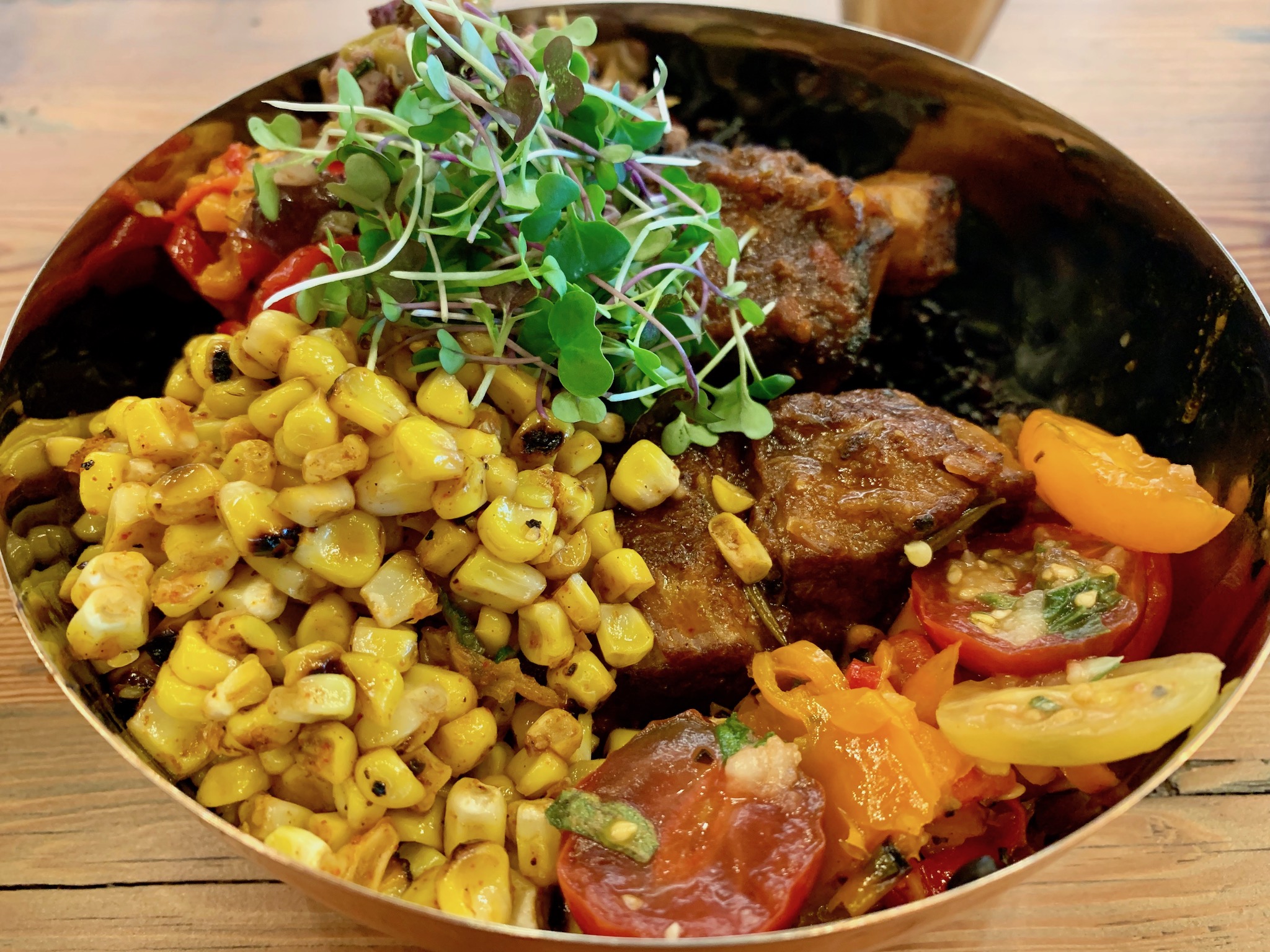 Just look at that eye-popping color in the El Toro Bowl. It consists of braised pork shoulder, black rice, heirloom tomato salad, warm olive tapenade, charred corn succotash, chili oil, and normally micro cilantro, which Chef so thoughtfully left off and changed out for me. This bowl tastes as good as it looks. The textures and flavors blend harmoniously and the pork shoulder was falling apart deliciousness. All of the elements of salt, fat, acid and heat are presented here. We both loved it but this was Kevin's stand out favorite!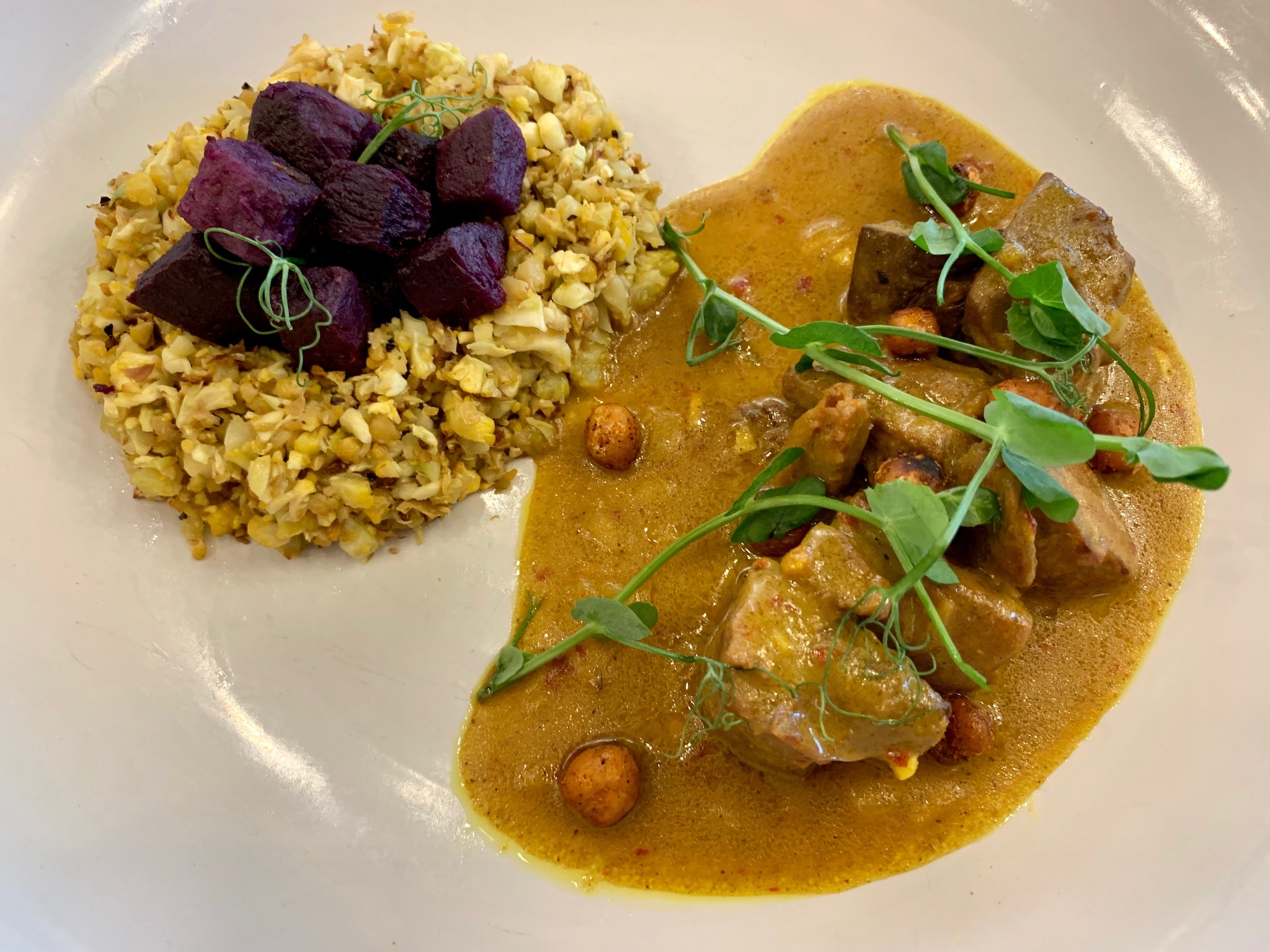 The Jackfruit Curry is another example of a possible off-menu special. It was served with yellow cauliflower rice, Worden Farms purple sweet potatoes, and topped with chickpea popcorn, coconut curry and sweet pea tendril.
I was blown away at the texture of the jackfruit. I have had it before but never served like this. Just look below at the picture of the inside. To me, I could hardly tell that I wasn't eating meat. It didn't have the fat flavor elements of meat, but it was good.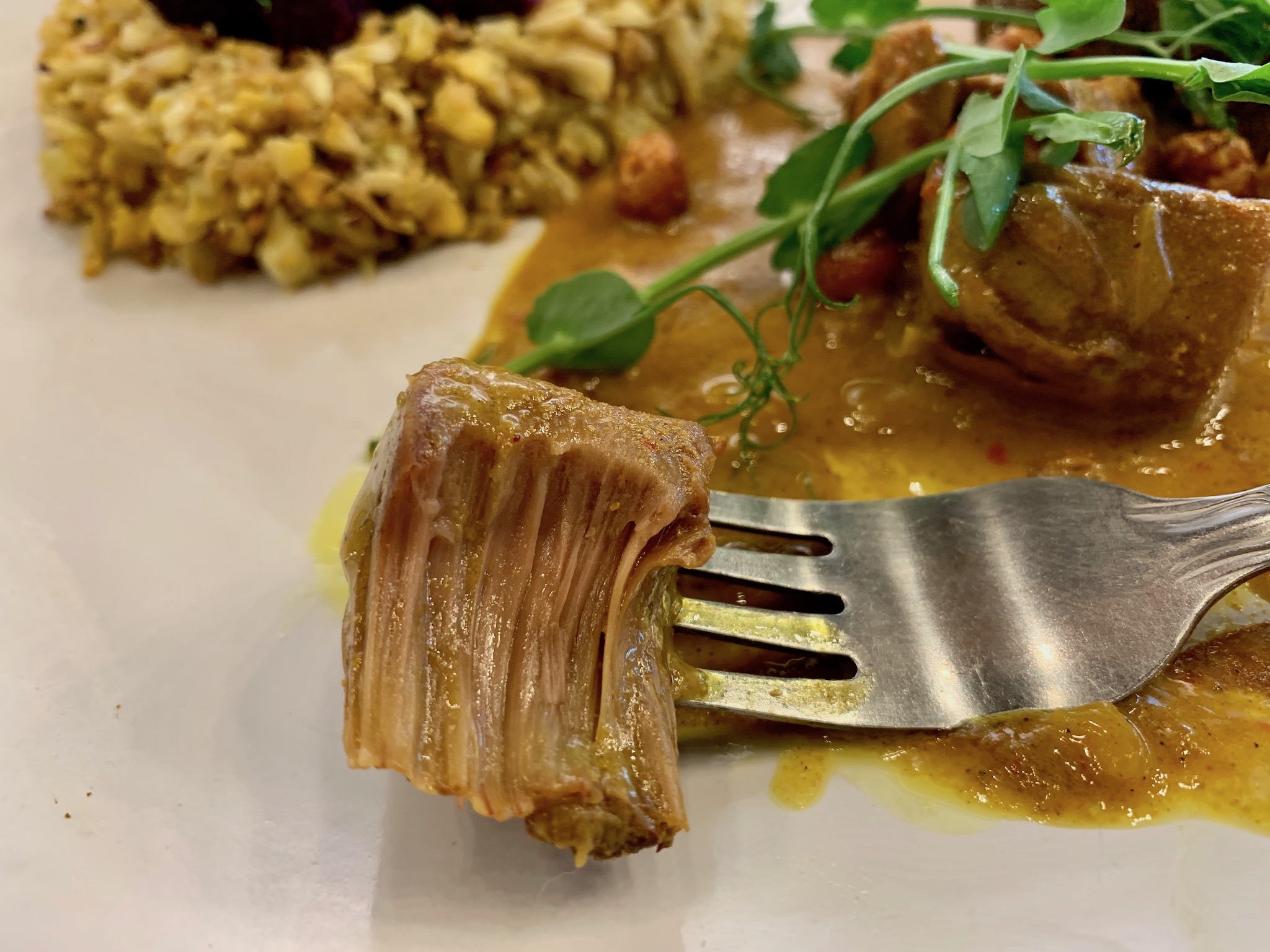 The curry itself, actually reminded me very much of coconut curry that I have made myself in the past. In fact, it has inspired me to resurrect that recipe. It was delicious! But the star on this plate is by far the side of yellow cauliflower rice and purple sweet potatoes from Worden Farms. Wow! It was so flavorful and had great texture.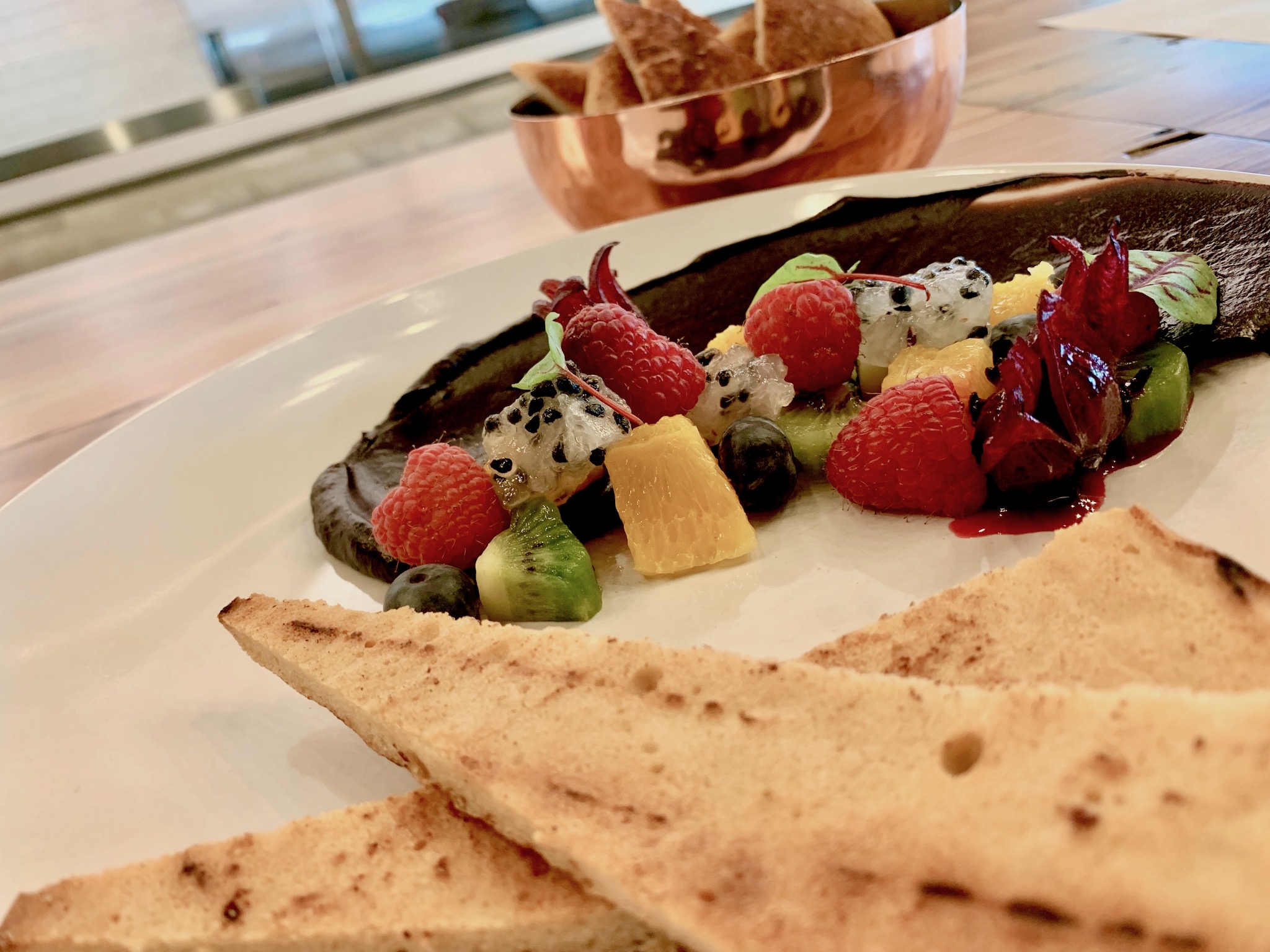 Then this beauty hit our table and I couldn't stop myself from marveling at the presentation of this dessert. I didn't even want to eat it because it is just so gorgeous. The glistening deep red flower is hibiscus. It had almost a gummy gelatin texture and tasted as beautiful as it looks. The dark cocoa avocado hummus was delectable. It is served with house made GF cinnamon sugar naan.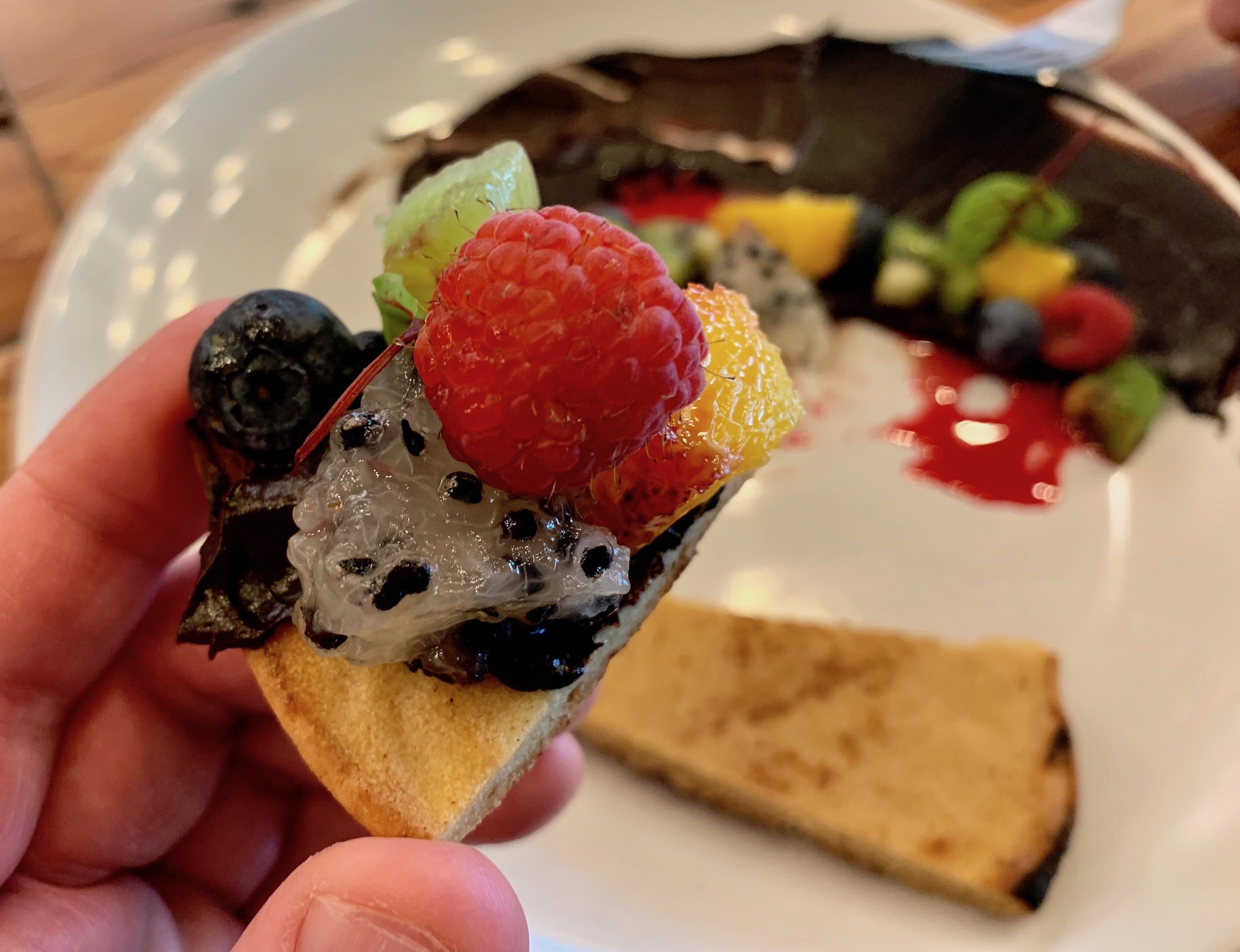 I am pleased to say that the cinnamon was not overpowering at all. I was actually concerned about that. It was just enough to accent the dark cocoa and the fruit. Not only eye pleasing, this dish will tantalize your tastebuds.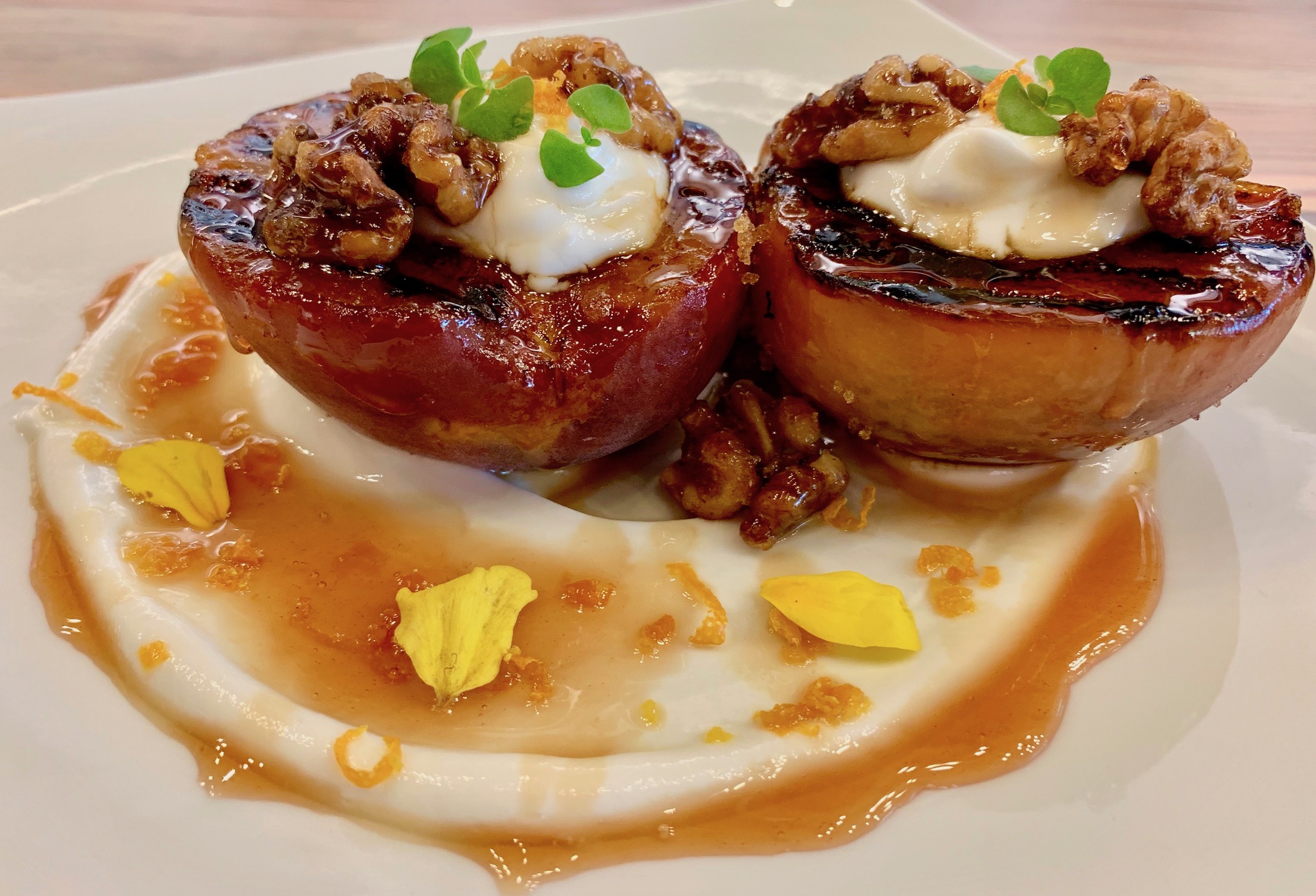 The Grilled Peaches are served with Brick Street Farms local honey, greek yogurt, candied walnuts and topped with micro basil and moscato jus. I love the greek yogurt with the honey. And the walnuts stole the show. A delicious dish but again, hard to follow the one before it.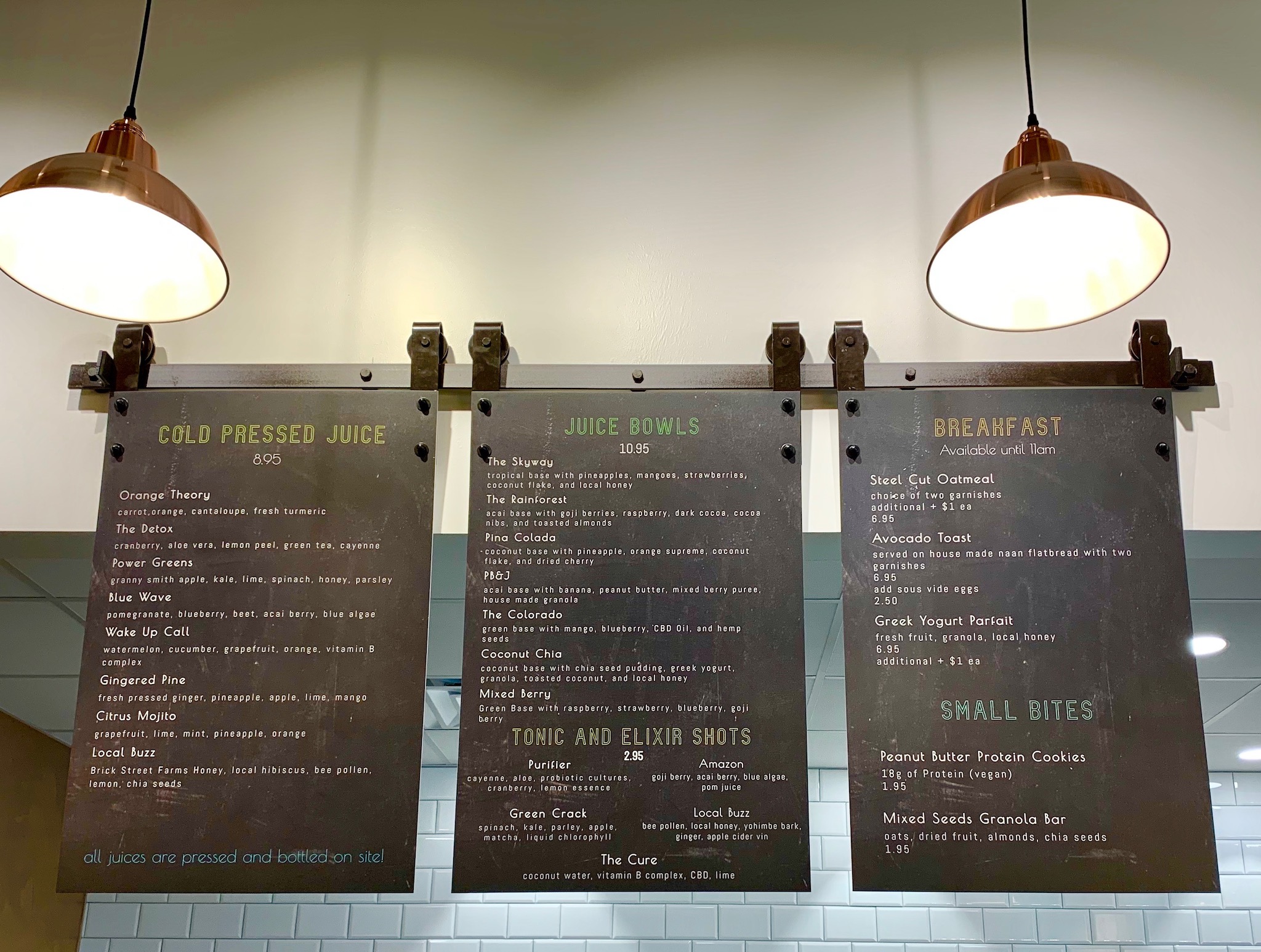 They have a separate juice station and menu at the front of the restaurant. So essentially two separate open kitchens. You can see the fresh offerings in the picture above.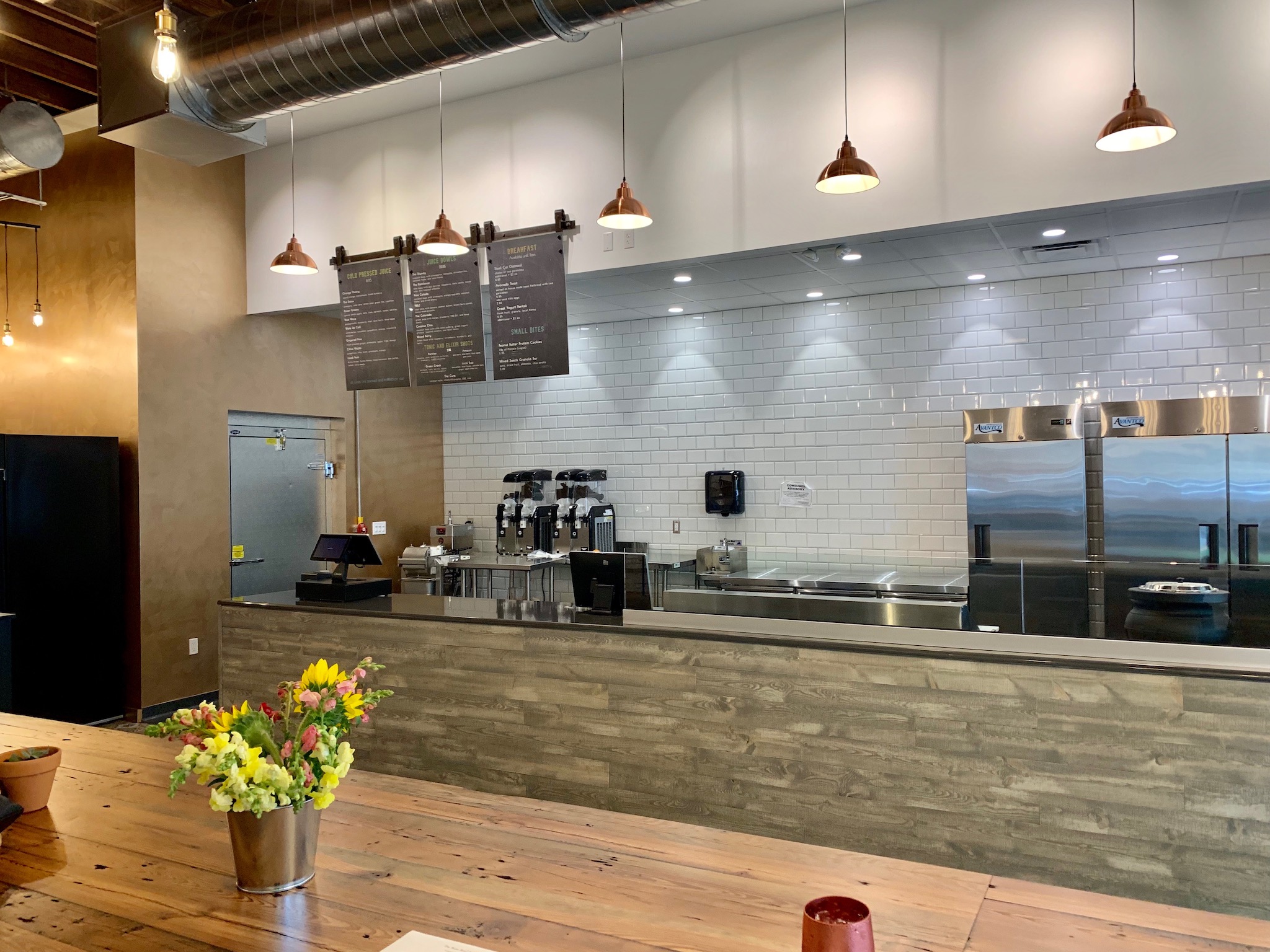 We also got to try two of their house made juices. They are made fresh daily with their custom built juicer that can make 10 gallons of juice an hour.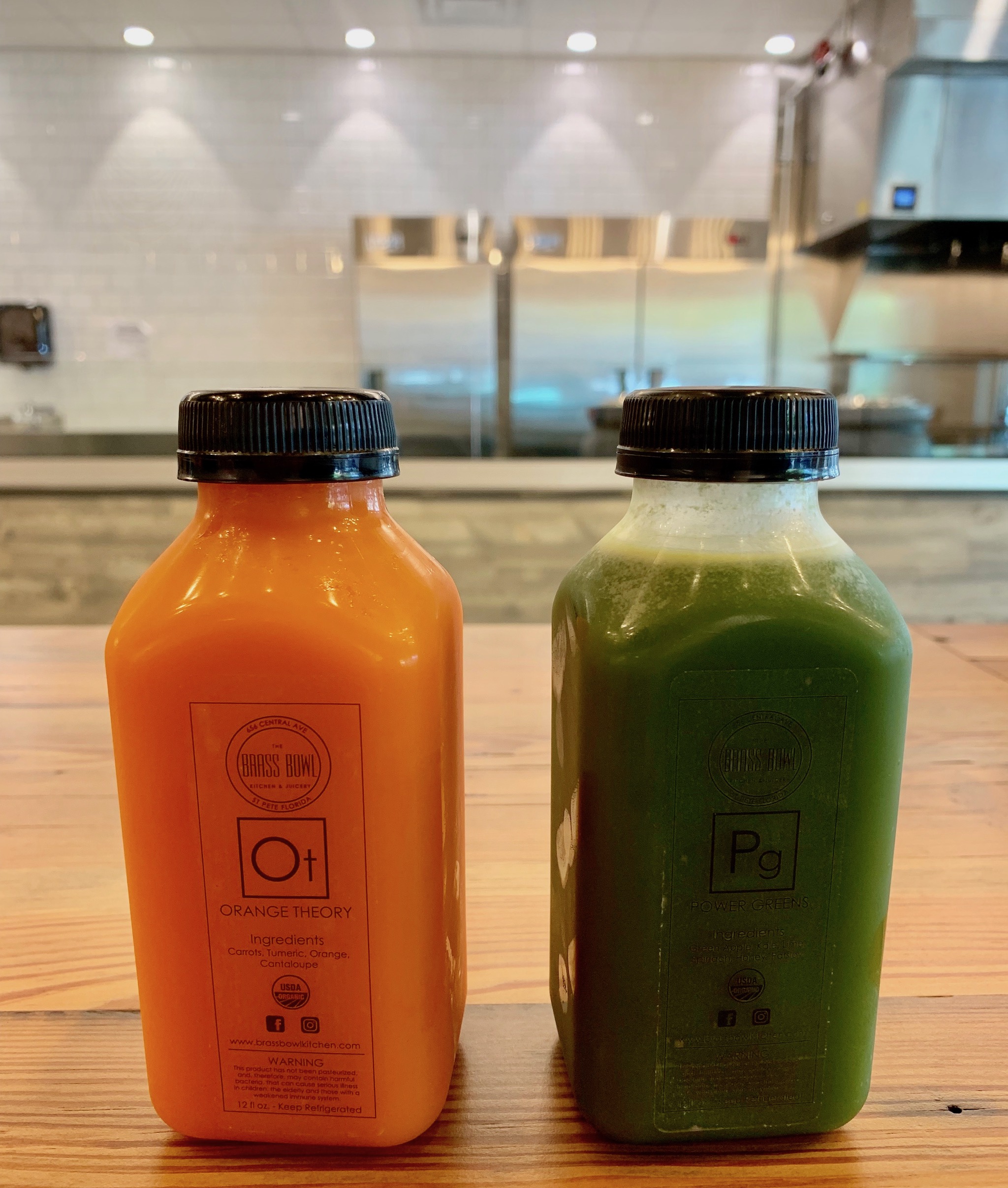 We had the Orange Theory – carrot, turmeric, orange, cantaloupe and the Power Greens – granny smith apple, kale, lime, spinach, honey, parsley. I never expected to like both of these so much. The Power Greens surprisingly was my favorite because it was more tart. But it was hard to choose a favorite. The Orange Theory was very smooth with just a touch of sweetness. I felt healthier already.
If our tasting is any indication, this restaurant is on the cutting edge of the fast, casual culture that is enjoying so much fame these days. Brass Bowl Kitchen & Juicery is sure to be a star on the 600 block of St Pete!
World Fusion Gourmet Meets Fast Casual - Vegan, Vegetarian, & Carnivorous, along with Fresh Cold Pressed Juices. 100% certified organic ingredients and line caught sustainable sourced seafood for the entire menu. Organic Clean Eating.
DISCLAIMER: Kevin, Lori, Abby, Haley, & Lindsey do not dine anonymously (this would be impossible) and we sometimes get free food (though never expected). However, we dine with the locals and we support our own. You will always get honesty in a respectful manner. We do not include any large national or regional chains in our ratings and reviews. We focus on independent locally owned eateries exclusively.

PLEASE NOTE: Reviews reflect a certain moment in time. Some restaurants stay extremely consistent over many years, and some change for the better or worse. Some things that may change are: chefs, recipes, food suppliers, ingredients, philosophies, ownership, etc. We always hope that you have the same good, or great experience we had.
More Foodies News, Reviews & Recipes