The Twisted Indian is Spicing Up the Food Scene in the Grand Central District
The Twisted Indian is Spicing Up the Food Scene in the Grand Central District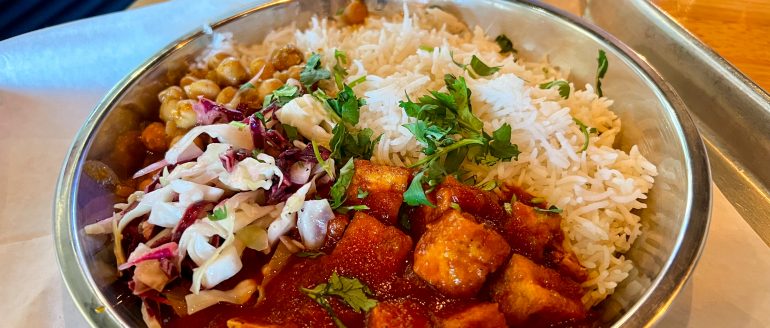 Back in May of 2018 (just over four years ago) I was reviewing food trucks and The Twisted Indian was my assignment at the time (my 2018 review here). I met Lokesh Vale, chef and owner of The Twisted Indian. Up until that point, we hadn't had much luck with Indian food in St. Petersburg and the surrounding areas. His food, essentially Indian cuisine with an American twist, sounded appealing in every way – Curritos, Bollywood Bowls and Tikka Masala tacos, how can one go wrong? Well, after devouring an array of literally everything on the menu, I can distinctly remember declaring that this was the best Indian fare that I had had in St. Petersburg.
Fast forward to present day: that statement still holds true for me and The Twisted Indian now has a well-deserved permanent spot in a prime location on Central Avenue in the Grand Central District. The 25 seat fast-casual restaurant sits near the crossing of 28th St., across from Bandit Coffee Co. Inside, the space is covered with a beautiful floor to ceiling mural created by local artist Jimmy Breen1.
When you enter the restaurant, head towards the back to place your food order at the counter, make your drink selection and then grab a seat wherever – your food will be brought to your table when it is ready.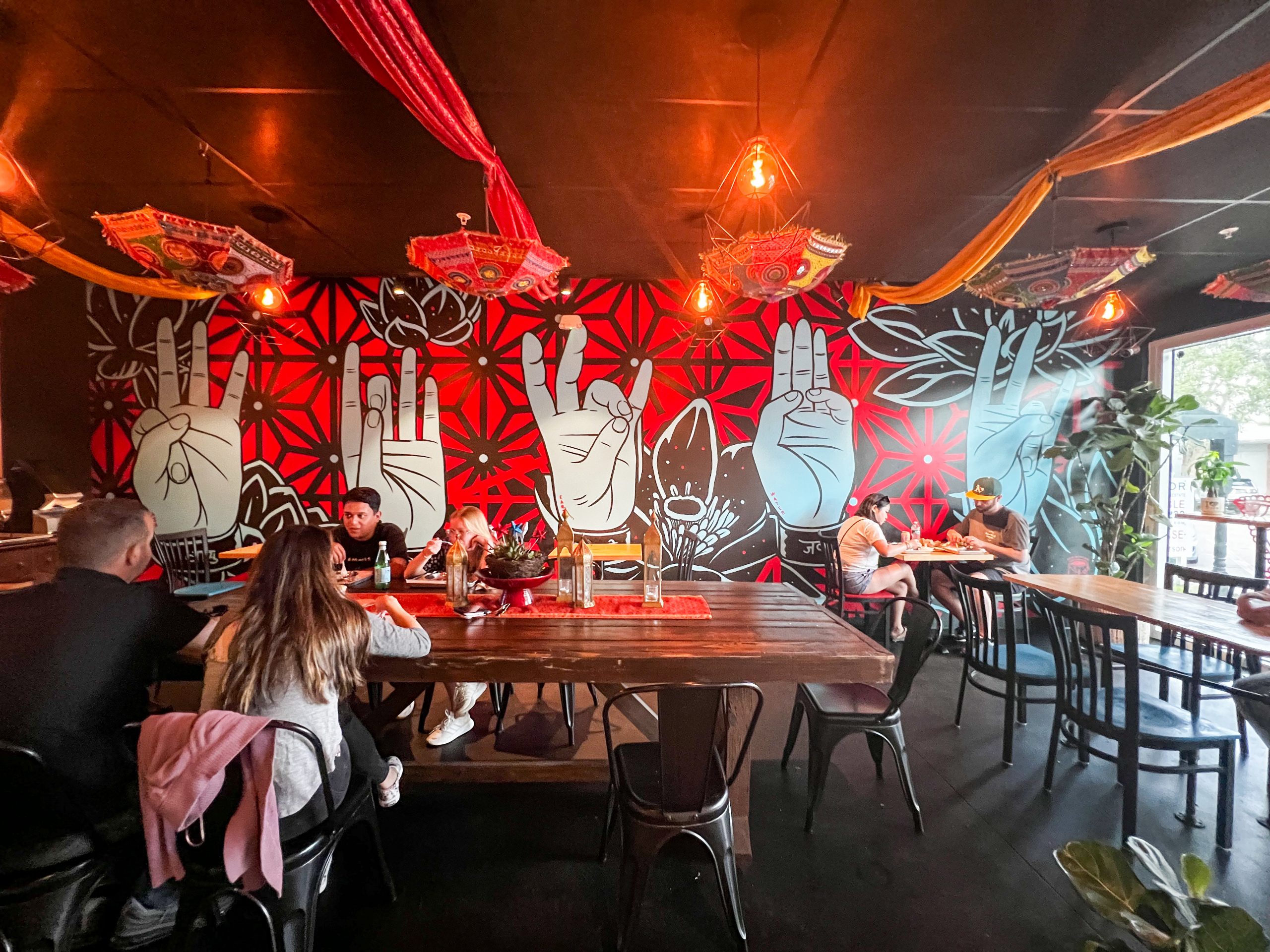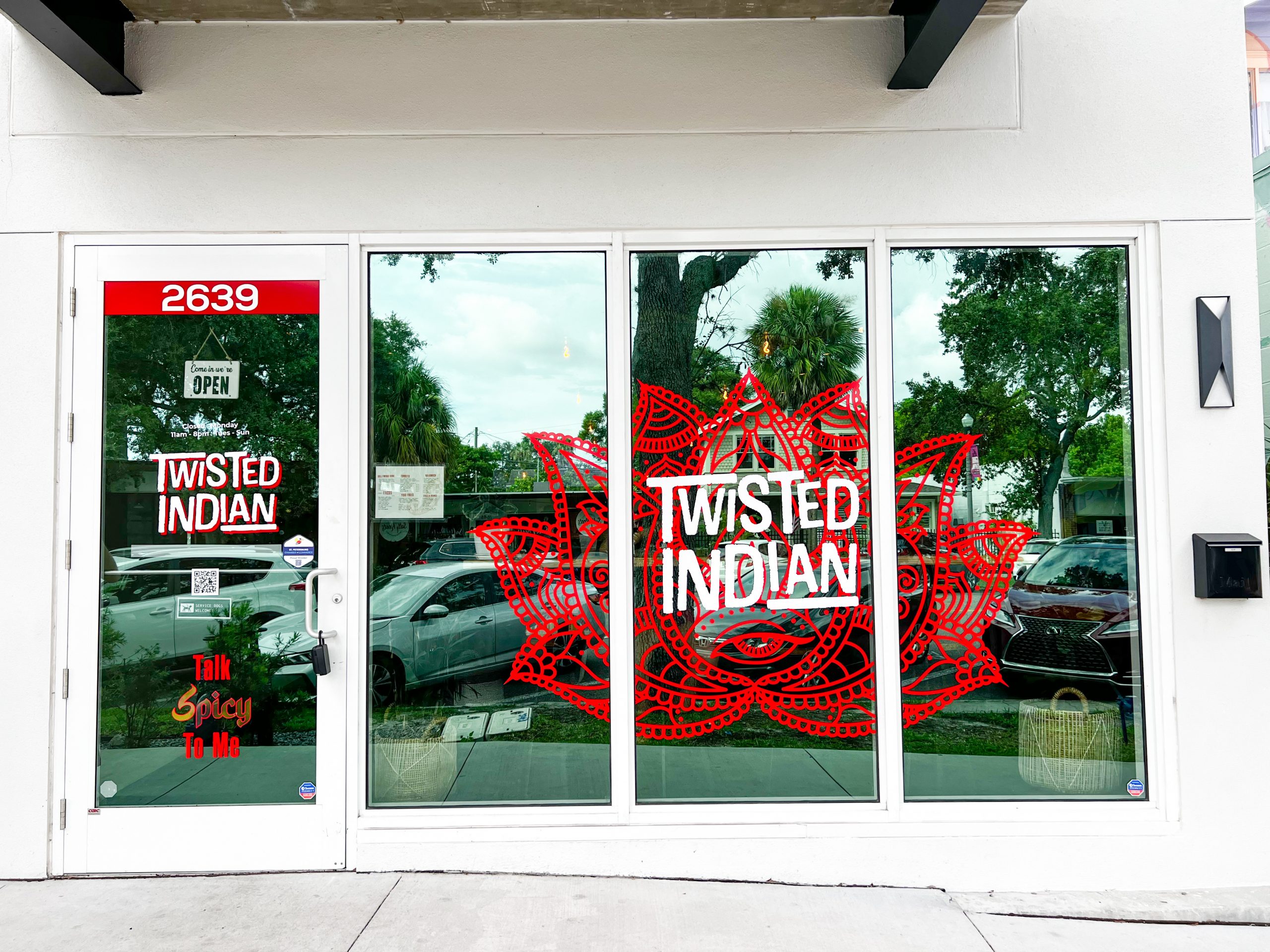 It's been fun watching The Twisted Indian blossom and grow from food truck to restaurant. During that initial conversation that I had with Lokesh back in 2018, he mentioned that a permanent space was the ultimate goal. Watching talented and driven individuals like Lokesh make their dreams come true is so inspiring. Today, the Twisted Indian is now a triple threat with a food truck, restaurant and catering offerings available for private events in and around Tampa Bay.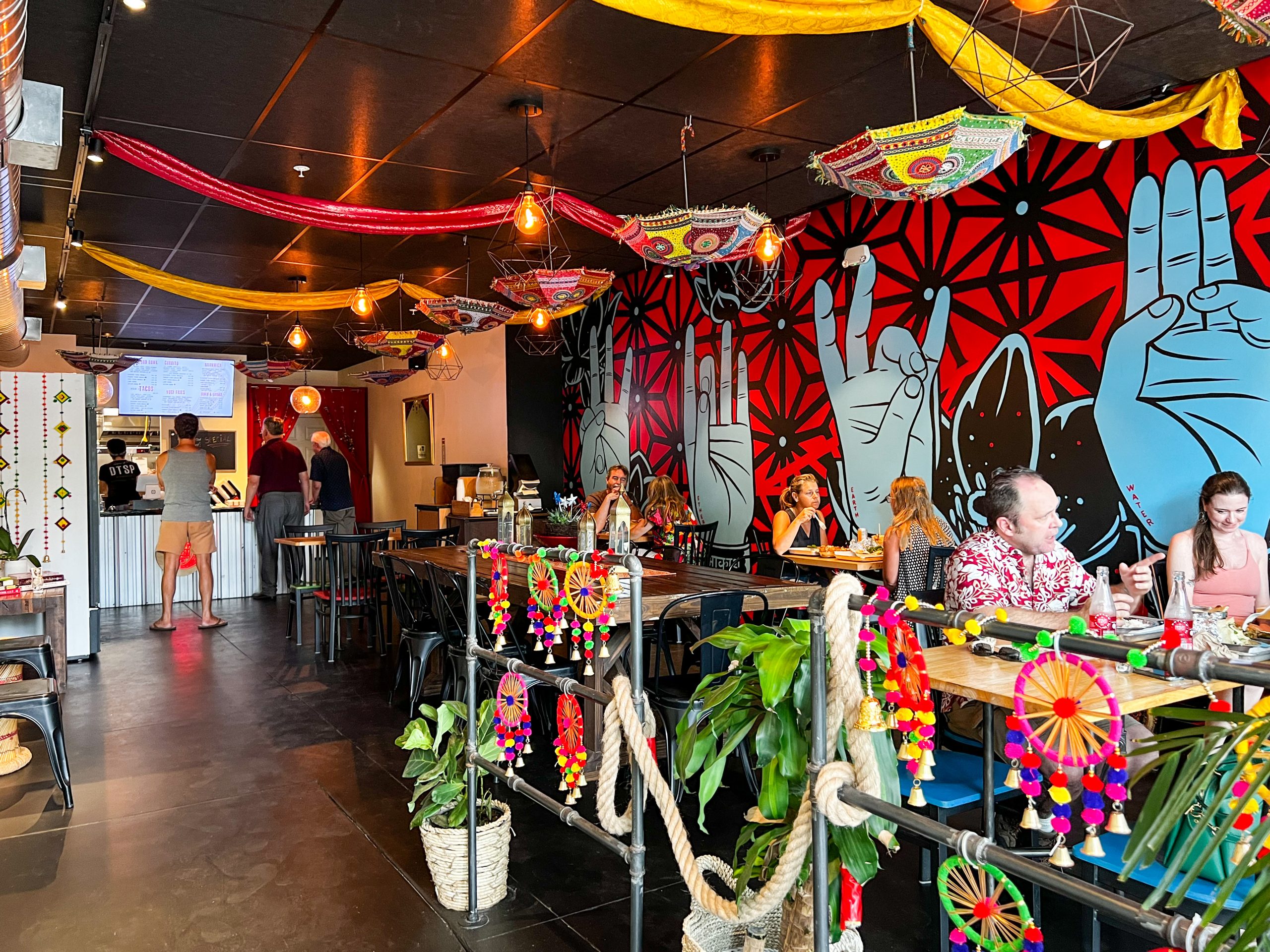 We finally found an opportunity to check out the restaurant last week and Lori and Kevin met us there, as well, for an early dinner. We arrived at 6:00PM on a Thursday evening and the place filled up rather quickly – love to see all of the support! On top of that, there were also various folks waiting for to-go orders and such. We ordered our food, selected our table and grabbed our beverages. Drink options available include Kombucha, various waters and my personal favorite – the Mango Lassie. The Mango Lassie is an irresistible mango yogurt smoothie. It's sweet, creamy and ultra delicious – grab one from the cooler to the left of the counter and thank me later.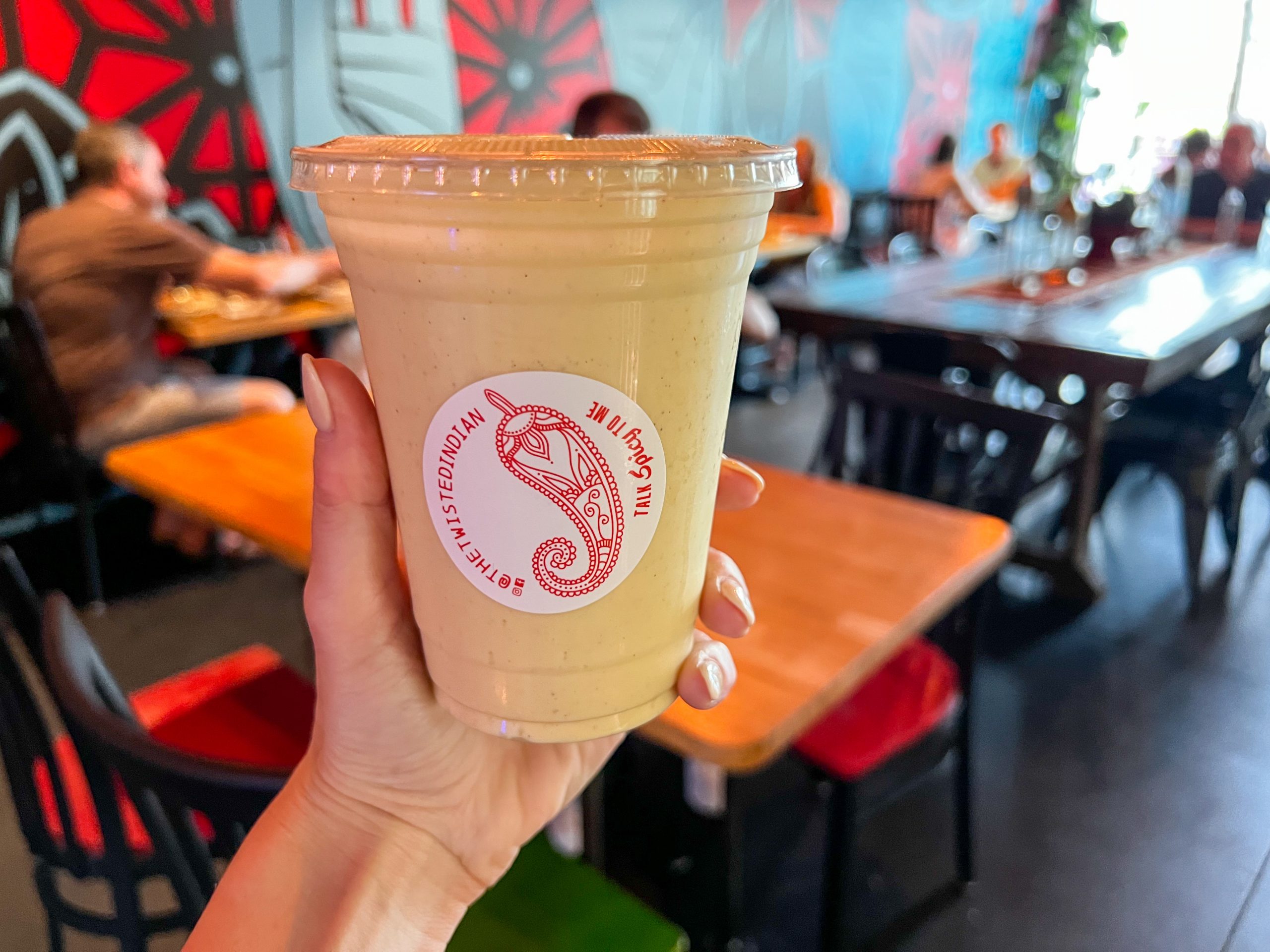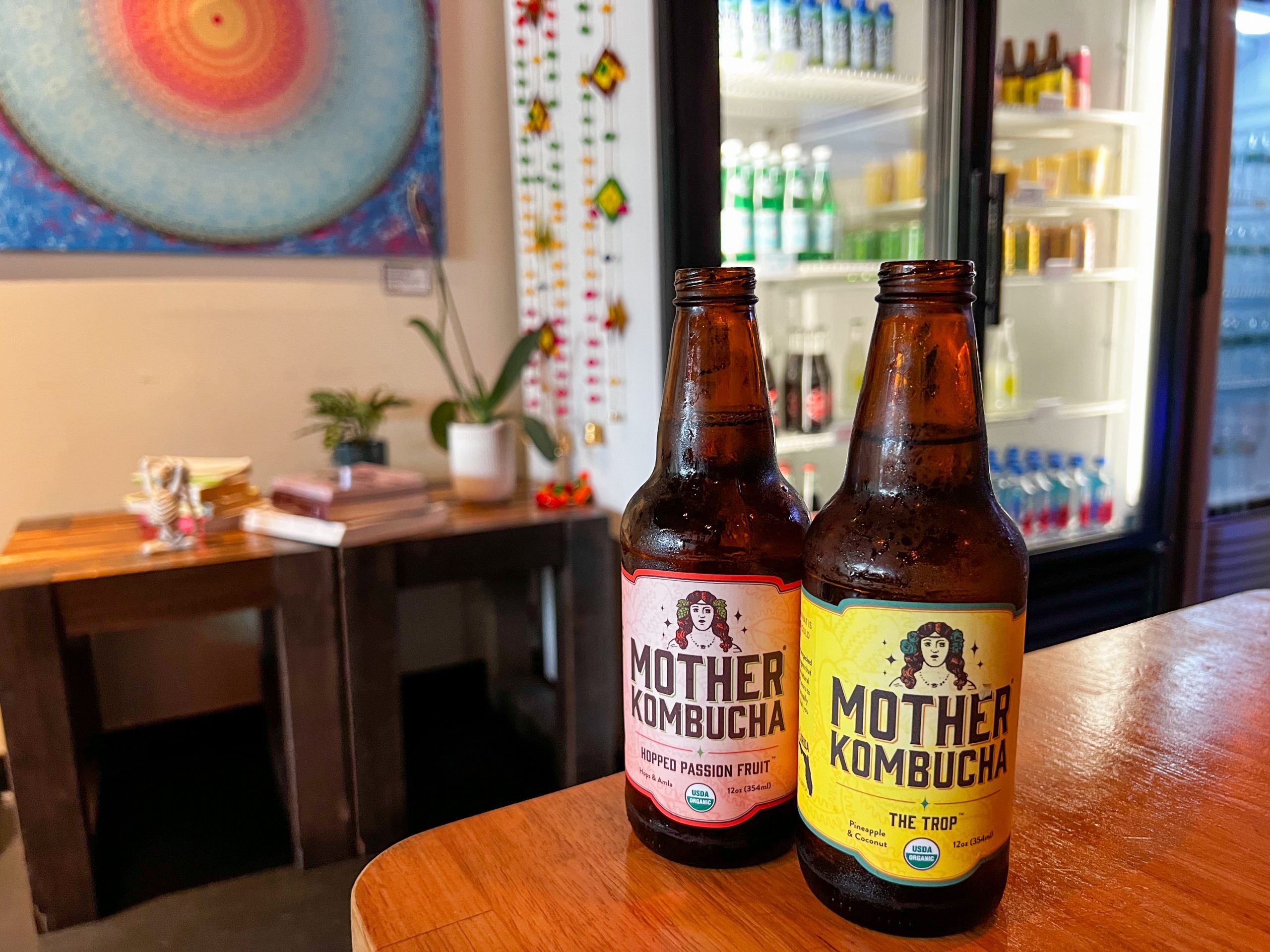 If I had to suggest just one *must* try item from the menu, it would probably be the Yogi Fries. Sidewinder Chaat Fries with Tikka Masala sauce, mozzarella cheese, tangy slaw, raita yogurt sauce and cilantro and the option to add amchur avocado. [Editor's note: "amchur avocado" refers to Indian-style guacamole made with mango powder.] The fries can be ordered as is – regular – or, you can elevate your fry experience with the addition of chicken, tofu or paneer Tikka Masala. My husband and I ordered the regular fries while Lori and Kevin upgraded theirs with paneer (non-aged, non-melting soft cheese that reminds me of tofu). The fry portions are substantial – great for sharing between two to four people. However, after one bite, I doubt that you'll want to be sharing. The flavors are incredible, the spice level is just right (for me) and everything is in harmony. Ordering the fries for yourself only as a meal is highly encouraged.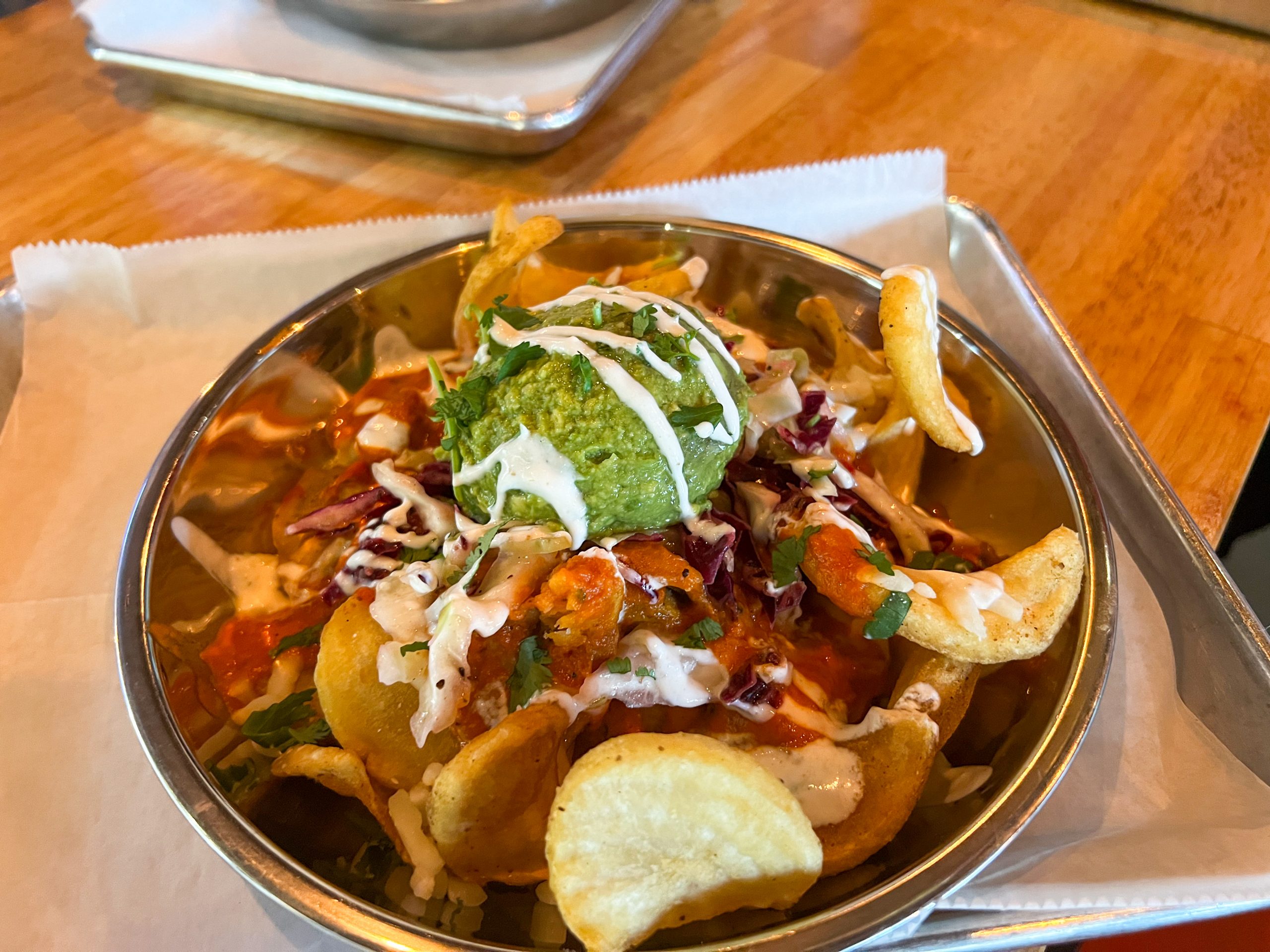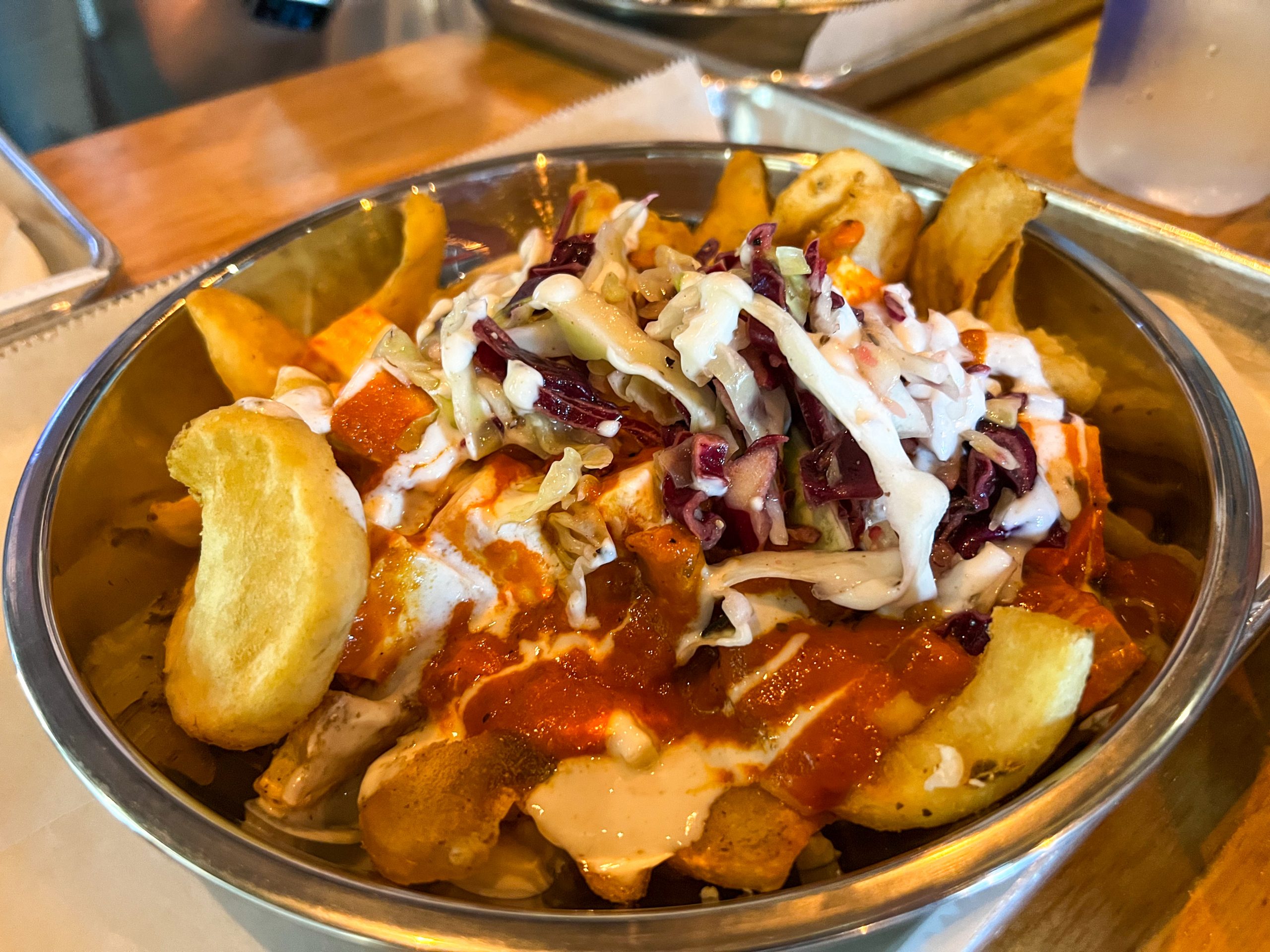 The Bollywood Bowl with white Basmati rice, spinach, tangy slaw, yogurt raita sauce, curried chickpeas, cilantro and tofu is usually my go-to order. In addition to tofu, seitan, lamb korma, chicken and paneer Tikka Masala are also available. I, of course, ordered the tofu, which I loved per usual. Lori and Kevin each got a bowl as well – Lori, the Lamb Korma and Kevin, the Chicken Tikka Masala. I've tried both in the past and they're equally as delicious. Lamb Korma especially is one that I hear and read folks rave about the most.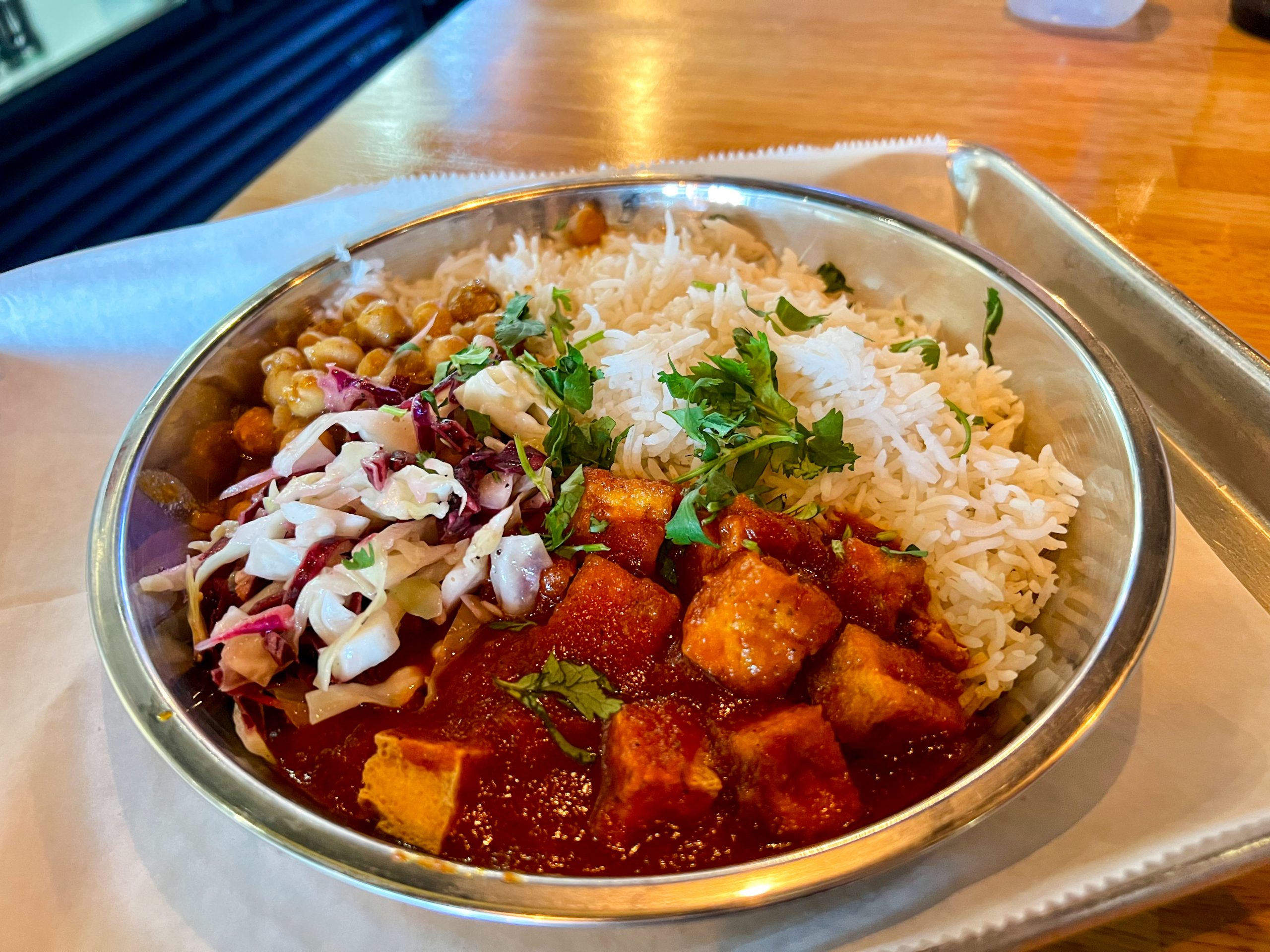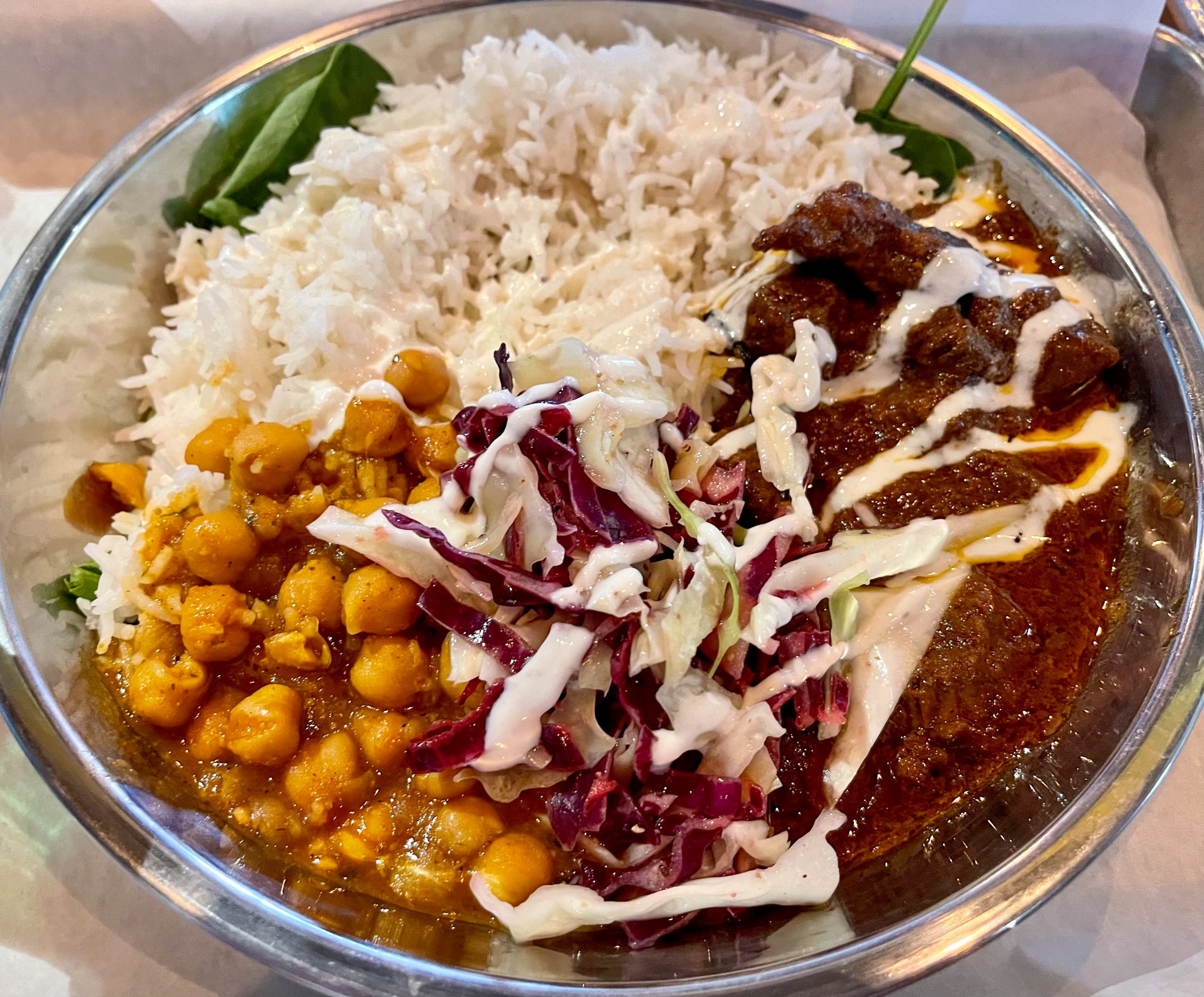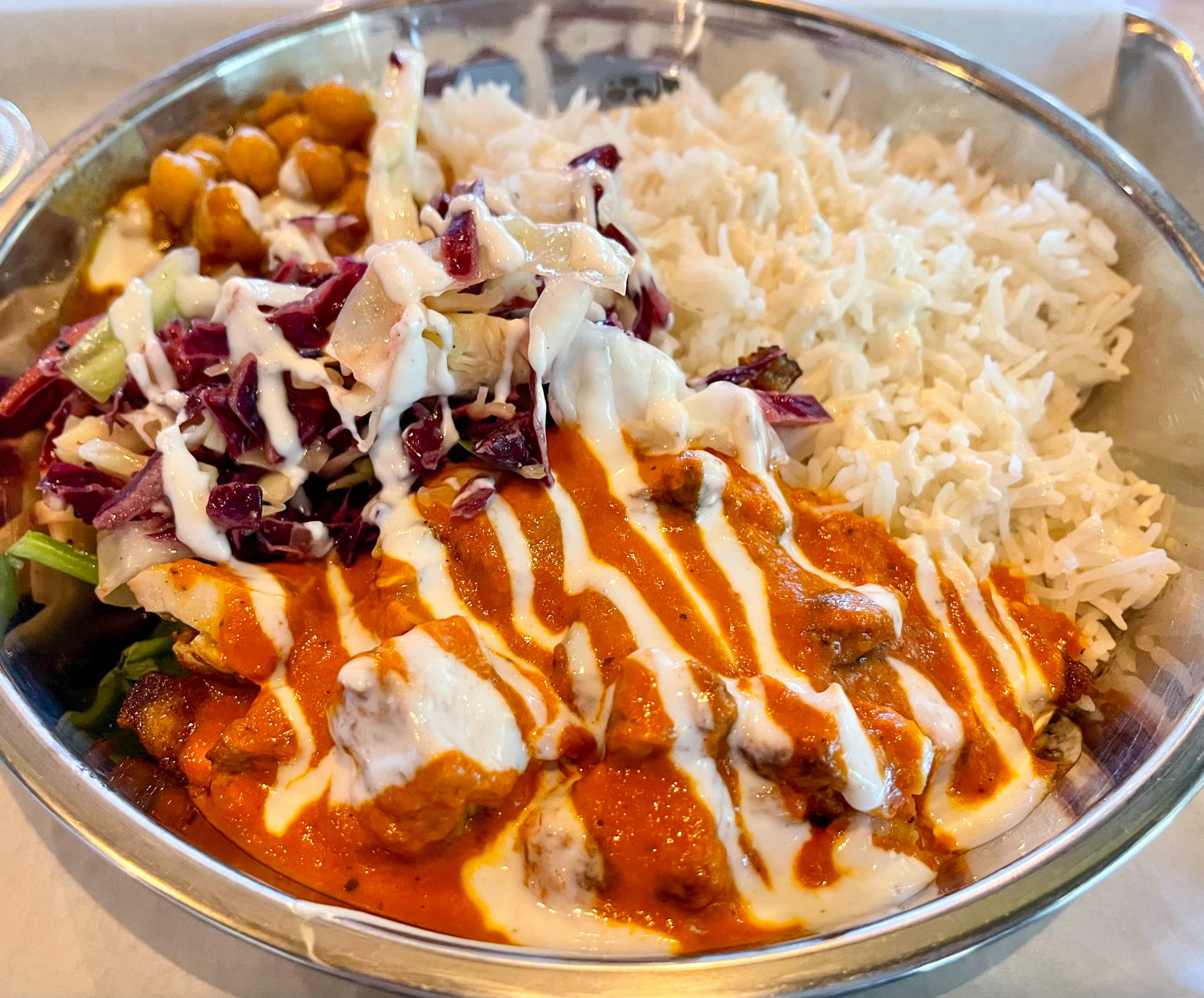 My husband had his sights set on the naanwich from the second he laid eyes on the menu. This 'wich is comprised of buttermilk naan, fresh spinach leaves, tangy slaw, yogurt raita sauce, cilantro, choice of chicken, paneer or tofu Tikka Masala or lamb or seitan Korma (are we noticing a trend yet?) and a side of chickpeas and rice. This naanwich is not for the weak – it's large and in charge but gets better and better with each bite. As with all of the food from The Twisted Indian, everything about the dish is in total balance – from textures to  aromas and everything in between. I mentioned earlier that the spice levels are not incredibly severe, so if you're looking to kick things up a notch add sides of whatever hot sauce Lokesh has available.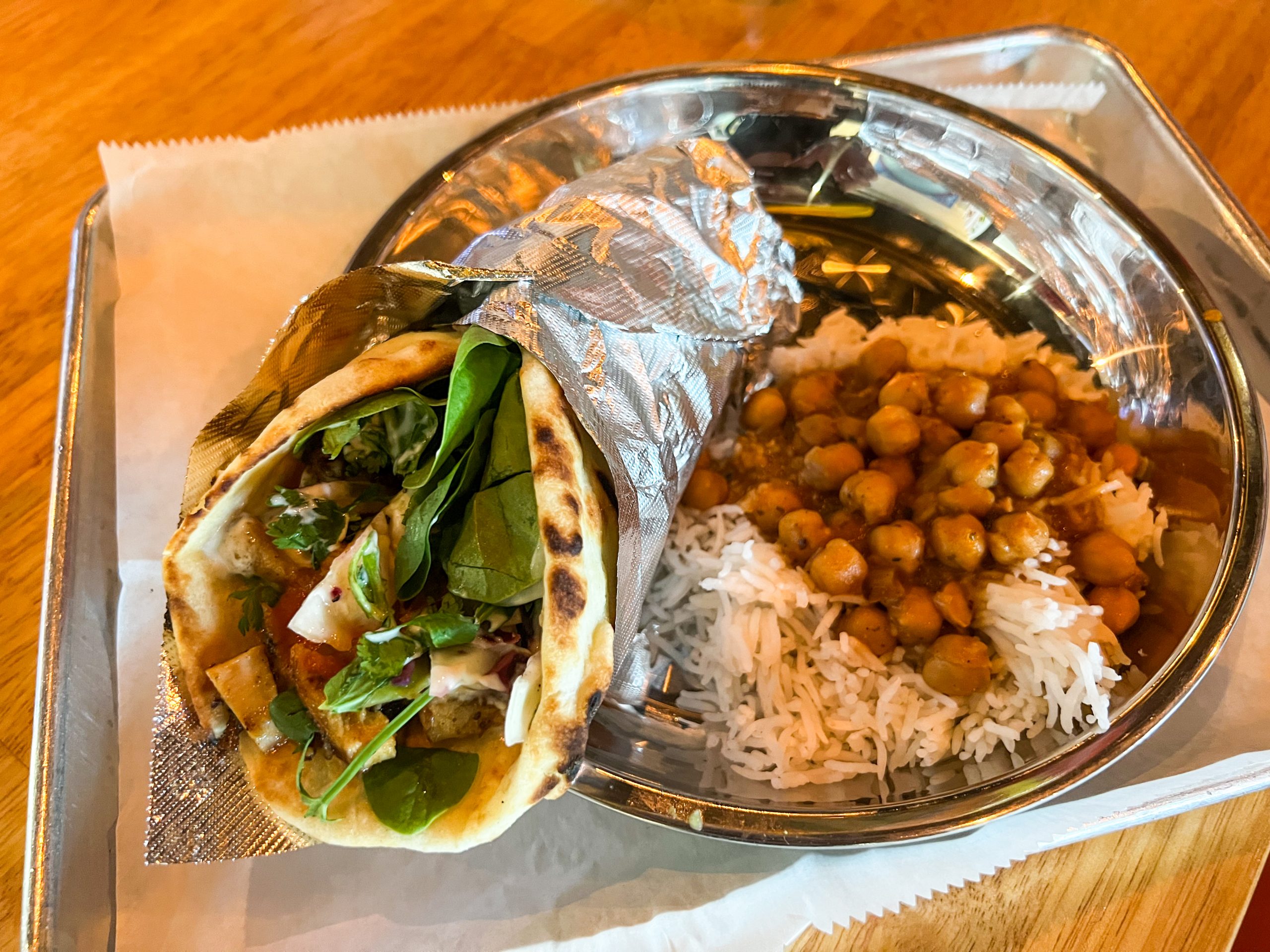 The Twisted Indian is open every day of the week with the exception of Monday. Their convenient hours of 11:00AM-8:00PM make the restaurant an attractive option for lunch, weekend brunch and dinner. If you're new to Indian food, The Twisted Indian truly is the perfect introduction with its touch of American flair. Drop in to the restaurant, order a meal to-go or catch the food truck to see what all of the buzz around The Twisted Indian is about – you won't be disappointed.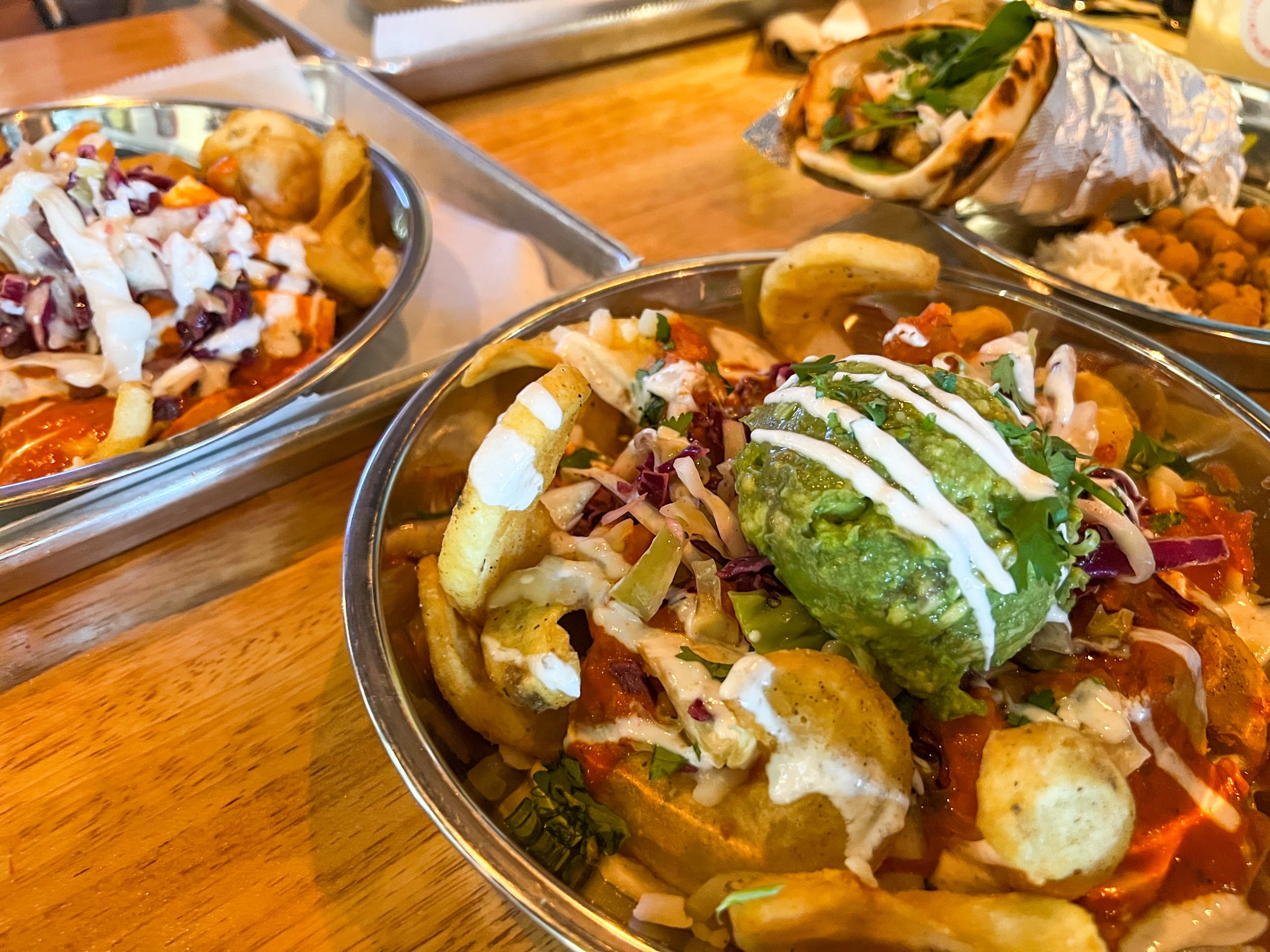 1. Sadly, just after publishing this review we learned that artist / muralist Jimmy Breen passed away on June 20, 2022 at the age of 37. According to the Tampa Bay Times, "His family did not want to disclose his cause of death."
A menu specializing in build-your-own, Indian-inspired platters & sides in a bright, rustic setting.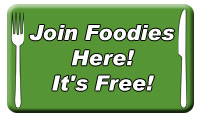 More Foodies News, Reviews & Recipes