Our Glass Overfloweth at Overflow Brewing Co.
Our Glass Overfloweth at Overflow Brewing Co.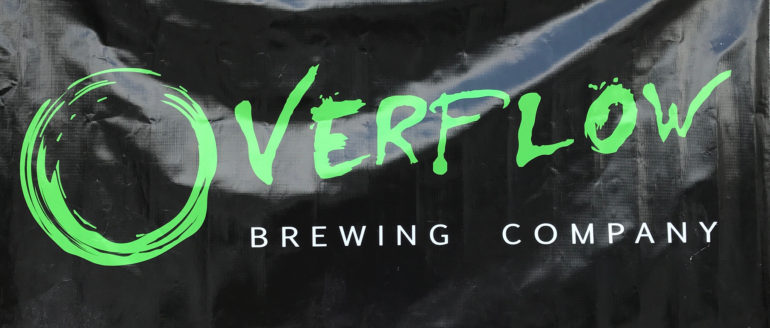 Overflow Brewing Co. is the newest craft beer brewery and taproom in St. Petersburg, right downtown, at the end of the 700 block of 1st Ave North, behind the Morean Arts Center.
Started by the trio of Brewer, Troy Bledsoe, his fiancé and Tasting Room Manager, Jessica Holder along with Head of Business Operations, Ryan Sarno—Overflow Brewing will concentrate on sour beers.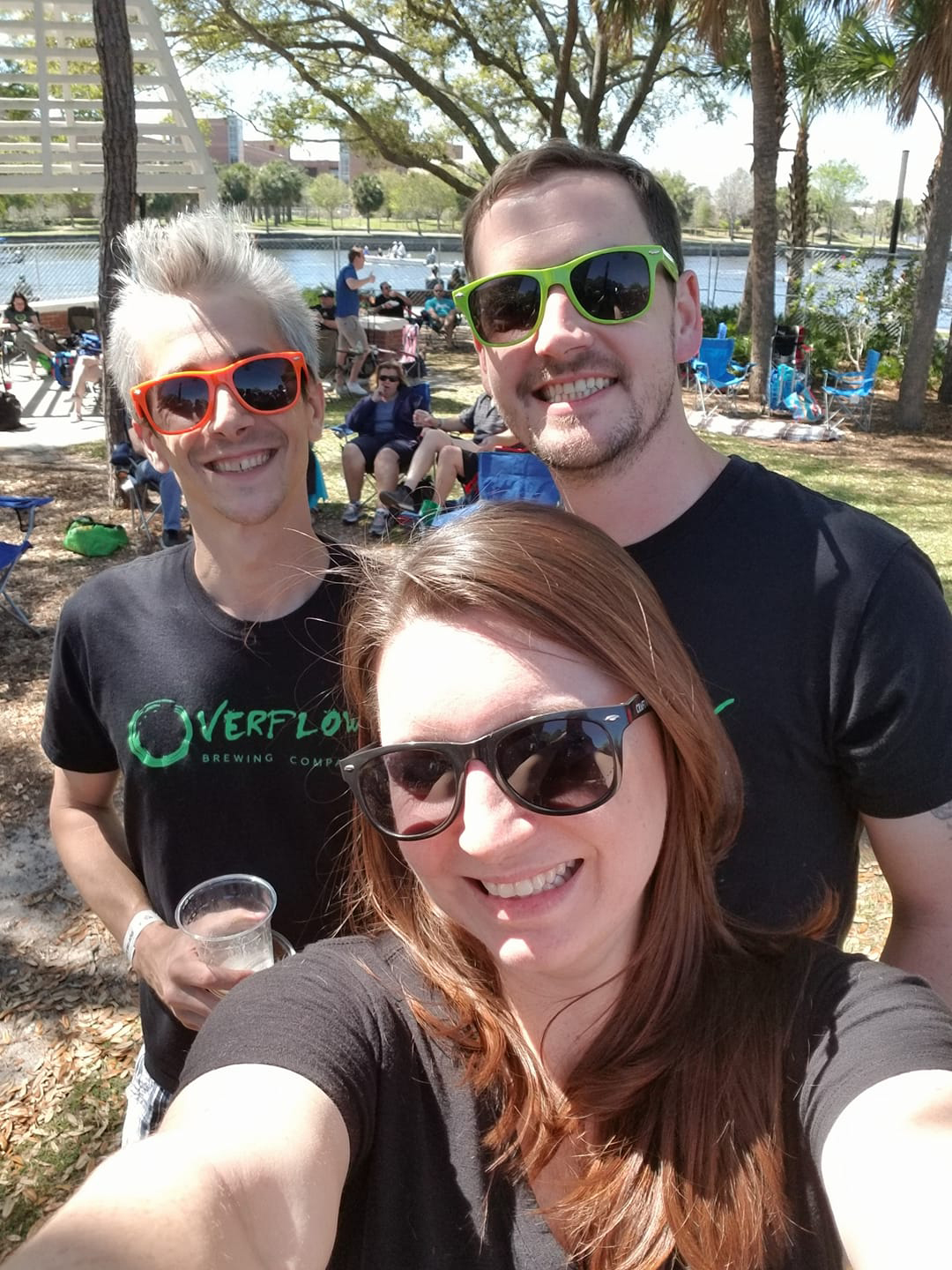 Craft beers have been on the rise for a while, and sour beers have become more popular in the last year or so. Overflow brewer, Troy Bledsoe, says that when you think of sour beer, don't even think of beer. "If you like sour candy, you'll like sour beer." "Think sour candy, or unsweetened lemonade."
Local craft beer fans will likely know Troy from his former job as assistant brewer at Rapp Brewing in Seminole. Before that, he acquired lots of experience as a home brewer.
Jessica left her 10-year career in banking (she started when she was 18) to join her fiancé, and Overflow brewer, Troy in their new endeavor. She is the Tasting Room manager where she will apply her skills in relationship building and managing that she learned in banking. She's making the adjustment from sitting at a desk all day, to being on her feet, she says with a smile.
Ryan has an interesting past. In 2013, he was a dealer in the World Series of Poker. He did the World Poker Tour in South Florida a couple of times. He helped set up the Hollywood Poker Open as well.
Ryan is looking into the possibility of having poker events at Overflow in the future, where you may run into some professional dealers.
In addition to their taproom, Overflow will be distributing locally, so watch for them on tap at your favorite watering hole.
We'll have three detailed beer reviews at the end of this, but first, here's the rest of hangout.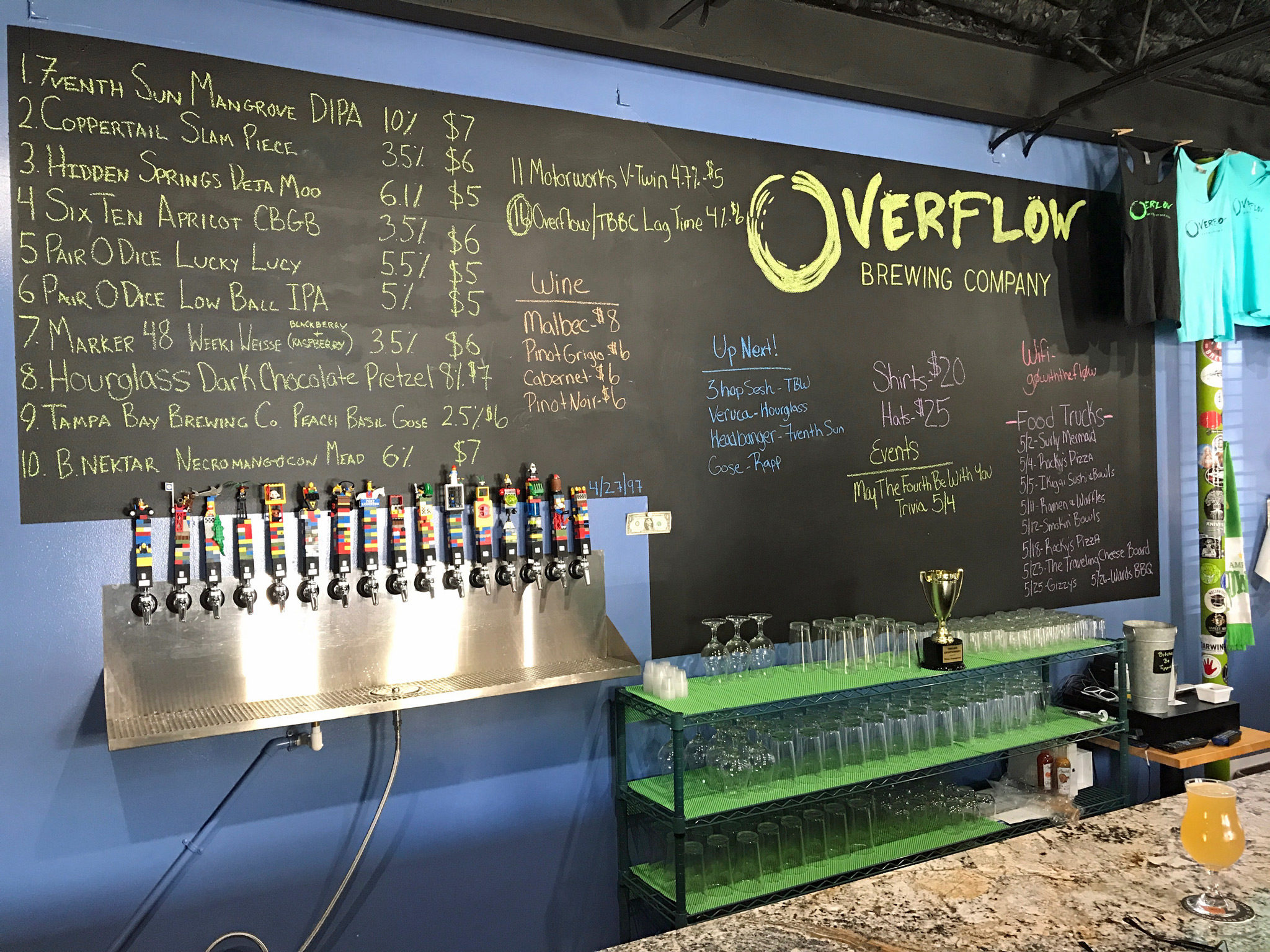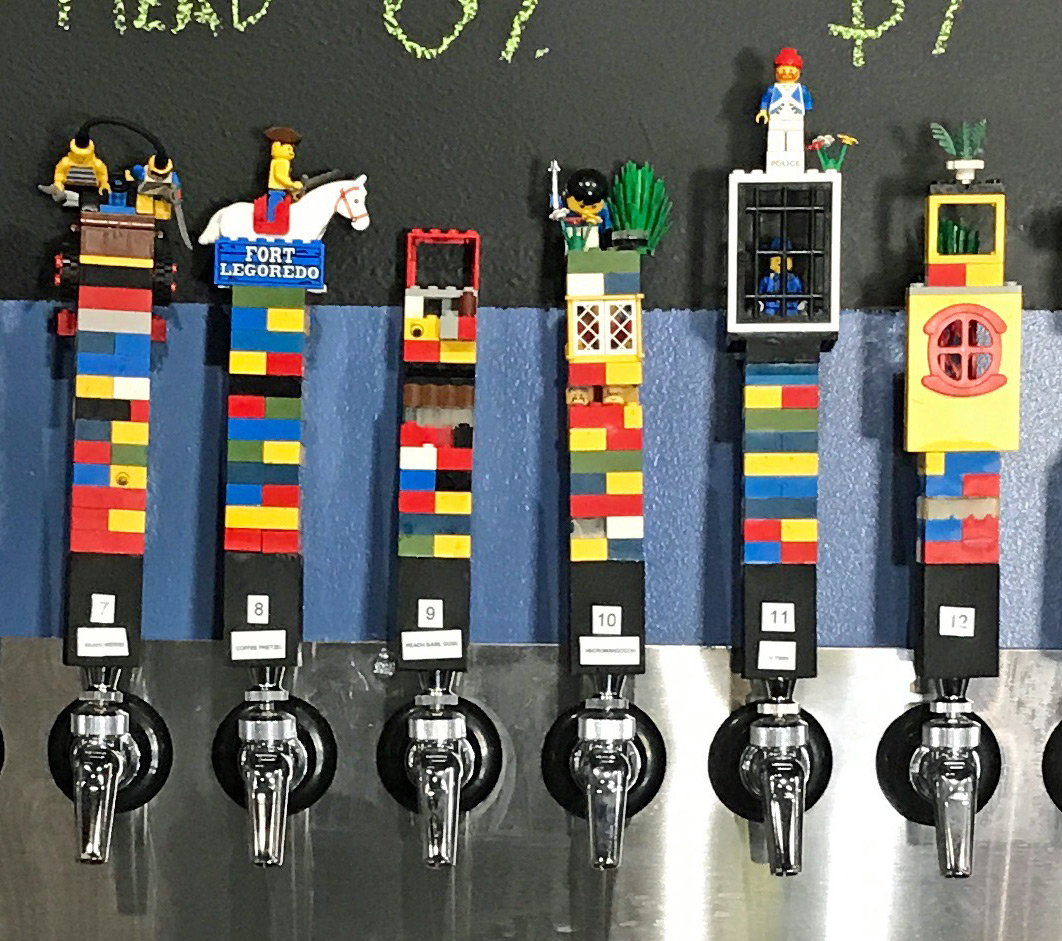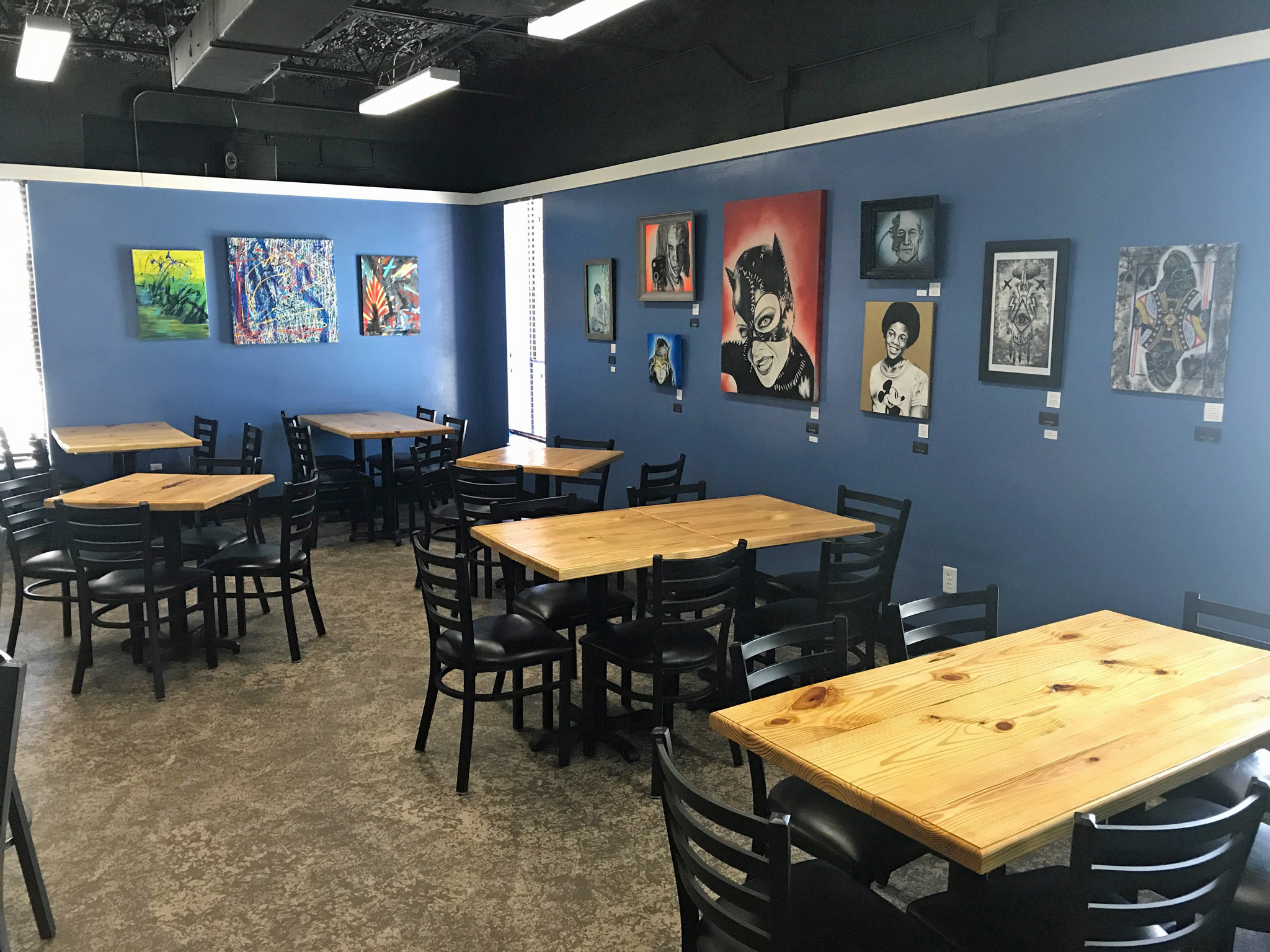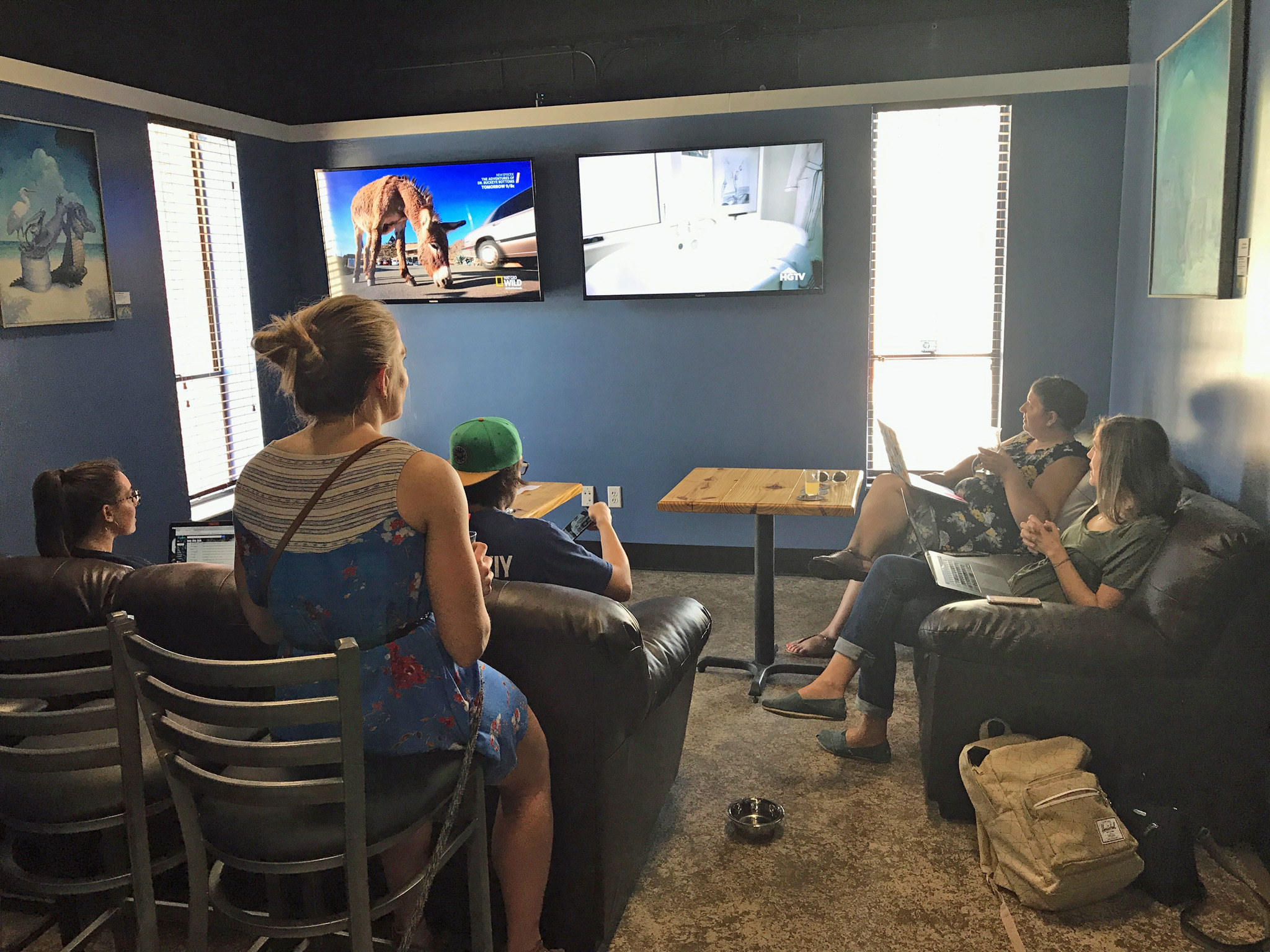 If you haven't been yet, you should stop in soon. It's a comfy place with real nice people, a nice selection of house and guest taps with a regular schedule for food trucks as well.
Upcoming Food Trucks:
6/14 – Grateful Dogs
6/15 – Vanchetta
6/17 – Gizzy's
6/21 – The Taco Lady
6/22 – Flipp'n Tasty
6/28 – Grateful Dogs
6/29 – Sexton's Pizza
6/30 – Ikigai Sushi & Bowls
The small brewery does not have tours, as they would only last 5-10 minutes, plus there's only room for Troy and his assistant to do their work, but here's a peak.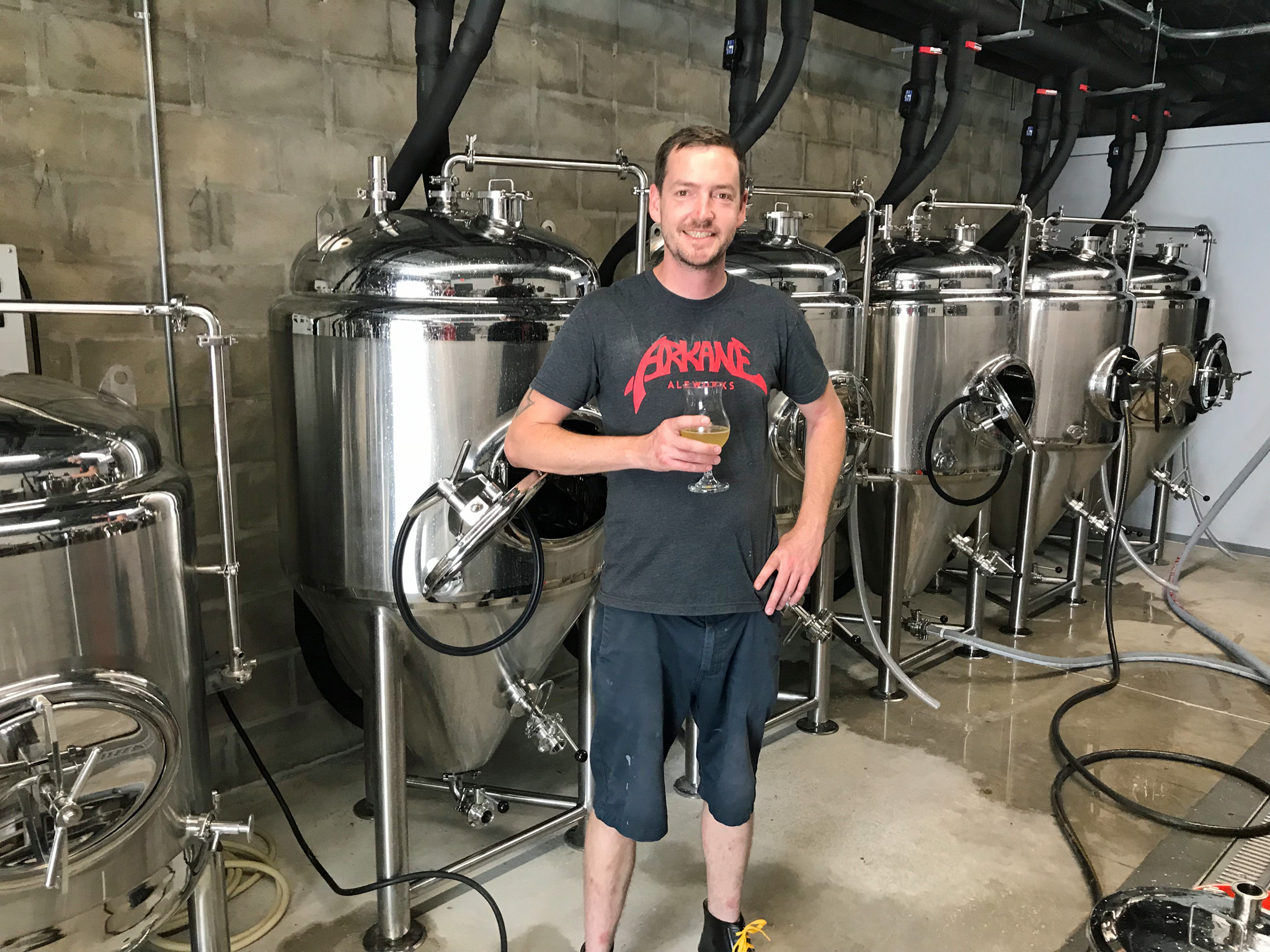 While we were back there, we got to have some fun tasting different grains.
Troy said, "Since you guys are foodies, you should taste some of the malts!"
They were actually quite tasty, and reminded me of breakfast cereal, specifically—Grape Nuts.
Guess what's in Grape Nuts—whole grain wheat flour, malted barley flour, whole grain barley flour, malt extract and dried yeast. It's basically beer cereal. The only thing missing is hops.
We tasted four malts as follows.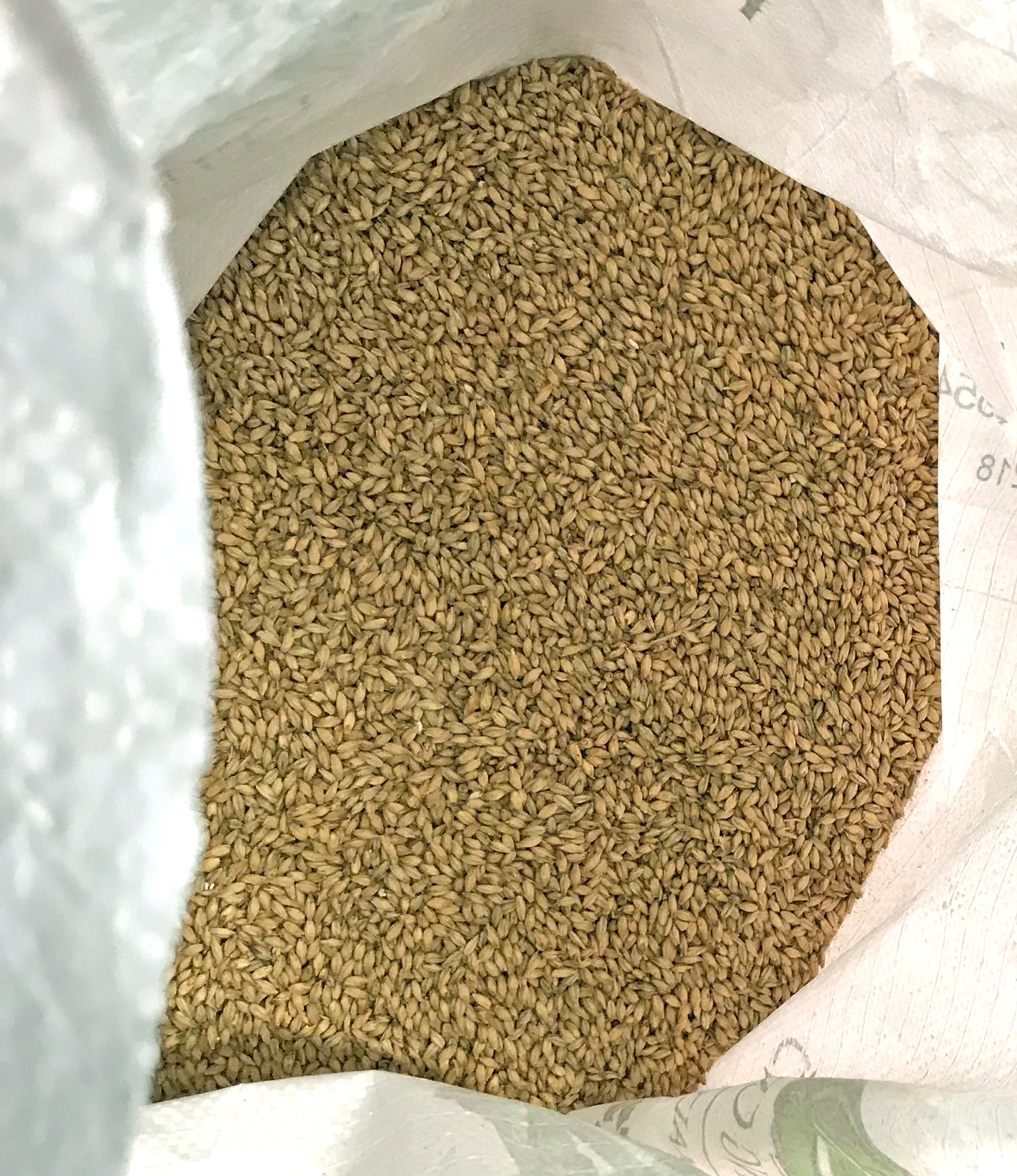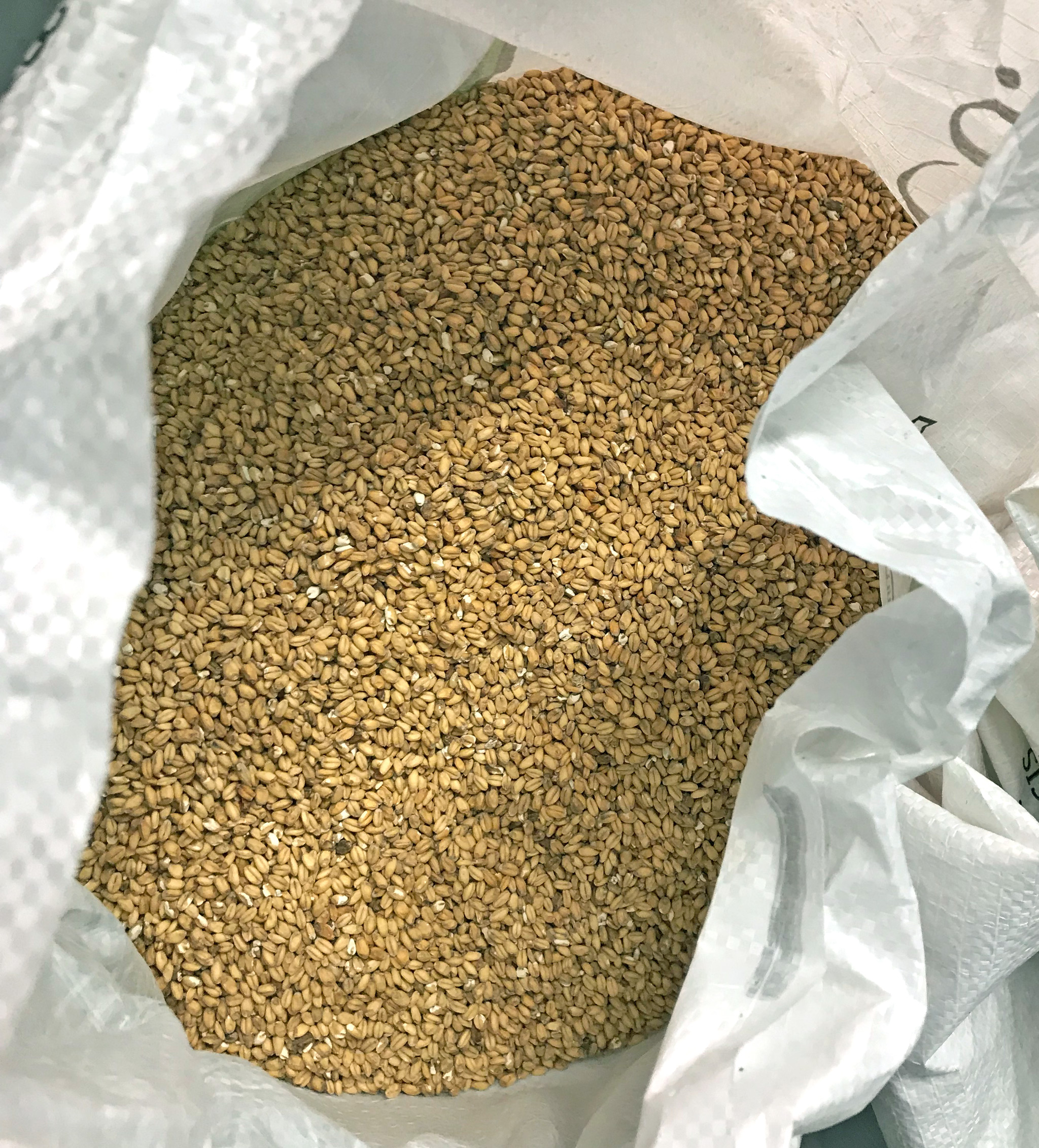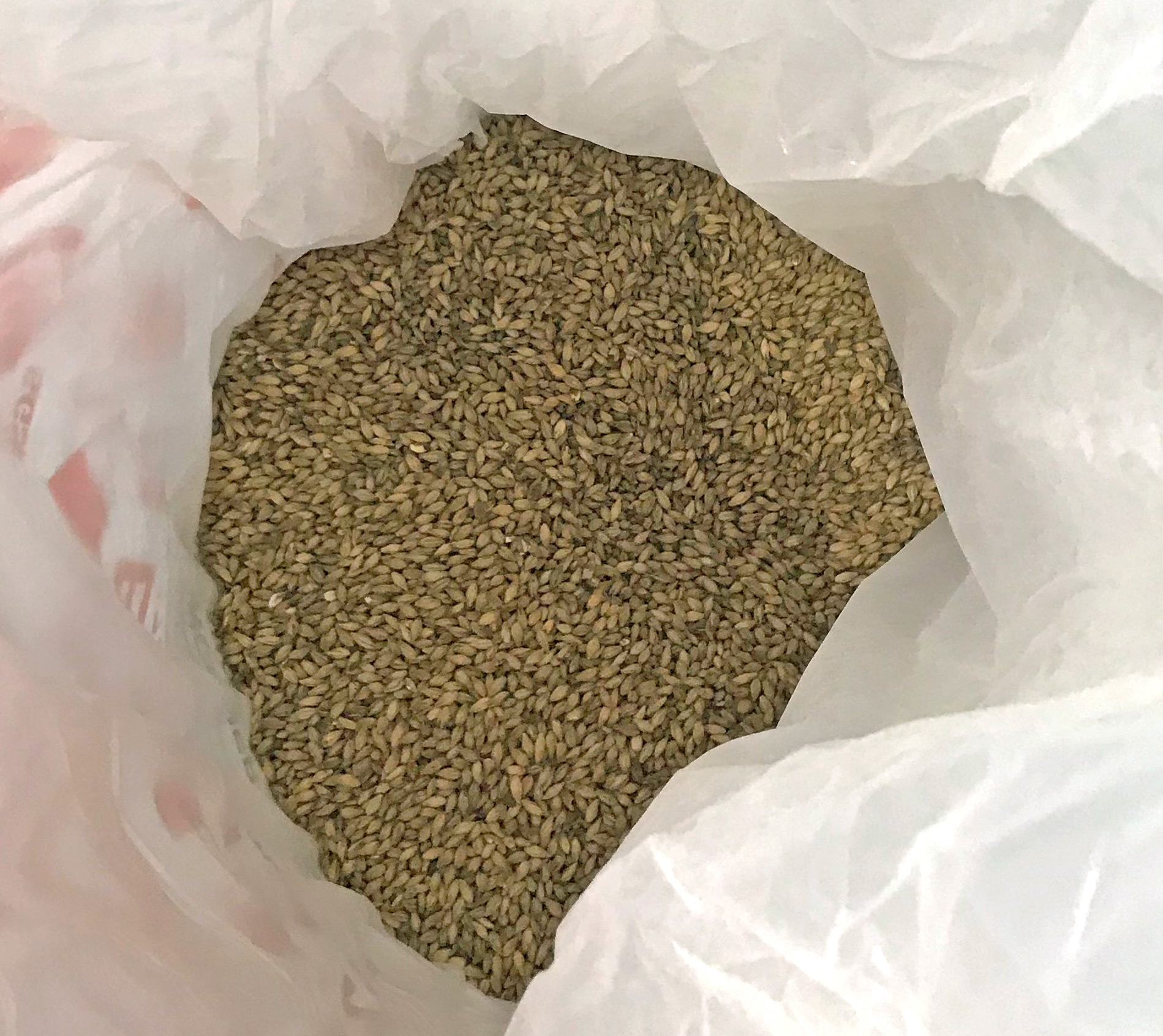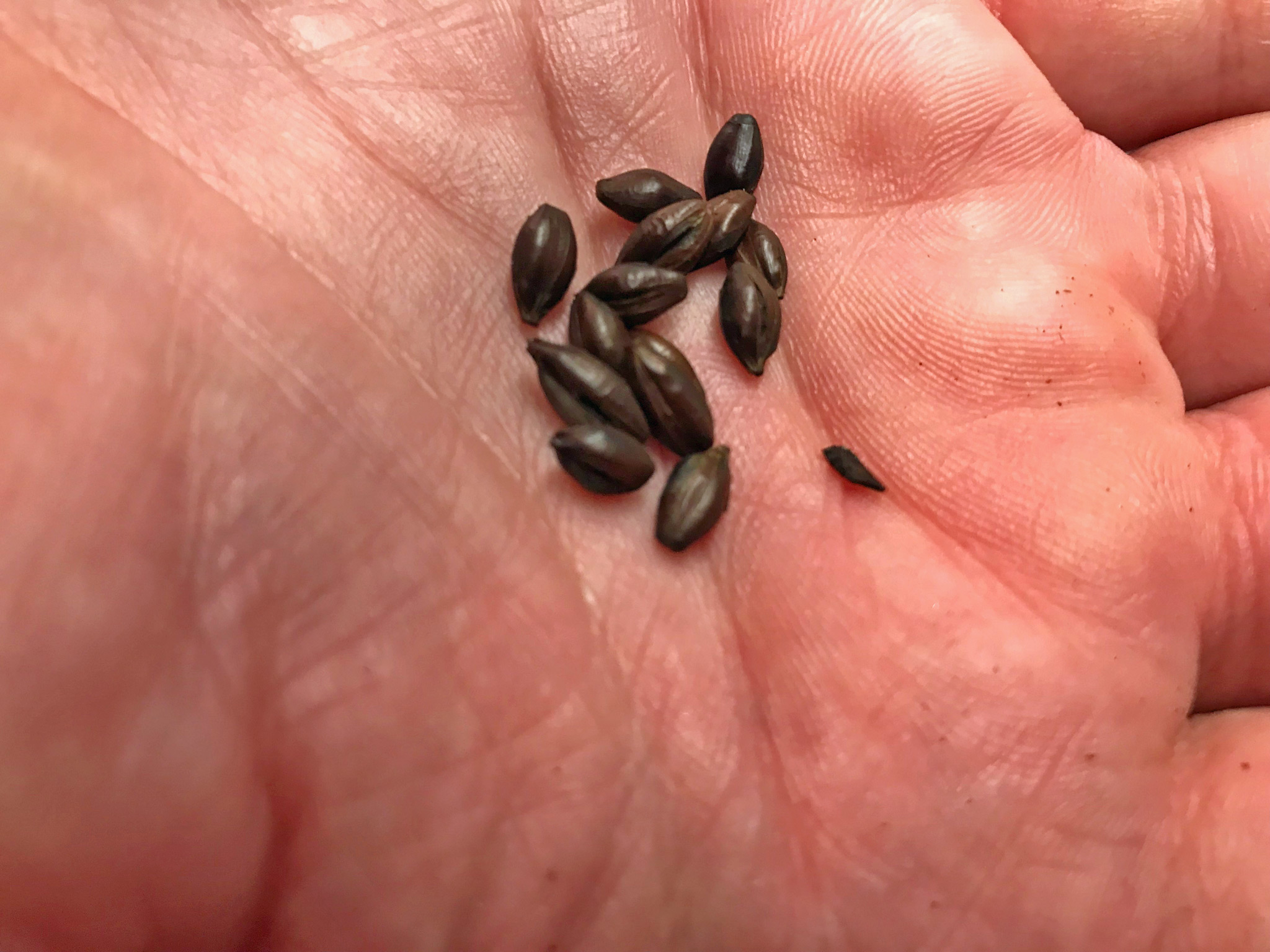 Troy told us that porters came from England. The dock workers, which were called "porters" would drink a dark beer all of the time, and the beer took on that name.
Overflow Brewing Beer Reviews
Lag Time Brunch – Overflow Brewing Company / Tampa Bay Brewing
(Sour - Berliner Weisse)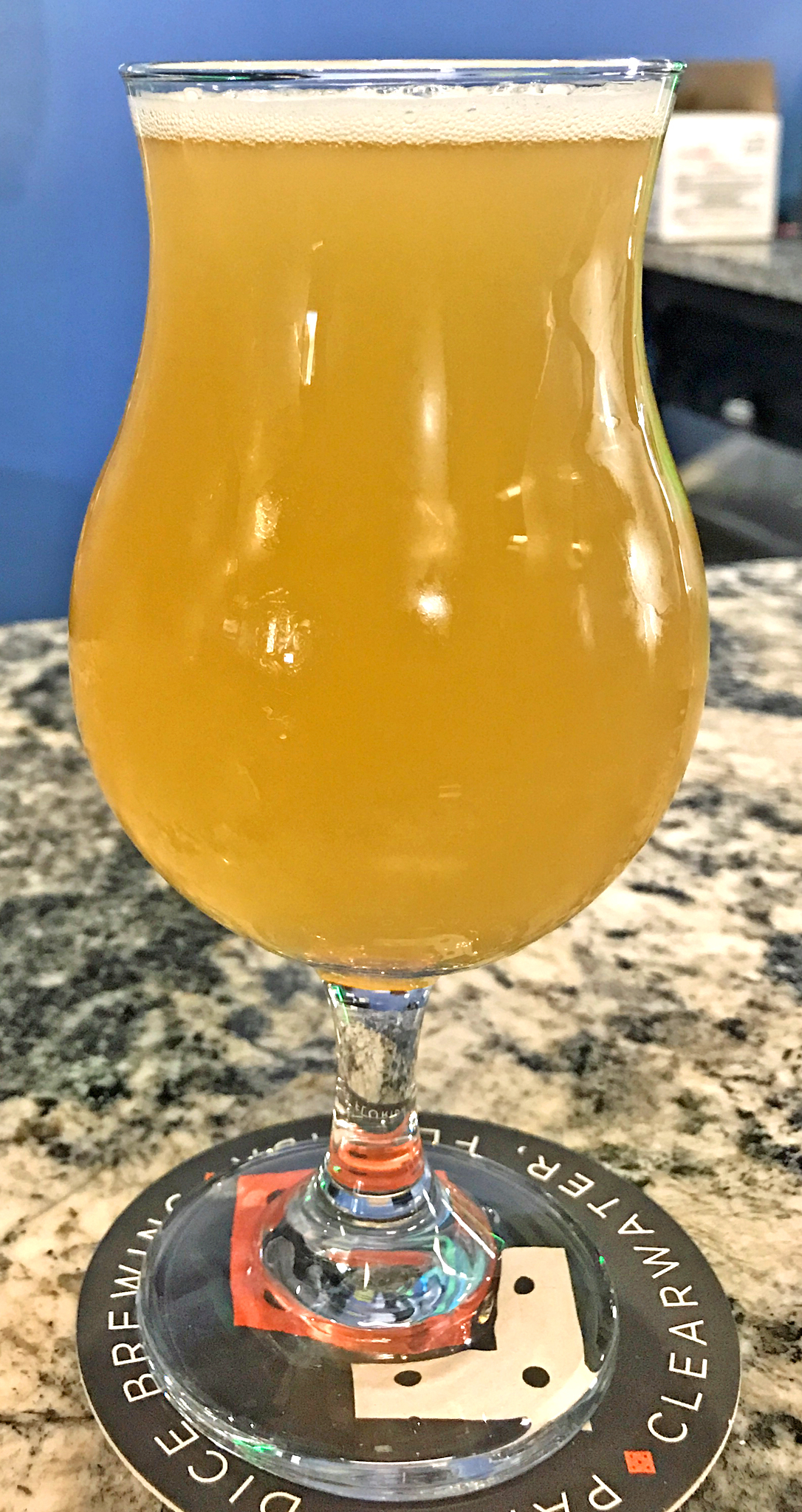 Lag Time Brunch – a Kumquat Mimosa Sour, which is a Berliner Weisse-style. The brewer likes to call them Florida Weisse beers because their line-up has lots of different tropical fruits added. This is a special release, collaboration between Overflow Brewing and Tampa Bay Brewing.
Brewer, Troy Bledsoe, when asked about the hops used, says that is not as important as the souring process and the fruits they add afterwards.
Lag Time Brunch is kettle-soured vs. mixed fermentation.
Troy uses the kettle method so they are not putting bacteria and wild yeast into the fermenters where they're also fermenting other "clean" beers. They actually kill the bacteria first.
The kettle method produces a sour beer overnight, whereas mixed fermentation is a long aging process (a year or more) that uses bacteria that consume sugar and leaves lactic acid in its place, creating tart and acidic qualities in beer.
More on Mixed Fermentation on BeerAndBrewing.com.
The long aging process will create a more complex beer, and Overflow will likely be producing these in the future.
For the Lag Time Brunch, it's chilled and soured overnight. Then boiled to kill bacteria. Hops are added and it's chilled and put into the fermenter.
After fermentation, more kumquat is added, more fermenting, add white grapes, and ferment some more.
The grapes provide the champagne taste for the "mimosa".
Lag Time Brunch
Pour & Head: Cloudy, small head.
Color: Amber
Aroma: Citrus, grapefruit, sourdough bread, kumquat, champagne, and subtle notes of pilsner malt, wheat.
Flavor: Sour, slightly tart, kumquat, champagne.
Mouthfeel: Thin, low-to-medium body, light, refreshing.
Finish: Dry finish with a little sweetness, lingering grapefruit.
Overall: A crisp and refreshing sour that is bright and light that you could drink just about anytime in Florida.
Food Pairings: Anything with citrus. Fish & Seafood. Salads. Crisp, refreshing dishes.
The Kinks – Overflow Brewing Company
(Hoppy Wheat)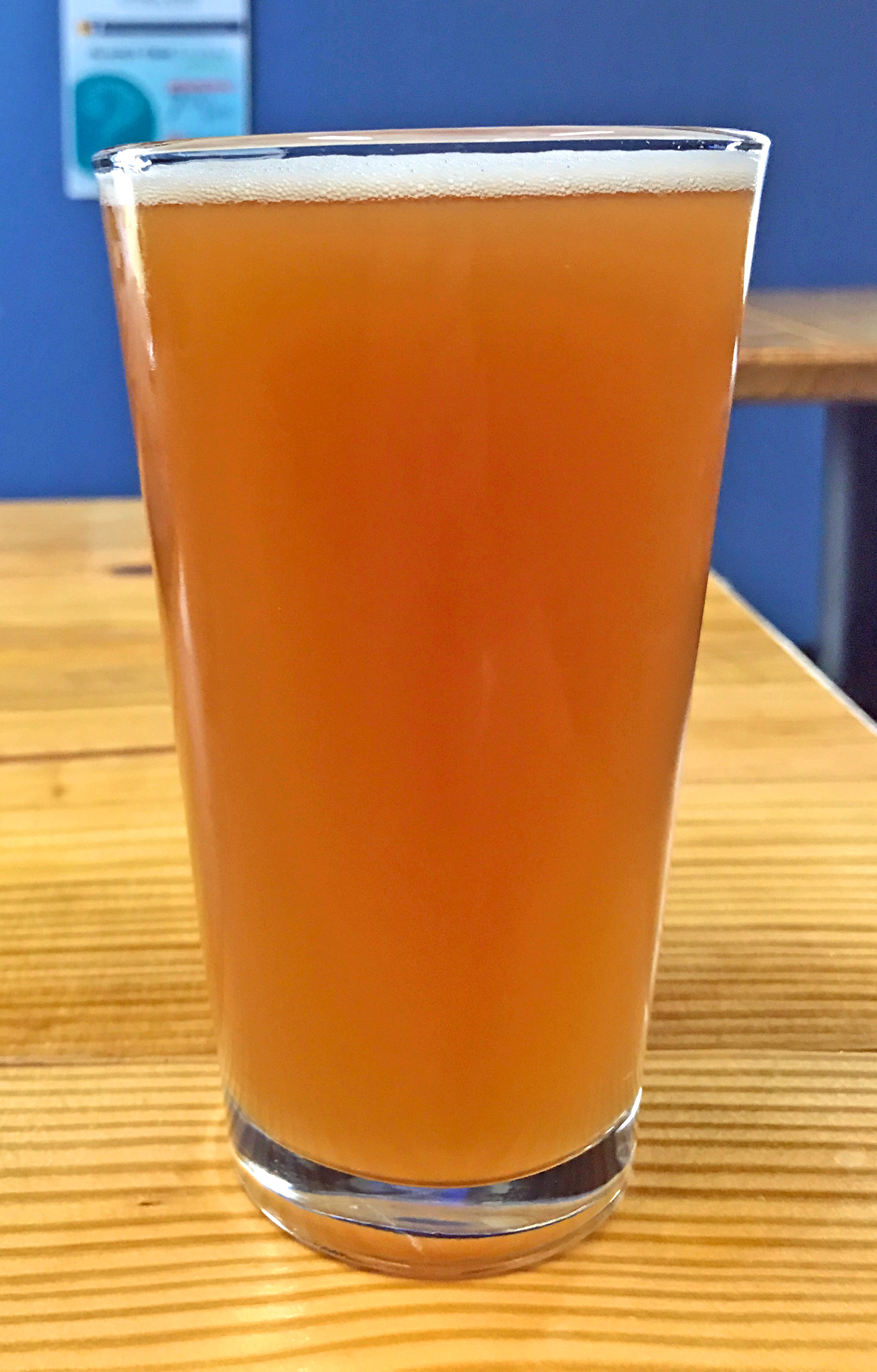 The Kinks was originally going to be a hoppy wheat called Indoor Sunglasses, which uses three different hops; German Magnum, Hallertau Blanc, and American Citra.
Due to shipping issues, they didn't receive the Hallertau Blanc hops, but they had the yeast and grains ready to go, and decided to do a 100% Citra batch.
Aside from the shipping issue, a couple other parts of the process took unexpected turns, hence the name, "The Kinks".
This is dry-hopped for aroma and flavor. All of the citrus flavor comes from the hops.
It's a Wheat Ale with 30% wheat malt.
Don't let the 40 IBU scare you as this didn't taste bitter at all to me.
Beer Connoisseur says, "IBUs aren't always reliable indicators of how beer tastes, depending on the style and ingredients. And the scale itself doesn't account for a variety of factors that affect the actual taste of bitterness in a brew."
More here: https://beerconnoisseur.com/articles/whats-meaning-ibu
The Kinks
Pour & Head: Cloudy, small head.
Color: Apricot – Orange / Yellow
Aroma: Peach Schnapps
Flavor: Grapefruit
Mouthfeel: Medium
Finish: Dry, short finish with taste of grapefruit rind
Overall: It smells sweeter than it tastes. It's crisp, lightly fruity, and light in body. Refreshing.
Food Pairings: Fish, seafood, shrimp scampi, salads, chicken and pasta dishes with white sauce.
Origami Aircrafts – Overflow Brewing Company
(Sour - Berliner Weisse)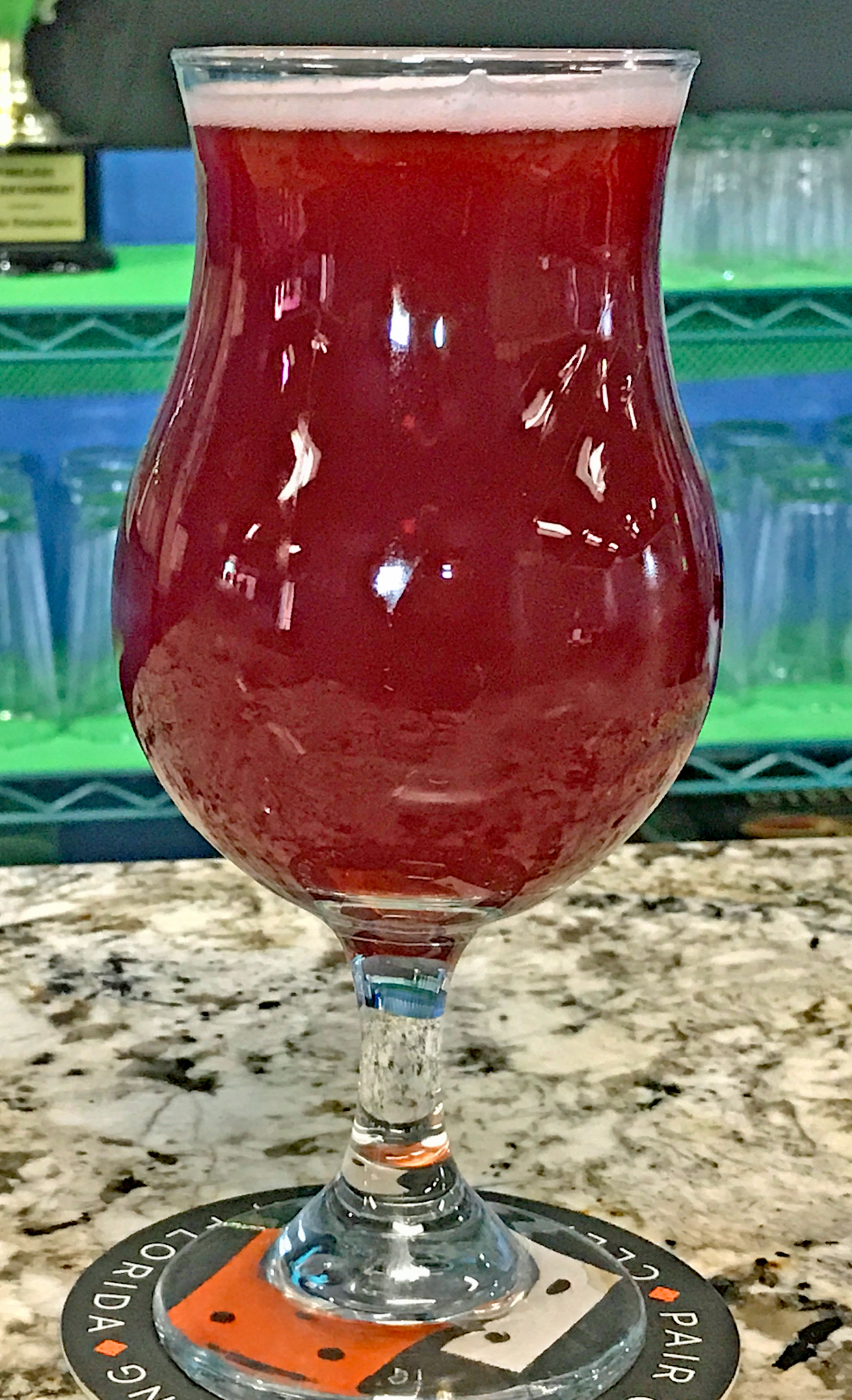 Origami Aircrafts is a Berliner Weisse Sour infused with tea. The tea is "Paper Airplanes" from Infused Tea Co., which is not a traditional tea. It's a fruit blend with raspberry, elderberry, strawberry, black currant, and hibiscus.
Pour & Head: Hazy, small head.
Color: Carmine Red – Purple / Red
Aroma: Tart fruit
Flavor: Sweet Tarts Candy. Tart Berries. Nerd's Rope Candy.
Mouthfeel: Light-to-medium
Finish: Dry
Overall: A pleasant, easy to drink beer. Although it is more on the lighter side, it's acidity will hold up nicely to a steak or big juicy burger. It's sour, but nice and fruity as well.
Food Pairings: Steak, Cheeseburger, Fish Tacos, Coconut Shrimp.
Opened in May 2018, specializing in sour beers by brewer, Troy Bledsoe. Guest taps as well. Friendly place, indoor, outdoor seating, food trucks 2 -3 days a week.
More Foodies News, Reviews & Recipes