Organic Herbs & Greens from an
Indoor Hydroponic Farm in the City
The conversation about the necessity to increase the amount of food grown without having more space to grow it on is not a new one. The Yale article, "New Green Challenge: How to Grow More Food on Less Land" talks about it in March 2016. The Guardian has an intriguing article from July 2015, "We need to grow 50% more food yet agriculture causes climate change. How do we get out of this bind?"
Brick Street Farms, here in St. Pete, isn't going to solve all of the world's food/agriculture problems, but they do have some really cool technology and mighty tasty, fresh healthy greens and herbs all grown inside with no pesticides, no water runoff, or growing seasons to worry about … and they grow vertically in less than 1/10th the amount of space a traditional farm would require. (If you really do the math, they use 7/100ths of the space of a horizontal farm that grows plants in the ground.) We'll have another fun calculation for you a little further in.
Lori told me about the article on Brick Street Farms in Creative Loafing, but that went in one ear and out the other. (They actually made the cover of the print edition.) It didn't register at all with me, so they were not on my radar. Then I woke up way too early one morning, at 3:30 am, and picked up my iPad and started scrolling through my food related subscriptions in Apple News, (St. Petersburg Foodies IS in Apple News by the way), and found something on Brick Street Farms, and we arranged for a visit.
Brick Street Farms is a "hydroponic, indoor growing facility that produces leafy greens and herbs year-round in highly technology based, climate controlled environments."
This delicious, earth-friendly, techy combo is the brainchild of Shannon O'Malley. She and her husband, Brad Doyle, run the indoor vertical farm part time using an app on their phones which controls the temperature, humidity, lights and nutrients.
Shannon was at her "regular job" when we visited on Thursday, but we came back on Saturday to pick up our order of greens, and chatted with her for an hour. The business is continuing to grow (no pun intended), and it won't be long until Shannon is running the business full time.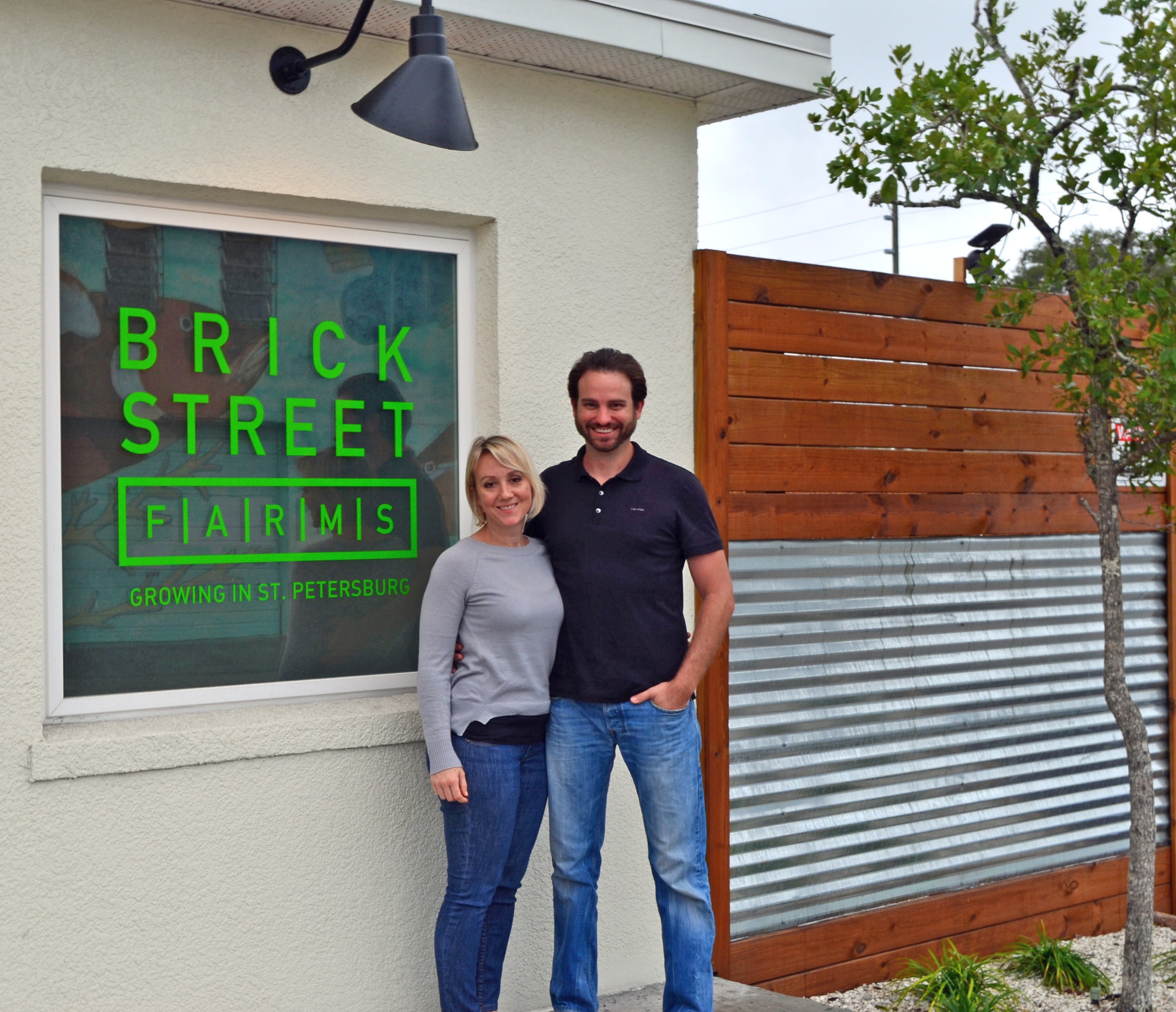 Part of the expansion and branding of the business includes a new salad at The Vinoy called "The Brick Street Farms Salad". The Vinoy gets an exclusive mix of greens and herbs for this, and we can't wait to try it. Having made our own salads at home with BSF ingredients, we can attest to how perfect these gorgeous, tasty plants are. The leaves are greener, sturdier, and shinier than any we've ever seen before. It's hard to describe, but they look, feel and taste more fresh and healthy.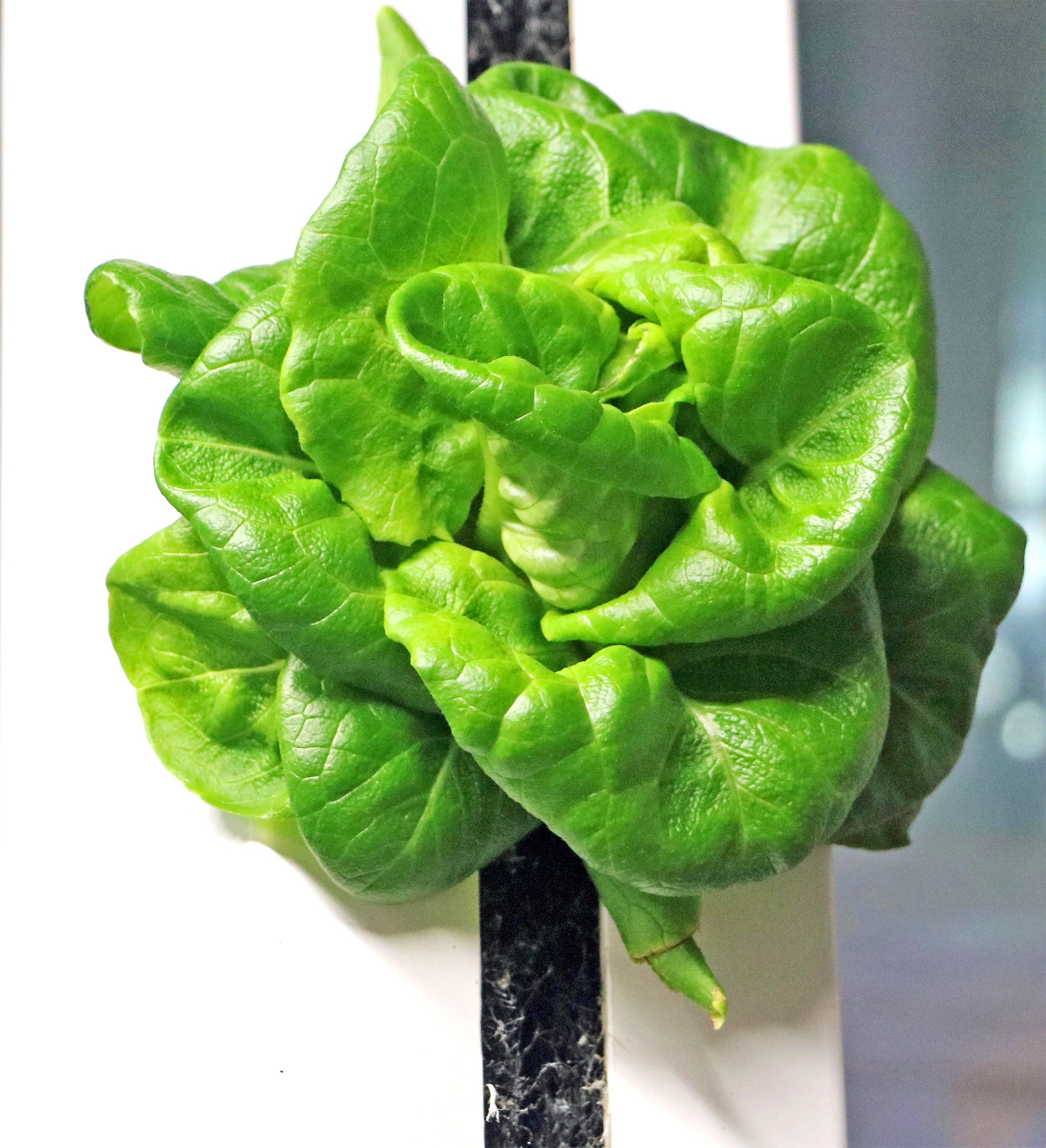 Other local eateries that have placed orders include; The Mill, Brick & Mortar, FarmTable Kitchen, and Stillwaters Tavern. The general public is also invited to place orders on their website and then pick them up at the farm at designated times. The items they grow focus more on specialty items—things you can't get at Publix, Winn Dixie, or Trader Joe's—nor from the major restaurant suppliers, like Sysco and U.S. Foods.
In addition to the benefits of sustainability, organic, no pesticides or polluted water runoff,—climates, and terroir are negated, as well as growing seasons.
This enables BSF to grow and supply things that would otherwise be impossible for restaurants and home chefs to obtain, and/or at times that they are out of season.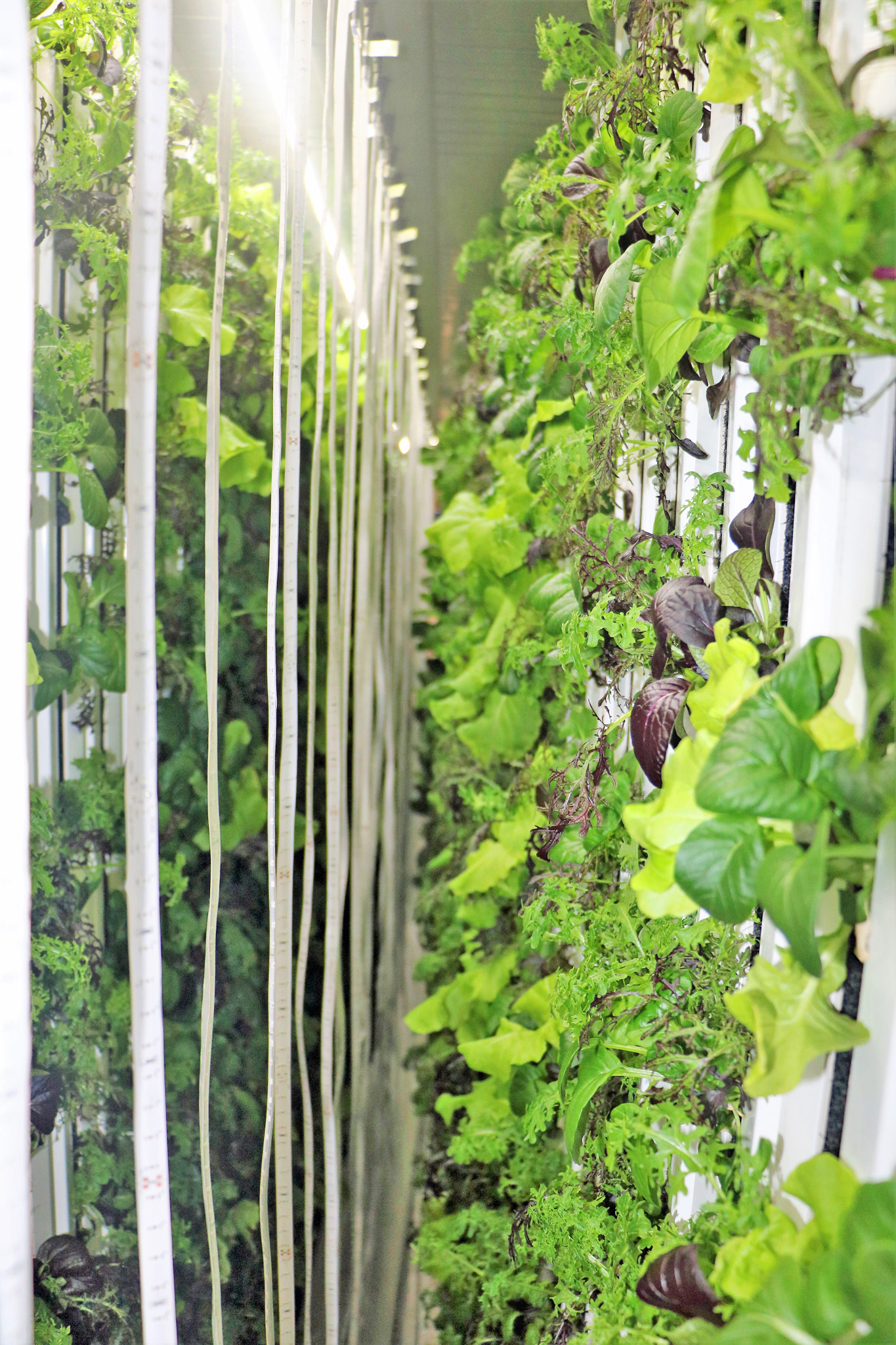 Resources are greatly conserved here too. Brick Street Farms uses 80% less resources than a traditional farm. They use no tractors or gasoline, and their water bill currently runs at only $50 per month. Each growing container (re-purposed insulated, climate-controlled shipping containers) holds 200 gallons of water, but most of the water is recycled. The only fuel that they use are the propane tanks that create the CO2 that the plants need. Plus, the blue and red LED lights use less energy than white lights.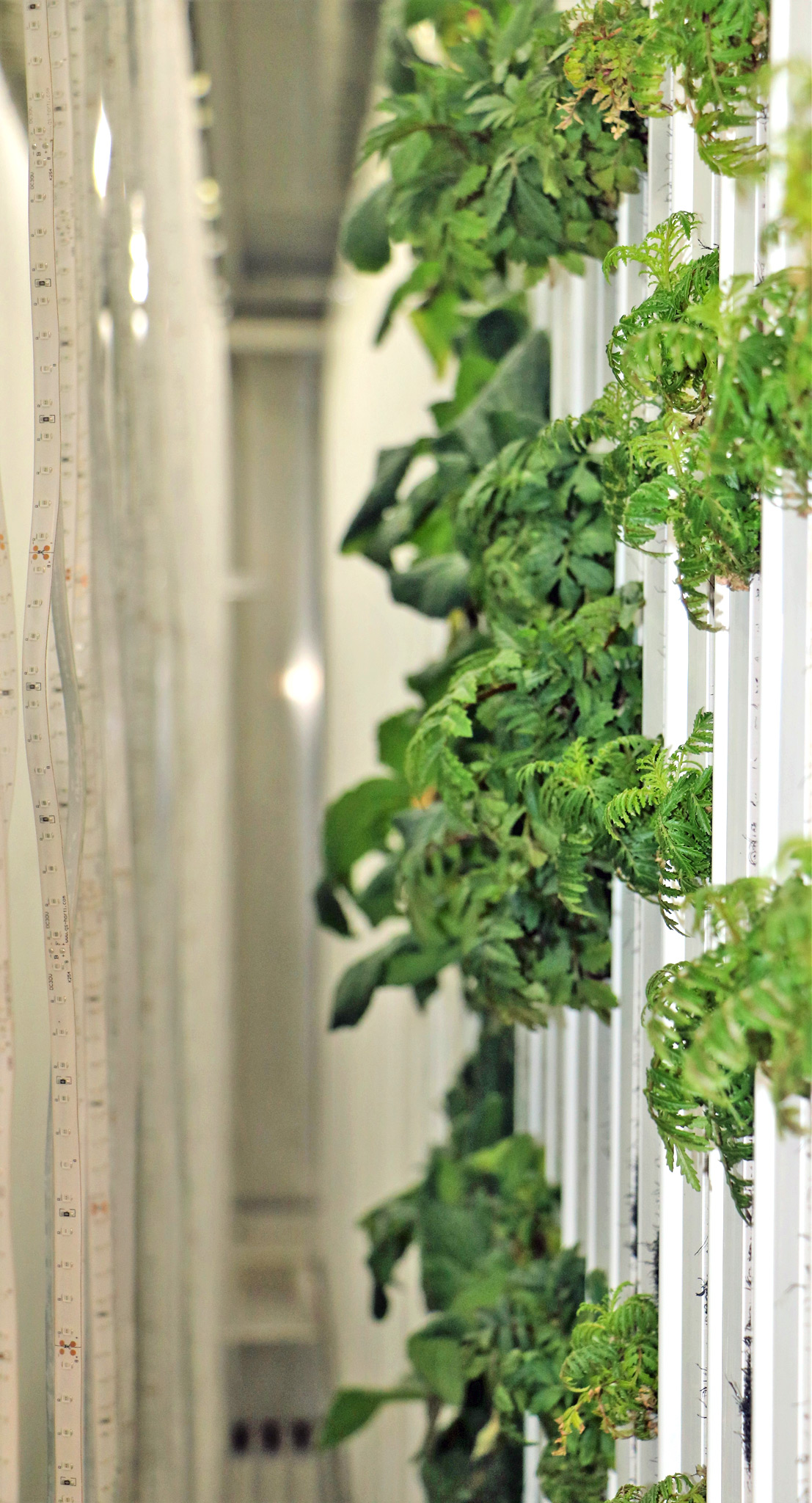 In the above photos, the white light is only there for the benefit of us humans to see better. The plants actually do not require it to grow. The white lights are left off when there are no people in the growing containers, and the plants just use energy efficient blue and red LED lighting.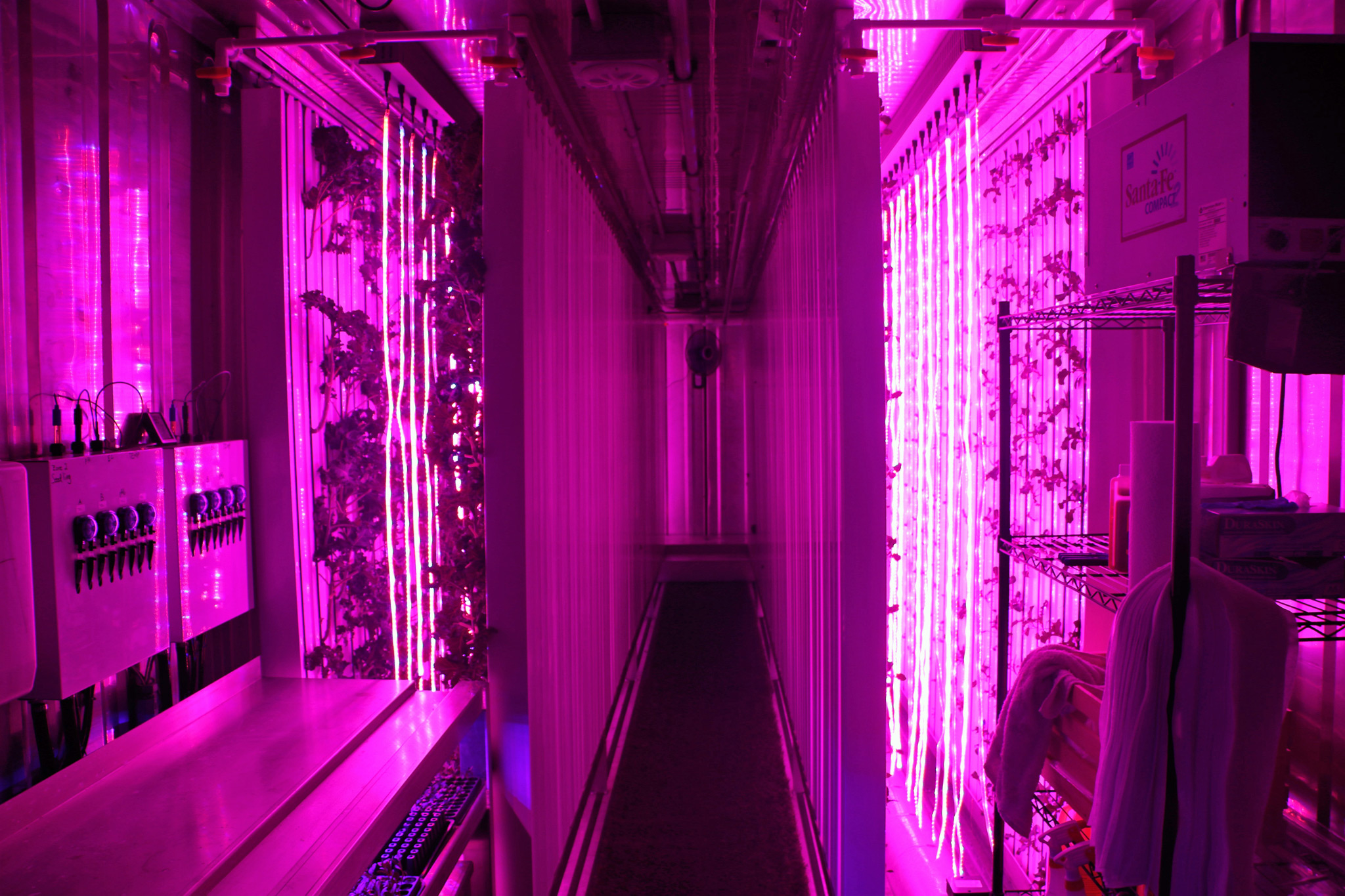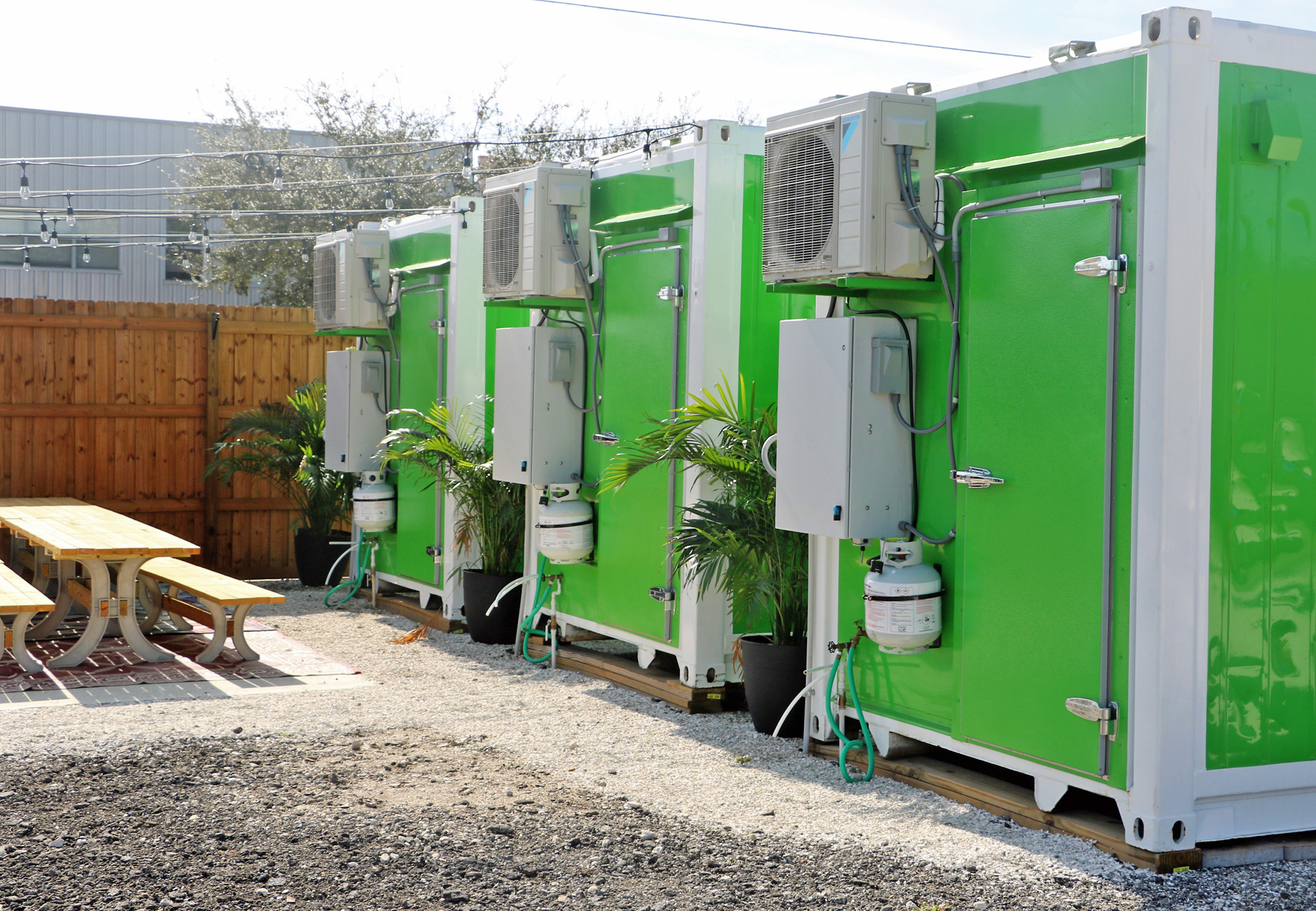 Ok, here's the other fun calculation we promised you. Each growing container accommodates the equivalent of 1½ acres, so 4½ acres total (with the three containers) is currently being grown on an actual ⅓rd acre of property. This means that Brick Street Farms can grow 13½ times more plants in the same amount of space as a traditional farm. They are in talks with the city to be allowed to stack the containers 2 to 3 high on top of one another as well.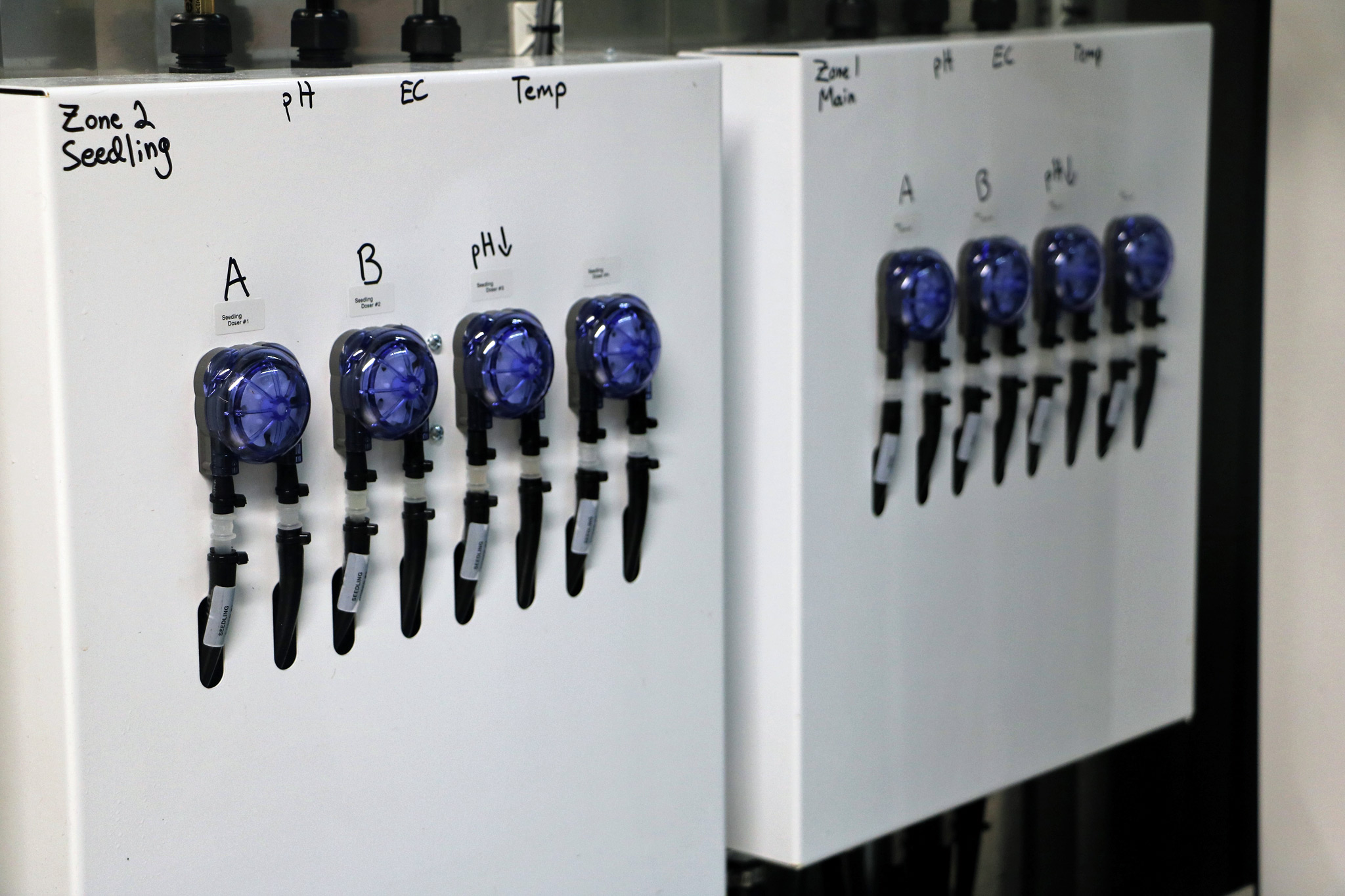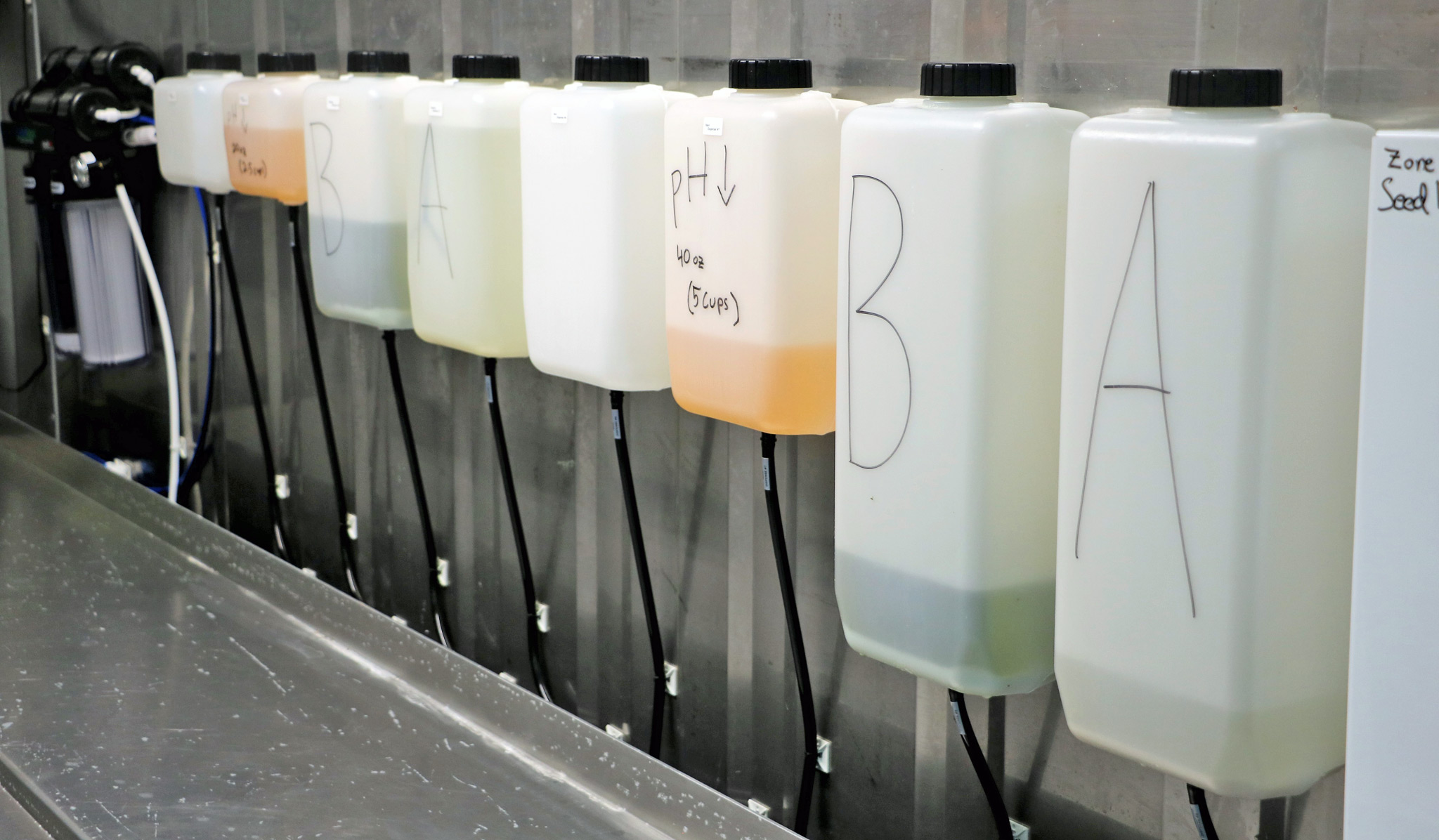 The nutrients are infused into the water since there is no soil for the plants to get them from. The "A" jug has the macronutrients and the "B" jug has the micronutrients. The pH jar with the down arrow has the solution to bring the pH down if it goes too high, and vice versa. Sensors take a reading every minute and adjust when needed.
The below image is a 360° panorama that might take a moment to load. You can grab it with your mouse (or finger on mobile) and move around to see the entire property of Brick Street Farms. Click the little square in the bottom right corner to go fullscreen. You can also just move your phone and the image will move with you. If it doesn't seem to work on your iPad, lift it up and move it around. Try turning in a circle too.
[vrview img="https://stpetersburgfoodies.com/wp-content/uploads/2017/01/360-view.jpg" width="768″ height="384″ ]
You can see that they have a lot of room to expand and add more growing containers. Part of the outdoor space is also used for special dinners where they partner with a local chef and restaurant. The first one was done with The Reading Room.
To get started, they took an unused space where they renovated a small building that used to be an outdoor storage shed, but did have an existing bathroom footprint. It now serves as their office / kitchen and looks like a tiny 1-room apartment.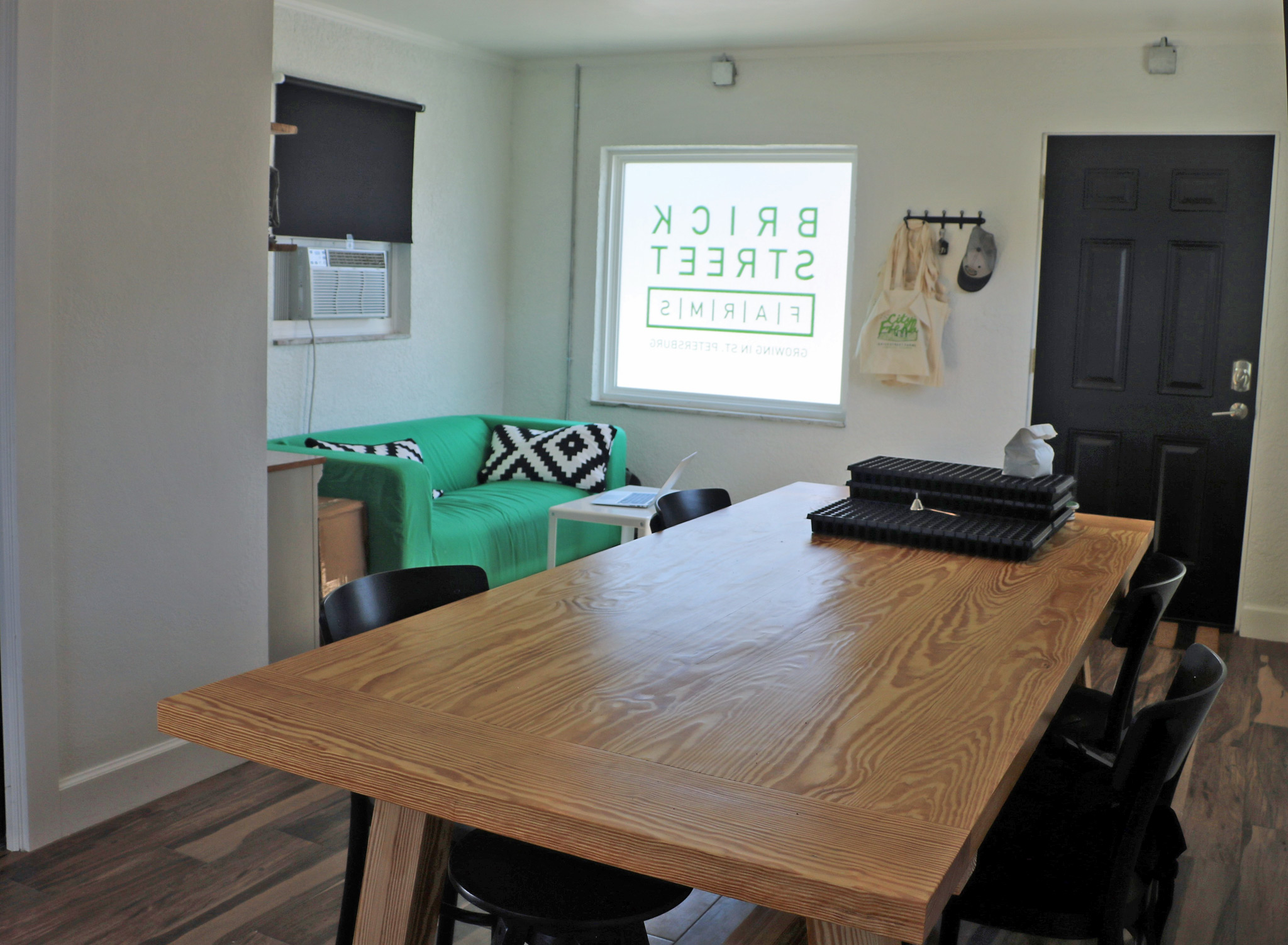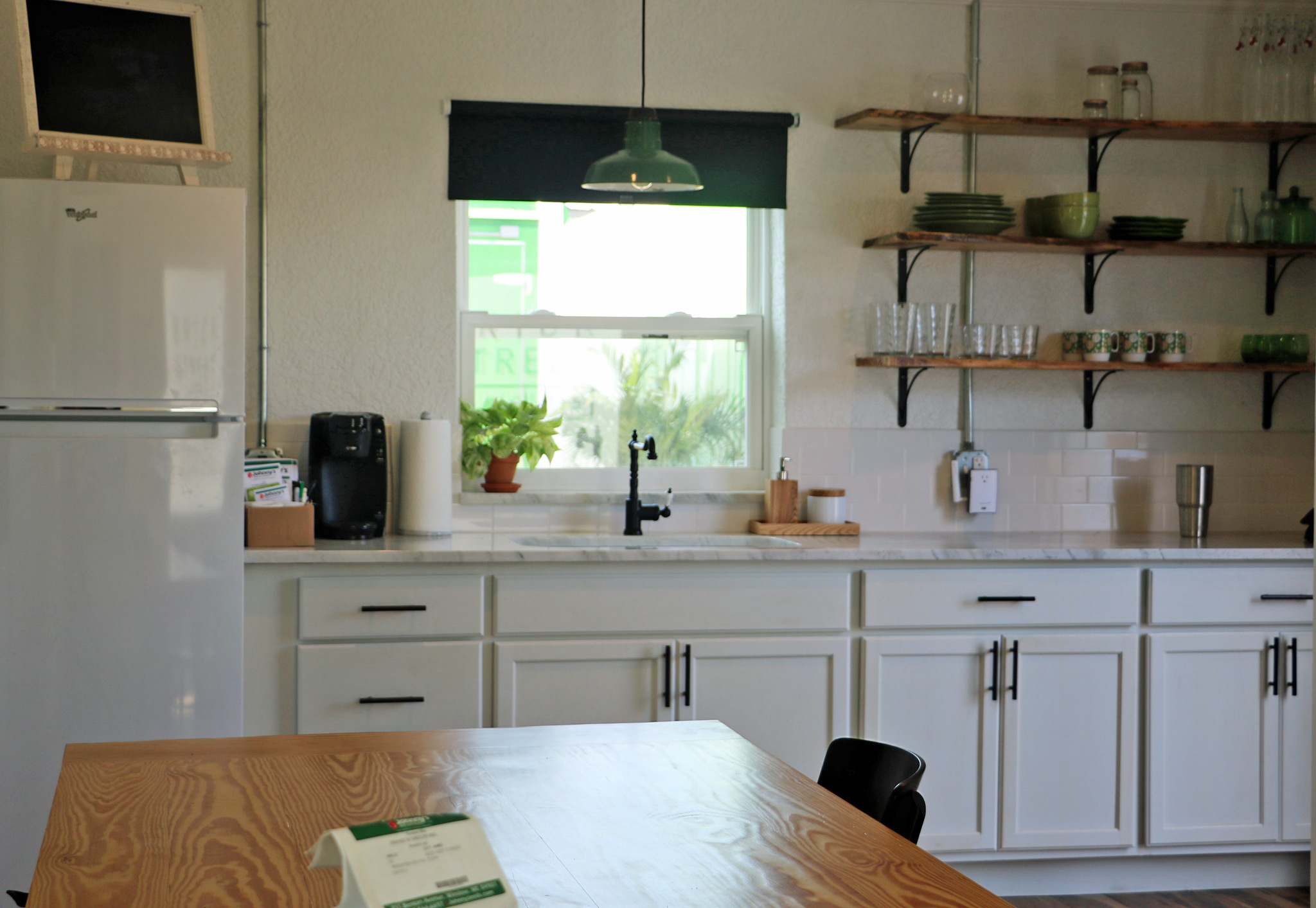 They cleaned an eyesore of a property that didn't have utilities for over 30-years, and took away 35 dump trucks worth of industrial trash and waste and created a vertical city farm.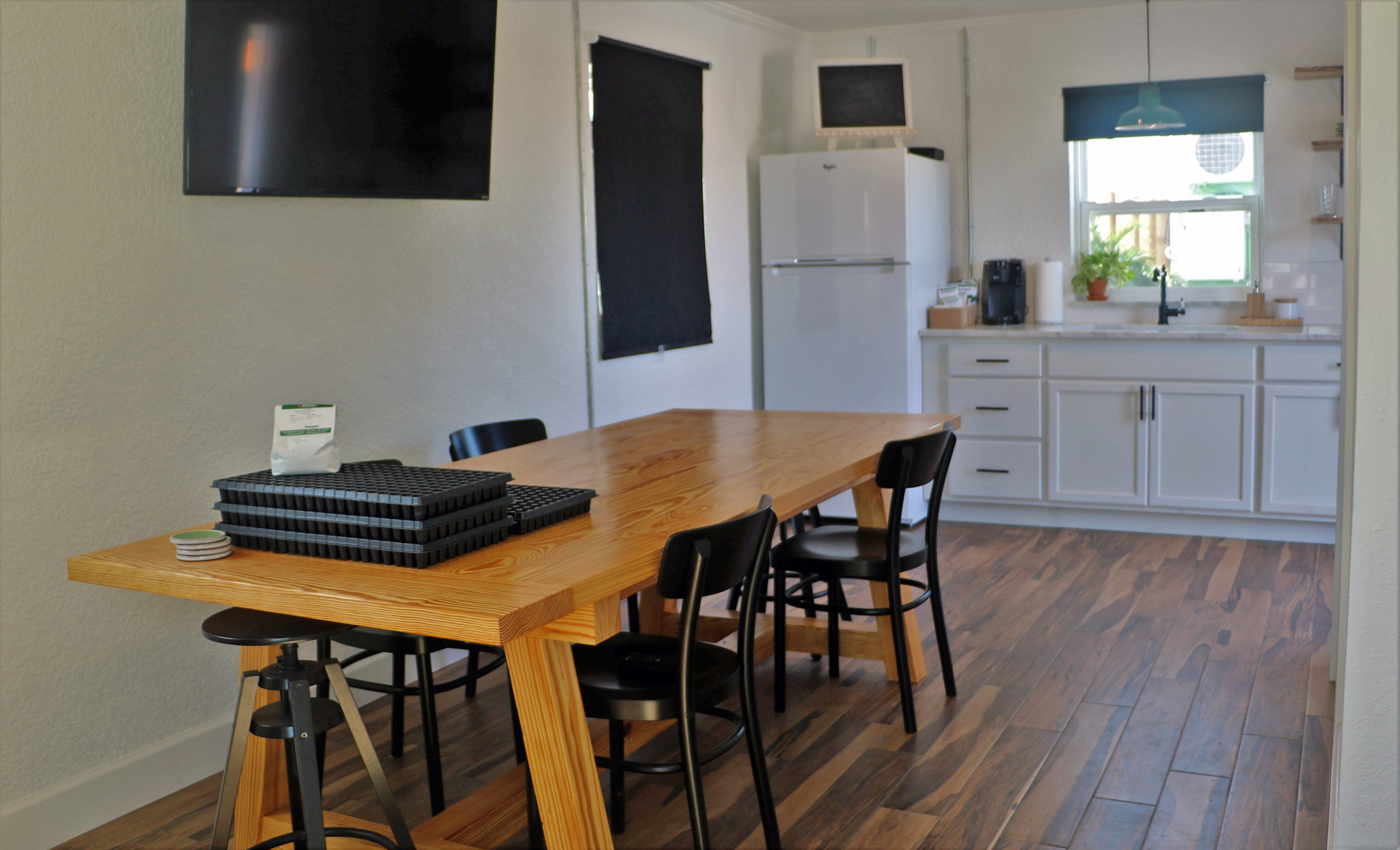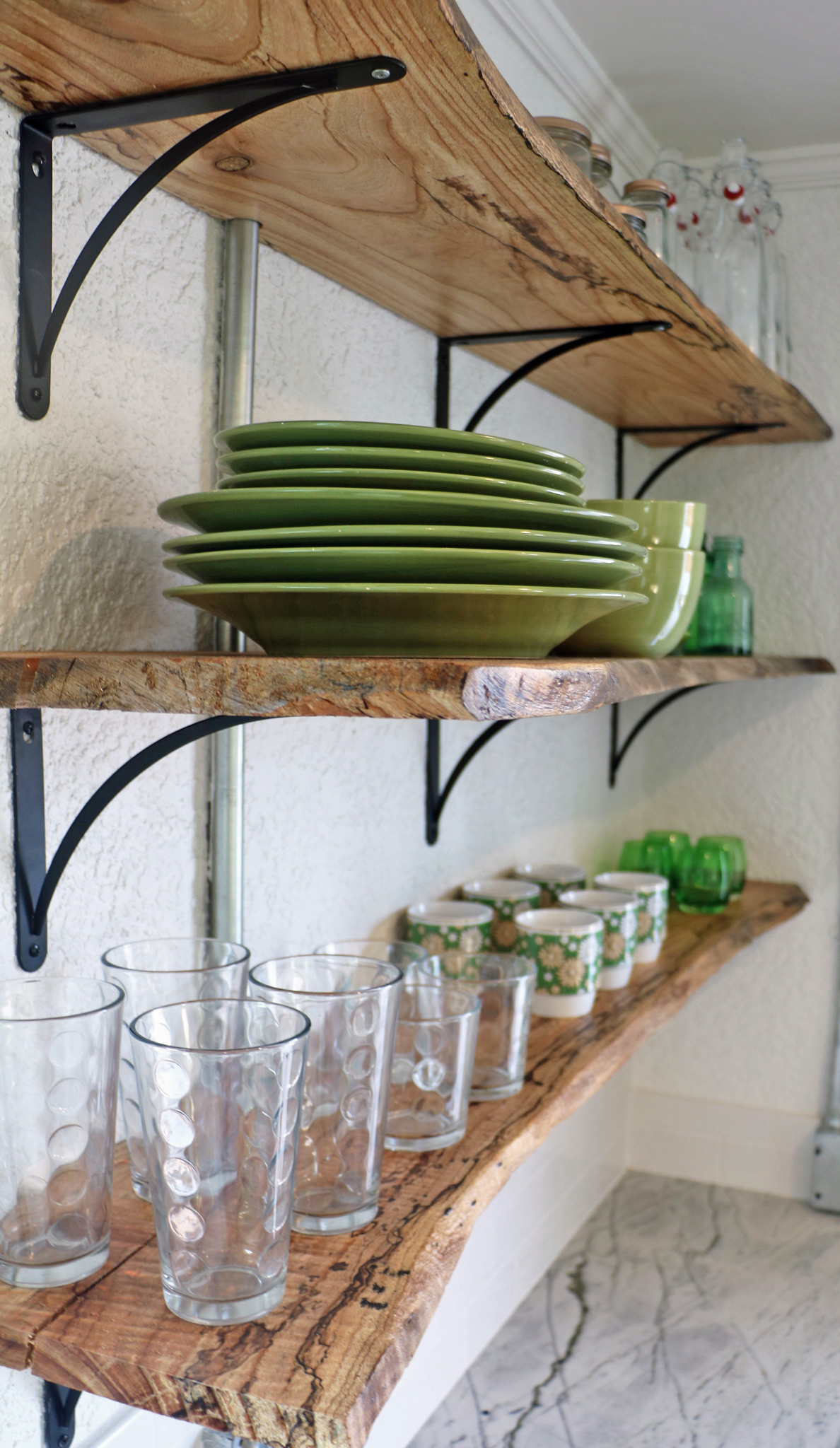 Three insulated shipping containers were acquired from the Port of Boston. They are ¼ inch of steel on the outside with ⅜ of an inch of foam insulation and then ¼ of steel on the inside. Brad says; "They are super insulated." They lost electrical power for ten hours recently, and the temperature only dropped one degree.
Inside the containers are 264 eight-foot growing towers. This is where the adult plants grow for the final 3-5 weeks before they are harvested.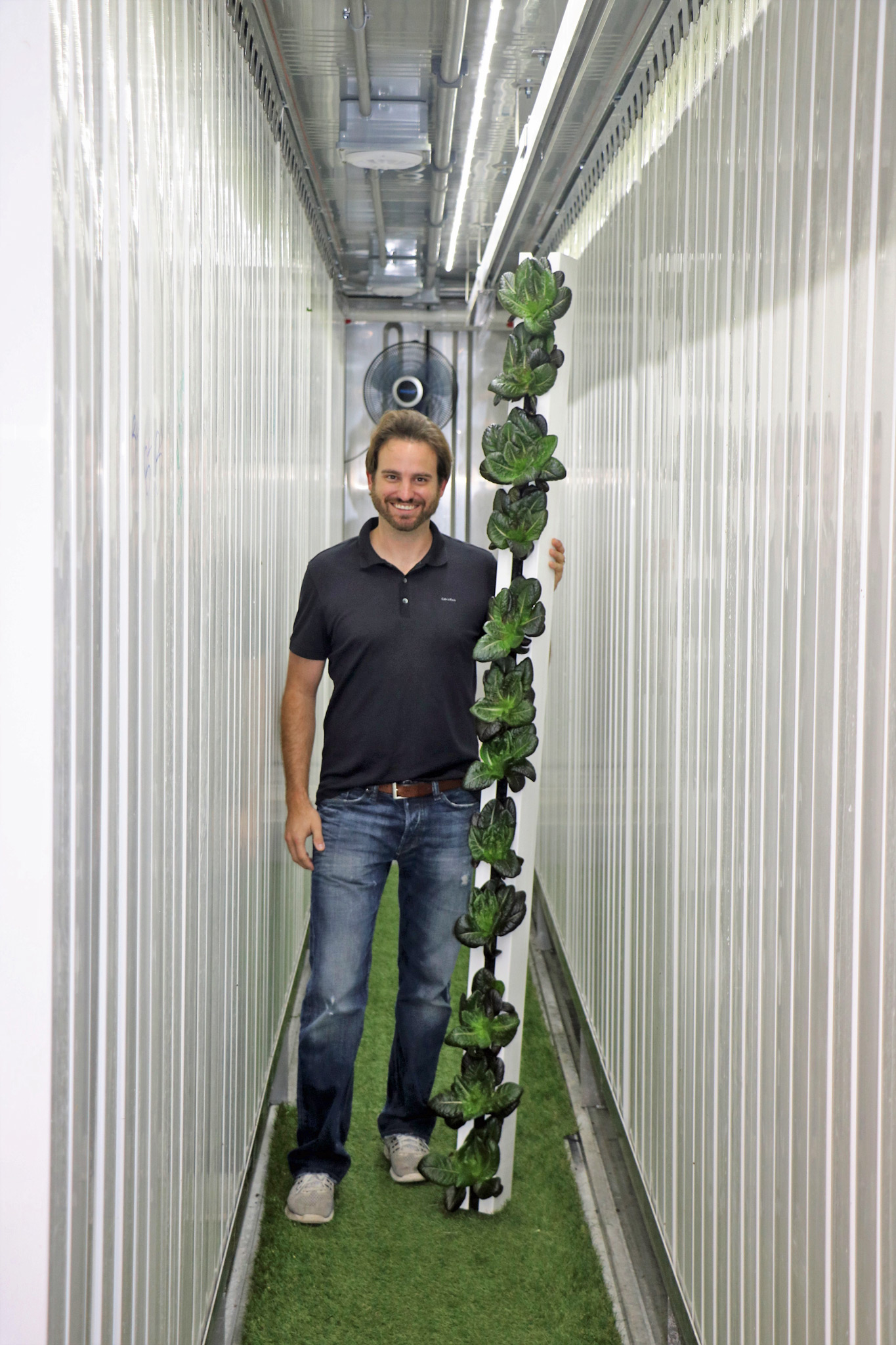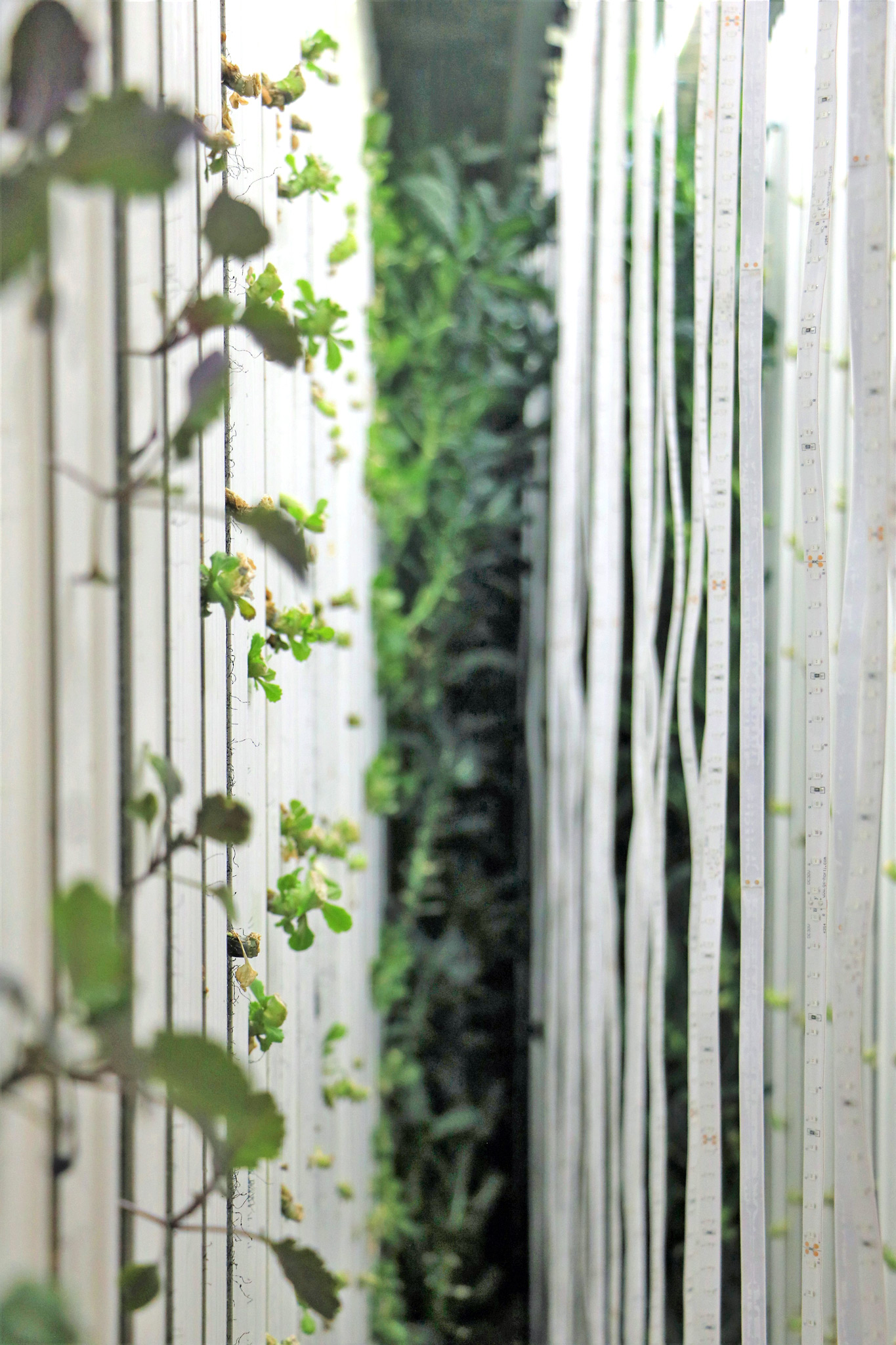 Kalettes are a new item that was special requested by Chef Jeffrey Jew at Stillwaters Tavern. They are a cross between Kale and Brussels Sprouts. You can read more about them here.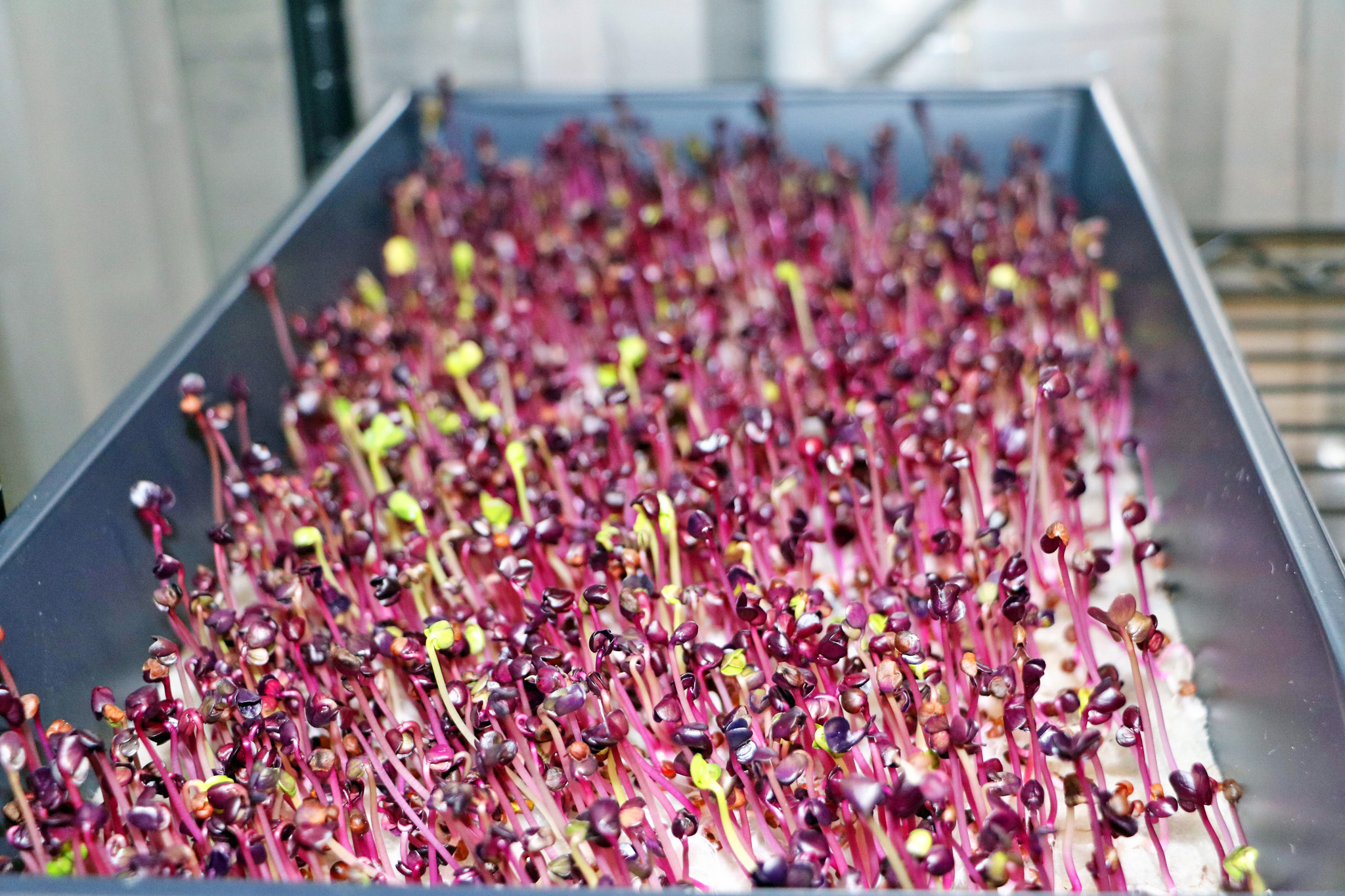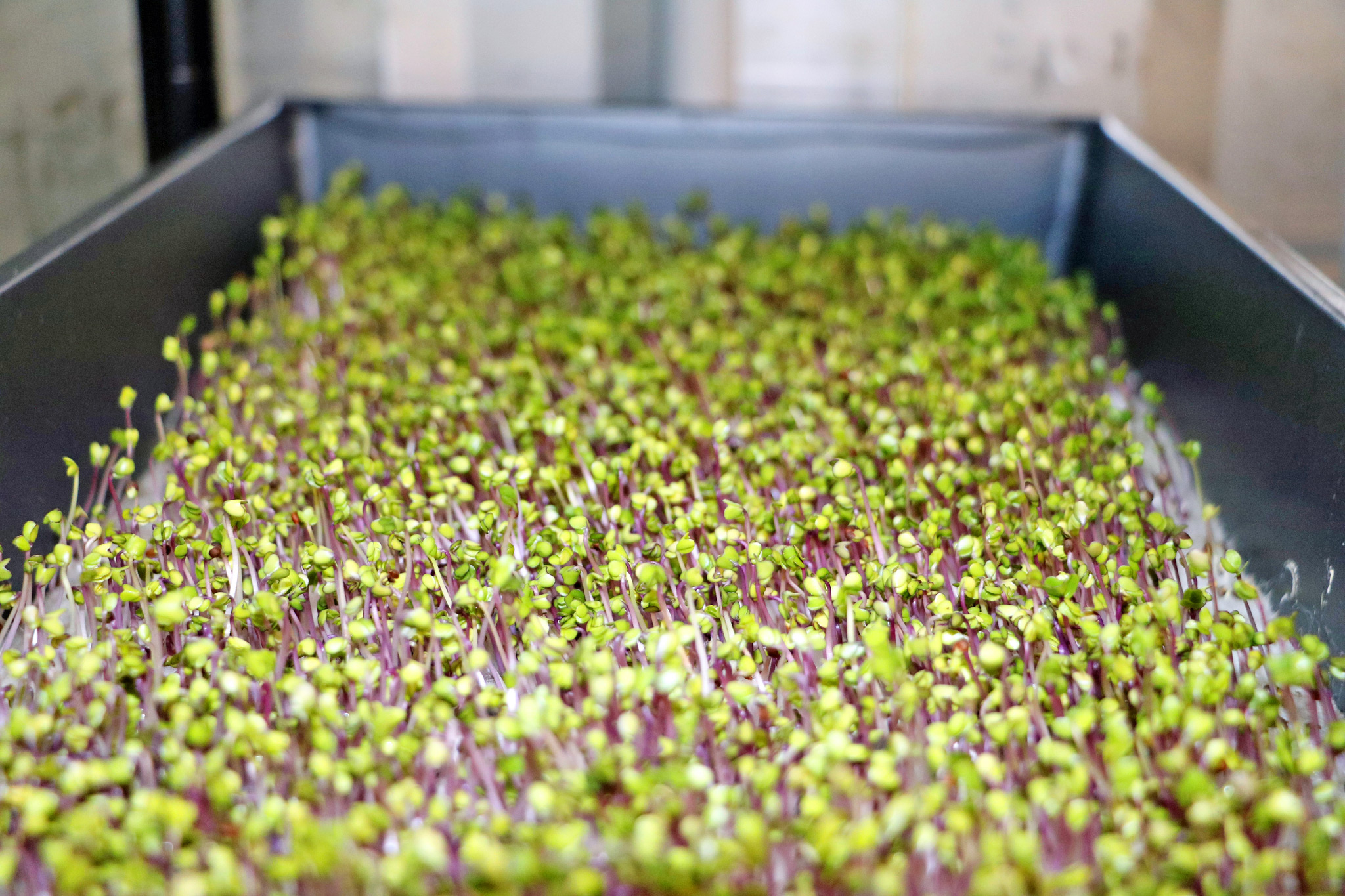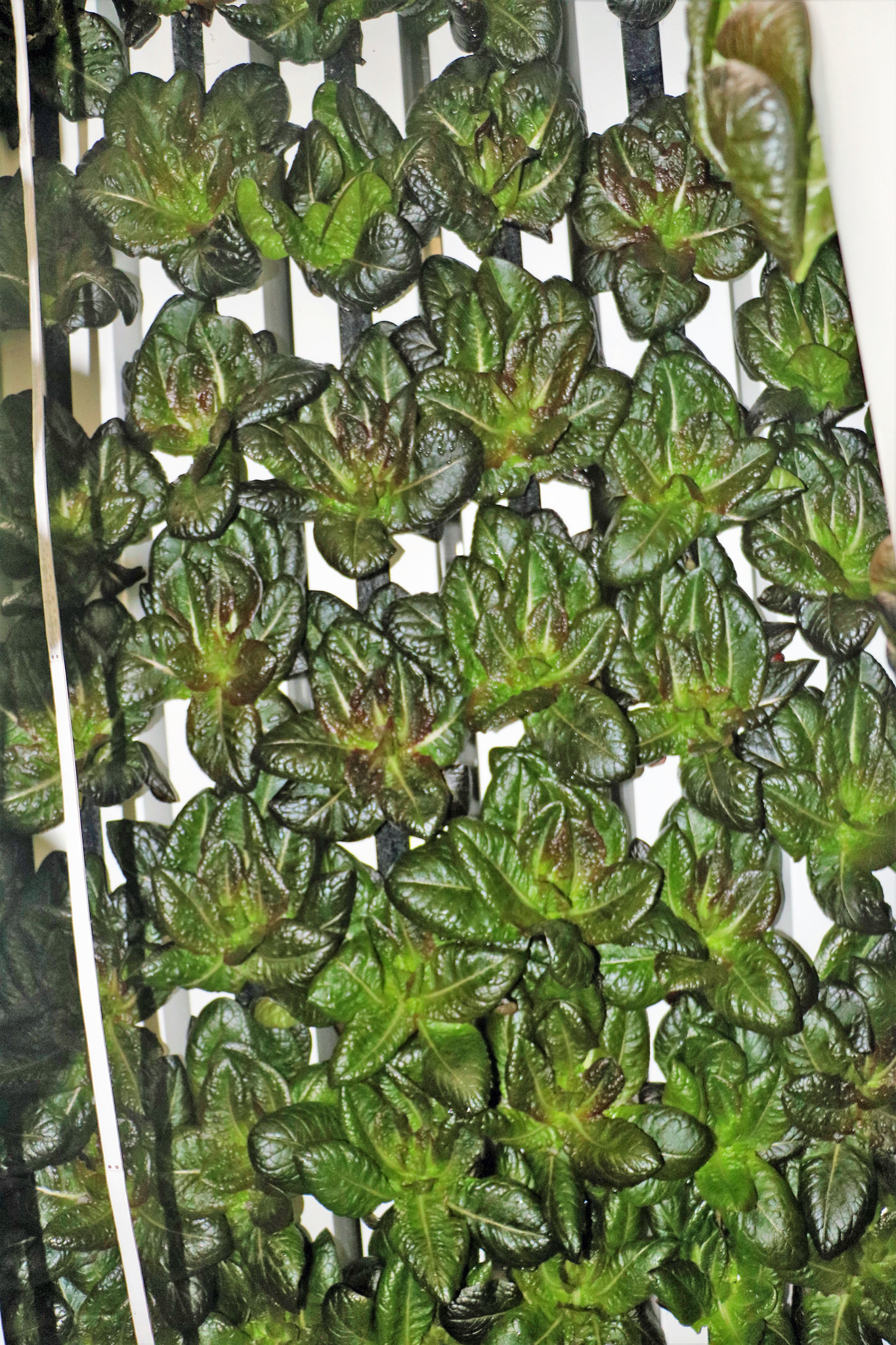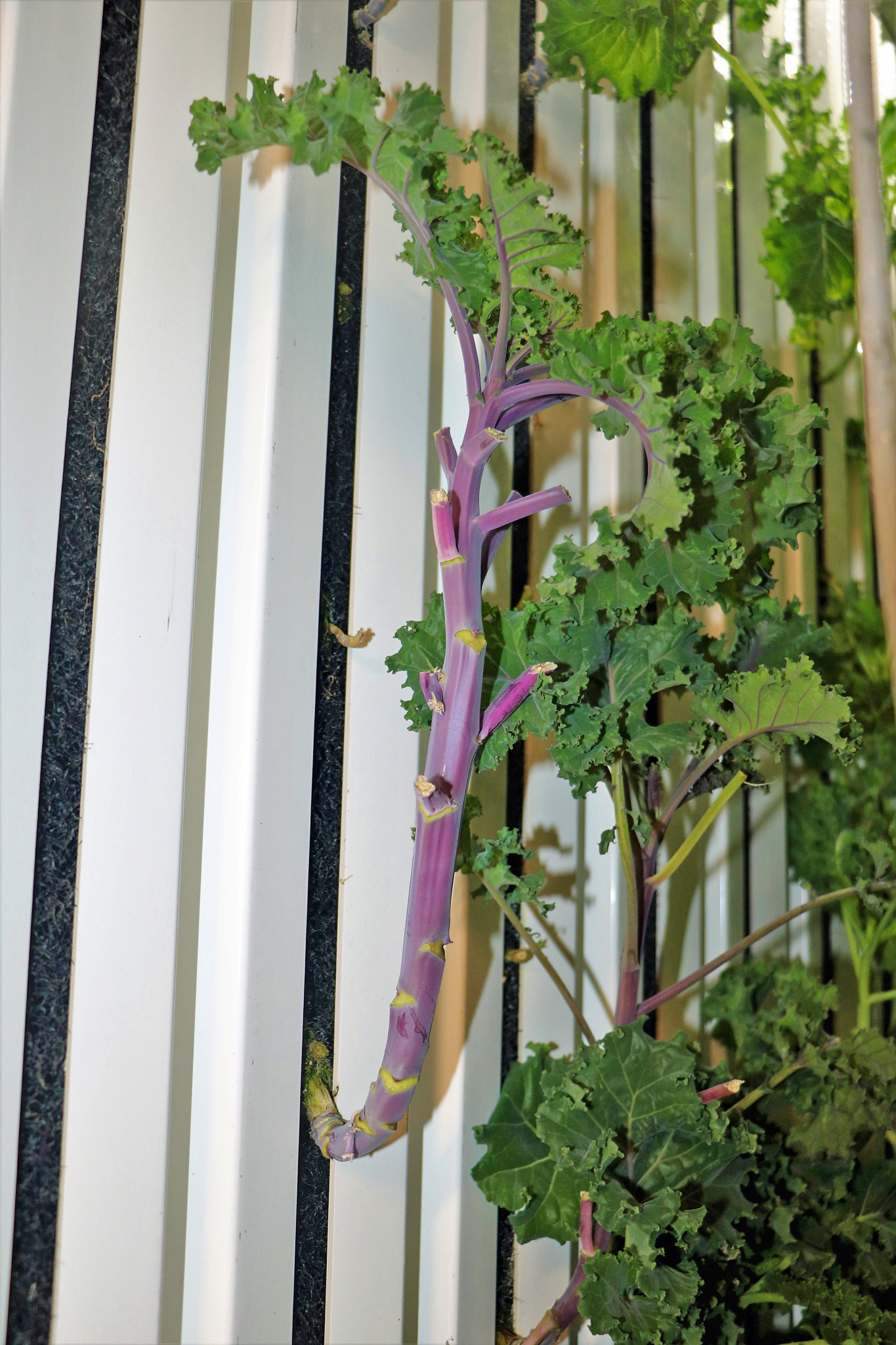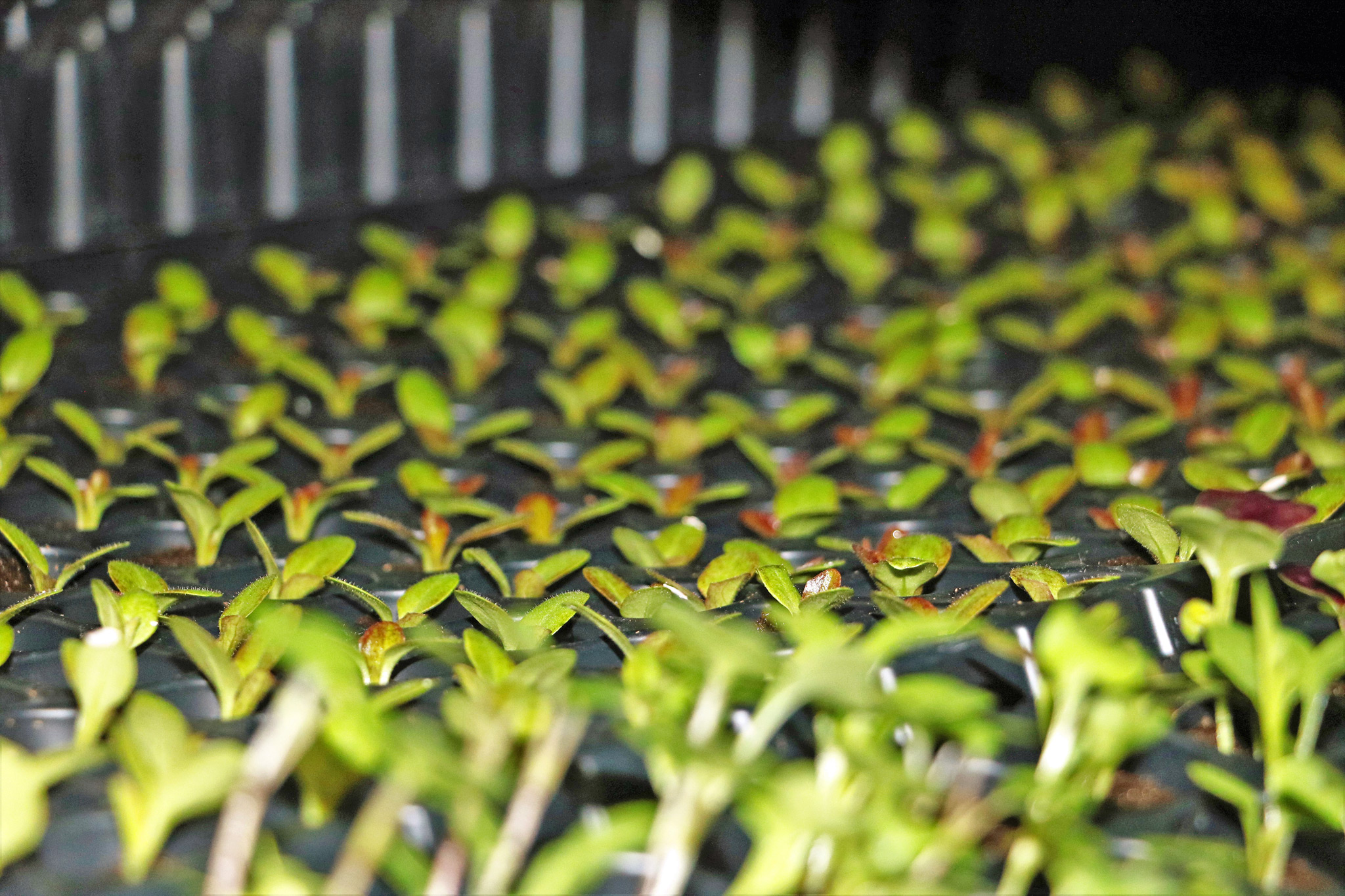 We have been enjoying our Brick Street Farms greens every day for a week straight and think they are amazing. They are nothing like what you get at the supermarket. These are the Rolls Royce of herbs and greens. The leaves are bigger and thicker, and they all taste wonderful, and it is also quite satisfying to have some unique healthy food that you can't find at every corner store.
We've made several different salads, chicken lettuce wraps, and kale sautéed with garlic and olive oil with a fried egg on top. Yum!
The items mentioned and pictured here are not all of the items that Brick Street Farms has, so check out their website and Facebook page and get some of the tastiest herbs and greens you've ever had while supporting a small local business at the same time.
Brick Street Farms
2001 2nd Ave South
St. Petersburg, FL 33712
(727) 310-5775
http://www.brickstreetfarms.com/
https://www.facebook.com/brickstreetfarms/
(Photos by Davis Jasmin)
Brick Street Farms is a hydroponic, indoor growing facility that produces leafy greens and herbs year-round in highly technology based, climate controlled environments.