Smokin Bowls: A Colorful Culinary Experience with the Best From the West
Smokin Bowls: A Colorful Culinary Experience with the Best From the West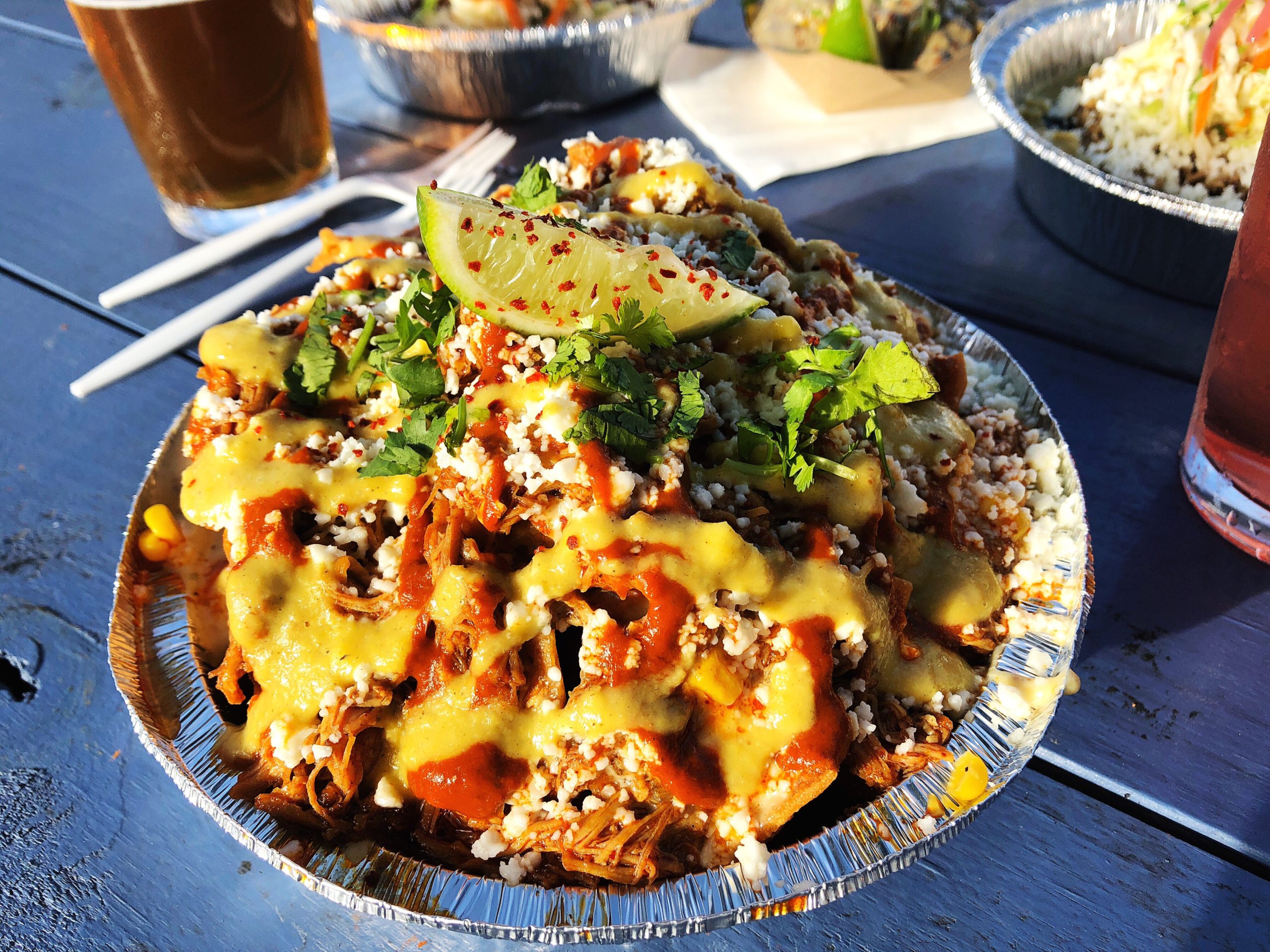 Passion and satisfaction undoubtedly go hand-in-hand and to say that chef Brian Lairby and his wife, Ashley, are passionate would be an understatement. A few years ago whilst residing in California, the couple desired a change in location. In turn, they threw some sticks at a map and landed on a different kind of west coast than what they were accustomed to…the west coast of Florida.
Brian and Ashley always knew that they wanted to open something of their own one day. They tossed around a few ideas and concepts until a food truck fell into their lap. Without hesitation or question, they purchased the truck, and the rest, as they say, is history. October of 2018 will mark two years since the first event for Smokin Bowls, which serves California Street fare with a Latin influence.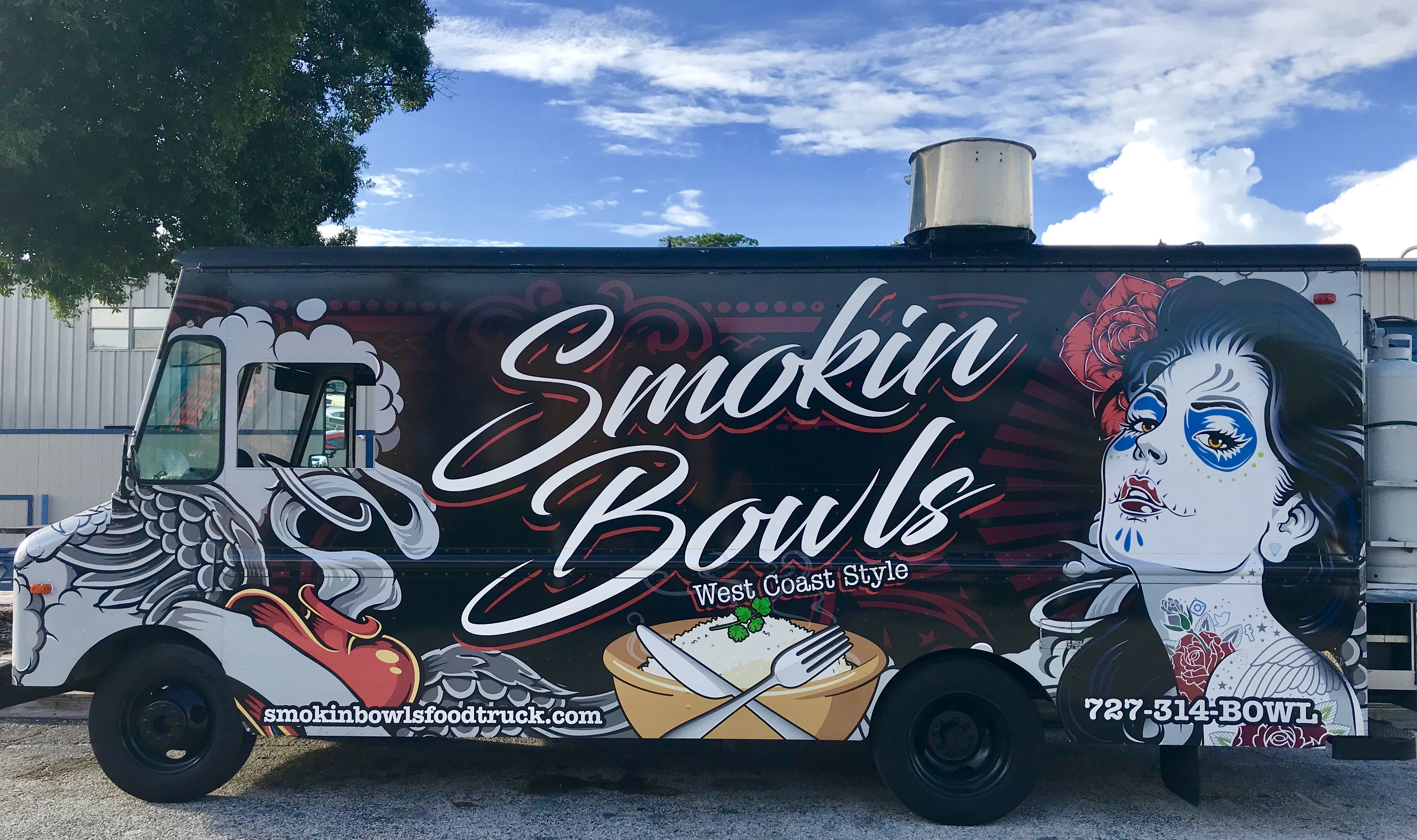 Cooking was a profession that Brian stumbled into. He began studying a completely different vocation while in school, until he befriended a chef. Brian learned rather quickly that the kitchen was where he was meant to be.  The devotion that Brian has for cooking is indisputable- not only does he take pride in the ingredients he uses and dishes he presents, but he also cares genuinely about anyone who indulges in his food.
It goes without saying that it takes more than delicious food to keep a food truck in order, and that's where Ashley comes into play. Brian credits Ashley with being the brains behind the business. She does everything from setting the schedule, and posting to their social media, to keeping things organized and maintaining day-to-day operations. Between the two of them, it is assuredly an ideal pairing.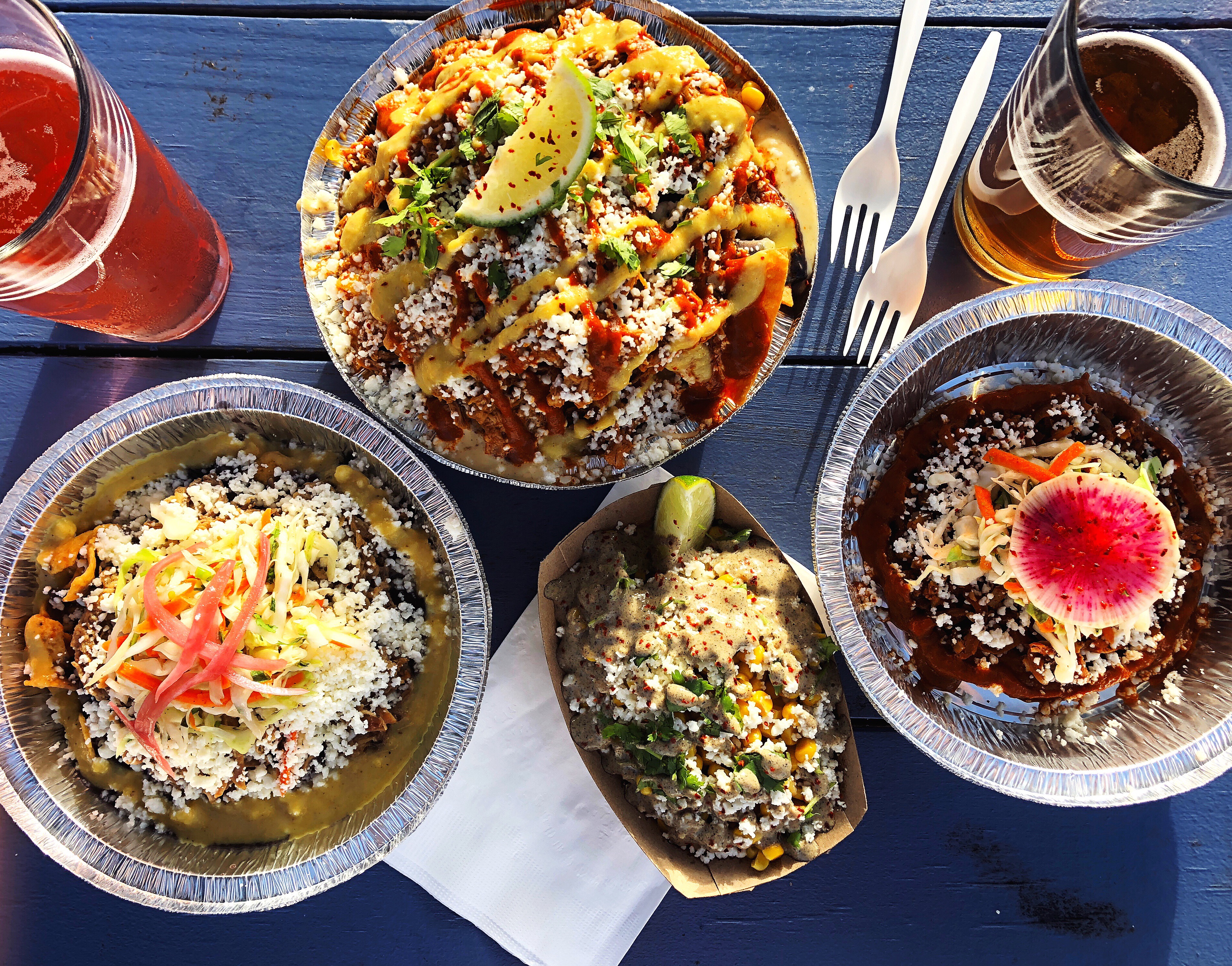 Brian classifies their cuisine as distinctive, but relatable. Their menu contains identifiable dishes with inventive enhancements. Items range from a sophisticated play on Walking Tacos and innovative Tostadas to Esquites: their signature Elotes, served off the cob.
Smokin Bowls also offers most everything on their menu as Vegan and Vegetarian. In turn, this pleases and strengthens their considerable Vegan following at each stop.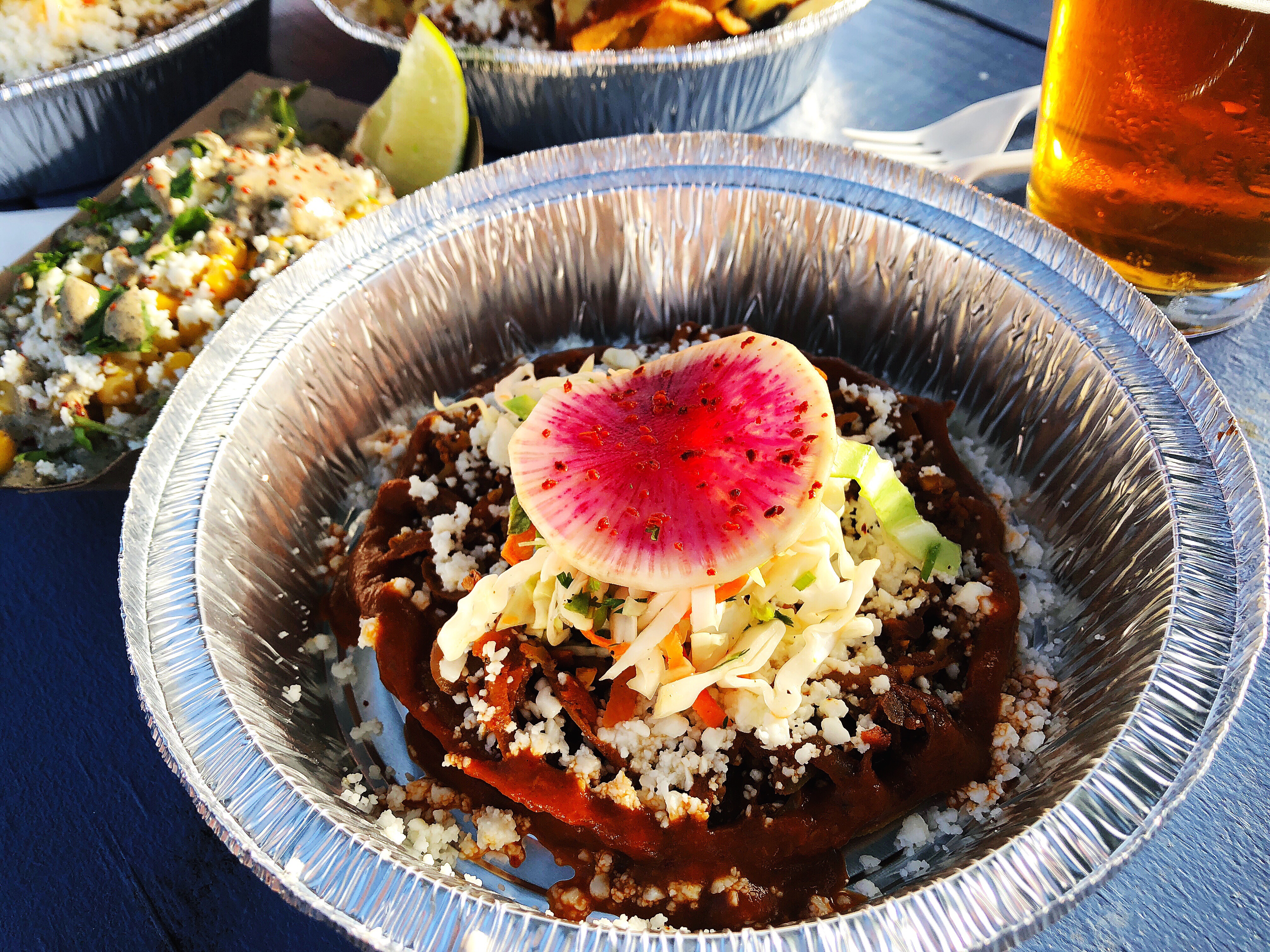 The most popular menu components are the Cheesy Walking Tacos and Esquites…and during our visit, you better believe that we ordered both. In addition, we indulged in the Tostada, served Vegetarian and the Nachos with Chicken.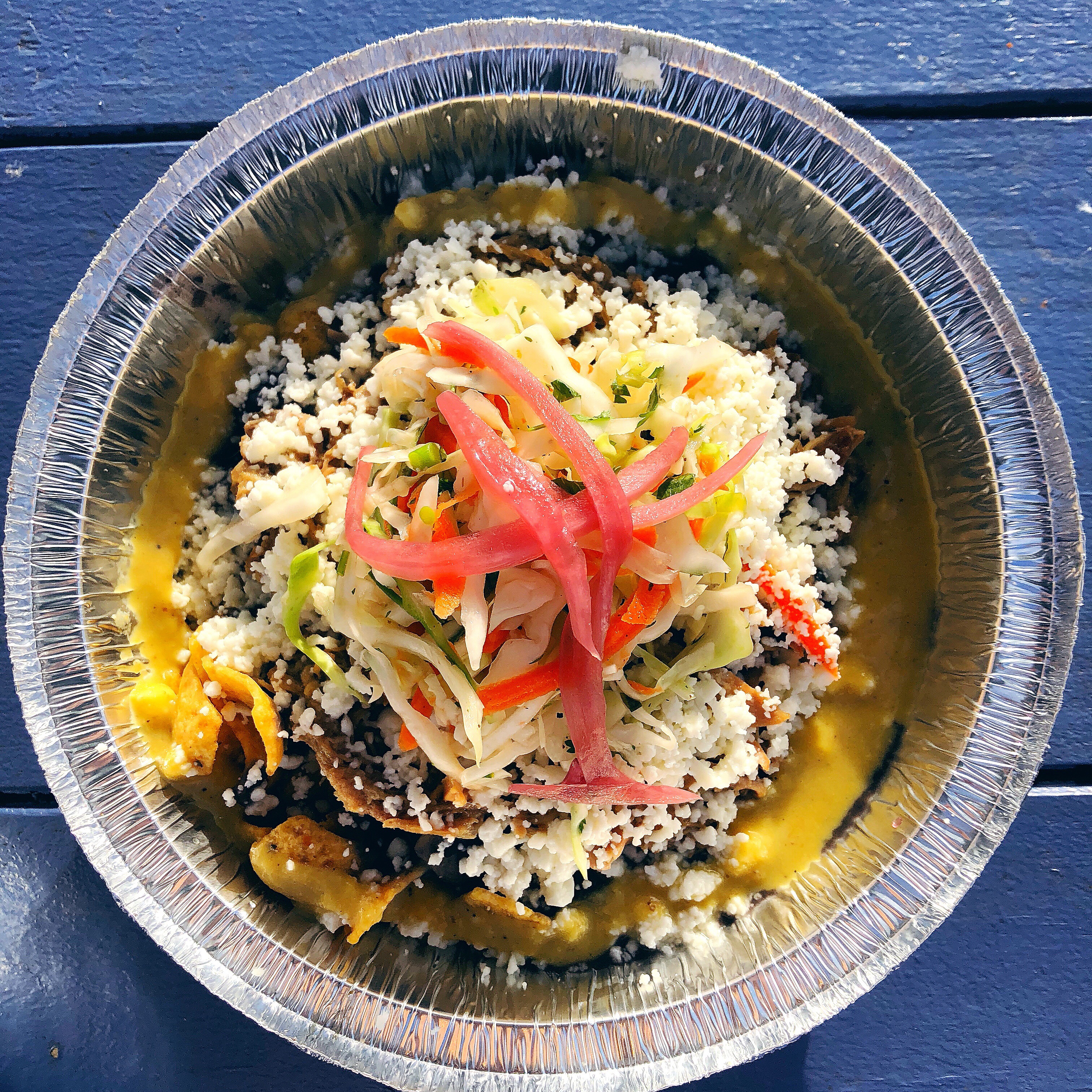 For me (and most anyone else who grew up in the mid-west), Walking Tacos instill a feeling of nostalgia. They send me back to circa 2000 at a young age, standing in line at the concession stand of a ball game. Of course, the Walking Tacos back then were delicious, but this rendition from Smokin Bowls is on an entirely different playing field. It is nothing short of exquisite and sophisticated.
It all starts with a three-cheese blend melted over a bed of Fritos (honestly, do I even need to continue after that?). That bottom layer is smothered with Cumin scented Black Beans, choice of protein (Chicken, Pork, Vegan or Vegetarian), Cotija Cheese, and it's all finished with citrus marinated Cabbage, Carrot and Cilantro Slaw, pickled Onion and Amarillo Sauce. We opted for the pork that is braised in Coca Cola. This makes the meat ever so slightly sweet, which is very delightful. Texture is of the utmost importance to me and this dish does not lack that, thanks to the combination of Fritos and Slaw. If you visit Smoking Bowls, this a must order.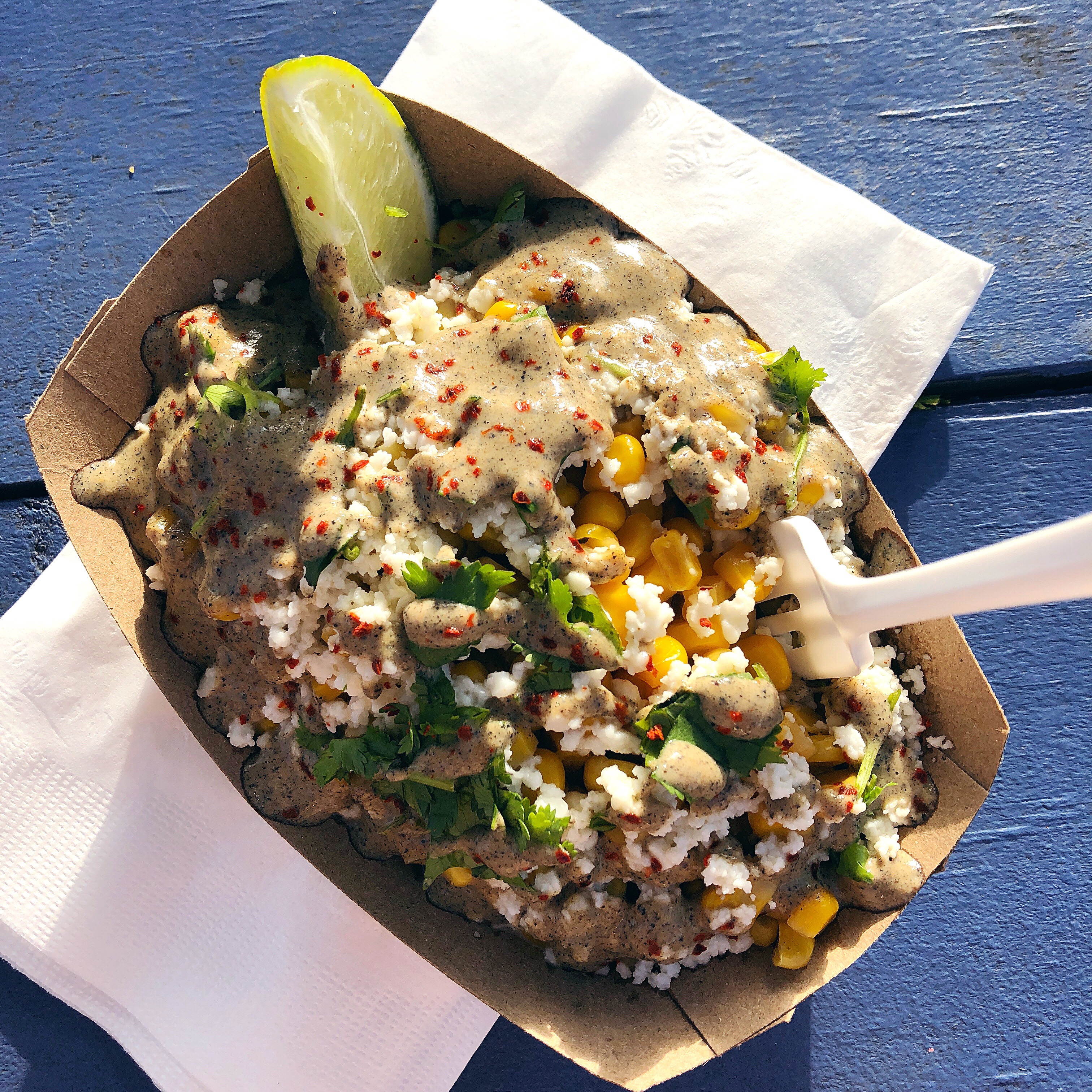 The Esquites…oh, the dreamy Esquites. I am willing to bet that the majority of you have enjoyed some rendition of Elotes and I am also willing to bet that you thoroughly enjoyed the experience. For Smoking Bowls, Esquites is their play on the classic Elotes served off the Cob (we live in a wonderful world of convenience, people!). This interpretation is served with Garlic Mayo, house-roasted California Chili Powder, Cotija Cheese, Cilantro, lime and Onion Crema.
It is all about that Garlic Mayo, folks. It hides on the bottom of the dish, so make certain to dig in! Each bite of this is like a flavor roller coaster. Try tossing a few spoonfuls into your walking taco, as chef Brian suggested to us. Your taste buds will, in fact, dance.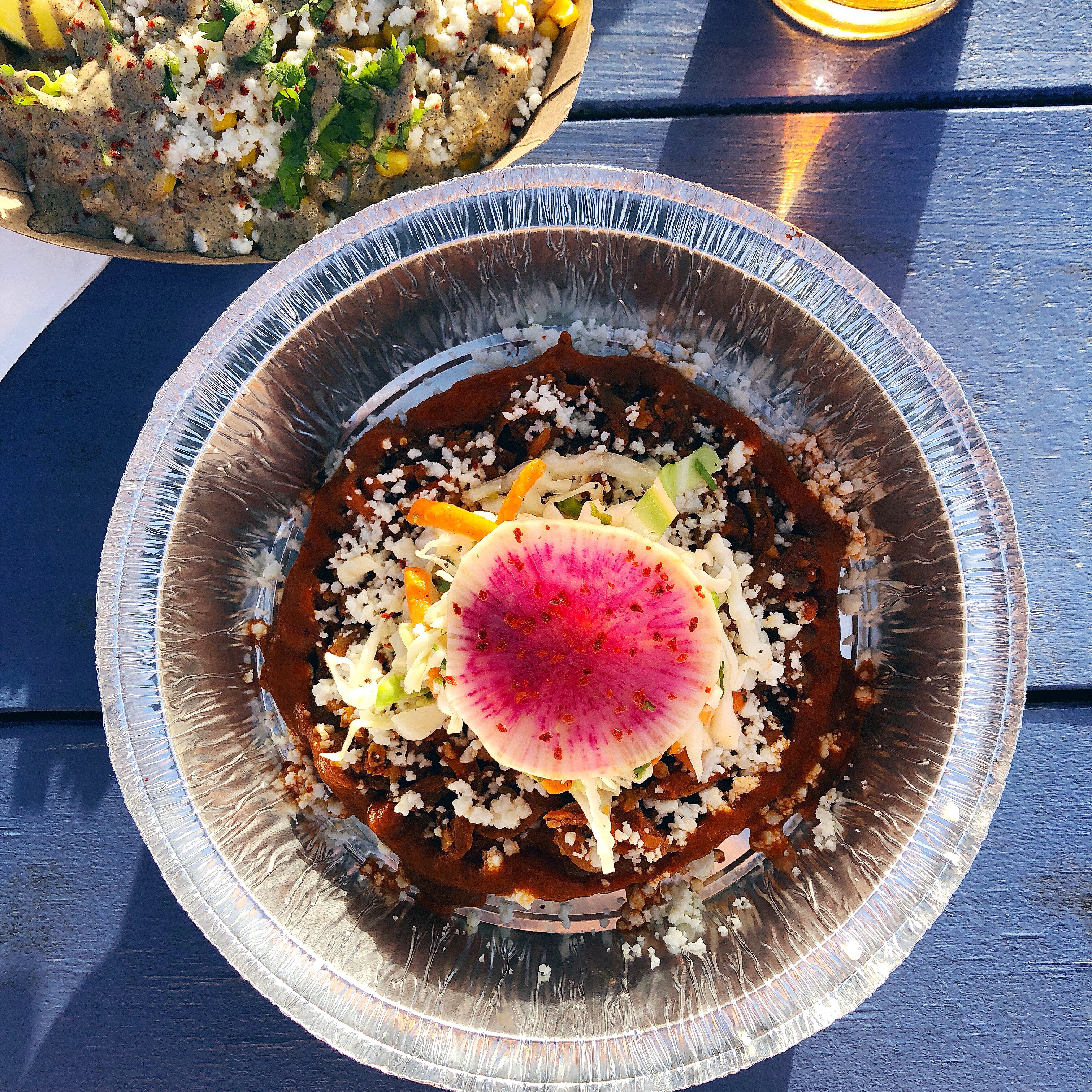 I am a sucker for Watermelon Radishes. I cook with them obsessivley and it is a safe bet that if a dish on a menu has them, I'll be ordering it (like the Tostada, pictured above). They are so unassuming on the exterior, but the interior is just gorgeous! And, they have an exquisite bite to them- what's not to love? That being said, we had to try the Tostada and opted for Vegetarian. Their vegetarian option does vary, and this particular version has Cauliflower, Onion, Carrot, Celery, Almonds, Walnuts and a house spice. Other Items on the Tostada include: Cotija Cheese, Citrus Cabbage Slaw, Chili Salted Radish and house made Rosa Sauce.
Most Tostadas that I have had throughout the years often left me unimpressed and unenthused. Sometimes, the ingredients can be a bit overpowering, which leaves the Tostada soggy and tough to eat. With this Tostada, however, I am pleased to report that it was my favorite item of the day! It had divine composition and boasted a bold profile of flavors. The ingredients and size of the dish was not overwhelming and the presentation was simple, yet flawless.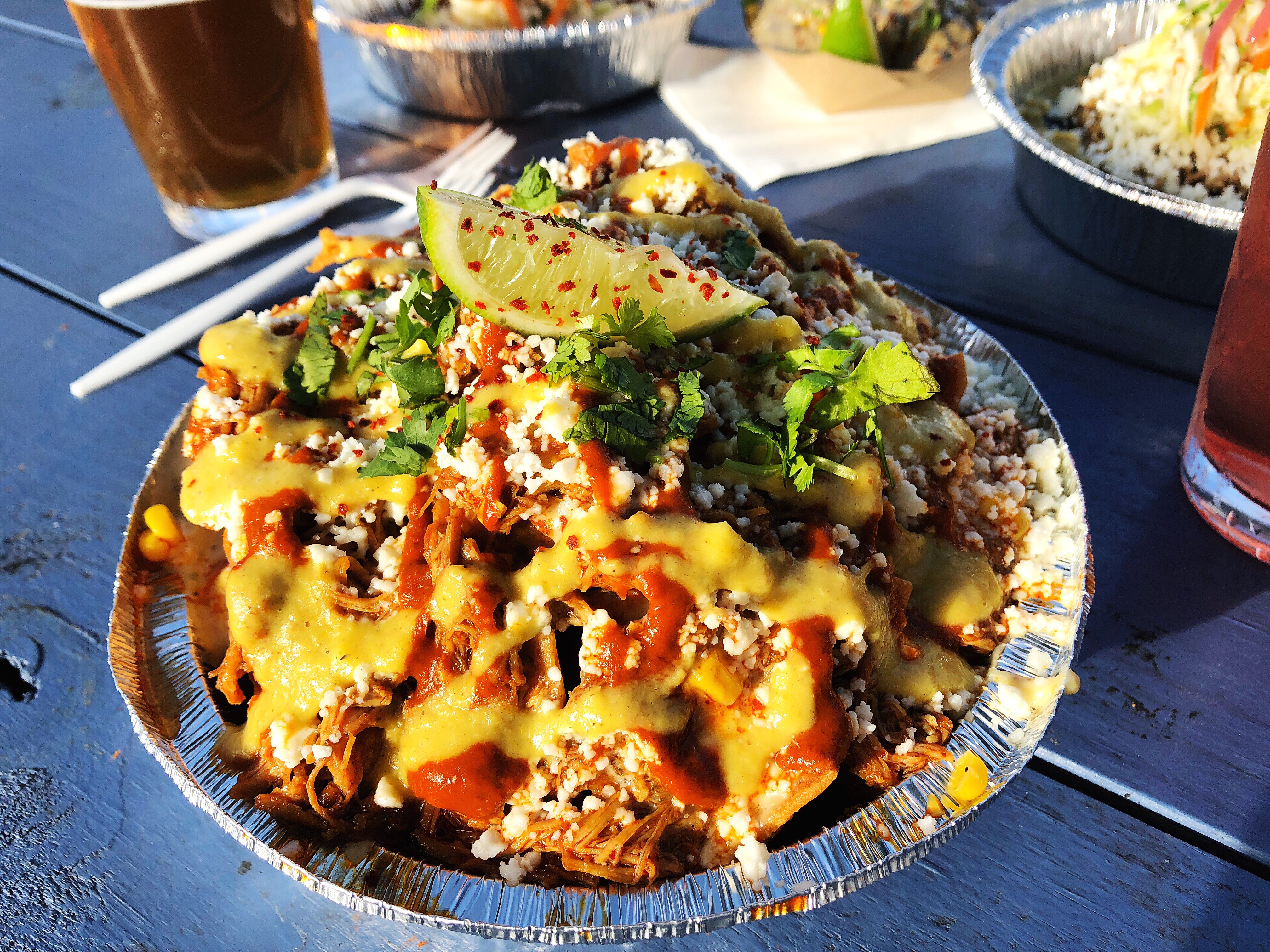 When we were initially peering over the menu, a couple sitting down beside us said, "you have to get the Nachos!" So obviously, we ordered the Nachos. They are not a regular staple menu item for Smokin Bowls, but do make a celebrity appearance from time-to-time. The Nachos Bowl is comprised of freshly fried Tortillas, house-made mild Cheddar Cheese sauce, choice of protein (we opted for the Chicken, which is braised in California Chiles), Corn, Black Beans, Tomatoes, Cotija Cheese, house-made Amarillo and Rosa sauce and finished with a Lime wedge.
If you visit Smokin Bowls with a group and this offering is on the Menu- order it and do not think twice! Not only does it feed plenty, but it will leave everyone full and contented. Simple and familiar ingredients which truly pack a punch. That is one of the most phenomenal characteristics about chef Brian's dishes- they are all made with basic ingredients that are paired in an intelligent manner. To him, every bite matters and every bite means something.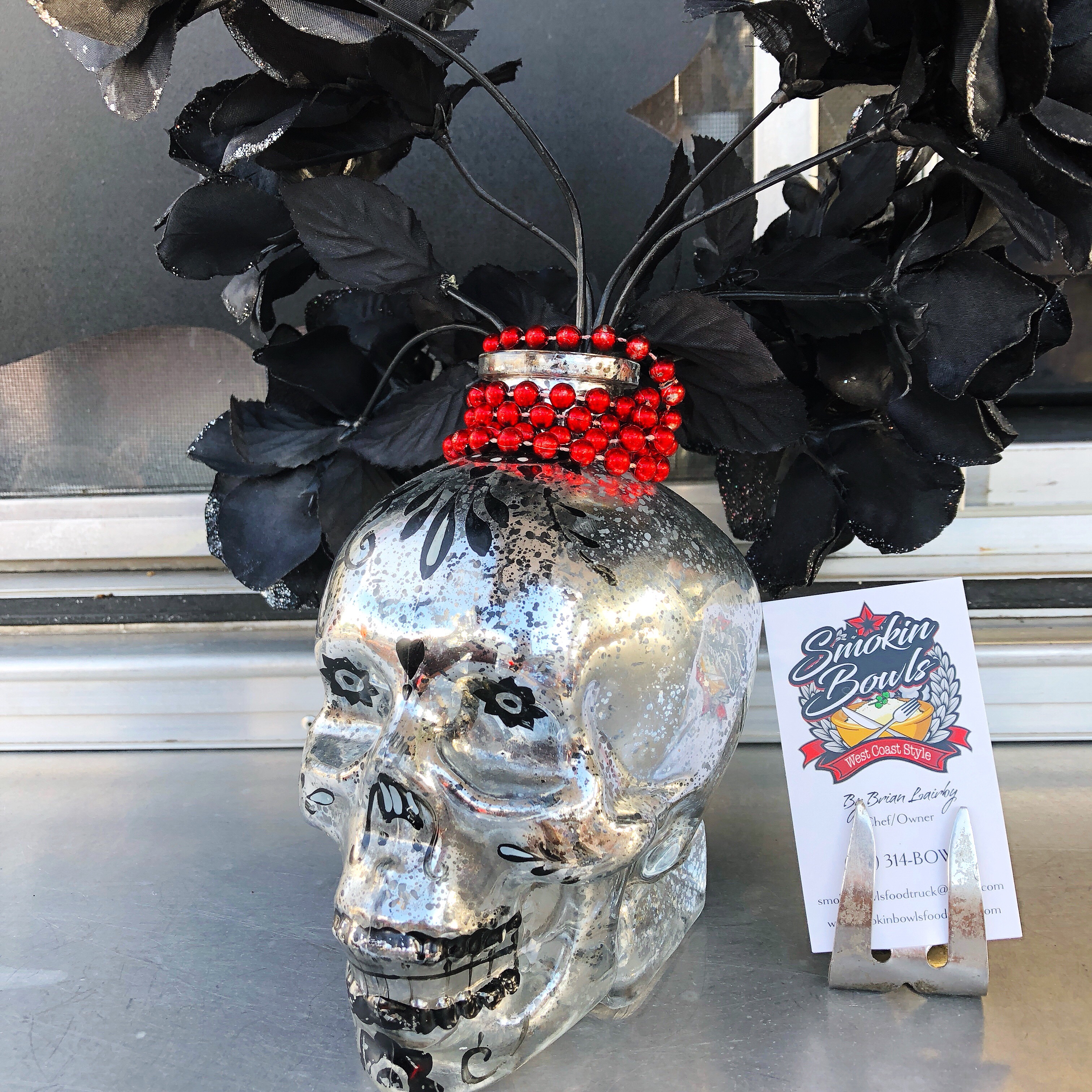 If you're looking to catch up with Smokin Bowls, they post their whereabouts on their Facebook. Keep this food truck on your radar, folks. Their future is ever-developing and looking quite bright! Stay tuned.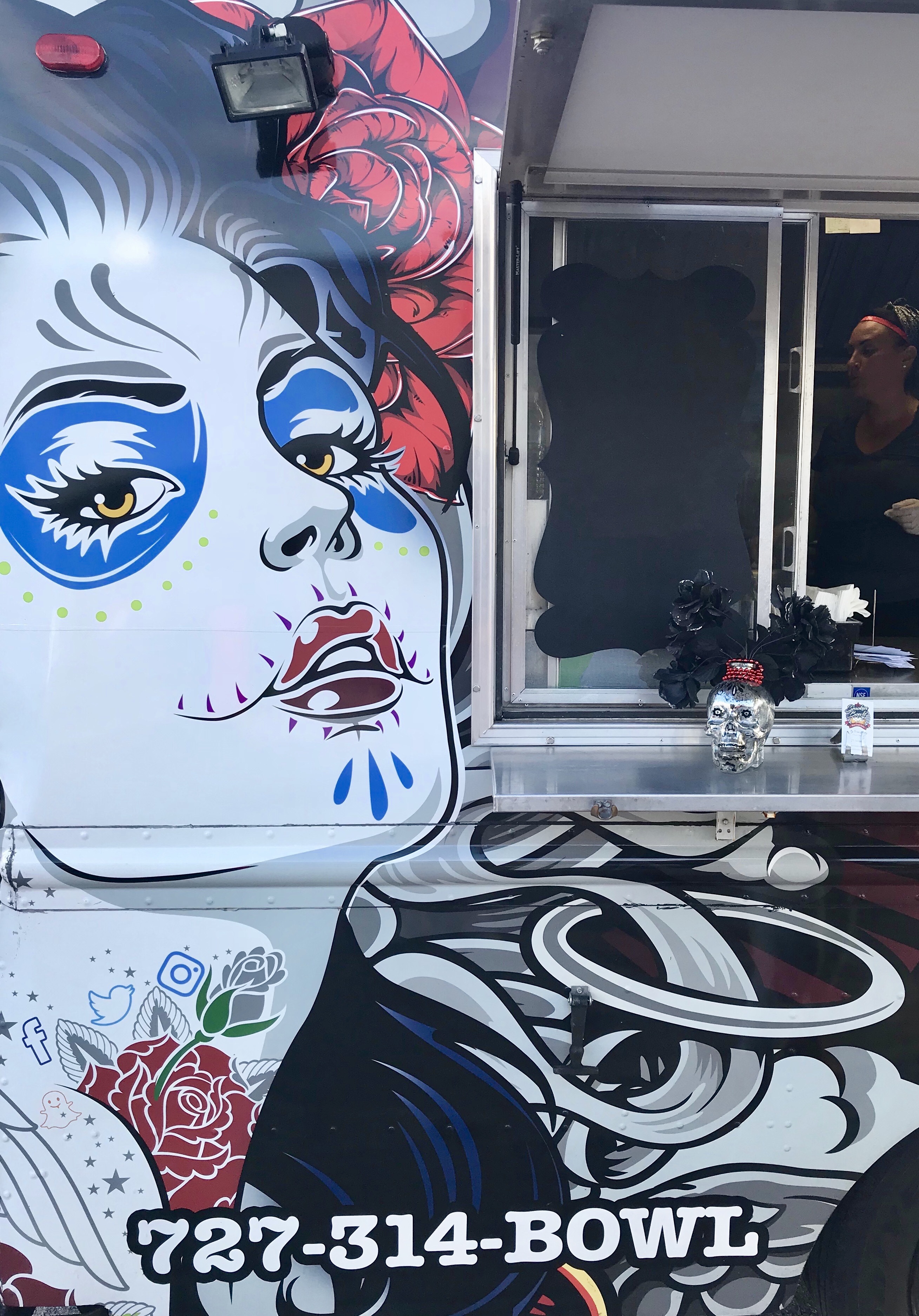 Bringing the West Coast Culinary Style to the West Coast of Florida. California Street Fare with Latin Influence. Braised Meats to Vegan Treats, we have it all!
DISCLAIMER: Kevin, Lori, Abby, Haley, & Lindsey do not dine anonymously (this would be impossible) and we sometimes get free food (though never expected). However, we dine with the locals and we support our own. You will always get honesty in a respectful manner. We do not include any large national or regional chains in our ratings and reviews. We focus on independent locally owned eateries exclusively.

PLEASE NOTE: Reviews reflect a certain moment in time. Some restaurants stay extremely consistent over many years, and some change for the better or worse. Some things that may change are: chefs, recipes, food suppliers, ingredients, philosophies, ownership, etc. We always hope that you have the same good, or great experience we had.
More Foodies News, Reviews & Recipes
2 Responses