Abby Allen · Jan 13, 2020 · 3 min read
If you've never made chicken paillard, I'm willing to bet that after you give this recipe a whirl, it'll become a part of your regular rotation. What does paillard mean, you ask? Paillard is simply a fancy French term for a boneless piece of meat, traditionally chicken or veal, that has been pounded thin.
It's an extremely uncomplicated and versatile dish that comes together in under 20 minutes. It's idyllic for a quick weeknight dinner, and fabulous for a no-fuss, light and healthy lunch.
As always, all of the ingredients for this chicken paillard can be found at none other than Rollin' Oats. While utilizing organic ingredients is not an absolute have to for this recipe, but I, of course, recommend it. Finding quality organic meats can be difficult, at times, but Rollin' Oats has a wonderful selection of boneless and skinless organic chicken. In addition to a wide array of organic products, Rollin' Oats also has the best bulk section! If paprika isn't something that you use often, this is a great opportunity to utilize the bulk section - it's quite cost efficient, and helps reduce waste.
This recipe calls for one whole red onion in order to make the quick pickled red onions, however, you will not use all of the pickled onions for this dish. I recommend pickling the onions in a mason jar with a lid, and then throwing them into the fridge for up to two weeks to utilize with other recipes. More often than not, we have a jar of these pickled onions in the fridge and use them on salads, rice bowls, burgers - you name it.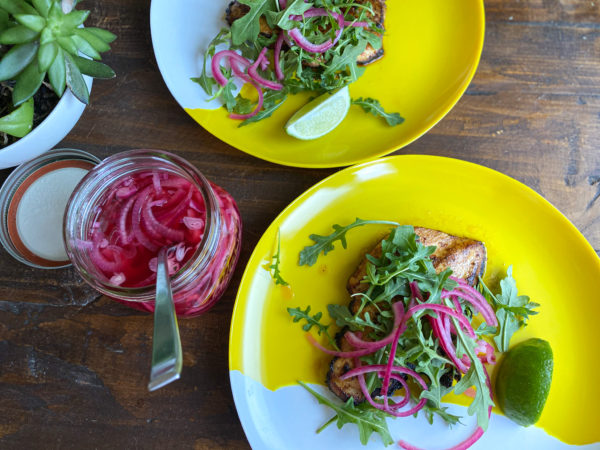 | | |
| --- | --- |
| | |
The morning before you're intending on making your chicken paillard, pickle the onions.

in a small bowl, combine apple cider vinegar, warm water, salt and black pepper. Add thinly sliced onions to a mason jar and pour over vinegar mixture. Allow to sit at room temperature for one hour, and then store in the fridge.
One at a time, pound out each chicken breast between two sheets of plastic wrap until they're about 1/4 Inch thick. Place pounded chicken breasts in a single layer in a casserole dish.

Combine Orange juice, juice of two limes and minced garlic to a bowl and whisk to combine, and pour over chicken. Cover and marinated for 30 minutes.

Remove chicken from marinade and pat dry with paper towels - discard marinade.

Generously salt and evenly distribute half of the paprika on the top sides of all of the chicken.

Preheat oven to 150F. Heat skillet over medium high heat and add Avocado oil to pan. One at a time, add the chicken to the hot pan by laying it away from you, paprika and salted side down. Season the other side with salt and 1/4 of the remaining paprika. Cook for three minutes and flip.

Cook the other side for four more minutes. Remove from skillet and place into the preheated oven to keep warm. Repeat with remaining pounded chicken breasts.

To serve, add a chicken breast to each plate, top with a handful of arugula and as many pickled onions as you'd like. Cut up remaining lime into fourths and squeeze over arugula and paillard.