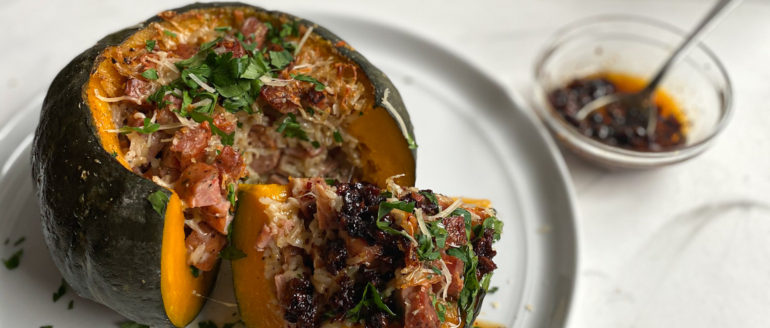 Nine times out of ten, if you hear Cacio e Pepe, there's usually some sort of pasta involved. Cacio e Pepe, which literally translates to "cheese and pepper" in multiple Italian dialects is a popular dish comprised of pasta, shaved parmesan cheese and fresh cracked black pepper, for the most part. Throughout the years, many recipes have been created with the "cheese and pepper" premise, without the pasta. For example, Cacio e Pepe hash browns, pizza, Brussels, and the list goes on. So, why not add the same famed cheese and pepper combination to some rice to stuff into some seasonal squash to celebrate Fall?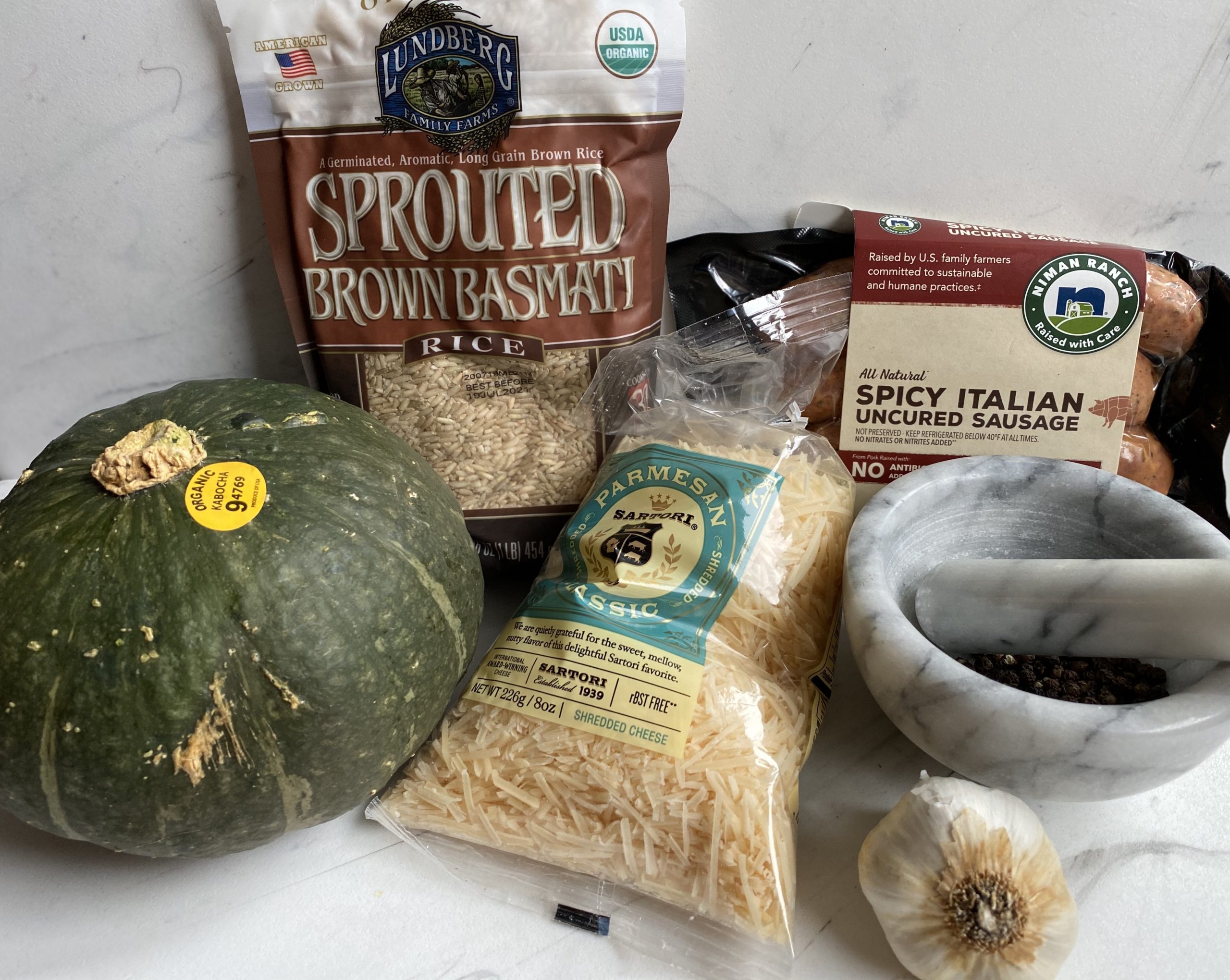 This easy, cheesy, crowd-pleasing recipe is the perfect marriage of Italian and fall influence. With minimal ingredients involved, this dish is also quite easy on the wallet, and  every ingredient can be easily acquired with one stop at Rollin' Oats.
Kabocha squash, for those who aren't aware, is a seasonal winter squash that is available during a small window of time. If you can't find Kabocha squash, most any other winter squash, such as acorn or sugar pumpkin, will work just fine.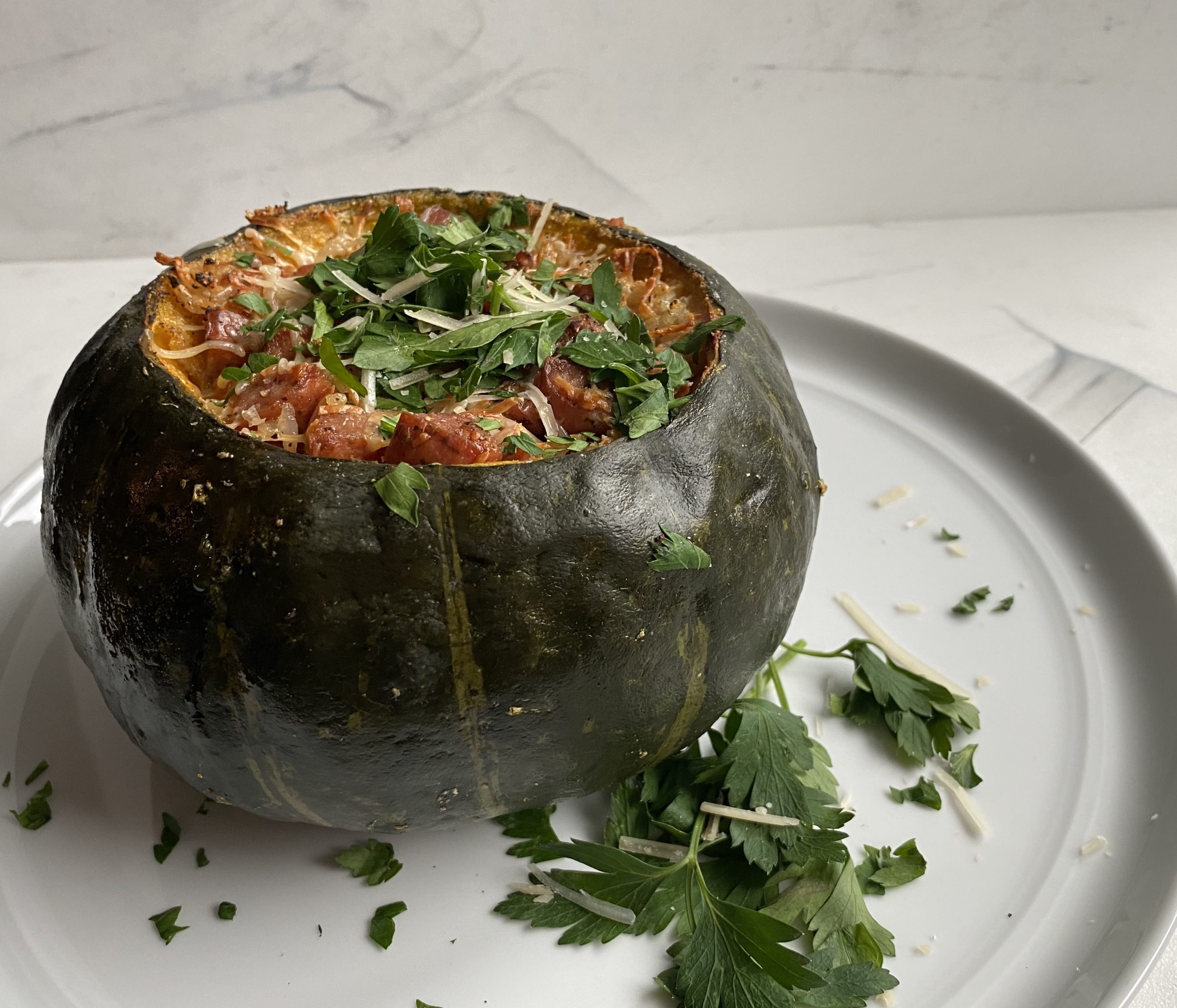 While the chili crisp is optional, I highly suggest that you take the time to make it. Store it in a mason jar, pop it in the refrigerator and enjoy it for up to a month. We make this in our house often and use it to top salads, sandwiches, pizza, steak, chicken, and so on.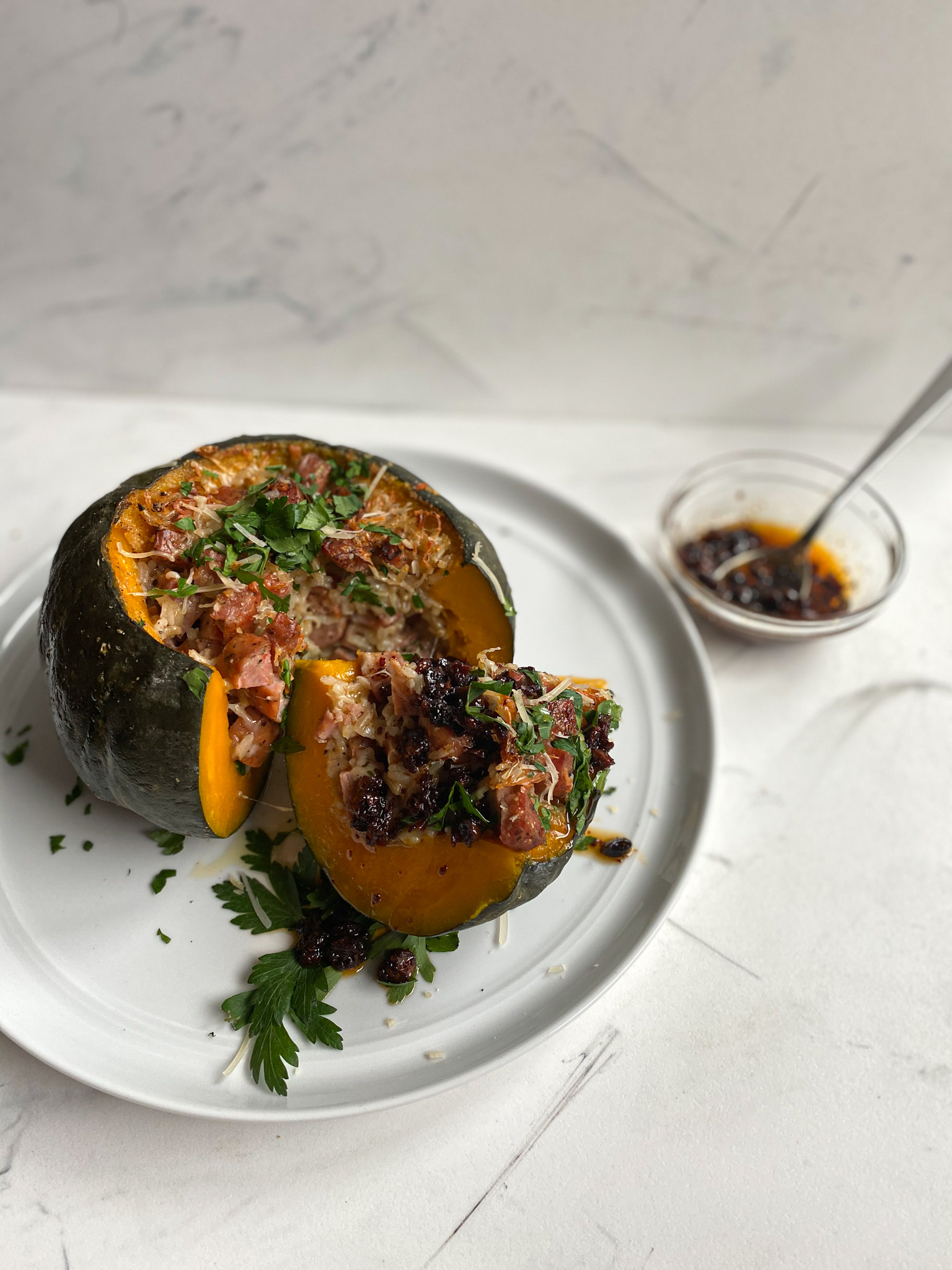 For this dish, wine expert Ken Smith recommends Tenuta di Renieri Chianti Classico 2016. He notes that it's an elegant offering, which presents aromas of crushed berries, violets and lavender. It possesses a medium body with soft tannins and a long finish.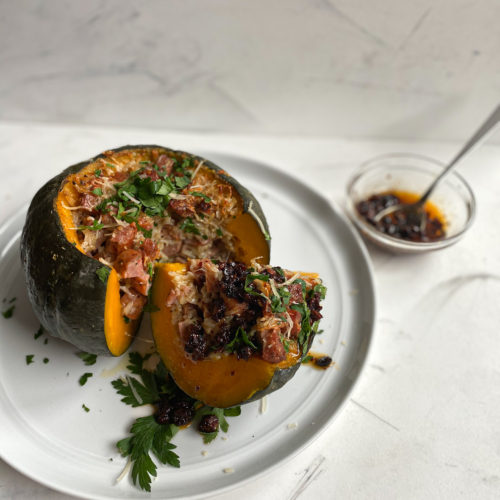 Cacio e Pepe Rice-Stuffed Kabocha Squash
Abby Allen
The great thing about this recipe is that if you can't find a Kabocha squash, virtually any similar-size winter squash will suffice! Try Acorn or Sugar Pumpkin.
Course
Main Dish, Side Dish
Cuisine
American, Italian
Ingredients
Stuffed Kabocha Squash
1

Kabocha Squash

Medium in size

1

cup

Cooked Basmati Rice

Cook per package instructions

12

ounces

Niman Ranch Fully-Cooked Spicy Italian Sausage

Roughly chopped into small pieces

1/2

cup

Parmesan Cheese

Plus more for serving. Save some time and pick up Sartori shredded at Rollin' Oats!

1

tsp

black pepper

1

tbsp

Olive Oil

2

garlic cloves

minced

1

tsp

Salt

Plus more to taste

1

tsp

garlic powder

Fresh Parsley

Roughly chopped, optional
Chili Crisp (Optional)
3

Shallots

Sliced thin

10

garlic cloves

Peeled and minced

1

cup

Vegetable Oil

2

Cinnamon Sticks

1

2" Piece of Gincer

Peeled and minced

3

tbsp

Crushed Red Pepper

2

tbsp

Soy Sauce

1

tsp

sugar
Instructions
Stuffed Kabocha Squash
Preheat oven to 375F. Cut the top off of the squash (much like you would when carving a pumpkin) and scoop out and discard all of the seeds.

Rub inside of squash with olive oil garlic powder and salt. Roast in preheated oven for 40 minutes.

Increase oven temperature to 400F. Spoon combined rice mixture into roasted squash and bake for 30 minutes.
Chili Crisp
In a medium sauce pan, combine garlic, shallots, oil and cinnamon sticks. Simmer over medium heat for 20 minutes, until shallots and garlic are golden without taking on too much color. Remove from heat.

While shallot mixture cooks, In a medium bowl, combine ginger, chili flakes, sugar and soy sauce. Strain oil of shallot mixture over ginger mixture through a fine mesh sieve and stir to combine. Set shallots and garlic in sieve aside to cool for a few minutes. Discard cinnamon sticks and stir shallots and garlic into chili oil mixture. Store in a mason jar and keep for up to one month.
Nutrition Facts
Cacio e Pepe Rice-Stuffed Kabocha Squash
Amount Per Serving
Calories 523
Calories from Fat 306
% Daily Value*
Fat 34g52%
Cholesterol 73mg24%
Sodium 1231mg54%
Potassium 1266mg36%
Carbohydrates 45g15%
Protein 23g46%
Vitamin A 2100IU42%
Vitamin C 34mg41%
Calcium 291mg29%
Iron 4mg22%
* Percent Daily Values are based on a 2000 calorie diet.
Nutrition
Calories:
523
kcal
Carbohydrates:
45
g
Protein:
23
g
Fat:
34
g
Saturated Fat:
14
g
Cholesterol:
73
mg
Sodium:
1231
mg
Potassium:
1266
mg
Fiber:
8
g
Sugar:
8
g
Vitamin A:
2100
IU
Vitamin C:
34
mg
Calcium:
291
mg
Iron:
4
mg
Keyword
Best Local St. Pete Food Stores, Best Organic Food Stores St. Pete, Cacio E Pepe Rice Stuffed Squash, Chili Crisp Recipe, Fall Recipes, Kabocha Squash Recipe, Local Recipes St. Petersburg FL, Local St. Pete Recipes, Recipes Using Local St. Pete Ingredients, Rollin Oats Recipes, Rollin Oats St Petersburg FL, Rollin' Oats Natural Food Market, Rollin' Oats St Pete FL, St Pete Foodies Recipes, St Petersburg Foodies Home Creations, St Petersburg Foodies Recipes, Winter Squash Recipe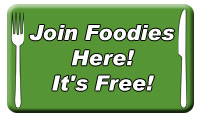 Best Local St. Pete Food Stores, Best Organic Food Stores St. Pete, Cacio E Pepe Rice Stuffed Squash, Chili Crisp Recipe, Fall Recipes, Kabocha Squash Recipe, Local Recipes St. Petersburg FL, Local St. Pete Recipes, Recipes Using Local St. Pete Ingredients, Rollin Oats Recipes, Rollin Oats St Petersburg FL, Rollin' Oats Natural Food Market, Rollin' Oats St Pete FL, St Pete Foodies Recipes, St Petersburg Foodies Home Creations, St Petersburg Foodies Recipes, Winter Squash Recipe
Written by Abby Allen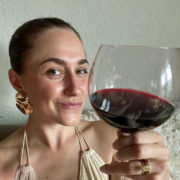 I'm an Ohio Native and resided in the Buckeye State for the first 27 years of my life. In June of 2017, my boyfriend, Mike, and I moved to beautiful downtown St. Petersburg (job relocation for him- I didn't take much convincing) and we have reveled in every incredible moment of our journey here. I have a genuine passion for cooking and a love affair with food- I'm deeply infatuated with the art, experimentation and theatrics of it all. On weekends (and when I'm not in the kitchen), Mike and I try to cross a restaurant, brewery, cocktail bar, and local event (or two) off of our ever-growing list of places to experience in our fabulous city.
View all posts by: Abby Allen
More Foodies News, Reviews & Recipes
Comments are closed
#stpetersburgfoodies #stpetefoodies
Recent Posts
December 7, 2021

Bite Into Your New Favorite Sandwich at Gateway Subs

Gateway Subs is a new sandwich shop that takes the sandwich game to levels far beyond a typical pub sub. Think incredibly fresh meat and savory sauces created and served by the nicest guys in town. You'll find this casual spot tucked away on 3rd Ave N and 31st St N where Georgie's Alibi used to be. The menu includes sandwiches, salads, breakfast options, vegan milkshakes, and more. With a great menu variation for all sorts of eaters, everyone gets a taste of the deliciousness. One step inside Gateway Subs and you'll feel like family. The staff behind the counter is made up of longtime friends from Boca Raton, hailing great vibes and even better sandwiches. Grant, the owner, is incredibly friendly and has a big heart for serving the community and spreading positivity. He chatted with us for a bit and shared a beautiful story about his motivation. The menu has a special sandwich called The Brycer which is in honor of his brother and keeping his legacy alive. A visit to Gateway Subs will easily brighten your day from the complaisant service and the sandwiches of course. It's hard not to love a hearty sandwich. You can order yours full or half and can customize it just how you like it. The deli meat is of high quality and the toppings are all vibrantly fresh. The Spice Mélange comes with mayo, hot capicola, buffalo chicken breast, provolone, onion, hot peppers and the best part, crumbled jalapeño chips. I ordered mine with no onion, added banana peppers, lettuce, tomato and swapped out the hot for sweet peppers. Yes, the crushed jalapeño chips are a game changer and you need to order it for an extra crunch. Though it's messy, it's my favorite sandwich on the menu. If you love a spicy kick, you should try this one and top it with all of your favorites. Unashamedly, I ordered the same sandwich again because it's literally just that good. This time I opted for my chips on the side. The buffalo chicken meat adds a blazing bite to your already flavorful sandwich. I'm obsessed with this sandwich. The Spicy Italian is mandatory lunch grub with pepperoni, hot capicola, ham, provolone, hot peppers, onion, lettuce, and tomato. I ordered mine with light mayo and no onions. This meaty sandwich is filling, fresh and straight-up amazing. It's generously packed and overall incredible if you're a meat lover. Morning, noon or after work, there's never a wrong time for a breakfast sandwich and Gateways Subs has you covered with the best. They have sweet, savory and spicy combinations to keep the options open. The Famous breakfast croissant is an artisan sandwich you need to add to your morning routine now, with melted provolone, avocado spread, bacon and crumbled hard boiled egg tossed in B's spicy ranch in between a toasted croissant. I ordered this on a particularly ravenous morning and it fulfilled all of my cravings. The coffee at Gateway Subs is just as important as the sandwiches. It certainly deserves a gold star for being extremely fresh and strong. They have a cold drip coffee tower in the shop so you know it's legit. As if your experience here wasn't already enough, the icing on the cake is that they also have vegan milkshakes and they are delicious. The Espresso Milkshake is a magical blend of bananas, dates, almond milk, cinnamon, chocolate protein, and frozen cold brew ice cubes. If you love a smooth shake with a smooth caffeine buzz, then do yourself a favor and order this next time you're in. They also have a rotating fruity shake so be sure to ask about it. Bite into your new favorite sandwich at Gateway Subs the next time you're craving something delicious and fresh. I'm so happy to have met the crew here and can't wait to continue going back.
Recipes
December 6, 2021

Gochujang Salmon & Roasted Tamari Carrots Recipe

It might be the most wonderful time of the year, but it's also the busiest time of the year for many. Between holiday preparations and parties, time is definitely of the essence. Instead of allowing your well being to suffer on those nights you don't want to cook with quick alternatives like fast food, keep a few speedy weeknight recipes in your pocket. This meal of Gochujang Salmon & Roasted Tamari Carrots is not only health-forward, it's also an easy peasy one-pan-wonder. I know what you're thinking, "cooking fish stinks up my house." Well, we avoid that in this recipe by cooking a whole filet of salmon in the oven after a nice brush of the Gochujang mixture. After all was said and done, not a hint of salmon was left lingering. For this recipe I recommend using a whole filet of wild caught salmon to simplify the process even more. If you can't find a whole filet at your local grocer, no worries – you can use individually portioned filets. At Rollin' Oats in the freezer section they have whole frozen filets in various sizes at a very affordable price. As for the roasted carrots, the recipe calls for San-J Organic Umami Tamari Splash (also sold at Rollin' Oats) but if that is not accessible to you, any kind of Tamari will suffice in its place. Roasted carrots, in general, are like candy to me and they're usually my go-to when I need a vegetable side in a pinch.  Any carrots will work, as long as they are the larger variety. To round out this meal, I suggest serving it with some kind of rice. While strolling through the aisle of Rollin' Oats recently I discovered Organic Jade Pearl Rice by Lotus Foods. Intrigued by its green tint, I decided to give it a try and totally loved it. It's definitely a bit different than most rice, but not much. If you see this while you're out and about I recommend picking it up and giving it a try. Gochujang Salmon & Tamari Roasted Carrots This Korean/Asian inspired meal is a one-pan wonder that is both health-forward and easy enough for your busiest weeknight. Gochujang Salmon & Assembly1/2 lb Salmon Filet (Wild caught, frozen or fresh. )1/4 cup Gochujang2 tbsp Honey1 tbsp Lime Juice1 tsp Olive Oil1 tsp Salt4 Green Onions (Thinly sliced)2 cups Cooked Rice ((Optional))Sesame Seeds ((Optional))Tamari Roasted Carrots8 Large Carrots (Scrubbed, peeled, greens trimmed)1 tbsp Olive Oil1 tbsp San-J Organic Umami Tamari Splash1 tsp Salt Tamari Roasted CarrotsPreheat oven to 425F. Combine olive oil, Umami Tamari Splash and salt in a small bowl.Arrange carrots in a single layer on a parchment-lined baking sheet and brush with olive oil and tamari mixture. Roast for 30-35 minutes and remove from oven, turn and brush carrots with their oil/tamari from the sheet pan. Carrots will finish roasting with Salmon.Gochujang Salmon & AssemblyAfter carrots have been removed from the oven after the first 30-35 minutes add Salmon filet to the same pan skin side down and season with salt.Combine Gochujang, honey, lime juice and salt in a bowl and season accordingly. Brush mixture evenly over Salmon until it is well coated. Place carrots and salmon back into the oven for another 15-20 minutes until carrots begin to char and salmon edges are beginning to turn golden. Remove from the oven and garnish with green onion and sesame seeds (if using).Serve salmon and carrots with a side of rice and more Umami Tamari Splash as desired. Main DishJapanese, KoreanCarrot Recipes, Gochujang Recipes, Healthy Salmon Recipes

November 1, 2021

Maple-Bourbon Brussels Sprouts with Pomegranate Salsa Recipe

I love the holiday season and everything that it entails. The celebrating, the festive feel in the air, the chaos, and of course, the cooking. These holiday inspired Maple-Bourbon Brussels Sprouts with Pomegranate Salsa are just begging for a spot on your table this Thanksgiving or Christmas. Sweet, savory and loaded with flavor, this dish comes together in a cinch. And when it comes to cooking on or for a holiday, minimally involved recipes come in clutch. The pomegranate salsa is a totally optional component of the dish. However, I think it adds a bit of brightness by cutting through some of the richness that the brussells possess after being tossed in the maple-bourbon glaze. So, what is my opinion? Make it, of course! Especially during this time of year when pomegranates are easier to track down. Rollin' Oats has them on their shelves right now along with everything else you need for these brussels, except the bourbon. If you don't have any bourbon on hand, don't worry – it's not a game changer. Just use another spirit that you have on hand, like scotch or rum, or simply use 2 ounces of water. Maple-Bourbon Brussels Sprouts with Pomegranate Salsa Thanksgiving is rapidly approaching and these holiday-inspired Brussels deserve a spot on your menu. Maple-Bourbon Brussels2 lbs Brussels Sprouts (Approximately 2 bags/bunches, organic is always best! Washed, trimmed and cut in half.)6 Slices Bacon (Like Niman Ranch Applewood Smoked Bacon from Rollin' Oats. Roughly chopped into 1/2" pieces.)1/2 cup Slivered Almonds2 oz Bourbon (Whatever you have on hand will suffice! I used Ancient Age)1/2 cup Brown Sugar1/2 cup Maple Syrup2 tbsp Balsamic Vinegar2 tbsp Olive OilSalt and PepperPomegranate Salsa1 cup Pomegranate Seeds (From approximately 1 large Pomegranate)1/4 cup Chives (Minced)1/2 cup Red Onion (Diced)1 Lemon (We just need the juice here but feel free to add in some zest as well.)1 tbsp Olive OilSalt and Pepper Pomegranate SalsaIn a medium bowl combine all salsa ingredients. Season with salt and pepper as needed. Keep salsa in the refrigerator until ready to serve.Brussels and AssemblyPreheat oven to 425F. Line a baking sheet with parchment paper. In a large bowl toss brussels with olive oil, salt and pepper and add them to the baking sheet in a single layer.Bake until Brussels begin to brown on the edges – 20-25 minutes. Remove from oven and set aside.Heat a dutch oven or large skillet over medium heat and add in bacon. Cook, stirring occasionally, until bacon is fully cooked and crisp – 8-10 minutes.Using a slotted spoon, remove crisp bacon bits from pot/pan and allow to cool, until ready to use again, on a paper towel-lined plate. Pour balsamic and bourbon into the pot and scrape up the browned bits from the bottom of the pan. Bourbon and balsamic will bubble rapidly.Add in maple syrup and brown sugar. Stir occasionaly until the sauce has thickened, 5-7 minutes.Turn off the heat and add in cooked brussels, crisp bacon bits and slivered almonds. Stir well to combine. Season with salt and pepper as needed.When you're ready to serve, plate your brussels on a platter and top with heaping spoonfuls of pomegranate salsa. Side DishAmericanBrussels Sprouts Recipe, Maple Bourbon Brussels Sprouts with Pomegranate Salsa, Thanksgiving Recipe

Cooler Fall evenings in Florida are right around the corner (or at least I hope) and it's during this time of year that I really ramp up soup production in the kitchen. I know that everyone is still losing their minds over all things pumpkin spice right now, but it's really never been my thing. I, on the other hand, look forward to cooking up as much squash as possible. For this recipe, while I prefer a butternut squash from the produce section, frozen will also work just fine if your grocery story doesn't have any fresh available. Rollin' Oats has a handful of organic options available in ten ounce bags. If using frozen, just use two of the ten ounce bags. I know you've listened to us rave about Dave's Killer Bread before and you better believe that it is my preferred bread for this sandwich – specifically, the Good Seed. I love the texture that it takes on after spending some time turning crisp and golden brown in the skillet. You don't have to use Good Seed though, of course. A personal favorite of my husband's for a solid grilled cheese is Dave's White Bread Done Right. Both of which can also be found at Rollin' Oats, along with other killer options from Dave's. As far as the cheese for this sandwich is concerned, don't limit yourself to only cheddar. I encourage you to utilize any kind of good melty cheese that you prefer. The first time that I made this we actually used a mix of aged white and yellow cheddar and it was divine! If cheddar isn't your jam though, a luscious Brie would be a fine alternative, in my opinion. Grilled Cheddar Cheese, Apple & Onion Sandwich with Butternut Squash Soup An elevated spin on a classic duo – your new favorite soup and sandwich combination is here. If you can't find Butternut Squash in the produce section, check the freezer aisle. Two ten ounce bags will totally suffice. Blender Butternut Squash Soup1 Butternut Squash (Peeled and cubed. Or, 2 10oz bags of frozen Butternut Squash.)3/4 White Onion (Roughly Chopped.)1/2 Apple (Sliced.)1 cup Vegetable Stock1 tbsp Olive Oil2 tbsp Sage (Fresh – minced.)1 tsp Salt (Plus more, as needed.)1/2 tsp Pepper (Plus more, as needed.)Optional garnishes (chili crunch, sage, etc.)Grilled Cheddar Cheese, Apple & Onion Sandwich4 slices Bread (Like Dave's Killer Bread)1 cup Cheddar Cheese (Like Kerrygold, grated.)1/2 Apple (Thinly sliced.)1/4 White Onion (Thinly sliced.)2 tbsp Butter (Like Vital Farms.)1 tbsp Sage (Fresh – minced.)2 tsp Red Pepper Jelly (Like Bonnie's) Butternut Squash SoupPreheat the oven to 375. If using a whole Butternut Squash, peel and cube and add to a parchment-lined baking sheet with sliced onion and apple. Toss with olive oil, salt and pepper.Roast in the oven for 45 minutes to one hour (until everything has softened). If using frozen squash, heat according to package instructions and set aside until apple and onion have roasted.Add roasted vegetables (and prepared squash, if using frozen) to a high powered blender with one cup of vegetable broth. Blend until smooth and season with salt and pepper to taste.Pour soup into a medium dutch oven or pot and heat on low until ready to serve. Whilst serving, top with optional garnishments.Grilled Cheddar Cheese, Apple & Onion SandwichPreheat oven to 350. Evenly butter both sides of each slice of bread. Heat medium nonstick skillet over medium heat (we are going to make one sandwich at a time) and add one buttered slice of bread.Top with 1/4 cup grated cheese, half of the onion and apple slices, half of the minced Sage and another 1/4 cup of cheese. Add 1 tsp jelly to another piece of bread and place that on top of that in the skillet, jam side in the middle.Gently press together and cook until under side takes on a nice golden color – a few minutes. Carefully flip the sandwich onto the other side.Cook for another couple of minutes until sandwich is golden and crisp on both sides. Keep sandwich warm in preheated oven until you make your second sandwich. Assemble the other sandwich by repeating the same method. Cut sandwiches in half and serve along side a bowl of Butternut Squash Soup. Main Dish, Sandwich, SoupAmericanAbby Allen Recipes, Butternut Squash Soup Recipes, Grilled Cheese Recipes

September 9, 2021

Cast Iron Skillet Buffalo Chicken Pizza Recipe

Football season is back and let's face it, we're all excited. Chalk up a win during game day with a Cast Iron Skillet Buffalo Chicken Pizza that'll keep you wanting more. Why use a cast iron skillet, you ask? Well, why not. We all know that a well-seasoned cast iron skillet makes most everything that much better, so why not pizza? Break out your most seasoned skillet that is approximately 9-10″. If you don't have a cast iron skillet, no big deal – use a pizza stone or baking sheet as you normally would. Okay, let's talk ingredients. Everything needed to make this pizza can be picked up at Rollin' Oats. I especially love that their store is loaded with healthier options, even when it comes to pizza. For instance, Simple Mills Pizza Dough Mix and Primal Kitchen's Buffalo Sauce and Vegan Ranch. Regarding spice level, this ranks right around a four or five, so it really isn't a ton of heat. You can easily adjust the heat level of this 'za by adding more Buffalo Sauce to the base of the Pizza and or finishing the pizza with Buffalo Sauce as it comes out of the oven. Also, you don't have to use Mozzarella cheese. Feel free to use Cheddar instead, or perhaps a combination of both. Cast Iron Skillet Buffalo Chicken Pizza Cast iron skillet pizzas further support the argument that everyone should own a cast iron skillet. Make this pizza in your most seasoned skillet in order to yield ultimate flavor. Cast Iron Skillet 2 cups Chicken (Cooked and shredded)1/2 cup Buffalo Sauce (I use Primal Kitchen from Rollin' Oats. This is to be mixed with the shredded chicken.)1/4 cup Buffalo Sauce (To be used as the sauce)12 oz Pizza Dough (Homemade or store bought)1/4 cup Semolina Flour1/2 cup Shredded Mozzarella (Low moisture is recommended)1/3 cup Blue Cheese (Crumbled)1/4 cup Red Onion (Diced)1/4 cup Green Onion (Minced)1/4 cup Celery (Diced)1/4 cup Ranch (Like Primal Kitchen Vegan Ranch)1 tsp Olive Oil Place a 9-10" cast iron skillet into the oven on the middle rack and preheat oven to 500F. Combine cooked, shredded chicken with 1/2 cup of Buffalo Sauce.Rub Olive Oil all over dough. Add Semolina Flour to a clean work surface and carefully stretch dough out until you have roughly a 9-10" circle. Remove hot skillet from oven and carefully lay stretched dough inside the pan.Add remaining 1/4 cup of Buffalo sauce and carefully spread evenly over the surface of the dough with the back of a spoon. Sprinkle with a couple pinches of salt. Disperse half of the Mozzarella cheese over the sauce, followed by the shredded chicken in Buffalo sauce, onion, then the rest of the Mozzarella. Top with blue cheese crumbles.Place pizza into the preheated oven for 20-25 minutes or until crust is golden and prepared to your liking. Remove pizza from oven.Finish pizza by drizzling the Ranch evenly over the top, followed by the diced celery and minced green onions. Slice and serve with more Buffalo sauce and Ranch as desired. Main DishAmericanBuffalo Chicken Pizza, Cast Iron Skillet Pizza, Pizza

August 2, 2021

Peach, Tomato and Cucumber Salad with Seared Halloumi Recipe

After eating Halloumi for the first time, I thought to myself, "how have I ever lived without this?' For those who haven't heard of Halloumi, it's a semi-hard unripe cheese with a high melting point, which makes it idyllic for searing, grilling, etc. In my opinion, seared/grilled Halloumi is best when enjoyed soon after it leaves the skillet when it's still warm. You won't find Halloumi everywhere, but Rollin' Oats has it of course – in addition to all of the other components in this salad. The crispy bread adds that bit of crunch that this dish was screaming for. I encourage you to use any kind of bread that you may have on hand. We always have a loaf of Dave's Killer Bread in our freezer (which you know that I use with a lot of frequency), so that's usually my go to. Toss in olive oil, toast for 15 minutes or so and then finish it with a pinch of salt if your heart desires – it makes all of the difference. This recipe is definitely one that wants to be made in the summertime. Best enjoyed with a cool bottle of Sauv Blanc or Rosé on a sweet little patio with irreplaceable company. Peach, Cucumber and Tomato Salad with Seared Halloumi An above average salad that is sure to give the people what they want. Also, if this is your first rodeo with seared Halloumi, you're welome! You're going to want it constantly. 2 Peaches (Cut in half, pit removed and sliced into thin half moons)2 Tomatoes (Make sure they are ripe. Slice them just like the peaches.)1/2 Cucumber (Sliced into thin rounds. Use any kind!)1/2 cup Red Onion (Sliced thin)7 ounces Halloumi Cheese (Sliced into 1/4" thick rectangles. Pat dry with papertowels.)1/2 cup Olive Oil (Plus 3 Tbsp, separated.)1 1/2 cup Bread (Like Dave's Killer Bread, torn into 1" pieces)2 tbsp Balsamic Vinegar2 tbsp Lemon Juice1 1/2 tsp Salt (Plus more, to taste)1/2 tsp Black Pepper1 tsp Honey1/4 cup Mint (Fresh, torn into pieces) Preheat oven to 375F and toss torn bread with 1 tbsp olive oil. Bake for 15 minutes, or until crisp and golden and set aside to cool. In a large bowl, whisk Balsamic, lemon juice, salt, pepper, honey and 1/2 cup olive oil until well combined. Taste and season with more salt as needed.Add peaches, cucumber, tomatoes and onion to bowl with vinaigrette and gently mix and set aside.Heat remaining 1 tbsp of olive oil in a nonstick skillet set over medium heat. Carefully add slices of Halloumi (you may have to do this in batches), one at a time, to hot oil. Sear until cheese begins to take on a golden color, 2-4 minutes. Flip cheese and cook other side another 2-4 minutes. Remove from oil and allow to cool on a paper towel-lined plate. Add croutons, seared halloumi and torn mint to bowl with peaches, cucumbers, tomatoes and onions. Combine and serve. Appetizer, SaladAmericanPeach Salad, Seared Halloumi, Seared Halloumi Salad, Summer Salad