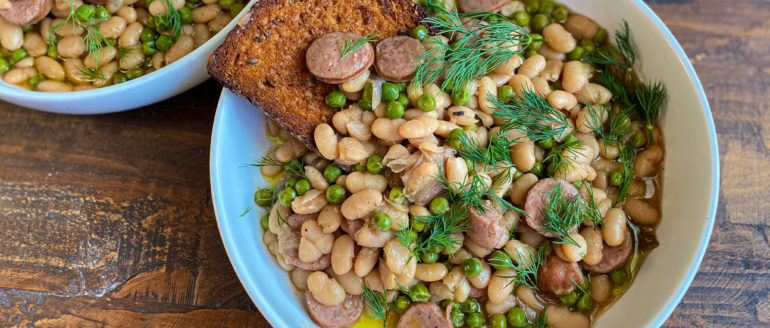 Dried beans are totally an underrated and under appreciated pantry staple that 100% deserve our attention. Sure, canned beans are a convenient alternative that often aid in making our lives easier, but if you know me, you know that I find beauty in preparing food without any shortcuts. I think that there is something so magical about enjoying a meal that you fabricated, start to finish, from scratch with your own hands.
I'll admit, the first time that I made dried beans was just a few years ago. The result was quite underwhelming and it was then that I learned that beans don't just simply happen, not good beans, at least. Instead, the require a little bit of attention and the right ingredients in order to complement them.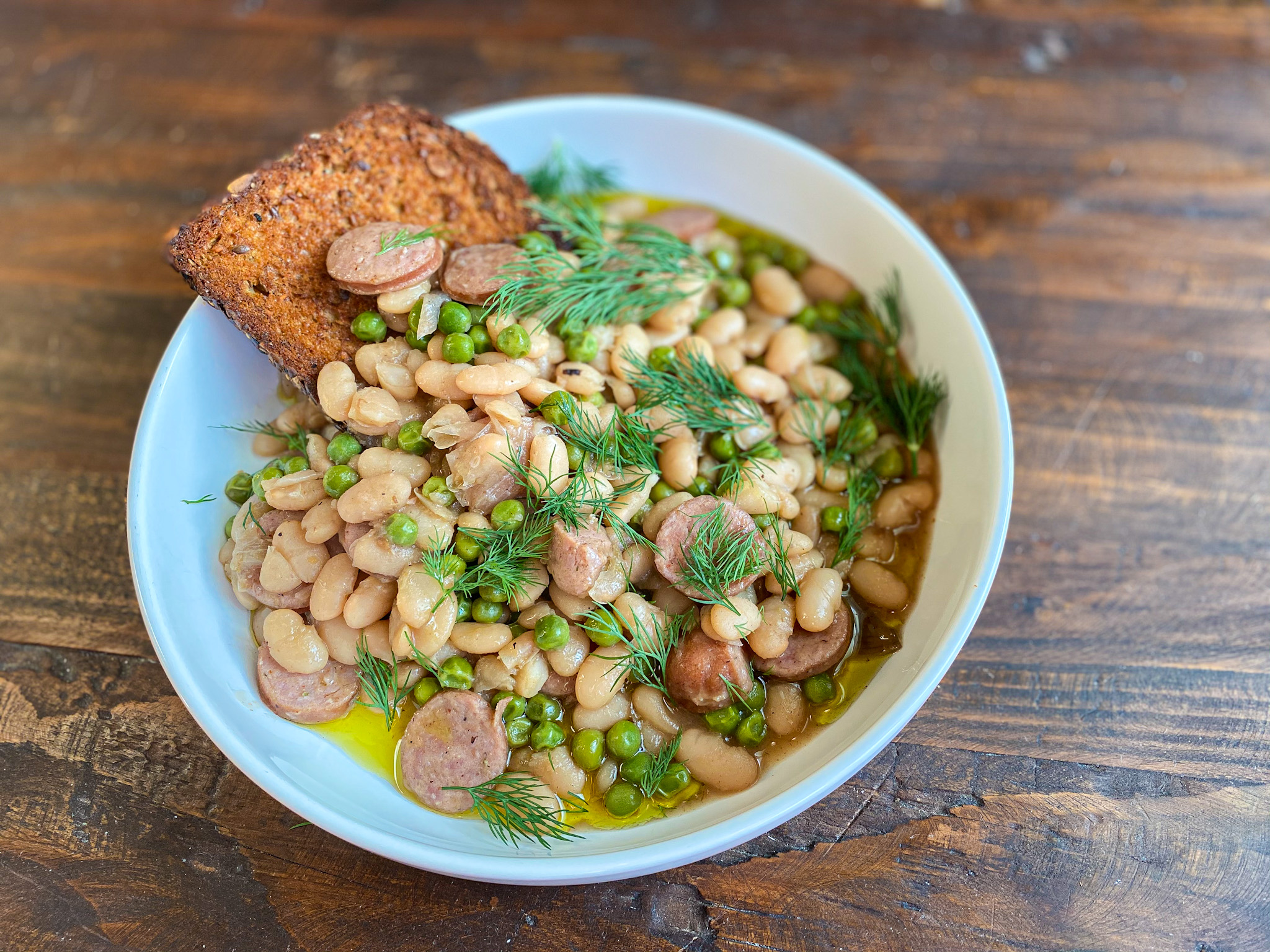 When I cooked this recipe for the first time, the sausage was not a part of the recipe, nor plan. However, the sausage entered the picture when I realized that something was missing. Don't get me wrong, the recipe, as is, was just fine, but I was left unsatisfied. While at Rollin' Oats, I noted that they had Niman Ranch Ginger Lemon Grass Uncured Sausage and I knew that it would work well with the flavors of the Dashi. Guess what? I was right.
Speaking of Dashi, many of you may be wondering what it is. In short, Dashi is a Japanese soup stock that is utilized in a number of Japanese dishes. While many other stock recipes often take hours of simmering with multiple ingredients, Dashi is much simpler and usually comes together in under 30 minutes with three ingredients or less. The standard ingredients for Dashi usually includes Kombu (dried seaweed) and Katsuobushi (bonito flakes). Dashi is very flavor-forward and adds an aspect of umami.
Everything for this recipe, as always, can be found at Rollin' Oats! The only item that they did not have during my shopping trip for this recipe was the bonito flakes. No worries there, though, Amazon to the rescue! Another note on ingredients: utilize Rollin' Oats' amazing bulk section for the beans! Cost effective and you can just buy what you need. When preparing the beans, most all people soak them overnight. However, Alison Roman, best selling author and contributor to NYT Cooking and Bon Appetit Mag, says that it isn't necessary. I listen to anything she says, so, because of that, I never soak my beans.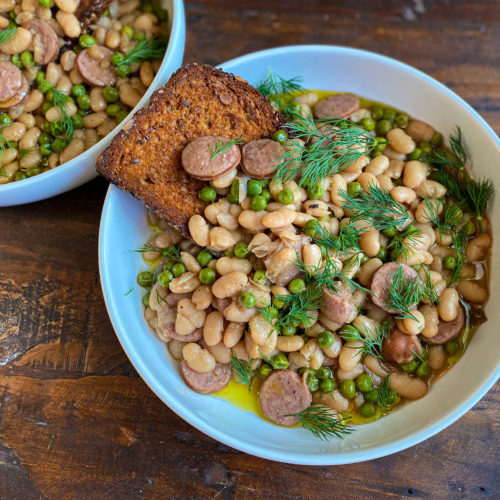 Dashi Beans with Sausage
This basic Dashi recipe is great as a base for tons of recipes, like soups, stews and rice.
Ingredients
Dashi
2

6" x 4" pieces

kombu

3

cups

Bonito Flakes
Beans and Assembly
10

cups

Dashi

2

cups

Water, preferably filtered

2

cups

Dried Great Northern Beans

rinsed

2

tbsp

Olive Oil

1

Onion, quartered

1

head

Garlic

cut in half

1

3" knob

Ginger

peeled

2

bay leaves

2

carrots

medium in size, 6-8"

10

ounces

Frozen Peas

1

package

Niman Ranch Fully-Cooked Giner Lemongrass Sausage

sliced into thin rounds - you can use any sausage!

1/4

cup

Soy Sauce

Salt and Pepper

1

handfull

Fresh Dill

4

slices

Toasted Bread

(optional)
Instructions
Dashi
Add Kombu to large pot and cover with 10 cups of water. Soak for 30 minutes and then bring water to a boil. Remove and discard the Kombu.

Add bonito flakes to the water, submerge and lower the heat to a very gentle boil. Simmer bonito flakes for 10 minutes, remove from heat and let stand for 15 minutes.

Strain Dashi through a mesh sieve into a large bowl. Discard bonito flakes and set bowl with dashi aside until ready to add to the beans.
Beans and Assembly
Wipe out pot used to prepare dashi, add olive oil to pot and heat over medium. Add quartered onion, halved head of garlic, ginger, carrots and bay leaves to pot and season very generously with salt and a few cracks of black pepper.

Cook, stirring occasionally, until everything begins to brown and soften - about 10 minutes.

Add beans, reserved dashi and two cups of water to the pot and season again with salt and pepper. Bring everything to a boil and then reduce the heat to a simmer. Allow to simmer for 2-2.5 hours, adding water by the half cup as needed, stirring occasionally and salting as needed (every 30 minutes) until the beans are soft and cooked through and mixture is stew-like.

Add in peas, sliced sausage and soy sauce. Cover pot and cook until peas and sausage are up to temperature - 5-7 minutes. If you're serving the beans with bread, this is the time to slather your toast in ghee or grass fed butter and toast.
Nutrition Facts
Dashi Beans with Sausage
Amount Per Serving
Calories 1056
Calories from Fat 81
% Daily Value*
Fat 9g14%
Cholesterol 119mg40%
Sodium 522mg23%
Potassium 3146mg90%
Carbohydrates 75g25%
Protein 143g286%
Vitamin A 5657IU113%
Vitamin C 39mg47%
Calcium 210mg21%
Iron 6mg33%
* Percent Daily Values are based on a 2000 calorie diet.
Nutrition
Calories:
1056
kcal
Carbohydrates:
75
g
Protein:
143
g
Fat:
9
g
Saturated Fat:
1
g
Cholesterol:
119
mg
Sodium:
522
mg
Potassium:
3146
mg
Fiber:
24
g
Sugar:
9
g
Vitamin A:
5657
IU
Vitamin C:
39
mg
Calcium:
210
mg
Iron:
6
mg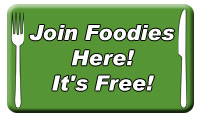 More Foodies News, Reviews & Recipes