The Library (formerly The Peabody) – A Splendid Addition to St Pete's Restaurant Scene
The Library (formerly The Peabody) – A Splendid Addition to St Pete's Restaurant Scene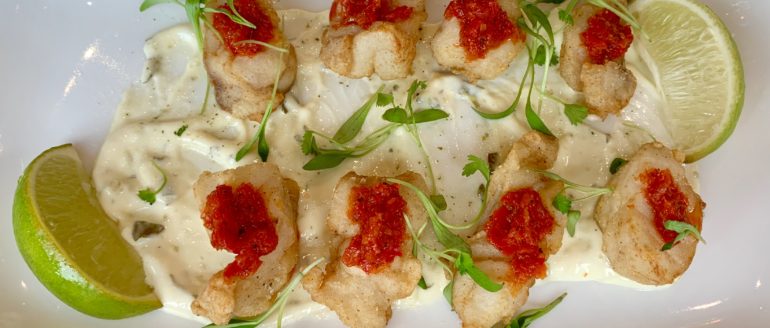 PLEASE NOTE: THIS PIECE WAS WRITTEN WHEN THE NAME OF THE RESTAURANT WAS THE PEABODY, IT IS NOW THE LIBRARY.
From the minute you walk thru the doors of The Peabody, you feel transported back in time. A serene setting of tables within an old fashioned library surrounding a bar. All of this located in the research and education building within the complex of the Johns Hopkins All Children's Hospital.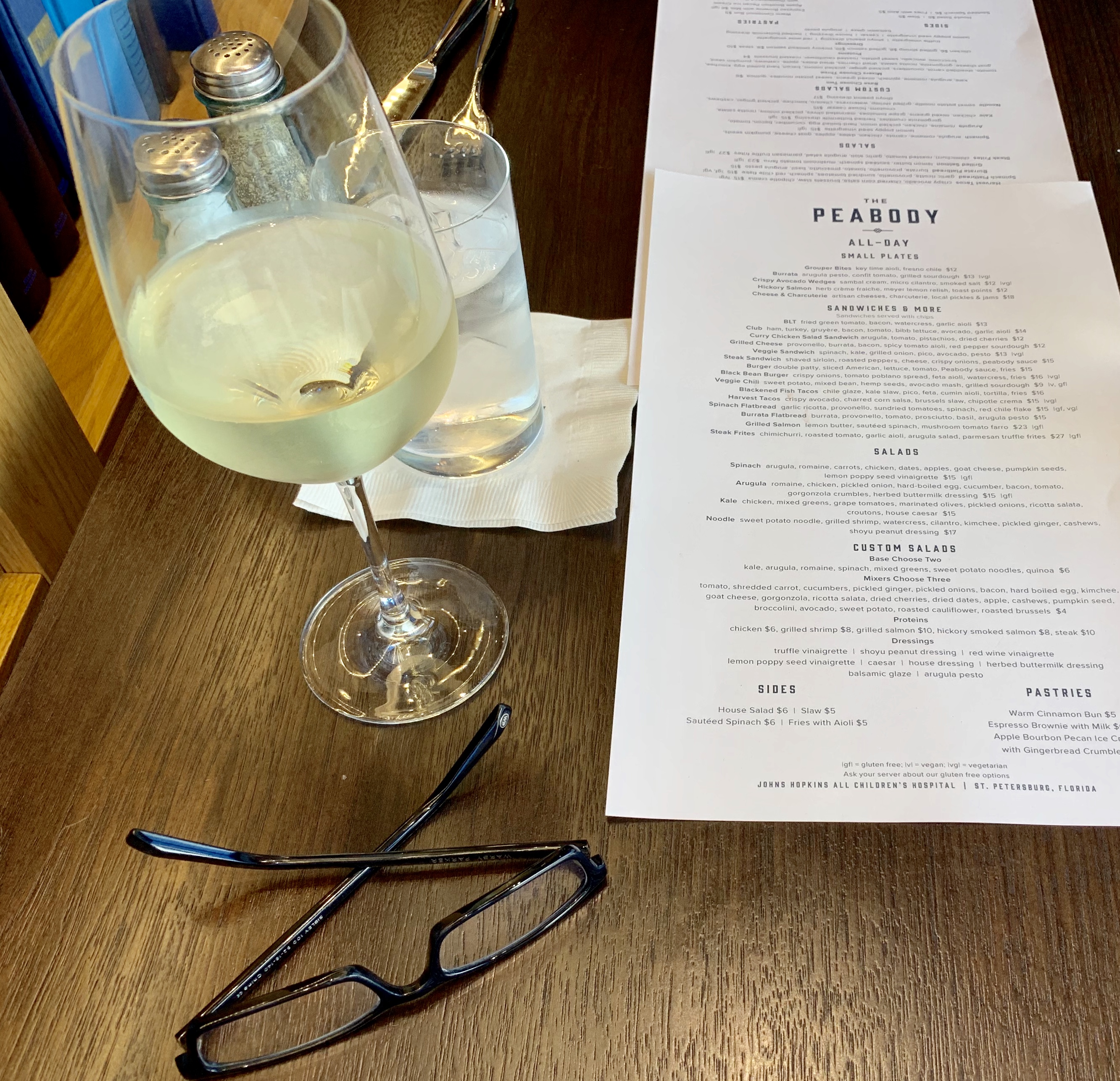 A hospital? I am going to seek out a restaurant located in a hospital? On purpose? This is what I first thought when I heard of The Peabody and its location. However, the restaurant is not located inside the hospital. Its main entrance is located on 6th Ave S next door to the main hospital. Once you are inside, you would never know that a hospital is near.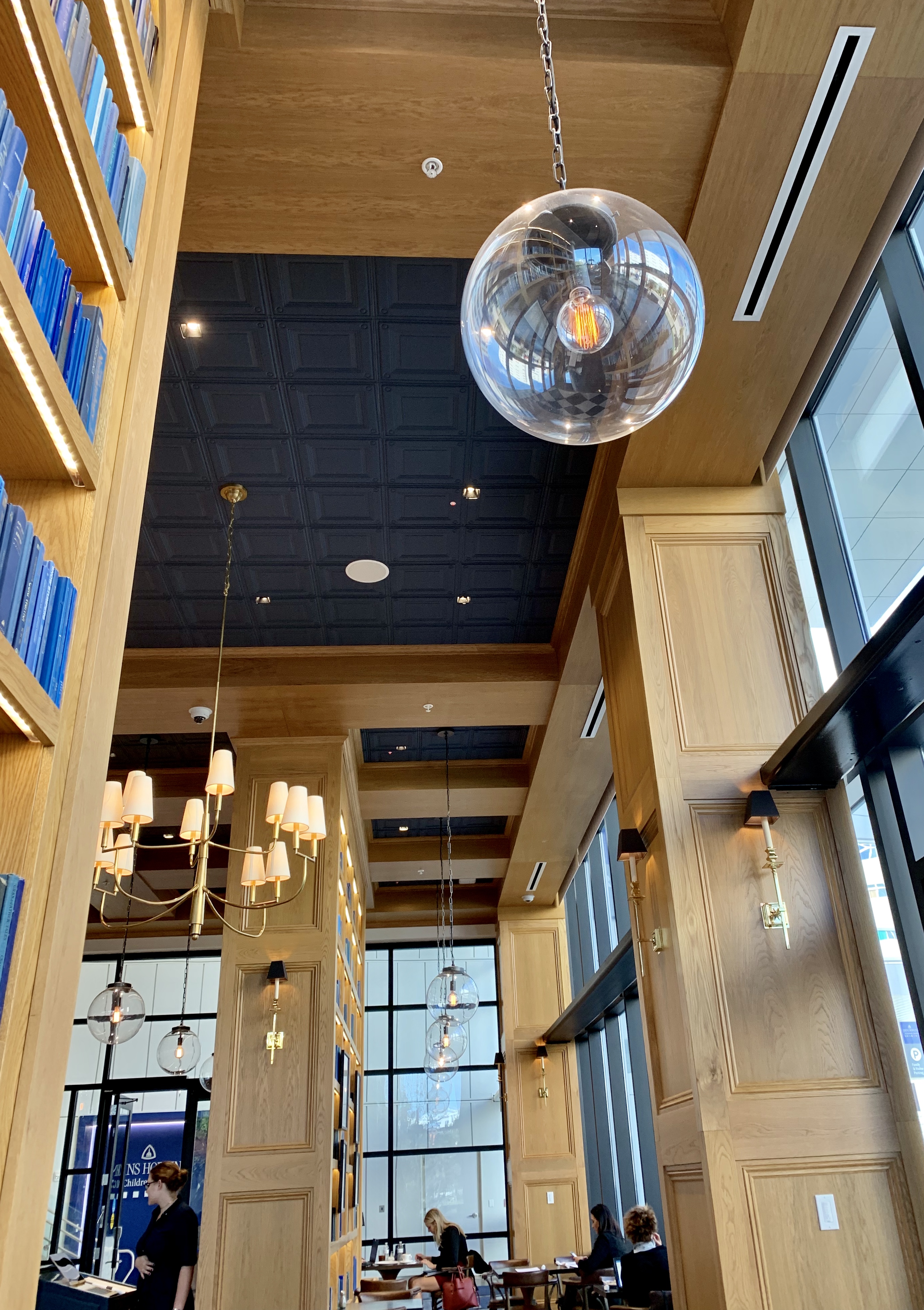 The restaurant is brought to us by the owners of Tampa's revered Oxford Exchange. The inspiration behind The Peabody is simply stated on their website, "George Peabody believed in the power and importance of education in the lives of others. One of his many legacies is The George Peabody Library, an institute he built for, and dedicated to, the citizens of Baltimore in 1857.
Johns Hopkins was inspired by his close friend George Peabody to use his great wealth for the public good. The collaboration between these men and the institutions they created is the inspiration for our restaurant, located within Johns Hopkins All Children's Hospital in St. Petersburg, FL."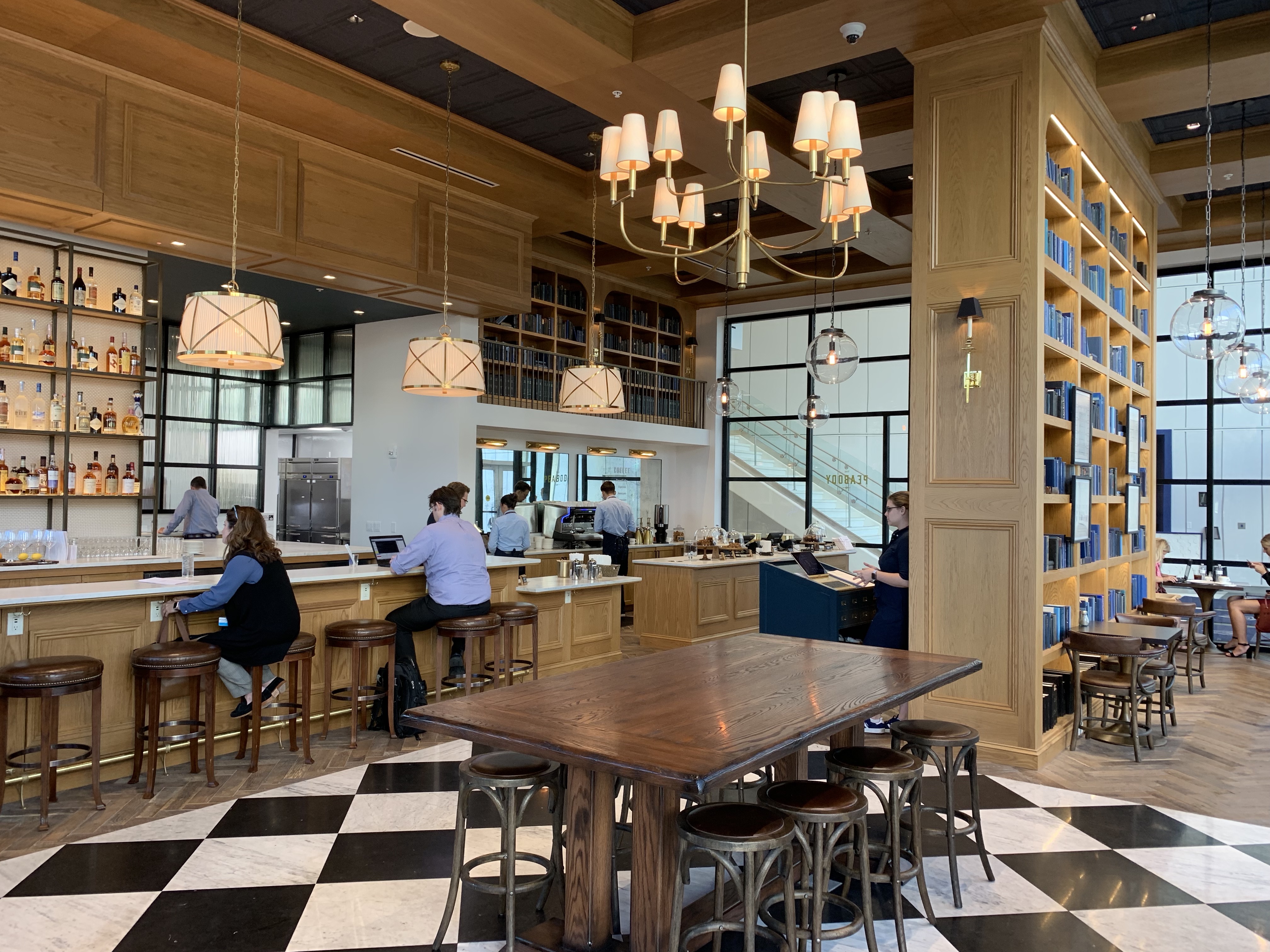 As we were seated, we were immediately greeted by our very friendly server who took our drink order, I opted for a glass of Laurenz V "Singing" Gruner Veltliner from their simple but eclectic wine list. A great choice for lunch, especially refreshing in Florida.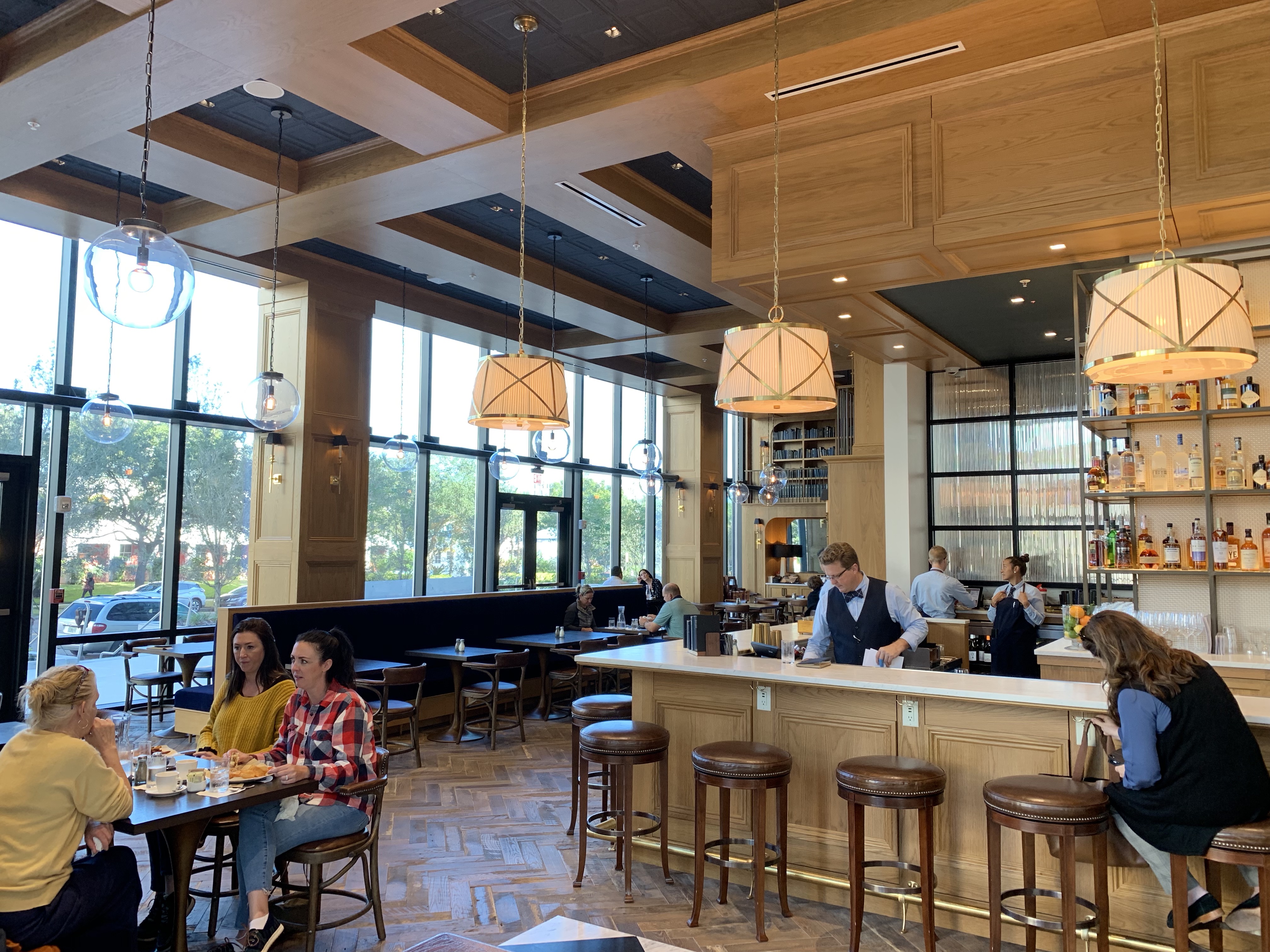 We noted that the menu appeared more to be catered towards a lunch crowd rather than dinner, as there were not many entrees on the menu, mostly salads and sandwiches. We did inquire and were told it was the same menu for lunch and dinner. That has since changed and they now offer a separate dinner menu which offers more suitable evening entree options.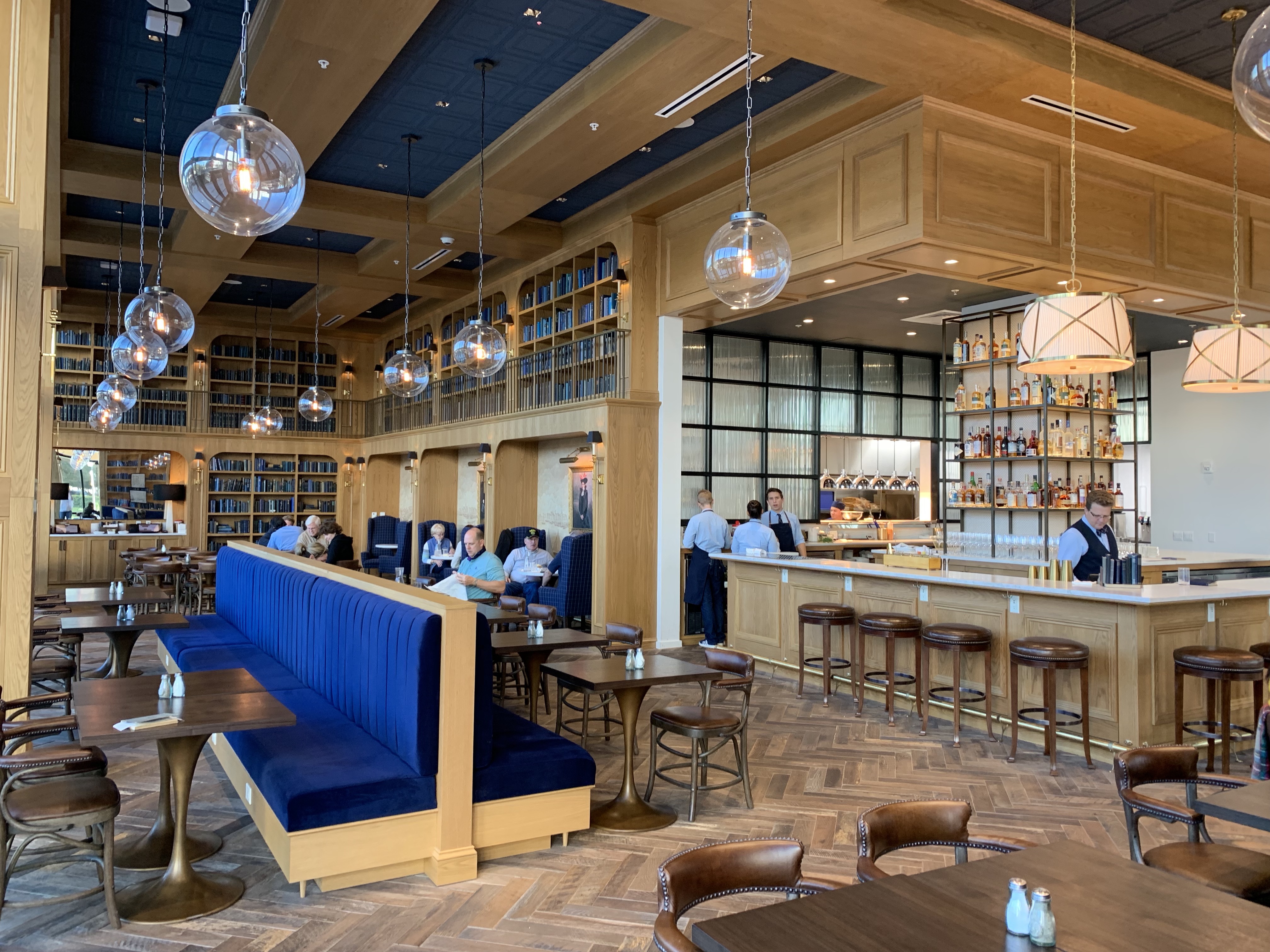 We made three separate lunch trips before doing this write up. I was on two of them, Kevin went without me in the middle. I am a red meat lover and immediately gravitated to the Steak Sandwich made with shaved sirloin, roasted peppers, cheese, crispy onions and the secret Peabody sauce. All sandwiches are served with their house made chips unless otherwise specified but you can opt for fries instead for an upcharge. I did opt for fries and I am so glad that I did. I dubbed them as crack fries. I typically eat maybe 1/4 of the fries that are served to me, these fries however were different. They were obviously house cut and seasoned and I ate every last one of them. They will definitely make the tops list next time we do one. Wow! The steak sandwich itself was loaded with flavor and the peppers added just a bit of spice, texture and zippiness to the profile. The crispy onions are a great touch with their texture and the steak was obviously a good quality. I ate half and took the rest home and enjoyed it later. It was delicious!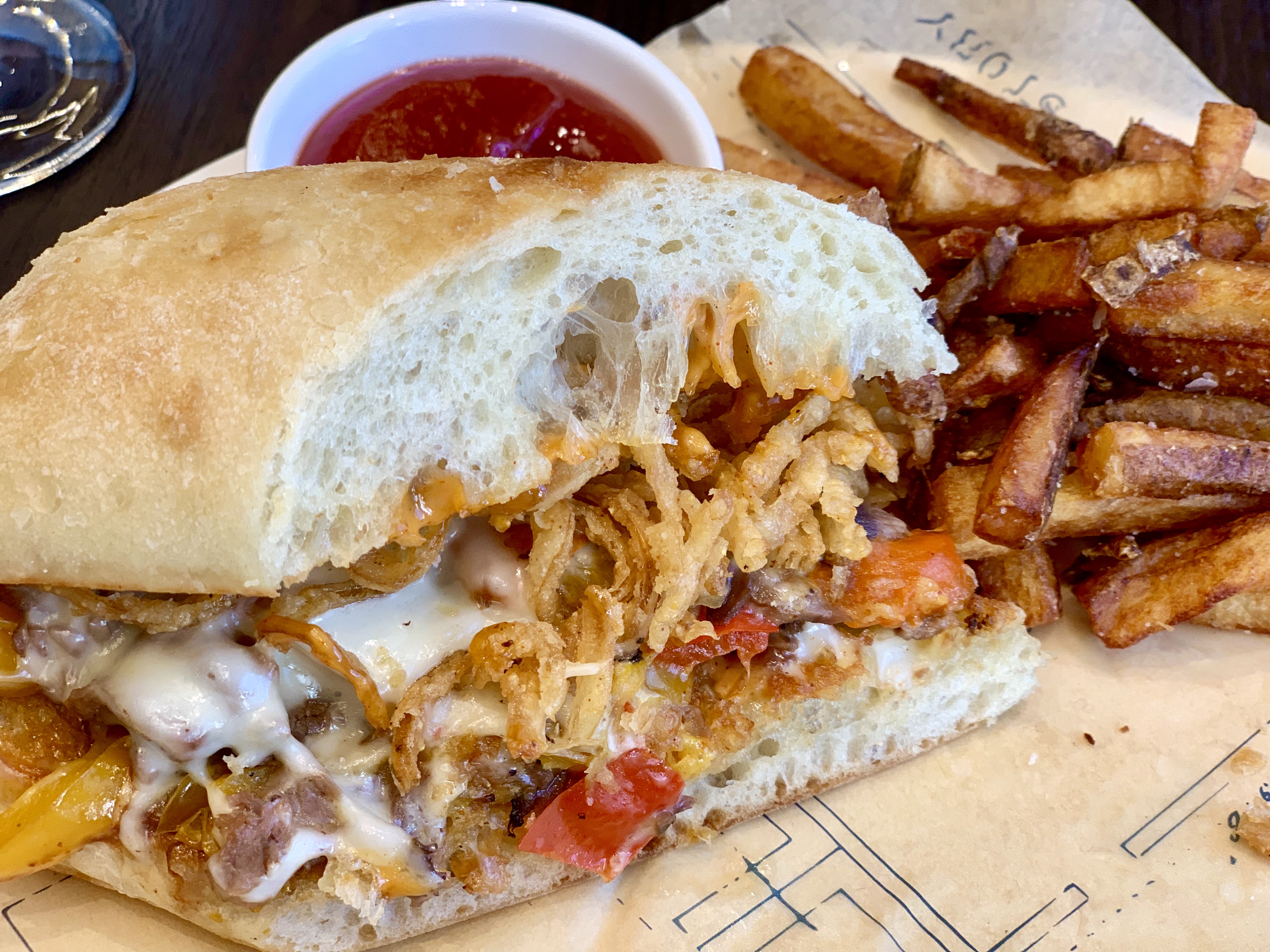 I was hoping Kevin would choose the burger, because I was eyeing it too. It was made with two double patties and served with white American cheese, lettuce, tomato and the Peabody sauce. It is served with fries automatically. This burger was outstanding in my book. Even though it is a double patty, you can still fit it in your mouth comfortably, unlike the ridiculous burgers these days that you can't even hold in one hand. And then Kevin said what I was thinking, we weren't sure we should admit this. Back when I was younger, I used to love the Burger King double cheeseburger…this one reminded me of the nostalgia of my days of yore, but with high quality ingredients. Simple, comforting and absolutely cravable.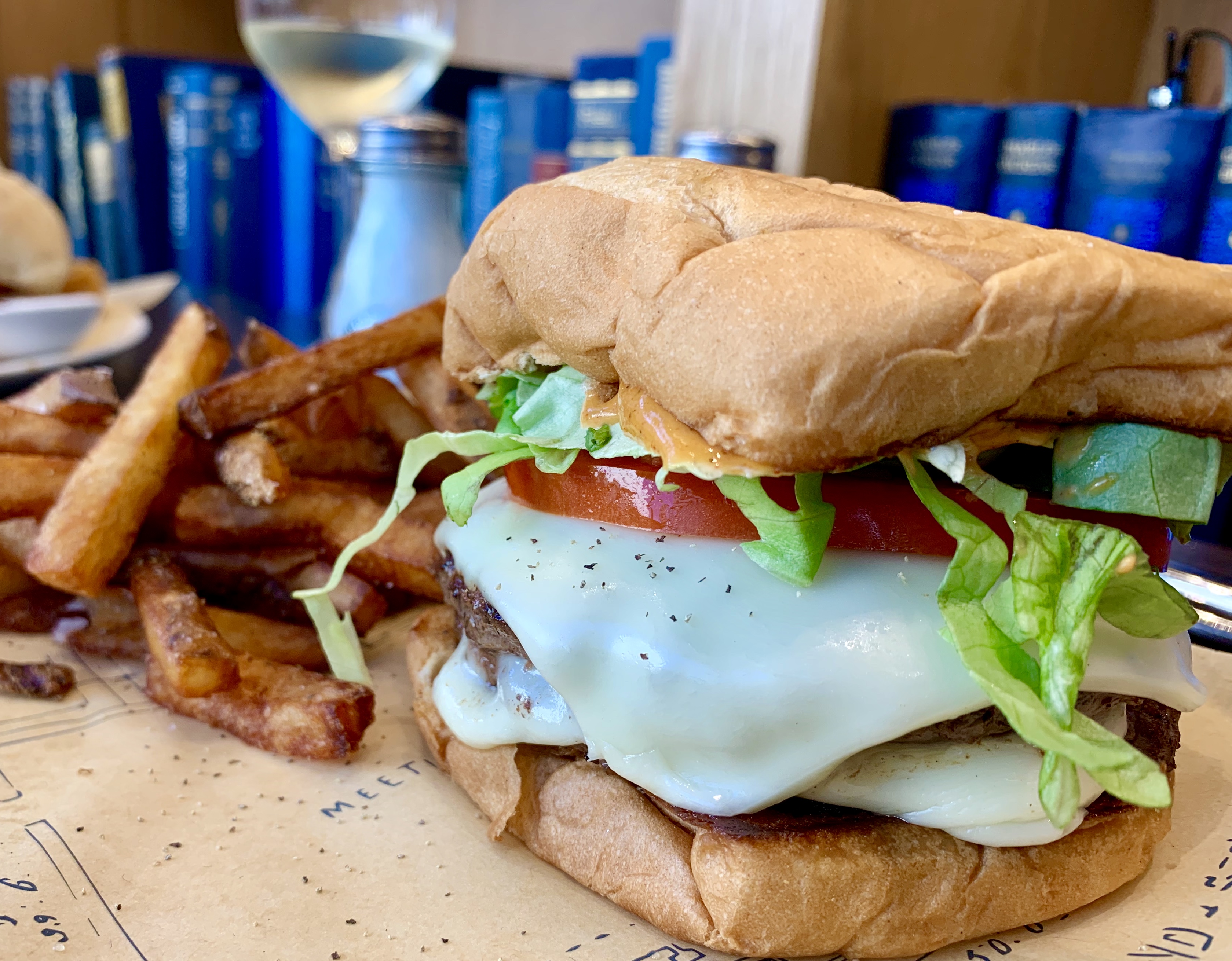 As I mentioned before, Kevin went without me to lunch one day. I will let him describe his thoughts on the two menu items he ordered. The first is the Blackened Fish Tacos served with chili glaze, kale slaw, pico, feta and cumin aioli on a tortilla and served with fries. I know that he raved about them.
These are some of the best fish tacos I've ever had. The grouper was moist, plump, juicy, and bursting with flavor. The combination of other ingredients previously mentioned made every bite a fantastic experience, not only of contrasting and complementary flavors, but also a wonderful mouthfeel of different textures. My mouth is watering right now just looking at the picture below. Another nice thing is that the tortillas held together nicely, and did not break or fall apart. This is something that we notice perhaps more than most. My other order, even though it was going home, I had plated for photography. Then I proceeded to take several photos of the two items. This takes a few minutes. What happens at a lot of other places that serve tacos, is this pause for photos causes the tortillas to get soaked with the juices, and break or fall apart. This didn't happen at The Peabody, and I proclaim their grouper tacos to be better than many other eateries that specialize in tacos. – Kevin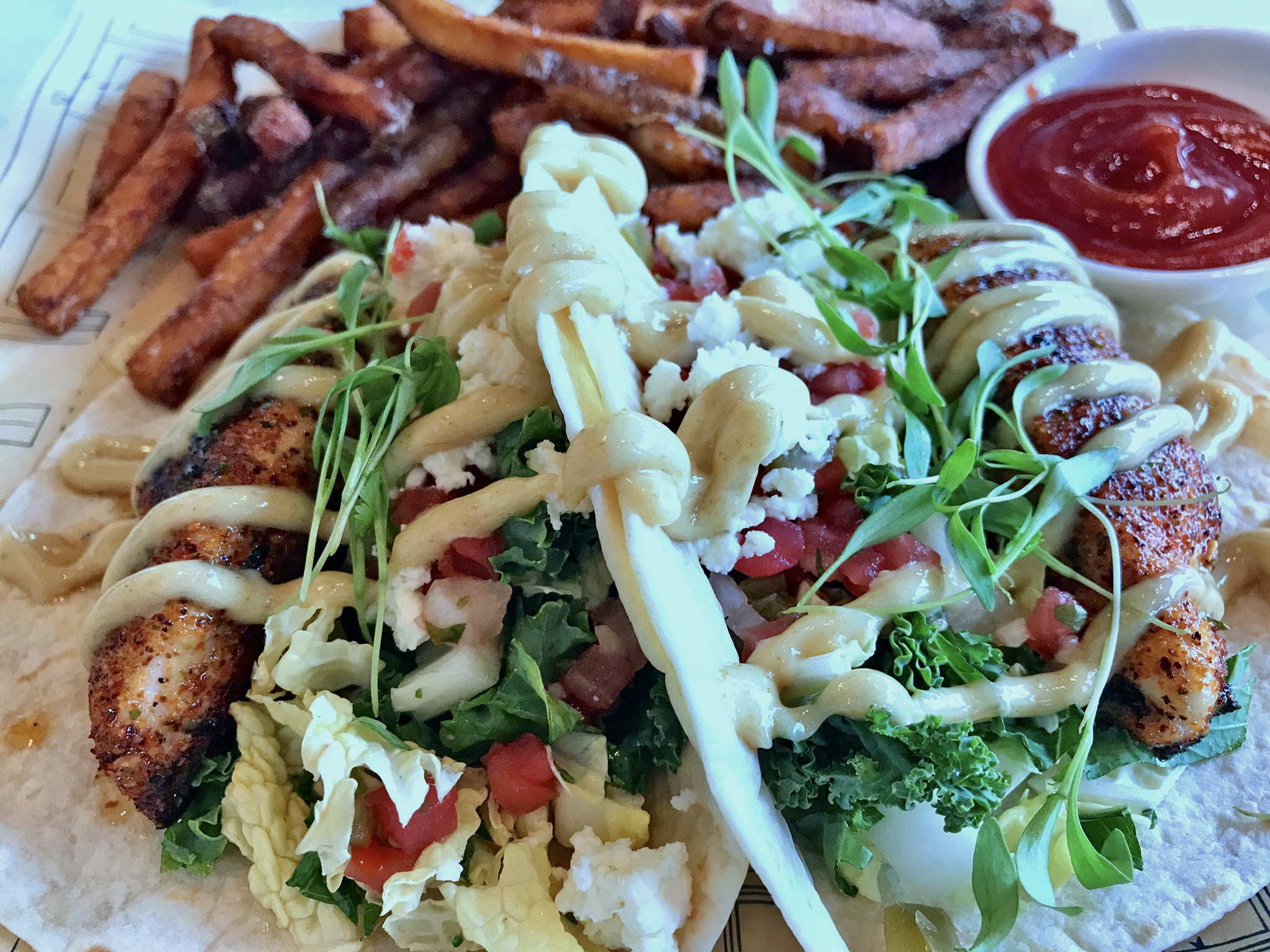 Next he ordered the Curry Chicken Salad Sandwich and took it home with him to have for dinner. It is made with arugula, tomatoes, Pistachios and dried cherries.
This sandwich is delightful. It is light, airy, and crisp while being homey and comforting at the same time. The chicken salad with the curry and dried cherries satisfies the need for something with lots of flavor and substance. (The dried cherries are kind of like raisons with more flavor.) The arugula and tomatoes provide the fresh brightness, and the pistachios a delectable crunch of rich, nutty, earthiness—and the bread literally and figuratively holds it all together. It's a fantastic sandwich that comes with the wonderfully satisfying fresh house-cut potato chips that have brightness and a charry depth at the same time. – Kevin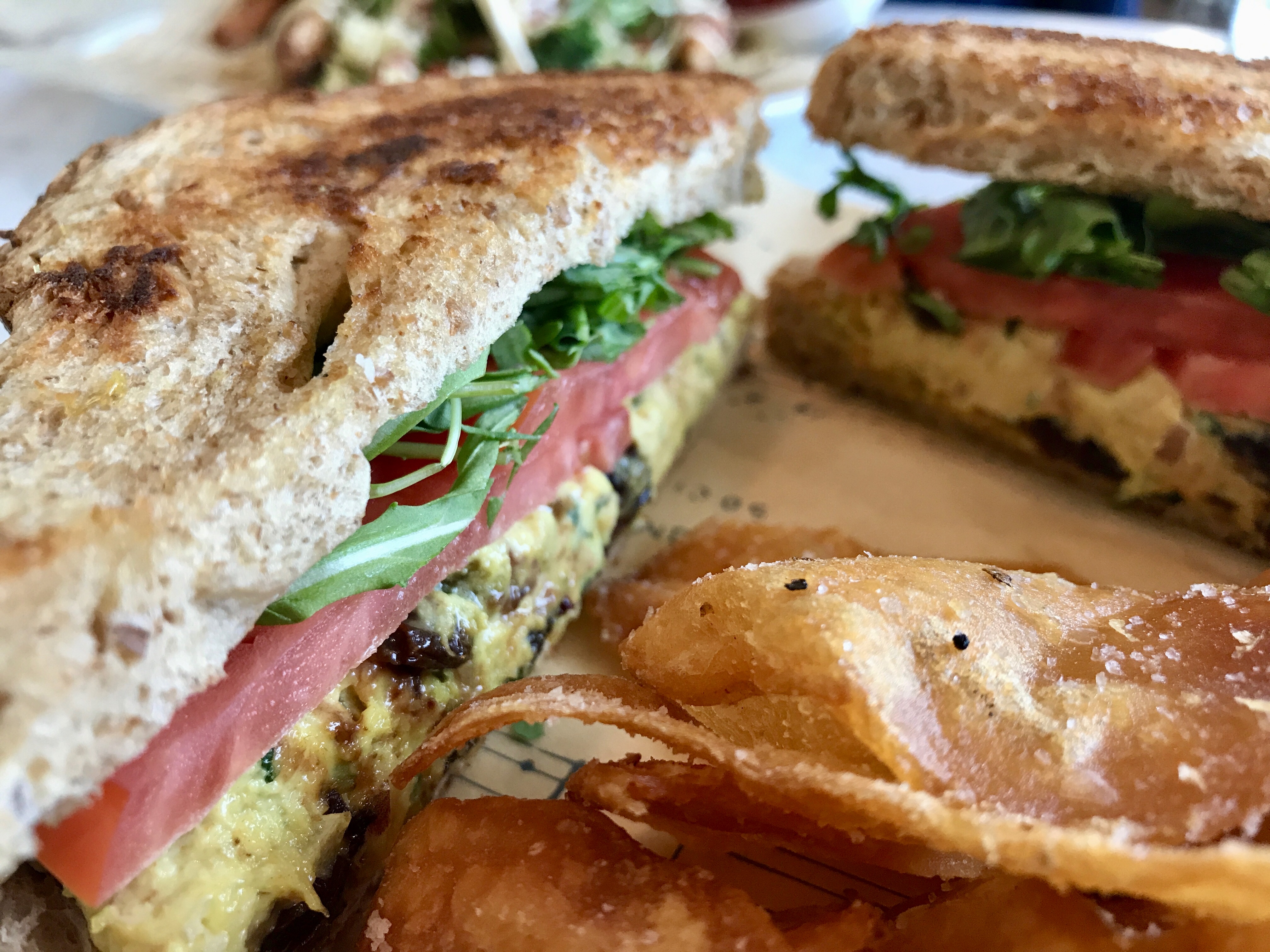 The last outing to The Peabody we decided to try an appetizer and chose the grouper bites which are served with key lime aioli and fresno chile. These are simple yet complex all at the same time. Squeeze the lime over them to add some citrus brightness, combined with the aioli, the bite of the chiles and the freshness of the grouper, this appetizer is a clear winner.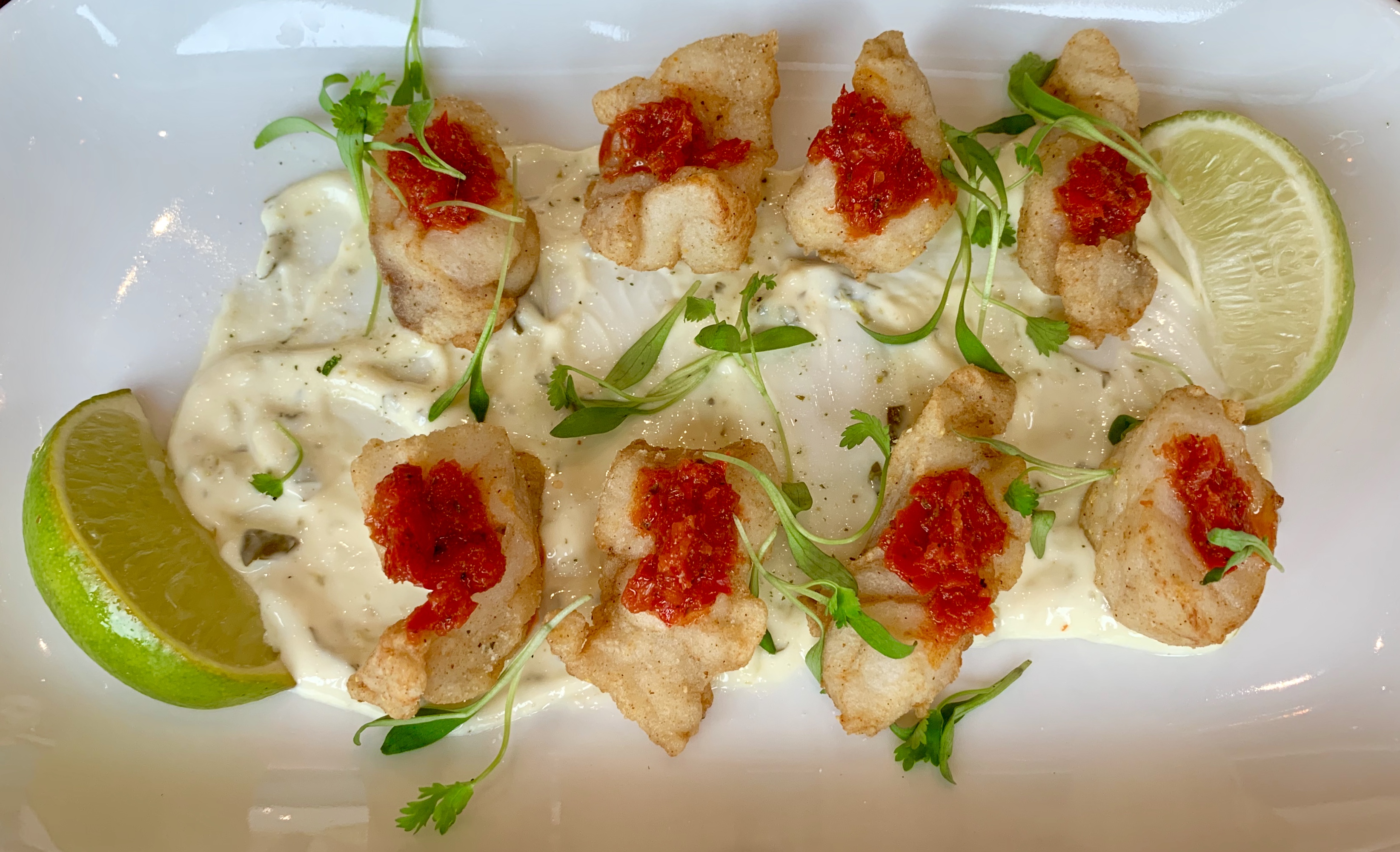 For my lunch, in a very blonde moment, I thought that I ordered the BLT. However, when lunch arrived apparently I had ordered the Grilled Cheese. I was not pleased at the time, but Kevin assured me that this was my mistake. Seeing as it has bacon anyway, I quickly recovered. It is made with provonello, Burrata, bacon and spicy tomato aioli served on a grilled red pepper sourdough bread. The flavors were spot on, but I thought it odd to grill burrata cheese and it was quite messy to eat with it dripping out. It was good but definitely not my favorite. But of course I had the crack fries to compensate.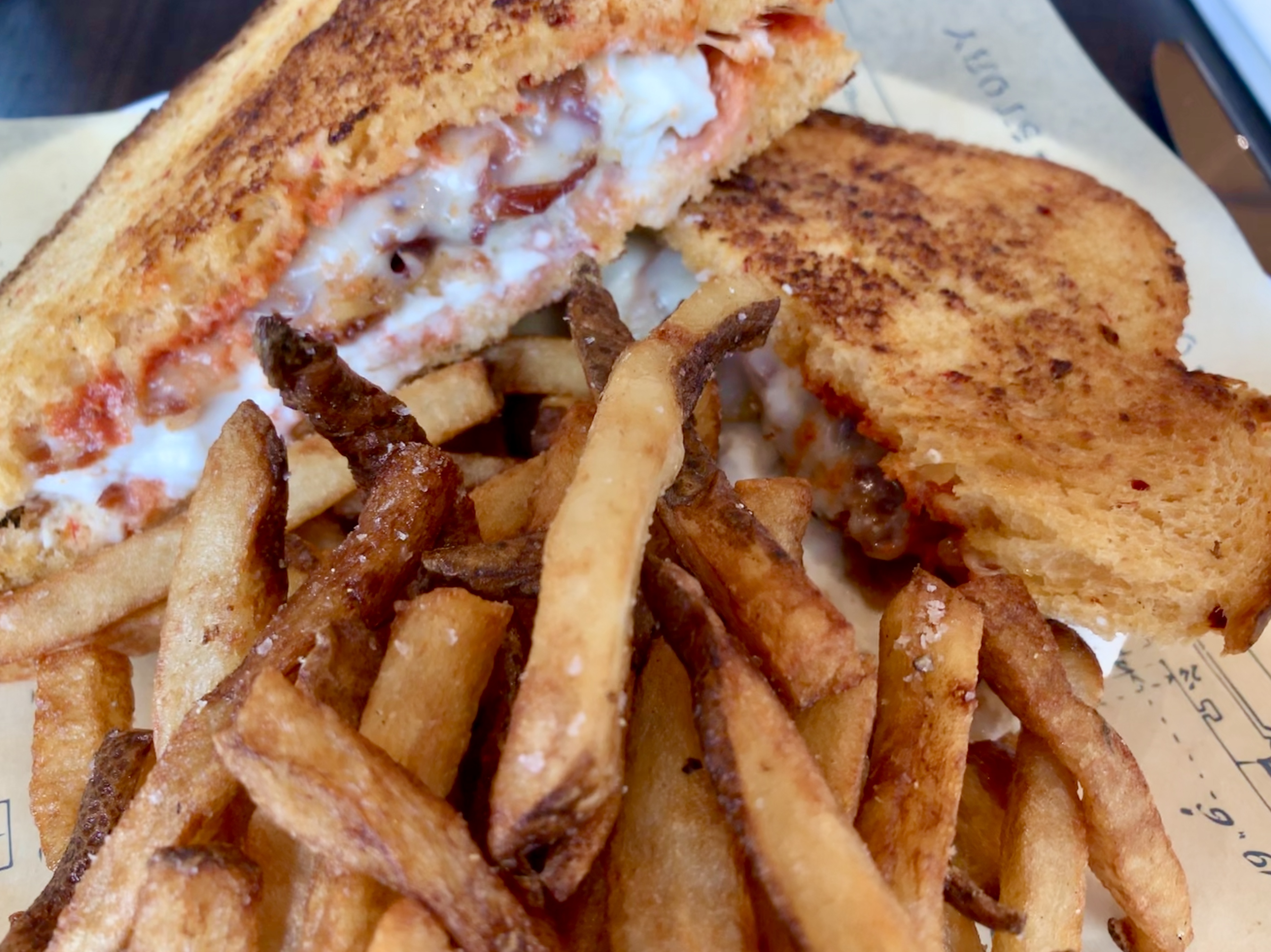 This time Kevin ordered the Club Sandwich made with ham, turkey, gruyere, bacon, tomato, bibb lettuce,  avocado and garlic aioli. A delicious satisfying club sandwich. I sometimes find gruyere to be overpowering, especially in a sandwich, but all the ingredients worked really well with it. Kevin got the chips this time, which I tried and liked, but would still order the fries over the chips any day.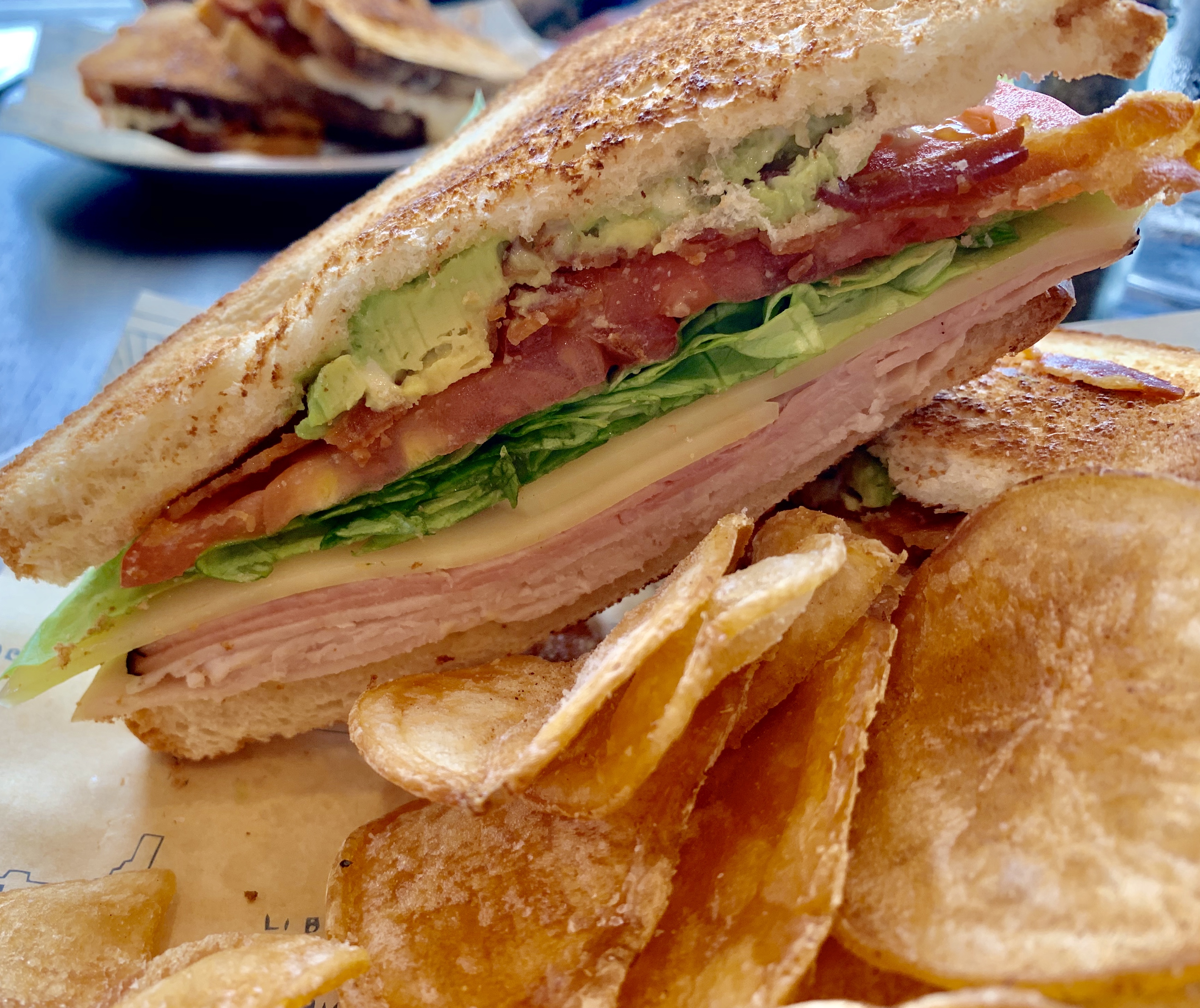 As mentioned before, they now offer a dinner menu, with some of the lunch selections but more entrees that weren't offered before such as Branzino, Roasted Chicken, Spaghetti Bolognese, Grilled Salmon and Filet Mignon. We will definitely be back for dinner now! If what we experienced in three lunch visits is any indication, then dinner will be spot on.
American inspired salads, sandwiches and entrees served in a classic library setting.
DISCLAIMER: Kevin, Lori, Abby, Haley, & Lindsey do not dine anonymously (this would be impossible) and we sometimes get free food (though never expected). However, we dine with the locals and we support our own. You will always get honesty in a respectful manner.

PLEASE NOTE: Reviews reflect a certain moment in time. Some restaurants stay extremely consistent over many years, and some change for the better or worse. Some things that may change are: chefs, recipes, food suppliers, ingredients, philosophies, ownership, etc. We always hope that you have the same good, or great experience we had.
More Foodies News, Reviews & Recipes