Abby Allen · Apr 13, 2020 · 3 min read
Due to current events in today's world, we're all spending a great deal of time at home, which means that we are all cooking a lot more. Most folks, I'm sure, are accustomed to grabbing a quick breakfast in the morning and running out the door with their coffee. However, COVID-19 has forced us all to slow down, and in turn, has resulted in more sit-down breakfasts (that you may or may not be getting sick of). Breakfast recipes do not appear to be as plentiful as other meals, per say. So, if you're growing tired of the same old overnight oats, or scrambled eggs and toast, I'm here to help you shake things up with my savory Dutch Baby recipe.
What is a dutch baby, you ask? A rather interesting name I know. In essence, a Dutch Baby is basically an oversized pancake that is served in a skillet to share and can be made either savory or sweet. It is incredibly simple to make - if you have a blender, and oven and 25 spare minutes, you're as good as gold.
I know that this recipe is titled as "savory;" however, it can easily be made sweet by simply adding 1 tsp of sugar to the batter and topping with ingredients such as berries, ricotta and honey, for example.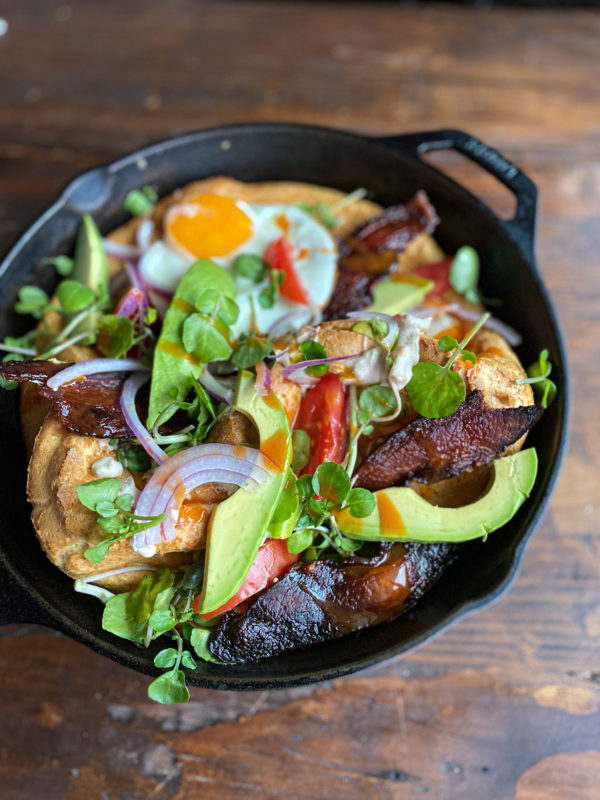 Passive Time

25

15 minutes
Passive Time

25

15 minutes
Preheat oven to 450F with a rack positioned in the middle of the oven. Place a medium-sized cast iron skillet in the oven for 25 minutes.

Add eggs to a high-powered blender and blend until well combined - approximately one minute. Add 2 tbsp of butter and all of the milk to blender and blend for another 45 seconds and add remaining batter ingredients and blend until just combined.

Remove preheated skillet from oven. Add remaining 1tbsp of butter to the pan and swirl to coat the entire surface. Promptly pour batter into skillet and put skillet back into the oven to bake for 25 minutes, or until pancake is puffed and golden in color.

Remove from oven and finish with desired toppings, such as eggs, bacon, avocado, tomatoes, cashew queso, herbs and micro-greens.