Abby Allen · Jun 17, 2019 · 3 min read
When it comes to cooking during these blazing-hot days and balmy evenings, we often want something cool and refreshing that doesn't require standing over a hot stove. During this time of year, a no-cook meal is the best kind of meal- cue, Ceviche.
As the definition states, Ceviche is a South American dish that is comprised of marinated raw fish/seafood that is usually garnished and served as an appetizer.  Don't let "raw" frighten you. The fish, and/or seafood used for most Ceviche recipes marinates in lime juice, which actually cures, or "cooks" the seafood.
"Cook" is used lightly, because technically speaking, the seafood being used doesn't actually cook, by definition, as there is no heat. Therefore, the citrus does not kill any potential bacteria the way that heat does. In turn, it is of the utmost importance to use the freshest (or, flash frozen works as well!) seafood possible- you don't want to use a fish with a strong, fishy smell. According to Mark Bittman's The Best Recipes in the World:, "If you're cautious you will want to use finfish that has been frozen to -4F for 7 days." My advice is to visit a Fishmonger who you trust and let them know what you're making and ask for their recommendations- this method has never steered me wrong!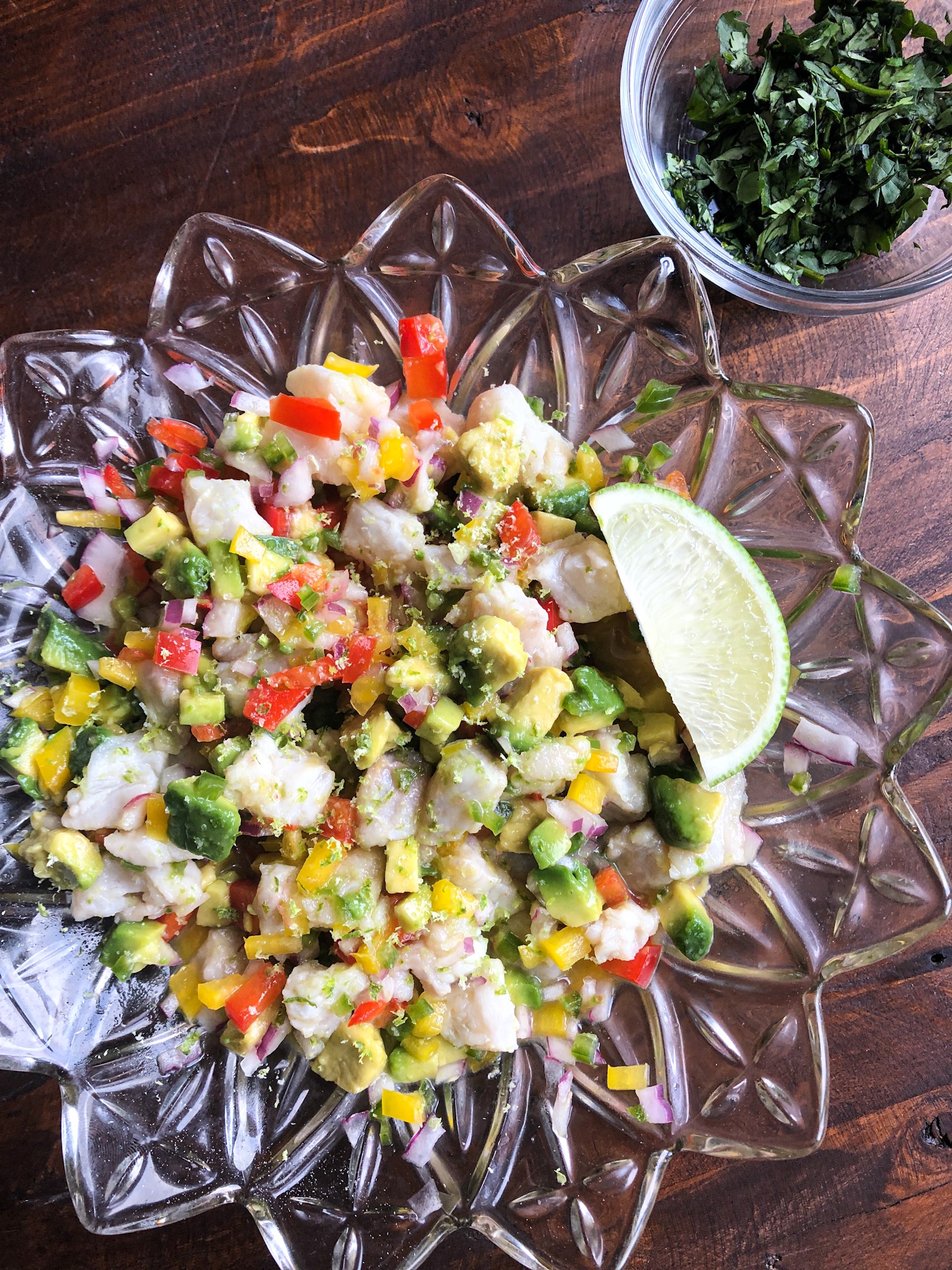 "Cook" time varies, based on your seafood of choice. I typically use Snapper (when available), which I usually allow to hang out in a bath of citrus for a minimum of 30 minutes, or up to a couple of hours, depending on how much I am making. Other popular selections for Ceviche are: Shrimp, Scallops, Bass, Halibut and other white fish.
This recipe is hands-down a go-to appetizer of mine that I often make for guests, or a light weekend dinner. Prepping the fish and chopping the vegetables takes only 10 minutes, while marinating takes anywhere from 30-60 minutes typically (which is time you can spend prepping the rest of your dinner!).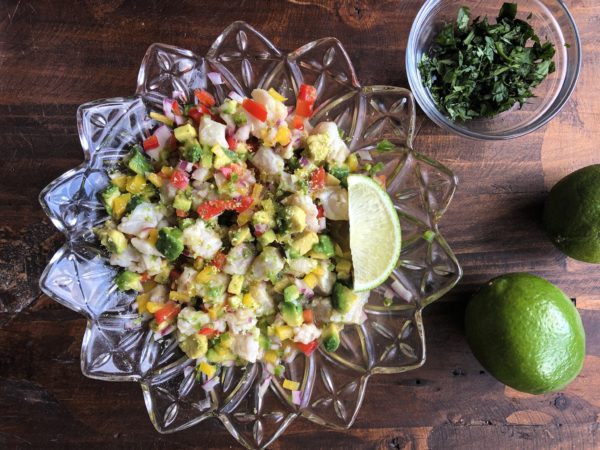 | | |
| --- | --- |
| | |
Add Snapper pieces and 1 cup Lime Juice to a medium size bowl and lightly salt. Cover and place in refrigerator for at least 30 minutes, or up to several hours.

While Fish marinates in the Lime Juice, add remaining ingredients (except Avocado) and remaining 2 Tbsp Lime Juice to serving bowl.

Just before fish has finished marinated, chop Avocado into small 1/4 inch pieces, add to bowl with Peppers and Onion.

After fish has marinated for at least 30 minutes, remove from Lime Juice and add to Pepper, Avocado and Onion mixture. Discard Lime Juice. Add Cilantro, stir to combine and add salt, to taste. Serve cold with Lime wedges and Tortilla Chips.