As I sat down to write this, the first thoughts that popped into my head were 1) Everybody loves tacos, 2) There sure are a lot of different types of tacos these days, and 3) what is the actual origin of the taco—is it really Mexican, and how close to the original are they to what we eat today?
So, I Googled, "What is the origin of the taco?"
There's a bunch of stuff out there, but I liked The Smithsonian's article the best, as it was the most interesting, and the most credible, in my opinion. Whatever you do, don't bother with the one from Ortega. It is so stupid, stating that the very first tacos had "salsa, onions, guacamole, and lime." I don't think so.
To sum it up, tacos were most likely invented by Mexican silver miners in the 18th century. Mexican Americans in the Southwest reinvented it, and businessman Glen Bell mass-marketed it to Anglo palates via the crunchy Taco Bell shell. (By the way, Taco Bell is crap.)
The first taco meat was likely offal meat. I'm not sure if it sounds like "awful meat" on purpose, but it is internal organs and entrails. Blech!
Tacos evolved naturally when Mexicans immigrated (am I still allowed to use that word, at least in a historical sense?) to the U.S. and two things happened. First, they had to use what was available—ground beef instead of guts. Plus, they were no longer dirt poor, and could afford better meat. The other thing that happened that is similar, is that they were influenced by the American, or Norte Americanos, as they would call us, (Mexicans considered themselves "Americans" too)—they were influenced by the American foods, which is how lettuce, tomato, and cheddar cheese found its way into the taco along with ground beef.
Everyone always argues about what's "Authentic". It's almost a useless word that gets overused a lot in relation to Mexican food. There's really no such thing as one kind of authentic when describing an entire country's food, especially Mexico.
Did you know that before the Spanish came over that the only meat the natives ate was Turkey? They didn't even use dairy, so no cheese! The Spanish introduced pork, chicken, beef, goat, and sheep – and frying in pork fat. Al Pastor actually comes from Lebanese immigrants to Mexico. So, what is "Authentic Mexican Food"? It's not one thing.
Now, there are all kinds of fillings and toppings, and taquerias are continuing to be more inventive every day, which is definitely evidenced by many of our top picks below. Some of the places are sit down, full-blown Mexican restaurants, and others are hole-in-the-wall former gas stations, and everything in between. And yes, I went to all of the places and ate every one of these tacos, some of them many times over. (All photos are my own unless otherwise indicated.)
New to the list this year is Grumpy Gringo, Poppo's Taqueria, and Taquitos Mexican. They are all three, super delicious.
Here are the 10 Best Places to get Tacos in
St. Petersburg, Florida for 2021.
These are listed in alphabetical order.

<—— Look
1. Casita Taqueria
2701 4th St N
St. Petersburg, FL 33704
(727) 498-6473
Casita Taqueria Website
Casita Taqueria
2663 Central Ave
St. Petersburg, FL 33713
(727) 498-8749
Casita Taqueria
2991 66th St N
St. Petersburg, FL 33710
(727) 800-5469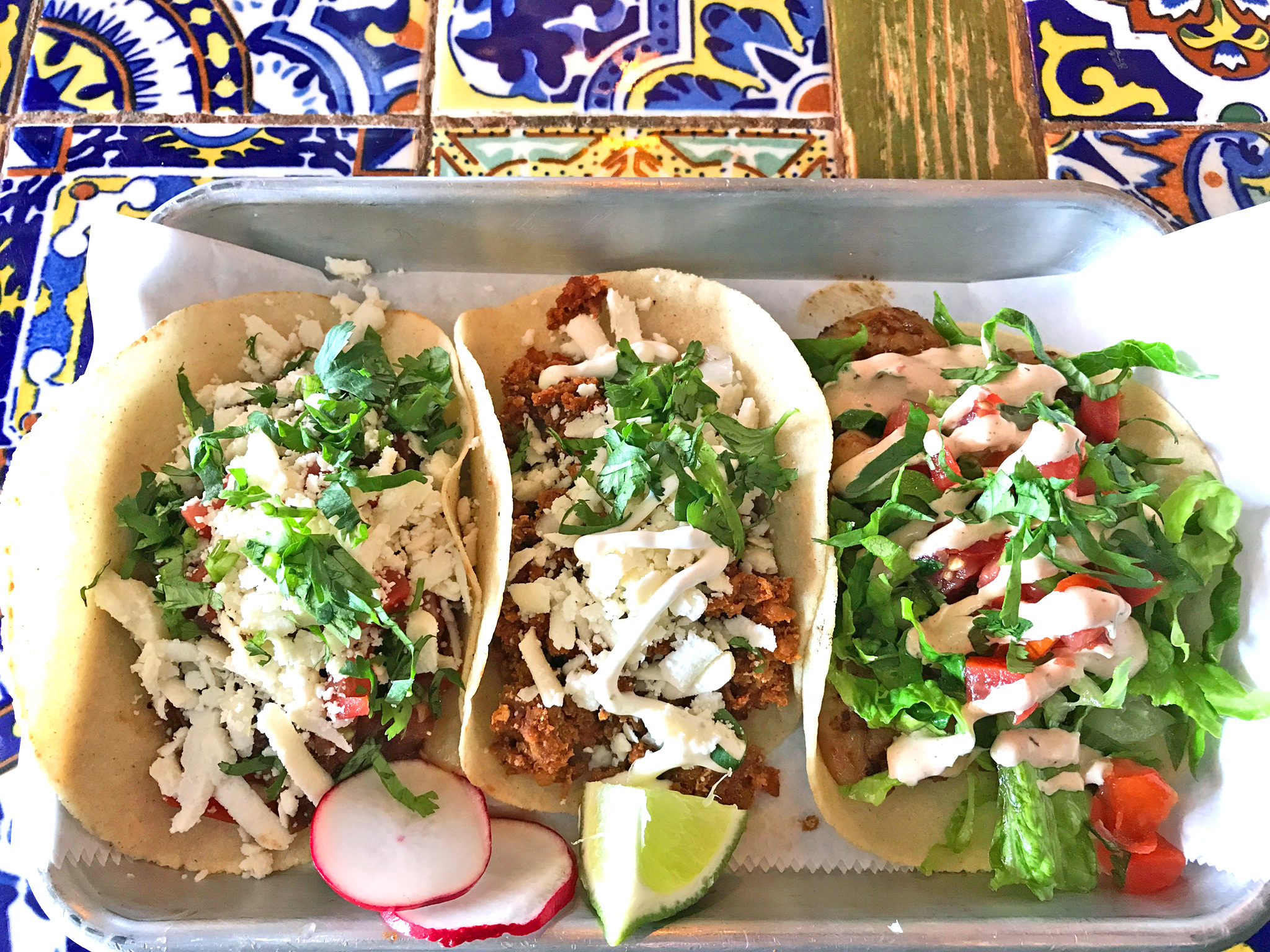 Casita Taqueria is a taco joint that has a fiercely loyal following. I left them off of a top 10 Mexican list once, and was almost chased down by the villagers with torches and axes. Then I went there and found out what it was all about, and they are certainly legit.
Here's my full review of Casita Taqueria. Casita makes most of their ingredients in-house, and their tacos are bursting with flavor. The staff is fun and friendly too.
Order at the counter, and the food is brought to your table.
2. Chile Verde Authentic Mexican Food
2801 22nd Ave North
St. Petersburg, Florida 33713
(727) 800-2679
Chile Verde Facebook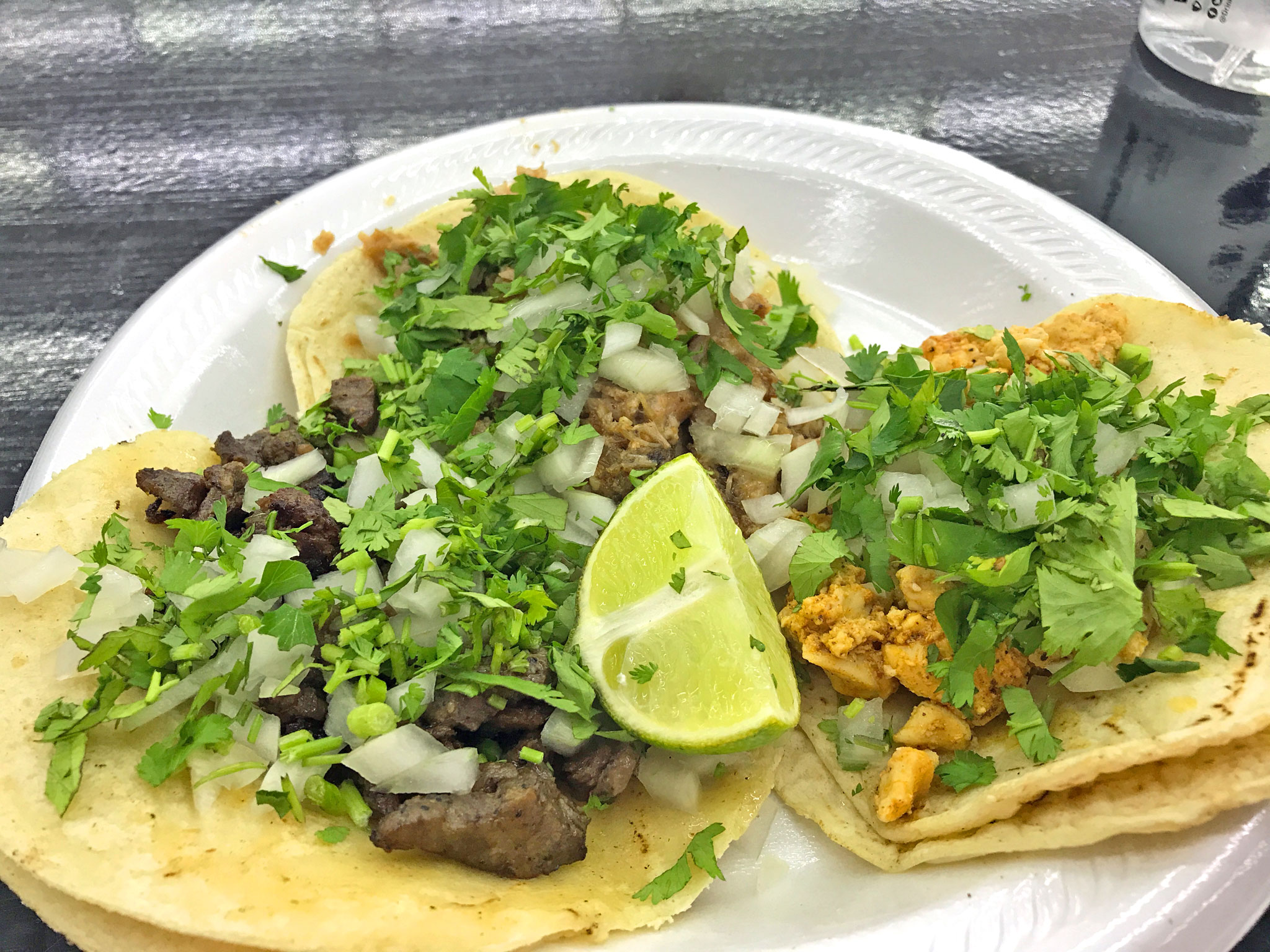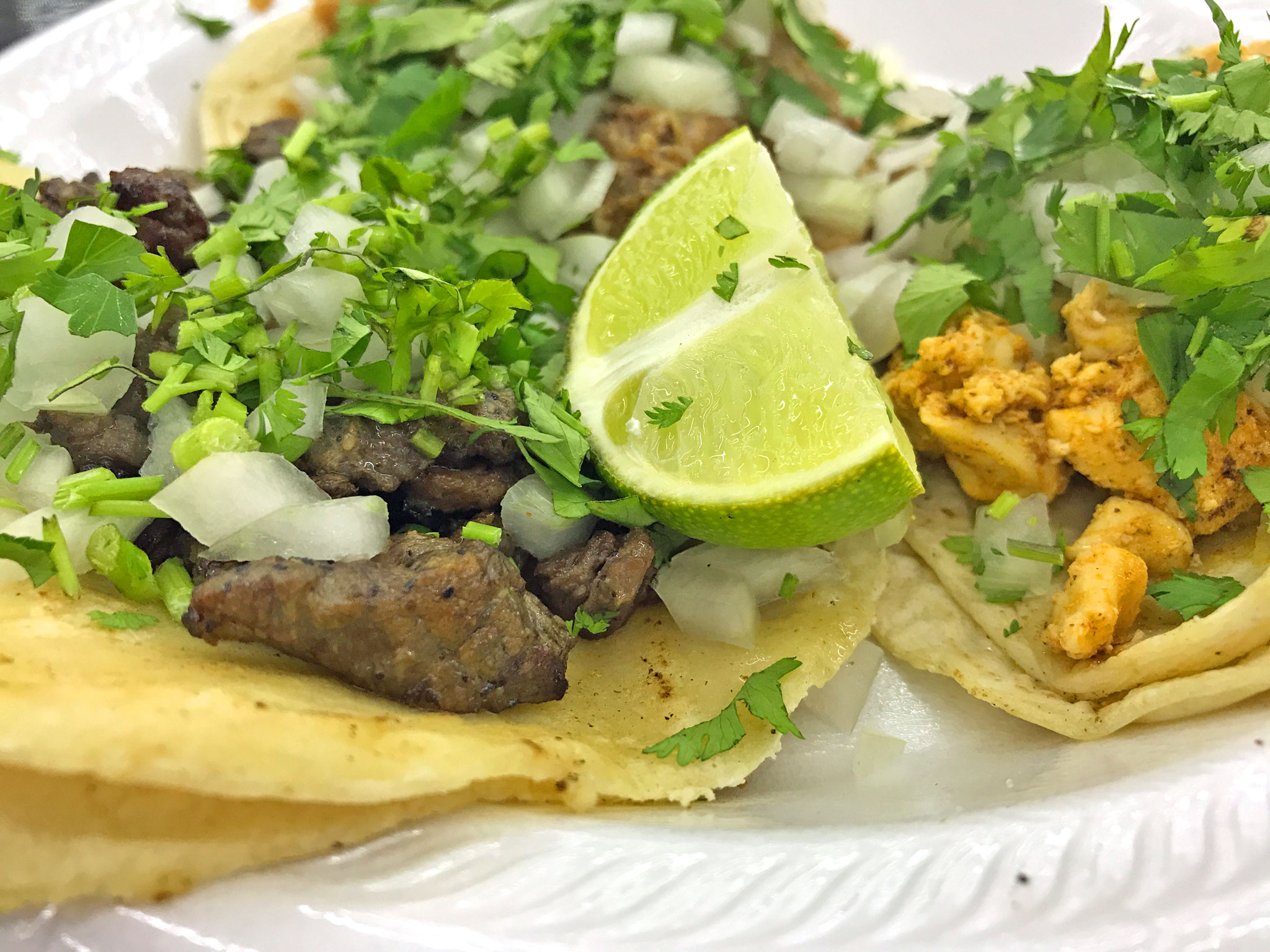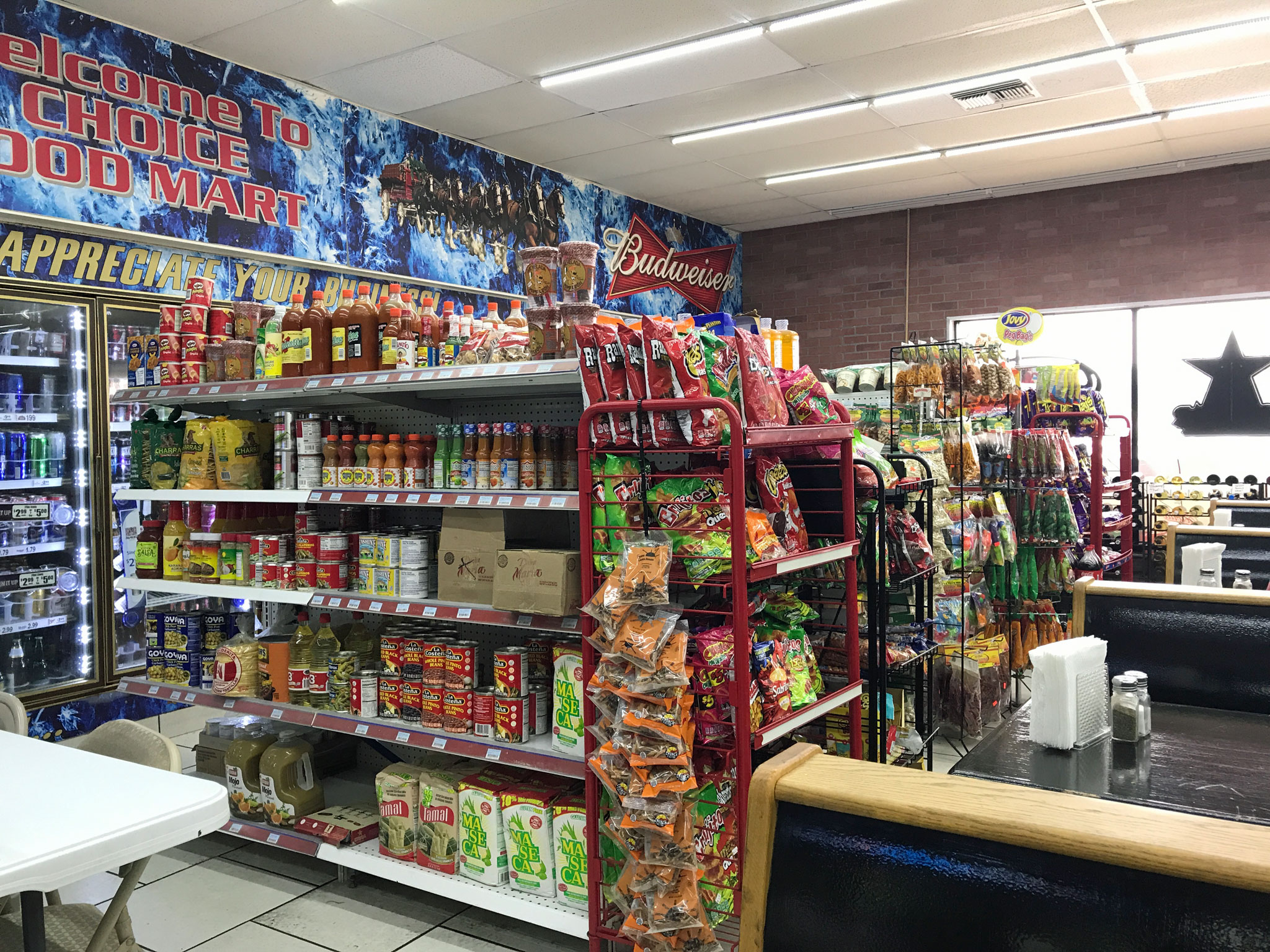 Chile Verde arrived on the scene three years ago, and immediately garnered great reviews over and over again (and continues to), and everyone loved that they are "authentic". What "authentic" really means is that the food is great, it is made by actual Mexican people, other Mexicans eat there, and it is authentic in some ways to some region or regions, but there's some Mexican in another neighborhood in Mexico saying, "no gringo, that's not how my mama made it." Enough about the uselessness of the word authentic when it comes to food.
Chile Verde's tacos are no frills (just like the place, which used to be a gas station), and more on the traditional side when you order the Tacos Mexicanos as they just have the meat, chopped onions, and cilantro. That's it. The meat is well-seasoned and the tacos are delicious. The meat choices are steak, barbacoa (bbq beef), chicken, pork, tongue, tripe, and lamb.
You can see that it's not fancy, served on a styrofoam plate, but it is tasty. They also have Tacos Americanos where you get the tomatoes, lettuce and cheese.
There is a small Mexican market inside with hot sauces, canned refried beans, chiles, tortillas, corn meal, etc.
Order at the counter, and the food is brought to your table.
3. Grumpy Gringo DTSP (Downtown is permanently closed.)
17 3rd St N
St. Petersburg, FL 33701
(727) 209-0202
Grumpy Gringo DTSP Website
Grumpy Gringo
2510 22nd Ave N
St Petersburg, FL 33713
(727) 851-9800
Grumpy Gringo Website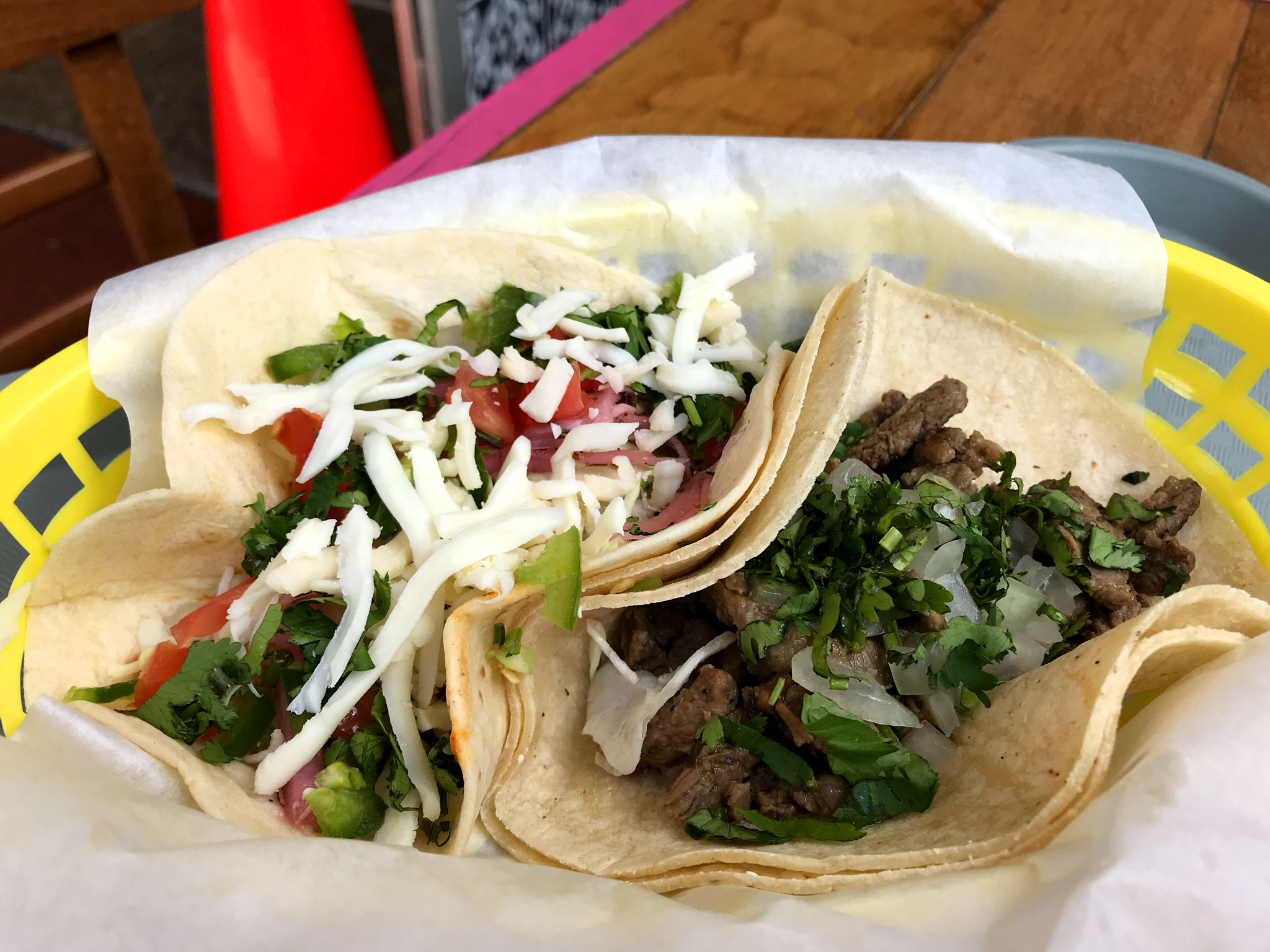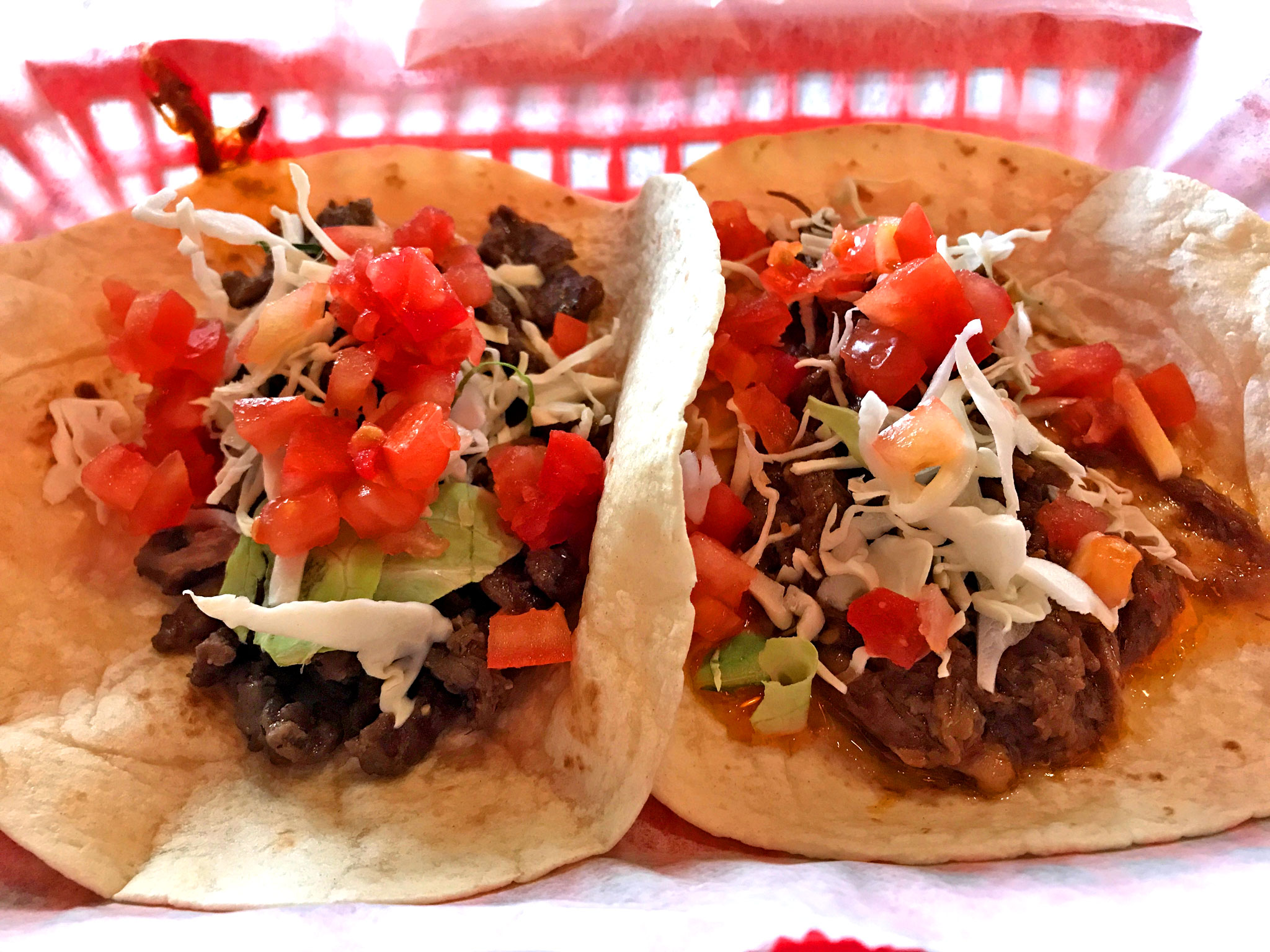 Grumpy Gringo's original location is the 22nd Ave store, and the newer location is in downtown St. Pete. The flavors are amazing, the service is quick and cheerful, and you must try the house-made hot sauces.
The Street Taco is a Corn Tortilla, Steak, Onions, Cilantro, and Cilantro Lime Sauce. I got it just how it comes, although there are several extra items you can add.
On the Cochinita Pibil (Shredded Pork) I added jalapeños, and cheese and had a soft flour tortilla.
I ate half of each without hot sauce so I could really taste them the way they come, and then ate the remainders trying the house hot and extra hot sauces. They are both excellent. Just be careful with the extra hot. Lori felt the hot was already extra hot, and couldn't imagine what the extra hot would be like…and didn't want to. If you like it really hot, you'll love it.
All of the meats at The Grumpy Gringo are well seasoned, fresh, moist and juicy. The tacos without hot sauce taste fantastic, and with hot sauce they are excellent as well.
Lori tagged along on the second visit and got two tacos—Carne Asada, and Barbacoa. She said they were well-seasoned, had good flavors, and nice tortillas that were better than most.
4. Nueva Cantina
1625 4th St South
St. Petersburg, FL 33701
(727) 851-9579
Nueva Cantina Website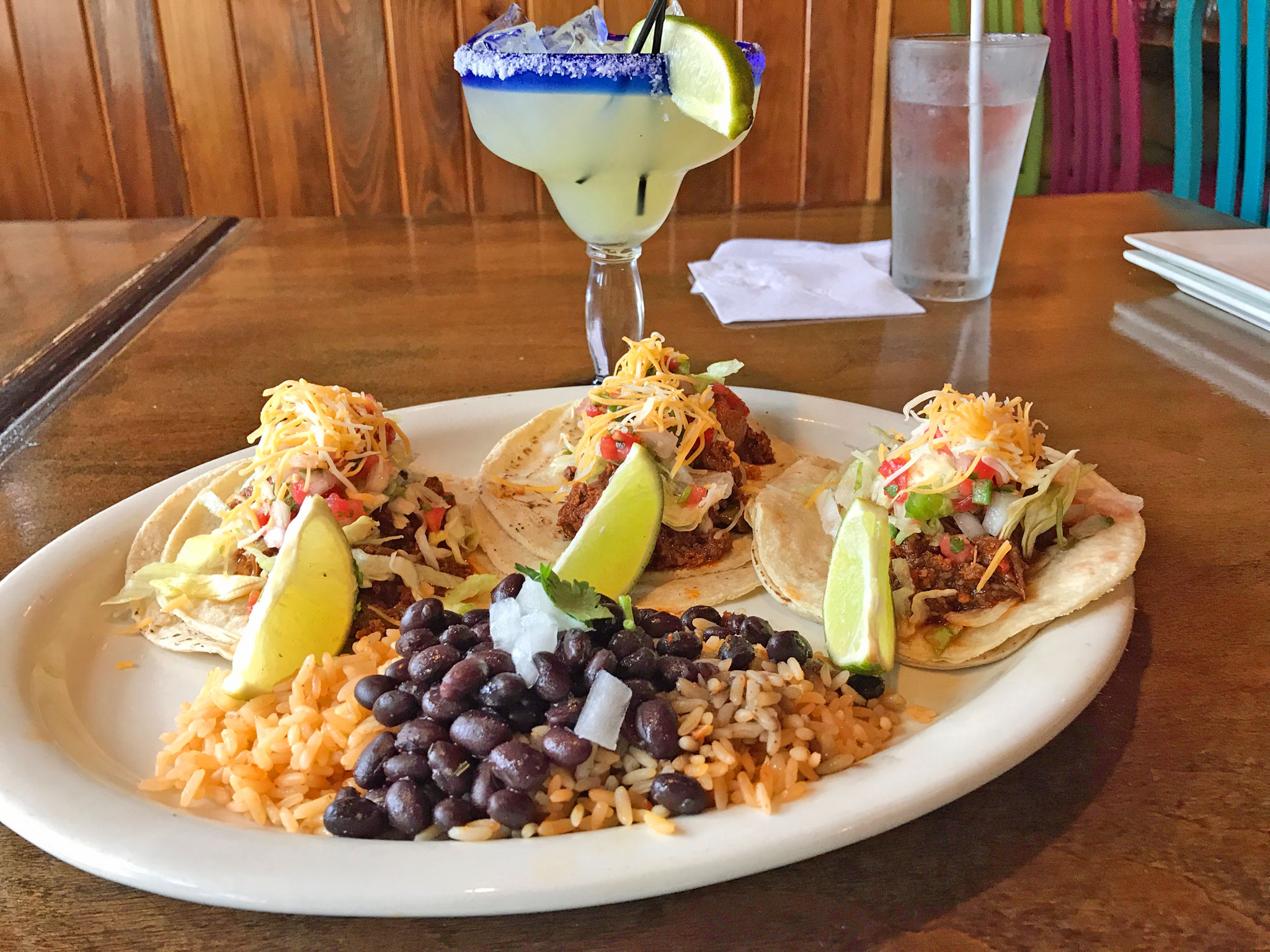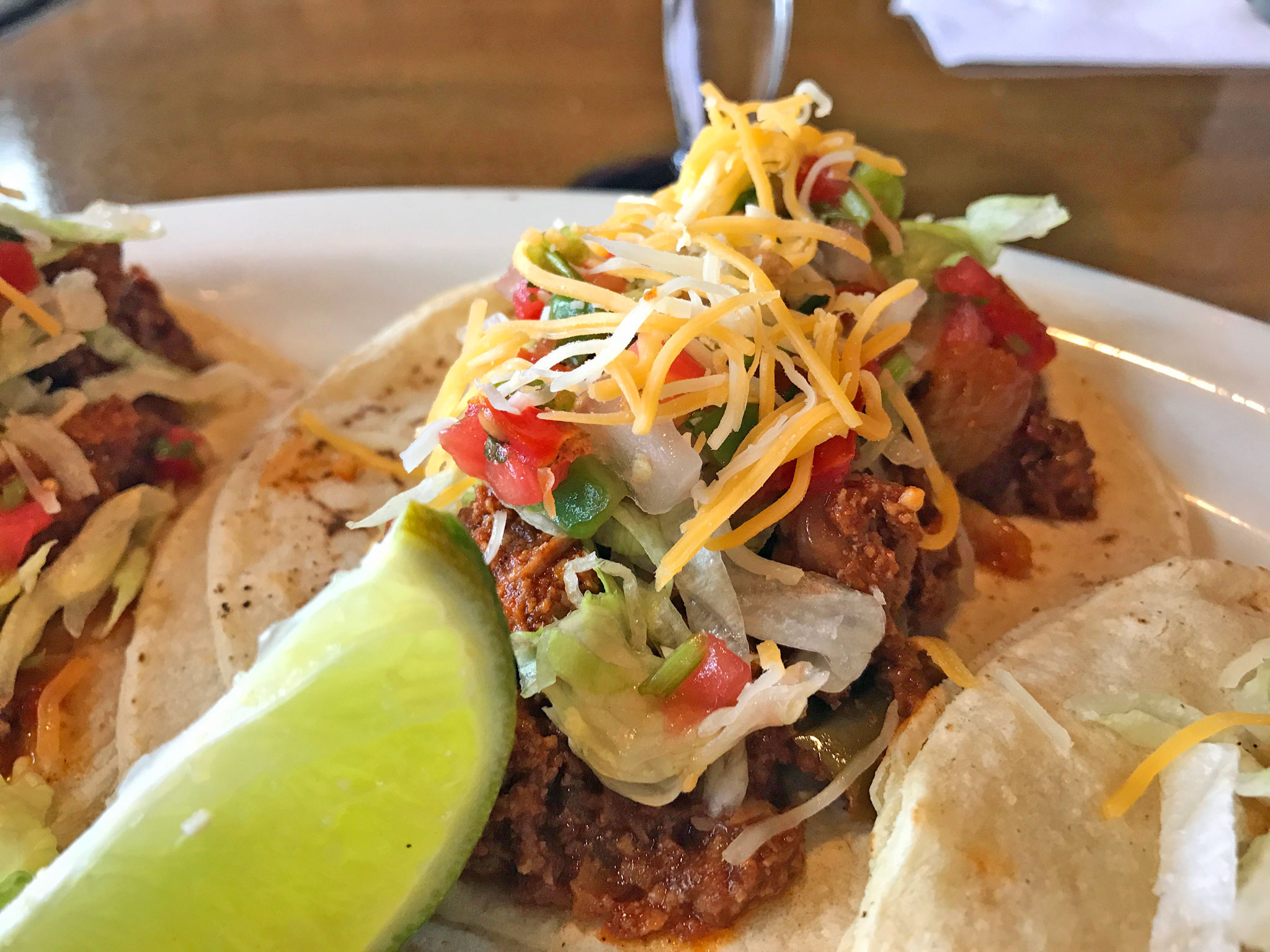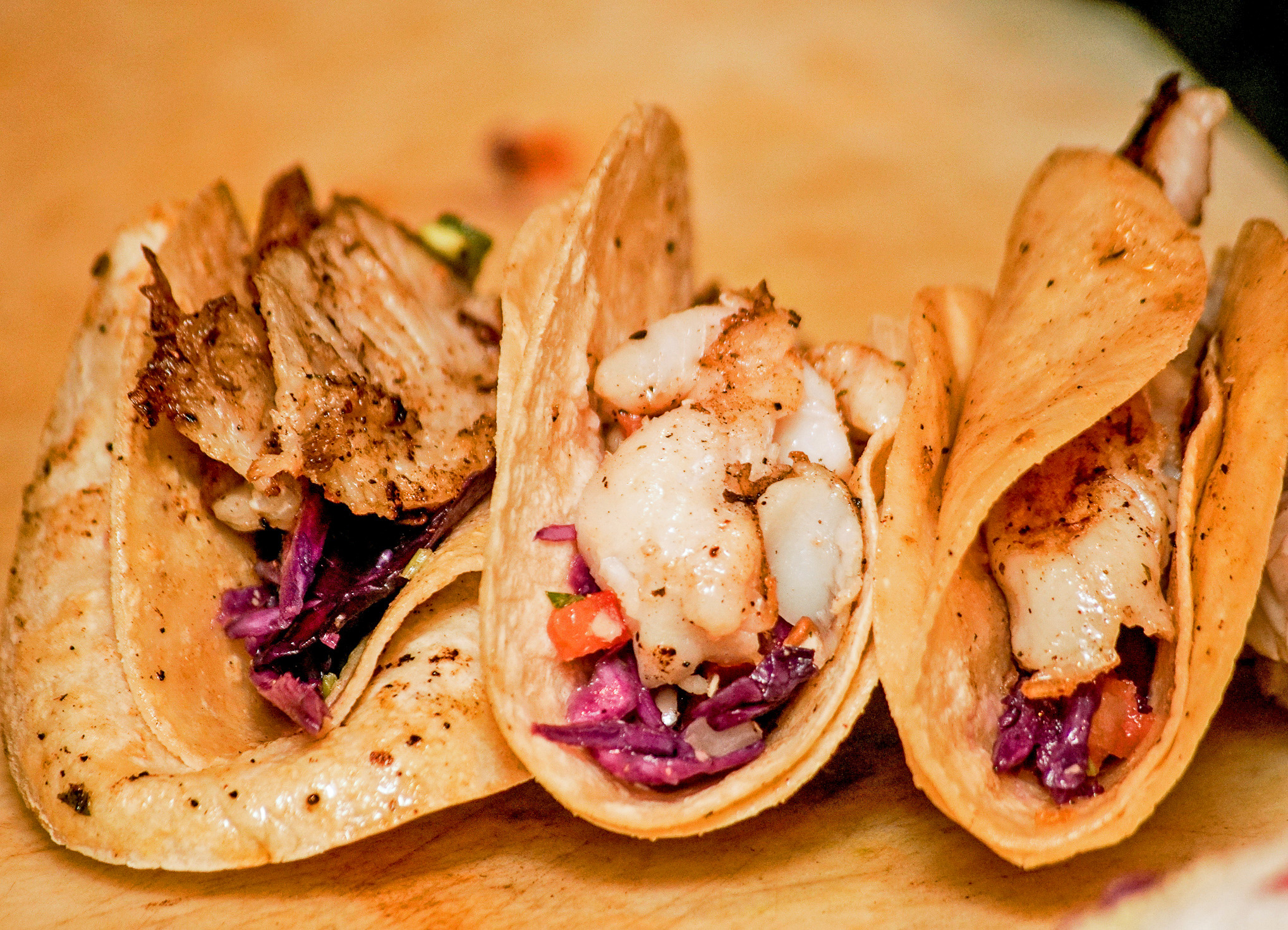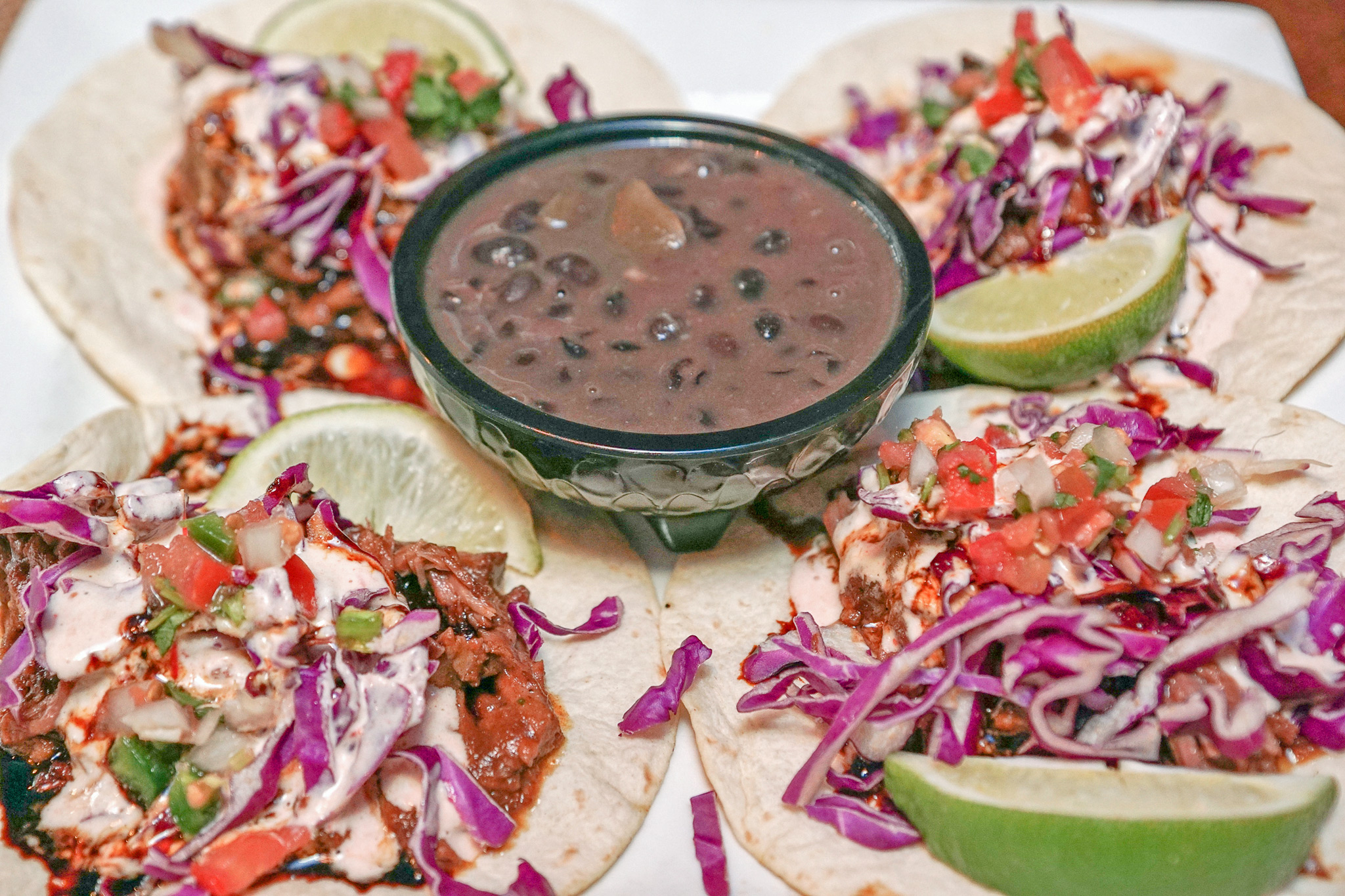 Nueva Cantina is going strong into their fourth year, and recently revamped their menu with the help of Chef Jeffrey Hileman, formerly of FarmTable Cucina. They kept their most popular items, and added some great new eats that you can see in my review here.
Nueva Cantina has their own twist on things, some more Mexican, others more Americanized, and some really cool things that I describe as Mexican-Latin Fusion, like Picadillo Tacos. How cool is that?
Seasoned Ground Steak with pico de gallo, lettuce, and Mexican cheese. Quite well-seasoned, super tasty. Nueva's picadillo is the style that is slightly red, more tomato-like, sans raisins and olives, less sweet, more savory (the style Lori likes the best) … and it's ground steak!
The Surf & Turf Tacos are decadent – Grilled Sirloin & Maine Lobster, red cabbage, pico de gallo topped with Hollandaise sauce. There are nice tender chunks of steak 2½" long by 1″ wide – four pieces in the bottom of each taco (you get three tacos with an order), with the generous portion of lobster on top as fresh and buttery as can be.
I've also had and recommend the Mojo Pork, Pescado, Crispy Shrimp, and Braised Short Ribs.
Full table service, full blown Mexican restaurant.
5. Poppo's Taqueria
1033 Central Ave
St. Petersburg, FL 33705
(727) 289-1121
Poppo's Website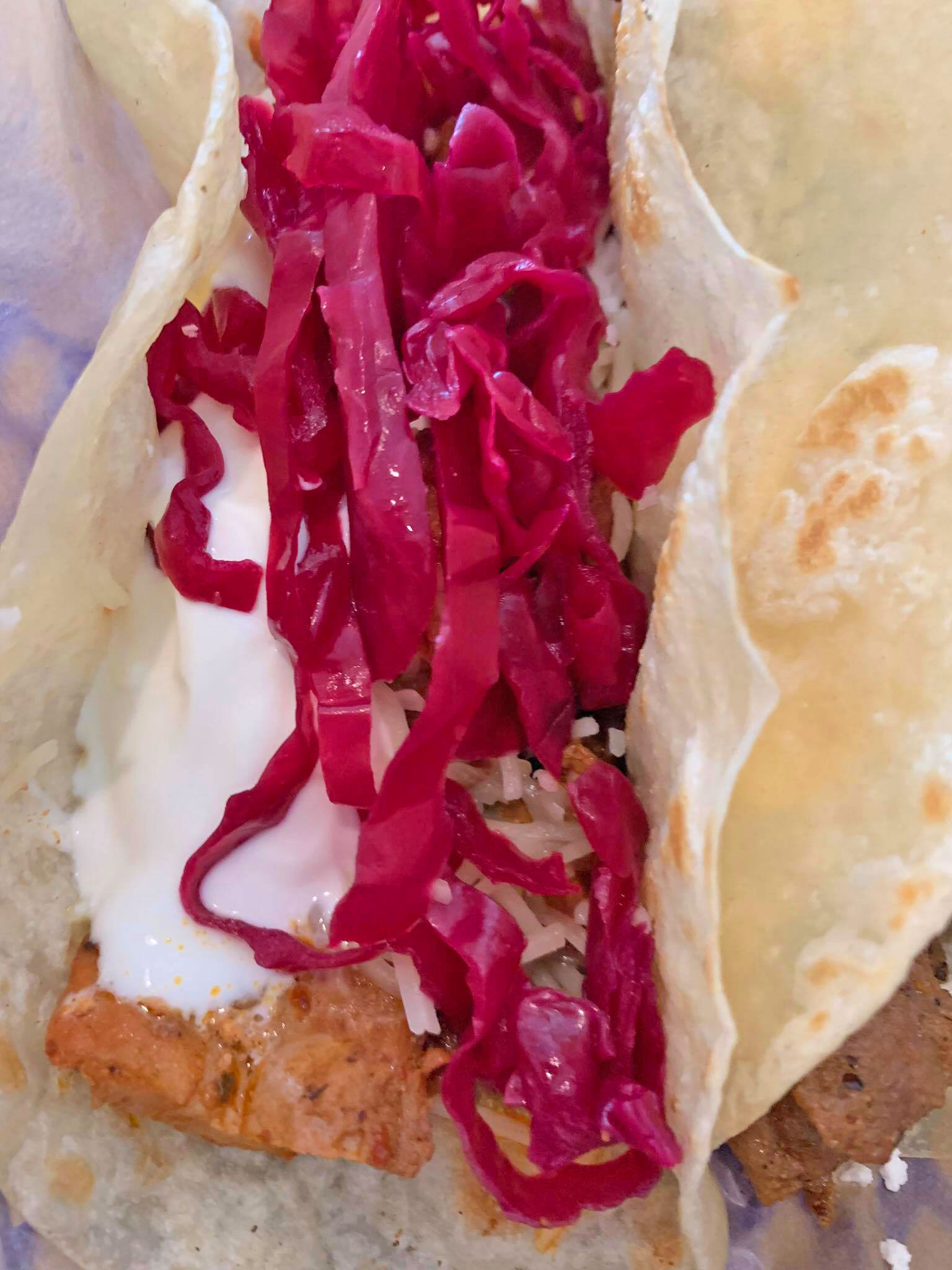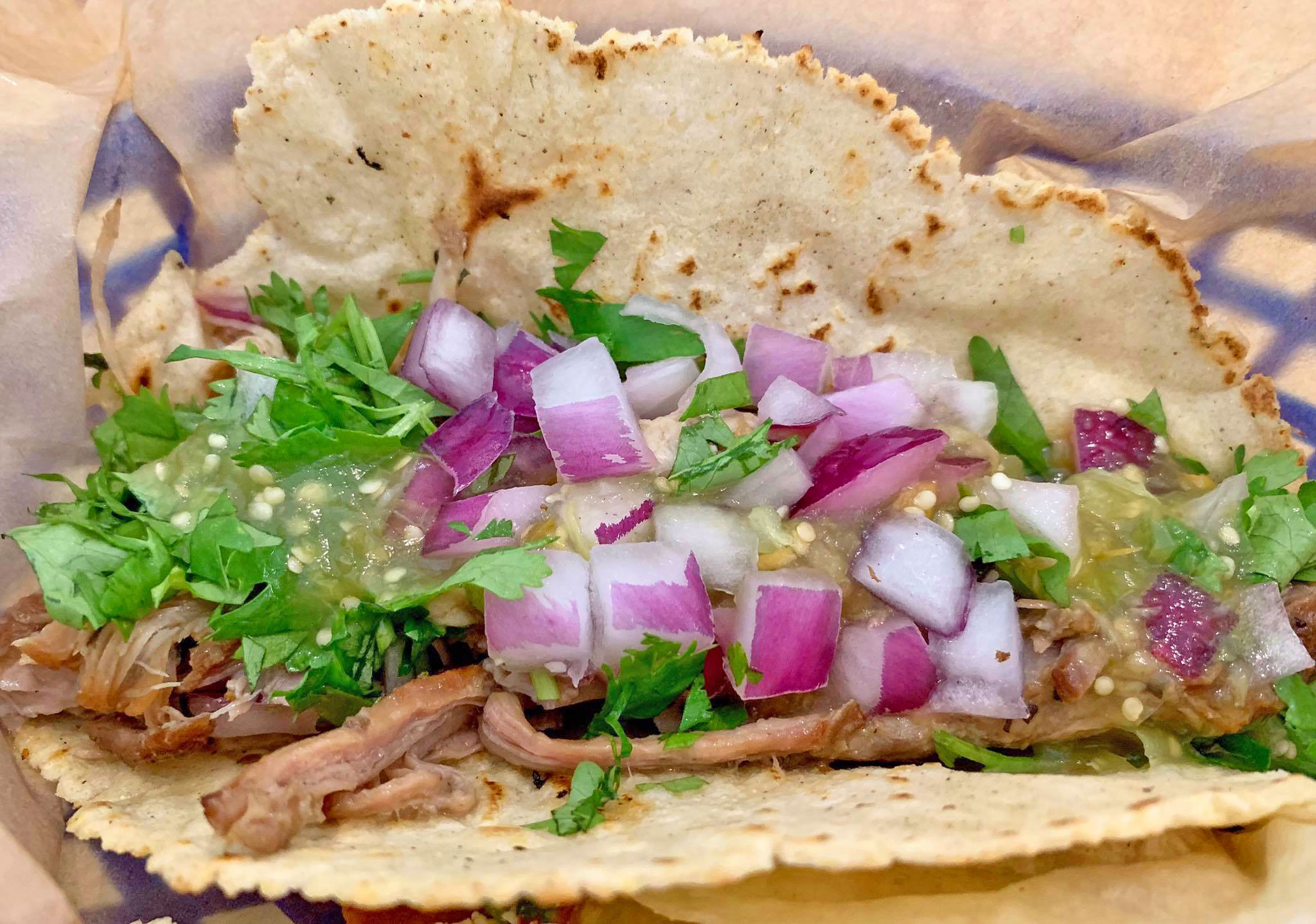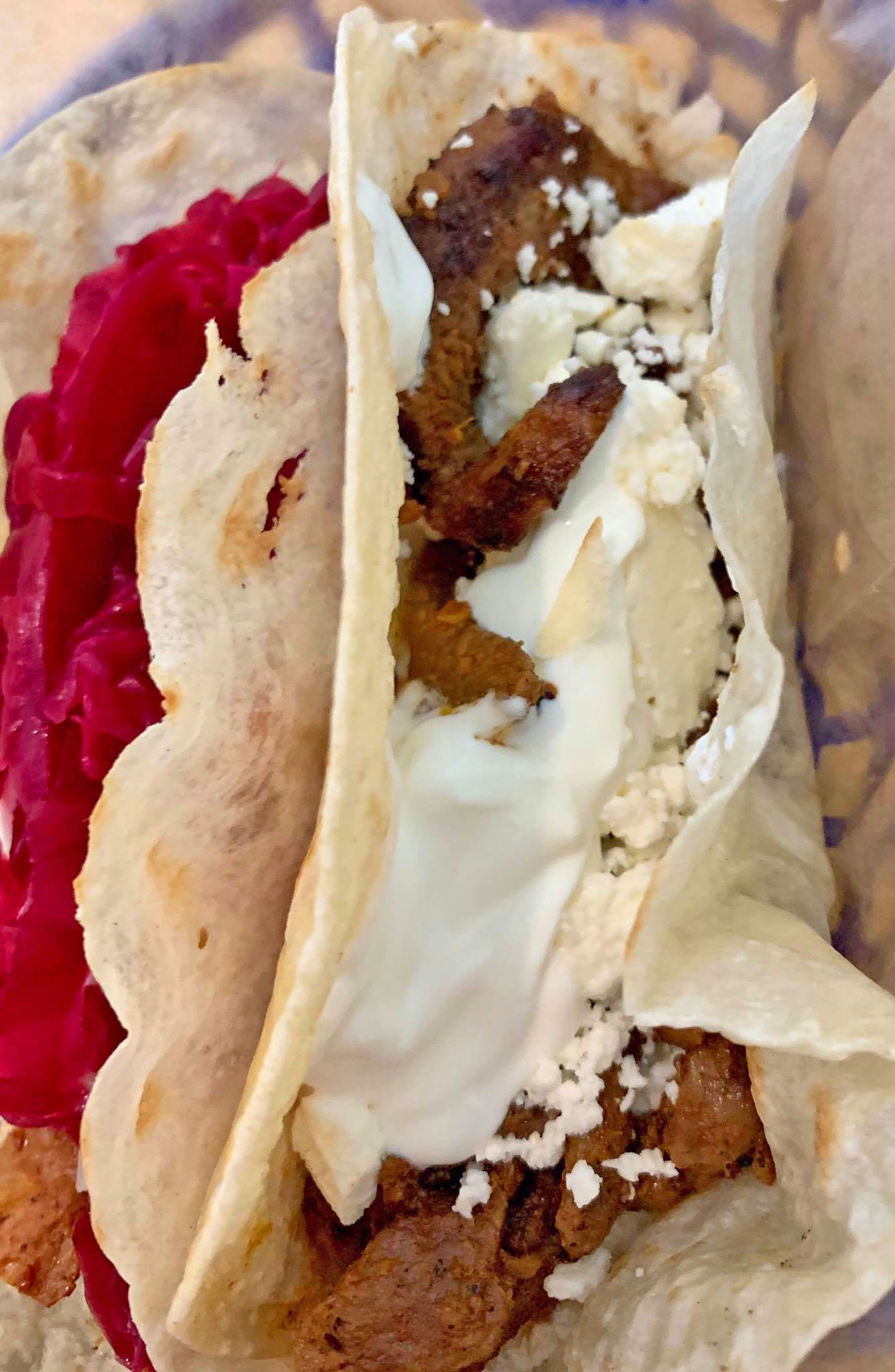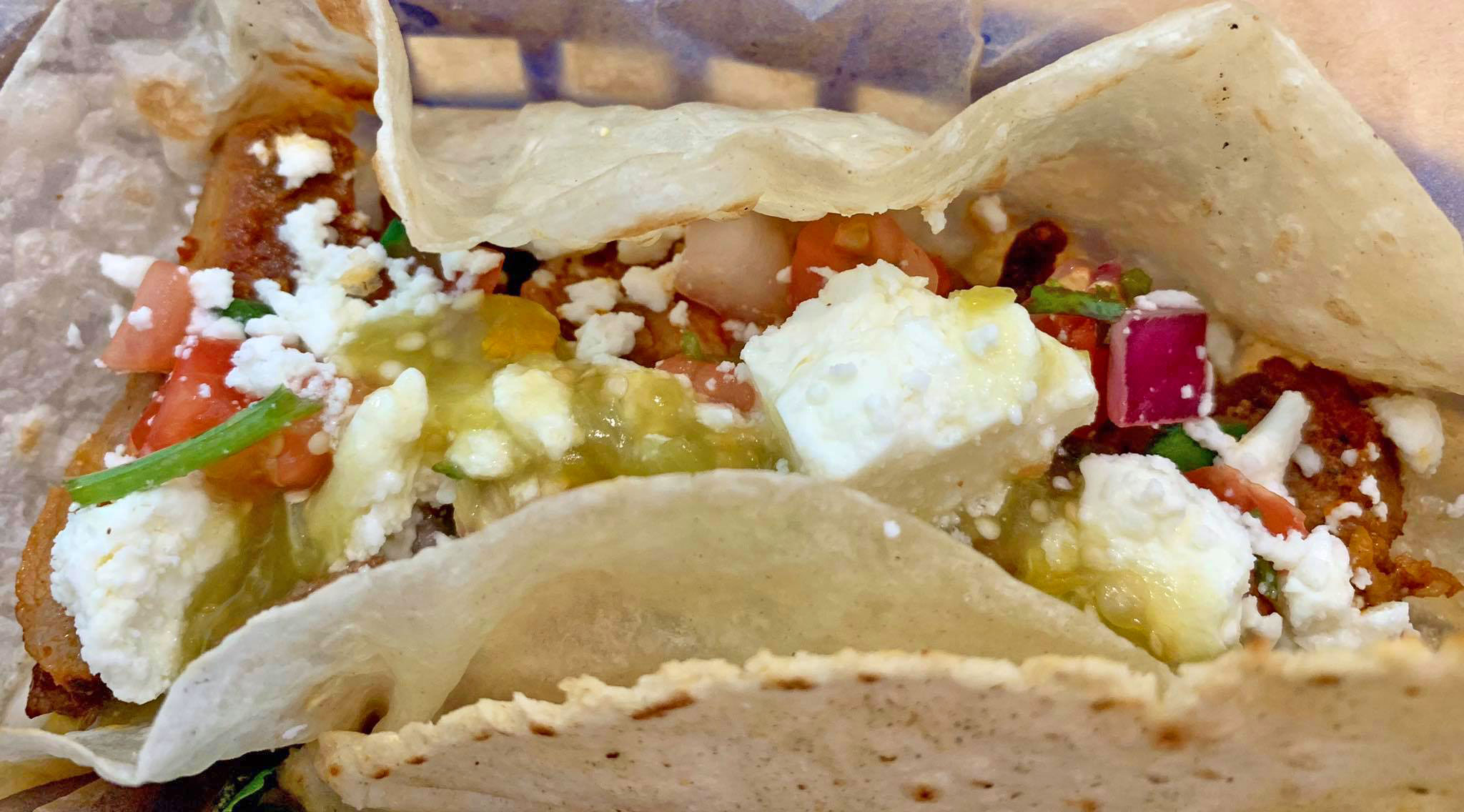 Poppo's is fantastic and unique San Francisco / Mission-style tacos. There is nothing like them around here. They have great flavors, lots of options and everything is fresh made in-house.
They pressed our tortillas right in front of us. They use the highest quality, and freshest ingredients. They do not have a freezer or a can-opener in the place. The meats are super well seasoned.
Lori ordered the build your own carne asada and al pastor tacos and I had the Poppo's Taco with Al Pastor and the Classic Taco which comes with carnitas.
Fast-Casual – order at the counter, and food is brought to your table.
6. Red Mesa Cantina
128 3rd St South
St. Petersburg, FL 33701
(727) 896-8226
Red Mesa Cantina Website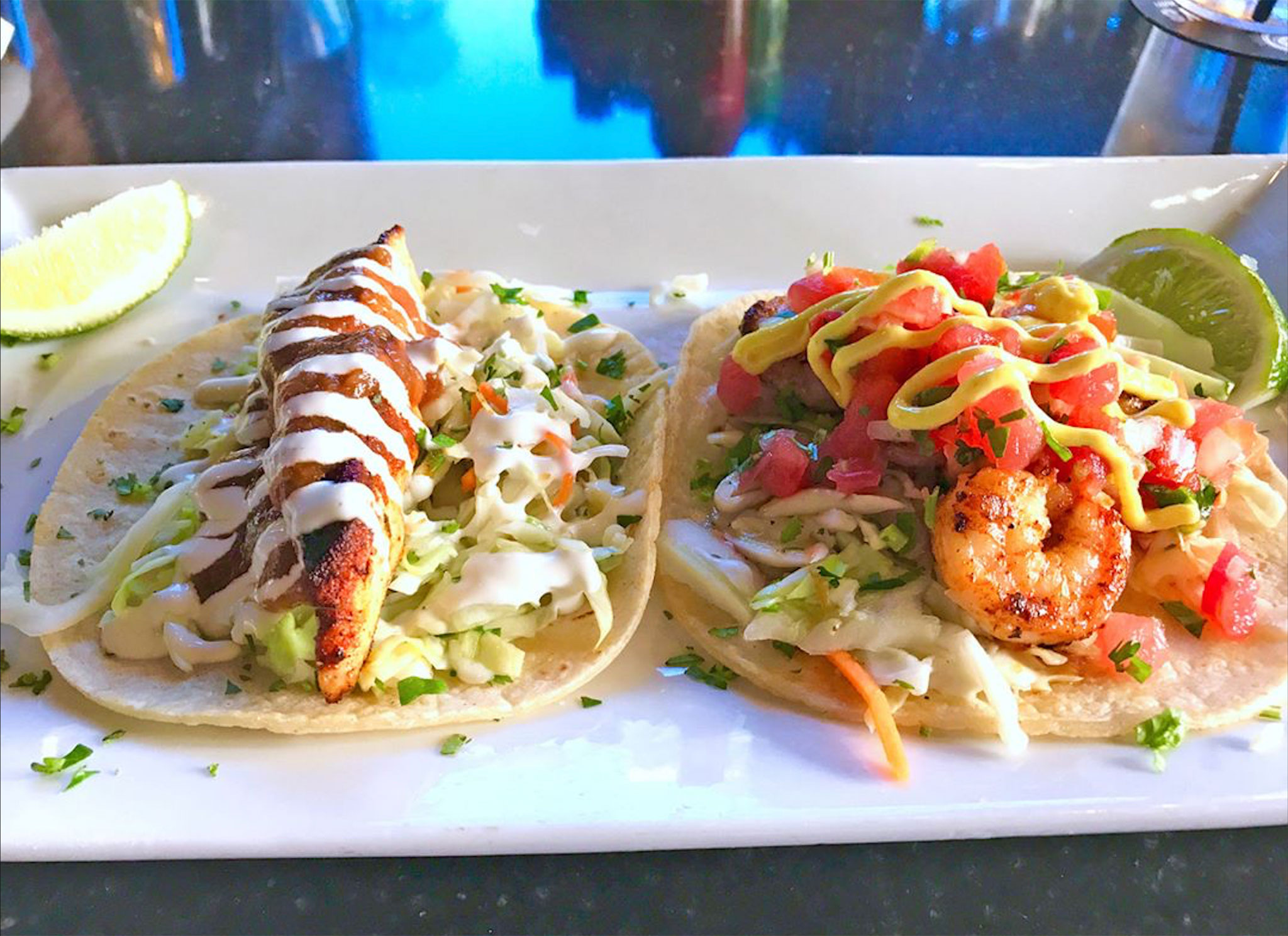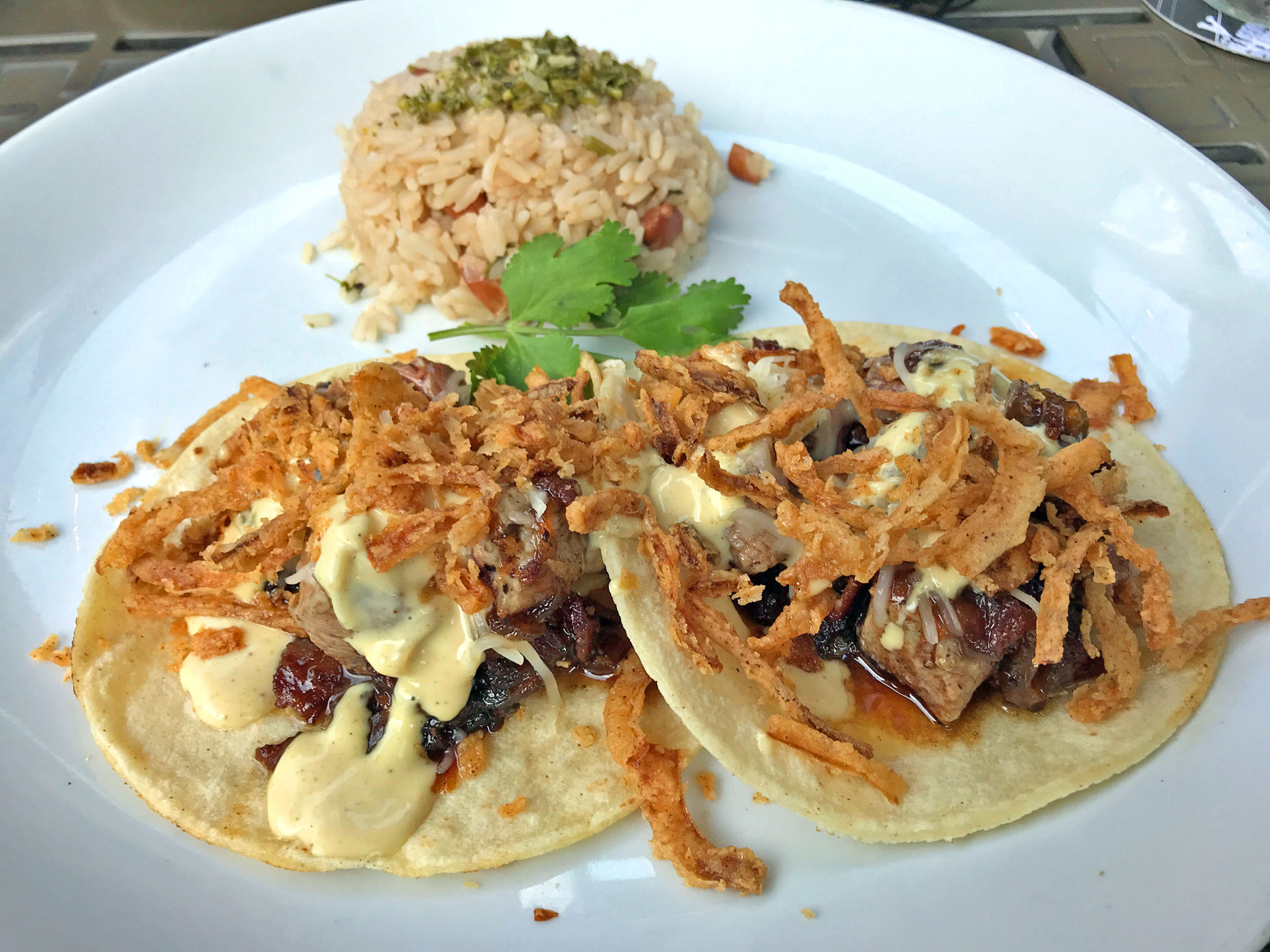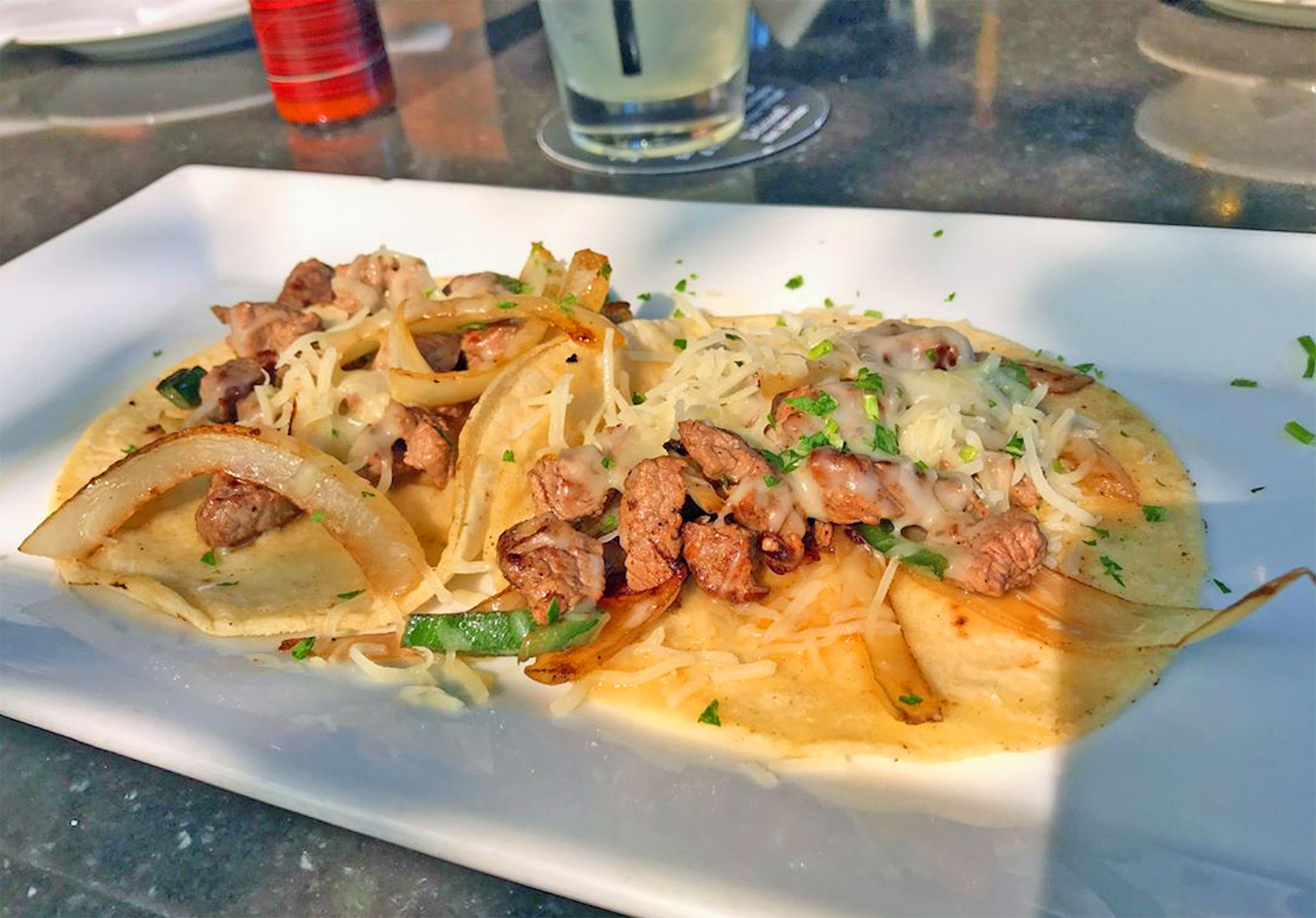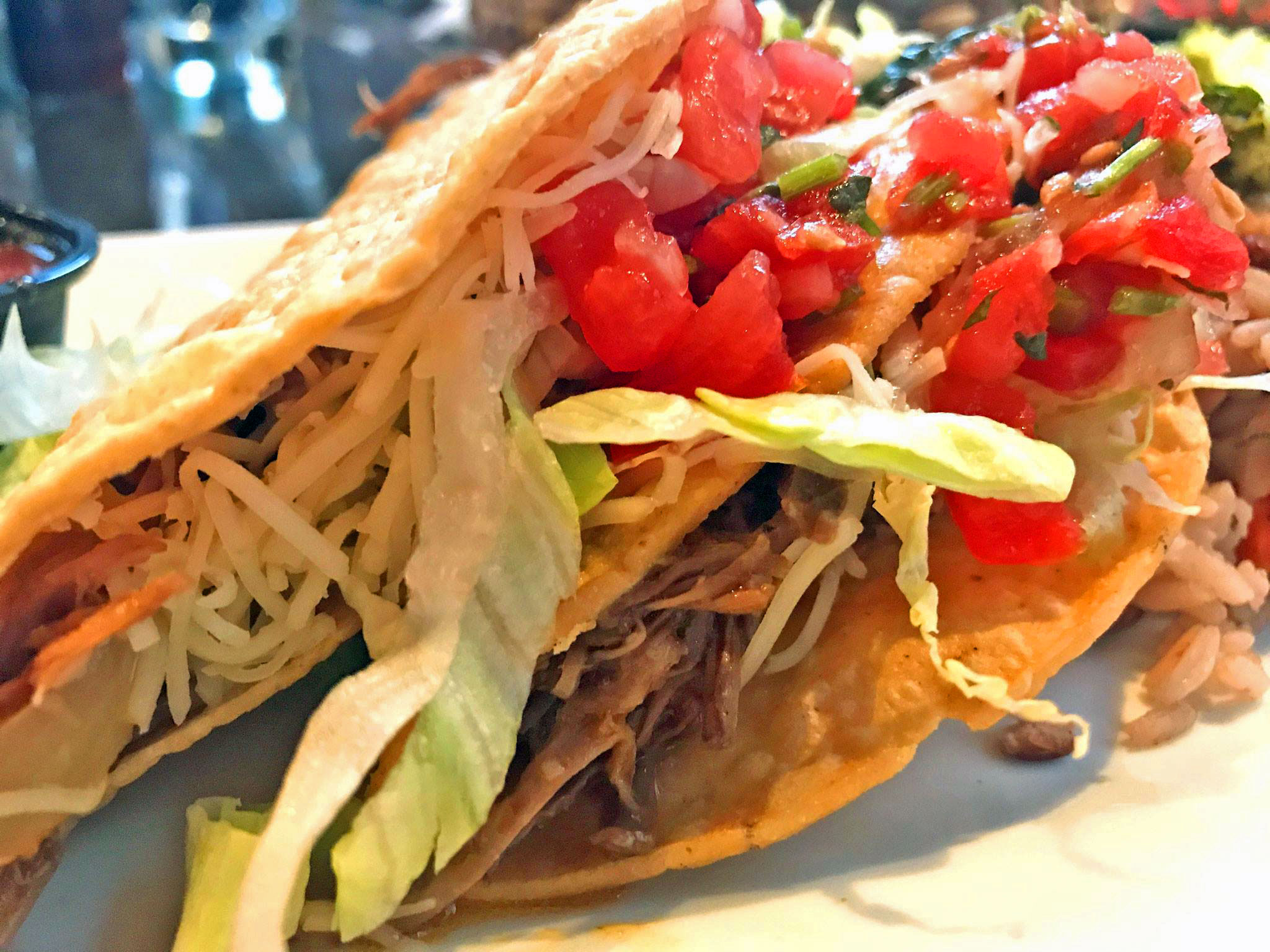 Over the course of more than 10-years, I have been to Red Mesa Cantina over 100 times, and have eaten the tacos about 75 times.
They offer a nice variety of small, single-serve, open-face, more gourmet-like toppings on corn tortillas, which turn out to be bigger than they look once you start eating them.
Some of my favorites are the Baja Fish, Shrimp, Steak, and Pork. There's also the Crispy (mini hard shell corn tortillas) Tuna Tacos in the appetizers section, and even Filet Mignon Tacos served open face on soft tacos.
If you want something more homey, street fare-style, there's the Shredded Beef Tacos – Homemade Crispy Shell, Lettuce, Pico De Gallo and Jack Cheese – Served with Salsa and Gallo Pinto. (Not in the tacos section of the menu. Found in entrées.)
I've eaten them all several times, and they are great!
Full table service, full blown Mexican restaurant.
7. Red Mesa Mercado
1100 1st Ave North
St. Petersburg, FL 33705
(727) 954-7430
Red Mesa Mercado Website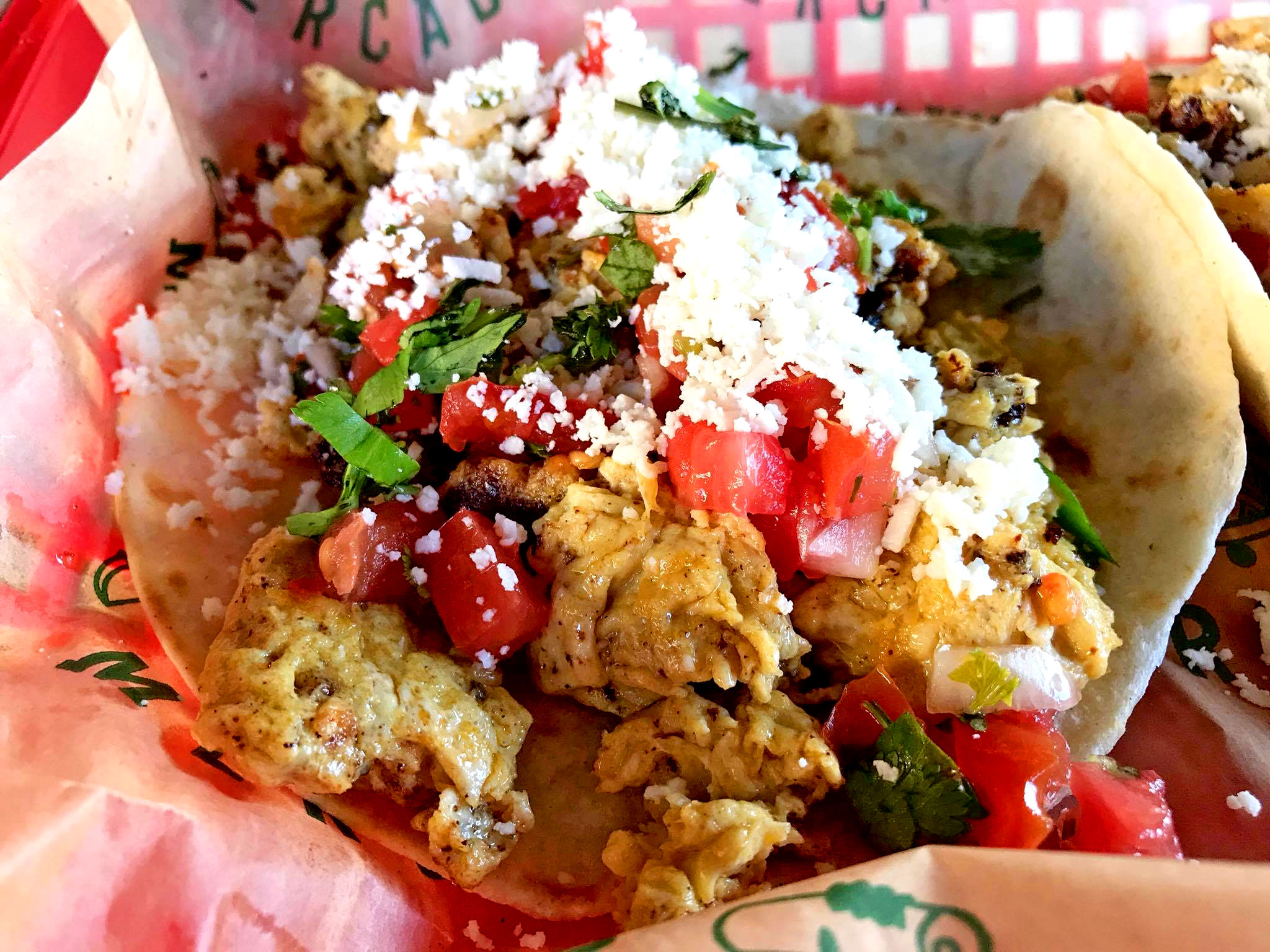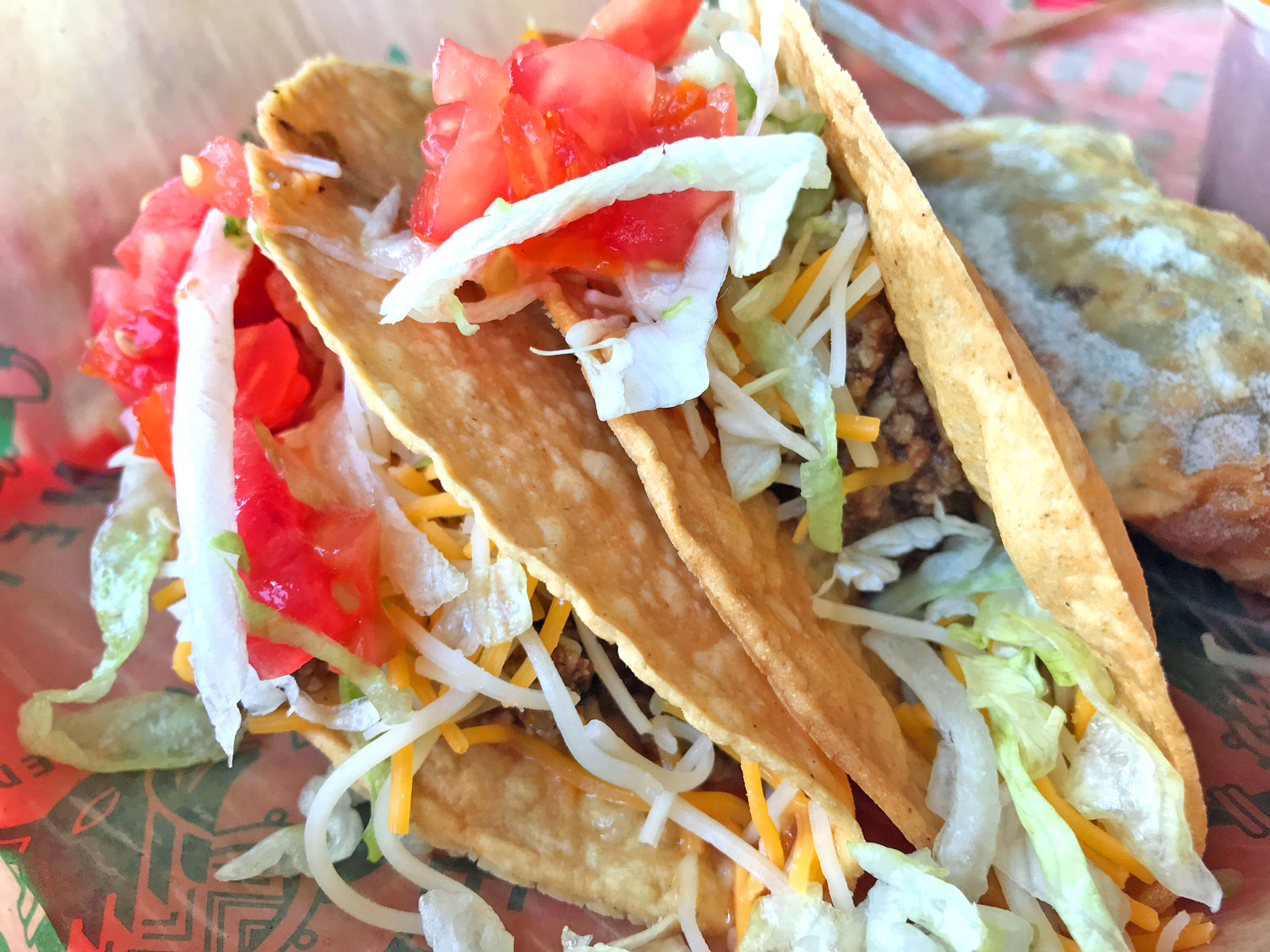 Red Mesa Mercado doesn't get enough props. I think their offerings are what most Americans grew up with as "Mexican food". In Mexico, there's no such thing as a crunchy taco, but those were the first tacos I ever had as a kid with ground beef, lettuce, cheese, and tomatoes. (They offer soft tortillas here too – both flour and corn.) The ground beef is wonderfully seasoned to be extremely flavorful, and the corn tortillas are fresh fried to order.
When I am just craving that homey, juicy ground beef with lettuce, tomato, cheese and yummy crunchiness, this is my go-to.
Another great thing about Red Mesa Mercado is that they open at 7:30 am (9 on weekends), and you can get breakfast tacos. Tacos for breakfast? Hell yes!
Order at the counter, and get your food at the next window when your name is called.
(The original location, Red Mesa Restaurant, has great tacos as well. All three Red Mesa's have separate menus and unique food. Located at 4912 4th St N, St. Petersburg, FL 33703.)
8. Sea Dog Cantina (Permanently closed.)
2832 Beach Blvd S
Gulfport, FL 33707
(727) 914-0112
Sea Dog Website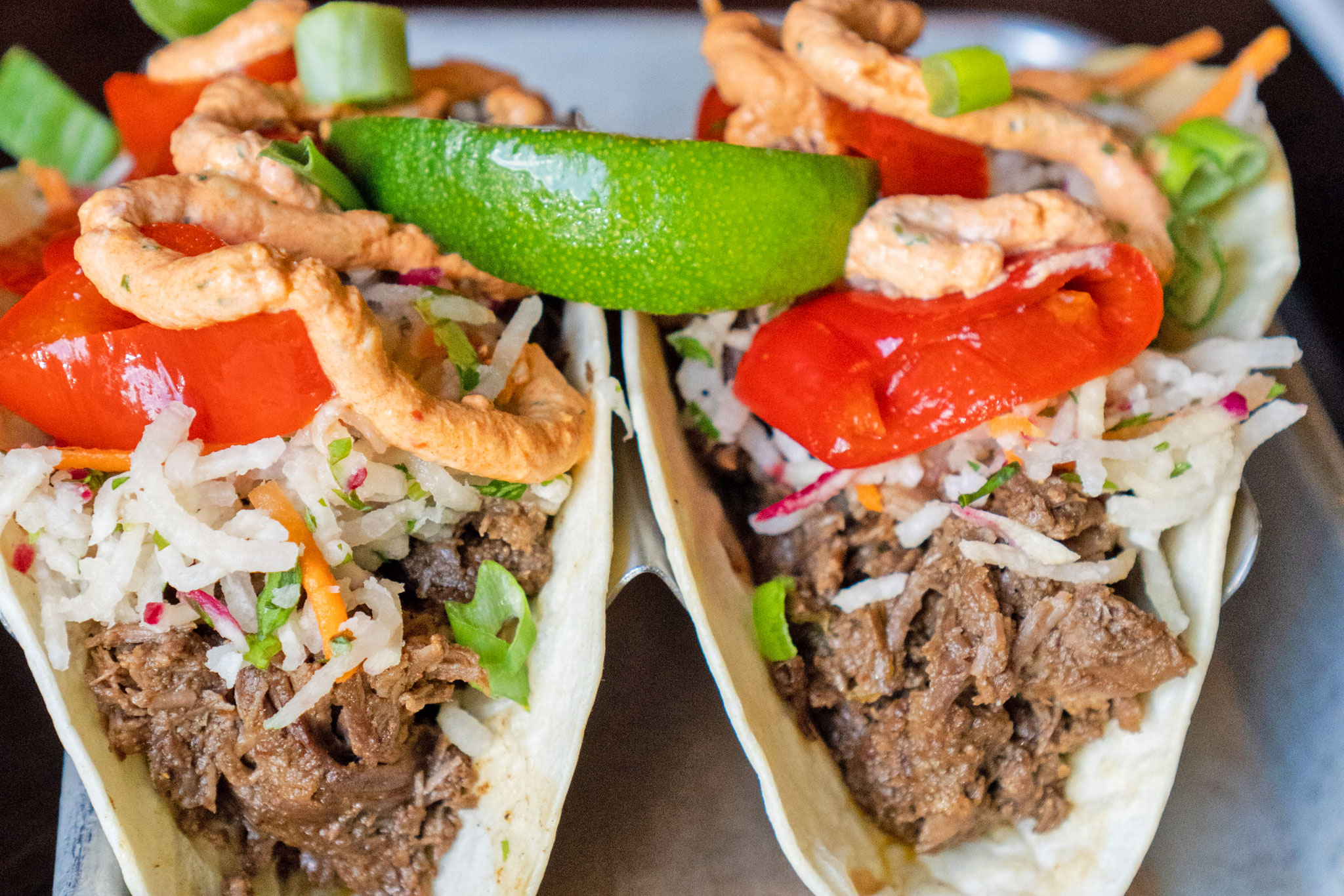 Barbacoa Beef – Jicama slaw, pickled red onion, avocado lime crema.
All of the tacos were great. Even the flour tortillas were outstanding. Who raves about flour tortillas? I do because they were hearty enough to still hold together after sitting there for 15-20 minutes before we ate them. How many times have you had your taco fall apart through the middle when the tortilla soaks through and disintegrates in the middle?  They also do a quick grill on them which gives them added texture and flavor. The portions are hearty, and would make a filling lunch or dinner.
9. Taquitos Mexican
9617 Bay Pines Blvd,
St. Petersburg, FL 33708
(727) 256-1617
Taquitos Mexican Website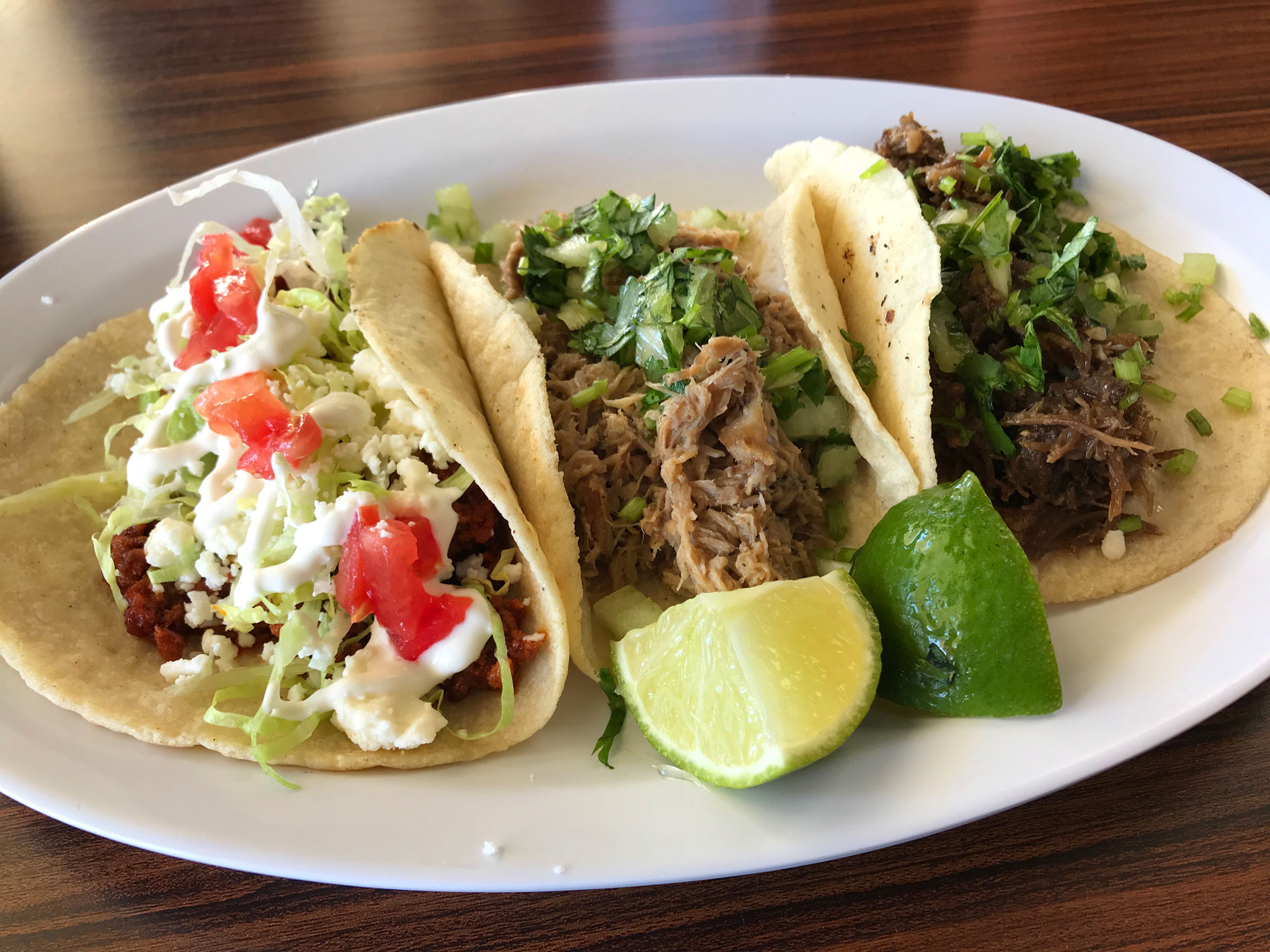 Taquitos is one of my favorite new discoveries. They're a little ways out from downtown, in the Bay Pines area, so it took me a while to finally get there.
They originally got on my radar by seeing lots of great reviews online. I went in February, and had this piece just about ready to go for March when COVID-19 caused "Restaurantmageddon". I enjoyed meeting the owners, Julian and Angie, and they got one of our very first "St. Petersburg Foodies Local Favorite" window stickers.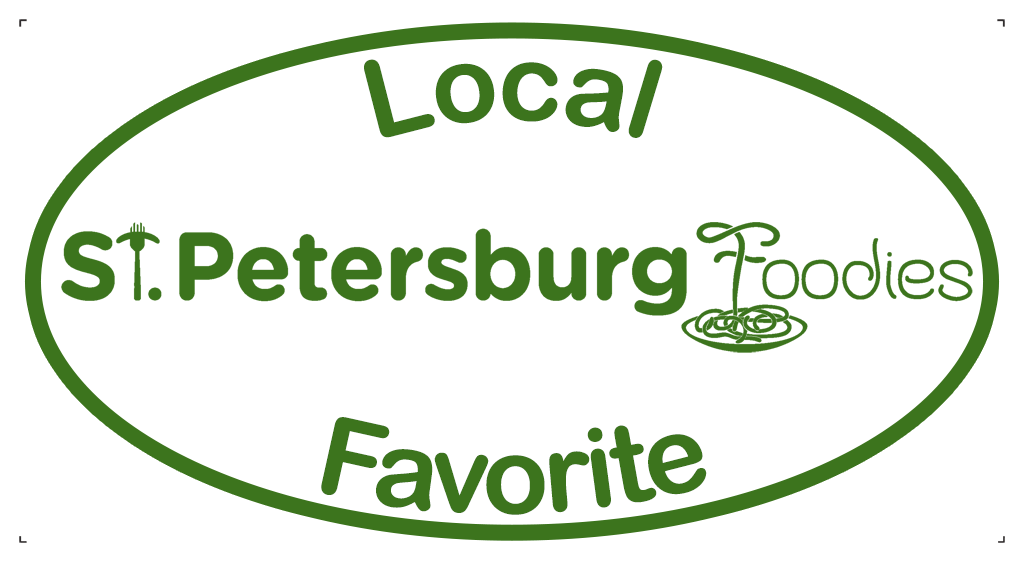 The food is super delicious! All of the meats have great seasonings, and are bursting with flavor. All of the meats were also tender and juicy. The red sauce is nice and spicy. The corn tortillas are homemade. (They also have flour tortillas available, but they are not homemade.)
Fast-casual, order at the counter, and it is brought to your table.
10. VIP Mexican Restaurant & Lounge
10625 Gulf Blvd
Treasure Island, FL 33706
(727) 360-5062
http://www.viplounge-fla.com
VIP has a huge loyal fan base, it is very small, and gets crowded early, and always has a wait. There's an obvious reason for that. Go early and be prepared to wait outside.
The Cajun Fish Taco – Blackened Mahi-Mahi, Creole Mayo, Cilantro, and Queso Fresco served with a lime wedge – succulent! I devoured this one. It was spicy, tangy, salty and sweet, and the fish was moist and tender. The shredded beef taco was very good, although the hard corn shell, like the nacho chips seemed like a purchased item rather than house-made. That doesn't mean it was bad. I would order it again.
Full table service, full blown Mexican restaurant.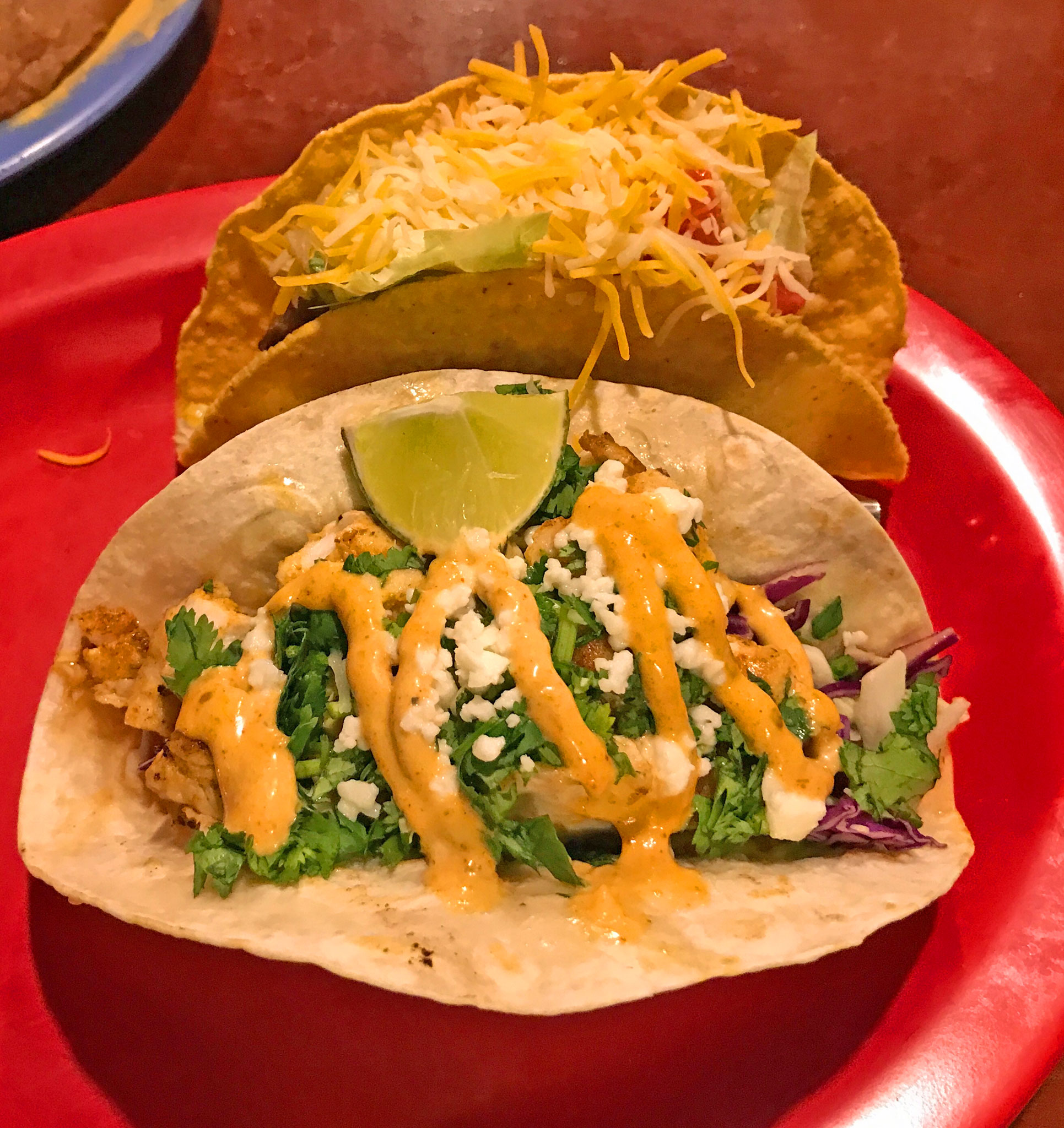 Tell us where your favorite places are to get tacos in the comments below!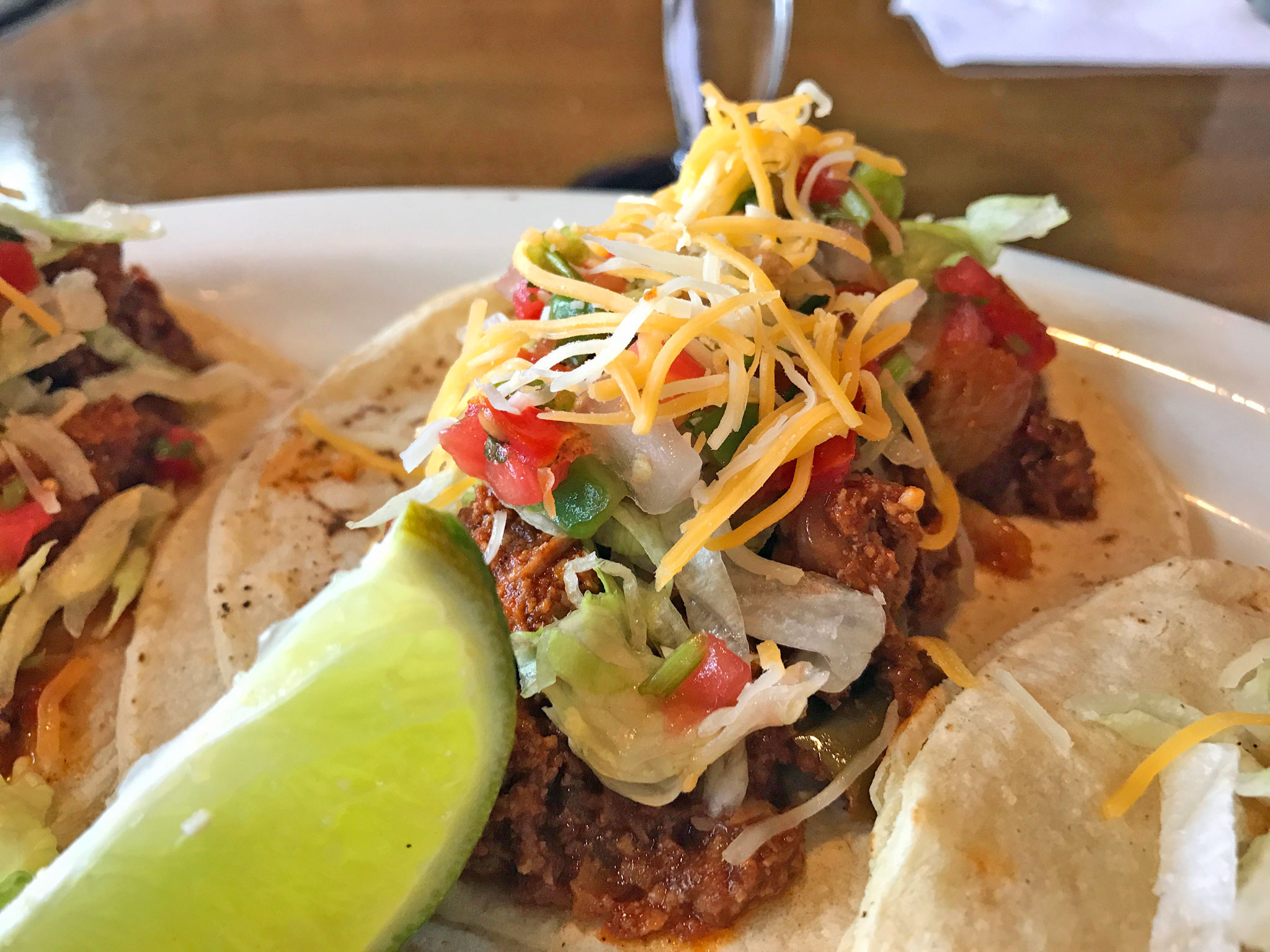 Readers Rating

Rated 4.6 stars




4.6

/ 5 (

Reviewers

)

Outstanding
---
Everyone loves tacos and tacos are everywhere. Here are the 10 best taco places in St. Petersburg, Florida.