Abby Allen · Feb 11, 2019 · 4 min read
It goes without saying that you can put most anything onto a pizza and you can almost guarantee that it's going to turn out a winner. Well, Irish Style Bacon and Cabbage are no exception. For those of you who don't know, Irish Bacon differs than the usual Bacon that we know and love here in America. Irish Bacon comes from the back of the pig, where American bacon comes from the belly. Additionally, the Irish do not bake or fry their Bacon, oh no, they boil it...stay with me though, it works.
After the Bacon is almost finished boiling (which takes about an hour), the sliced cabbage is added. The salty water creates a perfect bath for the cabbage and infuses the Cabbage with flavorful goodness.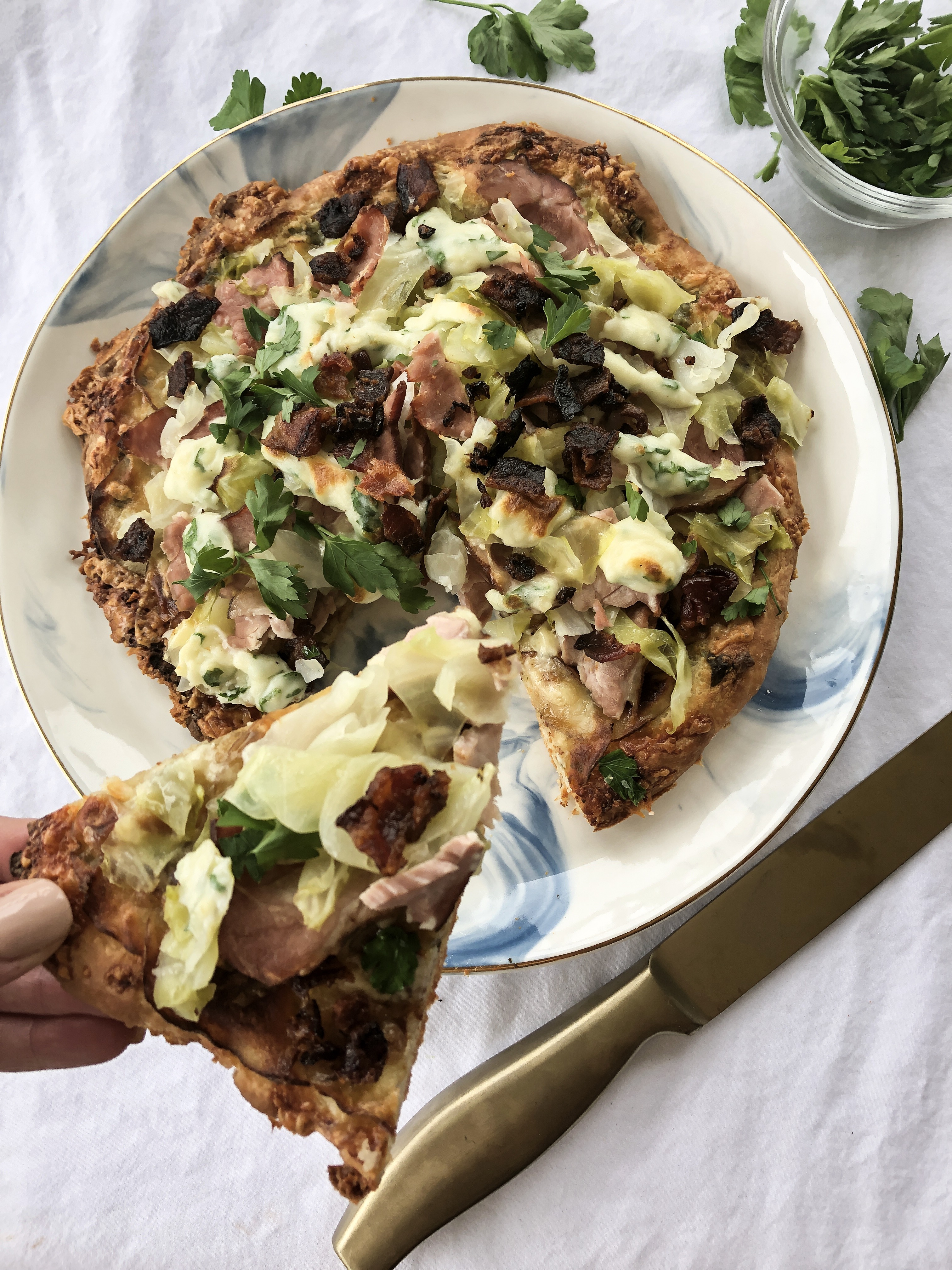 My goal with this recipe was to take a traditional Irish Bacon and Cabbage recipe and add an element of texture and depth. What better way to do that than by adding crispy smoked American Bacon, and throwing it all on top of a thing, crunchy Pizza?
Speaking of crispy and crunchy, that's precisely the end result of the crust of the pizza when it's cooked in a good ol' Cast Iron Skillet. See, you CAN cook virtually anything in it. Not that there's anything wrong with a pizza stone, because you can totally make this pizza on a stone, if that's what you prefer. In my opinion, a well-seasoned Cast Iron Skillet just adds that extra bit of flavor.
Also, the thin slices of Potato add another element of structured character.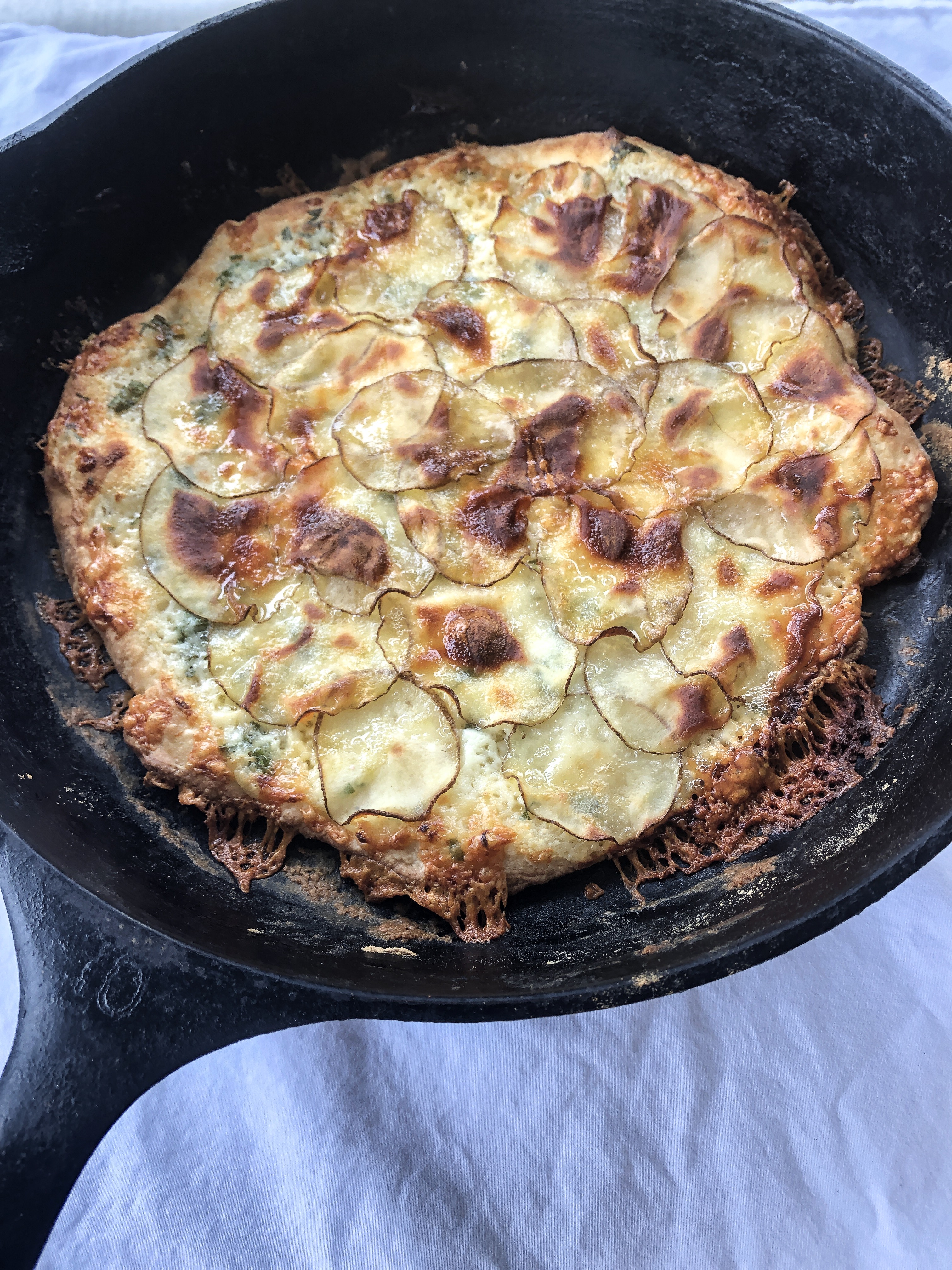 St Patricks Day is right around the corner and this dish fits the mold as the perfect go-to meal to celebrate. Pair is with your Irish beer of choice, and bam, you're in business.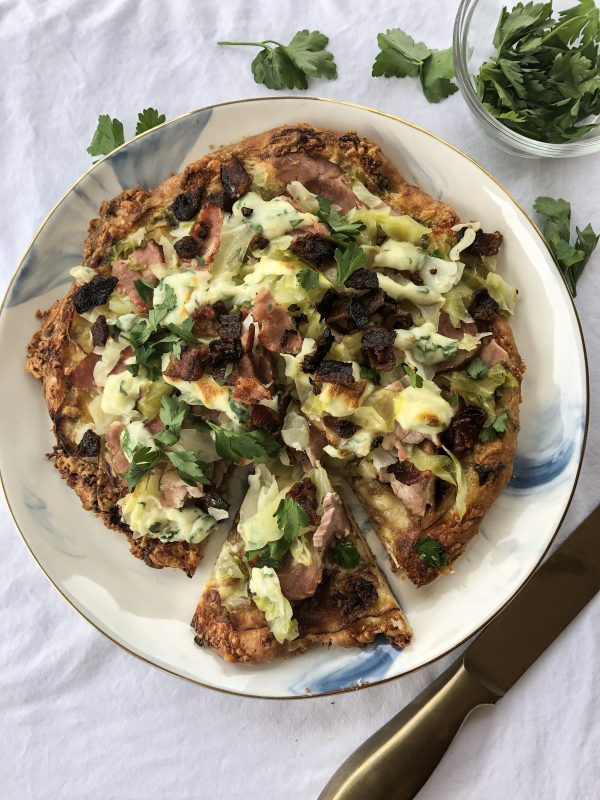 | | |
| --- | --- |
| | |
Prepare the Bacons, Cabbage and Potato slices
Preheat the oven to 425F. Place smoked Bacon on a parchment lined baking sheet and bake for 20-25 minutes until crisp. Let cool, breakup into small pieces and put aside in a bowl until the Pizza is ready to assemble.

Place Back Bacon in a large stockpot and add enough water to cover by at least a few inches heat over medium-high heat. A white froth will form from the salt. Discard the water and repeat this process until foam and froth do not form (usually takes emptying the water 2-3 times). Cover the pot and simmer for an hour.

After an hour, add in thinly sliced Cabbage into Bacon and water and cook for an additional 20 minutes.

Turn off heat and remove Bacon from the pot and place into a small bowl. At this time, the Bacon may break into smaller pieces- that's just fine! Strain cabbage and add to a medium sized bowl with 2 tbsp Butter and toss to combine until butter has melted. Season with Salt and Pepper.

Using a mandolin slicer, slice Potato into thing (almost transparent rounds. Add to a colander and rinse under cold water. Sprinkle with salt and leave in colander for 10-15 minutes.
Make the Roux. Melt Unsalted Butter in a small saucepan over low heat. Whisk in flour and stir for 2-3 minutes and remove from heat.

Add Milk, Onion and Parsley stems to a medium saucepan and heat over medium-high heat. Season with salt and pepper and simmer for 5 minutes. Strain Milk, discard solids. and return strained milk to saucepan. Bring to a boil and whisk in 4 tbsp Roux. Continue whisking until mixture begins to thicken
Preheat oven to 525F. Sprinkle 1/4 cup flour into Cast Iron Skillet and heat skillet on the stove top over medium heat for 5 minutes. Spread remaining 1/4 cup flour onto countertop and roll out dough. Once you have about a 12 inch circle, carefully arrange Dough in rounded shape onto cast iron skillet and turn off heat. Spread 3-4 spoonfuls of Parsley Sauce onto Pizza, followed by 1/2 cup of grated Cheese. Arrange Potato slices on top on one even layer. Bake in preheated oven for 20 minutes, or until Potato slices begin to crisp and crust is beginning to brown.

Remove Skillet from the oven, sprinkle remaining cheese on top of Pizza followed by Cabbage and Back Bacon. Put back into the oven for another 5-7 minutes. Remove from Oven, top with crisped smoked bacon. Cool, remove Pizza from skillet, slice and serve!