Abby Allen · Mar 11, 2019 · 2 min read
If the thought of cooking Salmon with the skin on freaks you out a bit and puts a look of disgust on your face, I'm here to change that. Trust me, I, too, had a negative association with cooking Salmon with the skin still on. However, this is probably because I had only ever had sad, sad Salmon with chewy, underwhelming skin. I mean, obviously! Nothing about that sounds enticing.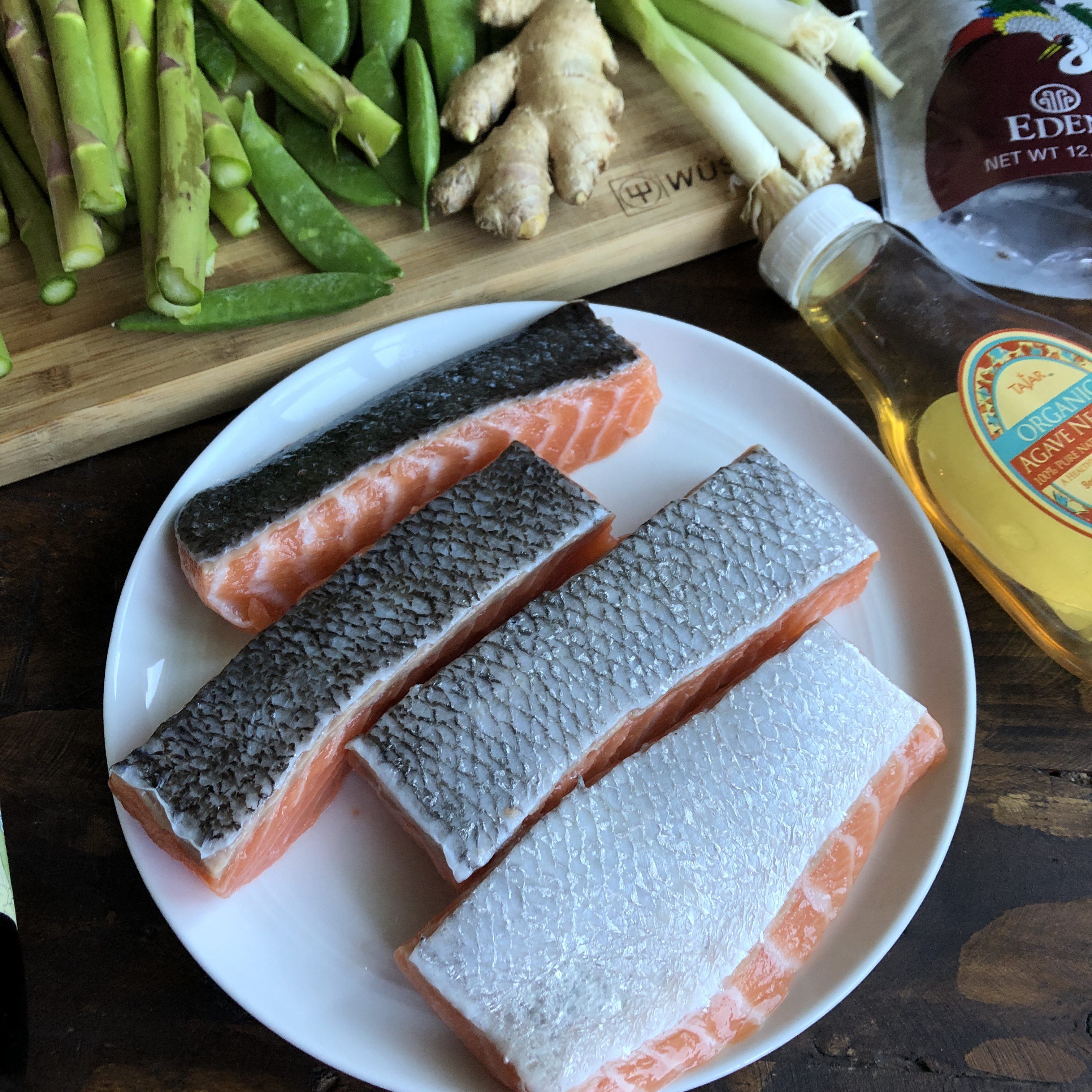 Today, we are going to put all of the gloomy and unfavorable thoughts about Salmon skin to rest. Cooking skin-on Salmon in a searing hot cast iron skillet is the best thing you can do for the skin. Not only is it the best thing- it's the simplest. All you need for crispy, crunchy skin-on perfection is quality wild-caught, skin-on Salmon, Salt and Pepper, oil, such as Avocado, and a good ole cast iron skillet- that's all, folks.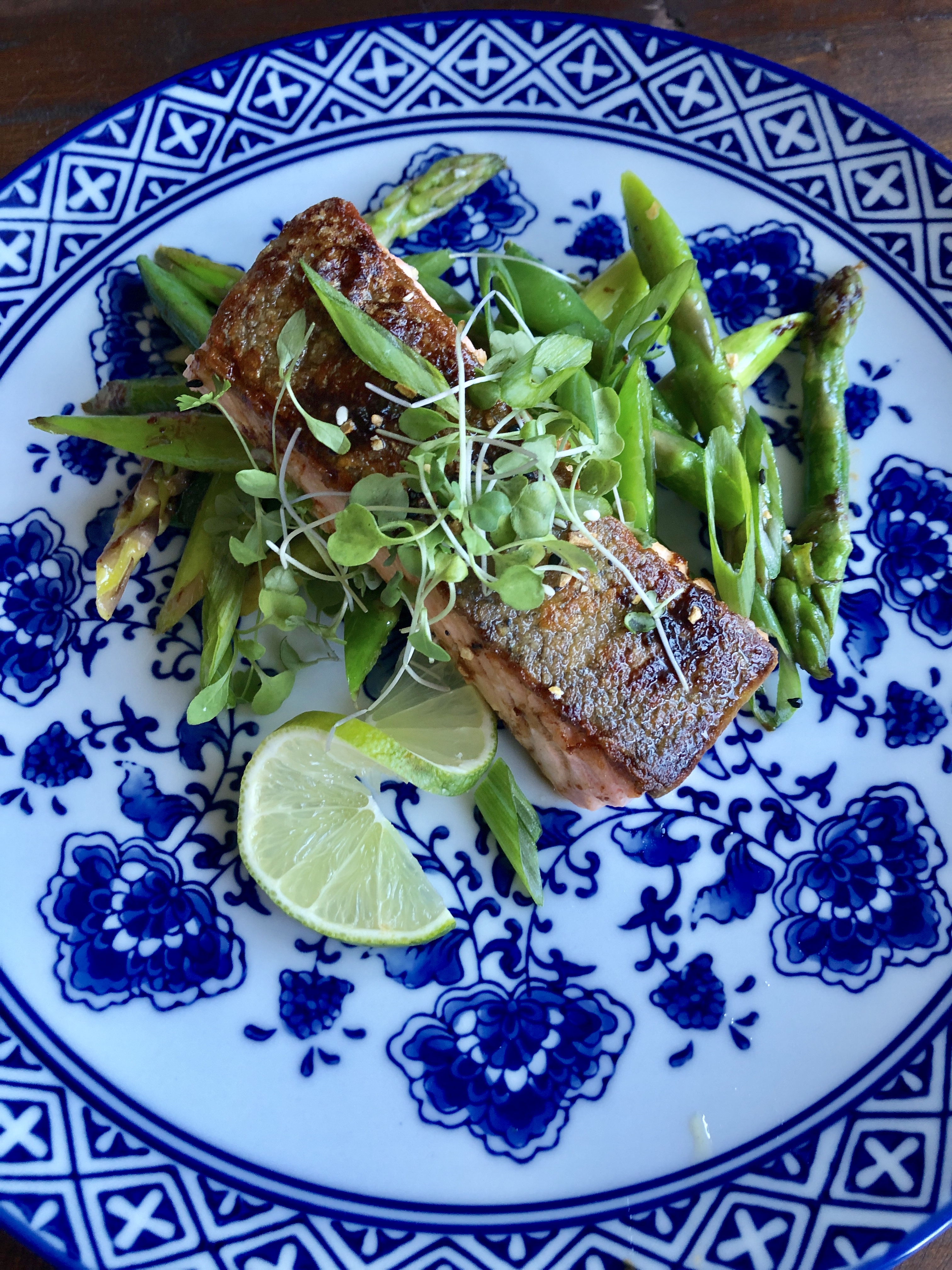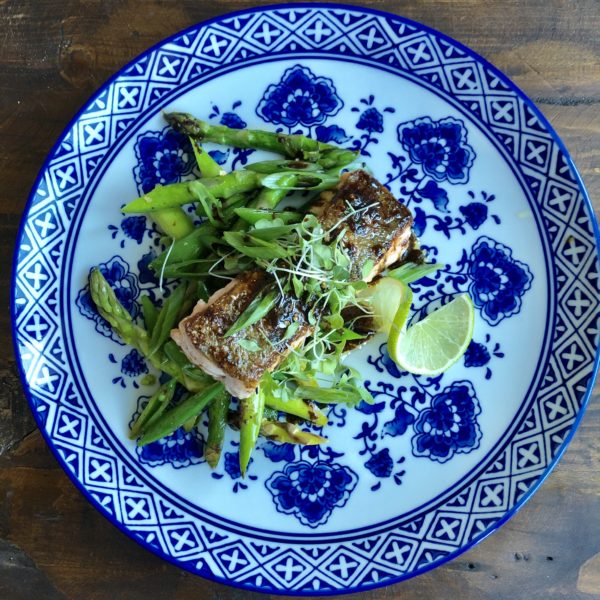 | | |
| --- | --- |
| | |
First thing first, let's make the Miso-Ginger Sauce. Whisk the first 5 ingredients for the Miso-Ginger Sauce in a medium bowl. Slowly whisk in the oil, a little bit at a time, until emulsified. Season with Salt and Pepper to taste and set aside.
Cook the Salmon and Vegetables
Preheat the oven to 450F.

Heat a medium cast iron skillet over medium-high heat. Rub pieces of Salmon with 1 Tbsp of oil. While on a plate, salt the skin side. When pan is hot, add remaining 2 Tbsp of oil. Add Salmon fillets, skin side-down. Salt other side of Salmon and cook for for 5 minutes. Flip and cook on the other side for 3 minutes. Remove Salmon from pan and set on a plate, skin side-up.

Turn heat to medium-low. Add Asparagus and Snap Peas to pan and season with Salt and Pepper. Cook, stirring occasionally, until vegetables are cooked through, but still firm, 4-5 minutes.

Remove pan from heat, add Salmon on top of Vegetables, skin side-up and put the skillet into the preheated oven for 2-3 minutes, just to ensure that the Salmon is warm upon serving. Remove from oven and top with Green Onion.

Drizzle with Miso-Ginger Sauce after plating.